Be it style, fashion or interior design, the city of New York has always had an aura of its own. Arguably the most popular among all the major cities on the planet, NYC is the place where millions come to pursue their 'American dream'. This also means that the city plays host to some of the most sought-after real estate properties on the planet. When it comes to New York City, every inch of space matters, including spectacular towers with stunning lofts, apartments and penthouses.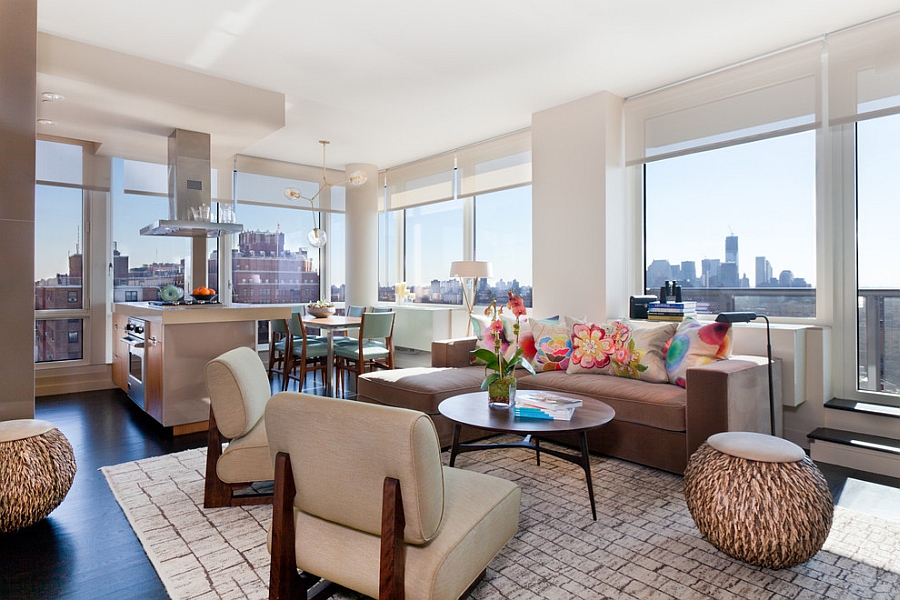 But today we take a look at 9 amazing NYC homes that move away from the mundane and the sterile to showcase a unique appeal of their own. Some turn toward the past while others take contemporary design to a whole new level. And as always, all of them offer a view of the most iconic city skyline on the planet!
1. Classy and Colorful in West Chelsea
When we think of contemporary design, it is often simple, neutral colors that dominate the landscape. Yet this gorgeous condo in the West Chelsea neighborhood of Manhattan alters that perception with the wonderful use of accent colors, brilliant patterns and an overall style that creates a cheerful ambiance. Yellow, turquoise, orange and red are used elegantly, while throw pillows with flowery patterns steal the show in the living area. Designed by Drew McGukin, large floor-to-ceiling glass windows bring the NYC skyline indoors as sculptured lighting draws your attention instantly.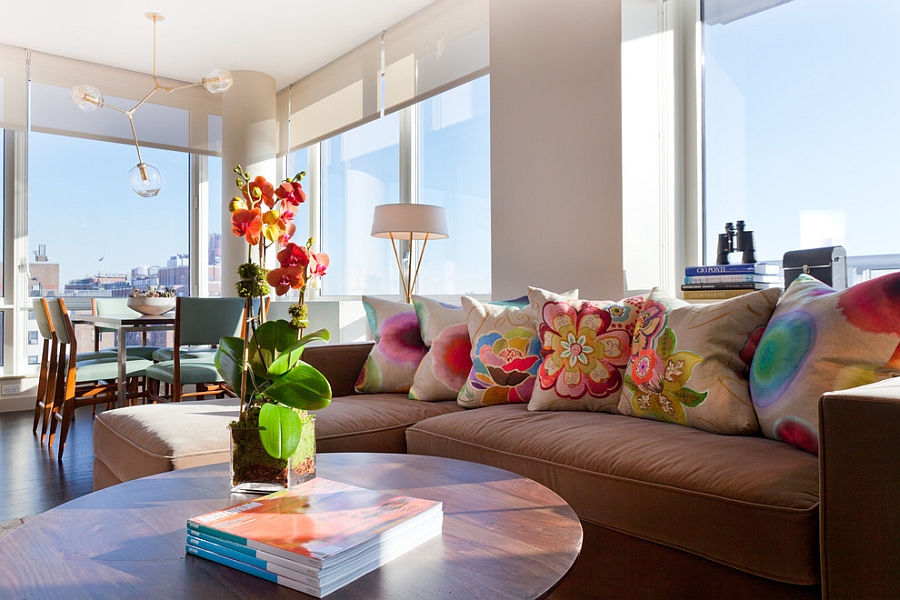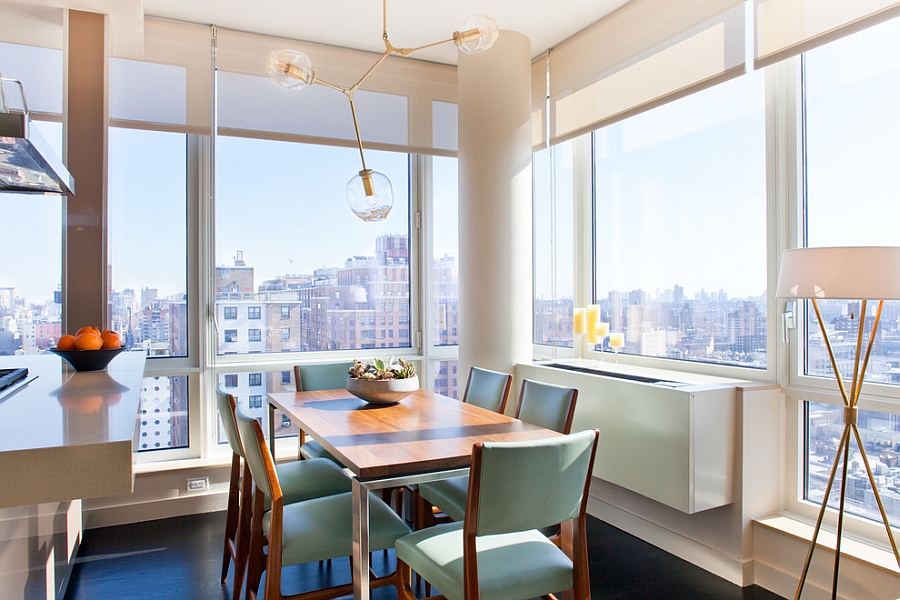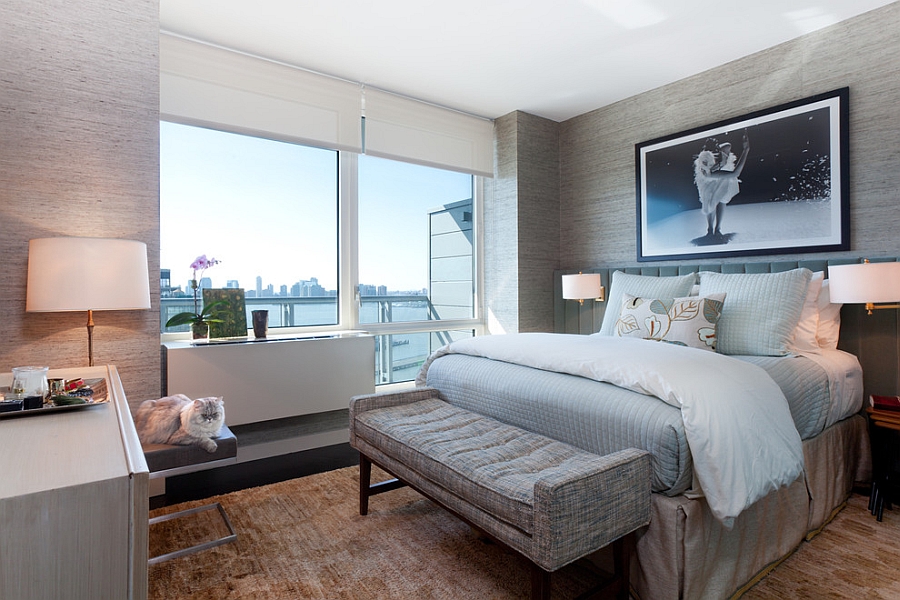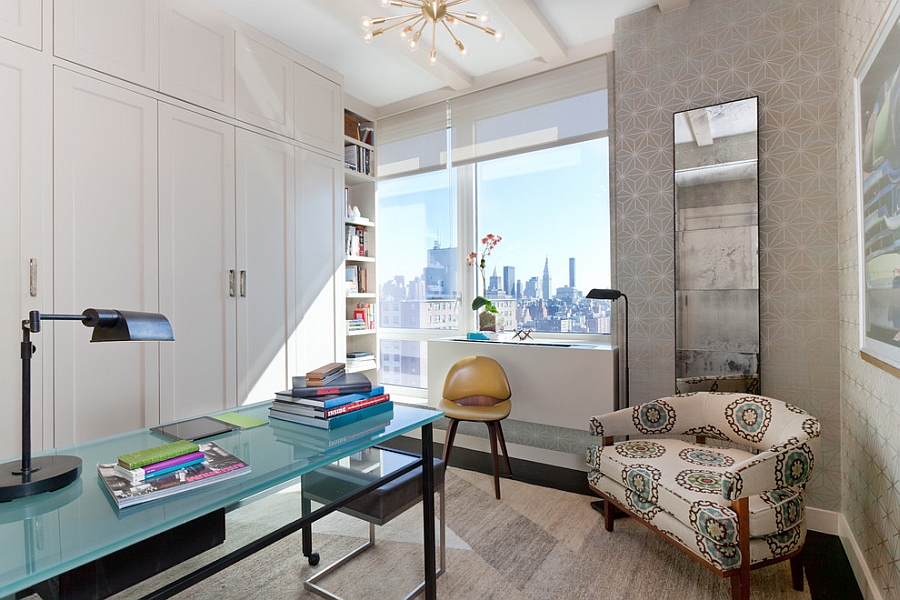 2. Mid-Century Modern Flair
Offering a brilliant bird's-eye view of the city and the beautiful East River, this stunning penthouse in the Milan Condominium puts you in the company of the elite in NYC! Priced well above $6.5 million, the home is well worth the price tag for the views alone! But that is not all you get with this amazing residence. Instead of embracing the clean, modern style, the interior takes a turn toward trendy midcentury modern design, and you have everything from the inimitable Swan Chairs and Tulip table to the Arco floor lamp and Cherner bar stools. With a warm, cozy color scheme, this penthouse with twin bedrooms, a master suite, a living area and a generous balcony truly leaves you mesmerized.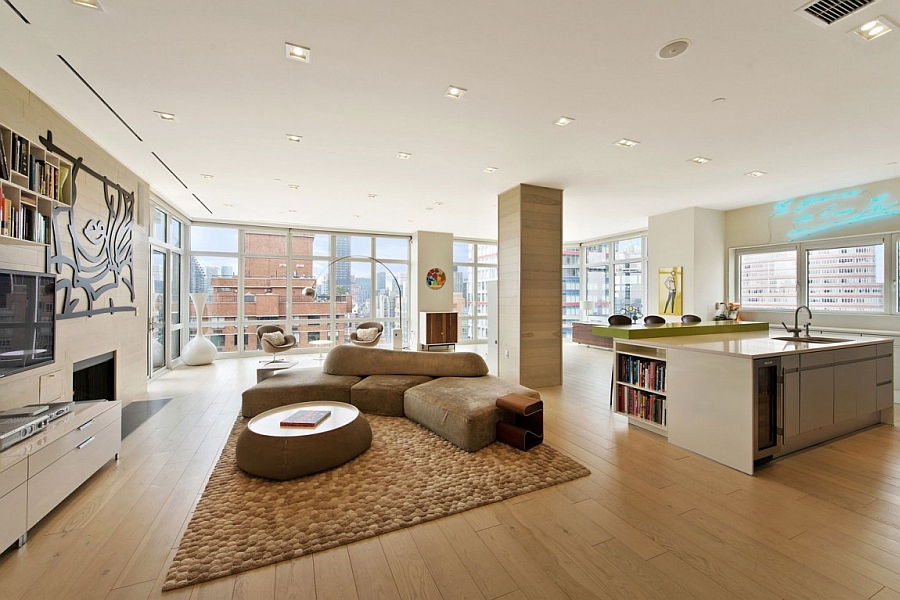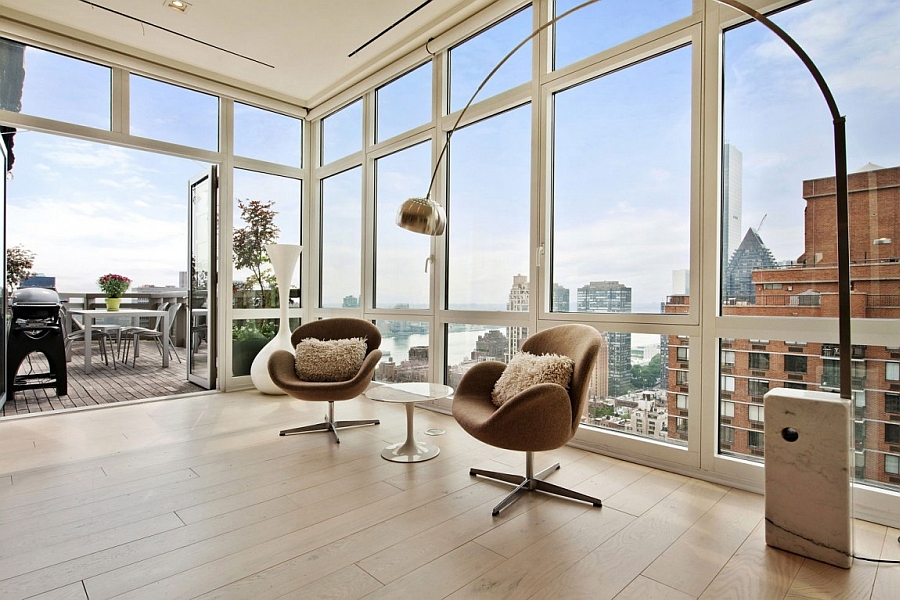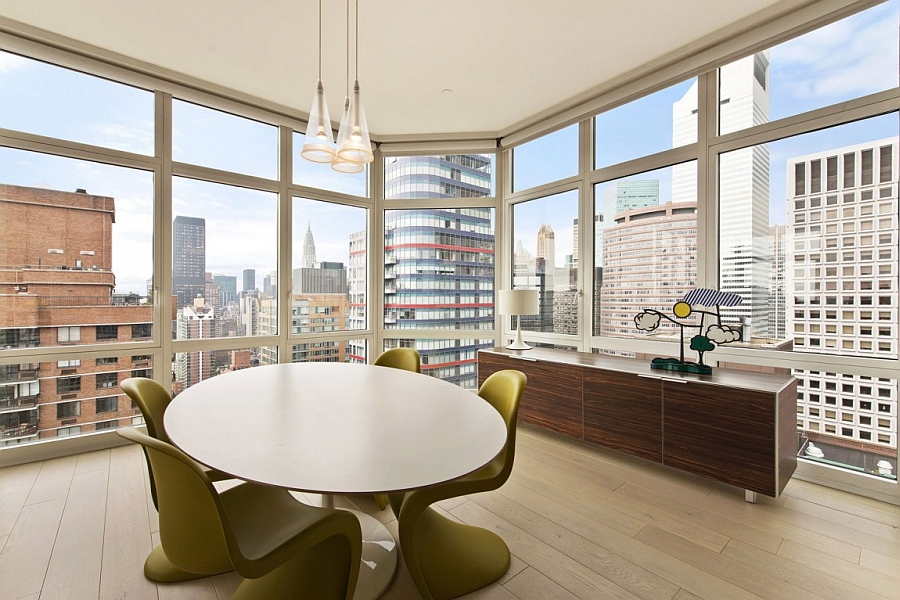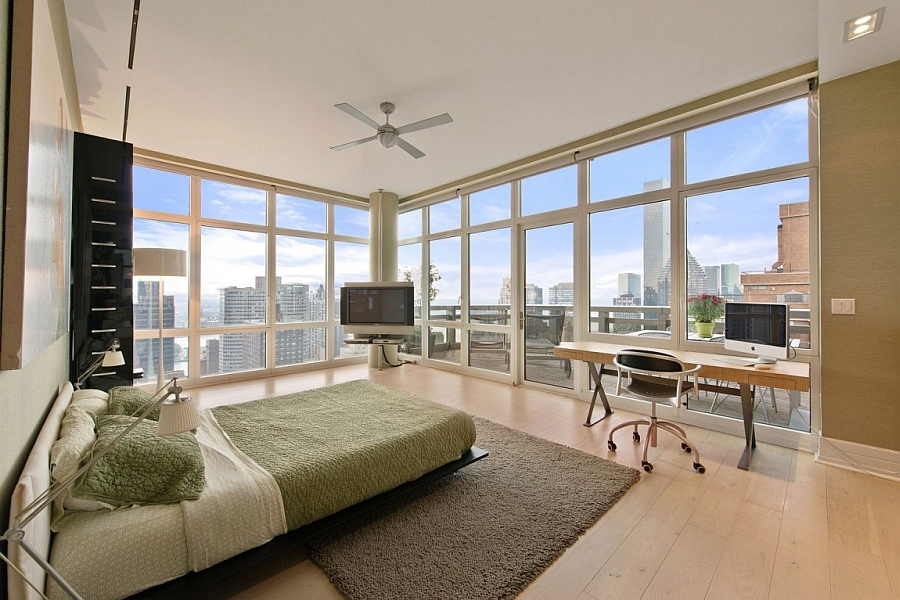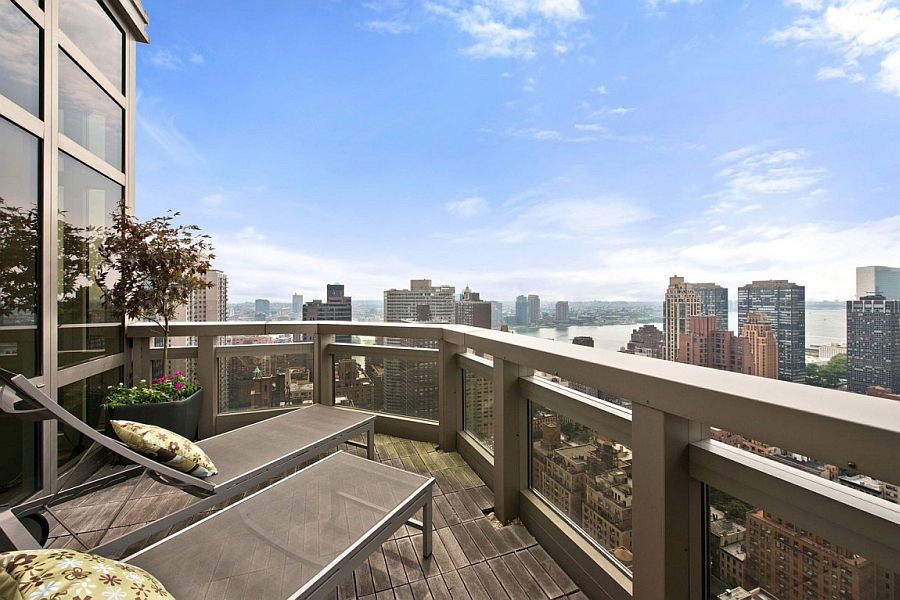 3. Brilliant Picot Residence
The inspired Picot Residence crafted by Pepe Calderin Design is a grand lesson in lighting and how to decorate with darker shades. Instead of turning toward white, grey and a few pops of bright color as is the norm in most NYC homes, this breathtaking penthouse uses black, red and gray to create a sophisticated, luxurious home. It is the complex layers of lighting, dazzling chandeliers and a combination of contrasting textures that stands out in this residence. An open floor plan creates the impression of an airy space while smart decor choices add to the grand visual.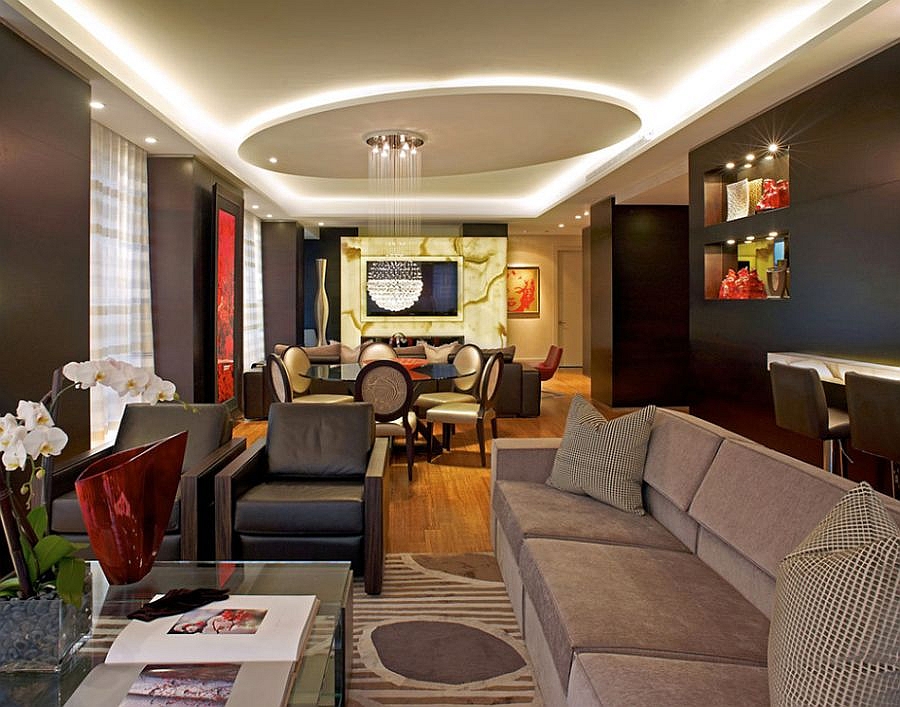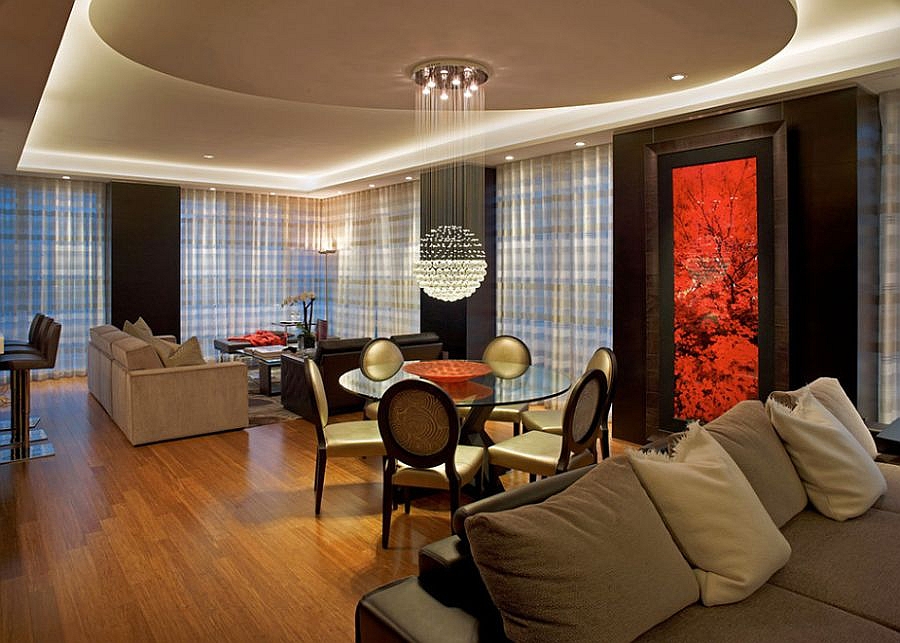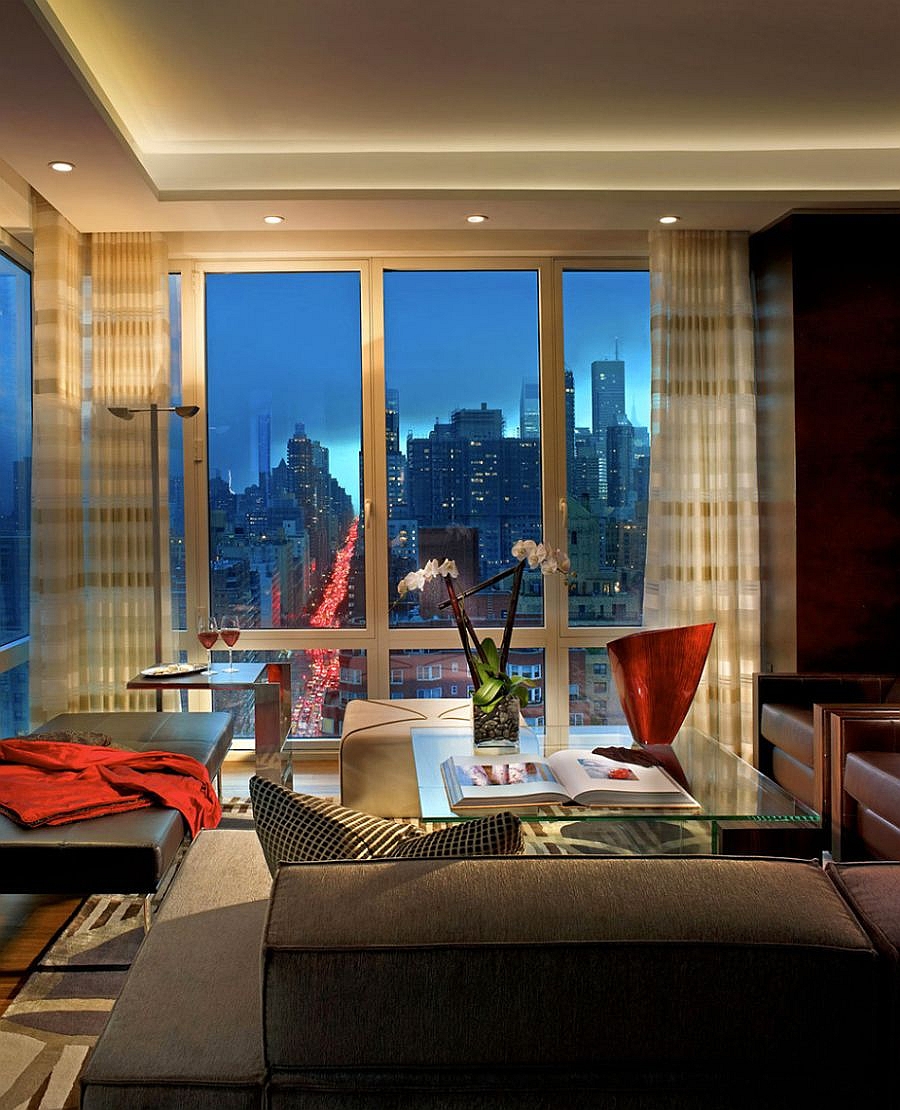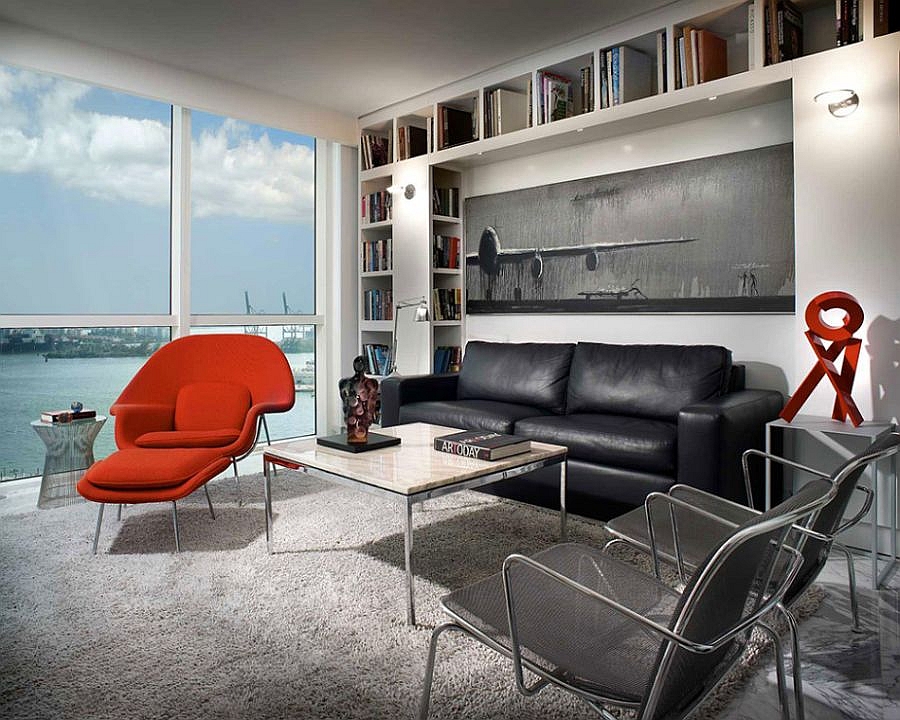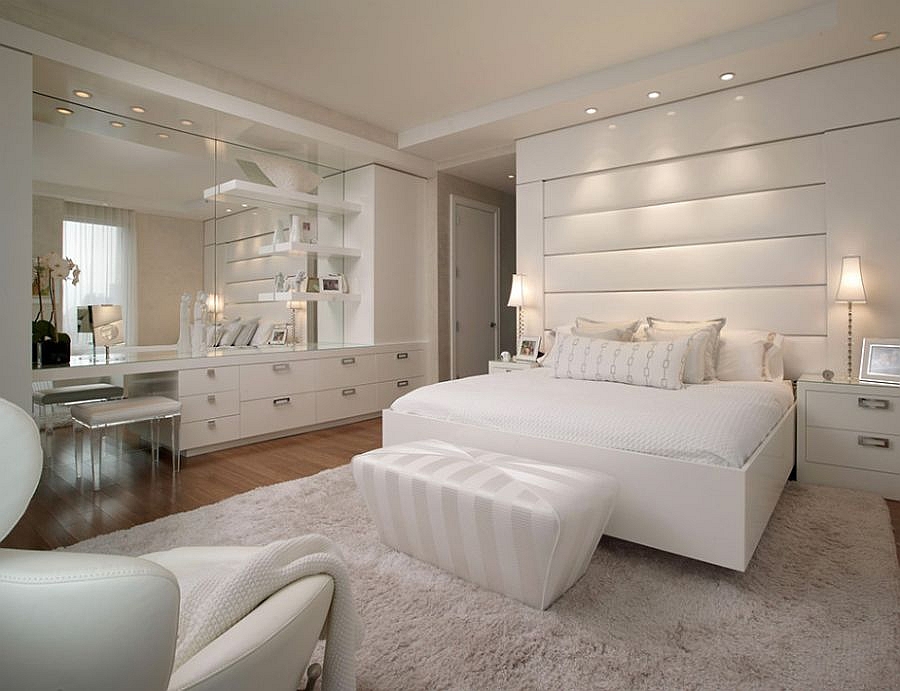 4. Antique Brilliance in Setai Wall Street
Customized, exclusive and exceptional to its core, the carefully curated penthouse of Alex Birkenstock on the 30th floor of a building located on Setai Wall Street is truly one-of-a-kind. Filled with vintage collectibles, antiques and rare finds that the homeowner has assembled over the years from various corners of the world, this home was recently customized by Steve Harivel. Priced at $13 million, you will not only be paying for a spectacular penthouse but also the rare finds like Art Deco doors from a 1920s theater in Hawaii and French leather club chairs from an era gone by. Exposed brick walls and metal pipes add to the unique look of the penthouse, and you can wake up each morning with a lovely view of Lady Liberty in the distance.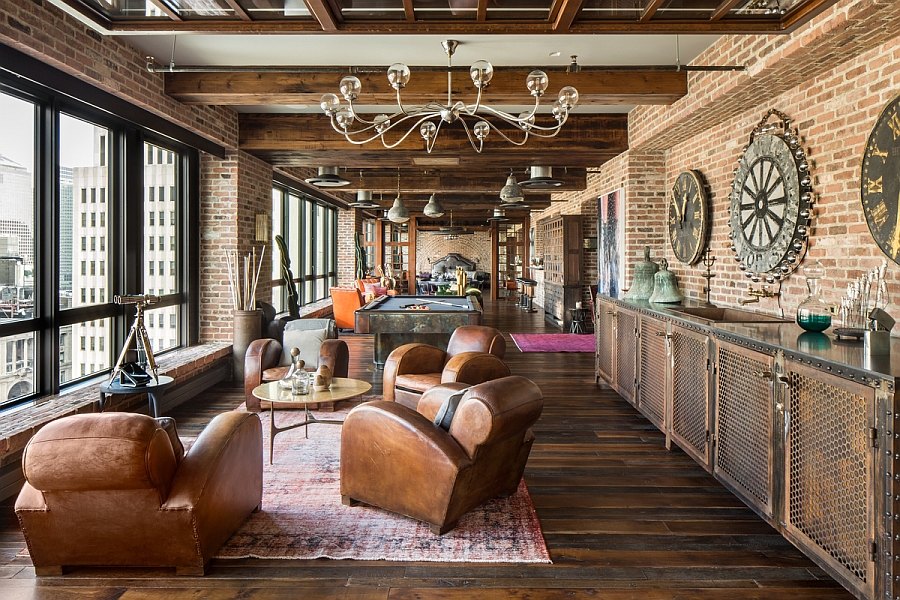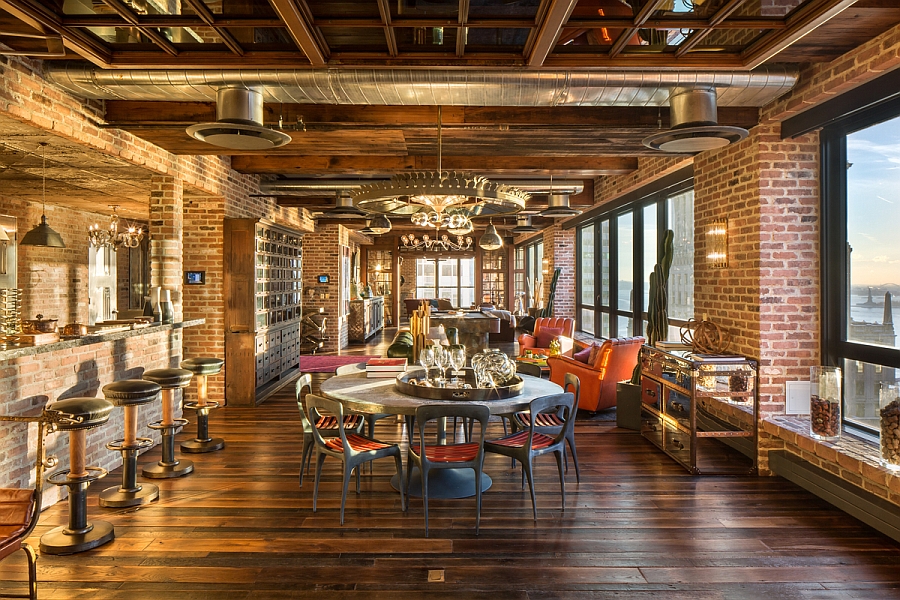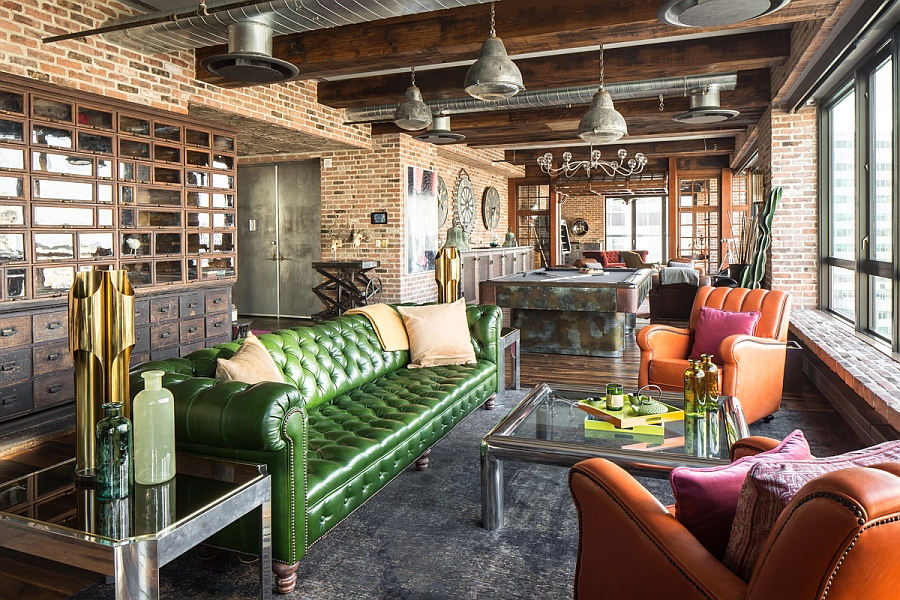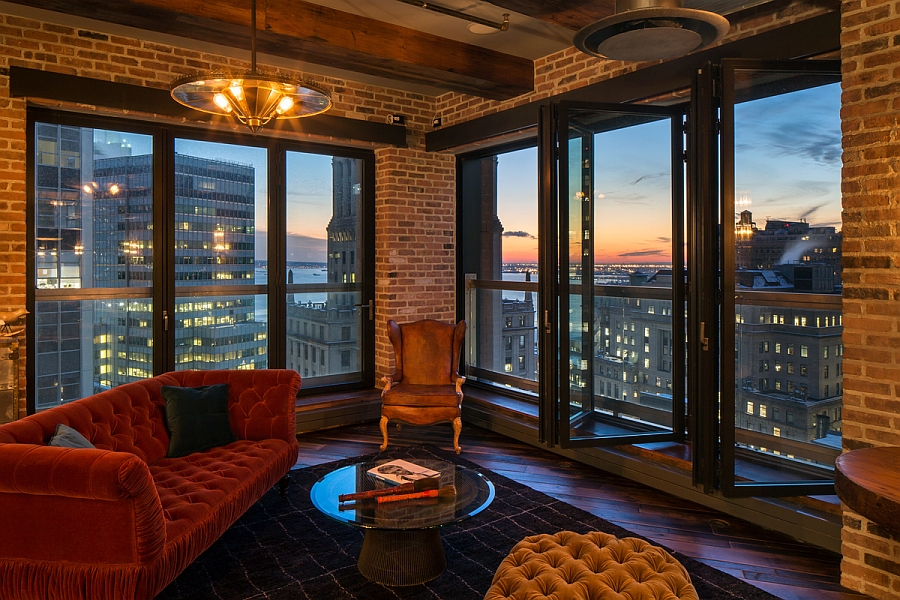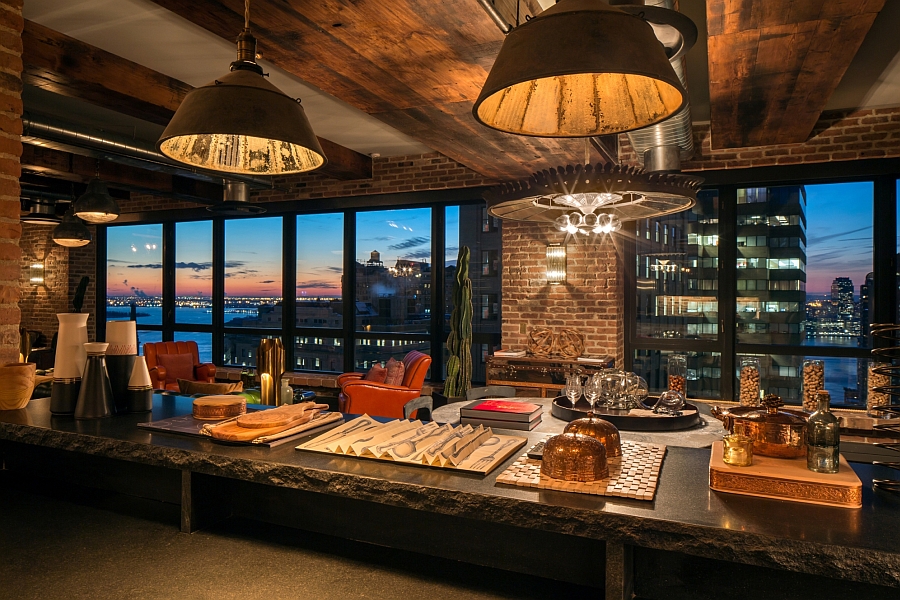 5. An Inspiring Revamp
We love a cool renovation that embraces the principles of adaptive reuse and turns an old, discarded structure into a beautiful modern home. But not many would believe that this urbane penthouse in Greenwich Village was a coal delivery garage since the 1990s, and the creative folks from Turett Collaborative Architects have recently renovated and restored it by using ingenious design solutions. While the exterior of the townhouse was largely preserved to retain its historic appeal, the interior was revamped using an earthen color palette and a blend of brick, wood and glass. A serene koi pond, multiple bedrooms, spacious living areas and generous parking space are spread across several levels of this revamped home.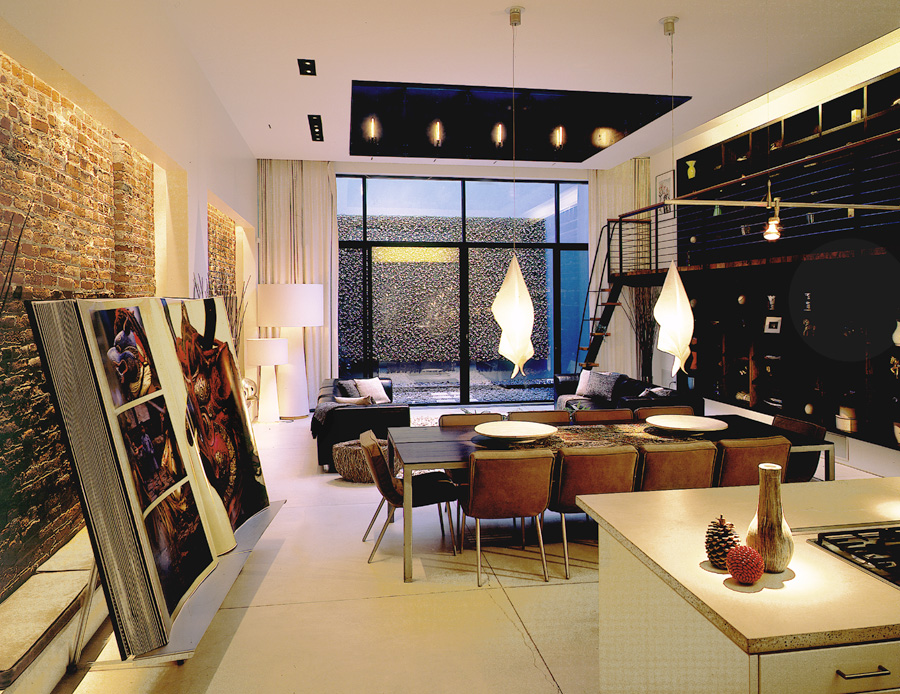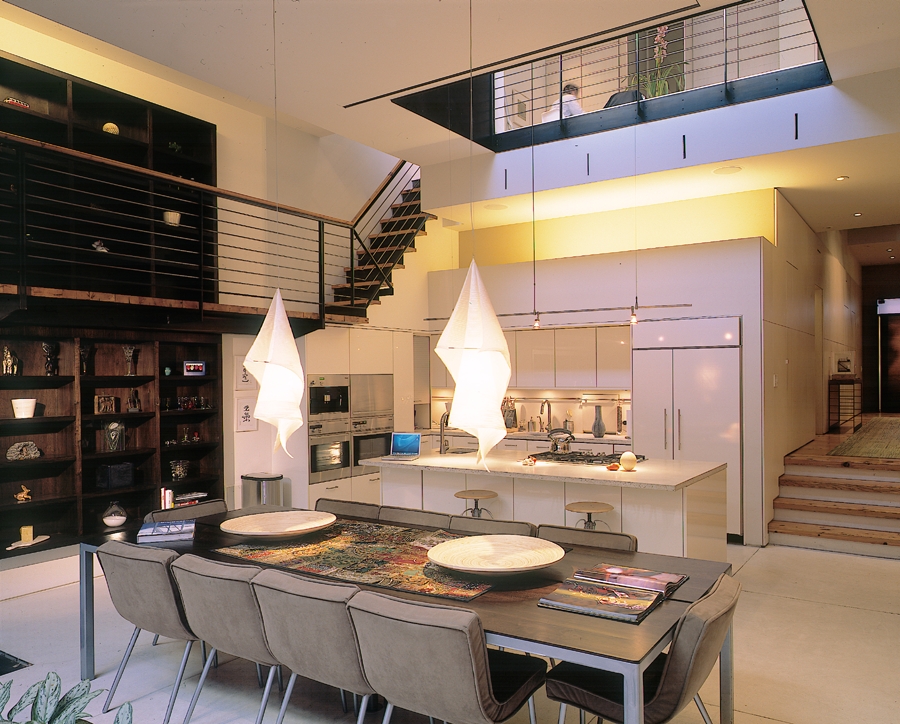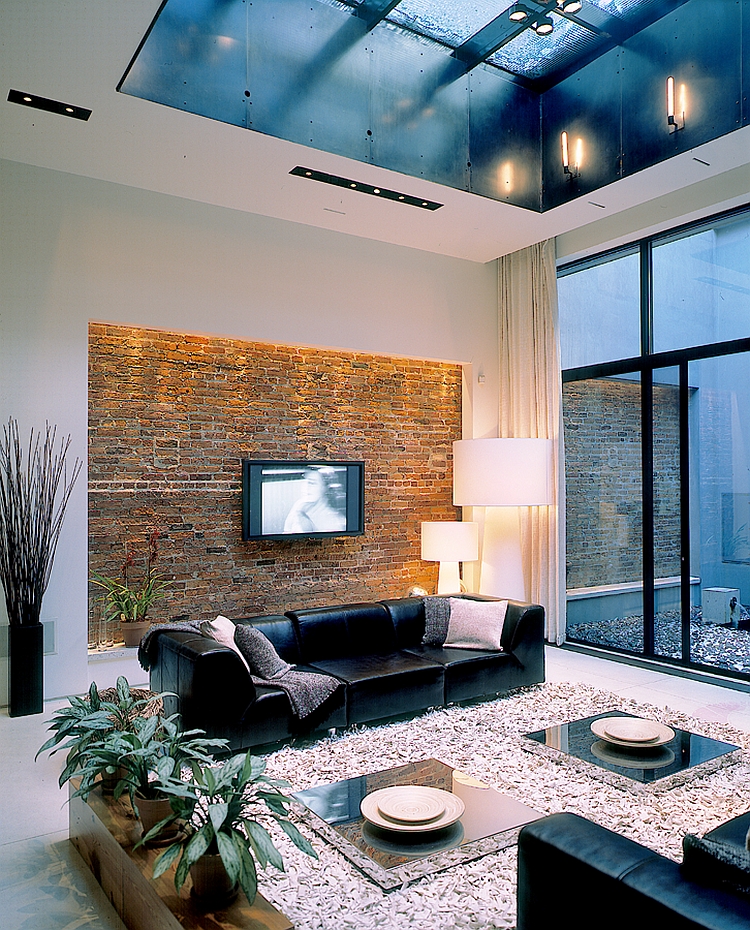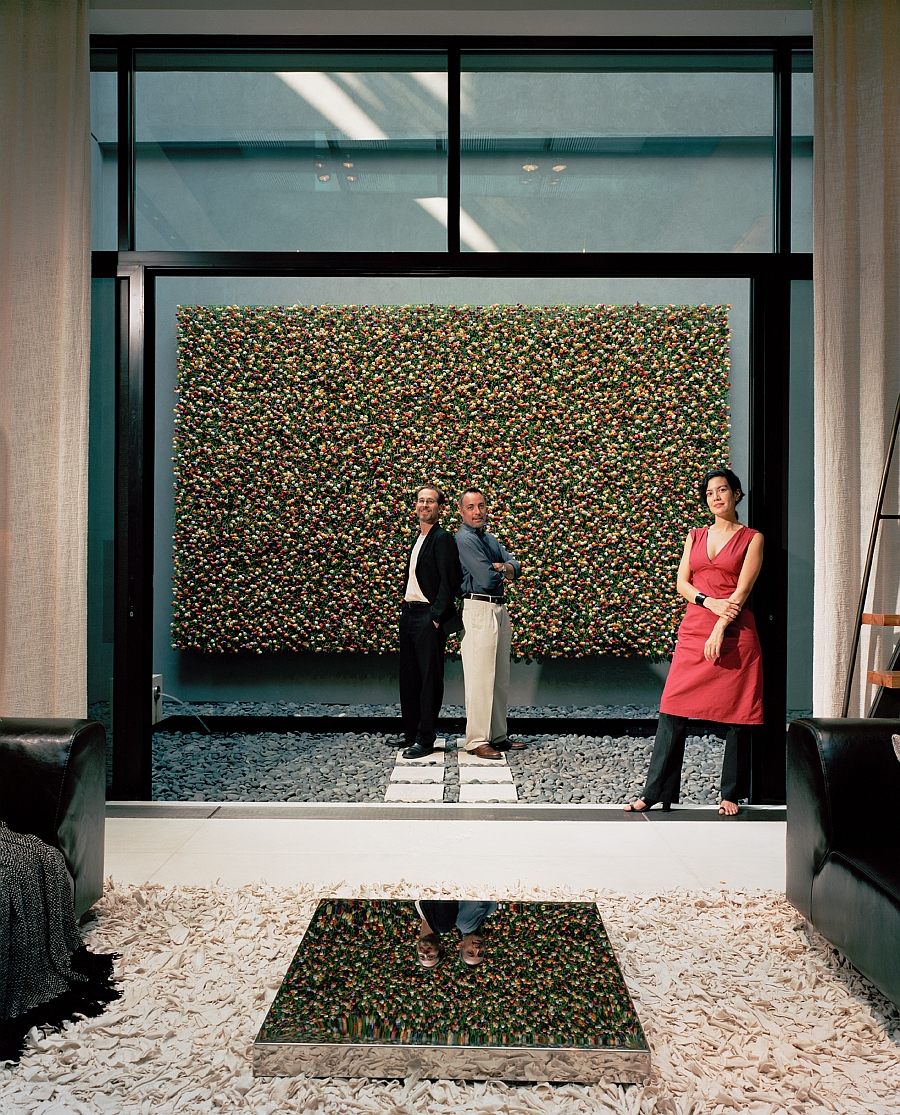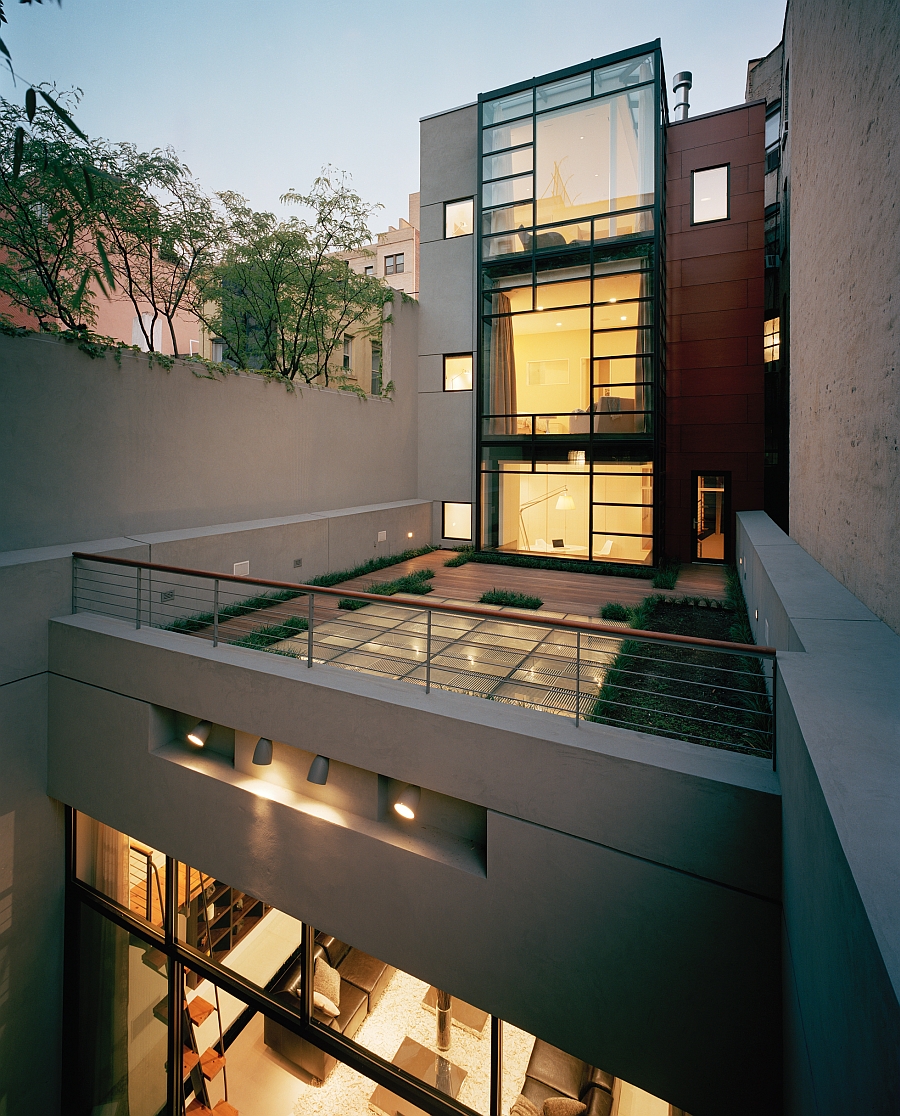 6. Hollywood in NYC Sinatra Style!
How would you like to own a piece of Hollywood history that also offers spellbinding views of the East River and the NYC skyline? This chic penthouse belonged to Frank Sinatra, and it is said that Ol' Blue Eyes himself decorated and designed most of the space in its early years. The Andy Warhol print of Marilyn Monroe, Apple store-styled glass staircase and plenty of glitz ensure that you are reminded of who first owned this place. Priced at $6 million, we say it's a bargain buy for all that it offers!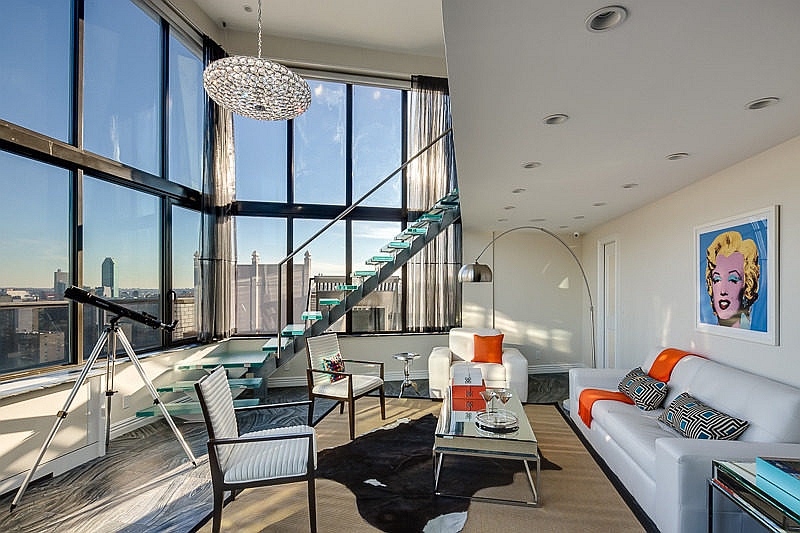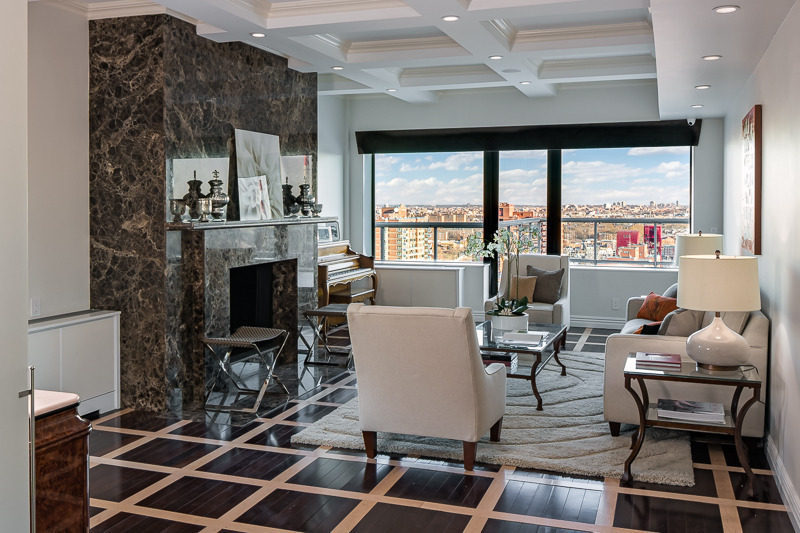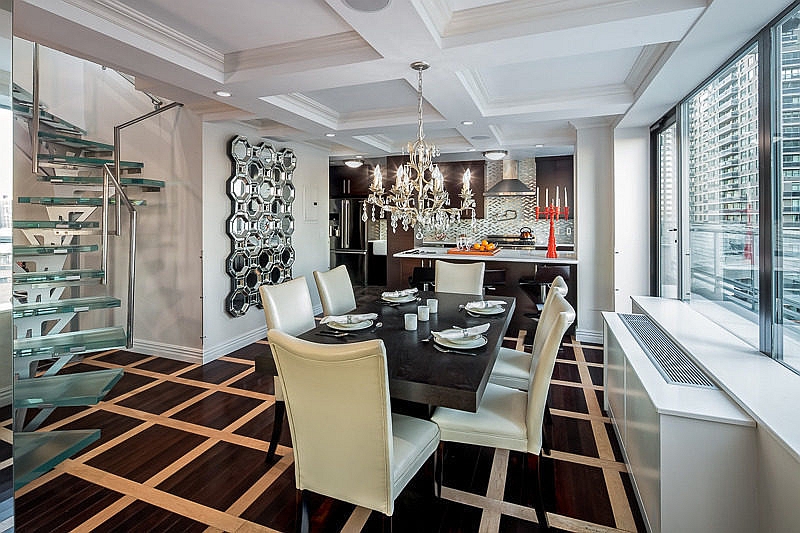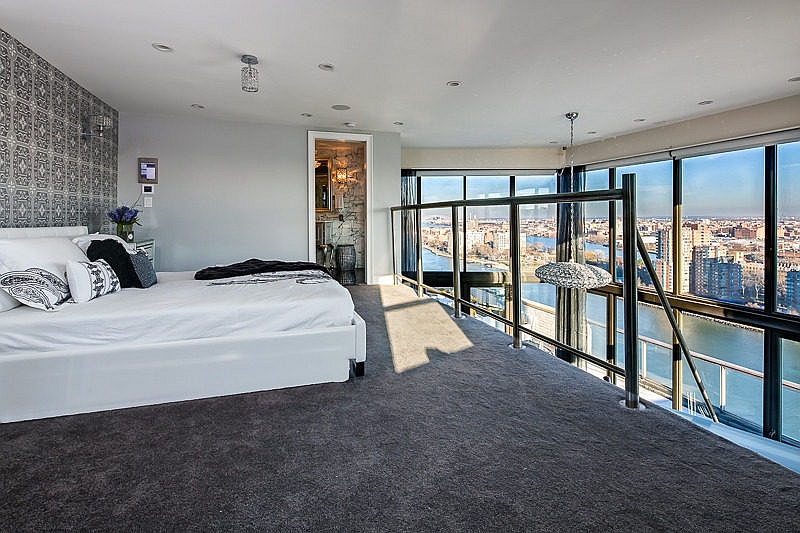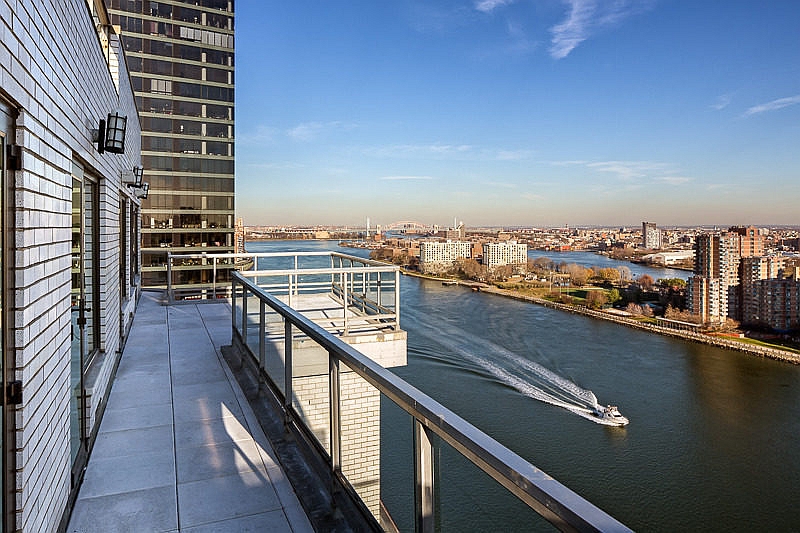 7. Posh SOHO Loft
We know what you have been waiting for; you want to take a look at that chic SOHO styled New York loft that has become so renowned across the globe. It is definitely the calling card of NYC when it comes to the world of interior design. Trendy and semi-minimalist in every sense of the word, black and white are the major colors here. The 'art gallery' style of the neighborhood is incorporated into the apartment with brilliant wall art and stylish sculptures becoming the focal point in every room. A perfect template for any modern home…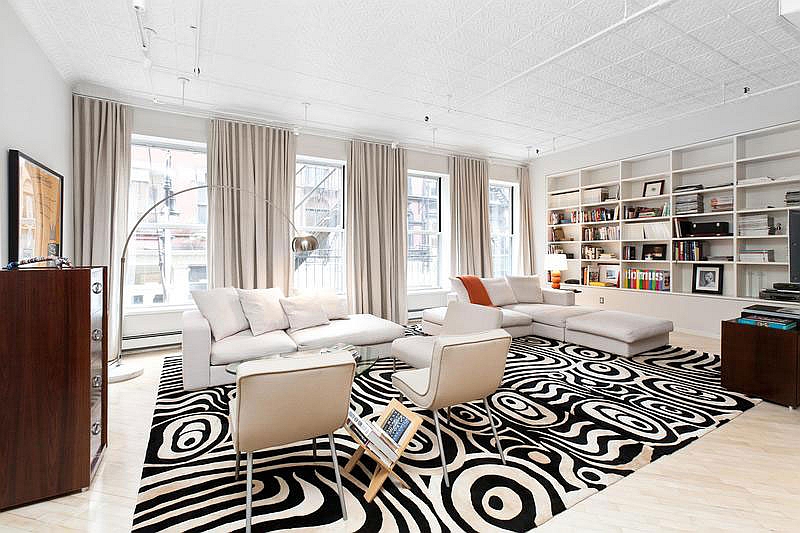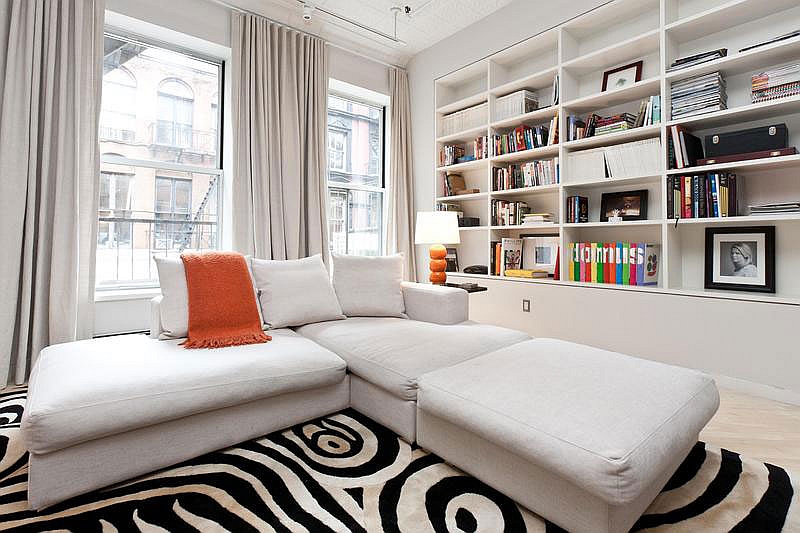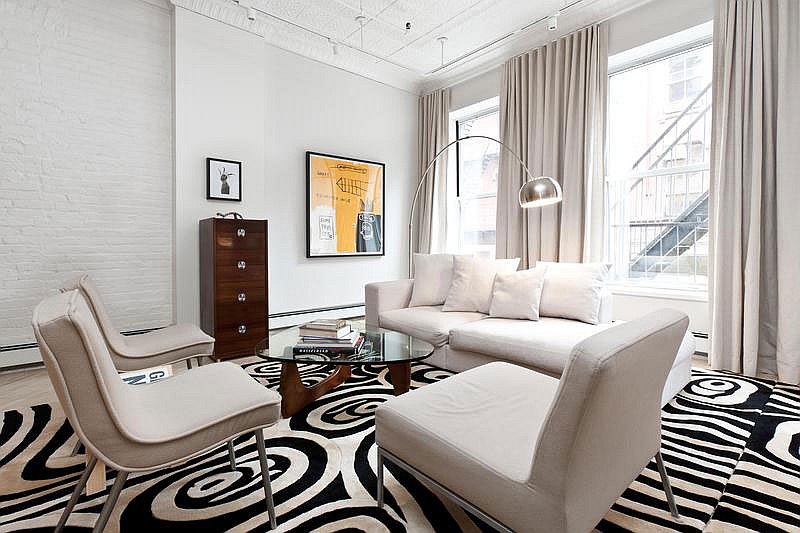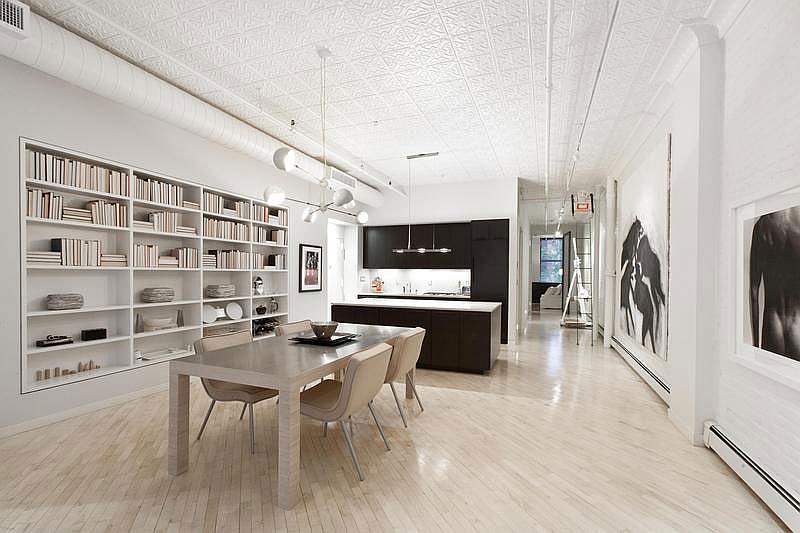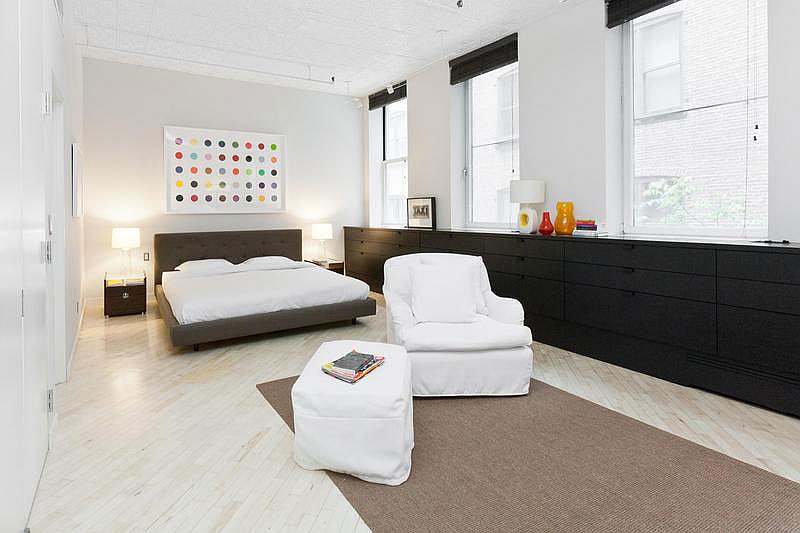 8. Colorful Flair of Rio!
Many of the residents in New York City come from various cities of the world and contribute immensely to its global style. It is no different in the world of interior design, and Cristiane Peixoto and her husband Marcus Silberman wanted to add a tinge of their hometown Rio to their $4.5 million apartment in the Big Apple. It was Maureen Hackett who turned the home in the Upper East Side of Manhattan into a thriving tropical-style hub filled with ample greenery. The vivacious 2000-square-foot rooftop garden is the focal point of the home and reminds the couple of Rio. The interior also uses similar rich, vibrant touches to heighten this appeal.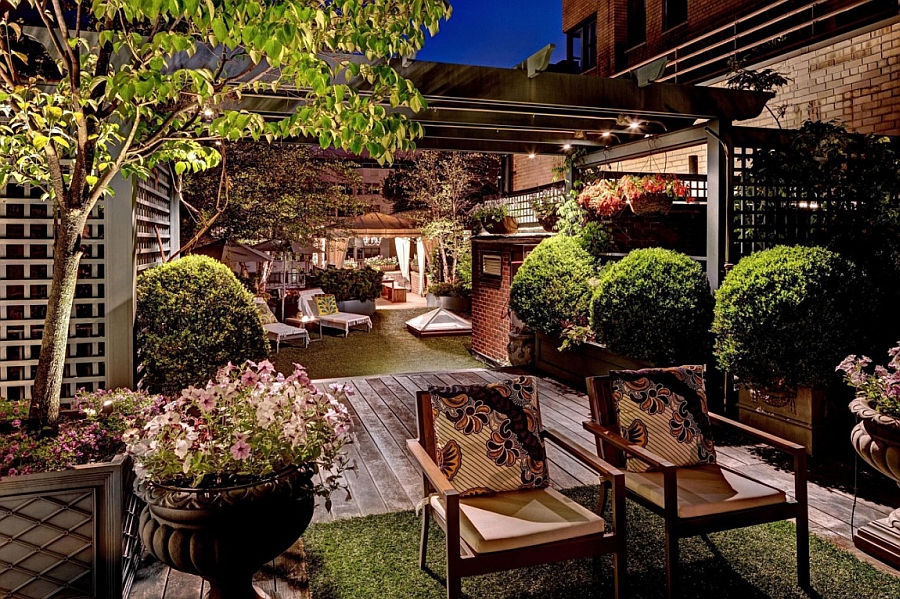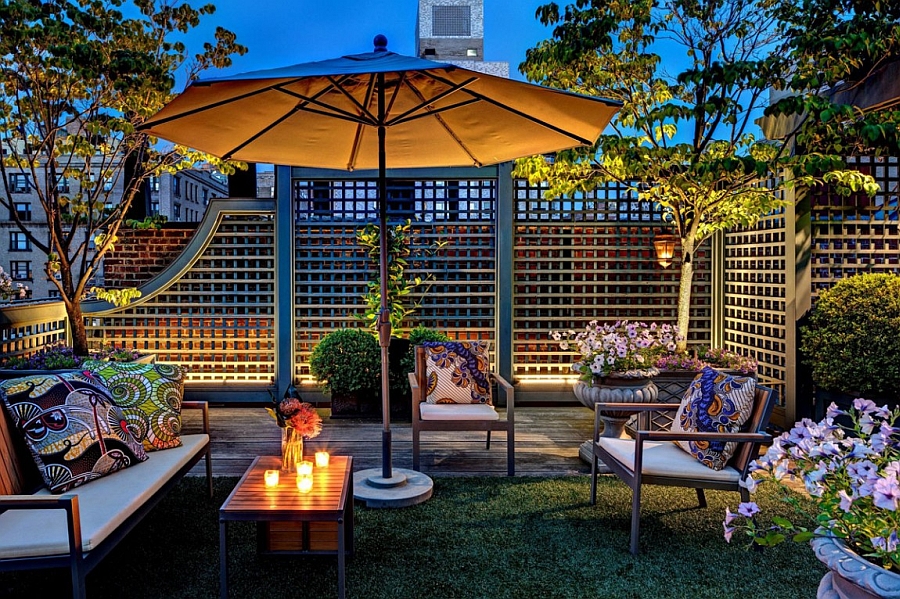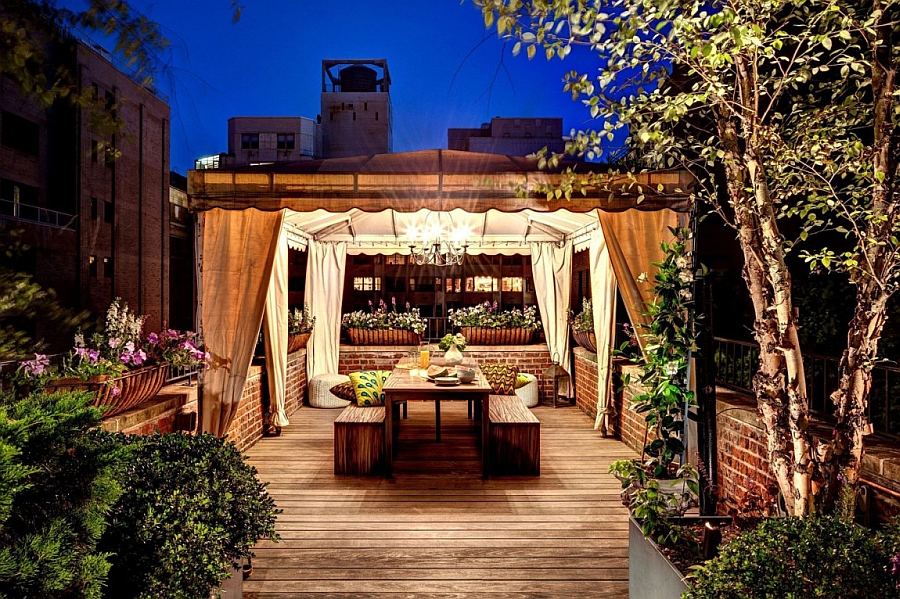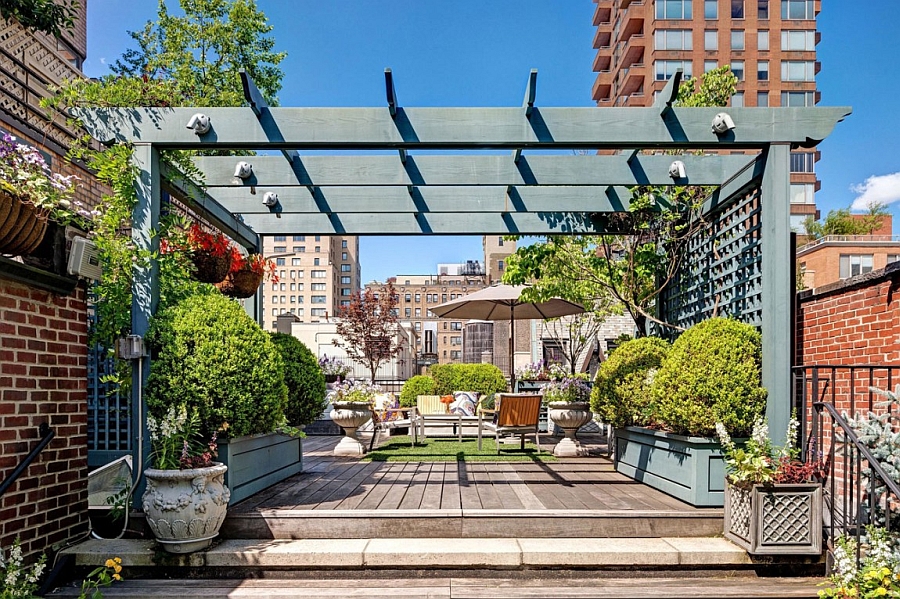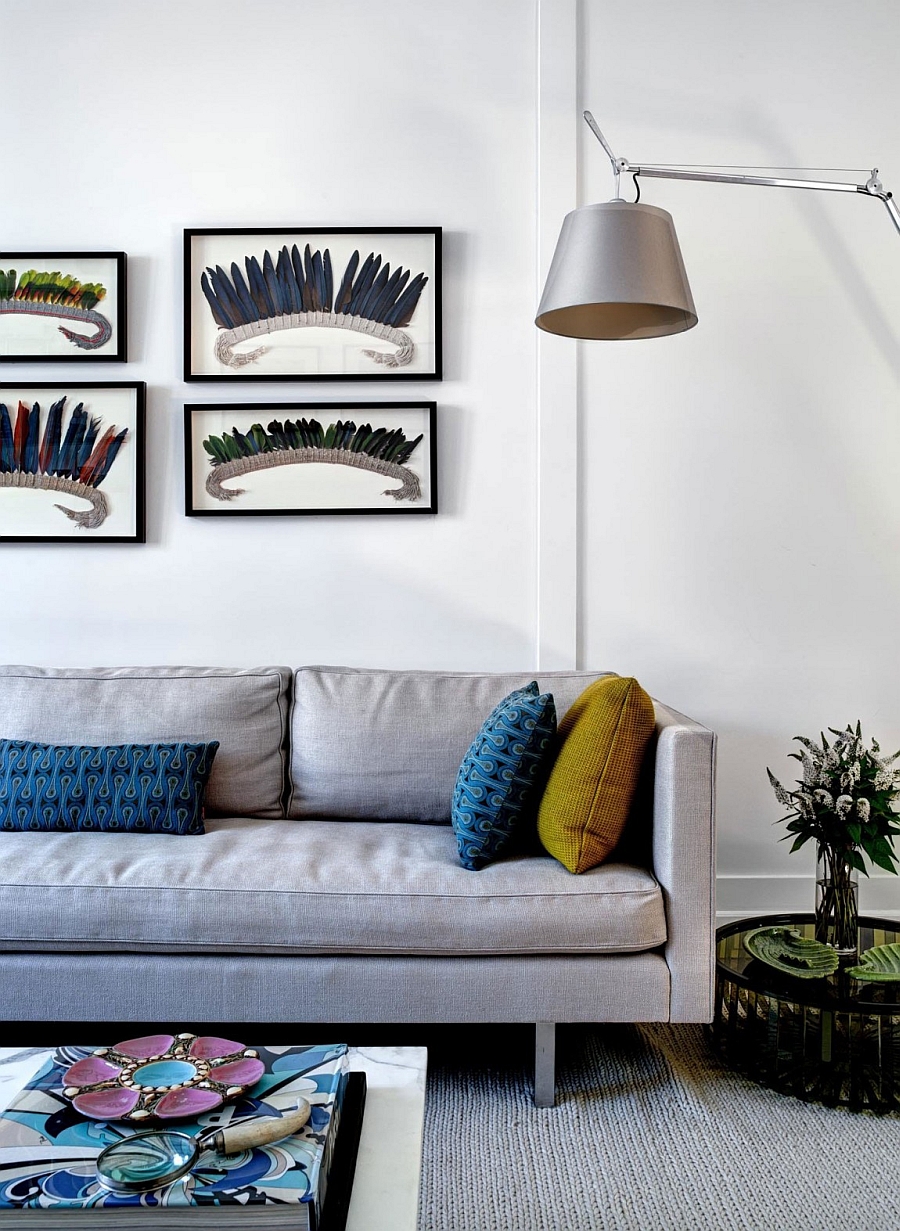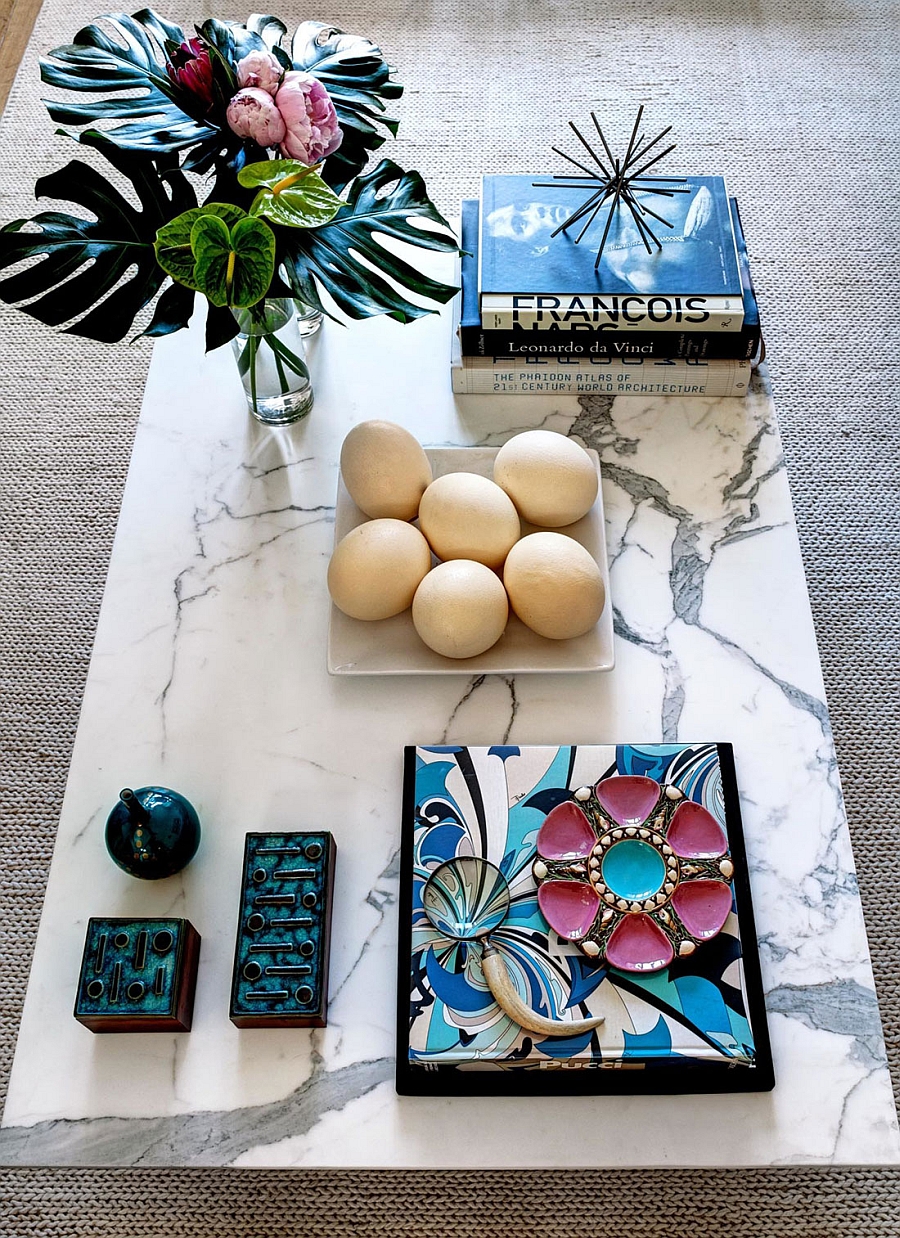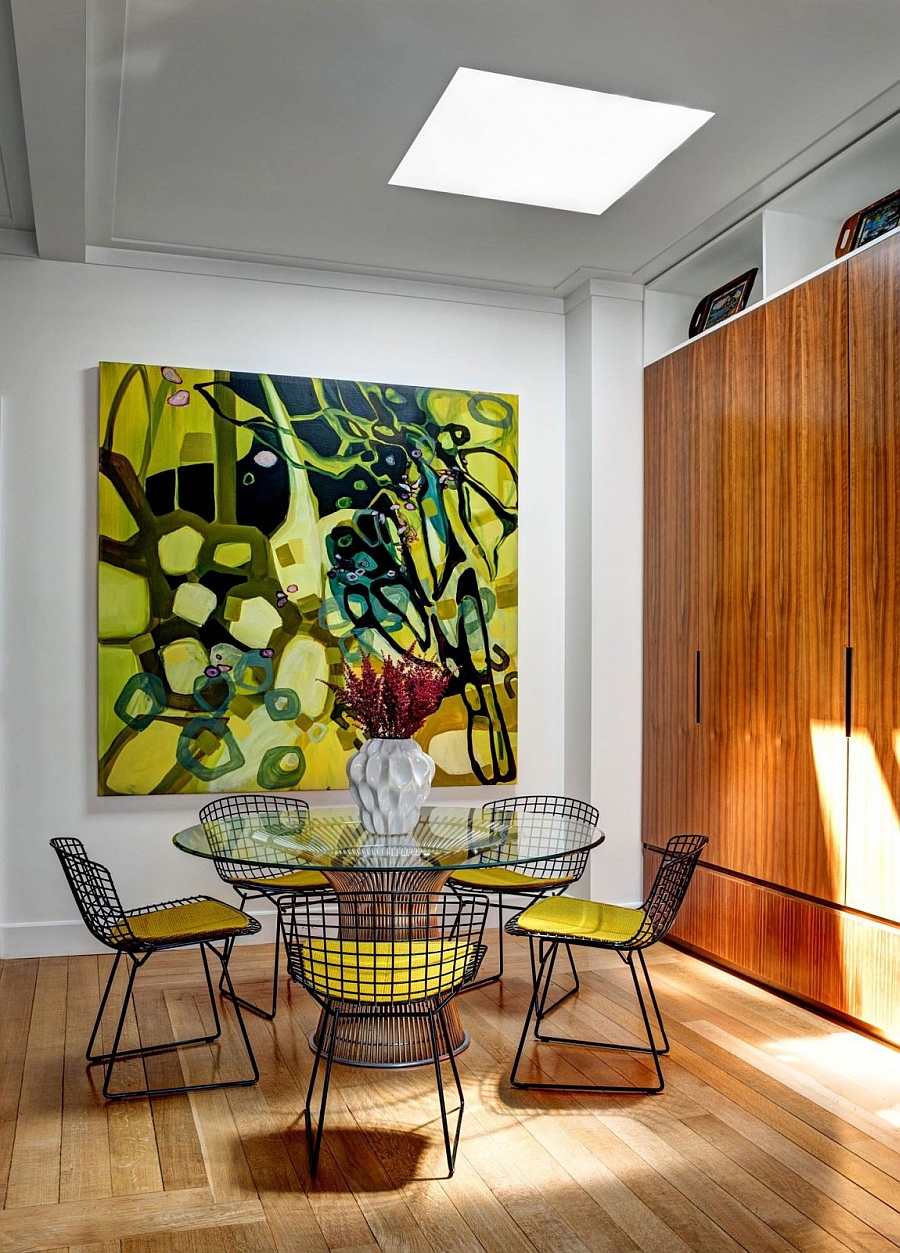 9. Eclectic Prince Street Loft
Finding a beautiful balance between modern and eclectic styles, the Prince Street apartment boldly lets its brick walls, metallic pipes and unpolished surfaces shine through. The house tries to embrace an industrial look in a restrained fashion, and its proximity to the hippest joints in the city makes it even more alluring. Unpretentious and elegant, it offers a serene sanctuary in the urban jungle that is New York City!