Modern designers, especially in the case of those who have the scope to design lovely houses that have ample terrace space and even compact condos, have found a wonderful way to integrate the views that they offer as an essential part of the home itself. And the extensive use of floor-to-ceiling glass windows has been one of the ways in which this has been accomplished.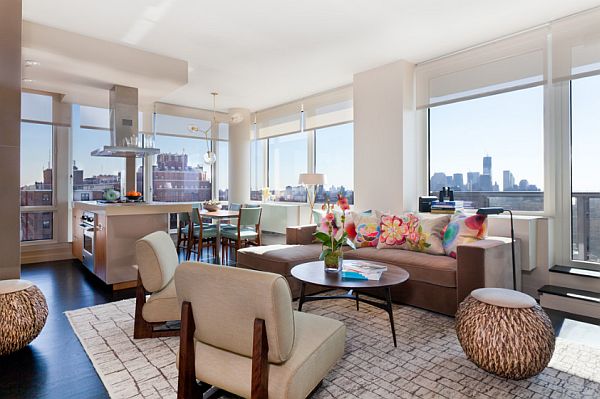 This simple, yet lovely condo in West Chelsea neighborhood of Manhattan uses the renowned skyline of New York City as its bold backdrop to provide its space owners with a compact and yet breezy living space.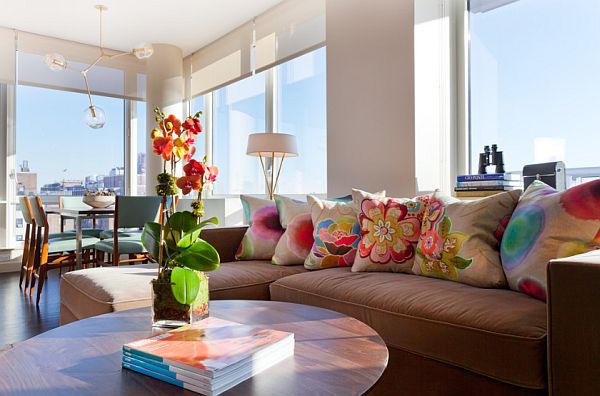 Apart from the use of the generous glass windows, there is also a wonderful amalgamation of opposites in here. Designed by Drew McGukin, the home combines modern minimalism with lovely and bright hues that add a touch of elegance, without disturbing the overall theme. While the while walls and the gray shades provide for a blank canvas, the use of bright yellow, beautiful turquoise chairs, sofa cushions with flowery patterns, and bright and bold prints carefully scattered here and there ensure that there is a certain uniqueness about the home.
The use of chandeliers and pendant lamps in a subtle fashion along with the natural lighting provided by the large windows adds an attractive visual element, while the addition of a Murphy bed in the office space creates for a makeshift bedroom. Tailored hardwood flooring and a compact dining table complete this ergonomically perfect condo.