Celebrity homes are always a big hit on the real estate market and tend to garner plenty of attention. But when the celebrity in question is the Frank Sinatra, all that attention is well deserved. Few names from the music industry and Hollywood cut across generations and continents like Ol' Blue Eyes! Frank Sinatra's renowned New York City penthouse is now available for sale and costing a modest $6 million (A bargain, considering the Hollywood heritage the home brings along with it). The lavish house offers sweeping views of the East River and the iconic New York City skyline.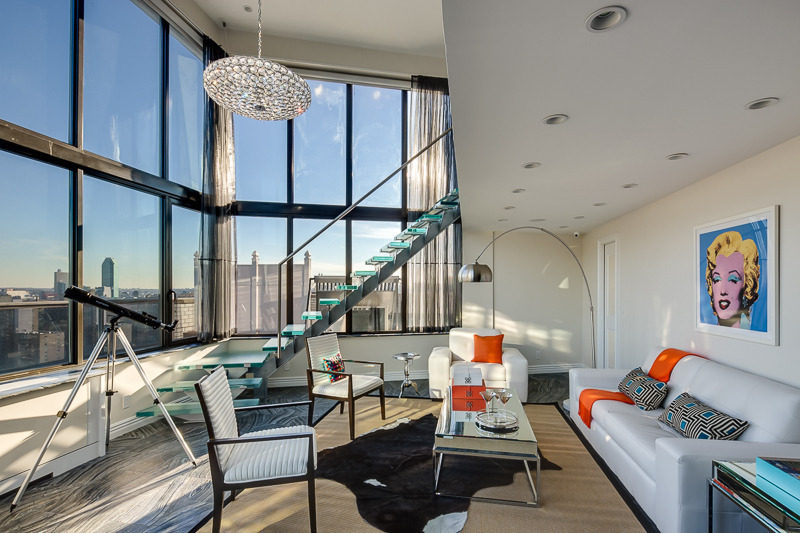 The Andy Warhol print of Marilyn Monroe in living room is a fitting addition to the penthouse that was famously described by Warhol himself as a "glittering grotto in the sky". However, that dazzling grotto has undergone several changes in the last few years. While the original interiors that were designed by Sinatra in 1961 are still largely intact, a new Apple Store-styled floating glass staircase and a few other renovations were added to the space to lift its appeal.
A sparkling marble fireplace in the sitting area, a gourmet kitchen and contemporary decor accentuate the look of this fabulous penthouse, which once played host to Hollywood's biggest and brightest stars. Featuring four bedrooms and six bathrooms along with two sweeping terraces that allow you to enjoy the view outside, it is a New York City penthouse that is all about Living it up in style. That and the nostalgic memories of one of Tinsel Town's greatest talents!
Take a tour of Sinatra's NYC Penthouse…