Adding layers of greenery to an outdoor space can take your yard, patio or balcony to new heights. By raising plants to eye level, you can create privacy and visual interest. Today's post is dedicated to the outdoor plant stand! Don't fret if your home doesn't include an outdoor space to beautify. The fabulous finds below can also be used indoors. After all, there's nothing like bringing nature inside when it comes to creating tranquil, inspiring spaces. Keep scrolling for a collection of images and items that will provide plenty of verdant inspiration… [photo from IKEA]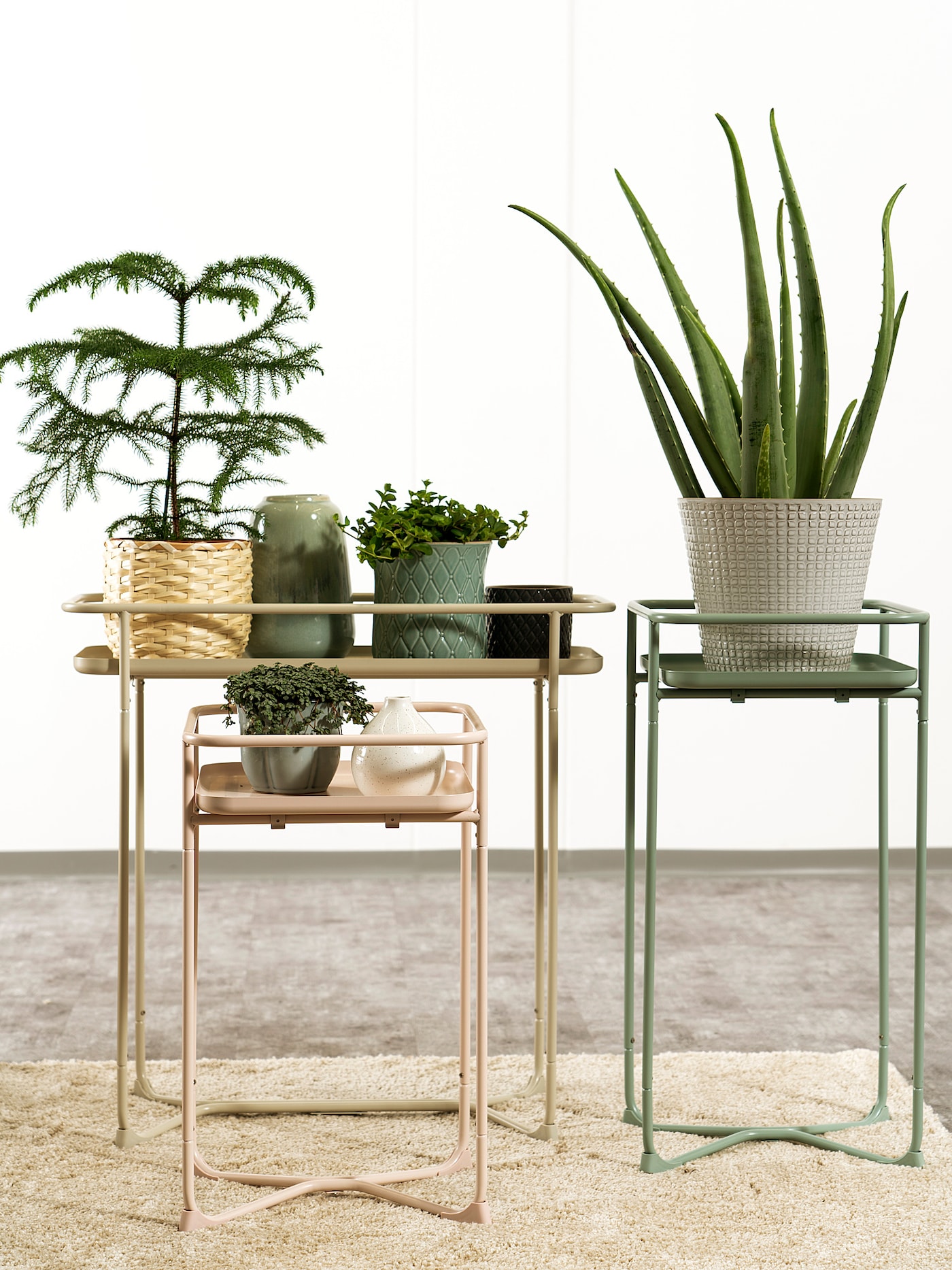 Metal Plant Stands
By far the largest group of outdoor plant stand offerings involves metal. After all, metal is durable and can be coated in rust-proof finishes. With that said, it never hurts to use extra precaution in order to extend the life of your piece. If your outdoor area offers no covering from the elements, try moving your plant stand against the house when torrential downpours are in the forecast. Below we see Anthropologie's Celeste Plant Stand in medium and large: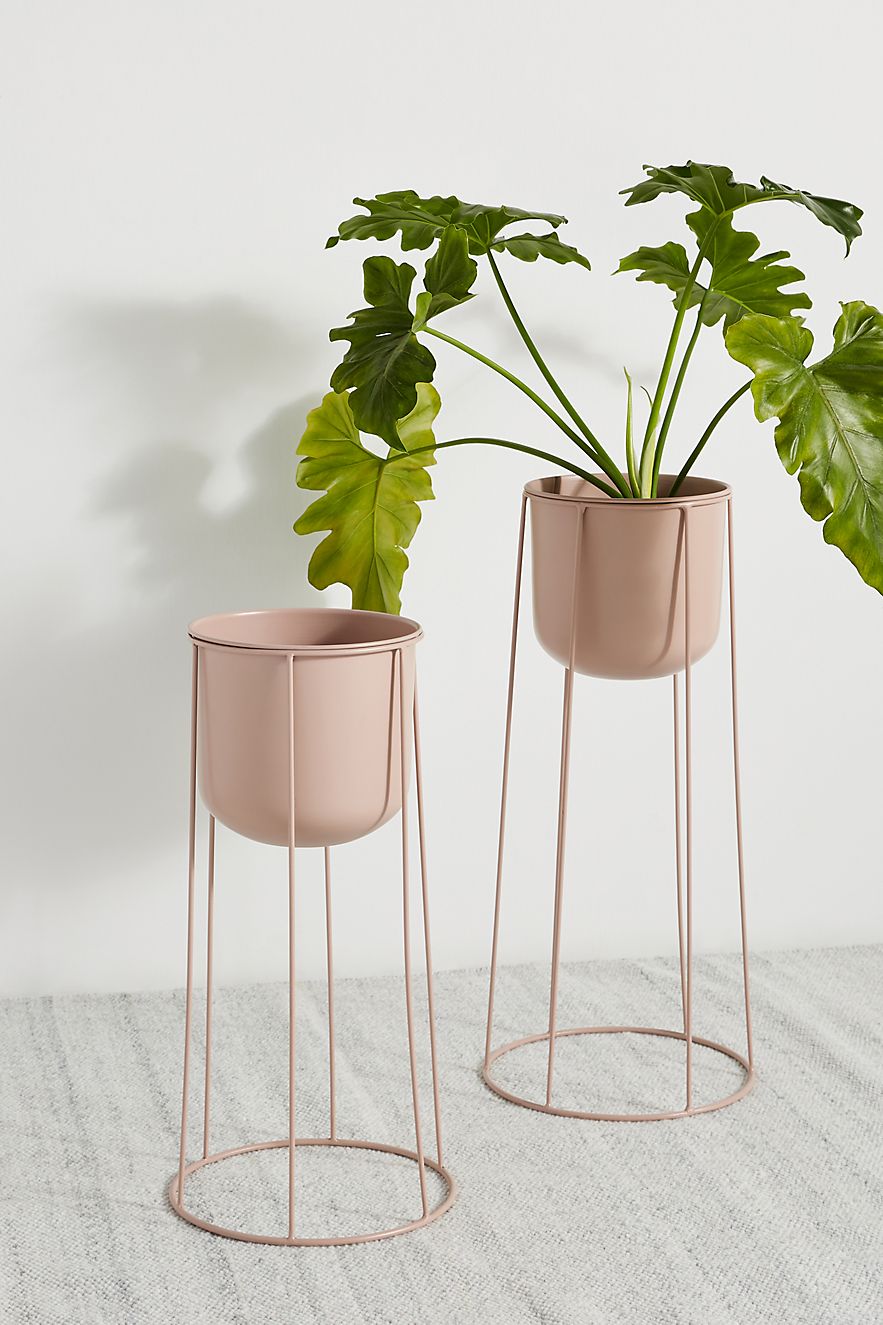 This style of round planter and cylindrical/conical base is extremely popular, and we've got the pictures to prove it! We're loving the rosy tone above (which is perfectly on trend), as well as the classic black hue of Menu's Pedestal Plant Stand, available via Wayfair: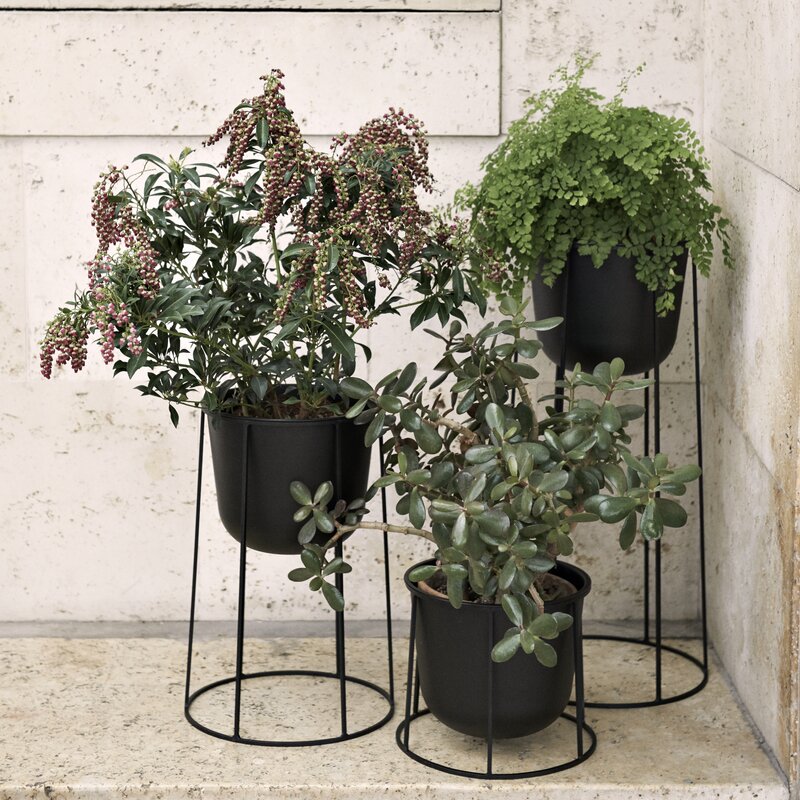 From the modern to the rustic, Terrain's Round Basket Plant Stand offers a wrought iron form, as well as clean lines that add a picturesque element to any style of outdoor space. The result: an elongated grid pattern on this functional, stylish stand.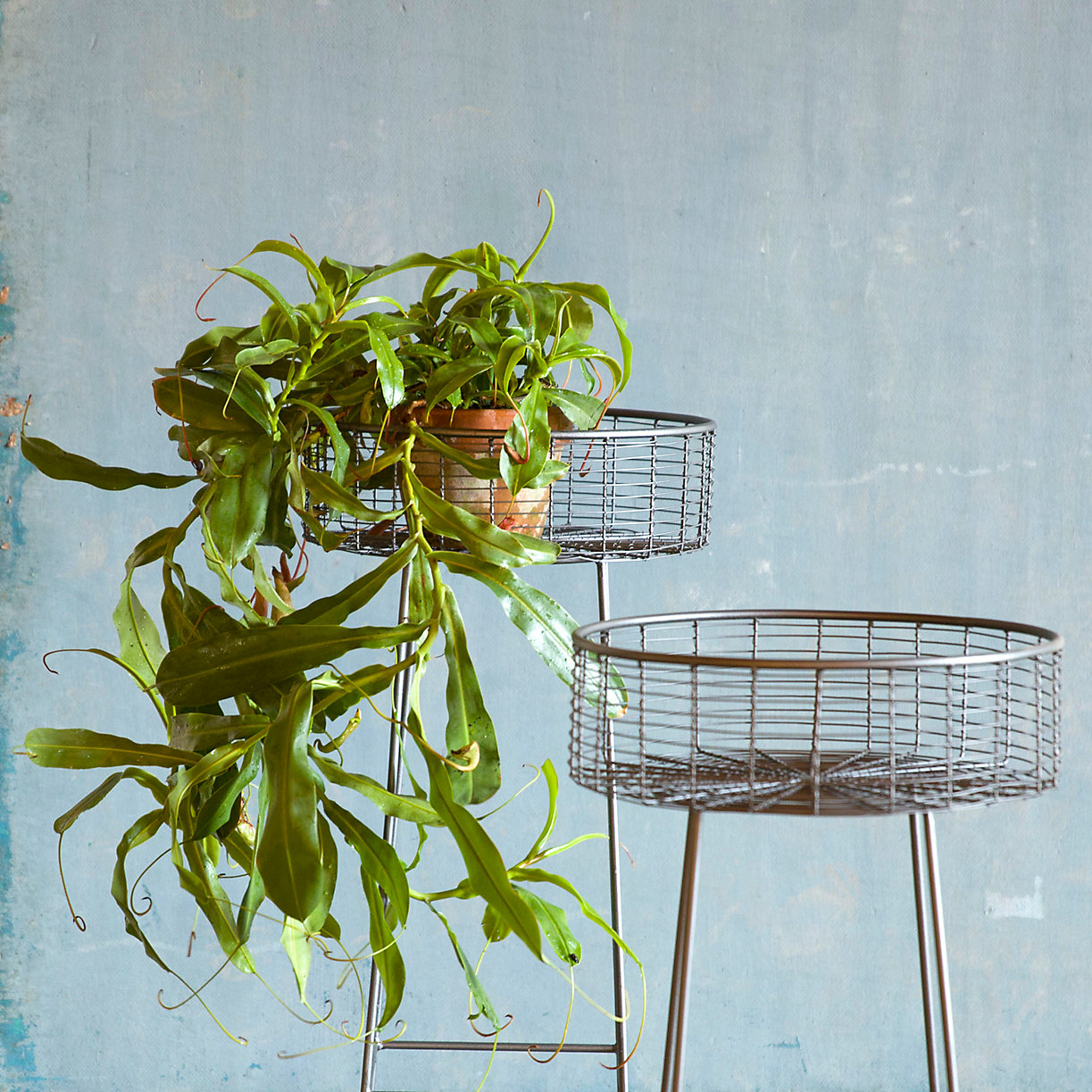 If you want a rectangular take on the outdoor plant stand, there are many offerings to browse. CB2's Kronos Planters feature an iron frame and an industrial look that's easy on the eyes, thanks to a matte carbon powdercoat. As a bonus, the galvanized steel boxes are easy to remove. Available in a range of heights (as well as a square version):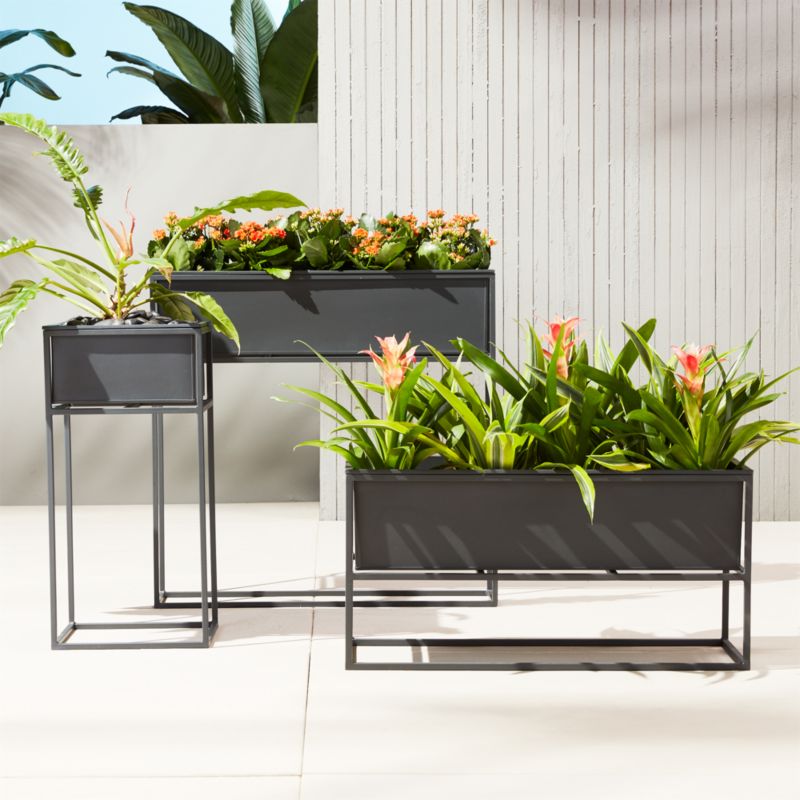 On a similar note, these industrial-style elevated planters from Etsy shop Cocoyard Garden Supply are great for indoor and outdoor use. The brand's 5-star reviews speak volumes. Also note that planter boxes such as these are a wonderful option for those who simply want to add potted plants to a container (in a row or a bunch), instead of "planting" them in a bed of soil. Then again, these plant stands have drainage holes for those who want to plant directly into the container: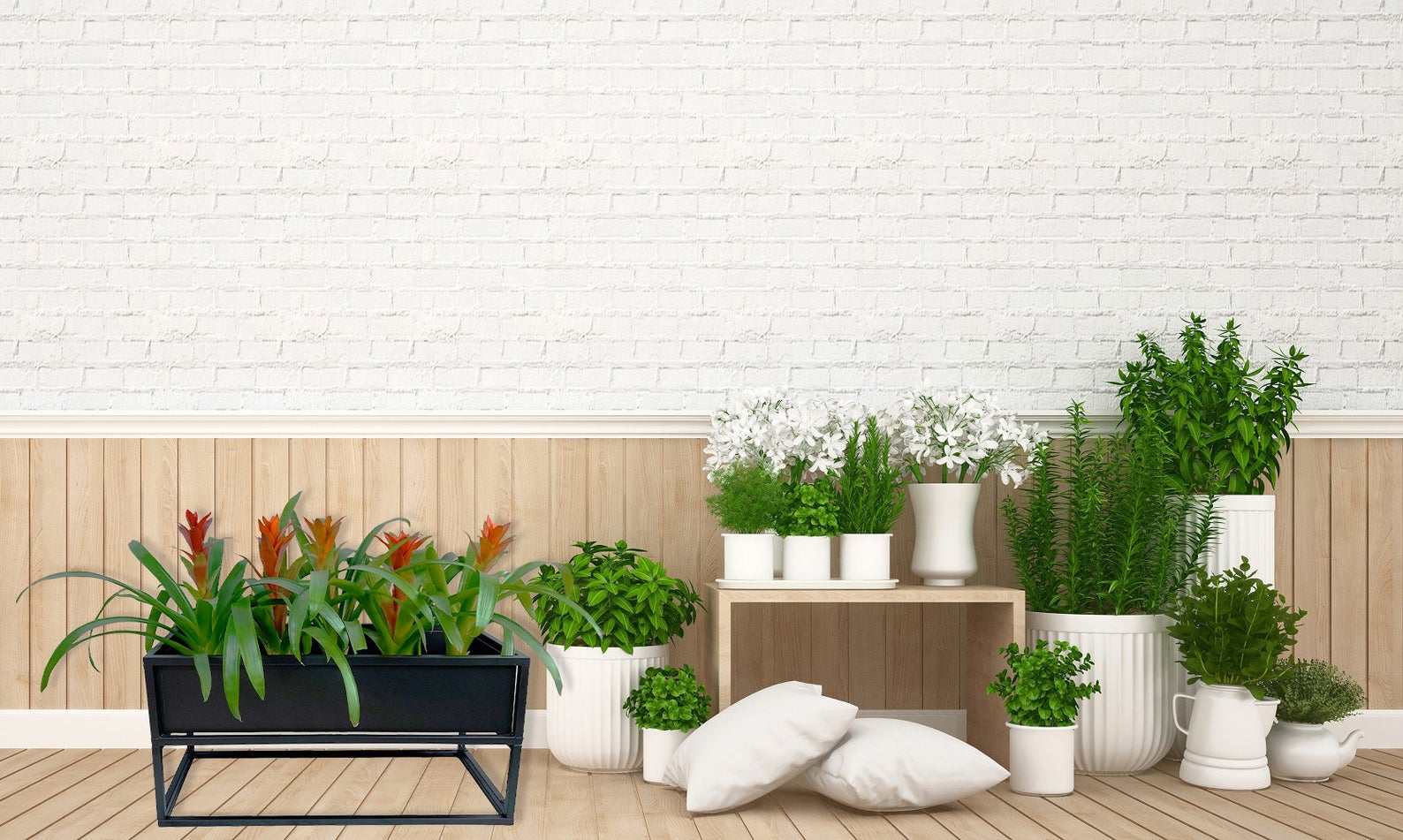 From ferm LIVING, this Two-Tier Plant Box in Cashmere can double as an outdoor console table, becoming a display area for pots and other objets d'art, in addition to plants. Choose from Light Grey and Black for additional color options: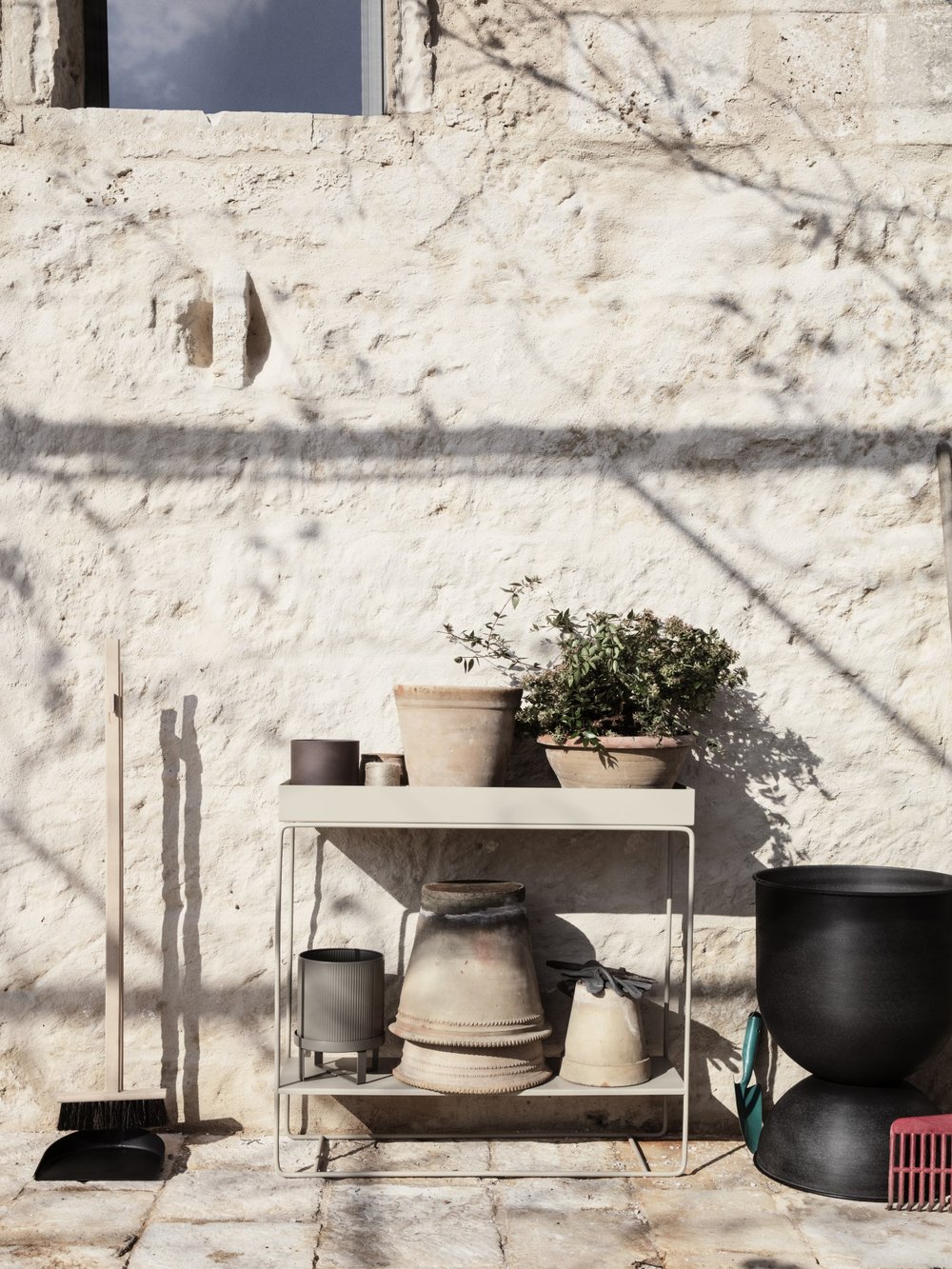 Wood, Ceramic and Stoneware Selections
We now move from metal to other materials that can work in your outdoor space, starting with wood. Kerrogee's Bamboo Ladder 3-Tier Plant Stand is crafted from natural bamboo, but it's the waterproof finish that makes this piece suitable for the outdoors.The back rails hold plants in place, while the depth of the lower shelves allows for more than one row of greenery, depending on the size of your pots. This plant stand also works beautifully indoors.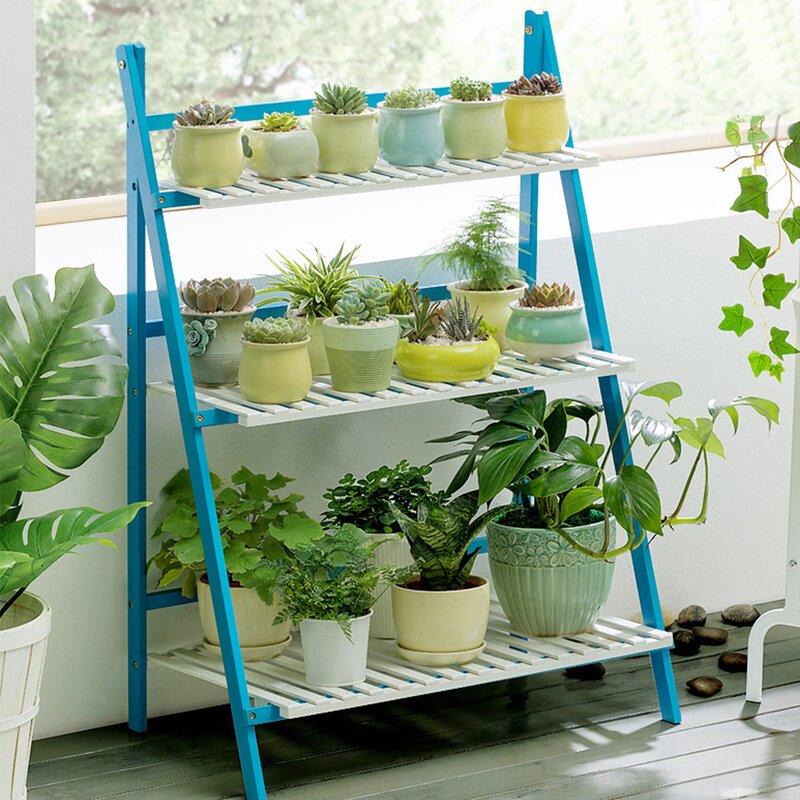 For a similar look with neutral hues, check out Gracie Oaks' Radke Plant Stand, available via Wayfair. Perfect for fans of design styles ranging from rustic to modern farmhouse, this folding piece is also ideal for displaying plants, storing gardening supplies, and more. Wood is the primary material, and ladder-style shelving offers tiers of display possibilities.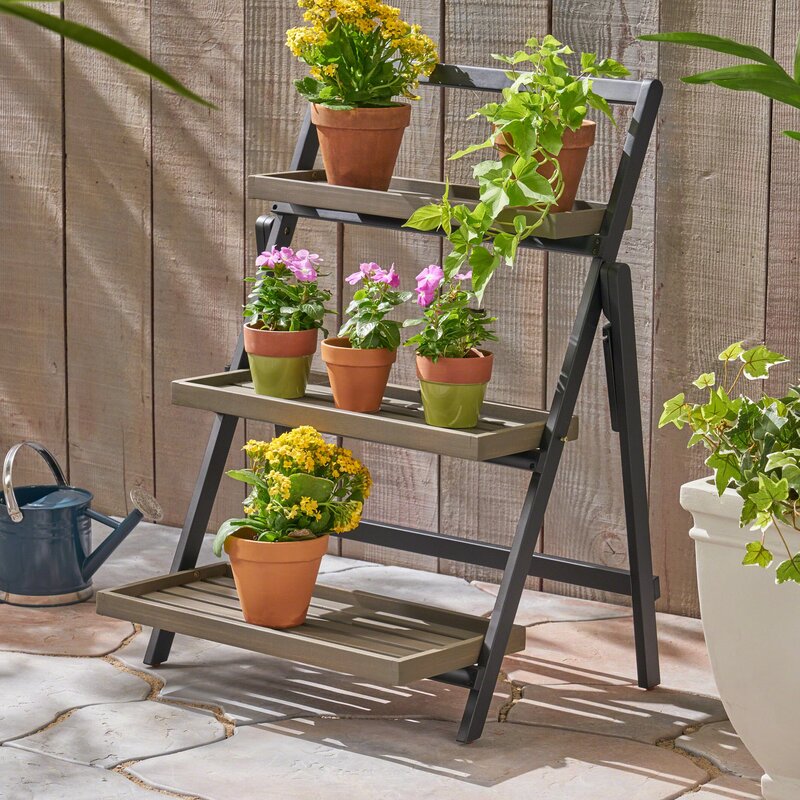 Modern design meets midcentury style with our next featured offering. The Okura Conical Planter from Jonathan Adler is a striking hand-thrown stoneware piece in a bold red. As you can see, the planter is at its best when featuring sculptural greenery, such as the agave shown below. A true modern jewel: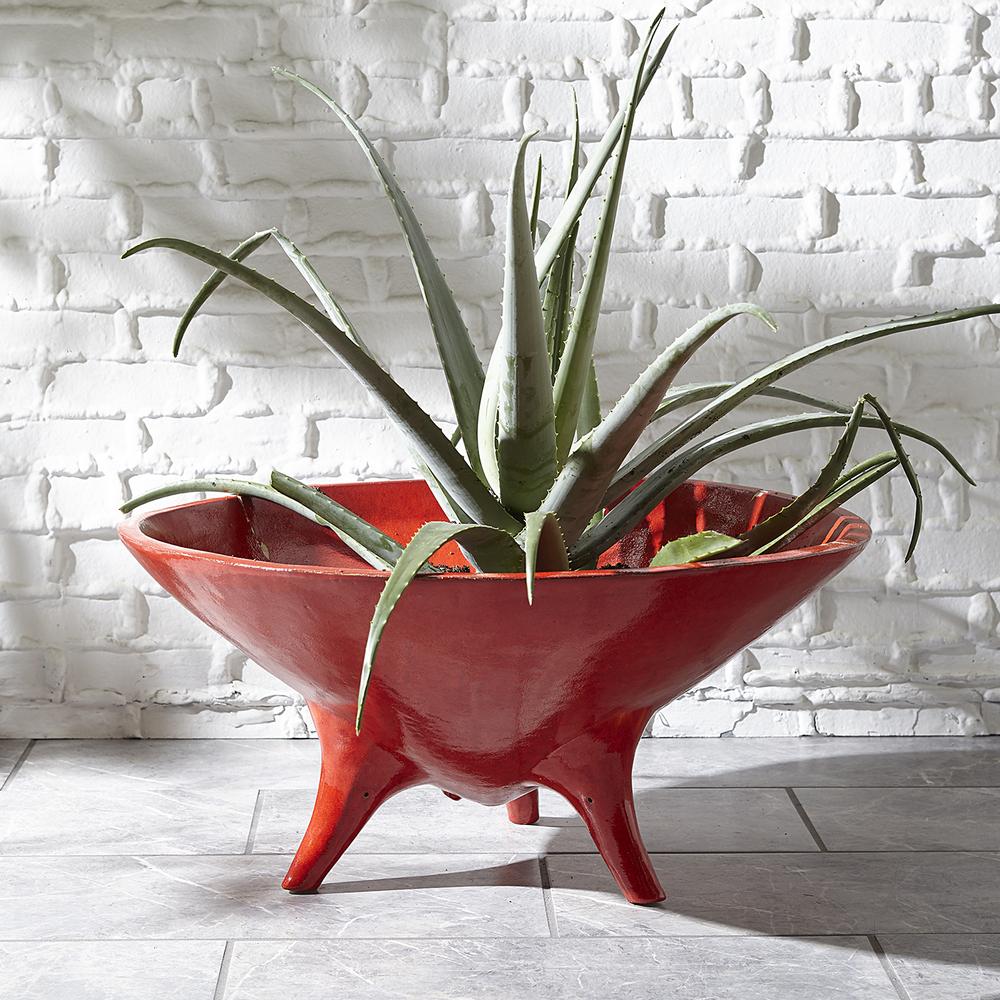 Etsy shop Bohemia Goods offers two sizes of these ceramic planters with metal stands. A dreamy glazed sheen complements the gorgeous pots, which are given a soft yet sturdy touch by metal stands that sculpturally display them. Perfect for modern design lovers but neutral enough to complement a range of outdoor design styles: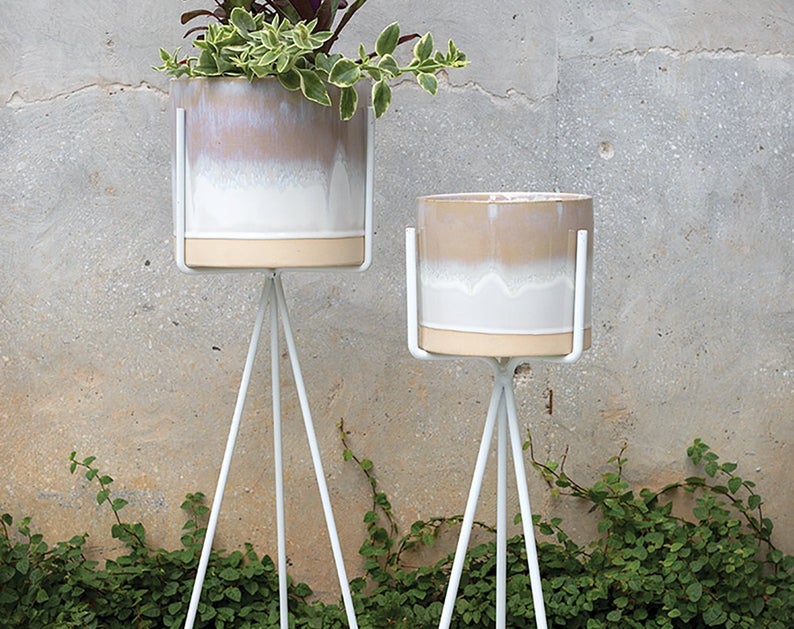 These terracotta pots with iron stands from Etsy shop The Artisan Variety feature hand-etched geometric details, as well as copper-toned weatherproof finishes for the stands. The plant stands are crafted in India, while the terracotta pots are made in Bangladesh: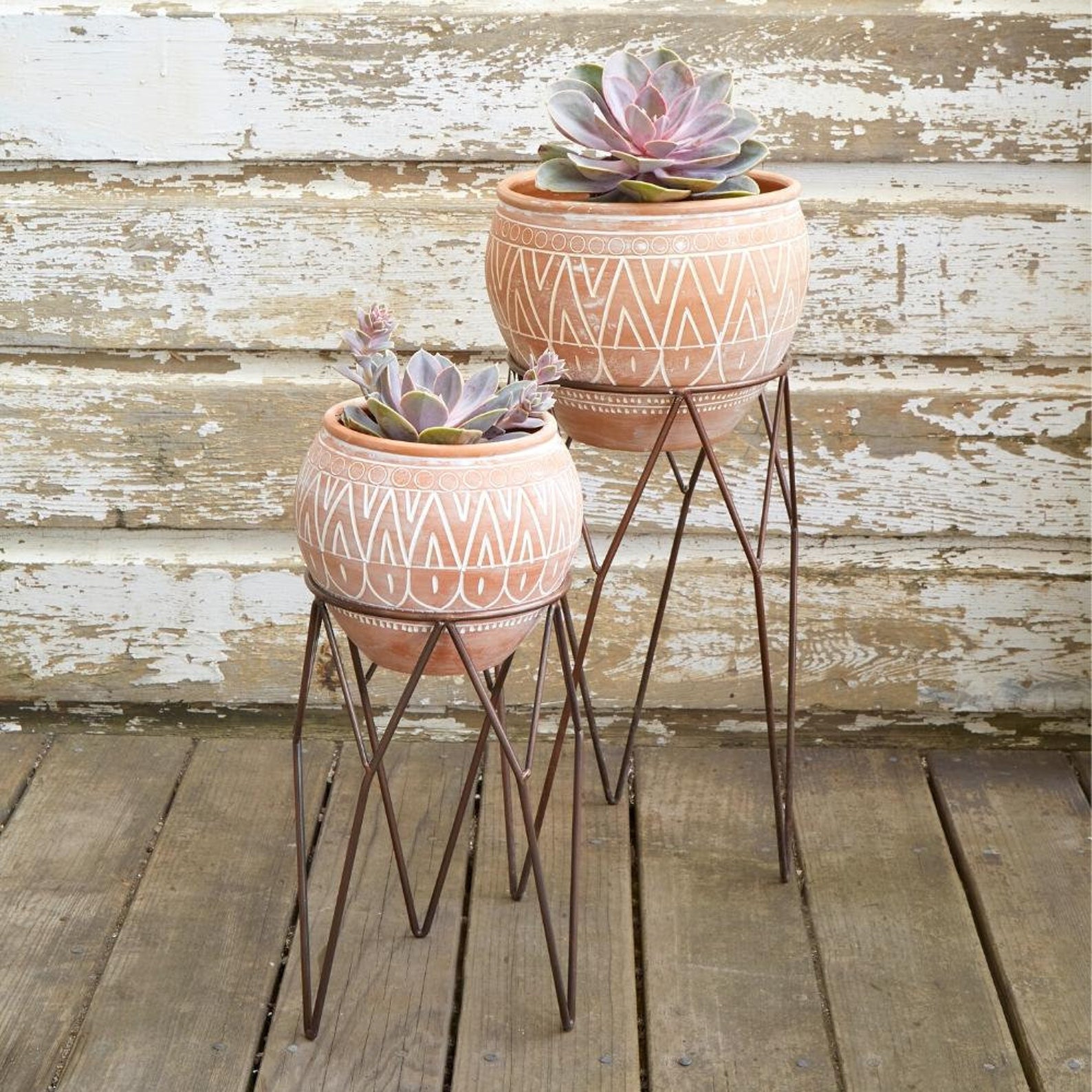 Last but not least, Potted's Marilyn Leggy Stands feature hairpin legs and can be used to display the pot of your choice. A clear midcentury vibe will interest design lovers of this era, and you can further enhance the retro vibe by your selection of planter. We're loving the round white pots shown below, which are Potted's Orbit Planters: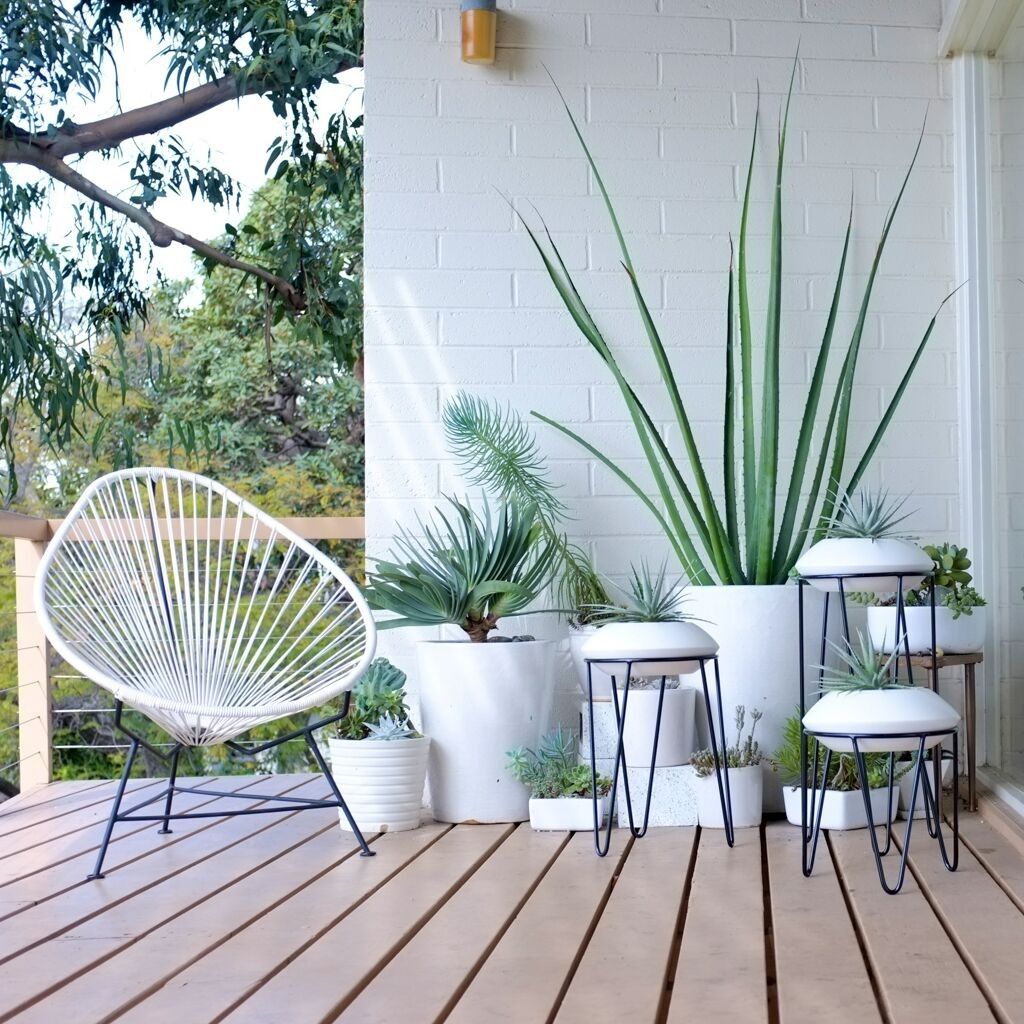 We've included these plant stands in this section of the post since the choice of pot can move you away from an all-metal display. Ceramic and terracotta are popular options. Note the three sizes and levels of the stands, once again pictured with Potted's Orbit Planters. As a bonus, Potted will drill holes in the planters at your request: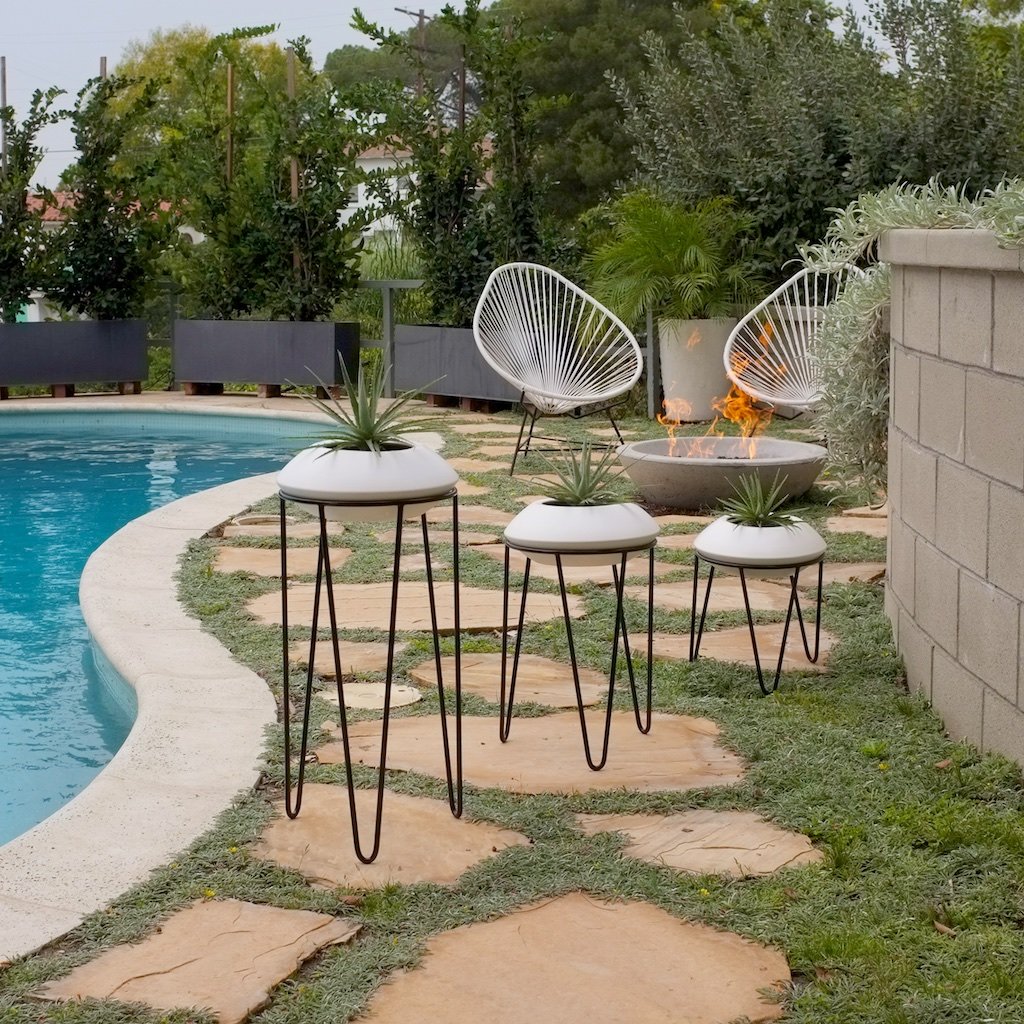 We hope today's post has provided you with plenty of outdoor plant stand options, as well as a few design ideas for your balcony, yard or patio. No outdoor space to decorate? Revel in the beauty of bringing plants to your indoor space and create a natural haven in your home. Plant stands add tiers of greenery and undeniable visual interest, resulting in serenity and tranquility. [photo below from IKEA]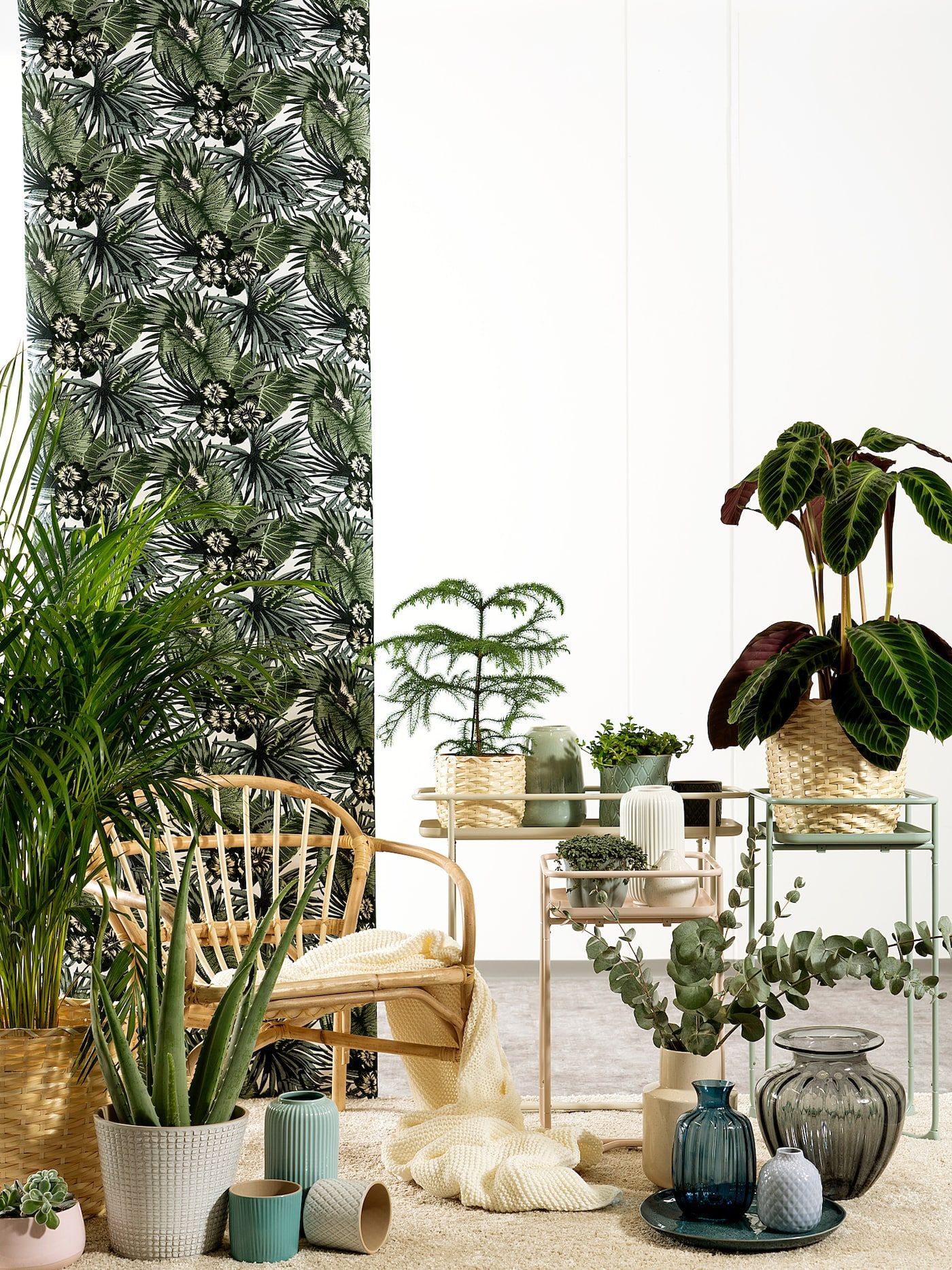 Whether you're getting the look indoors or out, consider adding non-plant items to your stands, including vases, sculptural garden ornaments, figurines and more. Just make sure items aren't too breakable if you're leaving them in the elements. Wind is not your friend when it comes to displaying delicate pieces. With a wide selection of planters and stands in an equally wide array of forms and materials, the possibilities are endless. 'Tis the season for celebrating the visual appeal of the garden! Thanks for reading, and happy decorating!