Adding layers of greenery to an outdoor space can take your yard, patio or balcony to new heights. By raising plants to eye level, you can create privacy and visual interest. Today's post is dedicated to the outdoor plant stand! Don't fret if your home doesn't include an outdoor space to beautify. The fabulous finds below can also be used indoors. After all, there's nothing like bringing nature inside when it comes to creating tranquil, inspiring spaces. Keep scrolling for a collection of images and items that will provide plenty of verdant inspiration… [photo from IKEA]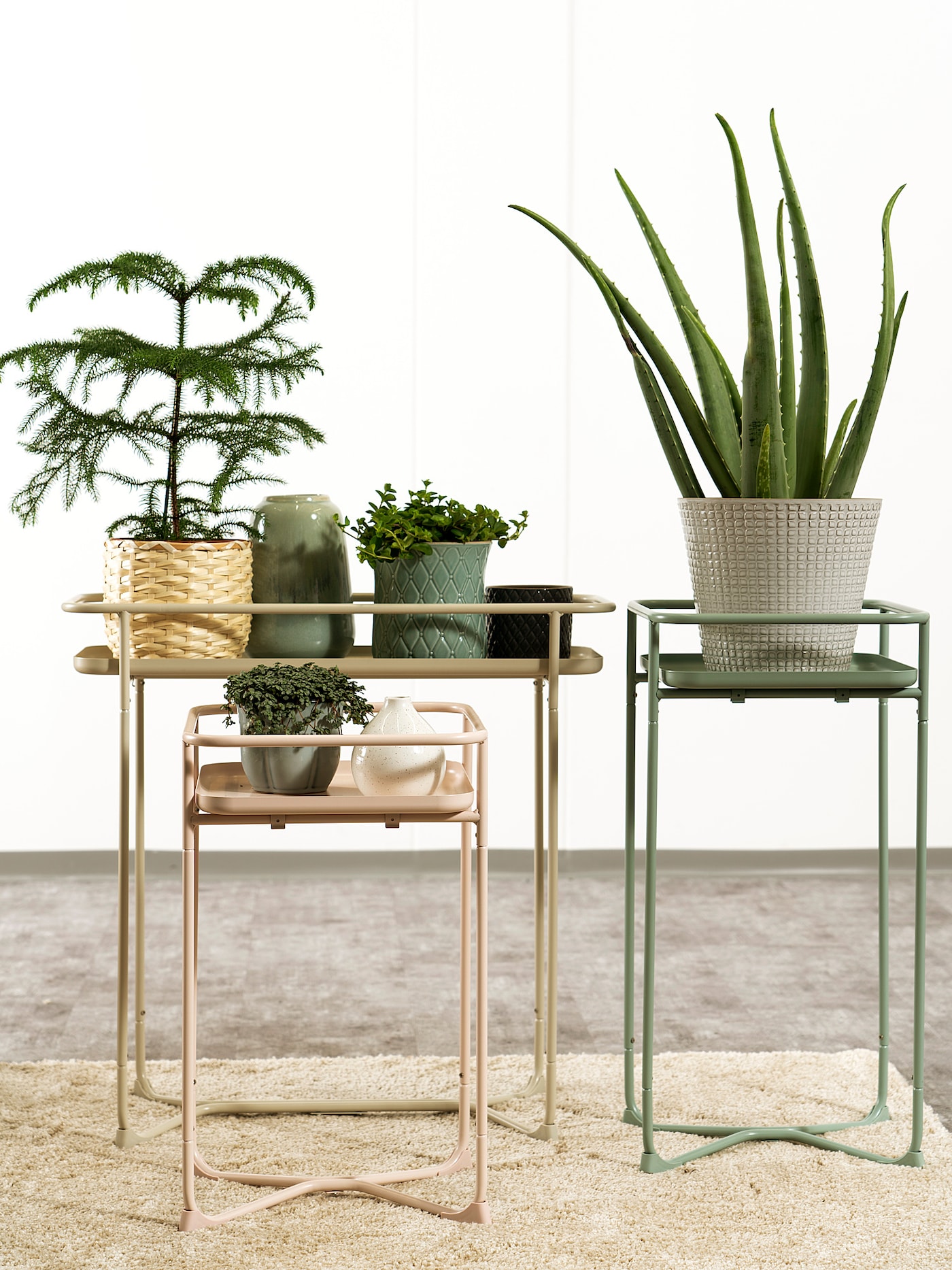 Metal Plant Stands
By far the largest group of outdoor plant stand offerings involves metal. After all, metal is durable and can be coated in rust-proof finishes. With that said, it never hurts to use extra precaution in order to extend the life of your piece. If your outdoor area offers no covering from the elements, try moving your plant stand against the house when torrential downpours are in the forecast. Below we see Anthropologie's Celeste Plant Stand in medium and large: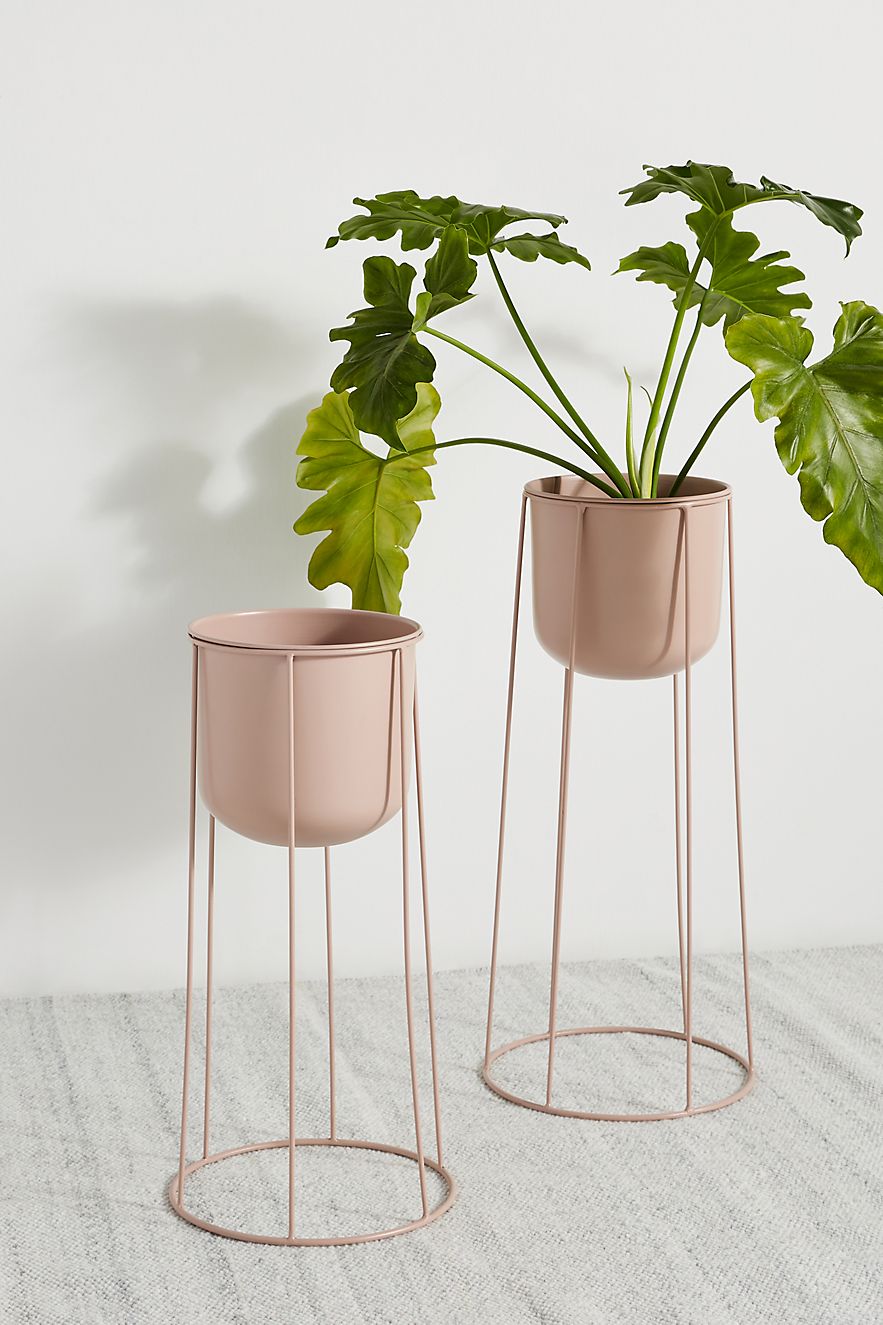 This style of round planter and cylindrical/conical base is extremely popular, and we've got the pictures to prove it! We're loving the rosy tone above (which is perfectly on trend), as well as the classic black hue of Menu's Pedestal Plant Stand, available via Wayfair: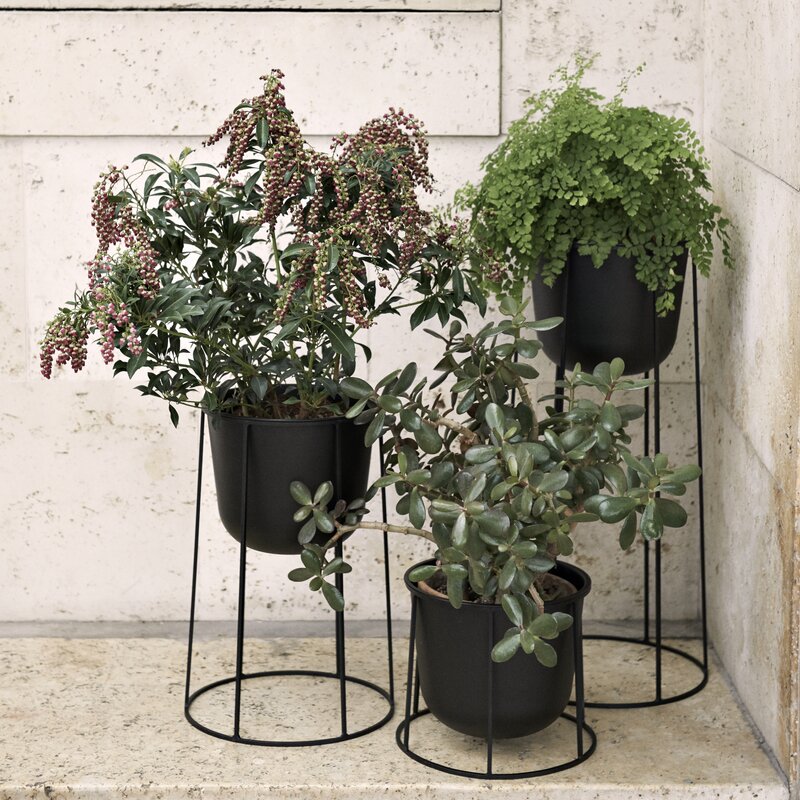 From the modern to the rustic, Terrain's Round Basket Plant Stand offers a wrought iron form, as well as clean lines that add a picturesque element to any style of outdoor space. The result: an elongated grid pattern on this functional, stylish stand.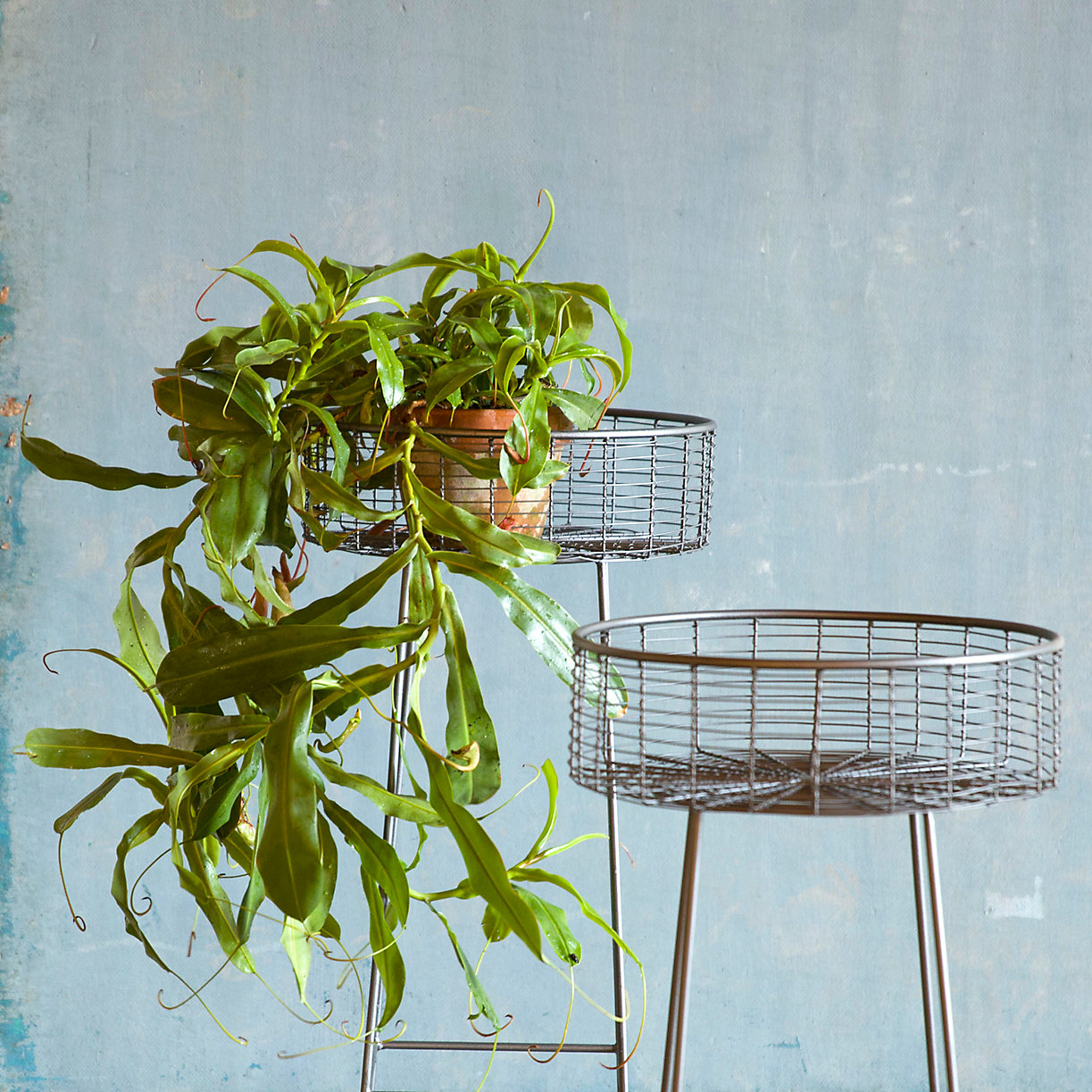 If you want a rectangular take on the outdoor plant stand, there are many offerings to browse. CB2's Kronos Planters feature an iron frame and an industrial look that's easy on the eyes, thanks to a matte carbon powdercoat. As a bonus, the galvanized steel boxes are easy to remove. Available in a range of heights (as well as a square version):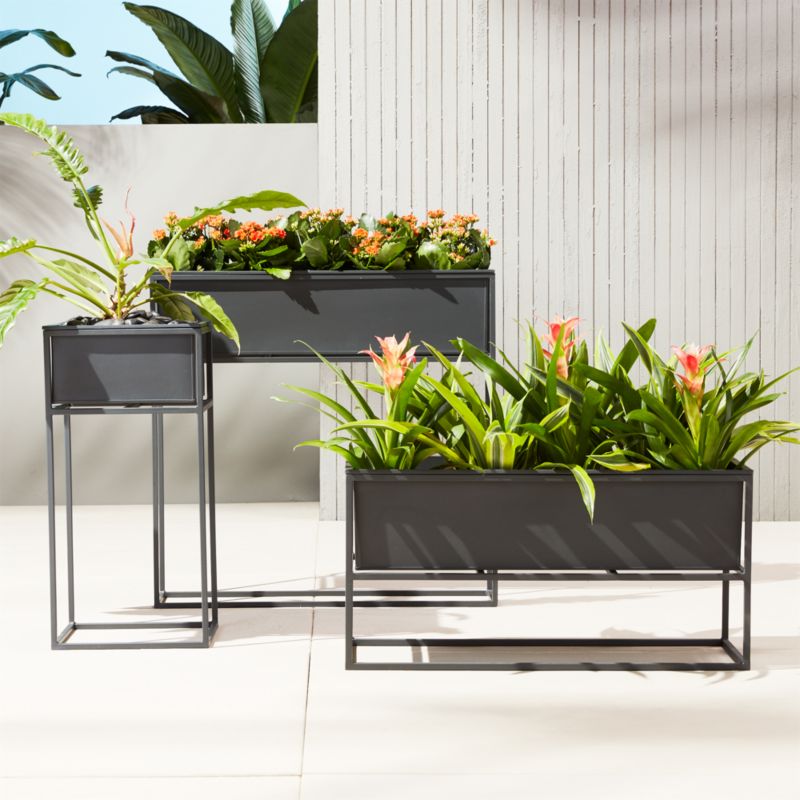 On a similar note, these industrial-style elevated planters from Etsy shop Cocoyard Garden Supply are great for indoor and outdoor use. The brand's 5-star reviews speak volumes. Also note that planter boxes such as these are a wonderful option for those who simply want to add potted plants to a container (in a row or a bunch), instead of "planting" them in a bed of soil. Then again, these plant stands have drainage holes for those who want to plant directly into the container: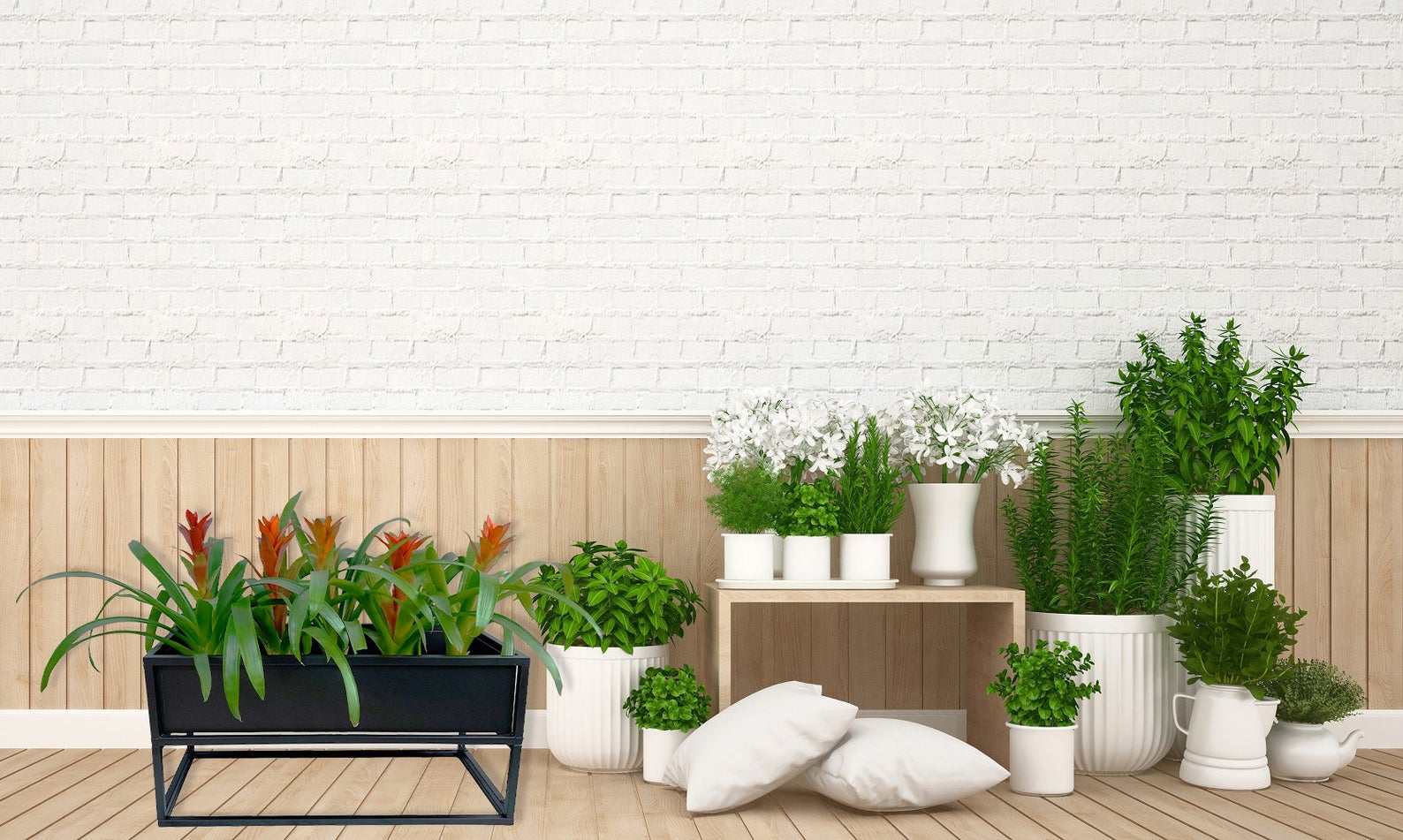 From ferm LIVING, this Two-Tier Plant Box in Cashmere can double as an outdoor console table, becoming a display area for pots and other objets d'art, in addition to plants. Choose from Light Grey and Black for additional color options: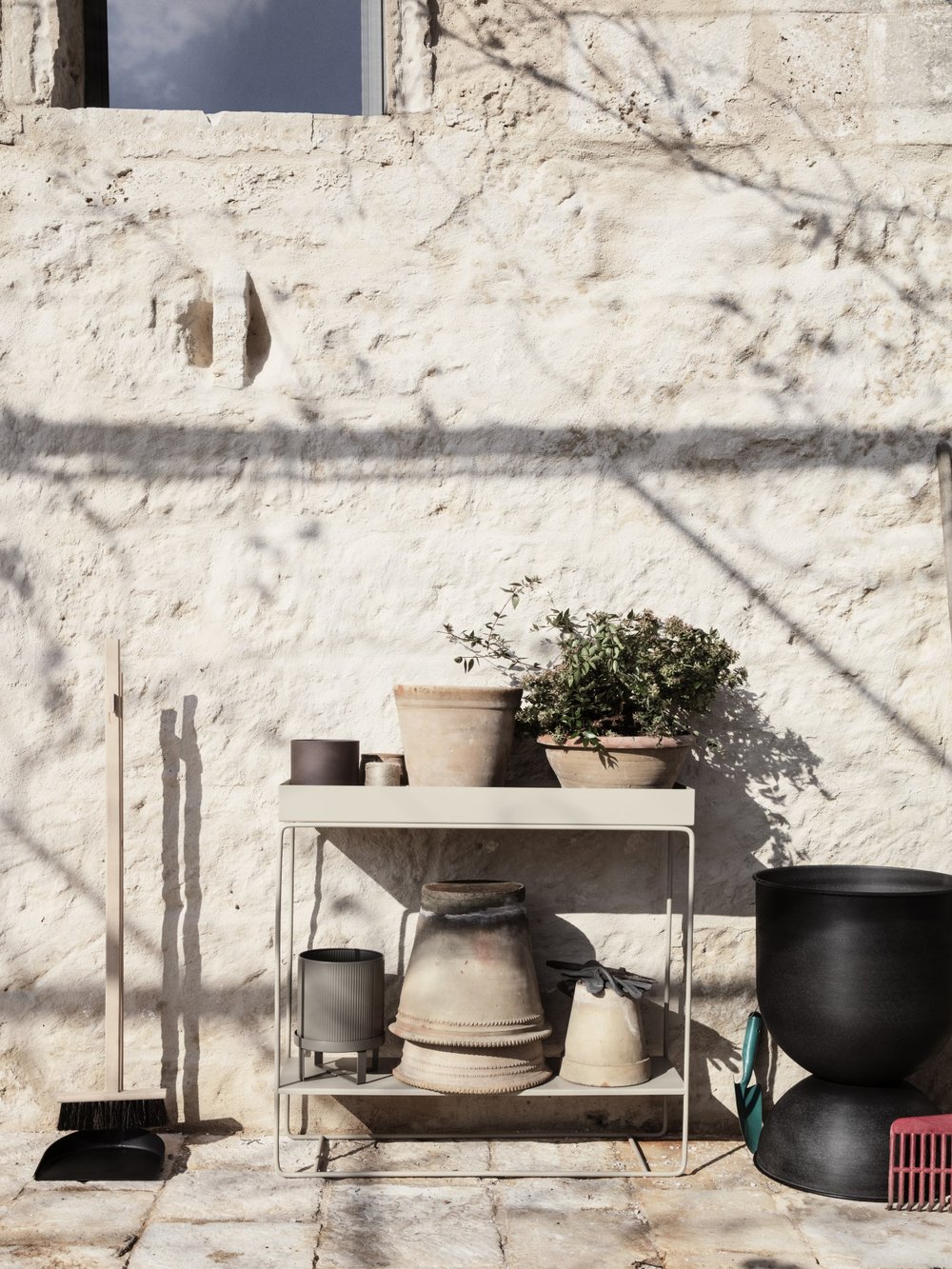 Wood, Ceramic and Stoneware Selections
We now move from metal to other materials that can work in your outdoor space, starting with wood. Kerrogee's Bamboo Ladder 3-Tier Plant Stand is crafted from natural bamboo, but it's the waterproof finish that makes this piece suitable for the outdoors.The back rails hold plants in place, while the depth of the lower shelves allows for more than one row of greenery, depending on the size of your pots. This plant stand also works beautifully indoors.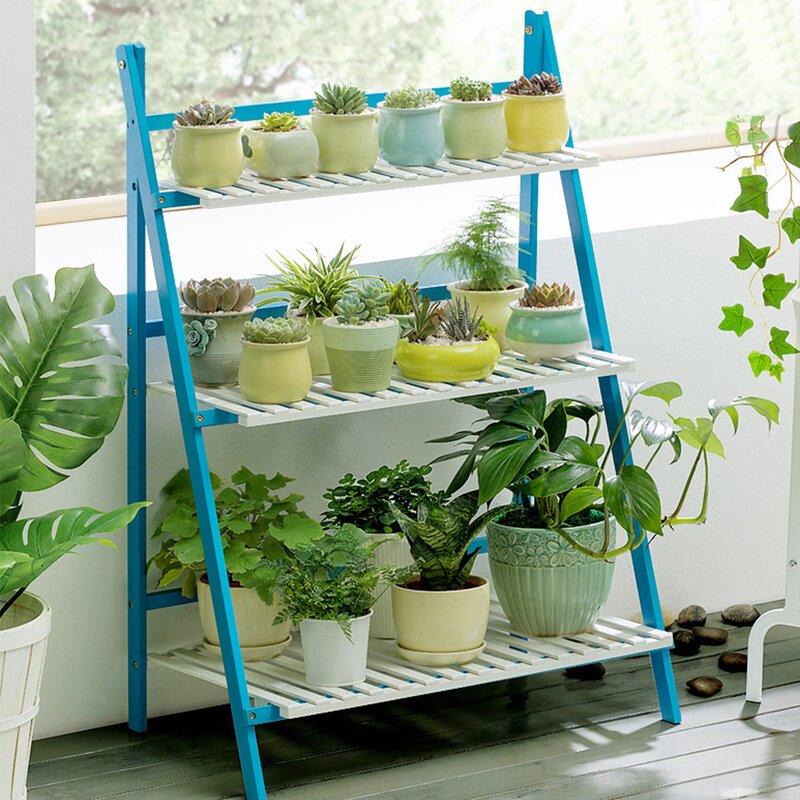 For a similar look with neutral hues, check out Gracie Oaks' Radke Plant Stand, available via Wayfair. Perfect for fans of design styles ranging from rustic to modern farmhouse, this folding piece is also ideal for displaying plants, storing gardening supplies, and more. Wood is the primary material, and ladder-style shelving offers tiers of display possibilities.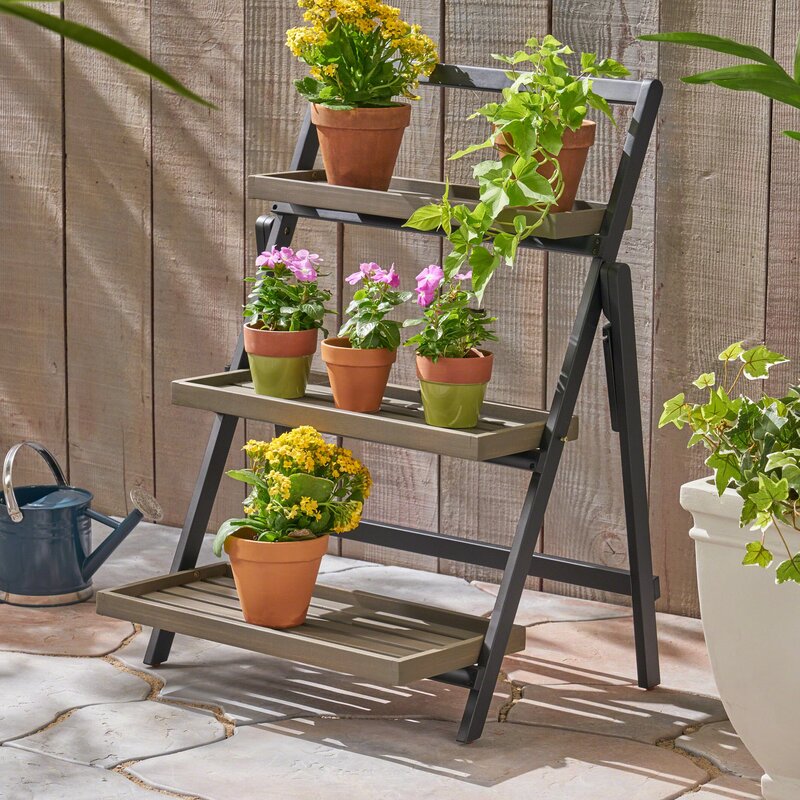 Modern design meets midcentury style with our next featured offering. The Okura Conical Planter from Jonathan Adler is a striking hand-thrown stoneware piece in a bold red. As you can see, the planter is at its best when featuring sculptural greenery, such as the agave shown below. A true modern jewel: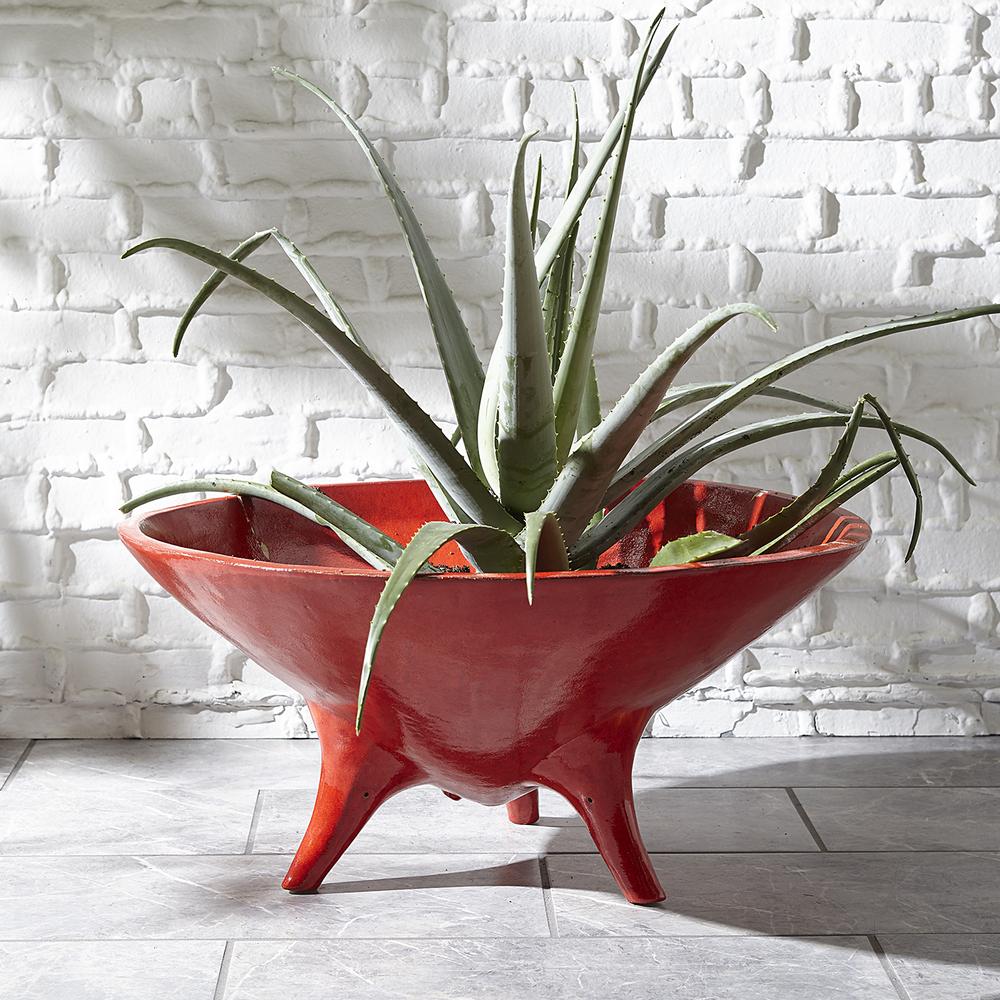 Etsy shop Bohemia Goods offers two sizes of these ceramic planters with metal stands. A dreamy glazed sheen complements the gorgeous pots, which are given a soft yet sturdy touch by metal stands that sculpturally display them. Perfect for modern design lovers but neutral enough to complement a range of outdoor design styles: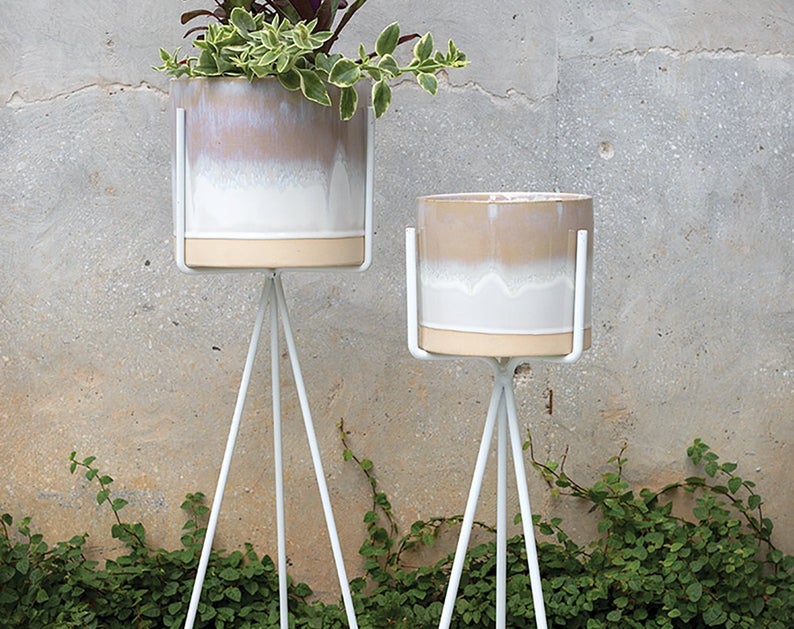 These terracotta pots with iron stands from Etsy shop The Artisan Variety feature hand-etched geometric details, as well as copper-toned weatherproof finishes for the stands. The plant stands are crafted in India, while the terracotta pots are made in Bangladesh: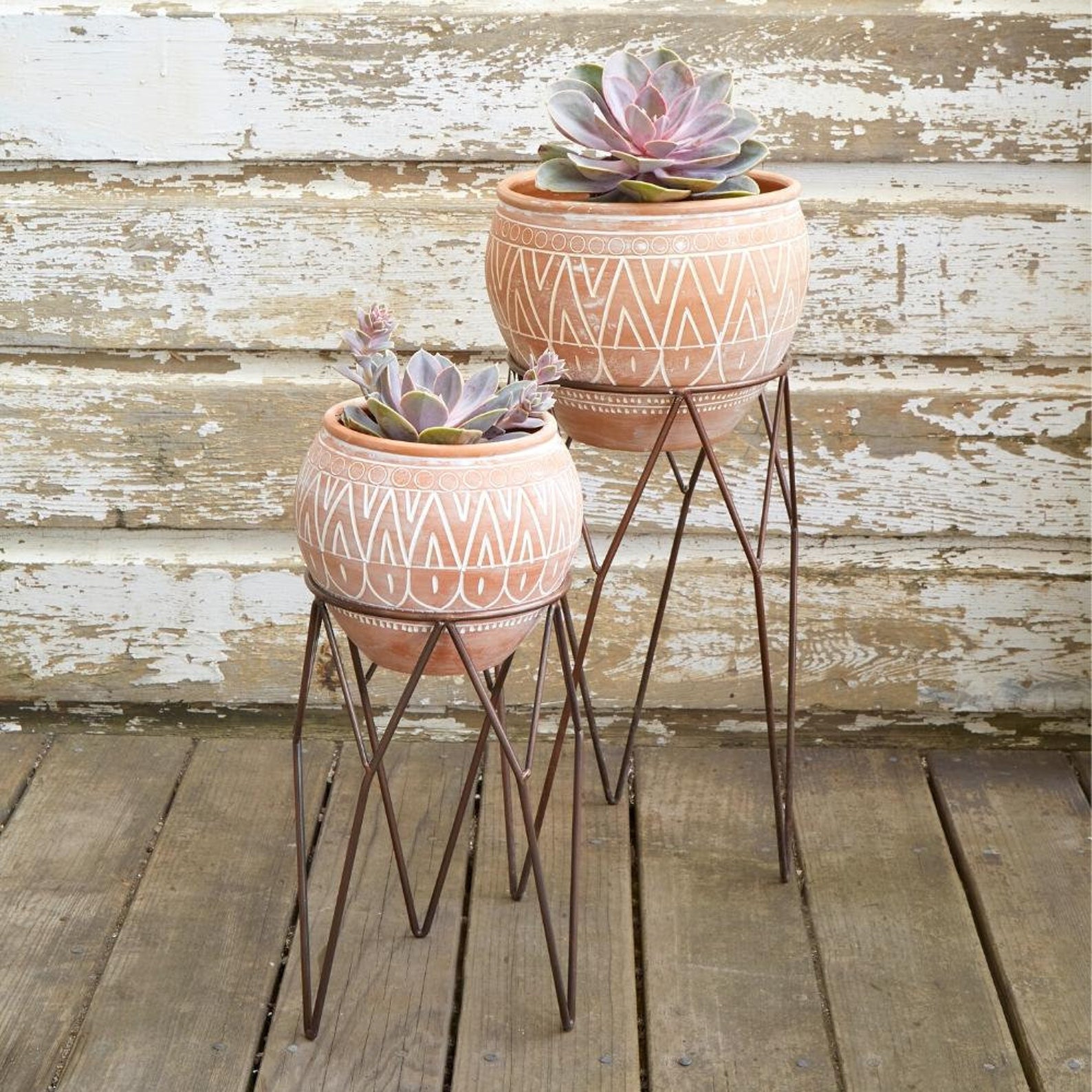 Last but not least, Potted's Marilyn Leggy Stands feature hairpin legs and can be used to display the pot of your choice. A clear midcentury vibe will interest design lovers of this era, and you can further enhance the retro vibe by your selection of planter. We're loving the round white pots shown below, which are Potted's Orbit Planters: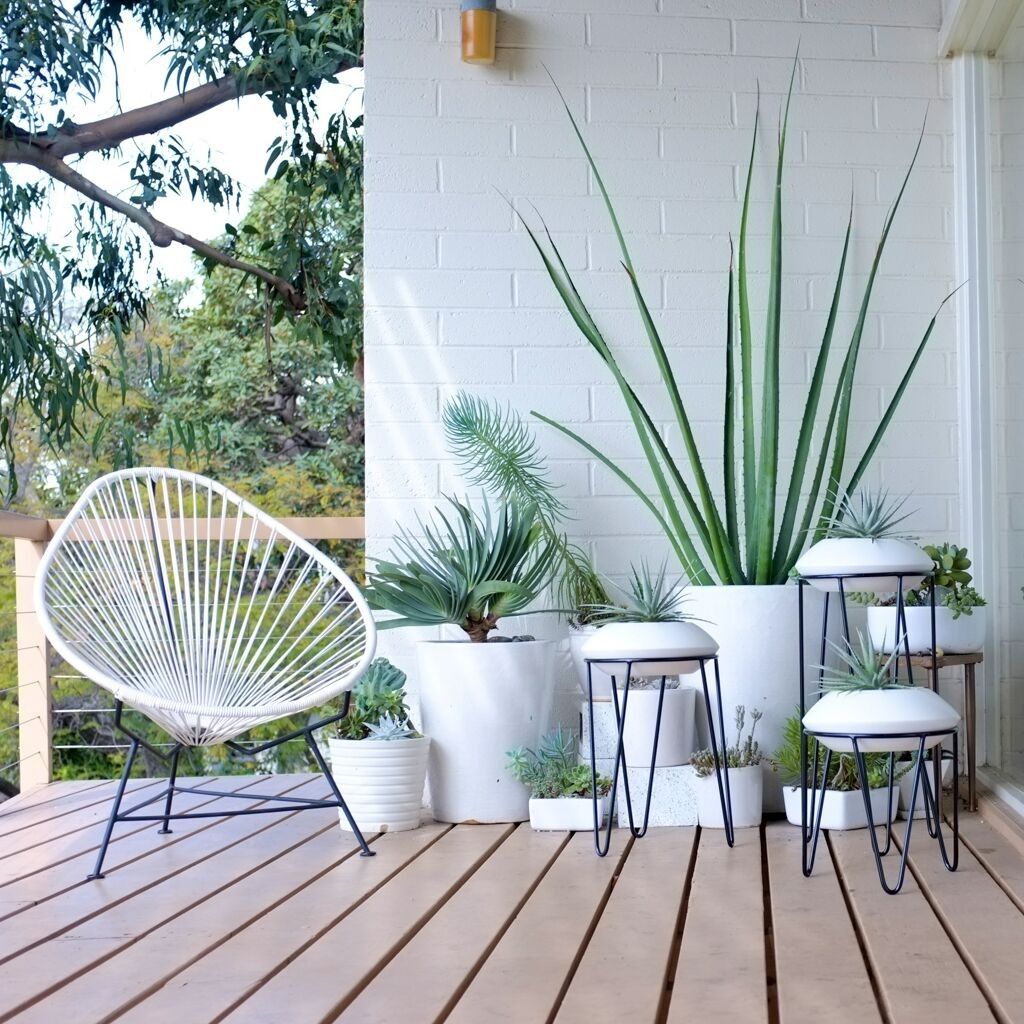 We've included these plant stands in this section of the post since the choice of pot can move you away from an all-metal display. Ceramic and terracotta are popular options. Note the three sizes and levels of the stands, once again pictured with Potted's Orbit Planters. As a bonus, Potted will drill holes in the planters at your request: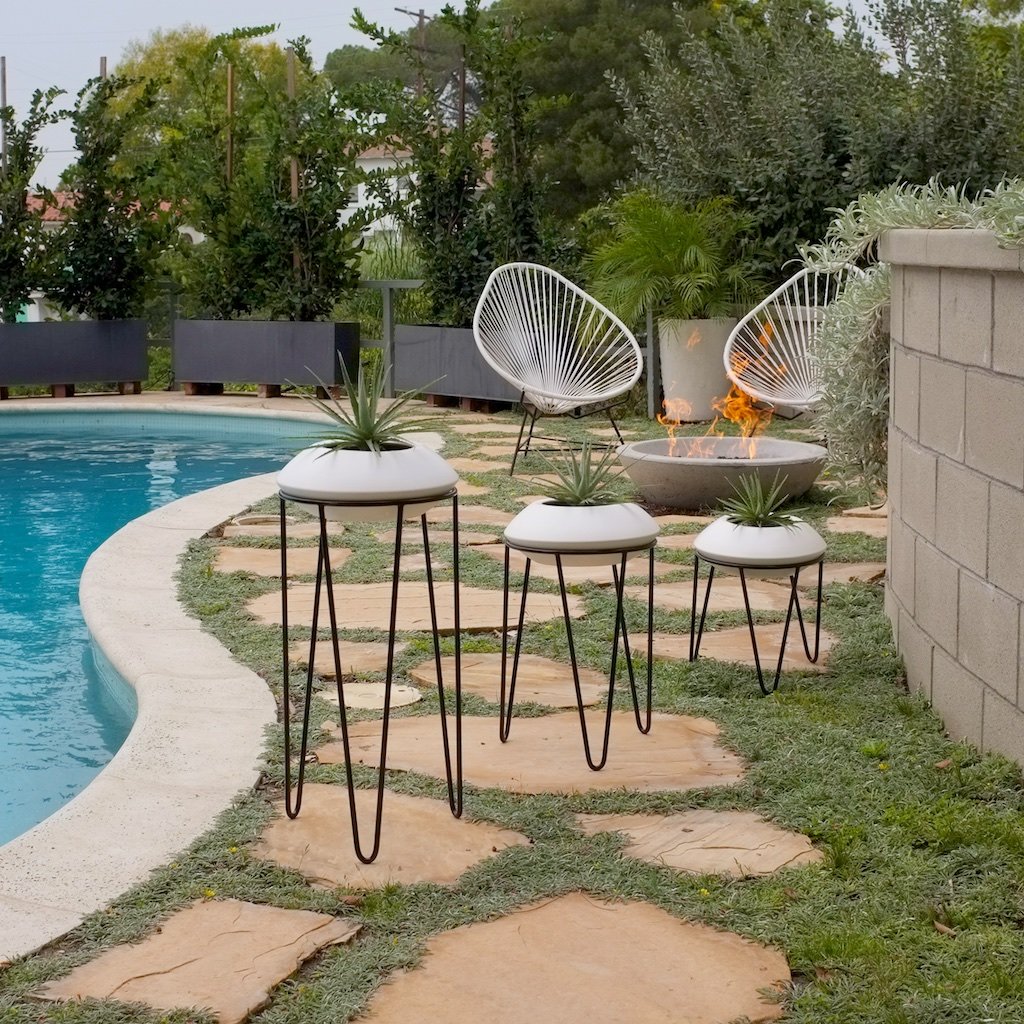 We hope today's post has provided you with plenty of outdoor plant stand options, as well as a few design ideas for your balcony, yard or patio. No outdoor space to decorate? Revel in the beauty of bringing plants to your indoor space and create a natural haven in your home. Plant stands add tiers of greenery and undeniable visual interest, resulting in serenity and tranquility. [photo below from IKEA]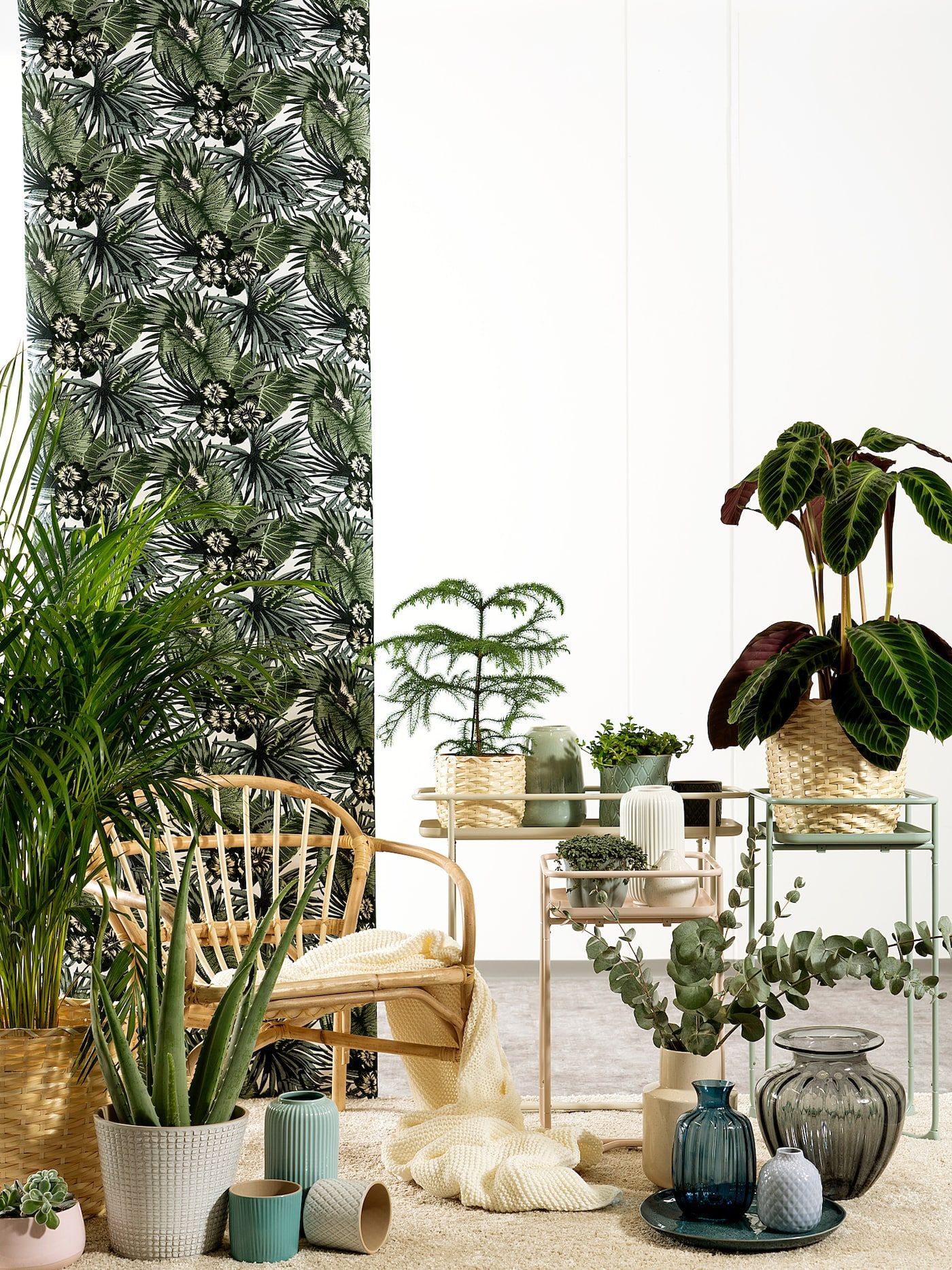 Outdoor Plant Stands for DIYers
Maybe you're the type of person that would rather do than buy, and if that's the case, then you're going to love these ideas. You can easily make an outdoor plant stand yourself, and that way, you get to put your own creativity into your garden! Below are some DIY outdoor plant stand ideas for all skill levels.
Tomato Cage Outdoor Plant Stands
These are super easy to make with a little bit of extra wire and jute. A perfect project for a beginner DIYer. Better Homes and Gardens has a full step-by-step tutorial for you to follow.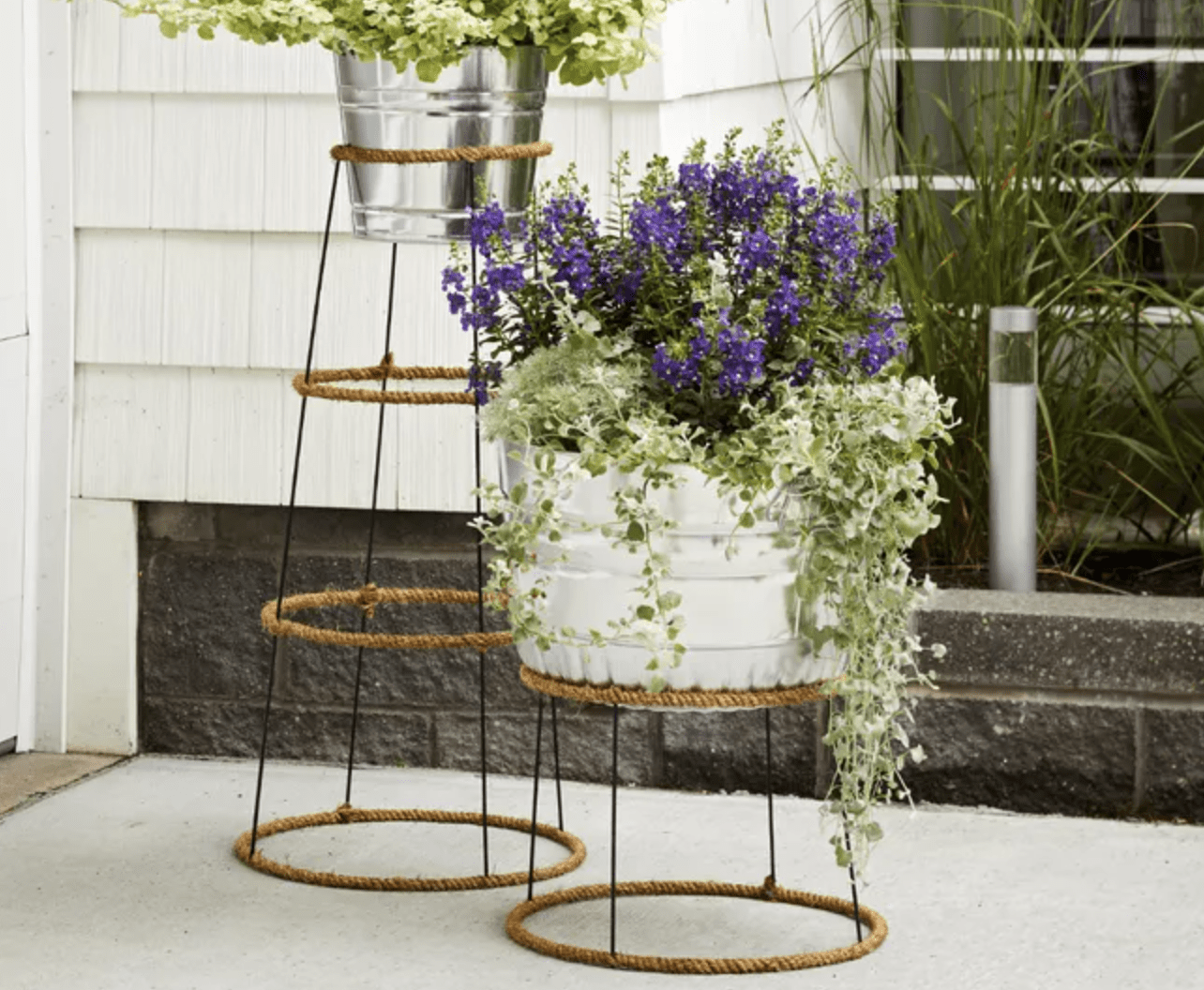 Outdoor Wood Plant Shelf
This one requires a little more skill, but it's not too hard. With the help of an easy step-by-step guide, this outdoor wood shelf planter is perfectly attainable for most skill levels.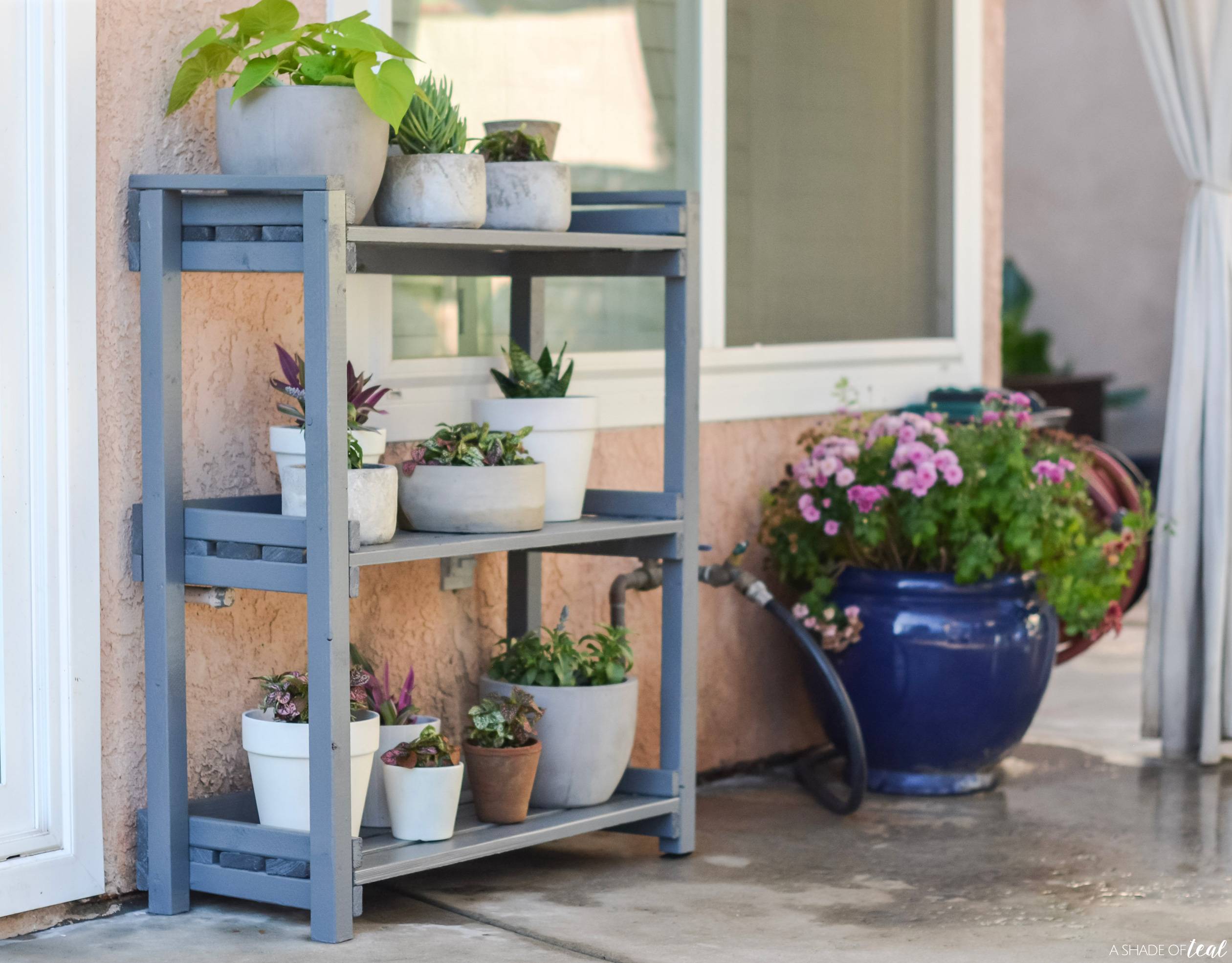 Outdoor Plant Stand with Arbor
If you really want to test your woodworking skills, try your hand at this beautiful outdoor plant stand with an arbor. This piece would make a stunning statement in any garden, porch, or patio.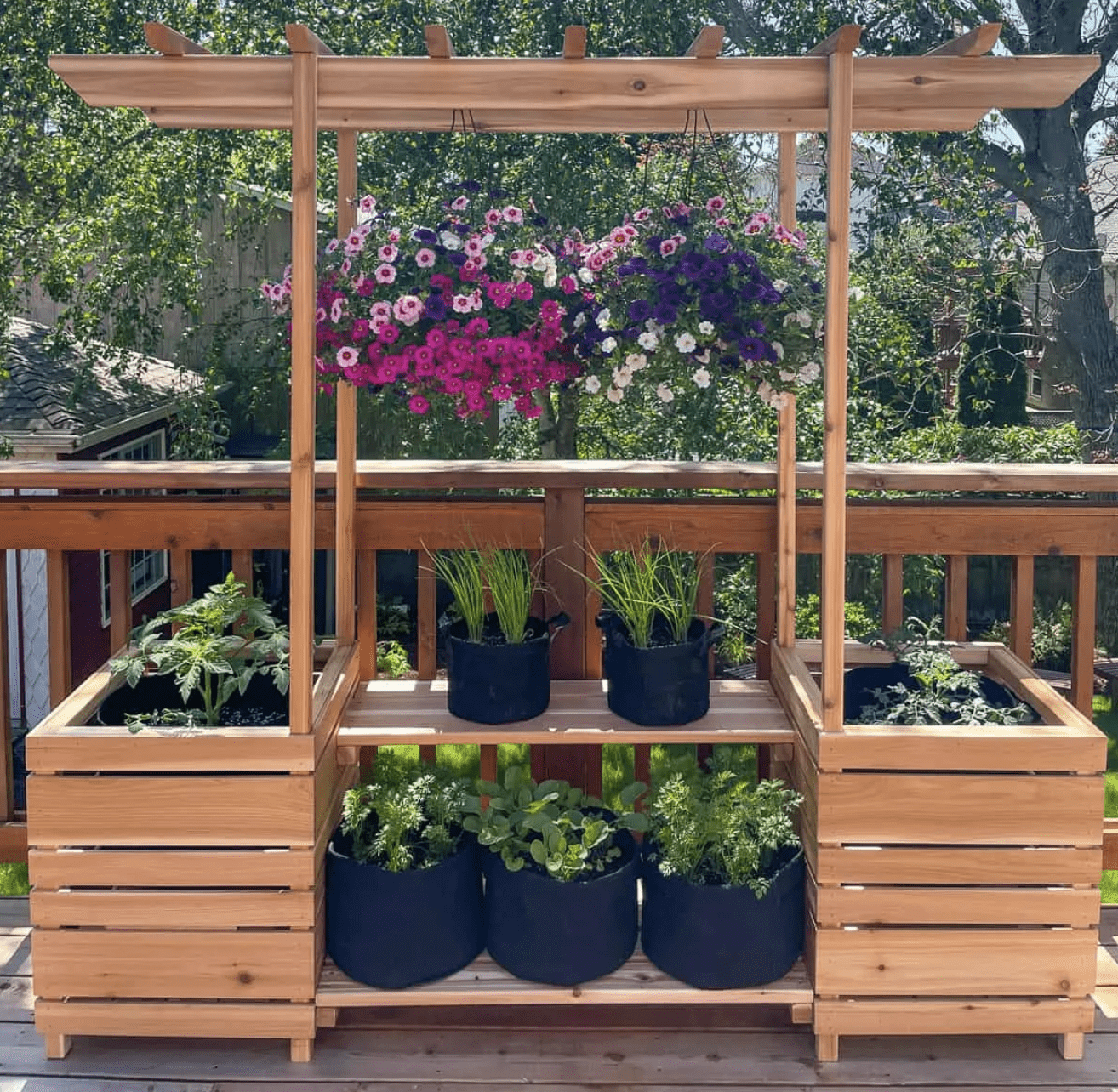 Rolling Shelf
Perfect for those who want an outdoor plant stand that can move around! This rolling garden shelf is easy to make and could even be made from an old clothing rack.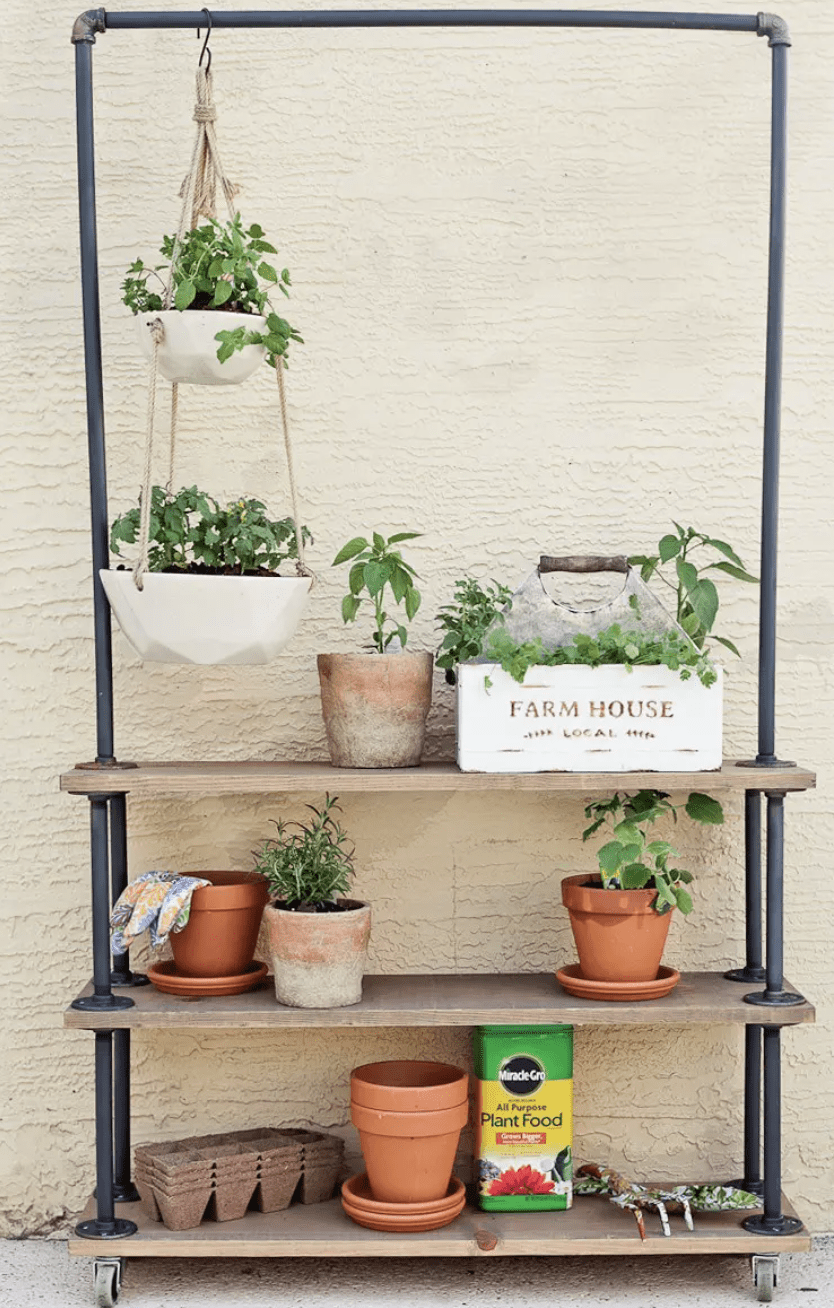 Upcycled Futon Frame
If you like to repurpose and recycle, this outdoor plant stand is for you! This creative DIYer used an old futon frame to create this contemporary hanging outdoor plant stand.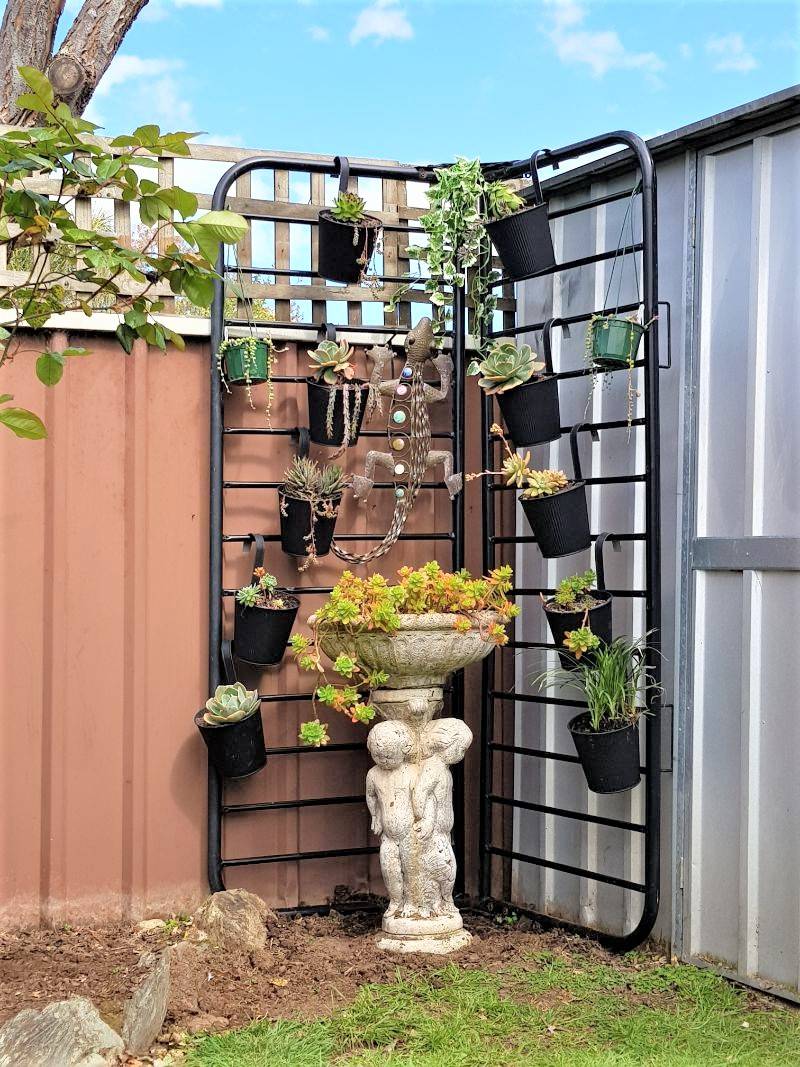 Cinder Block Shelves
As far as easy DIY outdoor plant stands go, it doesn't get much easier than this! Paint some cinder blocks your favorite color and then place some pine shelves on top — voila! A perfect outdoor plant stand!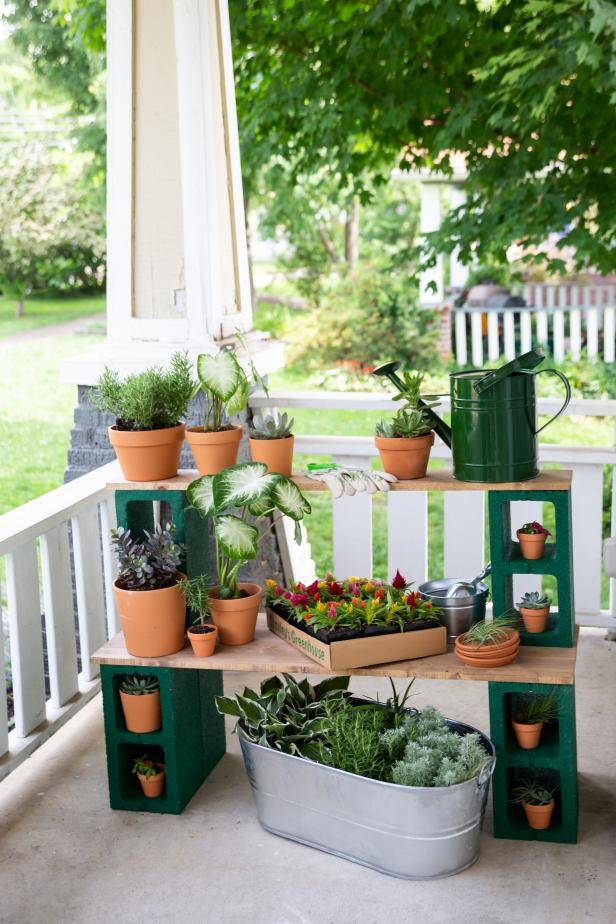 Old Steps
You can repurpose an old set of steps into a rustic and vintage-looking display for your plants.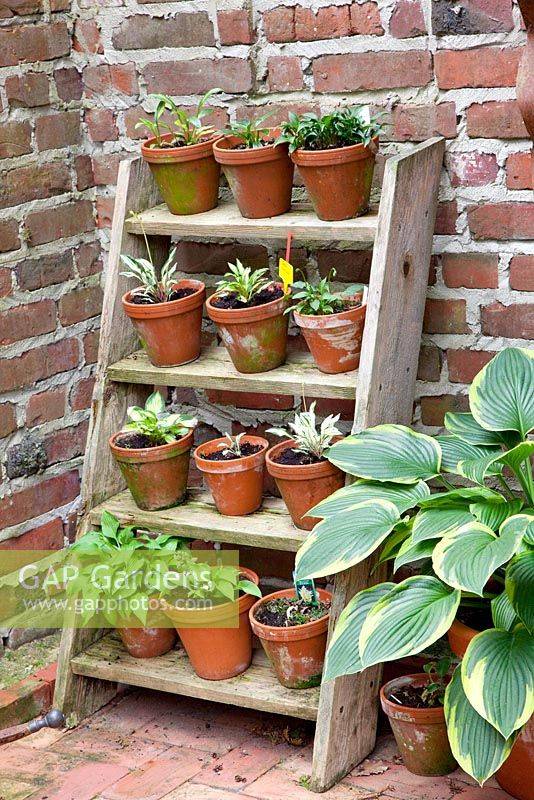 Simple and Sleek
We love the look of this simple and sleek outdoor plant stand. It's moderately easy to build and looks great on a modern front porch.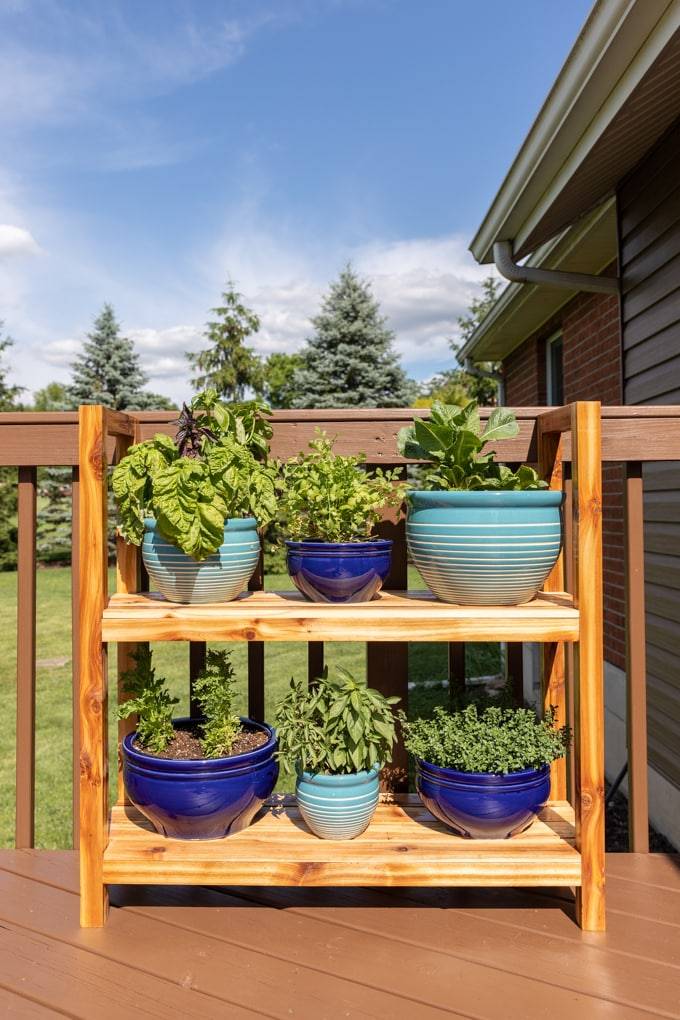 Old Candlestick Outdoor Plant Stand
For smaller plants and succulents, you can repurpose old candlesticks, bowls, or even old skinny lamps into a gorgeous display for your plants. Paint it with your favorite color and add a nice pop to your garden.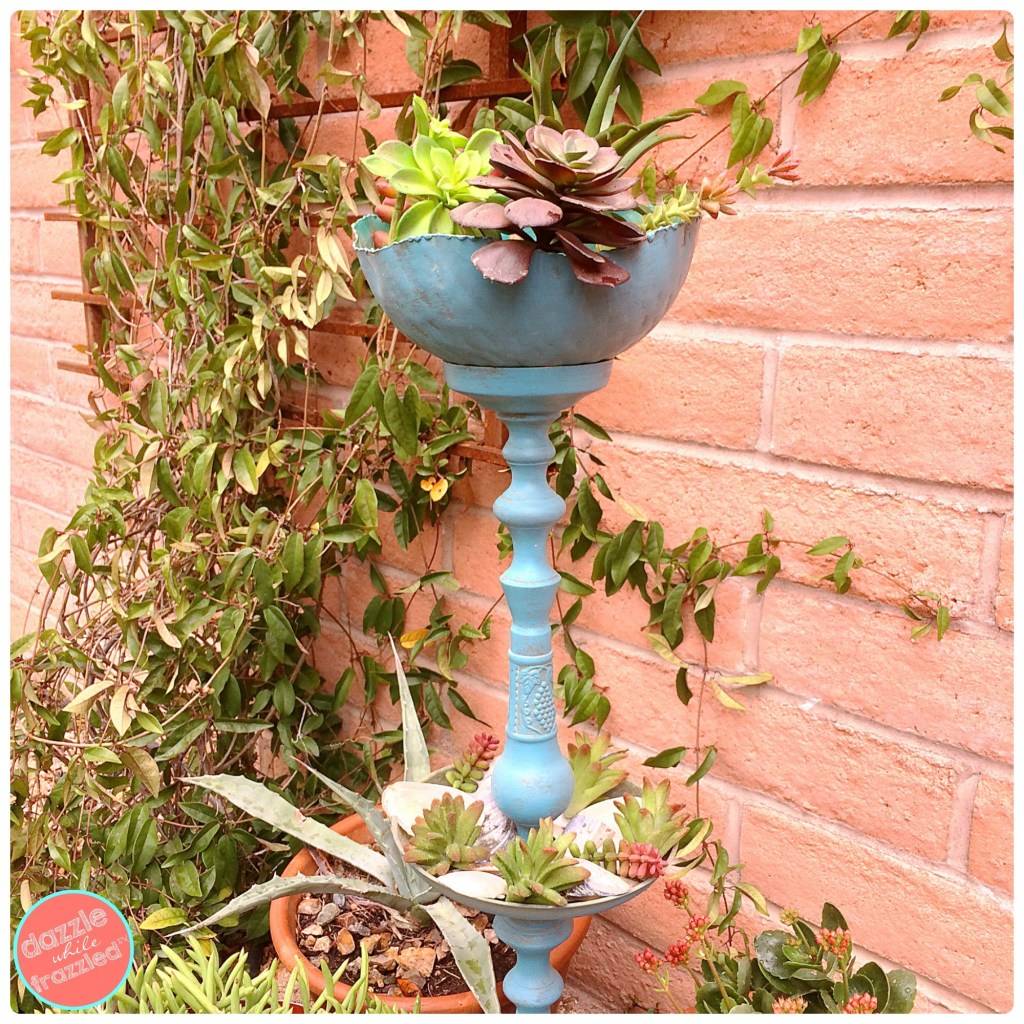 Modern A-Frame
If you like the sleek and simplistic look, this modern A-frame outdoor plant stand may just be the DIY project you're looking for.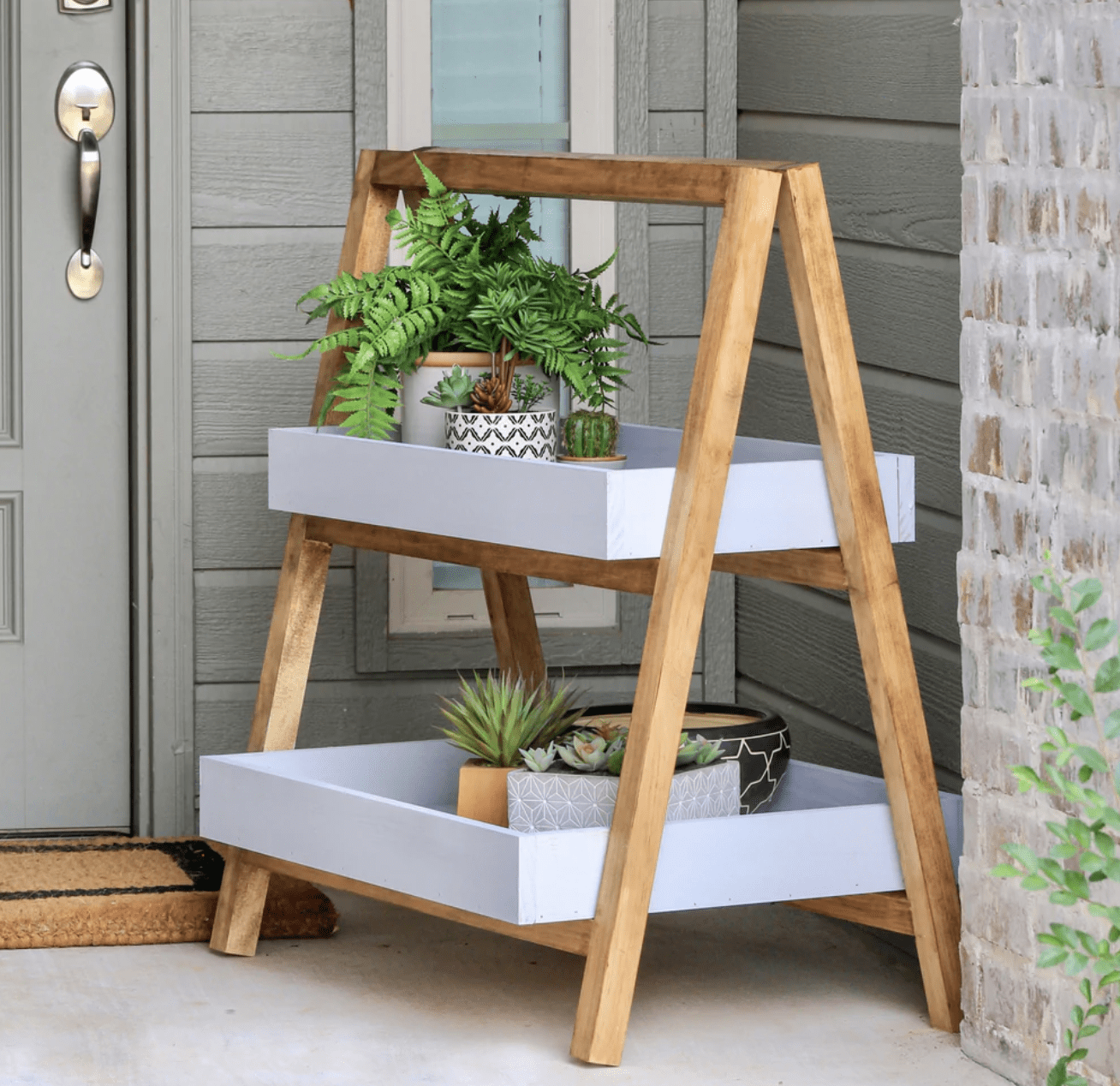 If you like something a little more rustic and farmhouse, here is another A-frame design you may like.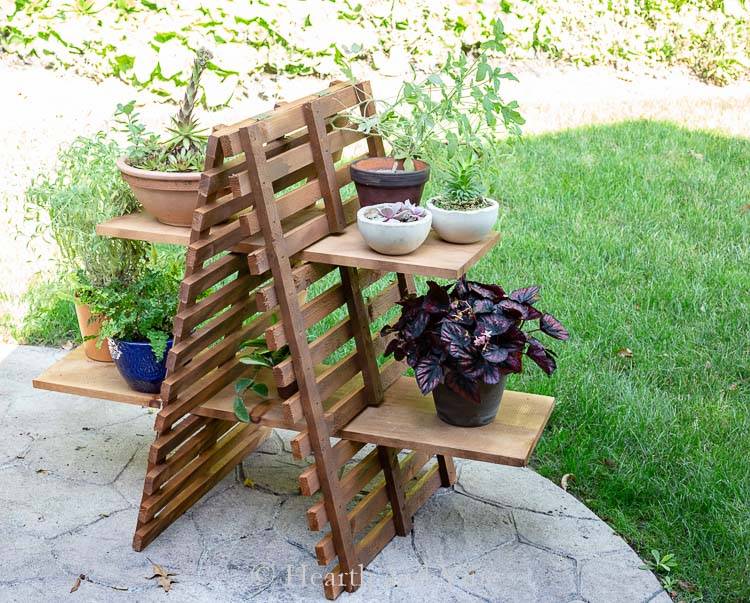 Pottery Barn Inspired
Outdoor plant stands can be quite costly, so if you can DIY them yourself, why not? These modern plant stands were inspired by a Pottery Barn design, and we think that the execution is perfect! We adore the painted crocks!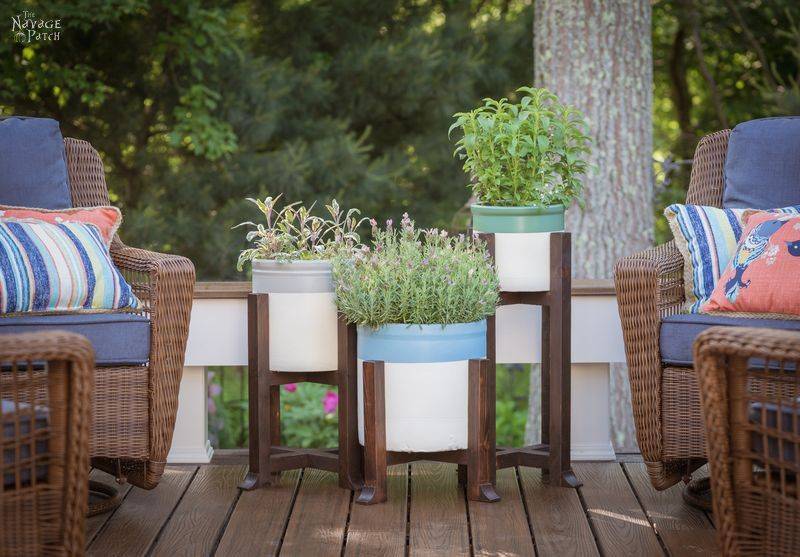 Rolling Log Slice
Not all plant stands have to be massive. Sometimes simple and sweet is all you need. This log slice with rolling caster wheels is the perfect plant stand for a small patio or porch. If you have a small patio or porch, it can often be harder to decorate and fit in everything you love, so a smaller plant stand may be a better option.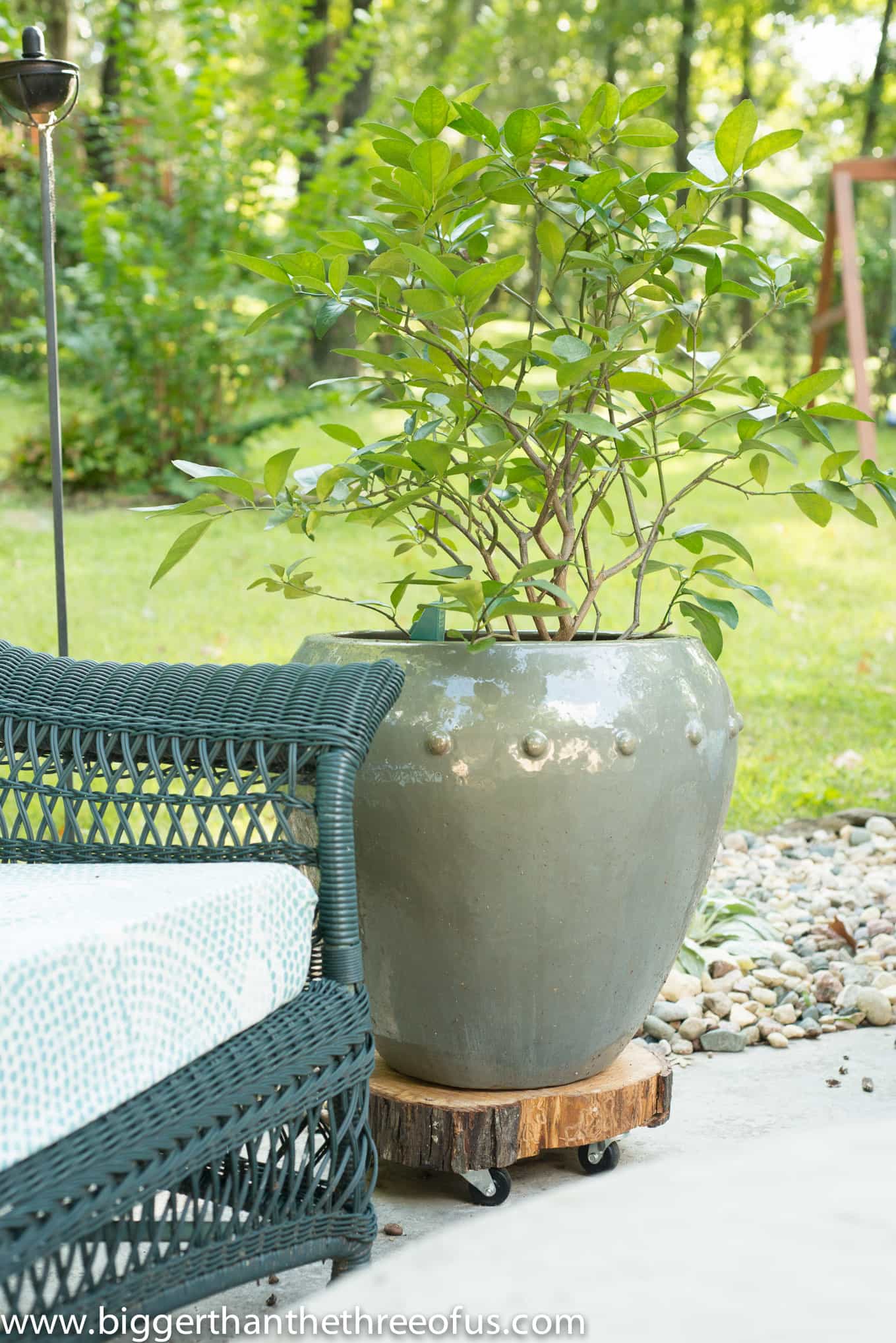 Hanging Plant Stand
If you have just one favorite hanging plant you want to display or want a nice piece by the front door and hanging plant stand makes quite a statement. You can also incorporate an area for you to write a message.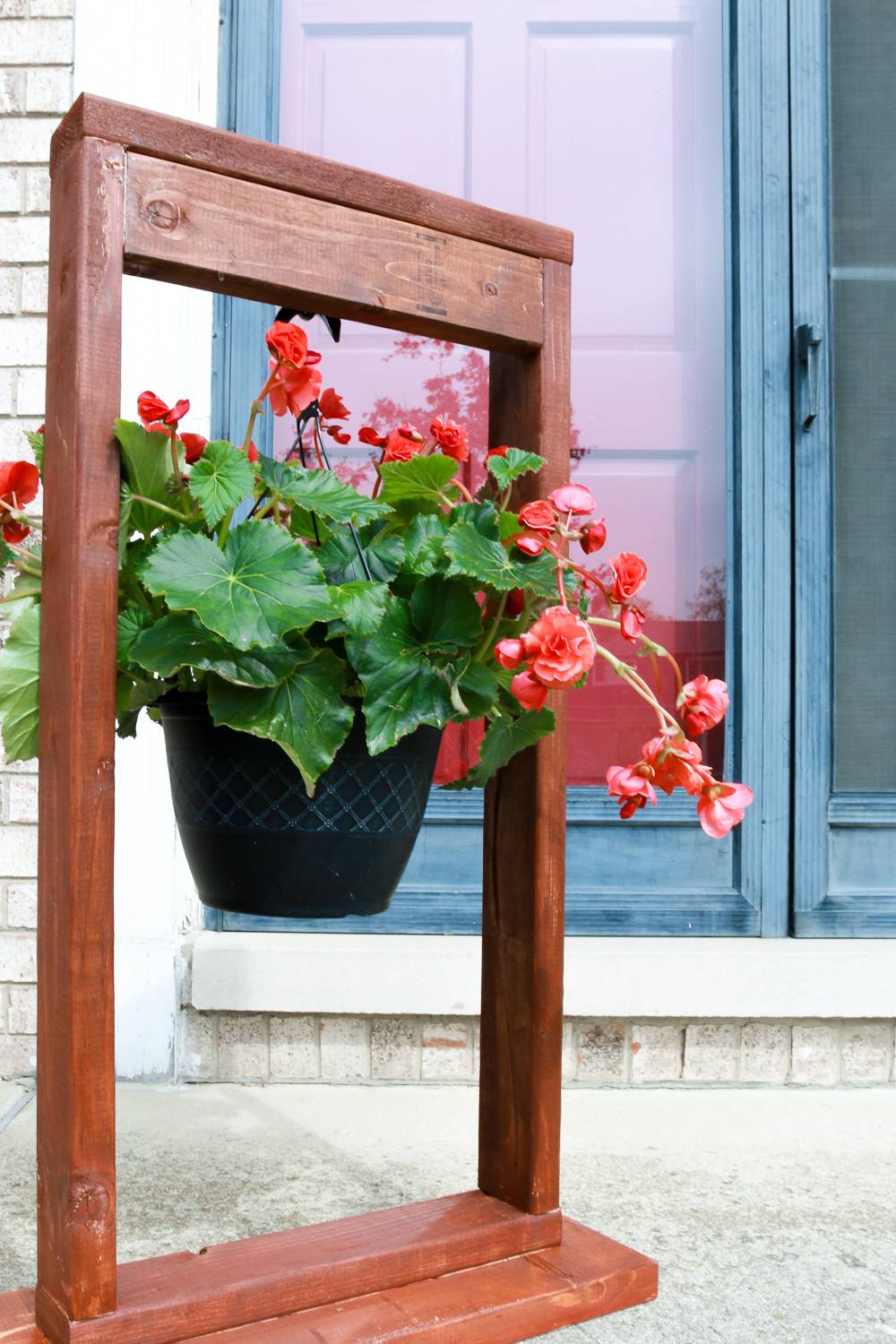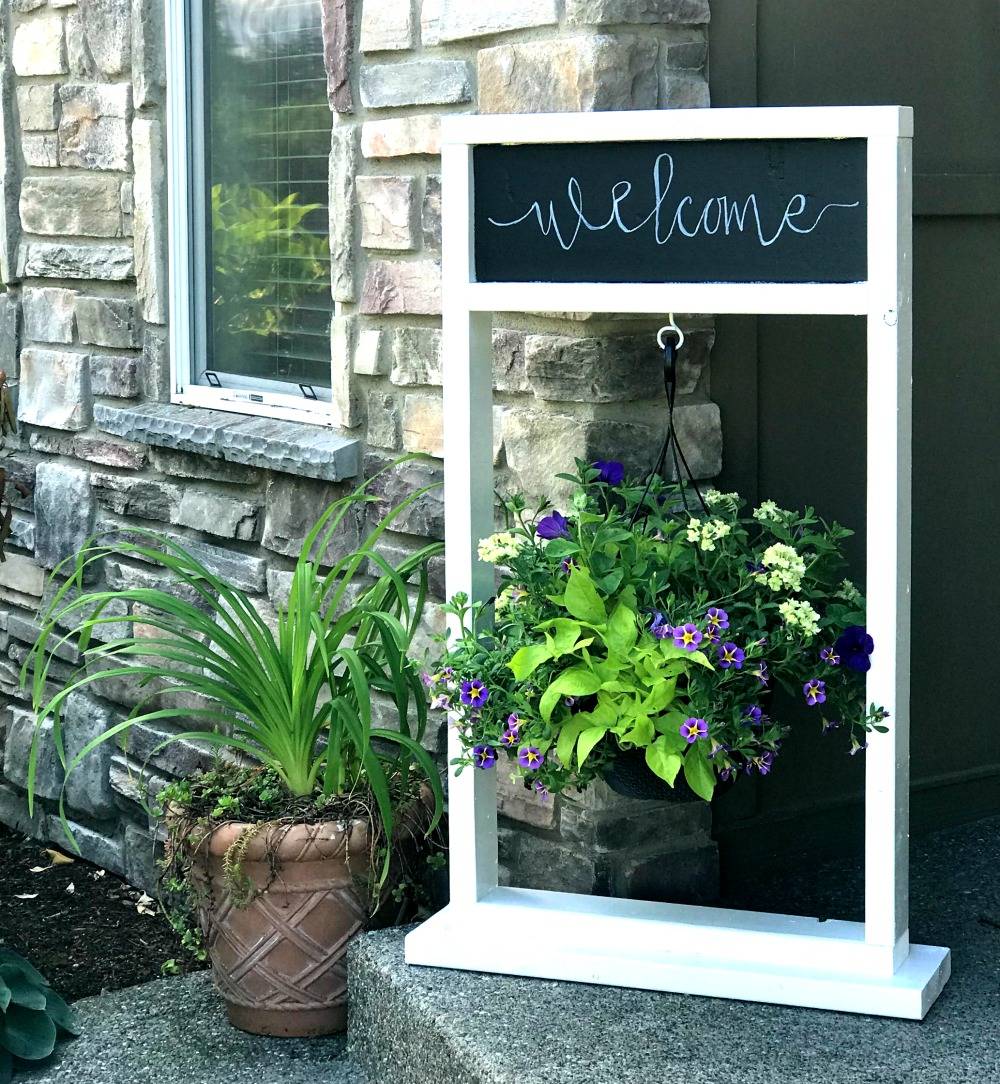 Copper Plant Stands
If you love a bold, industrial look, a pair of copper plant stands will look stunning on your porch or patio.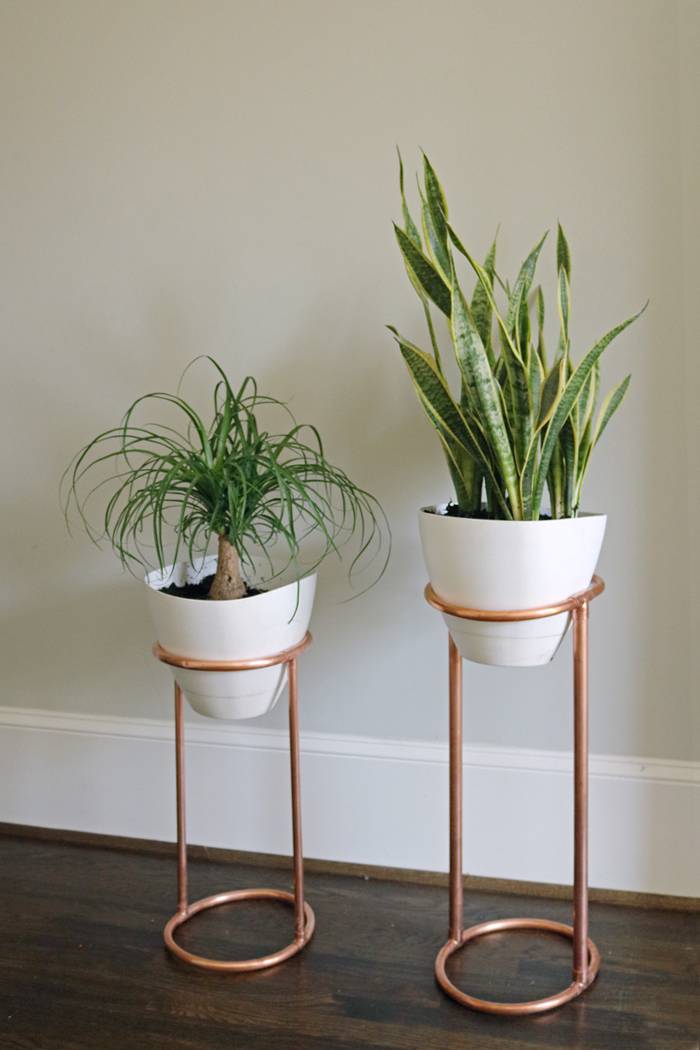 Corner Outdoor Plant Stand
For filling awkward corner spaces on the front porch, this DIY plant stand is perfect! You can add a lovely display for your plants and fill a corner that is otherwise unused.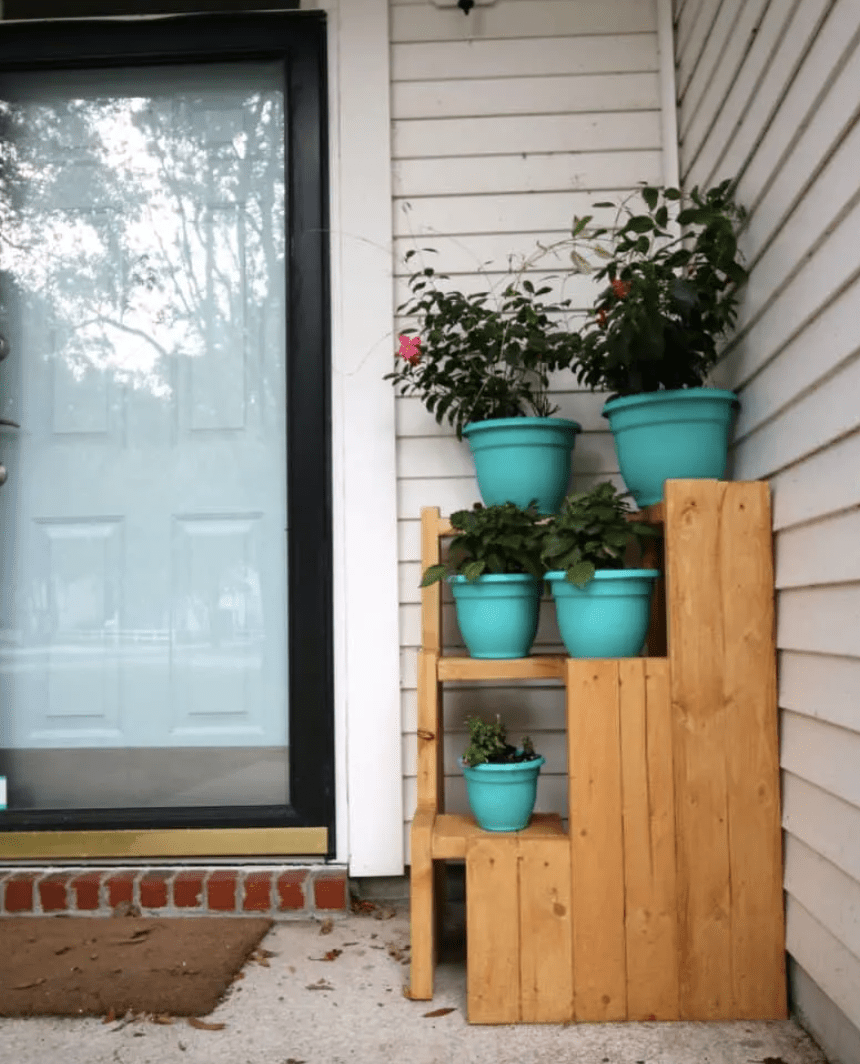 X-Frame Farmhouse Plant Stand
For single plants that you want to put on display and a fancy pot just doesn't cut it, maybe this X-frame farmhouse-style plant stand will fill the void.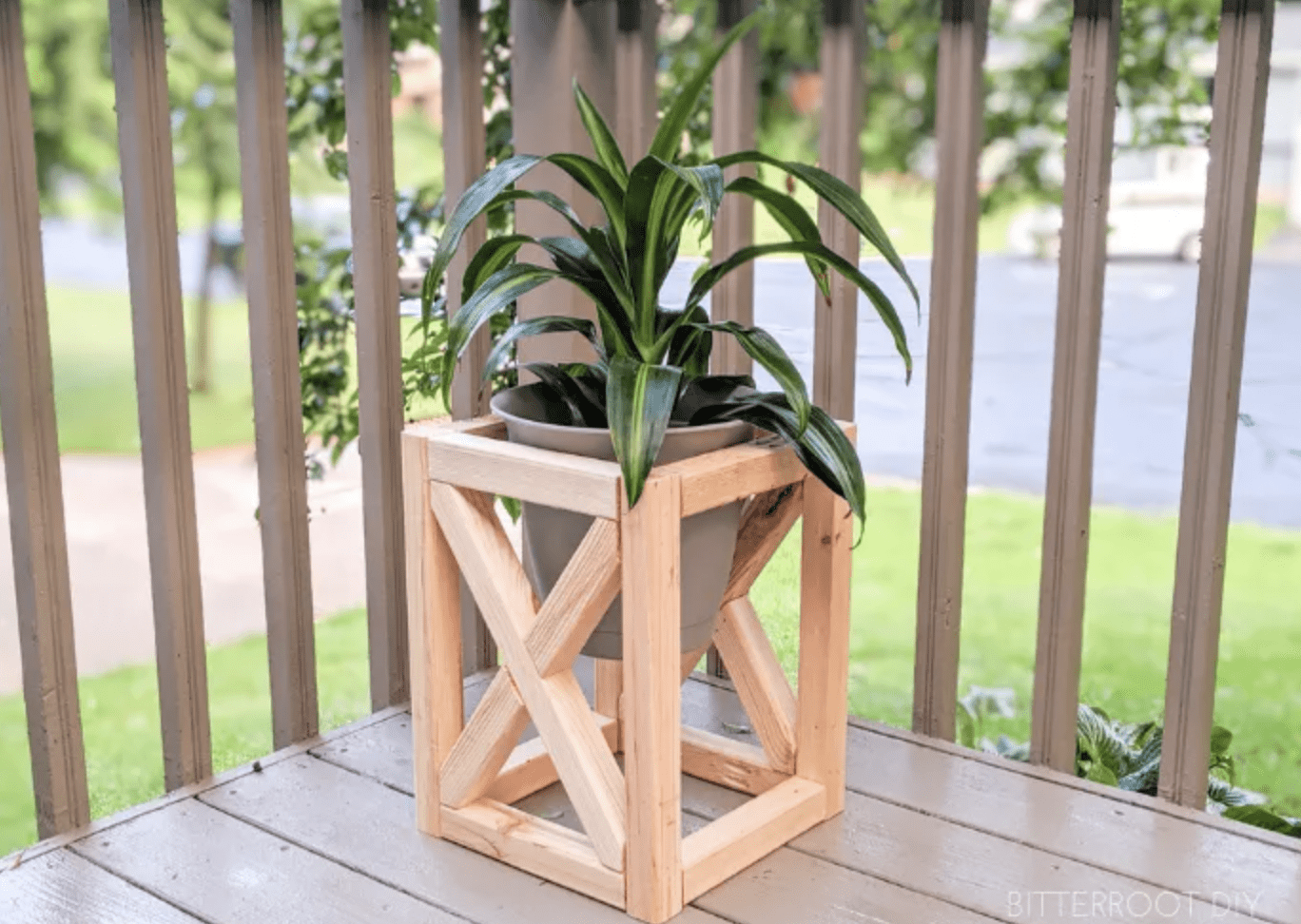 Concrete Plant Stand
This concrete plant stand is perfect for placing a plant or flower pot right by your front door. You can get creative with this one and use paint that suits your style and decor.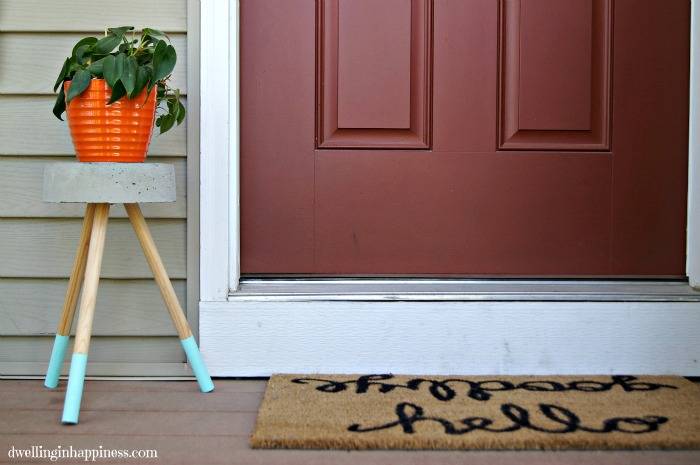 Tall Wooden Plant Stand
Elevate plants in your garden that you want to stand out with this tall wooden plant stand. Take your garden to new heights of beauty and perfection!
Vertical Plant Stand
Speaking of height, go vertical. This vertical plant stand is simple, symmetrical, and looks great next to a fence.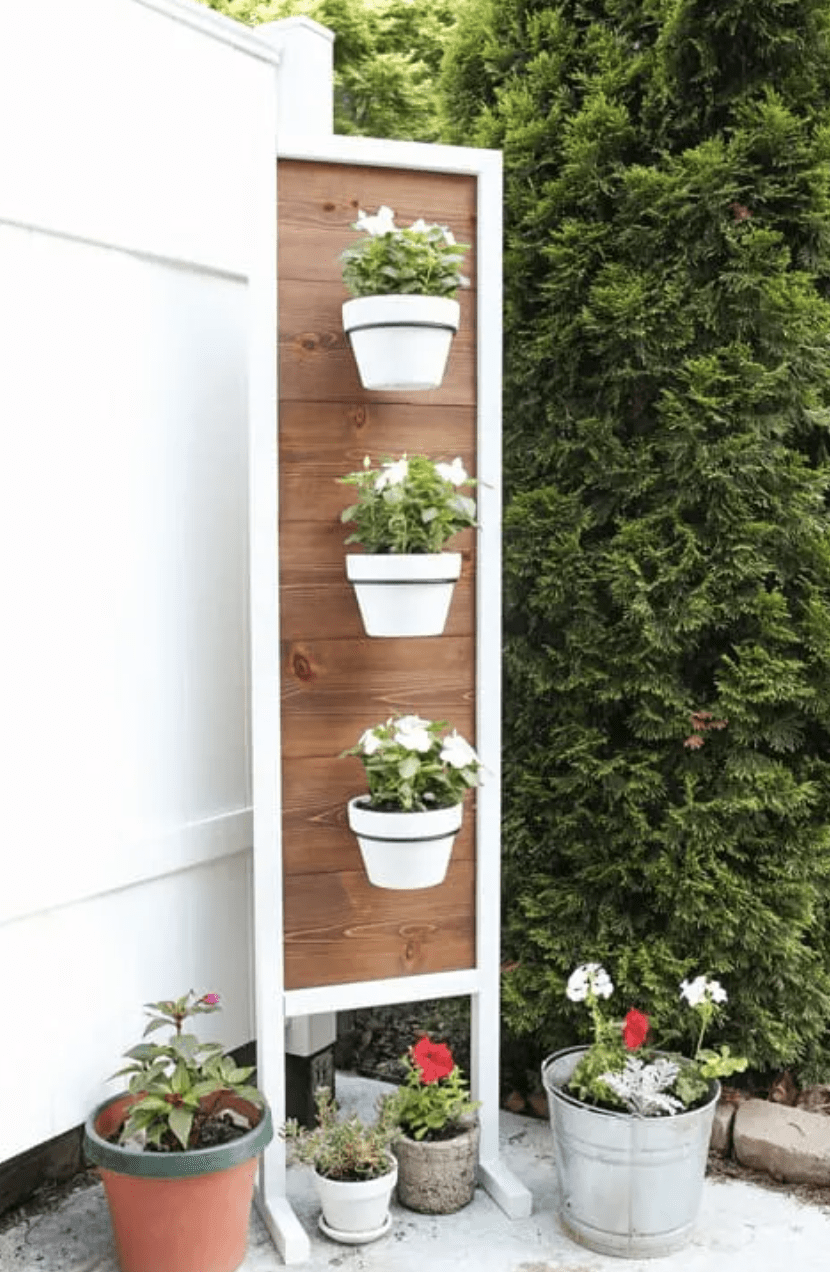 Old Ladder Plant Stand
Make use of an old garden ladder but give it a fresh face lift! By painting an old garden ladder and then laying pine shelves across, you instantly have an outdoor plant stand and a gorgeous piece for your garden.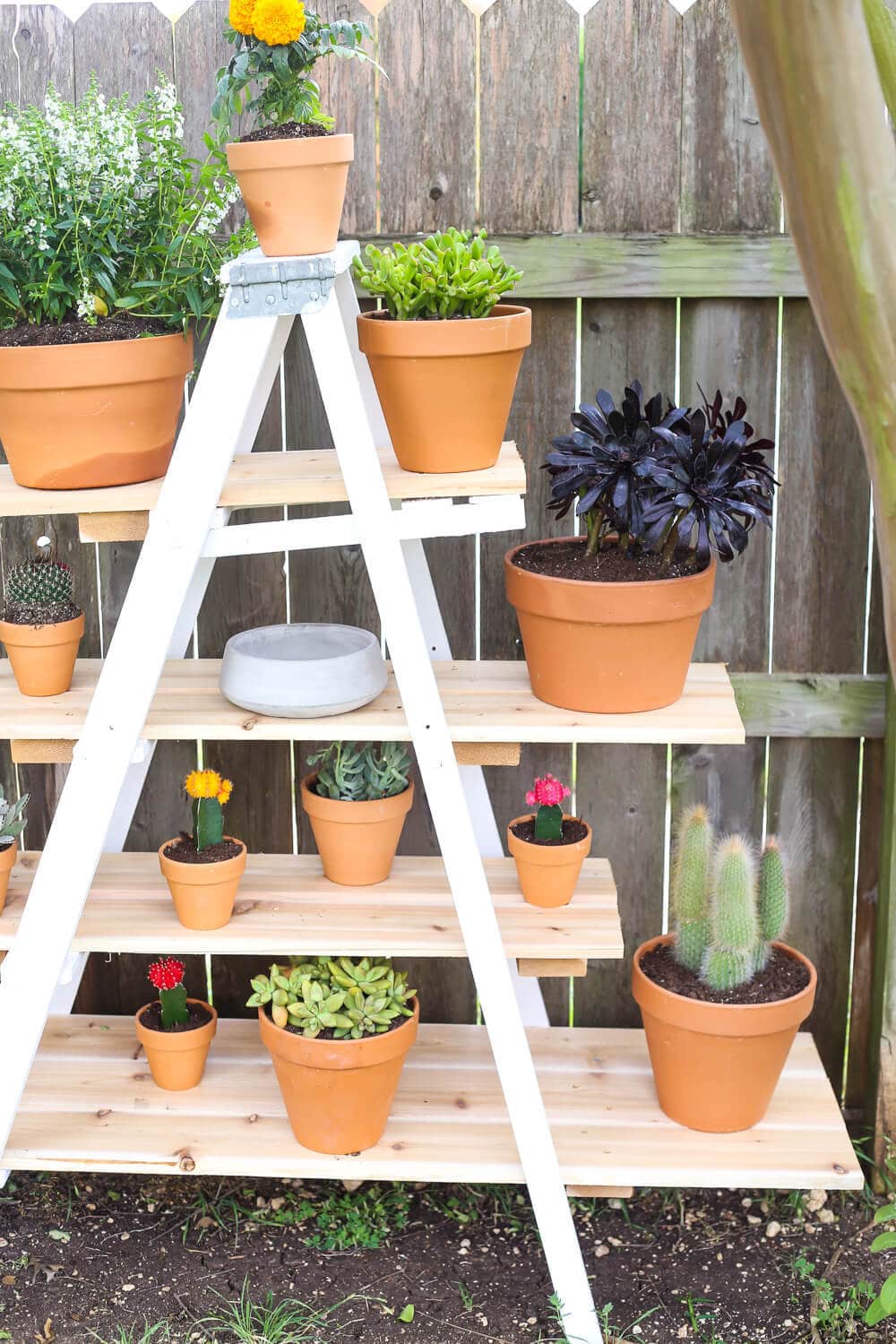 Modern Oak Plant Stands
Simple and unique, these modern oak plant stands are perfect for elevating your pots ever so slightly on your front porch or patio. You can make them at different heights so you can place plants next to each other and offer some dimension.
Frequently Asked Questions
FAQ
Why should I place my plants on a plant stand?
Placing your plants on an outdoor plant stand has plenty of benefits. You can create privacy and visual interest by raising plants to eye level. Raising your plants at different heights creates dimension and depth to your patio or porch. Placing plants on a plant stand leaves space on the floor and between the stands. This way, you can place twice as many plants in one place.
What is the point of a plant stand?
A plant stand is used to elevate plants up off of the floor or patio. This is especially effective if you don't have a huge houseplant. Elevating a specimen plant will make more of a statement and allows you to place more plants in one area.
Are plant stands good for plants?
Since plant stands are designed specifically for plants, they are most certainly good for them! If your plant stand doesn't cover the full bottom of the pot, even better. This will help with drainage when watering your plants.
How tall should a plant stand be?
A general rule to follow is the taller the plant, the lower the plant stand should be. Plants such as Kentia palm, split-leaf philodendron, and ficus grow over 4 feet and should be paired with a low plant stand between 6-10 inches and a wide base for stability.
How much weight can a plant stand hold?
Different plant stands are made to hold different weights, and no two plant stands are the same so you should always check before purchasing to make sure that your plant stand can hold the plant you plan to place in it. You also need to consider how heavy the plant will become after watering.
How do I choose the best outdoor plant stand?
An outdoor plant stand can come in many different styles, making choosing one challenging. Deciding the type of stand you want, how many plants it should hold, and how the stand is assembled can help you narrow down the choices. To choose the best outdoor plant stand, take these factors into consideration, along with price and your personal style preference. Whether you're getting the look indoors or out, consider adding non-plant items to your stands, including vases, sculptural garden ornaments, figurines and more. Just make sure items aren't too breakable if you're leaving them in the elements. Wind is not your friend when it comes to displaying delicate pieces. With a wide selection of planters and stands in an equally wide array of forms and materials, the possibilities are endless. 'Tis the season for celebrating the visual appeal of the garden! Thanks for reading, and happy decorating!
If you have more work to do outdoors, here are some other articles you may find helpful: