We know that photos can be an amazing source of design inspiration, so this article may contain affiliate links that will direct you to a particular decor item. Clicking on a link may result in a portion of proceeds being paid to www.decoist.com
Looking to add a bit of brightness and a hint of glam to your home? Nothing gets this done better than a DIY pendant light. Of course, there are a multitude of designs and styles out there in the market that promise to get the job done. But how is that any fun? It is time to bring out all of your craftsmanship as we showcase the 50 best and most stylish DIY pendant light projects. Varying in styles, sizes, shapes, and hues, each one has a distinct charm of its own.
To make any of these lights you'll need to spend on the hardware first. This pendant light kit comes with four pendants and costs less than $20 USD. A small price to pay for these gorgeous DIY lights! If you're not partial to a black pendant light, there is a white pendant kit option available, and even a rope pendant light kit!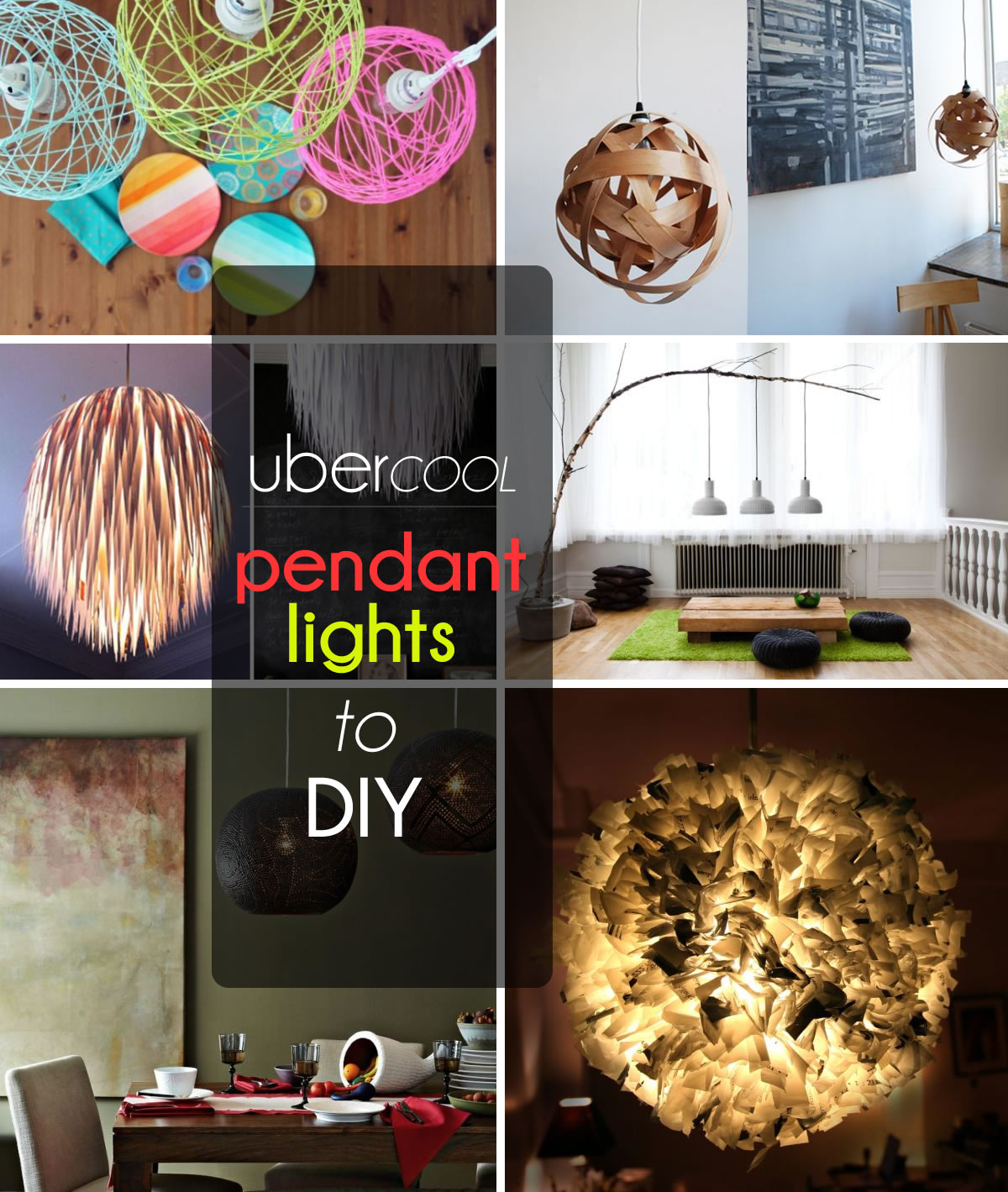 Getting a DIY pendant light built obviously takes a touch more work than most of the 50 DIY wall art ideas we showcased last week. But, when they are finished and it is time to flick the switch on, these pendants promise to steal the spotlight! From the ravishing to the recycled and from the contemporary to the industrial chic, there is something here for every home!
SIMPLY AWESOME
Reuse, Recycle & Dazzle With A DIY Pendant Light!
Re-purposed materials are a great way to get started with your DIY projects. Instead of running to thrift store for some inspiration, just look around your home, in the garage and in the attic for materials to work with. Whether it is an old utensil holder that you stopped using long ago or just some paper scrap, here are some fabulous ideas that turn the unwanted into show stopping decor –
DIY Stunning String Pendant
This seems like an inspired version of the brilliant Random Light by Moooi and we are not complaining at all. While the real deal will set you back by nearly $600, this DIY String Light will barely cost you $50! Considering the grand visual that it paints and the gorgeous full moon look, this is a perfect DIY pendant idea for those who love contemporary design and is completely customizable.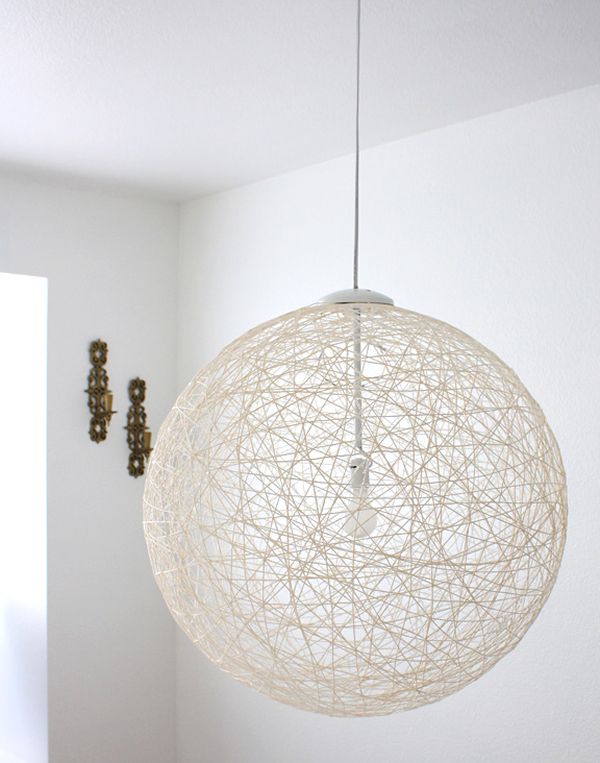 DIY Paint Stick Pendant Light
Some of the best DIY's come when you're trying to revamp an existing pendant light. For this paint stick pendant lamp all you need is an old, unused lampshade and some regular 5-gallon paint sticks.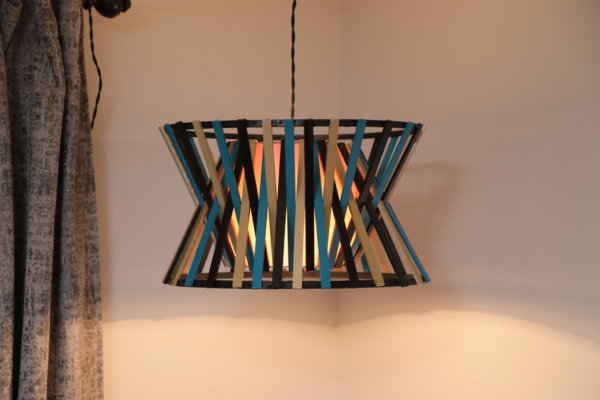 DIY Branch Pendant Light
Halloween is here and we are in the midst of plenty of fall fun. Why not kick start our DIY pendant lamps with some beautiful natural inspiration then? The Branch Pendant is pretty simple to create and you will not need anything expansive to craft it. It has a certain Scandinavian minimalism about it when painted white and you can obviously improvise to create a different version of it altogether. It could be something simple as a branch transformed into lovely light fixture! [from: decor8blog]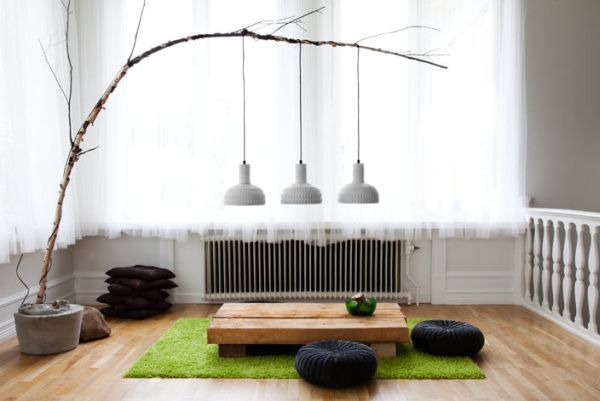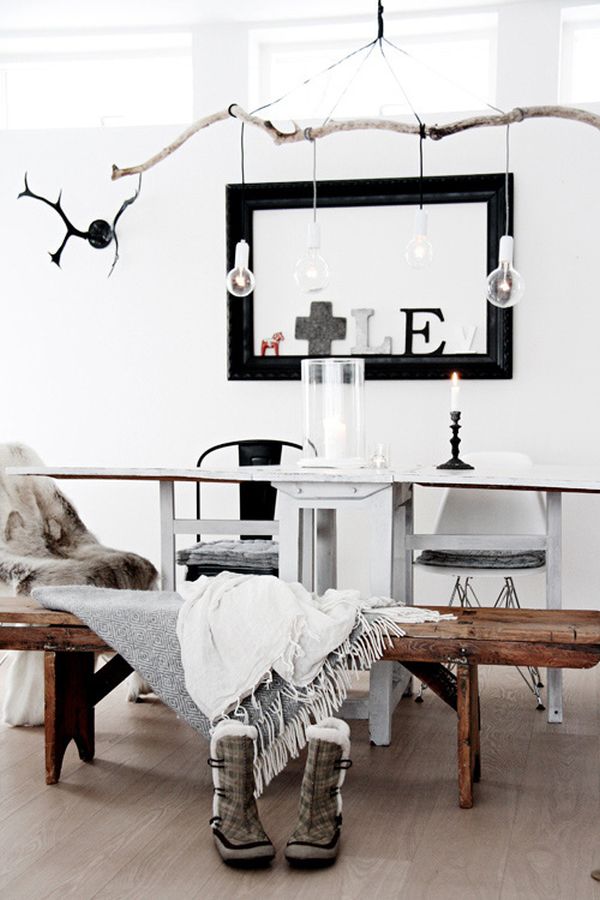 Soda Can Tab Diagonal Pendant
Soda can or beer can, feel free to use tabs from any canned and chilled beverage of your choice. While there might be other soda can pendants around with similar style, this one steals the show due to the diagonal placement of the pop tabs. It really has a cool and shiny glint about it and once darkness sets in, the glittering tabs make for quite a visual display indeed.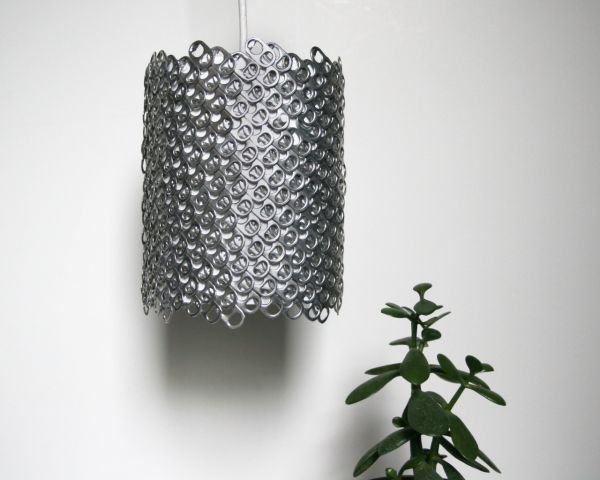 DIY Metal Sheet Light
Turn those metal sheets typically used to cover radiator vents in the bedroom into a lovely pendant with metallic hue. Even if you do not have any of these sheets lying around, just get a couple from the local hardware store. Remember, the more intricate the cutout design, the more beautiful your metal pendant light would be. Add a few washers, screws and a lighting kit to get it ready.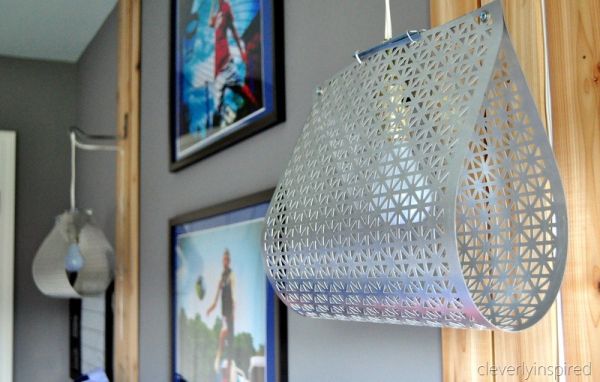 Tin Can Pendant Lights
Looking for some focused lighting finds to hang above your kitchen island or the dining table? Then look no further than those large tin cans lying in your attic. Turn those giant metallic finds into lovely drum pendants with a bit of paint. Simple, easy and barely break a sweat on this one. [from: Shelterness]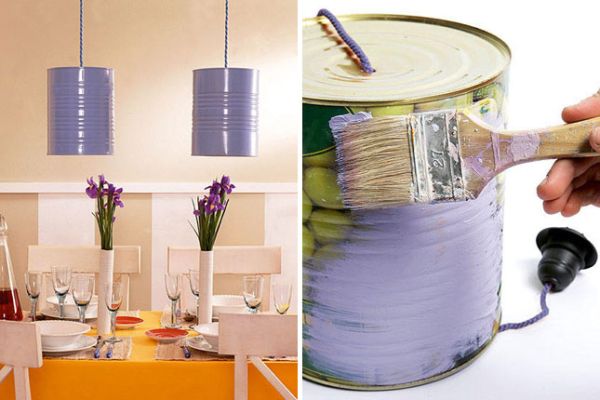 Utensil Holder DIY Pendant Light
Why not go down the industrial lane with your next pendant? Just turn that old utensil holder into a cool pendant by using a simple lamp cord kit and a spray paint of your choice. Inspired by IKEA, the maker of this sleek pendant chose orange. You can even change the color of the light with varying seasons and trends, if you are willing to grab a paint can every now and then! [from: take the side street]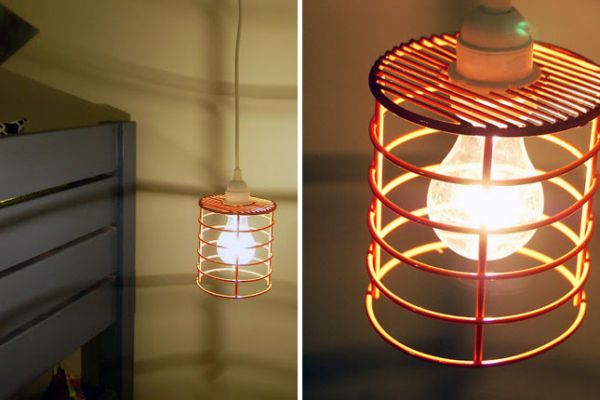 Recycled Cardboard DIY Pendant Lights
There are plenty of ways in which you can put old cardboard to good use and here is another innovative take. Just craft a modern version of an outdoor lantern using cardboard, add some bright color, use a pendant light kit to hang it from the rafters and voila! [from: Sugar and Cloth]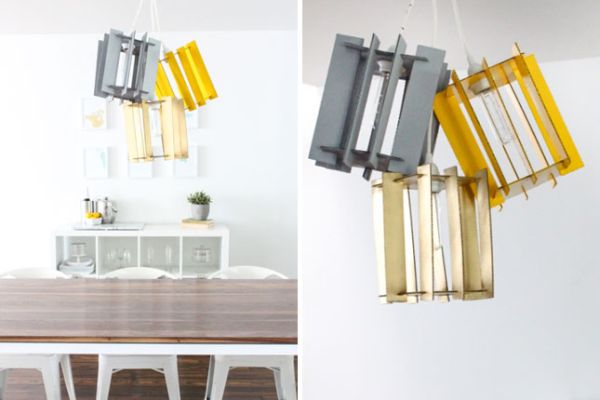 Exhaust Fan Lights
It is hard to imagine that the lighting fixtures in this kitchen were once discarded waste. But one man's trash is another person's treasure! The idea is a wonderful example of how one can find pendant light inspirations in the most unlikely of places as well. Simply outstanding! [from: design sponge]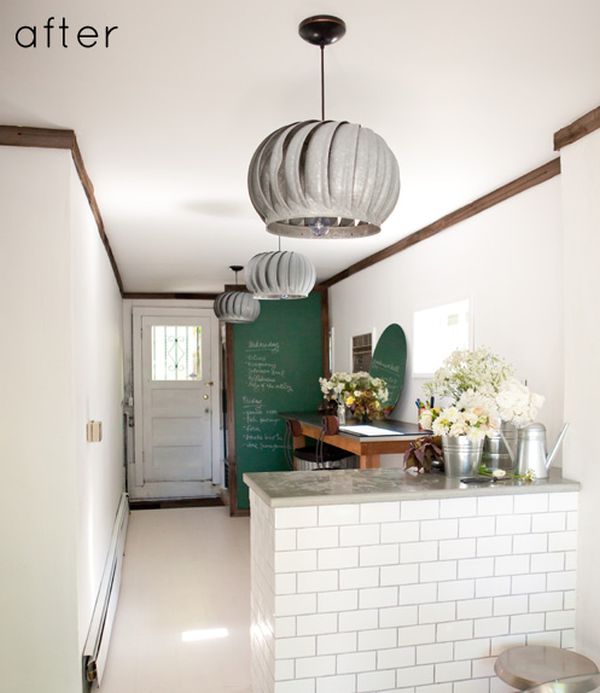 Retro Styled Fan Pendant
Have the metal cage of an old fan lying around and collecting rust in the garage? That makes for a brilliant pendant light as well. Just add some bright paint to it and you have the perfect retro-styled focal point in the room. Large and extravagant, the design is an instant hit even in a cool contemporary setting. If you want a more industrial style, then opt for a steel grey finish. [from: kittenhood]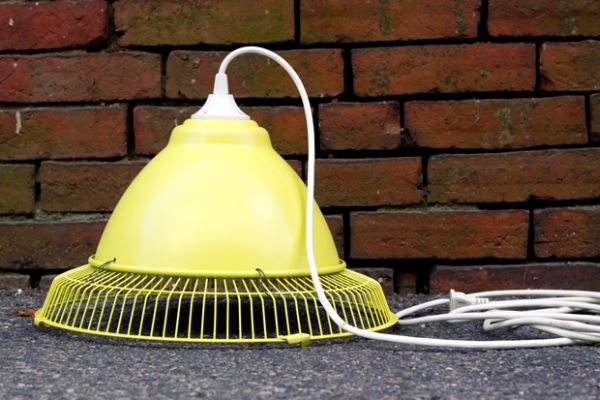 Vintage Tart Tin Lights
These really do bring a smile to your face! They are small, super-cute and the colored wiring on top gives them a stylish eclectic appeal. You can obviously experiment with pie pans for larger pendants that are similarly styled. If mini-lamps are what you want, then the tart tin lights are the perfect pendants for you. [from: Lauren Elise Crafted]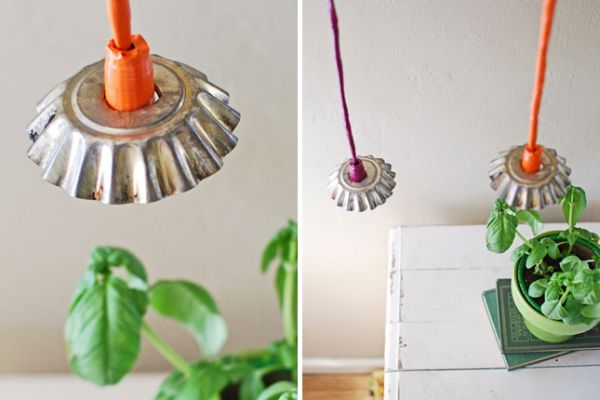 DIY Globe Pendant Light
Let the world shed some light on your study table! The picture pretty much tells the entire story here. Grab an old globe, a pendant light kit and some wiring and within no time at all you have a trendy pendant for your study. The simplicity of this DIY creation is definitely its biggest lure. [from: apartment therapy]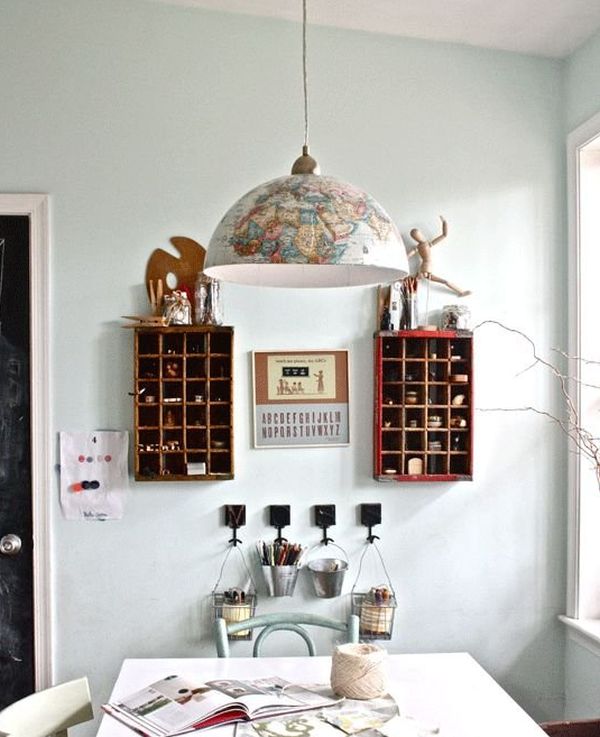 Enameled Colander Pendant
If tart tins can be turned into pendants, then why not enameled colanders? If you never really use one of these and they are just stuck in the cabinet forever, then the idea is a great way to add some personality to the kitchen. And if you do not have one handy, then you can use a giant salad bowl as a substitute as well. We are all about dexterity!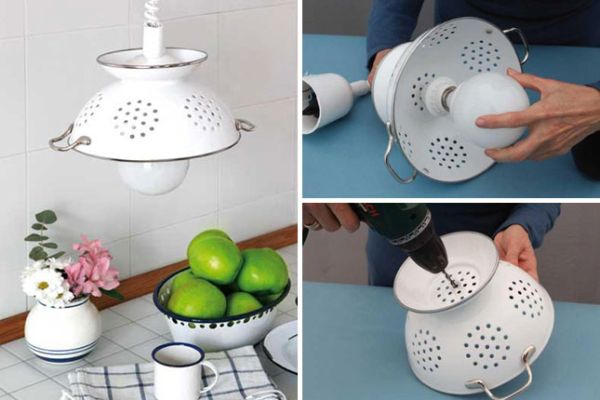 Paper Scrap DIY Pendant Light
That somehow looks like a pendant light version of Cousin Itt from The Addams Family! Moving past that, inside all that paper scrap is a boring old lantern that has been transformed by designer Gabrielle Guy. You can make your own paper scrap pendant and we are pretty sure the little ones around the house will be glad to help out with the shredding!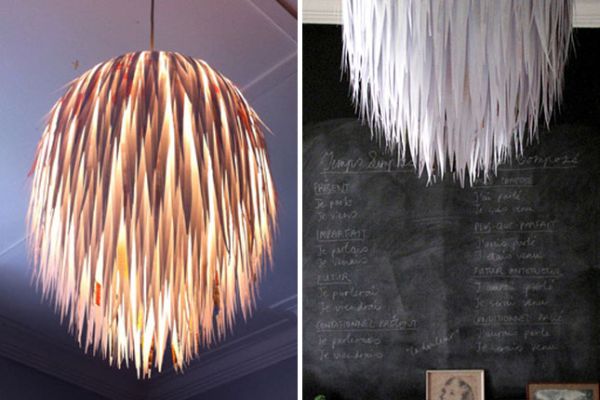 Fresh Flower DIY Pendant Light
This is not exactly recycled, but the fact that it is so close to nature meant it had to be put alongside the other planet-friendly designs. Grab a large wire basket, some gorgeous fresh flowers in dazzling scarlet and red and a bit of green filler and you are all set for some original and exquisite lighting for your Christmas party!
Just change the flowers along with the season and you have a radiant centerpiece to rave about for every occasion. Organic, colorful and seasonal, it is hard to go wrong with this one. [from: paper n stitch blog]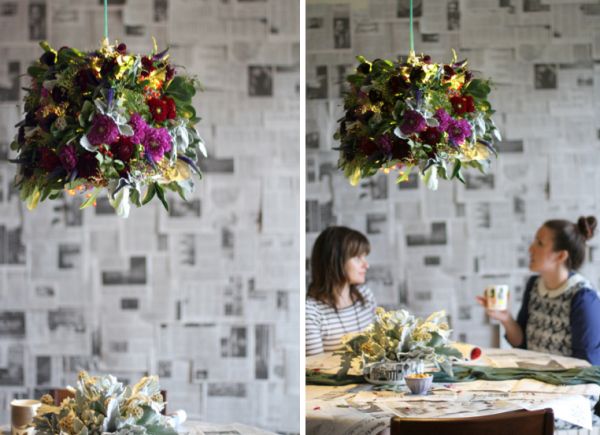 Sparkling Spherical Magic
Clean and well defined shapes, rectangles and squares are all too often the only forms that surround us. The good old sphere is a perfect way to create an instant focal point in a world dominated by straight line. Some of the DIY pendant light ideas here draw inspiration from the more expensive IKEA and Anthropologie inspirations. So, why splurge all that dough around when you can make one of those dazzling pendants right at home?
White Paper Petal Pendant
The next four spherical DIY pendant wonders showcased here are creations of Allison Patrick of the 3R's Blog. First among the quartet is the white paper petal pendant. All you need here is an old lantern and cut out your flower shapes that go on top of the lantern structure. Just glue them on till you are satisfied with the look. A large pendant like the one here can take up as many as 200 flower cut outs!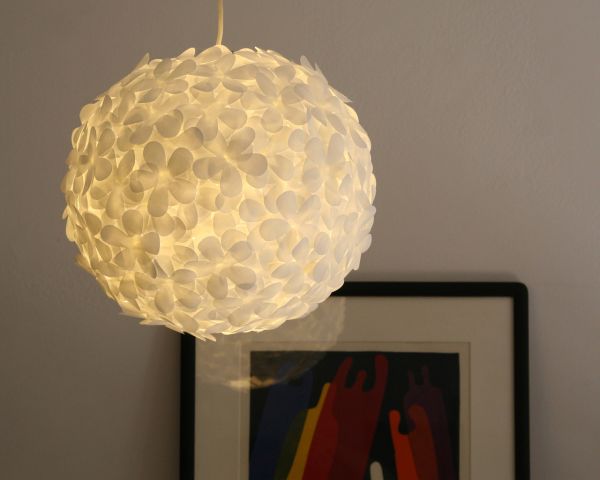 Recycled Plastic Bag Light
Making the plastic bad pendant light is very similar to the flowery creation above and while it takes a bit more work, the result is well worth the effort. Use quality plastic for better results instead of flimsy drug store plastic bags. While the pendant here is crafted from white plastic bags sporting black print, you can mix and match various colors for an eclectic visual.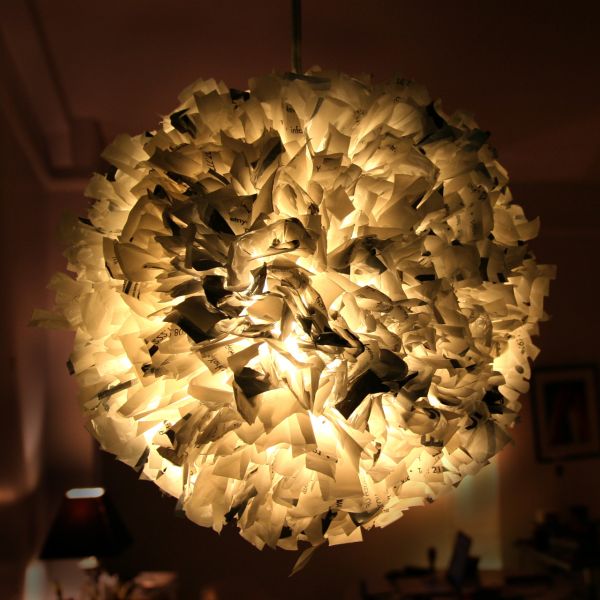 Road Maps Giant DIY Pendant Light
Not really a fan of browsing through all those maps in the atlas? Why not put them to better use by creating the road map pendant light. Clip out the maps, fold them into fortune tellers and get started with the gluing. One of the interesting aspects of the pendant is the shining crystal ball look it sports when switched on!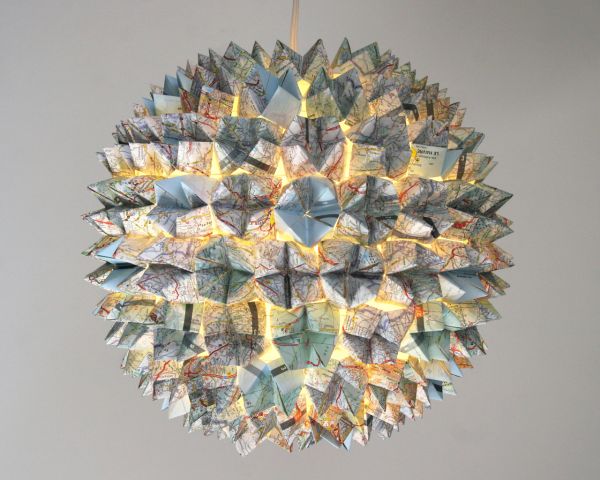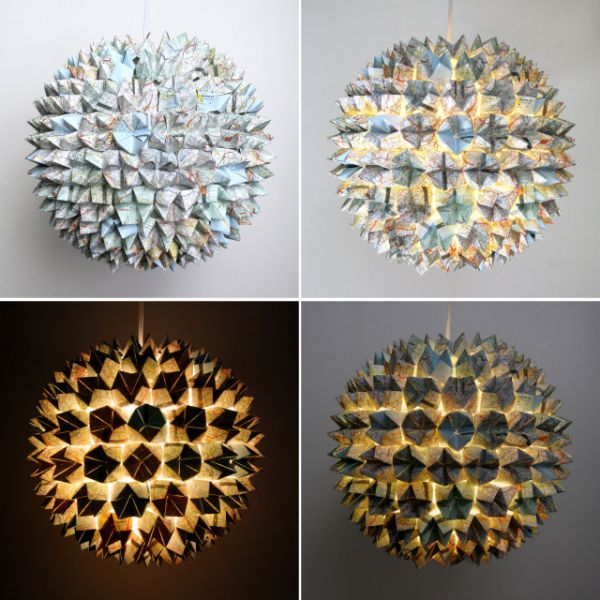 Large Faceted Pendant DIY
Go down a more conventional path by simply using plain white printer paper instead of the maps to craft the faceted pendant. The spotless look might be a touch hard to maintain, but it comes in handy as a wedding decorative or even as a grand pendant to take center stage at the next weekend party.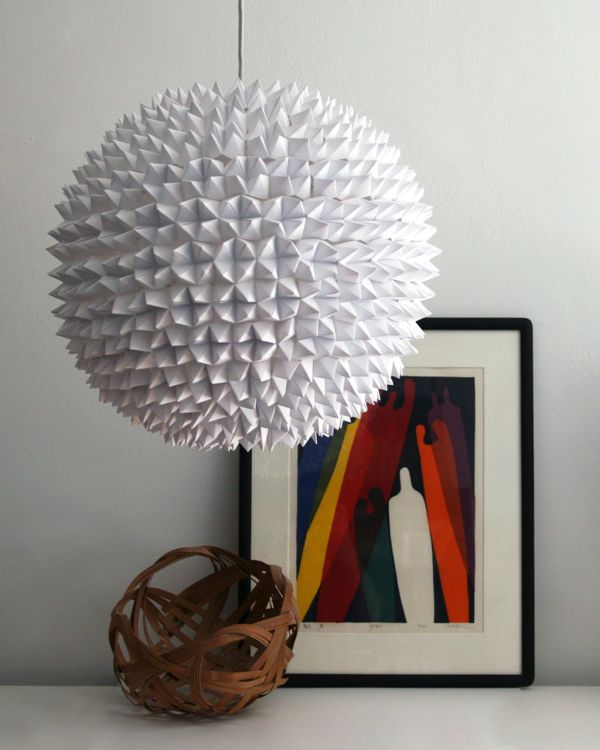 Yarn Pendant Lights
Some colorful yarn, corn starch and a balloon is all you need to get these done. Wrap the glued-corn starched yarn around an inflated balloon and get the pendant that you need. Give the yarn a night's time to dry out and use clear spray shellac to finish it. With winter knocking on the door, they make for a warm and fuzzy addition. [from: brit.co]
The Bamboo Orb!
Inspired by the famous Cassiopeia chandelier, the Bamboo Orb is made from old Roman shades crafted out of the material. We love the artistic look of the light installation and it sure adds sophistication in a subtle and elegant manner. Since the bamboo strips were obtained from an old window shade, you need not worry about too much of slicing and dicing either. [from: Crafty Nest]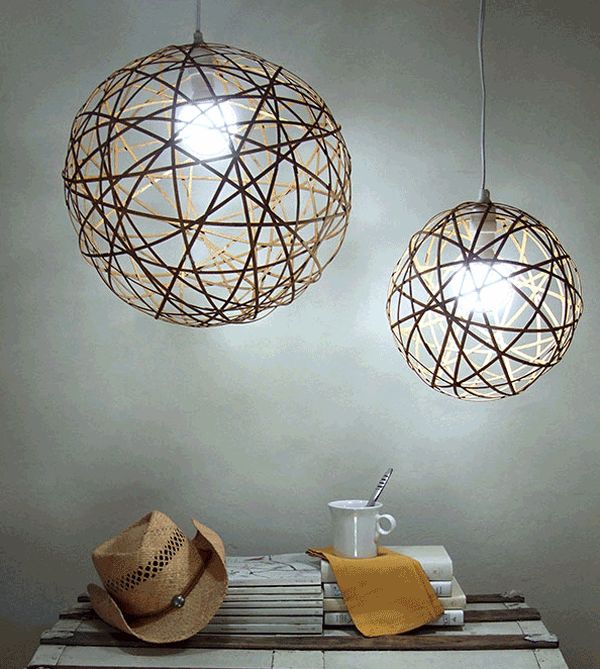 DIY Ombre Pendant Lights
Turn the bland white glass pendant into something that is set to be the showstopper. This DIY project is a superb way to add some accent color to the neutral room. A touch of glass paint, some rubbing alcohol and a dash of patience is all you need to create these colorful wonders. Do not rush with the spray paint job though and work carefully to create the gorgeous color gradient you see here. [from: Design Love Fest]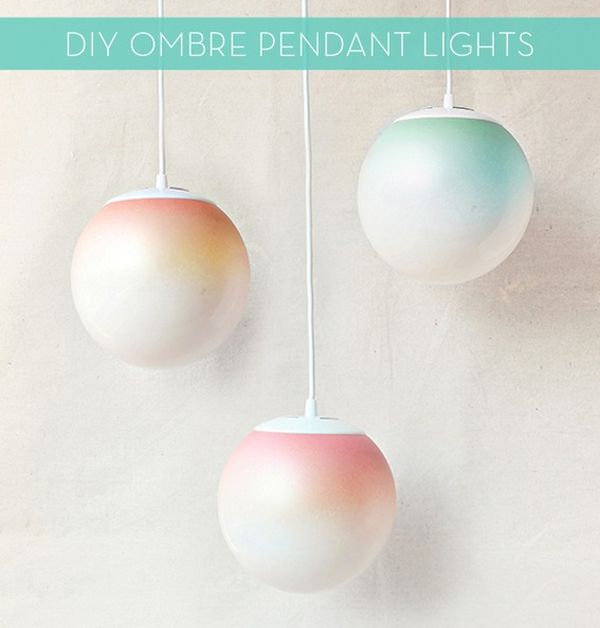 Pom-Pom Pendant
These multicolored and fuzzy pendants are an amazing addition to the kids' room. The textural contrast they exude along with the visual warmth is truly special. Crafting the yarn pom-poms does consume a few hours. Just switch on your favorite shows over the weekend and get to work! [from: A Subtle Revelry]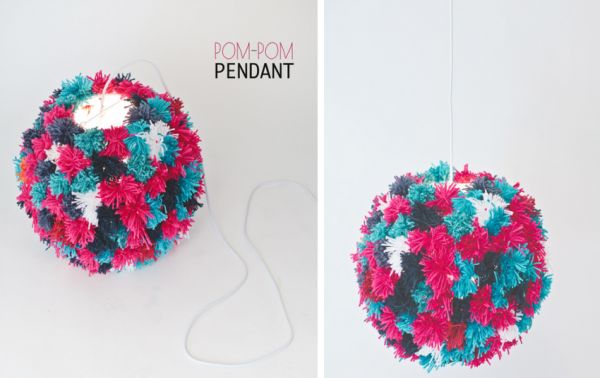 Easy Embroidery Hoop Pendant
The orb-styled pendants really look fashionable and this one uses two 14-inch quilt hoops to achieve the effect. It does have a fine antique look about it. Just ensure that you get the drilling and fastening right and most of the work is done. [from: Dear Emmeline]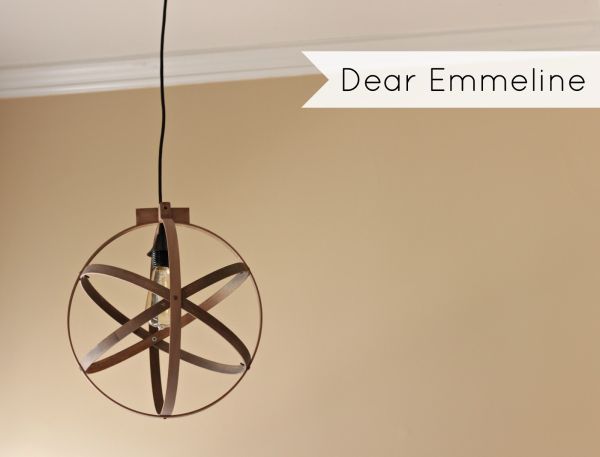 Perforated Globe DIY Pendant
We all have moments of inspiration, it is just that most of us are too lazy to get back and work on those ideas. Not the creator of this West Elem-inspired Perforated Globe Pendant, who decided to make a DIY version of the $160 pendant lights using a couple of plastic bowls! The DIY above and the real deal from West Elm below; you be the judge! [from: Mad in Crafts]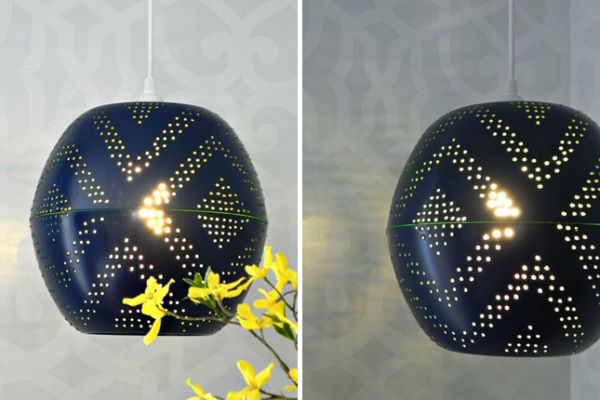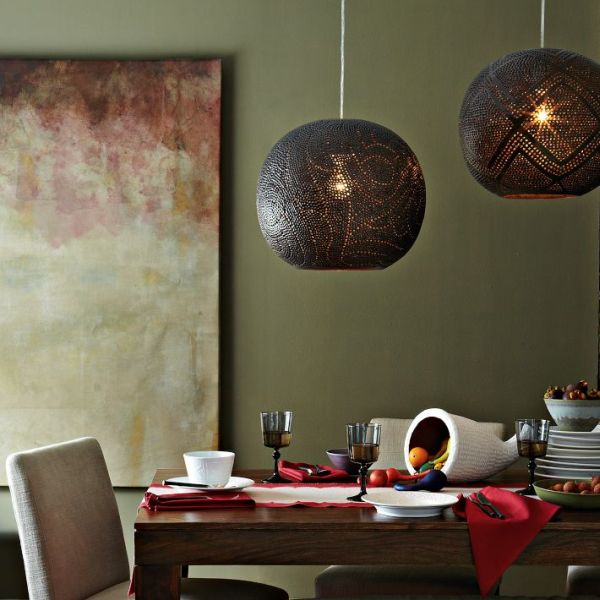 Halo Light Pendant
Once again, it is the simplest of DIY projects that plays off of color and contours in a gorgeous manner. Grab some galvanized steel wire, good old cans of spray paint and get started on those chic hoops. We love their minimal and vivid appeal… [from: A Beautiful Mess]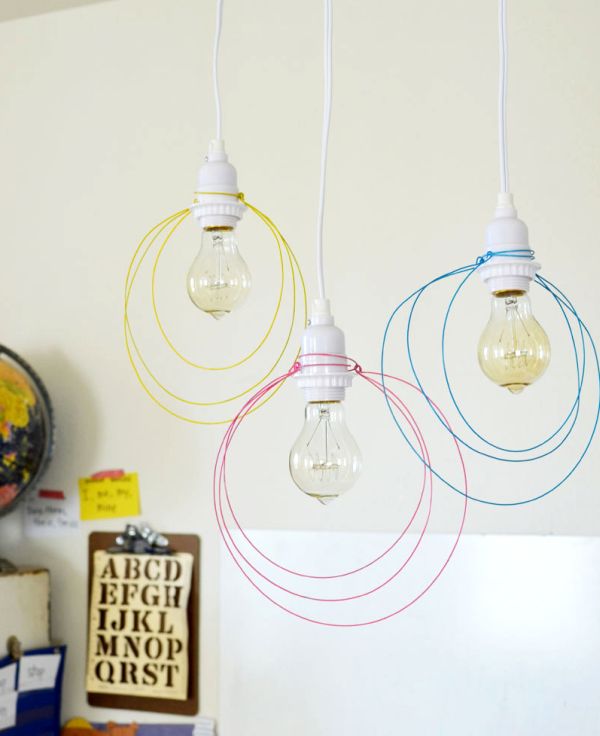 Woven Wood Veneer Lamp
So, bamboo does not get the job done for you and all the fitting and drilling of the embroidery hoop pendant is too much work? Not a problem at all, as we have woven wood veneer light waiting for you. If you have any kind of renovation going around your house, you most likely will have lots of wood veneer strips to spare. Clip and glue them and add a low watt bulb for some home-crafted lighting. [from: Poppytalk]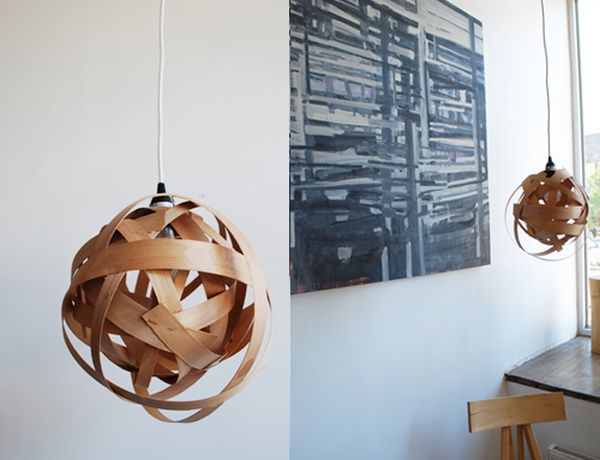 Dynamic Visual Contrast
Contemporary spaces can often border blandness as one tends to use neutral hues and monotonous textures a touch too often. Introduce a bit of color into these settings with home-made pendants that range from floating clouds to fuchsia cubes! Not only do these designs usher in brightness, but they also tend to add both geometric and textural contrast instantly.
3-D Square Shade
The color, the design and the sheer simplicity of this geometric pendant floors us every time we lay our eyes on it. Twelve balsa wood sticks and brilliant neon yarn in a color of your choice is all you will need for this fun project. Fuchsia is definitely one of the trending colors of the season. Once summer 2014 kicks in you can simply swap it out for some turquoise blue! [from: say yes to hoboken]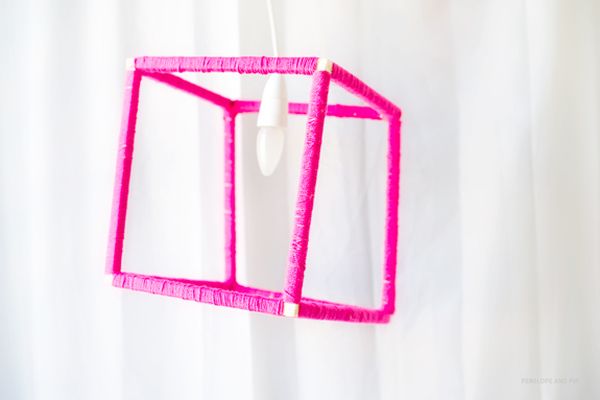 Anthropolgie-Inspired Wire Basket Pendant
Metallic wire is a wonderful way to bring in some industrial design into the room. The maker of the wire basket pendant was inspired by the light, wire cage-styled pendants at Anthropolgie that come with a heavy price tag. The solution is an old wire basket, some black spray paint and a pendant light. Ingenious and impressive! [from: Ashley Ann Photography]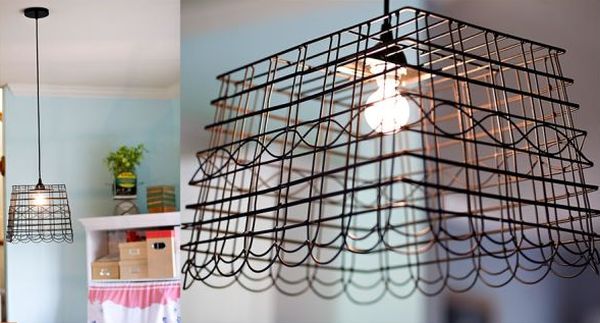 DIY Cloud Lights
Divine is the only word for these inspired pendants. Just use some cotton batting along with a few paper lanterns to recreate the heavenly aura of these pendants. But always use ultra-cool and efficient soft LED lights that do not get too hot. Put a bunch of them together and they almost might tempt you to believe that you are floating among the clouds! [from: Wedding High]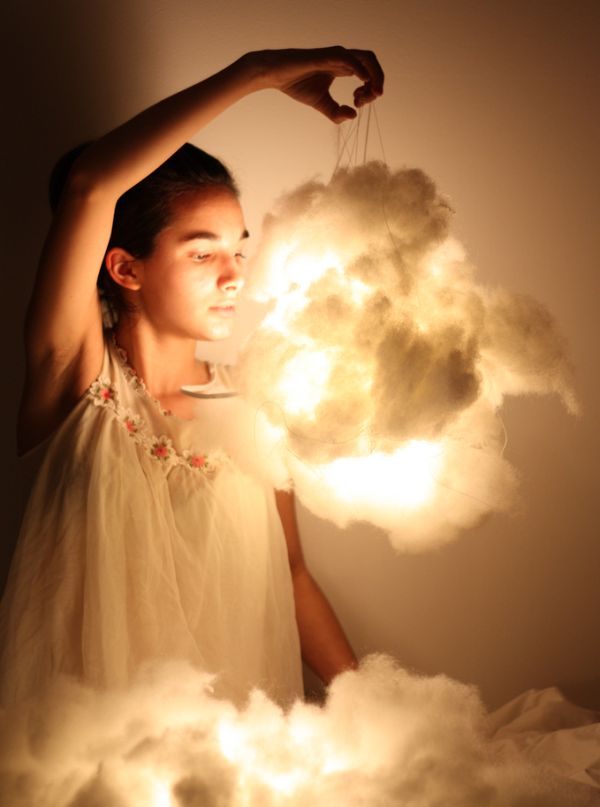 DIY Dodecahedron Pendant
Another one of those amazing DIY projects that is inspired by more expensive retail versions and this time, it is the Dustin Pendant from Ralph Lauren. The Dodecahedron light is an amazing and meticulous recreation that runs the original pendant pretty close. Just spray on some black paint and you might not even notice any difference!
This does take some precise (and we mean precise) wood cutting skills. But that is way better and more satisfying than shelling out $500 for the Dustin. [from: view along the way]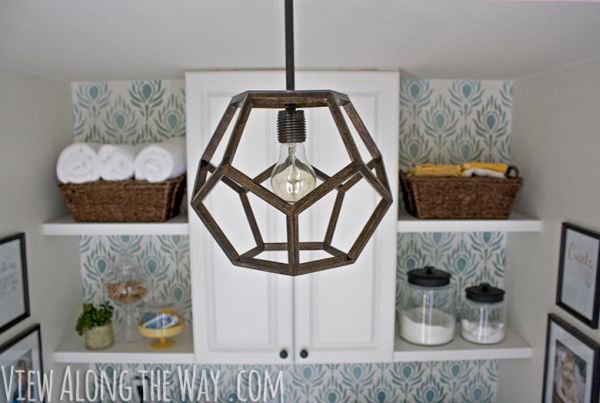 DIY Industrial Focused Lights
Brilliant, sophisticated and chic, this trio grabs your attention in an understated manner. It is almost reminiscent of old factory lights and could make a few among us pretty nostalgic. Bring back the good old times! [from: tamalikainenparketti]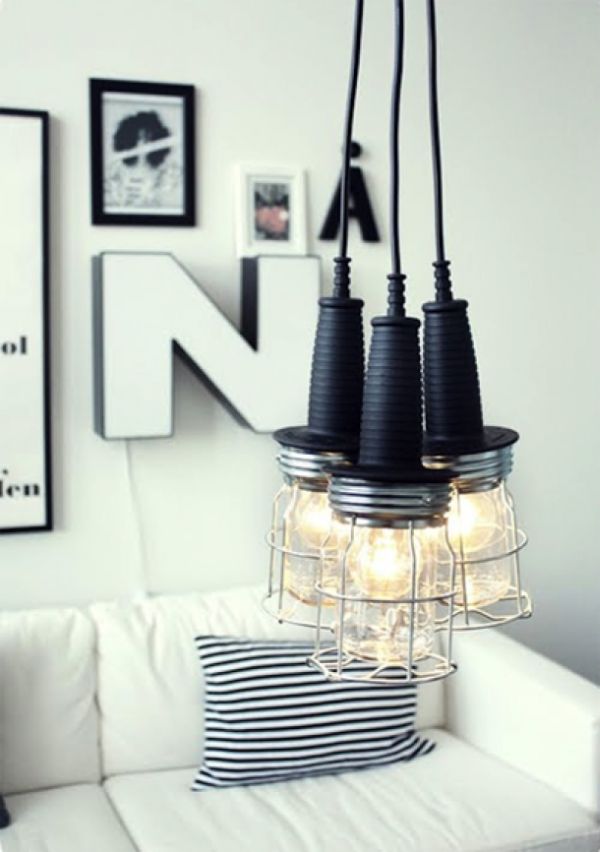 DIY Tulle Pendant Lamp
Time to put your embroidery skills squarely under the spotlight! This definitely is a must have pendant for those with a little adorable princess in their home. Add it to their playroom or make it a part of the bedroom with Disney princess theme. [from: Crafty Nest]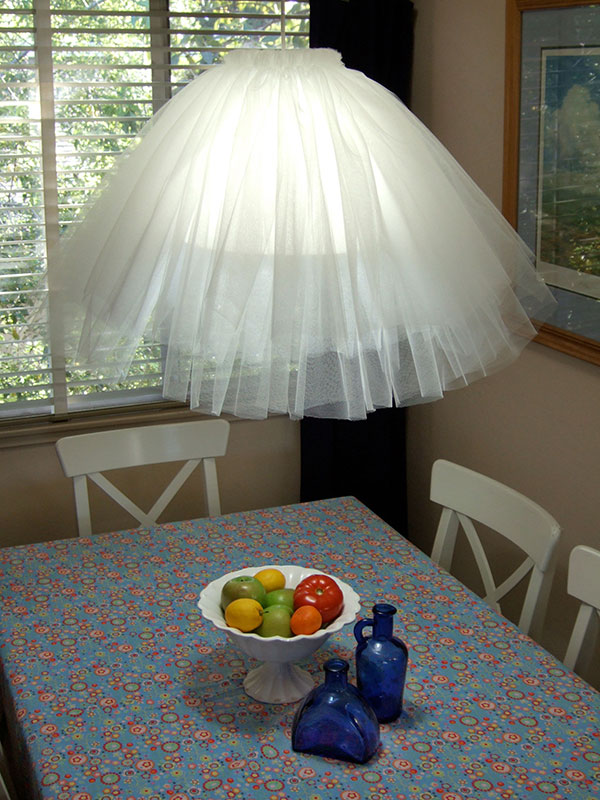 DIY Quilt Light
Crafted by NSW-based designer Tamara Maynes, the DIY Quilt Light went on to become a part of prestigious events like the Milan Design Week in 2012. You can purchase the Quilt Light template for $20 and be part of some designer fun. [from: the design files]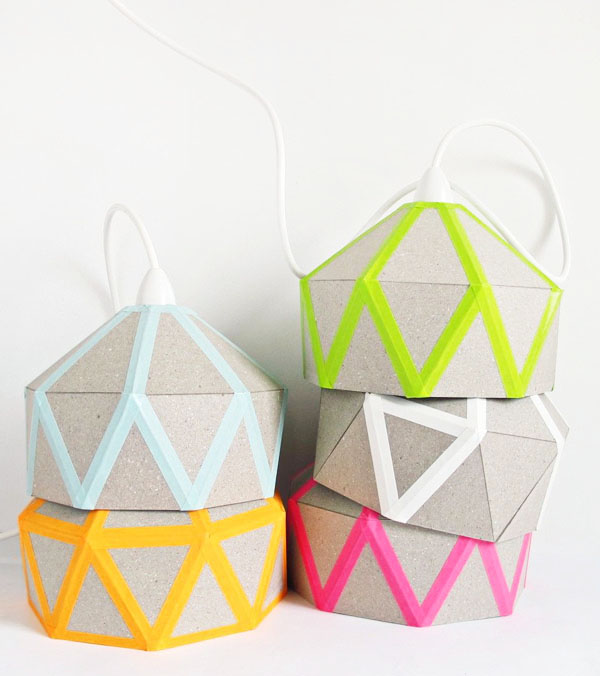 Vintage Openwork Cube Pendant
It is hard to believe that this is a DIY creation. The Openwork Cube Pendant adds plenty of visual, textural and geometric contrast to any modern room that it adorns. An open design means, it fits perfectly even in a small room and does not ever become overwhelming. Planning to make one of your own, set aside a weekend and get comfortable with wood. [from: Vintage Revivals]
Rectangular Farmhouse Pendant DIY
You can but one of these at a store for $250, or simply turn an old kitchen utensil holder or a basket upside down, add a wire mesh base and get the job done. Those who have an old, rectangular bird cage can use it too. Sporting a rustic look, it is a perfect fit for the weekend cabin-styled retreat in the country.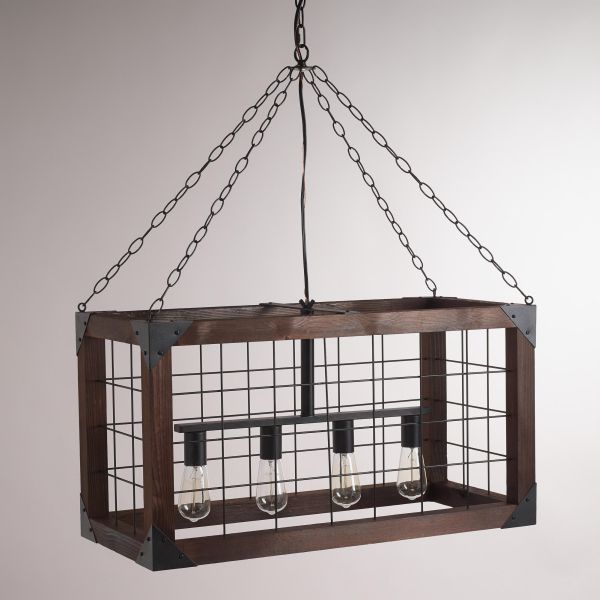 Sleek Wire Pendant Lampshade
Convulsed thin metallic tubing painted in gold is all what this is and yet it looks simply marvelous! The wire lampshade goes along with any of your existing pendant lights or you can craft an entirely new design on your own. While the ingenious designer of this lampshade went to the local hardware store for the tubes, we say just give those old wire hangers in the wardrobe a shot. [from: curbly]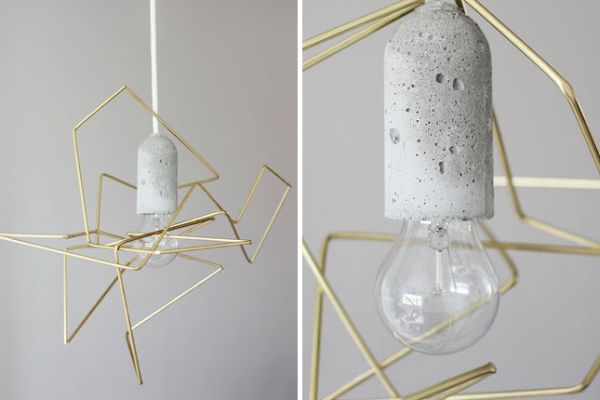 Neo-Baroque Honeysuckle Pendant
Intricate, impressive and crafted in one of the Pantone colors of the year; you cannot simply look away from this one. Couple it with a few more eclectic collections and you can create a vibrant and eclectic living space.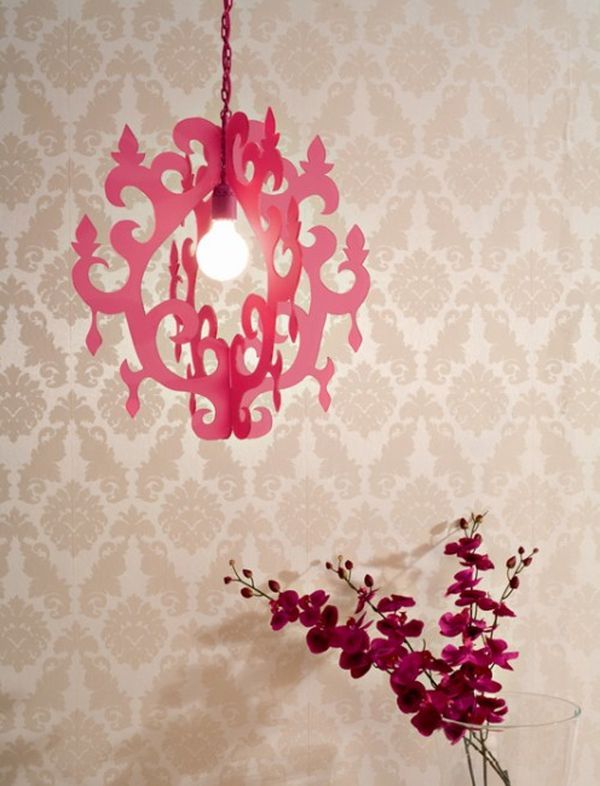 Woven Rope DIY Pendant
Here is another example of ushering in a warm natural texture in an urban setting that is dominated by glass, concrete and stone. Organic and soothing, this DIY pendant one was made using a hanging planter basket and sisal rope.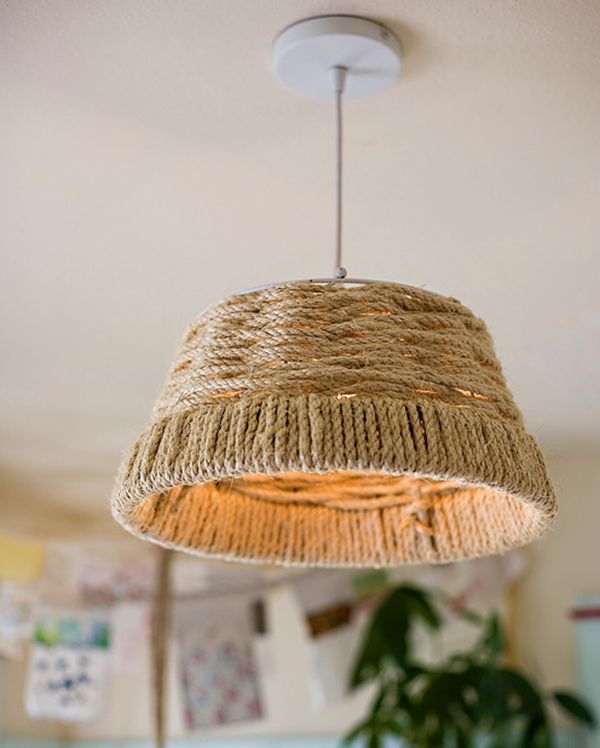 The Bold and the Brilliant
Innate simplicity of the pendant light design and its varied forms mean that you can craft one out of pretty much any material of your choice. Old wine bottles and glasses make for really appealing pendant lights thanks to their transparent nature. Most of these also work as standalone art installations even when not switched on. And we even have a ping pong ball pendant below for the sports fanatics out there!
DIY Cool Glass Pendant Light
Working with glass requires a bit of care but glass pendant lights always look far more attractive than any other designs. Experiment a bit and use a glass that has some distortion to create interesting light patterns on the wall. Wrap some colorful neon twine around the electric cord and let the magic unfold! [from: Pattern of Life]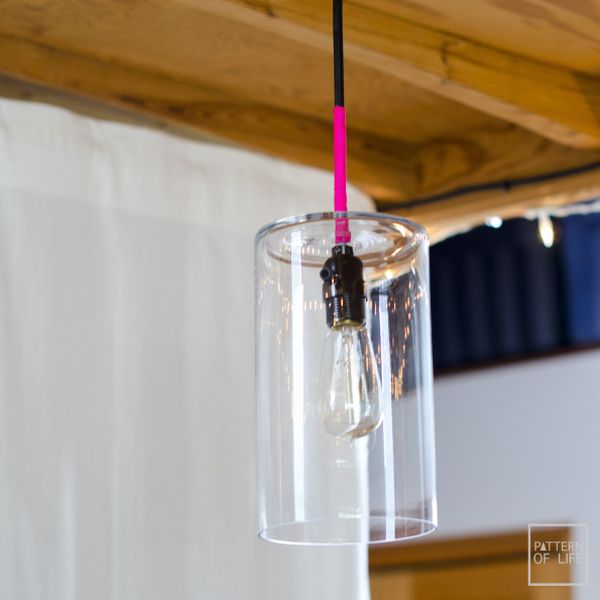 Glittering Gold Light
Guess what makes up the base of this uber-simple pendant? It's a toilet paper roll… And some golden wrap on top of it. This maybe will take about 5 minutes of your life but manages to add plenty of style to your slick bachelor pad. [from: Design and Form]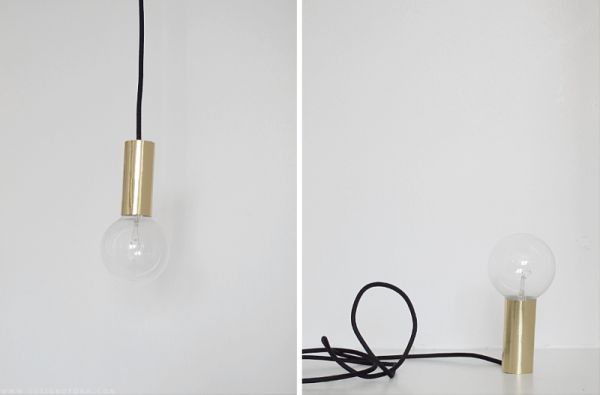 DIY Recycled Wine Bottle Lights
Wine bottle lights are pretty popular DIY projects and if you are an ardent lover of homemade crafts, then this is not the first time you would have come across one. Just cut out the base of the bottle, sand the sharp edges and assemble the lighting kit inside. While these lights are available on retail for $100, making one at home barely takes any time. Give the project a go and you will soon be addicted. [from: The Rena Nicole Show]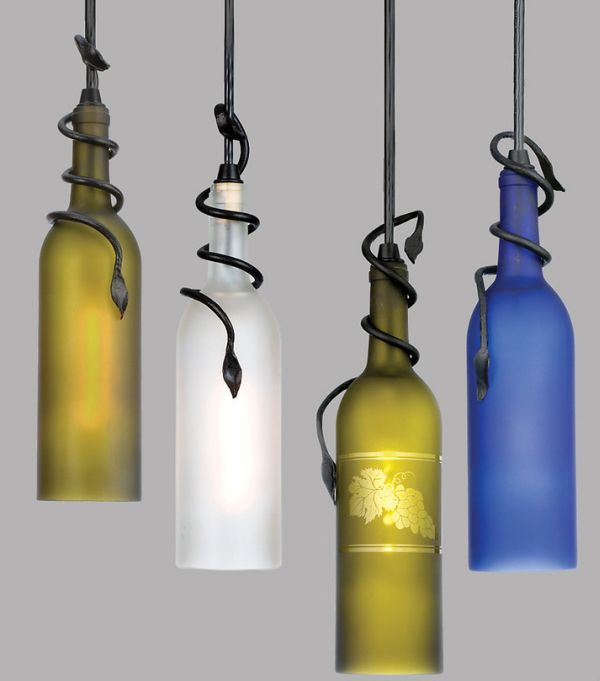 Lantern-styled Wine Bottle Pendant
We are not just about the interiors alone and with the festive season just around the corner, it is time to get the patios and backyards all dressed up. The lantern-styled wine bottle lights add drama and elegance almost instantly to an outdoor space. Hand a few carefully and enjoy some dreamy evenings and beautiful nights under the stars!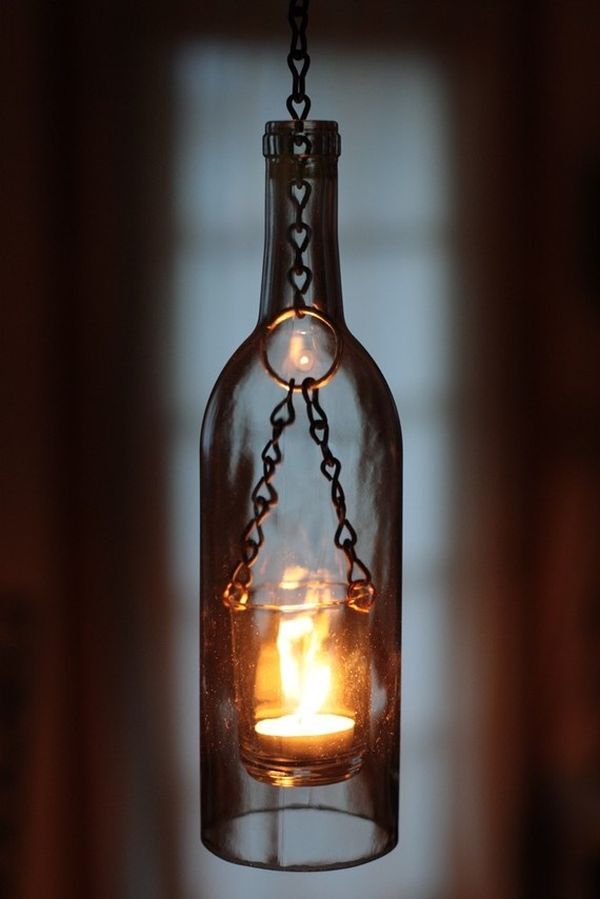 DIY Hanging Wine Bottle Lights
Thanksgiving is not far away and maybe this time you can add to the dinner table ambiance by decorating the ceiling with a multitude of these wine bottle lights. If the earlier ideas just took away the base of the bottles, this one sees them cut off just below the neck. Suspend them at various heights to create a more theatrical setting. [from: The Pineapple Room]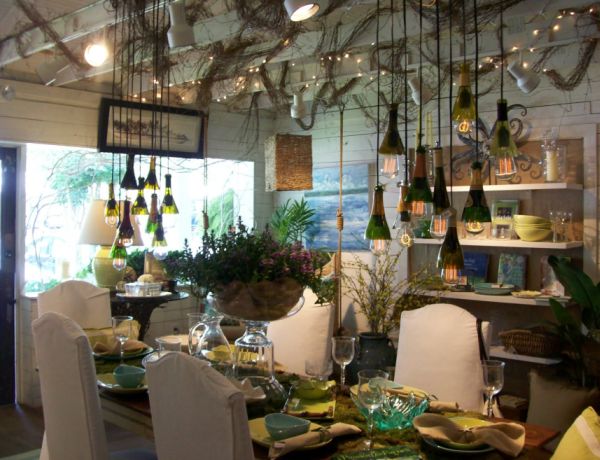 DIY Fabric Garland Light
Remember the scrap paper pendant above? This one looks like a fabric version of it with a hint of Hollywood glam. Vary the size of the light to create a small pendant or bulk it up to craft a grand chandelier that hangs majestically above the dining table. Spice the design up a bit and mix in some darker fabric to create an interesting pattern. [from: A Beautiful Mess]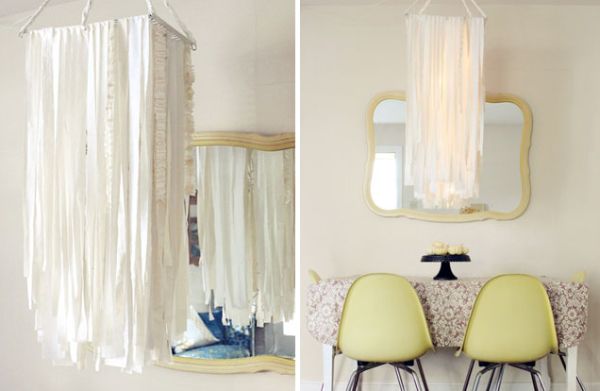 Pendant Tassel Light
Simple, festive and full of color, the tassel light looks stylish and serene. The bright tassels at the bottom will very quickly turn into a DIY obsession and you will be soon searching for more places where you can incorporate these tiny delights. [from: A Subtle Revelry]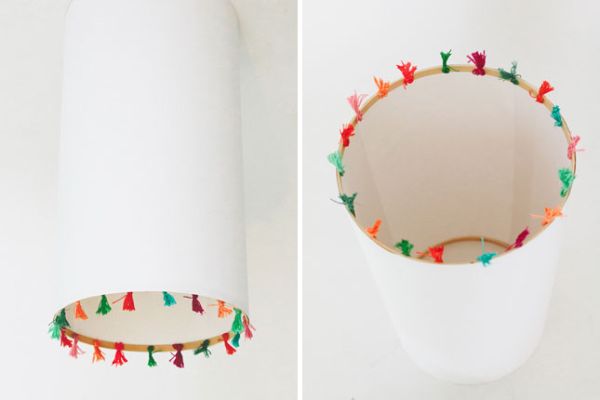 Ping Pong Ball Pendant
DIY projects are not just for girls and those beer-guzzling sports fans are also allowed to join on all the fun. So, ping pong might not be your favorite game, but crafting a similar pendant with footballs and basketballs maybe a touch odd… Just maybe! You can try one out with fewer golf balls, if you fancy it. Top it all off with some paint to create the rainbow-colored hue. [from: Poppytalk]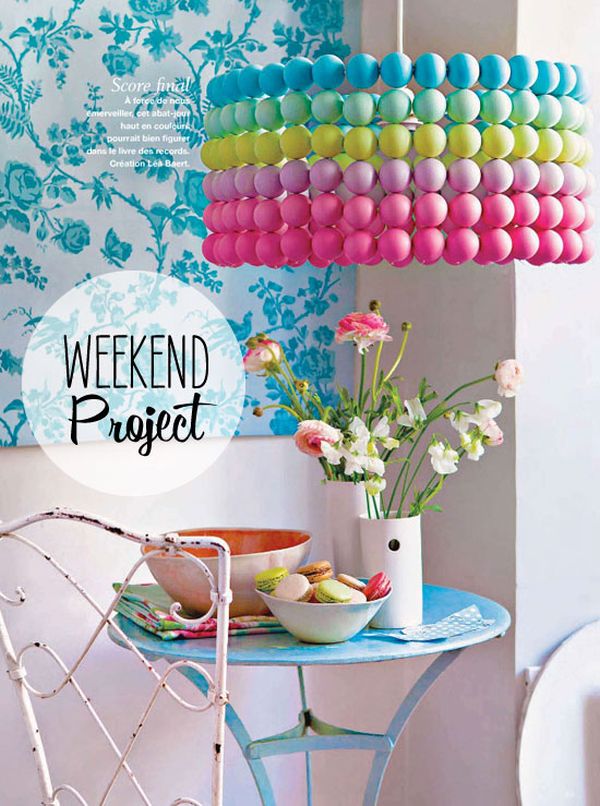 Stainless Steel Pendants
These vivid metal lights do look lovely and they are cutlery caddies costing just $3 from IKEA turned into beautiful lighting fixtures. Just spin some yarn across the lamp cord and you have another ingenious pendant design crafted from cutlery. [from: Ikea Fans]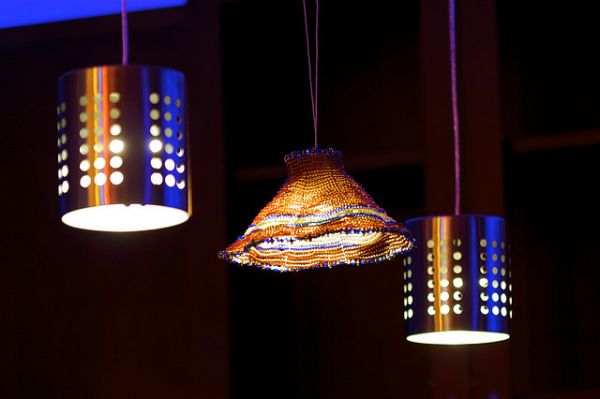 DIY Rope Pendant Lamp Fixture
Use this to enhance the look of any pendant light or even an old sconce lamp around the home. Top it all off with some crystal glint or even a couple of those vivacious tassels from the earlier project to breathe some life into it. [from: Love Maegan]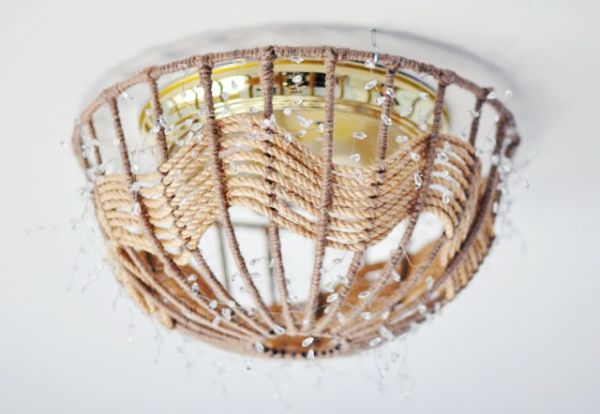 Bottle and Spoons Pendant!
Yes, that warm and fuzzy light installation is simply a PET bottle and some white plastic spoons put together. It is another of those DIY pendants where low-energy LED lights that radiate minimum heat are a must. Recycled bottles, plastic and LED lighting… this is as eco-friendly as it gets folks. [from: the chive]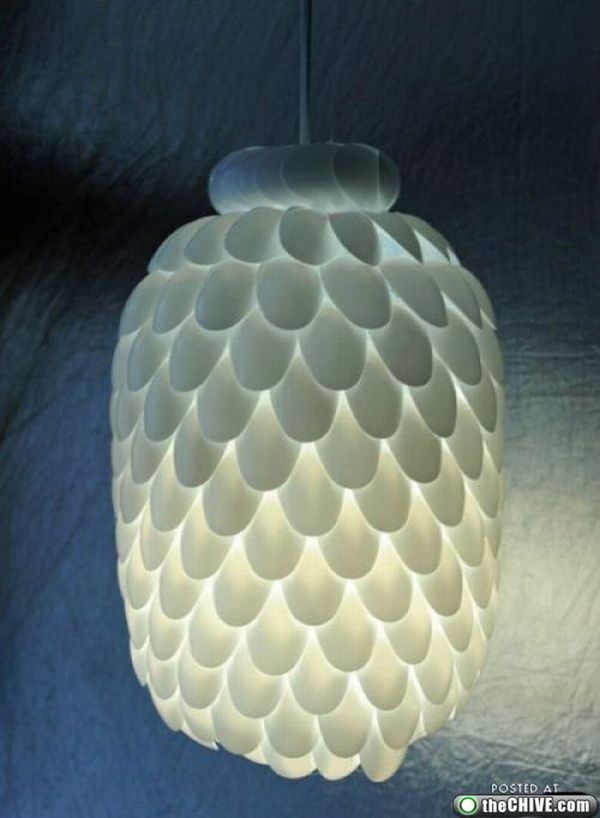 DIY Candle Holder Pendants
Crafting one of these is similar to the technique used in making the wine bottle pendants. Remove the base of the candle holders and then fit them around the basic pendant light kits. The more ornate the pattern the more impressive these outdoor lantern-styled lights seem.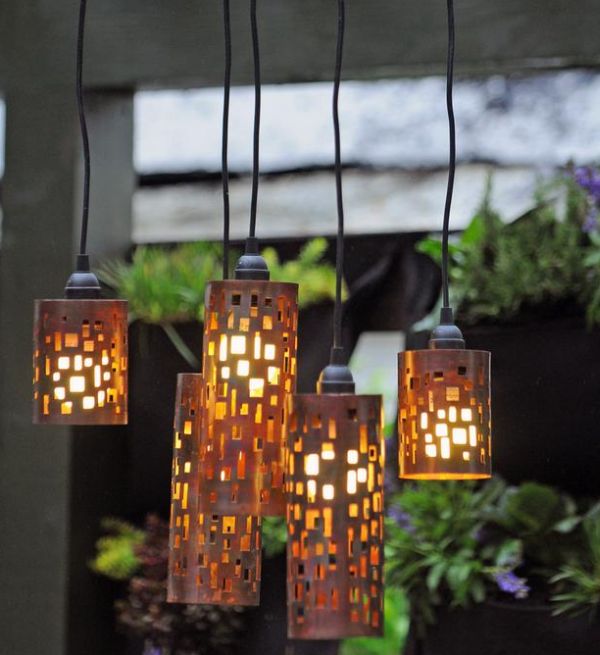 DIY pendants are a wonderful way to have some weekend fun while adding plenty of chic glam to your home's interior. While some are pretty simple to work with, others take a touch of ingenuity. What about the pendant lights in your home? Which one of these tempts you to pick up a few tools this weekend?