Let's face it — it's hard to make a washer and dryer look nice. Unless you have the space for a big, fancy laundry room and the budget for some very high-end appliances, those awkward and box-like machines you throw your clothes into all the time rarely look outstanding in any situation. The solution? Cover them up as best you can.
Not every house comes equipped with a dream laundry room full of space, so if you don't have a laundry room or you're trying to hide a washer and dryer in another space in your home, you may be stuck for ideas and inspiration. I mean, let's be real — a washer and dryer are not small things to cover up.
Hiding a washing machine and dryer from sight can help preserve the elegance of your space. Here are a few ideas you may want to consider not just for the laundry but anywhere else you might store your washer and dryer too.
Related: Perfect Small Laundry Room: Space-Savvy and Stylish Designs
Washer & Dryer Cabinet Enclosures to the Rescue
Cabinets can fully hide your washer and dryer in any kitchen or laundry room so that they're completely out of sight. Unfortunately, remodeling your cabinetry to fit your appliances can be both costly and time-consuming. It's well worth it, though, if you can't stand looking at those things. Check out these gorgeous washer and dryer cabinet enclosures from Lacquered Life and HomeTalk.
Placing your laundry center in the kitchen makes it simple to do a quick load of wash while preparing a meal or cleaning up.
Blend your laundry area with your kitchen by hiding it behind a set of doors. Here, a bright red washer and dryer set matches the kitchen's color scheme even when the doors are open.
Here's one that looks like cabinets on the outside and opens up to reveal virtually a full-sized closet with a laundry station and built-in storage on the inside of the doors.
Now, this is a serious workhorse! This extra deep closet hides a pair of appliances raised a step — similar to toe kick drawers used in kitchens — making it more manageable to reach into when adding or removing the laundry. The counter presents a space for folding. No space is left unused, as the door interiors feature multiple shelves and hooks for cleaning supplies. A single, high shelf makes room for the mop bucket and more. If this washer and dryer were stacked, there would be room to store a vacuum, pet food, or shelves for bulk paper products.
Stylish Sliding Doors To Hide Your Washer and Dryer
Cabinets may be both stylish and functional, but so are sliding doors! Barn doors, in particular, will certainly bring an interesting look to your home if you can use them with a sizeable closet or storage area. Have a look at these beautiful barn doors featured on The Kitchn and Tidbits and Wine.
Another sliding door example here takes a different approach with custom-built boxes that fit the washer and dryer. Perfect if you don't have anywhere to install barn doors!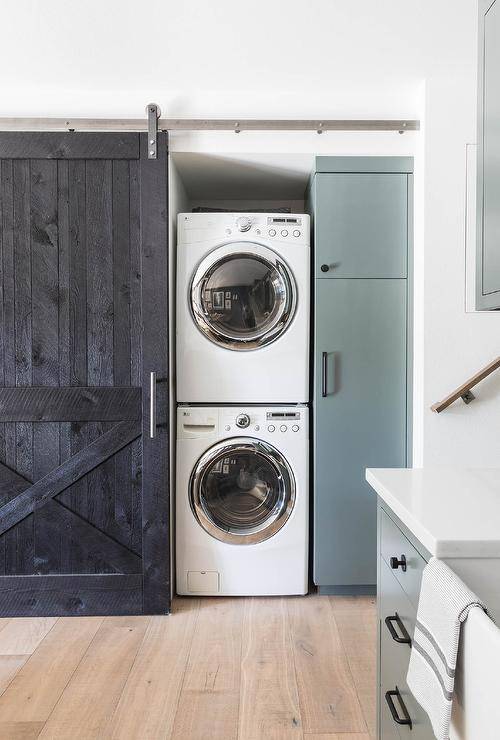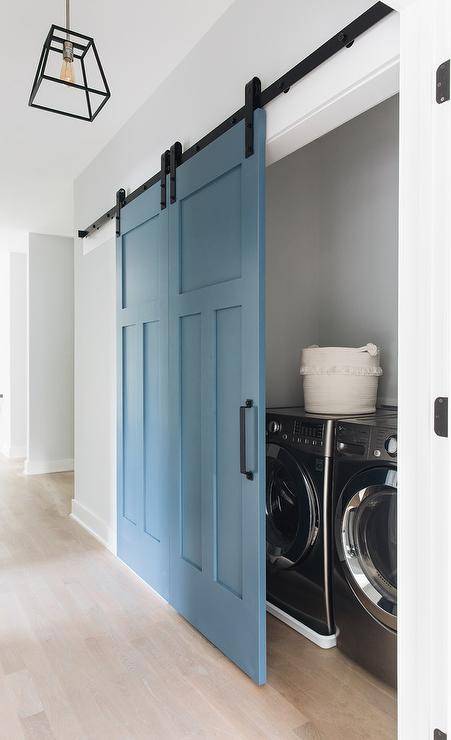 The Versatility of Closet Space
Do you have a regular closet you could spare? If you can find a place to store all your stuff somewhere else, you might be surprised at how well your washer and dryer could fit in there (as long as you can get all the water and wiring hooked up). These spacious closets featured on Villa Decor and Remodelista show how you can turn them into small laundry stations that can be tucked away behind doors.
Even single-sized closets can be used to fit smaller washer and dryer appliances. HGTV shows an entryway or mudroom where some shelving and hooks on the wall replace the closet so the washer and dryer can be stored there instead. This stacked washer and dryer enclosure are perfect for those tight on space.
Hide Your Laundry Appliances with a Curtain
Well, if you can't move the things to be hidden away in any cabinets, nooks, or closets, then you'll just have to work with them as they are. Curtains are cheap enough to buy and easy enough to install to hide them. Best of all, you can pick out whatever pattern or color you want! Check out this cool laundry room from Tile Shop that takes the curtain idea a step further by installing a wooden counter on top of the appliances too.
Love the look of your well-decorated living room? Recreate a similar arrangement in your laundry space by decorating it. Don't just leave it bare or functional. Be sure to add your own personality to the space.
Here's another great example of the curtain and counter idea from Birmingham Home and Garden.
If your appliances are tucked away in some kind of corner or area that doesn't have any doors, a full-length curtain will do the trick, just like this beautiful example from HGTV.
A full-length curtain works perfectly for appliances that are stacked on top of each other. Lane McNab shows a great yellow paisley curtain that was picked out to hide the washer and dryer here.
How about a Scandinavian laundry room? This one from Delikatissen uses a simple, plain white sheet to cover those appliances to support the clean, minimal look.
And of course, for those of you who are maybe renting and have no choice but to leave your washer and dryer in an awkward place, here's a bit of inspiration for you. This example from The Chive has appliances under the stairs, and there's still a way to conceal it conveniently with a great-looking curtain.
A simple striped curtain blends so nicely with this modern farmhouse space and hides the washer and dryer in the most appealing way. If you don't want an overwhelming curtain, keeping it something simple like this will add decor without overpowering the space.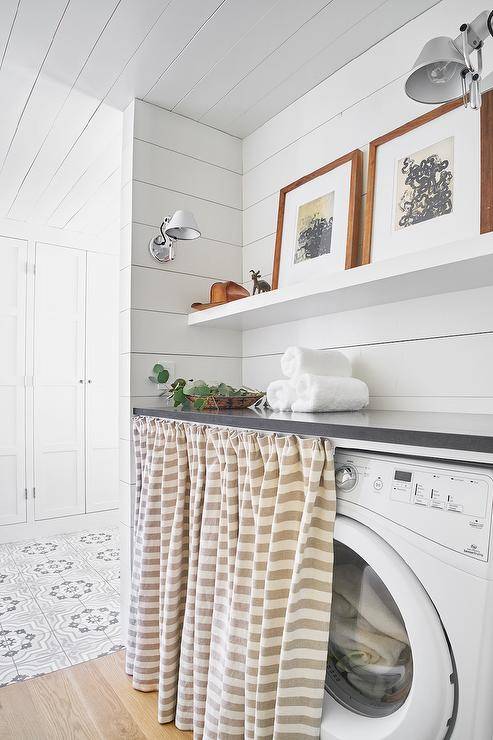 This long brown curtain blends seamlessly and even looks like an extension of the rich wood door that it is next to.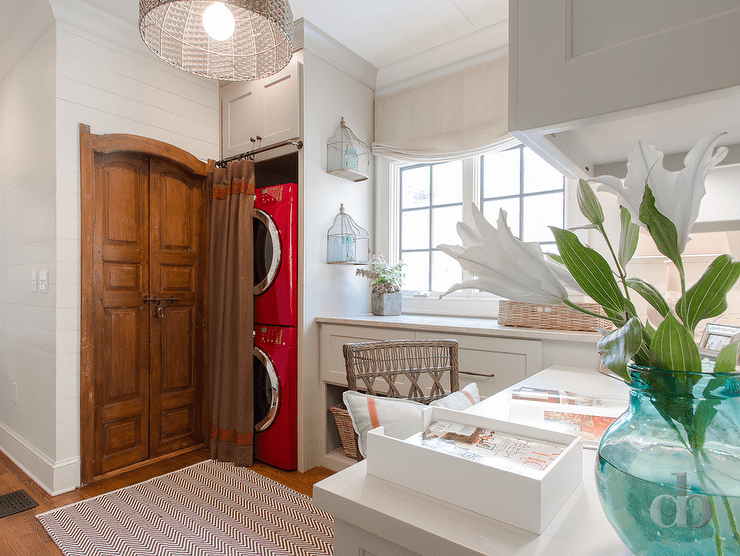 An uncomplicated curtain is ideal for hiding a washer and dryer in the kitchen. Plus, the extra space that this curtain leaves in the laundry room creates hidden storage space for clean laundry or detergent.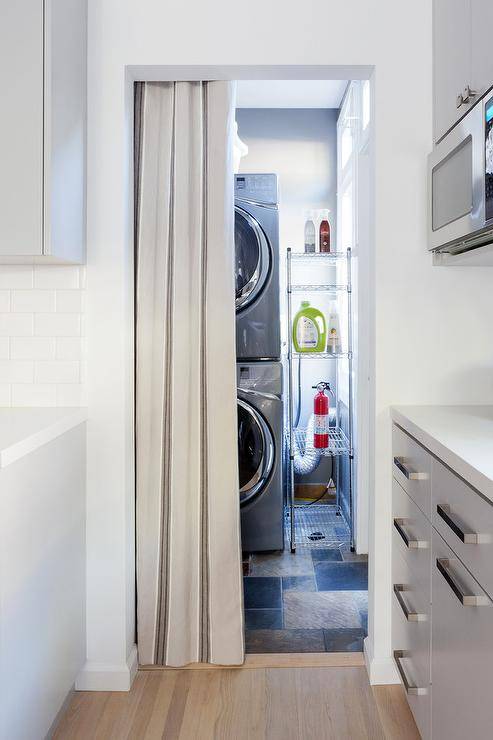 If you want something that is a little more cottage chic, you can try adding a ruffled curtain or something with a little more detail.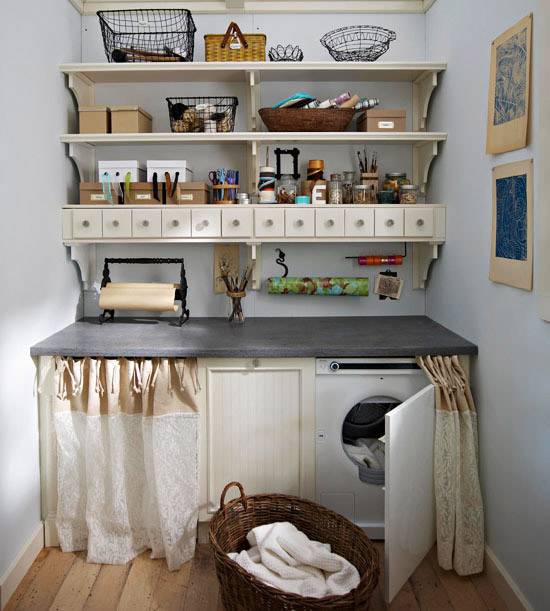 Reveal Just a Hint
You don't need to always box yourself in with plain cabinetry. This designer chose a grid grill pattern door that just offers a hint of what's behind them. It keeps this space more light and allows for the cabinetry to not be so clunky and heavy looking — plus, the charming blue color really lightens up the space.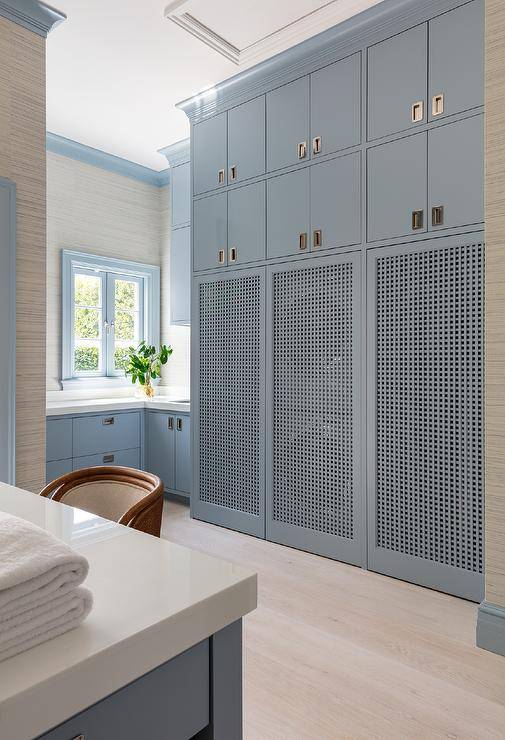 Add a Work Station
If a dedicated office and laundry area don't work for your home, combine the two in one space. Punch up the look with cheery cabinetry colors and bright artwork. The beautiful color of this cabinetry is enough to make anyone swoon. When the cabinet doors are closed, no one will even know that there was laundry hidden behind.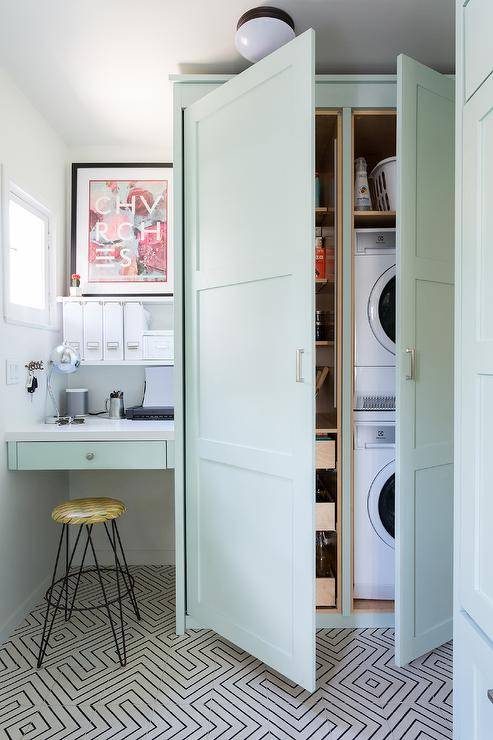 Also, notice how much storage one of these cabinets can hold if designed properly. There is no need to sacrifice function and practicality if you are short on space. You just need to be wise about how you design your cabinetry.
Pull-out shelving makes storing things perfectly and makes them easier to retrieve when needed.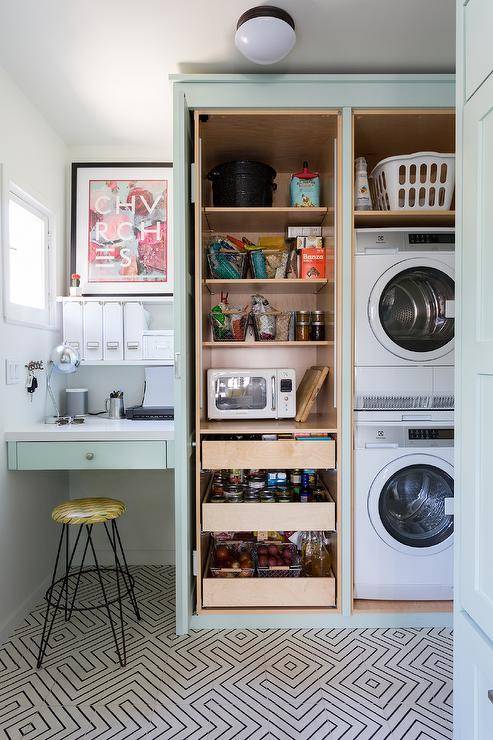 Discreet Kitchen Washer and Dryers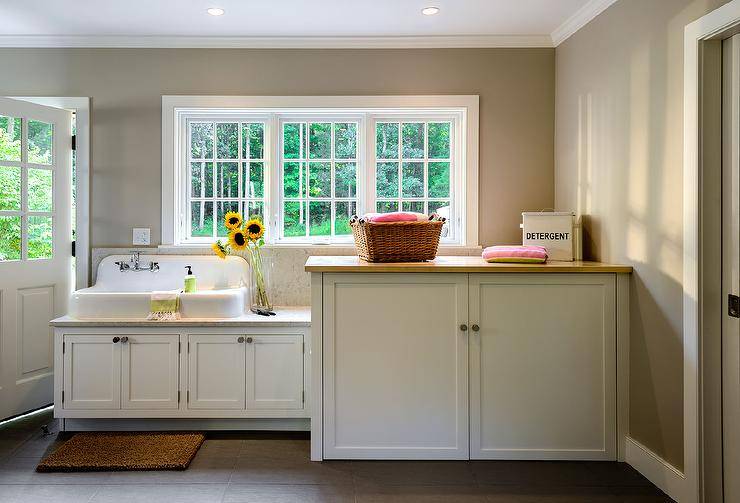 Choosing how to hide a washer and dryer in the kitchen is a design and function decision. The laundry in this kitchen sits just below the countertop, behind a set of cabinet doors. When closed, no one will even know that the appliances are there. The countertop is ideal for folding or sorting clothing fresh out of the dryer.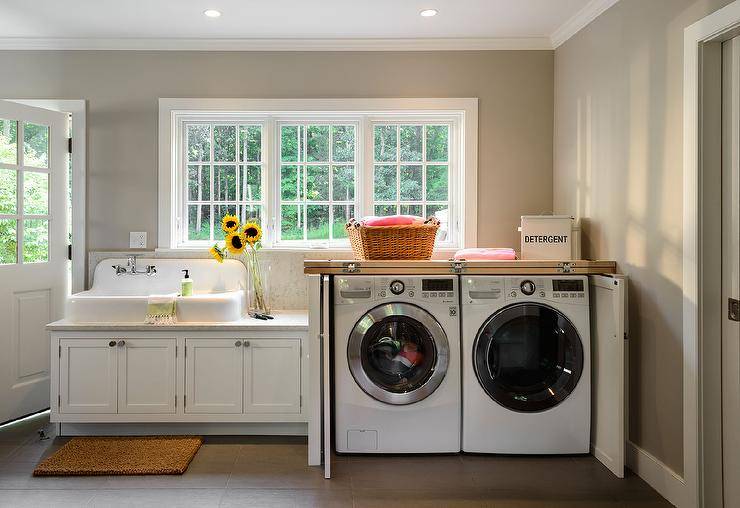 Go Compact
If you're tight on space, you can get a compact washer or dryer that will fit quite nicely into a smaller cupboard.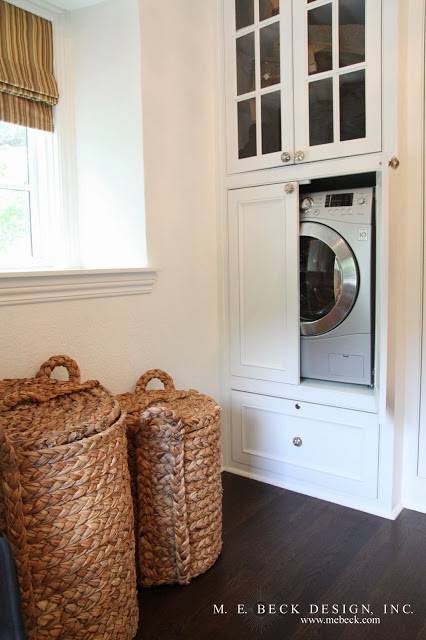 High Gloss and Tons of Style
If you're hiding your laundry behind a set of doors, don't forget to do up the inside of the cupboard or closet as well. There's no reason why you can't make that look pretty, too.
These high gloss black doors are stunning for this space and are a great contrast to the pretty interior of this laundry closet.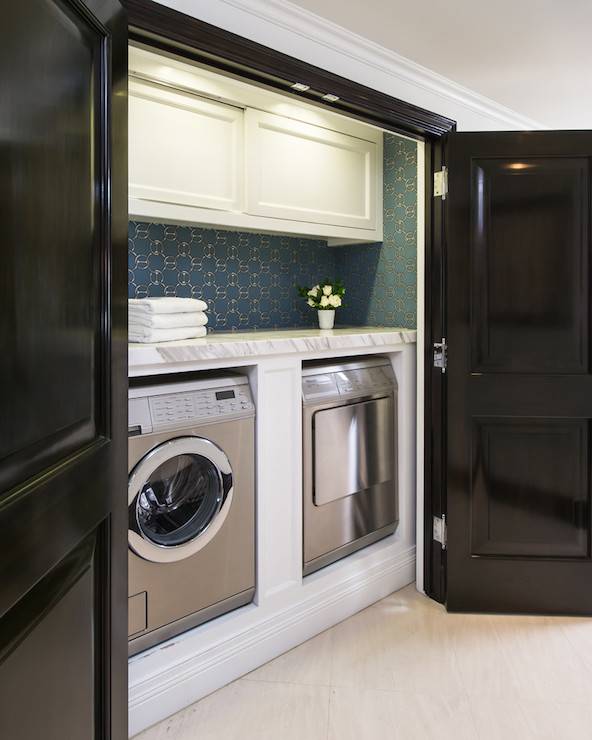 Simple Bi-Fold
If you want to hide your washer and dryer behind a set of cupboard doors but one something a little unique, try small bi-fold doors. These will add some character and are a shake-up from the traditional cabinet door style.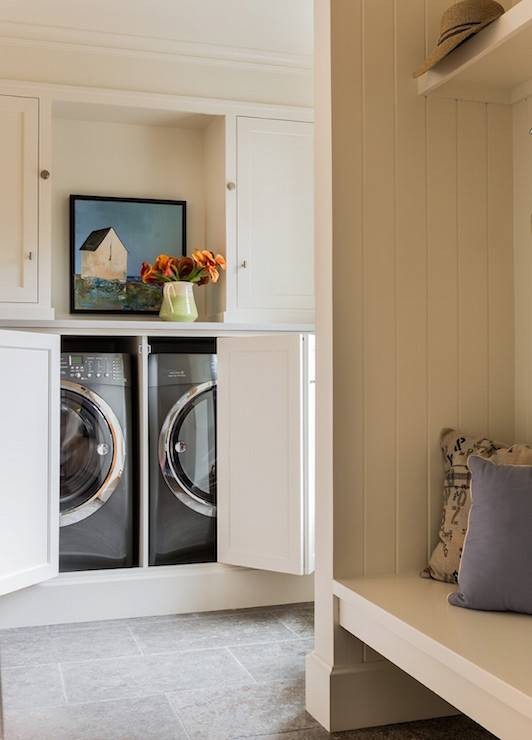 Slim Doors
These tall, slim doors hide a washer and dryer and create vertical height that elongates this space and makes it appear like a super tall room.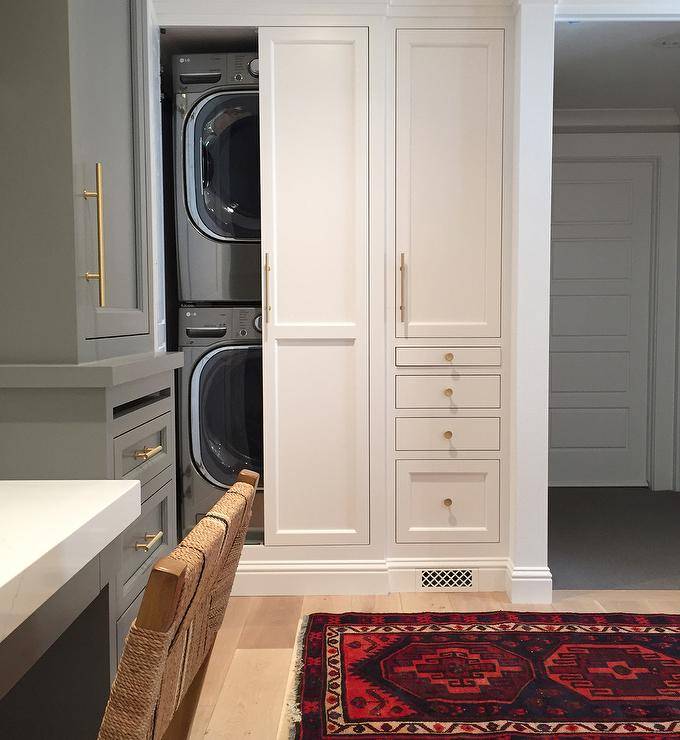 Stunning Silhouette
While this washer and dryer are not completely hidden, as you can see their stunning silhouette behind this sheer-looking cabinet door, it creates visual interest in the room and adds a light and airy vibe.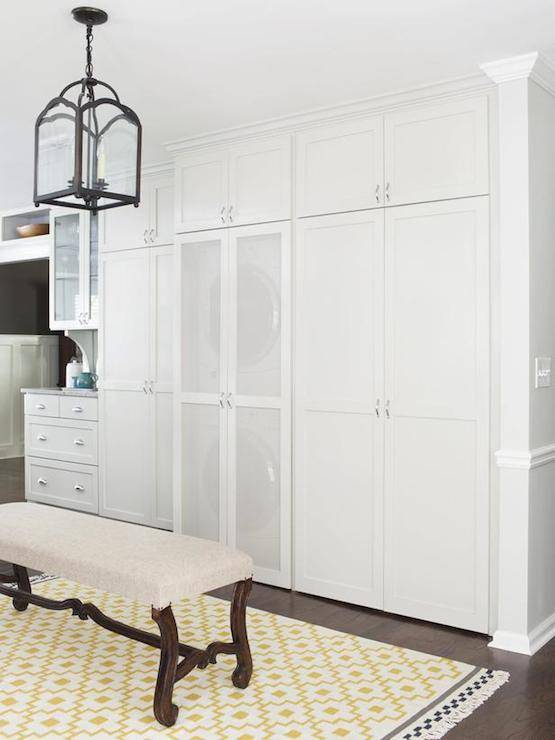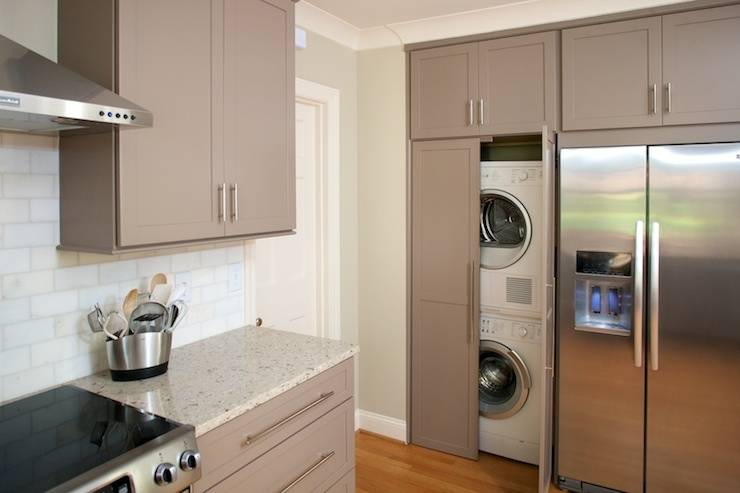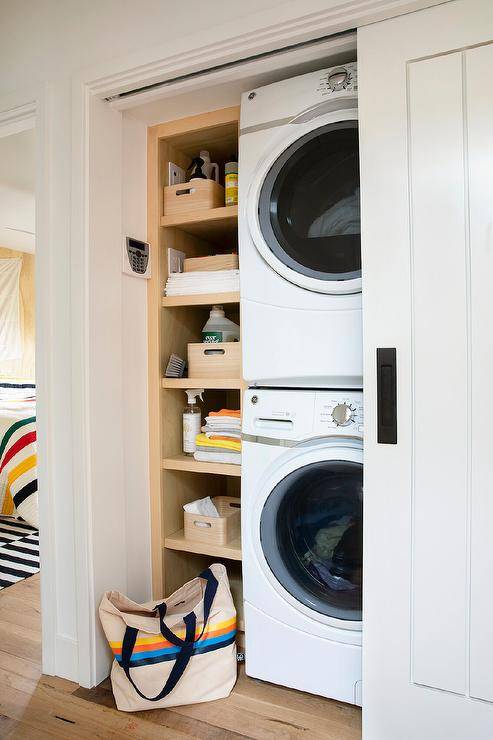 A Beautiful Glass Pocket Door
If you have a small laundry room and you want to conceal it behind something beautiful, try a gorgeous pocket door in a sweet spring-like color.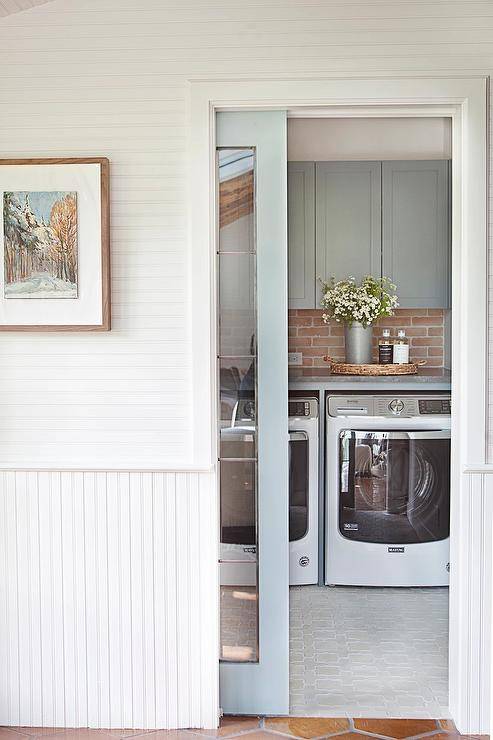 Keep It Simple
Sometimes less is more, and this laundry setup is proof. Minimalist closed cabinetry frames this home's compact washer and dryer keeping it hidden in the kitchen and out of sight.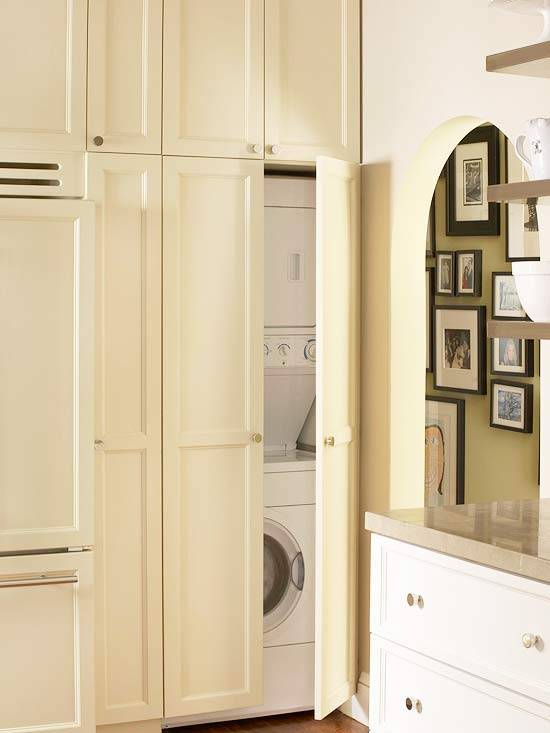 A stunning chevron wallpaper on the inside of this closet allows this laundry space to be either hidden or open. Either or is ok with us because this space is completely beautiful!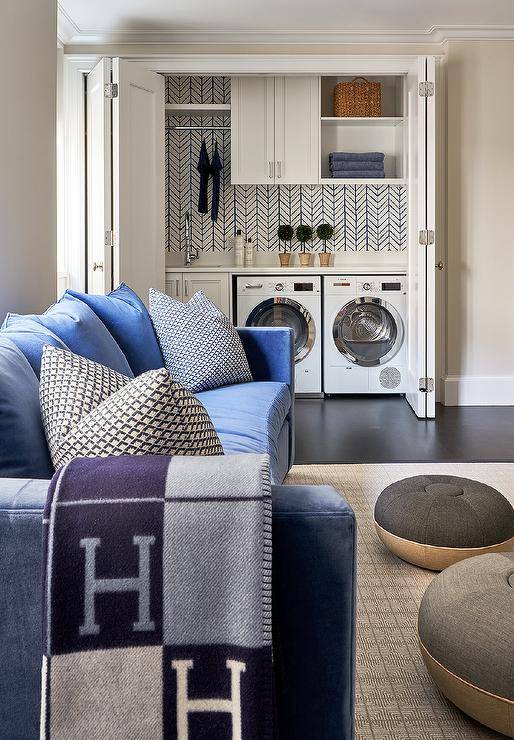 Add Some Relective Light with a Mirror Door
By concealing your washer and dryer with a door with a full-length mirror, you can add more reflective light to your space and make it appear bigger. This is a win-win! Hide your appliances away and make your space appear larger.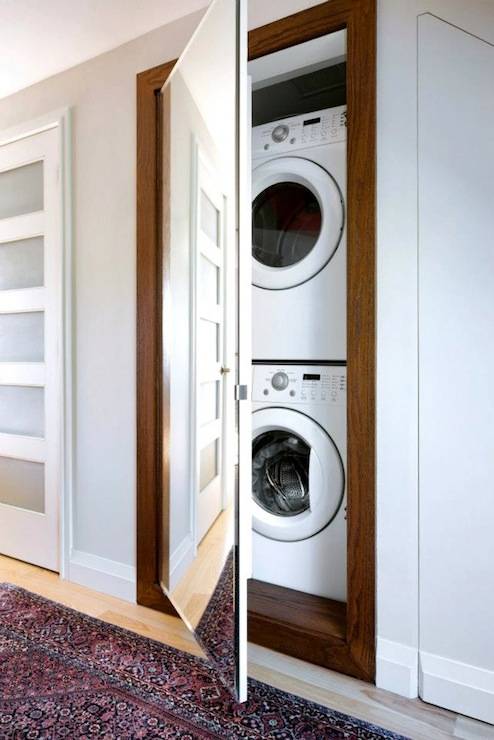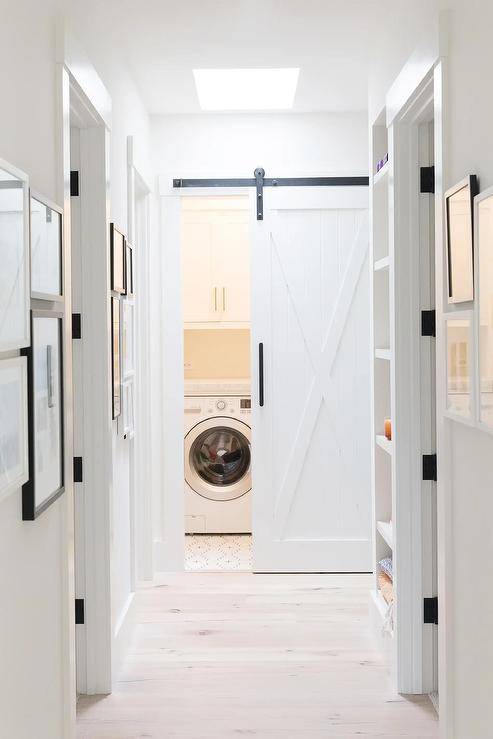 Inset doors hide each appliance here, but notice the board along the floor that suggests a flush toe kick. This piece would have to be removed to pull out the washer or dryer for service. While we're on the subject if you decide to enclose your appliances, be sure the water cut-off (and sometimes a natural gas line) is within easy reach in case of a leak. Cut-offs can be installed in the laundry room sink base cabinet.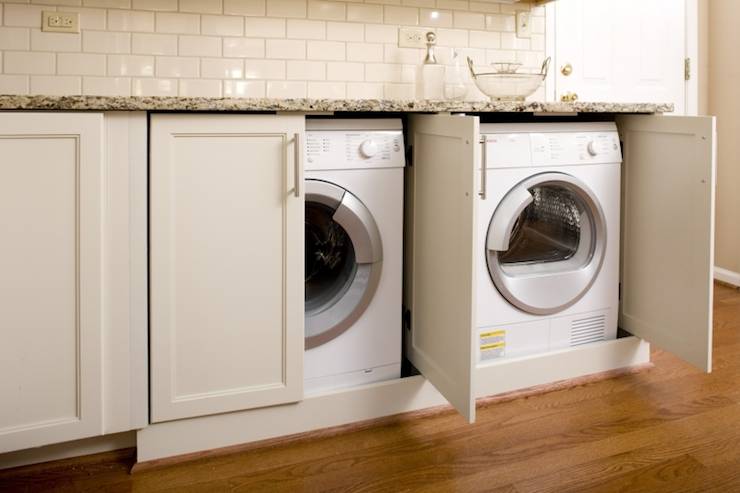 Upstairs Hallway
Another out-of-the-norm laundry space is in an upstairs landing or hallway area. It's closer to the bedrooms and bathrooms here than if it were downstairs. It makes one think that maybe teenagers would be more inclined to wash their own things with a handy set nearby. (A parent can dream!)
An essential safety element for every upstairs laundry space is the installation of a drip pan that includes a water cut-off sensor to catch water leaks and prevent flood damage.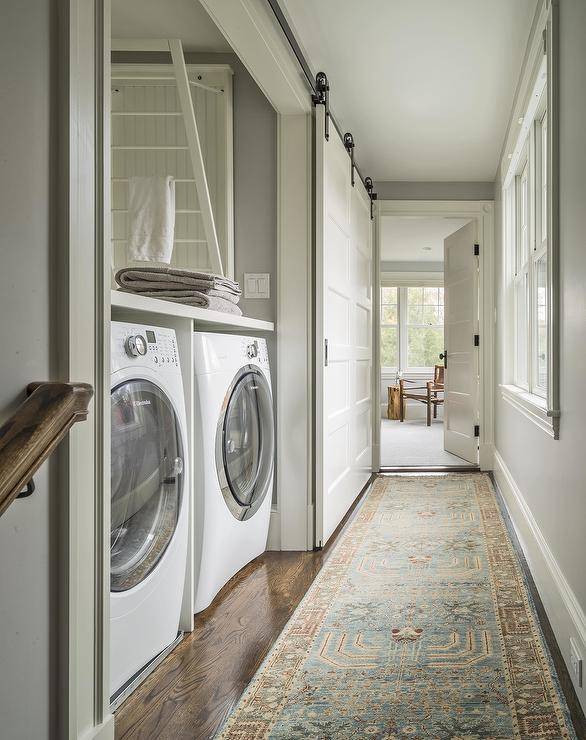 Creative Cabinetry
Creative and unique cabinetry not only adds a touch of personality to your space but is a charming way to hide your washer and dryer, all while adding decor and a remarkable look to your home. Adding cabinetry that breaks the mold will create visual interest and some uniqueness. These are the elements that will set your home apart from traditional cookie-cutter homes.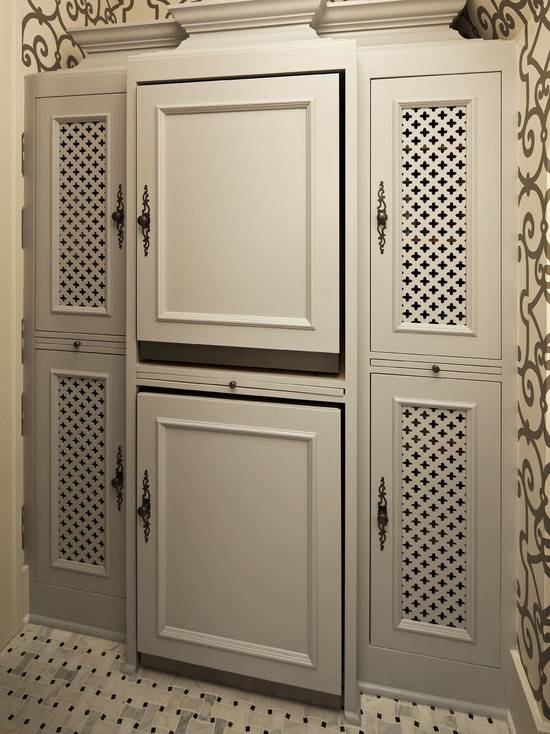 Frequently Asked Questions
FAQ
Can you enclose a washer and dryer?
You should leave at least 1 inch of space between the appliances and the cabinets or walls and at least 4 inches of space between the back of the washer and dryer and the rear wall.
Can you put a stackable washer and dryer in a closet?
Yes, a stackable washer and dryer can fit in a closet. These appliances will take up at least 2×2 feet of space on the floor. However, there must be sufficient space on the sides and the back for electrical, water, and ventilation hose connections.
Is it OK to keep washing machine in bathroom?
You can place your washing machine in your bathroom but you will want to make sure that your bathroom has sufficeint venitlation. If your bathroom does not have good ventilation to begin with, then you shouldn't put your washing machine in there because the humidity inside the bathroom can corrode it over time.
Is there a downside to stacking washer and dryer?
One of the cons of a stackable washer-dryer combo is they often have smaller load capacities than standard side-by-side alternatives. Front-loading machines simply tend to hold less than top-loading ones, and this is especially true for single-unit centers and the more compact stackable options.
How much space is needed behind a stackable washer and dryer?
When measuring for compact stackable washer and dryer pairs, be sure to allow for 1 to 5 inches of space behind the machines for hoses and ventilation and enough clearance in the front to load, unload and fully open the doors.
Before you head out to plan how to hide your washer and dryer, here are some helpful Do's and Don't's when planning a laundry area or room.
| | |
| --- | --- |
| Do's | Don't's |
| DO thoroughly consider location. For ease, on the main floor, anywhere off the kitchen makes sense, as does a mudroom or off the garage. On a second floor, try to position it, so it backs onto a bathroom. | DON'T put the laundry too close to sleeping areas. The noise will be bothersome and keep you awake. |
| DO consider where you can tie into existing plumbing. Close to kitchens and washrooms makes sense. | DON'T ignore the crucial importance of good ventilation. Laundry generates numerous amounts of heat and moisture, and ventilation to the outside is a must. The ventilation hose should be a rigid metal to decrease lint build-up. |
| DO make sure that your laundry room has a floor drain – which will require a primer line. The primer line will flow water into the C-trap of the drain, creating a seal that keeps sewer gasses from backing up into your home. | DON'T think that you have to have an entire room dedicated to laundry. When space is limited, it can be hidden in a closet or cabinet. |
| DO give some thought to whether you want top-loaders or front-loaders. Top loaders used to be the standard, but front loaders are easier to clean, more efficient, and offer more flexibility for placement. | DON'T put your machines into sunrooms or additions that aren't heated. Unless a heat source is added when the washer is installed, you can run the risk of frozen pipes and all the damage that can come with them. |
If you're still looking for more inspiration, here are some more photos that may fill that need: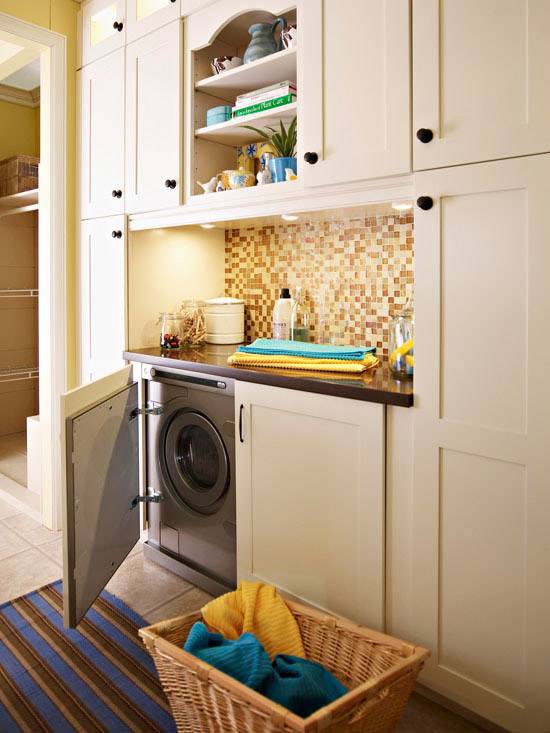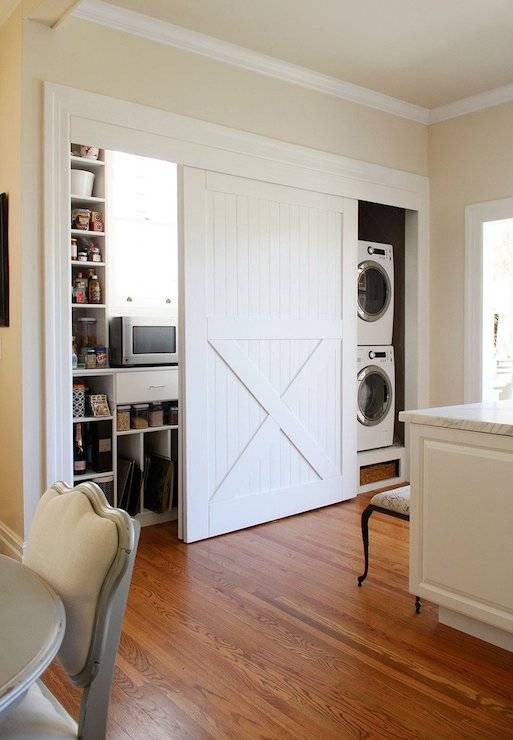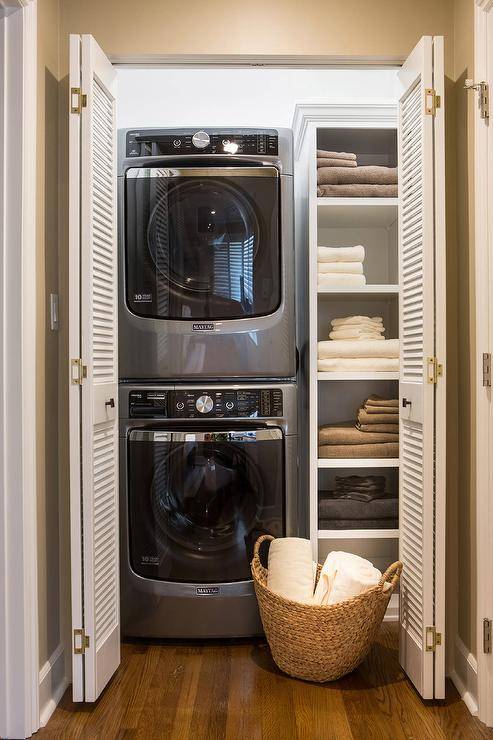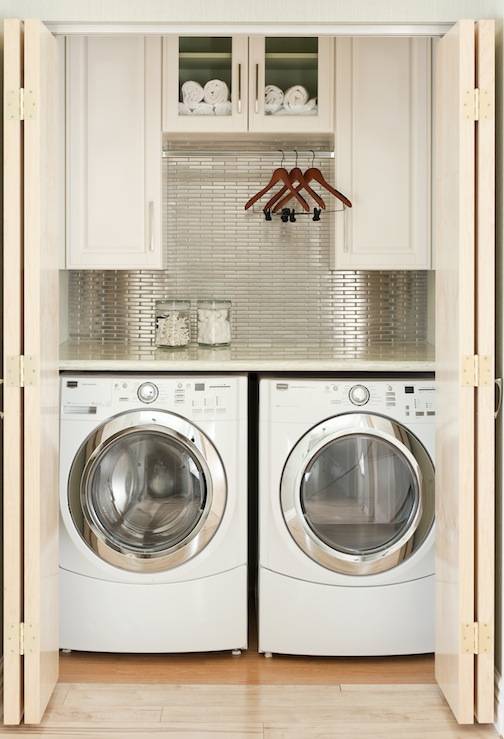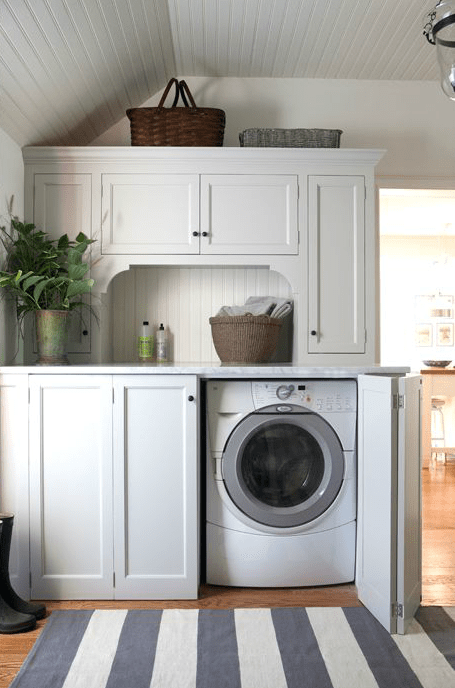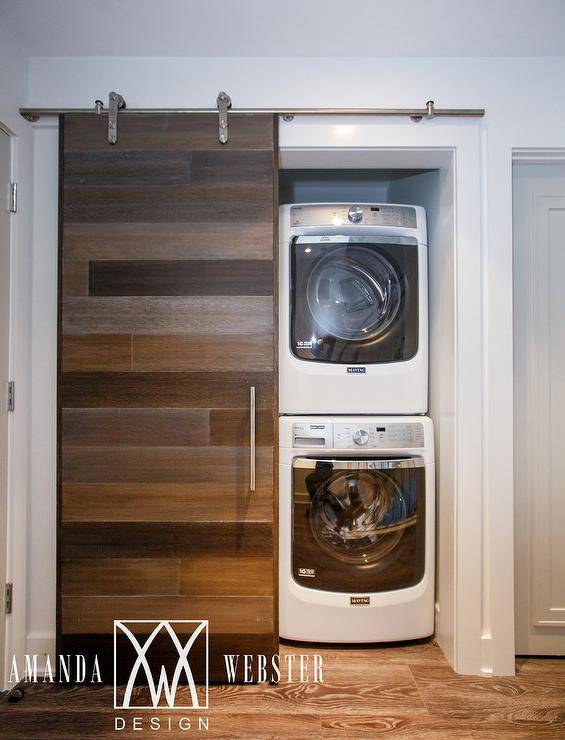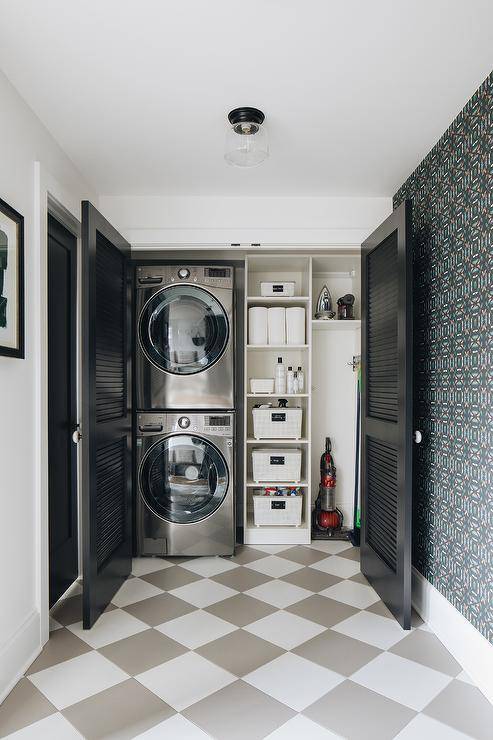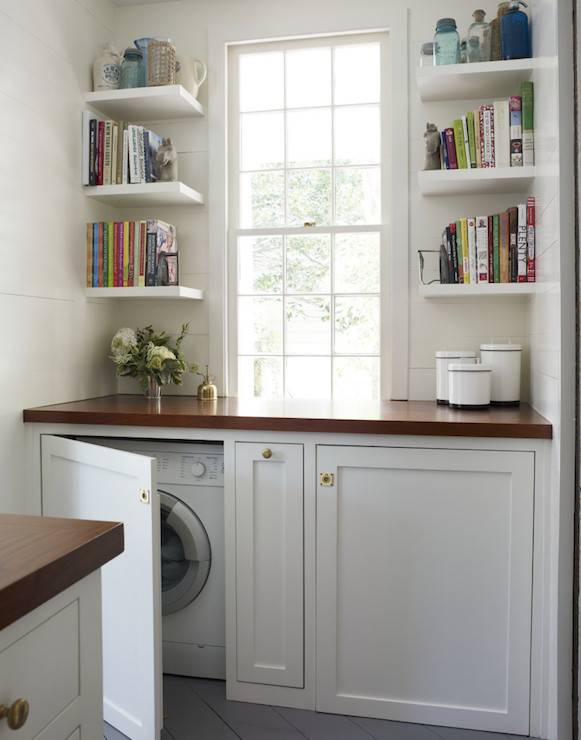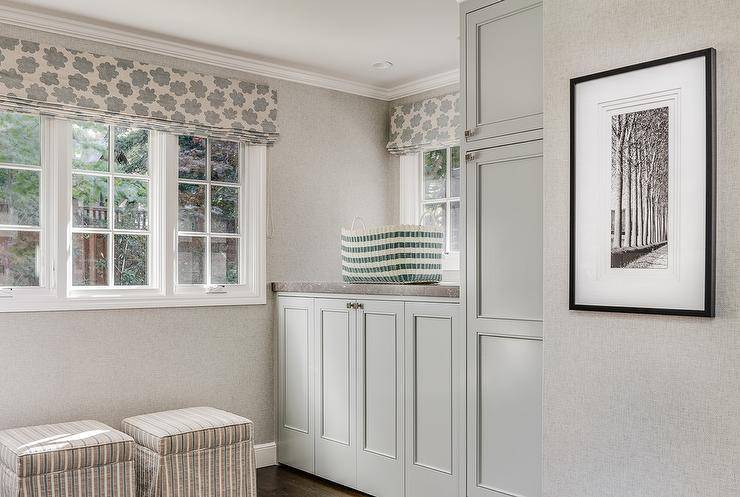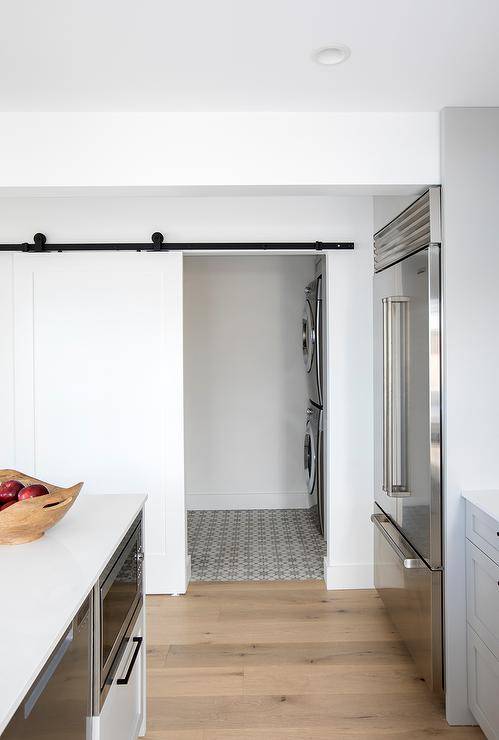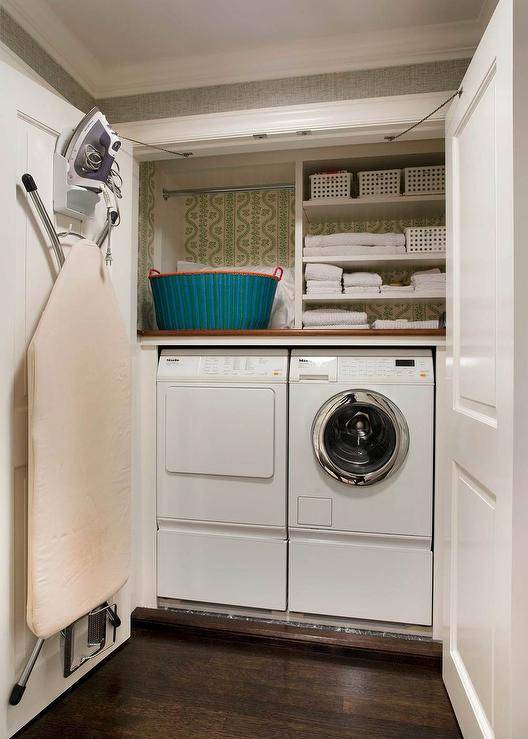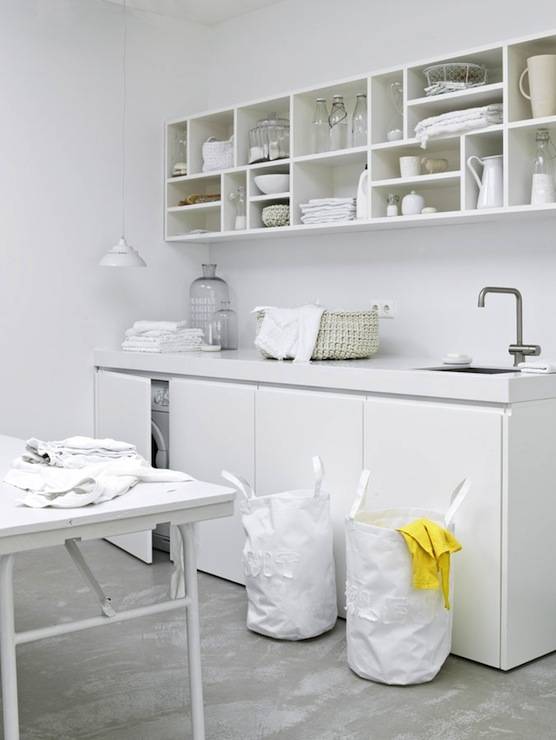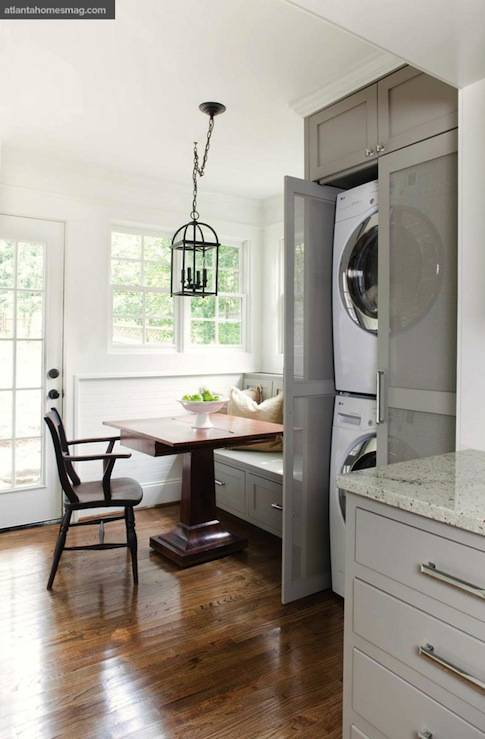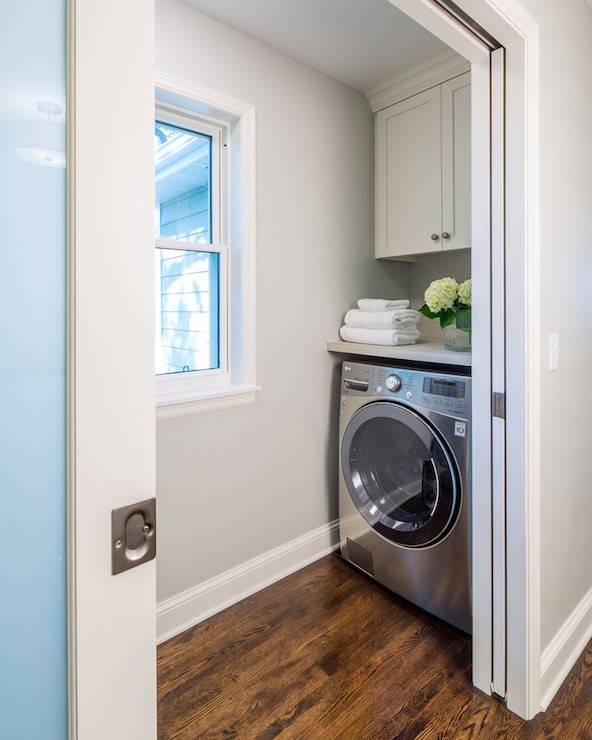 Maybe one day, washers and dryers will look a lot nicer than they do now (and be relatively affordable too). For now, these solutions are quite practical and stylish when done right.
If you're looking for more inspiration when it comes to the laundry room, take a look at these articles: