There comes a time when mere functionality does not do it anymore and you are looking for new ways to elevate the aesthetics of your living room. In the era of the open plan living new room divider ideas can change a space even more than other traditional accents like rugs, lighting fixtures, and pillows. Room dividers allow you to give the living space a quick makeover. But those who wish to delineate space in the living room without actually turning to walls need something more distinct.
A room divider is the ideal option, as it allows you to divide the living area from the kitchen, dining space or even home office without completely cutting off one room from the next.
Forget drywall—one of the most effortless ways to define space in your home is with an easy yet trendy room divider. Whether you are looking to develop privacy or designate spaces for various activities, a divider might just be the small space decorating answer for you. It can help you carve out a dreamy bedroom in a studio apartment, a reading nook in a cozy living room, or a home office in a bedroom, all while giving the misconception of more square footage.
Even better, it can be inexpensive to create and establish when you go the DIY path — don't worry, we have some of those ideas, too!
Considerations Before Purchasing a Room Divider
Size
The first order of business is to determine the right size divider for your room. Most contemporary and modern room dividers measure just under six feet tall, but lengths differ depending on the number of panels and their particular widths. If you're looking for something that's more cosmetic, a smaller three-panel divider is likely all you need. If you're trying to section off different areas in your home or you need a divider for privacy, there are choices that go up to eight panels wide.
Function
If you live in a studio apartment, a room divider can change the entire flow of your space, giving you separate areas instead of one open room. There are also storage room dividers, including ones with built-in shelves and others that double as bookcases, that offer even more functionality and practical uses for small spaces. If you're just looking for something decorative, you have more flexibility in selecting a divider for its aesthetics. Numerous options today are upholstered in colorful fabrics or finished in trendy materials like rattan.
Price
Room dividers can be quite costly, and you should expect to spend at least $50 on a free-standing one—although most are close to $100. Prices increase based on the construction and size, with six-paneled options costing more than three-paneled models. If you really can't spend more than $25, consider buying a tension rod and curtain instead to create a similar yet airier effect, or take a look at the DIY ideas we have at the end of this article.
Smart home dividers deliver exactly what you need – free passage of light but clear boundaries between rooms. The best part of it all is that you have a wide array of room dividers to pick from that venture beyond just glass walls! From DIY room dividers to designer ones, today's roundup of 61 creative room dividers for the living room will force you to look at decorating your home in an entirely new light!
Room Divider Ideas For Storage and Display
Using the living room divider to add a wonderful display or even additional storage options is a great way to make the most of the available space in your small urban apartment or modest modern home. The idea here is to separate the living room from the kitchen or dining room next to it without disturbing the style of each of the rooms and allowing for an effortless transition between both spaces.
A combination of closed units for the base and open shelves at the top is a practical choice that allows for the unobstructed flow of light and a visual connection between the living area and the rooms next to it.
Room Divider Ideas That Bring Textural Beauty
Maybe all you want is a lovely room divider that just separates two spaces and multitasking is not really a priority. If that is the case, then think of adding another unique texture or finish to the living room with the help of this nifty divider.
Since most modern living rooms are covered in sleek, polished surfaces and a touch of metal, the glint of glass or even the warmth of wood is a welcome change. A simple and stylish screen or even a metal mesh works well in certain homes, and these ultra-sleek dividers also take up minimal foot space.
A World of Glass!
Adding a translucent glass wall or sliding and folding glass doors to create a partition between the living area and the bedroom in the small studio apartment is a trendy option. If you are veering towards glass walls, then it is best to add a layer of drapes that gives you more privacy when needed. Etched and chemically treated glass panes coupled with sleek metallic pipes give the living room an industrial touch, while colorful glass partitions and those with intricate patterns and designs enliven the room instantly.
When All Other Room Divider Ideas Fail, Turn to Custom Solutions
What works for one might not for others, and your need for a room divider, both in terms of size and style, could be very different from what is currently available in stores. Do not shy away from custom solutions that deliver exactly what you need. Living room dividers in metal and glass can be created by your local artisan with ease, and often they are far less expensive than dividers in furniture shops. A simple television stand and entertainment unit, a lovely bookshelf or even a series of twigs that you could easily collect this fall –only your imagination limits the style and form of a room divider!
Turning Television
Make the most out of separating your space and still be able to watch television from either side with a modular bookshelf with a turning television. This white modern bookcase provides a distinct separation from these two rooms but still allows you to enjoy television in whichever side you prefer to sit in.
Half Dividers
If you're after just a slight separation, a half divider may provide the privacy you crave without blocking the whole room off. Also, by keeping the divider open, you still allow some light to filter through.
Chic Morocaan Style
In keeping with the style and vibe of this kitchen, this chic Moroccan divider perched on top of a hutch separates the living off from the dining room without completely closing in this space. It's a stunning art piece as well as a room divider.
Floral Style
Add a unique floral style to your living space with a beautiful room divider that offers floral style and a punch of color!
Curtains
Curtains aren't just for the windows! You can use them to a section off a space in your home and add a touch of class and elegance.
Hanging Windows
Hanging up some windows to fill space can add some drama and salvaged style to your space. A window creates a stunning eye focal point while allowing the room to be open and airy. Light will still filter through the windows. This allows you to create sections without sacrificing the open concept feel.
Slat Wall Divider
This slat wall was built to define separate areas without making this living space feel closed off. Like much of these examples prove, separating off space doesn't mean closing yourself in and blocking out light.
Use this piece to divide two spaces or even as a headboard. This wood-slatted room divider can be outfitted with pictures and plants for the maximalist decorator or kept in its natural glory for the minimalist.
Free Standing Shelves
Utilize an Ikea Hack
Turn your studio apartment into a one-bedroom with this brilliant hack of IKEA's sliding wardrobe doors. This frosted glass door offers privacy without sacrificing sunlight.
Enlist the Help of Mirrors
In this small living room designed by Melanie Turner, the mirrored folding screen reflects light, making it feel more extensive and adds an open feeling.
When You Need a Little Privacy
Just use a folding screen when you want to break up an open loft or studio apartment but can't install permanent dividers. Designer Maureen Footer also emphasizes the vertical space in this apartment, drawing our attention up with a swell elevated bed canopy.
Photo Credit: Thomas Loof
Incorporate Steel and Glass
If privacy isn't an issue, try a steel and glass panel. It adds just enough visual partition to a space while allowing plenty of light to flow.
Floating Art
Separate your sleep zone from the rest of the room by suspending a super high curtain and then hanging a floating piece of art to break it off even more. This gives you more opportunity to design and style your space with art while giving you some much-needed privacy as well.
Set a Stunning Scene
In this space, a moderate corner is advanced to gallery status thanks to the wistful room divider with the silver-brushed ground and painted weeping willows. Even the angles are well-thought-out: the bends in the divider look like they're assuming the angles of the chaise.
Two Way Fireplace
An A-frame chalet designed by Sarah Richardson has an open and delicate feel, but a two-way fireplace helps divide the dining and living spaces while providing a cozy vibe for both. There are a few private areas within the open floor plan that totally make this space dreamy.
Some room divider ideas have such substance and sturdiness that they serve nearly the same function as interior partition walls. Others use simpler materials and offer a bit of separation without adding bulk to a space so think about what look you are after and what you want to achieve.
Give Yourself an Entryway
An entryway is a perfect place to greet guests when they walk in the door; if you don't have one, you can create one with a divider. Create a small makeshift entrance with a floor-to-ceiling folding screen. The textural intrigue of this screen is inspired by a collage of found objects to create a small, intimate sitting area.
Add Texture
Bring the outdoors in; this trellis is the perfect example of how to do that correctly. This New York City dining room, designed by Shawn Henderson, introduces texture and dimension. Down the line, it could also be used as a folding screen room divider.
Frequently Asked Questions
FAQ
What is the purpose of room dividers?
Houses, and other residences, use a room divider to divide the space more effectively or as a decorating focus point. There are many uses for a room divider, including dividing the room, adding privacy to any space, hiding clutter, and increasing storage and accents to the room.
Are room dividers a good idea?
Room dividers are a great way to break up your space and can also double as décor, even in a small bedroom or small living room. Your options include folding dividers, curtains, large bookcases as room dividers, and more.
Do I need to attach my room divider to the floor?
If you are worried about your room divider tipping over, you can most certainly attach it to the floor with some L brackets but most room dividers are designed and constructed to be stable enough on their own.
Can you use curtains as a room divider?
You can most certainly use curtains as a room divider in fact, it is becoming trendy to use curtains throughout the home rather than just on windows. You can suspend a rod from your ceiling to section off space in one large room.
How long should a room divider be?
It's important to find sizes that are at least six feet long, to provide privacy down to usually two feet from the floor for an eight-foot ceiling.
How tall should a room divider be?
Most modern room dividers measure just under six feet tall, but lengths vary depending on the number of panels and their individual widths. If you're looking for something that's more decorative, a smaller three-panel divider is probably all you need.
DIY Options
If you're of the mind that you want to make your own DIY room divider, there are plenty of options floating around on the web. Here are some of our favorites, complete with tutorials.
The options for personality-filled materials to use in your room divider are unlimited, from salvaged windows and thrift-store folding doors to fabric, rope, chicken wire, plywood, and even macrame and succulents. A simple coat of paint can even make such a huge difference to a room divider, so for those that like to take matters into their own hands, here are some ideas for you.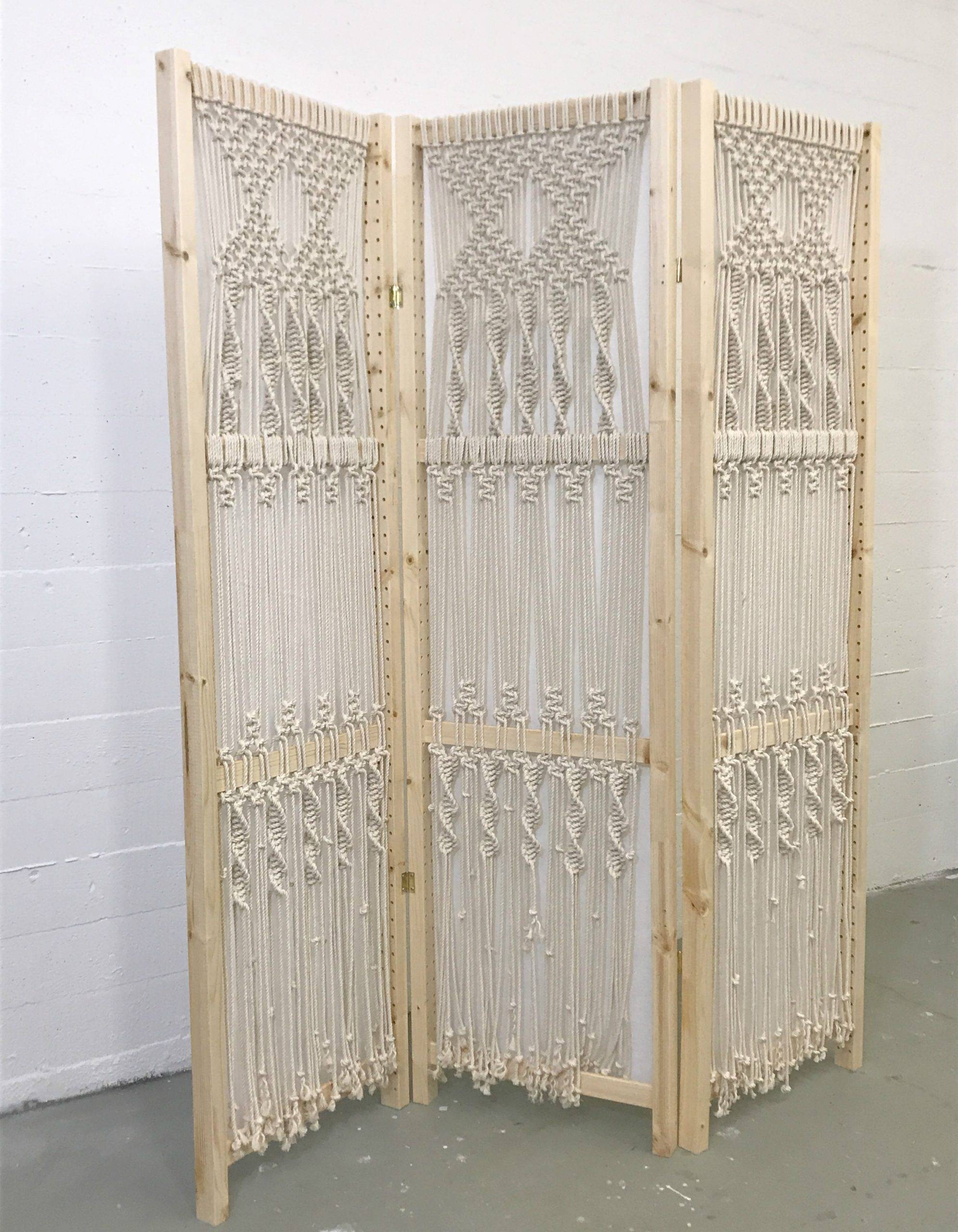 If you're still after more inspiration for dividing up your space, take a look at these related articles: