We know that photos can be an amazing source of design inspiration, so this article may contain affiliate links that will direct you to a particular decor item. Clicking on a link may result in a portion of proceeds being paid to www.decoist.com
We are pretty sure some of you out there are already thinking about how a refreshing pool would be a luxury in itself and that a pool house is an even more remote dream. But we are allowed to dream, even more, when the design inspiration around us is so amazing and stylish!
A fabulous custom pool house is definitely not a mere excess that just fills space in your backyard and completes the poolscape visually. It can be the one-stop-shop for all your outdoor lounging needs and obviously makes hosting a cool fall or fun summer pool party a whole lot easier.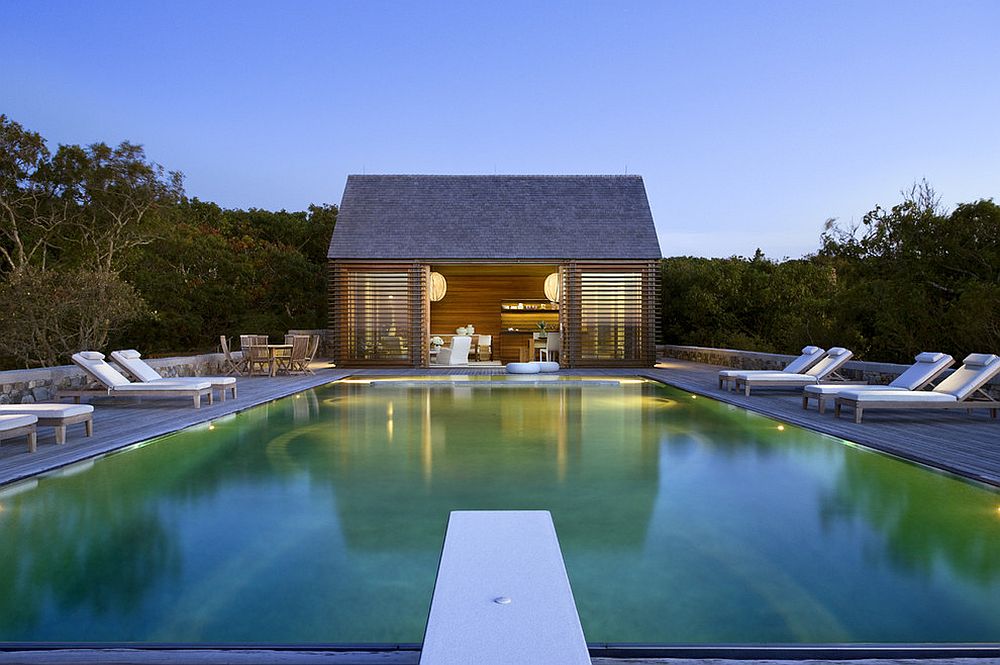 Having said that, an exquisite pool house is different for different people, with each of us having different lounging needs. Then there is space and budget to take into account. The collection of 25 dashing pool houses on display today covers a wide range of styles and designs, with each one offering something unique and exceptional. Here is your guide into the world of pool-side living –
Contemporary Pool House Bliss
A contemporary pool house is much more than just a place to tuck away all your pool gear, bundles of extra towels and other essentials. It is a space where the entire family can rest, rejuvenate and come together, even while enjoying the warmth and sunshine.
The pool area features a comfy outdoor décor, a cool couch, some chairs, and a coffee table can create the sitting zone, with an alfresco dining area (or even one indoors) turning it into a secondary living space. Clean lines and smart modern design that complements the main house in its silhouette ensure that the pool house integrates easily with the overall landscape.
Modern furniture is a key element to any backyard retreat. A contemporary pool house is perfectly accented with a rattan chaise lounge chair. This one comes in sleek and simple white or bright blue for a pop of chic color.
RELATED: Backyard Paradise: 25 Spectacular Tropical Pool Landscaping Ideas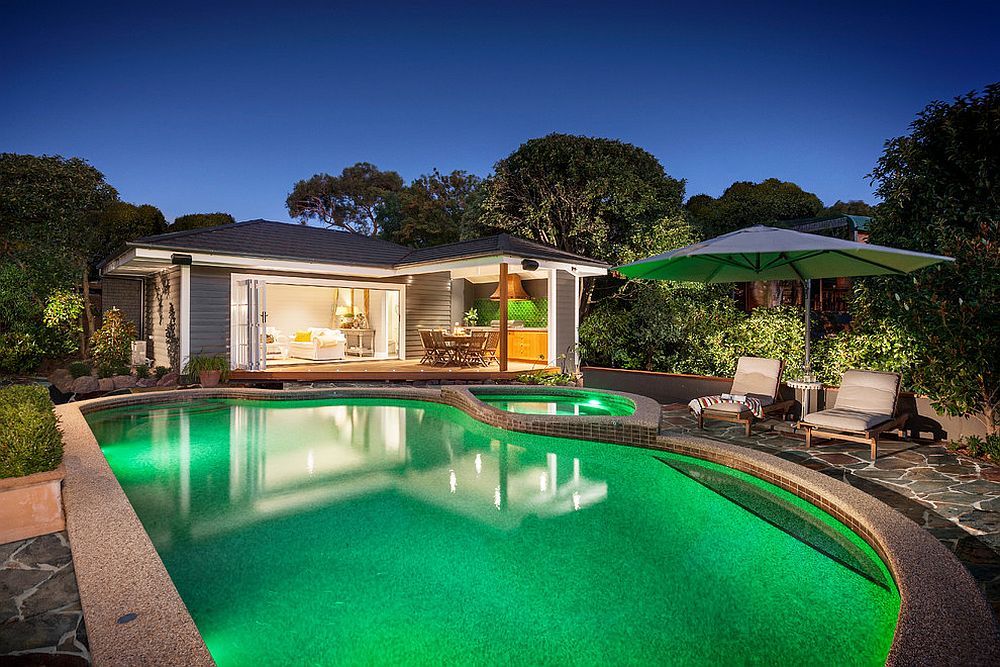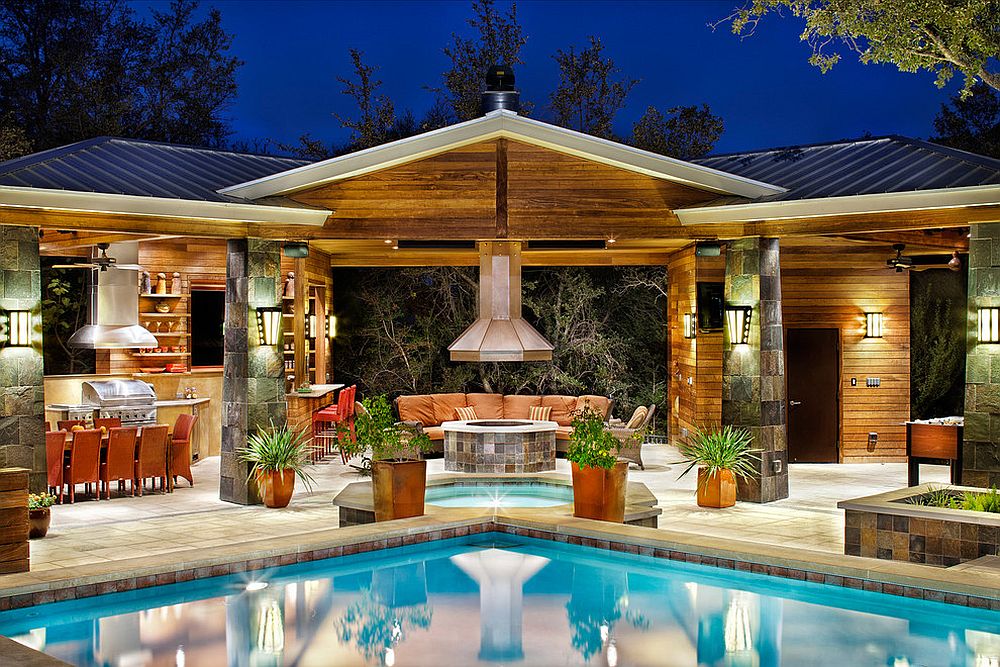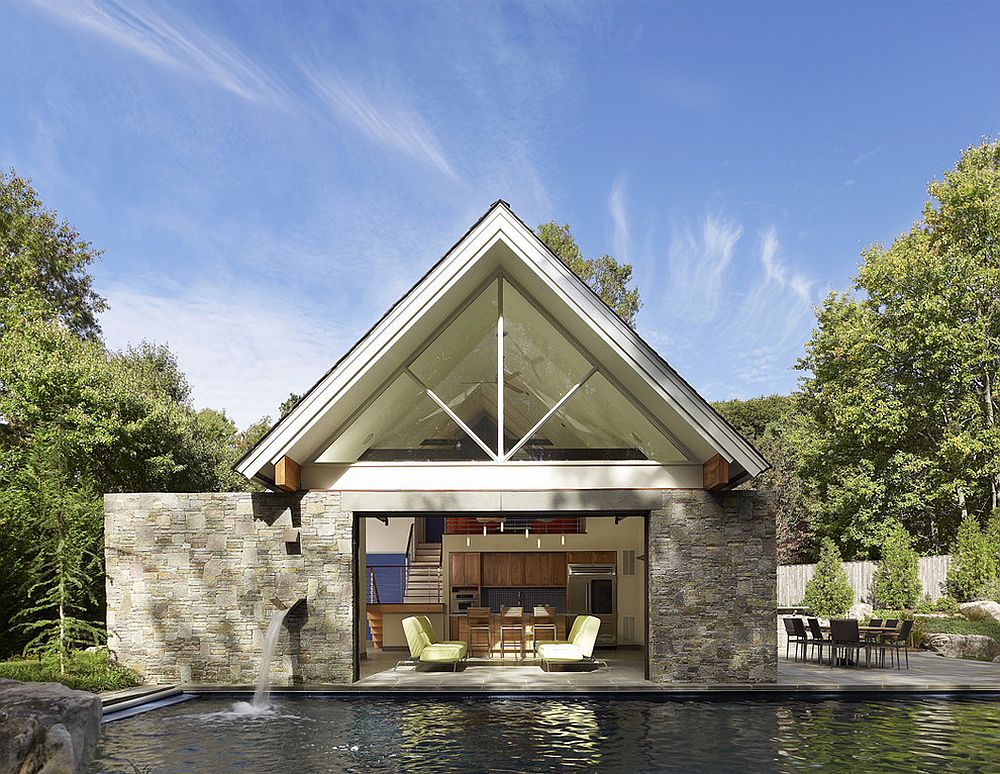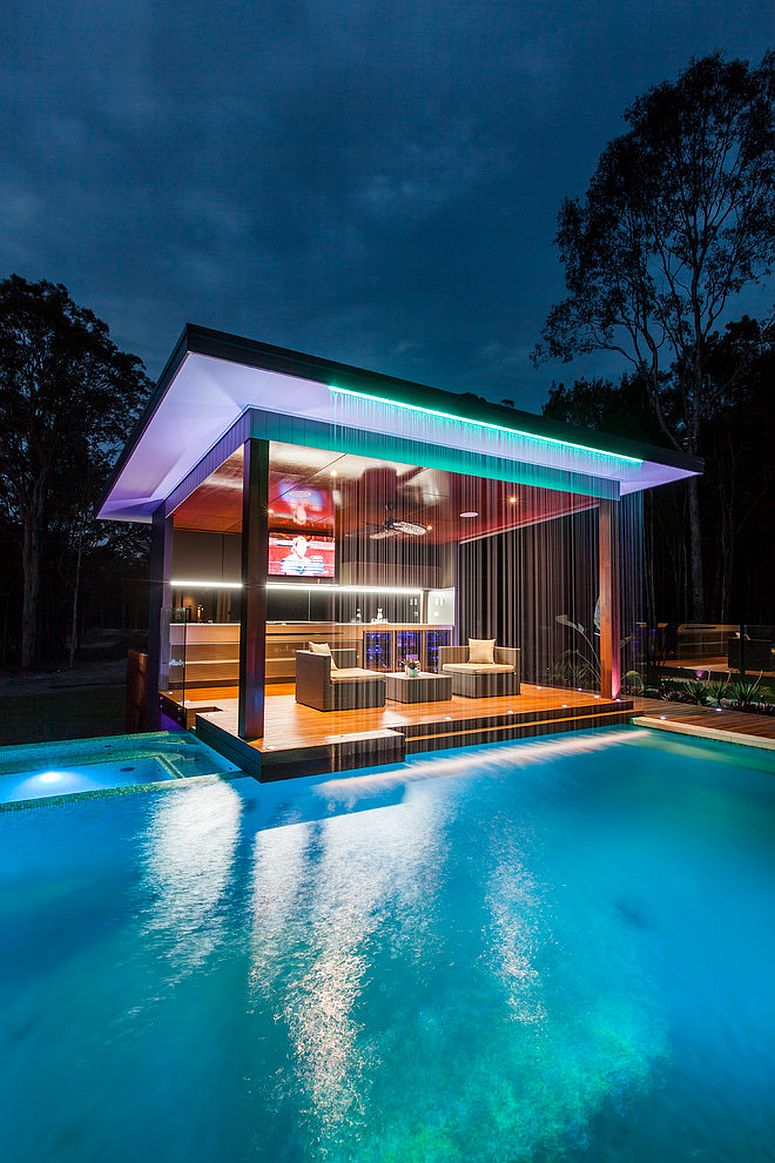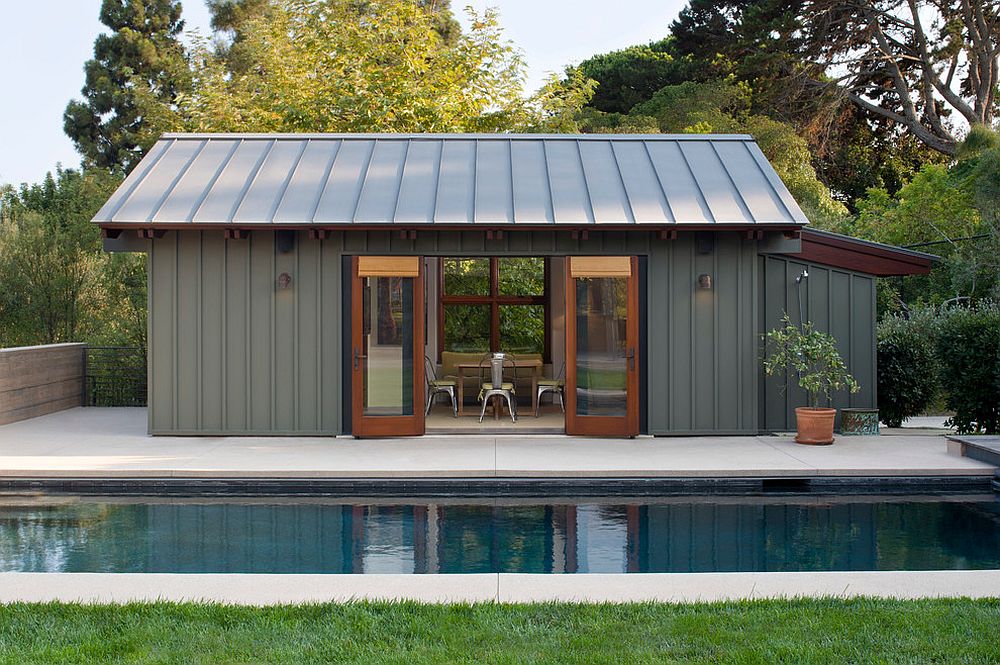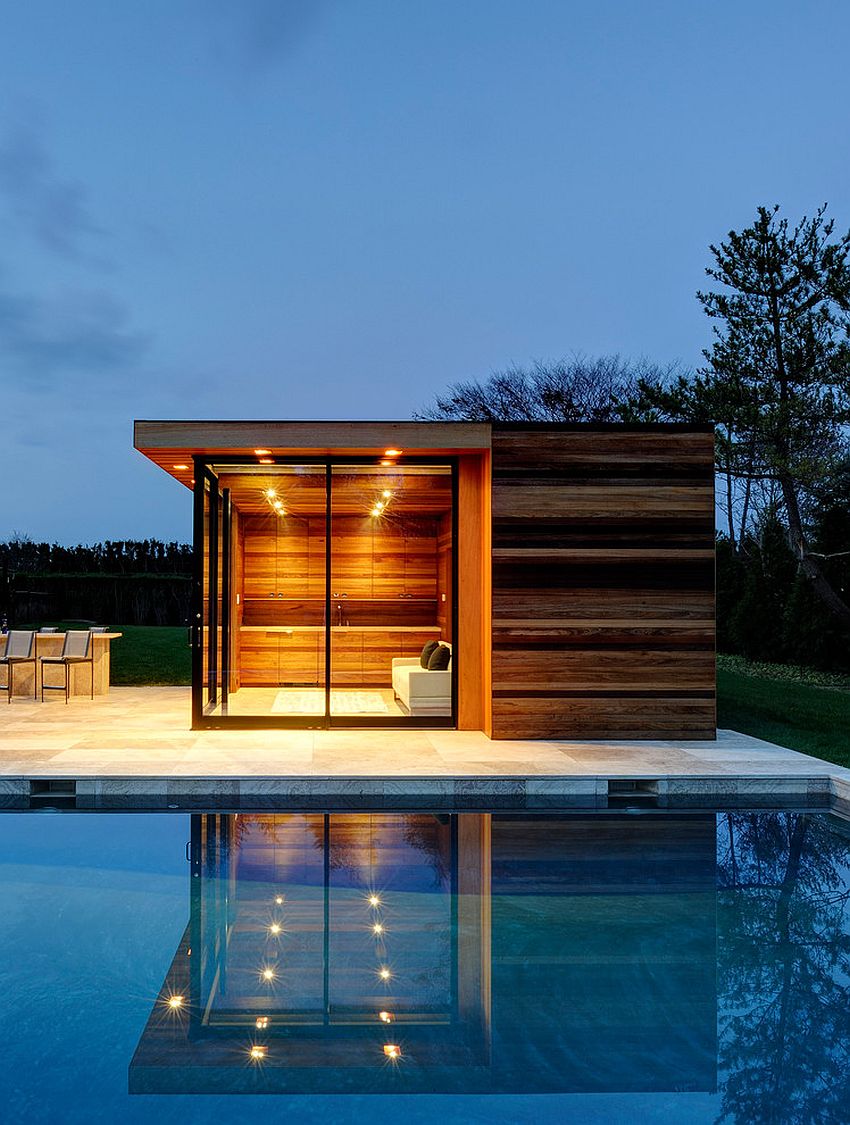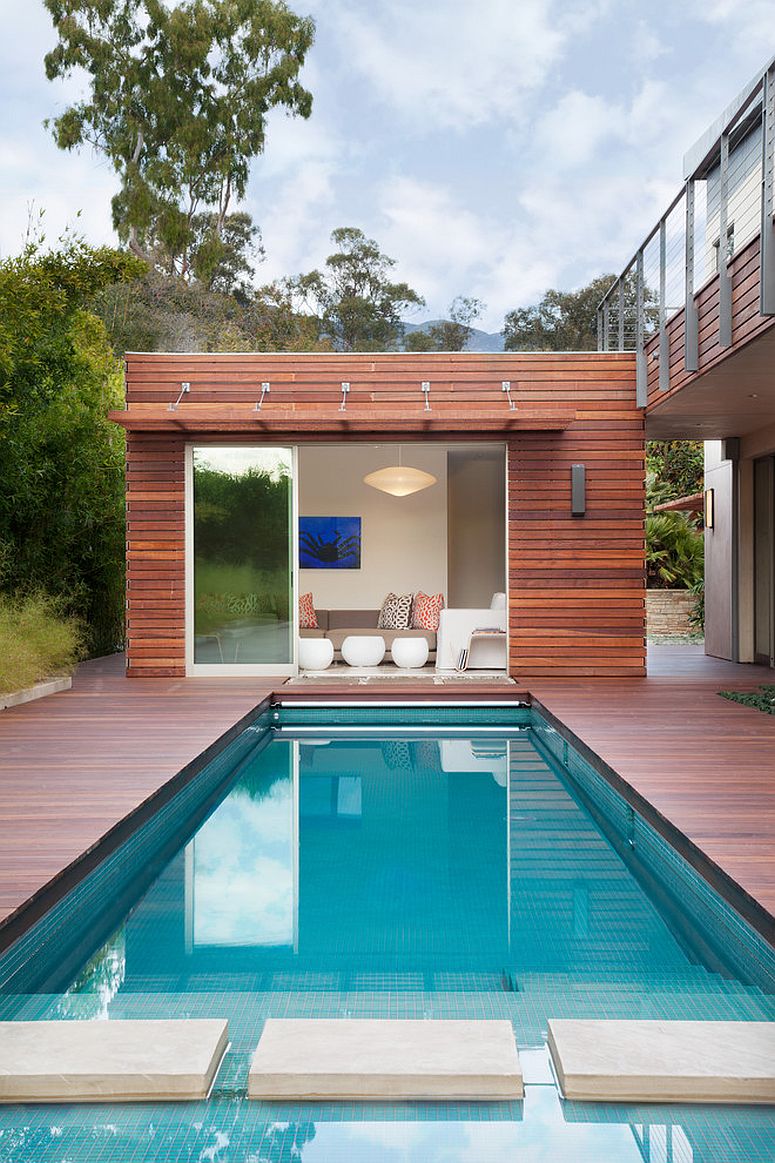 A Pool House That Is A Timeless Image of Luxury
There is absolutely no doubting the fact that a pool house has always been considered a symbol of luxury and good times. Classic pool houses definitely drive home this idea, not only with their ergonomics, but also thanks to aesthetics that seem to bring alive that picture-perfect 'holiday postcard' image. With shingle roofs, elegant design, classic form, and materials such as wood and stone being used elegantly, this pool house paints a picture of tradition and opulence.
While these pool houses look great, remember that they might not really pair well with more modern gardens, poolscapes, and homes. They do pair well with classic wicker furniture like this 3-piece Hacienda set that is truly timeless.
RELATED: 25 Fascinating Pool Bridge Ideas That Leave You Enthralled!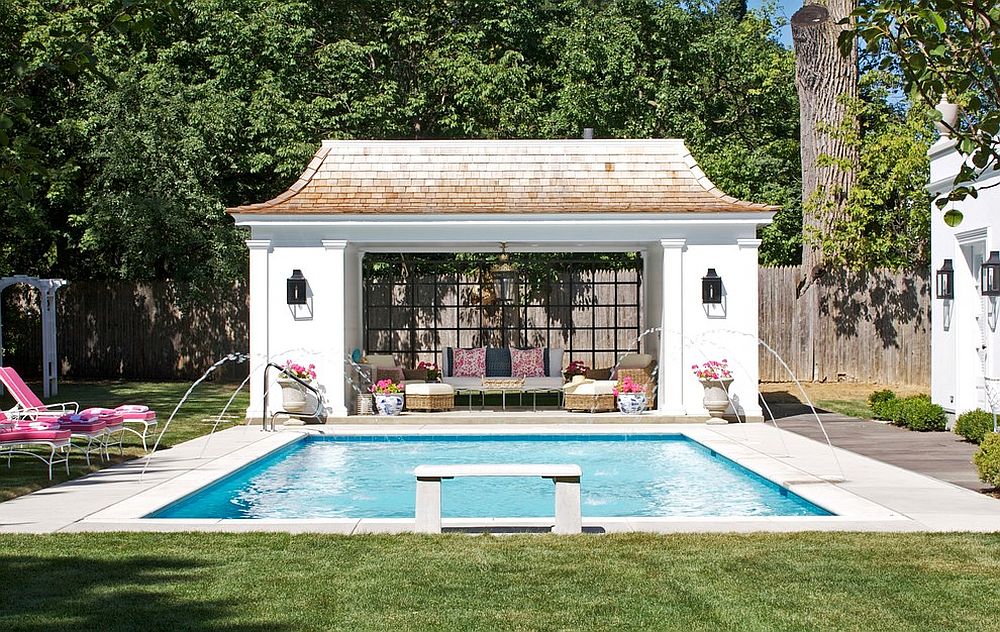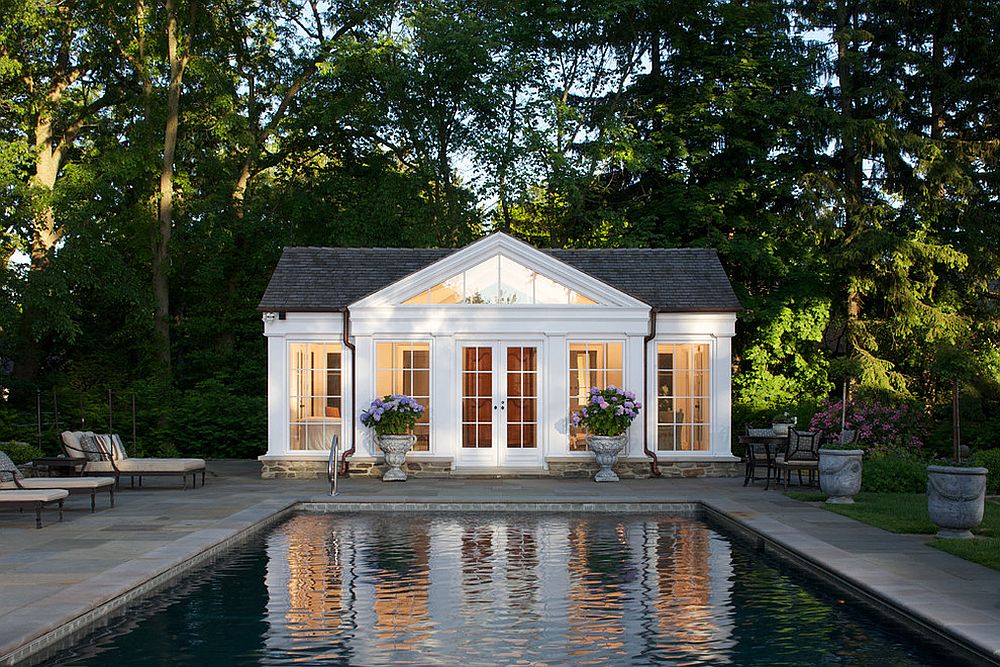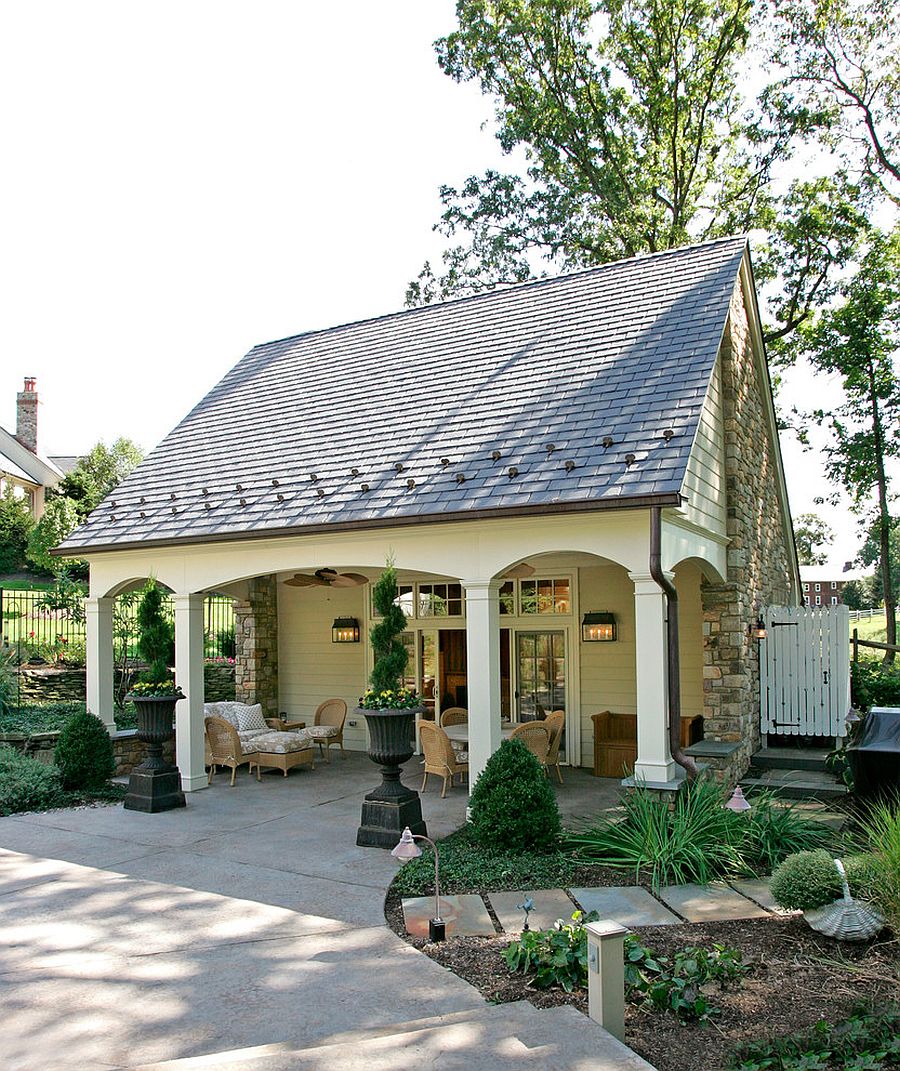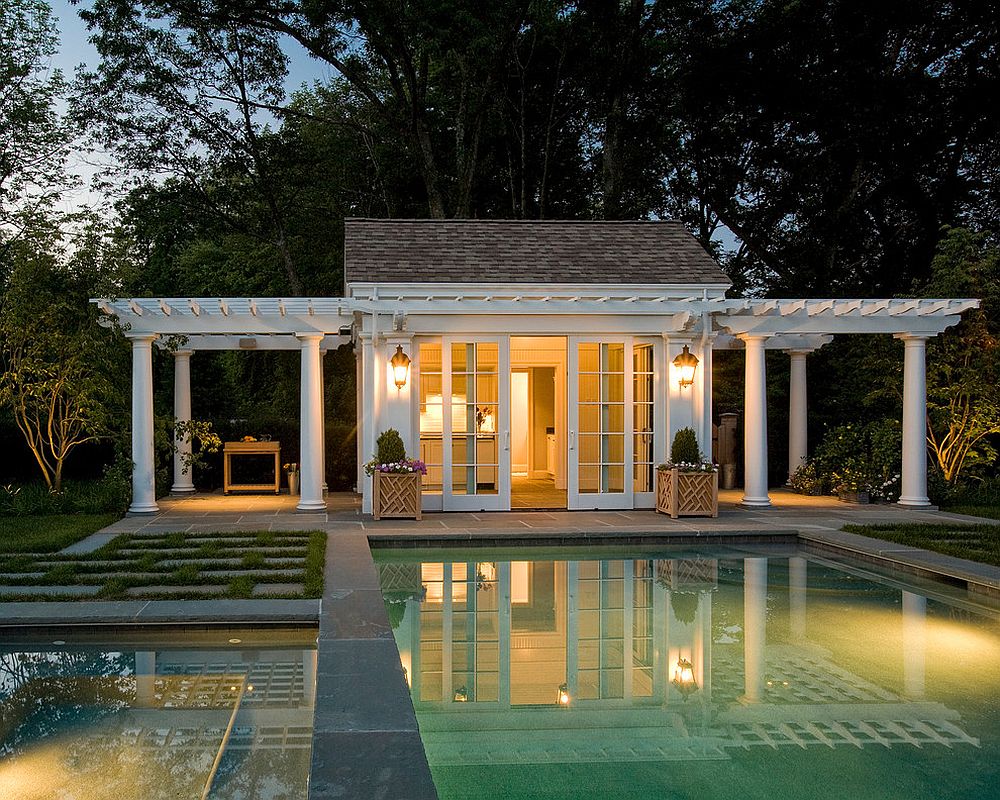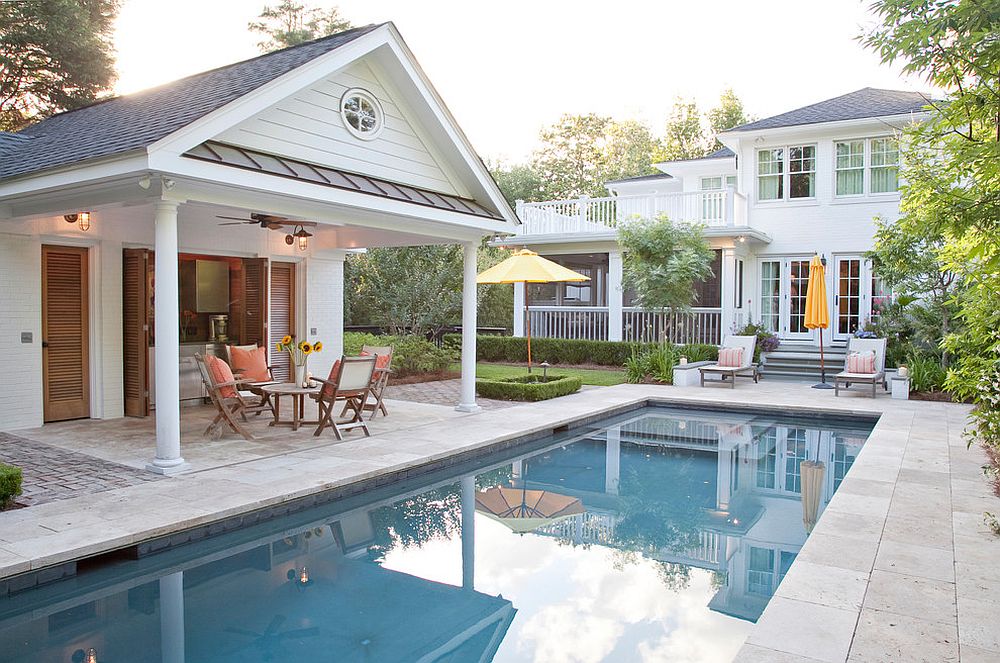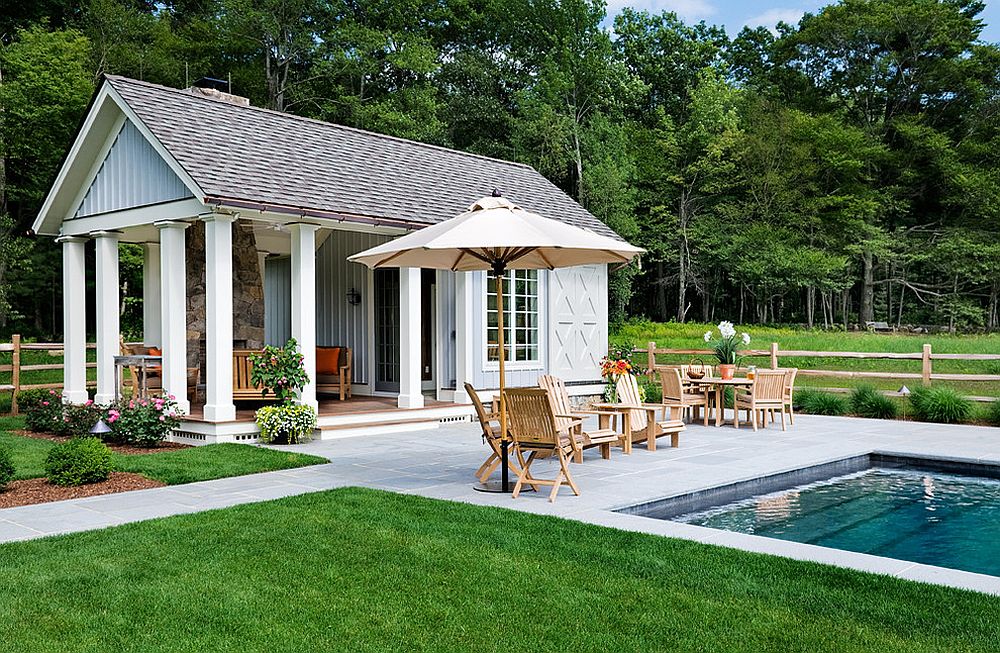 Style, Space and Décor
Going beyond the aesthetic aspect of it all, we delve into the many ways that you can plan for a pool house. For starters, consider the space available, the size of the pool, the yard, and the main house itself. Your pool house must be in proportion with everything around it and must also utilize the available space to the hilt.
In small gardens, a modest pool and a tiny pool house can still make a big impact. You can even convert that neglected garage or shed into a beautiful and useful pool house. Those blessed with more space might want to consider a design that offers an opportunity for both sheltered and open lounging areas.
RELATED: 23 Small Pool Ideas to Turn the Backyard into a Relaxing Retreat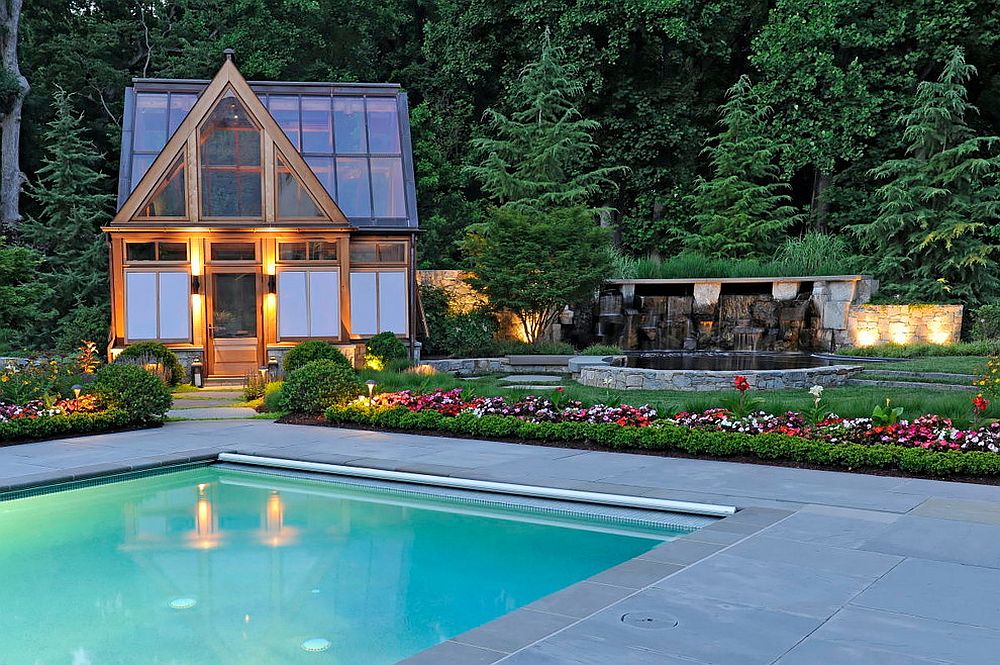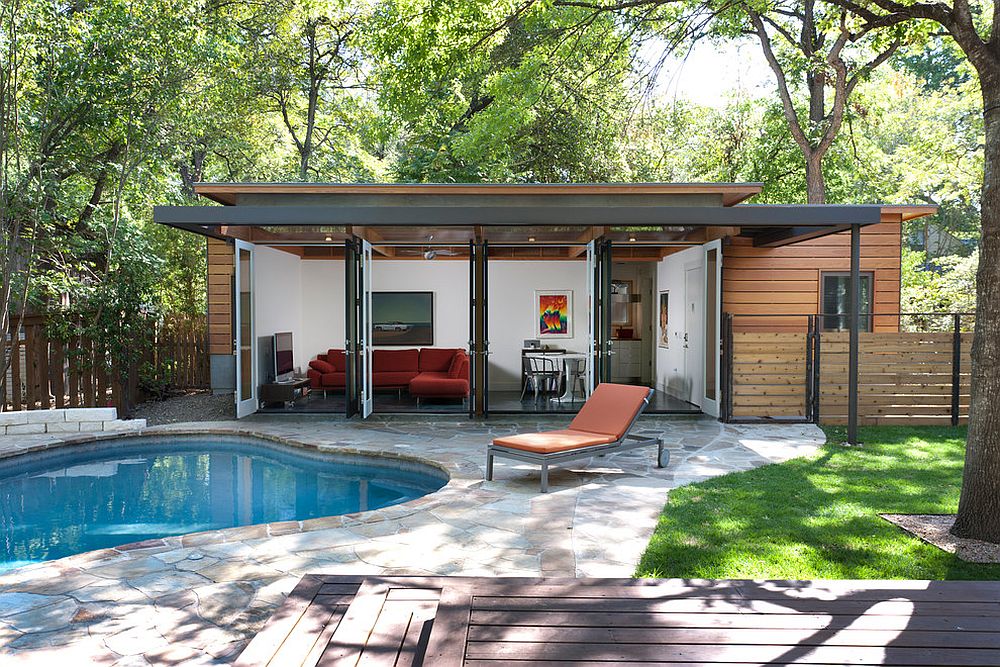 Elements such as an additional guest room, bathrooms, outdoor shower, a small kitchen, a barbecue zone and more can be added, depending on both the space available and your lifestyle. Finally, make room for plenty of storage and plan for enough private areas so that your guests feel a lot more at home the next time they come to your pool party!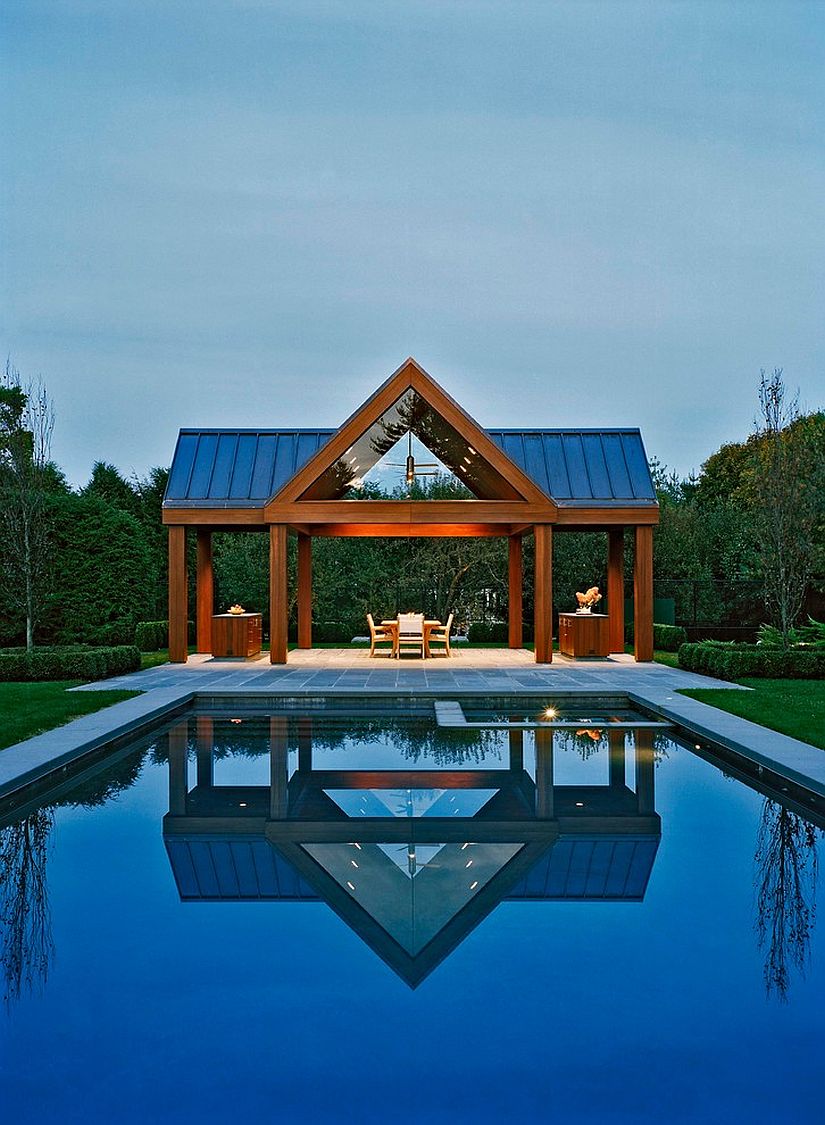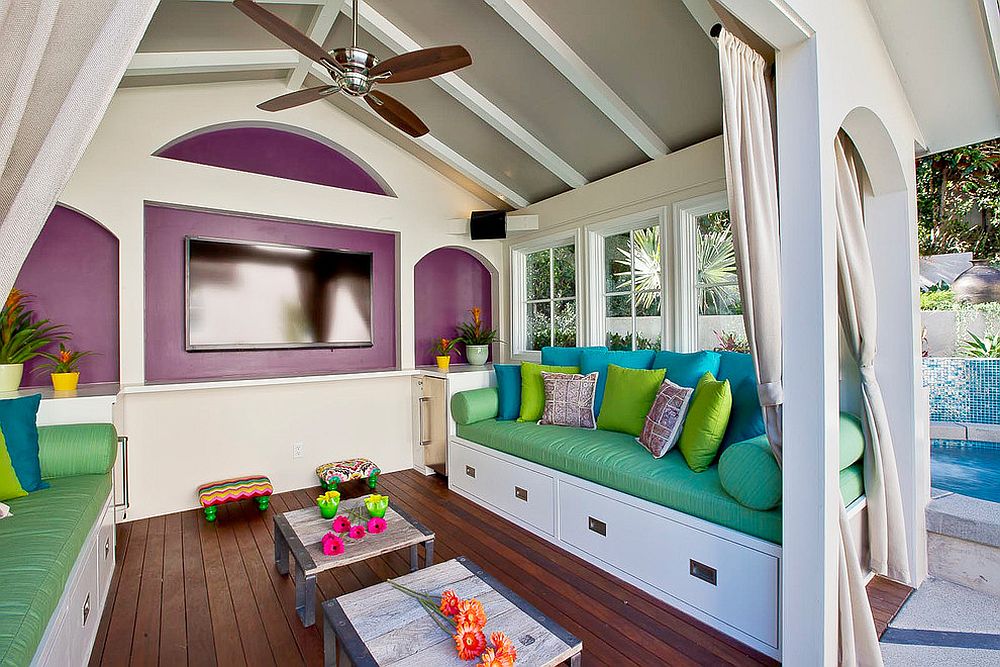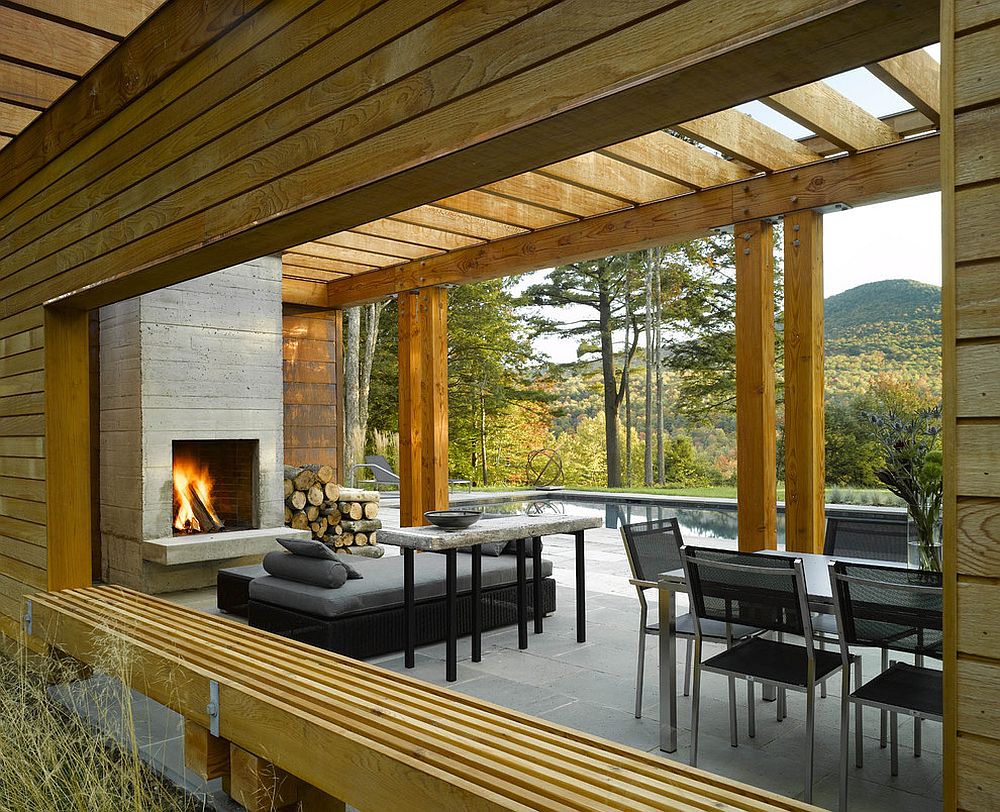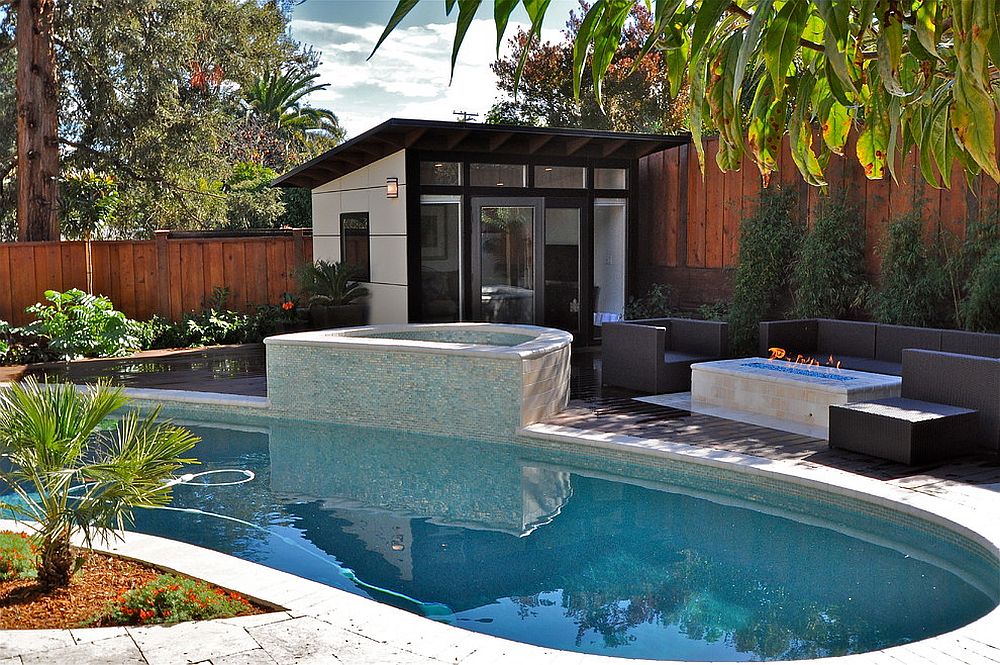 Pool Houses Inspired by the Sea
Finally, we take a look at pool houses that seem the most popular in recent times – those inspired by sun, sand, surf and the deep blue sea. Styles like coastal, beach and nautical are incredibly popular when it comes to breezy pool houses that usher in plenty of fun.
The cheerfulness of these spaces coupled with the way in which they remind us of those lazy summer evenings spent on the beach make them a hit among both homeowners and designers. Clad in white and blue, these draw your attention instantly and also work well along with modern homes and gardens.