The front porch is the entrance to the home. The spot where you get to make a statement and a first impression to the world passing by your door. If modern is the look you're after, then you have come to the right place. It's not hard to add a modern vibe to your home; all you need is a little bit of creativity and some inspiration.
In this article, we have compiled some of our favorite modern front porches and provided some helpful tips to get you off to the right start. To create a modern front porch, you don't have to have an overly modern home. These ideas will help you bring a modern front porch to life and inspire you to do something different with the front of your home.
Lighting Ideas
When it comes to the front porch, lighting is critical. You don't want to overlook this vital part of the decor. If you want to add a modern vibe to your porch, your lighting must reflect that. You also don't need to back yourself into the "standard outdoor light fixture corner" either. Outdoor lighting has come a long way in the last decade, and if you have a covered porch, you can really play up the lighting game.
A stunning chandelier hanging in the middle of your front porch makes an elegant modern display. Keep your light fixtures modern and trendy — this will set the whole tone for your front porch.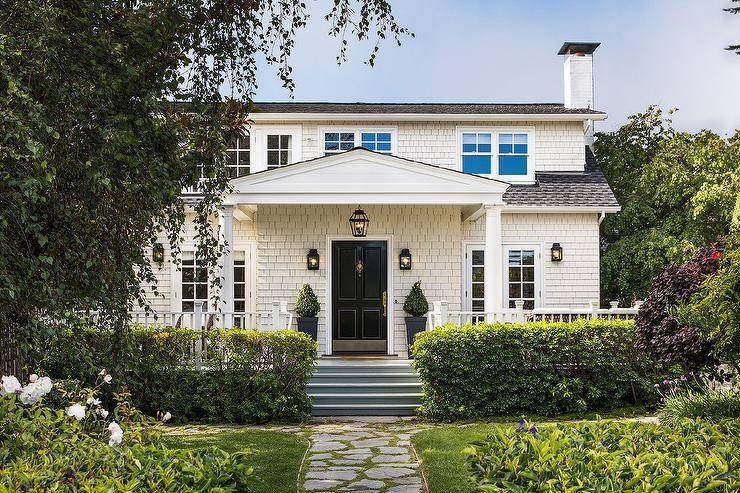 Gold and black look great together and really play into a modern feel and look.
Front Doors
The front door is the entrance to the home. The first impression is where you get to make your point, so when it comes to your front door, don't waste any opportunity to make it a stunning modern display of yourself. Everything from bright colors to moody blacks, virtually nothing is off limits when it comes to a modern front porch.
A boho pop of mustard on this front door blends in with the cedar shakes but keeps everything modern and streamlined.
Contrasting Colors
Nothing says modern like a set of contrasting colors. If you really want to make a modern splash, try painting your door a color that contrasts against your siding or brick. Not only will your front door stand out, but it will become visual eye-candy for those passing by.
Open it Up
Make your space clean and visually appealing. Modern and minimalistic is the feeling here on this porch. A laid back and trendy vibe complete this modern front porch.
Modern Concrete Tile
Make a statement with modern concrete tile, and if a new concrete tile is not in the budget, you can always paint and stencil your existing concrete in a fun and bold pattern. Also, can we just take a moment to stare at those front doors!? Absolute beauties!
Everything about this front porch screams modern — from the tile work to the planters and right down to the front door.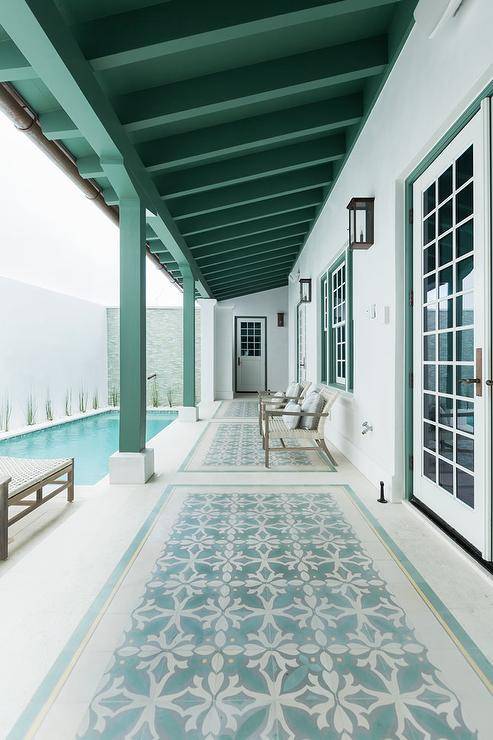 Furniture
Furniture choice is vital when creating a modern front porch. Choose furniture that has clean, simple lines. If you want an ultra-modern porch, stick with white and black outdoor patio furniture, this is the most straightforward way to achieve a modern front porch.
Be sure to pair your modern front porch furniture with complementary lighting. The clear glass orb hanging pendants on this front porch add nicely to the aura without taking over the space.
This furniture below has a modern Scandinavian feel and keeps this front porch light and airy.
Symmetry is Key
A perfectly symmetrical front porch is modern and elegant. Creating a beautiful balanced display with lighting, this modern front porch might just be our favorite.
Simple and symmetrical is a great way to master a classic modern look.
Front Porch Dining
Dining sets aren't just for the backyard anymore! In fact, placing a modern dining set on a large front porch is becoming increasingly popular. If you have a large front porch, why not use it!?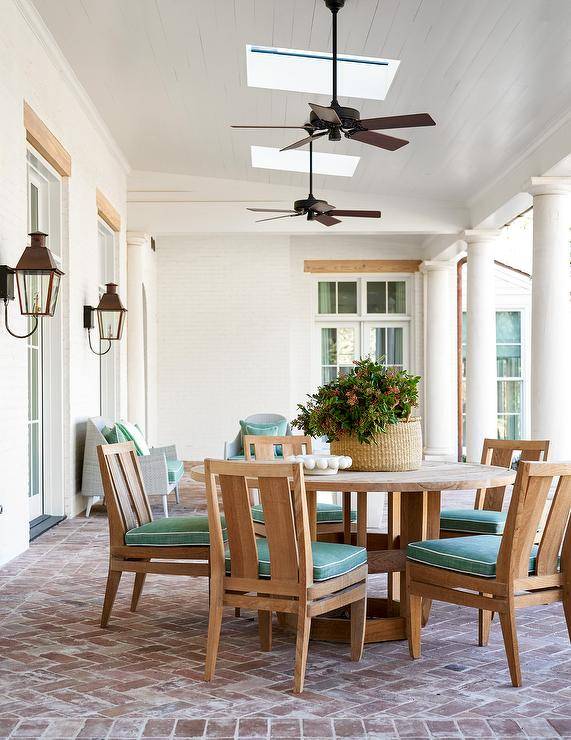 Modern Planters
If going modern, you want to make sure that the plants also speak to your modern vibe. Opt for large planters with tropicals or even moody colors. Large succulents are also a great idea if you live in a warmer climate. Stay away from planters that have more ornate designs, as this will distract from a sleek modern look.
Related: 18 Outdoor Planter Ideas for Porches and Front Yards
Modern Comfort
Modern doesn't have to mean uncomfortable. By keeping your front porch simple and cozy, you can achieve a modern look and have some comfort at the same time. A row of all-white rockers is a great example.
An elegant modern porch swing is also a cozy touch that you can add to your front porch as well. Do some looking around and find a comfy porch swing that will fit your modern look. There are so many different styles out there.
Keep it Simple
If you want to pull off a modern look easily, the best thing to do is keep it simple. Modern and sleek is the way to go, and you can quickly achieve this with simple lines and clean decor.
Don't Forget the Ceiling
Adding a finished touch to the ceiling on a covered porch is a new and modern element, but it totally completes the space. Just because your front porch is outside doesn't mean it doesn't need a lovely ceiling.
Dark and Moody
There's no written rule that states that front porches have to be bright and colorful, so if it's a modern porch you're after, try something dark and moody — it might just set a tone that you love!
Paint it Black
Nothing says modern like black trim, and while we hope that black trim windows and doors are not a passing fade, we hope it will stick around for some time yet to come. We love the black trim look; nothing is more modern and sleek than it!
Related: 20 Modern Black Exterior House Ideas
Go For a Dutch Door
Dutch doors aren't commonly considered for a front entrance, but we can't deny that they look so pretty and modern in the below styles and varieties. When you think of a Dutch door, you typically think of something country and rustic, but this door style can be modern with the right coat of paint and finish.
Modern House Numbers
If you want to make your front porch more modern, a quick and easy fix is your house number. Switching outdated house numbers for a new, modern, contemporary design can make such a huge impact and is so easy to do.
When it comes to making a modern front porch, you should really start with your door. The front door's color will set the whole tone for your front porch. Here are some quick do's and don't's for choosing a color for your front door.
Related: The Top Trends in Front Doors
Do's
Don't's

Stick with the Classics
Use a neutral hue such as brown, black, or gray for a look that will withstand the test of time. Even deep reds and navy blues are classic front door colors that act as neutrals. If your style changes or you alter your home's exterior later, neutral hues will adapt with you.

Be Afraid of Color
Some people are nervous about using bold and bright colors for their doors, but why not experiment? A yellow or lime green makes a bold statement on your front door. If brights are too daunting, try a dark version of a color, such as dark green, burgundy, or wine red.

Purchase the Right Paint
It's essential to use the proper paint to prevent peeling and fading since your door will be exposed to outside elements. Latex exterior paints provide weather-resistant coverage. If your door is metal, look for one with built-in rust protection.

Neglect Your Screen Door
If your front door features a storm door or screen door, you can paint its frame a contrasting hue for another punch of color.

Make it Monochrome
If you have a smaller house, this tip is for you. Visually expand your home by painting the door, trim, window frames, and exterior the same color. A monochromatic color scheme also provides a neutral backdrop for accessories to stand out, such as the planters and sconces.

Ignore the Trim
Your front door trim is also ideal for painting. White is classic, but another option is to make the door pop with contrasting trim. Rich brown tones, for example, can warm up a cool-colored door. Dark trim stops a white or neutral door from fading into the surrounding color of a house.
Frequently Asked Questions
FAQ
How can I make my front porch look modern yet also expensive?
Try using a darker hue with contrasting colors to make your front porch look expensive. This will also give your house an air of luxury without breaking the bank. Place tall planters on each side of the front door, using a nice contrasting color for the pots.
What is the best modern flooring for a porch?
If you want your porch to have a modern vibe, the floor needs to be modern and trendy right now; masonry floors of brick, stone, or tile are all popular choices. They're water-resistant, but it's essential to know that the weight of these materials can require additional support when used for elevated porches. Poured or stamped concrete is another option.
Can I use indoor lighting on my front porch?
While there are so many beautiful interior lights on the market, you may be tempted to use a stunning chandelier or pendant on your front porch, but you should not use an indoor light fixture outdoors in wet locations. They aren't sealed against moisture and will stop working during the first heavy rain. Moreover, they aren't corrosion resistant and could become an electrocution hazard if the parts that cover the electrical connections deteriorate. Don't despair, though — exterior lighting has come a long way, and there are so many beautiful options for exterior lighting now. Related: 40 Best Landscape Lighting Ideas
What is a fun way to add character while staying modern?
If you want to add some fun character and keep with the modern look, play up your accessories like light fixtures. You can also add in personalization to your porch with modern decor signs and family name signs. Stick with a monochromatic look, which will help you maintain a modern look.
If you need more inspiration for the front porch, check out these related articles: