The best front yard landscaping ideas can unleash the beauty of your block and transform it into a stunning front lawn. There are endless ideas to give it a touch of perfection and lend it its character. You can play with vegetation, structures, or water features to match your style and home's environment. With the perfect yard, you can create your relaxing haven and leave your guests in awe every time.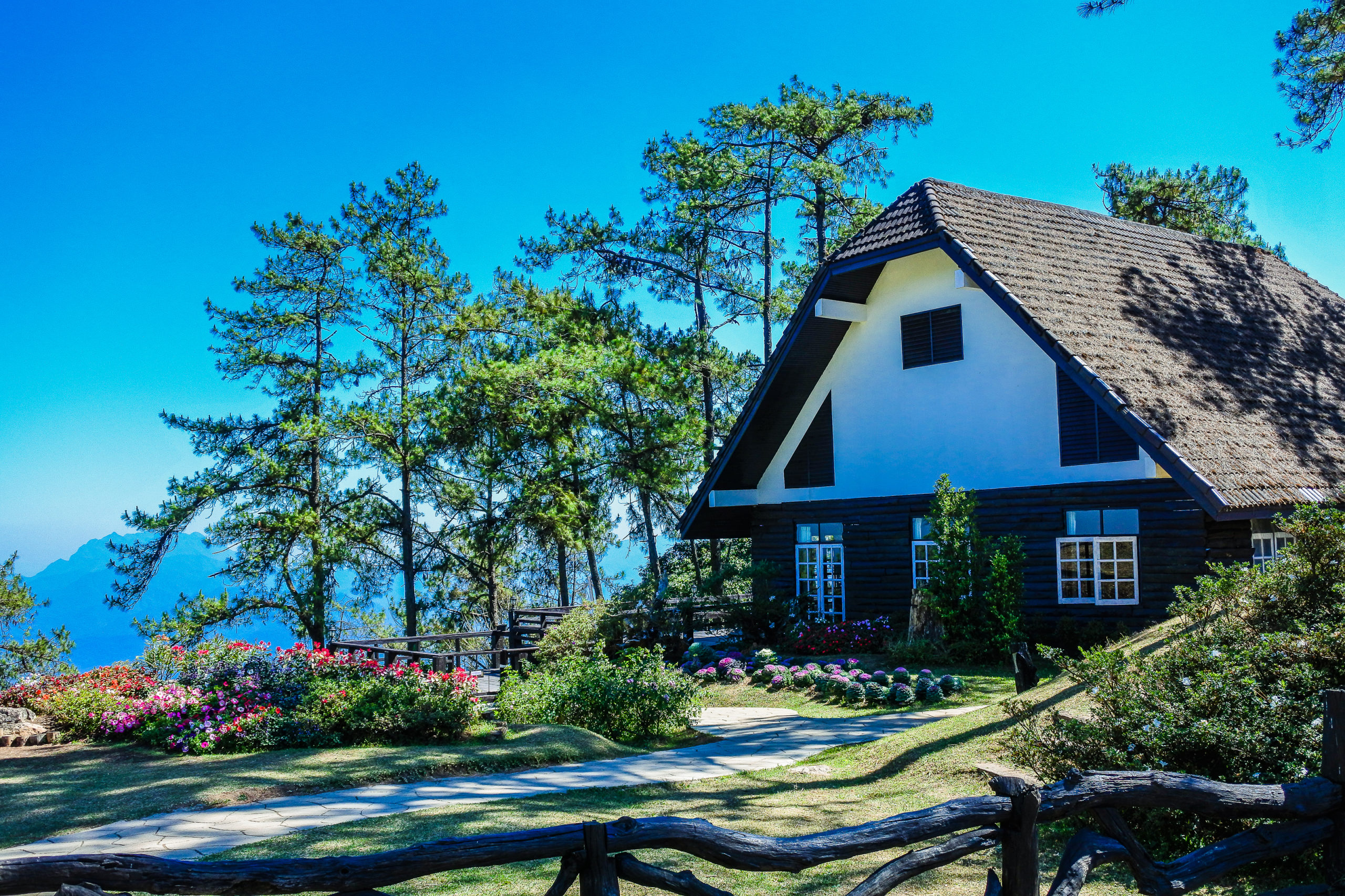 Here at Decoist, we are committed to providing an avenue for designs that will tease your eyes. With our finest front yard landscaping ideas, patio designing should never be a daunting chore. So here are our stunning ideas for updating your block into a picture-worthy front lawn.
Turf Looks Good with Bits of Colors
A garden-full of blooms and velvety green grass has that beauty that exudes a welcoming and almost sentimental feel. Design your front yard with a mix of perennial flowers and shrubs with interlacing hues. It will ensure a year-long focal interest and wrap your yard with carpets of colors comes the vibrant days of spring.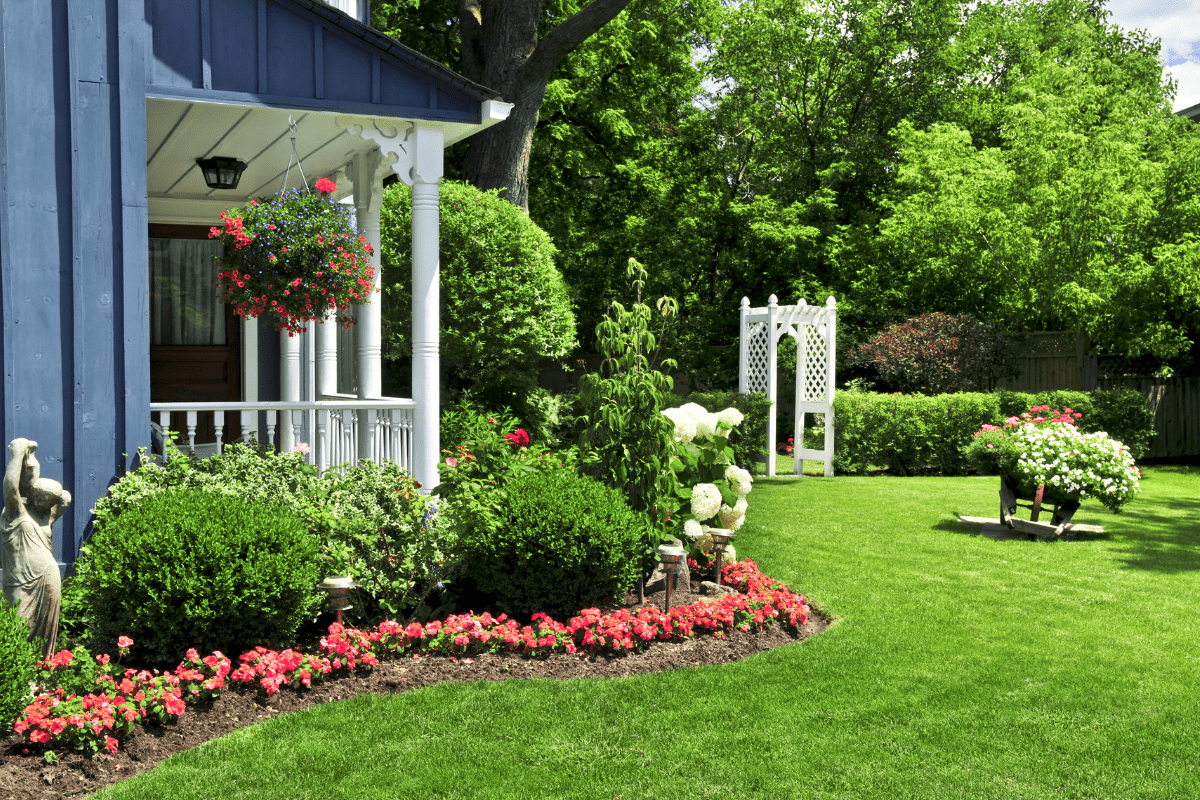 To avoid the cluttered look, you can plant flowers in a cluster of colors. It will prevent the overcrowding and claustrophobic feel within your flower beds.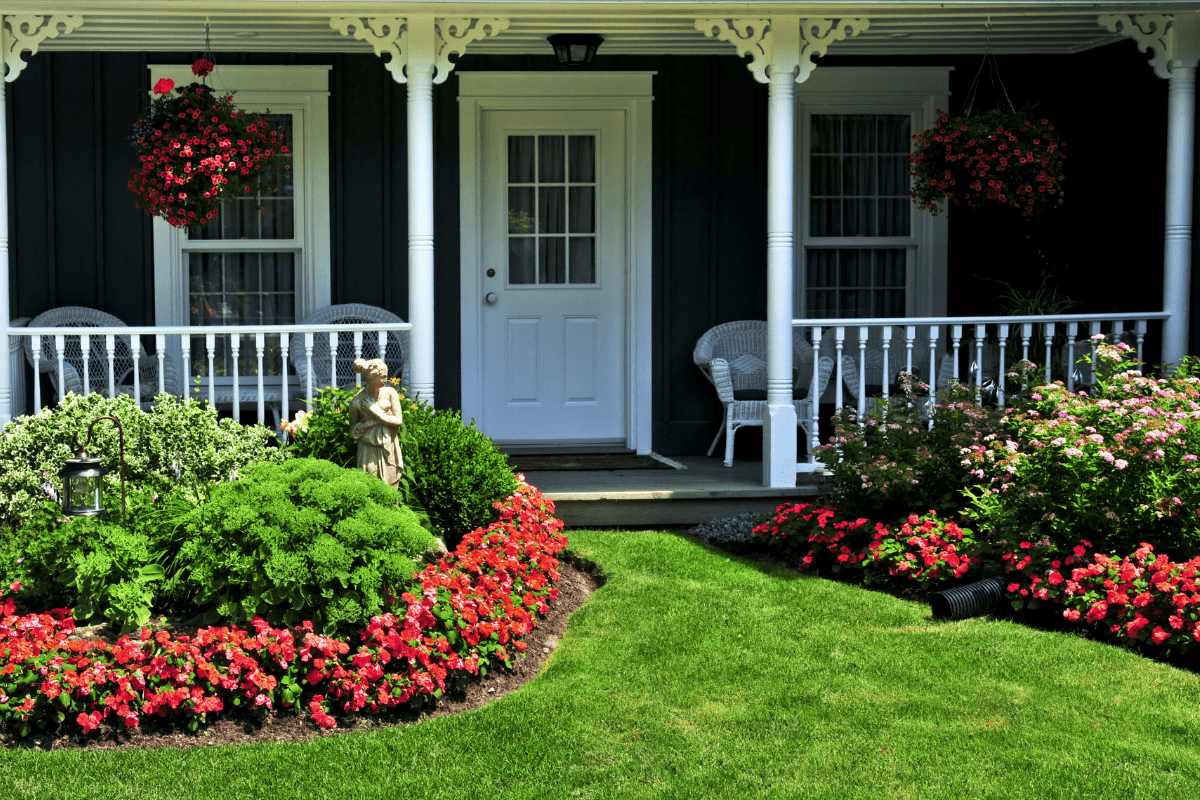 Set Up an Interesting Garden Structure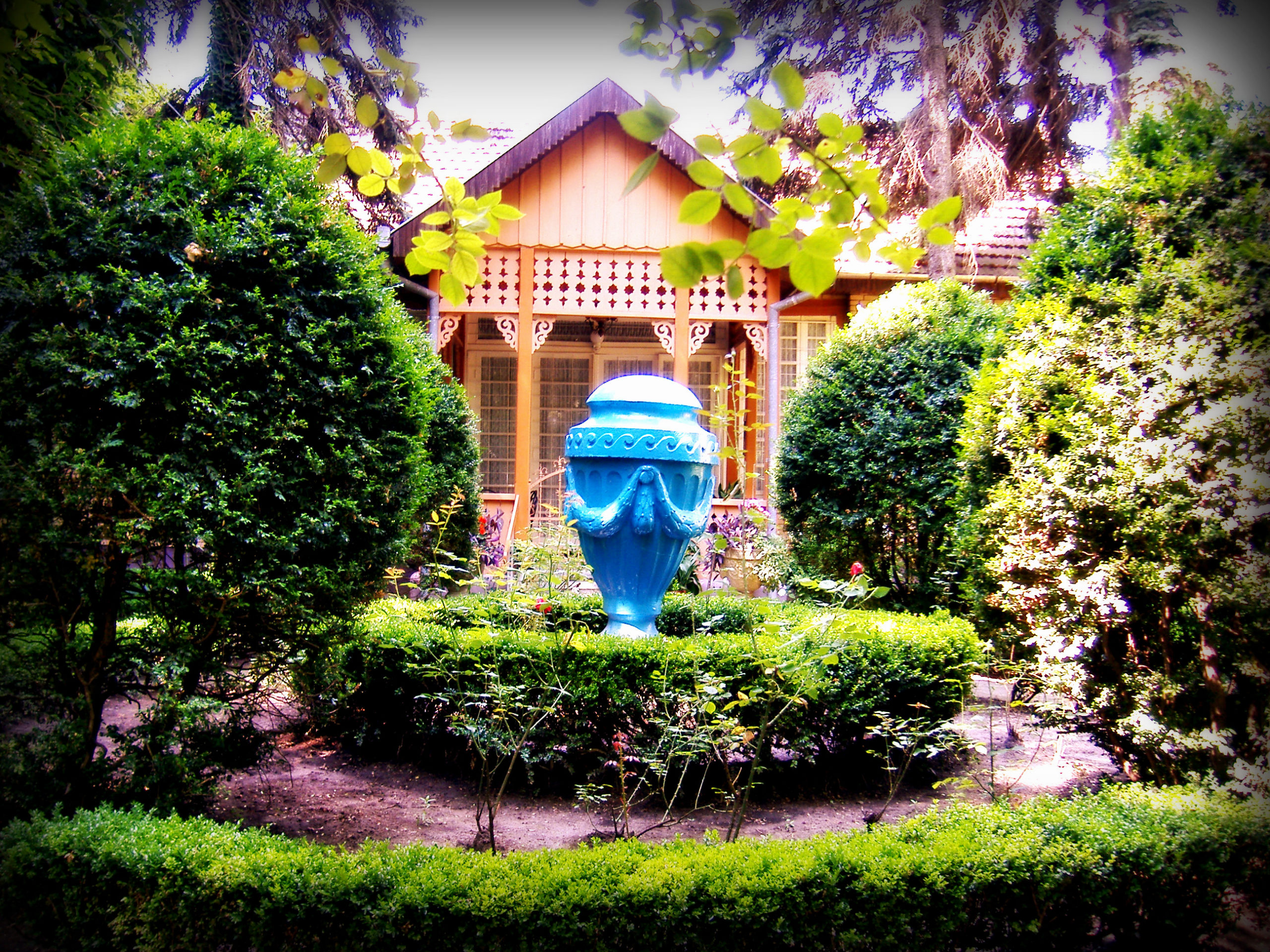 Birdbaths, fountains, gazebos – these are the customary front yard landscaping ideas for most traditional homes. But if you want some low-maintenance garden structures, then go light with some art deco statues. This classical Tivoli Finial cast stone structure, for example, will add an interesting depth and accent to your lawn. Surround it with well-maintained hedges and attain that old-fashioned look that grazed the rustic villas in its heyday.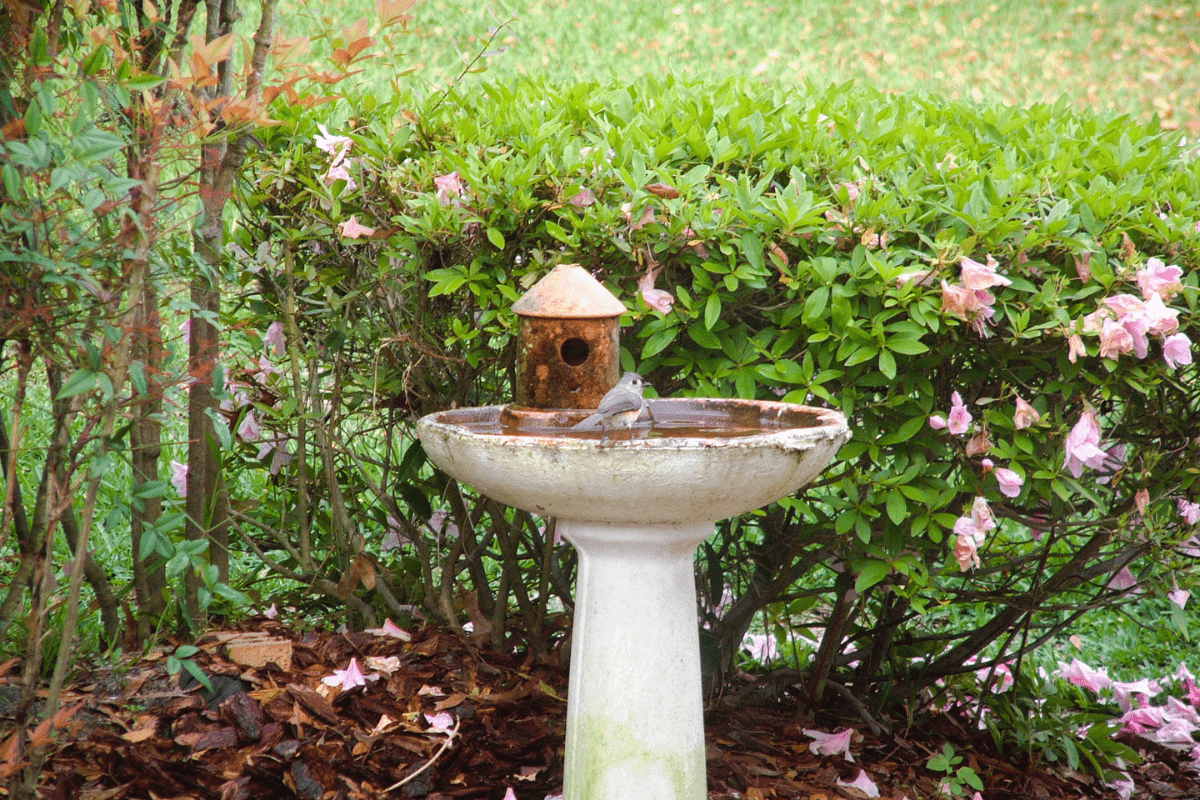 Bird baths are a great structure for a front yard landscape. They add character and also will bring the birds to your front yard landscape to bring in those nature vibes.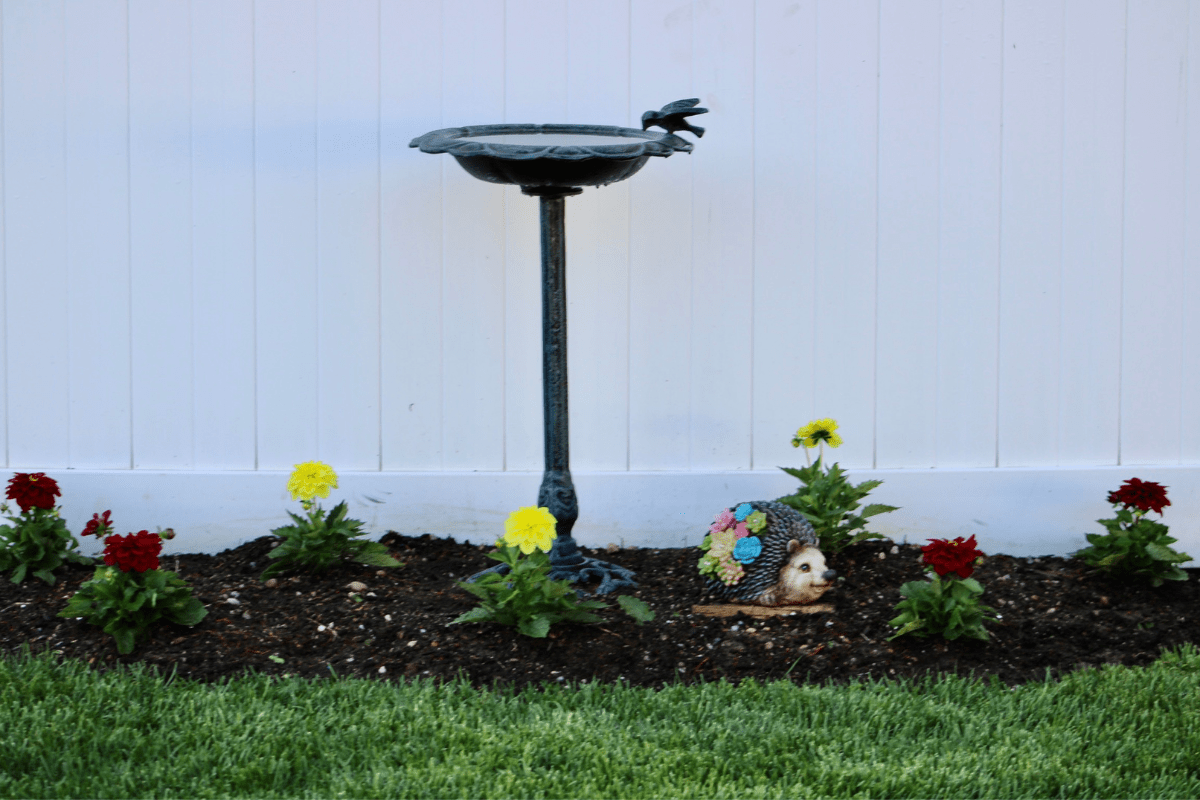 Keep The Front Landscaping Modern and Simple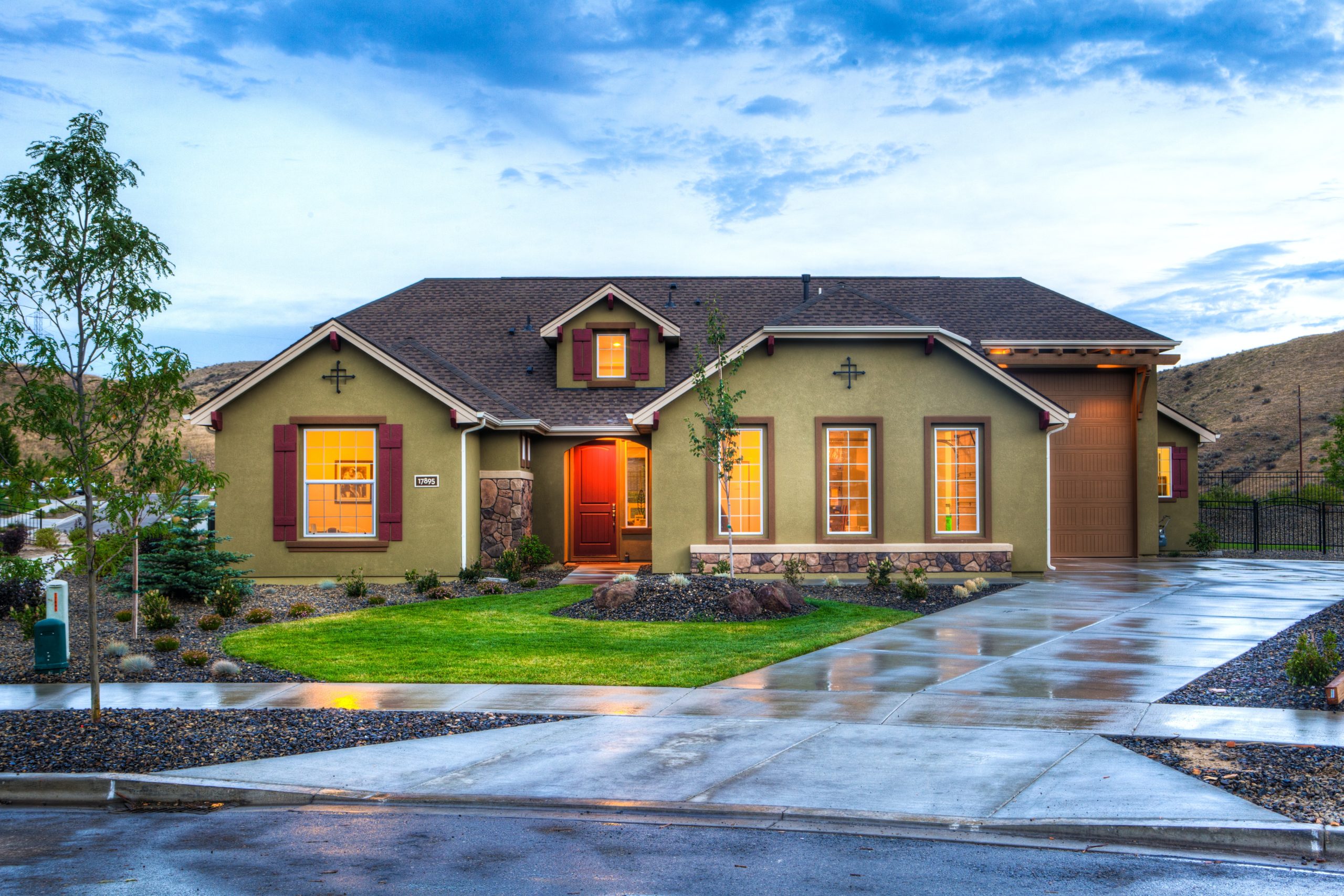 The minimalist and simplistic approach is the new trend of modern front yard landscaping ideas. Most homeowners ditch the flowers and grasses and embrace the idea of wide driveways and pavements.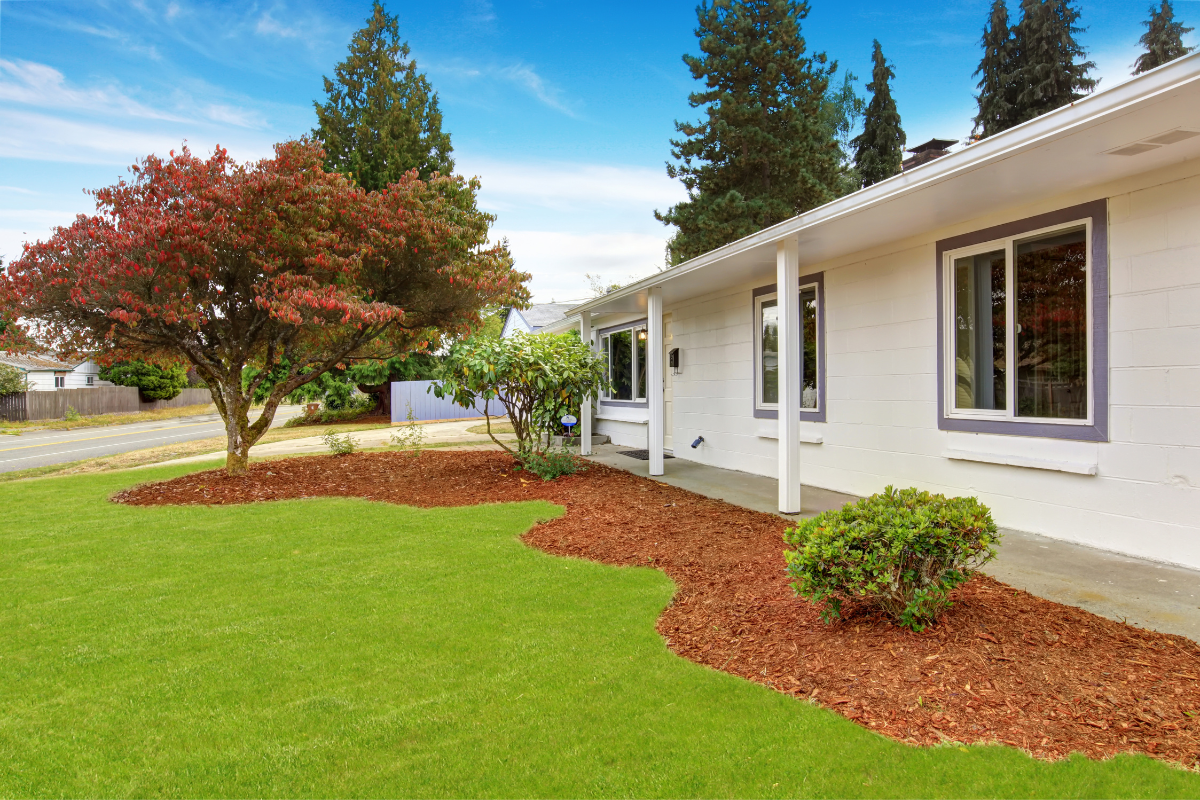 Concrete patios can either offer more space to small yards or emphasize the vastness of wide ones. Just take a look at this sweeping front yard of an Idaho house and notice how it asserts its breezy and carefree space.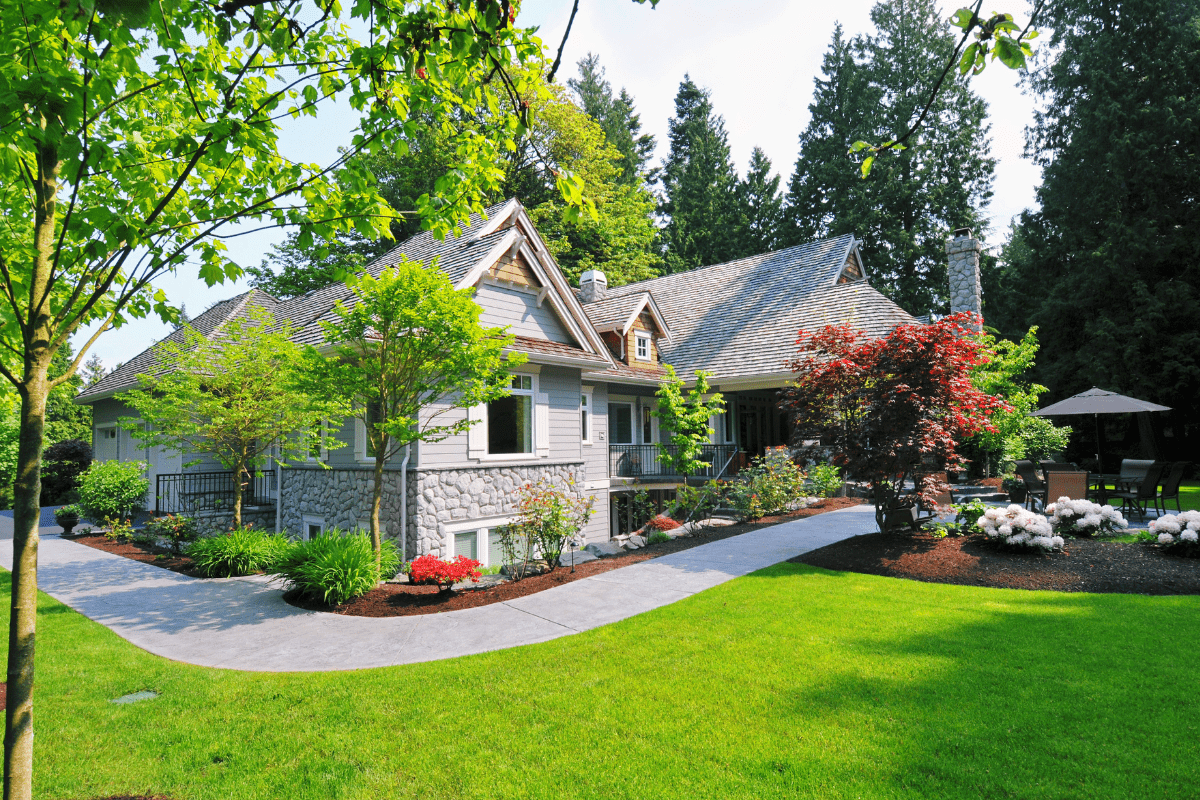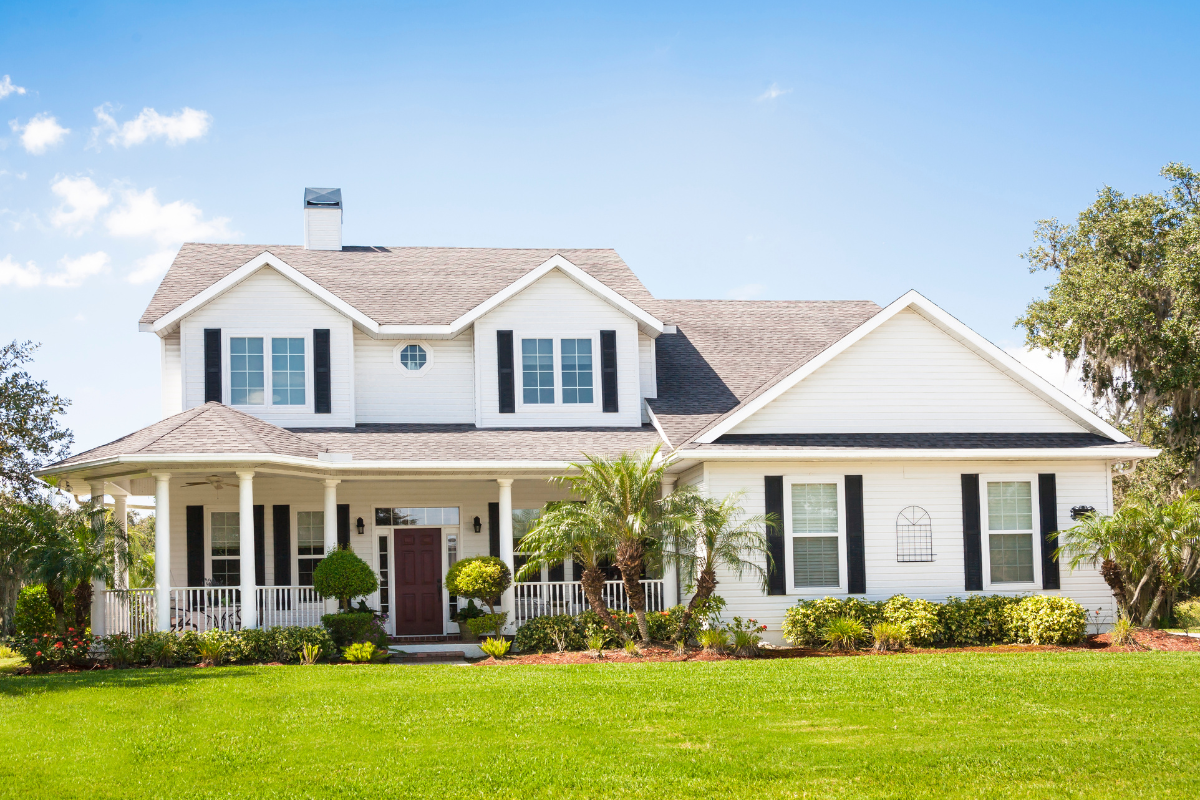 The Chic English Courtyard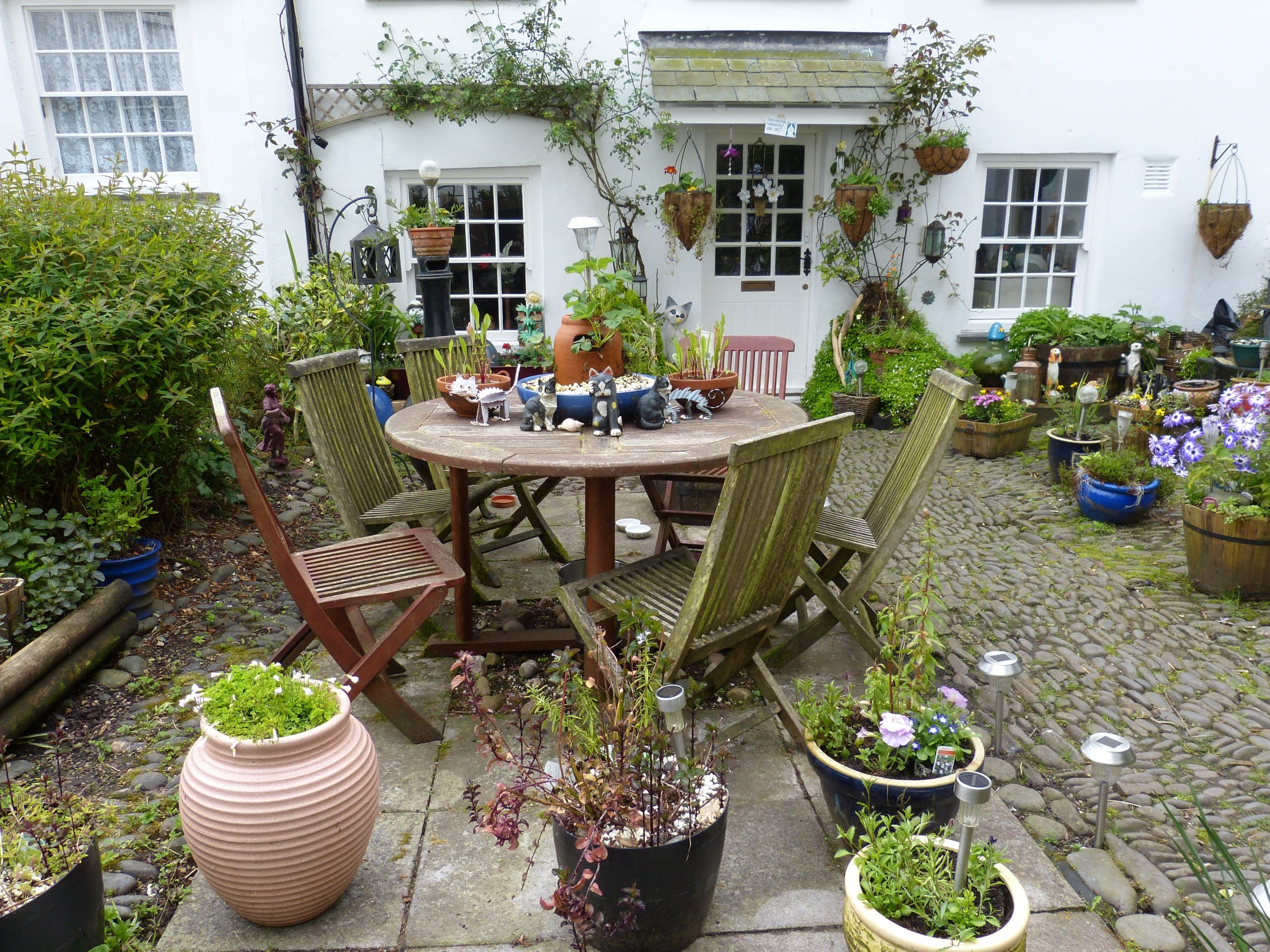 English courtyards are notable for their combination of privacy and homeliness. Think about lazing around for a barbecue night in this homey little space by your front door. The cobblestone and brick floors will give your place some vintage feel while offering more depth and texture. You can also add some greenery through trellises or topiaries and pastel-colored flowering plants.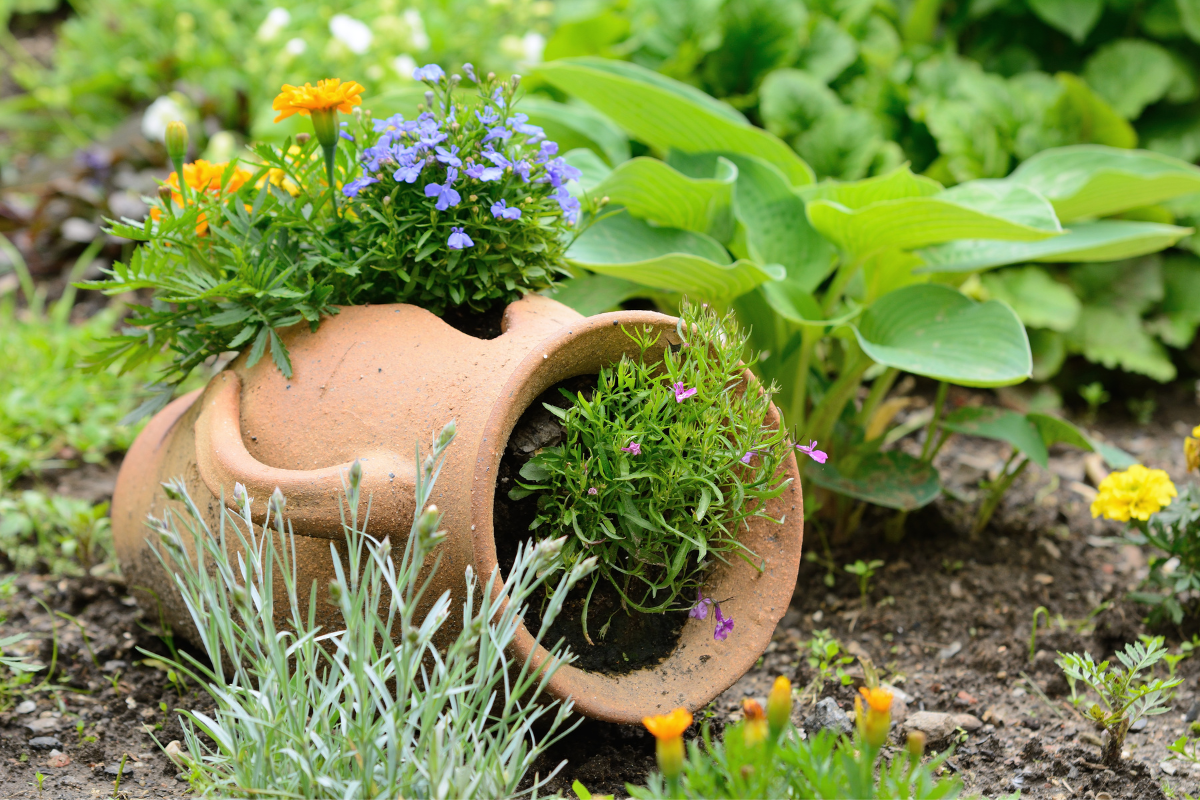 Pots, jars, and decorative pieces will complete the look and enhance its rustic appeal.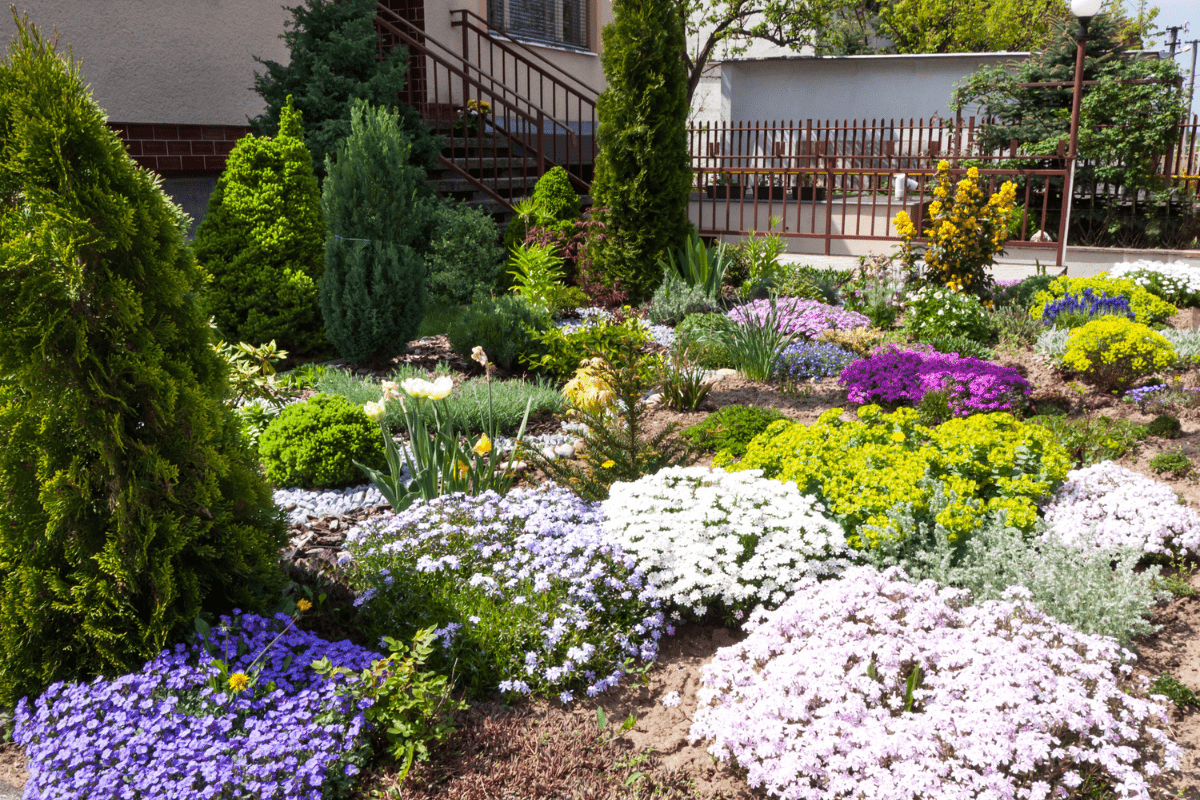 Keep it Unique with Unconventional Pieces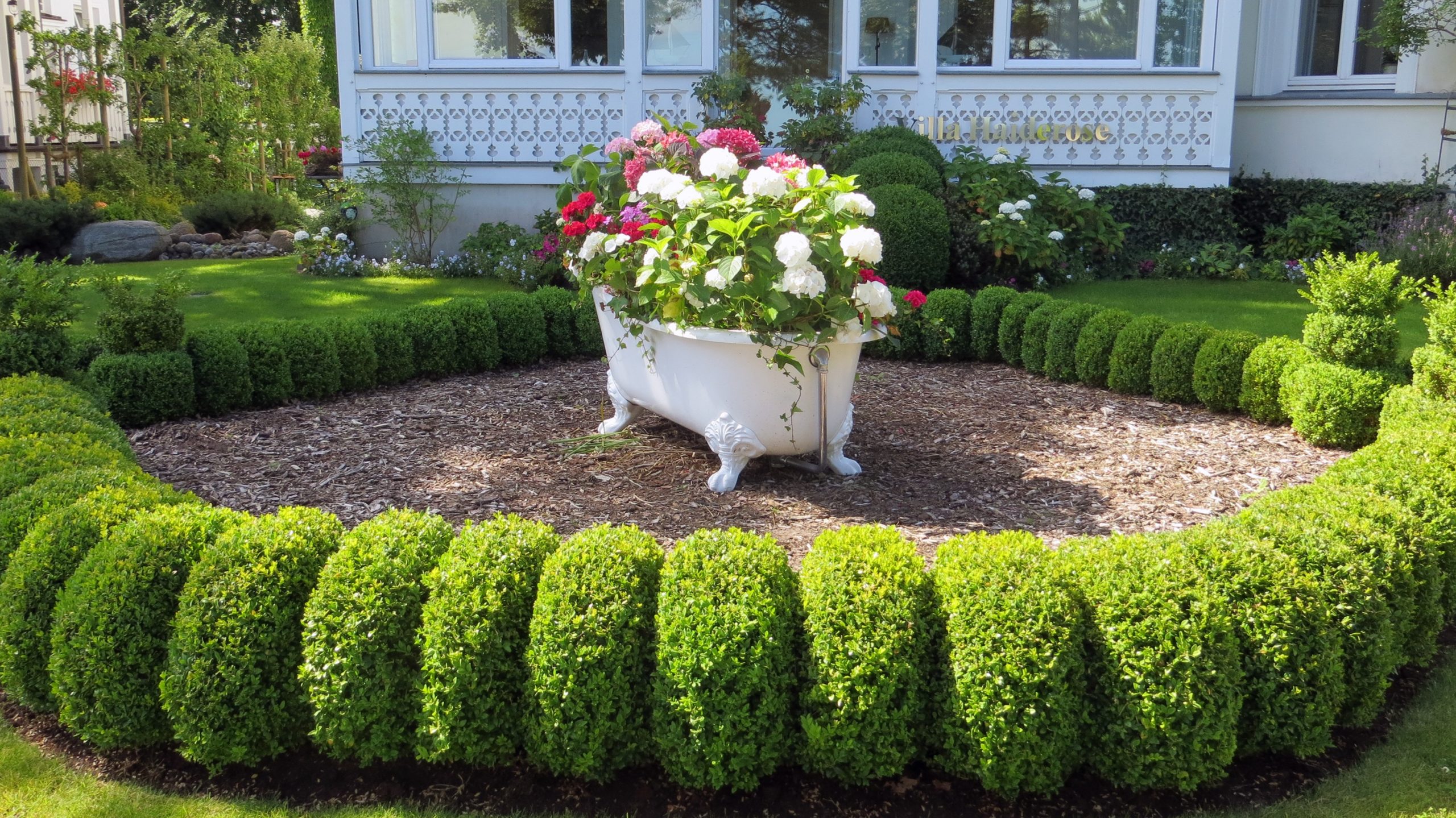 Who would have thought that this repurposed claw-foot bathtub would make an idyllic structure for the front yard? A pop of colors amidst the well-manicured hedges adds a quirky taste to your patio. You can also scour the flea market or your attic for that rundown furniture and give it a new purpose. Unconventional planters are definitely among the eye-catching front yard landscaping ideas. So now you know what to do with that antique bicycle and those age-old toys!
Stones are Ruggedly Beautiful
Rocks and pebbles are among the popular and trendy front yard landscaping ideas. These materials will likely bring out the rugged aesthetic appeal of your property. It only takes proper placement and layering to achieve that natural beauty that adds depth and dimension to your yard.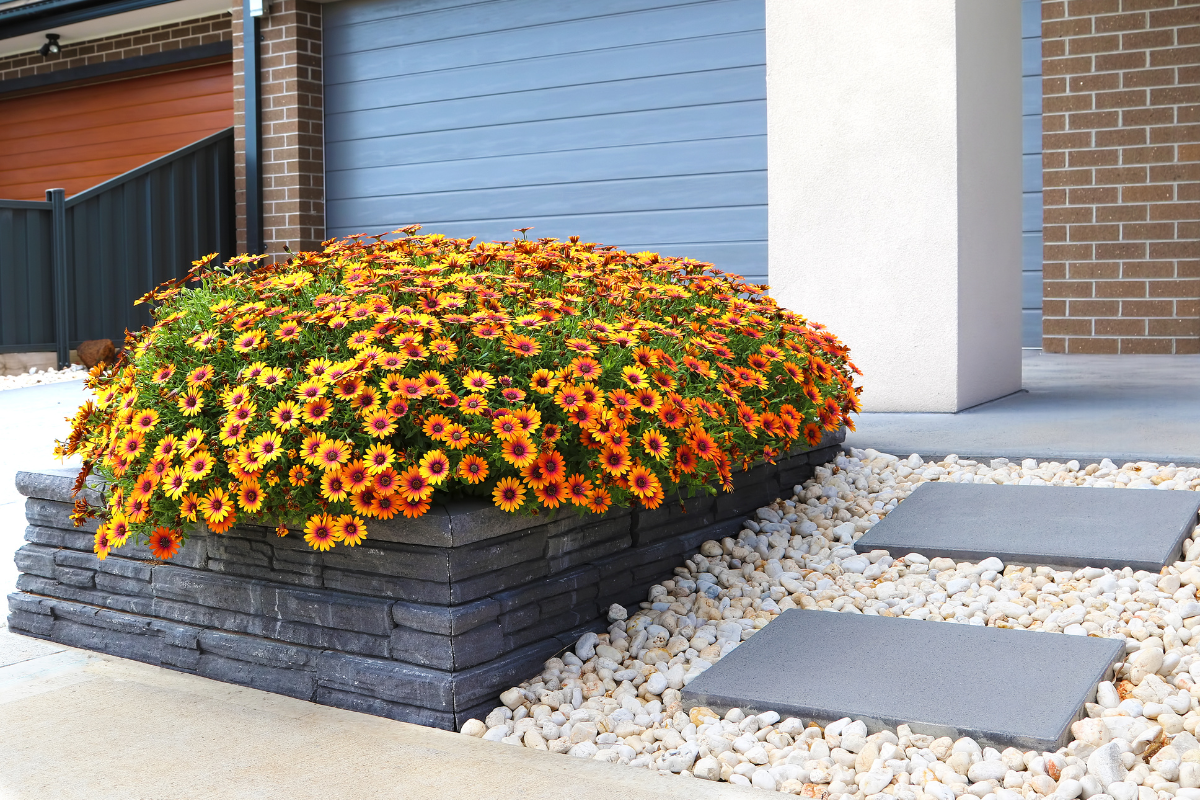 Most designers choose the powerful contrast between the decorative white river pebbles and dark-hued pea gravels to create stunning garden schemes. Whether you border it with bricks or put it adjacent to grass, they are still versatile and stand-out features worth trying.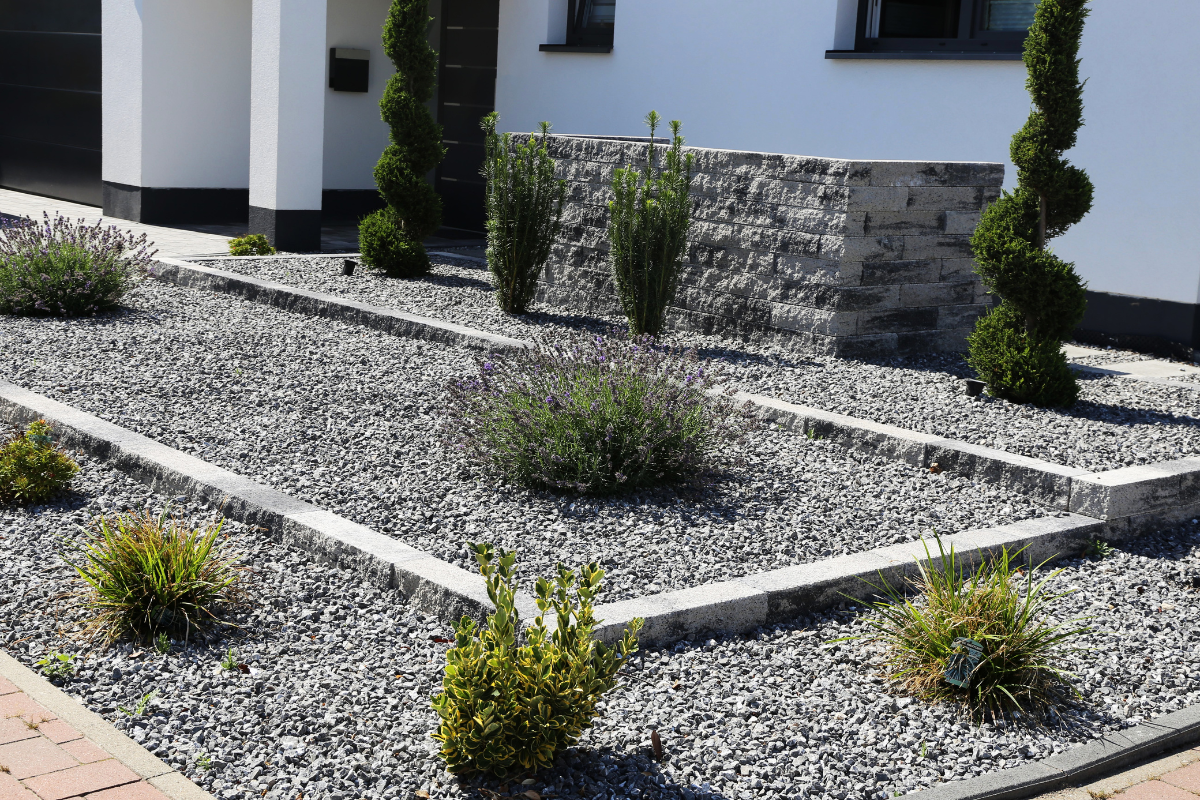 Make Use of a Functional Lamp Post
Another interesting way of adding elegance – and function – into your façade is by installing a decorative lamp post. Exterior lights do not only provide aesthetic and curb appeal while illuminating your pathway, but they are also partial to warding off potential intruders. Choose lamps that can resist temperature changes and emit light that does not draw too much attention to your property. Adding a flower bed by your lamp post will also help it blend dramatically into your front yard.
Solar Torches are Brilliant Front Yard Landscaping Ideas
Solar torches are beautiful, convenient, and low-maintenance garden ensembles that will complete any yard design. These lights usually have motion-sensors and photo-sensors that will sensibly power themselves on and off. But most of them are also for decorative purposes and thus, not as bright as the overhead pathway lights. Solar lights convey a romantic and sensual effect whether on a tidy lawn or a blooming garden.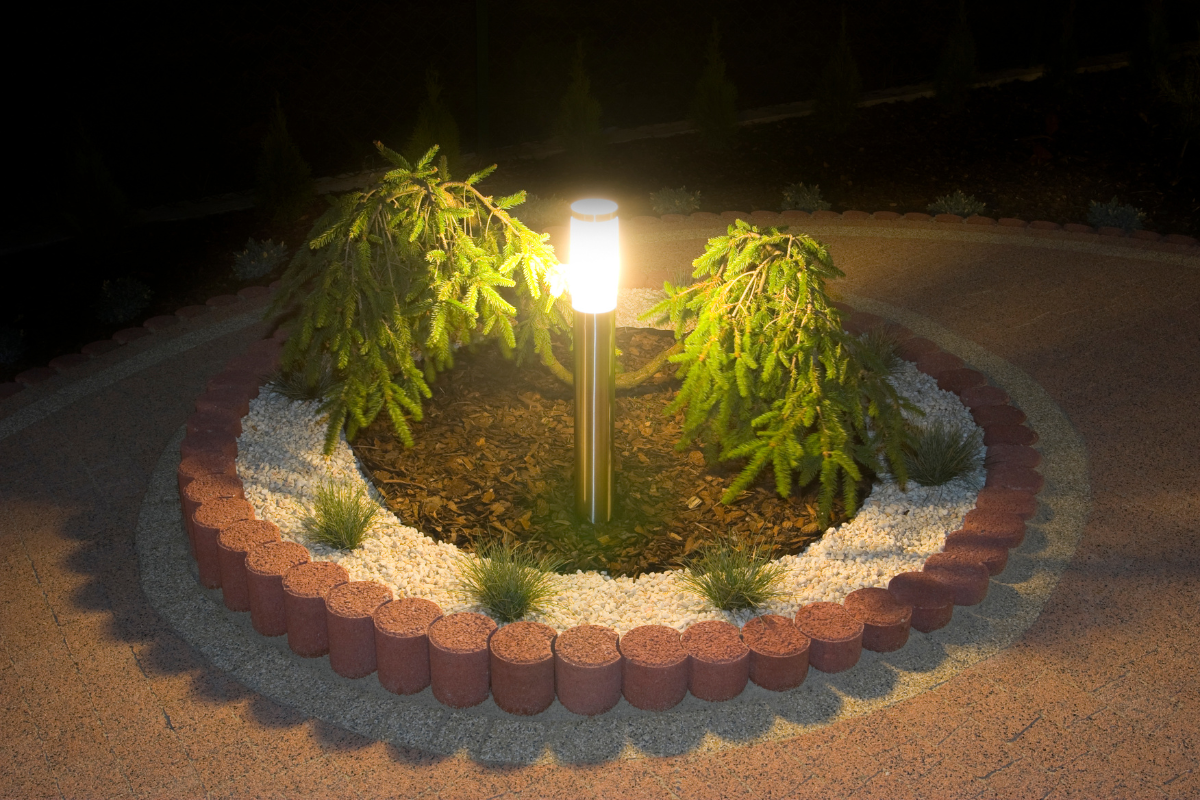 The Formality of Arching Entryways
Flowers are pretty, and who doesn't love the idea of having these by the windowsills and courtyards? If you have an expansive front yard, displaying blooming colors in trellises is one bold idea. Arching trellises will give your yard a formal and flowy look to lend your home a whimsical appeal. Pair it with surrounding picket fences and litter it with more flowers to recreate a modern and formal English courtyard.
Landscaping with Hues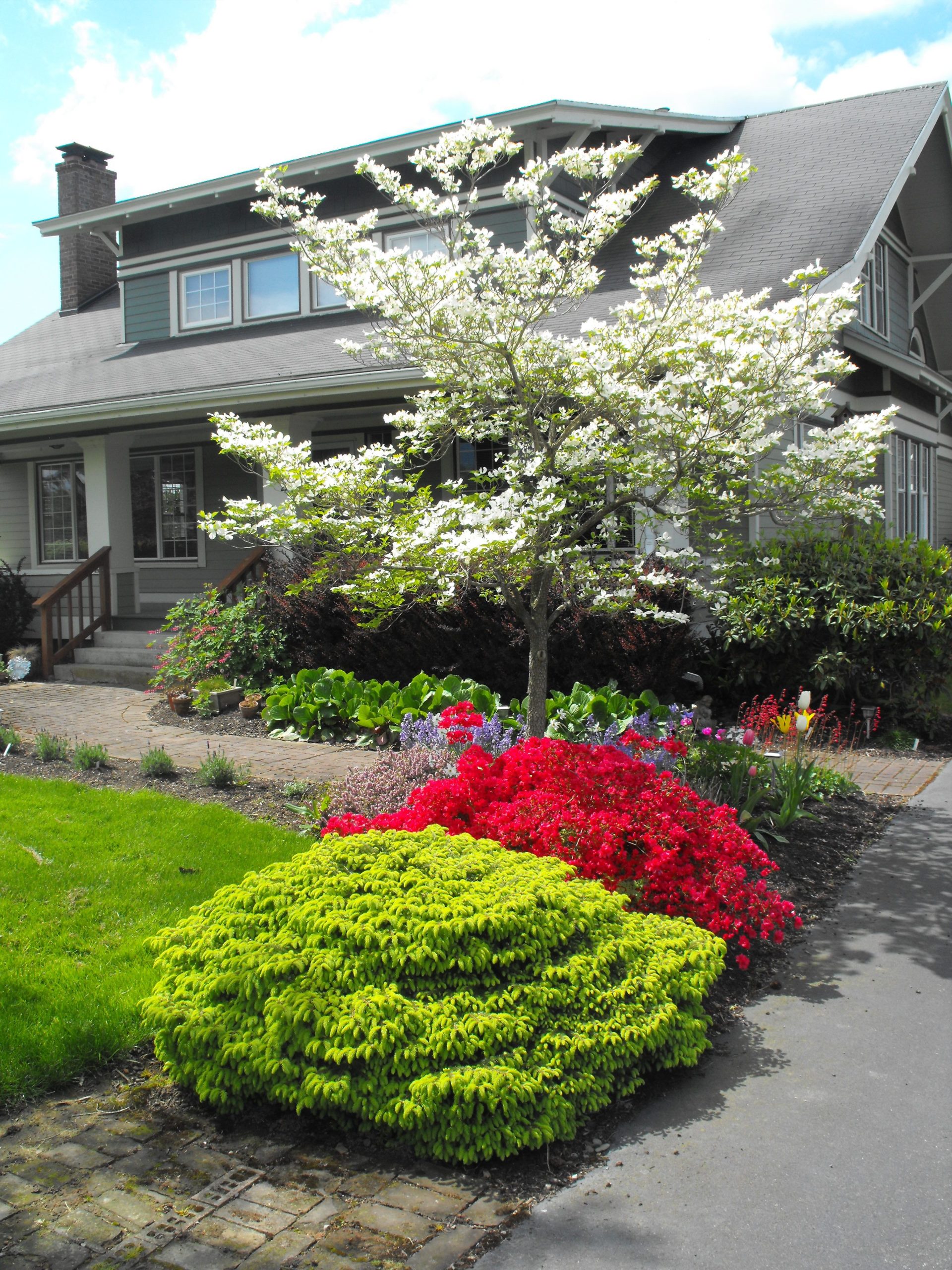 Want that unique landscape that will bask your front yard with color comes the spring season? Then give the task to decorative hedge plants and let them do the job. You can choose from evergreen hedges that retain their foliage throughout the year or deciduous ones that shed their leaves in autumn.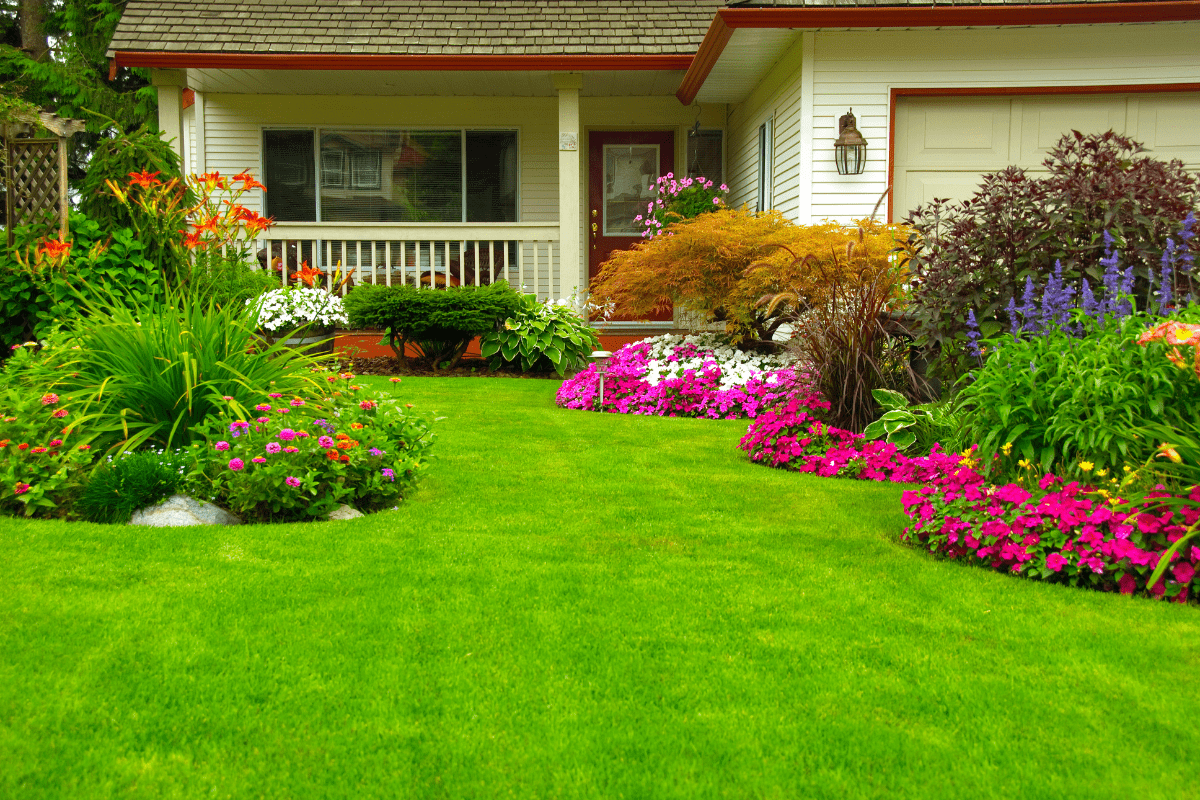 The best thing about hedge plants is that you can trim them the way that you want them. Say no more with these blooming red azaleas that give this house an interesting charm. Top it up with a white dodge tree and line the pathway with lavender and bergenia. What more can you ask for?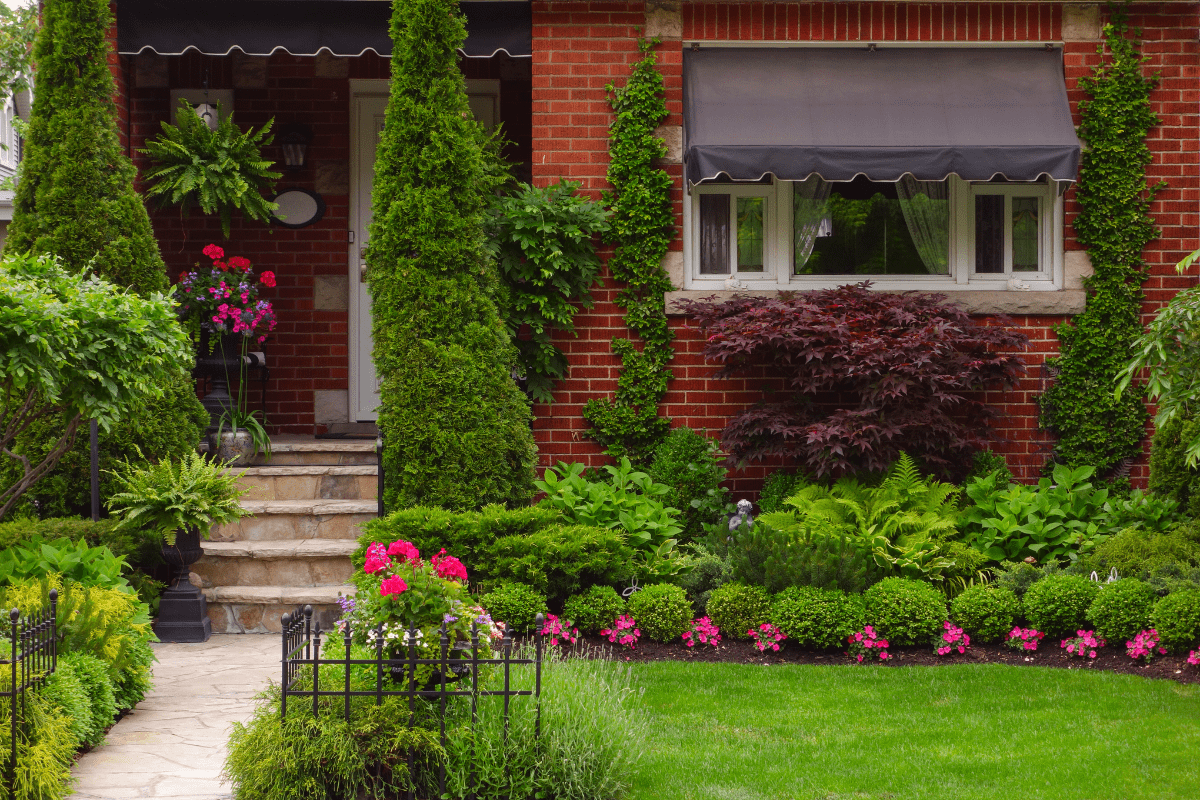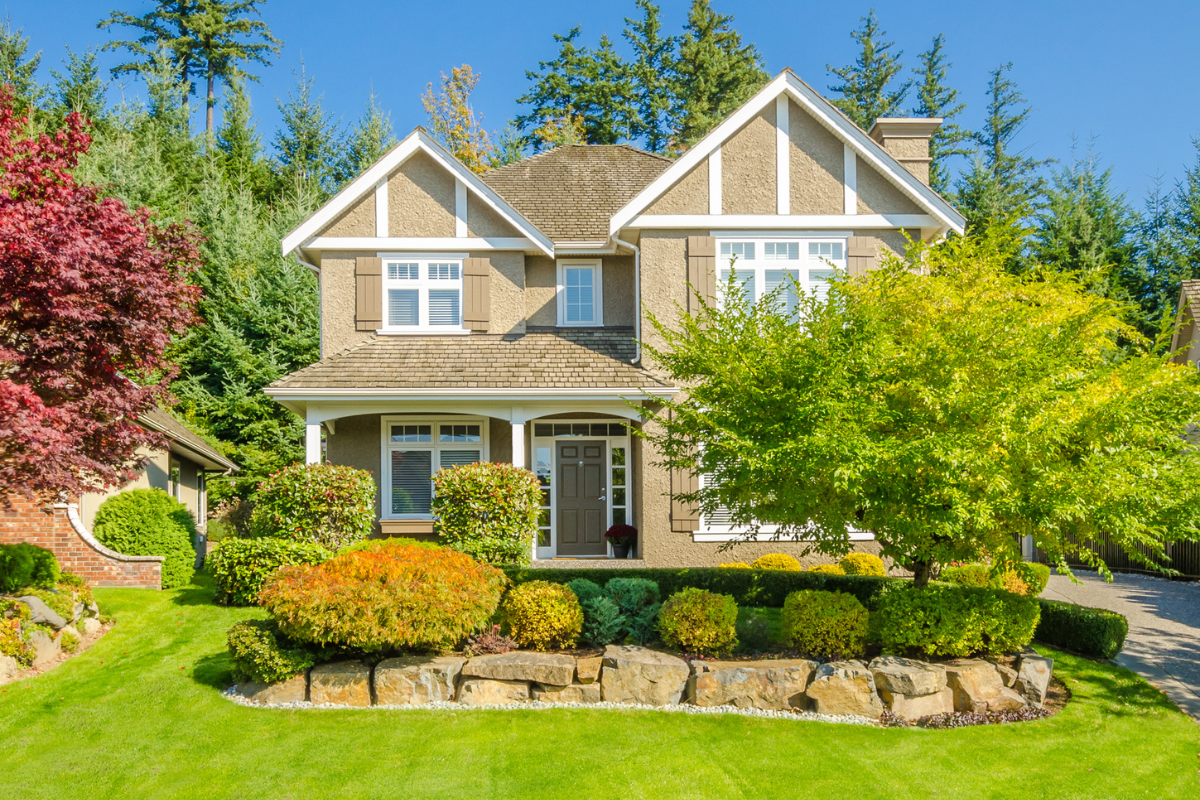 Bring in Some Waterworks
In most front yard landscaping ideas, a pond is a focal point that designers do not miss on including in a plan. Water features can transform yards into elegant and serene spaces with a dose of stunning appeal. For example, this unpretentious pond complements this façade with its natural look. The vegetation in the water gives it an almost natural and wild look while maintaining its sleek simplicity.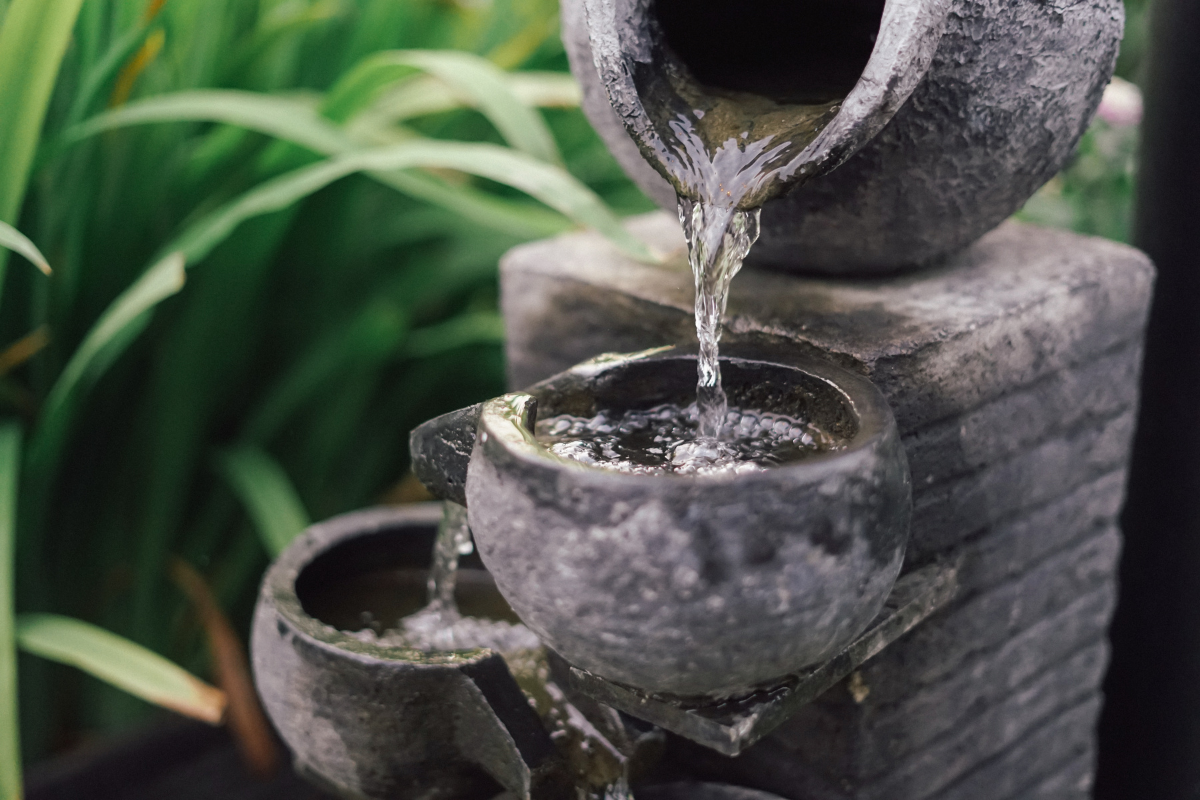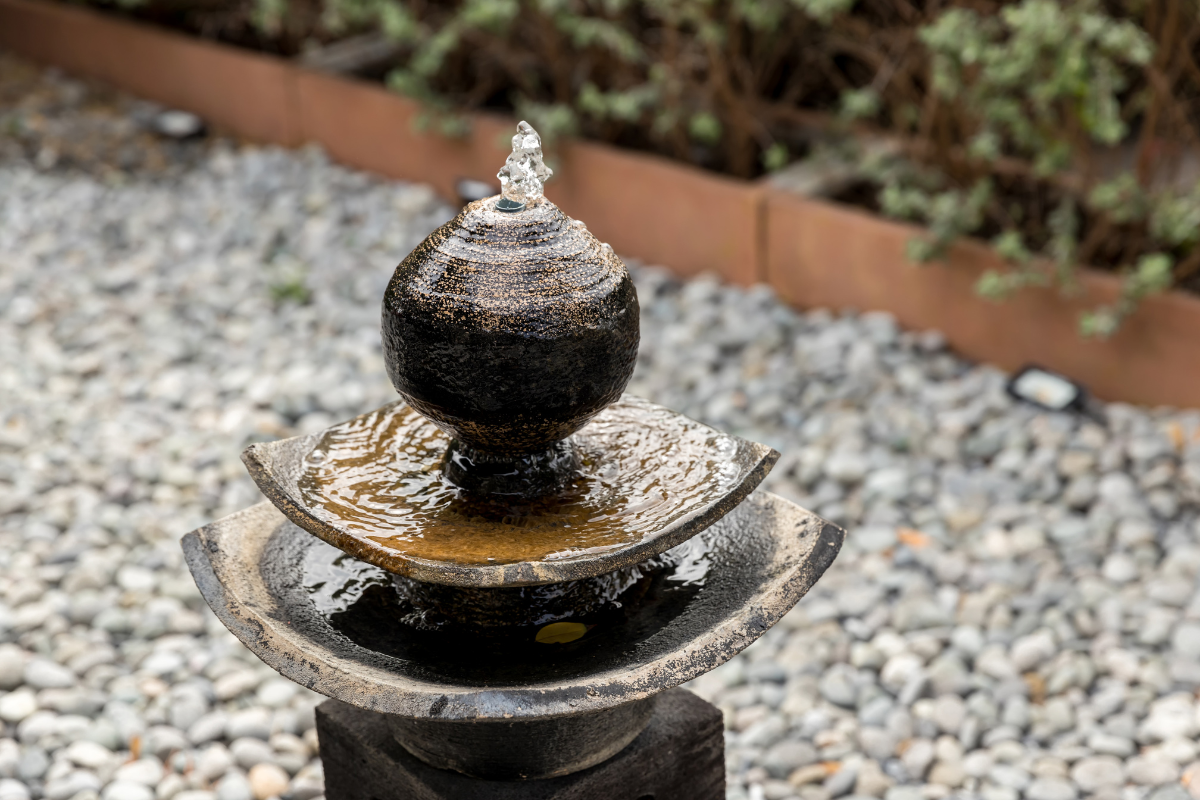 Play with Levels through Stairs and Landings
Exterior stairs and landings are a popular obsession for adding a profound charm to any home. Homes that are elevated from the ground make use of these landscaping ideas to give them a stunning profile. The gorgeous mid-century modern architecture of this Vancouver home is a dreamy and wishful one to even put into words. The landings with plant beds and lights give it an almost exaggerated perfection.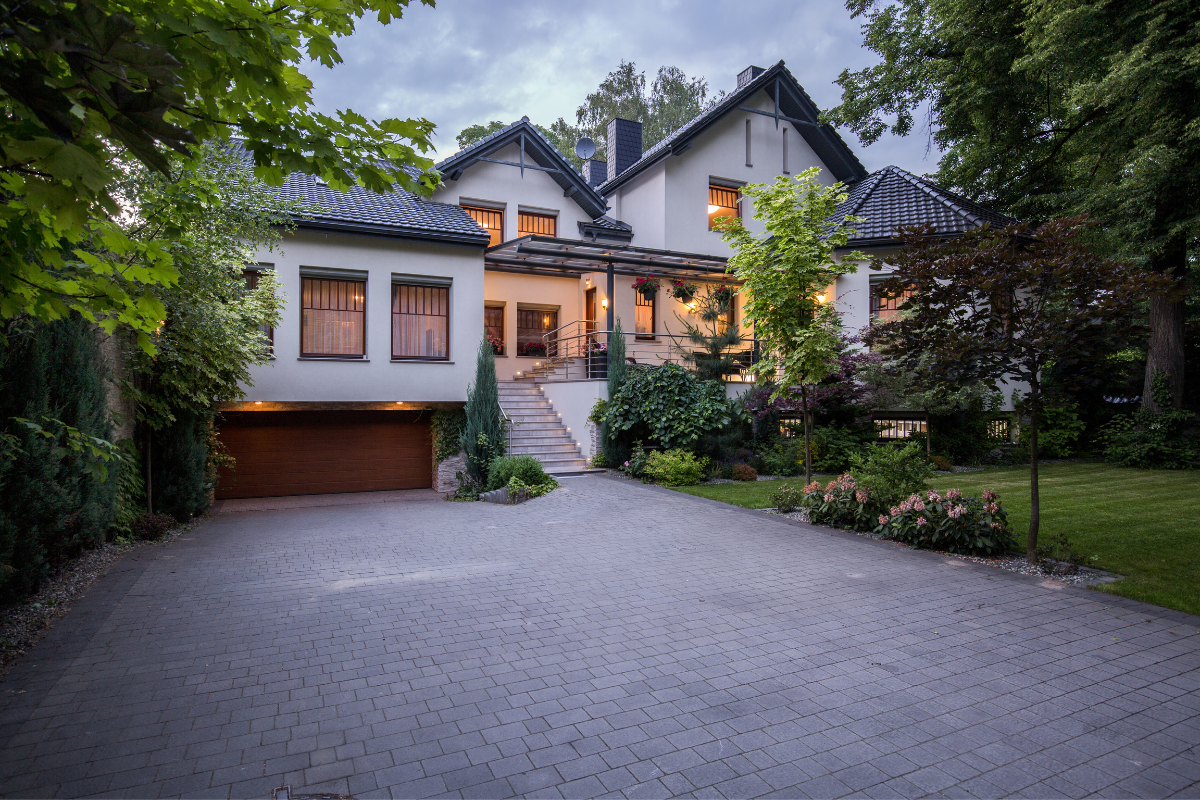 Landscaping with Trees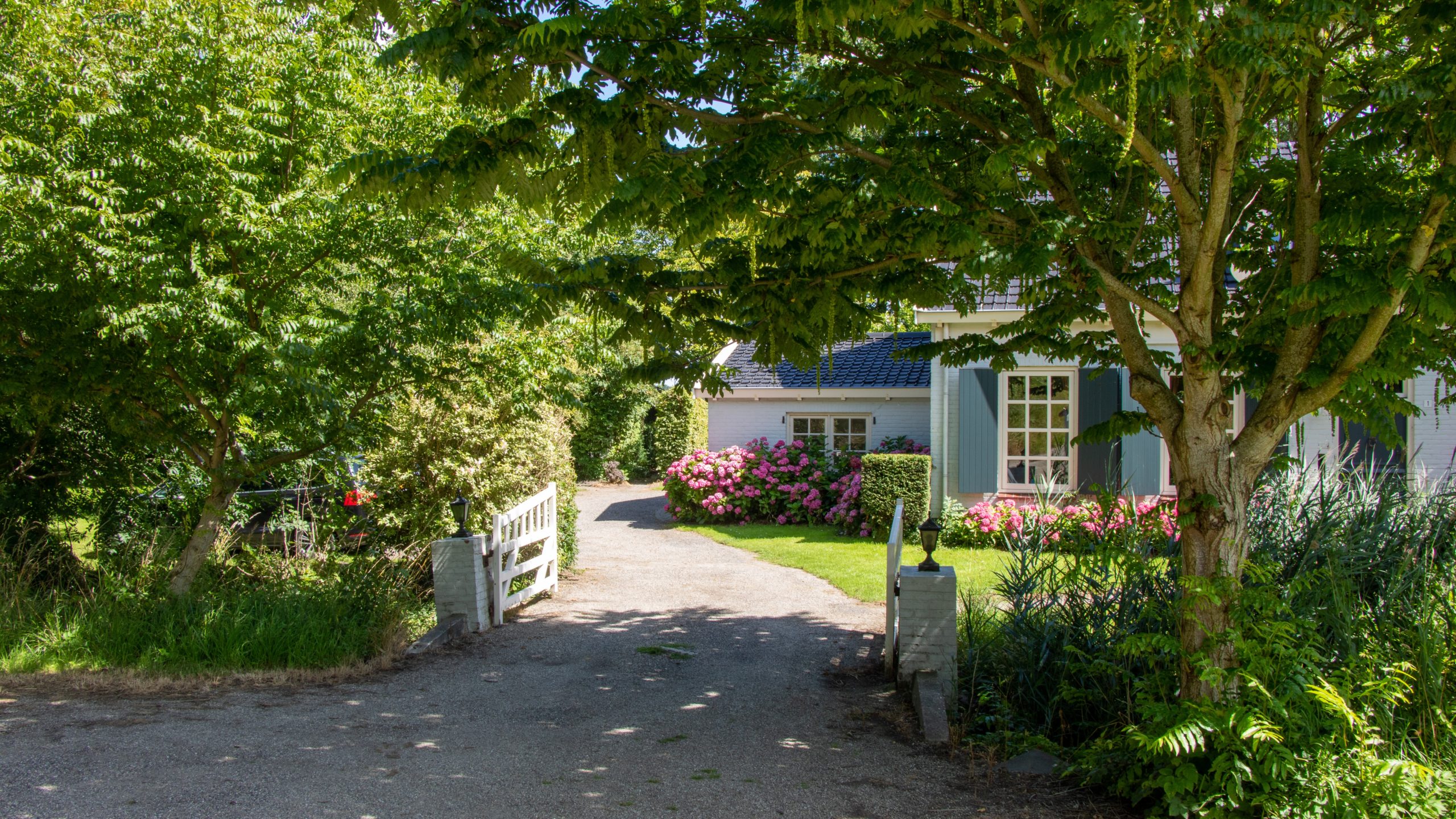 Retain the organic features of your front yard with natural shades. The use of trees, whether decorative or fruit-bearing, are still a popular trend for homes today. They do not only make your space welcoming and refreshing. They also add value to your property and cools down the entire place while maintaining a humble countryside charm.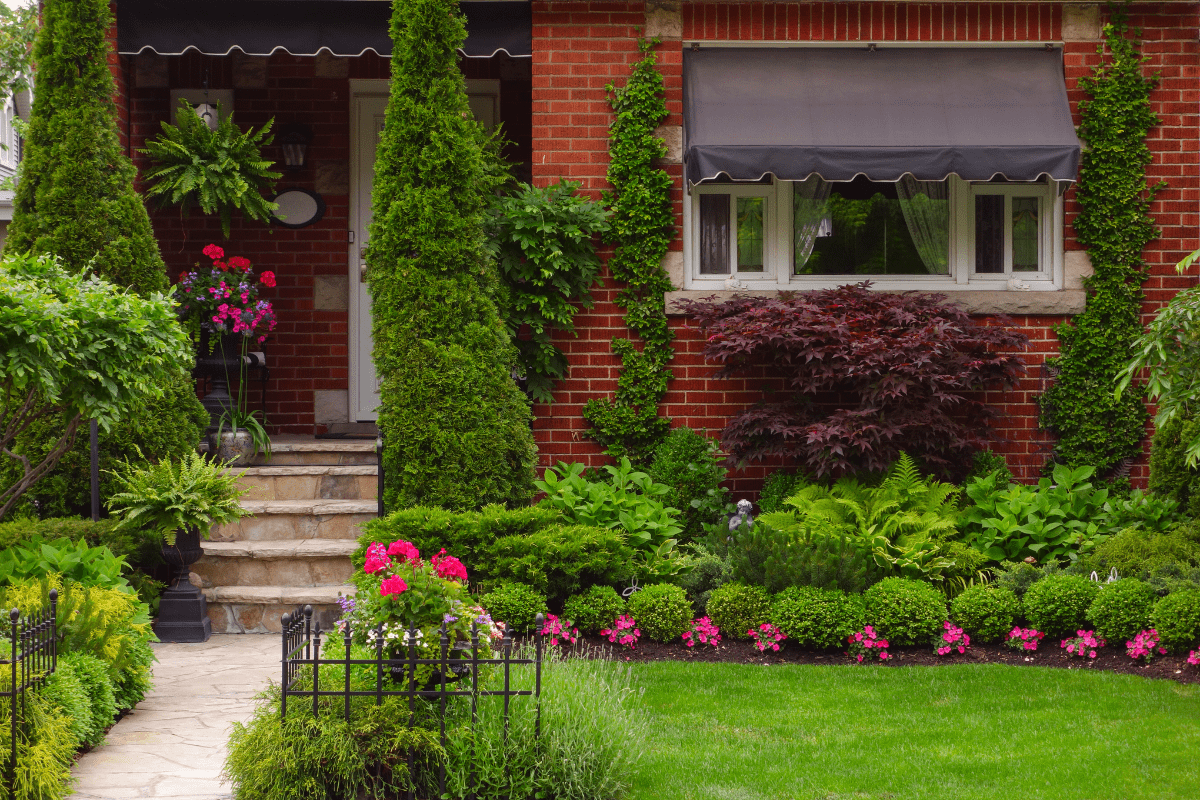 Add a Whimsical Touch with Garden Bridges
Like stairs, bridges are also gaining fame in most front yard landscaping ideas. Basically, they are incorporated into the design as a functional crossing. But even without water features, you can still use them to add a whimsical dimension to your front yard. Bridges, which are mostly made of wood, outlines the garden with a soft and graceful charm. They are a perfection that will blend with most front yard designs.
Hanging Plants
Something as simple as hanging up some potted plants can make the world of difference to your front landscaping. These types of plants are easily maintained and with the simple installation of a few hooks on your porch you will be well on your way to bringing a little charm and color to your front yard.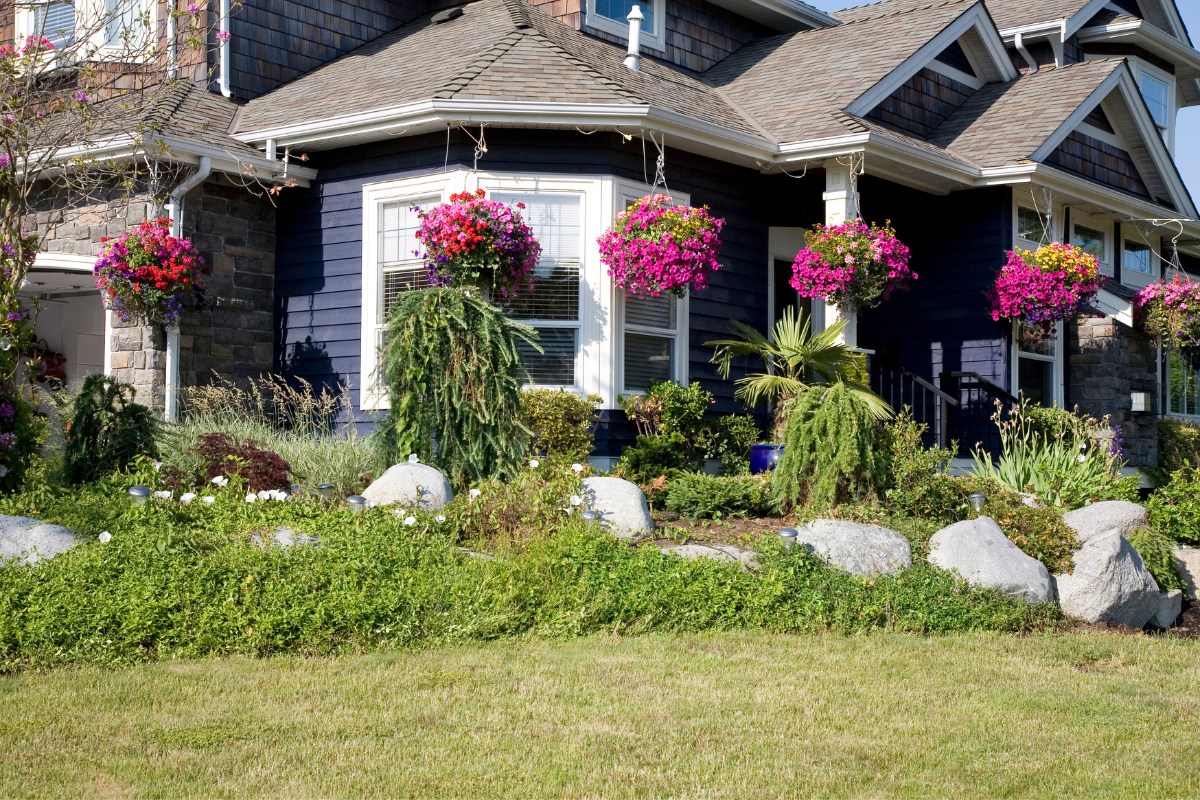 Takeaway
All fabulous impressions about a home start with the best front yard landscaping ideas. More often, we may think that front yard landscaping is meant only for enhancing curb appeal. But it is definitely a great venue to showcase the owner's creativity and a little piece of their personality. It also goes hand-in-hand with creating a cozy place for relaxation and perhaps craft yourself with some graceful Instagram backdrop.
Frequently Asked Questions
FAQ
How can I make my front yard look more expensive?
If you're working on a budget and you want to make your front yard look more expensive, the first thing you are always going to want to do is make sure your lawn is always cut and manicured. You will also want to pick one decor style and stick with it. Having several different looks going on is not a good thing. Make sure your furniture is coordinated and you can also add in lighting.
How do I landscape the front of my house low maintenance?
If you're looking for low-maintenance landscaping, avoid planting to many different types of flowers and plants. Stick with plants and shrubs that are easy to maintain like cedar trees. You can also lay down ground cover to avoid pesky weeds popping up. And if you want really low maintenance you can avoid gardens altogether and go with a simple modern look.
What are the six basic landscaping design principles?
When it comes to landscaping you want to remember these six design principles:
Balance
Focalization
Simplicity
Rhythm and Line
Proportion
Unity
How can I save money on landscaping?
If you're looking to save money on landscaping your front yard you can do things like shop off-season, and plant perennials. You can also choose a grass alternative as grass can be quite costly to maintain depending on where you live.
If you want to read more about landscaping check out these related articles: