Don't you love the clean-lined look of a yard with modern landscaping? Like so many design lovers, I'm trying to create a contemporary feel in my outdoor space, and while at times I get a big picture of what I want, it can be hard to translate that image into do-able steps. Today we at Decoist dissect the modern outdoor look by spotlighting contemporary landscaping essentials. While there's no one right way to design a modern yard, there are certain features that consistently show up in these highly desired spaces.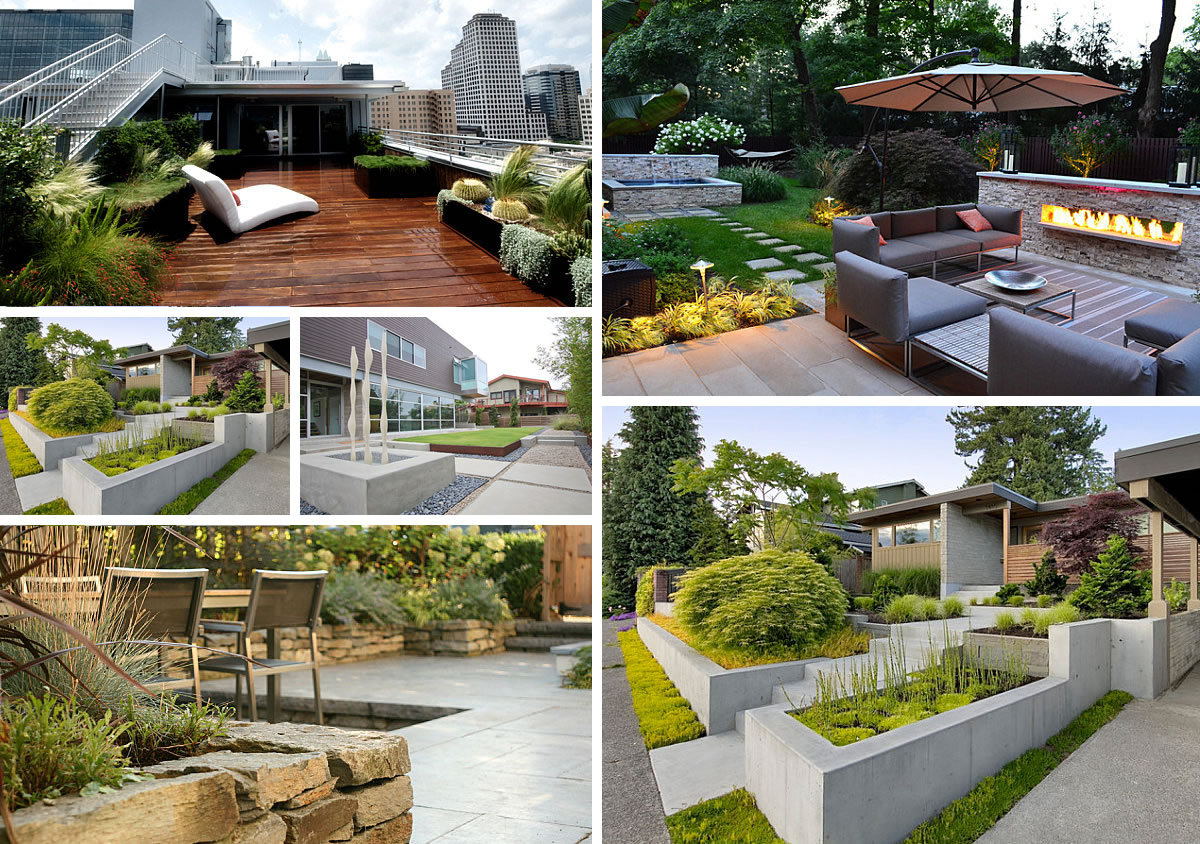 As you browse the images below, check out the design features we've pointed out, but also be on the lookout for other special touches that grab you. Sometimes one picture can inspire an entire space, and when it comes to the outdoors, the sky is the limit. Literally. Enjoy…
Clearly Defined Spaces
We begin with a key trait of modern landscaping: clearly delineated spaces. The use of borders and compartments has never been more stylish. From green patches framed with metal edging to gravel pathways, the possibilities are endless. Below we see a gravel "yard." But who's missing grass when the plants are this interesting? [from Grounded Modern Landscape Architecture]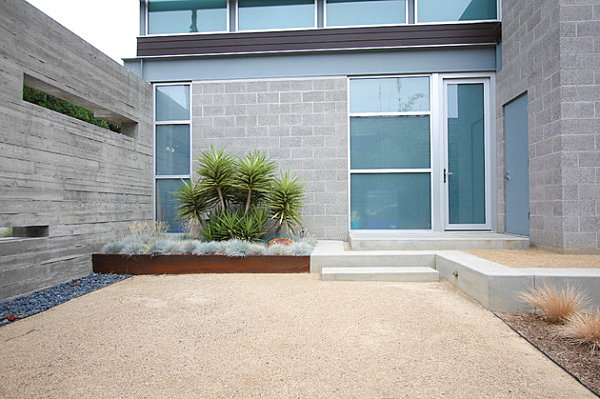 We're loving how gravel frames gravel in the two-tone pathways below. There's even an area for a modern sculptural piece, which gives this backyard a museum-like quality. [from Grounded Modern Landscape Architecture]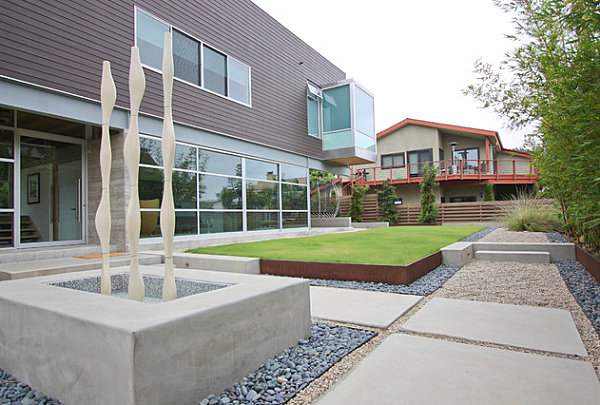 Patches of green and flowerbeds distinguish the space below, which also features a gravel and stepping stone path, as well as a raised patio area with modern seating. Another way to distinguish one space from the next? Use dirt in one flowered and gravel in another. [from Neat Organization and Design]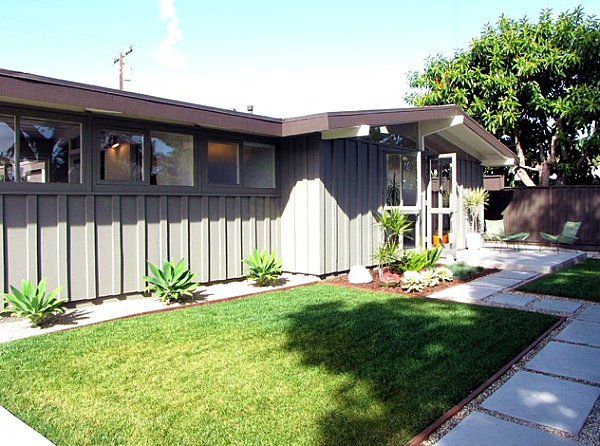 One of our favorite compartmentalized layouts involves the use of metal edging and planters. Throw in plants that range from ground covers to native grasses, and the effect is alluring. Also note how metal strips are used to create gravely steps. [from Big Red Sun]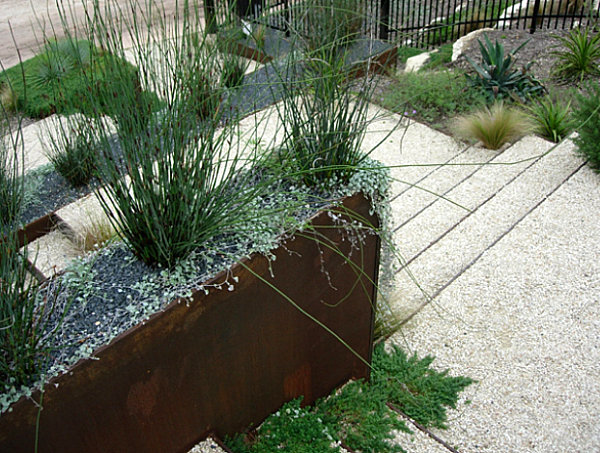 Gravel and Stepping Stones
In addition to the images above that feature gravel and stepping stones, we thought we'd take a minute to celebrate this dynamic duo. Our favorite combination involves rectangular or square-shaped stones mixed with gravel of a darker or lighter shade, as shown below in a yard designed by Amelia B. Lima & Associates: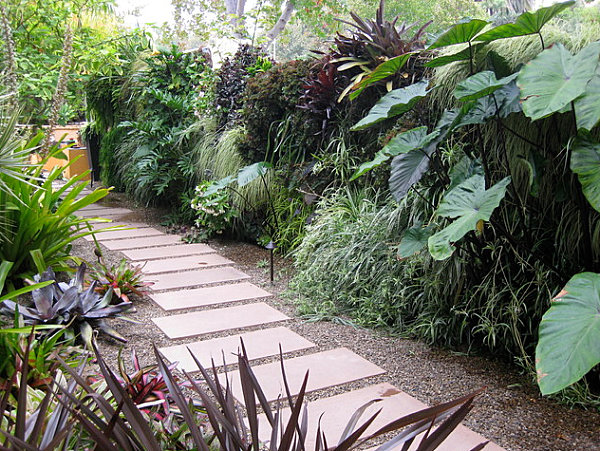 The yard below features a few unexpected touches, such as the use of a pathway to connect both gravely and grassy areas, as well as the planting of four bushes to mark the corners of a large concrete section. Pure design genius! [from Texas Construction Company]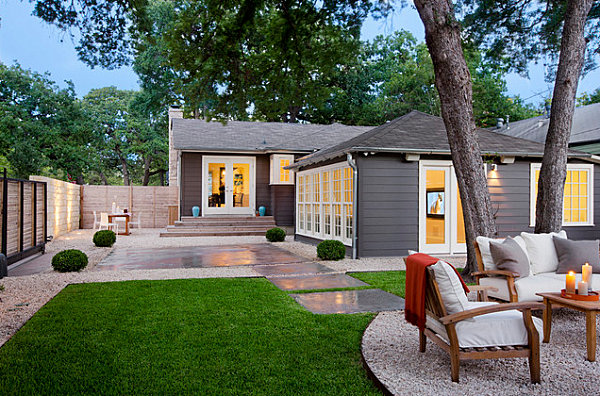 One of our all-time favorite pathway ideas involves dark gravel and light stones, which together create a stunning mix of stepping stone forefront and pebbly background. Even more interesting is the way the front yard below combines stepping stones in both horizontal and vertical configurations. [from These Brown Eyes]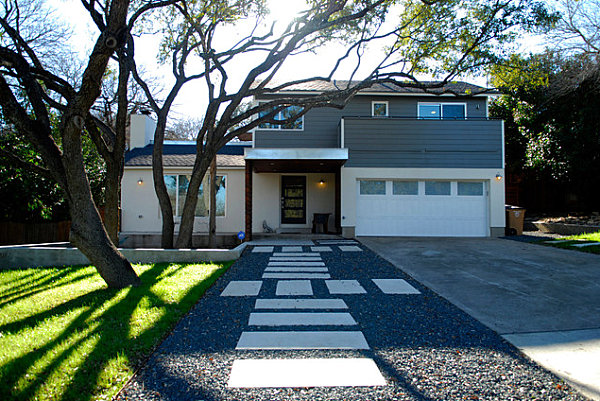 Striking Plant Life
Rather than sticking with conventional plant choices such as flowerbeds filled with patches of blooms, the modern yard combines eye-catching colors and textures for an attention-grabbing display of plant life such as native grasses and ground covers. Below we see an array of native plants in shades such as mint green, forest green and red-orange. [from Big Red Sun]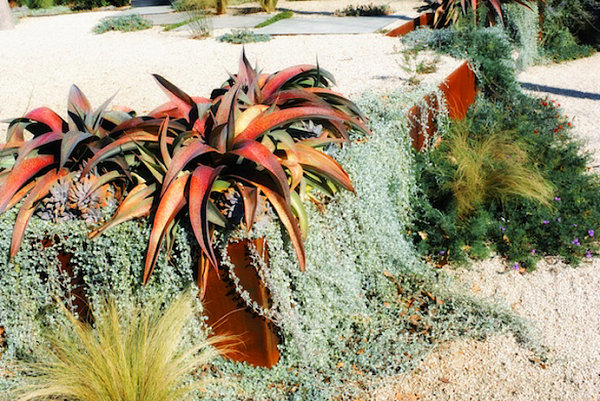 Speaking of color combinations, it's fitting that the next outdoor space was designed by Shades of Green Landscape Architecture, because that's exactly what we get: shades ranging from blue-green to yellow-green, as displayed by plants arranged neatly into organized rows. The result: a modern, clean-lined look!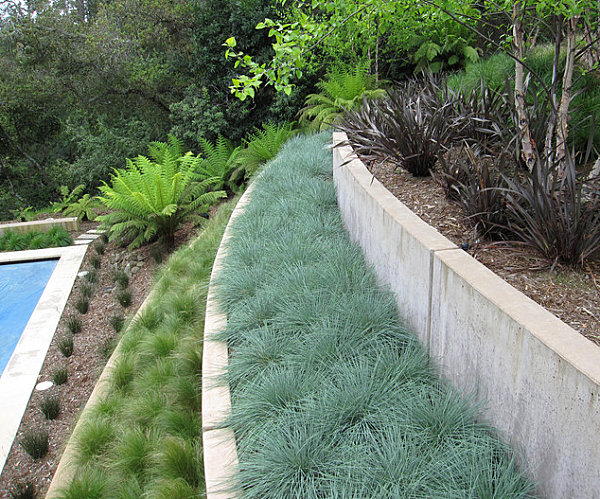 We're loving the native grasses and spiky plant selections below, which range in hue from yellow to red, with some green tones thrown in for good measure. Once again, the grouping of "like" plants helps to create a contemporary feel. [from Grounded Modern Landscape Architecture]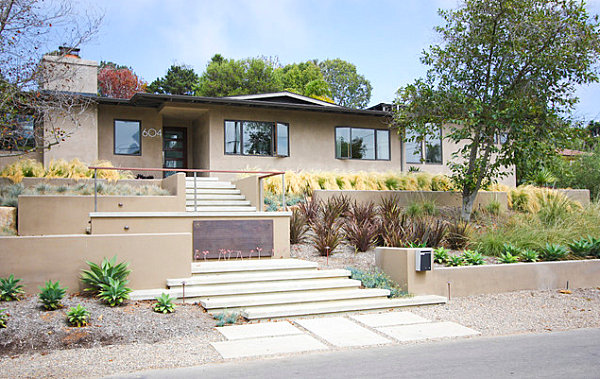 Sometimes even more interesting than a range of colors is the repetition of one shade, especially when a variety of formations are represented, as shown with the plant life in the next featured yard. Yet one color variation can create a focal point in the space, as shown by the Japanese maple planted against the front of the contemporary home below. [from SHKS Architects]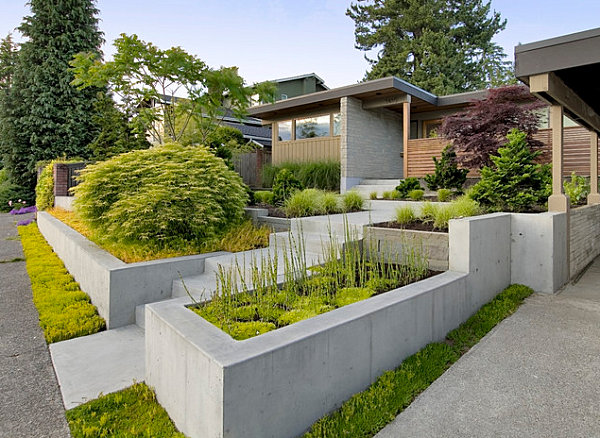 Artistic Features
What would a modern yard be without one or two artistic touches? One of the most popular ways to make a creative statement? Through metal planters, such as the saucer-like pieces below. We love the way alternating raised and ground planters create layers of plant life, as well as the way the clever choice of greenery results in an other-worldly look. [from Big Red Sun]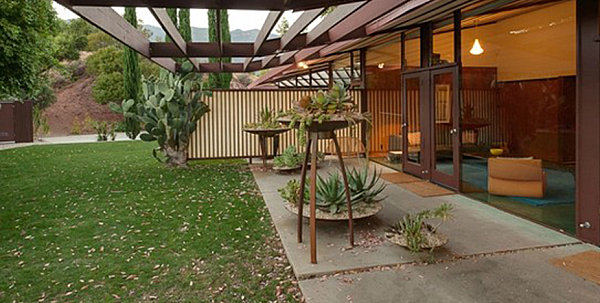 In fact, many folks enjoy creating eye-catching plantscapes in their modern planters, complete with glassy stones that add dimension and artistry to each arrangement. [from Big Red Sun]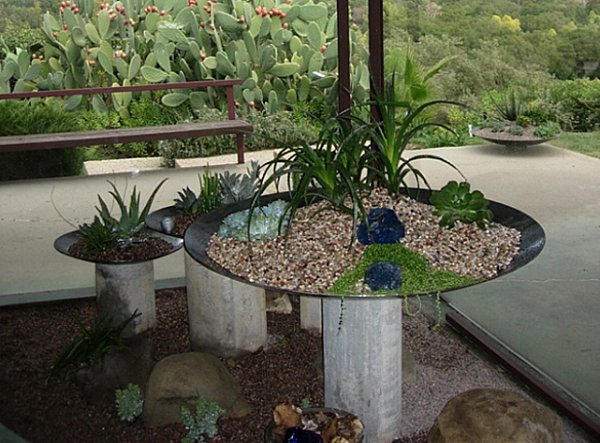 Make a statement with an outdoor fireplace! We're loving the thin modern selection below, especially since it creates a line of flames that mirrors the elongated look of the concrete strips that surround it. [from Botanica Design]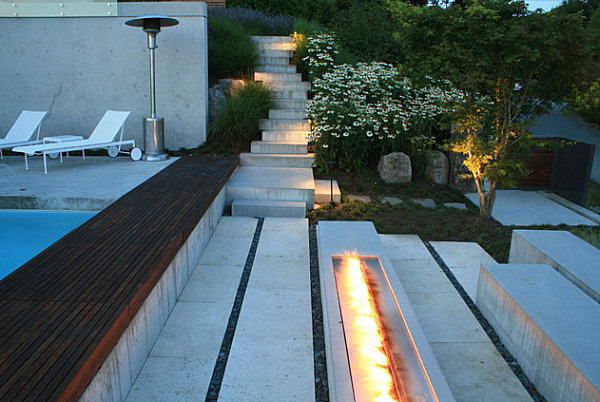 It's a modern waterfall! And what could be more interesting than the thin veil that emanates from the narrow slit in the piece below? The way lighting illuminates this water feature at night! [from Botanica Design]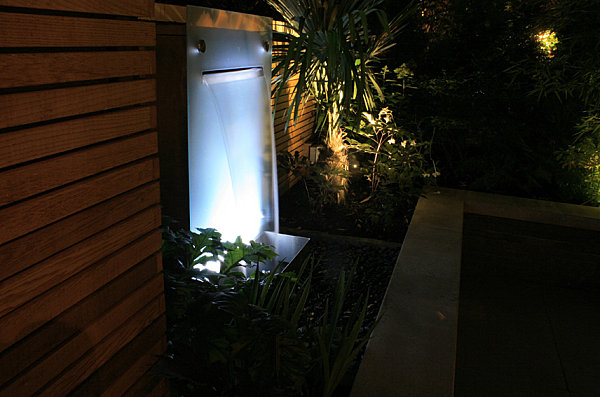 Contemporary Seating
We end by spotlighting another feature of the modern yard: contemporary seating. Below we see a comfy seating area featuring gray and silver tones. Modern tables help create a true outdoor living space and provide a place to set drinks and snacks for those moments when entertaining outside is a must! [from Cipriano Landscape Design]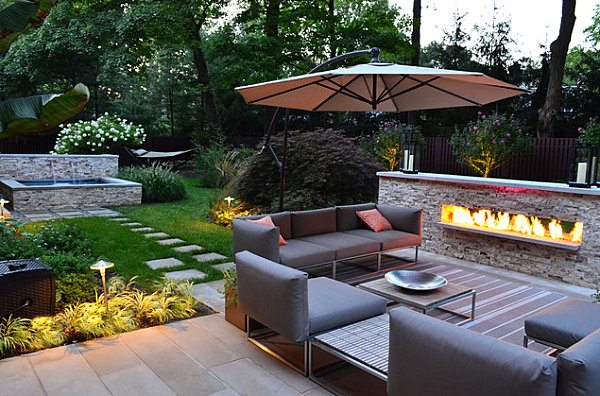 The modern seating below is achieved with a couple of armchairs, as well as contemporary stools that can also be used as side tables. A bright yellow wall creates a colorful backdrop. [from Mark English Architects]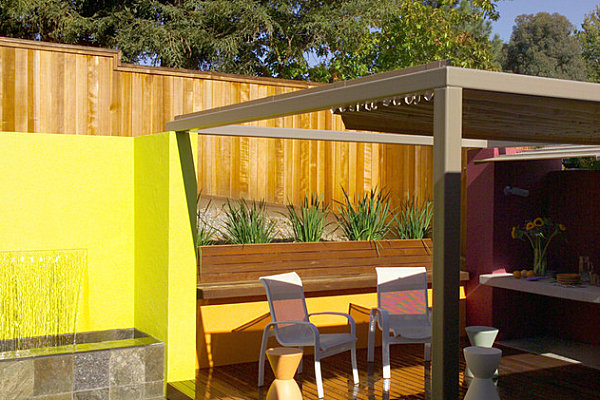 Sometimes a touch of metal is all it takes… The yard below features an abundance of stone, as well as a metal chair and table set. Sleek, contemporary and chic, don't you think? [from Botanica Design]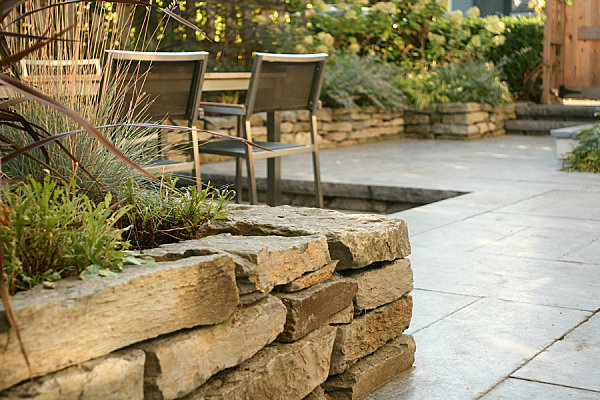 When one chaise lounge says it all… While planters take up the majority of this rooftop space, there's also room to rest and recline, thanks to this modern, cushy seating statement. [from Big Red Sun]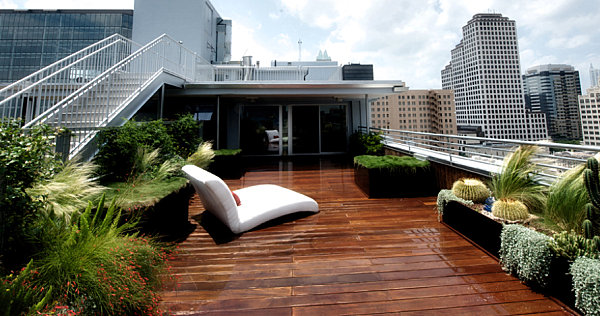 Could anything be more modern than the hanging bubble chairs in this next outdoor space? We're loving the way the rounded shape of the contemporary seating is mirrored by a trio of rounded pots. Don't forget that modern seating can combine with a range of outdoor elements to create a truly breathtaking space. [from Grounded Modern Landscape Architecture]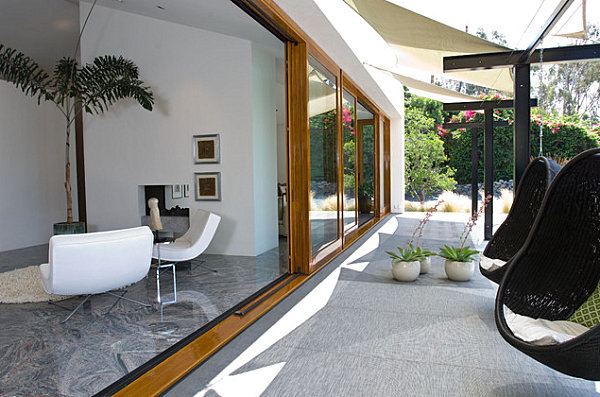 Tell us about your favorite outdoor looks. Are you a fan of clearly defined spaces? Have you used gravel and stepping stones in your yard? Perhaps you have a go-to plant, or maybe there's an artistic showpiece that serves as the focal point of your outdoor space… Does your yard feature contemporary seating? Share your thoughts by leaving a comment below…
Liked the story? Share it with friends.