Your front yard introduces your home, welcoming guests and greeting you at the end of a long day. After all, your home is your sanctuary. Why shouldn't your yard reflect the peace and joy you feel when you spend time rejuvenating at your place? We at Decoist love writing about landscape design. Our focus is often the backyard, but today all of that changes…
In fact, there's an art to creating a front yard with curb appeal. We'll explore the ingredients of fabulous landscaping for the front, and we'll take a look at some tips and techniques for making the space an alluring one. There's no one right way to create a big impact. In fact, despite the large nature of some of today's featured homes, there's no rule that says you have to own a mansion in order to showcase a front yard with a wow factor. Enjoy browsing, and may the images below inspire you in your gardening and landscaping endeavors:
Grand Entrances
We start by celebrating the power of making a grand entrance! There's nothing like driving up to a residence and being blown away by the landscaping from the get-go! Check out the gorgeous driveway landscaping below, which showcases a variety of colors and textures… [from Cipriano Landscape Design]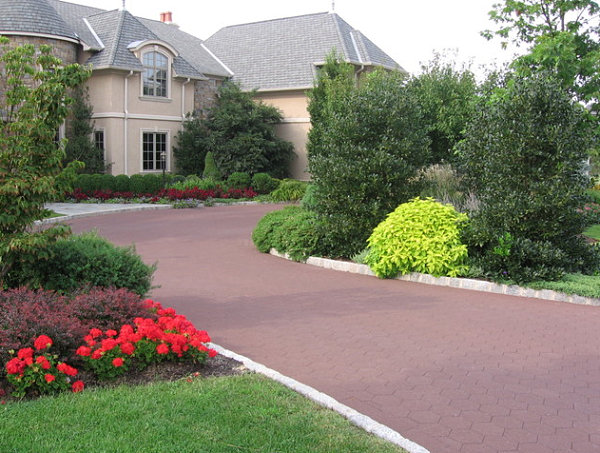 When you have a large front yard to work with, the options can seem overwhelming. Don't hesitate to enlist the help of a professional landscaper who can be an amazing resource as you plan the space. Not to mention, professionals can create stunning results that can be a bit tricky for the typical DIY-er to duplicate (like the terraced retaining walls in the next featured image). [from Ema Peter Photography for CCI Renovations]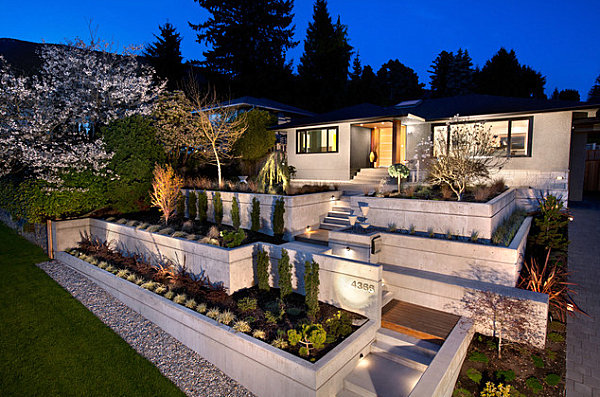 It never hurts to lead your guests on an outdoor adventure. OK, the design-lover's version of an adventure walk to the front door! An abundance of plants, a circle of gravel and a stepping stone path all create visual interest and entice both residents and guests to the door of the beautiful home below. [from Huettl Landscape Architecture]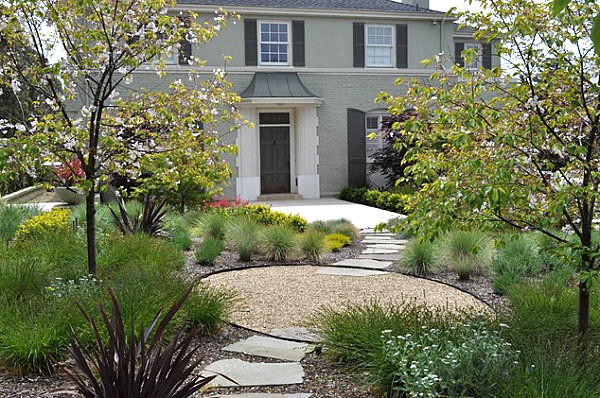 Sometimes your front yard can even feature grand elements that are often reserved for backyards, such as gravel walkways, trellises, an abundance of flowerbeds, and a water feature. In fact, the pond below was made from a concrete water trough originally intended for cows! The result: a courtyard effect that sets a relaxing tone from the start. [from Designs Northwest Architects]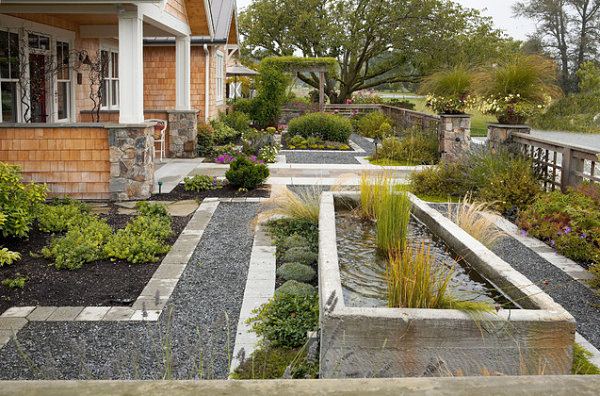 Many grand entrances feature manicured details, such as trimmed boxwood, green lawns and perfectly maintained collections of plants. Don't forget the bloom-filled urns! [from James Martin Associates]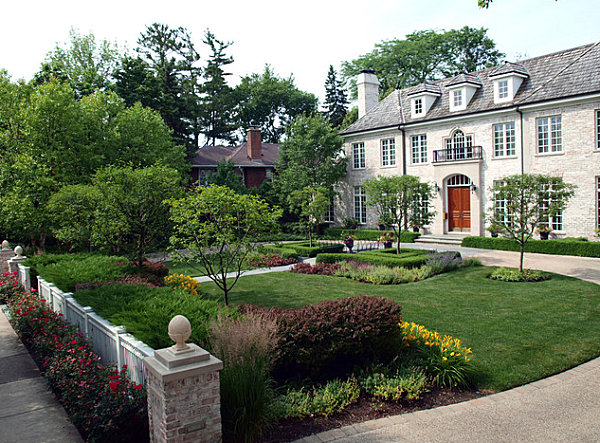 Our last image in this section serves as an important reminder that you don't need to live in a mansion to create a grand entrance for your home! For example, the rowhouse below features a range of beautiful plants, including nandina and lobelia. A cottage effect is created. Talk about curb appeal! [from Personal Garden Coach]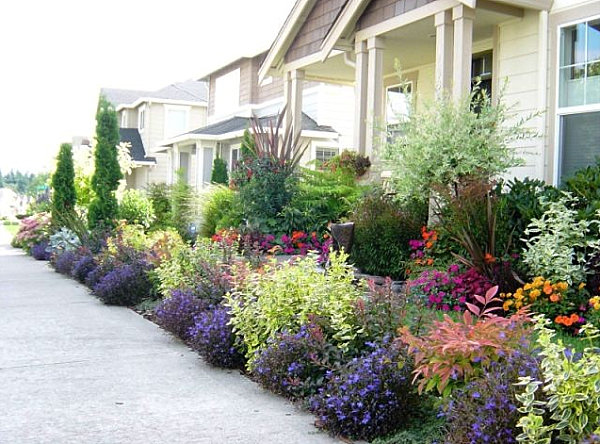 Naturally Fabulous
Don't be fooled–many of the most beautiful "naturally landscaped" yards require quite a bit of work and planning. Just because the plants grow abundantly and there's an absence of manicured rows doesn't mean a great deal of thought and landscaping didn't play into the yard's creation. Below we see a stunning front yard filled with yellow and green plants (such as gopher plant). Modern design at its finest! [from Jeffrey Gordon Smith Landscape Architecture]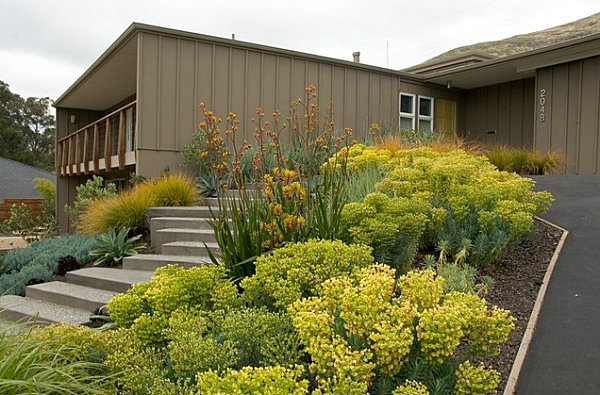 One fun way to create a natural look is to place stepping stones in a bed of mulch, then surround them with plants that can grow freely in the yard. Sure, you'll still have to weed, but using native plants can help create a "wild" look and a plant-centered environment. [from Samuel H. Williamson Associates Landscape Architects & Designers]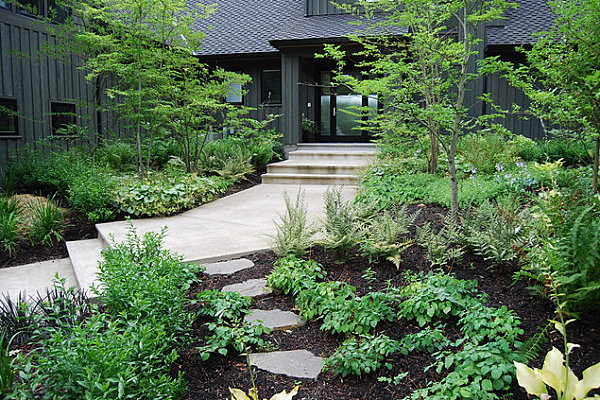 Choosing drought-resistant plants can be helpful for warm climates. In fact, make sure you consider the weather of your area before choosing your front yard greenery. Also consider the amount of work you're willing to do to maintain the space. There are many creative options that can meet your landscaping needs. And certainly, don't be afraid to group a variety of interesting plants together in a one large front yard display to maximize the effect! [from Sage Design Studios, Inc.]
On a similar note, don't feel the pressure to showcase a lawn of green grass. Some of the most interesting front yards create a natural look by filling the space with plants. This effect can still look manicured, especially if you place the greenery strategically and use stepping stones to create a path to the front door. [from Arcanum Architecture]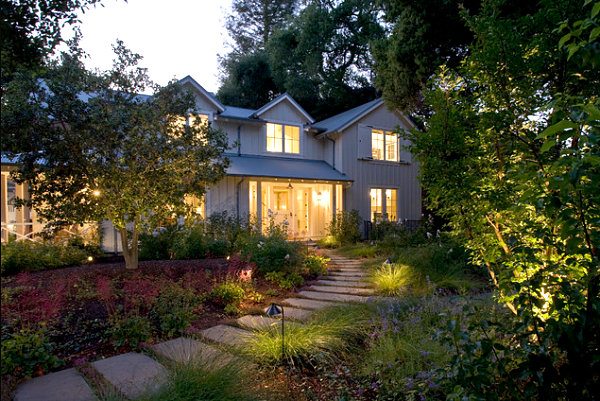 Bold and Modern
We end with a collection of modern yards that exemplify clean-lined, low-maintenance design at its finest. Like this beautiful outdoor space from Jeffrey Gordon Smith Landscape Architecture, which combines a contemporary fence and stairs with native plants in shades of yellow and green: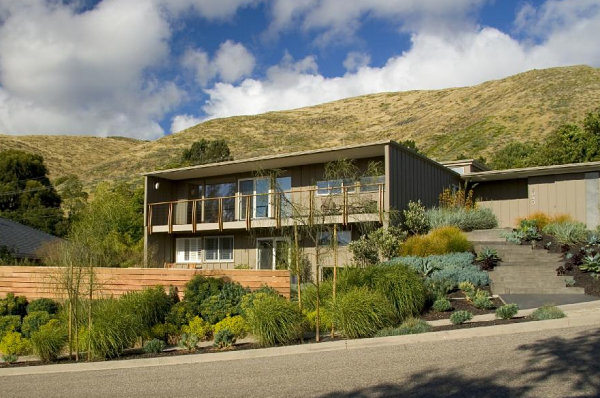 Many modern yards combine elements such as green lawns, stepping stones and wild grasses to create a contrast between materials, textures and colors… [from Jeffrey Gordon Smith Landscape Architecture]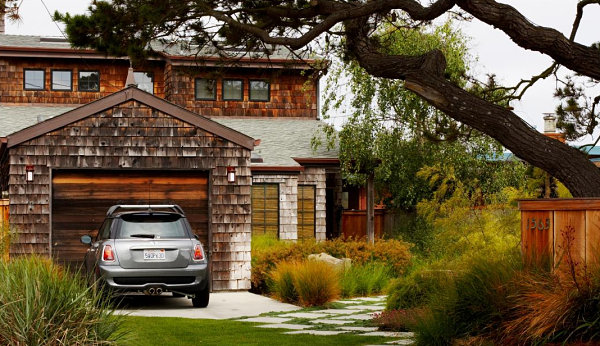 One clean-lined way to put a modern stamp on a contemporary yard is through the use of metal edging, retaining walls and planters, as shown in the next featured image. This technique stylishly contains plant life and unifies the yard with a metallic outline. Plus, it just looks good, don't you think?! [from Big Red Sun]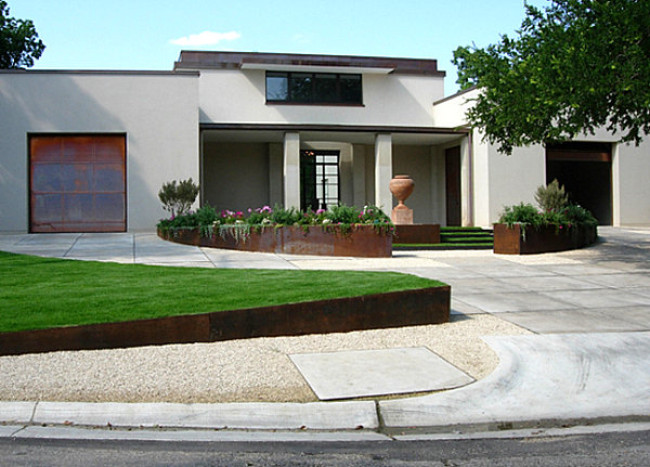 Another modern landscape standout? Raised planters! Often made of metal, these artistic flourishes are often filled with cascading plants such as Silver Falls Dichondra, shown in the image below. Line the driveway with these bold statements, and create a look that is both big and low-maintenance. [from Big Red Sun]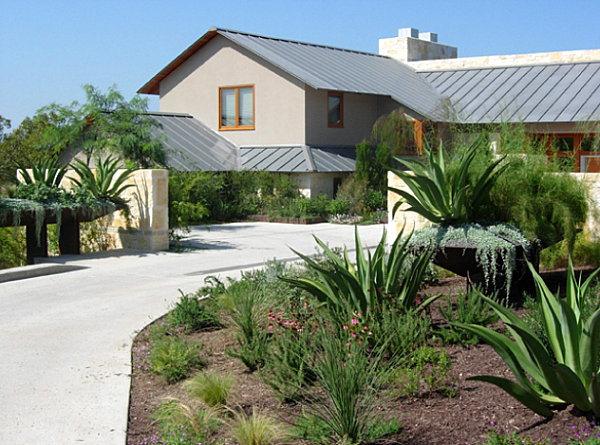 Don't hesitate to create a modern, organized look by arranging plants in neat rows. Clearly define areas with gardening materials such as mulch and gravel. You may even want to incorporate retaining walls and other structural features to help design the space. [from Huettl Landscape Architecture]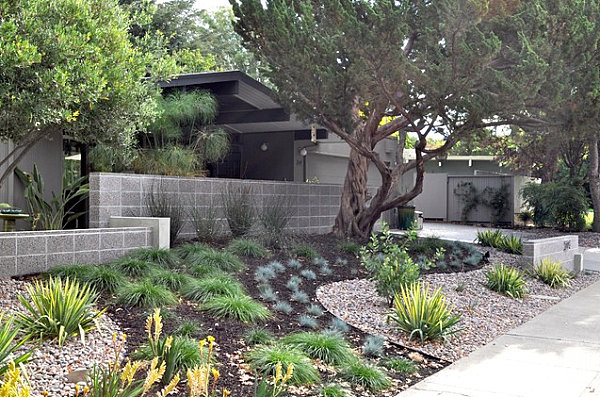 We now zoom in on some special features that remind us of one important fact: each detail matters. Like green plant life poking through the cracks between stepping stones. Or a row of grasses that separates fence from concrete. And let's not overlook the beauty of a well-designed front gate that matches the architectural style of the home, as shown below! [from William Hefner Architecture]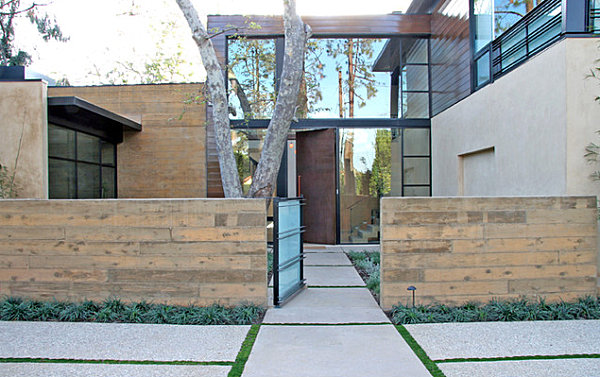 Plants can even create an impact by lining the steps that lead from the curb to your walkway… Once again, we see the beauty of modern metal edging in the image below, along with strategically placed plant life that adds a special touch to what would be a mere gravel walkway. [from Big Red Sun]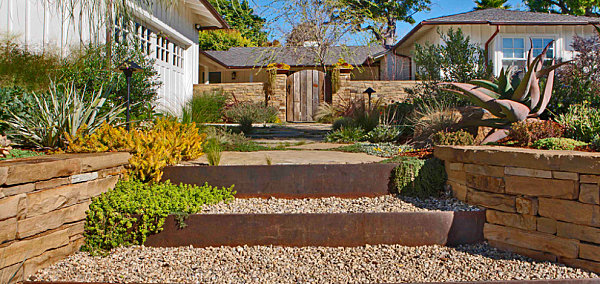 Punctuate your address with native grasses and plants that call attention to the front yard of your home. Don't be afraid to go big! After all, your yard has the power to make a statement from the street! [from Big Red Sun]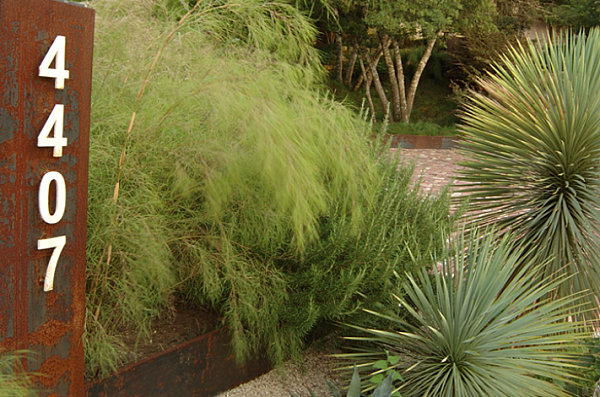 Which style do you prefer for your own front yard landscaping? Are you a fan of creating a grand entrance, do you enjoy a more natural approach, or do you relish the clean-lined look of modern yard design? Perhaps a combination of all three?! Share your thought by leaving a comment below…
Liked the story? Share it with friends.