The word around design circles is that chevron patterns have come back with a bang in the last few years. While it is true that the start of the decade saw an explosion of zigzag patterns, chevron patterns have been popular since the '60s. To term the latest chevron craze a comeback could be a bit overreaching, as these bold V-shaped delights were never completely out of style. Yet creative modern designers and innovative homeowners have given the chevron pattern a trendy, hip and contemporary makeover, making them more appealing than ever before.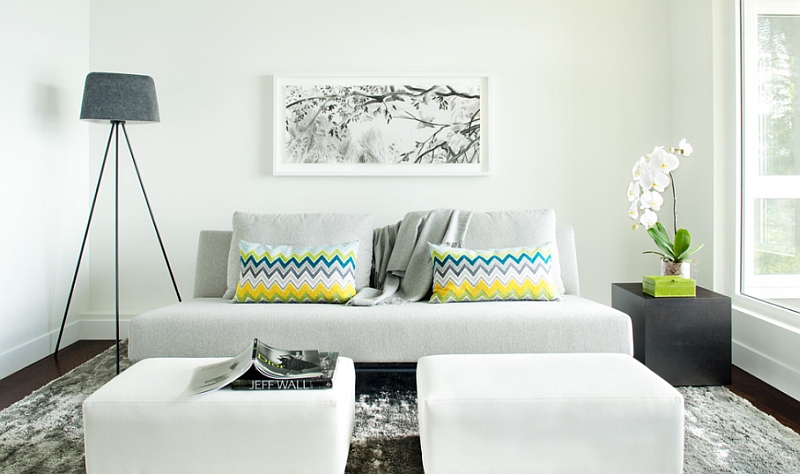 by Kelly Deck Design
Having already browsed through chevron inspirations for the modern kitchen, it is time to take a look at some exceptional living rooms that pull off these audacious zigzags with elegance. From beautiful drapes to irresistible throw pillows and striking rugs, the lineup includes the usual suspects along with a few unexpected, quirky additions. Are you ready for the chevron show?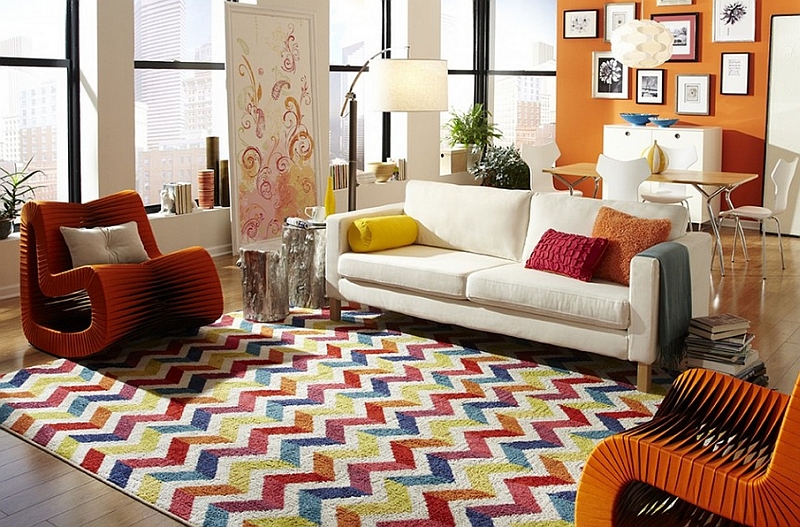 by Mohawk Home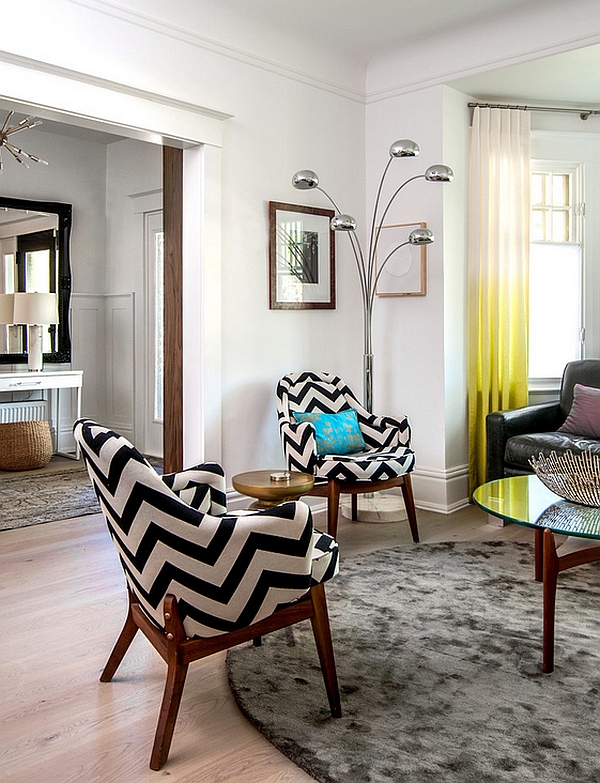 Design by Shirley Meilesels / Photography by Stephani Buchman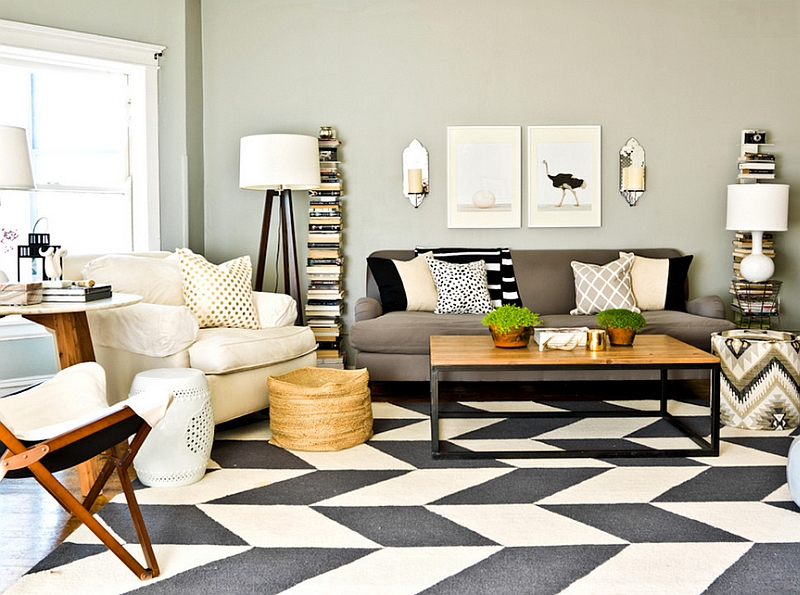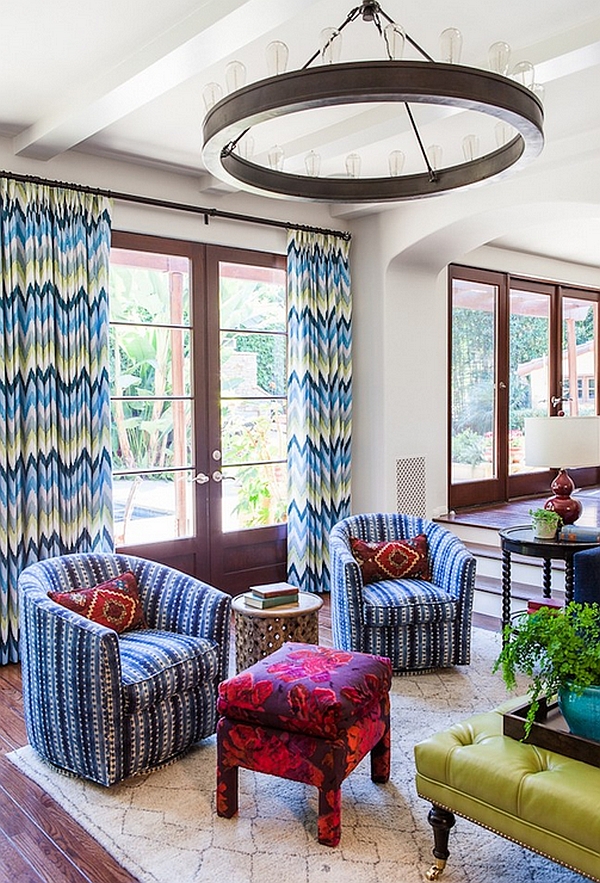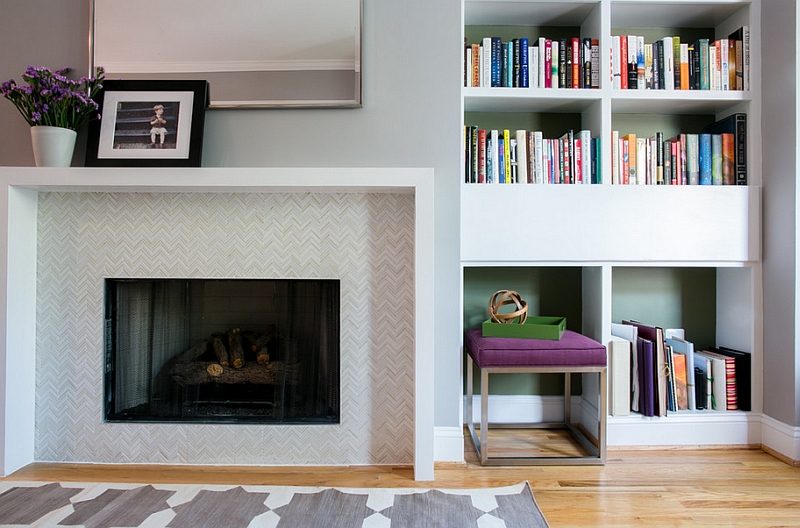 by Residents Understood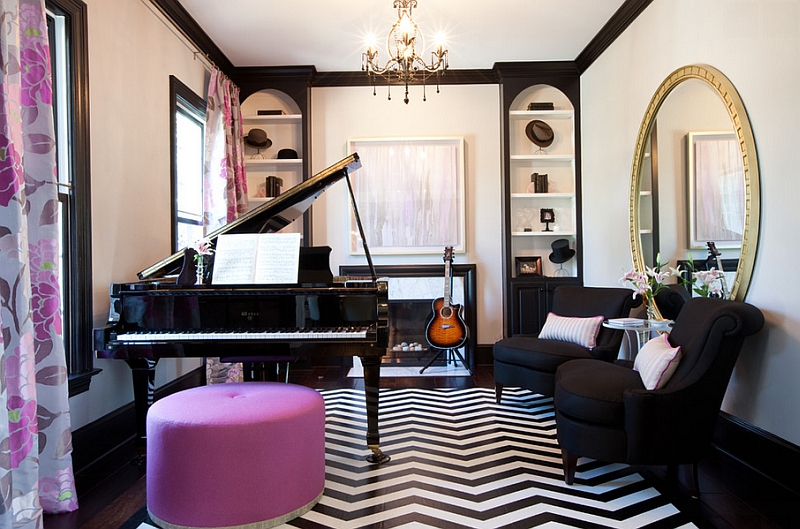 by Amanda Austin Interiors
The Comfort of Throw Pillows
Have you ever filled up your bed or the couch with so many pillows that the person next to you starts getting annoyed about the fluffy overdose? There simply are so many throw pillow options around that we often end up with way too many. Pillow covers are a cool way to add a chevron pattern to the living room without having to commit to a more permanent or expensive addition. They are fun, can be swapped out when you are in the mood for solid colors and can be used along with other accent pillows to enhance the color scheme of the room.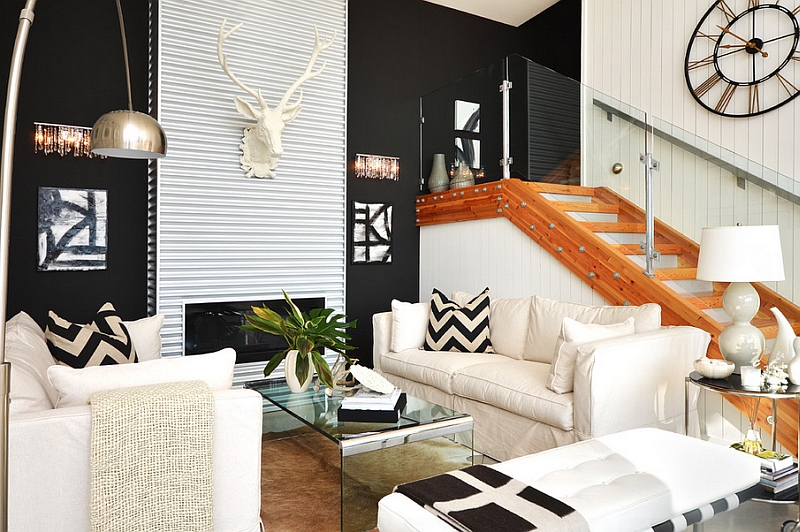 by Dawna Jones Design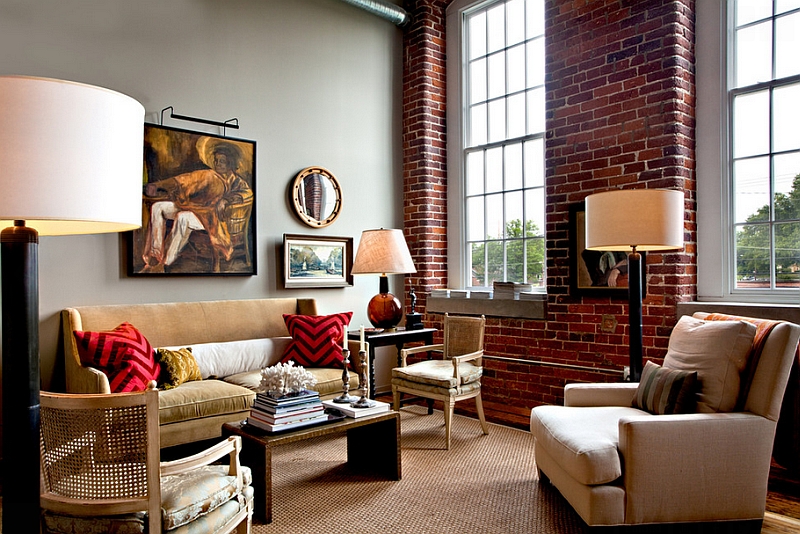 by Jason Arnold Interiors
Apart from adding color, chevron pattern accent pillows bring geometric contrast without overwhelming the space. They seem to bring together the best of both worlds by combining a sense of posh refinement that simple stripes offer and a playful vibe that is often associated with other geometric prints. The color combinations here are indeed endless…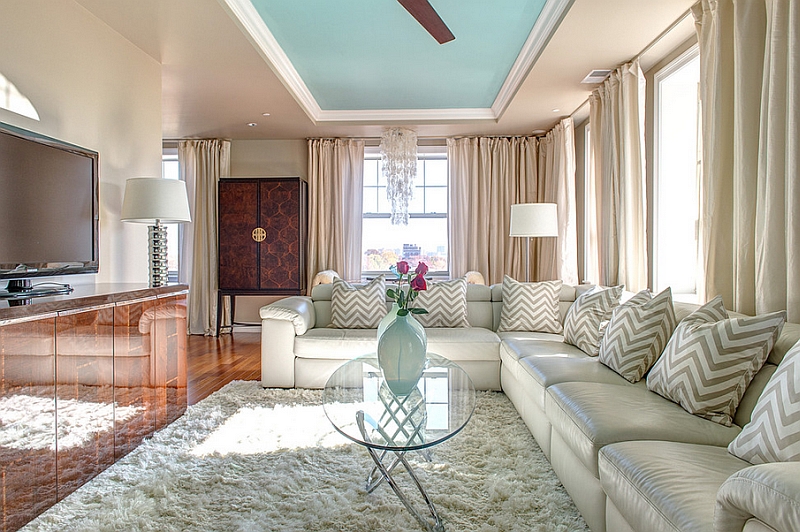 by S&K Interiors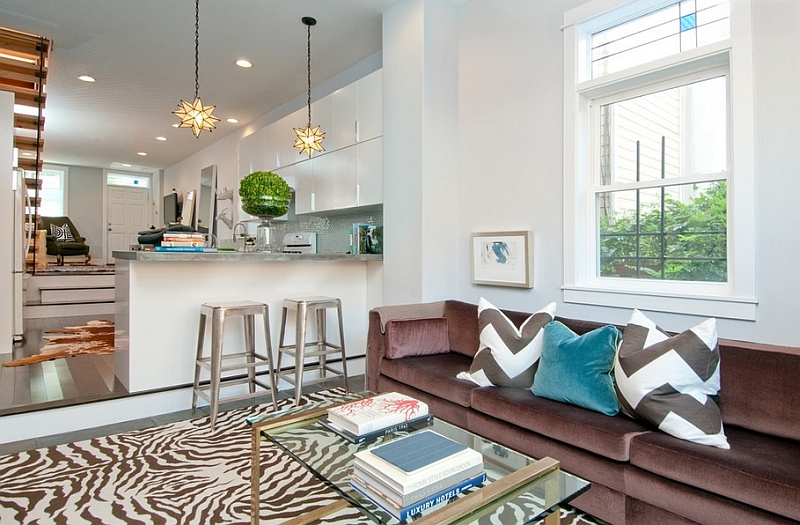 by Michelle Miller Interiors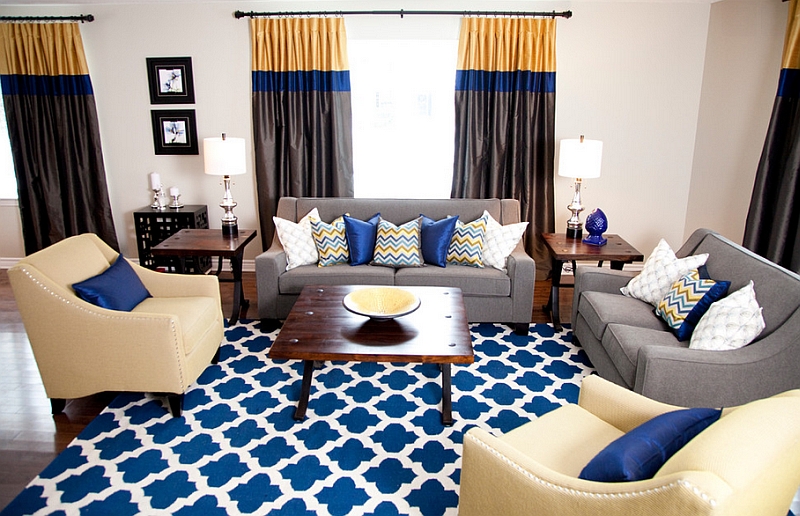 by Sarah Kidder Design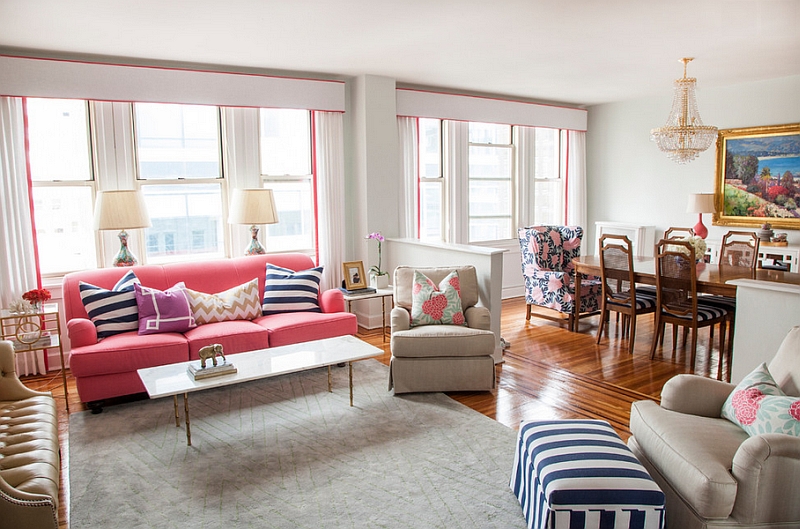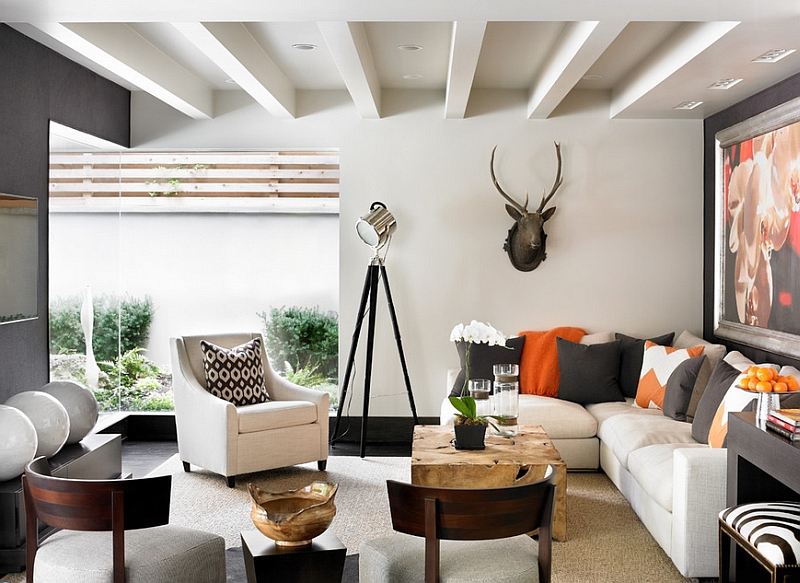 by Emily Followill-HammerSmith
Lovely Rugs and Herringbone Floors
We already discussed the basic difference between the chevron and herringbone designs in the kitchen collection. So, we will not delve into it much further. While the herringbone pattern is inherently different from the chevron style thanks to the staggered tile arrangement, it still can produce a very similar visual effect. Wooden flooring in a herringbone layout is easier to work with if you want a chevron pattern floor, as the tiles need not be cut at right angles. Just use a smart chevron rug on top of this to drive home the unmistakable zigzags!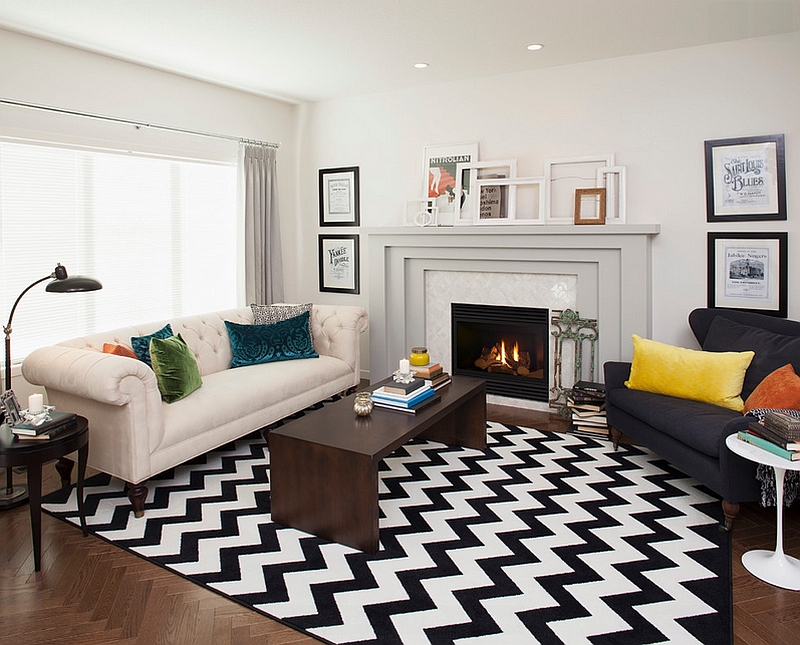 by Natalie Fuglestveit Interior Design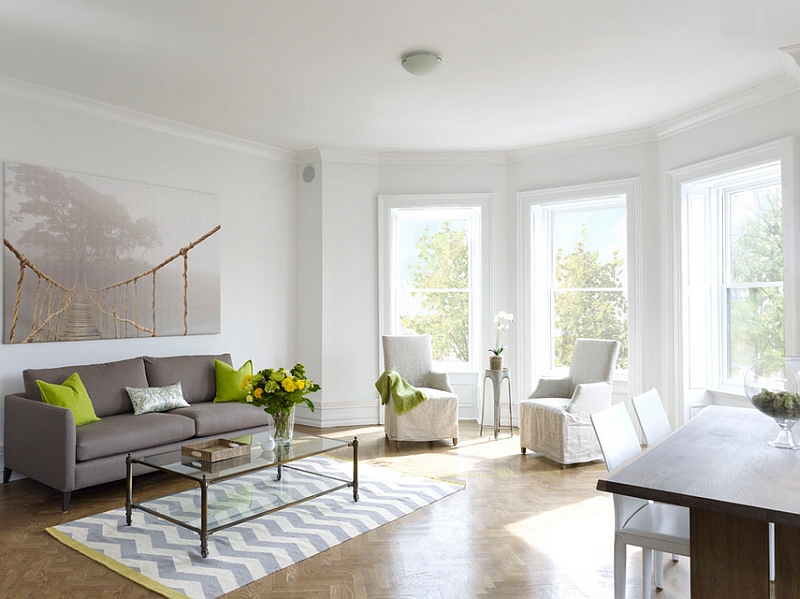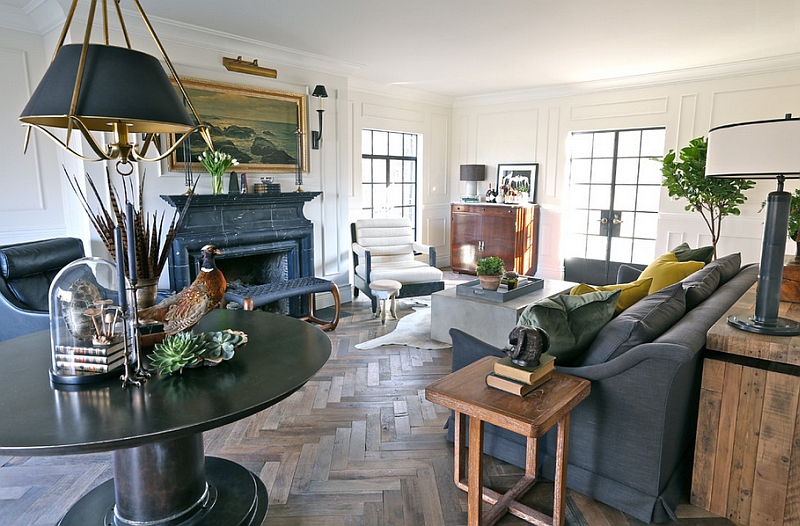 by Summer Thornton Design
Much like accent pillows, chevron print rugs are also easily available and come in a multitude of shades. You can swap them seasonally to go from the understated to the extravagant within no time. The black and white chevron rug is one such classic that is visually dramatic, tasteful and adds a whimsical twist to the simple black and white stripes. And as the lovely living room inspirations here showcase, chevron rugs can be used in rooms with themes that range from the craftsman to the contemporary!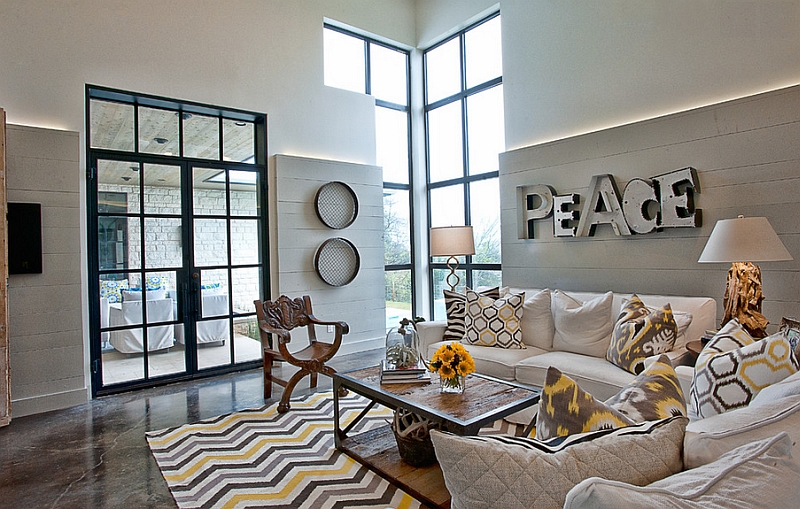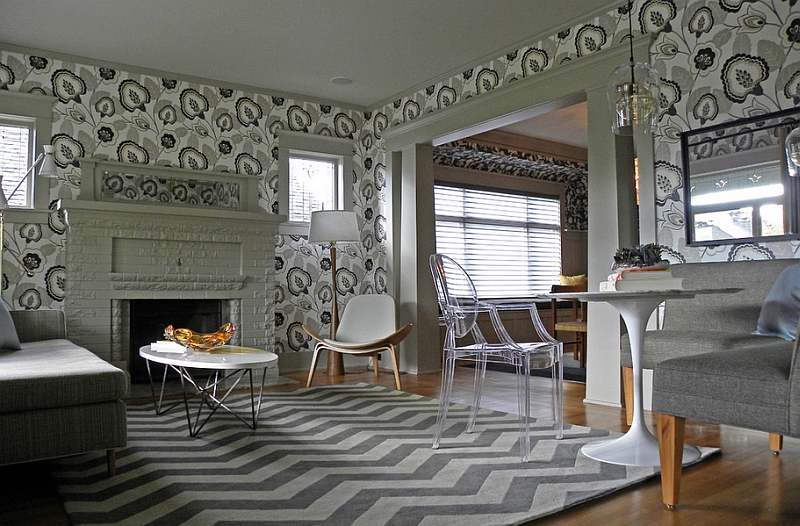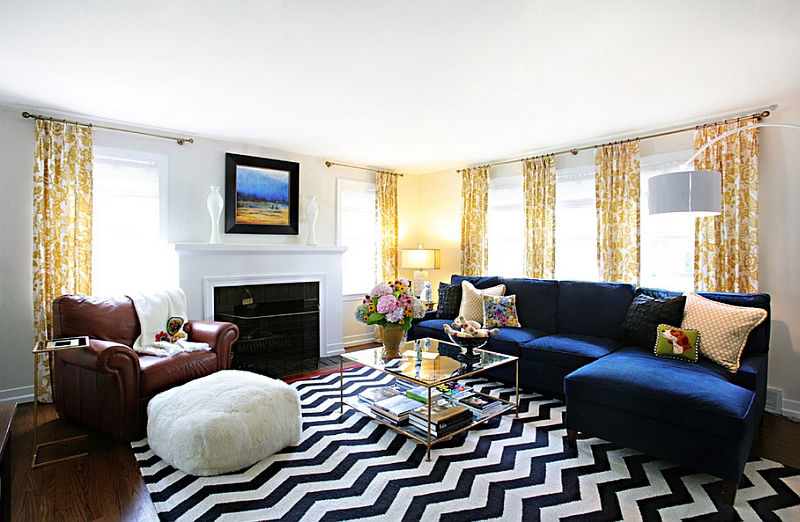 by Debbie Basnett, Vintage Scout Interiors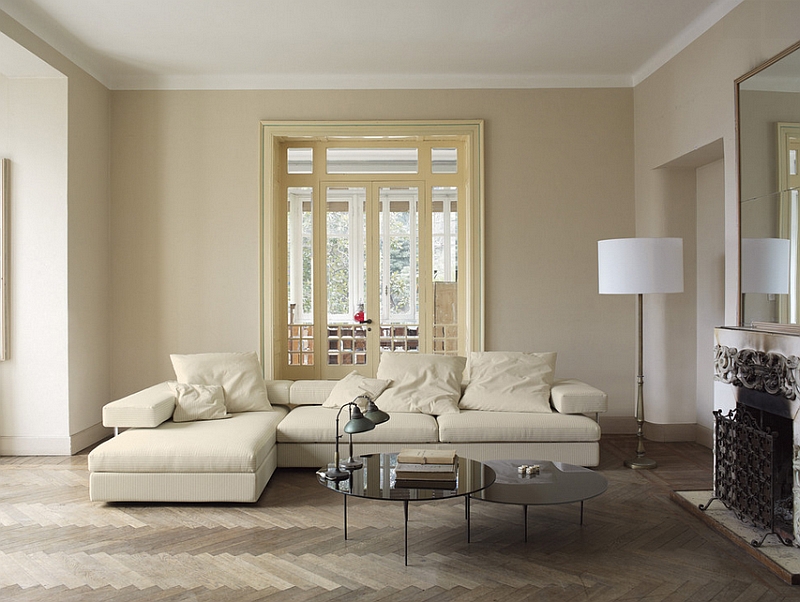 by usona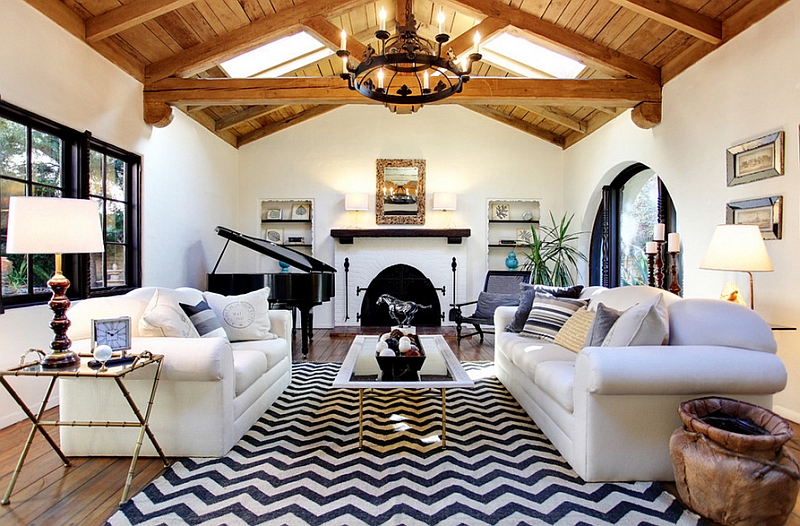 by Stephanie Wiley Photography
Dashing Drapes
Looking for something that makes an even more theatrical impact? Chevron drapes are a great choice if you have a living room with high ceilings and an open-plan layout that combines the dining space and kitchen with the living area. These striking additions will balance the grandeur of the large living area in a graceful, yet remarkable fashion. The size of the chevron zigzags makes a big difference when it comes to drapes. Drapes with larger-sized zigzags look lovely in small rooms, as the design appears less cluttered. More intricate patterns in accent hues are perfect for really spacious interiors where there is a greater need to fill up visual space.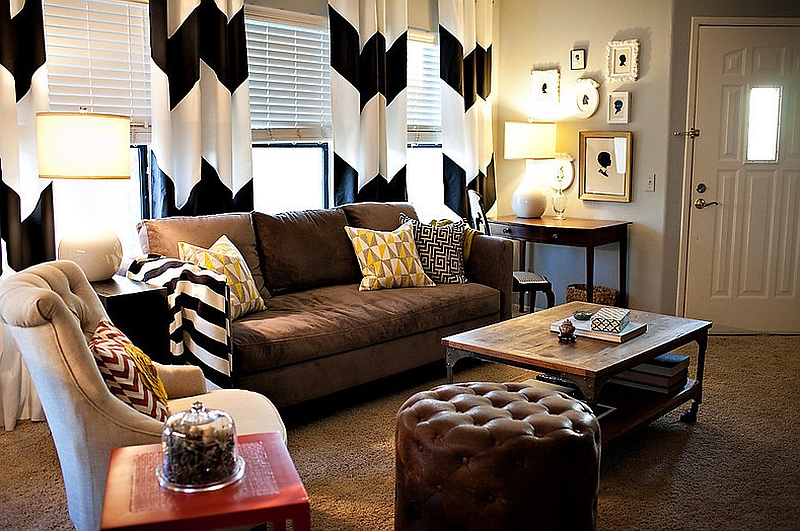 by Madison Modern Home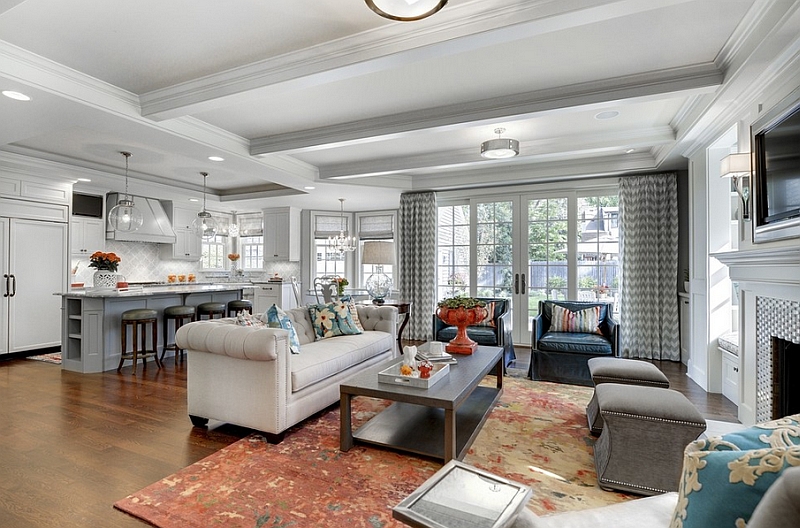 by Great Neighborhood Homes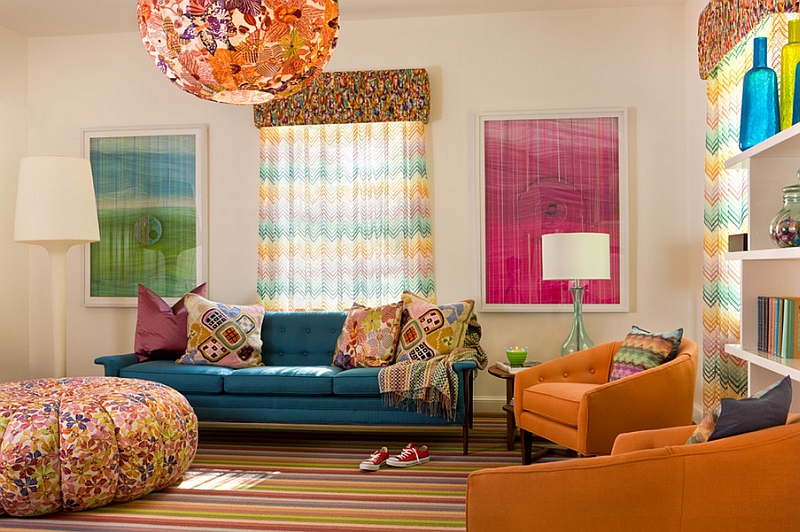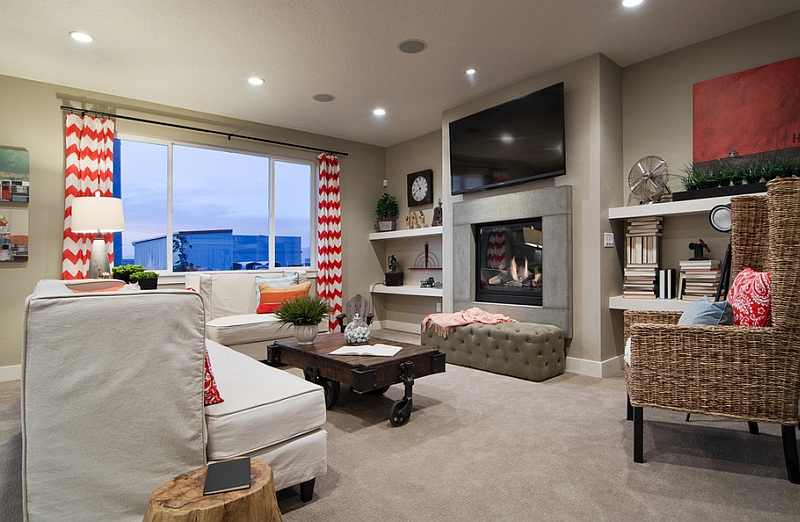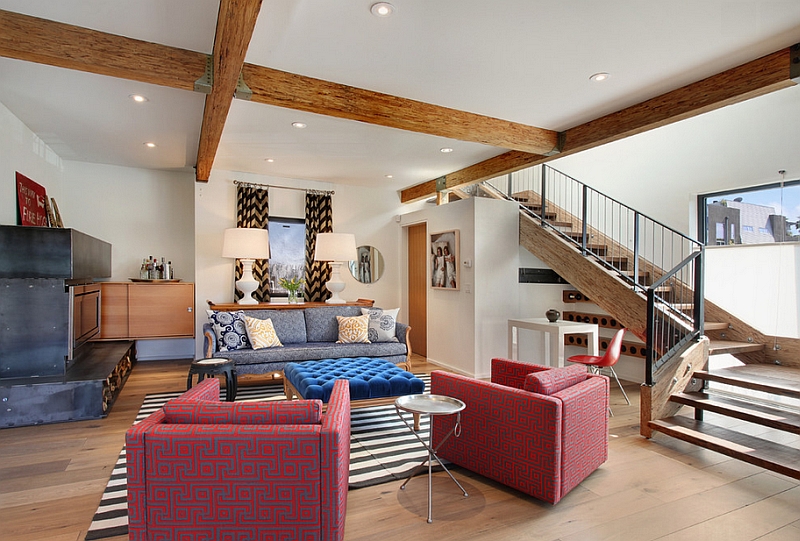 by Jeri Koegel Photography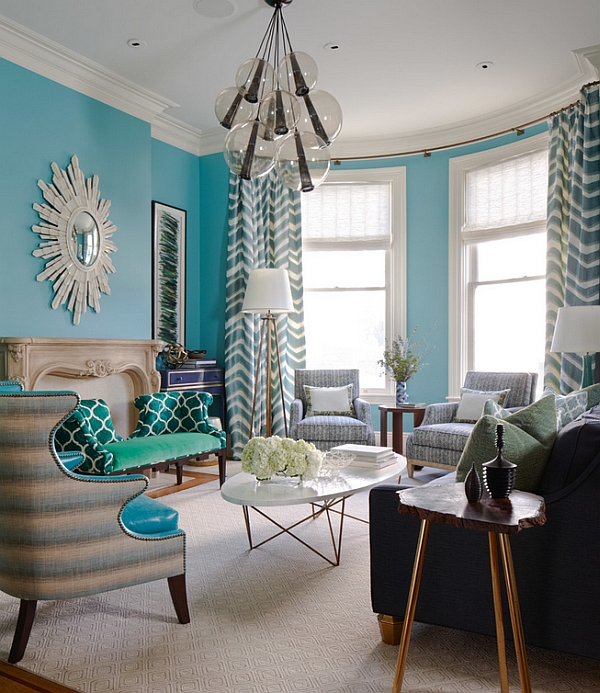 by Cardea Building
A Warm Focal Point
Have you thought about chevron tiles for the fireplace? That is right; there is a place for those bright, bubbly and daring tiles beyond the kitchen! This urbane trend seems to be catching on quick, and since these tiles come in some of the most brilliant and audacious hues, homeowners are more than happy to use them in their living rooms draped in warm, neutral tones. Of course, if rich color is not your thing, there are more restrained options in grey and beige. You can even use herringbone brick for the inside of the fireplace or opt for a custom design that truly enriches your living room vibe.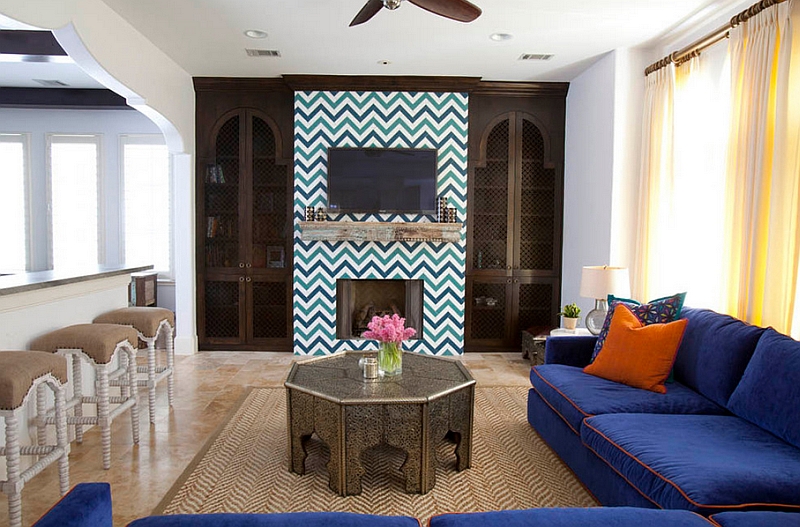 by Laura U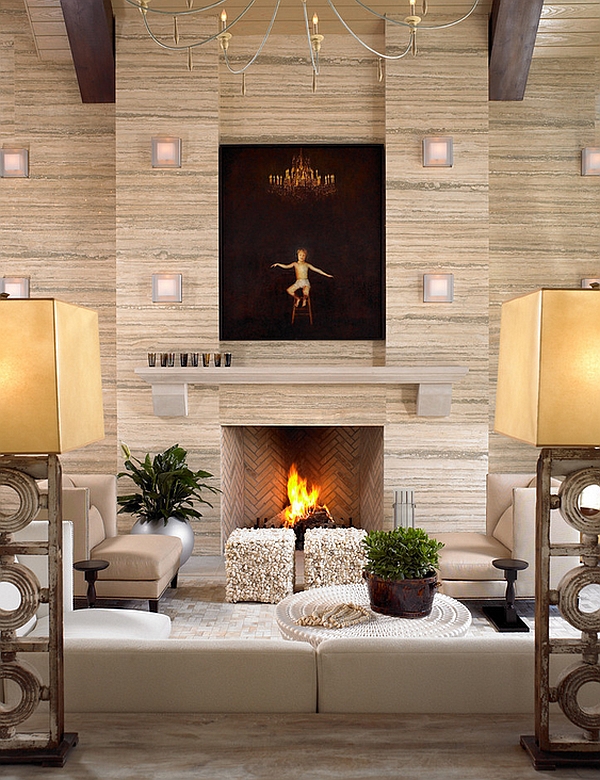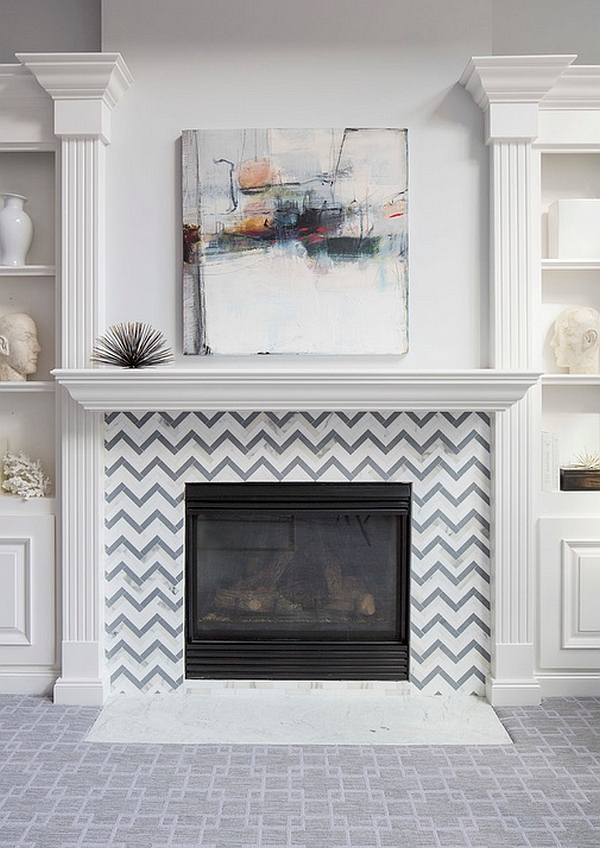 by Martha O'Hara Interiors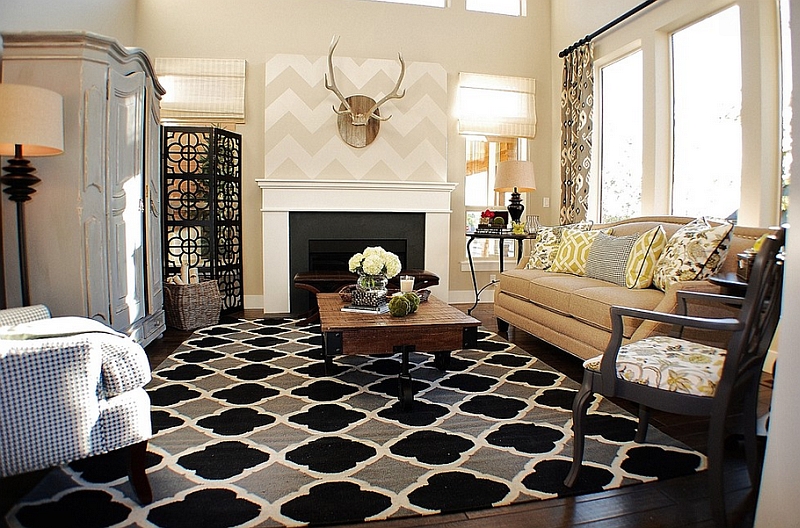 by Judith Balis Interiors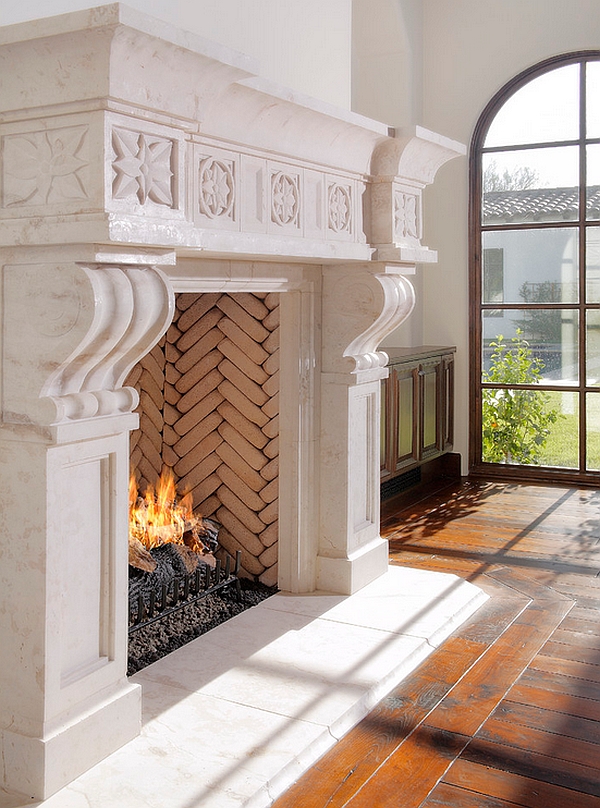 Surprise with Pattern
With spring having arrived, you might be busy giving your home a fresh makeover that includes a smart addition to your living room which will enliven the space. If swapping out rugs and changing drapes is not your thing, then there are other inventive ways of ushering in the chevron pattern. Wallpaper is one such easy choice. You might even opt for an accent chair or ottoman in the chevron print, which will serve you well even in the bedroom. If you are looking for a fun weekend project that involves the kids, then DIY wall art with chevron patterns is a fine option.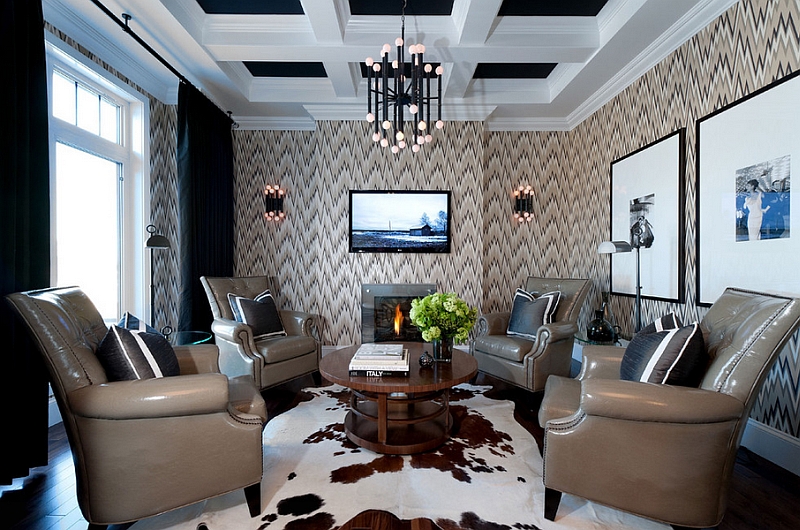 by Atmosphere Interior Design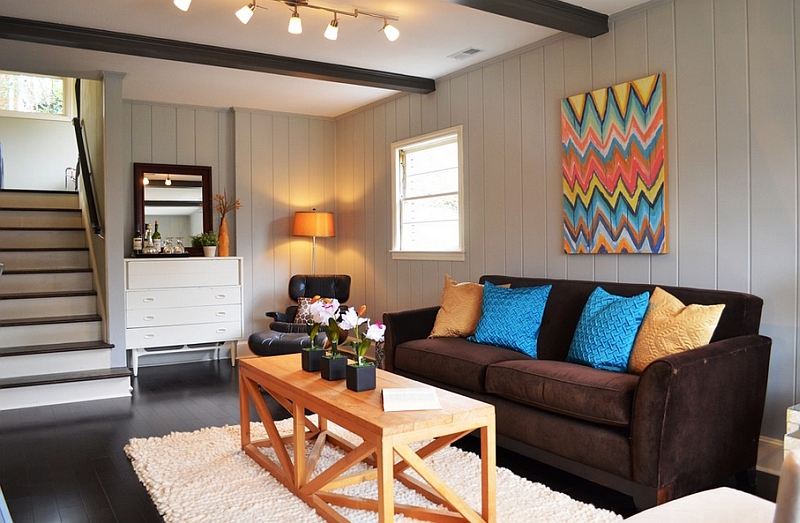 Adding the chevron glint to your living rooms is an easy task that requires very little actual work. It also gives you another excuse to shop around for endless hours while going back and forth on the perfect look. So, give these flashy zigzags a shot and you will soon be taken in by their flamboyance and panache!