When it comes to designing and decorating a home, every little section of it is equally important — each room must have its own unique flavor which will separate it from the rest, but will still fit with your theme. While both the living room and the bedrooms get plenty of attention, it is actually the kitchen that gives you loads of creative freedom. So if you are not happy with the look and feel of your current kitchen you should seriously think about remodeling.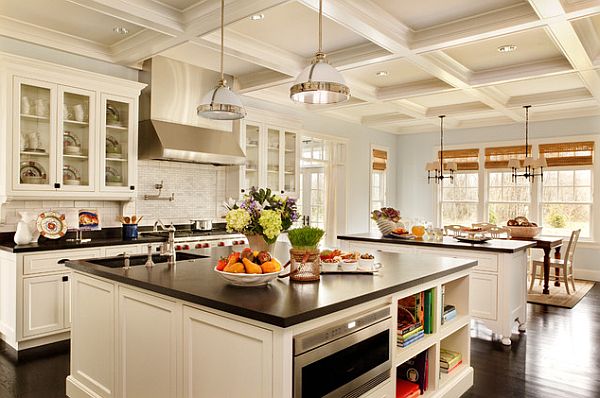 Colorful ornaments in this stunning kitchen – by Garrison Hullinger Interior Design
Why Remodel Your Kitchen?
The first and foremost question that you need to address is why you are currently opting for a kitchen remodeling. There can be a variety of reasons, but most of them will include either cramped space, lack of smart storage options, reduced functionality and a look that is not trendy anymore. A culmination of these or even any one of the above should be enough for you to go for a remodeling that suits your needs. But remember that you need to convey what you are looking for to your designer, clearly, so that you get the results you want.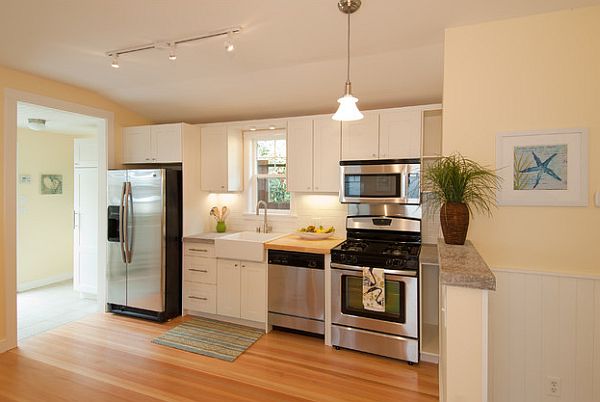 Contemporary Cape Cod style cottage charms with its calm colors – by pav wilkinson

Kitchen Remodel: What Options You Have?
What most people do not know is that there are various ways in which you can remodel your kitchen. There are fundamentally 3 different routes that you can take —
Pull and replace – This type of remodel is pretty much what its name promises. Your designer will replace everything that currently lies in your kitchen with newer stuff and that includes cabinets, countertops, appliances and a lot more. Remember that in this form, you will still use the same floor plan, but it will be just a new look to the old kitchen template already in place.
Cosmetic makeover – If you are planning to make just a few changes and are working on a small budget, then this is the perfect way forward. A cosmetic remodel will alter some simple things like kitchen countertop, a few cabinets, maybe new lighting or anything that needs to be tweaked slightly to still bring about a dramatic change in the look.
Custom renovation – This is the 'full throttle' version of things and you will get the entire thing here as you can change pretty much every aspect of your kitchen and even bring down a wall or two (if your home permits that) to add more space as well.
Current trends to look out for – There are some simple and easy current trends that you can incorporate into your own kitchen remodeling scheme to get a more trendy look while also opting for perfect ergonomics.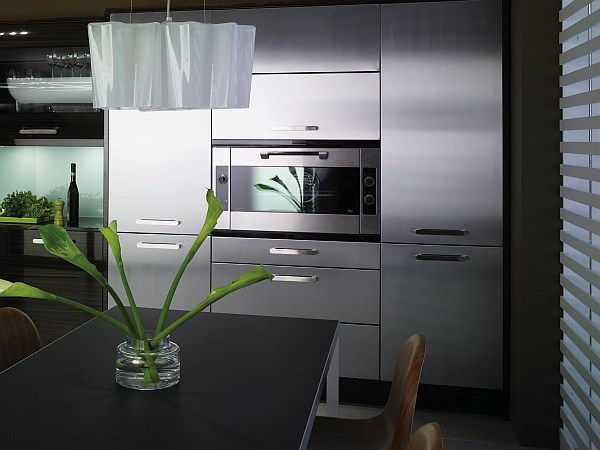 Here are a few pointers for your kitchen remodel —
Stainless steel kitchen countertops are currently all the rage. Going for one will serve you well in the long run.
Open floor plans that extend into dining spaces and even at times have visual contact with the living room are the latest trend.
Cabinets in multiple finishes and an array of shades add color to your kitchen along with a dash of tasteful and elegant artwork on the walls.
Energy-efficiency and green appliances are in. Not only do they appear fashionable, but they actually also do save plenty on the power bills. So opt for smart and savvy appliances.
Pick smartly when it comes to a designer and choose someone you are comfortable communicating with. Also, before you kick start the entire project look around and do ample research on kitchen models across design sites on the internet, which will give you fresh new ideas you can incorporate in your kitchen remodeling plans.
So here it is — Our amazing list of kitchens that will inspire your remodeling
Modern Kitchens Design Ideas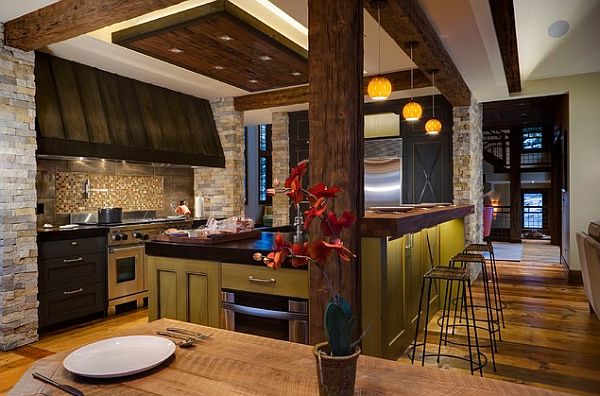 A mix of traditional and modern blends so well in this kitchen with lots of stone and wood – by 186 Lighting Design Group – Gregg Mackell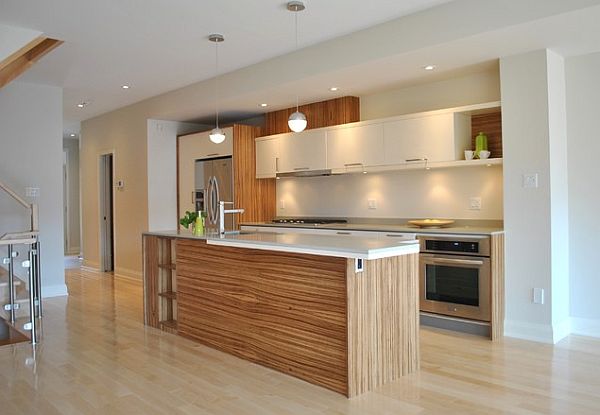 This custom kitchen remodeling brings plenty of storage space and plenty of work space – by Tanner Vine – 2Go Custom Kitchens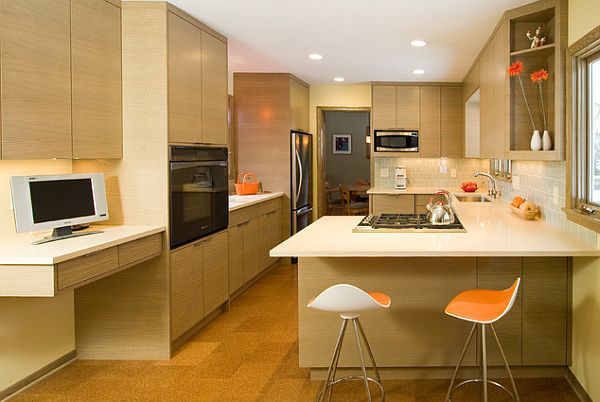 A modern kitchen is not only about lines and materials. Sometimes it's also about accessories like these pops of orange, or maybe the floating desk on the left? Why would you need a desk in the kitchen … me thinks – by w.b. builders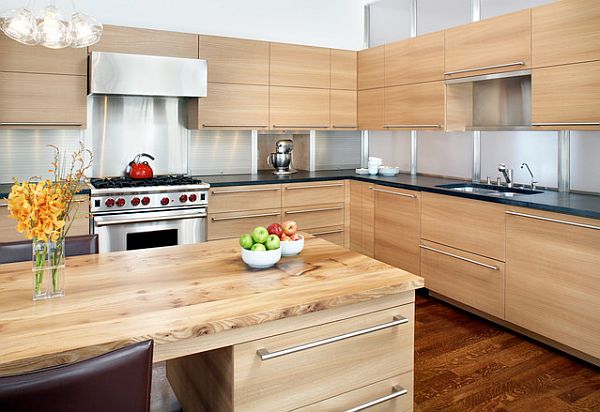 Totally in love with the wooden furnished table and the corner furniture of this stunning kitchen – by LDa Architecture & Interiors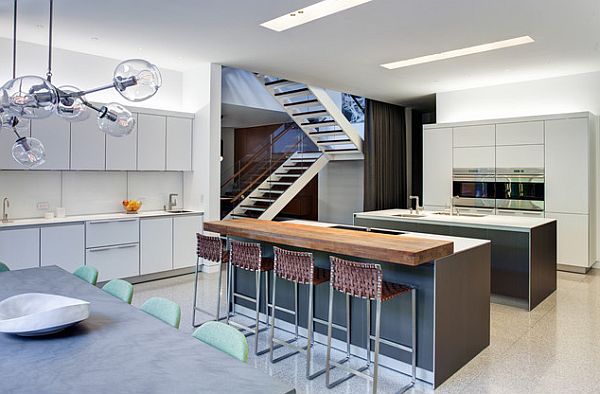 >An ultra modern villa needs an ultra modern kitchen. Sounds about fair – by Vinci | Hamp Architects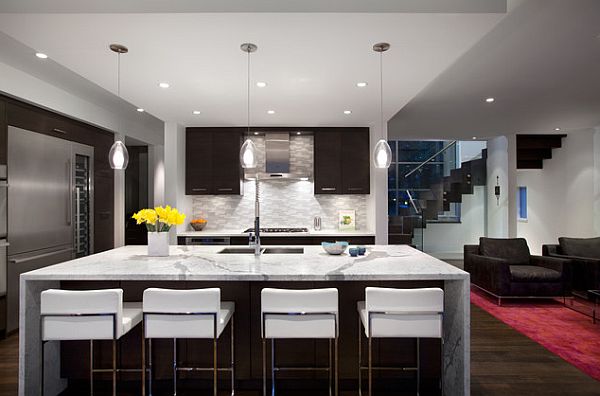 A very practical kitchen island with fancy bar stools are the fanciest elements of this modern kitchen remodeling – by Meister Construction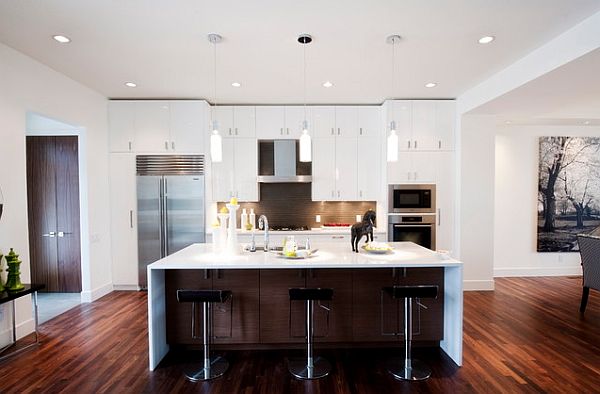 Love those small cabinets in this Piano White kitchen. Do you? – by Fifth Element Homes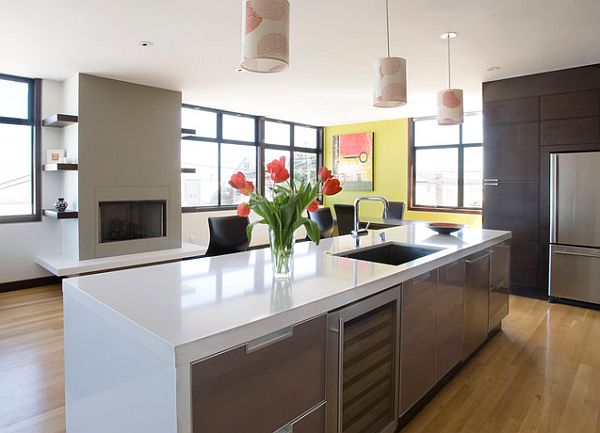 Glossy white kitchen island and dark brown cabinets along with an accent yellow wall – by John Lum Architecture – AIA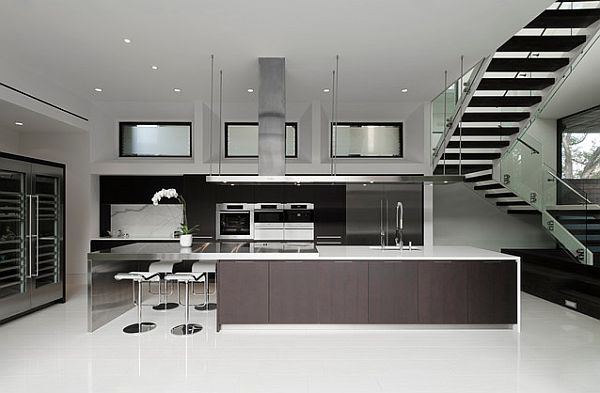 Luxurious and large kitchen with steel, black and dark purple furnishings – by C O N T E N T Architecture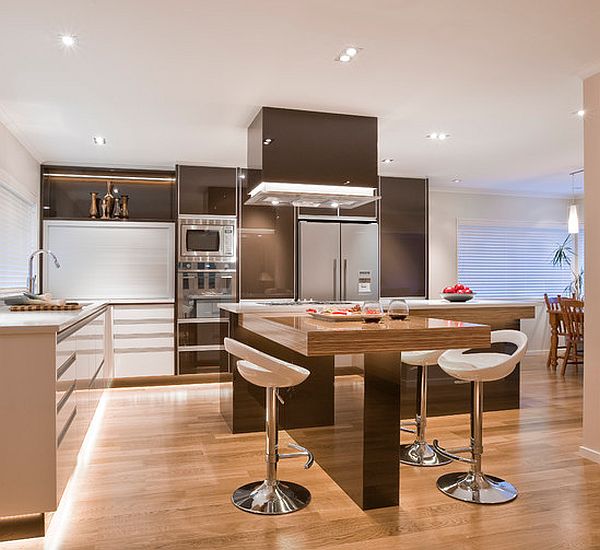 A playful kitchen design with glossy cabinets and fancy lighting – by Mal Corboy Design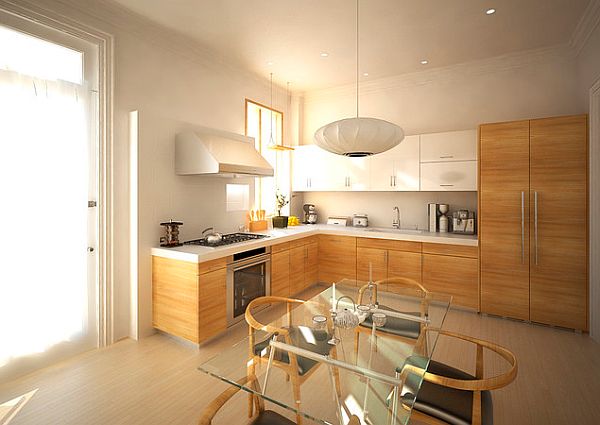 We've seen a fair amount of corner kitchens, but this one in this Brooklyn Brownstone renovation takes the cake – by Murdock Solon Architects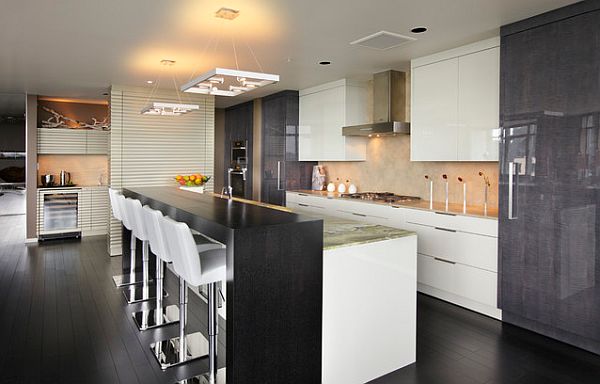 Stunning kitchen design for a penthouse remodel – by Faith Cosgrove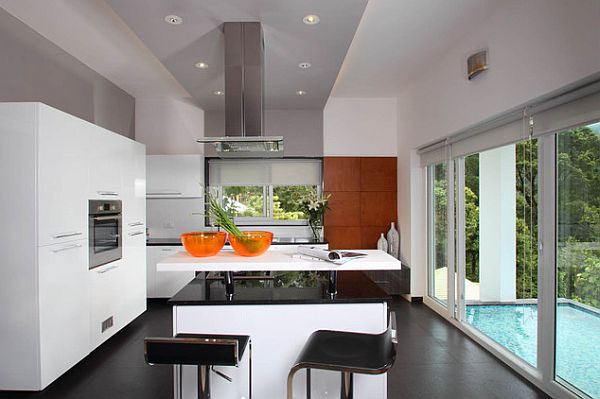 Everything seems so sleek in this stunning white kitchen thanks to the addition of a black glossy countertop and two contrasting bar stools –  by Savio & Rupa Interior Concepts (Bangalore)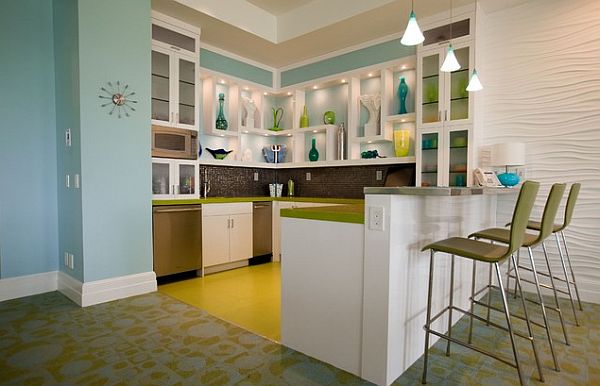 Colorful corner kitchenette with a patterned rug around – by Stephanie Norris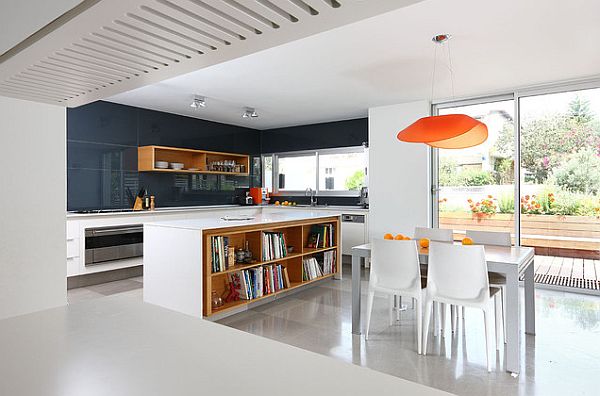 Beautiful minimalist House L needs a minimalist kitchen, as well – by Amitzi Architects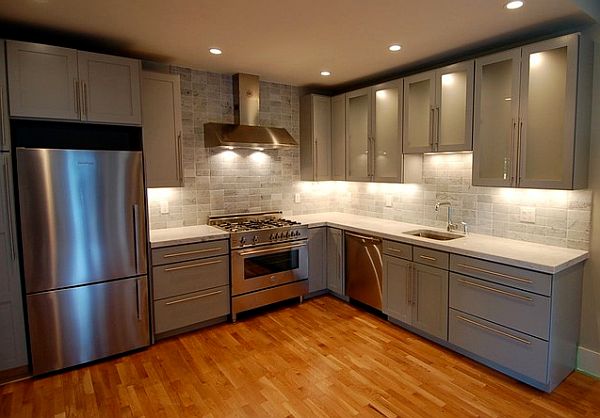 Corner furniture and a steel fridge, make for an elegant kitchen design – by Melissa Miranda Interior Design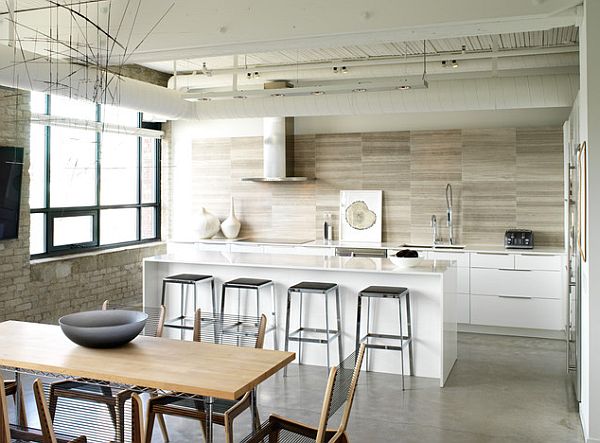 Modern Loft Kitchen – by Croma Design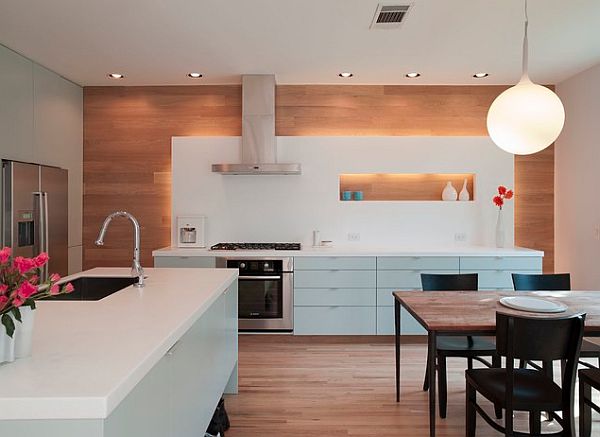 We fancy the wooden wall and the white accent furniture with back lighting – by David Wilkes Builders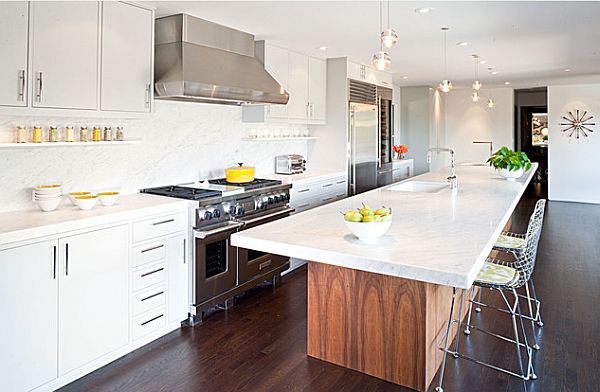 Remodeling a large kitchen can be done with a fancy theme – by J. Weiss Design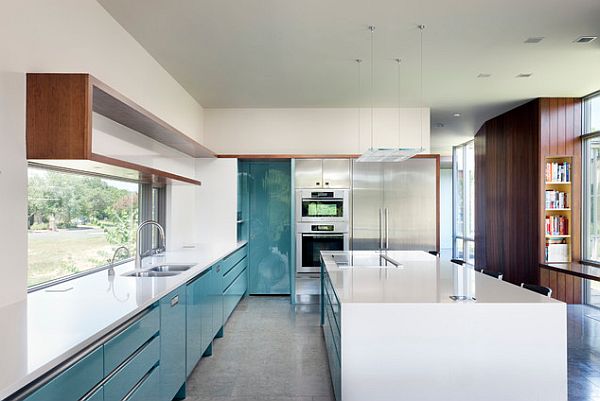 Probably the most beautiful glossy blue kitchen we have ever seen – by Alterstudio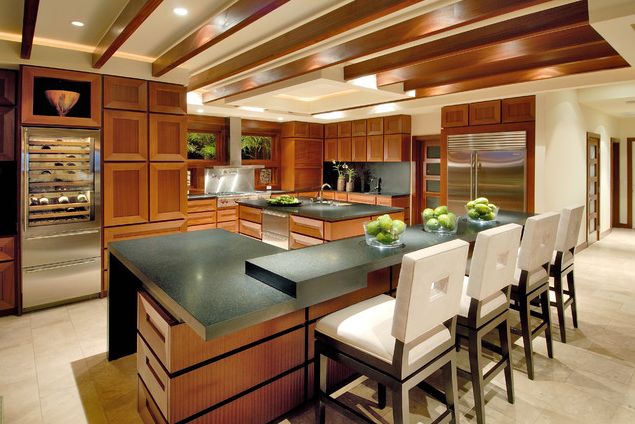 Wooden beams, wooden walls, an unusual shaped raised bar island and plenty of room. Priceless! – by Ownby Design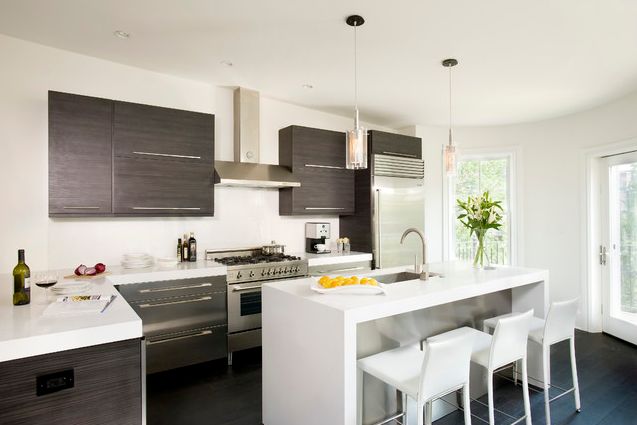 You gotta love the contrast in this kitchen where you can add all sorts of color – by Melissa Miranda Interior Design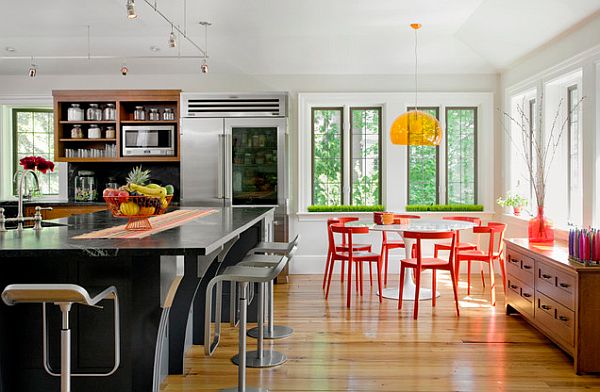 Eclectic and full of life, this is what defines this large kitchen design – by LDa Architecture & Interiors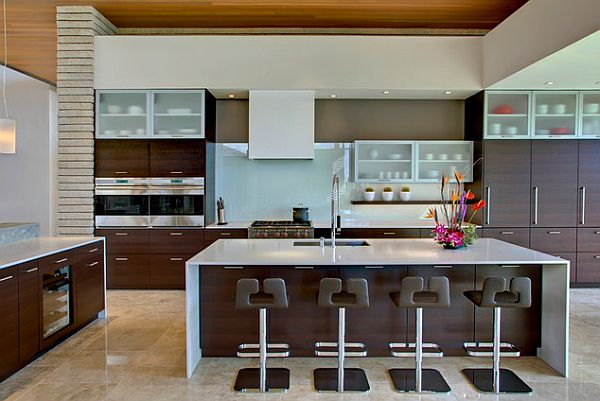 Super details for a highly modern kitchen with some fancy bar stools – by John Senhauser Architects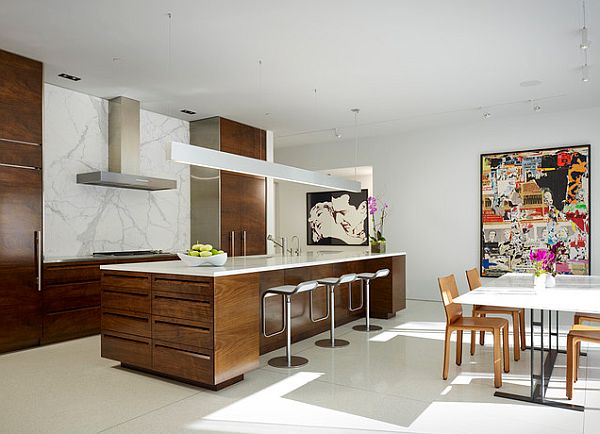 This elegant dark kitchen with wooden accents gets some life with those artful paintings – by Wheeler Kearns Architects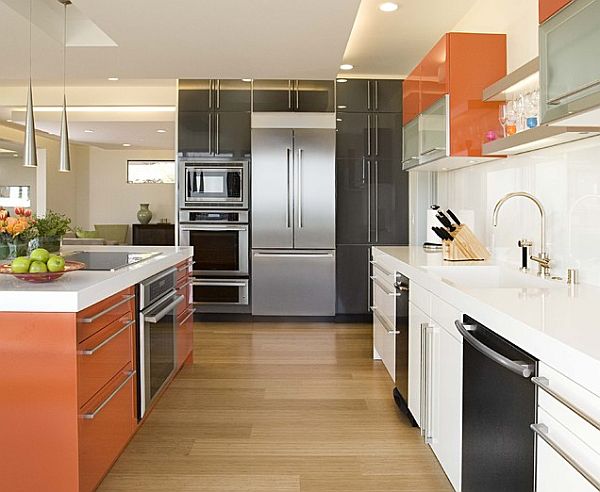 Black and white go well, but who would've expected that adding orange would be a really nice addition? – by Mark English Architects, AIA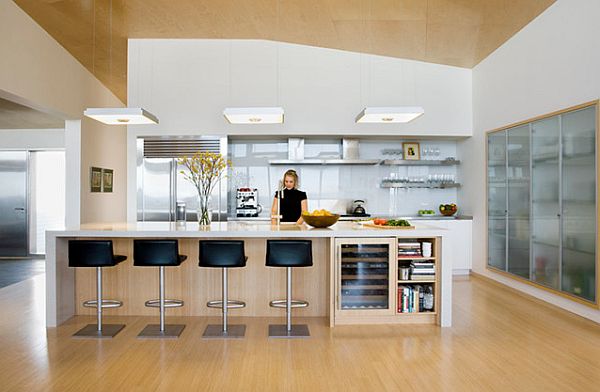 Do you see how the flooring seems to escalate the kitchen island in here? Great design – by Eleven Interiors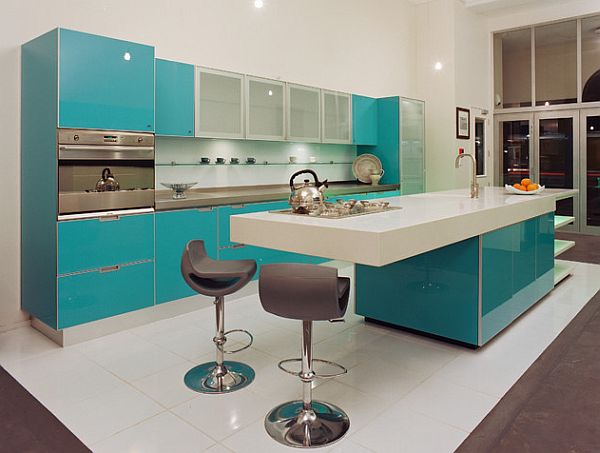 Another great example of bold color. I'm sold on this amazing glossy blue – by Mal Corboy Design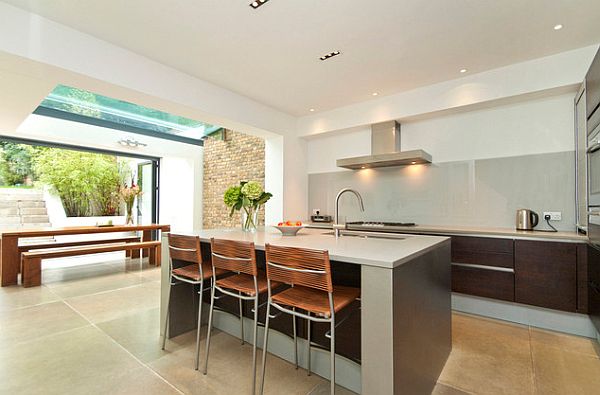 A small kitchen island with a sink, a long dining table and a large modern stove hood. That's what gets my eyes, along with the stoney wall – by Chris Snook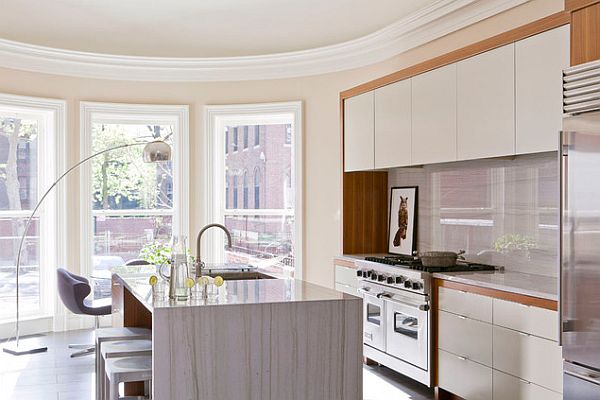 This small open kitchen design stuns with its glossy kitchen island and the  round shape of the area  – by Neuhaus Design Architecture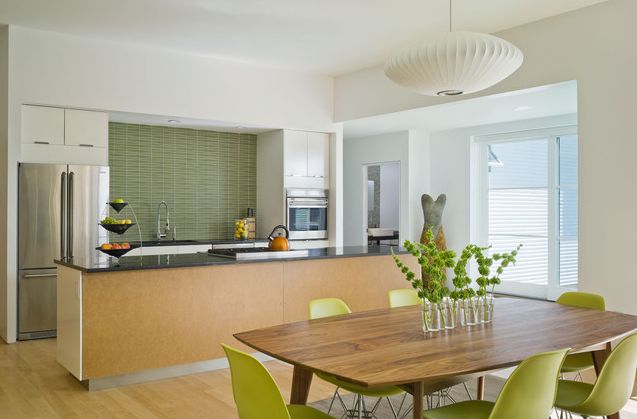 Light toned colors go well with a neon green for the dining table chairs. Don't you think? – by TruexCullins Architecture + Interior Design
These pendant lights add style to the whole kitchen, while the dark colored island extension adds functionality – by Candida L. Berrios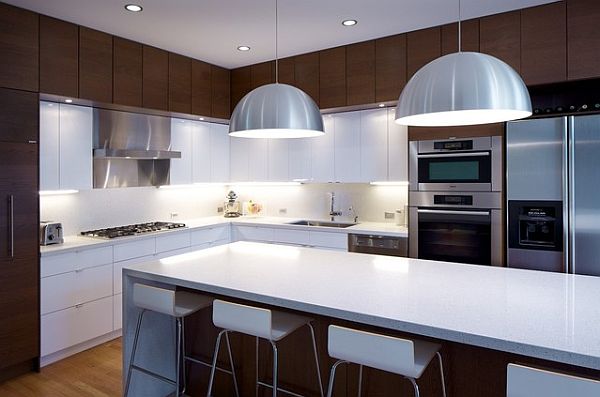 It's not the black and white contrast that gets my eye, it's the two bold pendants hanging above the island with their fancy silver finish – courtesy of aimzter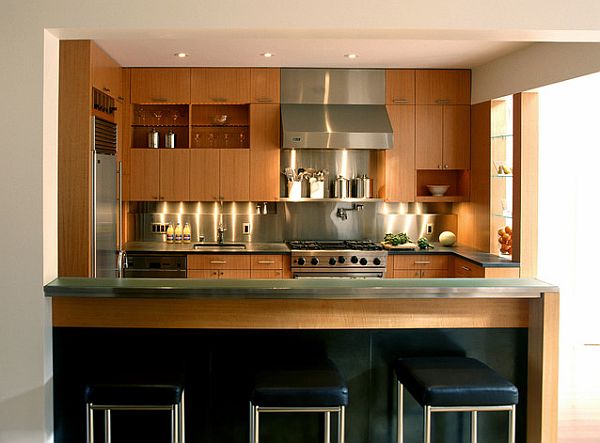 Interesting how this kitchen furniture covers a full wall, actually making it an accent wooden wall for the entire area – by Cary Bernstein Architect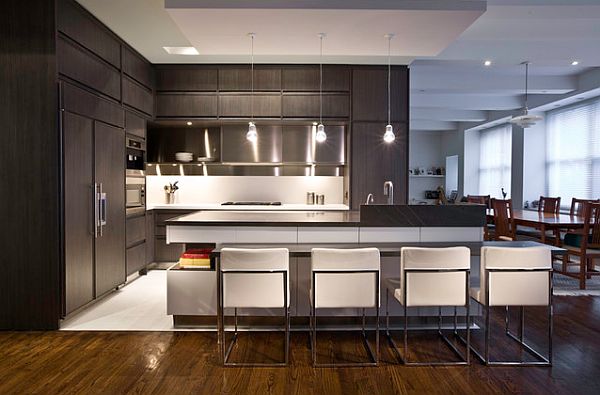 A luxurious addition to a stunning home. Timeline is a new signature kitchen collection from Aster Cucine, one of the European leaders in innovative kitchen design – by Urban Homes
This sharp looking kitchen furniture is a highly modern use of space – by Elad Gonen & Zeev Beech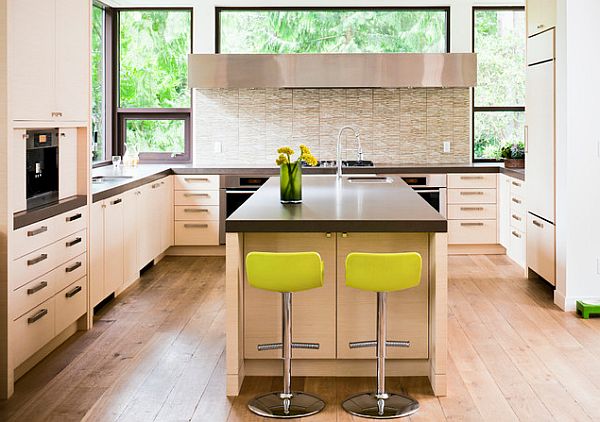 A neutral colored kitchen decor gets a stunning boost of life with a couple of neon yellow stools and a green vase on the kitchen island – by Heffel Balagno Design Consultants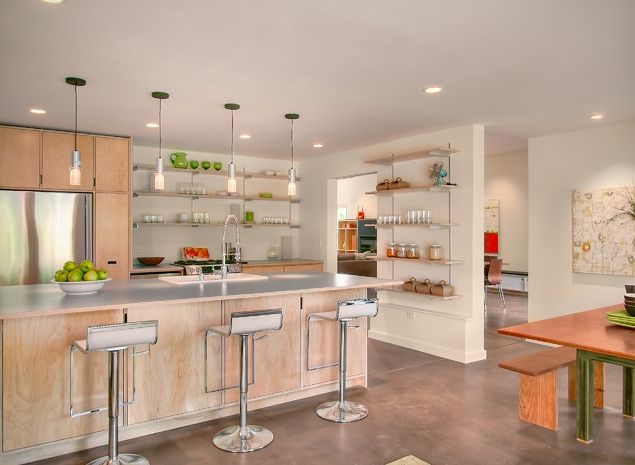 There's something about this open space kitchen with large cabinets, a laminate countertop and plenty of shelving. Probably the accent colors that accessorize it? – by Fivedot Design Build
---
STUNNING KITCHENS (INSPIRATION) →
Liked the story? Share it with friends.