The home office is a place where the business of the day is done. Practicality, functionality and efficiency are of the utmost importance, yet an ever-growing interest in making this space refreshingly stylish has led to a large number of home office DIY projects. Why shouldn't this room of the house be heavy on design? A well-decorated work space has the power to inspire and rejuvenate, turning the most mundane of tasks into bearable and (dare we say) enjoyable experiences!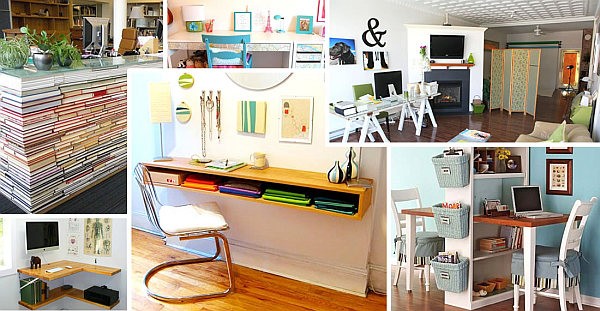 It's therefore no surprise that a large number of DIY desk projects have emerged, from the relatively easy to the more intricate and complex. We've collected the best of the bunch for do-it-yourselfers of all levels. Even if you're not in the market for a new desk, check out the home office setups below. Perhaps you'll find some organizational style ideas that will breathe new life into the business of work.
Large Desks
Our first collection of desks is not for the faint of heart. These sturdy, large pieces are for the most dedicated of work-from-homers. That's right–the desks provide the ultimate in storage space, making room for a range of equipment and files. Got loads of office supplies? No problem! These desks can support the weight of your work.
The Pottery Barn-inspired desk below has painted file cabinet bases, which hold the top of a disassembled IKEA Effektiv desk. The result is a charming corner work space. The full tutorial is available at IKEAhackers, a site that used IKEA furniture parts to create new pieces!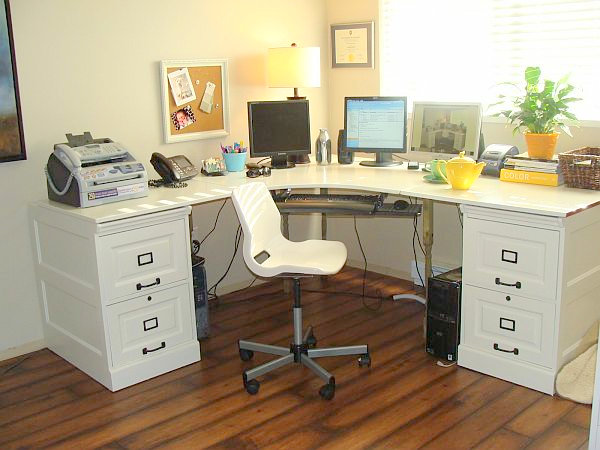 For a similar corner look, check out the DIY Build Your Own Craft Desk project. Note how table legs are attached to one end of the desk, while cube shelving adds support to the opposite end and middle. Visit Jannypie for further instructions.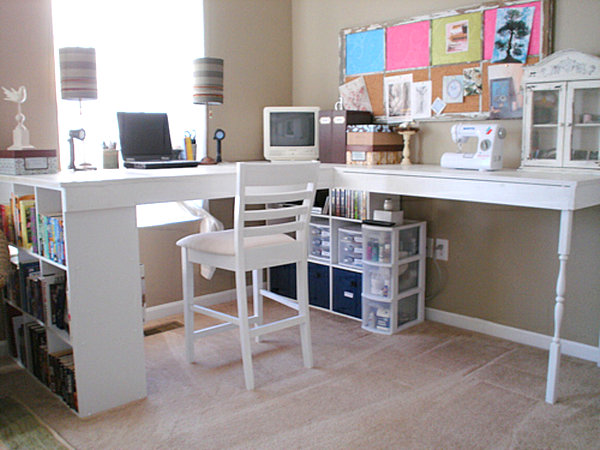 It seems the trend of shelving as desk base is catching on. Why shouldn't storage shelves be incorporated into the design of the work space? They are practical and stylish! The large DIY desk below utilizes baskets from IKEA for organizational purposes. Not to mention, a wooden top constructed from Home Depot materials gives the piece substance. For a full tutorial, visit Aubrey + Lindsay's Little House Blog.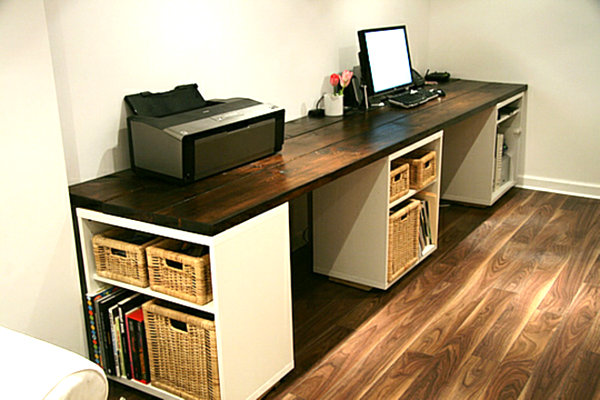 Reclaimed wood and support brackets are key players in the concoction below. When a large desk combines with ample shelving, the results are stunning. [from Apartment Therapy]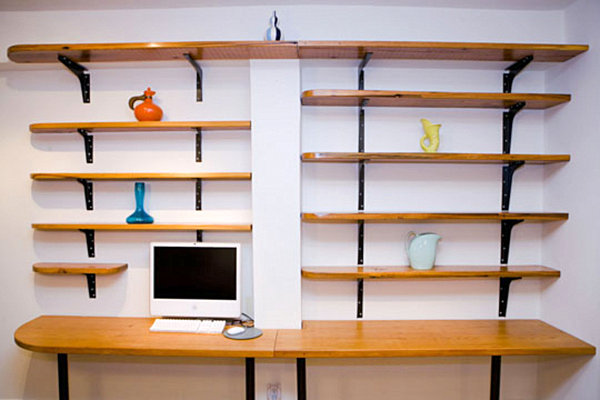 And now…the mother of all large desks! The library desk below was made from recycled books. If you try this at home, make sure you enlist the help of an expert to ensure the piece is steady. The extra time and care will be worth it. This conversation piece packs a powerful punch! [from Recyclart]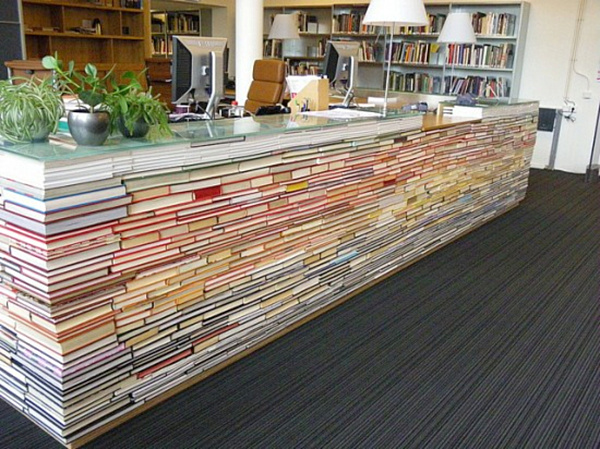 Medium-Sized Desks
This next set of desks features pieces of average size, the perfect combination of substance and compactness. In other words, these DIY desks will help you make the most of your room without sacrificing important features such as surface space. The Minimalist Desk below was built from scratch using a door panel and some wood pieces. For a full tutorial, check out Instructables.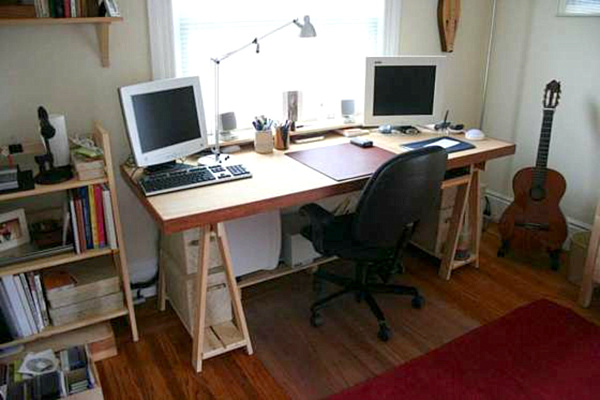 For a similar desk, check out the piece below, constructed from an old door and painted a crisp white. [from & Unlimited Dogs]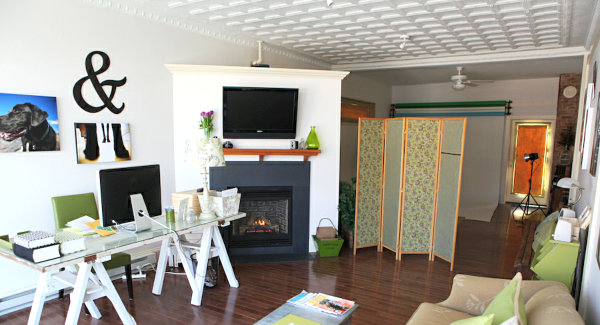 To jazz up a simple white desk, try using maps. Yes, you heard us correctly–maps! The Decoupaged Map IKEA Desk below was created with the help of the IKEA Micke desk (another IKEAhackers project). However, decoupage map magic could easily transform any desk that needs a face lift.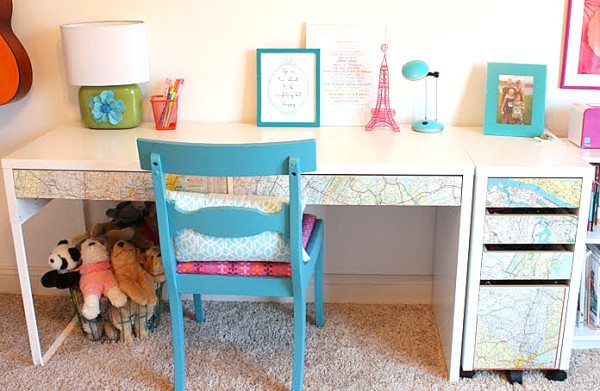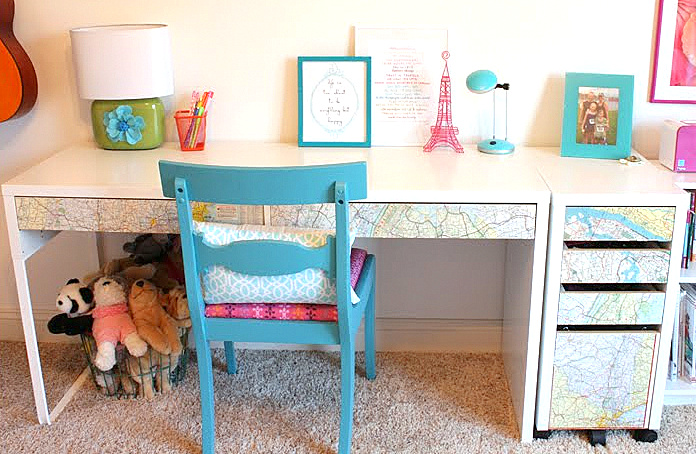 For a simple, elegant statement that provides room for storage, check out the Parson Tower Desk. Build it yourself with the help of the full tutorial at Ana White.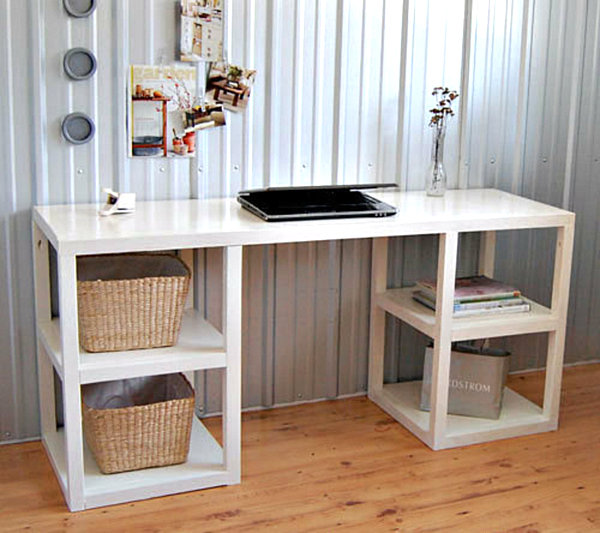 The next creation is quite original! If you can't bear to part with your child's crib, turn it into a DIY desk with a chalkboard surface for writing and drawing fun. The crib railing then becomes a cozy enclosure perfect for hanging supplies. Further details can be found at Apartment Therapy.
For a desk that's a bit dainty, try using three-rod hairpin legs for the base and a pine top for a rustic touch. The tapered legs have a Mid-Century modern effect, while the neutrality of the supplies makes this piece ideal for a variety of decpr styles. See the full tutorial at FMFY.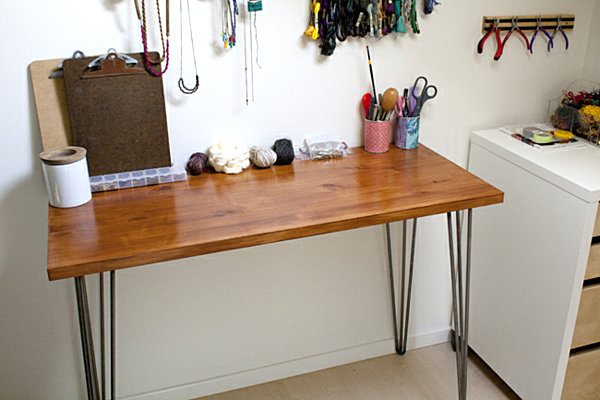 Or eliminate the need for desk legs altogether! Created by Maggie Pattillo, the DIY Floating Workspace uses oak boards and brackets for a compact modern effect. If you attempt this project, make sure the piece is firmly secured to the wall–don't hesitate to seek input from an expert to make sure all is sturdy. The full tutorial can be found at Design Sponge.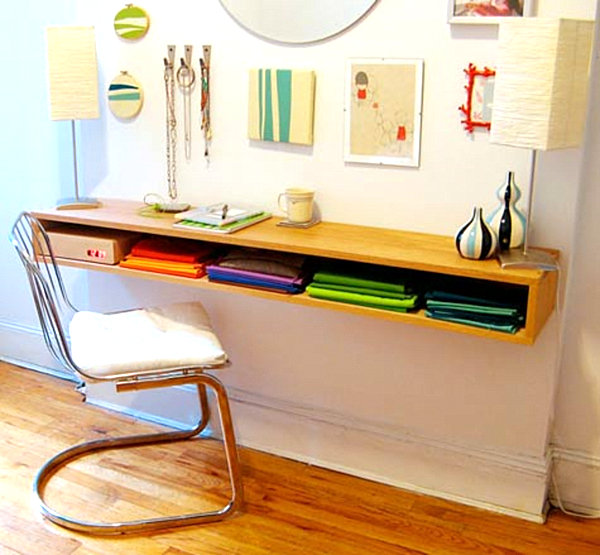 Small Desks
Our last few desks may be small, but they're not short on style! If an expansive work area isn't a requirement, check out these clever DIY ideas for the tightest of nooks.
If space is limited, go vertical for storage. The desk below was made of apple crates and wooden planks. First spotted at the Anthropologie clothing store, the piece inspired a DIY project/turorial that can be viewed at Apartment Therapy.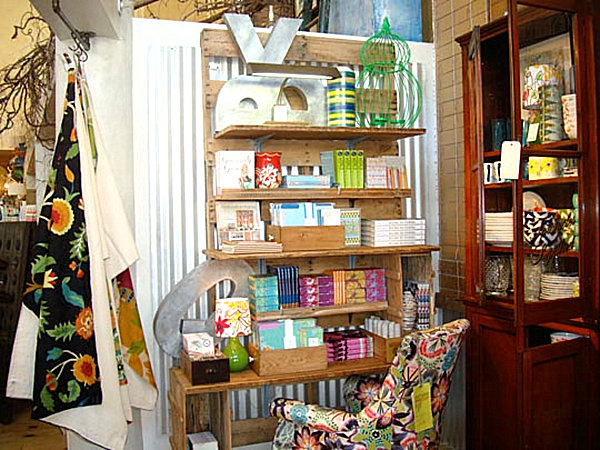 Another storage-maximizing piece is the Cubby Desk and Hutch, a build-it-yourself project from the innovative blog Ana White. It's funny how a small piece can make such a big statement!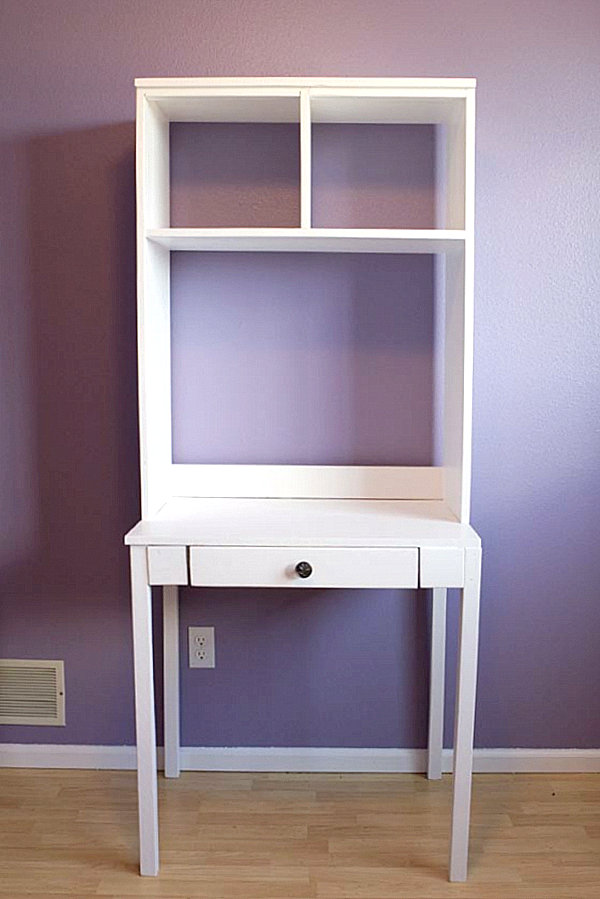 Making use of the corner can be a saving grace in a small space. The Floating Corner Desk by Tom Geisler is made from two IKEA butcher block counter tops. The top counter becomes the desk top while the bottom counter is transformed into a handy shelf. [from Lifehacker]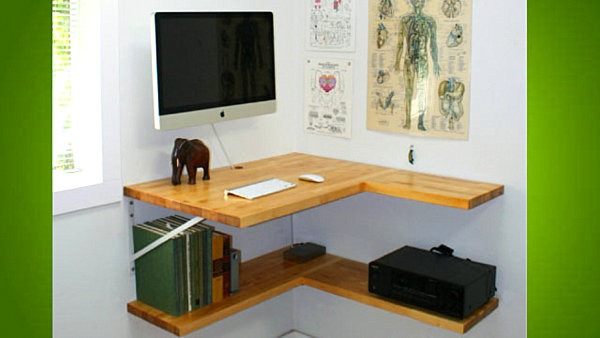 IKEA pieces seem to come in handy for more than a few DIY desk projects! The iMac Computer Desk was constructed from IKEA Ludvig products and the Vitamin stool. Note how a large monitor is accommodated in the smallest of spaces. For the full tutorial, check out IKEAhackers.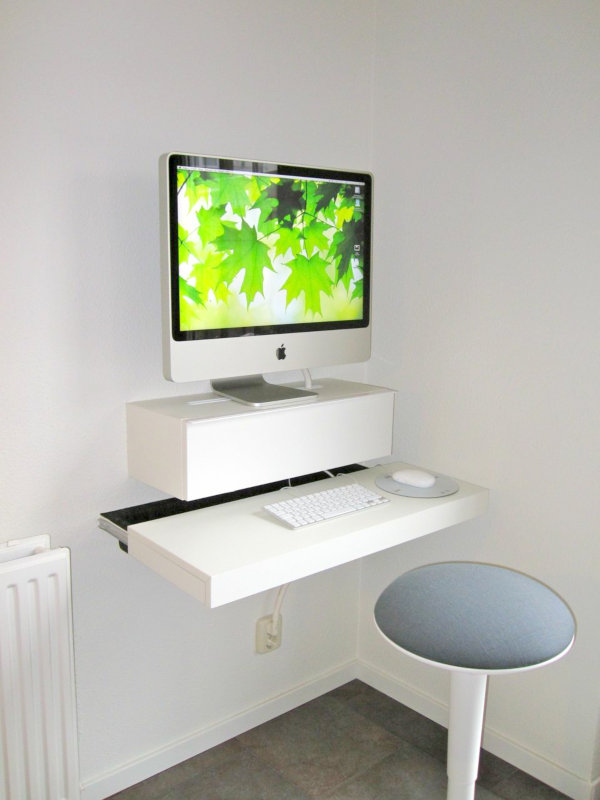 The DIY mini laptop desk below is striking in its color, created by a coat of enamel. The epitome of stylish and space-effective, This wooden piece can be built with the help of a full tutorial at Fresh Home Ideas.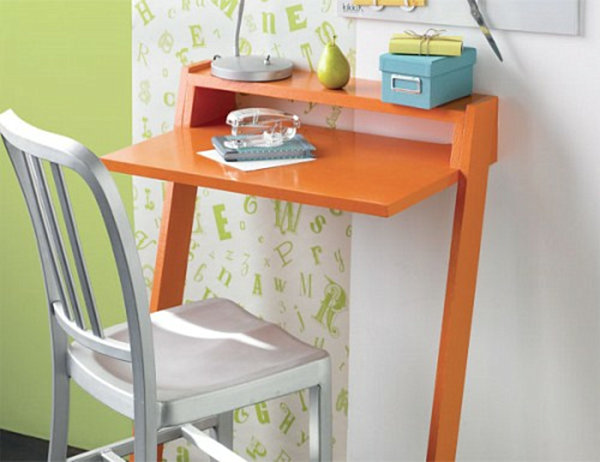 We end with a truly interesting "desk meets bookcase" creation. By incorporating a bookshelf as a handy divider, a desk becomes a small work space for two. [from Better Homes and Gardens via Apartment Therapy]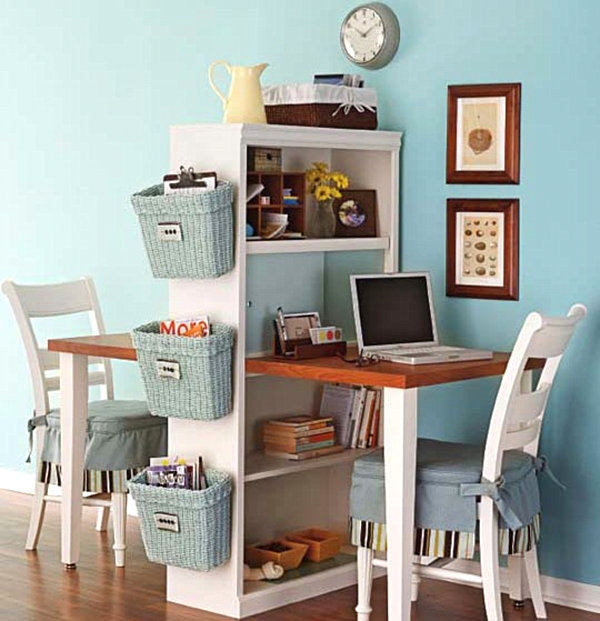 As you can see, a wide variety of DIY desk projects are at the ready for those who want to be adventurous in home office design. From the smallest wall-mounted surface to the largest L-shaped corner desk with maximum storage, a range of ideas are ripe for the picking. Since many hours can be spent at a home desk, make sure the piece you choose is as practical as it is pretty. Finally, don't hesitate to get creative. Perhaps an image you saw today will inspire an original DIY project for your home office!