Wondering what to put at the center of it all? Deciding on a centerpiece for the dining room table can be a bit daunting… How do pick a scene stealer for a piece of furniture, or in some cases, an entire room? Believe it or not, the more we investigated this very question, the more it became clear that sometimes less is more.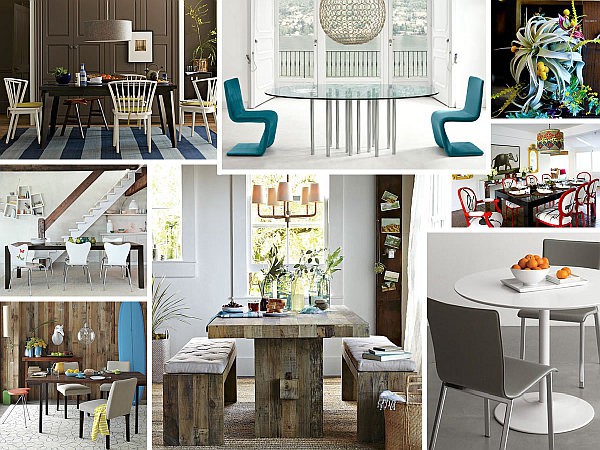 Sure, we've showcased a few va-va-voom centerpieces that make a dramatic statement. But a surprisingly large number of striking dining table centerpieces are simple, elegant and easy to reproduce. This is good news for those of us who are on a budget or who simply change our minds often and want the flexibility of switching out one centerpiece for another on a whim. Check out the diverse array of ideas below:
Group Dynamics
We start by reinforcing a favorite decorating mantra: there is power in numbers. In fact, we recently made this point in our Decoist article on displaying collections with style. Below we see a group of vases atop the Draught Dining Table from CB2: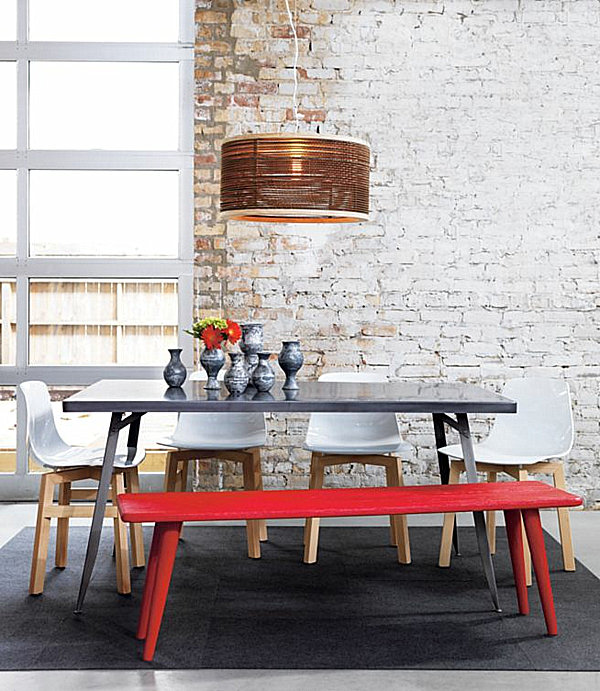 For a look that's clearly fabulous, group a number of transparent glass vases and fill them with tropical leaves and other interesting stalks, as shown on the surface of the Emerson Dining Table from West Elm: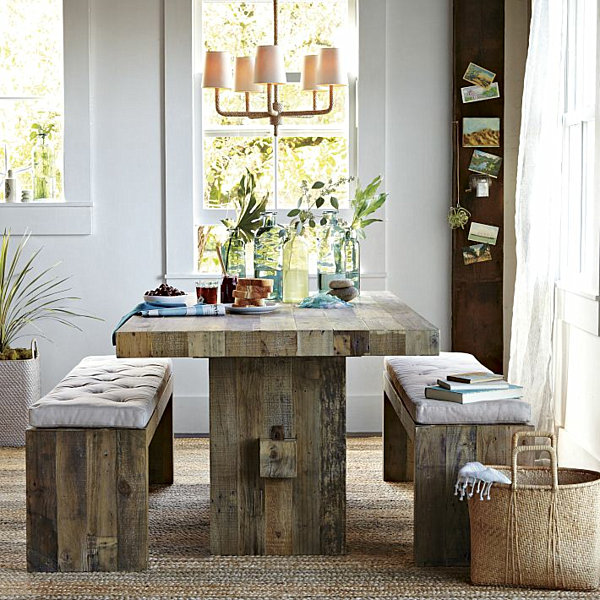 Who needs flowers when the bottles are this lovely? Modern glassware in shades of blue and green create a multi-layered spread, bringing the Terra Dining Table to life. [from West Elm]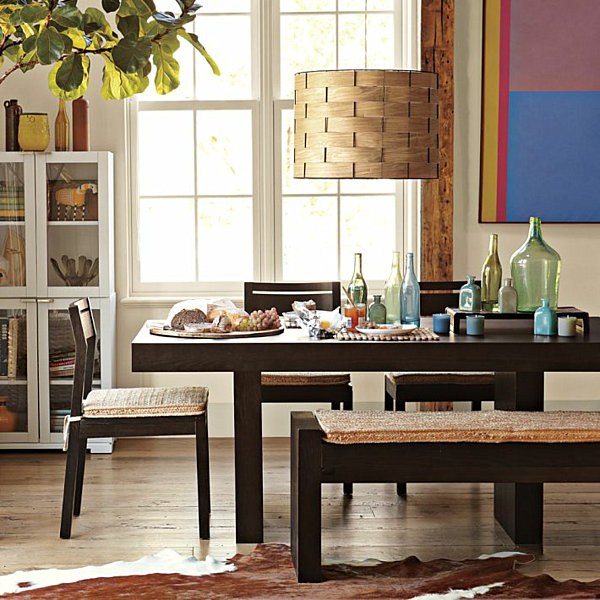 Let your centerpiece light the way! The Twist Bistro Table from CB2 is illuminated by a whole army of quirky candlestick holders and white taper candles in this next image: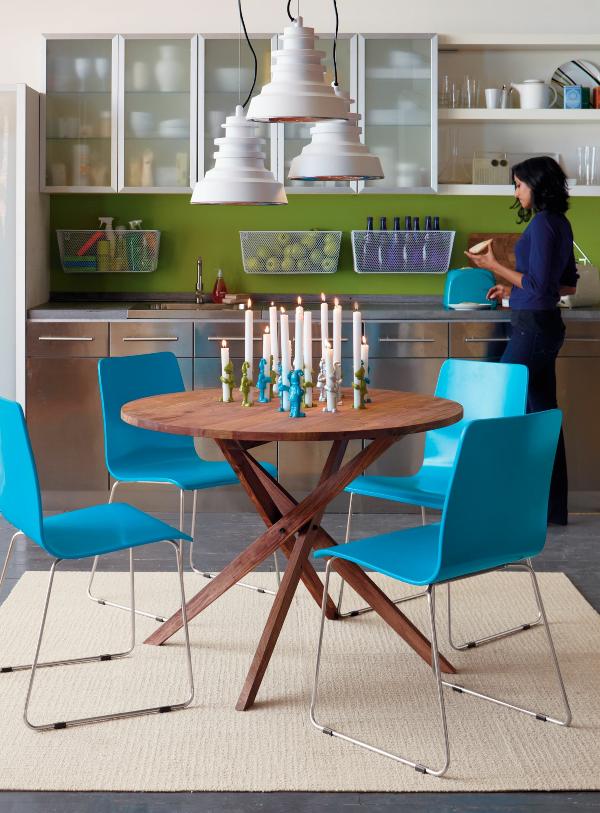 If dripping wax is a concern, try tea light candles in see-through holders with an art glass look, as shown on the Parsons Expandable Dining Table below. [from West Elm]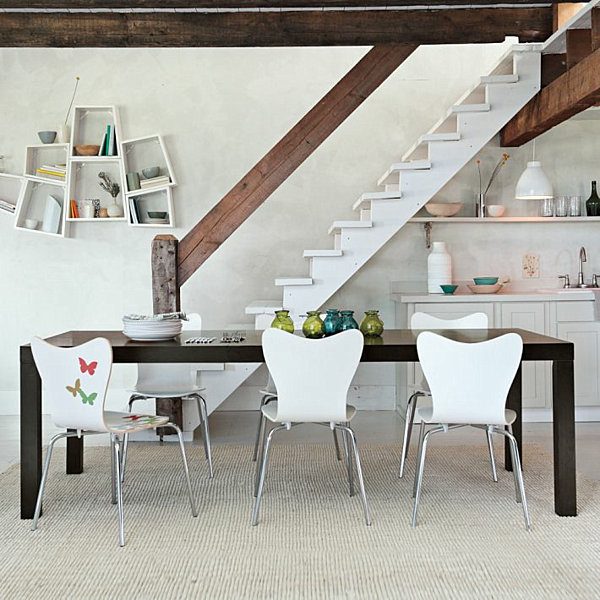 Say It With Flowers
There's nothing like a centerpiece of fresh flowers! It's fun to get fancy, but sometimes the simplest of ideas has the grandest of effects. Below, a clear vase of tall calla lilies is just what this modern dining set needs to set the tone for a delicious meal. [from eFurniture House]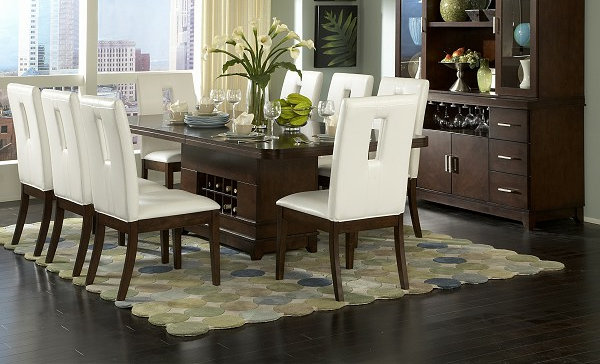 Like calla lilies, tulips can carry the room on their own, especially when placed in a low container like a round goldfish bowl. [from The Everyday Home]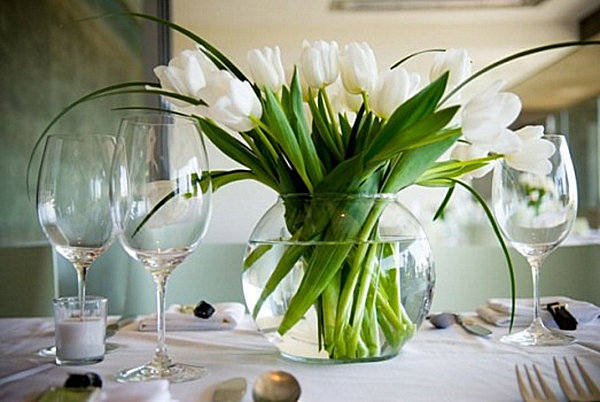 If variety is the name of your game, try grouping flowers of the same color family. Below, a collection of yellow flowers creates a monochromatic bundle. Not to mention, rather than resting in a traditional vertical display, these dahlias, daffodils and billy balls are placed in a leaning arrangement for an element of intrigue. [from The Byrd Collective via DIY Network]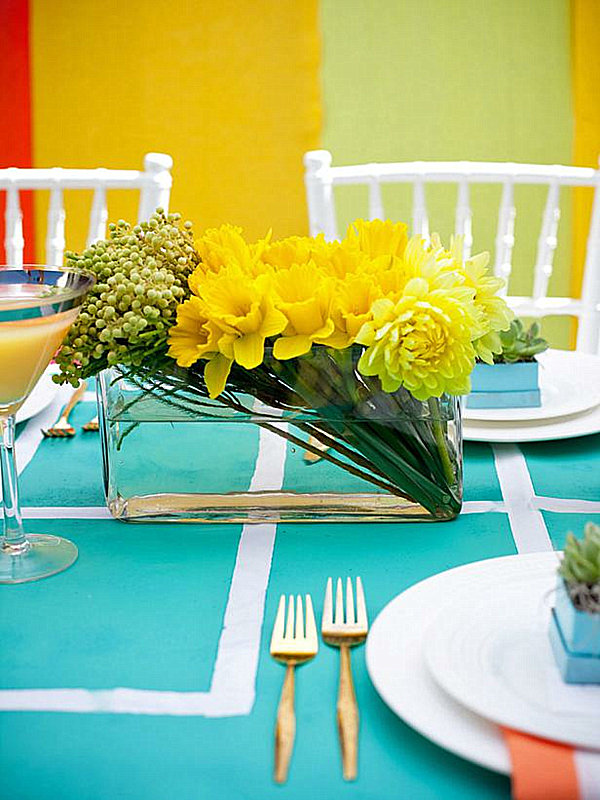 For an extra touch, throw a succulent into the mix. Fresh and green, these plants burst with style while keeping things classy. Below, succulents and white dahlias are positively elegant in a vintage silver bowl. [from COCOCOZY]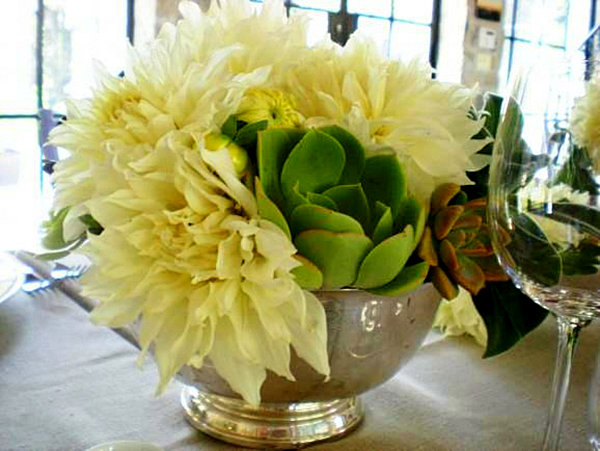 Just as the silver bowl above makes the centerpiece truly special, the modern vase below is a key element in the floral arrangement, which consists of one or two blooming stalks atop the Blox Dining Table from CB2: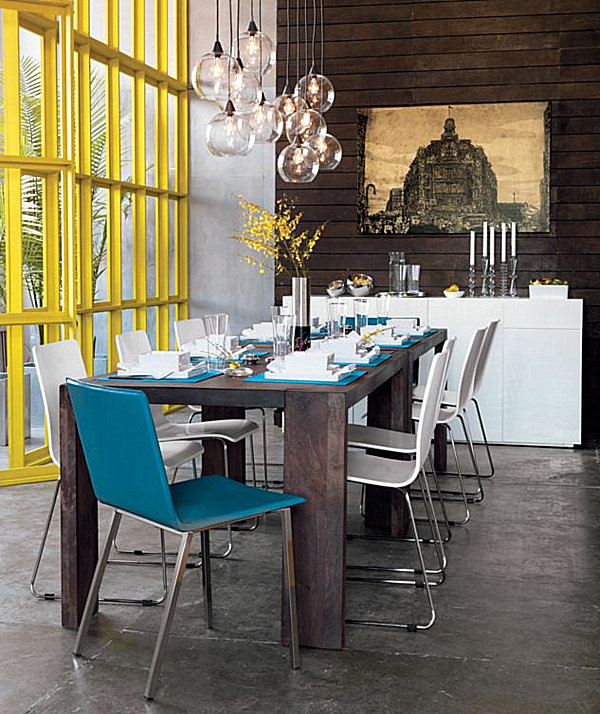 Eat Your Fruits and Veggies!
You're buying produce at the grocery store anyway–why not let it pull double duty as your dining table centerpiece? In fact, when you're entertaining and your table will be packed with food, sometimes a large floral arrangement just isn't practical. Keep it classy with a centerpiece of fruits or veggies. For example, a cluster of vivid oranges in a crisp white bowl is the perfect complement to the Odyssey White Dining Table from CB2: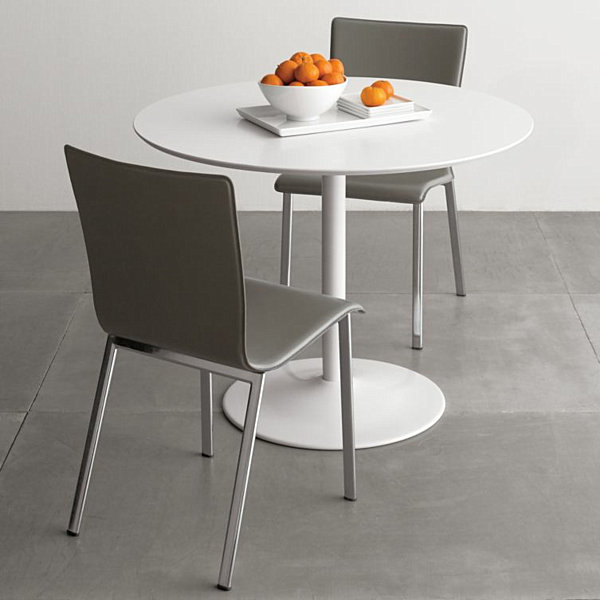 In fact, orange produce may be the exact pop of color a room needs. In this next image, a basket of orange citrus fruit atop the Angled-Leg Expandable Table from West Elm is the vibrant icing on the cake in a room featuring blue and yellow accents: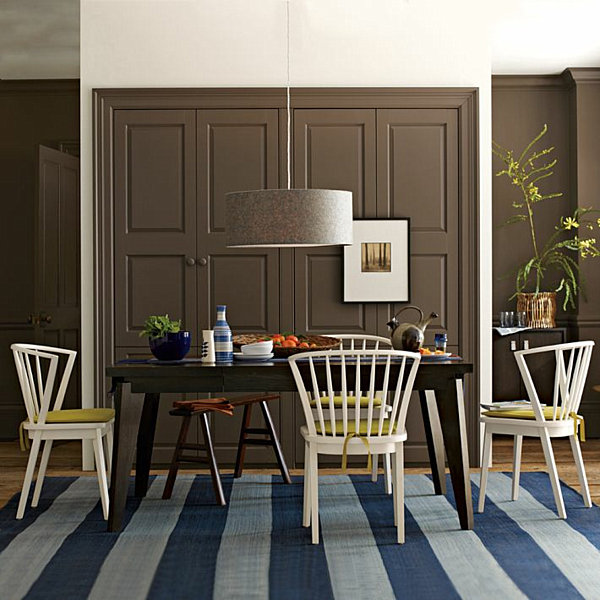 Speaking of blue and yellow, what a stunning lemon centerpiece in a powder blue bowl! The Industrial Dining Table from West Elm is the backdrop to this simple yet unforgettable arrangement: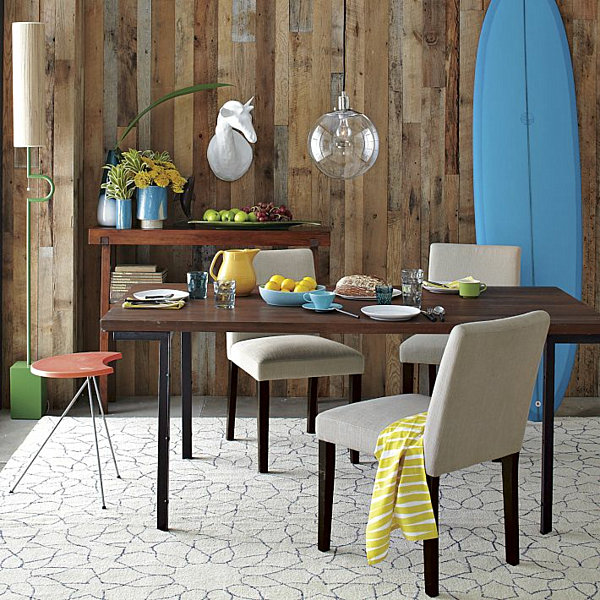 Sometimes produce may as well be floral! Below, a purple artichoke is a rich-hued companion to a mix of delicate blooms. [from Bellissima Vita via Casa Sugar]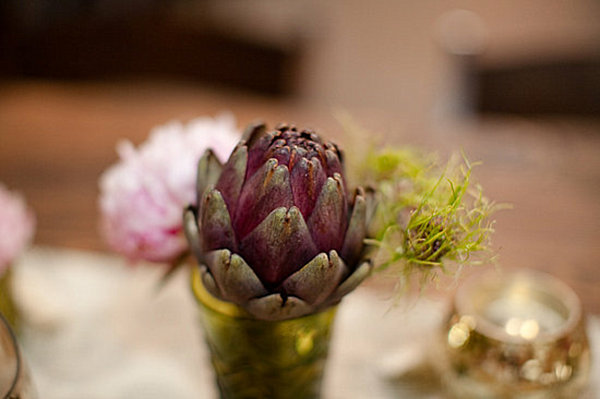 There are times when the best centerpieces are the least arranged. While radishes may not immediately pop into your mind when envisioning the perfect table topper, perhaps this next image from The White Petal will prompt you to reconsider: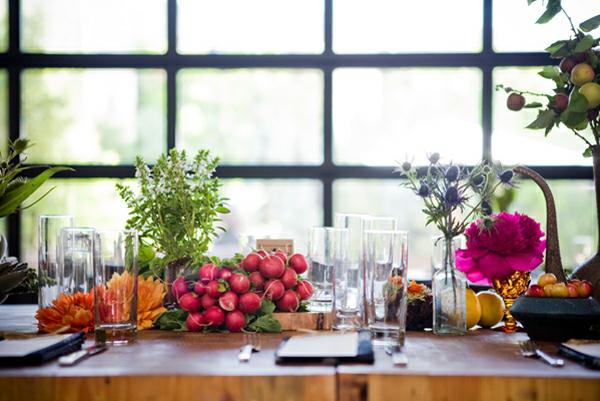 Pendant Light Power
One increasingly popular design trend is the use of a bold pendant light as the ultimate dining room statement. In fact, when the light hangs low enough, sometimes it becomes a substitute centerpiece. What table trinkets could possibly compete with the circular-motif pendant light below, shown hanging over the Mille dining table by Bonaldo? [from Ultra Modern]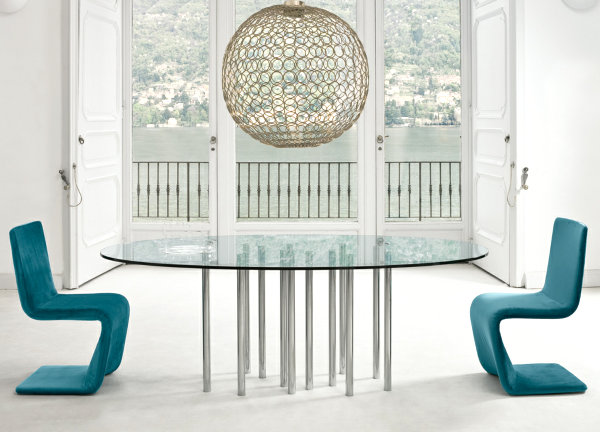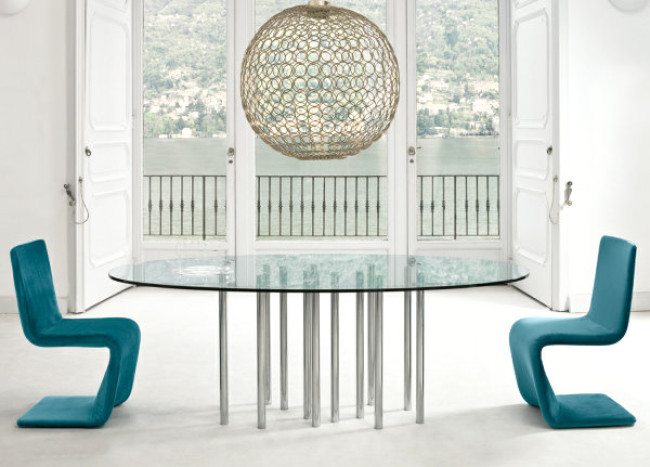 Similarly, a low bowl is all that is needed on the table that rests under this next colorful pendant light. [from Decorpad]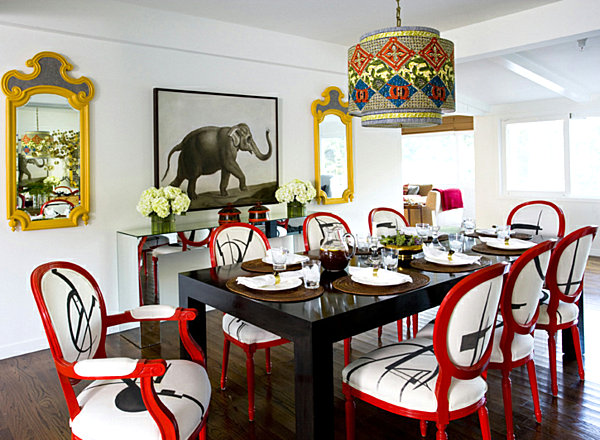 Minimal is the word in this next dining area, which showcases a sculptural pendant lamp illuminating an all-white room. [from Minimalisti]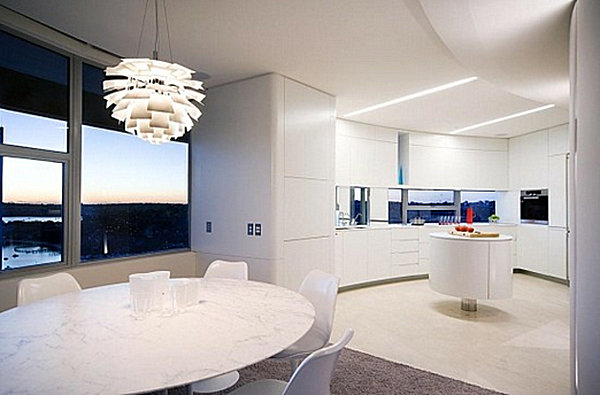 These pendant lights are actually wearing pendants! Hey, if you need a necklace for your next formal event… On a more serious note, with conversation pieces this powerful, it's no wonder the table below lacks a centerpiece. [from Ali Express]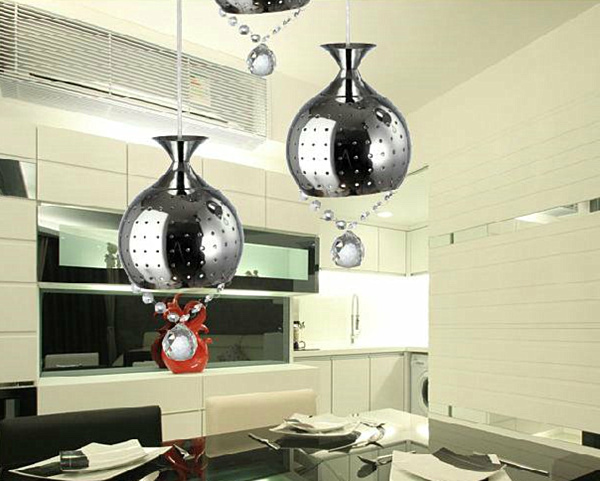 For the ultimate in textural lighting, check out the pendant by Louise Campbell, which is strong enough to serve as illuminator and centerpiece for the dining room of your dreams. [from Scandinavia Design]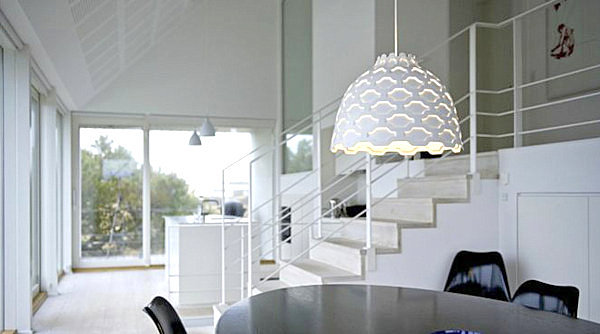 Say What?!
Our last collection of centerpieces is so unique, we had to create an entirely different category for their debut. Why put Swimmy and Flipper in the kids' room when they can be the star of your dining room? The goldfish bowl centerpiece below is the epitome of a "living arrangement." [photo from She-N-He Photography and Design via DIY Network]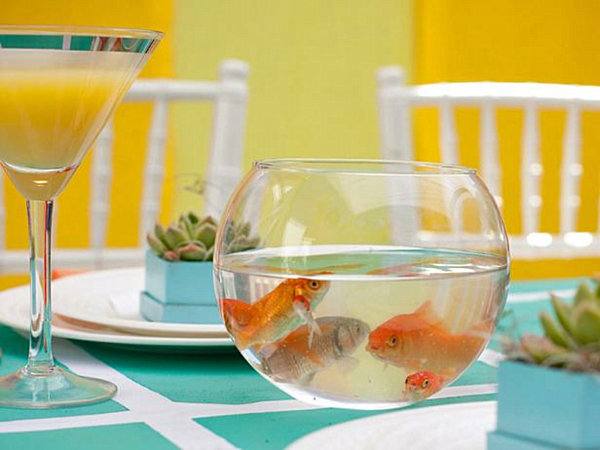 Speaking of living centerpieces, see if you can track down a dining table with a built-in gardening bed, and let the plants do the talking all the way through dinner! [from The Cracked Pot Gardener]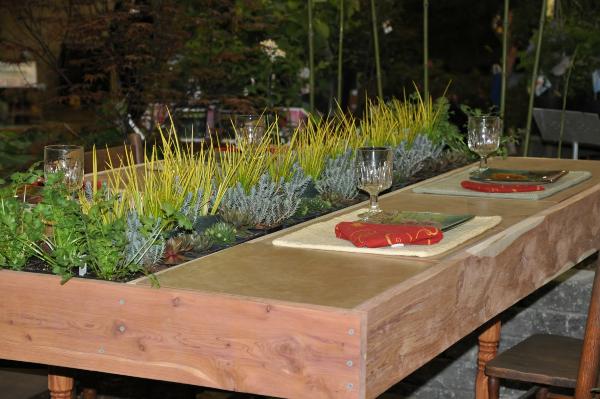 Once again, a trip to the grocery store can result in the most spectacular of centerpieces! The mushroom and cushion moss centerpiece below can be created with the help of a full tutorial at MarthaStewart.com: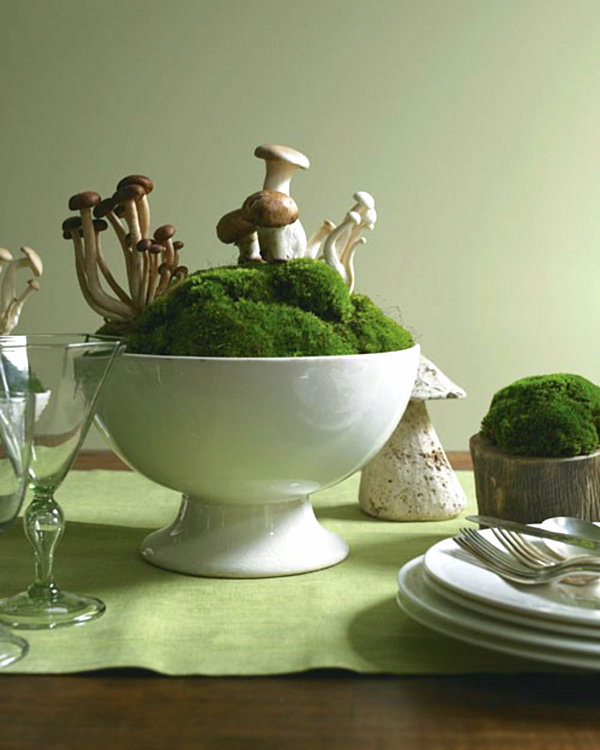 If getting crafty is what you'd hoped for, take a shot at creating a sculptural centerpiece with the help of a giant air plant, also known as tillandsia. Incorporate other fresh or dried blooms and let your imagination lead the way. [from GRN Events]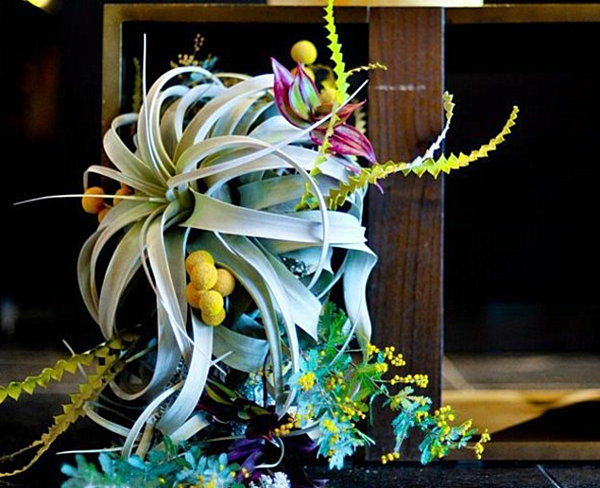 We end with a grouping of sculptural centerpieces that may as well be in a museum. Oh wait, they are! The book and tissue paper flower arrangements below were created by Marlena Pavich for an event at The Eric Carle Museum of Picture Book Art. [photo by Sandy Soderberg]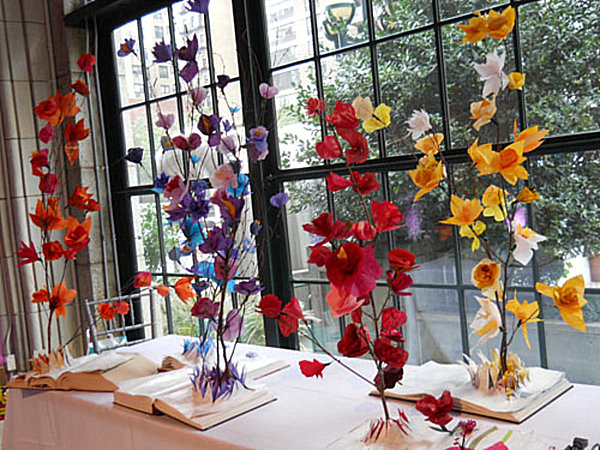 When it comes to centerpieces, many design enthusiasts enjoy switching out arrangements with each new season. For example, why not go tropical for the upcoming summer months? With an abundance of amazing centerpiece ideas to choose from, affordable and eye-catching options are at the ready. Take a chance on a new design, and enjoy the fruits of your labor!