Contemporary bedrooms are all about a neutral color scheme that is elegantly accentuated by pops of color. These colorful additions can often be swapped out with ease to alter the appeal of the room and its color palette with changing trends and seasons. While blue is touted as the most popular hue in the bedroom regardless of style and season, green is the 'chosen one' for those who want to bring a hint of natural goodness indoors. Relaxing, elegant, bright and refreshing, it is a pleasant hue that comes in diverse shades ranging from the brilliant jewel-toned emerald to more subtle and modest minty greens.
Adding green to the bedroom is easy if you already have a muted color scheme going in the room. It is a color that works beautifully with the likes of white, gray and even brown. While the yellowy-greens add warmth to the bedroom, the blue-tinged variants bring a touch of coolness along with a vibrant ambiance. Here is a pick of 25 gorgeous bedrooms that incorporate green in a gorgeous fashion –
Relaxing Modern Refuge
If you believe that green does not work in a trendy and minimal contemporary bedroom, then think again! A green accent wall is easy to shape, and it brings that much needed warmth to an otherwise cool and mundane interior. Just repeat the color in the room using vivacious bedding, accessories, nightstands or even a couple of lovely vases, and you have an inviting bedroom that is both energetic and relaxing. Those who feel that an accent wall in green or green décor are not their thing can still add the color by placing a couple of potted plants to fill up those empty corners. It is an easy, eco-friendly and healthy choice that will instantly alter the mood in the bedroom.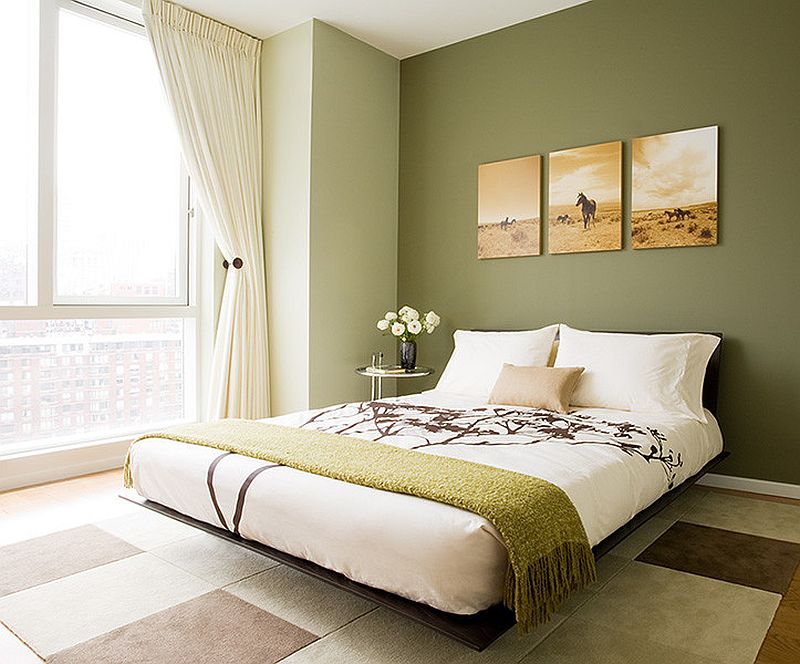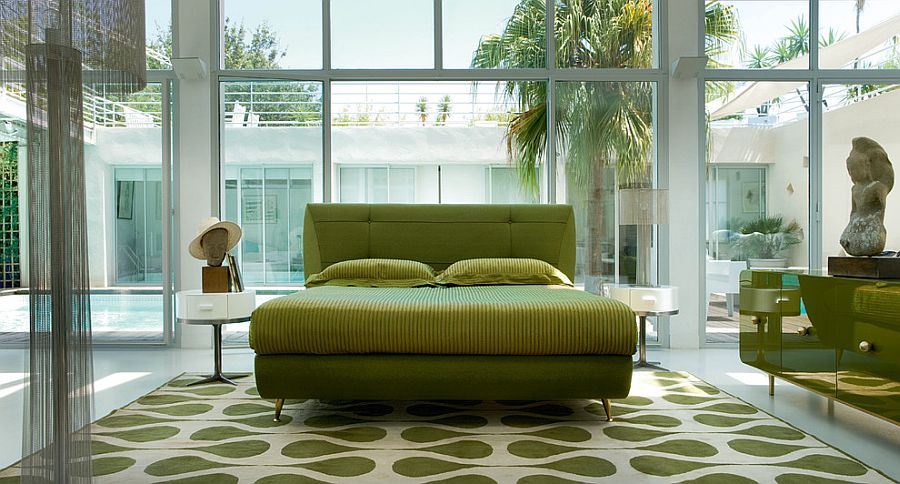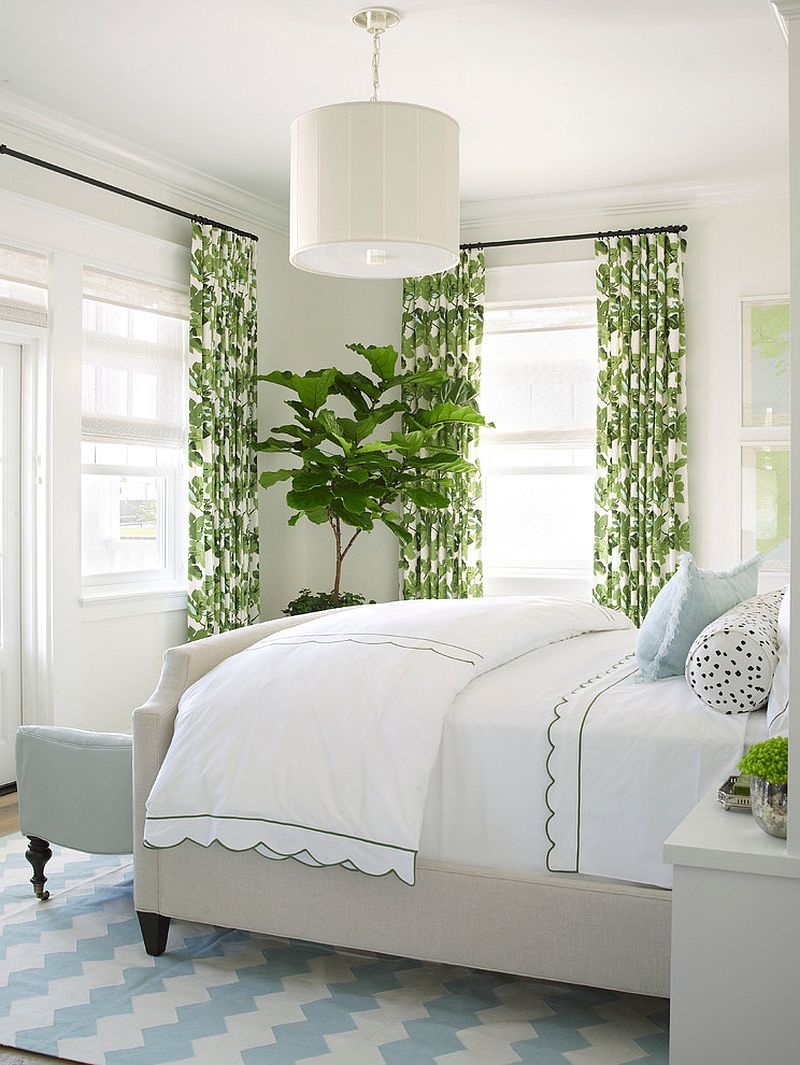 As we alluded to earlier, green and white is a smart combination that works well in a modern bedroom and balances energetic overtones with a serene backdrop. The amount of green you use here depends on the size of the room and the amount of natural light that floods into your bedroom. Smaller bedrooms with too much green might seem both overwhelming and visually cluttered.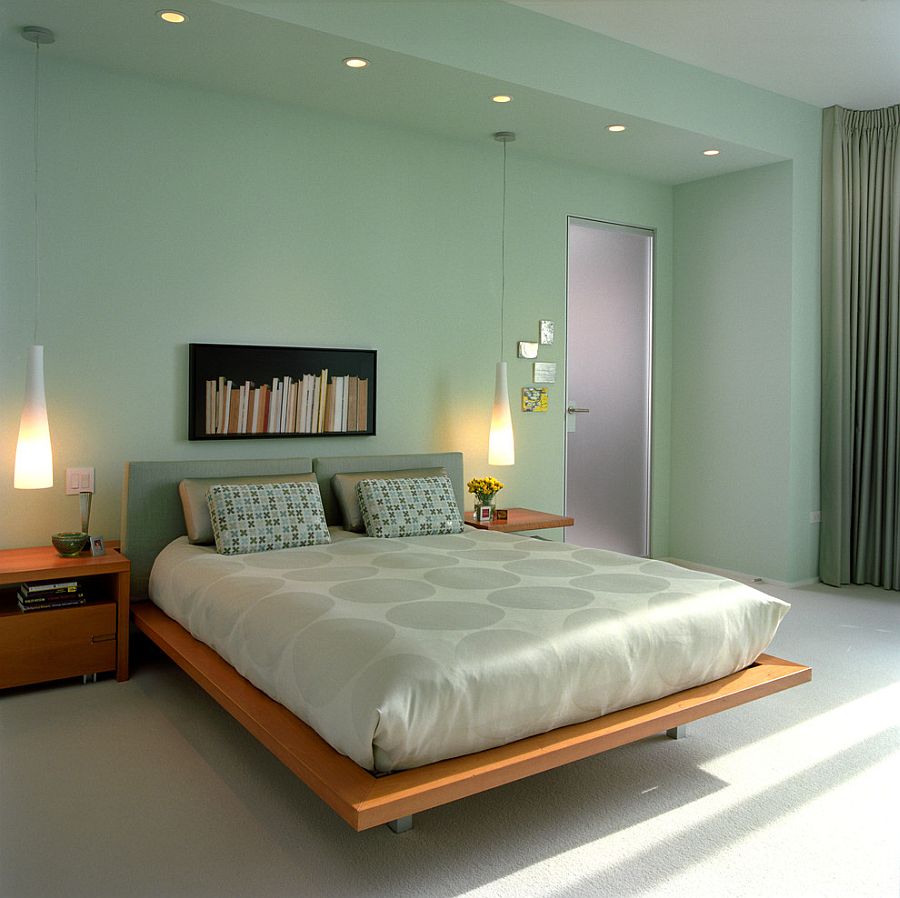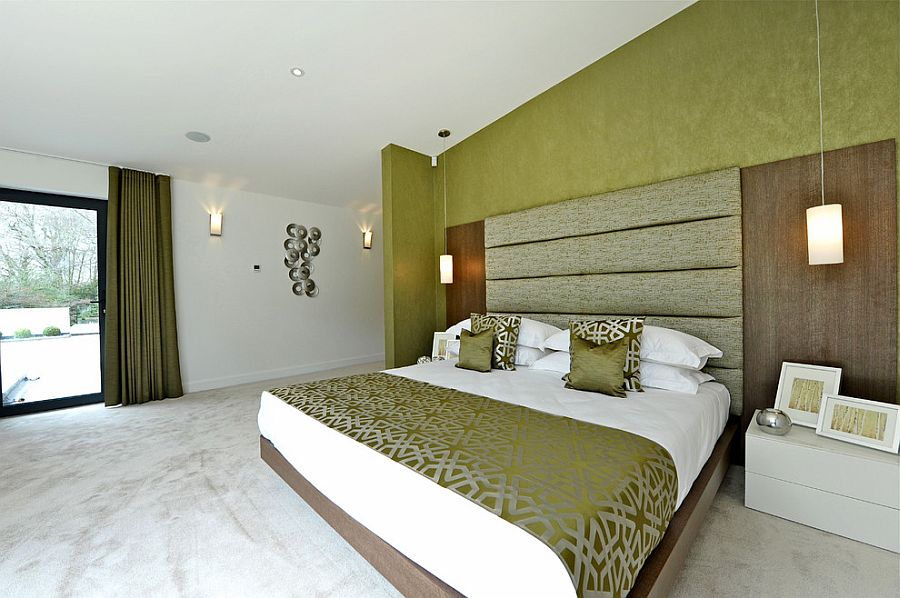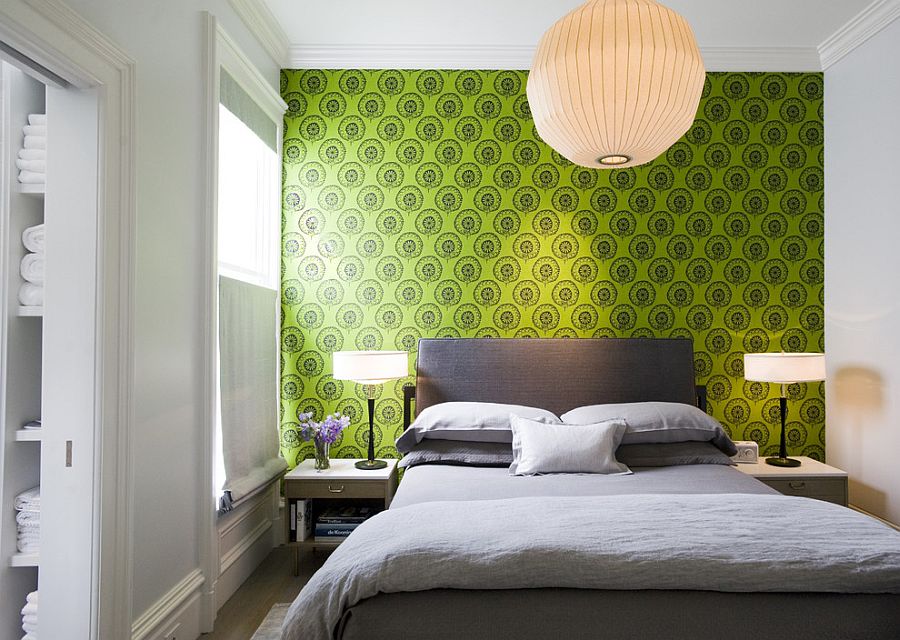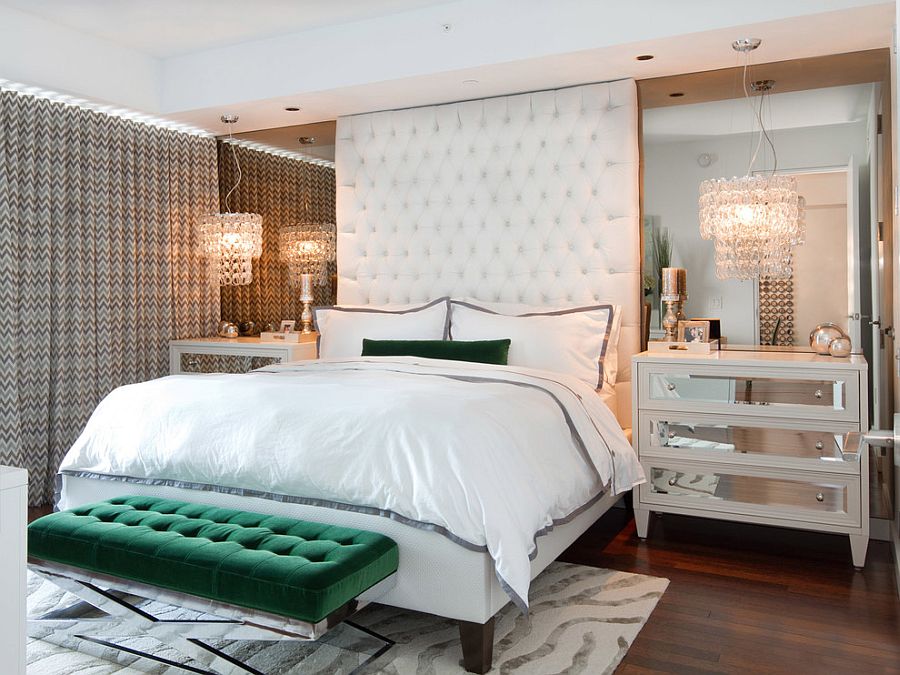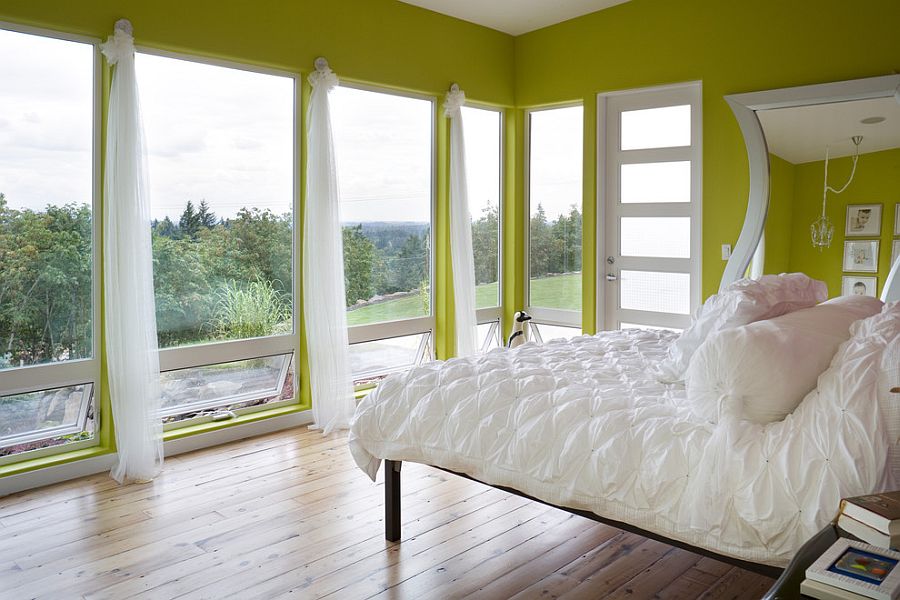 Accentuate Your Style!
There are a few specific styles and themes that come alive in the bedroom with the addition of a green tinge. The first that comes to mind here is the exotic tropical style. Whether you wish to combine a hint of tropical charm with modern aesthetics or you want to create a guest bedroom that is full of tropical flair, green is the color to turn to. A splash of bright or mossy green can turn your boring bedroom into a fun and playful space that reminds you of your recent holiday trip to a stunning tropical getaway. Another look that revels in green is the beach style, and you can replace the traditional white and blue blend with white, green and a hint of orange to create a unique and exquisite bedroom.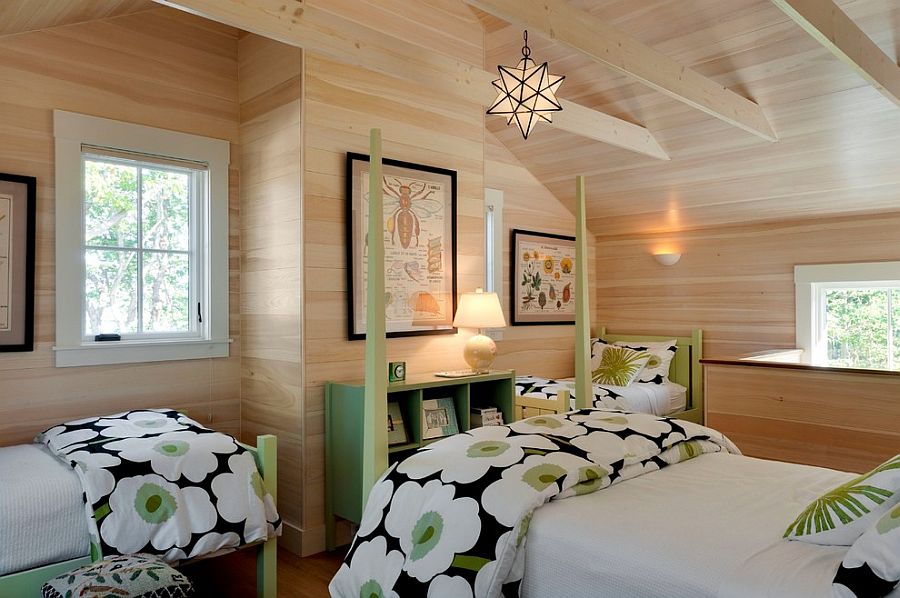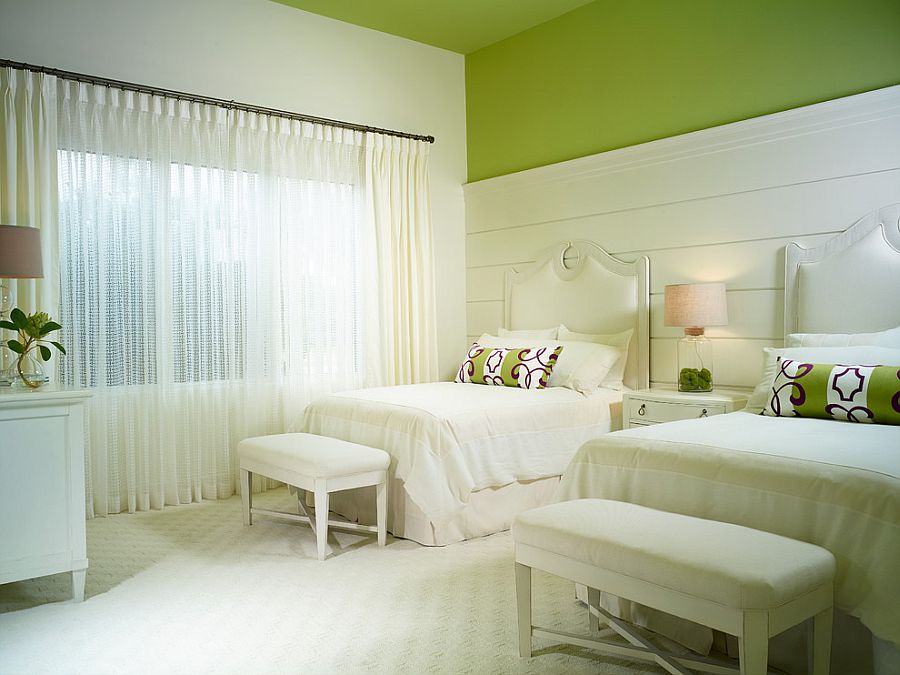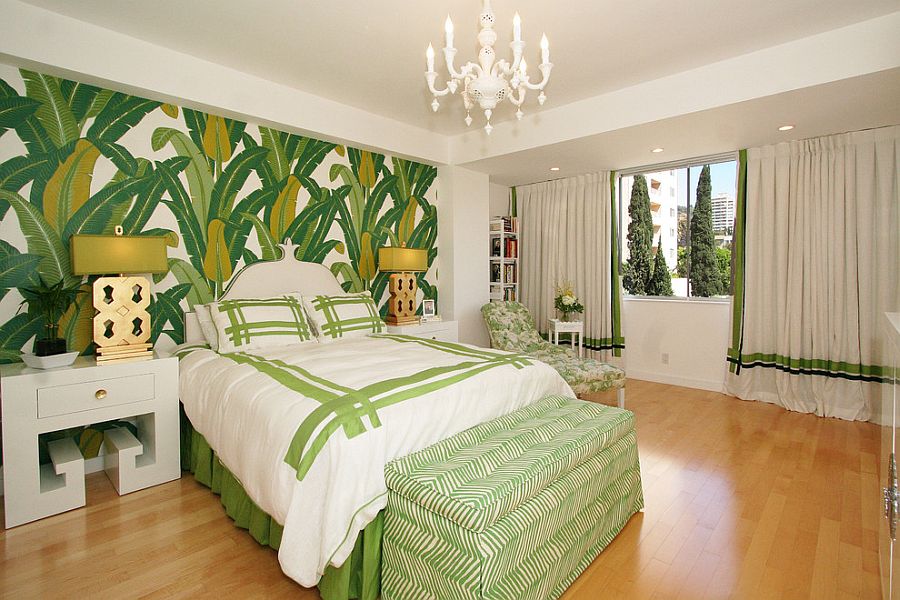 Emerald is a color that has consistently topped trend charts in recent times, and its jewel-toned glamour is perfect for bedrooms with Hollywood Regency style. The malachite pattern and color is also a smart choice if you love that luxurious look in the bedroom, while eclectic bedrooms drenched in green goodness steal the show with sheer audacity and flair!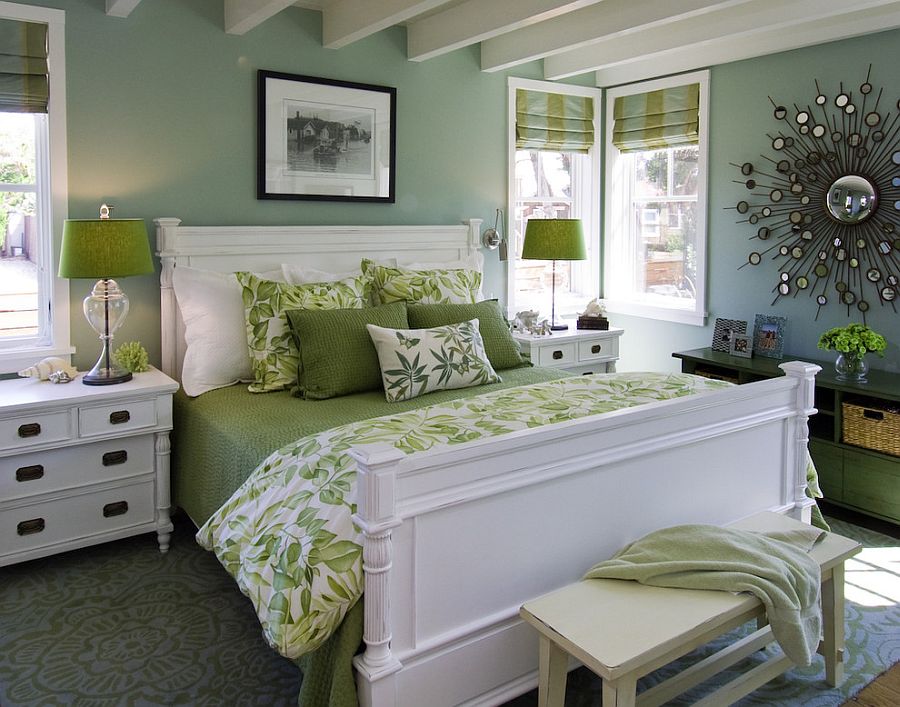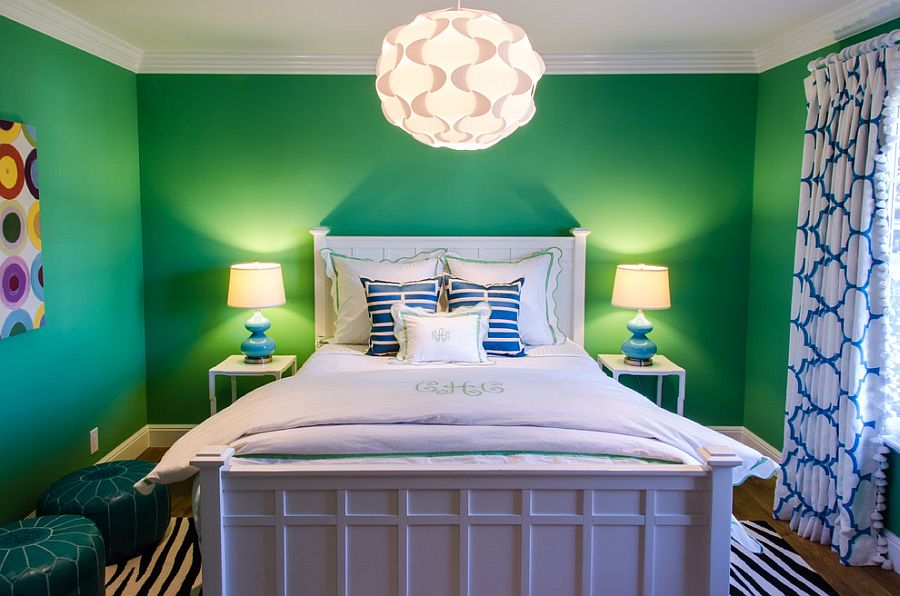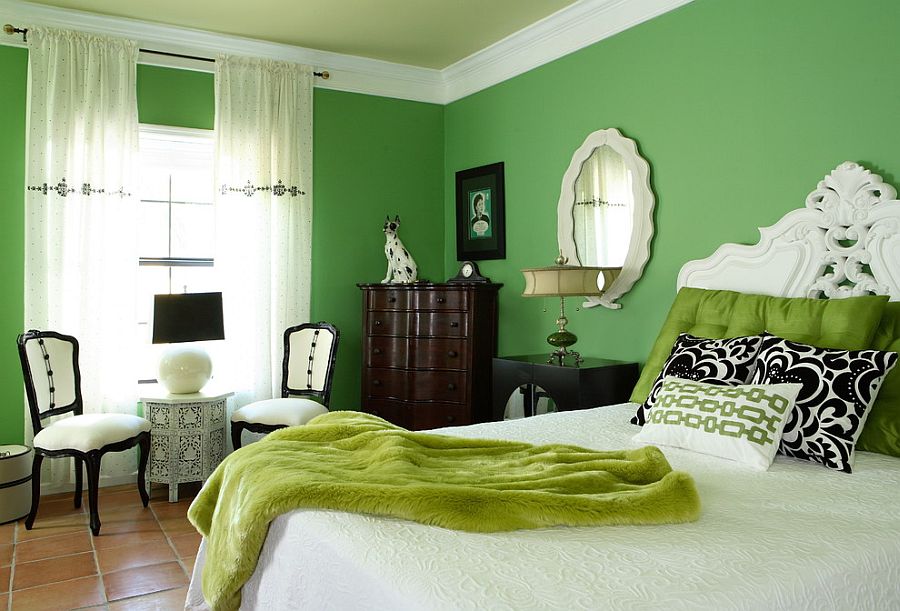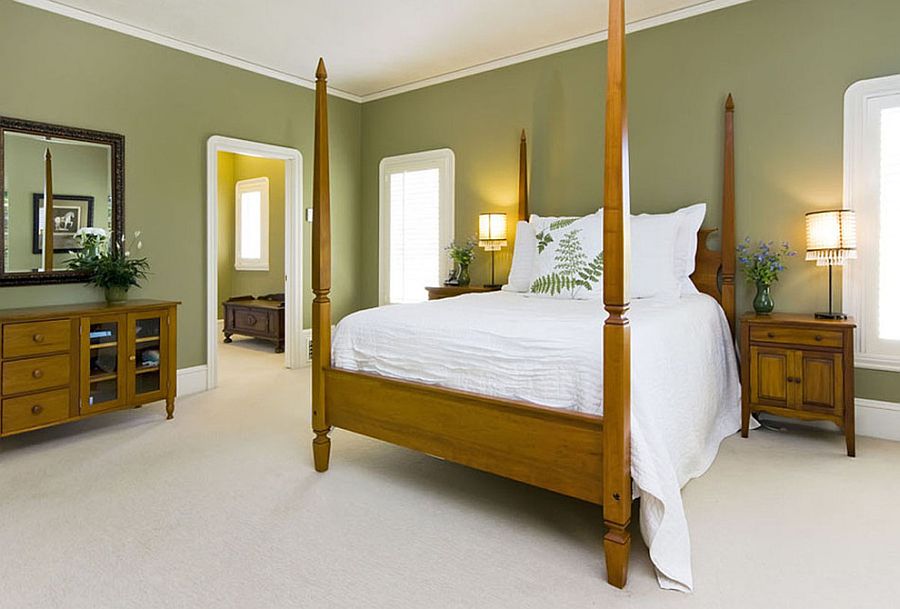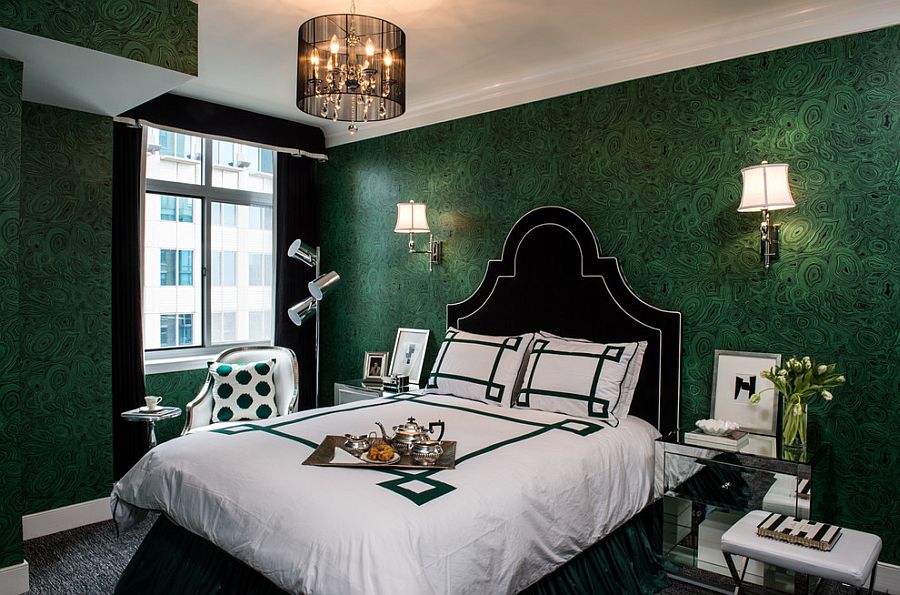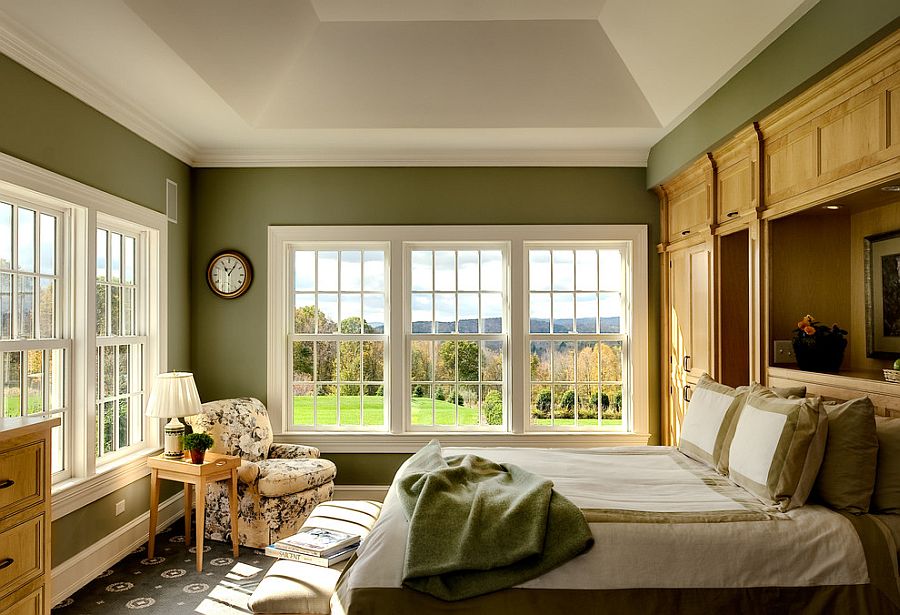 Creative Custom Solutions
Painting the walls might be the easiest way to add green to the bedroom along with bedding and accessories in a matching hue, but think beyond the obvious if you want a truly captivating room. Painting the ceiling in green can be a fun alternative, and by leaving the walls white, you will still have a neutral and versatile backdrop that will beautifully showcase wall art and sculptural décor additions. And for those who really want a personalized solution, mixing different shades to come up with your own custom green hue is indeed an exciting and enjoyable alternative. This will ensure that you are the proud owner of a one-of-a-kind bedroom with a shade of green that you came up with!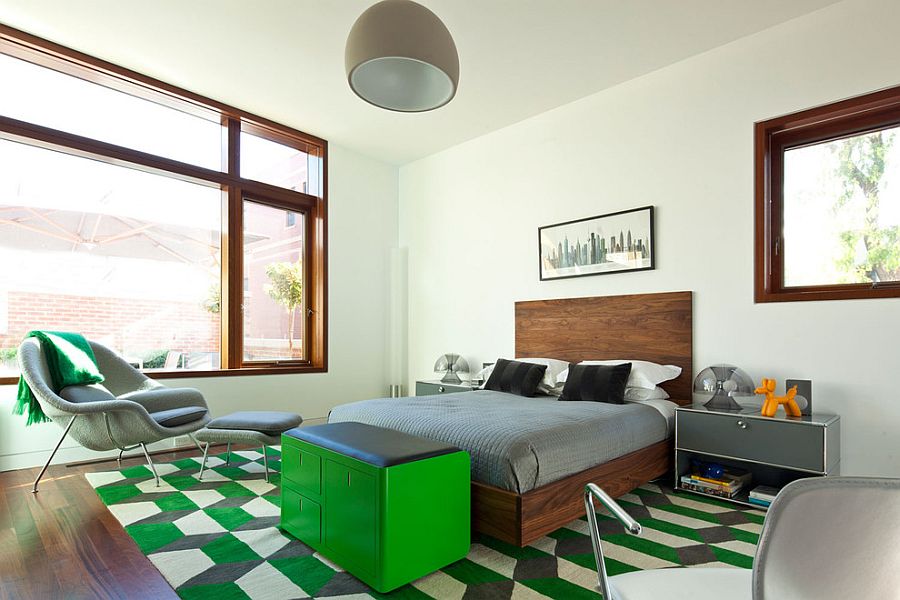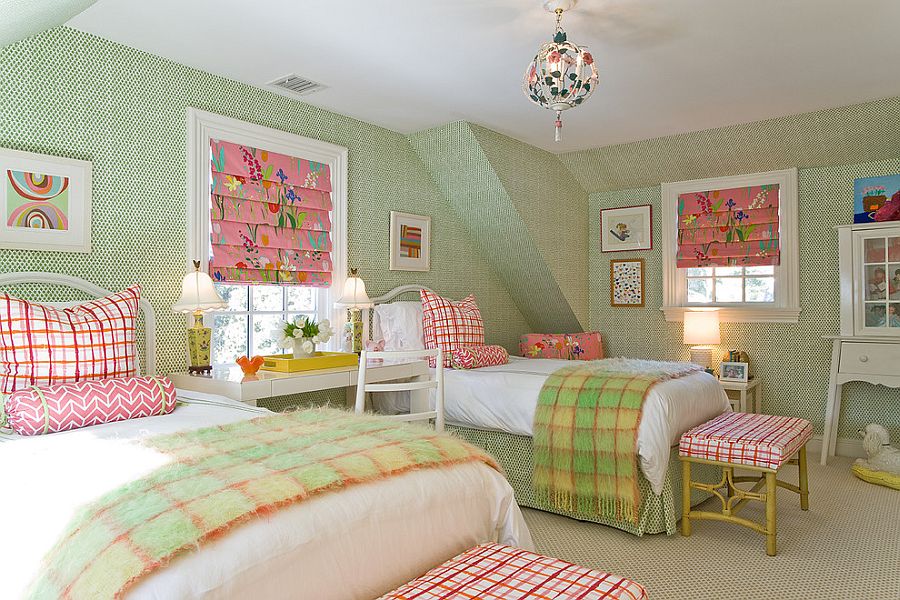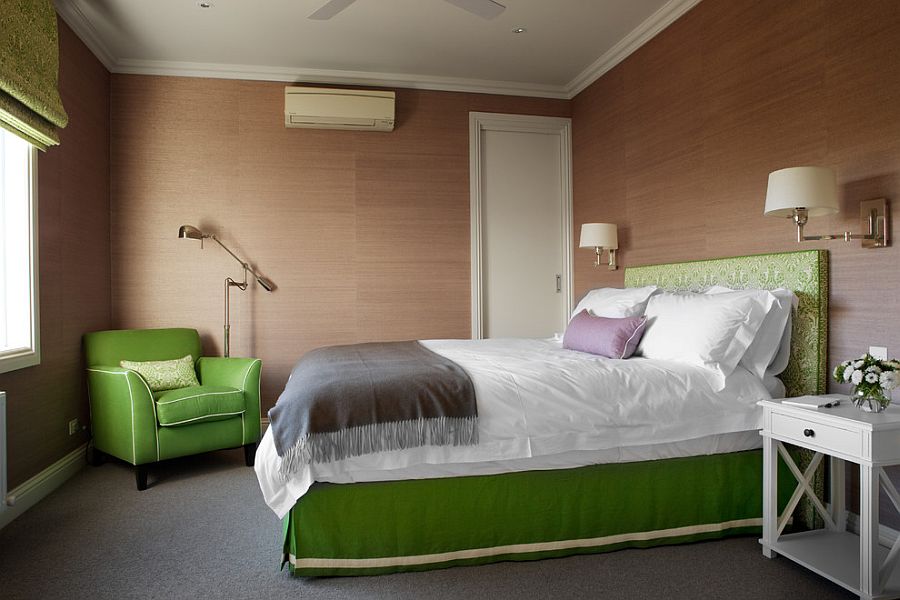 Green in the girls' bedroom coupled with pink works surprisingly well, and it elegantly complements other colors such as brown and orange as well. Working with more than 3 or 4 bright colors in a room requires great care, perfect planning and a hint of ingenuity that lets each hue stand out while blending with the overall look. While it does sound like a risky proposition, get it right and you will have a playful kids' room that is a visual treat.