I'm in the midst of bedroom-makeover brainstorming. And just as I was about to purchase a modern zigzag comforter at a great price this week, I got cold feet. Why? I couldn't help but feel like I needed to go tropical in my sleeping space instead! Maybe it was all those episodes of The Golden Girls I watched as a kid… What's so great about tropical motifs? They instantly evoke a vacation vibe, lowering the blood pressure while transporting us to another place. Plus, surrounding yourself with reminders of the tropics is a great way to beat the winter blues.
Today's post is dedicated to the tropical bedroom. But notice that the images below don't look like reincarnations of Hawaiian shirts. We're not talking theme-y, over-the-top tropical style here. We're talking easy. Breezy. Serene. Crisp. And at times, very vibrant! Join me on my journey of tropical inspiration gathering, then tell me about your favorite spaces in the comments section at the end of the post…
Tropical Colors
What colors are perfect for tropical spaces? The hues of the sand and the sea. And don't forget a dash of crisp white for good measure! [from StyleHaus Interiors]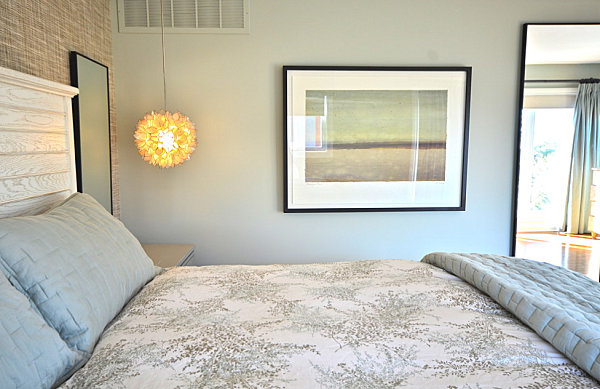 Just when a muted color palette was soothing you to sleep, we're injecting a bright dose of radiance into the mix. Yes, tropical spaces are the perfect place to celebrate the colors of a beachy sunset. Blue is a lovely backdrop for shades such as yellow and orange. [from Vacation Homes of Key West]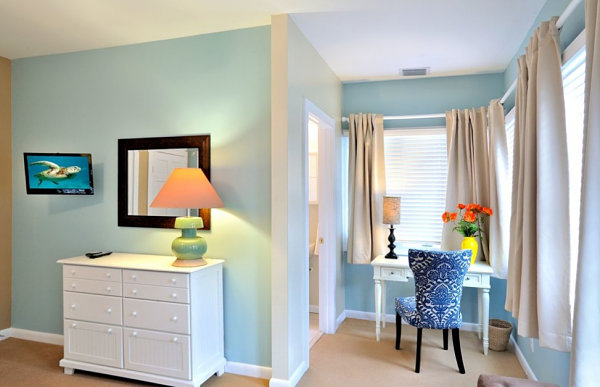 Did someone say "yellow and orange?" I thought so! So I'm sharing another image featuring these two vibrant hues. Love the not-so-matching bedside lamps! [from Lonny]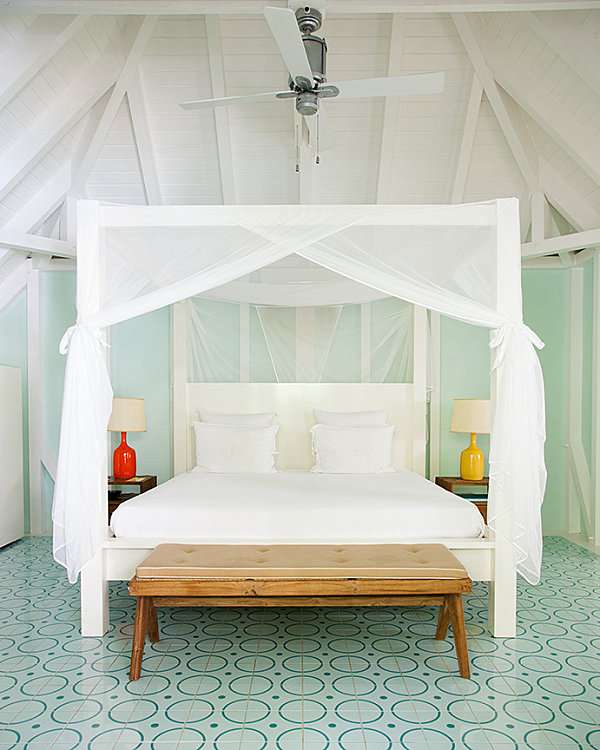 Yes, the colors of the sunset are perfect for the tropical interior, and nothing brings on the breezy tranquility quite like peach. Orange and blue are complementary colors, so peach walls are the perfect counterpart to the tropical waters that glisten through the windows. [from Pink House Villas]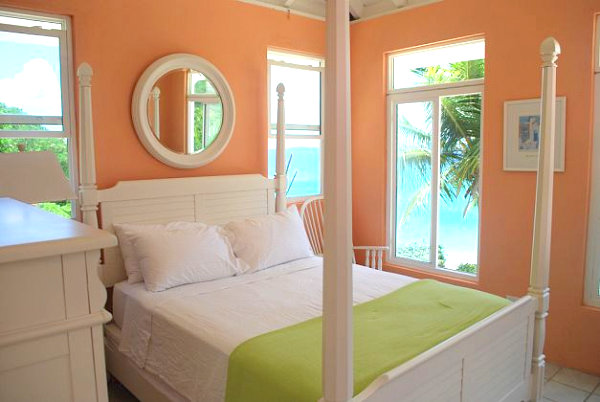 The room below is delicious, isn't it?! Light peach walls set a serene tone, and shades of coral and blue punctuate the space for a beachy effect. [from Home Design Lover]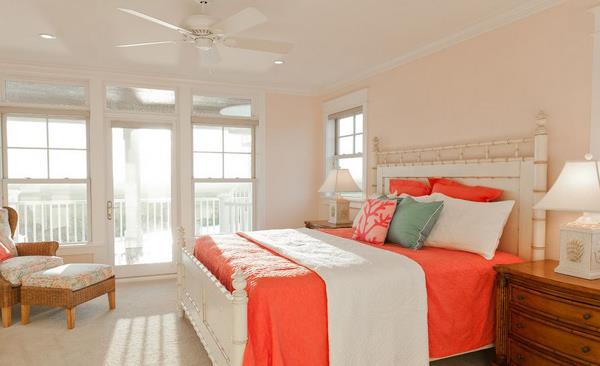 Coral also works well with sandy hues, as shown by the headboard and bedding in the next featured image. [from The Lennoxx]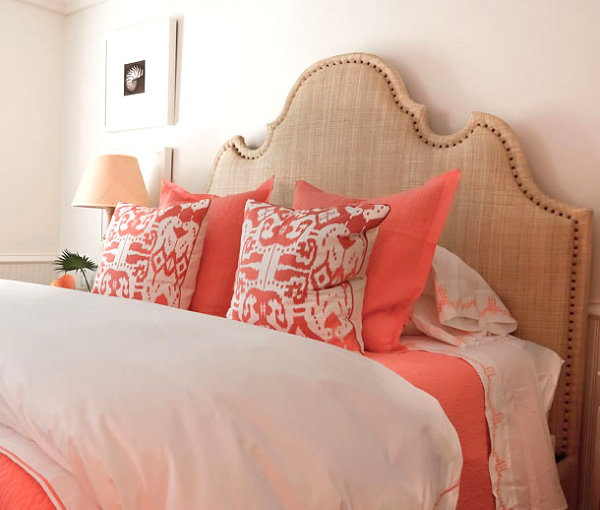 Let's not forget about the power of earthy tones that reinforce tropical motifs. To keep wooden accents from overpowering a room, counteract them with a crisp shade of white, as shown below. [from Lonny]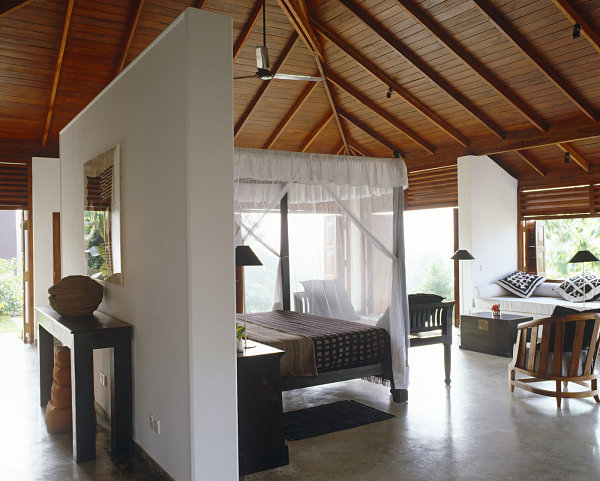 Bamboo and Lattice Motifs
Two more fabulous elements of tropical style? Bamboo and lattice motifs… These statements have the power to instantly transport us to a glamorous beach bungalow, as shown by the canopy bed below. Anyone else notice the lattice-print comforter?! [from Katie Rosenfeld Interior Design]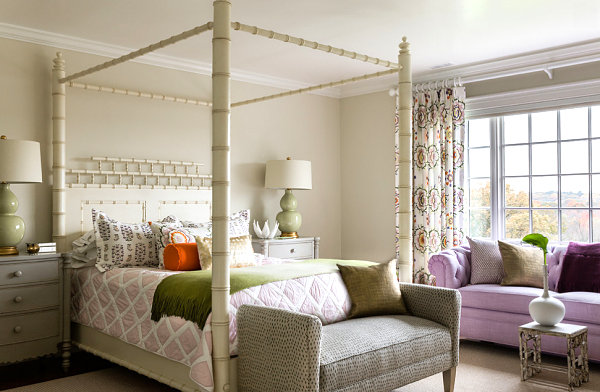 In the next featured image we see a bamboo chair with a lattice-pattern back, as well as lattice-print pillows on twin beds. Note how both bamboo and lattice motifs are seamless additions to chic, elegant interiors. We'll call it "upscale tropical"… [from Katie Rosenfeld Interior Design]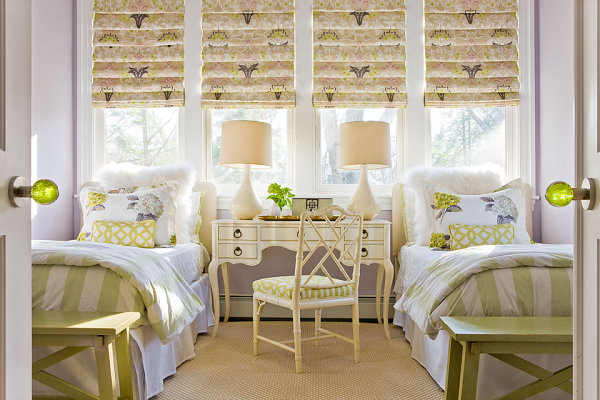 Sometimes all you need is a hint of tropical style. The bedroom below features a few breezy accents, from bold lattice-print pillow shams to the sun-motif mirror that hangs over the geometric lamp. [from Katie Rosenfeld Interior Design]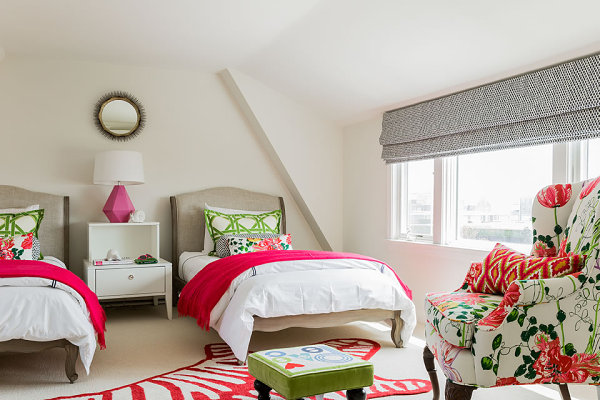 Lattice-print bedding is the perfect way to complement tropical spaces that are subtle in style. The all-white room below is crisp and soothing. Rather than hitting us over the head with tropical motifs, it invites us to take a closer look. Botanical prints and seashells don't disappoint. Neither does that lattice-print bedding! [from Lonny]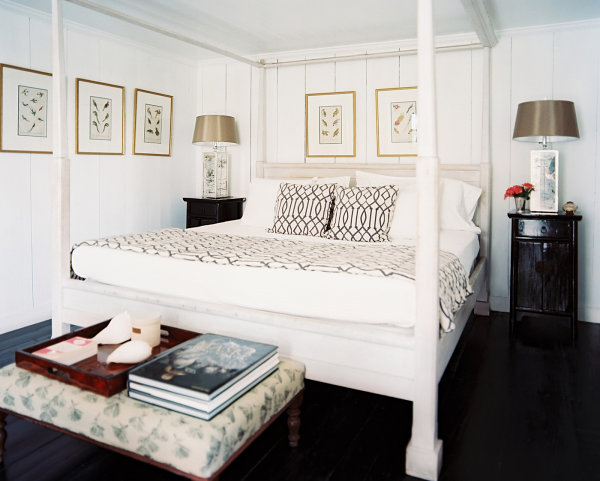 An Ode to Lush Vegetation
I couldn't end today's post without an ode to lush vegetation. Let's face it–one thing we all love about the tropics is the plethora of exotic greenery. And you don't need to transport a palm tree home to enjoy the tropical leaves indoors. Wallpaper does the trick just fine! [from Michelle Workman Interiors]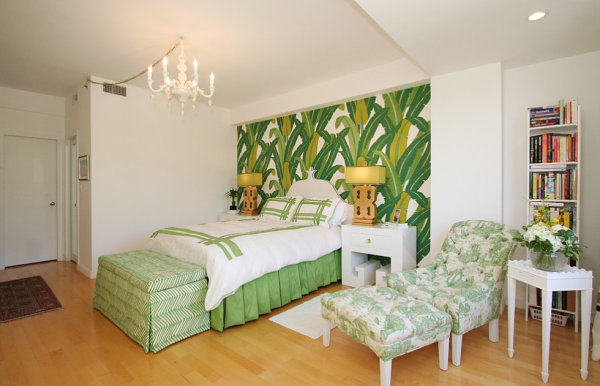 Im loving the combination of rich blues and greens in the tropical space below. Maybe it's because my bedroom wall is already a shade of blue-green… Breaking up the decadent hues with earthy accents is a fabulous idea. Those pendant lights have definitely caught my eye. Of course, so did that palm-leaf wallpaper! [from Momtoob]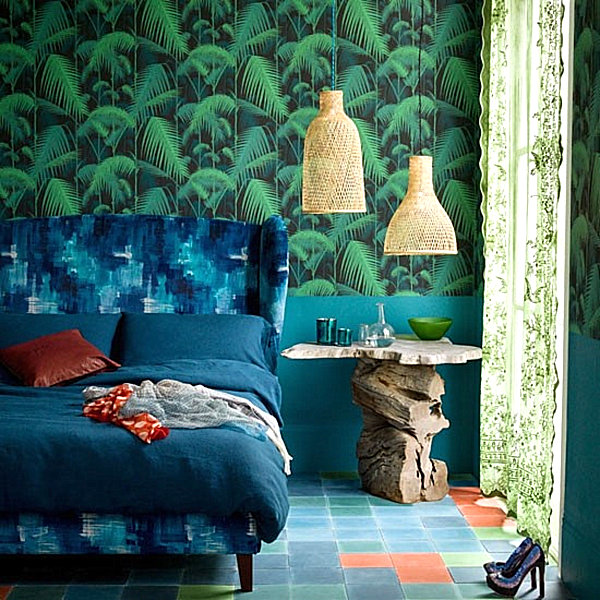 Bring the palm trees indoors with an art installation that doubles as a headboard. Interesting how one bold statement can say a thousand words, isn't it?! [from Lonny]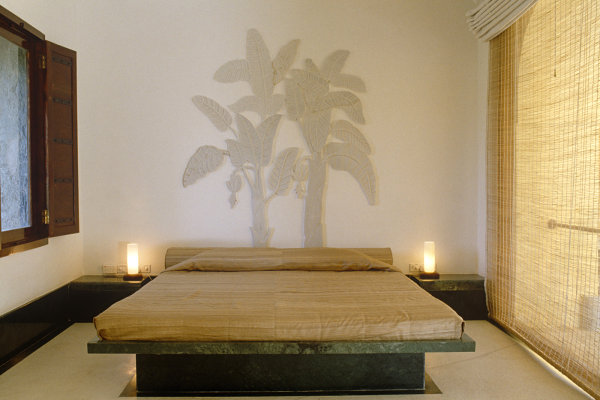 Speaking of one bold statement, let's hear it for wall sculptures that celebrate floral motifs! I'm guessing there are some fabulous vintage finds out there that could add unique 3-dimensional style to a tropical bedroom… [from Golden White Decor]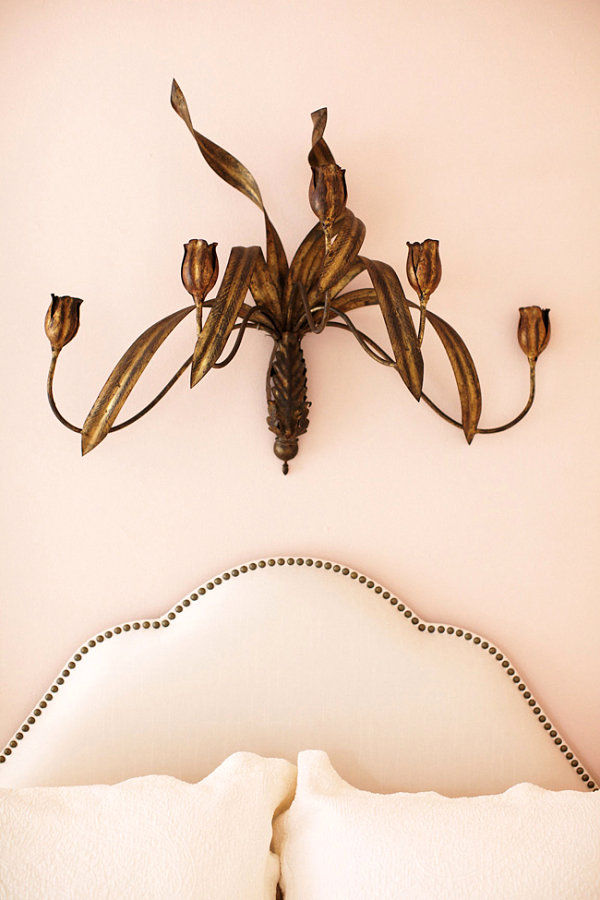 Of course, there's no harm in introducing a potted plant into your tropical bedroom. In fact, it's a win-win. You get an instant bedside tropical statement, as well as a natural way to purify the air around you! [photo by Jim Bartsch for Giffin & Crane]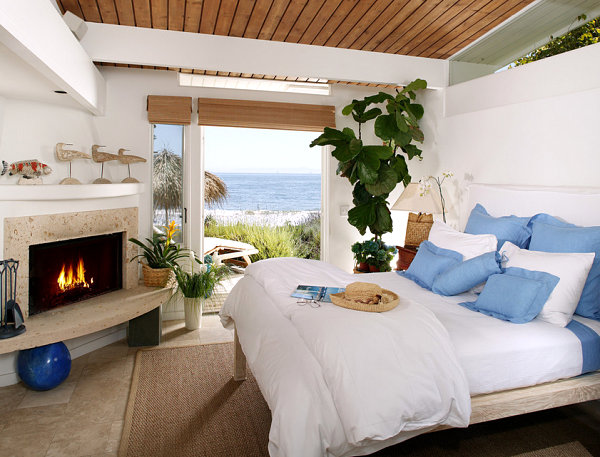 I'll end the post with a striking image of glamour with a hint of the tropics. Details like a crystal chandelier, an upholstered bed and a brass table are undeniably elegant. So is the peach wallpaper, which can't help but evoke the mystique of exotic petals. Kind of tropical, don't you think?… [from Vasportzone.net]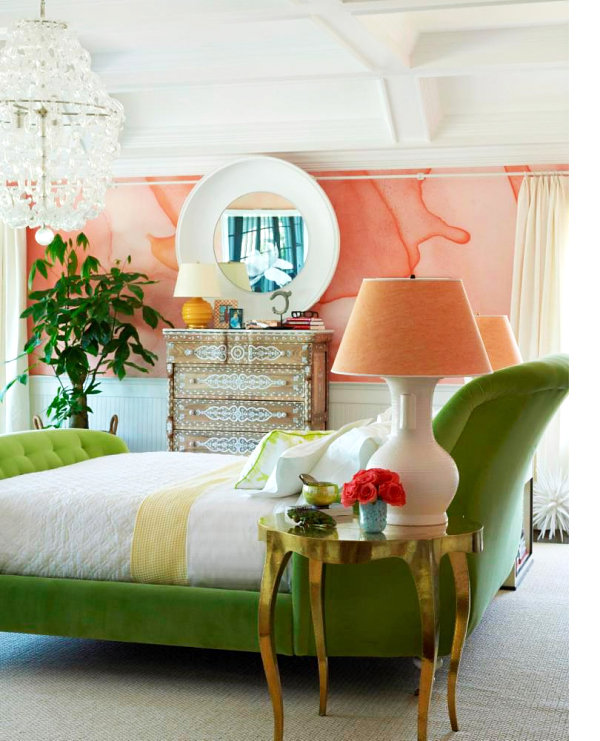 Did any of today's featured tropical bedrooms catch your eye? Do you have any style tips for creating a tropical space? Share your thoughts by leaving a comment below…
Liked the story? Share it with friends.