With spring behind us firmly and the best of summer here, now is the time to bring back a bit of that freshness to our home with green goodness and fresh flowers. Not all of us are blessed to have an extensive garden. And this is exactly where a gorgeous little planter can come in handy. Instead of buying one off the shelf, a DIY flower box planter offers wider flexibility and is also cost-effective.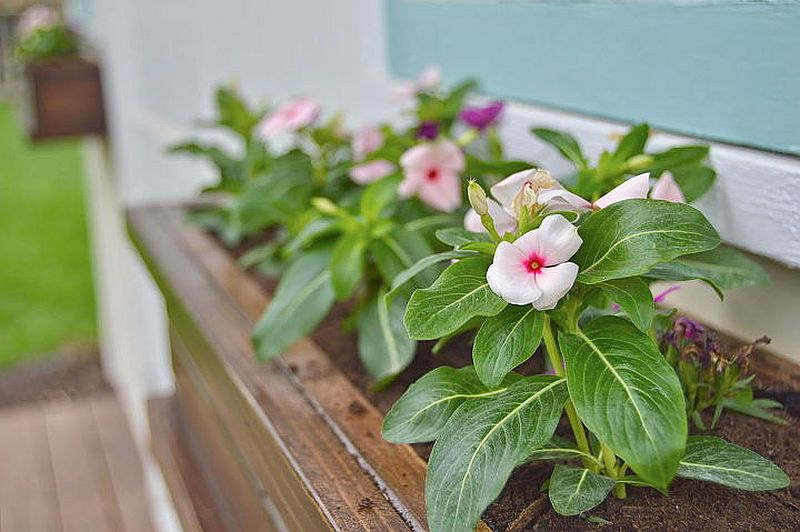 Yes, they can give your window a fancy makeover. But you can take these planters beyond the window as well with ease. Smart, stylish and eco-friendly, this is a look at the 27 best DIY Flower Box Planters for windows and beyond –
DIY Flower Boxes for Windows
The flower box planters that you see below come with a hint of undeniable vintage charm and it is hard to miss their colorful presence even without all those flowers! The color you choose for these dashing DIY planters makes a big difference to the window scenery and the façade of the house itself. Make sure you get it right just like the design itself.
RELATED: GreenBo Railing Planters Integrate Ecology with Contemporary Design & Urban Ergonomics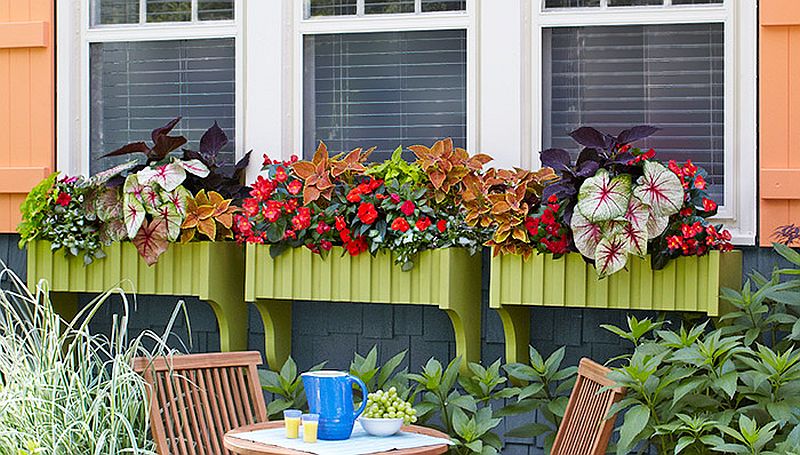 The wood DIY window flower box is one that stands the test of time when it comes to aesthetics and the simple design below is a hit every single time. You can alter the strain of wood that you choose to give the rectangular box a different look very single time. Make sure that the box complements the dimensions of the window before you make a final decision to start the project.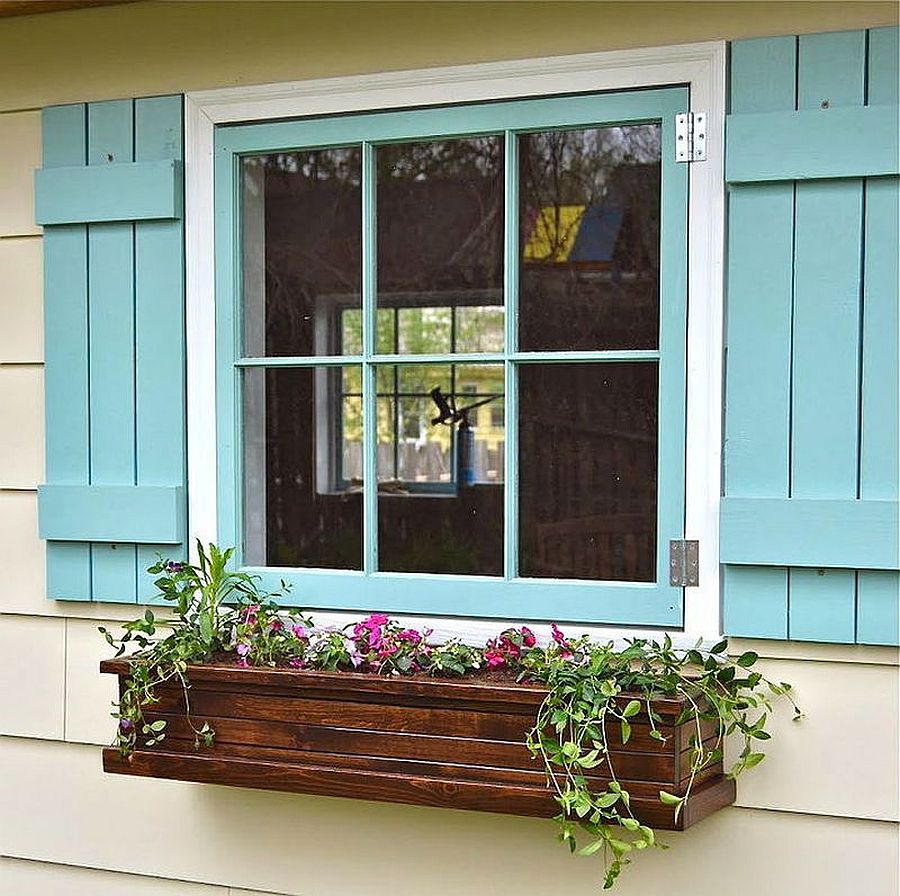 More modern, understated and classy, these chic and elegant DIY window flower boxes are draped in gray for good reason. Here, more than the box itself, it is the flowers and the greenery which it contains that end up stealing the spotlight. We also love the slight geometric touch that the design brings to the traditional window.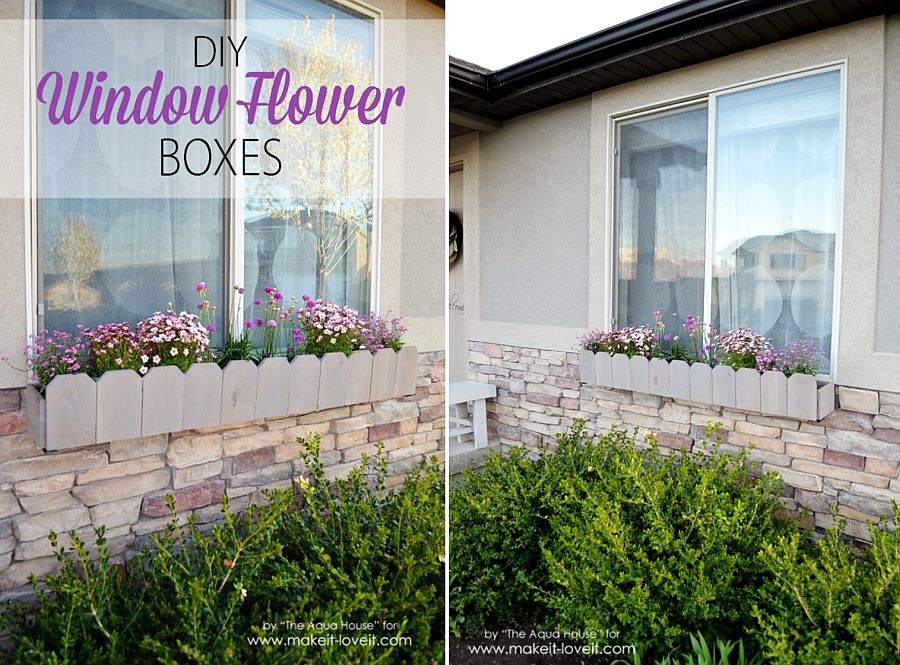 Slim and stoic, this modern DIY flower box planter for the window keeps things uncomplicated and smart. The design does away with unnecessary flourishes and you get a sturdy box that serves you well across seasons. If you want a window planter that fits in with a wide range of styles, then this is a great choice indeed. On the other end of the spectrum is the DIY planter with chevron pattern finish. Cozy, creative and one that draws attention with ease, this geo style planter is a modern hit!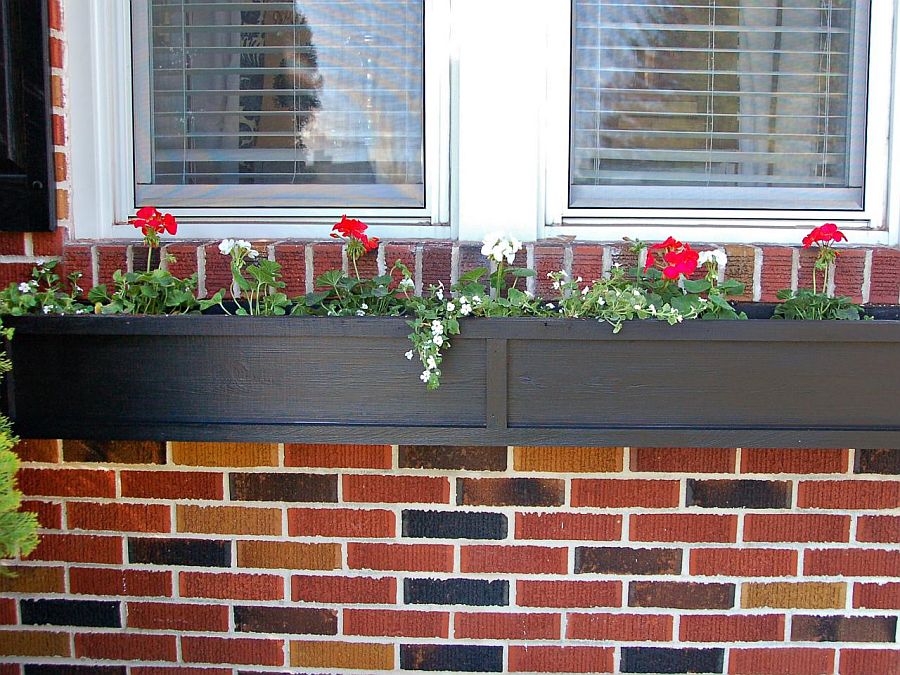 If you are looking for a truly vintage window planter that is small and space-savvy, then few come close to the awesome design below. There is a certain timeless appeal about the planter with the distressed finish it has and the pastel hue it exudes. A perfect DIY window planter if there ever was one!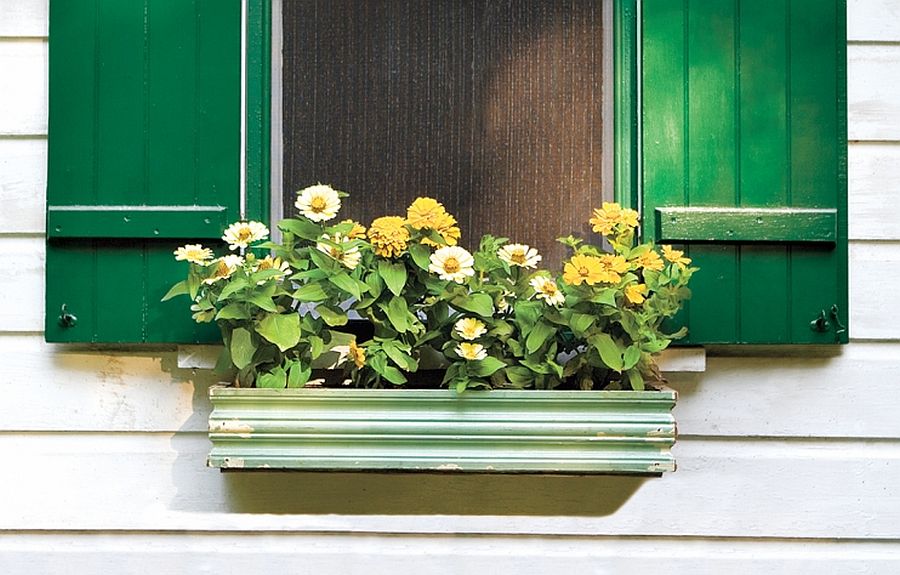 Moving to the more modern end of the spectrum once again, the flower box planter below is all about embracing black and doing it in a minimal fashion. This one looks best in contemporary homes with stylish modern windows. Flowers here bring color to an otherwise neutral setting and freshen up the façade.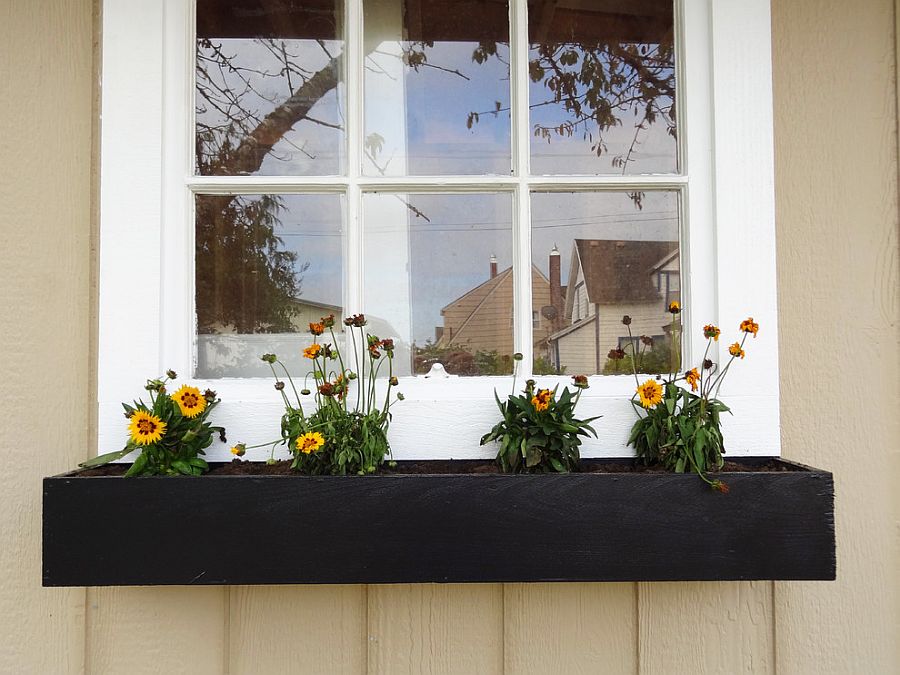 The wood pallet window flower box is one that takes it easy on the environment in more ways than one. It is also a project that is pretty easy to work with and takes no more than a weekend to complete. But those interested in going down the upcycling and 'reuse' path can give the upcycled drawers flower box planters a try. Both the projects are equally fun and will put something old and discarded to good use.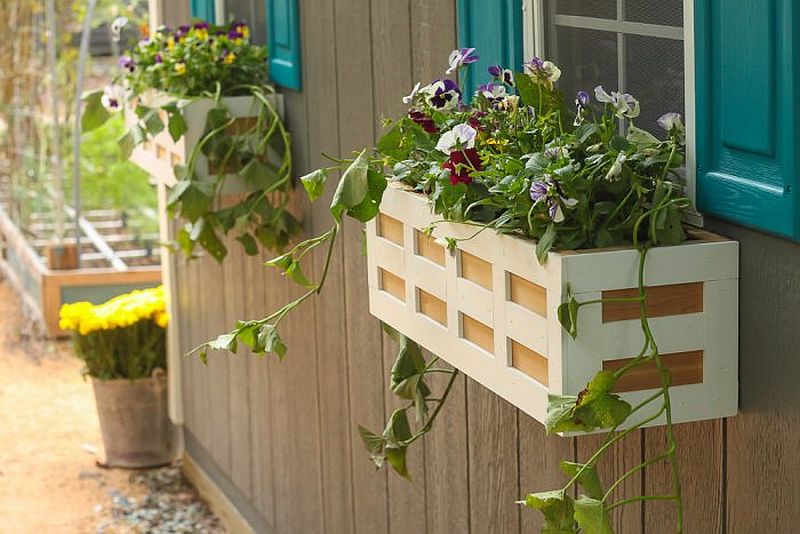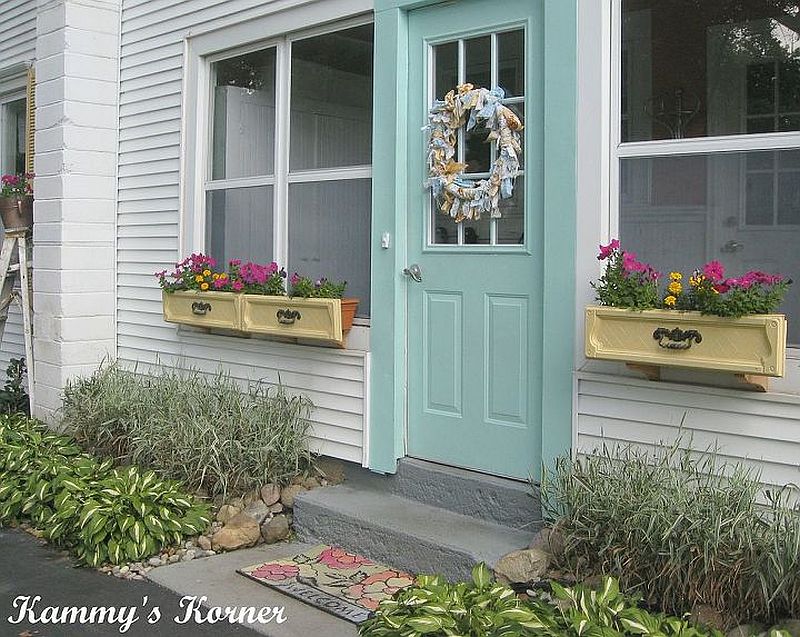 Creative and Smart Designs
We love a bit of creativity with our box planter designs as well and a standalone addition like the Cascading pallet DIY flower planter is one that can be placed anywhere with ease. Be it next to the window, in the yard or maybe at the entry, this is a planter that works well no matter where it sits. You can add flowers both on the outside and from within!
RELATED: Stylish DIY Planters for Spring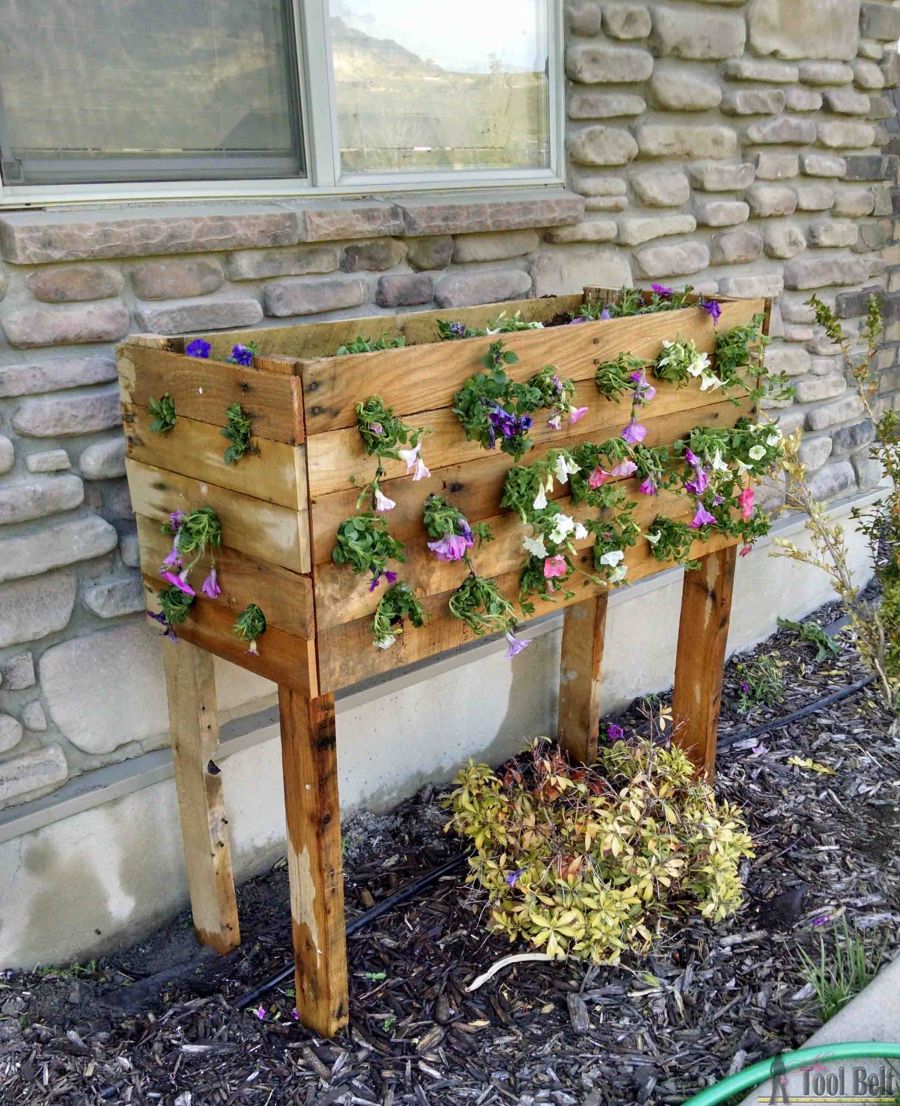 Be it a small plant or just plenty of flowering delights, these gorgeous chevron pattern planter boxes are ones that feel exquisite and modern no matter how they are used. If you want to turn up the chic factor and add greater geometric contrast, then the DIY triangular planters are a great choice indeed. Once again, they can act as smart planters or even tiny flower boxes for your window depending on what works for you best.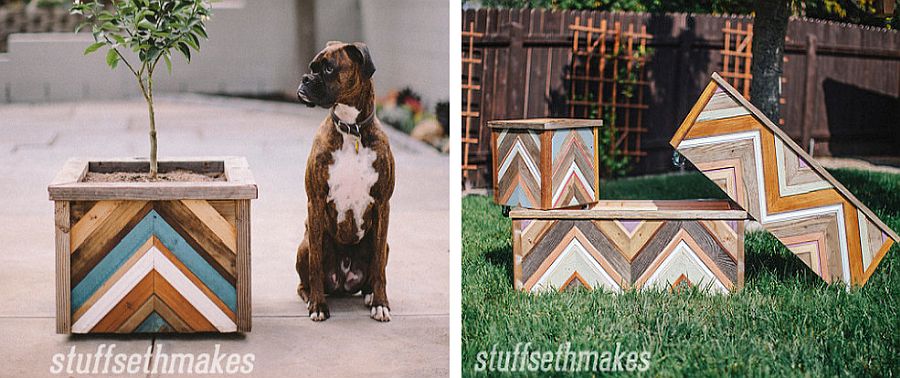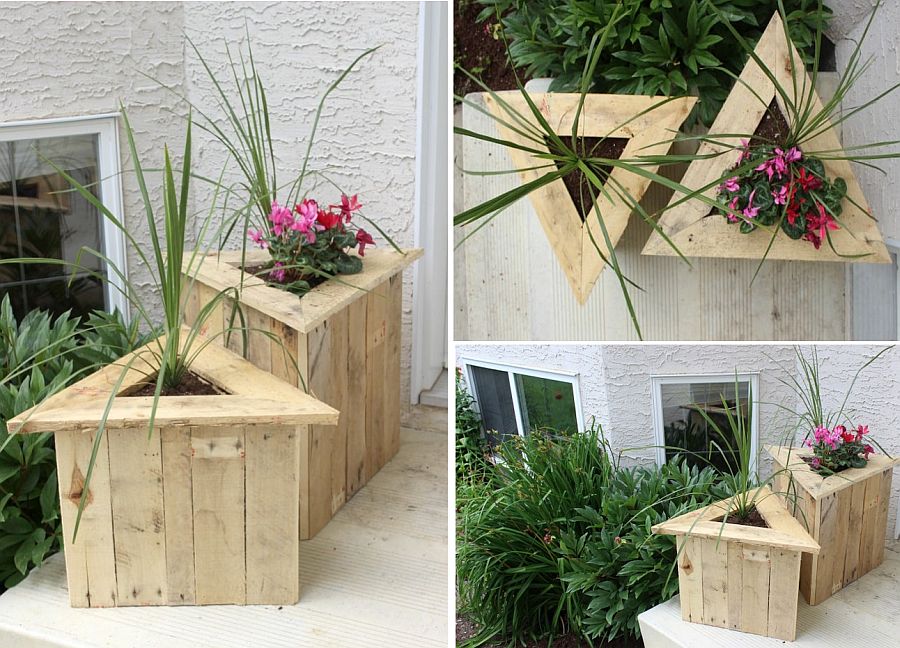 How lovely does the DIY tiered planter below look? And even better part of this DIY is that it will cost no more than just $10 to make. Talk about saving cash and the planet at the same time and doing so with multi-level brilliance and loads of greenery.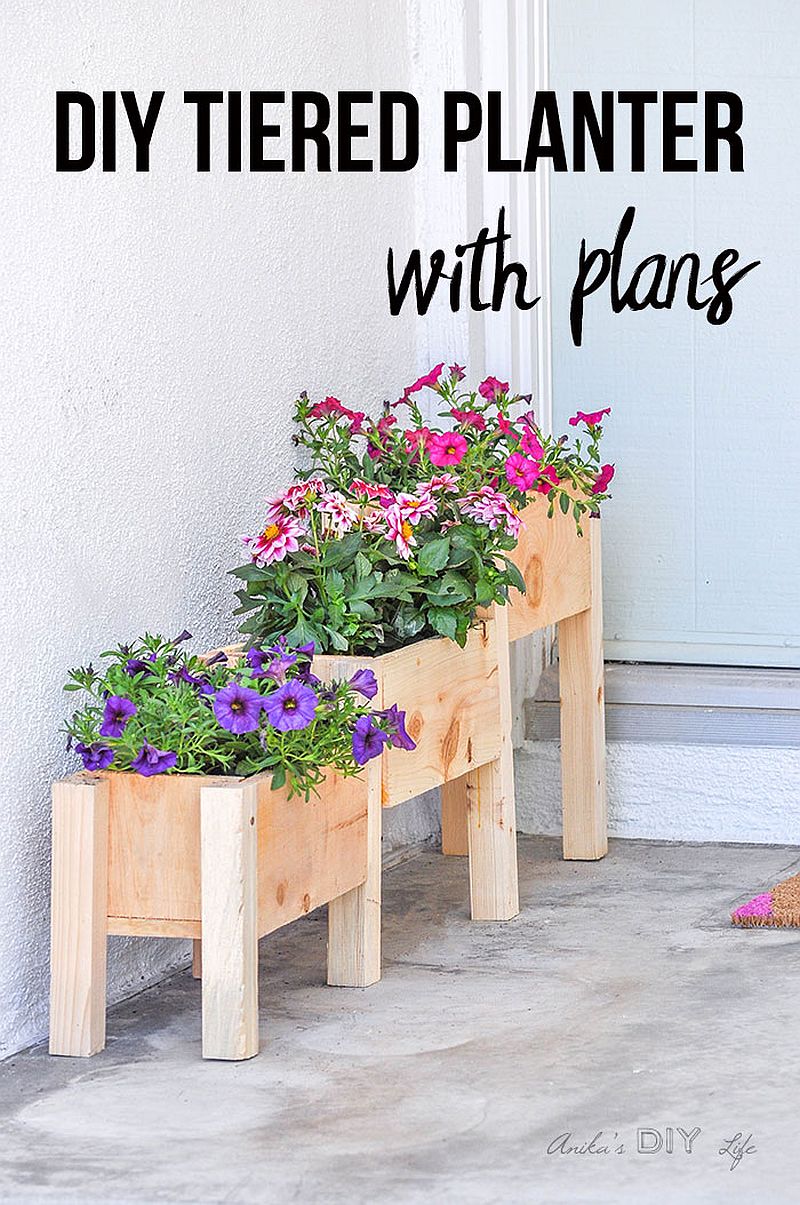 If you want a tiered planter and do not have the square footage to spare, then the hanging design below is a wonderful and practical alternative. This is once again a planter that fits snugly next to the window or can even be a part of the entry or the backyard. You can even use it to grow a herb garden in the kitchen with ease.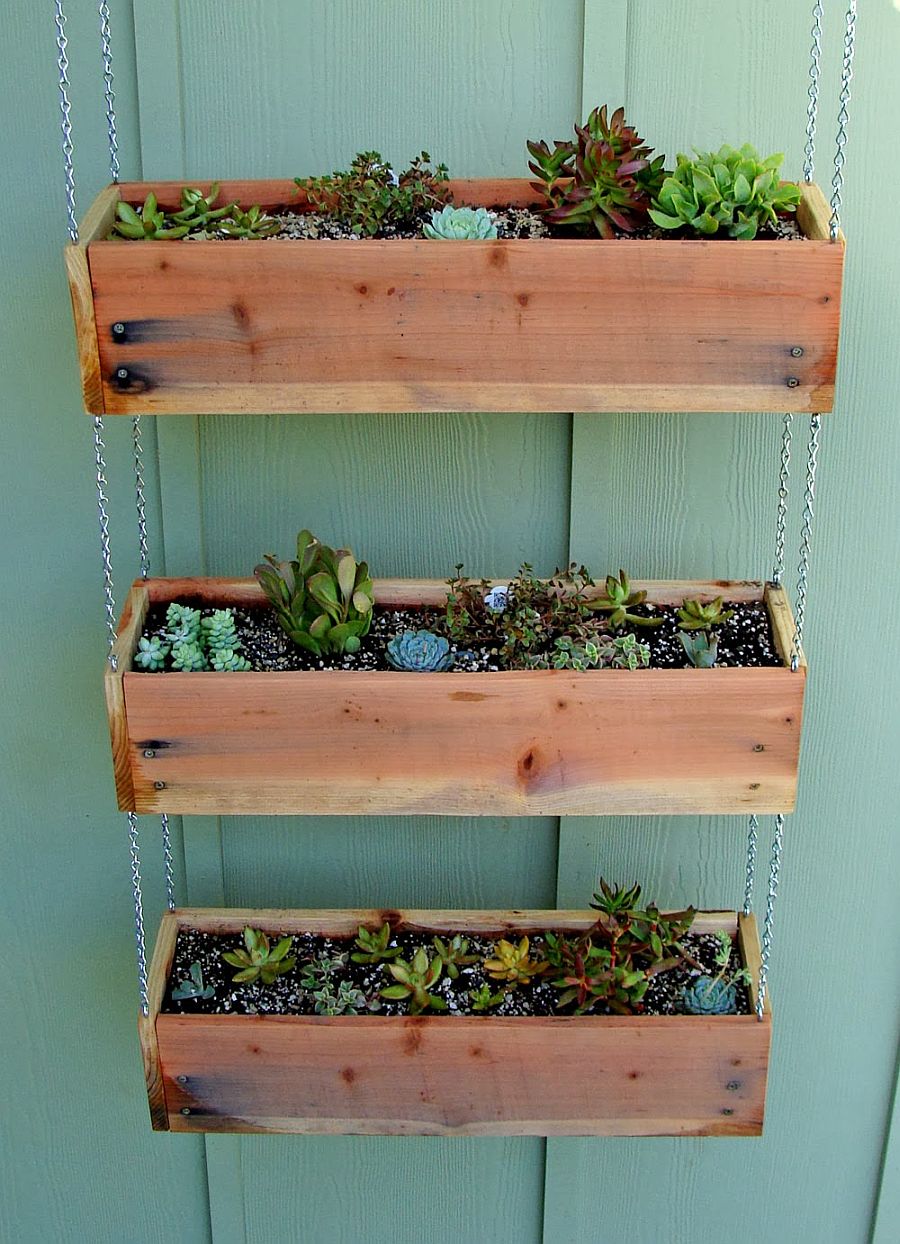 The wood palette is such a versatile base that it is barely a wonder that it can be used in a wide range of DIY planters. Making an appearance here once again in all its glory, this DIY pallet planter is one that is easy to make and also incorporates the extra flower pots that you have in your home.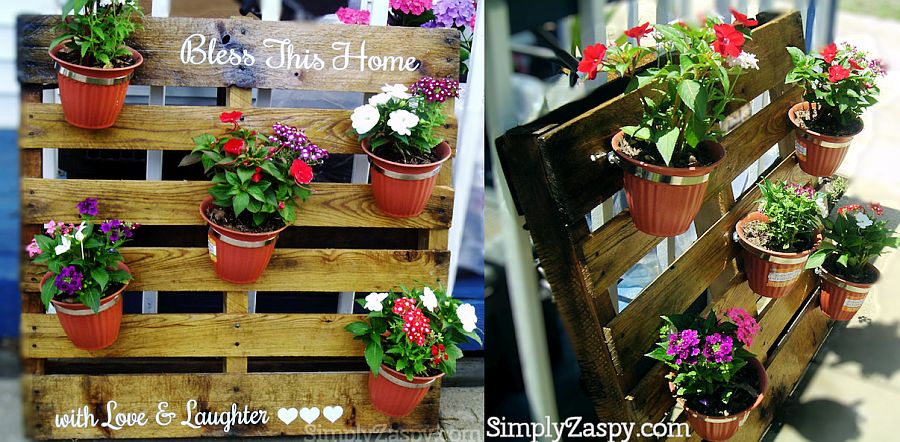 Wood and metal is a great combination when it comes to DIY planters and this is a blend that works even better when you do not have to place the planter next to the window. And in case you do not want a flower box planter hanging on to the wall next to the window, then the upcycled drawers planter is a smart choice that also has a hint of traditional panache.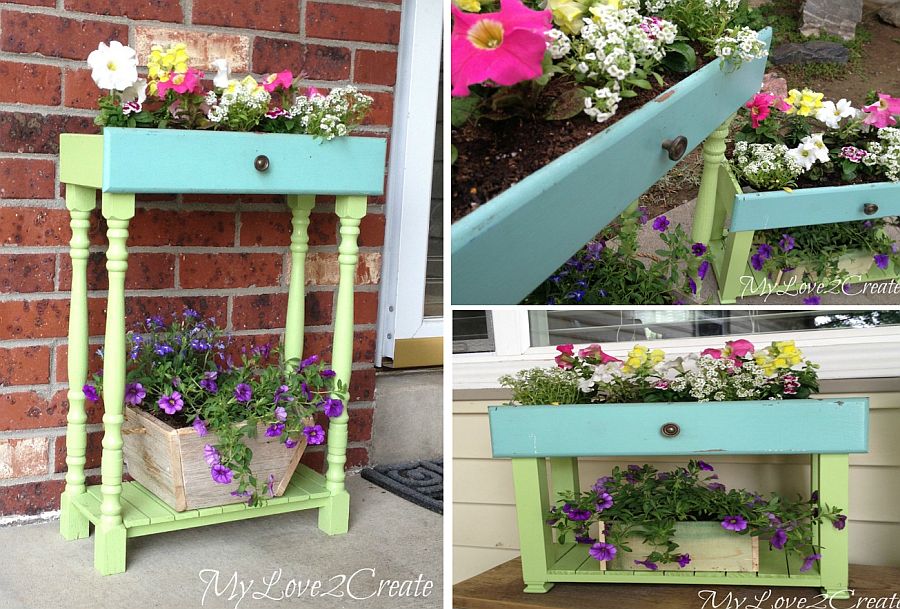 Full of flowers, this box-style planter is the perfect way to welcome your guests when placed in the front porch. Of course, it can be used as a flower box planter next to the window as well. A sturdy and stable addition that makes a beautiful visual impact.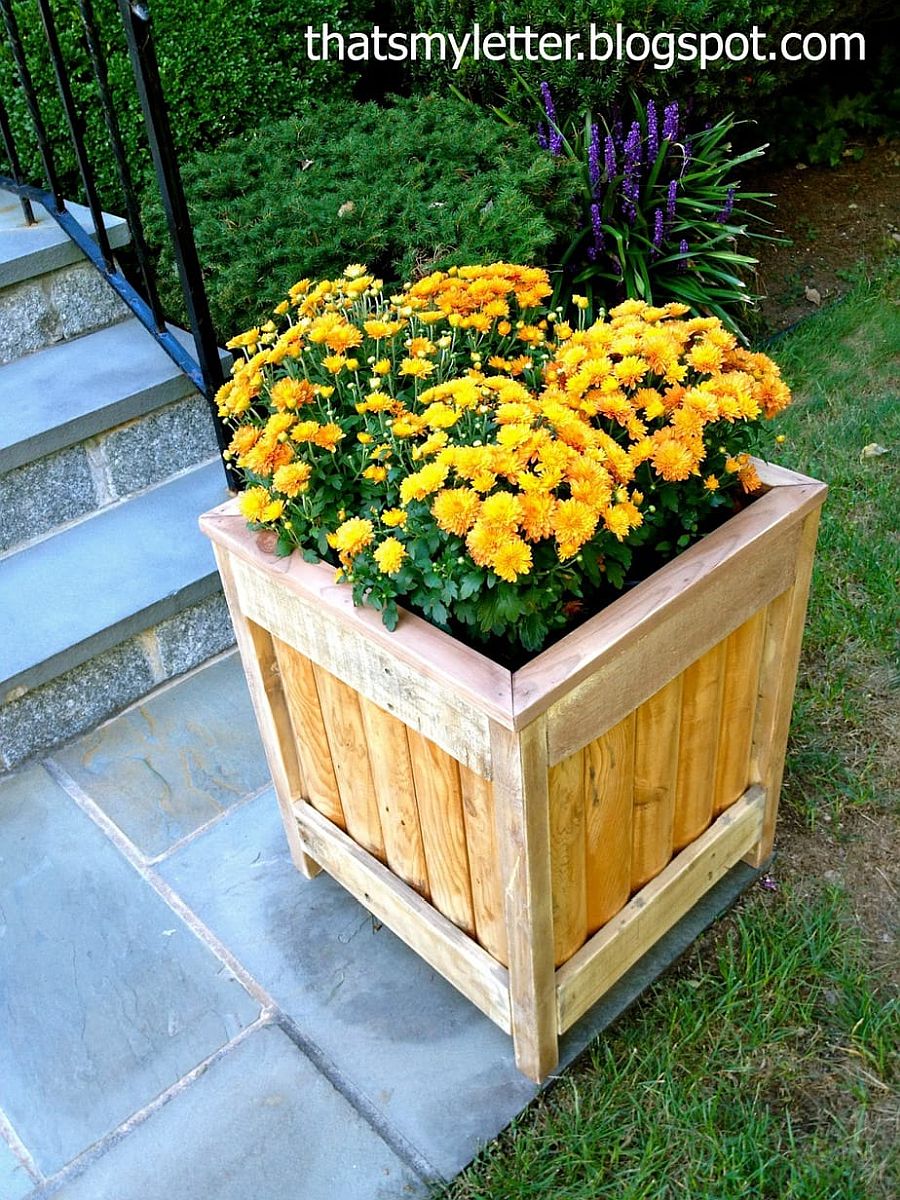 Time to Look Beyond the Window
Yes, flower box planters for the window are great, but you can go beyond these obvious additions and give every part of your home a flowery upgrade. Hanging planters with flowers around the house are a great start and they can enliven any room without infringing on square footage. If you love something more stoic, woodsy and permanent, then a large planter box in dark strain of wood should do the trick. One feels light and airy and the other anchors the space it adorns!
RELATED: 10 DIY Planters that Usher in Metallic Dazzle Along with Greenery!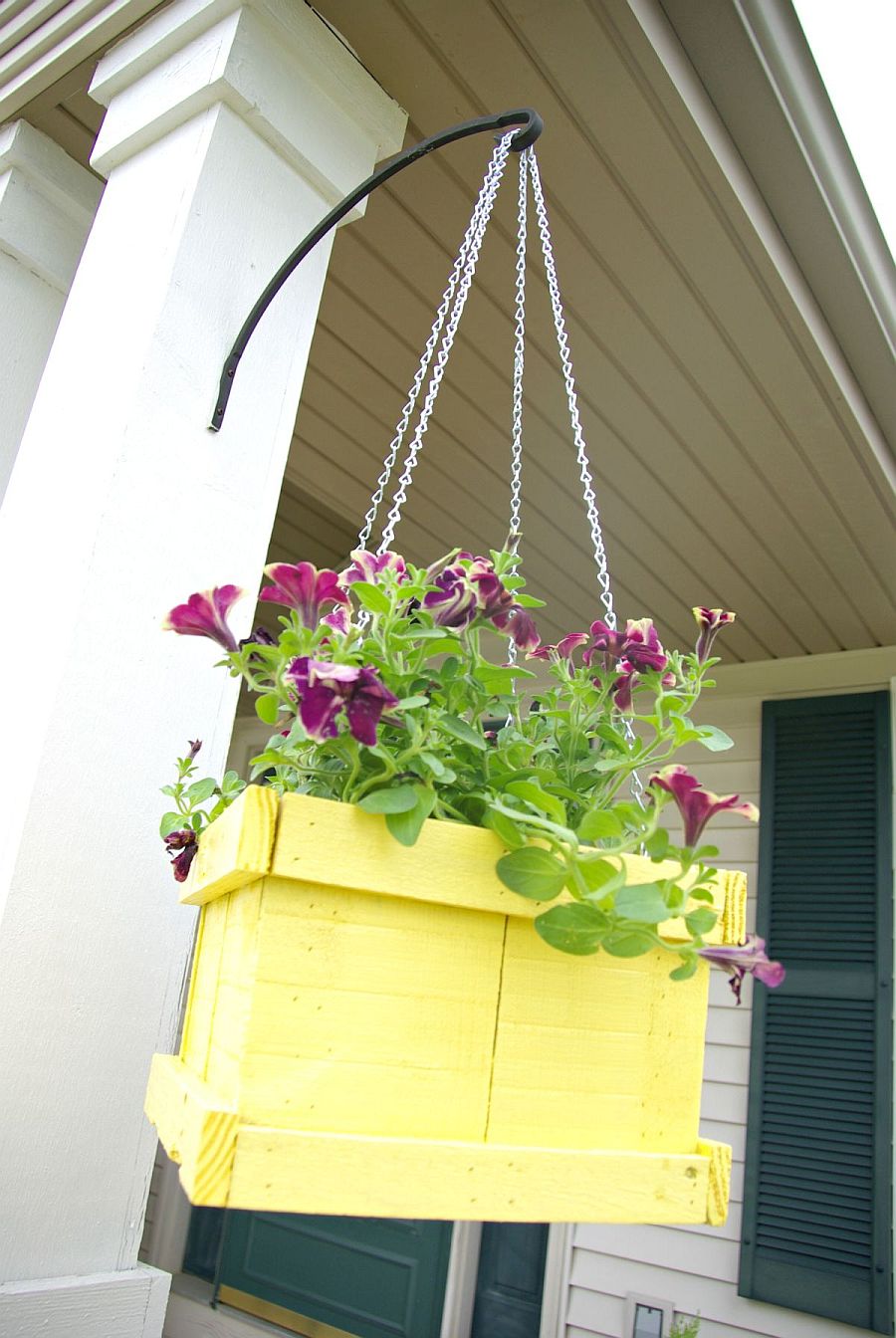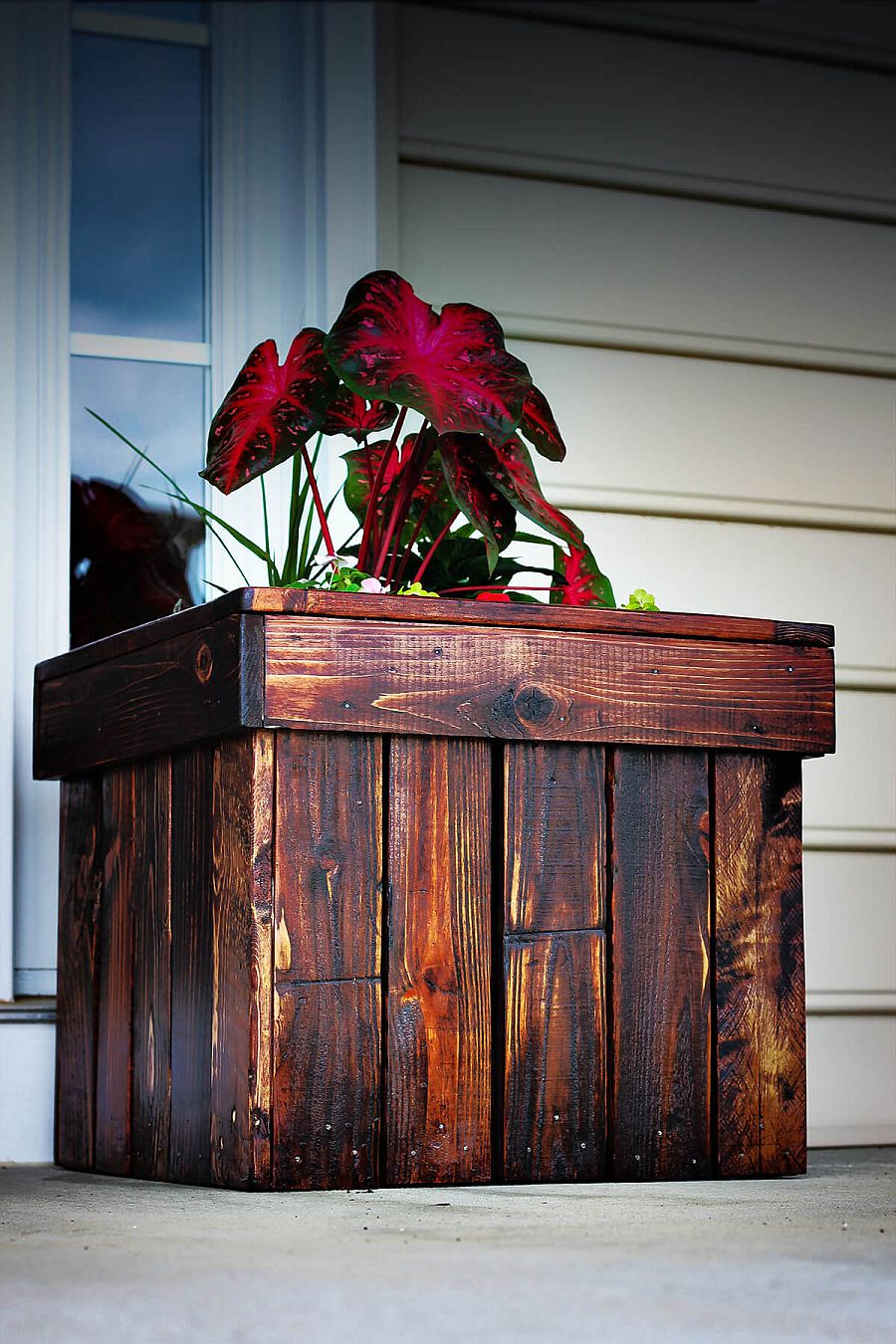 It is not very easy to find DIY planters that are modern, minimal and easy to make. This is even truer when wood is involved in the equation. But this simple and chic box planter beats the rule and painting it white obviously goes a long way in achieving the necessary result.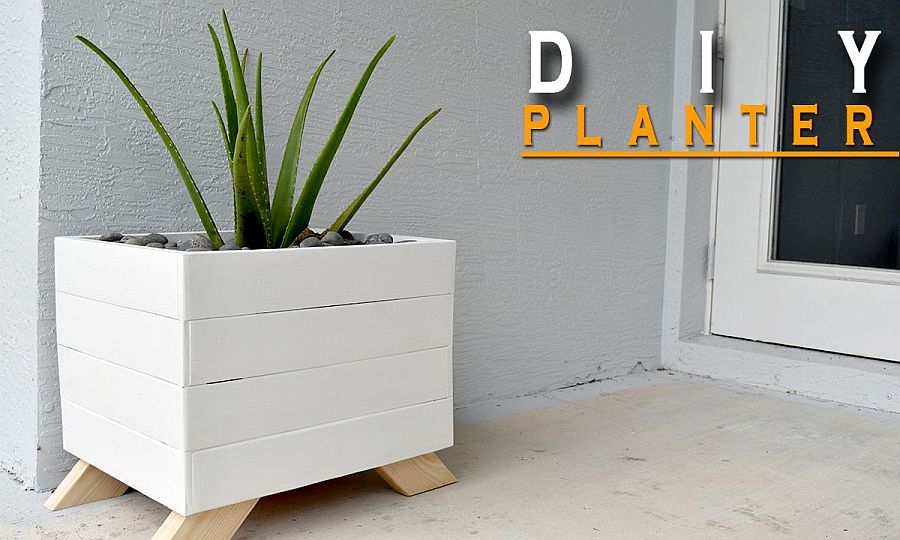 Innovative, one-of-a-kind and bringing a dash of personal charisma to the entry is the DIY cedar monogram planter filled with flowers. The design below spells out 'K', but with a change in the project design, you can create one that spells out the alphabet of your choice. It is not always an easy adaptive step to make, but one that should be achievable for advance level crafters.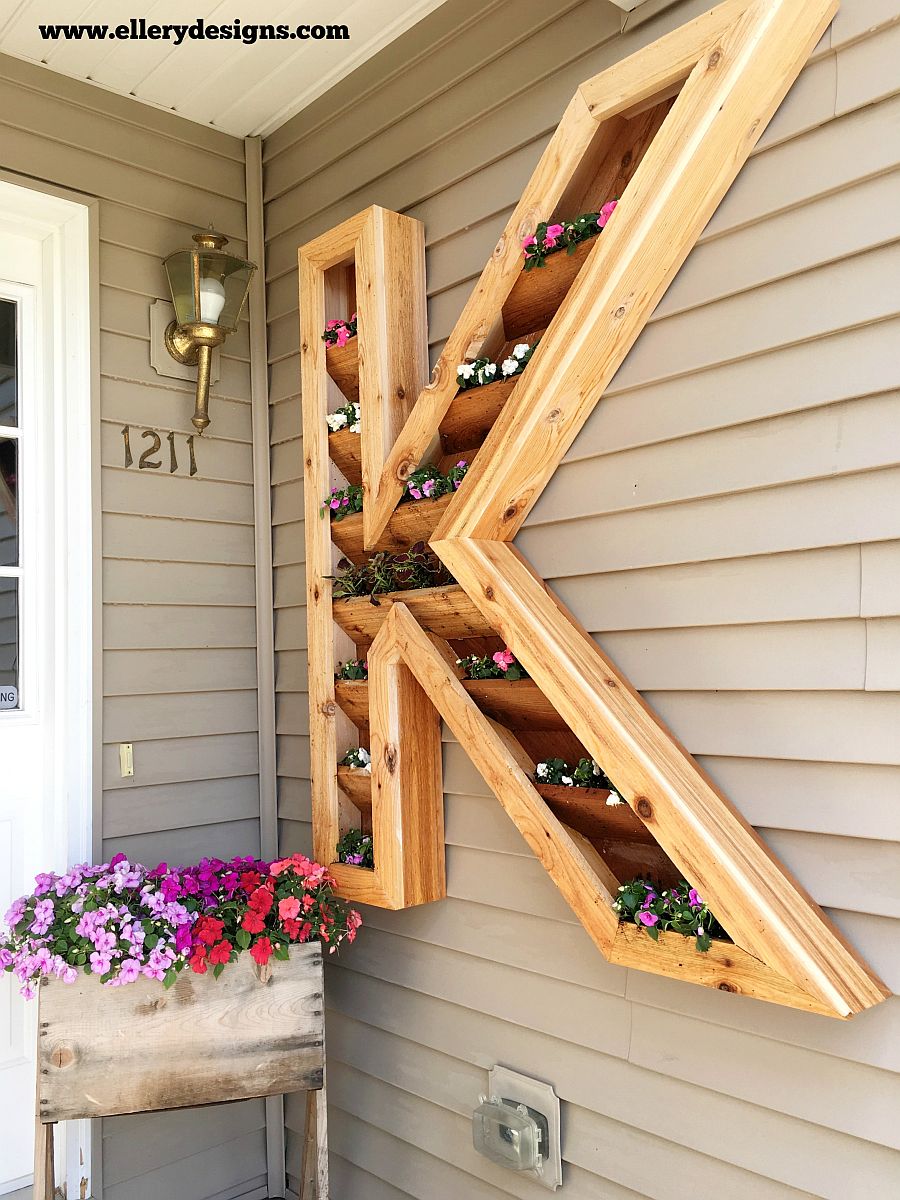 From windows and entrance, we move on to the backyard and the revamped and upgraded old drum planter feels nothing like a mundane, upcycled DIY idea. Covered in wood, this special little planter is not strictly a 'box' design, but we are all about bending rules and trying out something exceptional!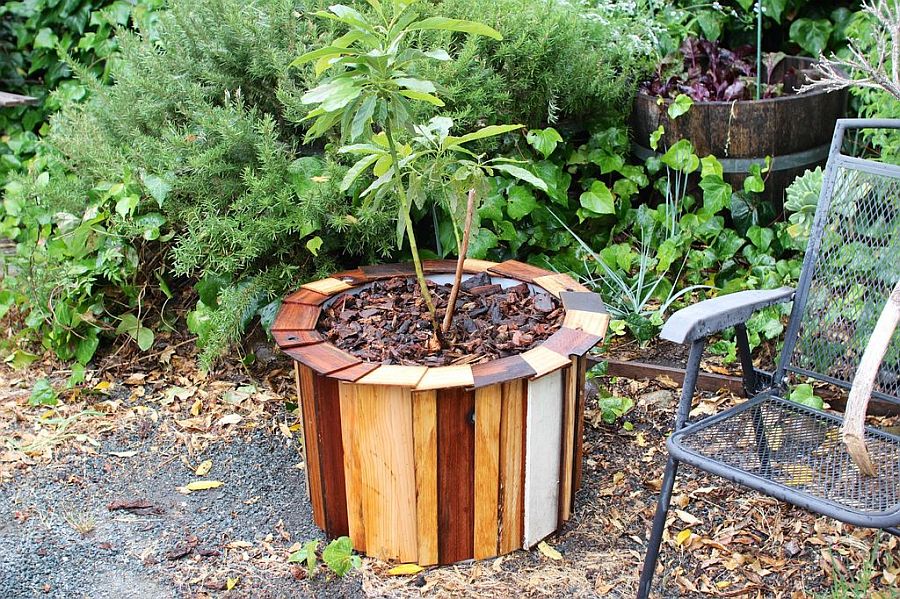 A box planter made out of wood and can be used as a side table both in your living room and on the deck outside is one that comes in might handy. Homeowners searching for more extensive and spacious planters for all their flowering plants will love the cedar and steel DIY planter idea while the slim flower planter that can go on railings and picket fences explores the other end of the spatial spectrum. Different strokes for different folk!