The warm memory of summer is long behind us and the changing colors of fall only point towards the cold months of winter ahead. At times, you wish you could bring back the charm of early spring, its sheer freshness and budding green tinge. Well, we might not be able to turn the clock and summon spring for your, but we sure can help drive away some of those blues by bringing green goodness indoors. Planters freshen your home, allow you to add pops of greenery to various rooms in your residence and keep your spirits up even when it is dreary, cold and white outside. And the best part about it all is that you can craft them all on your own!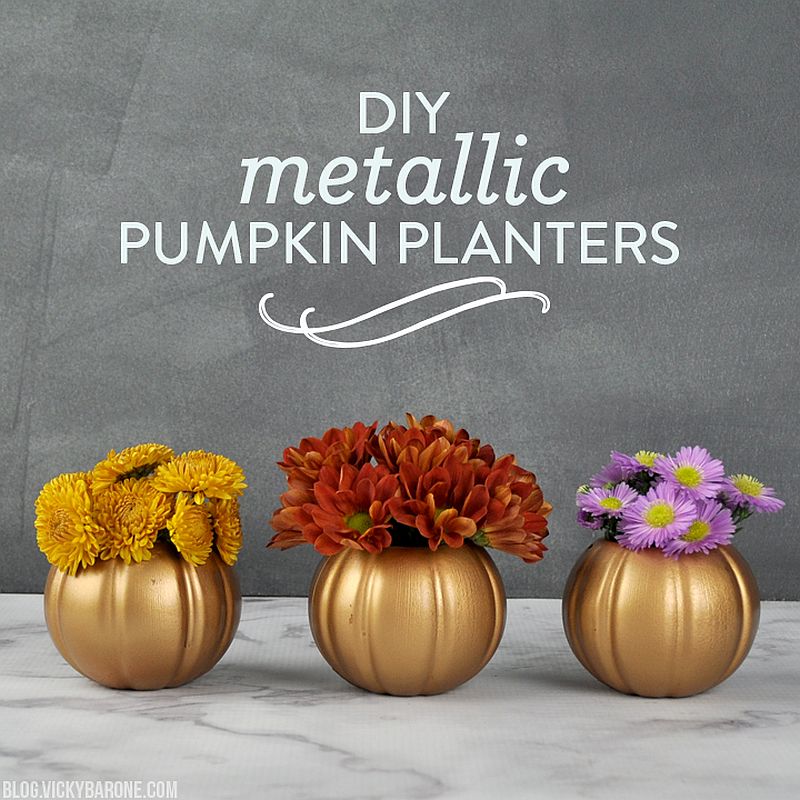 There are plenty of directions a DIY planter can take, but today we turn our focus towards ideas that usher in a touch of metallic magic. Metallics have been topping the trends chart for a while now and planters give you an easy and fun way to incorporate them into your living space, kitchen, bedroom or even the bathroom. Whether you love warm metallics like copper, brass and gold or prefer those with a cold, silvery finish, we have DIY planters that fit in effortlessly. Easy to craft and yet delightfully diverse, these 10 DIY planters with metallic magic rejuvenate your home –
A Sprinkling of Gold!
Love for gold is well and truly universal and also timeless. When it comes to hot metallic accents, gold is undoubtedly the king! DIY planters with a golden tinge are pretty easy to craft and often require very little effort. A good project to start with is the simply spellbinding Gold Leaf Flower Pots, which look even more captivating when coupled with the right plants. For those looking to craft something a touch more complex and unique, DIY Kintsugi planters from the Beauty Dojo offer a cool alternative.
RELATED: GreenBo Railing Planters Integrate Ecology with Contemporary Design & Urban Ergonomics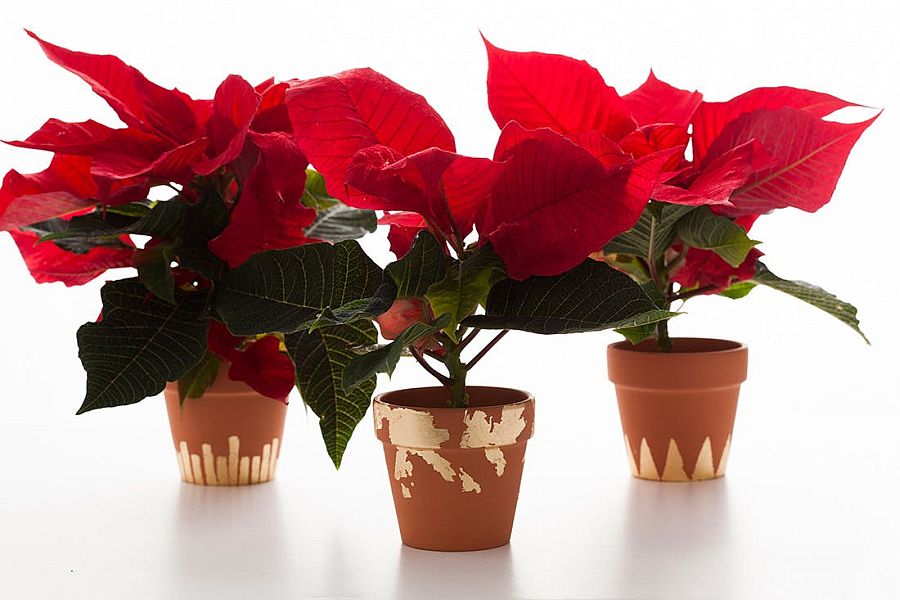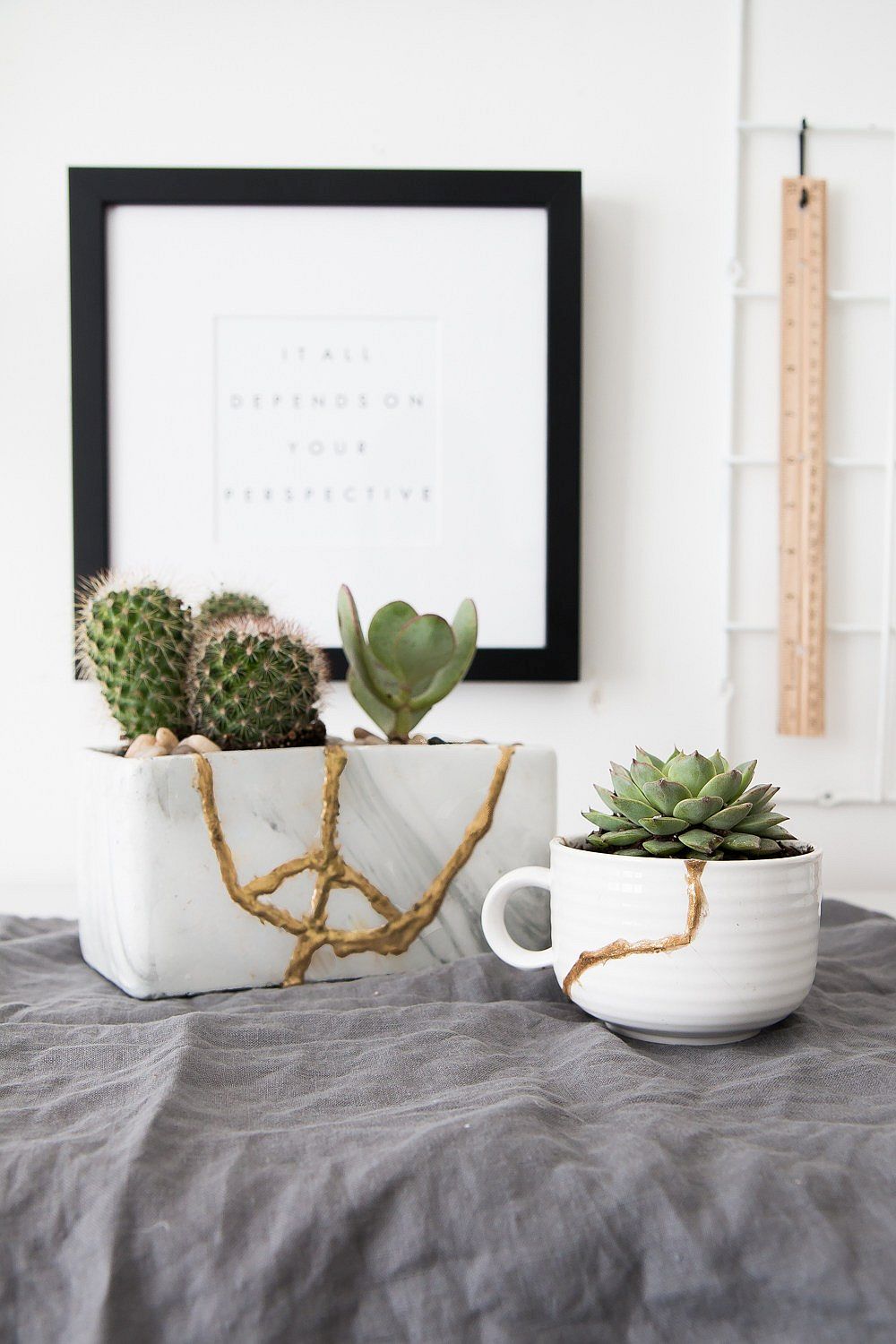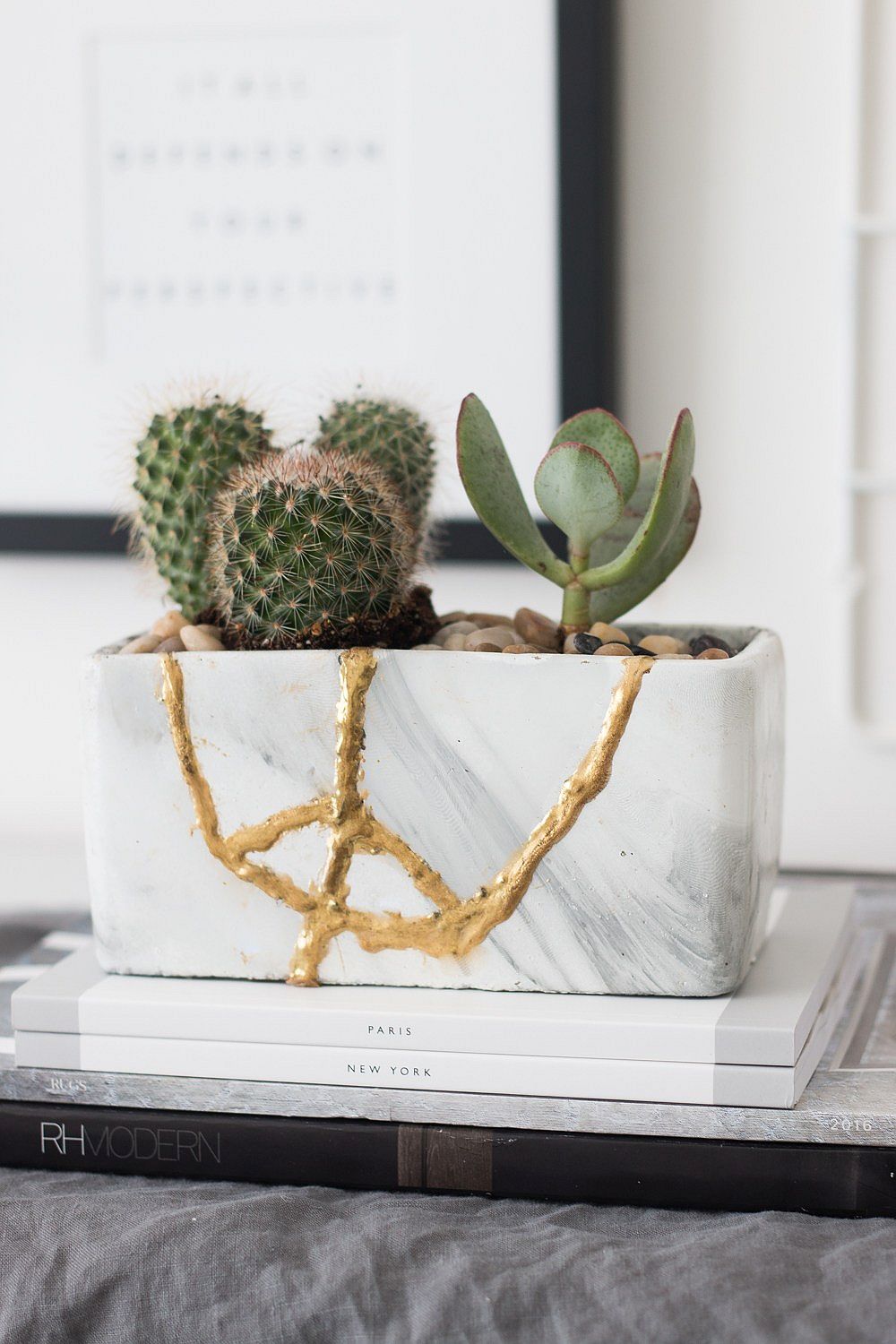 Mason jars as planters is not a novel idea in itself, but throw in a splattering of gold and you have a captivating centerpiece for your fall table and a cool planter that will serve you well beyond the holiday season as well. Concrete DIY planters with a golden finish usher in plenty of textural and visual contrast and if you want to take this idea a step further, then geo motifs in gold could be the way forward.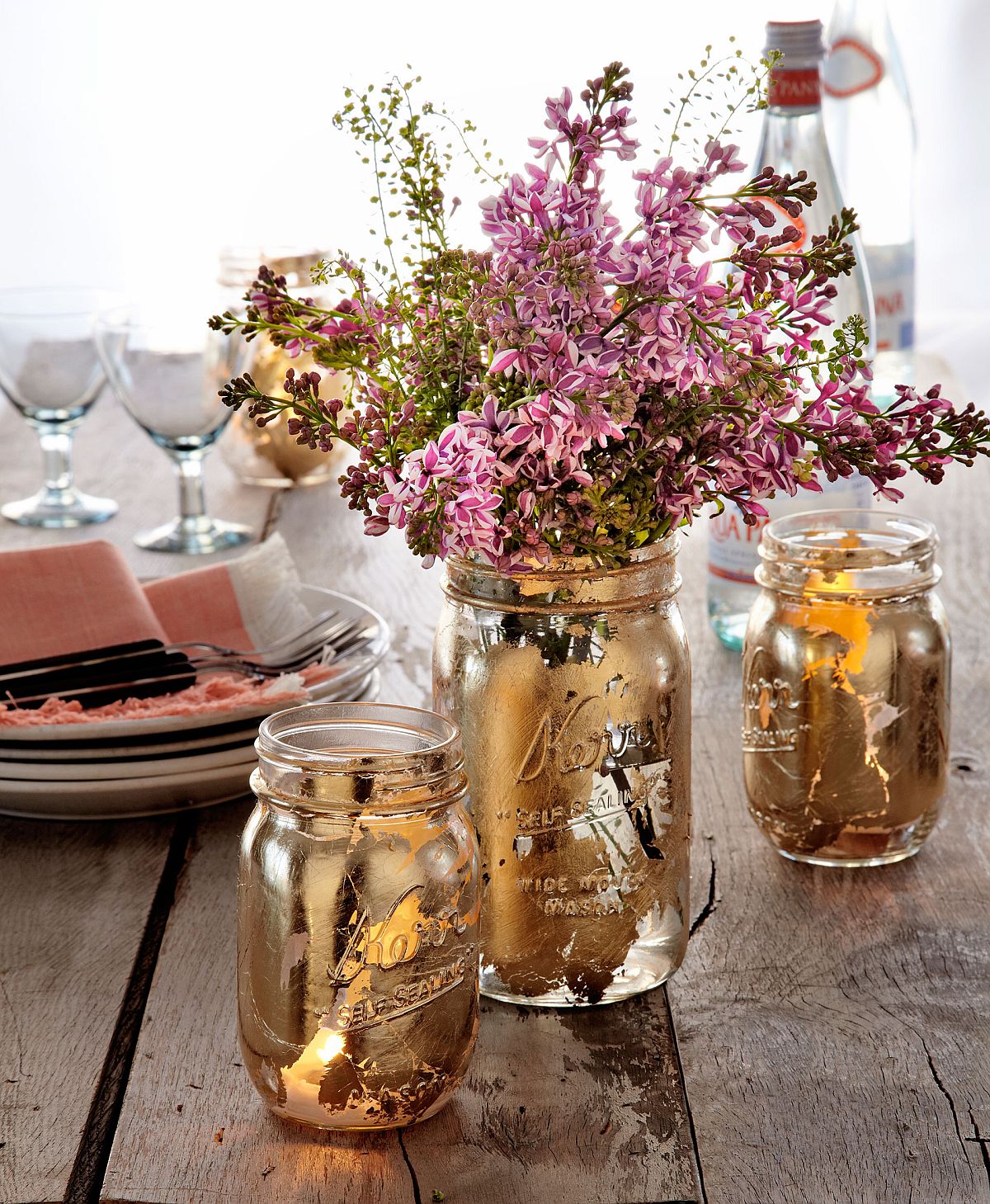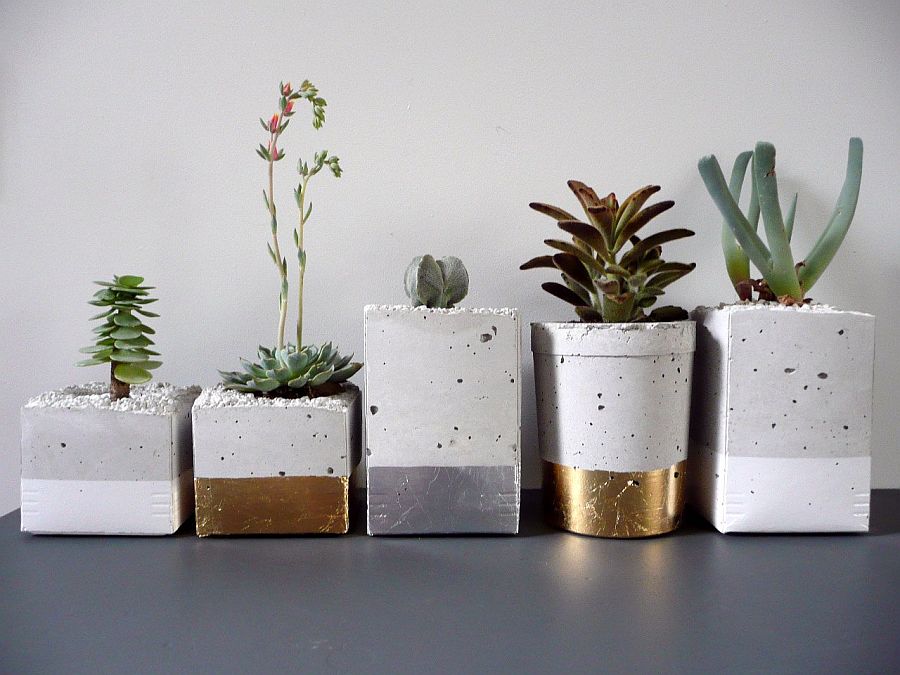 Upcycled and Affordable
At the core of it, upcycling is all about turning something seemingly worthless into a gorgeous, usable piece with value. For those of us not blessed with great DIY skills and not really looking for a project that takes up several weekends, DIY planters involving tin cans come as an absolute boon! They are easy to execute, take minimum effort and are budget-friendly as well. Sometimes all you need is a few crushed tin cans and some gold paint, as the folk at Pillar Box Blue demonstrate. Then you have the ultra-simple paint can planter idea that looks both uber-casual and chic at the same time.
RELATED: Patio Style: Unusual Planters Made from Unique Materials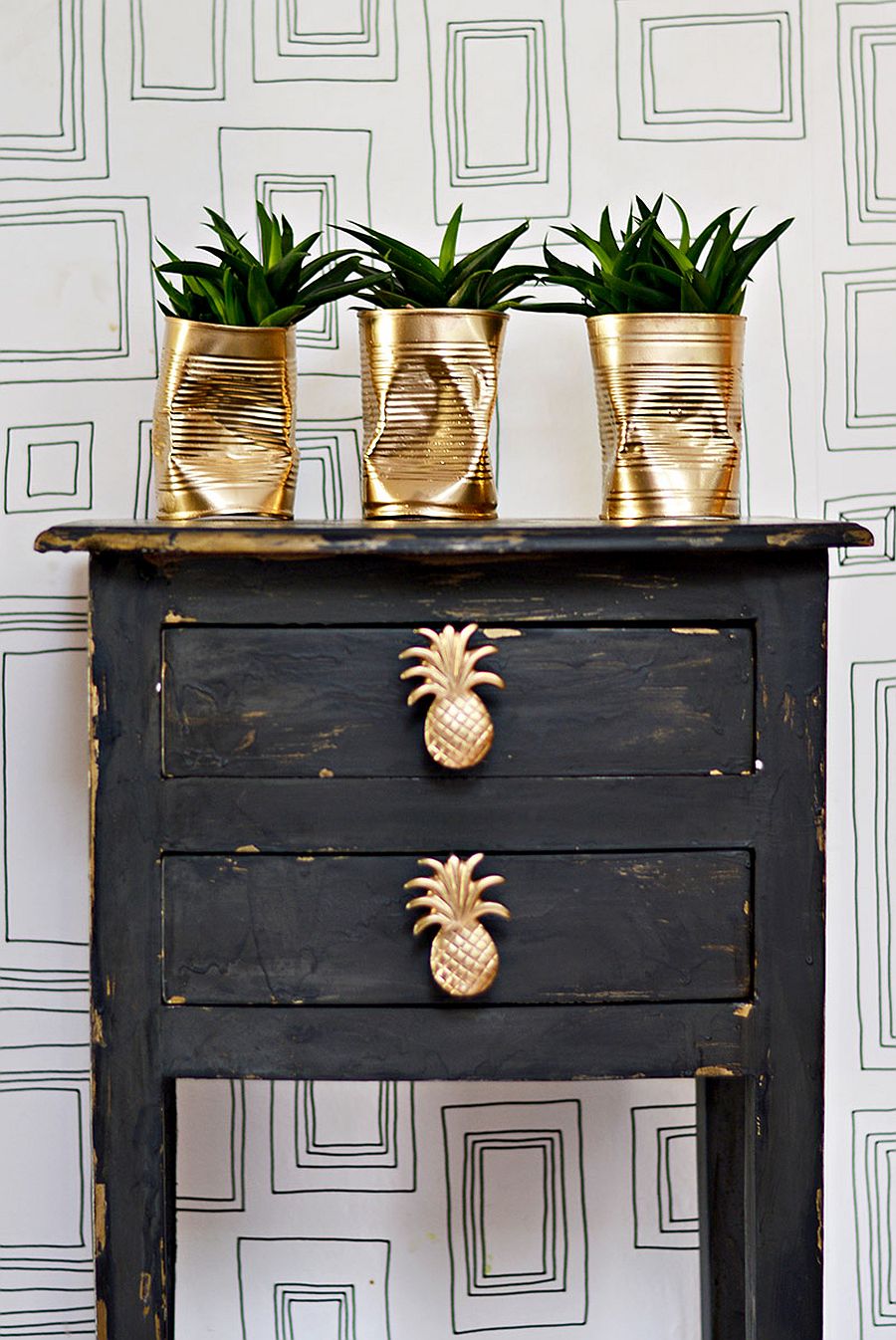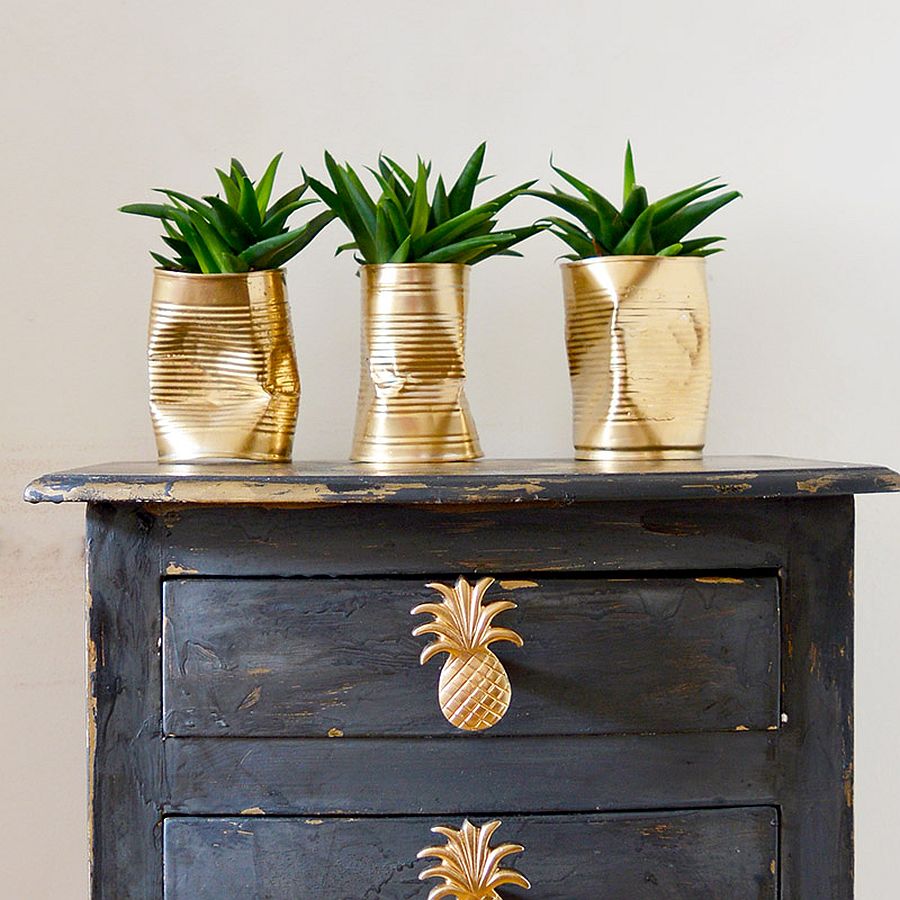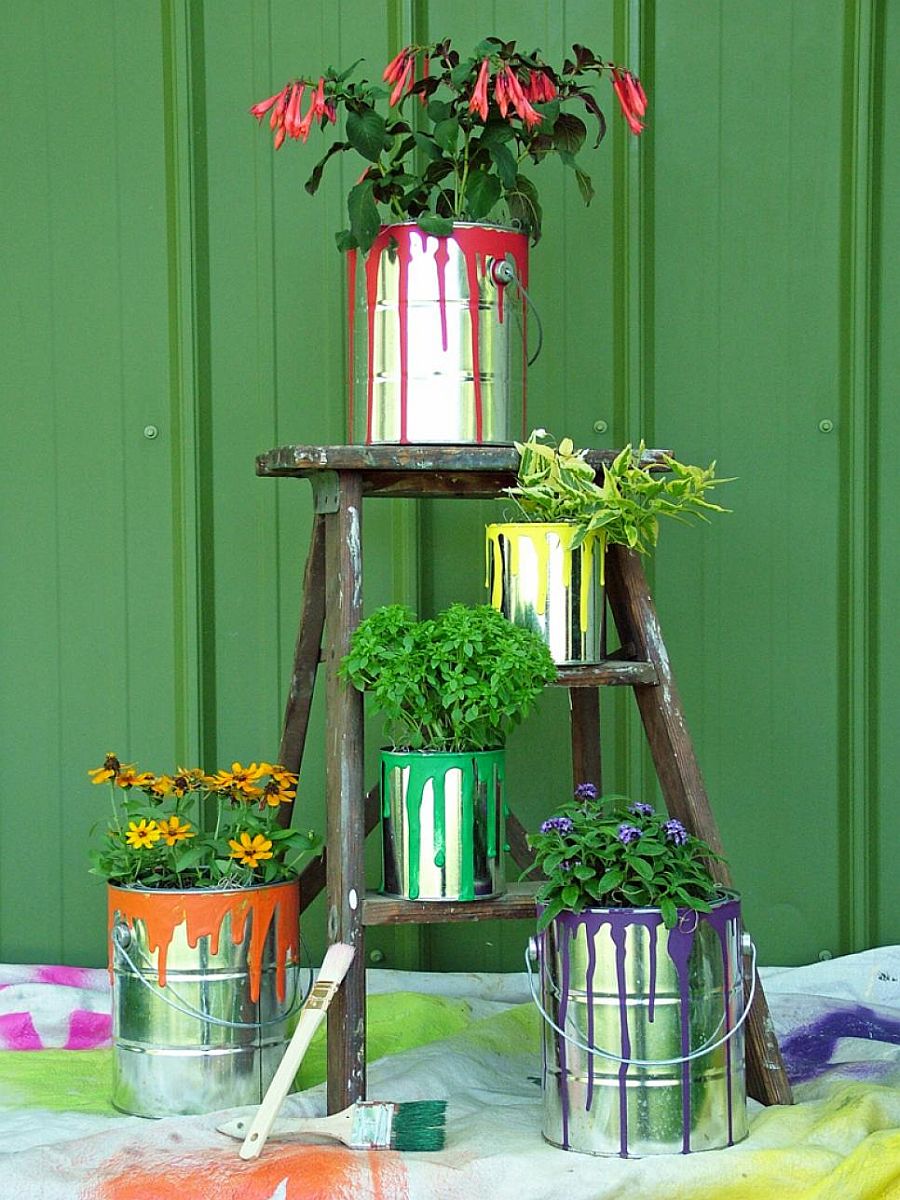 With the modern metallic brass planter, things are a bit more complicated than simply hammering out an old paint can and giving it a new finish. But this minimal and contemporary planter inspired by Schoolhouse Electric original costs a fraction of the price and is still equally elegant. A must try for those who love all things brass…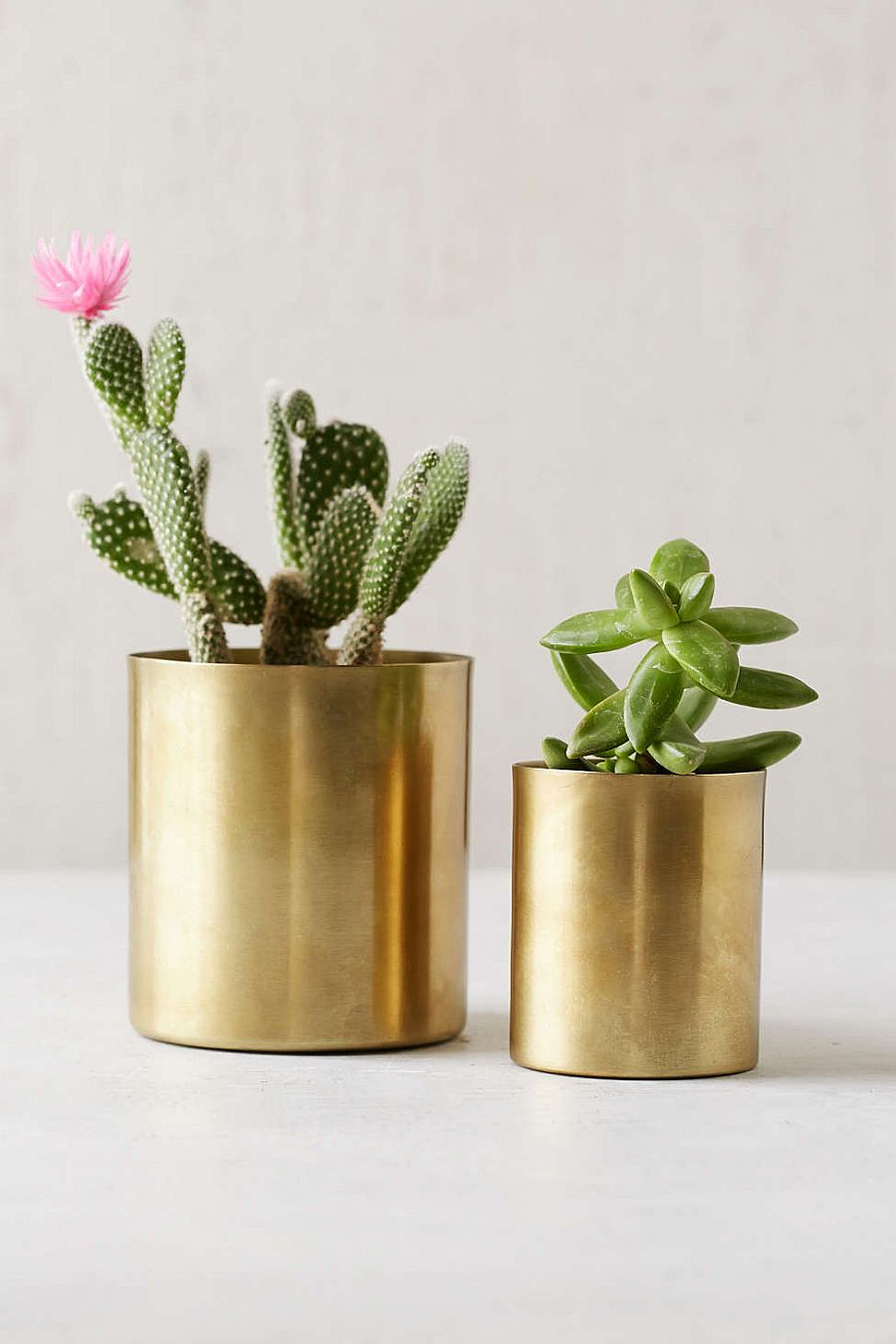 Chic and Trendy Planters
We finish our foray into the world of DIY planters with metallic glitz with a couple of exceptional designs; each bringing something unique and special to your home. The wood and copper planter is a classic with a modern twist and fits in with a wide range of styles and finishes. You can also alter the finish and grain of wood used for the project to ensure the planter blends in easily with your existing living space. Finally, there is the DIY Brass Himmeli Hanger that can play host to a lovely planter with succulents. It is simple, minimal and is an obvious space-saver which instantly grabs your attention.
RELATED: Perfect for contemporary homes: Safari Planters