When the weather is warm, I spend the majority of my down time gardening and landscaping my yard. Yes, I'm one of those people who unwinds by adding new plants to my outdoor space! So as soon as there's a fall chill in the air, I begin thinking about ways to survive the colder months without my time outside. My solution: bring the plants indoors! There are many amazing plant stands available today, and they can accommodate a range of planter sizes. I've rounded up my 10 favorites below, and they progress in price range throughout the post. Enjoy…
Budget-Friendly Plant Stands
We begin with a retro-style plant stand that can be yours for less than $27 (for a small) and around $32 (for a large). In fact, these stands from ferm LIVING are crafted from powder-coated iron, and they will accommodate the pot of your choice. Sculptural flair at its finest: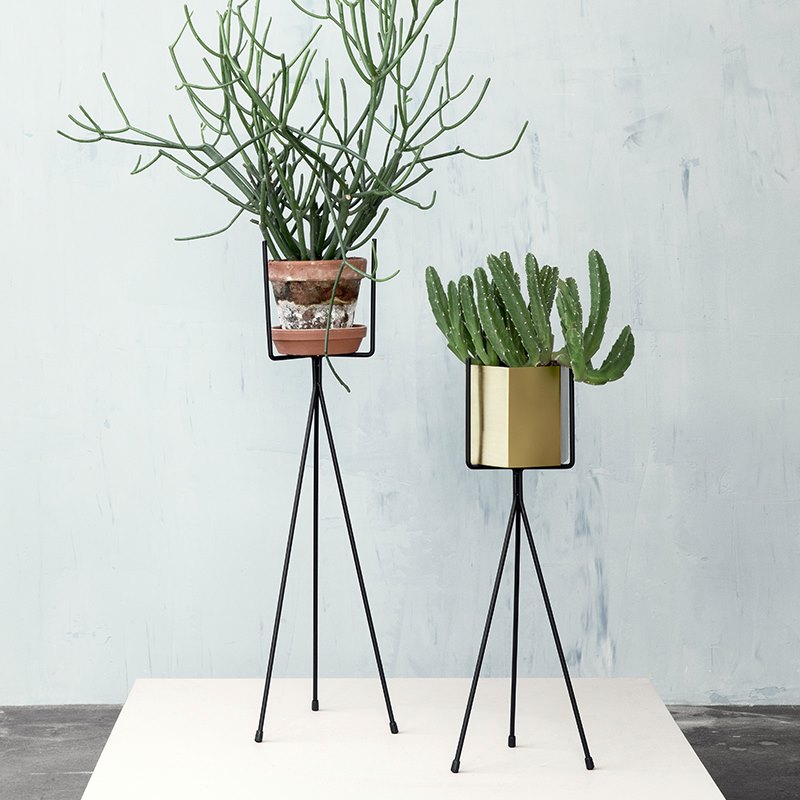 For a few dollars more, you can get colorful with the help of Etsy shop WirelyHome. Below we see the Yellow Metal Wire Plant Stand, a Midcentury-inspired piece that boasts a hairpin leg design. Not a fan of yellow? The piece is available in a range of colors. Display a simple terracotta pot, and you're set!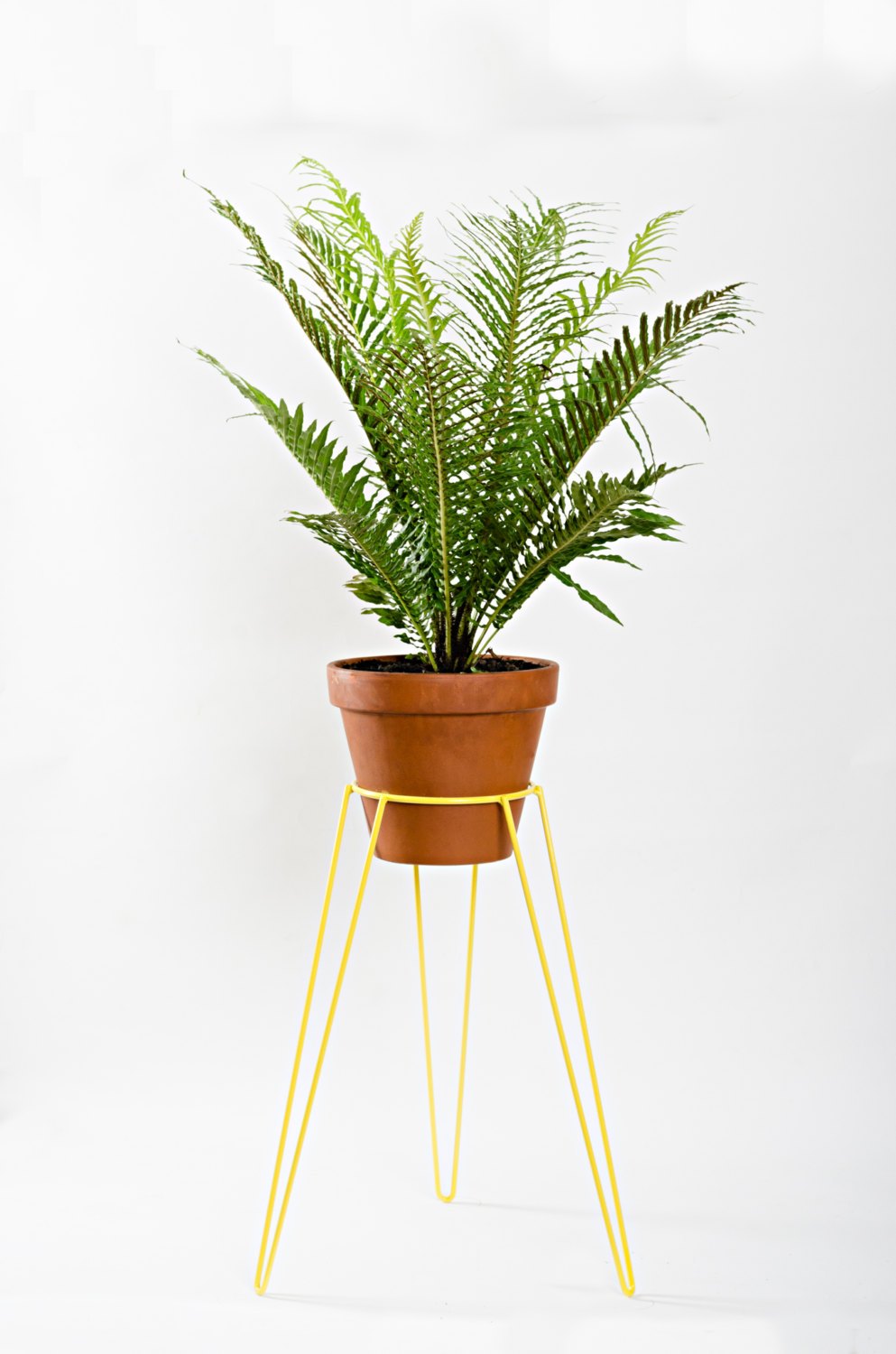 How retro-fabulous is this Mid-Century Bullet Plant Stand from Etsy shop . Haven't you always wanted a bullet plant stand?! The perfect mid century accessory can now be yours!! Pair this with a book case or next to your favorite hutch and watch your style come together! This listing includes the wire stand and an orange plant pot. Pictured here with a snake plant, this planter would also look great with your favorite house plant or a group of succulents." target="_blank" rel="noopener">Elements of Iron and Wood?! Based on the classic Mid-century design, the piece includes a wire stand and an orange pot. Add a snake plant, and you're good to go: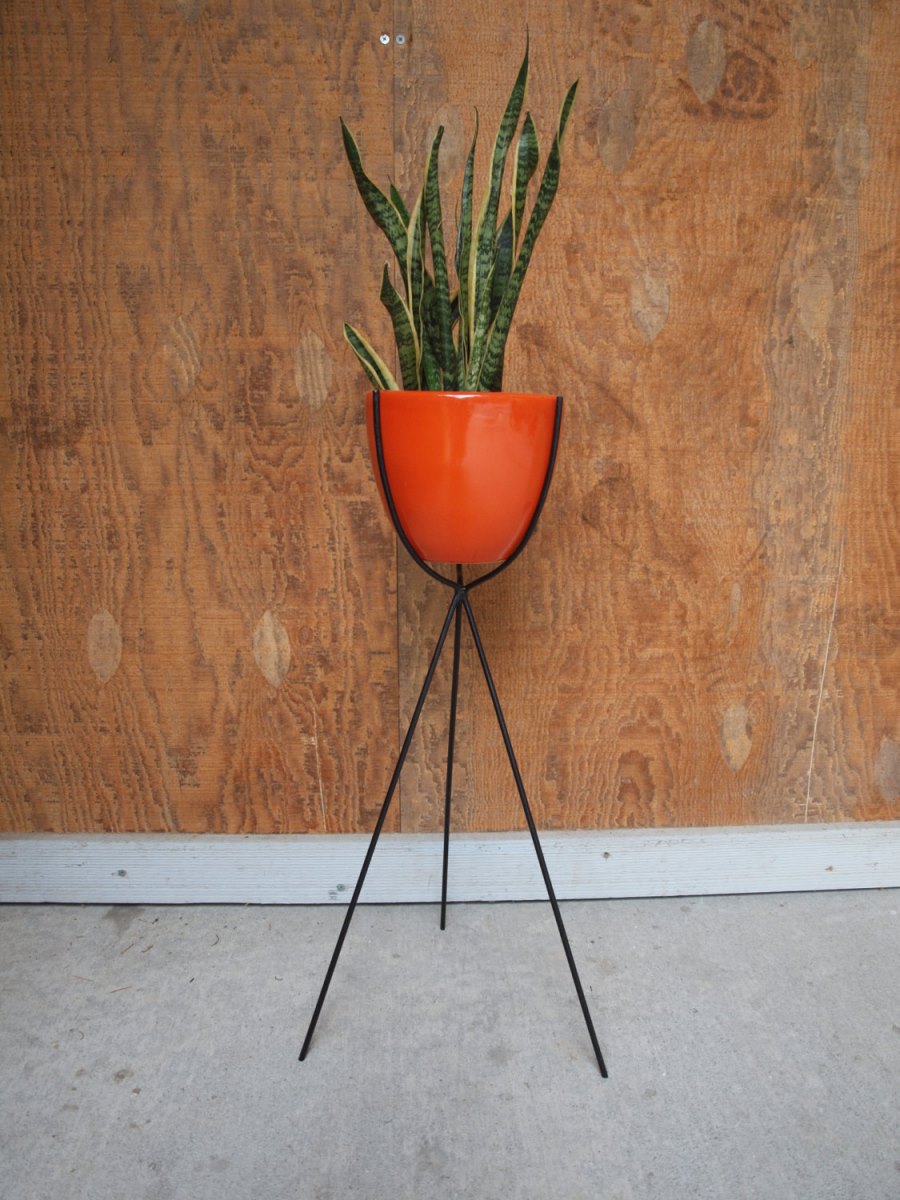 Mid-Range Plant Stands
We're heading into planters that are over $100, but they're well worth the money, especially when they display multiple plants like the piece below! Check out the Angled Plant Stand from CB2, crafted from steel rod and mesh with a black matte epoxy finish: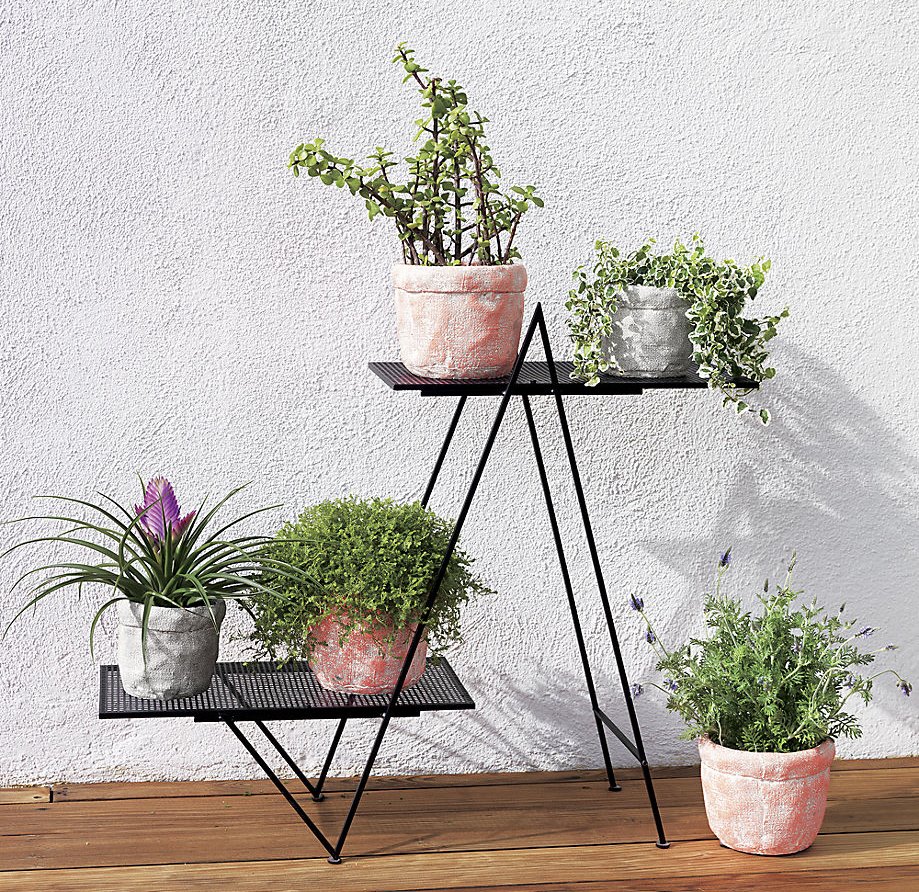 Metal is marvelous, but wood creates a lovely contrast and creates instant retro flair. These Mid-Century Turned Leg Planters from West Elm are "inspired by the clean silhouettes of the 1950s and '60s." Choose a glazed pot in white, red or black: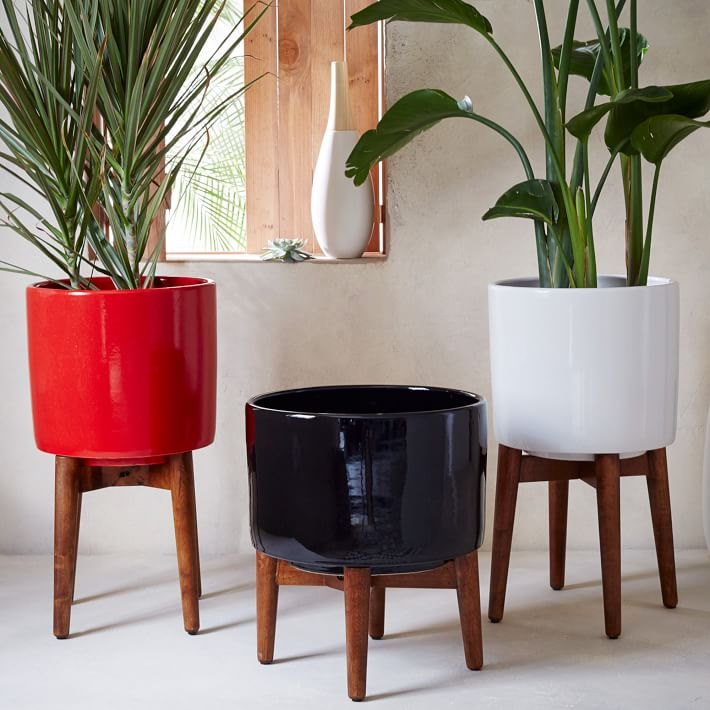 Love the triangular forms of this Iris Planter + Chevron Stand, also from West Elm. Crafted from a stone and cement composite material, the planter is easy to lift. Plus, the base is the perfect contrast in black powder-coated steel.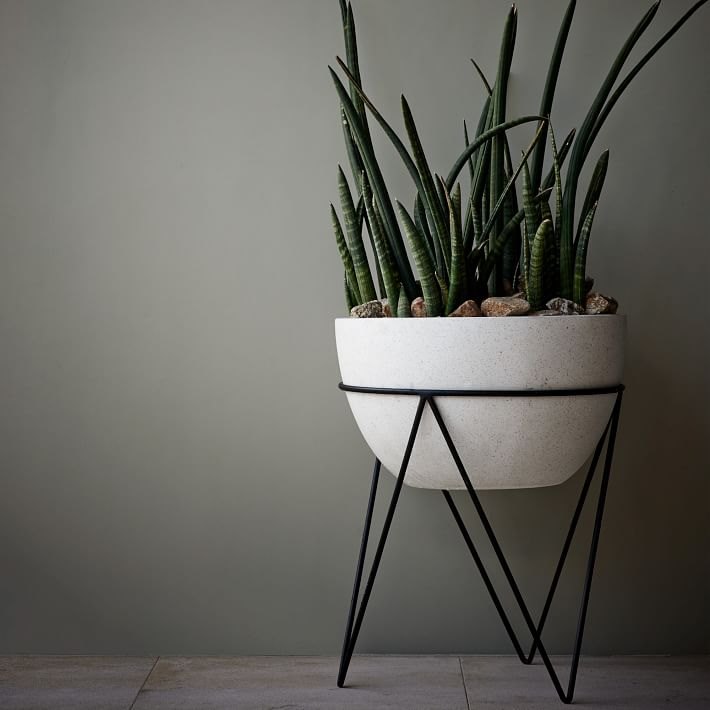 These Bullet Planters from Design Within Reach are priced starting at $155. Like the orange Bullet Planter above, they are based on the bullet planters originally manufactured in the 1950s. Compression-molded fiberglass is the material of choice, while a powder-coated steel tripod grounds the piece. Available in a range of colors that includes Tangerine, Turquoise and Chartreuse: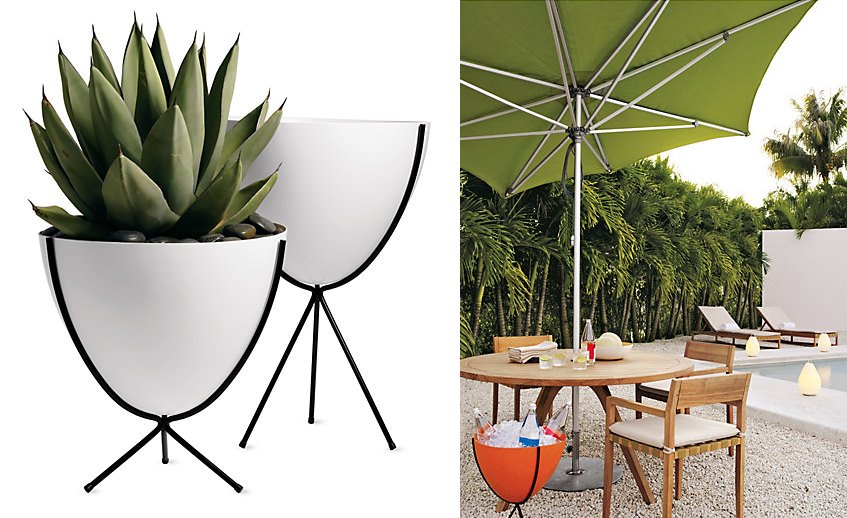 High-End Plant Stand Style
We now move into high-end territory, starting with this wood and ceramic planter and stand, this time from Room & Board. For $189, you can enjoy a sleek, sculptural statement for the room of your choice. Say hello to the Case Study Planter with Walnut Stand: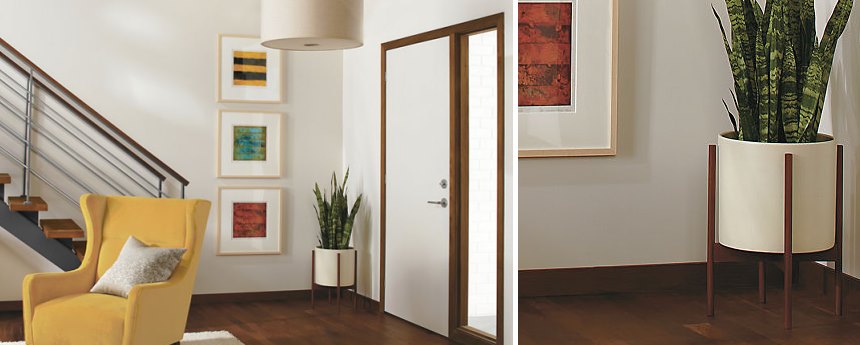 Diamond forms can be seen in the Harlequin from Ivy Muse, which channels the overlapping diagonals of a lattice. Choose from black, white and sage, and let this conversation piece take center stage in your home: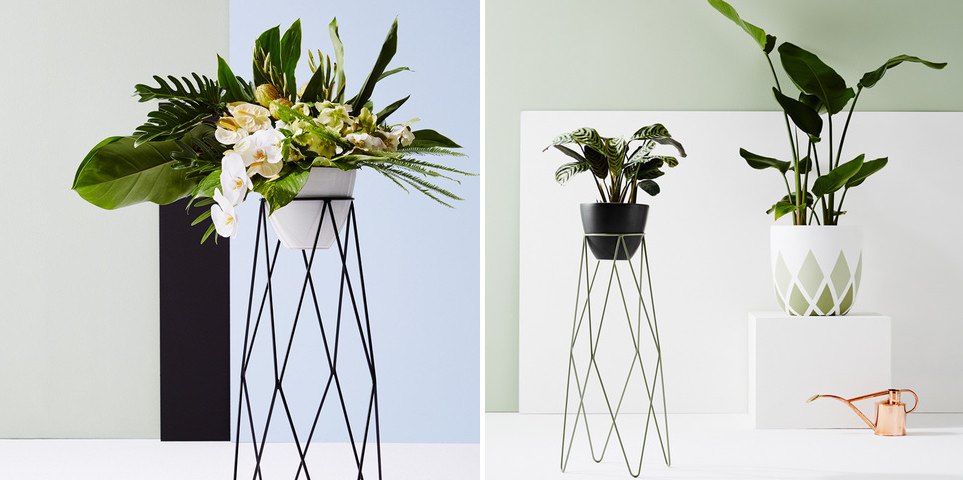 Last but not least, let's admire the Blue Okura Planter from Jonathan Adler, which steals the show with its Mod form and $895 price tag. But it's a hand-thrown stoneware piece, and we're talking about Jonathan Adler here, folks! Choose from yellow, orange and blue. As you can see, my fave is the blue!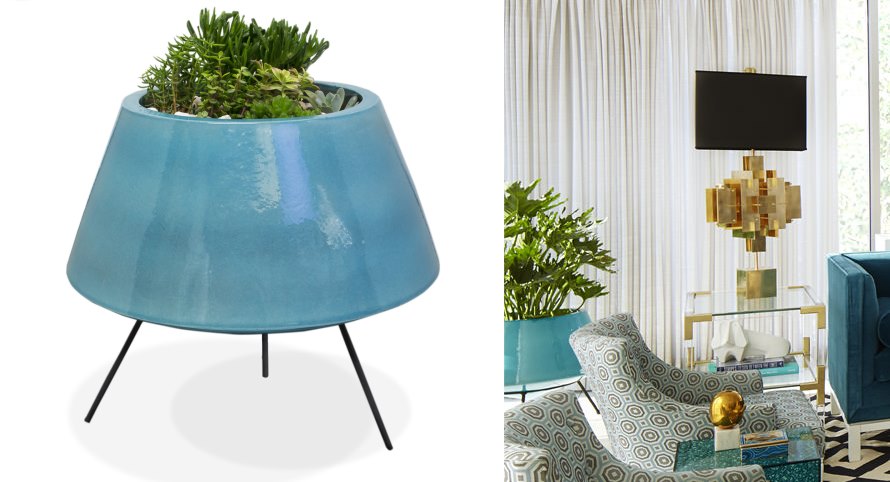 Speaking of faves, tell me about yours by leaving a comment below. Hope wonderful things are blooming in your life this fall…