Crafting the right environment in the workplace is incredibly important and it often affects both your creativity and work productivity. And if you often carry your work home or tend to work from home entirely, then having a dedicated home office or at least a small, organized workspace is indeed a smart choice. But a home workplace is much more than just putting a desk, chair and a table lamp together. Apart from the obvious functional choices of additional storage units, cabinets and sleek wall-mounted shelves, there is also the aesthetics to take care of.
Beating boredom, dullness and a sense of monotony can make the home office a lot more fun, and this actually helps your work productivity as well. Few colors manage to bring excitement and refreshing cheerfulness like yellow at its glowing best! A splash of yellow in the home office can completely alter the ambiance of the room, and the more neutral the color palette of your home office, the better it is visually. Fun, vivacious and at times mesmerizing, here are 30 inspirations to get you started.
Gorgeous Gray & Cheerful Yellow
We start off with the smashing combination of gray and yellow, which blends a refined elegant backdrop with bright pops of accent hues. Gray is arguably the most popular neutral and has occupied the top spot of the trends chart for awhile now. The home office is a great space to start testing which shade of gray you love the most before taking it to the bedroom and living room. Yet yellow is the color in this combination that brings oomph and sparkle even when used in moderation.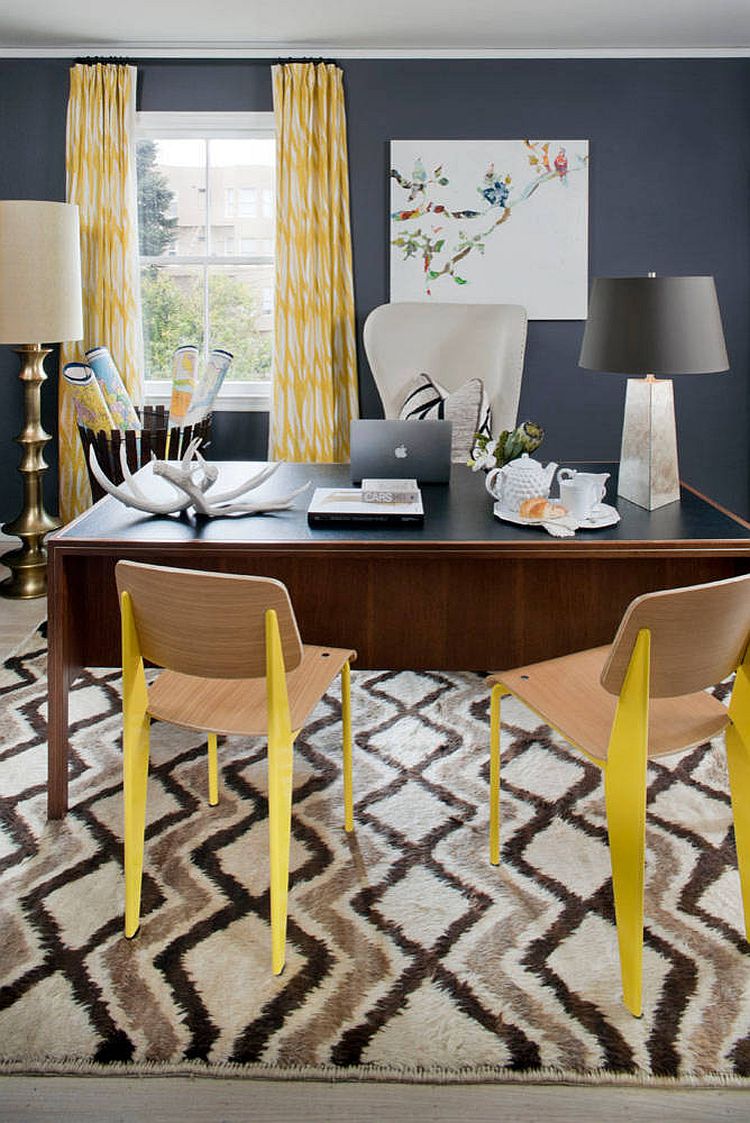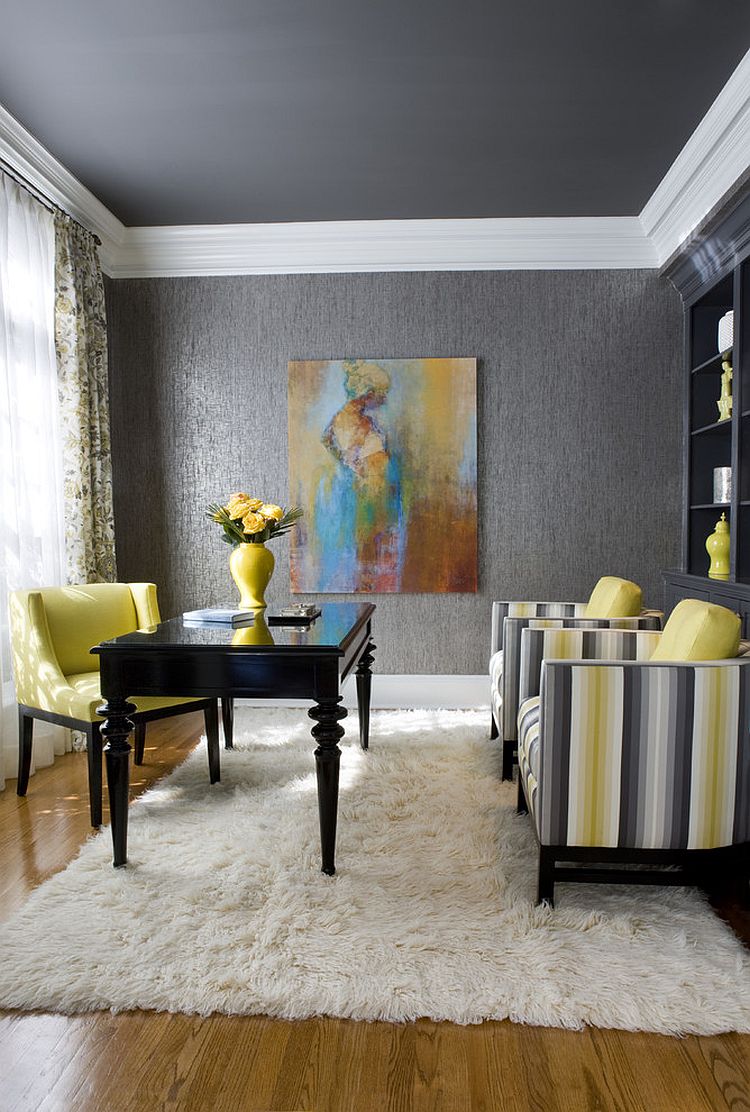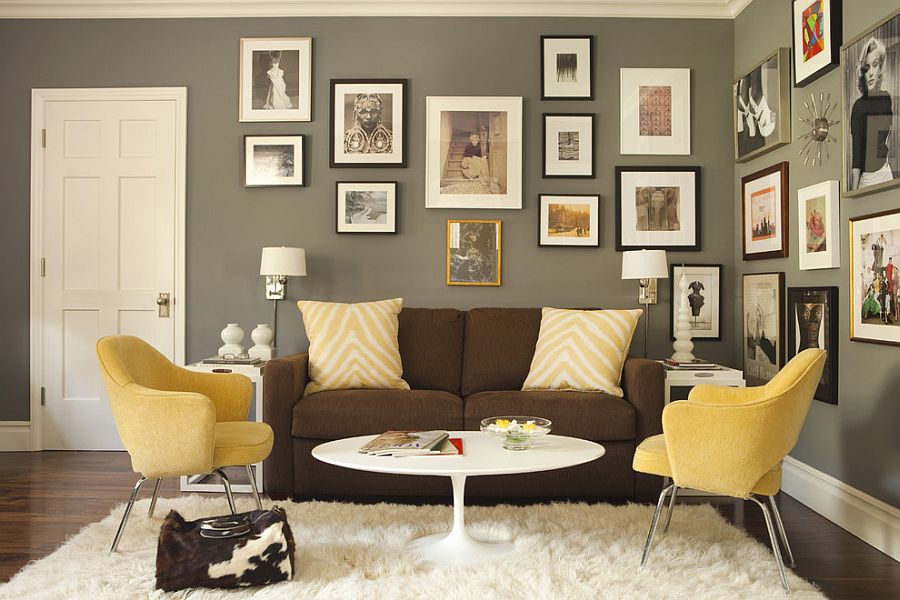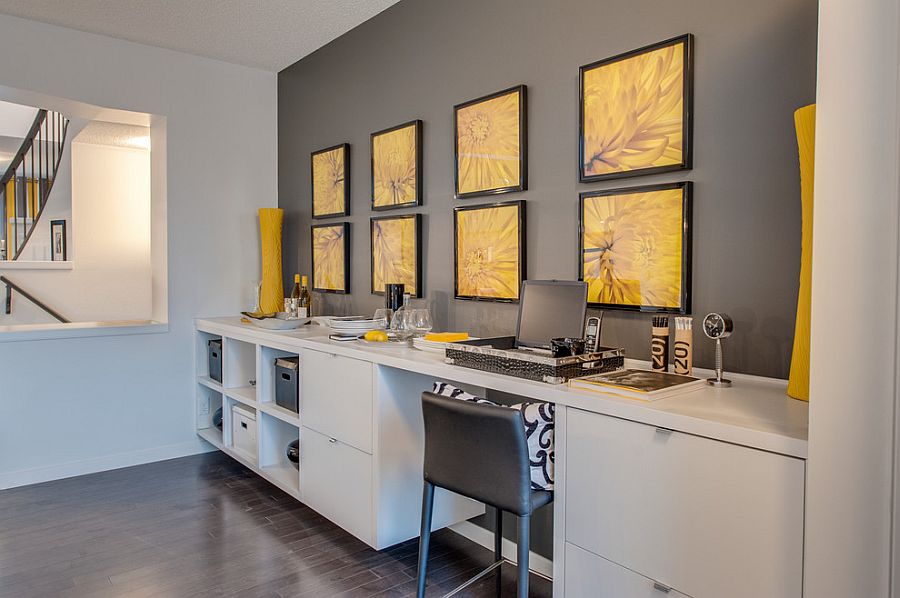 Amount of yellow you use in the room with gray backdrop can be limited to a small accent pillow on the home office couch, a vase on the desk and that lovely piece of modern art on the wall. Yet, the glow and allure of yellow ensure that the otherwise sterile space seems both engaging and exquisite. This is an approach that never seems to fail in case of modern, contemporary and transitional home offices.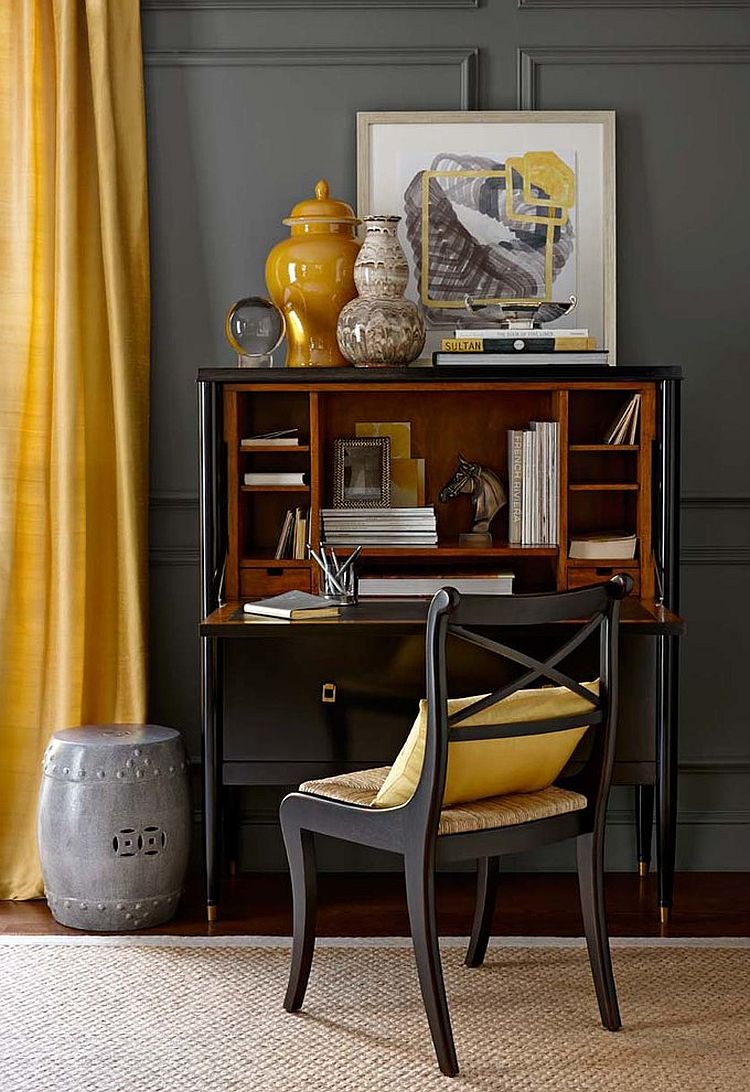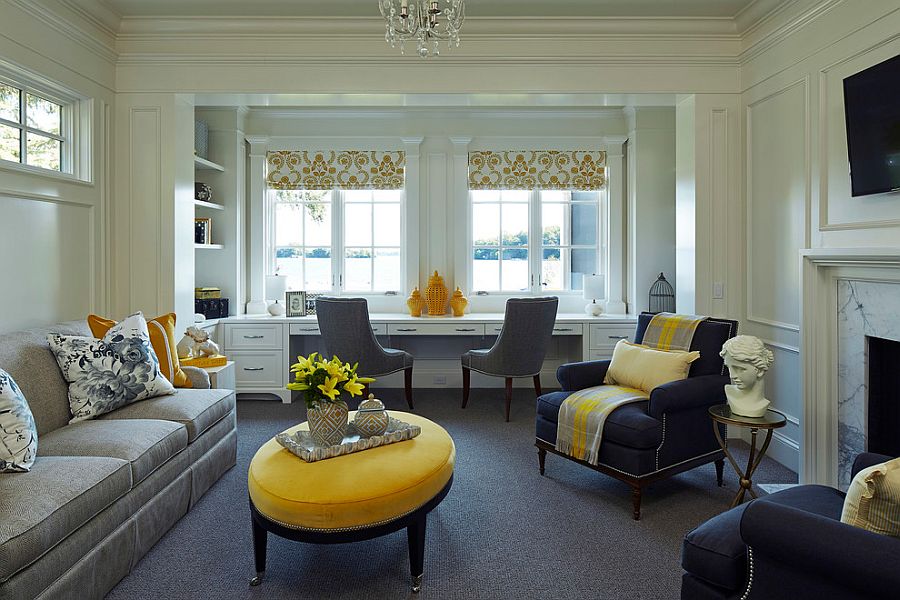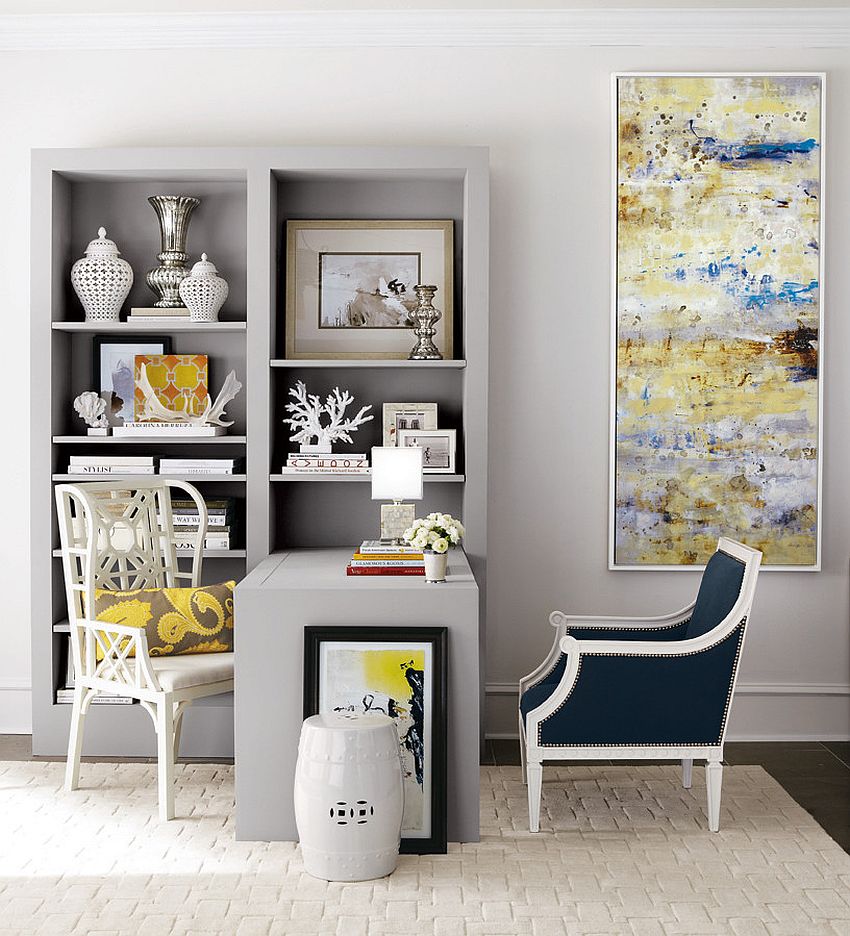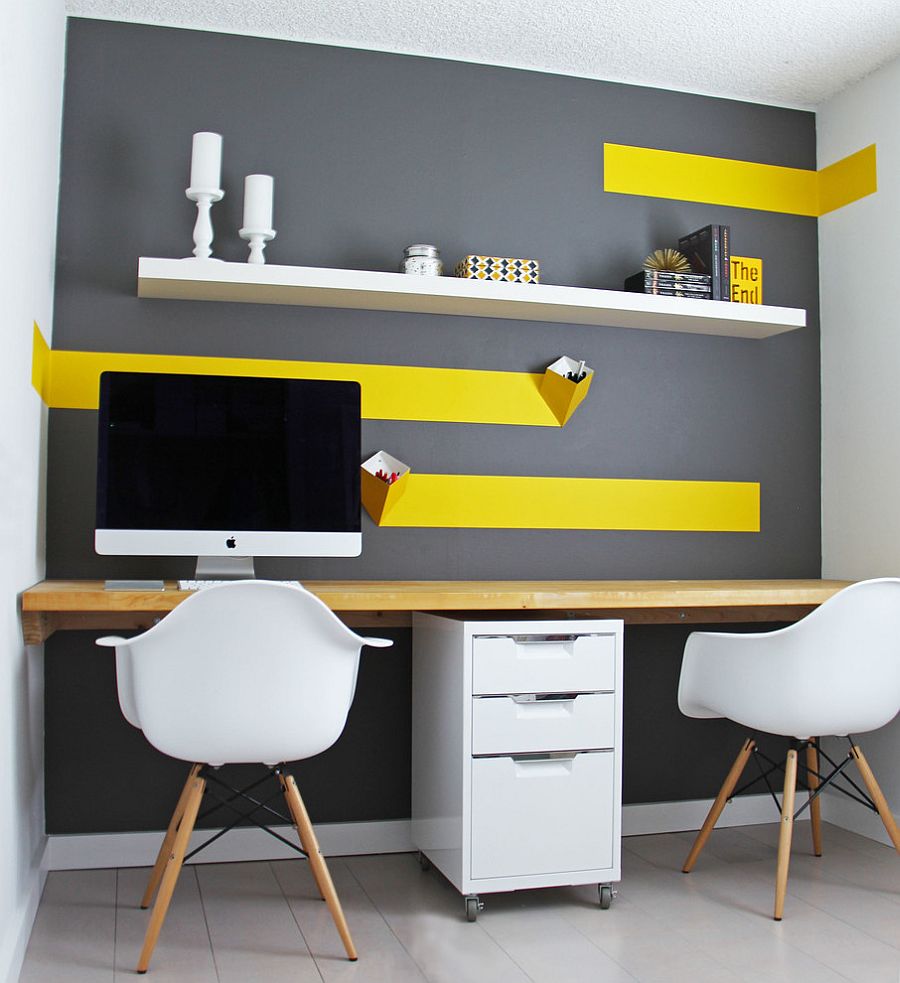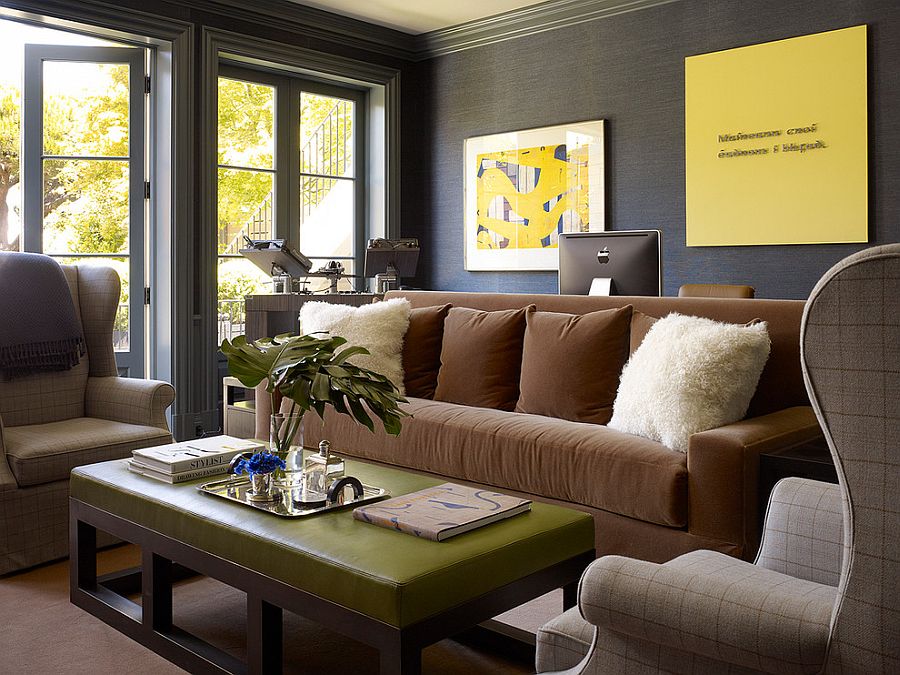 Delightful Décor
Easy to incorporate, décor in yellow is the best way to add the color to your home office without opting for a major makeover. The home office provides ample opportunity to add colorful décor in the form of wall-mounted shelves, a work desk, a chair and additional cabinets and storage units. Filing cabinets in glossy yellow are a fun option as well, and they would also ensure that the workspace is far better organized. If you are adding just pops of yellow to a neutral background using décor, then make sure that you repeat the color in the room to give it a more balanced appeal.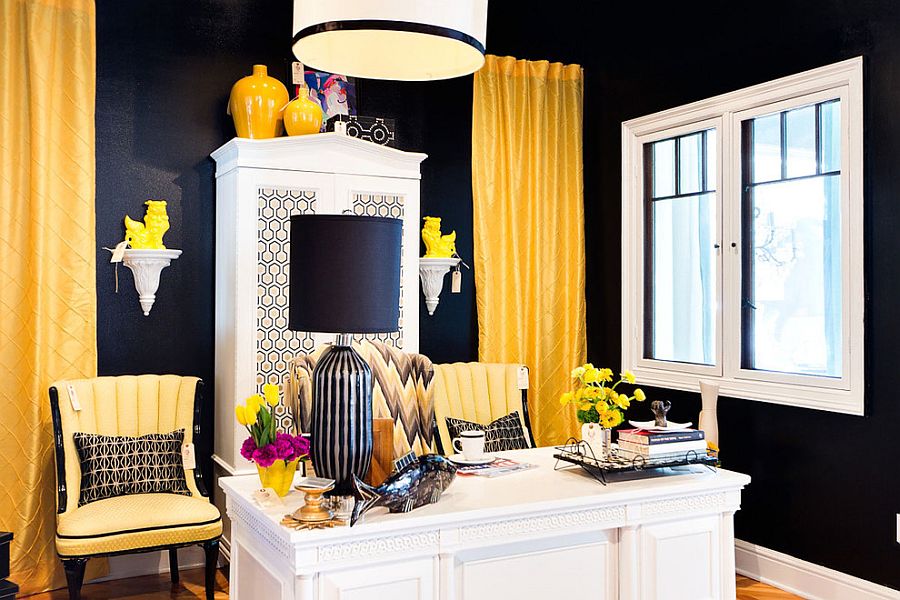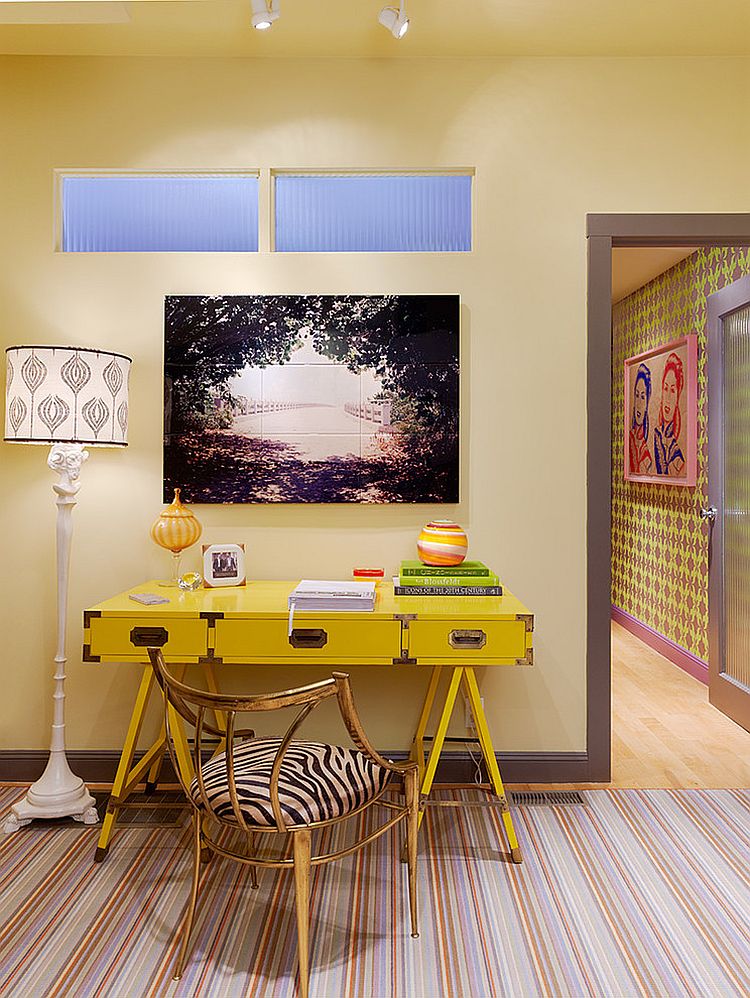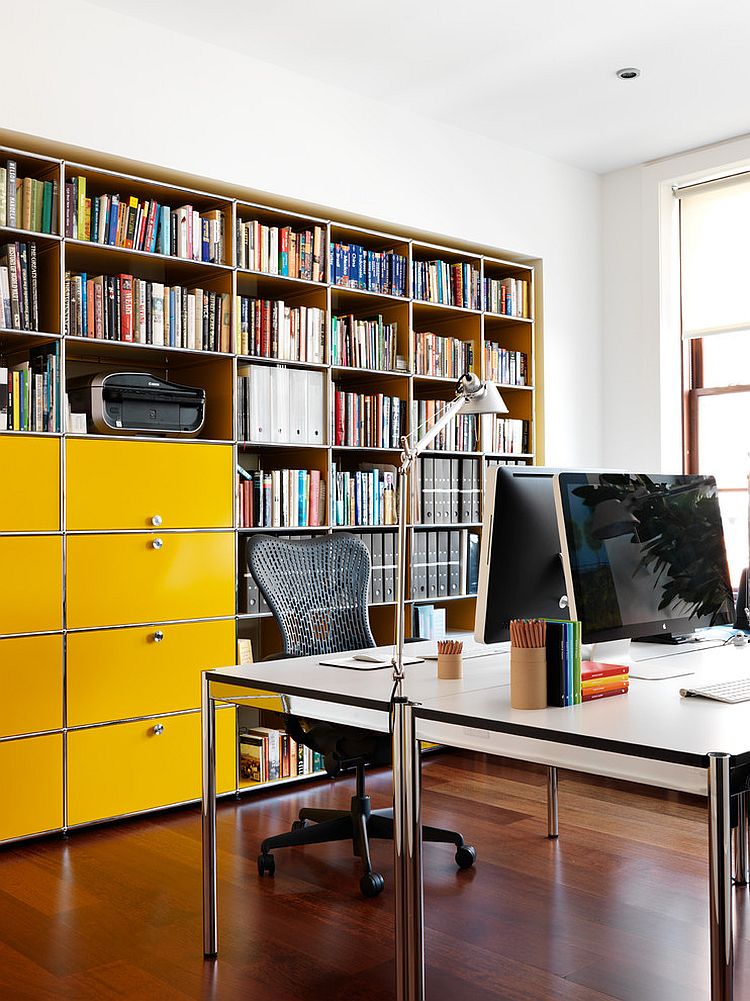 Taking a traditional approach to this, drapes are a great way to bring in yellow into the home office and they tend to make a big visual impact. Yellow drapes with geometric pattern are a hip choice and look smashing in a contemporary home office and they also create a more colorful and dynamic setting.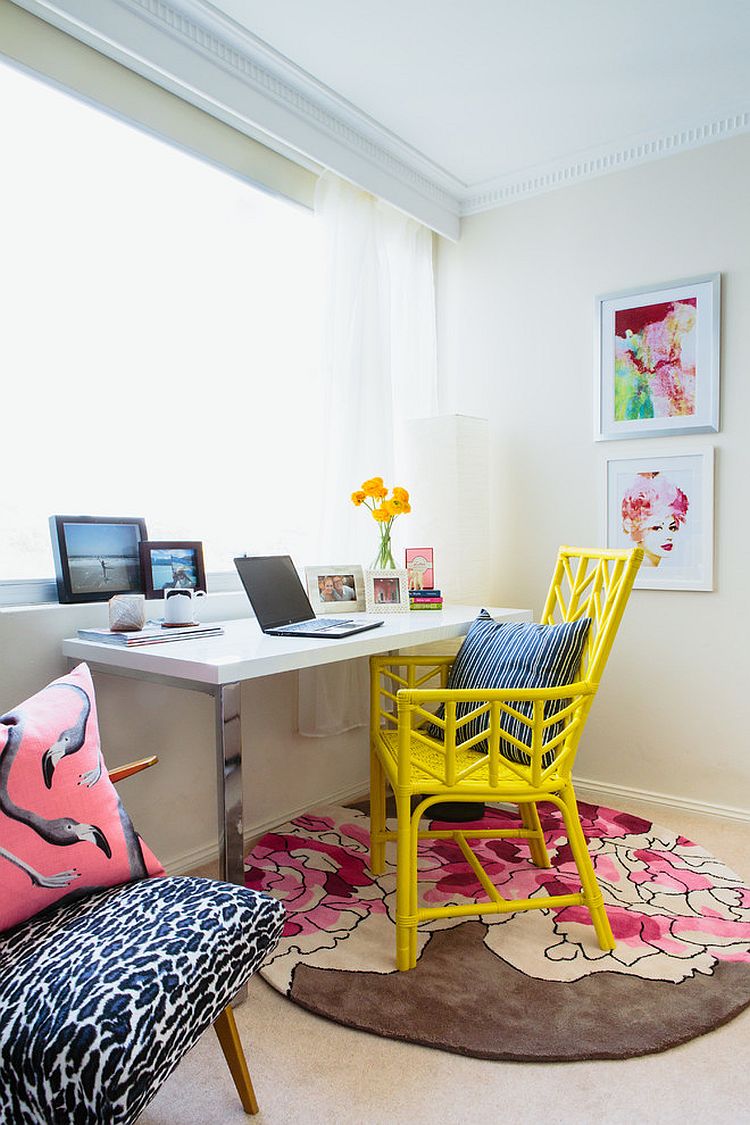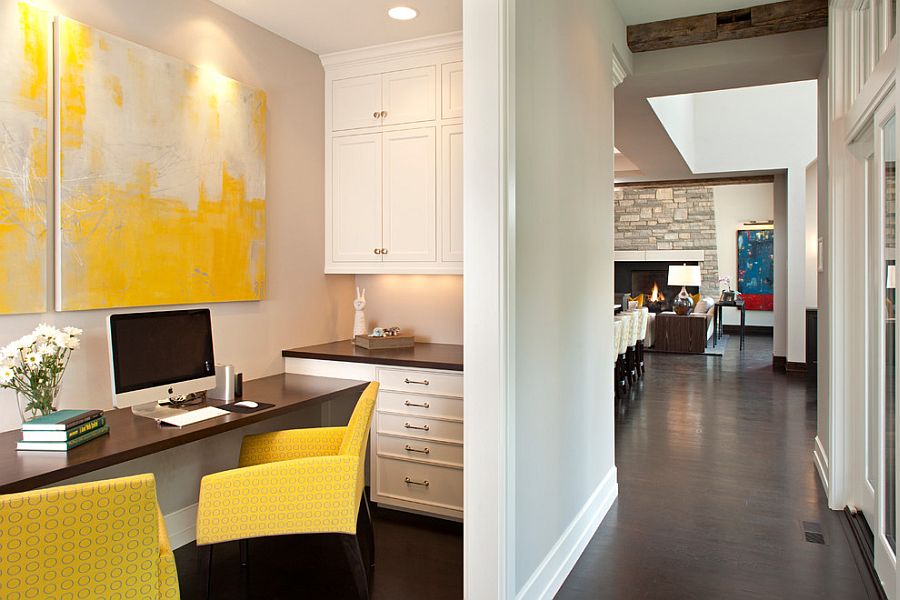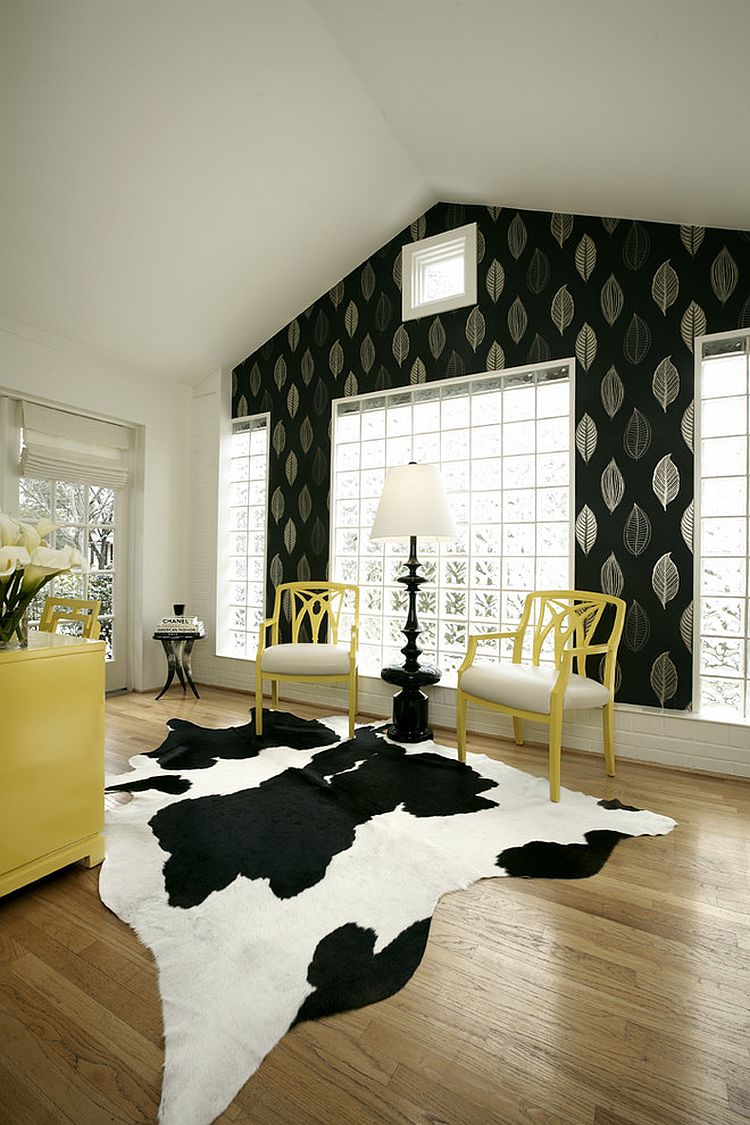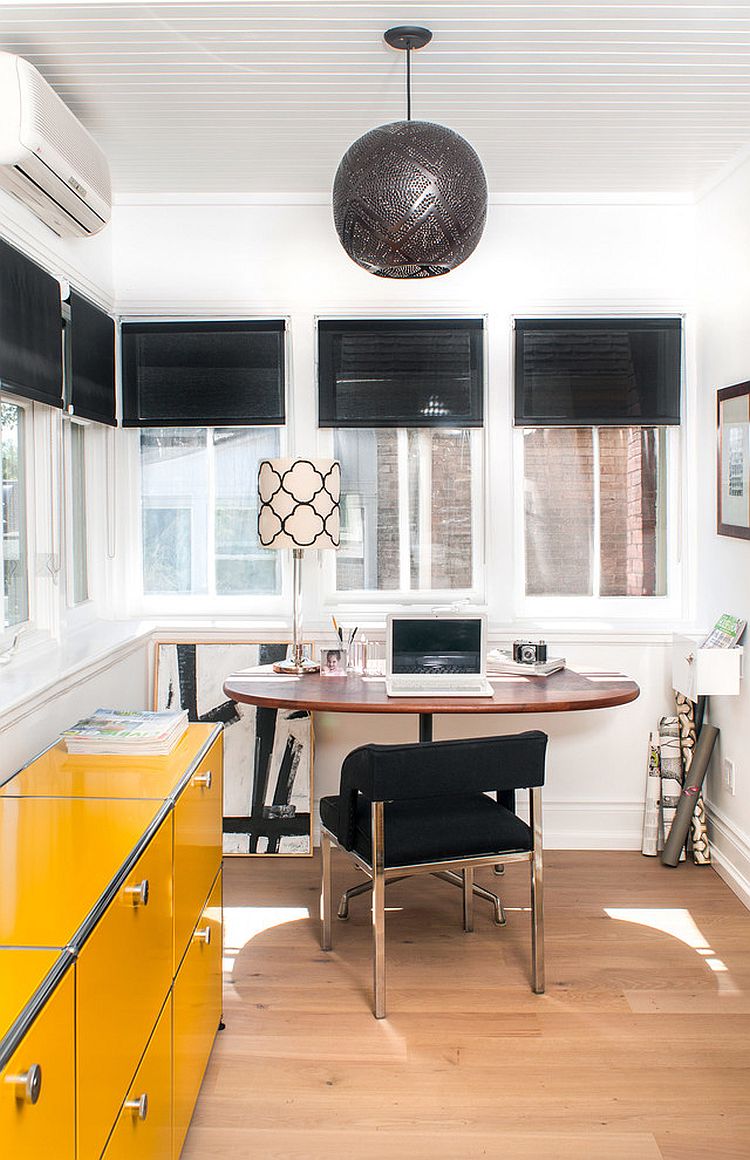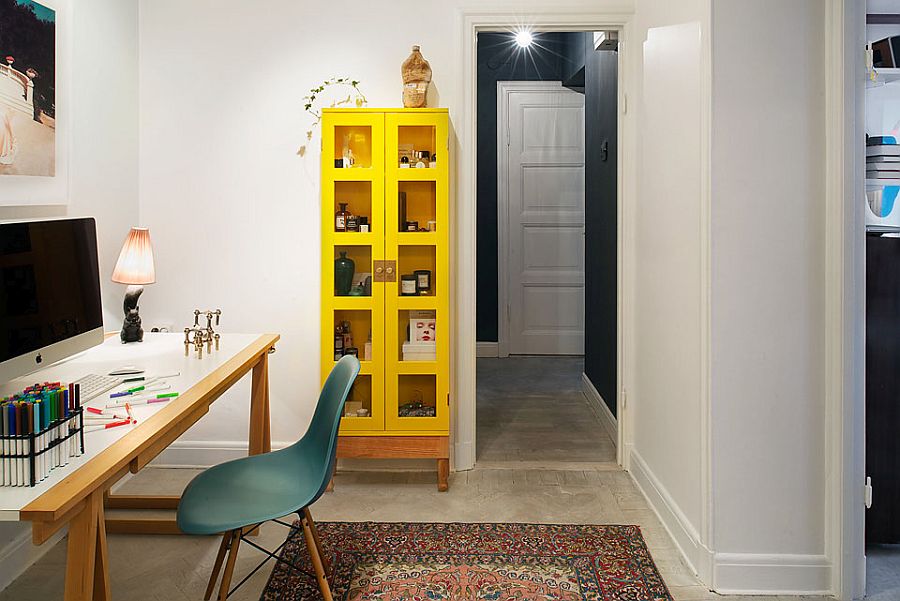 A Cloak of Coziness!
A home office backdrop clad in a mellow yellow hue is ideal for those who absolutely love the color and are comfortable with moving away from the conventional neutral color scheme. This is also a smart choice for the home office / guest bedroom combination, as the warmth and elegance of yellow shapes an inviting bedroom. Seamlessly blending with traditional, rustic, farmhouse and vintage styles, this matte yellow backdrop appears even more appealing when coupled with the right ambient lighting.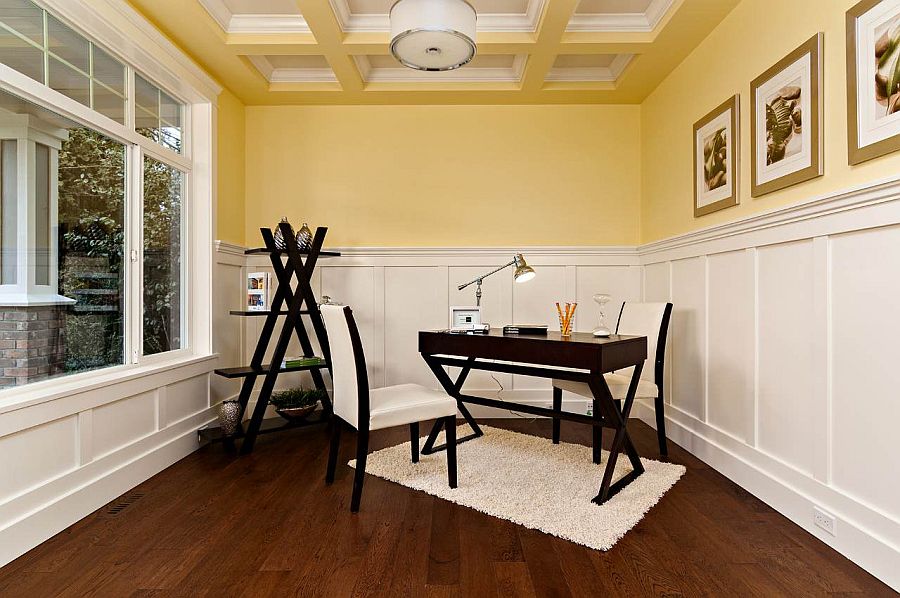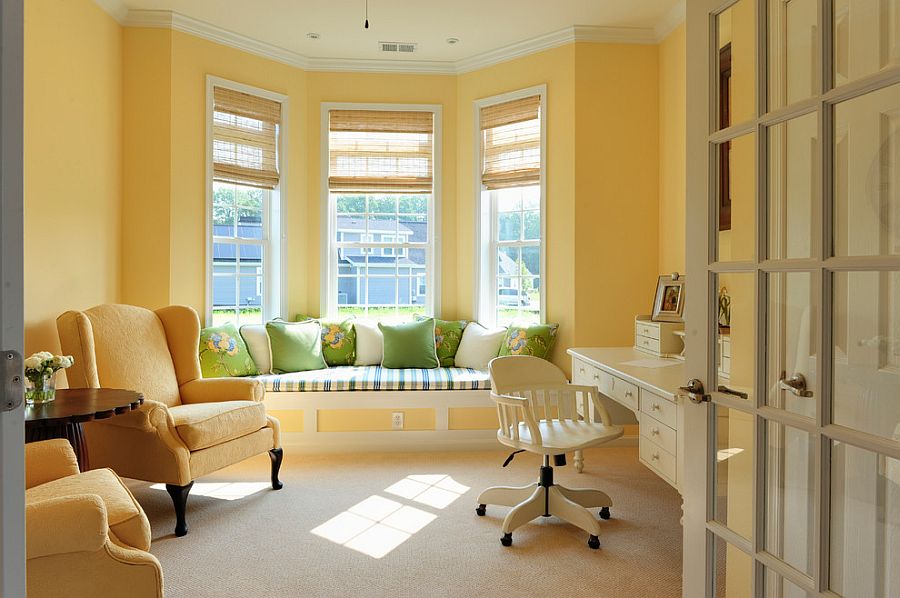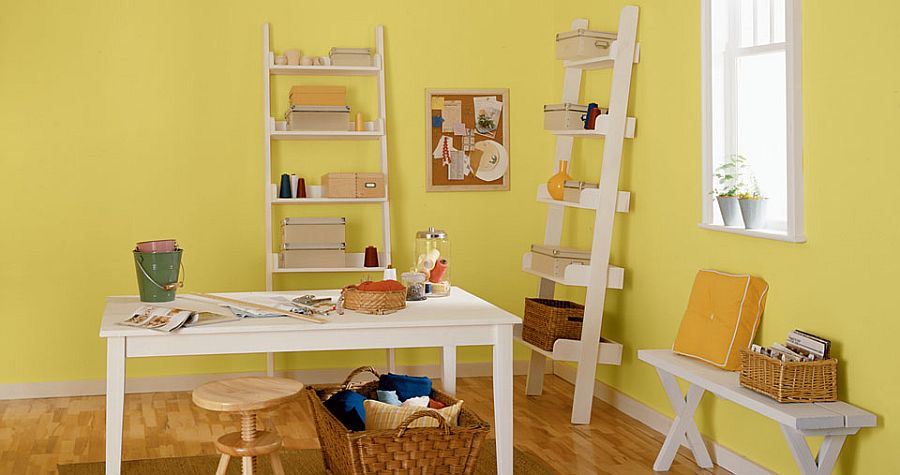 Yellow can also be used for that captivating gallery wall or energetic accent wall in the contemporary home office. If the idea of repainting one of those walls seems a bit too cumbersome, then turn to the magic of wallpaper! While shunned in the 90s as outdated, wallpaper is back with a bang and the endless options on offer allow you to bring not just color, but also pattern and texture to home office.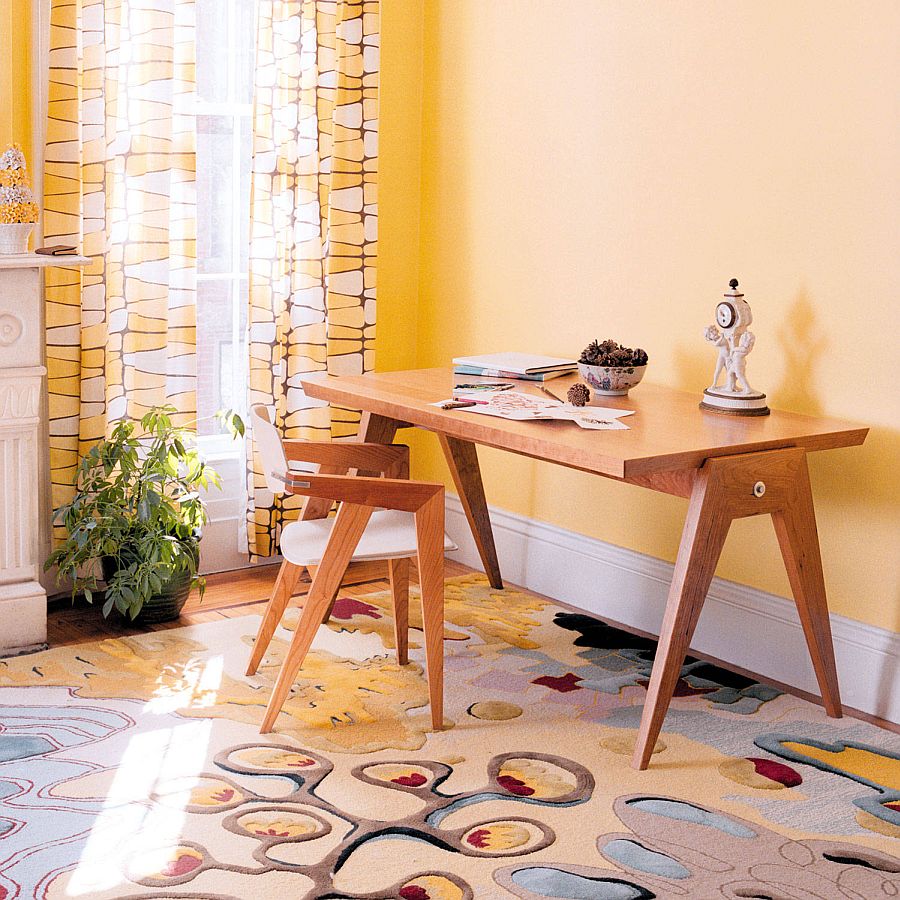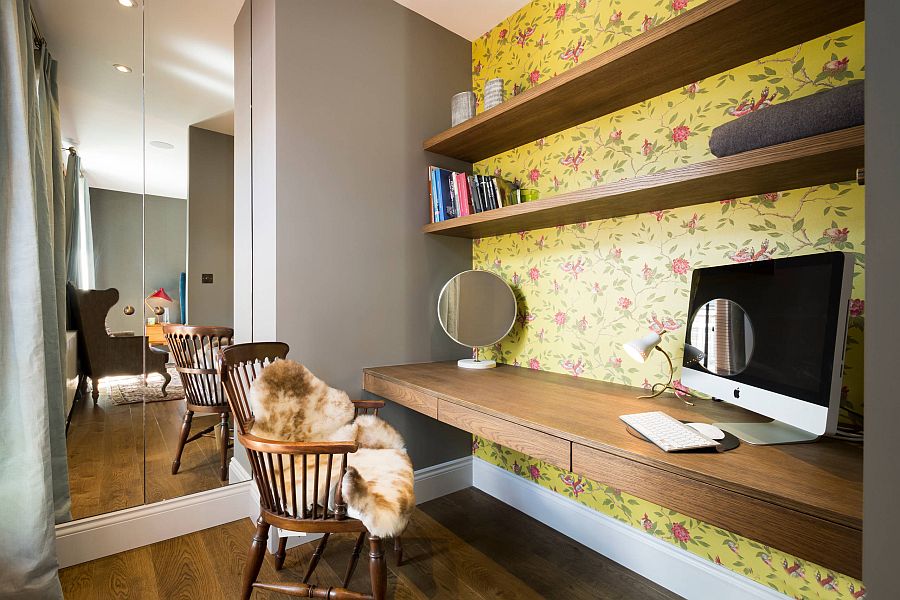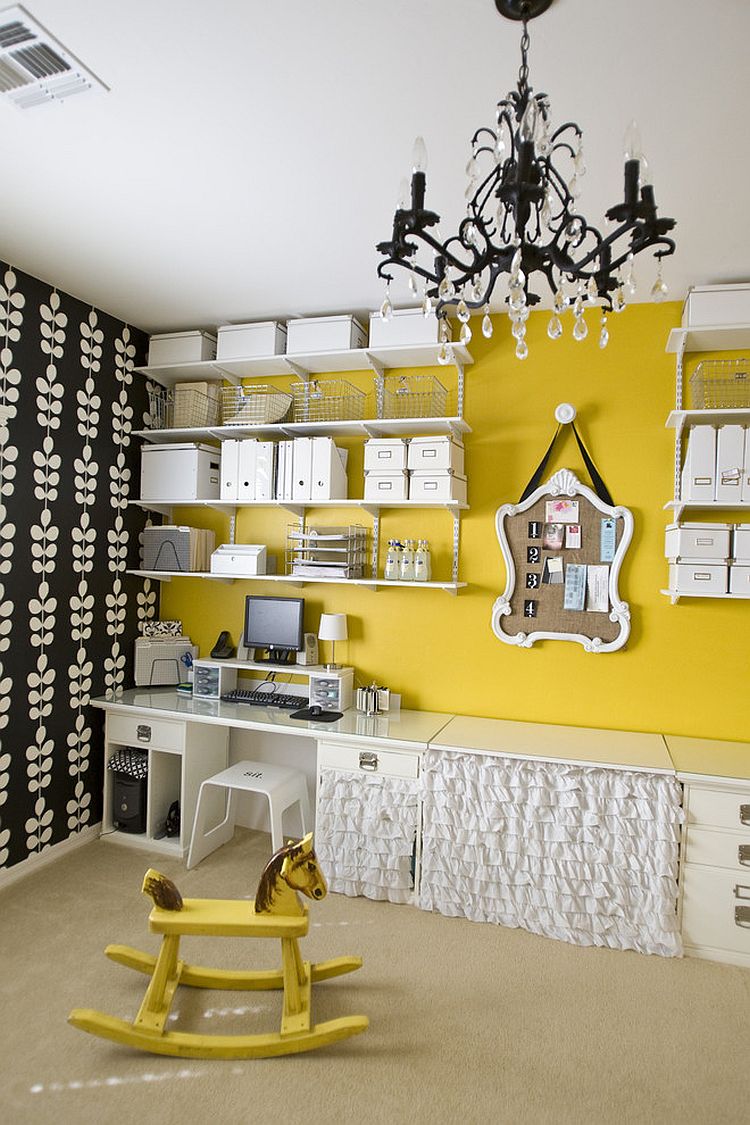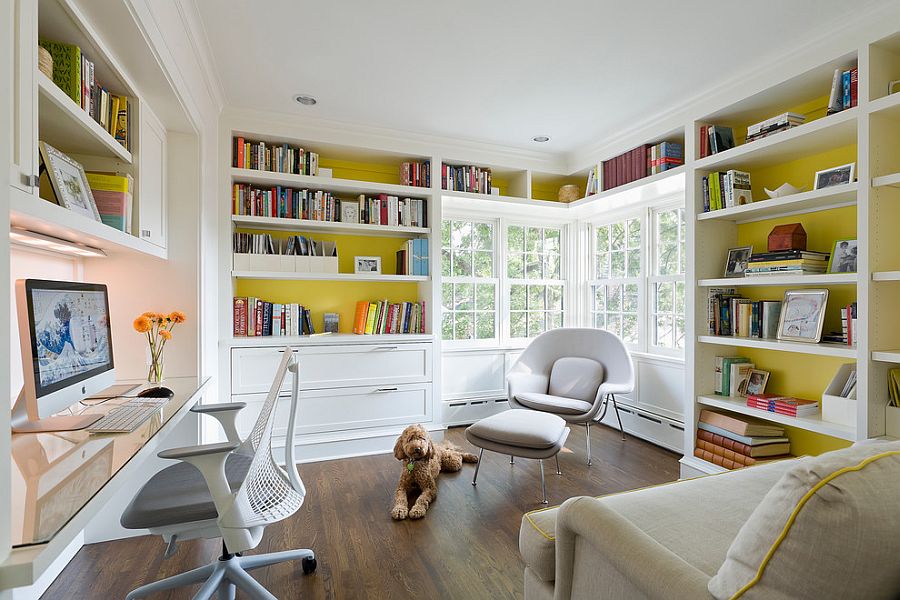 Color, Pattern & More
Want a more quirky, playful home office? It does seem like the trend, with even tech giant like Google turning to color and creativity for more relaxing and engaging workspaces! Those less adventurous can try out stripes and chevron patterns involving yellow and white. Others willing to try out the exotic may turn to wall art, stencils, graffiti and an eclectic style that fuses bright yellow with bold reds, gorgeous greens and soothing blues. No matter what the existing style and color scheme of your home office, you can rest assured that yellow will fit right in.