One of the accepted trends of contemporary design is to take the focus off of the ceiling and keep it firmly on the ground. While traditional homes and buildings took a keen interest in giving the ceiling a beautiful and at times extravagant appeal, modern homeowners are pretty satisfied with the simple and the understated. We were reminded of this changed attitude towards the ceiling in a dramatic fashion when we stumbled upon this stunning penthouse apartment by Bernard Khoury, who took the opposite approach and used a fresco-style giant metallic installation to highlight the ceiling.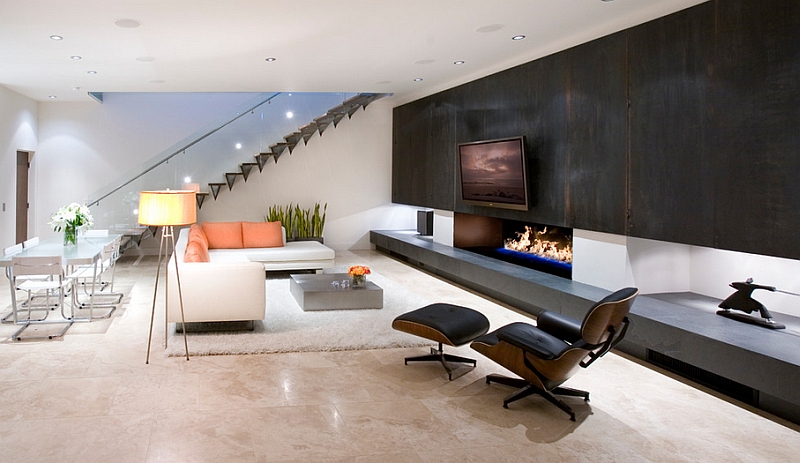 by Nakhshab Development and Design
Now, that expansive approach works well if you have a living space with high ceilings and a home where the vaulted ceiling is the norm. But for those having to put up with an 8-foot-ceiling (which is not all that bad) or less, decorating a space is all about making sure it does not seem claustrophobic. Decorating a room with low ceilings is all about working around the existing constraints while making your chosen design theme and color palette work.
1. Go Low and Horizontal
This might seem like an all-too-obvious solution to the low ceiling problem, but most of us still get it wrong because we do not go the extra mile in picking the right decor. Often, impulse buys can ruin your decorating style, and soon you have furniture that makes the room with a low ceiling appear even more congested. Set a limit regarding the height of decor you can add to the room with an 8-foot ceiling and stick to it. A good way to fool your eyes is to pick sofa sets, coffee tables and side tables that are not just short but also wide.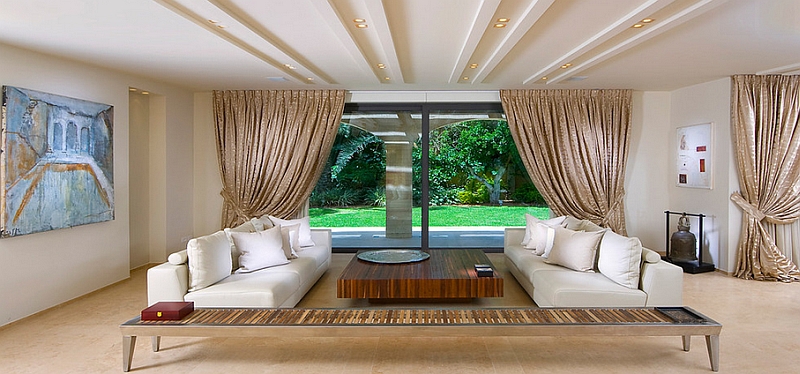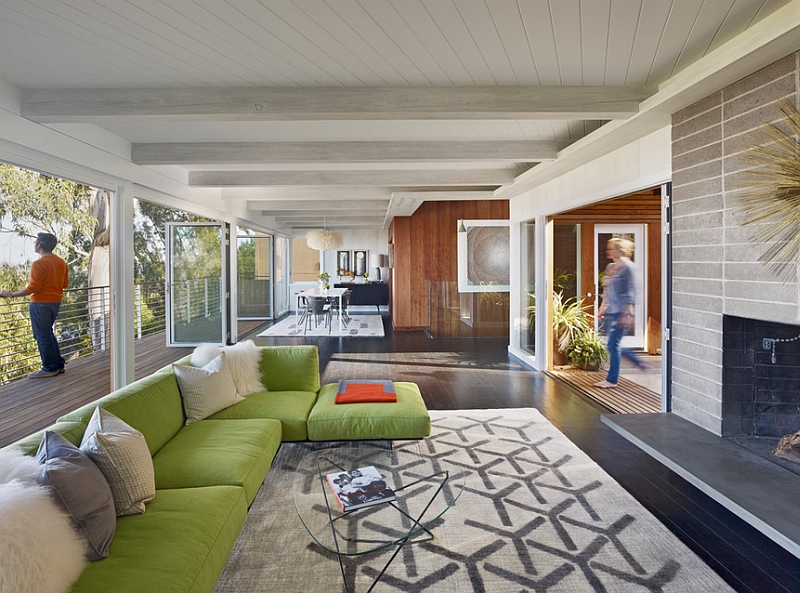 by yamamar design
2. Floor-to-Ceiling Glass Walls
Glass surfaces are always a great addition to small spaces, as the offer a sense of visual lightness and help demarcate areas without actually blocking out the passage of light. Large glass windows and sliding galls doors have already become an integral part of most contemporary homes. Open up the living room or the bedroom with a low ceiling towards the backyard or the porch using these trendy floor-to-ceiling add-ons. This creates the perception of the outdoors being a natural extension of the low-slung room and gives it a spacious appeal.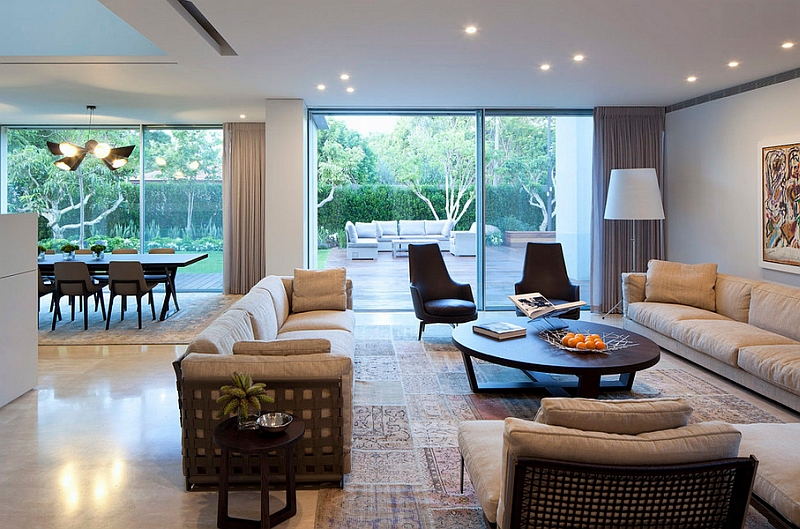 by Domb Architects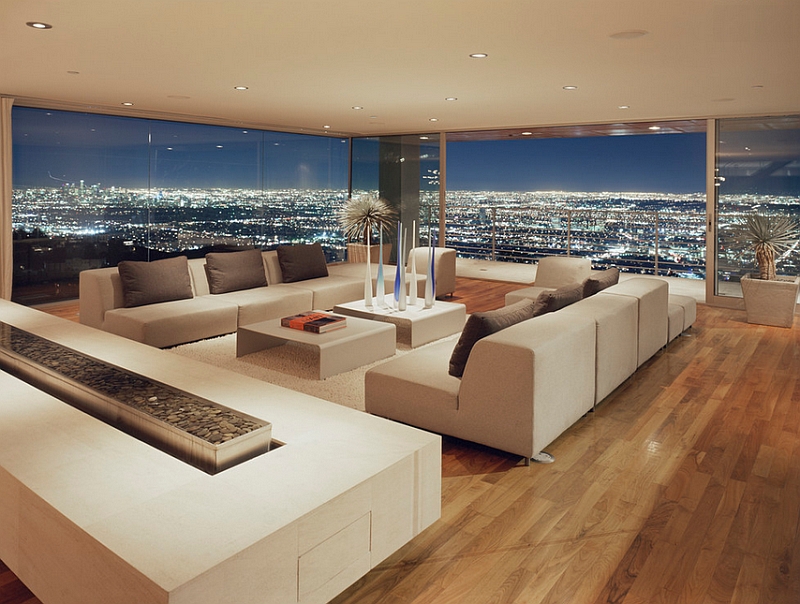 by spfa.com
3. Light and Glossy Ceilings
Another popular trick is to paint the low ceiling in a shade that is as light as possible. White is often the preferred choice, and since most homes with high ceilings also use a similar approach by default, it really does not seem like any extra effort. For those not too happy with white, paint the ceiling in the same neutral color as your wall, but use a hue that is a shade or two lighter. This instantly puts the walls in focus, and the room appears far taller than it really is.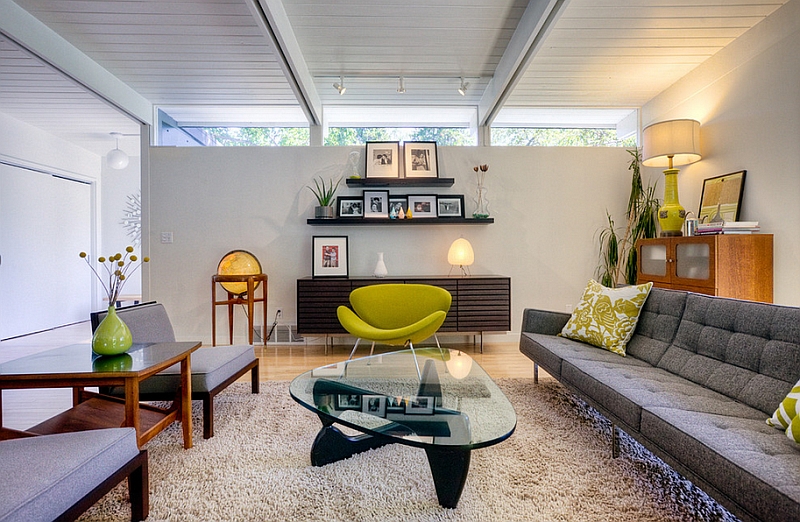 by Coop 15 Architecture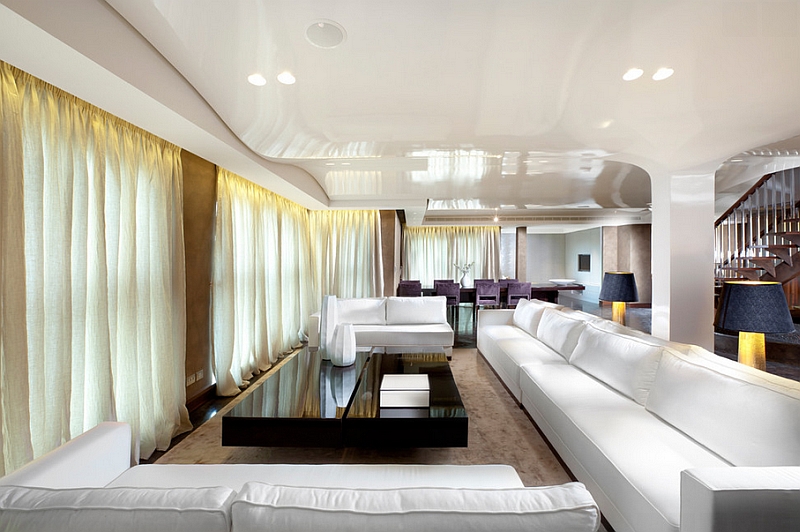 by Elad Gonen
While some designers suggest a glossy paint for the low ceiling because it reflects the light better, matte finishes also work well, and the choice here depends more on the overall brightness of the room. For a room with tall glass windows and ample illumination, a ceiling with a glossy finish can seem a touch too bright and distracting.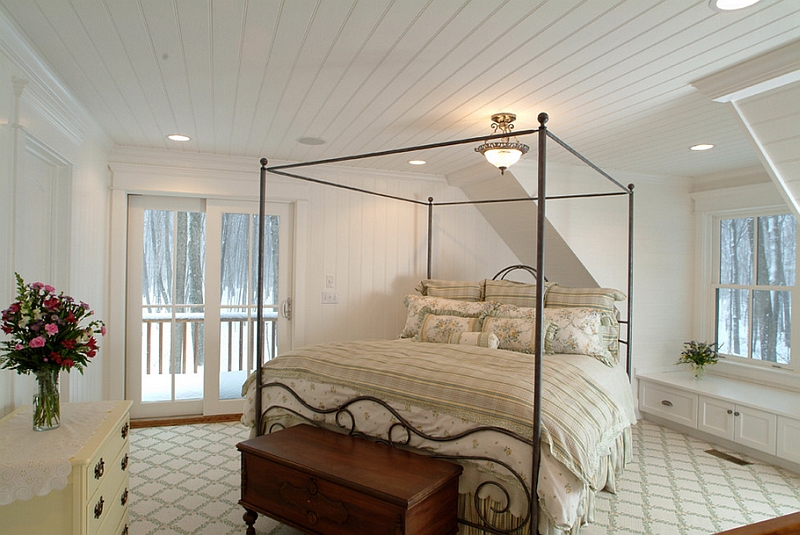 by Sears Architects
4. A Warm, Fuzzy Glow!
Pendant lights and elaborate chandeliers are additions that are more adept at lighting rooms with high ceilings. Keep these away from your low-slung living space or dining area and choose wall sconces and recessed lights that offer the right blend of focused and ambient light. Give uplighting a shot in the room with a low ceiling, and you will instantly see the transformation in the aura of the area. A dark ceiling makes the room feel dingy, cluttered and suffocating, while the light bouncing off the ceiling gives the impression of a taller, more ventilated home. Smart floor lamps can also help add another intriguing layer of uplighting to rooms with a really low ceiling.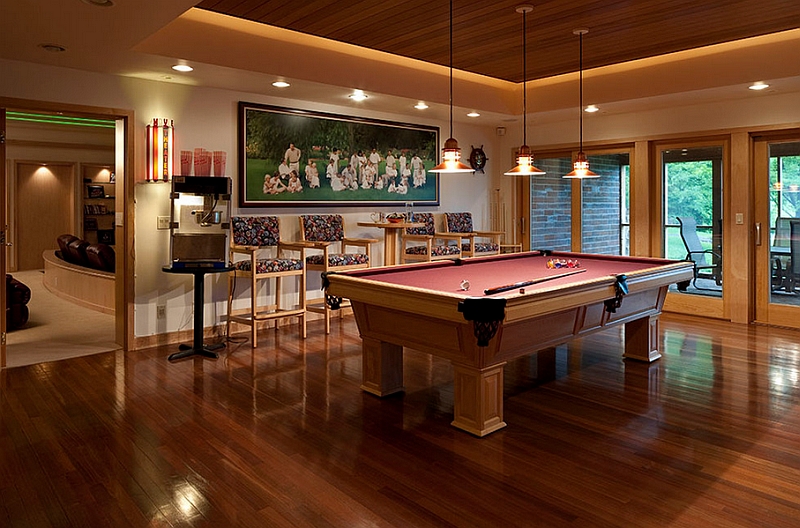 5. Vertical Stripes and Paneling
One of the most popular fashion tips for those who are short is to wear dresses or shirts with vertical stripes to make them seem taller. The same little trick works for interior design as well, as stripes also add a hint of sophistication to your space. This also allows you to incorporate a bright accent shade into the room with a low ceiling without overwhelming the space. Vertical wood paneling also has a similar visual result and is a perfect option for homes that need additional warmth and a sense of coziness.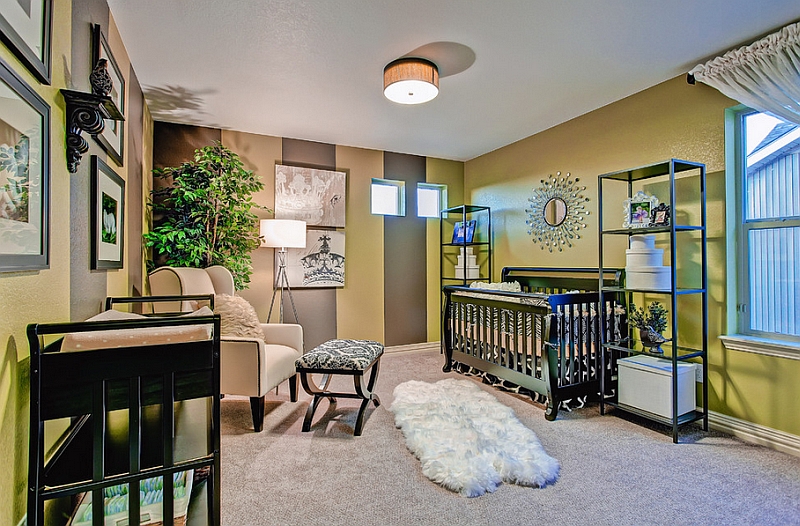 by Oakwood Homes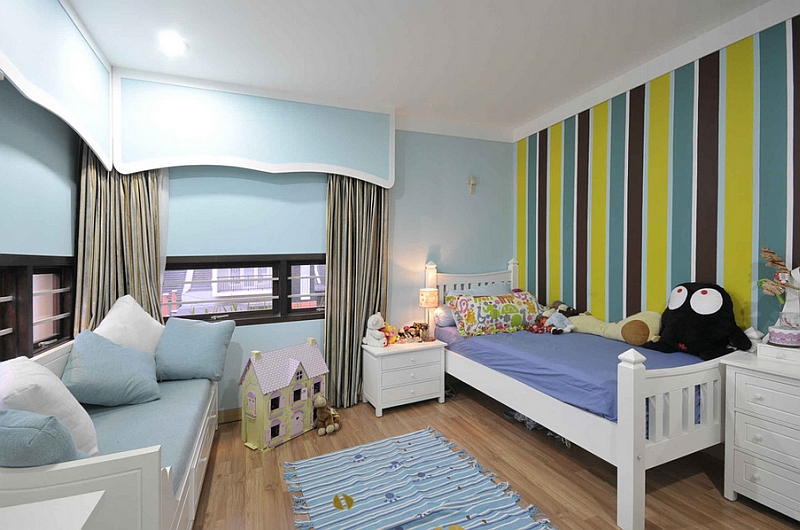 by PGDS Architects
6. Stretch Out Those Drapes!
Continuing the streamlined theme, drapes and curtains with a pattern at the top are lovely additions that give the low-slung room a taller appeal. Even plain sheer curtains can get this task done while ushering in ample natural ventilation. If you have a breezy, beach-inspired theme going in your house, then the latter are indeed the perfect way to drive the theme home. Keeping the crown molding proportional, simple and neutral makes the decorating style even more exquisite and timeless.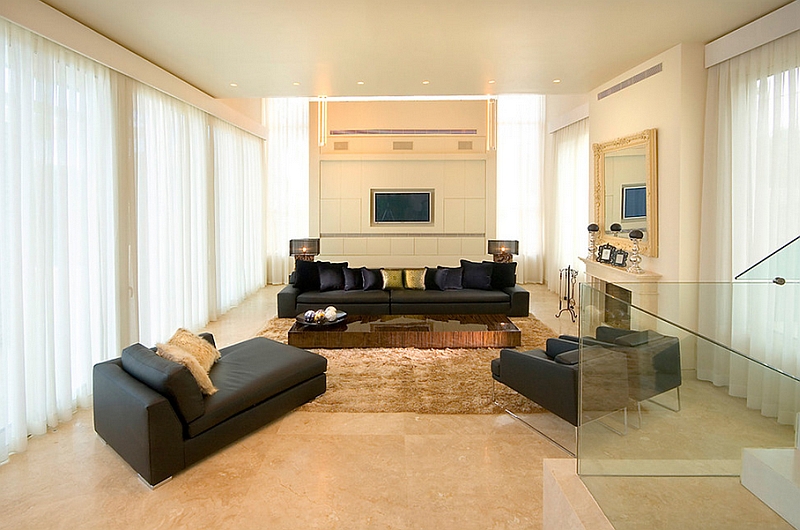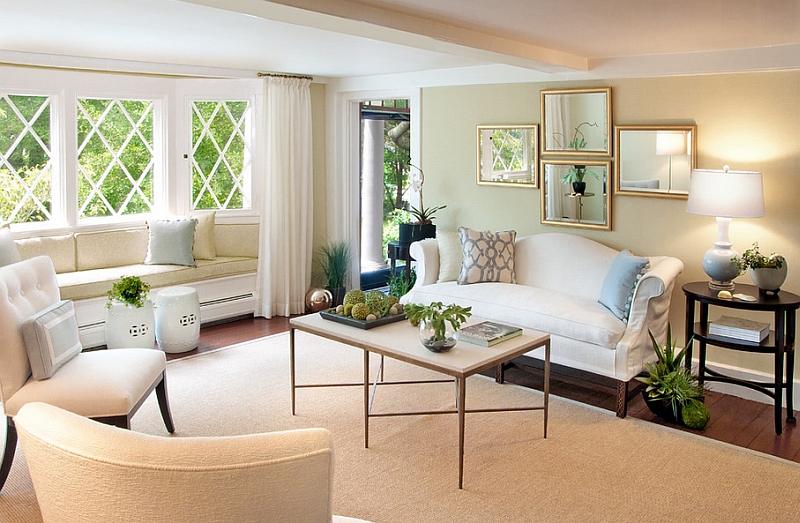 by Marcye Philbrook
7. High Shelves and Vertical Displays
Vertical displays, high shelves and even artwork that is placed a touch higher than normal can give a room with low ceiling a taller appeal. While moving the artwork higher is not something we are very fond of (as the viewing angle is disturbed), a subtle change moving it up 6 to 9 inches higher than its normal position can do the trick. To put it in a nutshell, when decorating a low-slung room, think vertical with style and design. If you are willing to commit to more permanent structural changes, raised door openings and windows also help accentuate the illusion.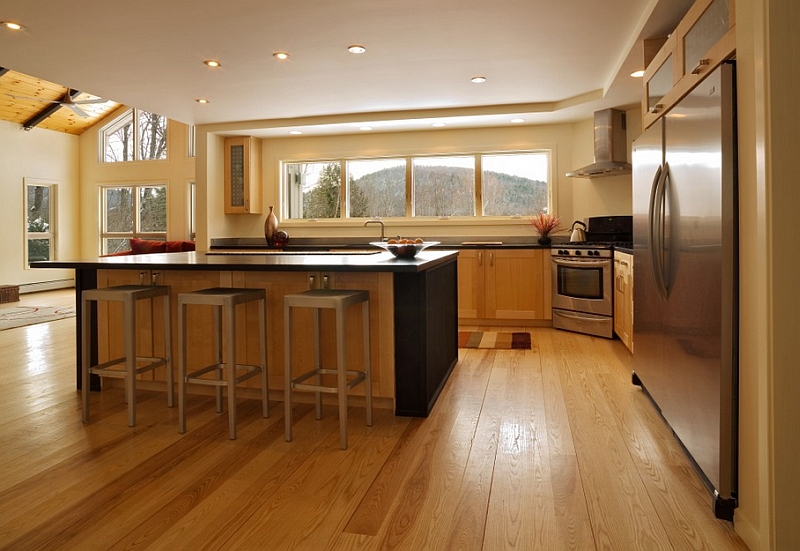 by Michael Minadeo + Partners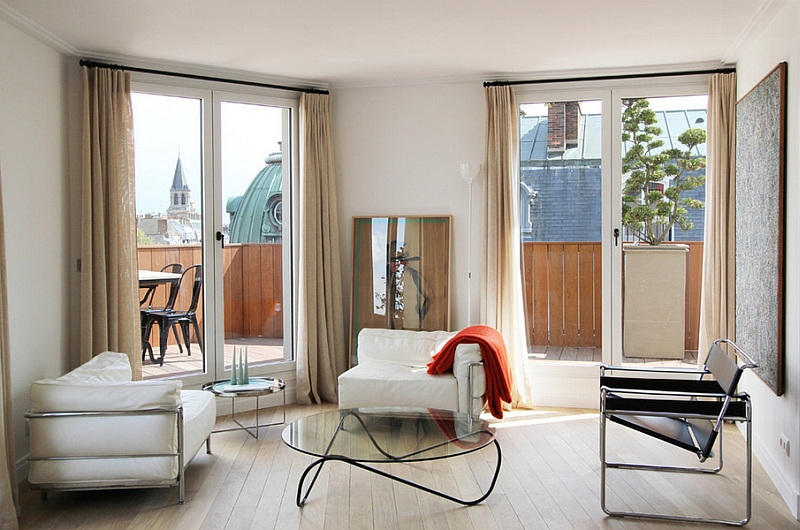 by A+B KASHA Designs
Having a room with a low ceiling is not as bad as you would imagine (especially if you are not tall enough to bang your head against a pendant light or two)! Much like a small bedroom or living area, you can play off of the sense of coziness and intimacy to create a truly inviting and snug space. So instead of worrying about things you can't easily alter, why not gleefully embrace and enhance the experience of living in a home with low ceilings?