Looking for a few simple ways to add modern style to your home? You're not alone. In fact, I recently moved to a new place, and because my husband and I were on a budget, we needed some easy, affordable ways to put our own stamp on each room! This got me thinking about my favorite tried and true design strategies, as well as the accessories, styles and tips that I regularly rely on when it comes to decorating my home.
Today I'll share some of these tidbits with you, and I'd love to hear your ideas as well. Let's face it–most people are busy and on a budget. Good design often has to occur in those rare moments of down time, and for an affordable price. Think it's impossible? Think again! Especially if you're willing to indulge in some DIY-style creativity! Enjoy browsing today's tips and pics, and don't forget to leave a comment at the end of the post…
1. Add a simple, festive centerpiece to your home.
You would not believe how easy it is to have a fresh, natural centerpiece at the heart of a room. For a few dollars, you can buy yourself a bundle of long-lasting tropical greenery. Below we see a trio of sansevieria leaves (also known as mother-in-law's tongue). This centerpiece has been in my bathroom for over a month and shows no signs of wilting!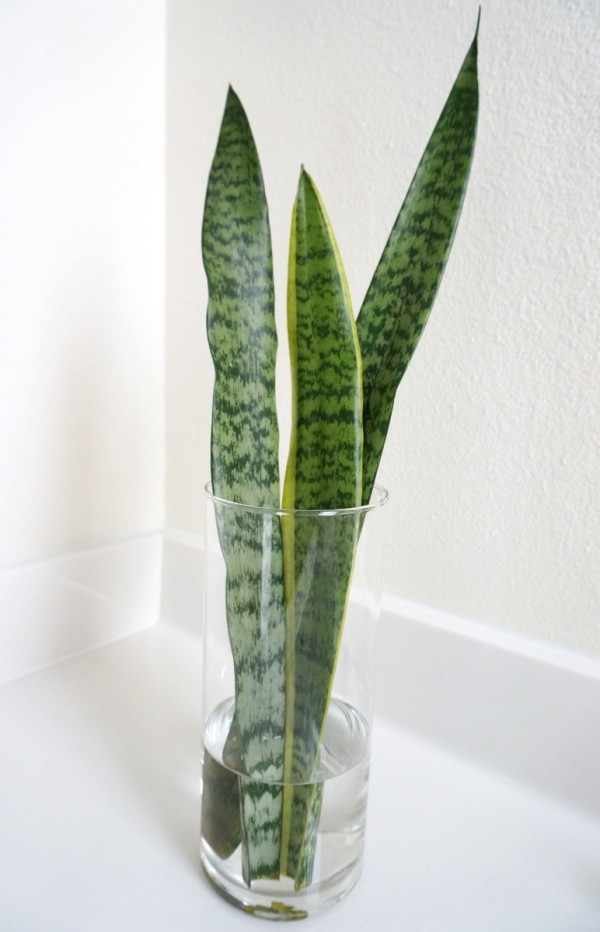 Don't forget that adding some seasonal produce can be a colorful way to create a centerpiece for your table. In the fall, I buy a collection of pumpkins (this year, I went with an all-orange monochromatic look). They get me through the end of November, and then it's time to decorate for Christmas. In the summer, try displaying a bowl of citrus fruit. Produce is affordable and deliciously stylish.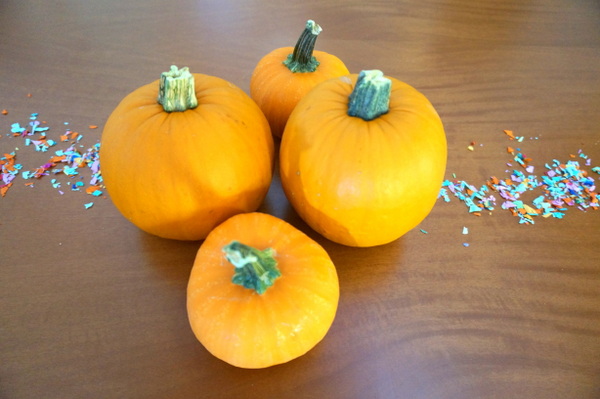 Can you tell I'm a wee bit obsessed with confetti? I sprinkle it around my centerpiece of choice when I entertain. It helps kick things up a notch, don't you think?!…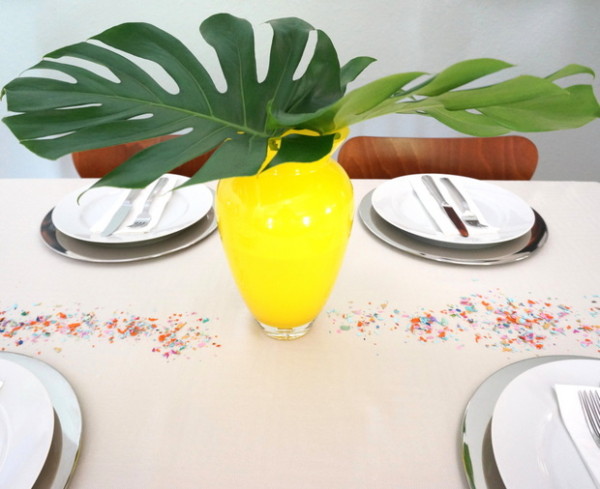 2. Use throw pillows to your advantage.
I'll let you in on a little secret… When I moved this summer, I bribed myself with these diagonal striped throw pillows from Crate & Barrel! There was much, much work to be done, but at the end of it, I knew I'd be spending some long hours relaxing on my sofa. These pillows were my light at the end of the long, winding tunnel. They won't be available much longer, but I thought I'd include this link for now, in case anyone is interested in purchasing them…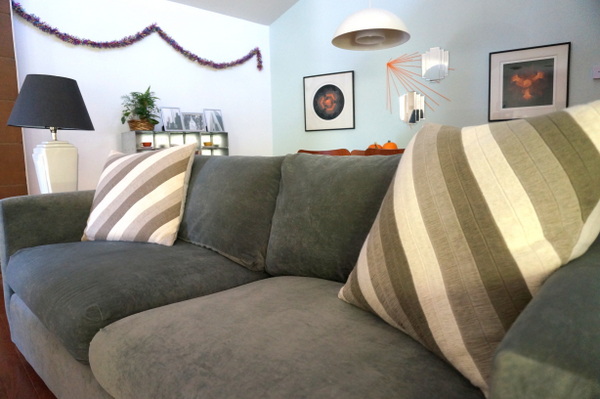 Here's why they were such an incentive: They mirrored the exact color scheme of the fireplace I was painting in ombre-style shades of beige! The pillows tied the room together. That's the thing about throw pillows–they really punctuate a space! And often for a very affordable price.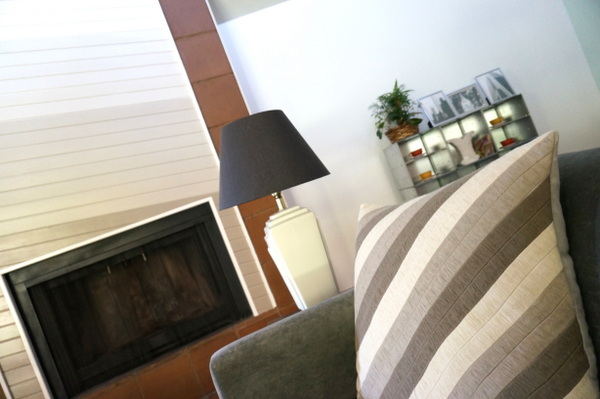 3. Group like items in a collection-inspired display.
There is power in numbers! If you have items of a similar theme, arrange them in a grouping for a bold effect. Below we see a trio of coral-themed items. Yes, red coral has enjoyed quite a long moment in the sun, but I'm not about to get rid of these pieces (which were romantic gifts from my hubby during our courtship). The plate is by designer John Derian: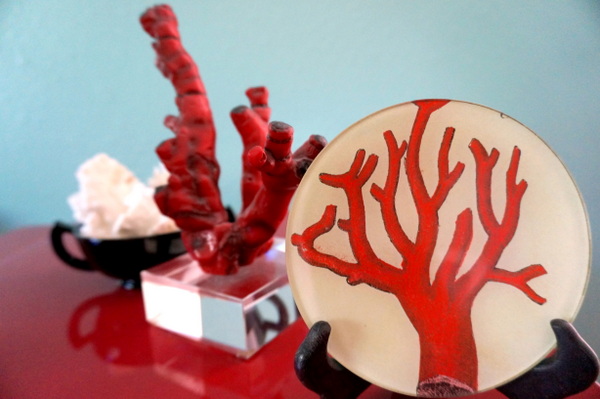 The same collection mentality can apply to artwork. Group pieces such as botanical prints in the arrangement of your choice. You can differentiate items with photo mats of various colors…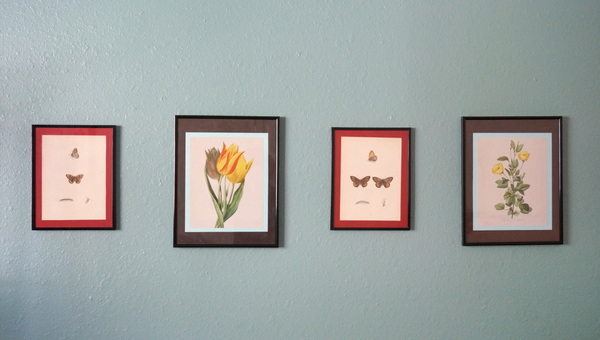 4. Celebrate nature's bounty.
There's a curiosity-like quality to natural items such as mineral samples, shells and interesting pieces of driftwood. One of these items can go a long way when displayed prominently. Below we see a sparkling specimen of quartz…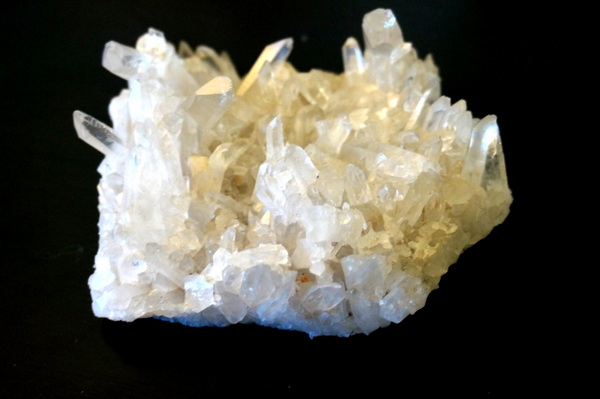 Again, we get a look at a cluster of coral, which is taken to new heights in a decorative compote. If you have environmental concerns about using nature in an interior design capacity, there are plenty of earth-friendly options to consider. For example, many synthetic coral pieces are available for purchase, precisely because there's a growing interest in protecting the ocean's creatures.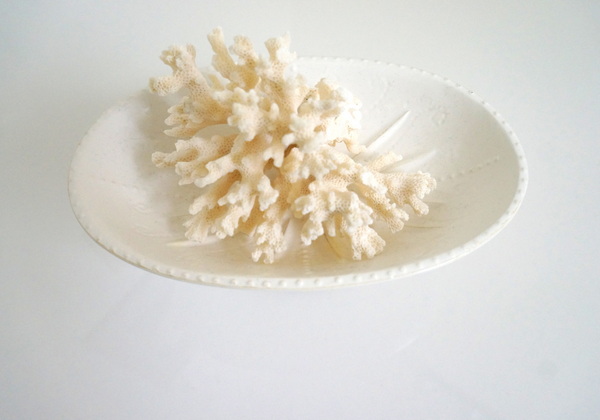 5. Incorporate pieces with a past.
Yes, modern design can absolutely include pieces from past decades. In fact, vintage items are the perfect conversation starters, often leading to stories about that great garage sale find or the family heirloom that was bequeathed to you by your grandmother. Last week, I hit Texas Antique Week and found this pair of hand-painted porcelain and brass vases from Delft, Holland, likely from the 1960s. Another great thing about vintage items–you can often get them for a bargain! These vases were purchased for $7 (for both of them)! Read more about navigating antique festivals here.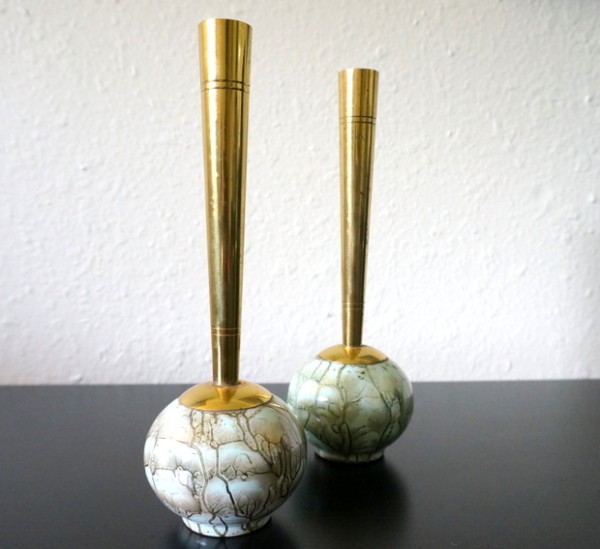 I always get compliments on my Murano glass bowl, which will never cease to remind me of a jellyfish. Or a piece of peppermint candy! I then share that I purchased it while attending college in San Antonio. I was one of the youngest customers to take an interest in visiting the Murano glass shop, and the owner gave me some amazing tips on how to spot authentic Murano pieces. I love telling that story as much as I love this bowl…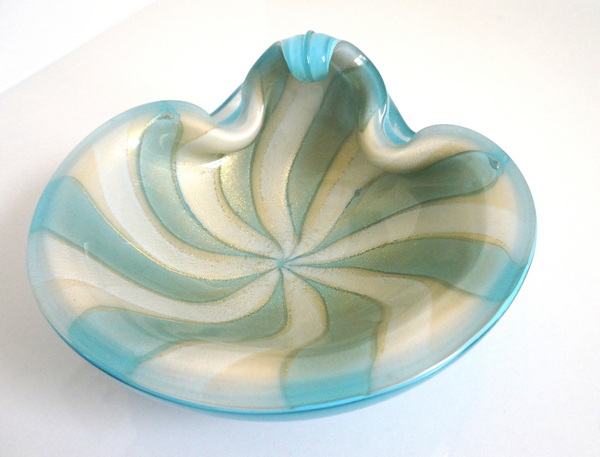 6. A little vanity never hurts.
I've loved putting a minimalist modern stamp on many rooms of my new place. But one thing I will never give up is the decadent look of a vanity packed with treasures. It makes getting ready for the day all the more fun! And guess what? You don't need a dressing table or a formal vanity to get this look. Use the top of your dresser to stash perfume and other small pretties. Who wants to dig in the bathroom cabinet for lotions and fragrances, anyway?!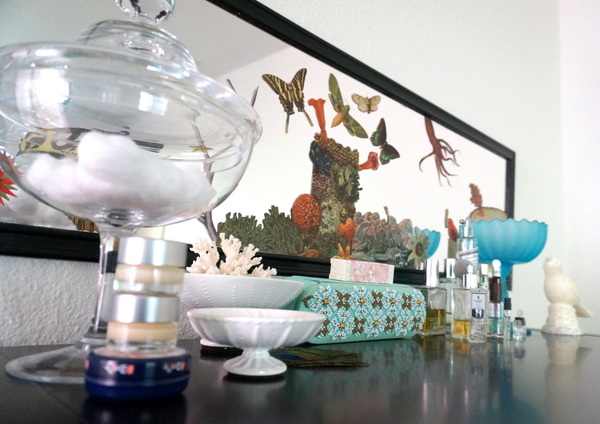 There's no reason that a vanity space has to be extra girly. Put your own spin on it! Here's a vanity concept I recently created for my retro blog Mirror80 (see below). If you like this look and want to learn more, check out a second post on '80s vanity style. And don't forget to hit your local antique mall and thrift shops for vintage perfume bottles and decorative smalls. It's amazing what you can find for a few bucks!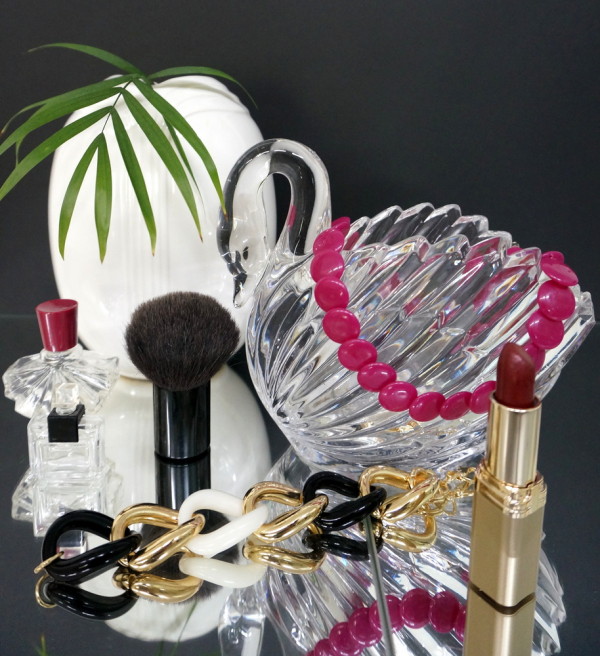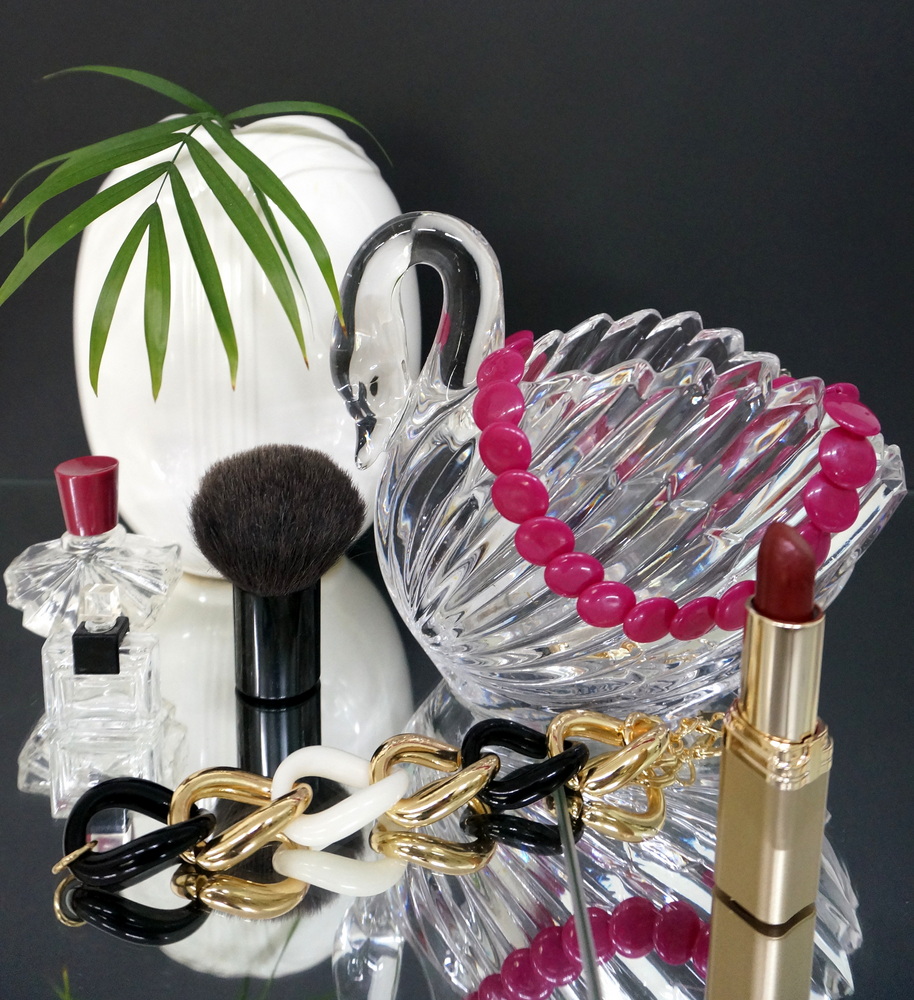 7. Create some easy DIY wall art to enhance your space.
What do you do when you have tons of wall space and not much to fill it? Get crafty! Don't get me wrong–you can buy some amazing artwork, even if you're on a budget. But sometimes you know just the look you want, and you can't seem to find it. Or you're tired of staring at framed picture after framed picture and you want something a little different. After writing a post on DIY yarn art ideas, I was inspired to create this sunburst-style yarn installation on my dining room wall. With a few nails and an orange ball of yarn, a project was born…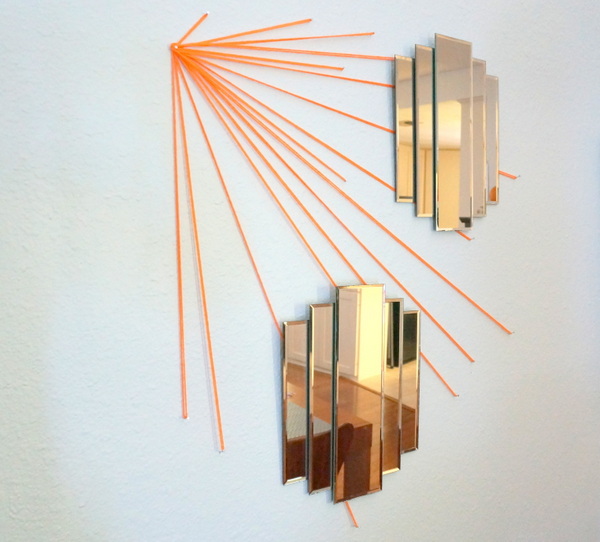 And when I couldn't find the geometric artwork that I needed for a grouping on my living room wall, I created these pics using some art paper, a paper cutter and glue. Super easy (and a little bit fun as well)!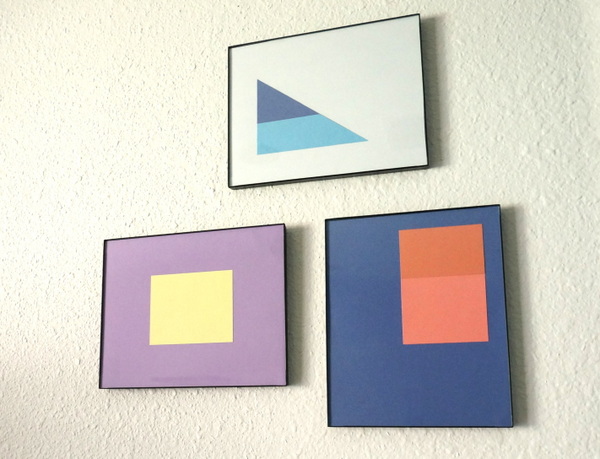 8. Bring the outdoors in and let the indoors out.
My last interior design tip involves creating a seamless blend between indoors and out. There's nothing like an outdoor space that welcomes you with comfy seating and a string of lights. For more on sprucing up your yard, check out this post.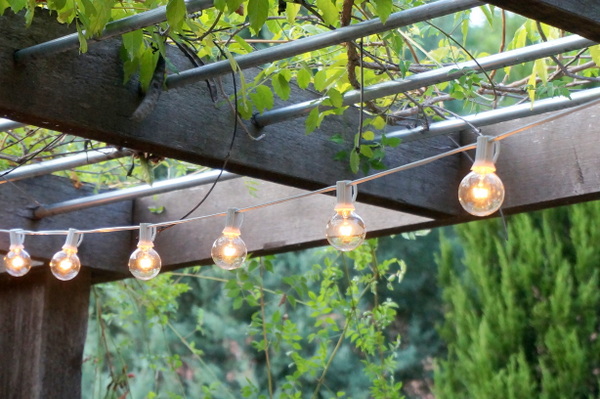 As you bring a little bit of the indoors outside, don't forget to let the outdoors in! Even the most modern of spaces can benefit from a little bit of greenery. One of my all-time favorite contemporary touches comes in the form of an air plant. This one sits in a globe in my kitchen window, mirroring the greenery that you'll find on the other side of the glass…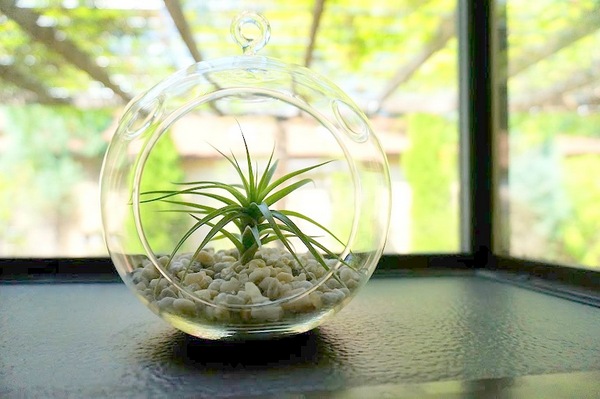 Thanks for reading–it's been fun sharing my favorite design tricks with you! I'd love to hear your design ideas. How do you create a modern space at home? Share your thoughts by leaving a comment below…