About ten weeks ago, I purchased a large tropical leaf from the monstera deliciosa plant. If you're curious about what it looks like, scroll down to the first image in today's post… The leaf is still alive, folks. Yes, after 10 weeks! This got me thinking about exotic greenery and blooms and the way they help us stretch our dollar in style. 10 weeks!!!
… And that's exactly why we've devoted this piece entirely to lovely leafy centerpieces. Some are so simple they consist of one stem. Others involve more than one plant type, and even more than one vase. You don't have to be a professional florist to enjoy the wide range of tropical greenery at your fingertips. We know fall is on its way, but many of these selections are available year-round. And there's nothing like a happy, lush reminder that warmer weather is in store when you're bundled up on the chilliest of nights. I plan on having tropical greenery in my home throughout the winter this year. I'll let you know how it goes!
Tropical Leaves and Flowers
We start with simple arrangements that involve a few leaves and flowers. Or one! Here is the monstera deliciosa leaf I was telling you about, courtesy of Cookie + Kate. Did you know that Monstera deliciosa is also known as the swiss cheese plant?!!! Simple statement, big impact…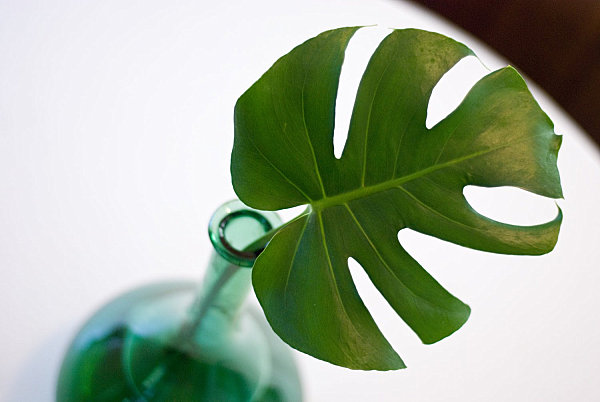 You're going to hear some interesting plant names today. If you've never heard them before, you will likely still recognize the plant and have a "So that's what it's called" moment! Below we see the pure beauty of the king protea, on display in a contemporary white vase. [from CB2]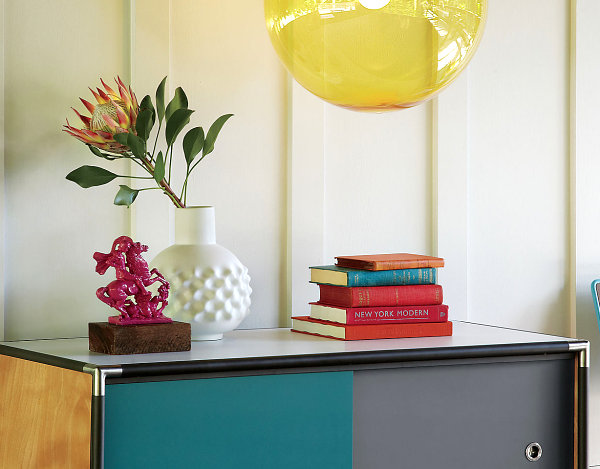 We love the arrangement below, featuring heliconia blooms. There's something about the black chairs, black table and black vase that form the perfect monochromatic backdrop for this vivid orange bouquet! [from Mr. Mitchell]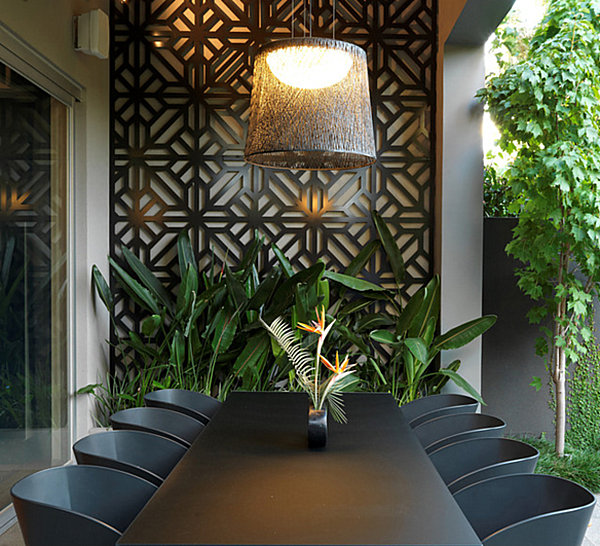 White anthurium is a great way to add exotic flair without introducing a strong hue that will fight the other shades in the room. In the image below from CB2, we see how these stems are perfect for a space featuring colorful touches, such as a contemporary bowl of oranges…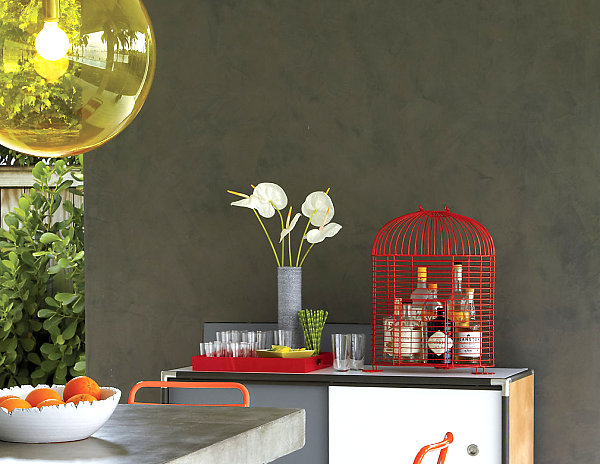 Tall vase + spiky tropical leaves = design perfection! Especially when your table is large and the space is grand. Note how the arrangements below stand out, even in a room with a view of more lush greenery… [from Furnitureland South]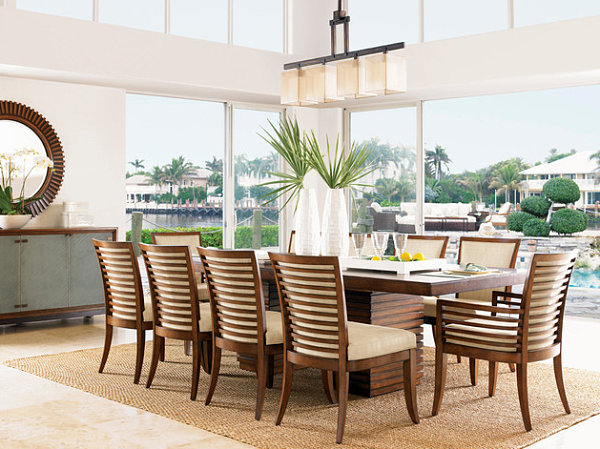 The flowers and vases below collectively form an arrangement that approaches the creativity of an art installation. Note how radiant color and dramatic leaves combine in a vibrant, whimsical display of modern beauty. [from Thirdstone]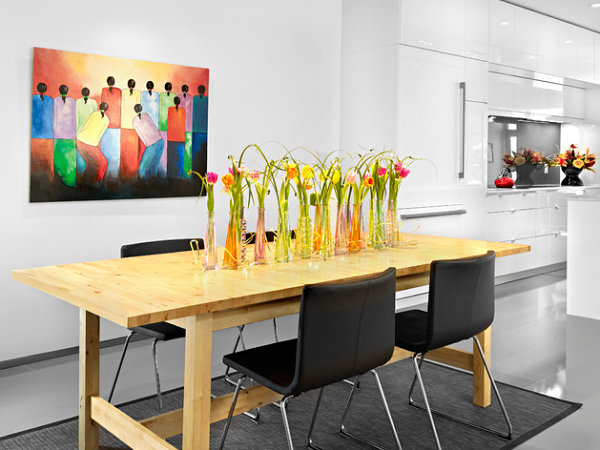 Exotic Arrangements
We now spotlight a series of exotic arrangements that create a decadent feel with the help of multiple plant varieties. Like this Fall Tropical Centerpiece from Coast to Coast Flowers, featuring birds of paradise, anthuriums, protea, bells of Ireland, and dendrobium orchids: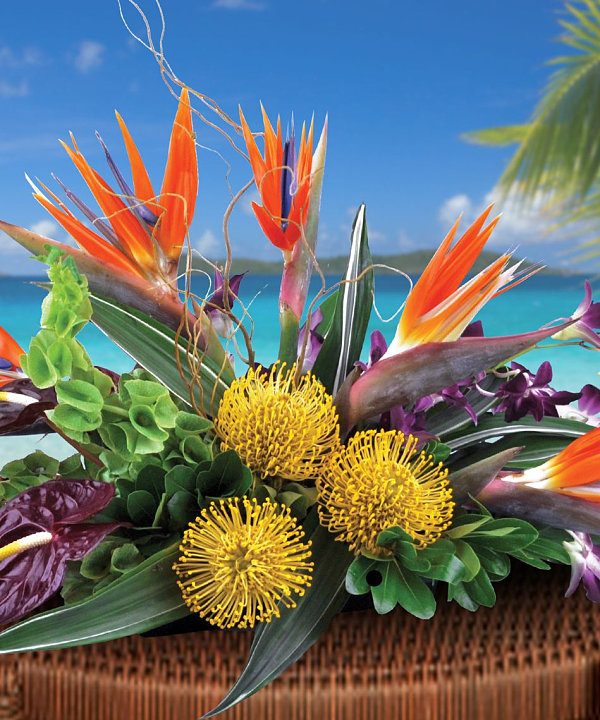 Note how the most enticing tropical arrangements vary the height of their featured leaves and blooms to create interest. Also, don't hesitate to surround your main arrangement with a few smaller vases of flowers, as shown below. [from Arthouse Design]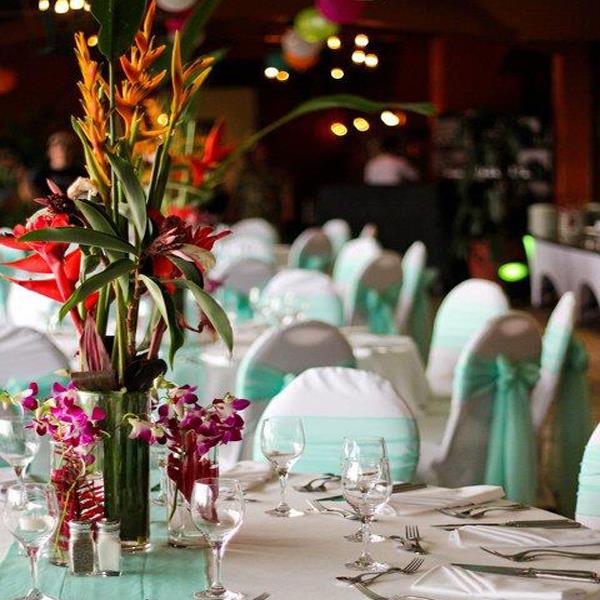 You can't go wrong with stargazer lilies… Especially the bold pink variety, as shown in this modern home office featuring other bright pink accents. In fact, lilies are a striking and cost-effective way to make a big statement. Make sure you're on the lookout for loose pollen as these flowers continue to open… [from Saus Design]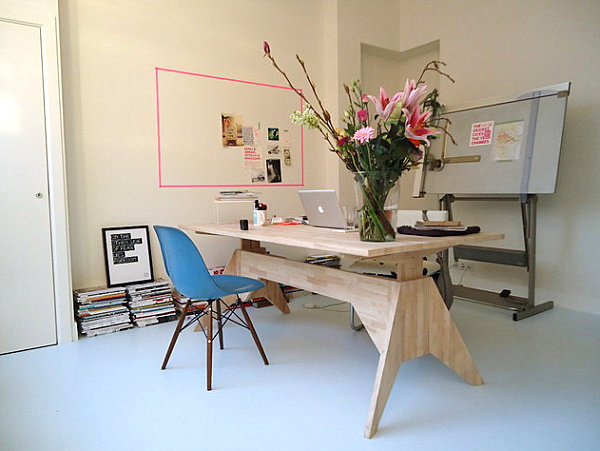 Your arrangement doesn't have to be tall to create a big impact. Below we see a contemporary vase of tropical flowers. The bouquet includes the always ethereal protea, which brings out the color in the table's Anu Runner from CB2: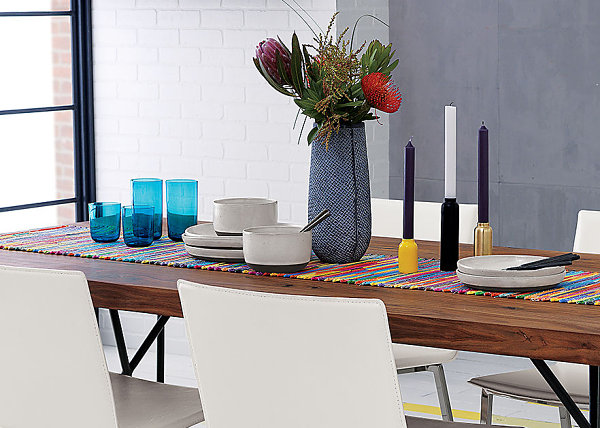 We can't deny the exploding popularity of air plants. They get their nutrients from the air, so no soil is needed. But contrary to popular belief, these plants DO need water. However, they are extremely low-maintenance, as well as beautiful and modern. Check out this Air Plant Centerpiece from Etsy shop toHOLD: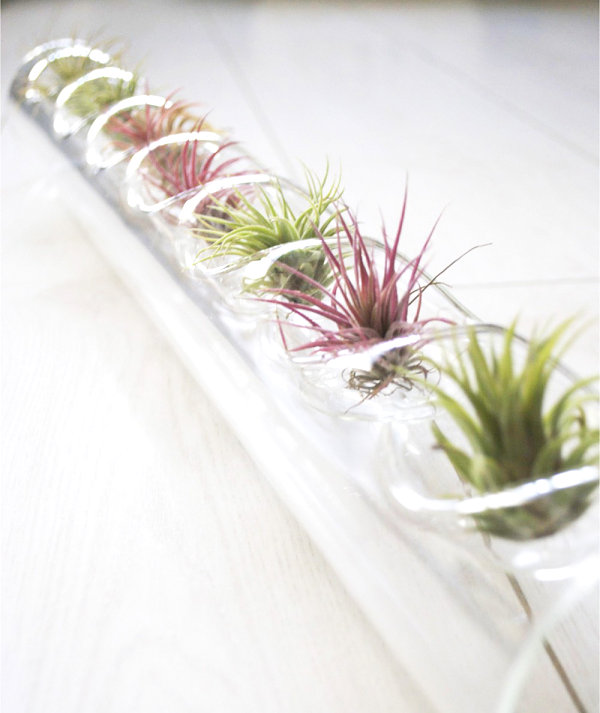 Our final image shows the beauty of a carefully crafted plantscape, especially when branches, greenery and rocks combine in a whimsical display. This magnificent creation is from Articulture. Are you inspired to make your own? An air plant would be perfect for perching in the crook of a sculptural branch, don't you think?…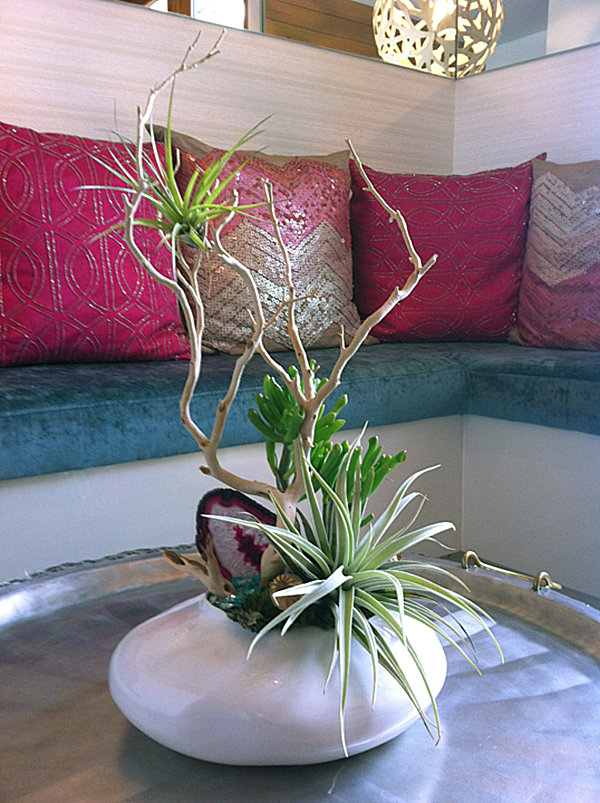 Did any of today's featured blooms and leaves catch your eye? Tell us about your favorite arrangements by leaving a comment below…
Liked the story? Share it with friends.