It's that time of the year… Yes, it's time to decorate for Christmas! Are you searching for a new holiday look? Or perhaps you have a large stash of decorations piled up in your closet. It's always fun to use what you have and update it with a little something new. Today we've rounded up the best in modern Christmas decor for your inspiration.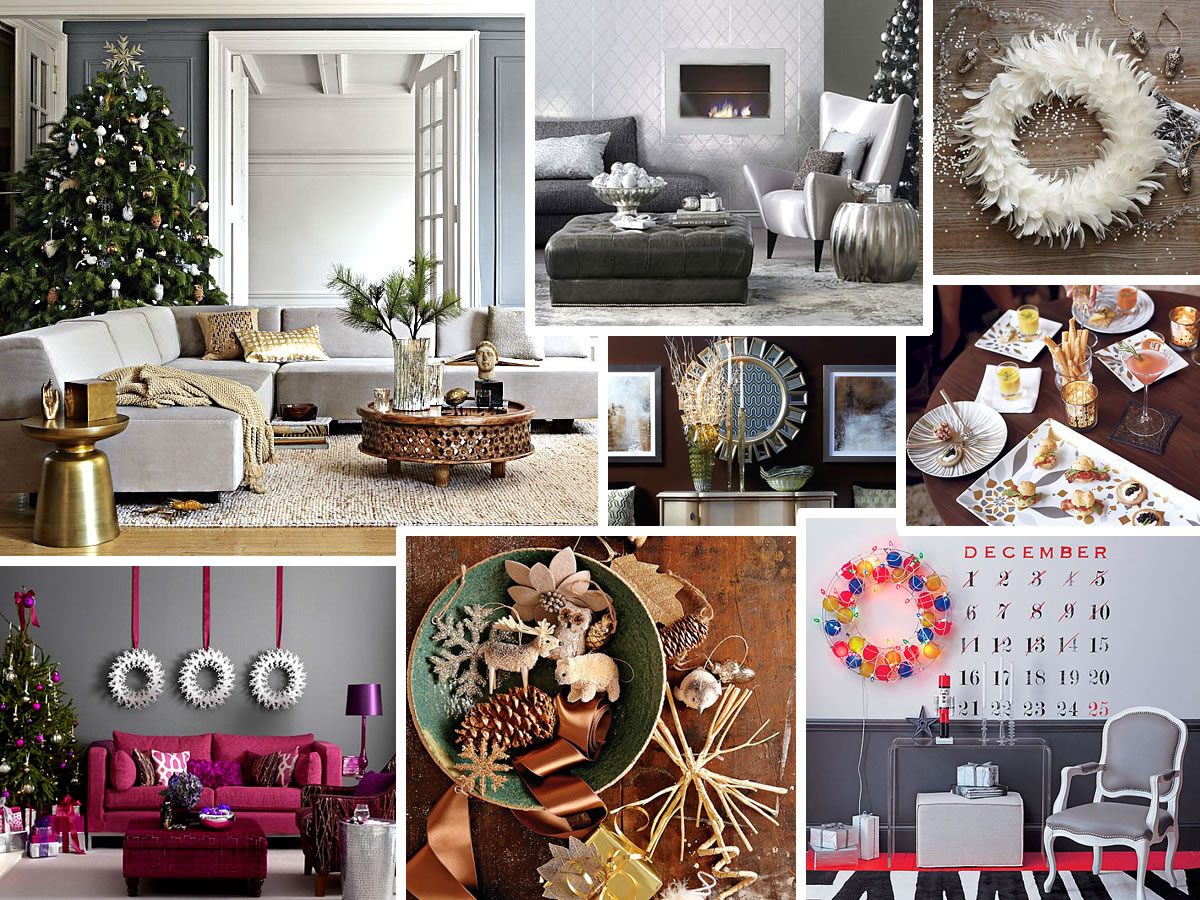 From jewel-toned holiday accents to shimmering metallic touches, we've got a motif for every taste. Not to mention, with many gorgeous design trends on the rise, why not bring a little bit of today's hippest decor into the mix? Enjoy browsing the pics below, and let them spark the imagination. The best thing about contemporary decorations: there are no rules! Go for what grabs you, and revel in the unique statements that result!
Rich Tones of Christmas
Are you drawn to traditional shades of red, green and white? There's nothing like the comfort of a room decked out in rich holiday tones. Even if you go with a tried and true color palette, you can always jazz it up with a bit of the unexpected. For example, bold hanging decorations take center stage in the red and white room below. [from Globally Gorgeous]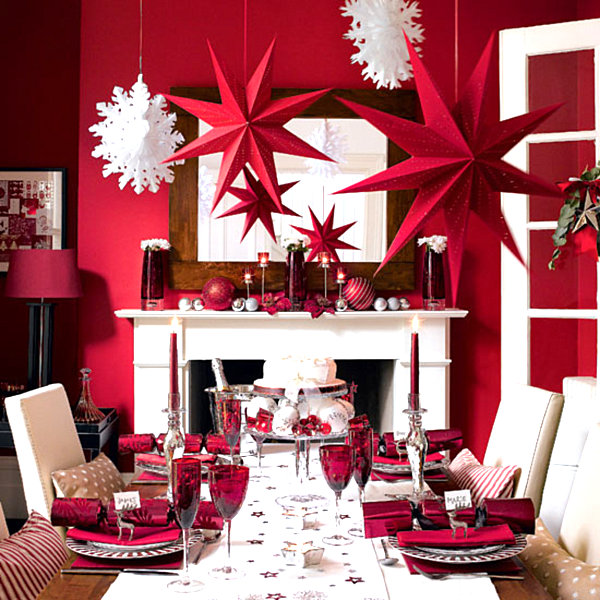 A modern look can also be evoked by unexpected colors, such as rich jewel tones that lend themselves to an opulent look! Don't forget to incorporate metallic accents, reflective surfaces and shades of gemstones (such as dazzling amethyst)! [from House to Home]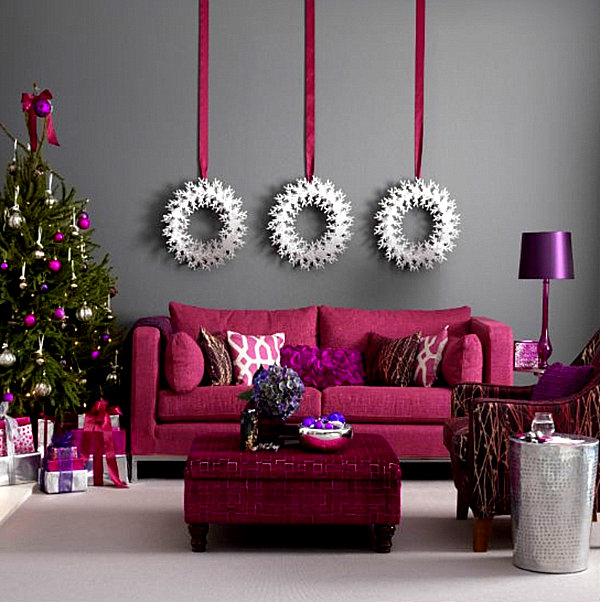 There's nothing like a collection of Christmas ornaments in candy colors! Conjure the holiday magic of your childhood by displaying vibrant modern ornaments with the help of beautiful ribbon. With the right arrangement, they'll look good enough to eat. [from CB2]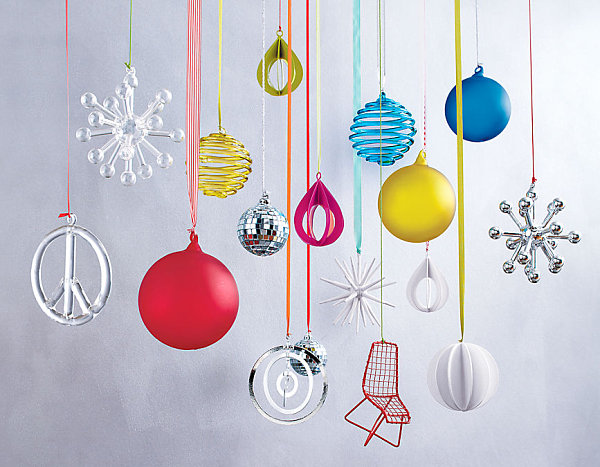 Don't forget that certain complementary shades, such as peacock blue, can give your Christmas decor a vintage look. Below we see a DIY Mini Present Garland from Oh Happy Day. This charming project is worth the time and effort, especially when the results are this vibrant!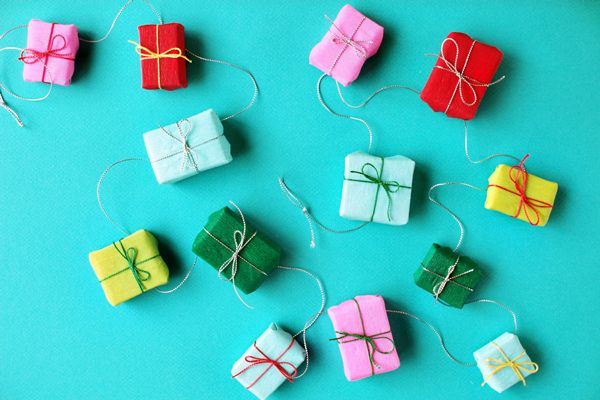 Metallic Holiday Decor
For some, color reigns at Christmas. For others, glamorous metallics set the stage for magical wintry spreads. In the next image, shades of platinum, pewter and chrome combine to create a dazzling, icy living area. [from House to Home]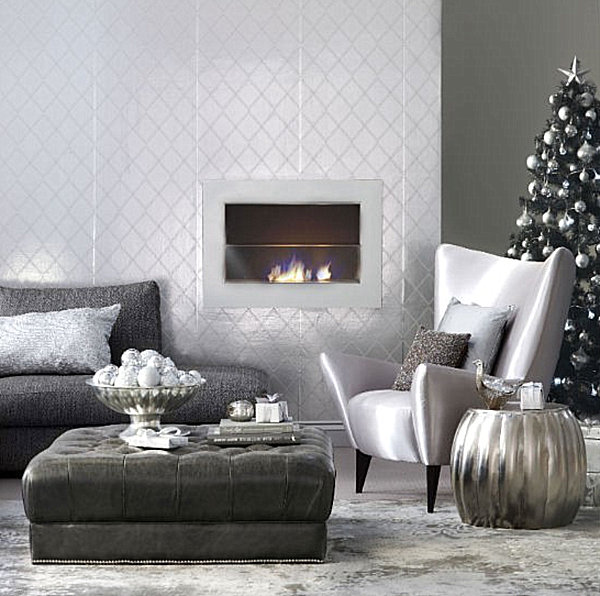 Metallic decor looks especially fetching in gray interiors. Blend silver and gold to add depth and accentuate the overall neutral look. [from West Elm]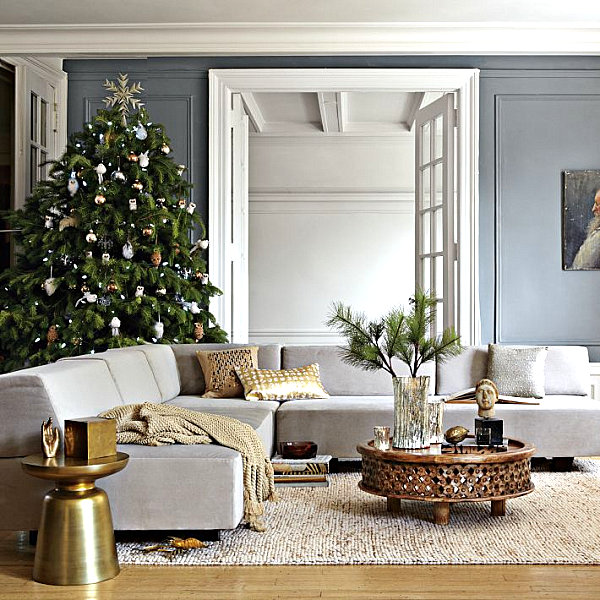 Don't forget to extend the gold and silver magic to the tabletop. These shiny yet calming shades accentuate food without stealing the show. Below we see the Metallic Frost Plate and Platter Set from Crate & Barrel: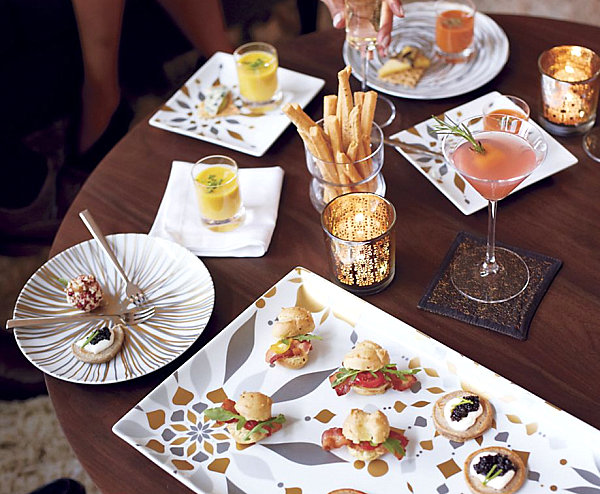 Metallic hues are an ideal backdrop for crystalline accents, such as the transparent drops that hang from the wintry branches featured in the next image. Note how the gold-trimmed mirror pops against the icy tones of the room. [from Home for Christmas]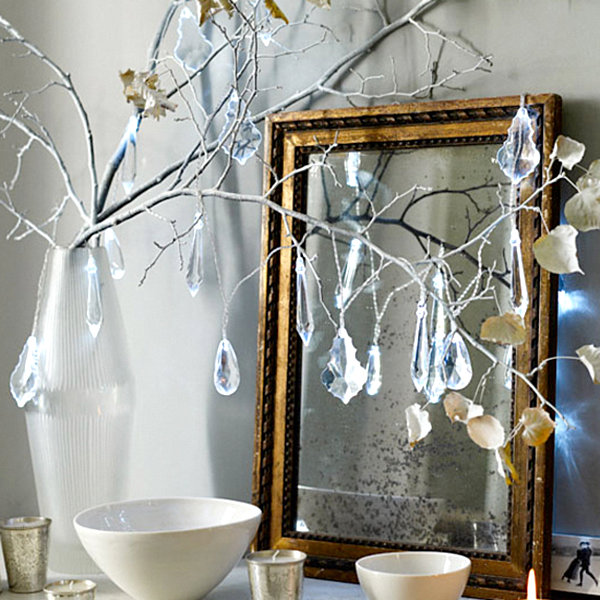 Add a little light with Gold Metallic Branches from Z Gallerie. The stems are festively decorated with battery-powered LED lights that intensify the room's holiday shine.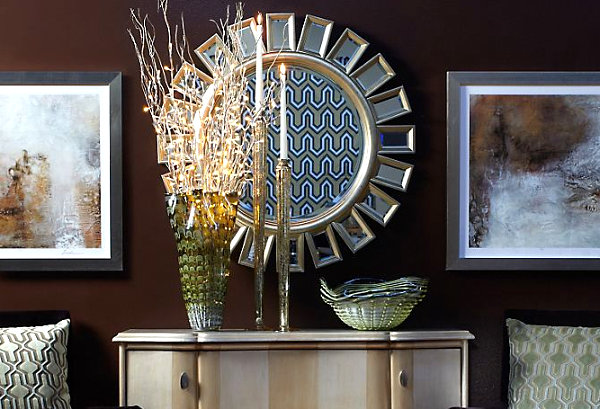 Don't forget that metallic decor can set the stage for snowy accents, like this Feather Wreath from West Elm. Shimmering touches go hand in hand with fluffy details, don't you think?!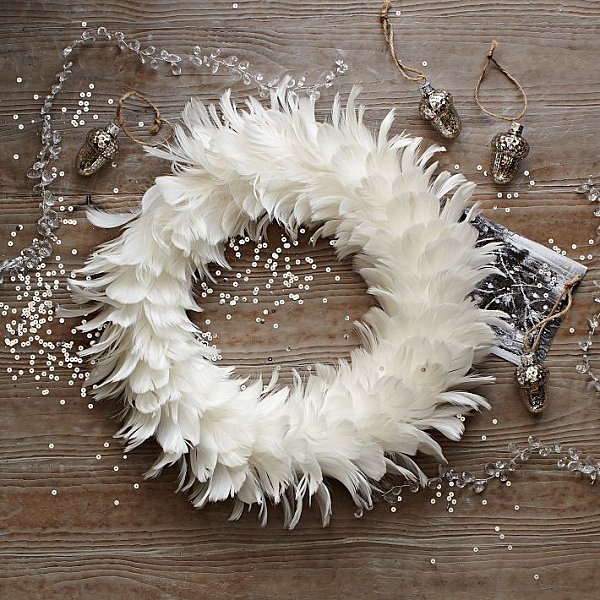 In the image below, the tables are turned, as snowy white shades provide the backdrop for gold and silver accents. We're particularly fond of the golden balls on the white trees on either side of the room! [from Z Gallerie]

Earthy Holiday Designs
Is your style more earthy than glistening? Never fear–a range of woodsy holiday decorations await you! Such as the Wood Chip Trees featured in the next image. Don't think that if you go natural, there's no room for shine! As you can see, golden touches are perfectly at home next to woodsy decor. [from West Elm]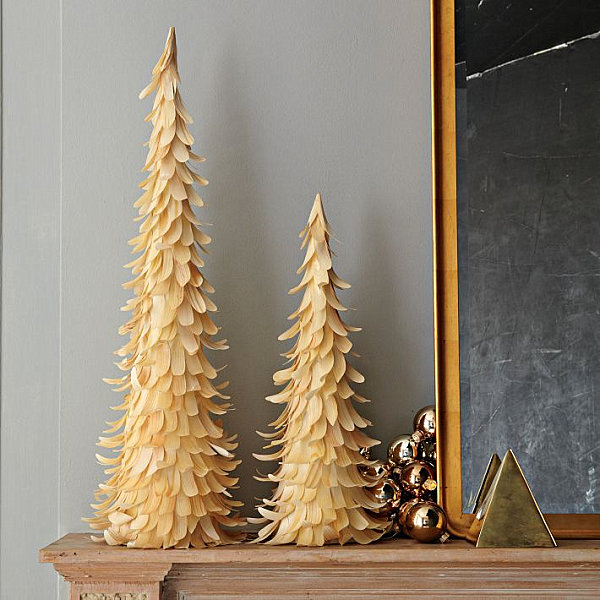 For an organic look, check out the Twig Snow Wreath below. The sculptural piece is crafted of natural grapevine and embellished with faux snow. [from Crate & Barrel]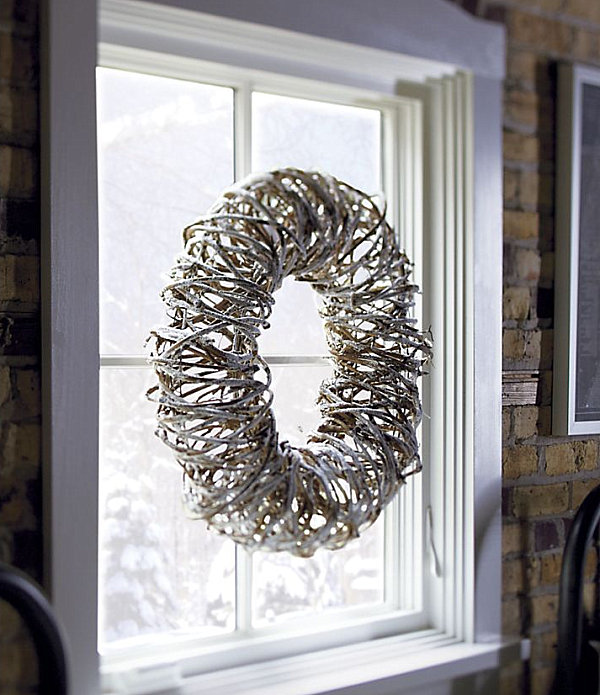 On that note, don't be afraid to add some frost to your branches! Or purchase some radiant decor that does the job for you. The Beaded Birch Pillar Candles from Pottery Barn shimmer as the flame flickers: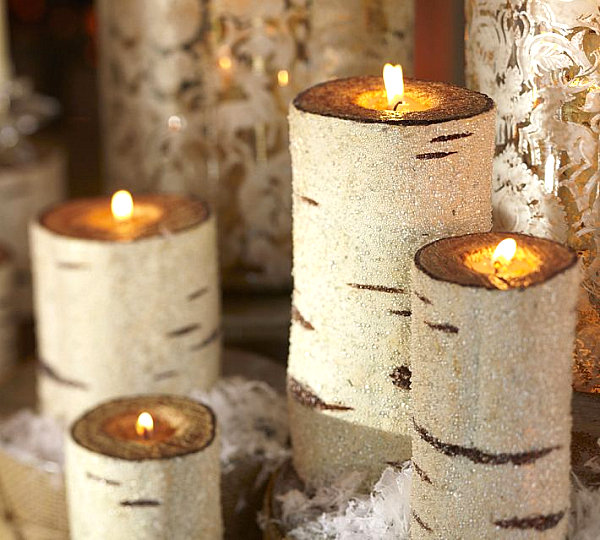 Combine wooden touches with a variety of textures and finishes. Below we see an assortment of shiny Christmas decorations, including the Gilded Star Tree Topper at the bottom right corner of the photo. This statement piece is crafted of twigs and dusted with a bit of golden shine. [from West Elm]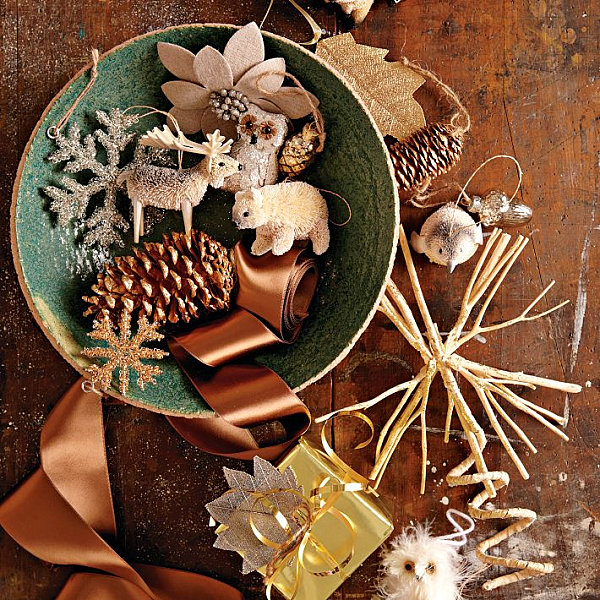 Hip and Colorful Christmas Decor
With so many fun trends and styles in today's design world, many people jump at the chance to creatively incorporate them into holiday decor. And why not?! You can always put your own one-of-a-kind spin on the look, just as Martha Layton Smith did in the space below. Her Christmas decorations are inspired by artist Kim Parker. We're crazy about the rainbow of color, and the way a spectrum of ornaments pop against the white tree. [from Opendoor Studio]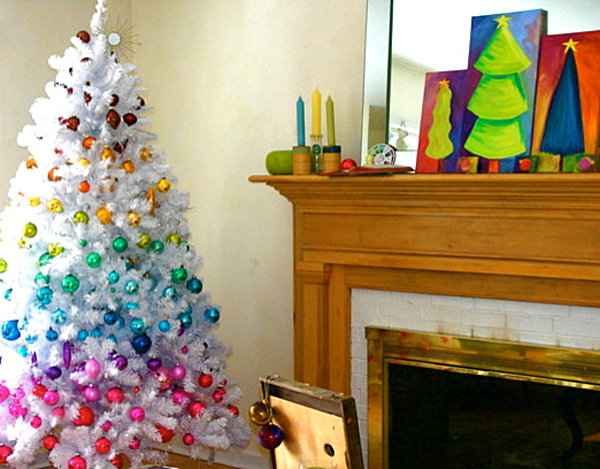 Looking for a little neon for your holiday? Add a few punches of color! There's nothing like acid green ornaments to perk up your space! [from House to Home]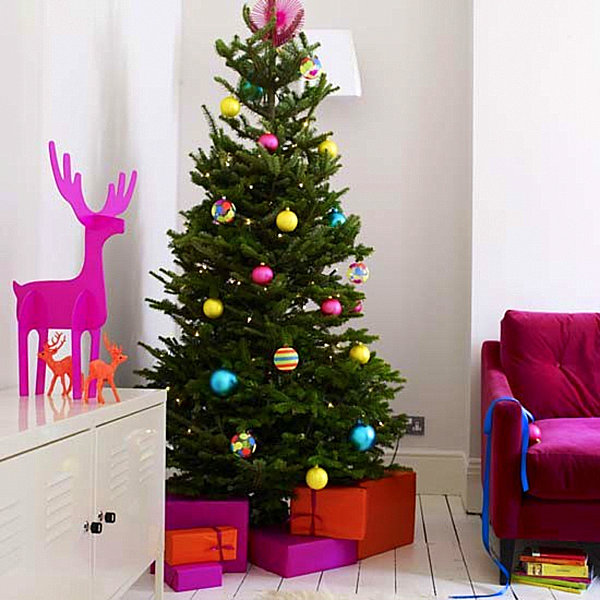 The ombre trend is still making waves, and modern Chistmas decor reflects this gradient-rich look. We recently wrote about DIY Christmas ornaments–here's one more to check out! This tutorial from Ambrosia Creative uses clear ball ornaments and glass stain to get the perfectly faded effect you see below!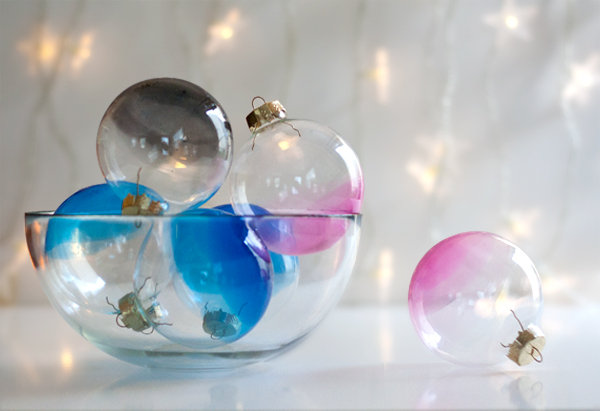 Go for the unexpected! Try filling a metal wreath form with ornaments in primary colors, then wrap the arrangement with lights. An eye-catching look for a modern space! [from CB2]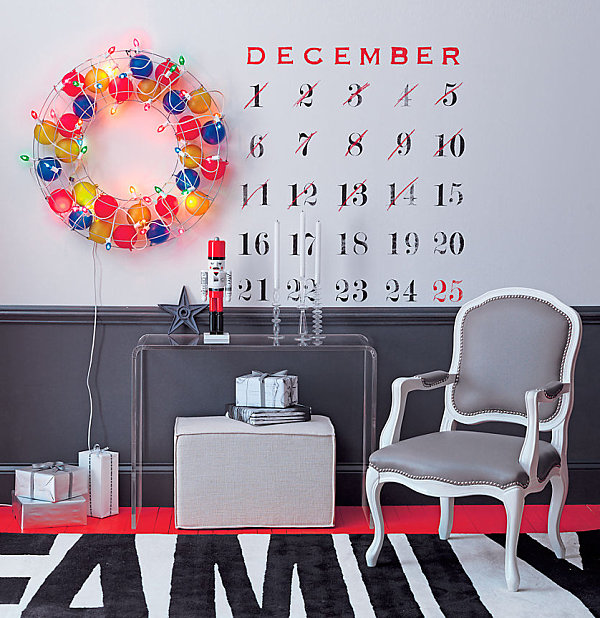 We end with a fun, contemporary reminder that you can't go wrong when you keep it simple. Not up for a real tree? Purchase a faux piece, and display it proudly with glass balls in edgy colors. [from Urban Outfitters]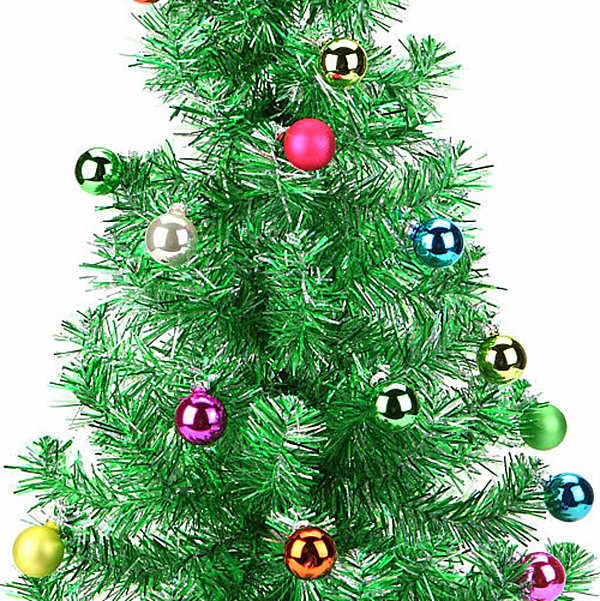 Which Christmas styles above make you want to deck the halls? Do you prefer richly colorful, metallic, earthy or trendy? What do you have planned for your interior this holiday season? Leave a comment below to share your thoughts on modern Christmas style! Happy Holidays!