Today we celebrate the world of ombre! For those of you unfamiliar with the term, simply picture a paint sample card from your local home improvement store, and you've got it! Rather than merely being a collection of vibrant stripes, ombre design creates a color gradient that progresses from lightest to darkest. Ombre is hardly a new trend. For the past couple of years, it's been gaining popularity, first with ombre hair, and now with a slew of ombre items such as cakes and decor.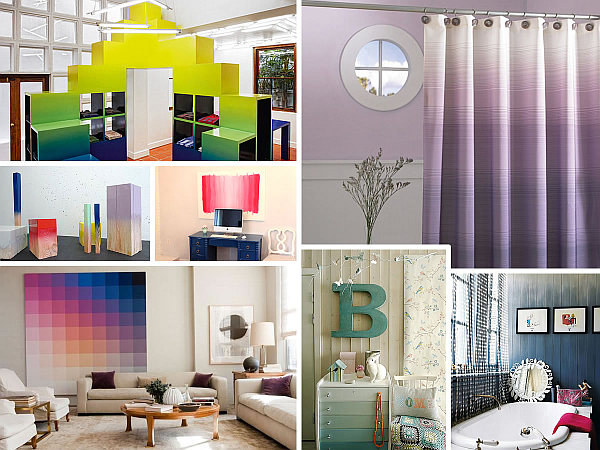 Do you want to get in on the ombre action? There's still time to enjoy this trend in all of its shaded glory! Today we explore some of the most popular ombre design areas, from furniture and textiles to walls and other artistic statements.
Ombre Drawers
When it comes to ombre furniture, the biggest trend involves painting the drawers of dressers and desks so they closely resemble the swatches of a paint sample card. Take the peachy-rose shades of the dresser below. This DIY project makes over an IKEA furniture piece with the help of a strategic paint job. [from Decor8]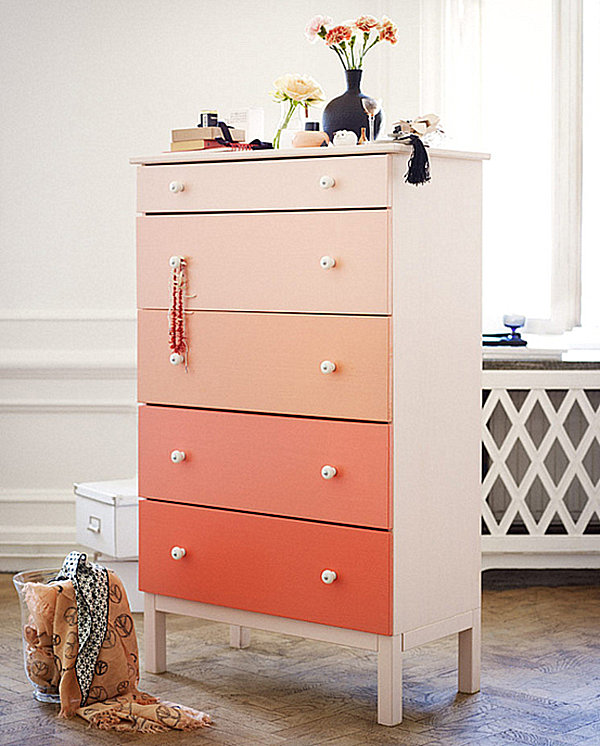 The next project is also a DIY endeavor: a dresser found at Goodwill is transformed into a purple gradated showpiece. [from A Little Busy]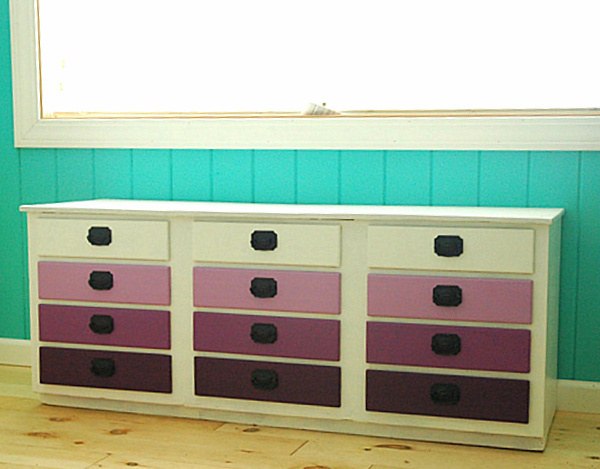 A nursery is given a dash of ombre style thanks to a painted vintage dresser. A gradual progression from shade to shade and an unusual blue-green palette make this piece a standout. Kid-friendly and chic! [from Norske Interior Blogger]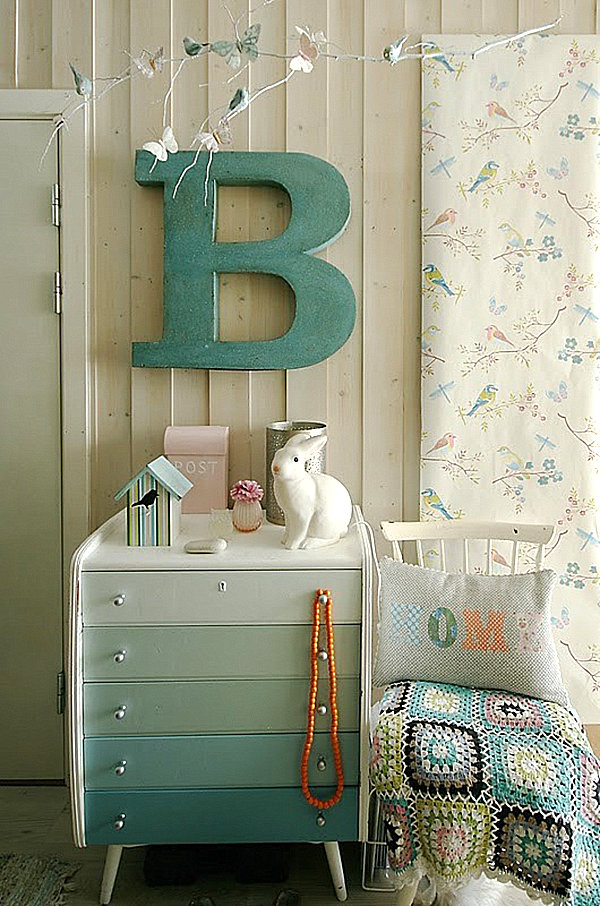 As you can see, the majority of ombre furniture pieces are DIY projects! Below, a modern dresser (a Craigslist find!) is given an ombre makeover. Check out the full tutorial at Wills Casa.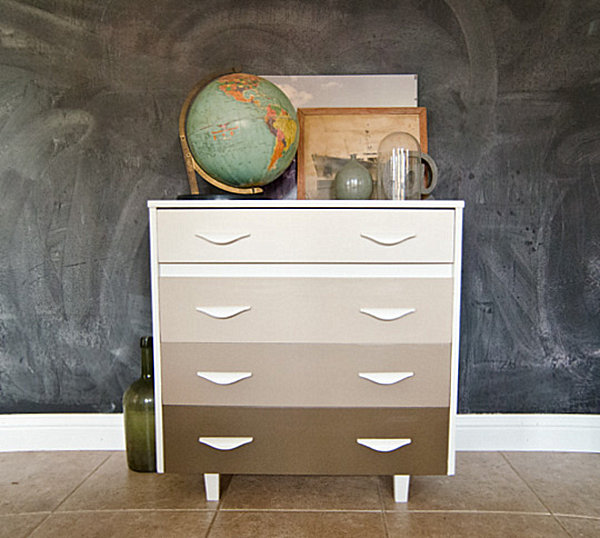 On a similar note, an ombre dresser in shades of grey proves that sometimes muted and neural is the way to go! Where was this fabulous Mid-Century modern piece found? A garage sale! To read more about the ombre transformation, check out the full post at Oops! Redone.: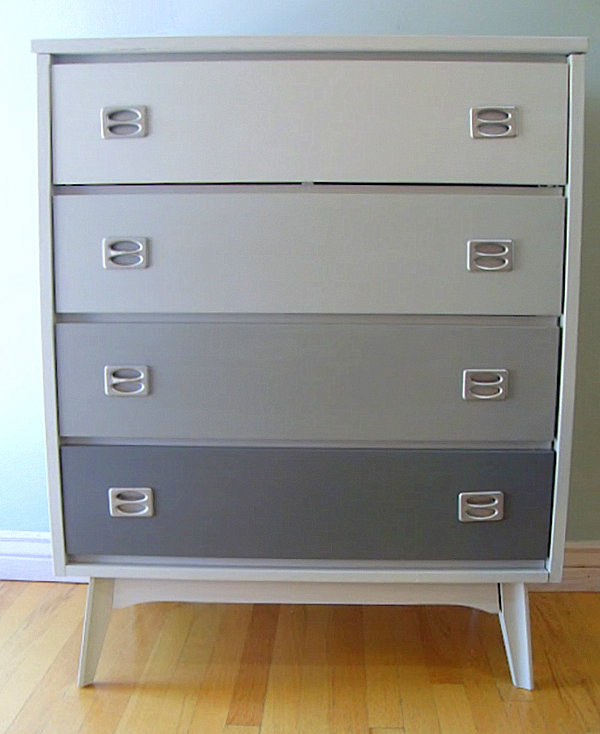 Ombre Walls
When furniture isn't enough, it's time to move the ombre motifs to the walls! If you don't want to paint an entire surface, go for large artwork. The grid-fabulous picture below features light and shading, plus cubes! [photo by Melanie Acevedo from the book Undecorate by Christine Lemieux via SMart]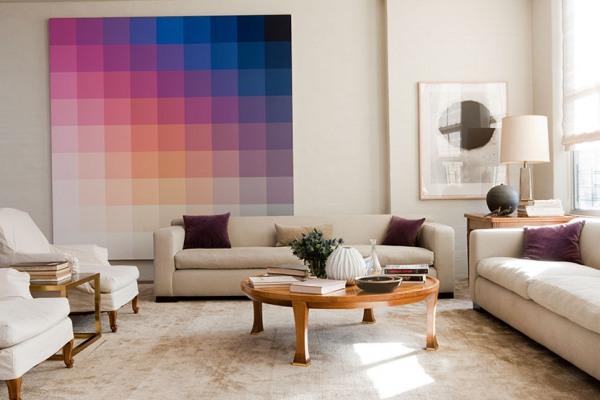 Now this is a wall worth featuring! In fact, it's part of a display booth that was created using an air-based paint sprayer. Note how there are three distinct segments, yet each one fades into the next in a way that creates even more dimension. See the full details at Design Sponge.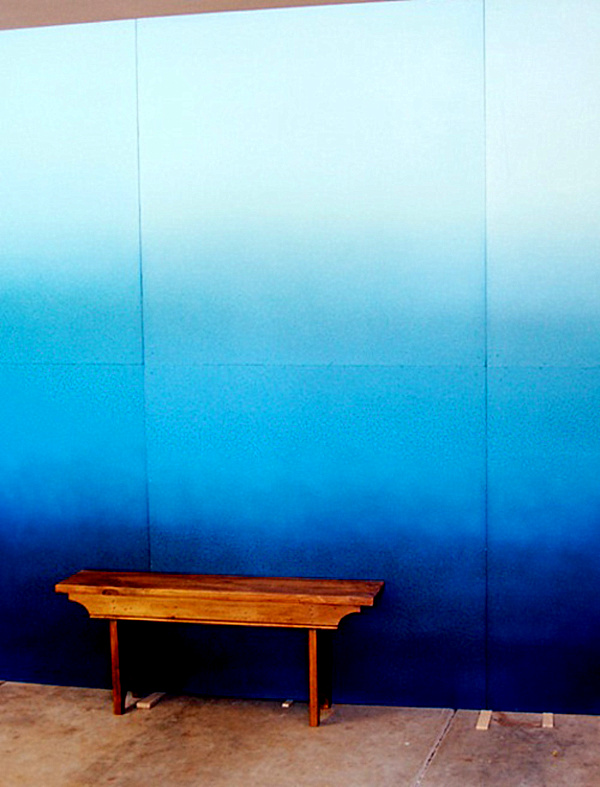 Our next wall is a wee bit more subtle, but equally fetching. The bathroom of this French-style home features fading walls that give the space a wonderfully lived-in feel. [from House and Leisure, photo by Elsa Young]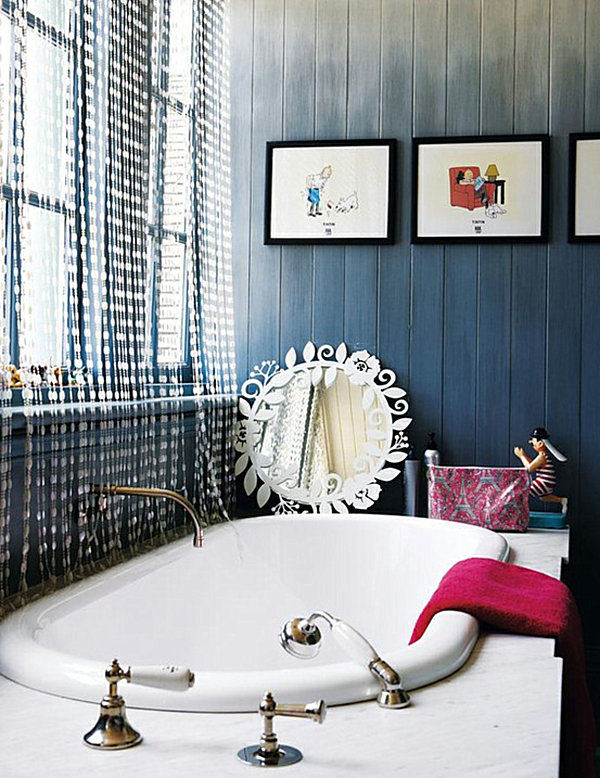 Ombre walls that clearly delineate stripes of color are no less stunning! Below we see how two doors are pulled into a gradient motif with rosy shades of paint. Soft yet modern! [from Heincker Design Blogspot]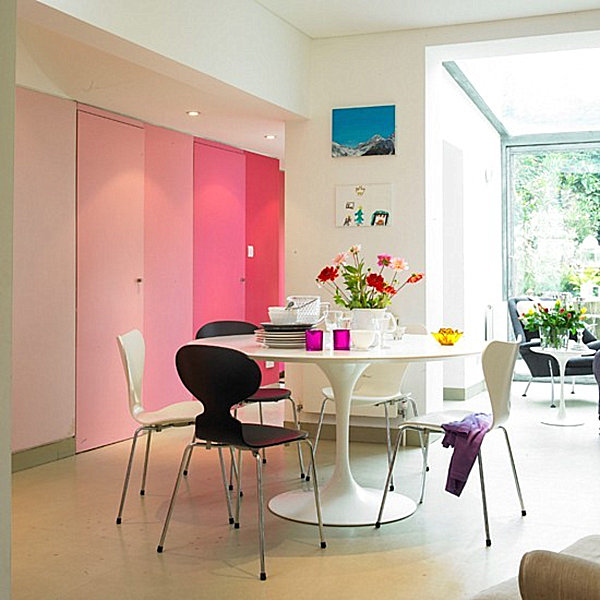 Check out this helpful DIY from Lowes Creative Ideas, which suggests dividing sections of the wall, painting them, then strategically blending for an ombre effect: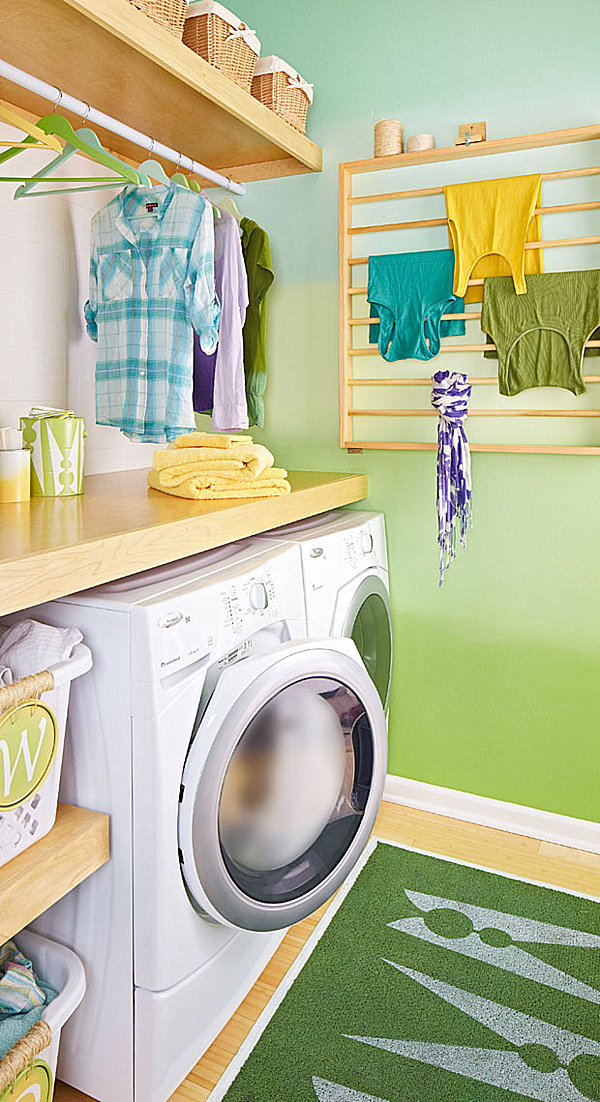 Ombre Textiles
Believe it or not, do-it-yourself energy has also entered the world of ombre textiles! For example, the ombre pillowcase below is a DIY creation–read all about it at The Salty Pineapple!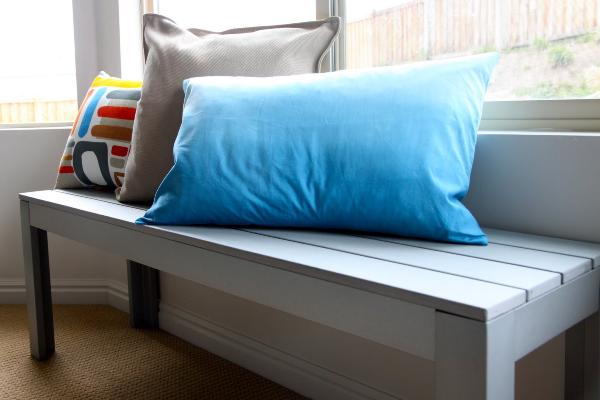 For more blue DIY fun, use a combination of fabric spray paint and dye to transform white curtains from simple to simply fabulous! Note how they bring a neutral room to life with their color and dimension. [full tutorial at The Design Confidential]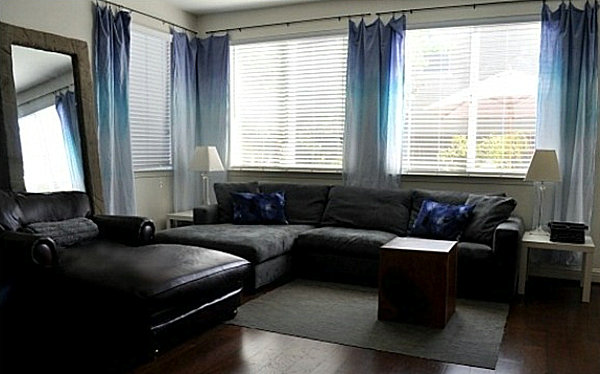 What's a design trend that's as popular as ombre (if not more)? The chevron pattern! Nancy's DIY hand painted ombre chevron curtains use both motifs for a highly innovative take on ombre style. It's funny how some painter's tape, sample paint and a clear vision get the job done. [from Owen's Olivia via Apartment Therapy]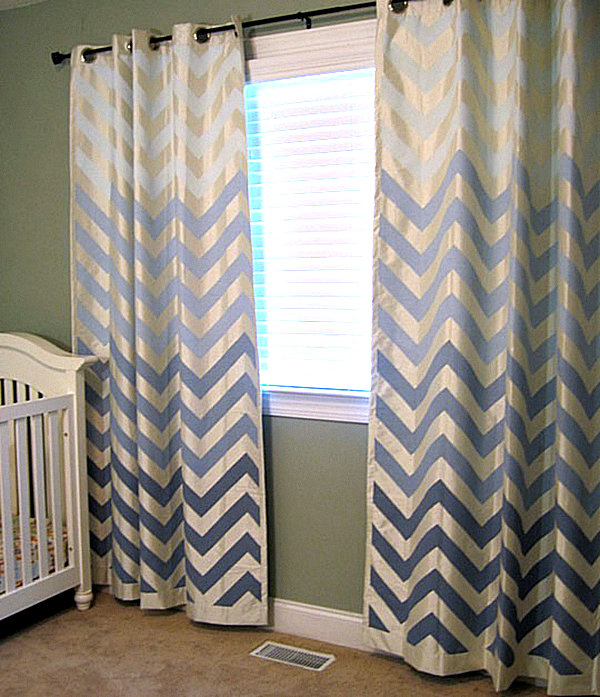 Ombre isn't just for pillows and window treatments. It's also for tables! The tablecloth below, featured in Skansa Nya Hem magazine, is silky and elegant. Note how it is displayed so that the light outweighs the dark, adding true interest to the vignette. [image by La Maison d' Anna G. via Coveteria]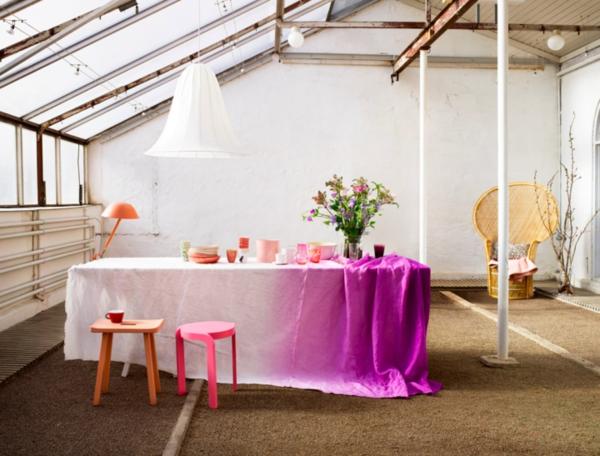 Remember that if you're looking to buy rather than make your latest ombre piece, there are options! Like the ombre purple shower curtain below. We're loving the thin horizontal bands, which add visual texture. [from Linens 'n Things]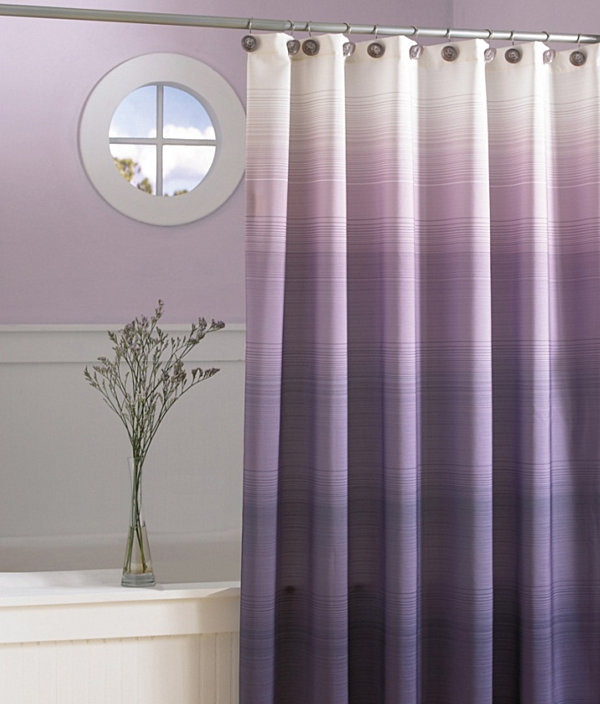 Ombre Extravaganza
…And now we're down to those ombre pieces that leave you saying "Wow!" Like the shelving from clothing store Unknown Union in South Africa, designed by Rafael de Cárdenas of Architecture at Large. This ombre technique transcends the confines of one shade and follows the color scheme of the rainbow–at least the "yellow, green, blue" portion of the spectrum! [image by Inge Prins via Architecture at Large]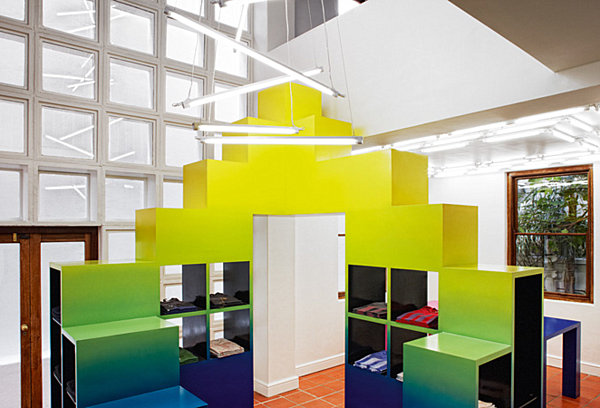 Next we have Judith Seng's Trift, a series of high-gloss surfaces. Raw wood and a fade-out paint effect complete the distinct look of these art pieces: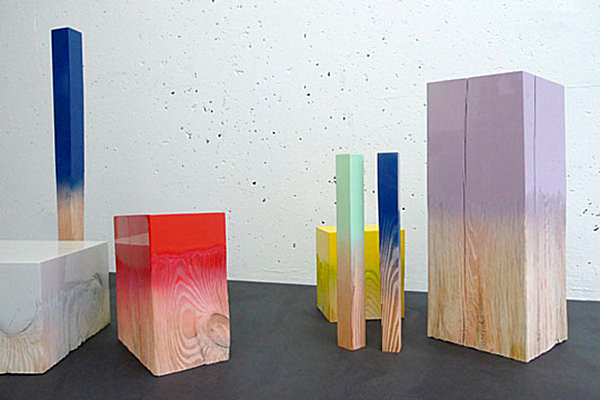 An ombre radiator? You betcha! Could this marriage of function and style be any more creative?! [from Wary Meyers]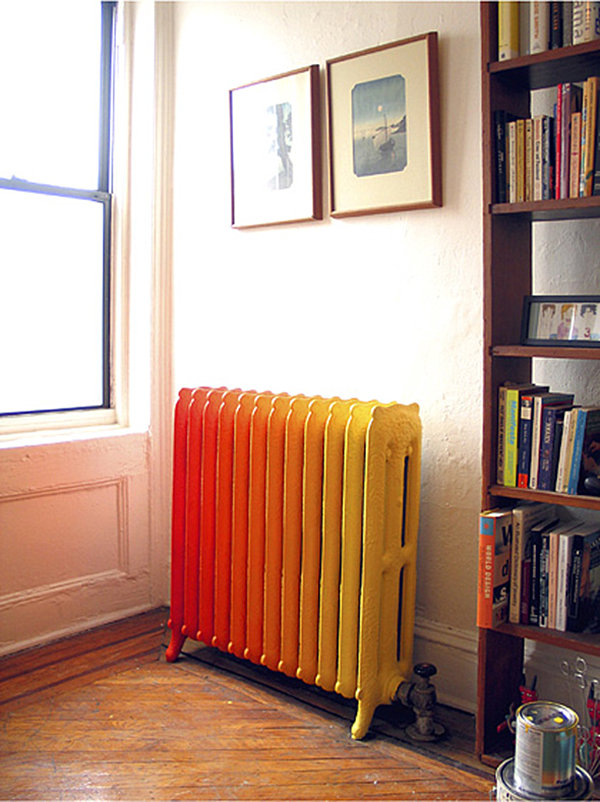 Oh pink ombre wall art–where have you been all my life? Note how the lines on the artwork below form a perfectly symmetrical piece that grows lighter with each stripe that leads to the center focal point. See the full and thorough tutorial at Danielle Oakey Interiors: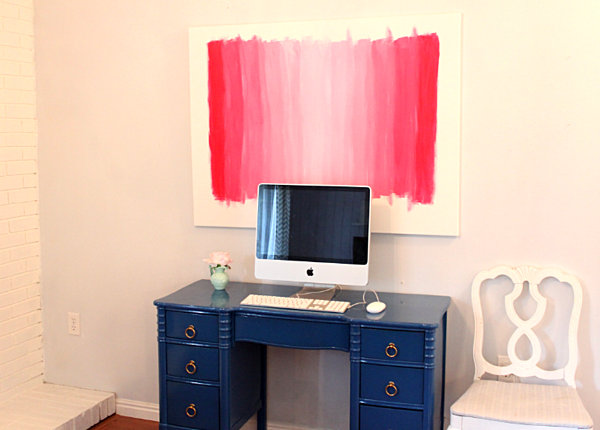 We end with an ombre canvas, covered from top to bottom in shades of purple and plum. Serenity has never been so chic! [from Tilton Fenwick]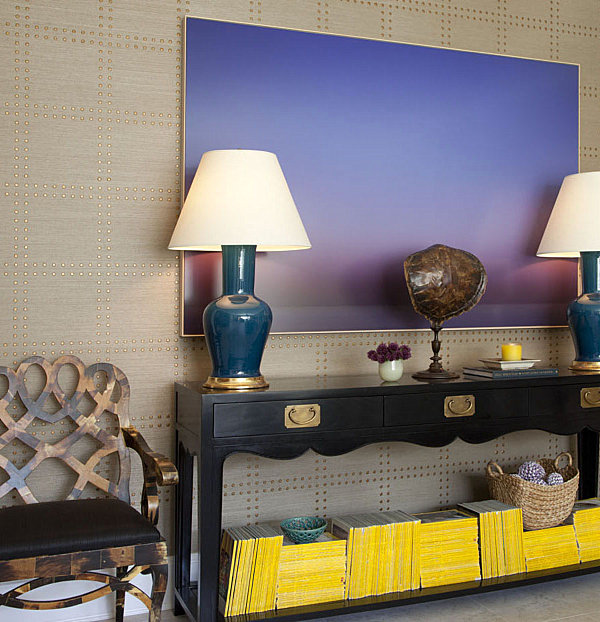 Today's ombre finds show us that while this trend is definitely in full force, the market is not yet saturated with affordable ombre pieces. Which is why so many folks are taking matters into their own hands and creating their own ombre artwork, textiles, walls and painted furniture. Will the appeal of ombre fade by the time the trend goes mainstream in the retail realm? Only time will tell…
Liked the story? Share it with friends.