Christmastime is here! That's right–perhaps you spotted your neighbors hanging their Christmas lights outside this weekend. But what about your indoor decor? Holiday decorations don't exist in a vacuum. In other words, think of today's most popular interior design trends, from the handmade look to the neon glow. This year's Christmas decor reflects these larger design trends, enthusiastically harnessing them, but with a unique holiday twist.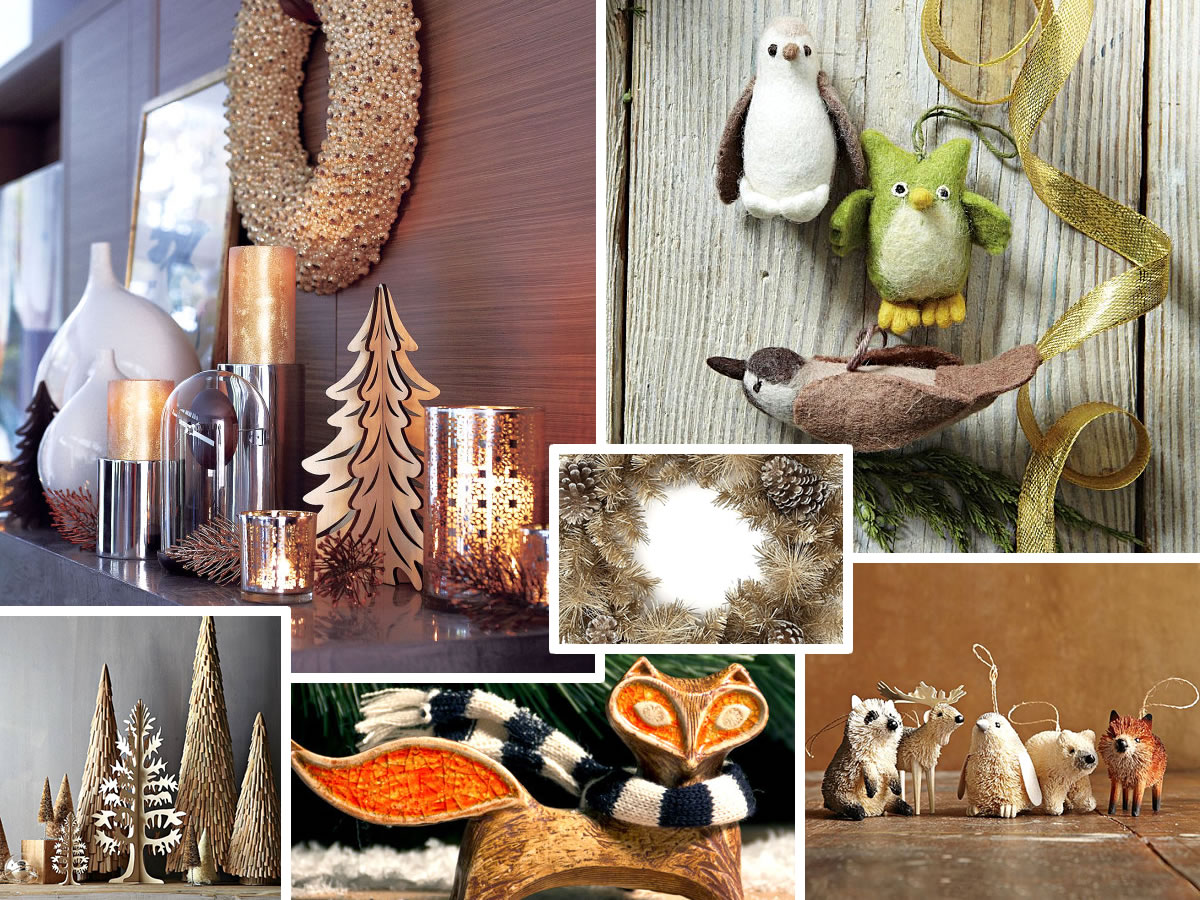 Today we spotlight 7 of the top holiday decorating trends, all of which are reflected in popular design outlets, from the top retail stores to Etsy and the DIY blogs. Let's start with the obvious–if it looks crafty and indie chic, chances are you can find it for sale. Or make it yourself! Yes, many of today's leading retail chains are taking inspiration from handmade crafts, even going as far as to collaborate with artisans. But don't think that all of today's featured finds have a handmade vibe. There's plenty of shiny polish and neon glare to go around. Happy decorating!
1. Crafty Garlands
If you're looking to add some colorful trim, try creating your own garland! For example, the rectangular pennant flags below were featured on Tried & True, showcased for their use at a one-year-old's birthday party. We think they'd work well for the holiday season too…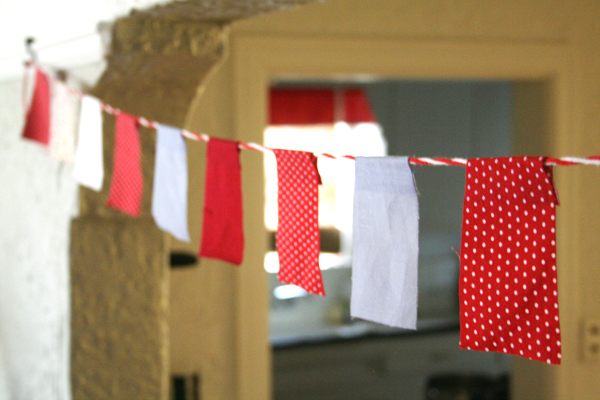 As you'll see later in this post, felt is one of this season's most popular Christmas decoration materials. Purchase or create your own felt ball garland for a splash of color. You can buy the felt balls or make them yourself. To create the garland below, check out a full tutorial at My Sparkle.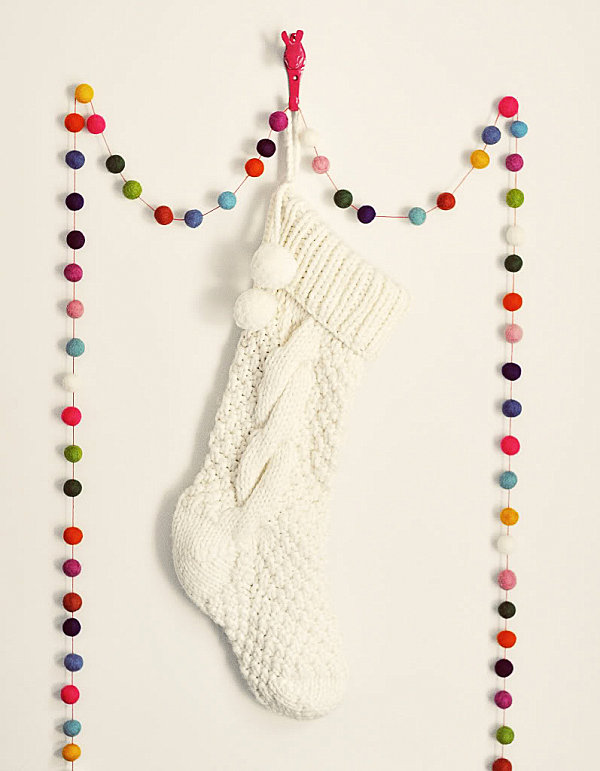 2. Neon Decor
You didn't think we'd feature today's top holiday trends without visiting the world of neon decor, did you?! The vibrant neon shabby doilies below come from Etsy shop Tutika. We love their lacy, snowflake effect, and the way they are stiffened by color and glue for durability and style.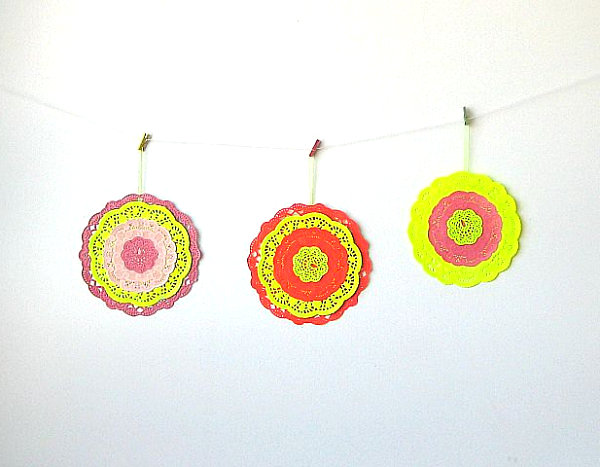 Even a simple collection of glass ornaments can get a neon makeover with the help of some fluorescent glitter. The set of 12 neon Christmas ornaments below comes from Etsy shop Sublime Conception Design. These 3-inch glass creations highlight the true meaning of neon Christmas style!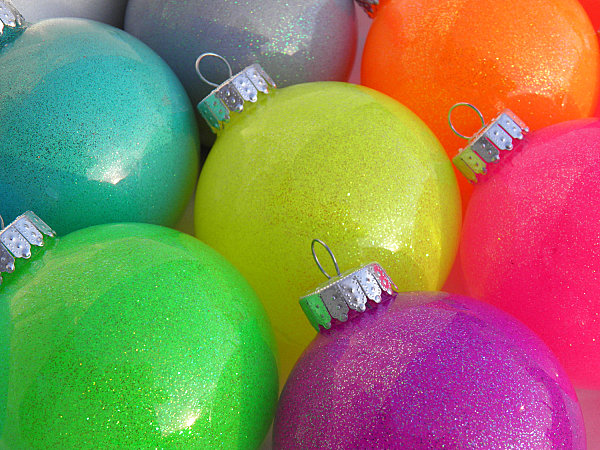 If you really want to go all out, purchase a neon tree. For a look that channels both the present and the past, choose a color such as neon pink, which evokes a retro vibe. Worried that the color will be a bit too much? Never fear–the tree in the next image is only 2 feet tall! [from Paperchase]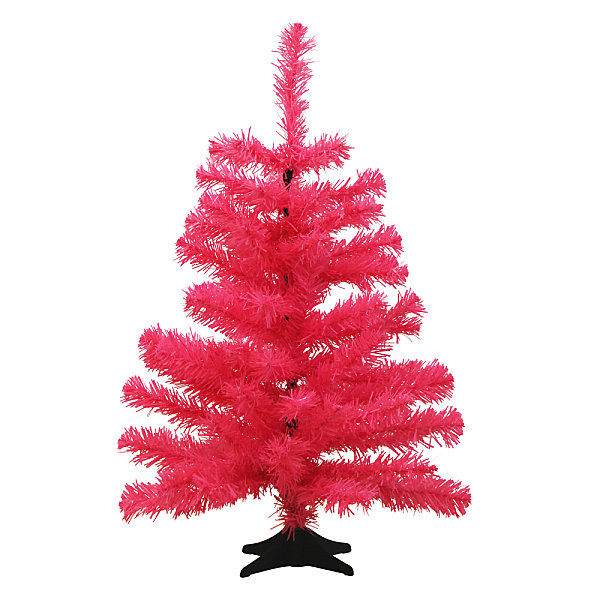 3. Geo Style
If it's geometrically cut like a gemstone, then it's hot and trendy in today's world of indie desgin! Yes, one of this season's most unique looks involves "geo style," and we're crazy about the resulting crystalline forms! The DIY paper ornaments below come from Etsy shop littlenestbox. Assemble them yourself, then hang them with pride.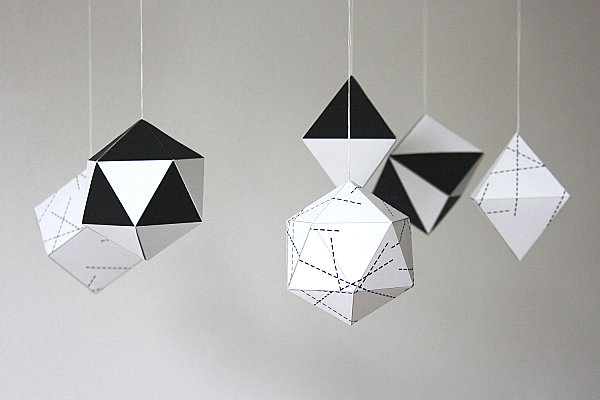 Are these precious minerals or store-bought ornaments?! Good news: you can find them at West Elm. The ConfettiSystem Geo Glass Ornaments in the next image are available in four truly interesting shades. Note how sparkle glitter outlines add extra shine.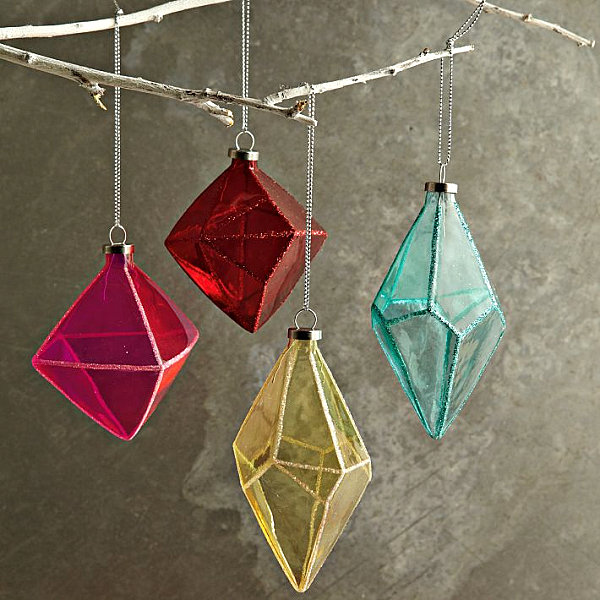 In fact, these geo ornaments are perfect for hanging on tree branches, especially when combined with other indie-style ornaments and tribal trim. Geometric style at its holiday finest! [from West Elm]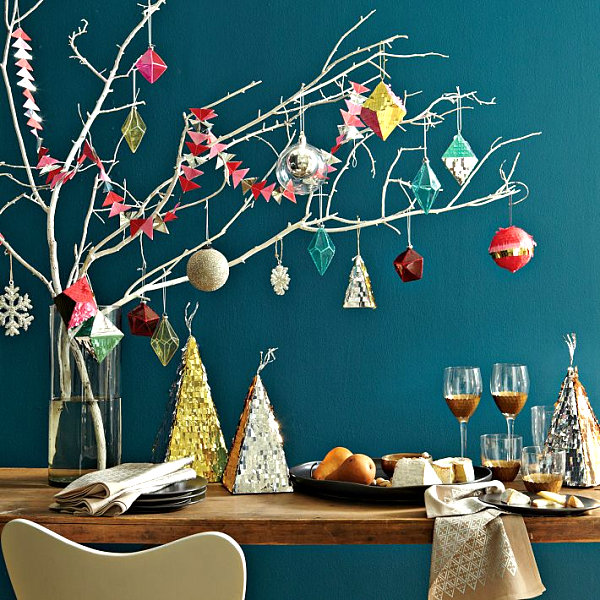 4. Wooden Accents
If you're looking for a more natural look, you'll be delighted to know that wooden accents are "in" this season! Below we see an assortment of of wooden trees from West Elm, including Wooden Cutout Trees made of plywood.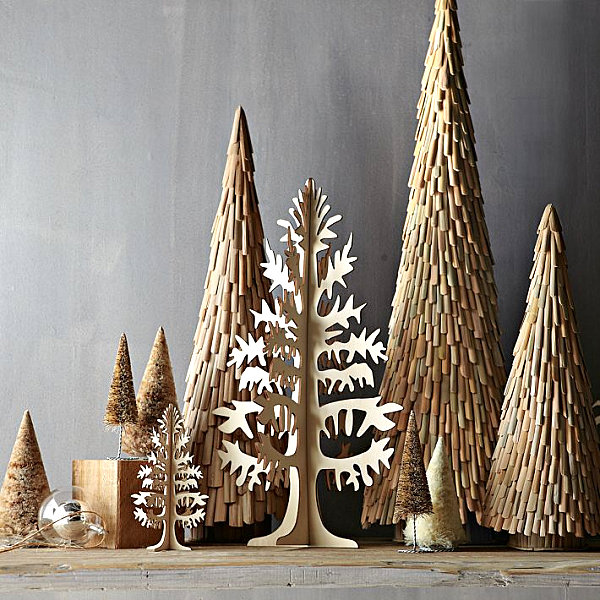 For a wonderfully whimsical look, check out the Wooden Wall Tree in the next image, which adds an artistic element to your holiday decor. Hang ornaments while freeing up floor space! [from West Elm]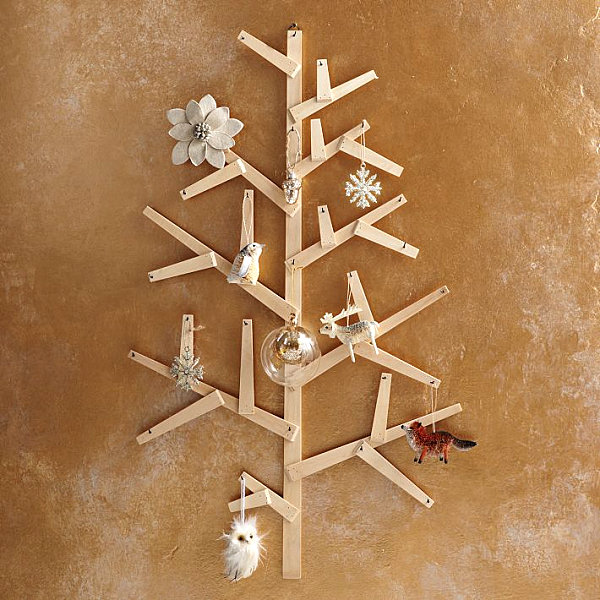 Laser-Cut Trees add intricacy and artistry, and below we see how they also blend seamlessly with metallic decor, including soft champagne shades that are close in hue to natural wooden finishes. [from Crate & Barrel]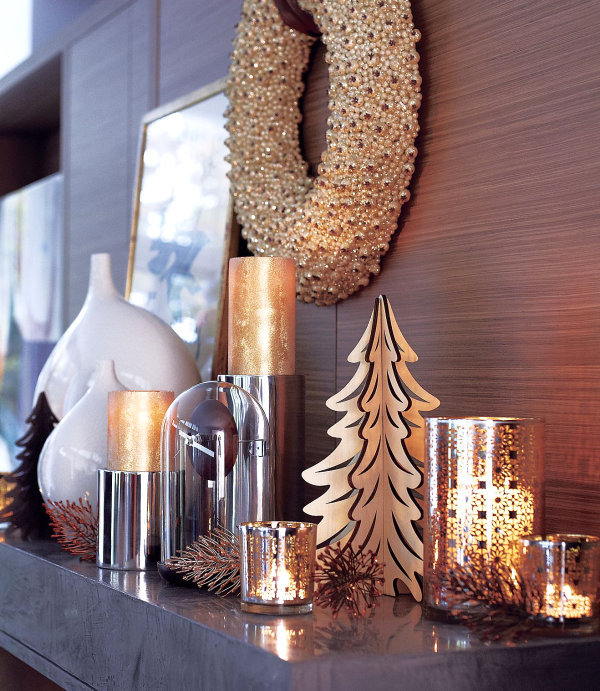 5. Metallic Shine
Speaking of metallics, they never go out of style! Which is why we're not surprised they are once again leading the pack when it comes to timeless Christmas decorations. Below we see a Pine Wreath in champagne, complete with a glittering finish. [from Z Gallerie]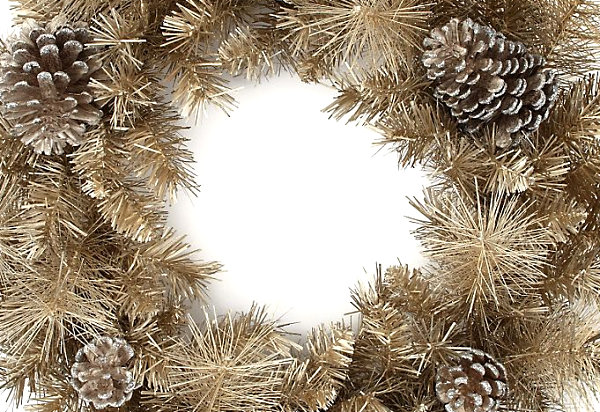 Silvery tones are the epitome of elegance, and this season boasts a slew of them, showcased on mercury glass decorations or these Glass Trees from Anthropologie. We think they look especially festive in a group!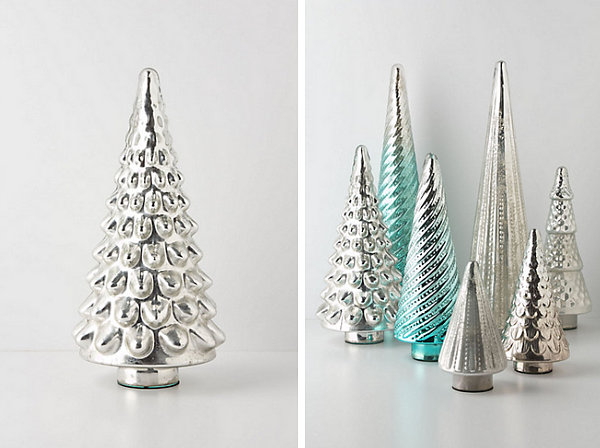 Try blending silver and gold for some true two-tone fun. Or buy an item that merges these metallics in one vignette, such as the Flurry Pillow, complete with an ornamental snowflake that complements both modern and traditional decor. [from Crate & Barrel]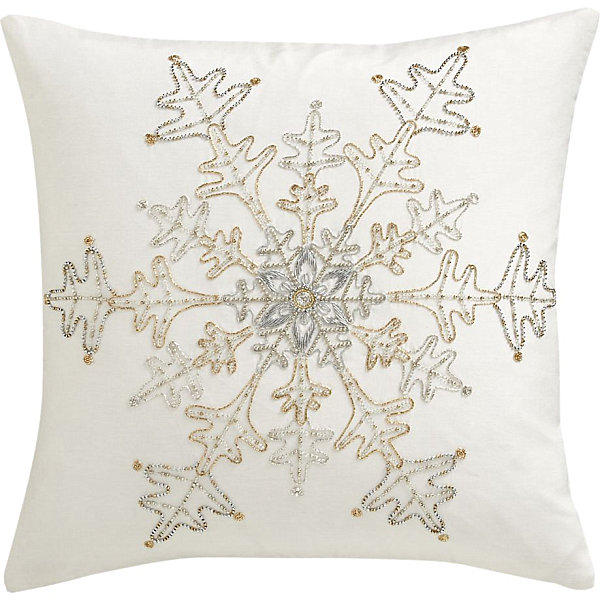 6. Creature Comforts
Creatures, creatures everywhere! Many holiday decorations evoke the whimsy of winter animals in all of their frolicking glory. The Bottle Brush Ornaments below are made from natural fibers. Sturdy and cute! [from West Elm]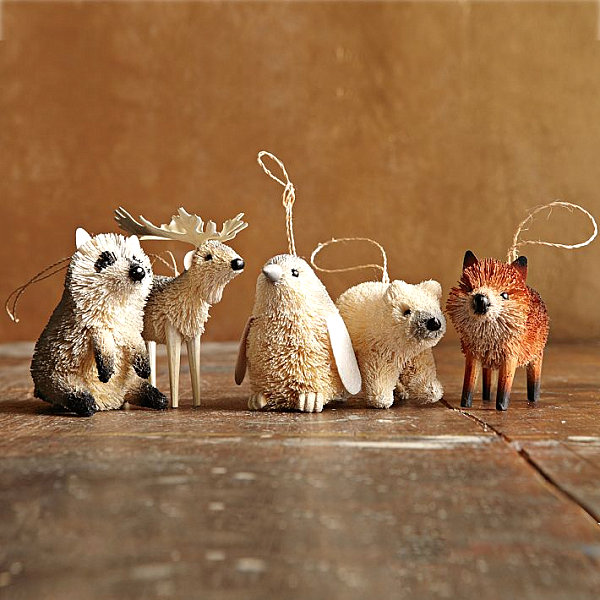 Don't forget about man-made alternatives to wall-mounted deer and moose heads. A glamorous winter lodge effect can be created by the white lacquer animal heads featured in the next image. [from Z Gallerie]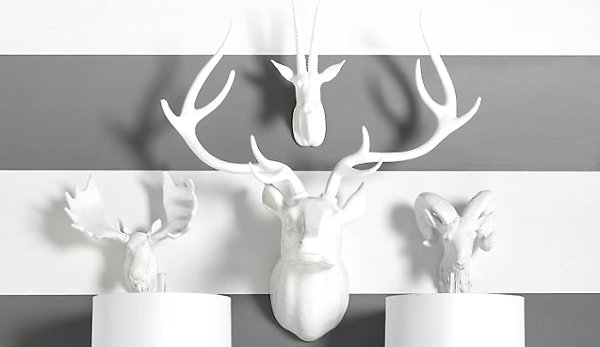 New creations from Jonathan Adler also showcase creature feature fun, as shown by the glass menagerie fox featured on the cover of the Jonathan Adler holiday catalog. Scarf not included : – )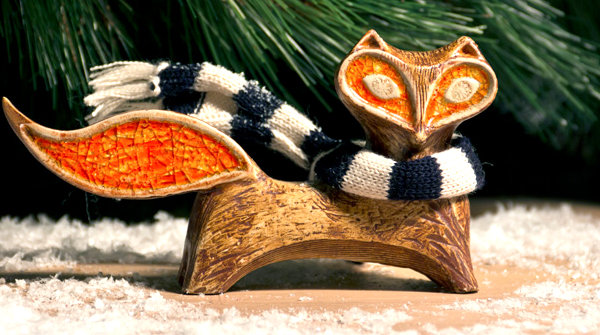 7. Felt Finds
Soft and cushy, felt creations are all the rage this season. They add a crafty, handmade look to holiday decor, and their durability makes them kid-friendly and easy to store. Below we see the Felt Snowflake Ornament Set from West Elm.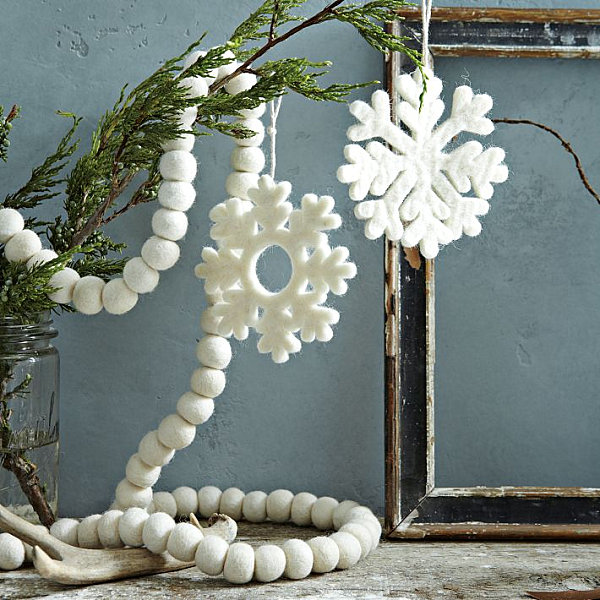 You may not immediately think "mushroom" when you hear the word "Christmas," but mushroom motifs of the magical woodland variety are becoming increasingly popular as holiday statements. These 100% felted mushroom ornaments from Etsy shop Fairyfolk add a festive red and white woodland effect to a simple branch. Plus, they arrive in a handy set of 6!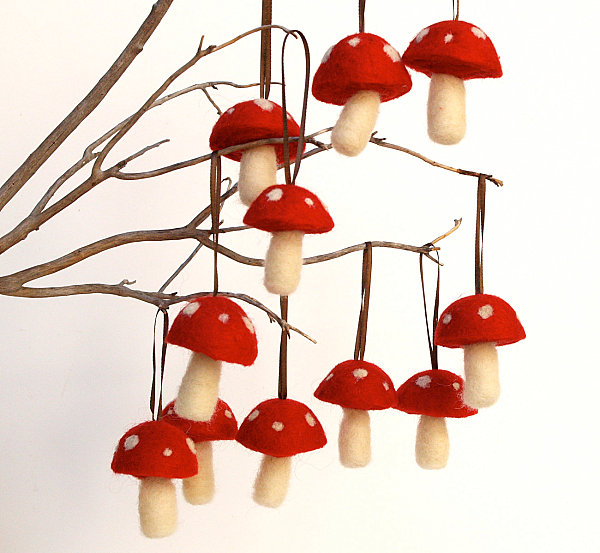 We end with a few more cute creature finds, this time crafted of felt and handmade by artisans. Perfect for kids and adults alike! [from West Elm]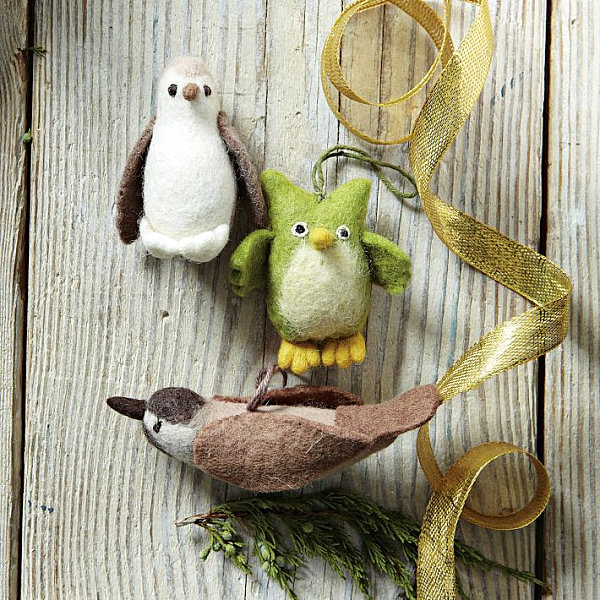 As you prepare to decorate this season, don't forget that many of today's top holiday decor finds can be created at home. While you may or may not have the patience to craft your own felt animals, perhaps a touch of neon can spruce up a simple wooden or glass ornament. Not to mention, handmade garlands are often easy to create from fabric or paper scraps you have around the house. Get creative, and revel in the joy of this season's crafty style!