When it comes to interior design, many people celebrate color, focusing on their favorite two or three shades for any given room. But what about those who love every color of the rainbow? Do you have to limit your palette? The answer is "no!" Believe it or not, it is possible to bring a rainbow of options to your space. The key is making it stylish.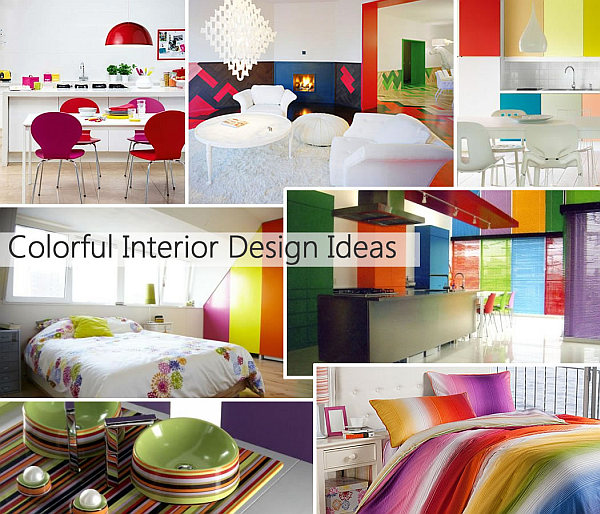 How do you tastefully welcome a bevy of colors? Is it really doable? The most successful rainbow spaces limit clutter, reserve some areas of the room for neutral tones, and favor modern design over "cutesy" motifs. Rainbow rooms can quickly take a turn for the tacky. By making some elements of the space minimalist, the rainbow features stand out in a meaningful way, rather than overwhelming the room's inhabitants. Here are some of our favorite rainbow designs:
Colorful Living Rooms
Our first image is the perfect example of an ultra modern rainbow motif that works without a doubt. Change It! by Amirko is a pixel wall with rotating tiles that allow you to create patterns and words, constantly evolving your style. Note how the rest of the space is white with black accents, making the Change It! tastefully stand out all the more. [from Technabob]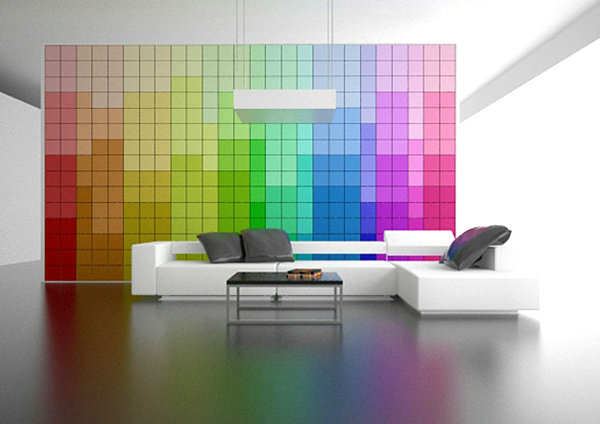 The next space is a rainbow feast for the eyes. A renovation of the Humlegården apartment in Stockholm, the space features a floor plan designed by architects Tham & Videgård Hansson. The colorful wooden flooring may as well be a work of art! [from CubeMe]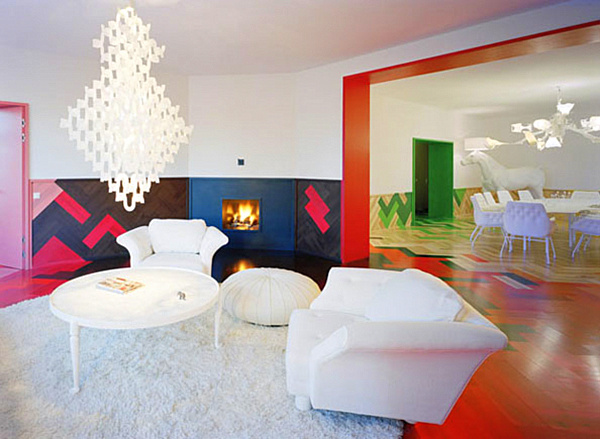 The Rainbow rug by Sonya Winner is a great way to bring color to a space without the use of paint. You may recognize this piece from a previous Decoist post on modern rugs. Note how the room's glass windows and simple flooring allow for the addition of a purple couch, an usual touch that somehow works in the space!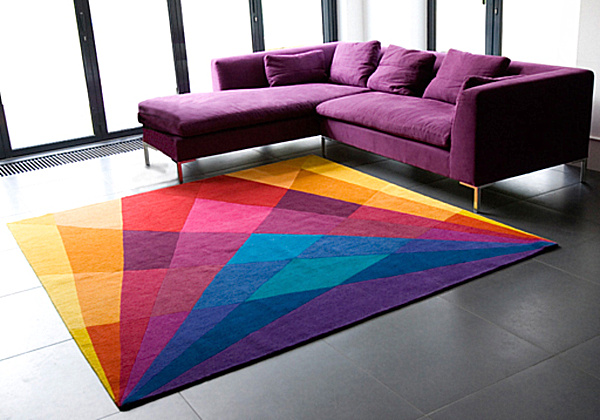 Speaking of rainbows, the Rainbow House by Max Lam is a Hong Kong dwelling that utilizes a border of green, yellow and red. It travels from room to room, adding movement in color. Since the rainbow border is a thin band and the background wall color is white, there is room for an abundance of vibrant accessories, as shown below. [from HomeDeco2U]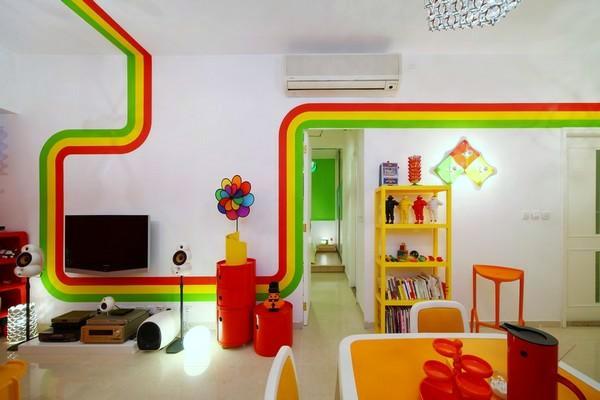 Colorful Kitchens
Rainbow kitchens are an interesting design prospect, as an abundance of counters and storage cabinets provide plenty of surface space for a touch of color. In fact, one of the most striking ways to add color to the room is to install a wide variety of bright cabinet doors, as shown in the fabulously modern kitchen below. [from CubeMe]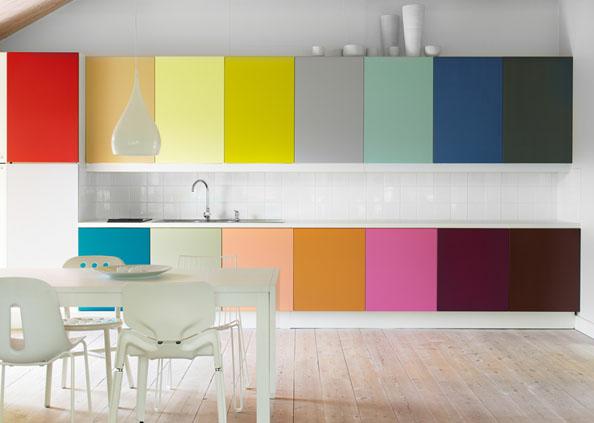 A similar look is achieved in the Multi-Coloured Linear Kitchen from Harvey Jones Kitchens. Whether you order cabinet doors in the colors of your choice or you take a paintbrush to the cabinets you already have, note that once again, white walls are an ideal backdrop choice: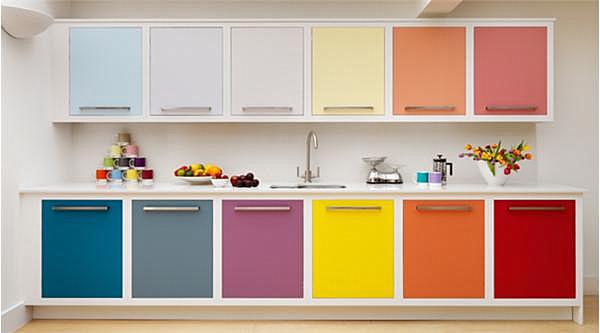 Here's an example of kitchens gone wild, but in the best possible way! Sometimes "going all out" produces stunning results. In this rainbow kitchen, mini-blinds, cabinets and chairs in an array of colors bring personality to a contemporary space. What keeps it from looking circus-y? A wide variety of shades, and the fact that each surface is solid rather than patterned. [from Spark Stack]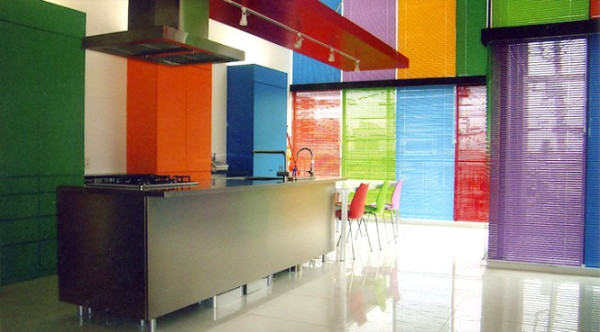 Here's yet another example of a strategic white background! The space below utilizes red, pink and yellow in an effective way, adding touches of orange and green to keep things interesting. As you can see, a rainbow effect can be achieved by accessories alone. [from Kitchen Building]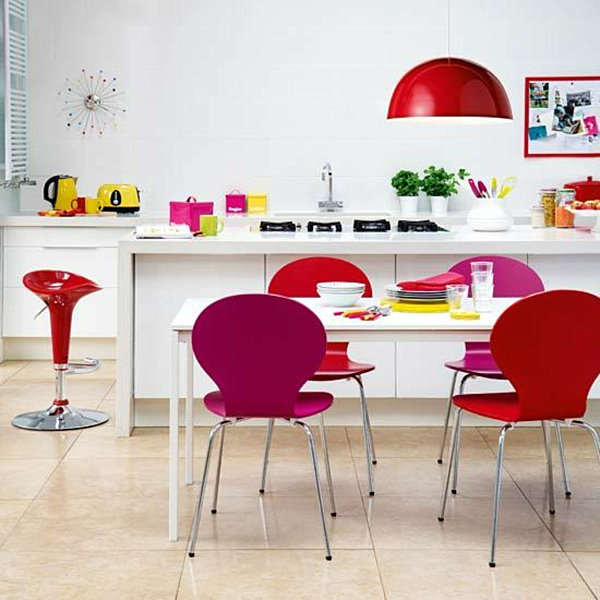 Rainbow light, rainbow bright, make my wish come true tonight… And that wish is for the perfect modern space, which we see below, thanks to a counter with a built-in rainbow beam of light. Space age, whimsical and fun–all we can say is "Wow!" [from Studio Apartment Design]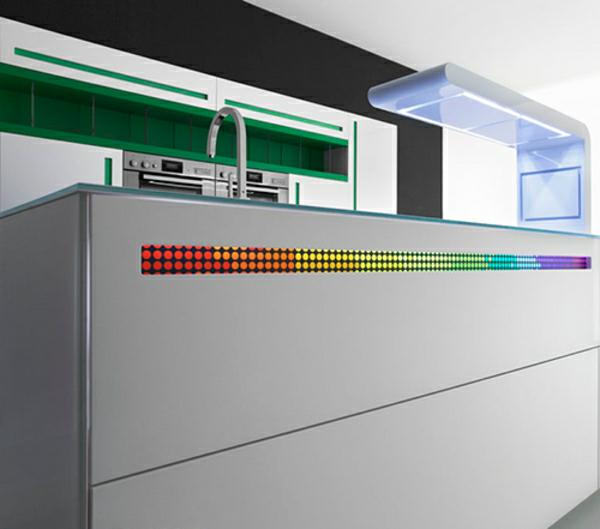 Prepare to be wowed again! In this next kitchen, a modern neon installation gives the space an art gallery feel. Suddenly the phrase "candlelight dinner" takes on new meaning… [from Geometrix Design]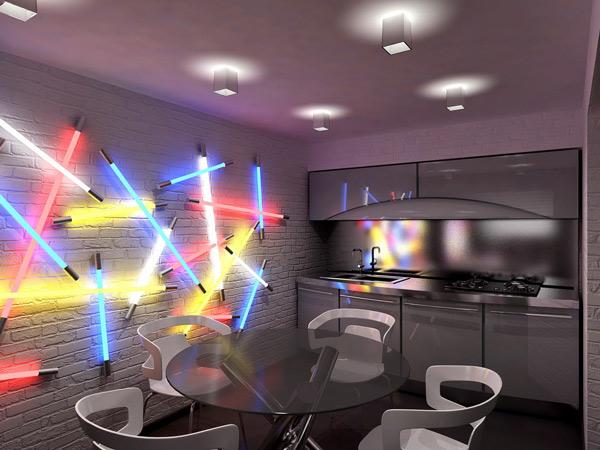 Colorful Bedrooms
Is a rainbow bedroom for adults possible? We say "yes," but the image below says it all! Remember the Rainbow House above, with its band of looping rainbow border paint? In the bedroom of the same space, the rainbow is present on a colorful canvas hanging over the bed. Green, orange and gold are other standout colors in this room. [from HomeDeco2U]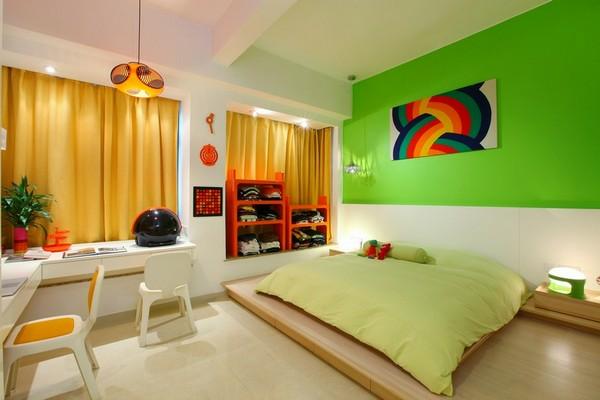 In the IKEA-designed space below, a rainbow statement wall complements modern floral bedding. Why does it all work? An abundance of white paint and fabric counteracts the vibrancy. [from the IKEA live site]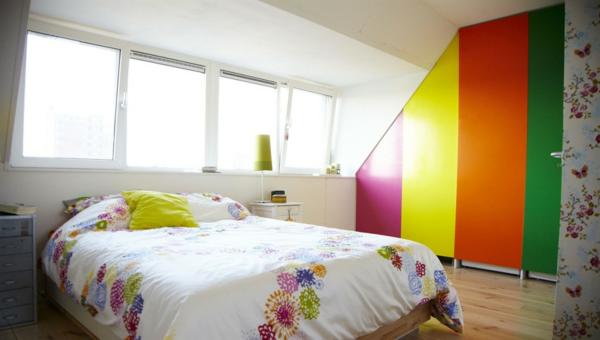 We just couldn't talk about rainbow rooms without bringing the kids into it! After all, there's something whimsical about an abundance of color, and what better place to show whimsy than in a space for children? In the shared brother and sister room below, rainbow polka dots take center stage. [from LilSugar]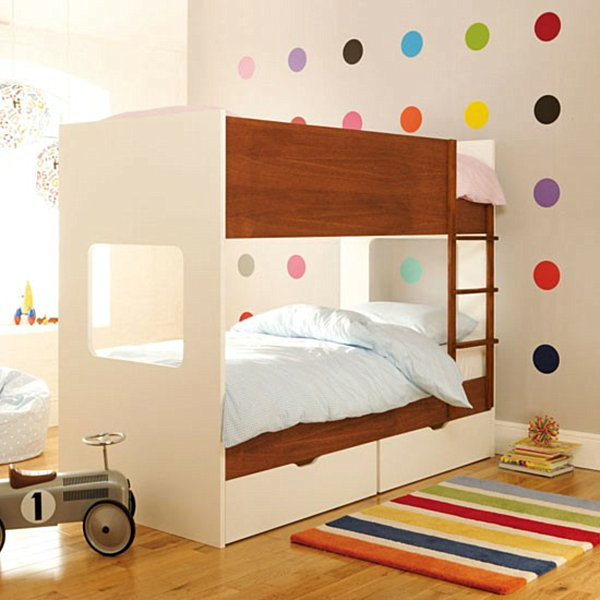 Sometimes adding a touch of the rainbow is as easy as buying some colorful paper! For a hanging art piece that works well in children's and adults' rooms alike, check out this fabulous tutorial for crafting your own Leprechaun Rainbow Mobile. [from Honest to Nod]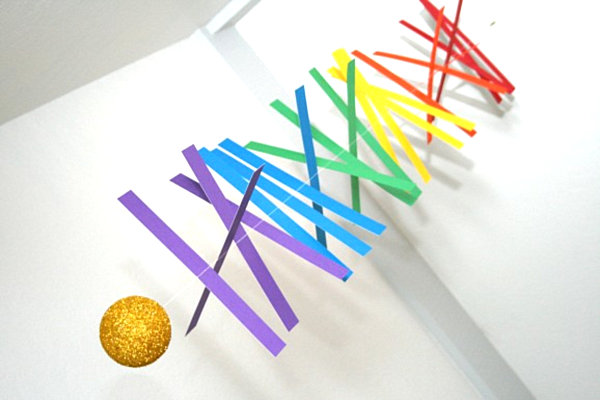 We return to the land of the grown-ups for our last featured bedroom. The Modern Striped Rainbow Cotton Bedding Set below is effective not only in its use of varying thin lines, but in the gradient effect that results. Contemporary and colorful! [from beddingus.com]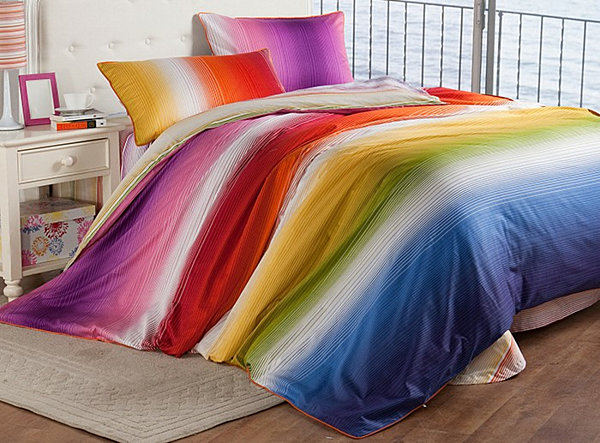 Colorful Bathrooms
Rainbow-themed bathrooms are fun spaces, because their smaller size allows for a complete saturation of color. Not to mention, people are often willing to take more creative chances with bathroom spaces. The Rainbow Lab Bathroom below is designed by Chroma Lab, which specializes in custom interior finishes. Check out the full tutorial at the Chromalab blog.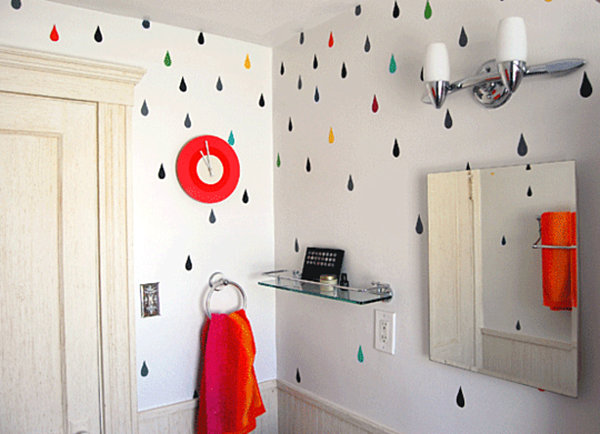 In this next space, tiles were hand-painted with great care, then installed. All of the work clearly paid off, as a colorful pixel effect is the result! For the full tutorial, check out Instructables.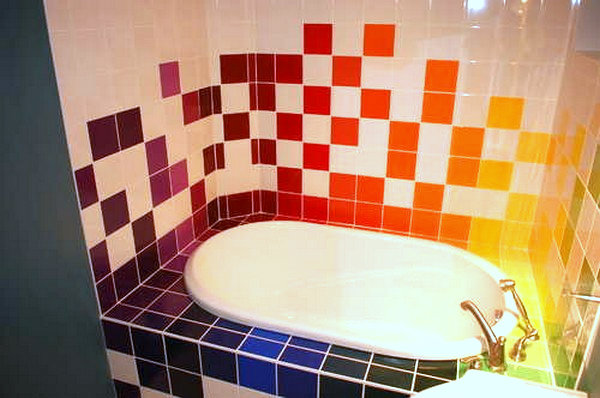 Sometimes rainbow tiles can be subdued, as shown by the yellow and orange squares below, which are tamed by a variety of "off shades," such a burgundy, powder blue and forest green. [from Stylish Eve]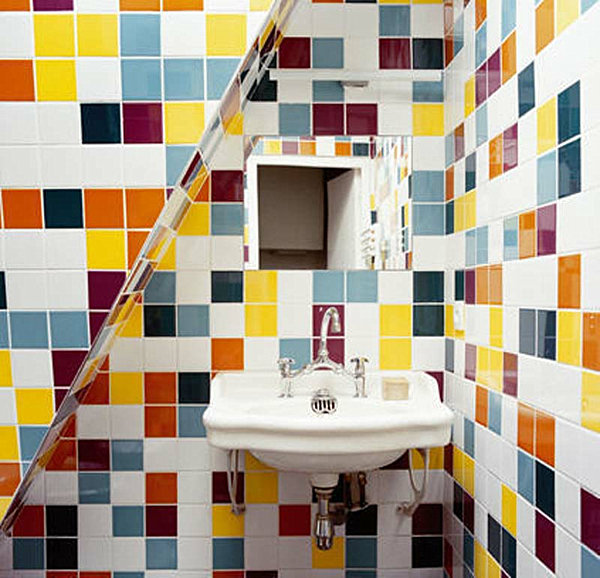 Bring on the stripes! In this next image, note how a rainbow bathroom counter is just the pattern needed for a room featuring eggplant walls and a lime green sink! [from Sidrons]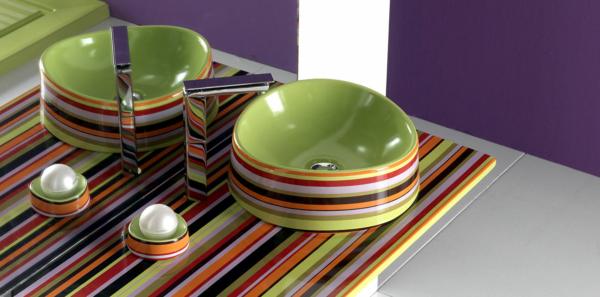 We end with another countertop from Sidrons, this time featuring abstract swirling instead of clean stripes. Note how the backsplash wall brings out the orange and green tones of the patterned surface, and a blue sink makes another powerful statement: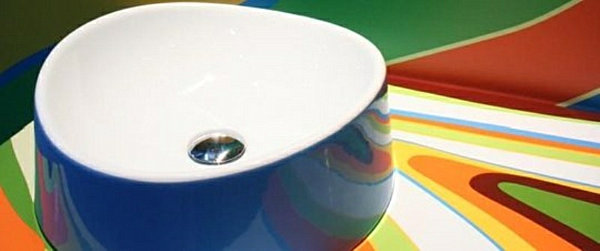 If you're tempted to bring rainbow colors into your home, remember that a little goes a long way. At the same time, you can't embrace this motif halfway. Whatever you decide, go all out. As you've seen in today's images, some rooms prefer to keep it simple with one rainbow feature in the midst of neutral surfaces, while others involve bringing as many colorful touches into the space as possible. Yet even in these rainbow-tastic spaces, some restraint is used. Add one detail at a time, and don't be afraid to call it quits when the room has reached its color limit. Follow these pointers, and you're sure to find a pot of gold at the end of your design rainbow!