Bedrooms are safe spaces for most people, and that's why they have to be kept tidy and beautiful. It's that place where you get real comfortable. Without being careful, it's easy to have things in a mess. It is common knowledge that your space plays a huge part in how well you can relax, so you don't want your room cluttered at all. The great news is you don't need super organization skills to have things in order. With the right bedroom organization ideas, anyone can have a tidy room. Here are our favorite unique options to consider.
Tiered Trolley

You might be used to seeing tiered trolleys in kitchens and somewhere in your mind, you've concluded that that's where they belong. That's not true. Tiered trolleys are great storage units for all kinds of rooms, including your bedroom. You can place one right by your bed and use it to arrange and store items ranging from jewelry to books. They come in different colors, so you get the option to choose one that fits your room's current color scheme.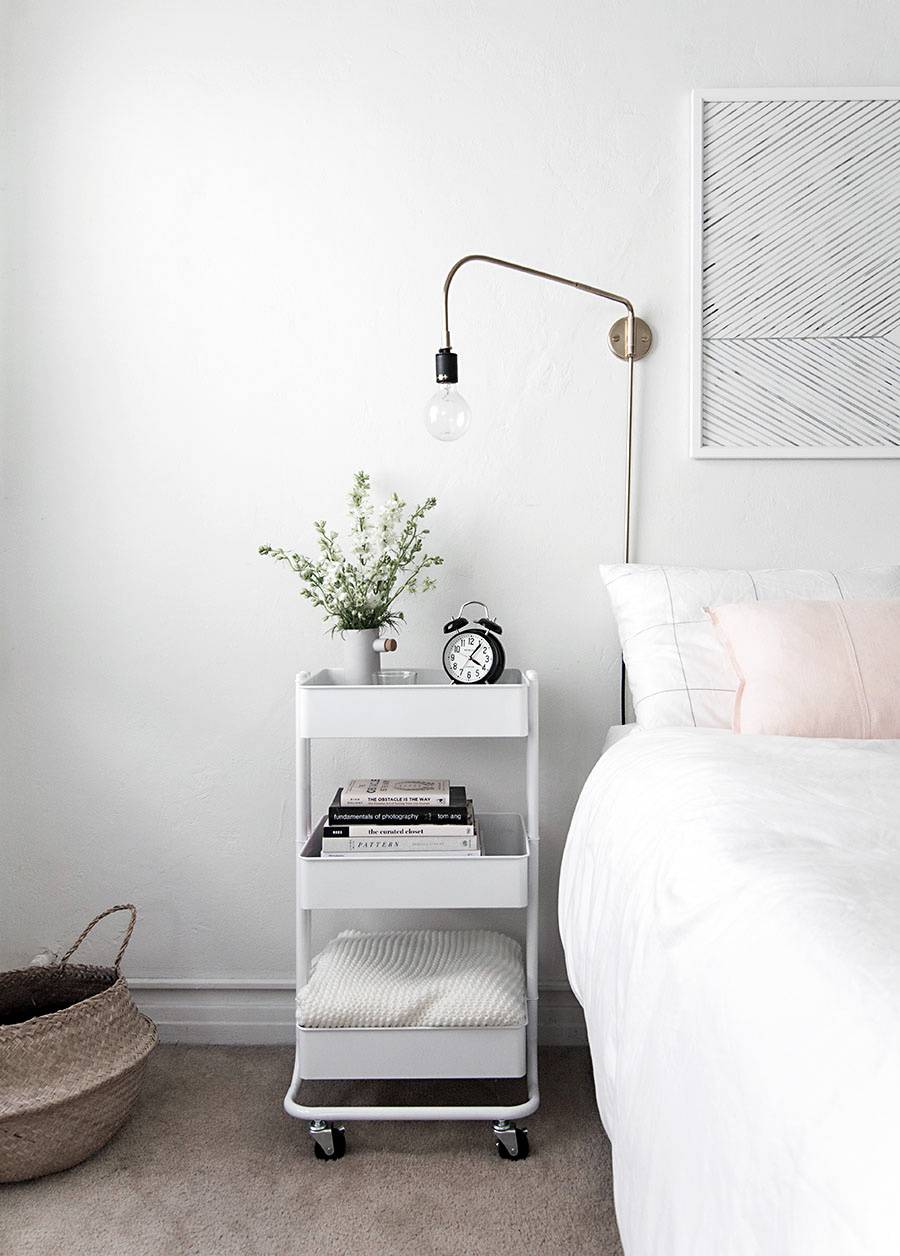 Storage Bench

This is one of those pieces of furniture that is highly recommended if you have a small bedroom. It can serve as a comfortable bench placed at the bottom of your bed and when you lift the seats, there are compartments you can use to store your items. It not only saves space with its 2-in-1 design but also helps you have a clutter-free bedroom.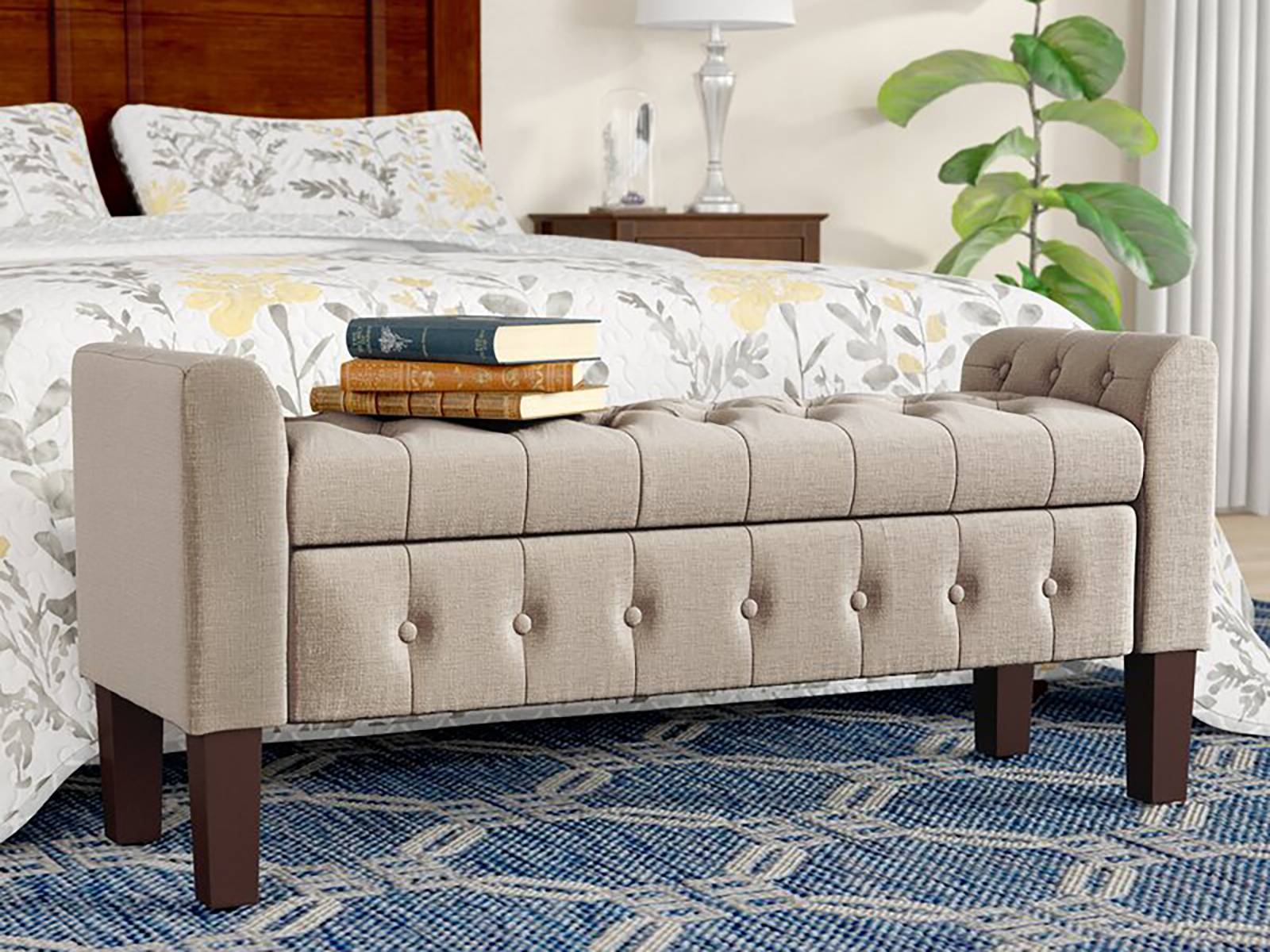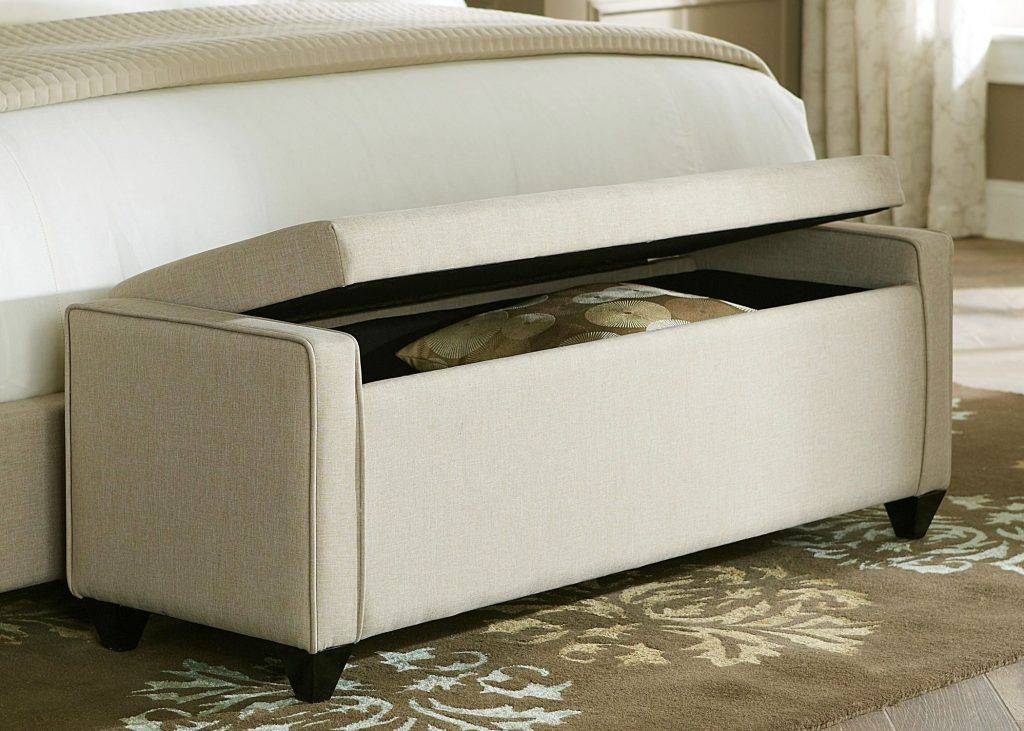 Under-the-Bed Woven Storage Basket

This has a lot to do with how your bed frame is designed. It is usually much more convenient if it is not completely covered up. This space gives room for you to keep woven storage baskets. The baskets come in different shapes and sizes. You have to measure how much space you have under your bed before making a purchase.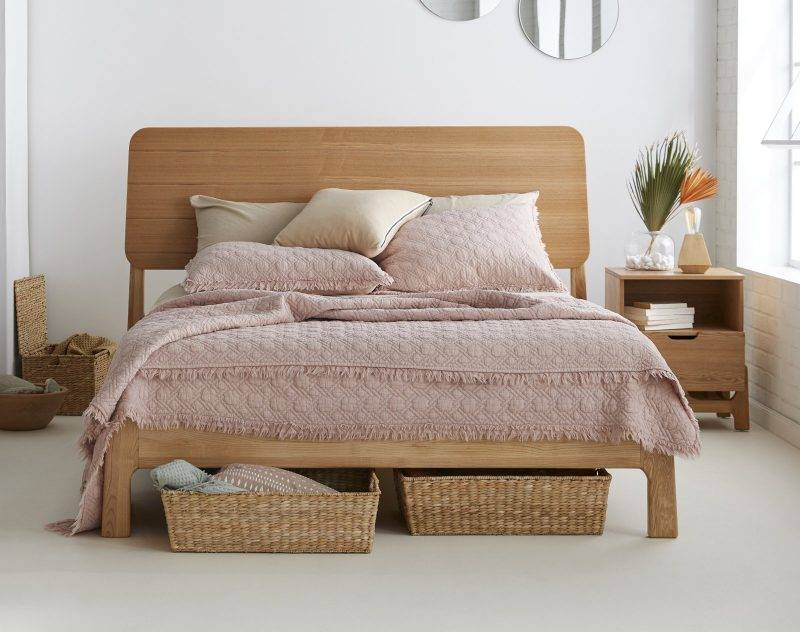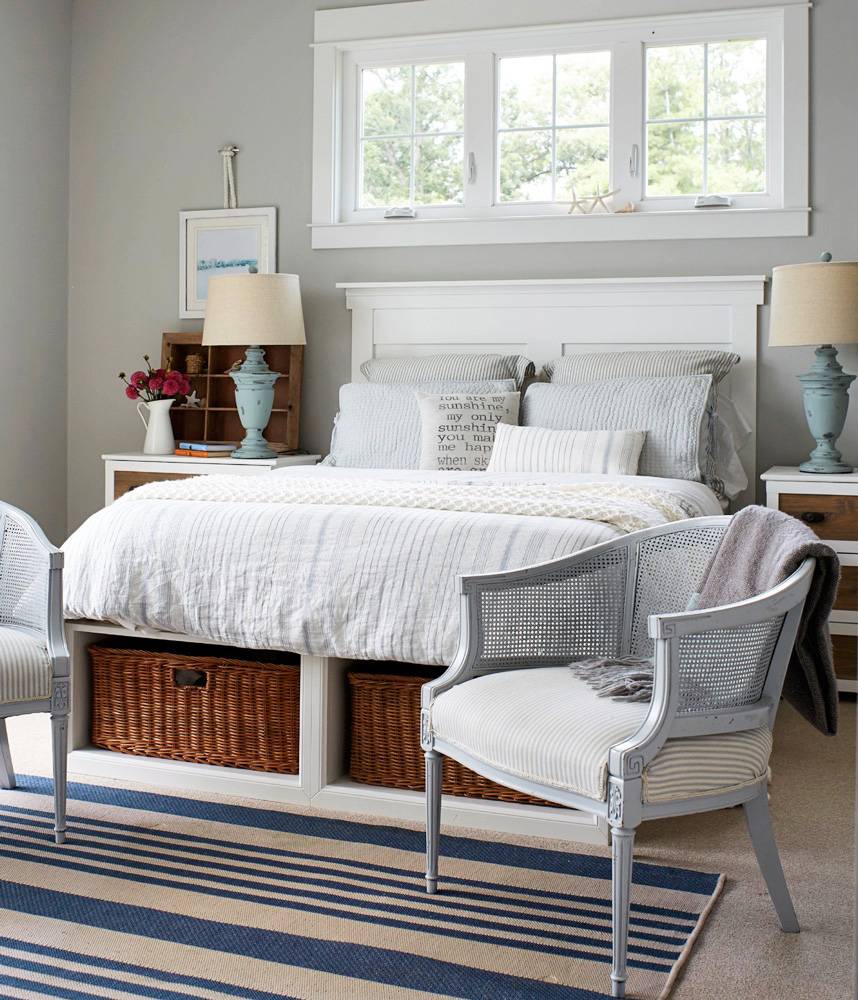 Mirror Jewelry Cabinet

This is a 2-in-1 piece for your bedroom. A full-length mirror is somewhat a necessity for every bedroom. You need to see what you look like before stepping out to meet the rest of the world. Instead of the mirror taking up all that space, you can have the full-length mirror attached to a cabinet that opens up to reveal space meant for hanging jewelry pieces. It's a smart way to use space while staying organized.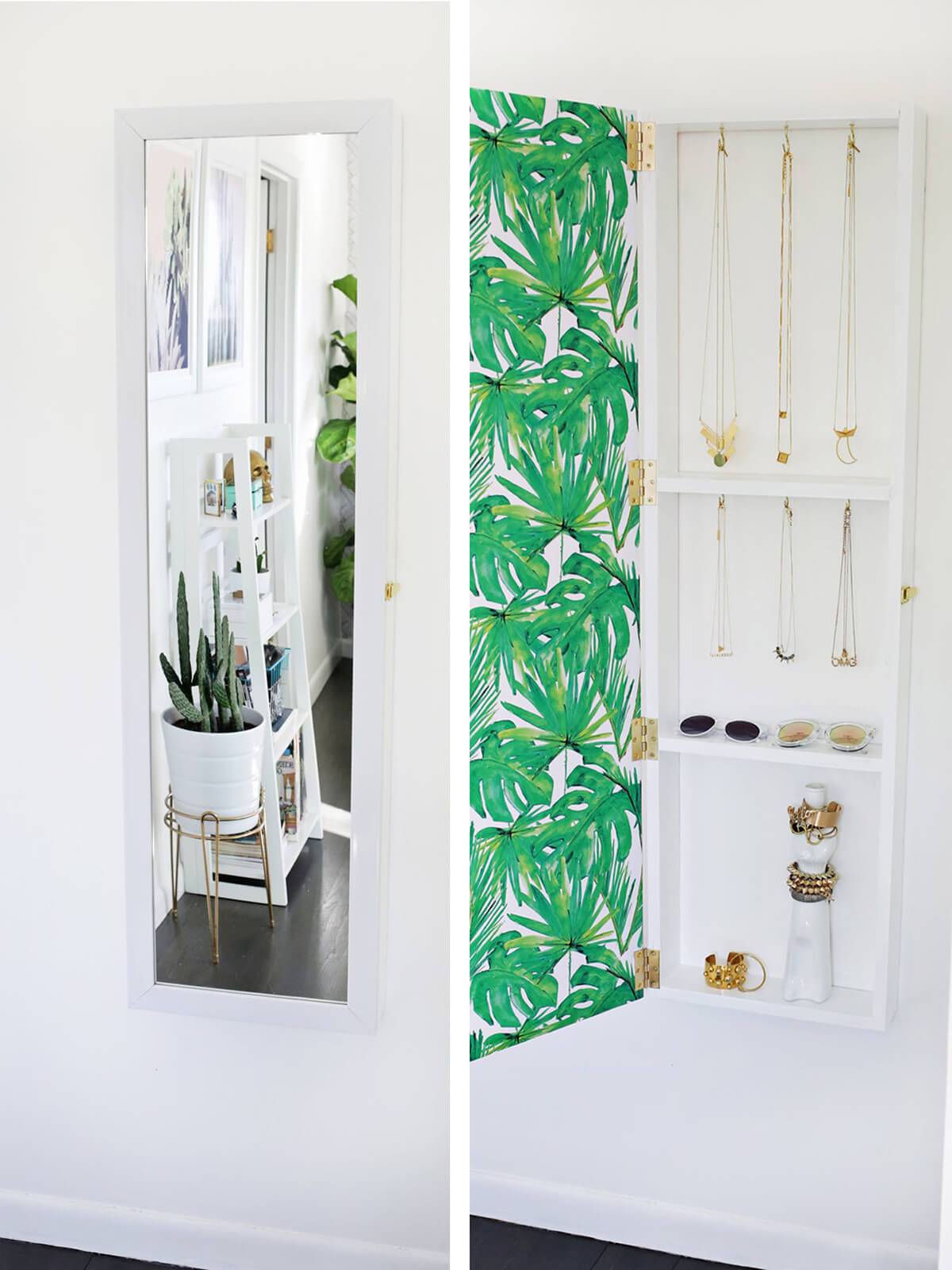 Multi-Pocket Holder for Bedside

This is usually made of fabric and has many pockets as the name suggests. It can be hung on the wall or attached to your bedside. When it is attached to the bedside, it is usually used to hold items for easy accessibility. The items could be a charger, a phone, a power bank, and even magazines. These are items you probably use before bed and would be safer if kept away before falling asleep. When hung on the wall, it can be used to hold other items like brushes and perfume bottles.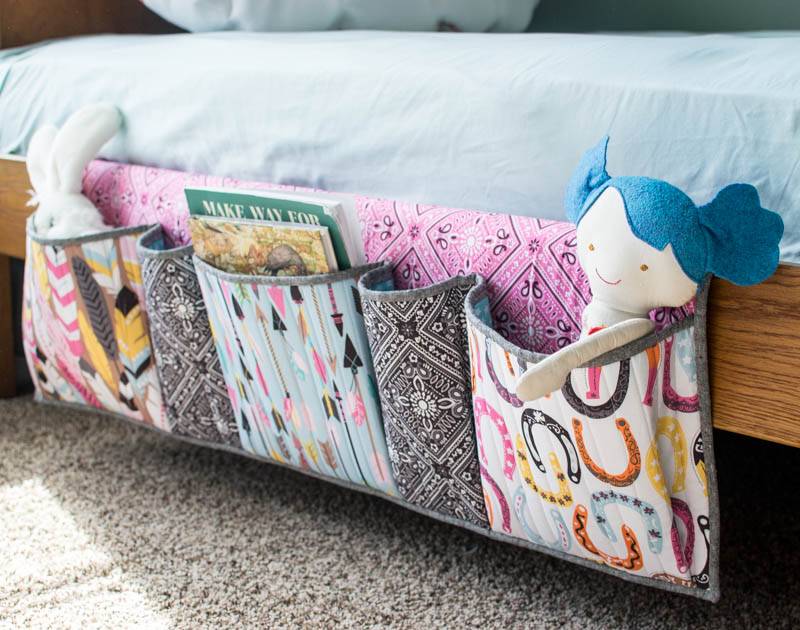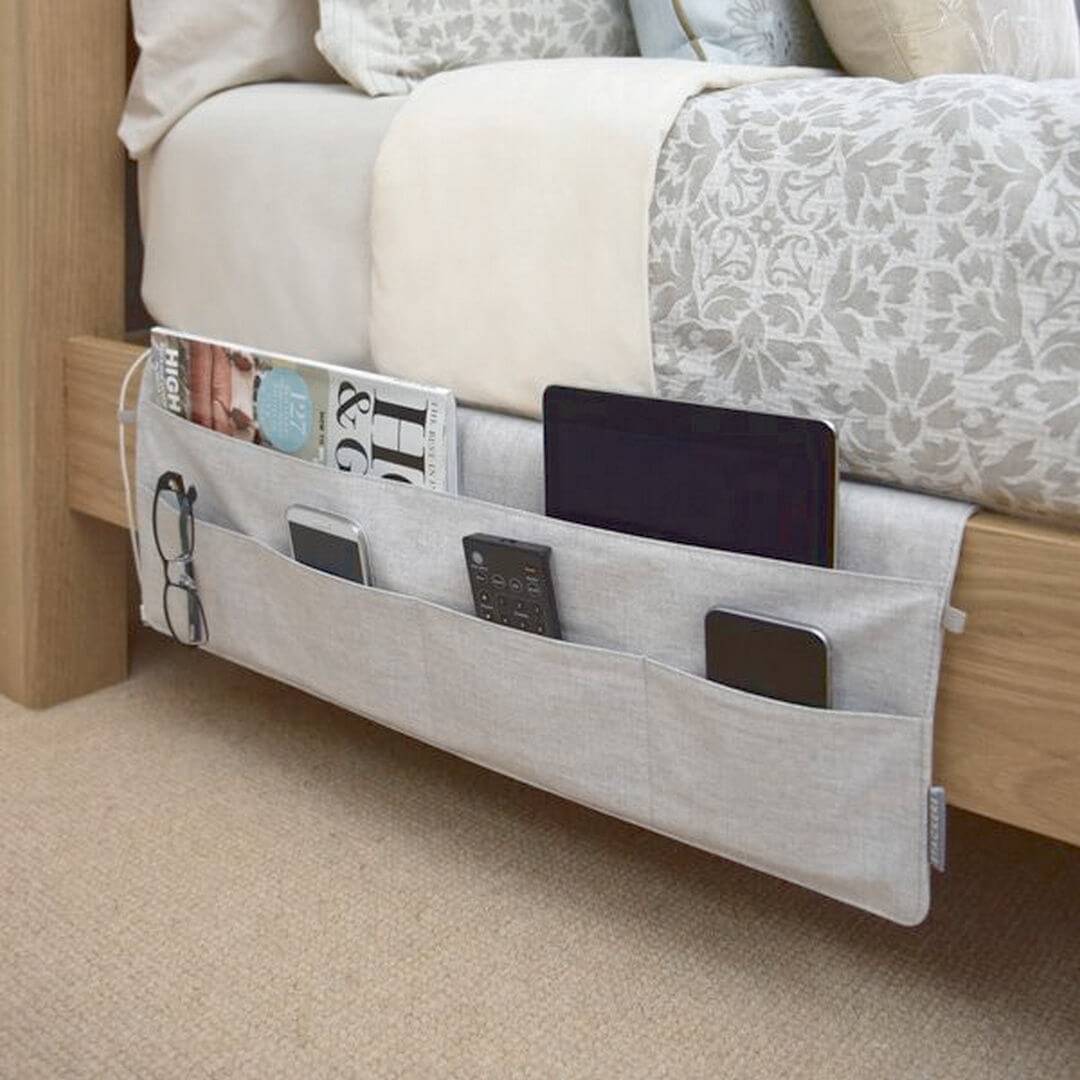 Out-of-Sight Clothes and Shoes Wall Storage
There are two ways to have this in your room. It can be built-in with walls of the room or attached as a fixture. One thing common with the two is that they are both built tall to accommodate many clothes and shoes. They are then hidden behind curtains that blend with the color of the room.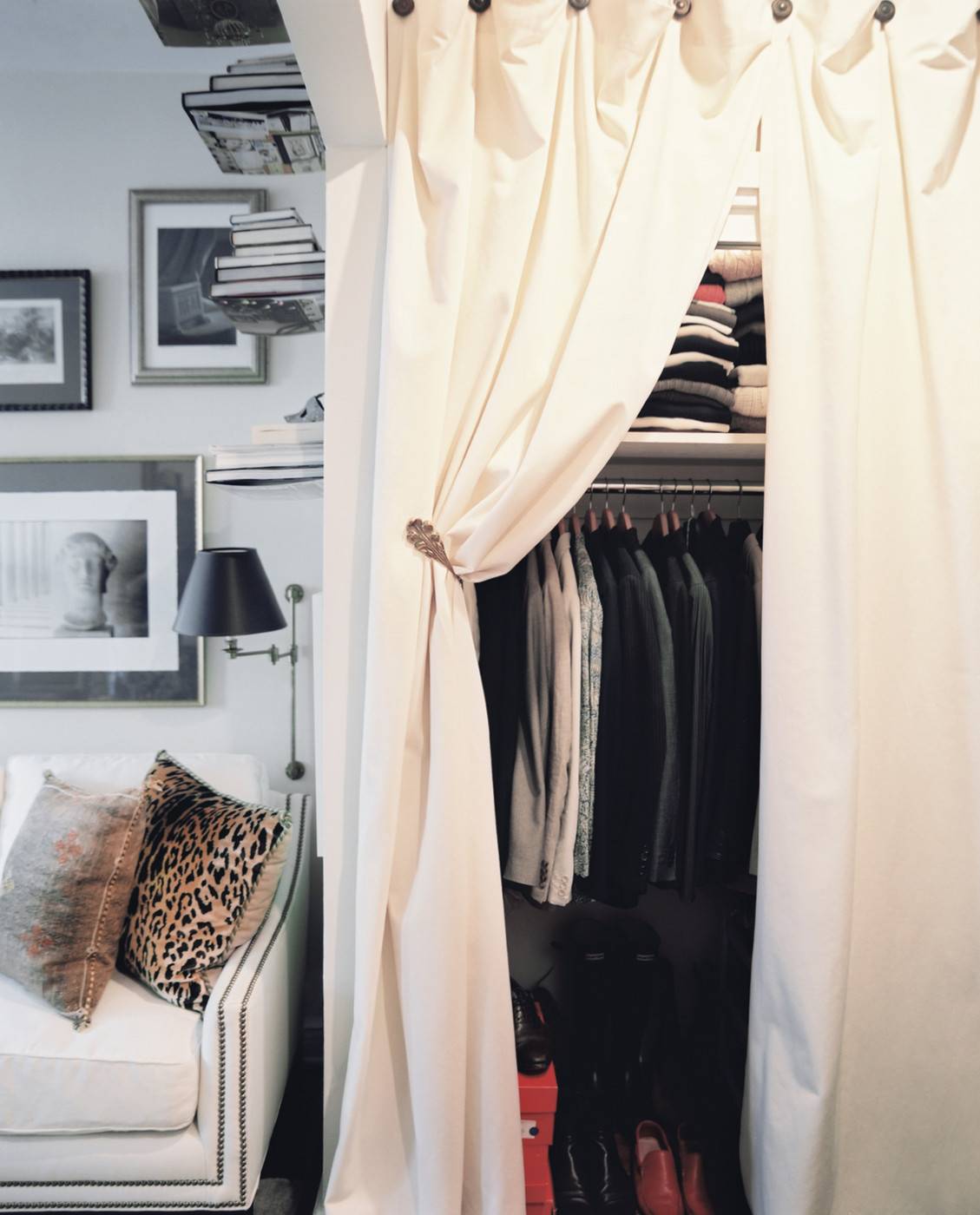 Corner Shelves

Corner shelves make use of spaces that would have been left unused. If you have a small bedroom, this is one idea to consider. To ensure adequate maximizing of the space, make the shelf as tall as possible. They can be used to keep items, small or large, that would otherwise be lying around scattered on the floor of your room.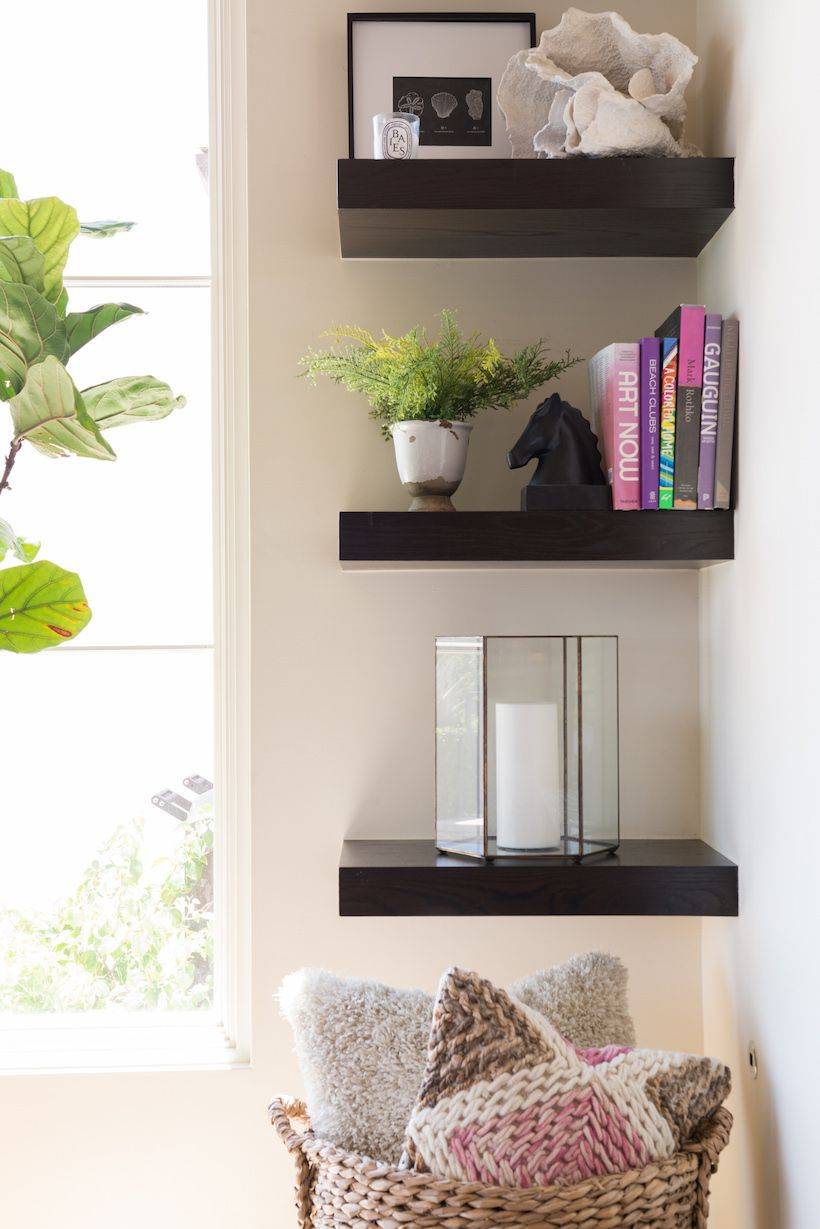 Clothes Rail Above Dresser

You could get rid of that "chair" you always end up dumping clothes on because it is very accessible. It's usually a sore sight but without other options, there isn't much you can do. In this case, your bedroom organization can be as simple as putting a rail above the dresser or by the side so you can easily hang your clothes instead. This helps your clothes to air dry and of course, keeps your room tidy.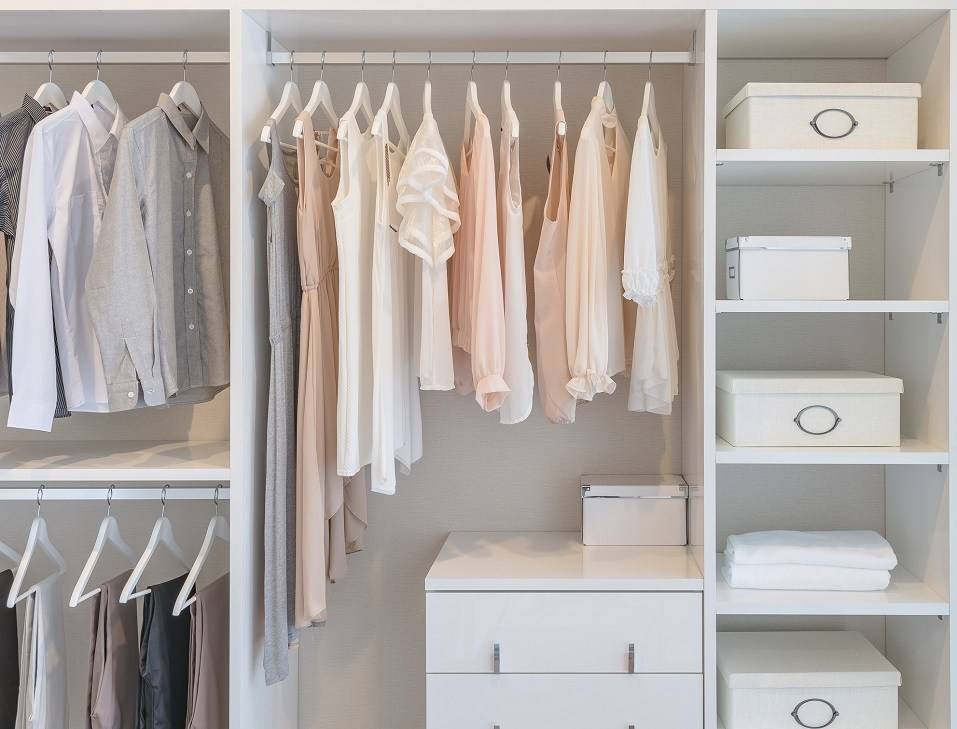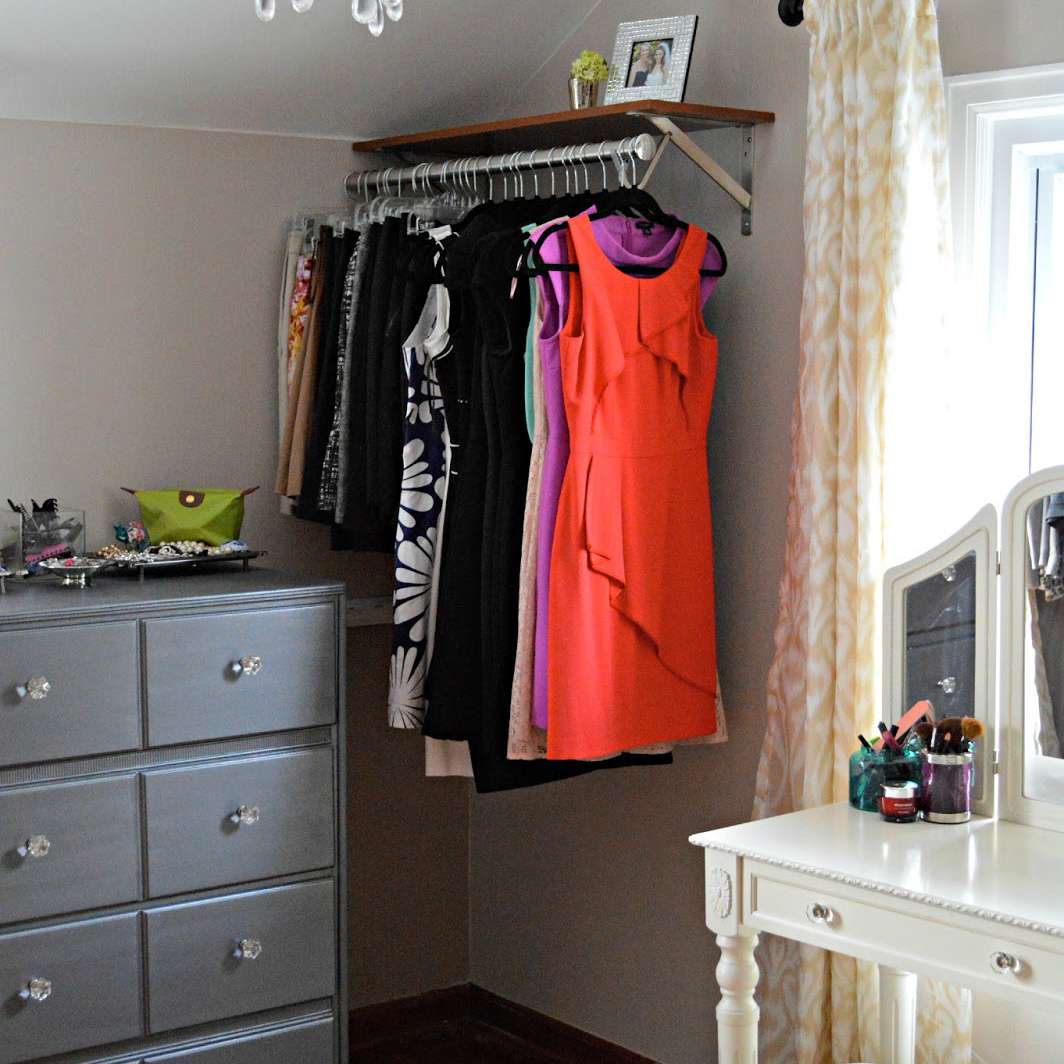 Bookshelf Above the Door

The space above your bedroom door is most likely unused. How about building a bookshelf using that space? You will need a ladder to help you pick out books, but with the books hanging and visible. This way, you don't need an extra room to serve as your library and you also won't have books lying around in different corners of your bedroom.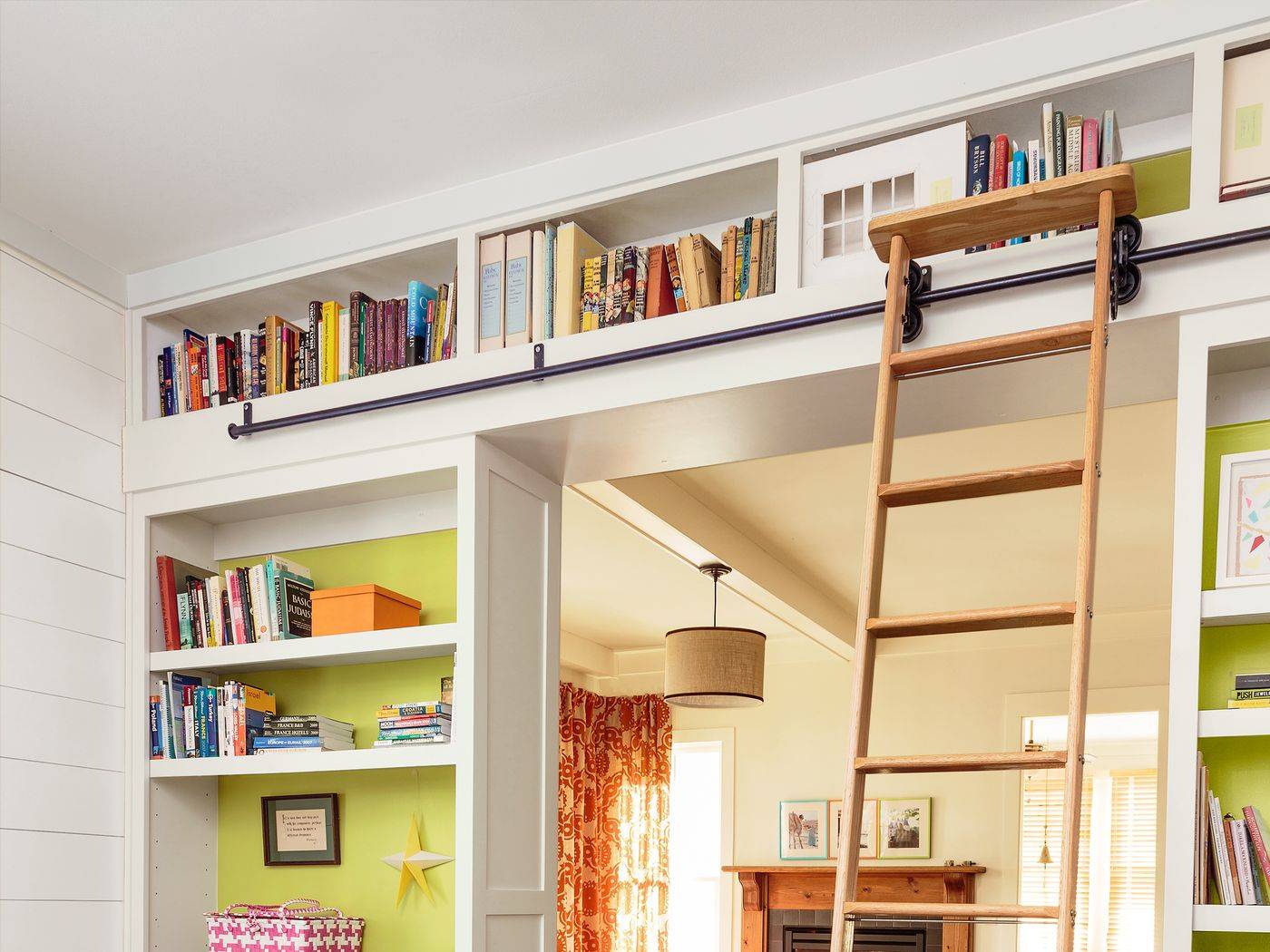 Pinboard Organizers
With a pinboard organizer, you can hang a good number of items. They could be accessories, picture frames, bags, and even scarves. It takes up only a little space but it keeps your things highly organized with everything you need in plain sight.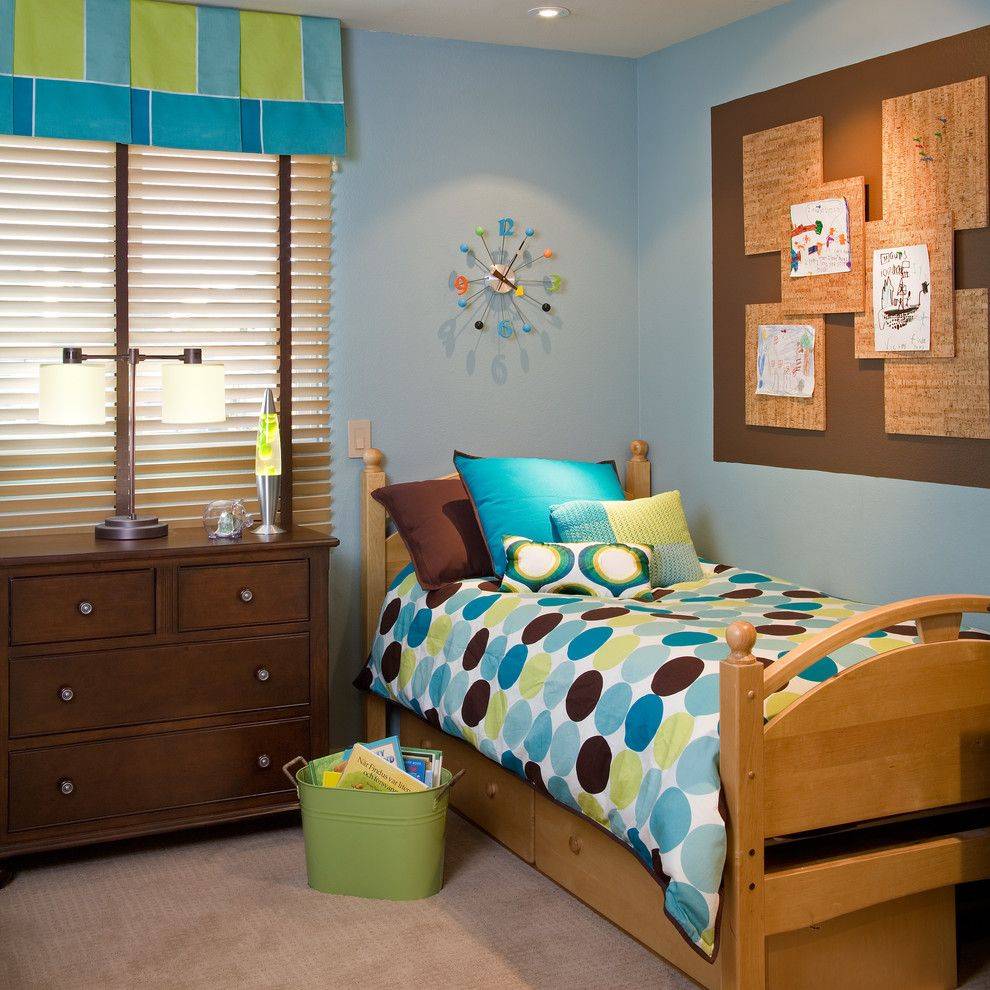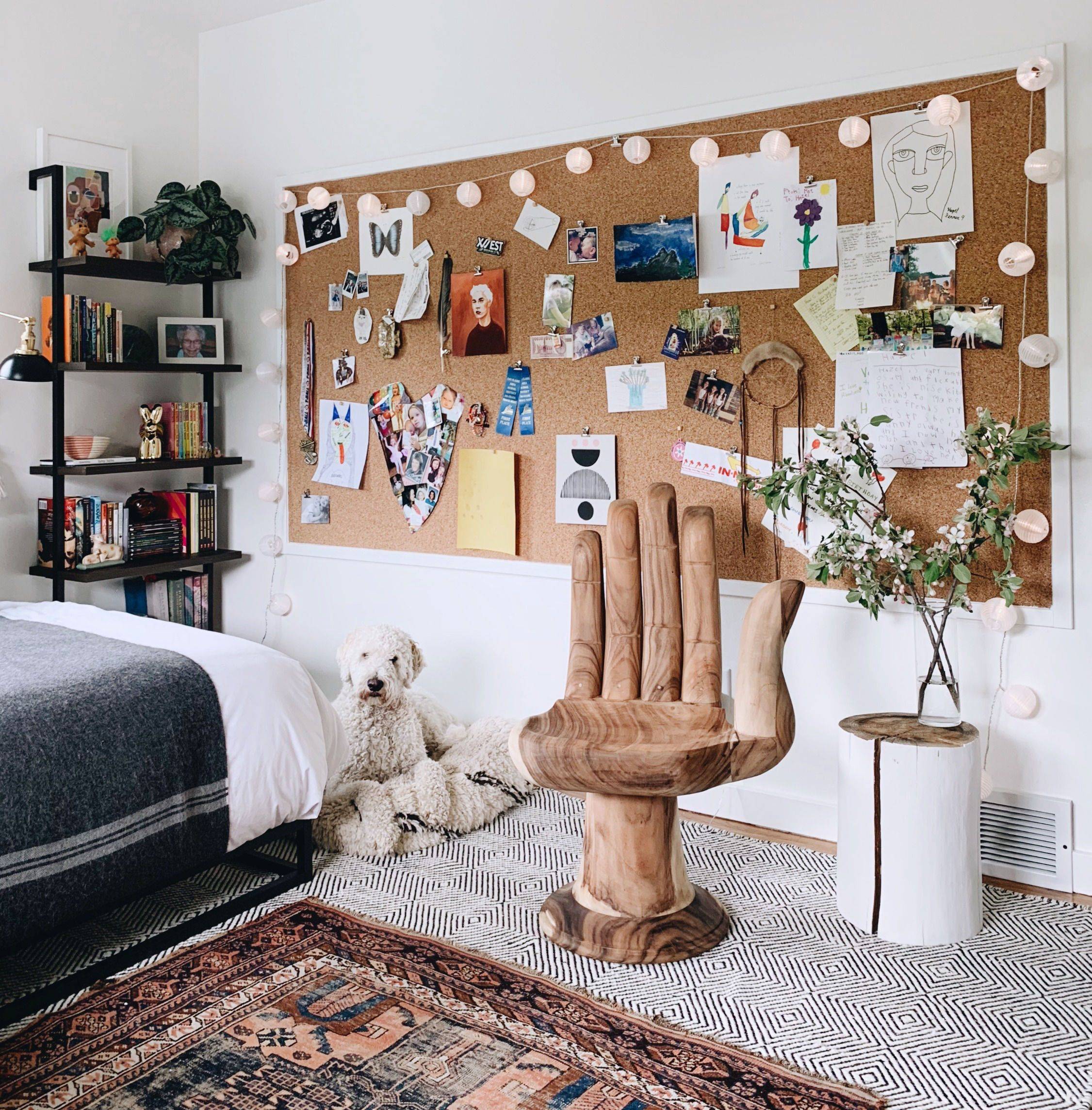 Color-Coded Storage Boxes on Shelf

Boxes are great for storing things, but it can quickly become a hassle finding what you stored because you don't remember where you placed them. This problem is solved when you color code boxes according to what the items are used for. Asides from serving that function, they look great when placed on your bookshelf.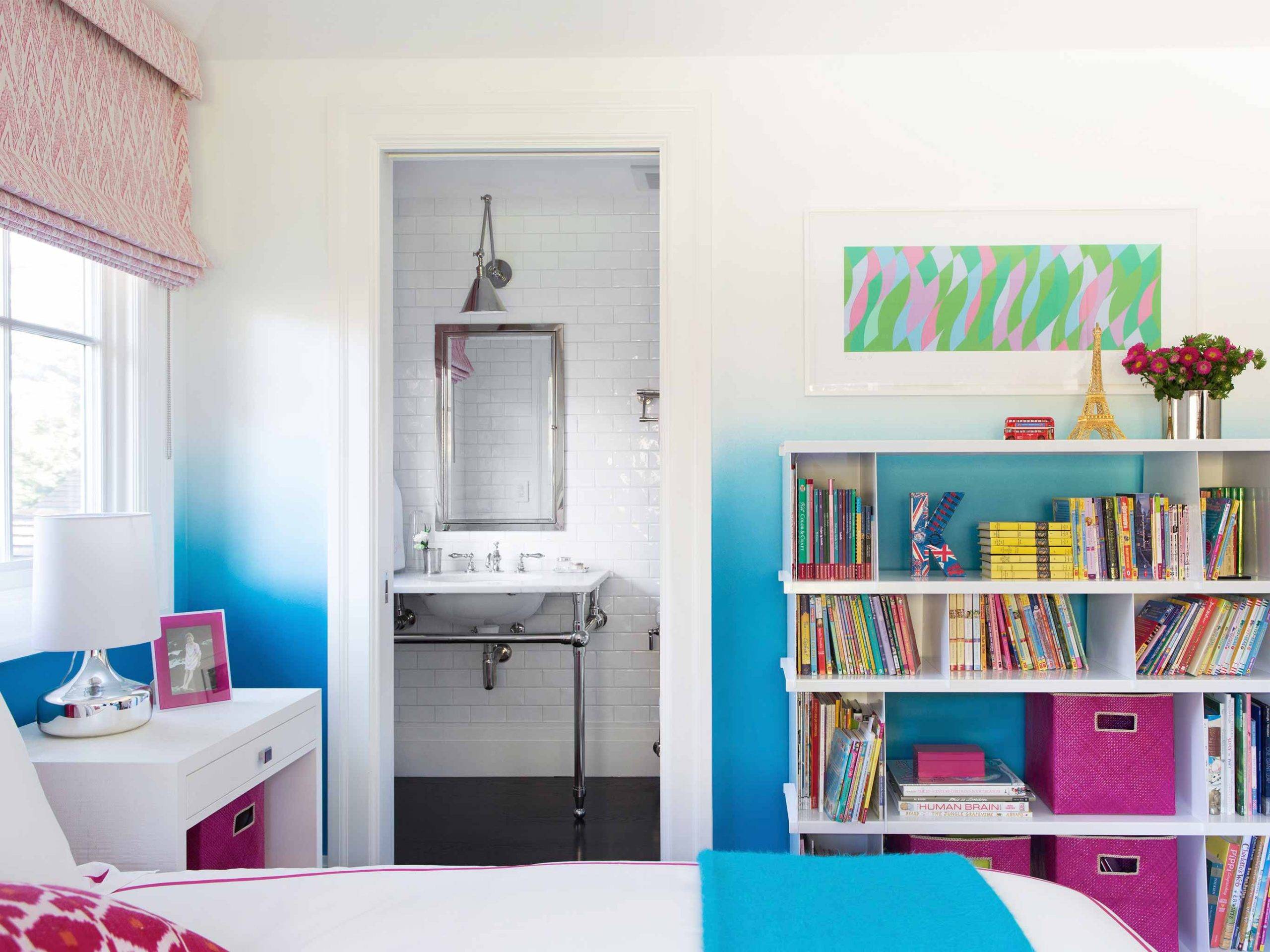 Bunk Beds with Stair Storage
If you're tight on space in a child's bedroom, consider bunk beds that have storage in the stairs leading up to the top bunk. Not only will you get that extra storage, but you can also fit two kids in one room. You can custom design your own bunk bed but there are also lots on the market that come available with the storage stairs.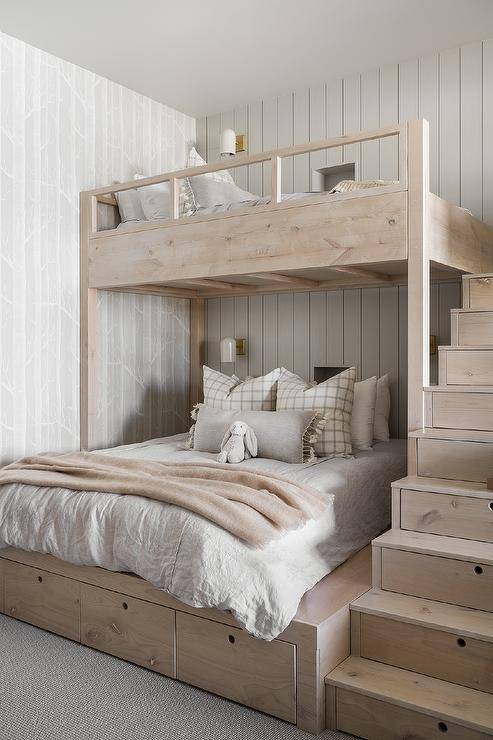 Nightstand with Ottoman
I love the idea of placing an ottoman under a nightstand. This ottoman not only gives you a place to sit and read or rest your feet but it also has storage. The lid opens and you can place things inside. Great use of double duty.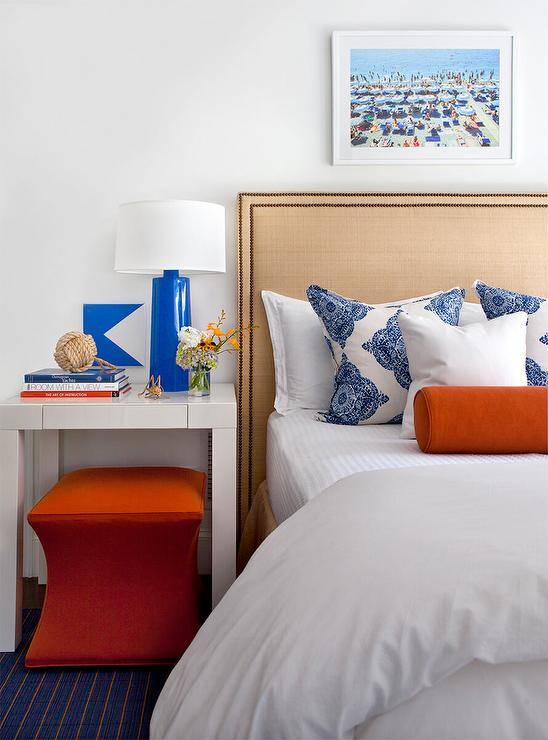 Vertical Height Above the Nightstands
Speaking of nightstands, don't forget the vertical height above them. Make use of the space above the nightstand and install some cabinetry. This will give you space to store items, and by using cabinetry with doors, you can hide away stuff you don't want to be seen and will also keep your room less cluttered.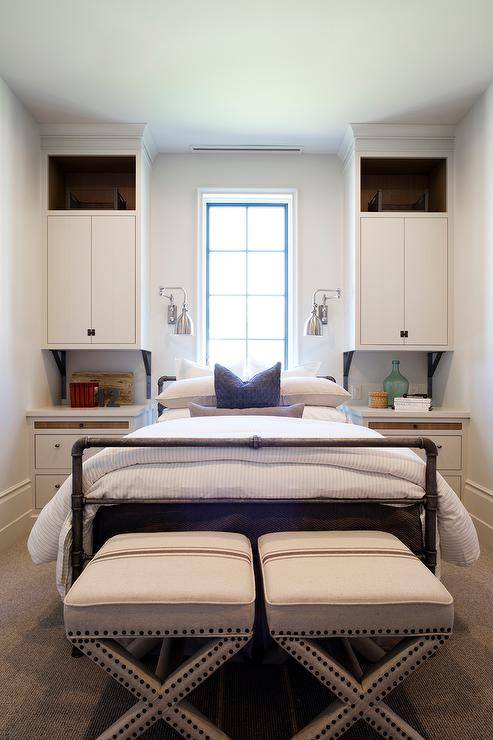 Keep Shelves High
Keep your shelves high all over your room and make sure there are lots of them if you are working with a small space.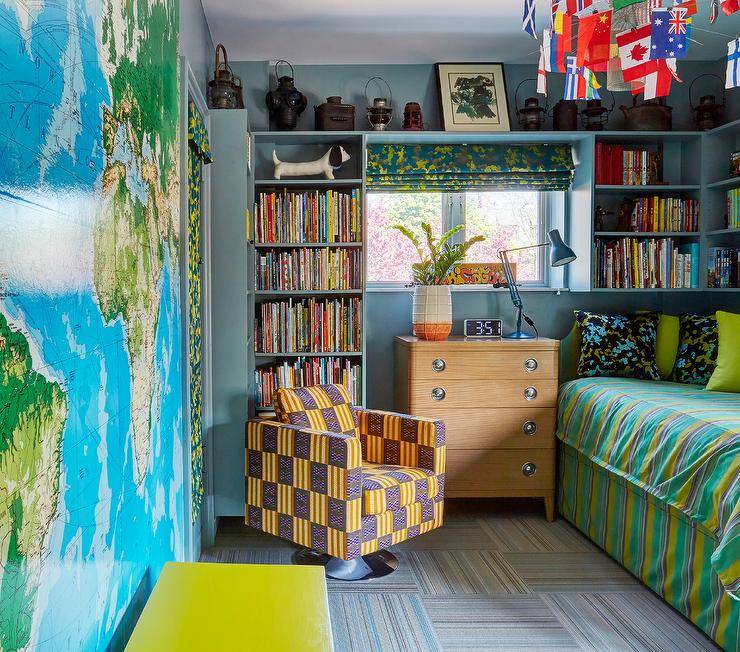 Elevate the Bed
Bunk beds aren't just used when you need to fit more than one kid in a bedroom. Elevating the bed and leaving the area open underneath allows for more room to play. This is especially great in smaller homes where a playroom is not an option.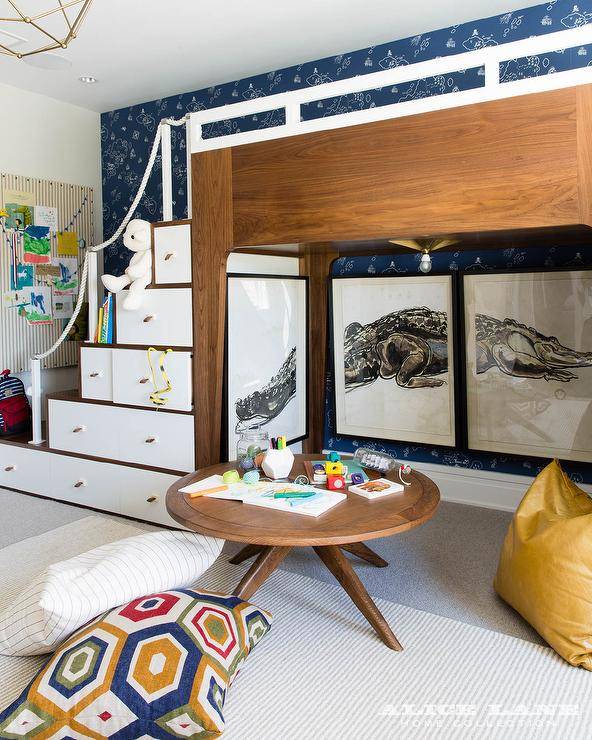 Or in this grown-up version, swap out the play area for a desk. This is great for teenagers or even adults who have small bedrooms.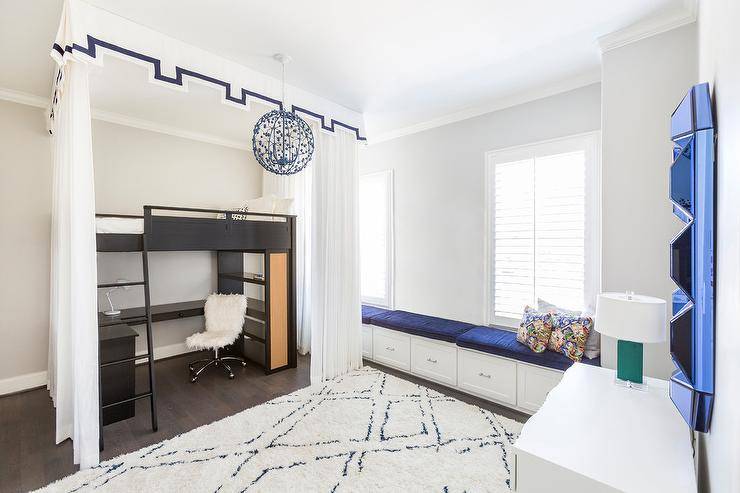 Maximize Closet Space with Over the Door Hanger Organizers
Expand the space you have in your closet by using plastic storage over the door hanger organizer. Store small items like hair accessories in this organizer and this will free up space elsewhere in the bedroom.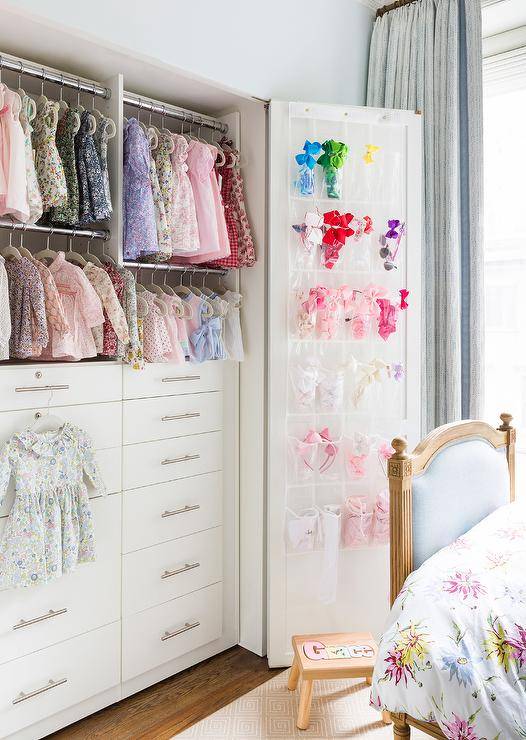 Visual Shoe Storage
Take pictures of your shoes and then tape them to the fronts of your storage boxes. This will make finding your favorite pair of shoes much easier and help to keep things in tight spaces more organized.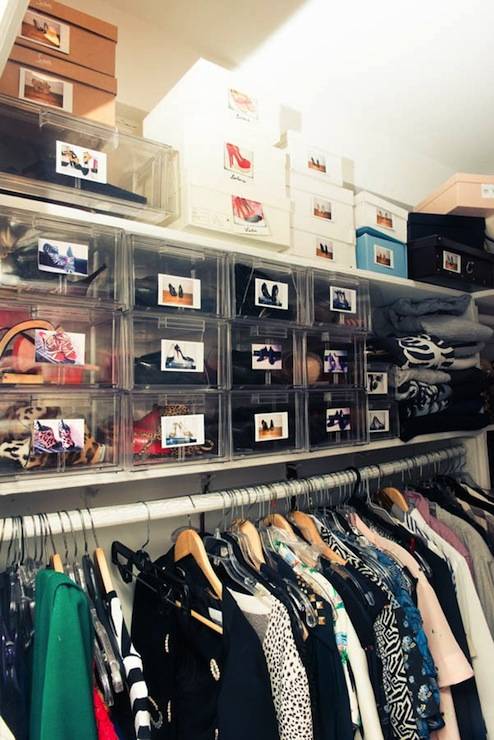 Hang Shoes
Maybe a closet isn't an option for you, and if that's the case, turn your shoes into art. I mean, we spend all this money on them anyway, might as well show them off!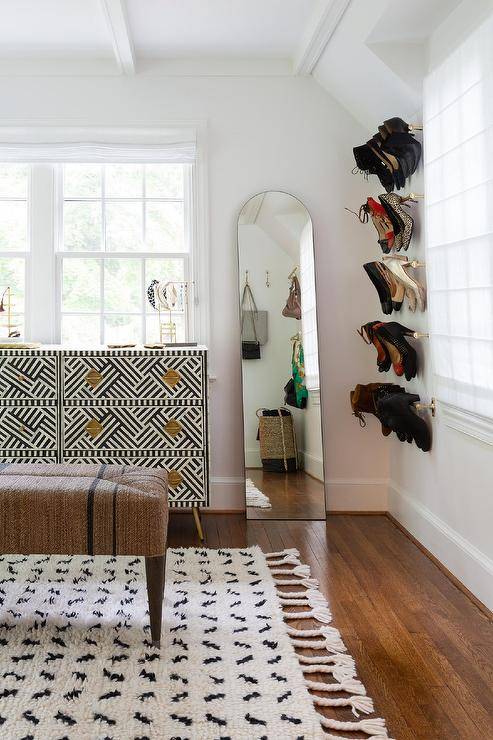 Likewise, shoes look amazing in clear wall-mounted boxes. These look so great here, I wouldn't want to take them down to wear them.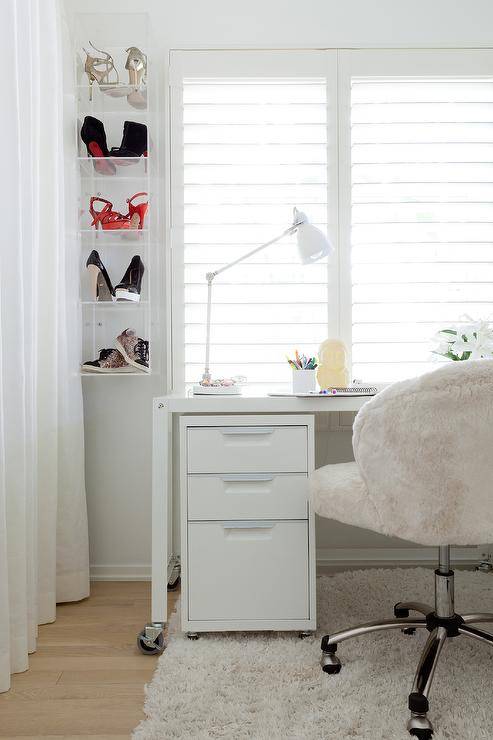 Another way to store your shoes and have them on display is with tension rods. If you have a close wall-to-wall space where you can stretch some tension rods across, you can then hang heeled shoes from the rods.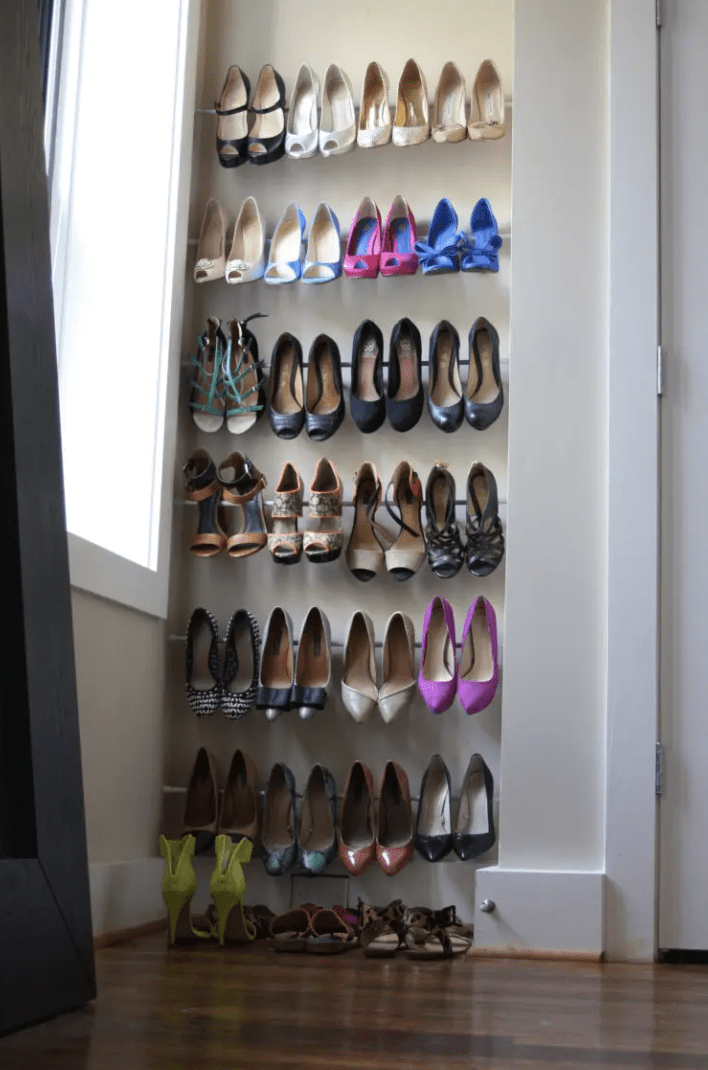 Hang Jewelry
Sames as shoes, jewelry can also be hung on an appealing pegboard wall. This provides decor and a place for your jewelry to be stored.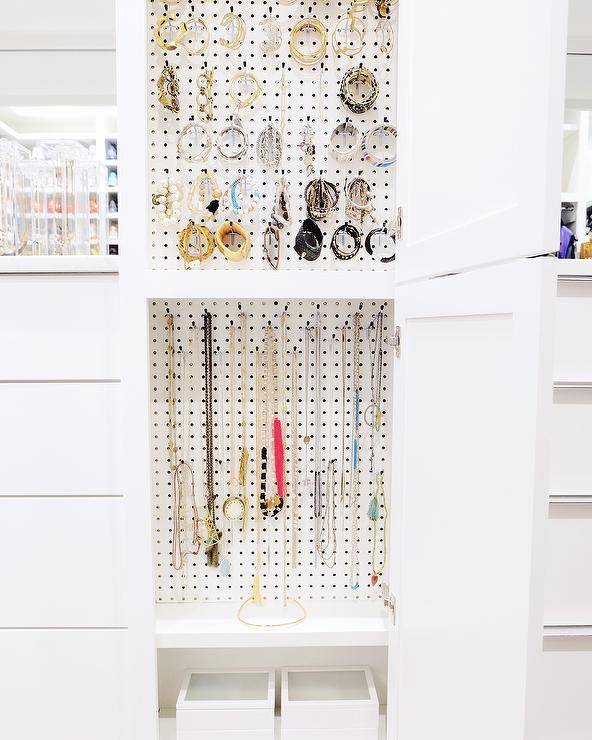 Window Bench With Storage
Utilize a window seat by keeping the bottom open for storage.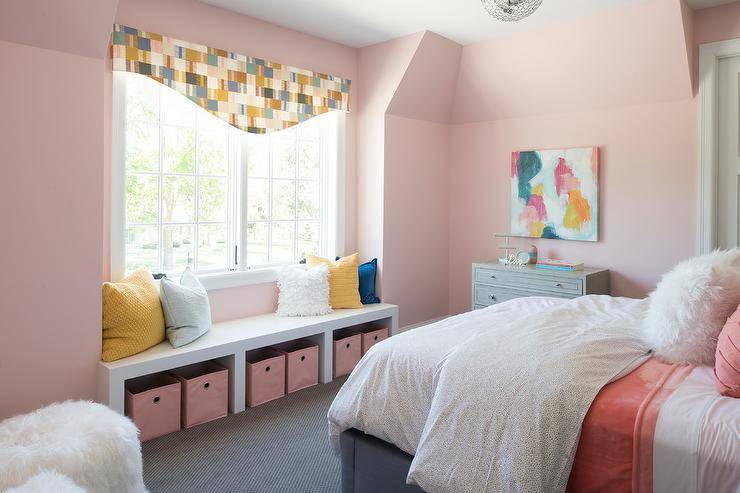 Hang Your Bedside Lights
When dealing with small bedrooms, it's important to make sure you have enough space to set things. Hang your bedside lights like pictured here so you are not using up space on your nightstands.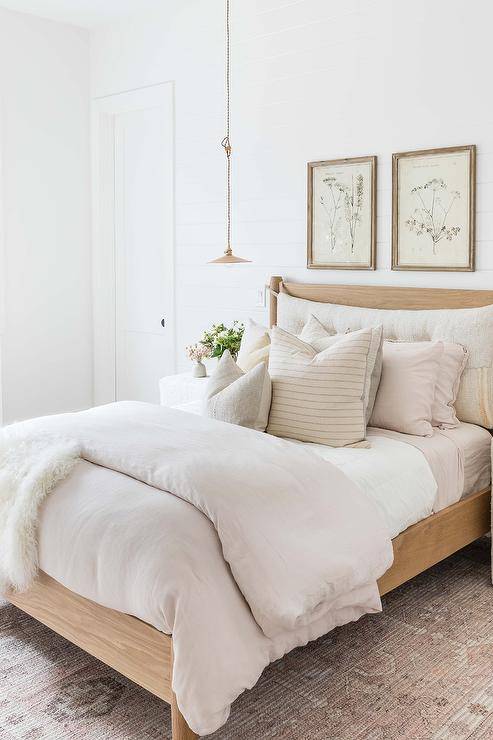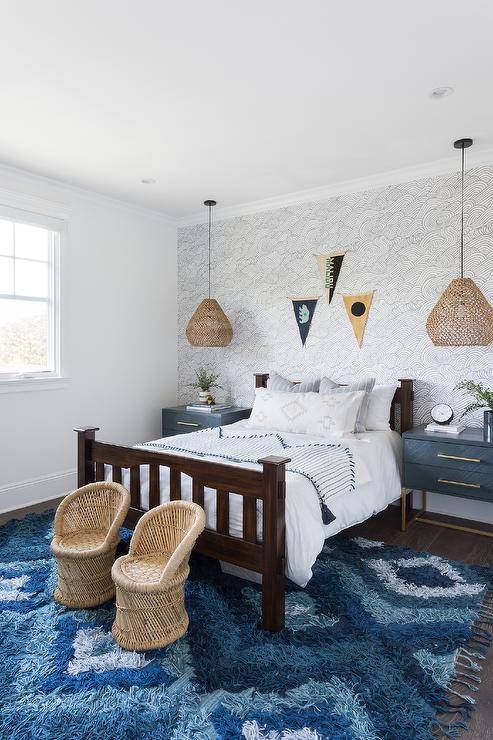 Functional Headboard
Use a Kallax shelf from Ikea as your headboard. This gives you a bookshelf behind your bed where you can store all kinds of things without taking up extra real estate in a small bedroom.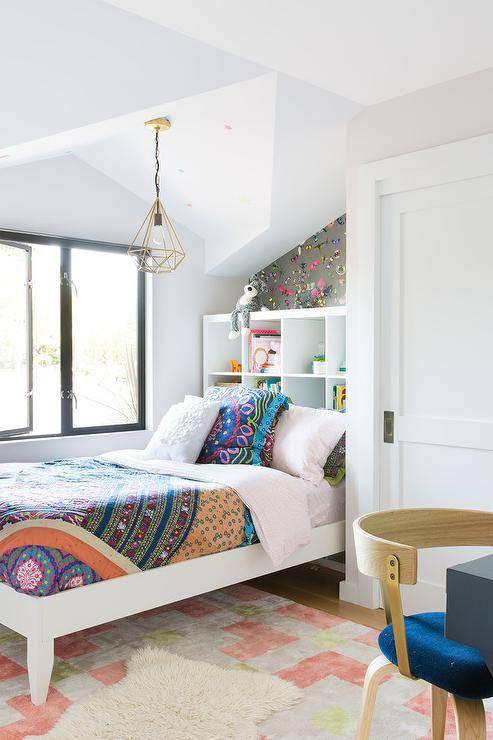 Bookshelf Over Bed
If you don't have enough room for a shelf behind your bed, you could try building one overtop of your bed.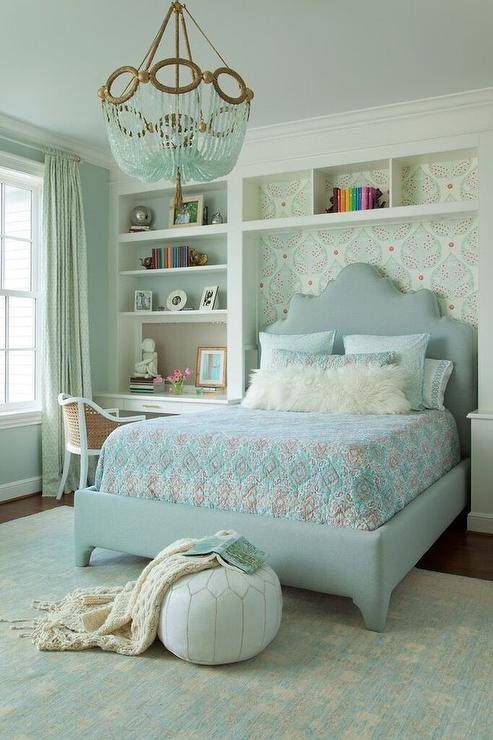 Floor to Ceiling Closet
Make the most out of a small bedroom and a small closet by taking your closet and extending it all the way up to the ceiling. Store things on higher shelves that you don't use as often.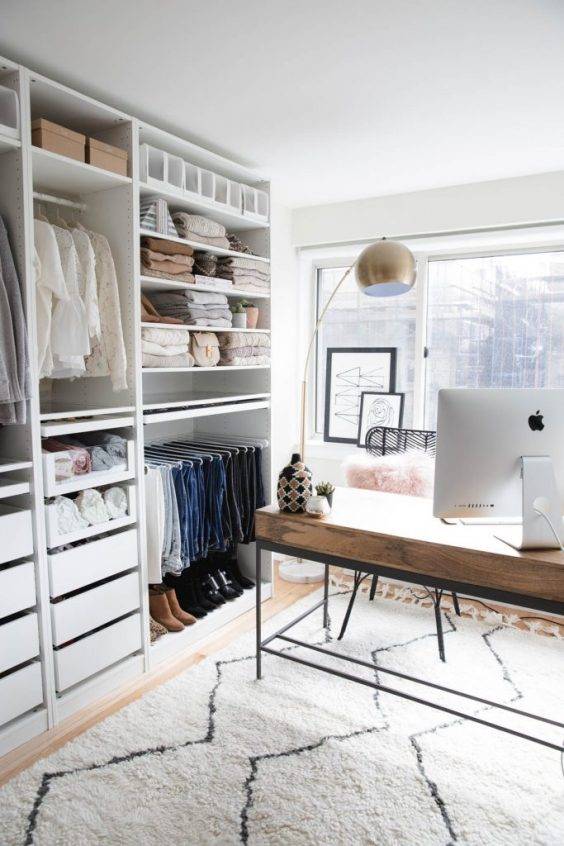 Mirror With Clothing Rack
Maybe your room is so small you don't have a closet at all. In that case, you can get a standing mirror that has a clothing rack built into it.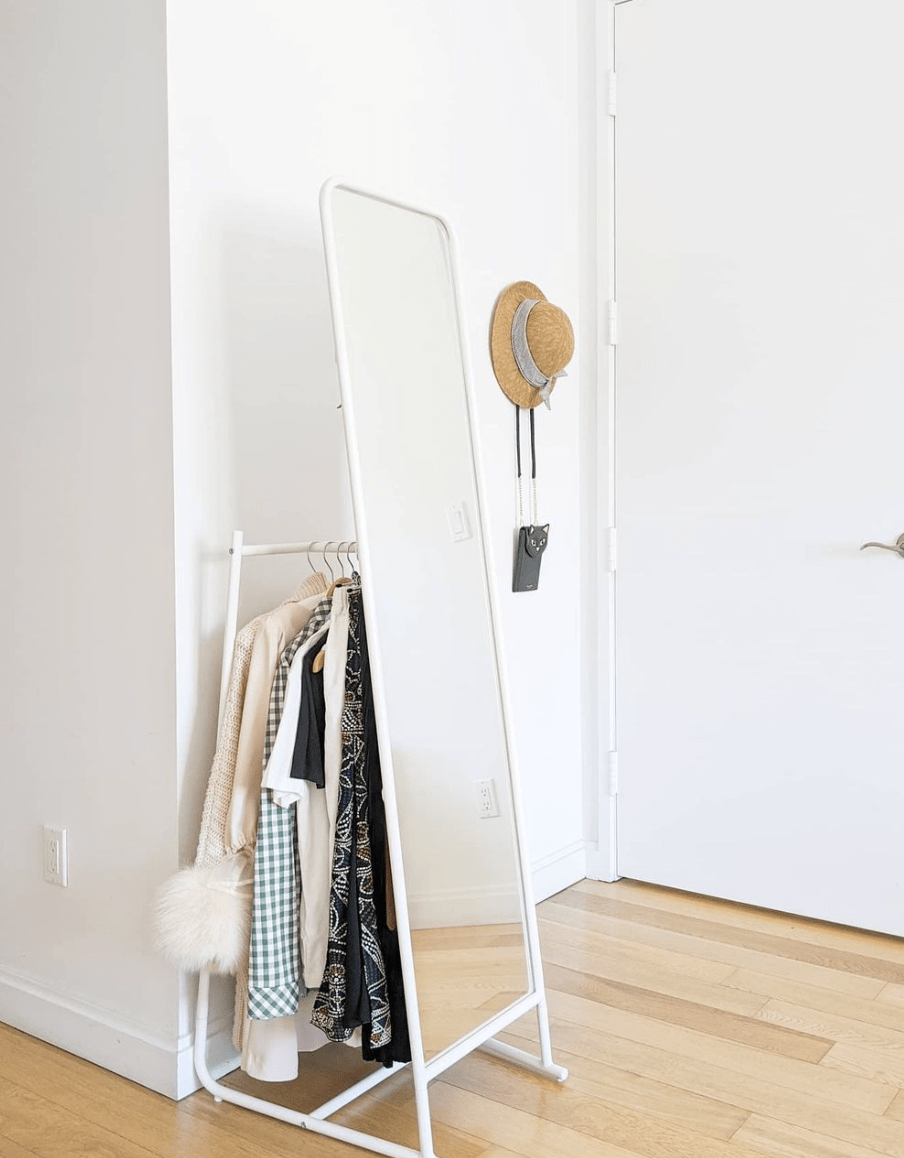 Clothing Rack
You can also get a freestanding clothing rack with shelving. This is great for those that are tight on space and don't want to fold all their clothes away in a dresser.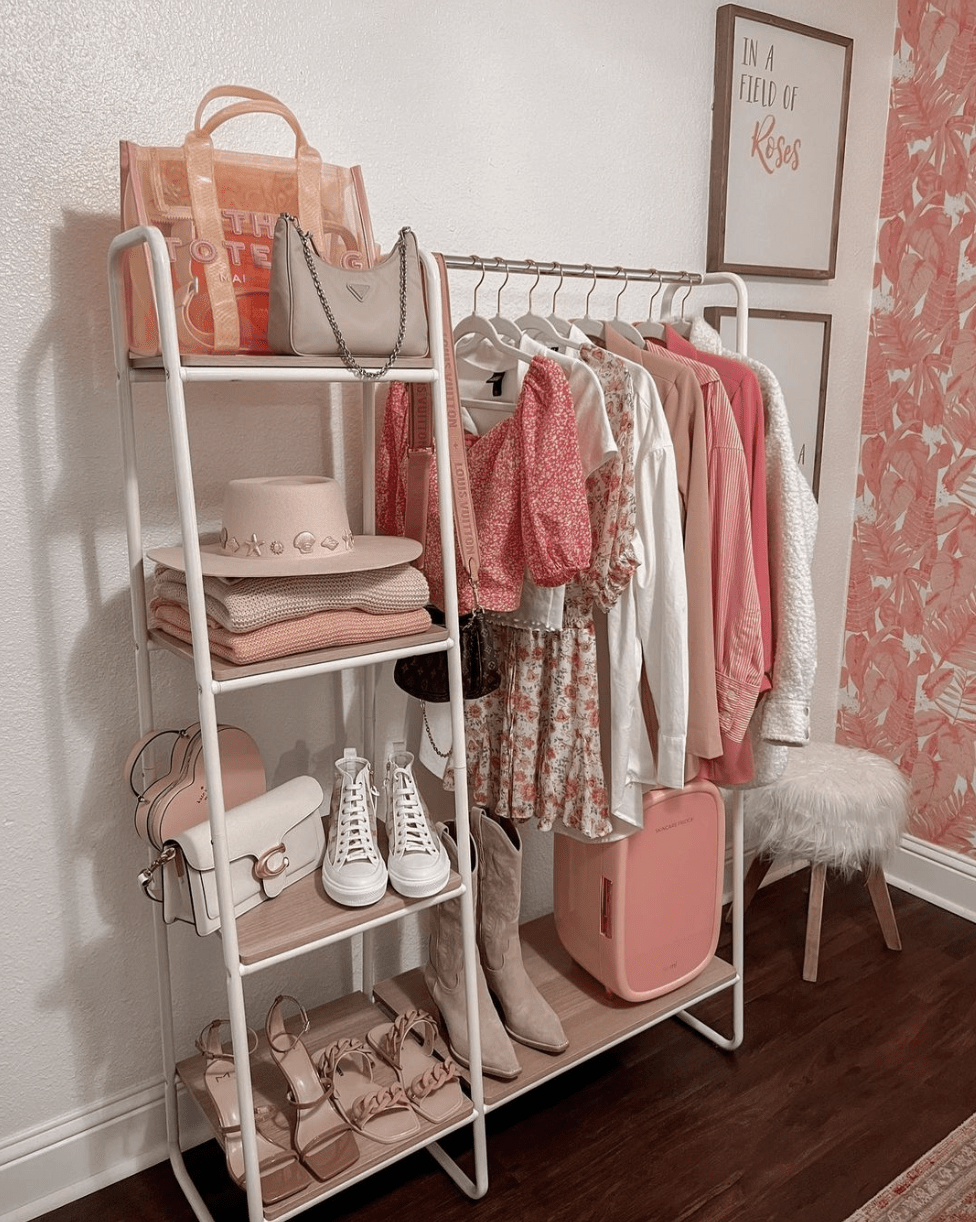 Floating Cube Shelves
Add some cute decor with floating cube shelves. These don't take up very much room and you can then place all your special items on display.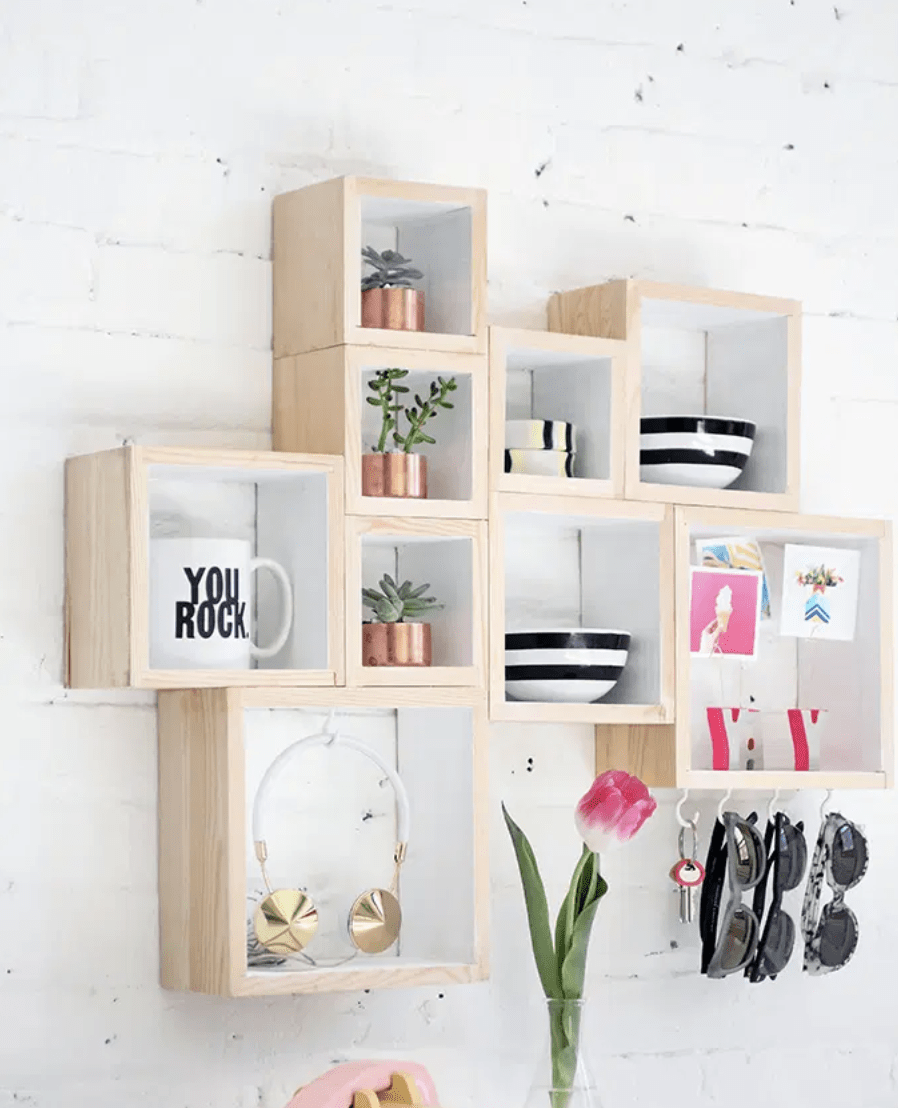 Murphy Bed
A murphy bed is a great solution for a tiny room. This one here is in a teen's bedroom and is a great idea for when a teen needs more space for a desk or anything else.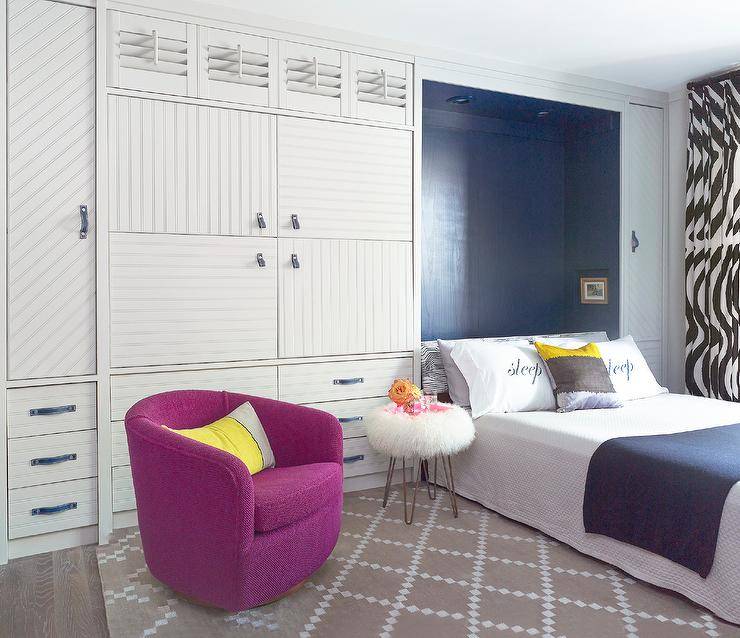 Handbag Organization
If you like a lot of handbags and accessories, invest in a behind-the-door organization system. These take up very little room and make good use of a space that no one sees anyway.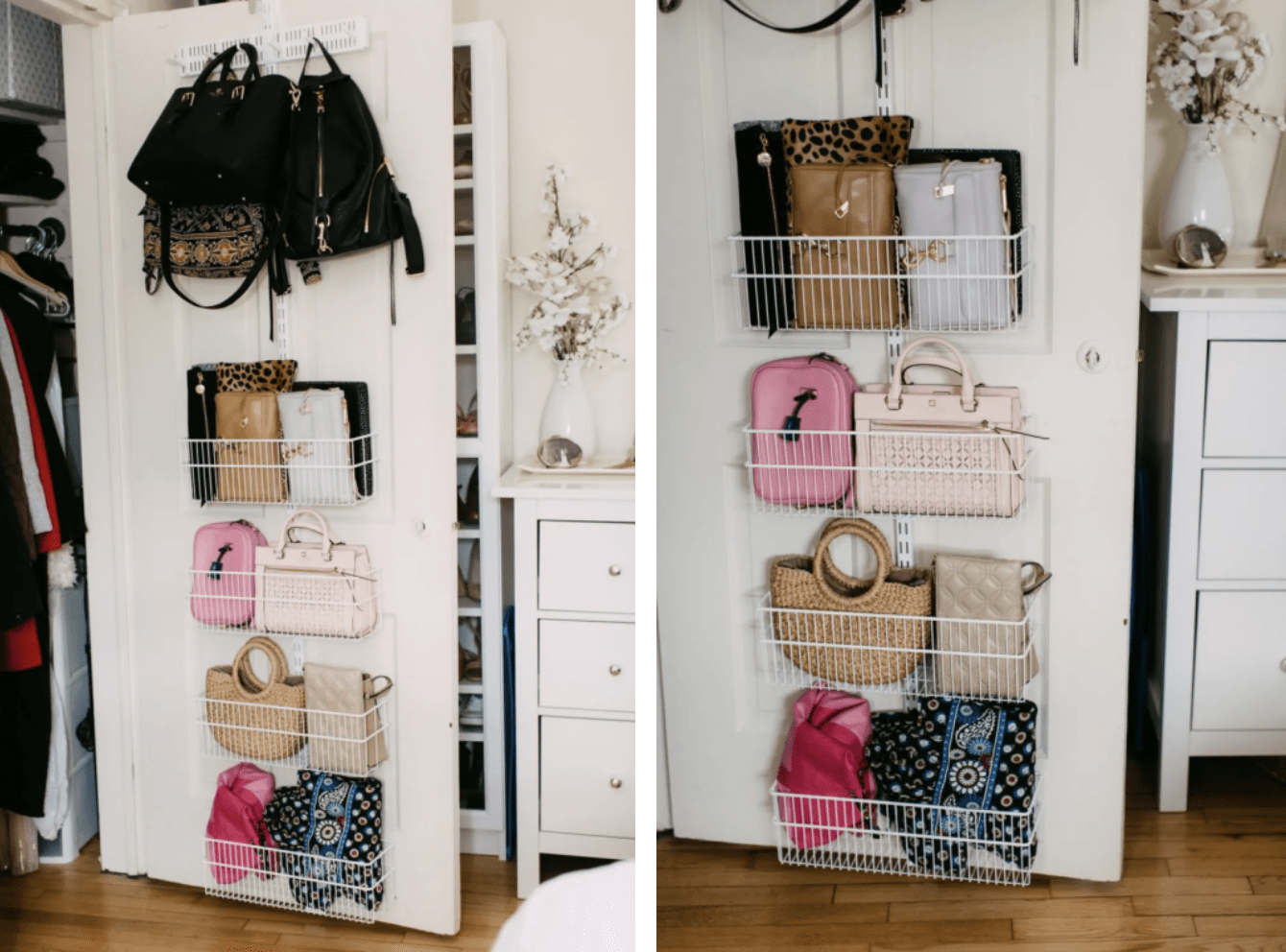 Organization is Key
For small rooms, being organized is the ultimate key to success. Don't just think about what's going on in the room itself, but also about what's going on inside drawers and closets. Keeping garments organized in small containers and boxes in drawers will help keep down clutter and allows you to store more.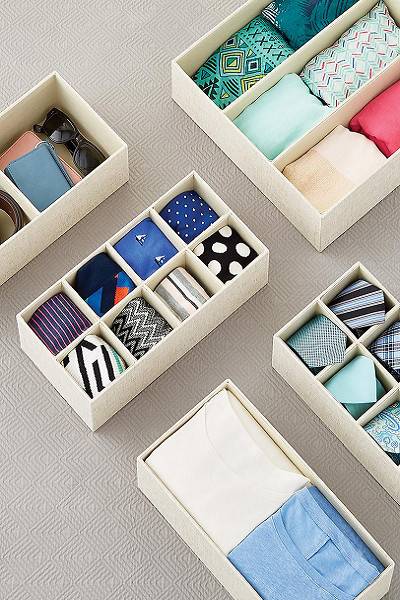 Mattress With Built In Storage
You can get mattress that have built in storage capabilities. You wouldn't want to store every day items in here, but this is a great use of storage for things that you don't use so often.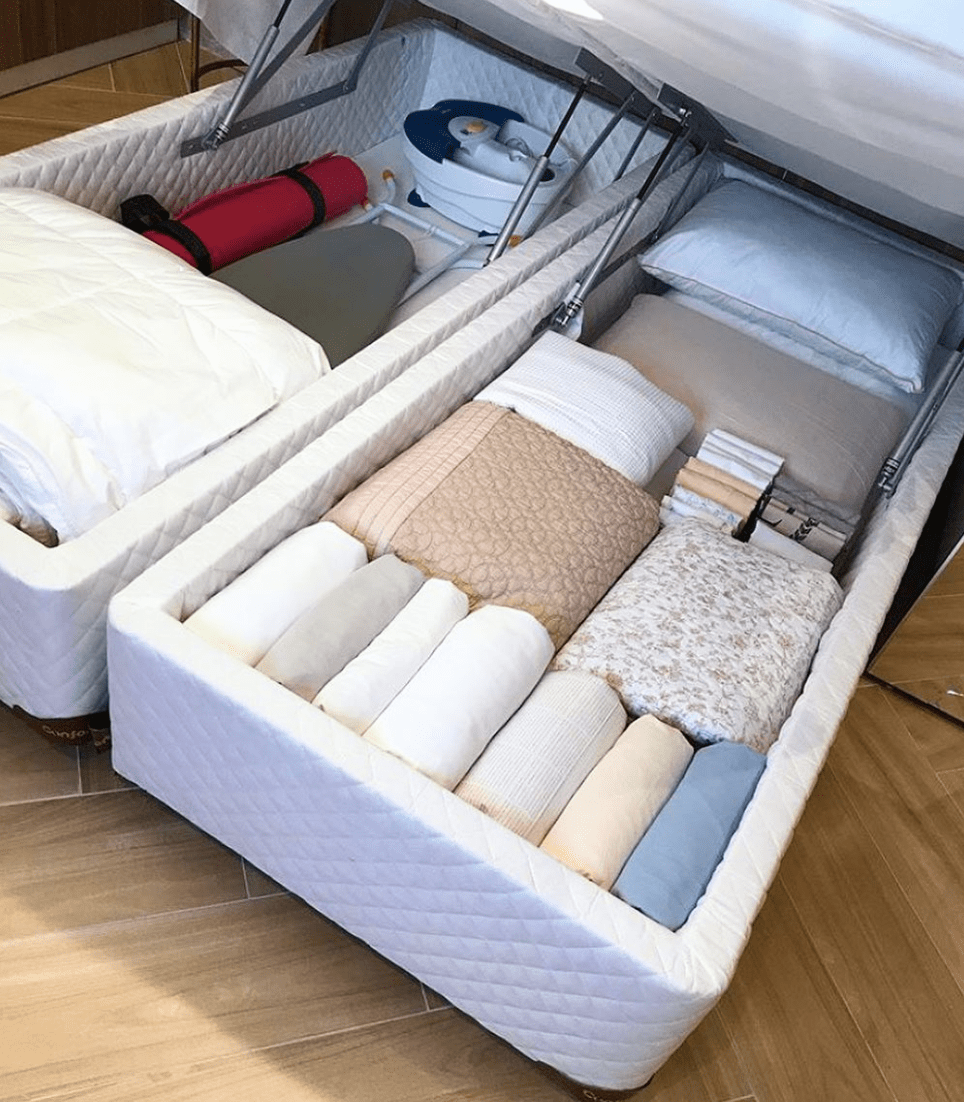 Staying organized can be mundane, especially if you lead a busy life. When you stay organized, you don't waste time looking for things and your room is tidy enough for you to relax and enjoy a good night's sleep. It might not be easy, but you can get all the help you need with these smart bedroom organization ideas.
Further Reading: Here are some more ideas that will help reduce clutter around the home:
Best Living Room Organization Ideas for a Clutter-Free and Healthy Home
Ditch the Clutter: 30 Minimalist Entryways
9 Ways to Enjoy a Clutter-Free Existence
Tidy Collections: Purposeful Displays That Cut Down on Clutter