A DIY Easter decor is an inexpensive way of cheering up your home while welcoming the beginning of spring. Easter design is all about happy colors and a pastel environment to wave the winter blues away. And, there are a lot of bunnies and Paschal egg merchandise too. DIY decors are a fun enterprise to keep the entire family busy aside from the customary Easter activities.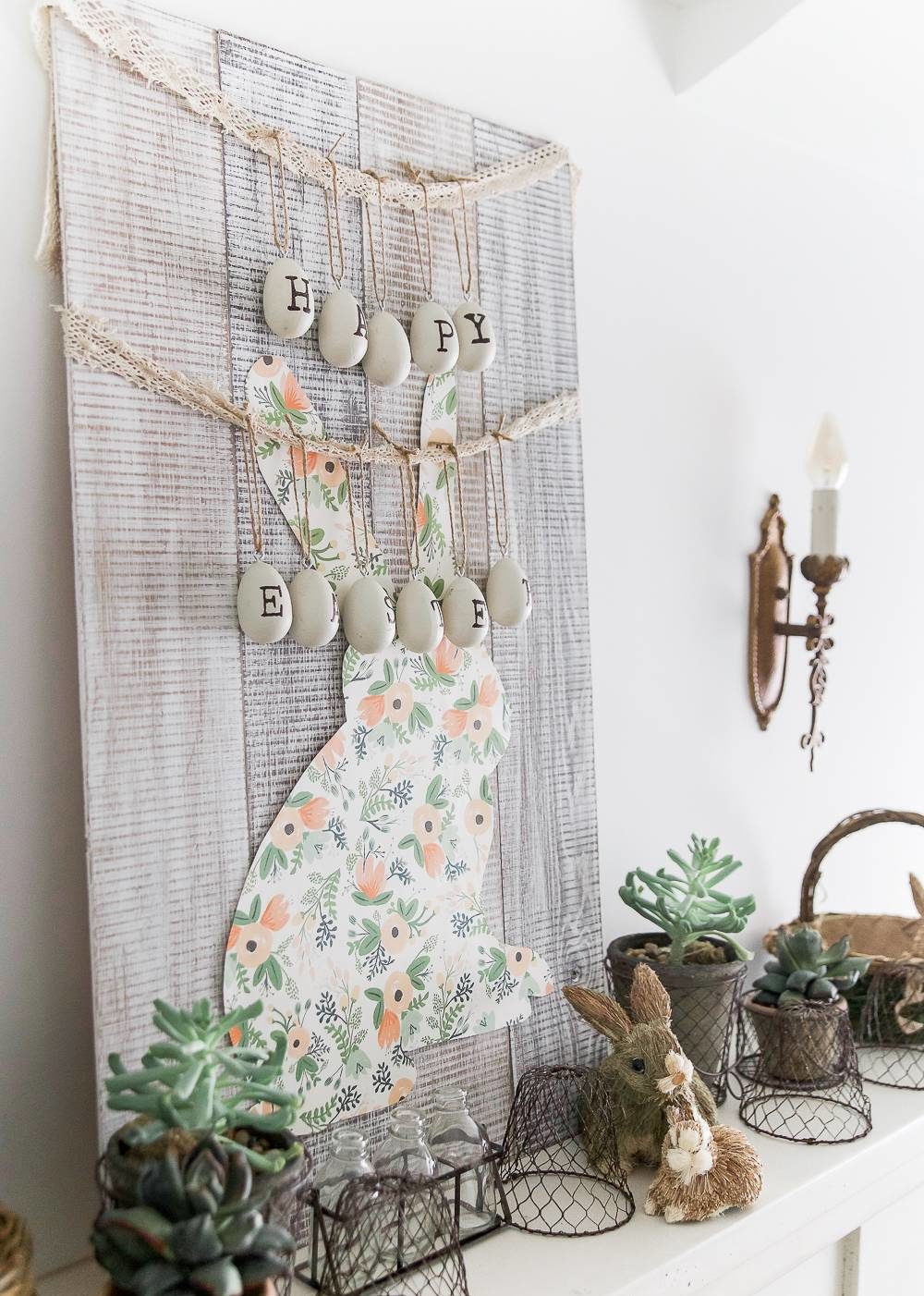 At the tail end of winter, you probably have racked up ideas of cool home embellishments. Have you started a creative project yet? If no, here is our list of some reasonable DIY Easter decor you and the children can get involved in.
Modern Easter Decorations You Can DIY
Stenciled Egg on Wood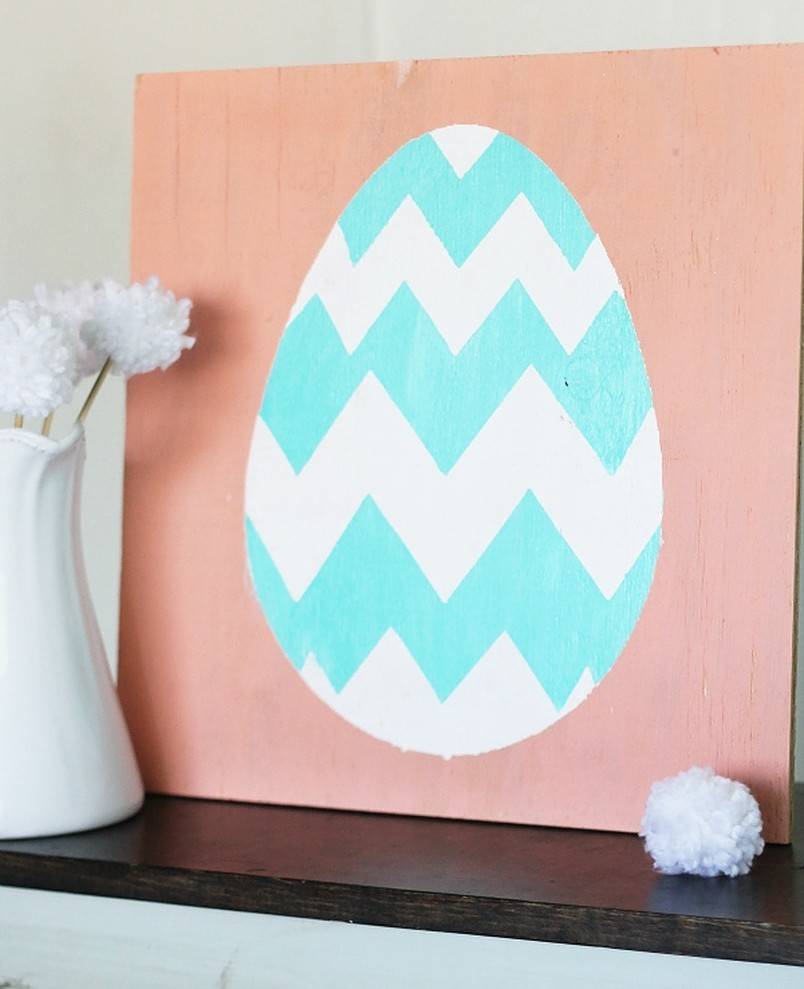 If you're running out of time since Easter is almost around the corner, go easy with effortless craft. Stenciling the DIY Easter decor on cardboard is one. But for something long-lasting that will see you through the next year, try it on a piece of wooden board. The simplicity of this egg-on-wood exudes the Easter spirit that will look good on the countertop the whole year-round.
Easter Bunny in the Mirror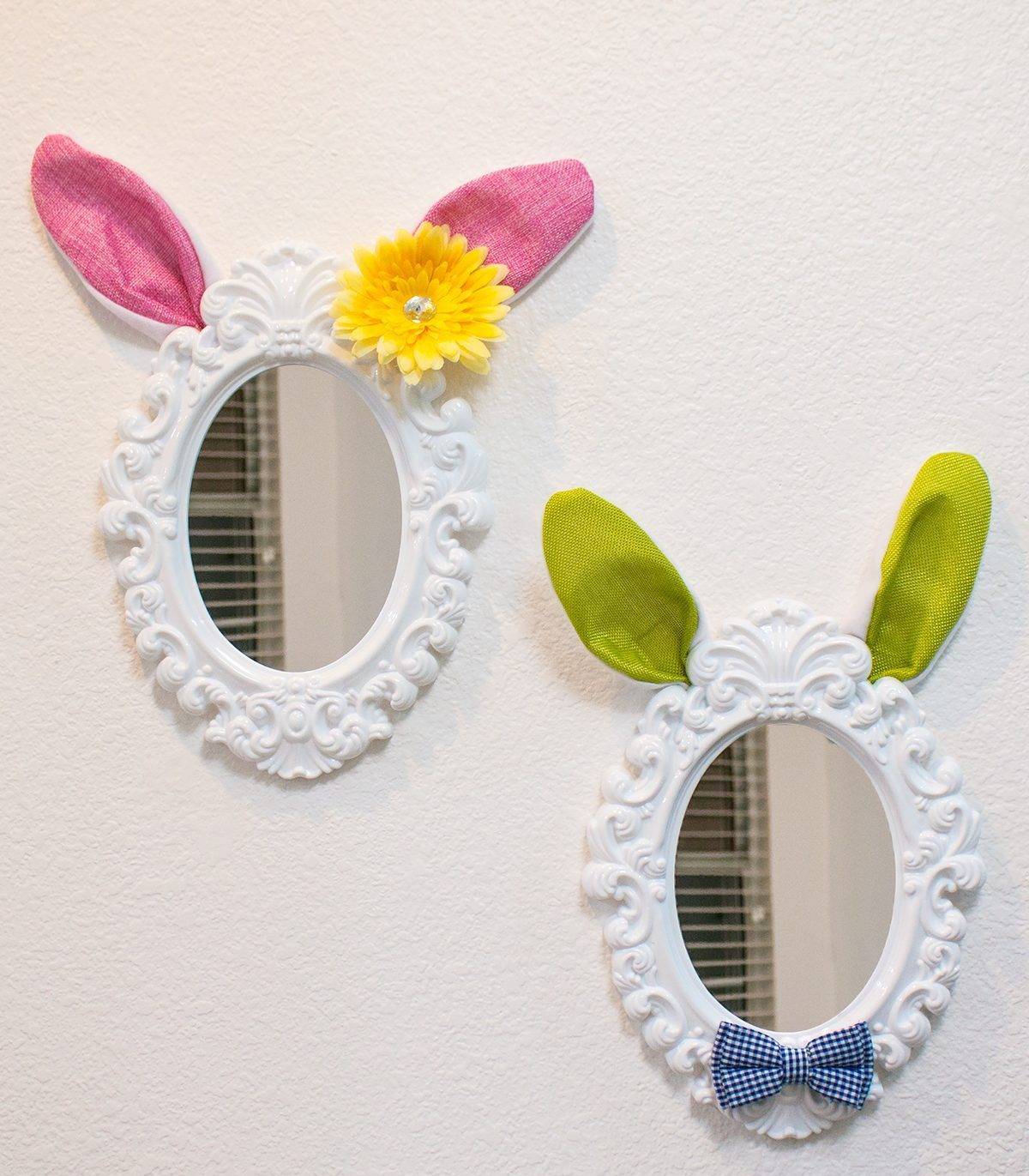 Easter bunnies are adorable – no wonder bunny filters are such popular filters on Snapchat. This year, why not create your very own bunny by your entryway mirror? Try something practical and affordable like these bunny ear headbands atop the decorative mirror. If you fancy having something for the boys and the girls, have fun with various headband colors.
Knock-Knock Easter is Here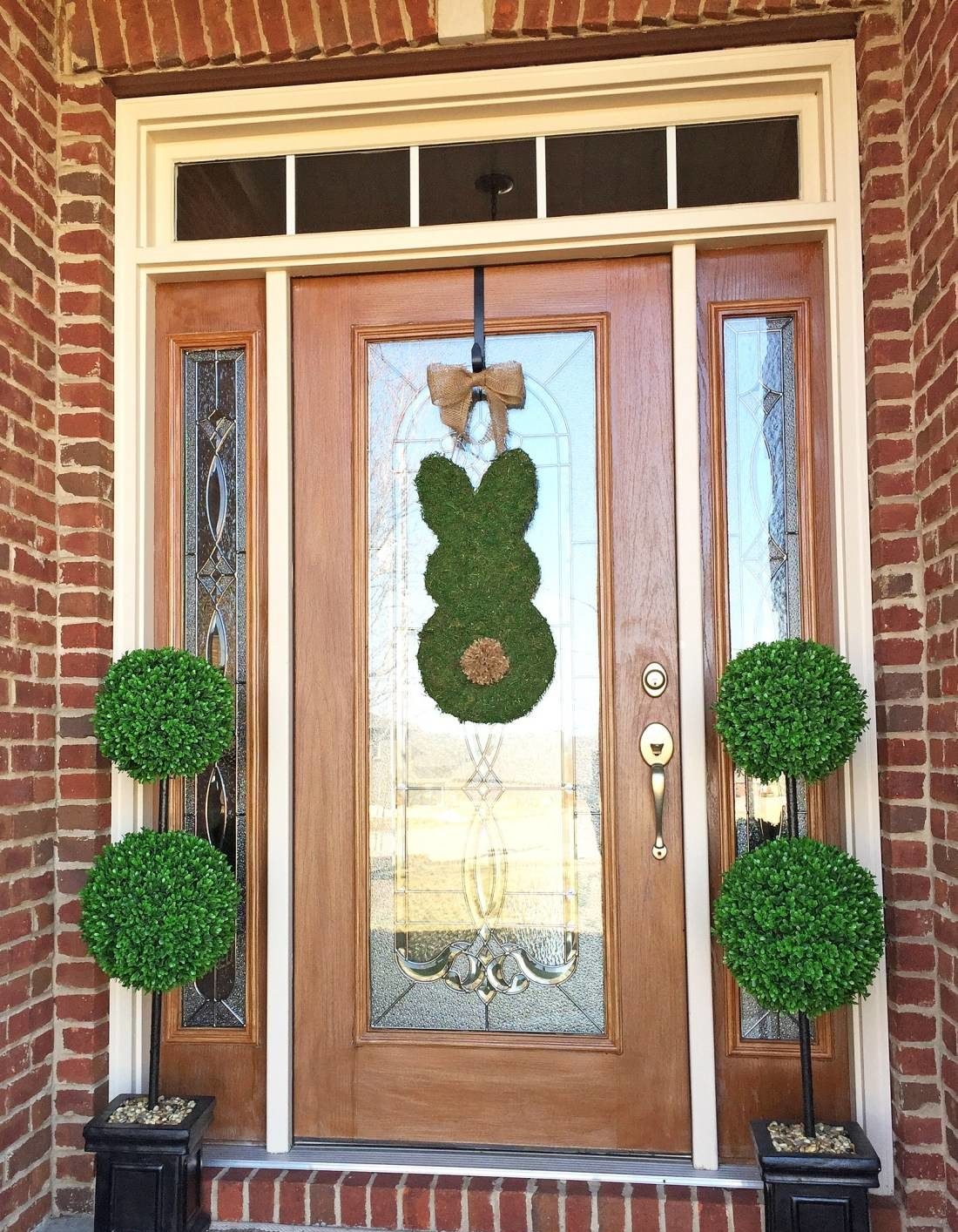 Get some fuzzy Easter bunny to add a welcoming vibe by your front door. Or better yet, make it appear like the sly little one just breaks into your door. You can steal this DIY Easter decor idea with a few crafty techniques using a moss runner as a door hanger. Add a fuzzy tail and some burlap bow for that quirky and fun atmosphere by the entryway.
A Colorful PomPom Tree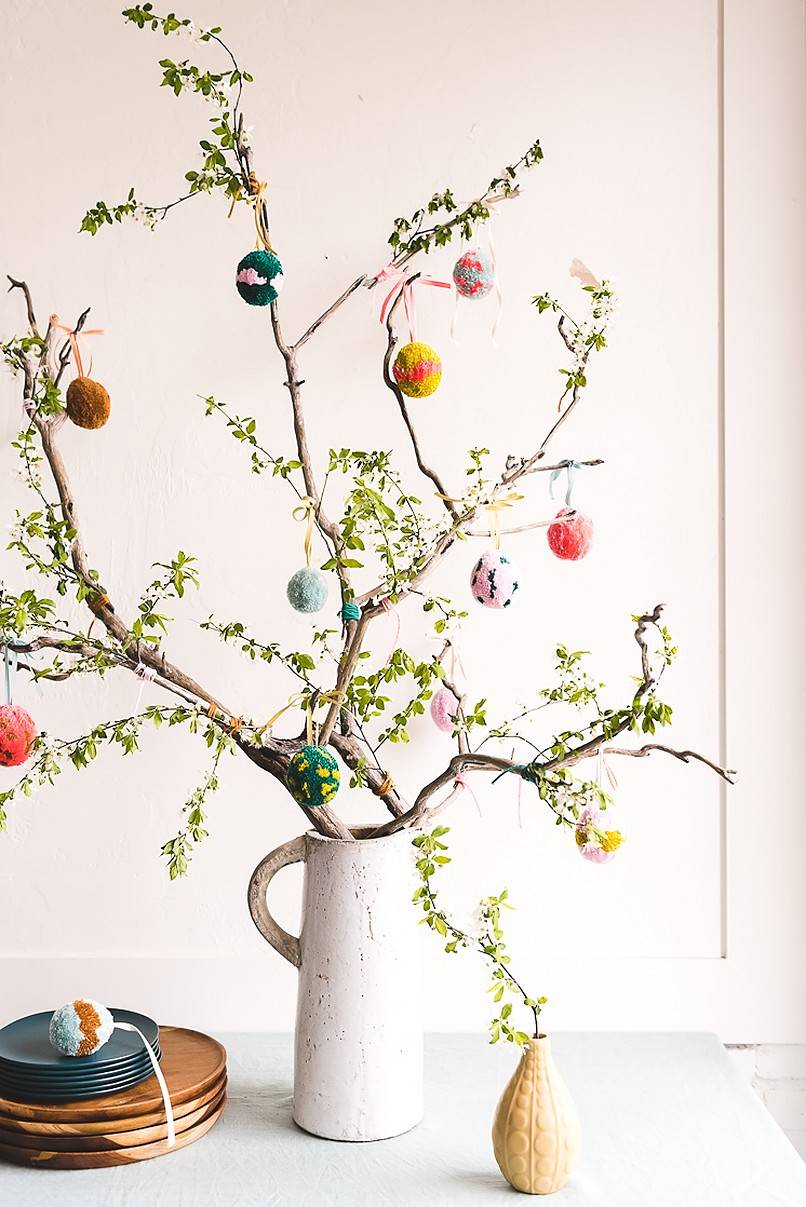 Unleash your creativity with DIY Easter decor that will also entertain the kids for hours while making. This pompom Easter egg tree will brighten up your corner with tasteful-looking pieces. Made entirely of yarn and a bit of patience, you can have these cute little fluffy balls in no time. Hang them on dried twigs, or maybe on live plants to add a burst of unique colors.
A Pysanky Easter Egg with a Cultural Twist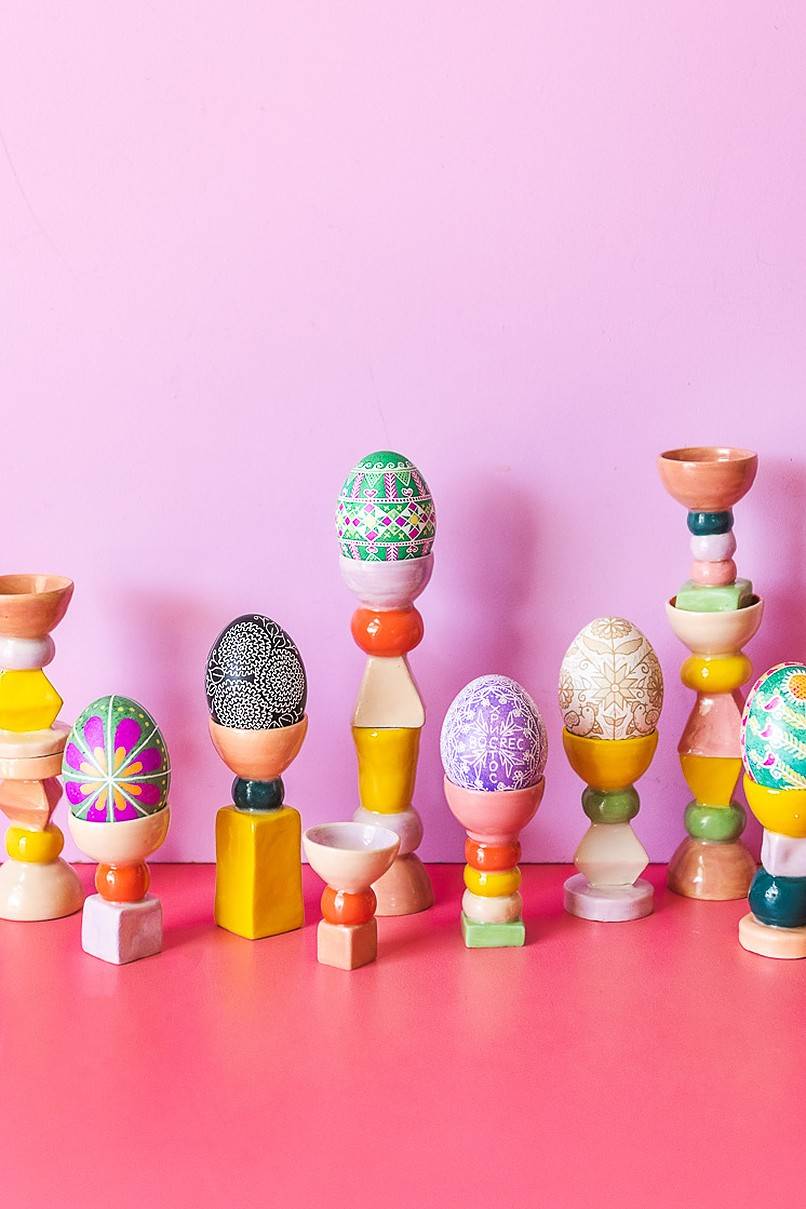 Pumpkin is to Halloween as a colorfully decorated egg is to Easter. And of course, when it comes to egg decorating, food coloring is always our go-to dye. If you want to treat your Easter egg uniquely, check out the Pysanky Egg. It is styled using wax and a traditional stylus. Then you can outline intricate details and take your DIY Easter decor to a whole new level. So, say goodbye to those awkwardly scratched egg designs.
Present the Dinner in Funky Style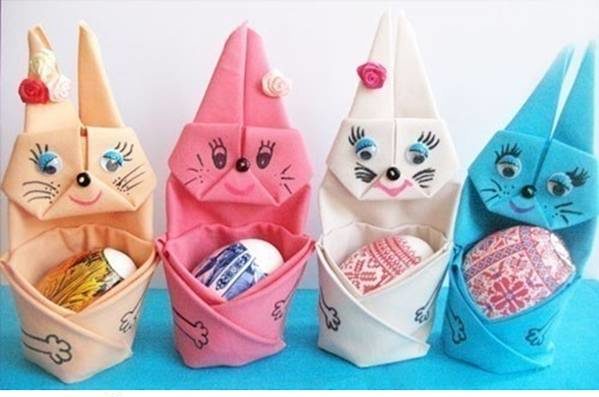 Exquisite tablecloths and crafty centerpieces are what set the Easter table apart from other holiday brunches. Here is another way of bringing in some fun and livening up your table – DIY Easter decor from table napkins! Of course, table napkins by themselves are such a wonderful statement piece in various folds. Excite your guests with a funky table napkin folded as a bunny holding an Easter egg. Let them crack up by adding googly eyes and facial details like these dotting bunnies with egg pouches.
Are You Lost, Little Bunny?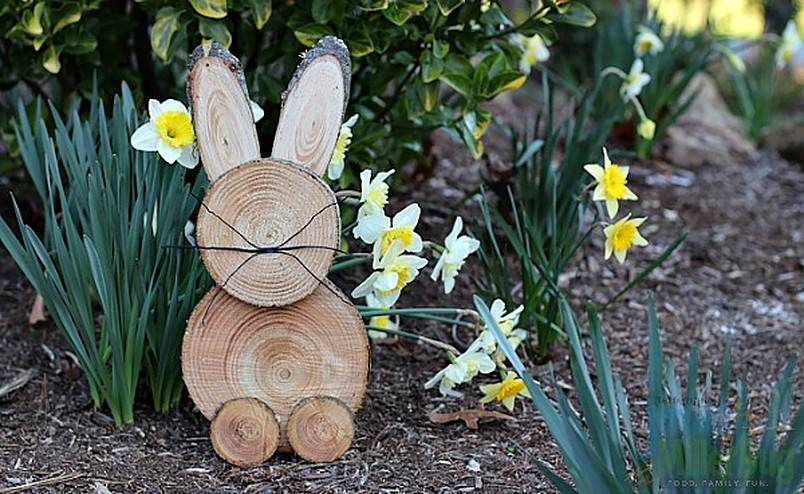 Say hello to spring and step out into the garden with exciting DIY Easter decor ideas. Nothing would ramp up the fun better with some classic and quirky picks. But there is no need to head over to the thrift store if you can find inspiration within your backyard. Check out this handsome bunny made from a fallen tree and different branch sizes cut into disks. They are cute and creative pieces that will surely spice up any garden.
Classic Farmhouse DIY Easter Decor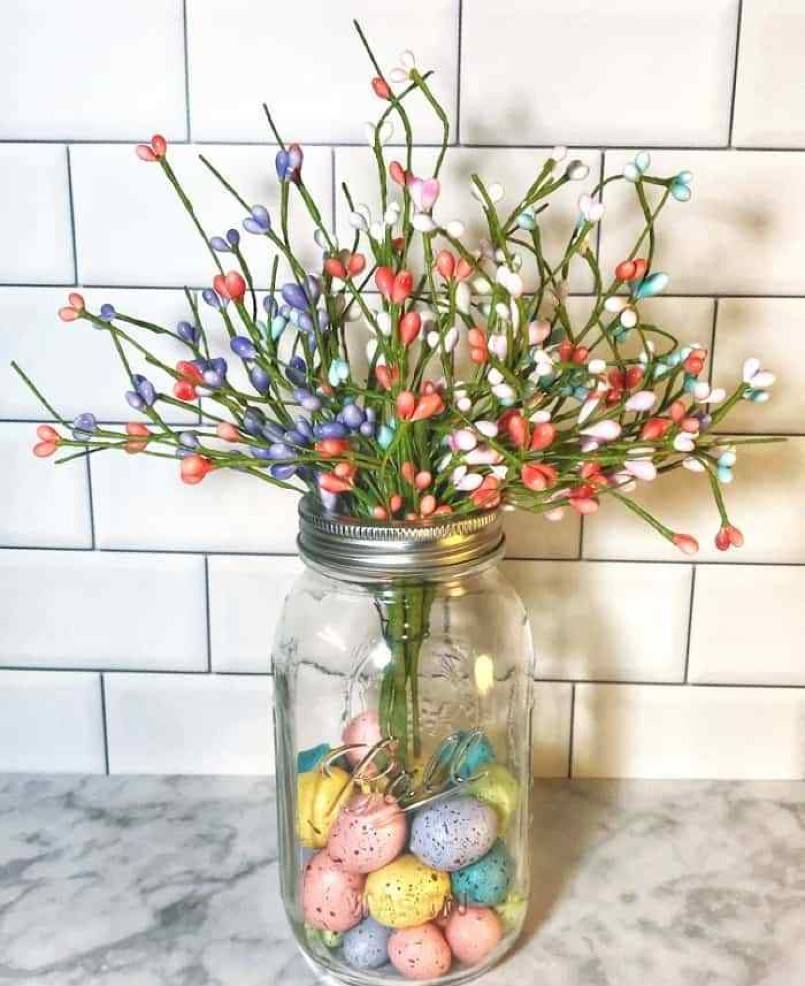 Stick with the modern classic and throw in the spring vibe using mason jars and artificial stems. You can easily assemble this and then put some Styrofoam Robin's egg at the bottom. Or, you may nestle your eggs atop a farmhouse-style tin container for that urban appeal.
Stitch Printable Patterns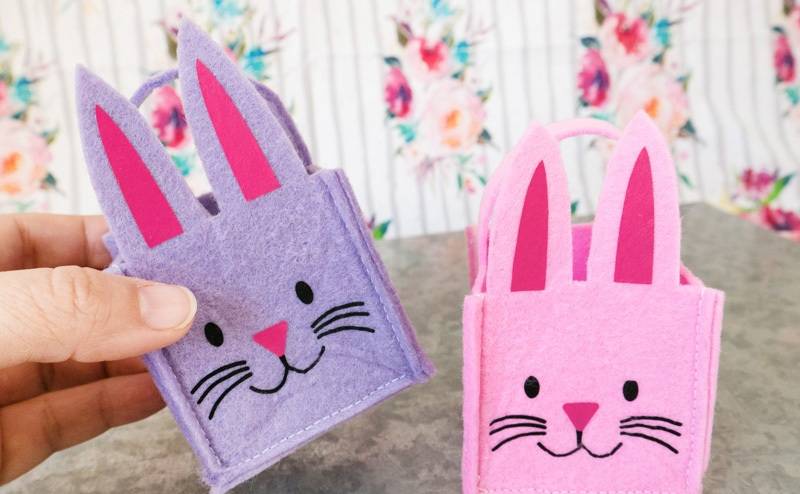 Excite the little children as they go about with their Easter Egg hunting. You can go big with baskets that they can load up with their goodies. Or, you can settle with these mini baskets to give away as cute souvenirs. With some colorful felt, you can stitch printable patterns and get yourself busy with this customized project.
Have Fun with the Basic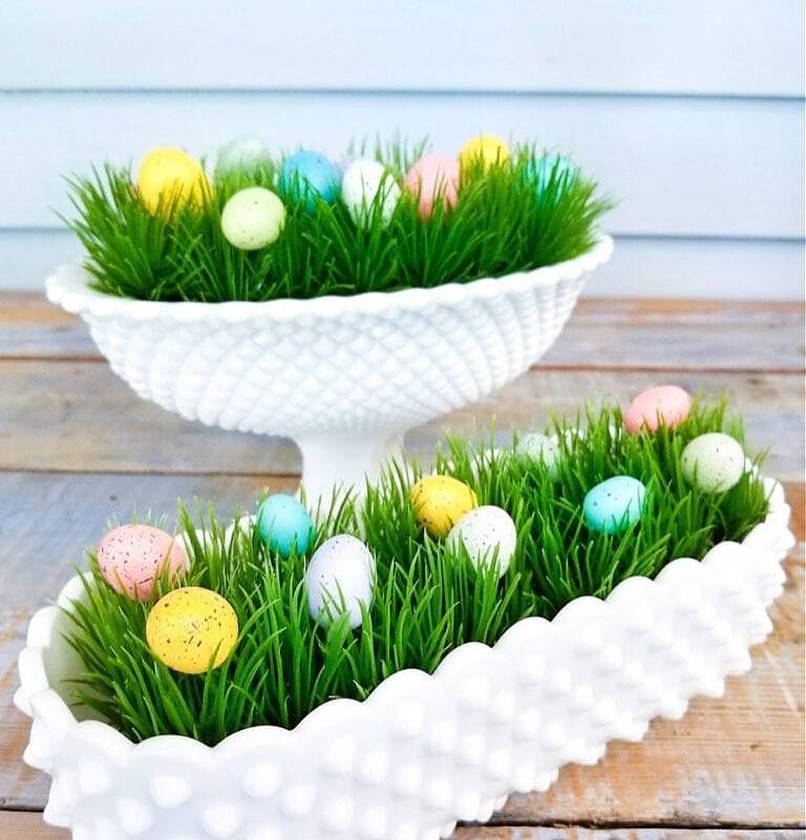 Green grasses and colorful eggs mark the good old Easter memories that we probably all grow up with. So, if you do not want to veer away from the classic, set up your assortment of Easter eggs over the grass. Or you may do a miniature version using a plastic grass mat and chocolate eggs. Look at how this good old DIY Easter decor gets a chic modern upgrade using a hobnail milk glass holder.
A Curious Bunny for the Show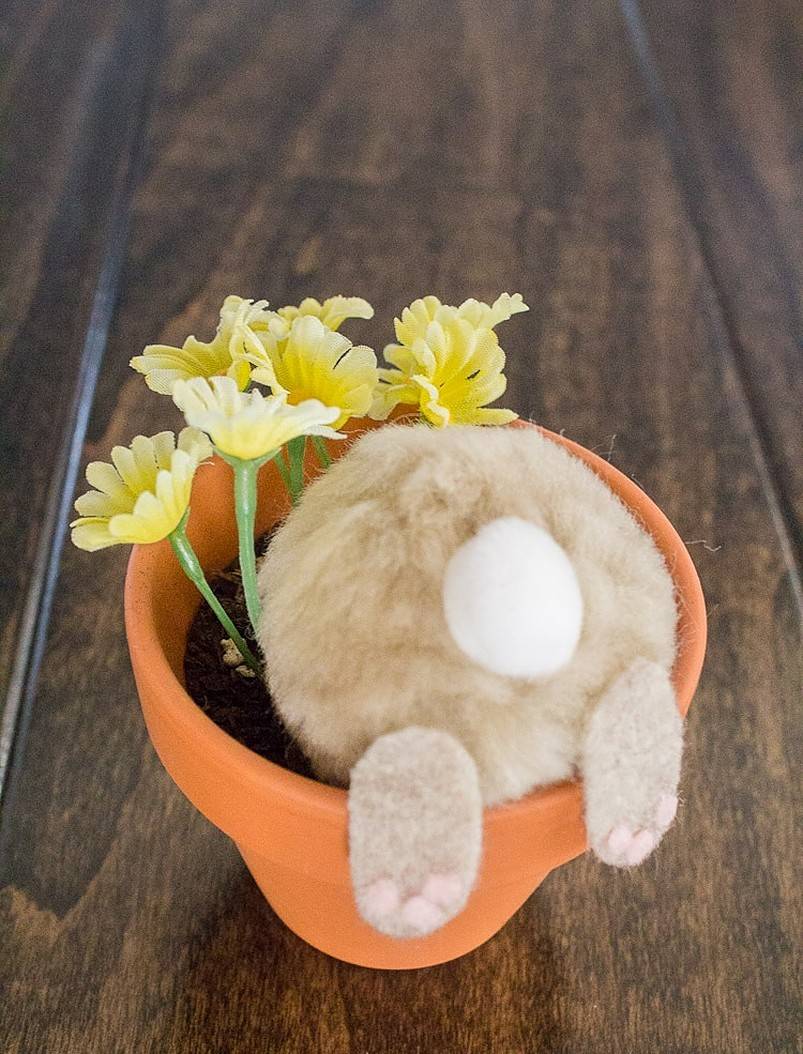 Of course, let us not forget the curious bunny. You can also whip up this quirky DIY Easter decor with few craft materials and even with a little time. Just stash a huge pompom on your planter or flower pot. Glue those two cute little felt feet and a smaller fuzzy pompom tail. Slide it on your table and turn it into a charming place cardholder. So, maybe make about a dozen pots more?
Set Up an Adorable Easter Countdown Calendar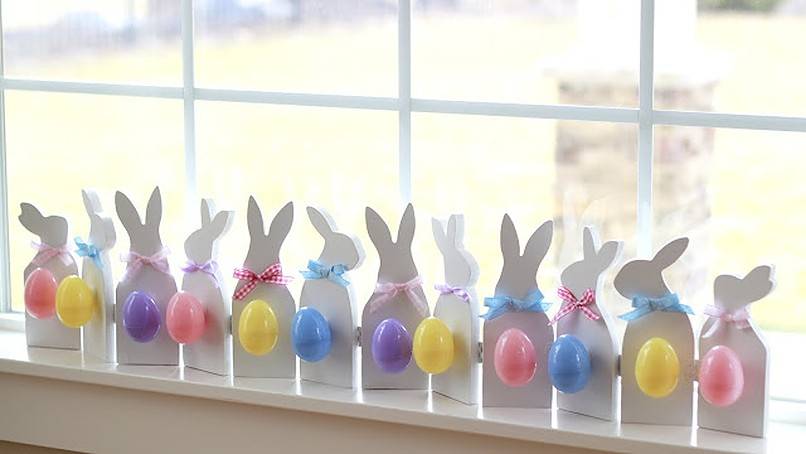 If you are tired of the morning litany "is it Easter yet," take the matter into your own hands. The 12-days Easter countdown calendar is a fun kids' DIY project that kids at heart will also enjoy. Turn dates into wooden bunnies like this to know how many more days till Easter. Aside from the countdown, it will also add more charm to your windows. So, hurry up and contain kids' excitement with this Easter countdown calendar.
Recyclables are the Best DIY Easter Decor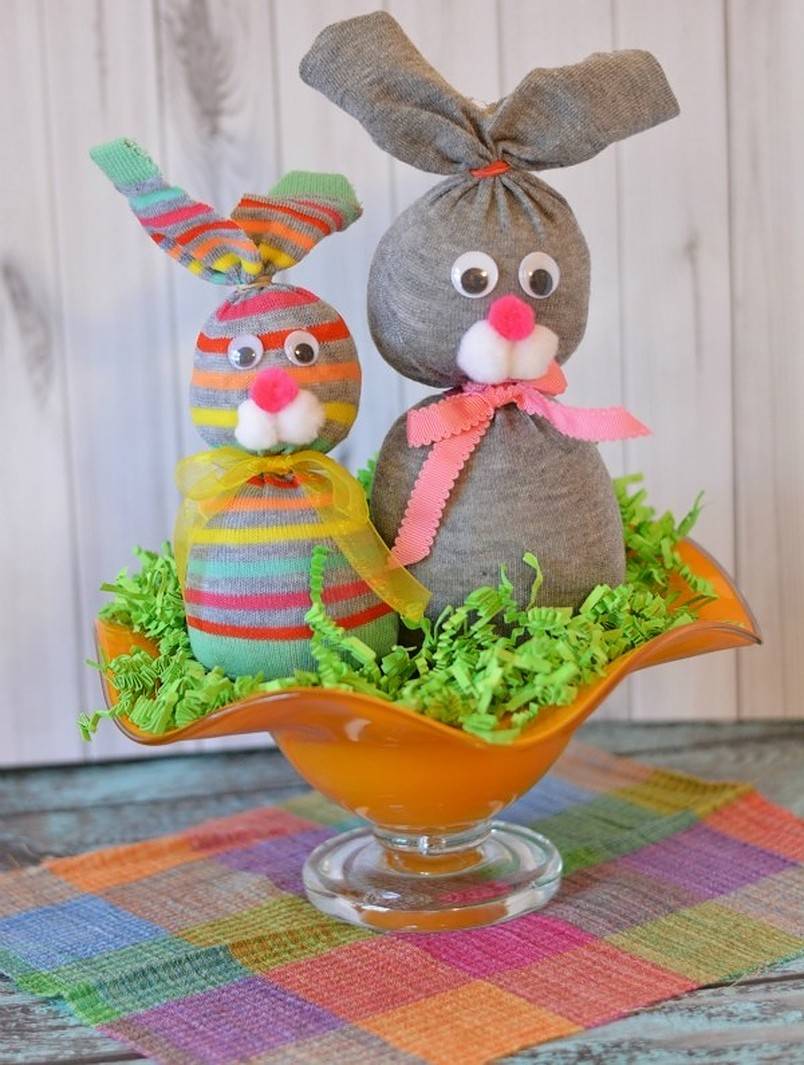 Go budget-friendly with stuff you can find around the house. With heaps of creativity, you can transform pretty much anything into a unique DIY Easter decor. Because you know, not all of us have the time, skills, or patience to craft one. Starting with recyclable waste is also a greener way of decorating without burdening the earth. Who would have thought old socks like these decors can be made into funky little bunnies?
Light It Up with Egg Candles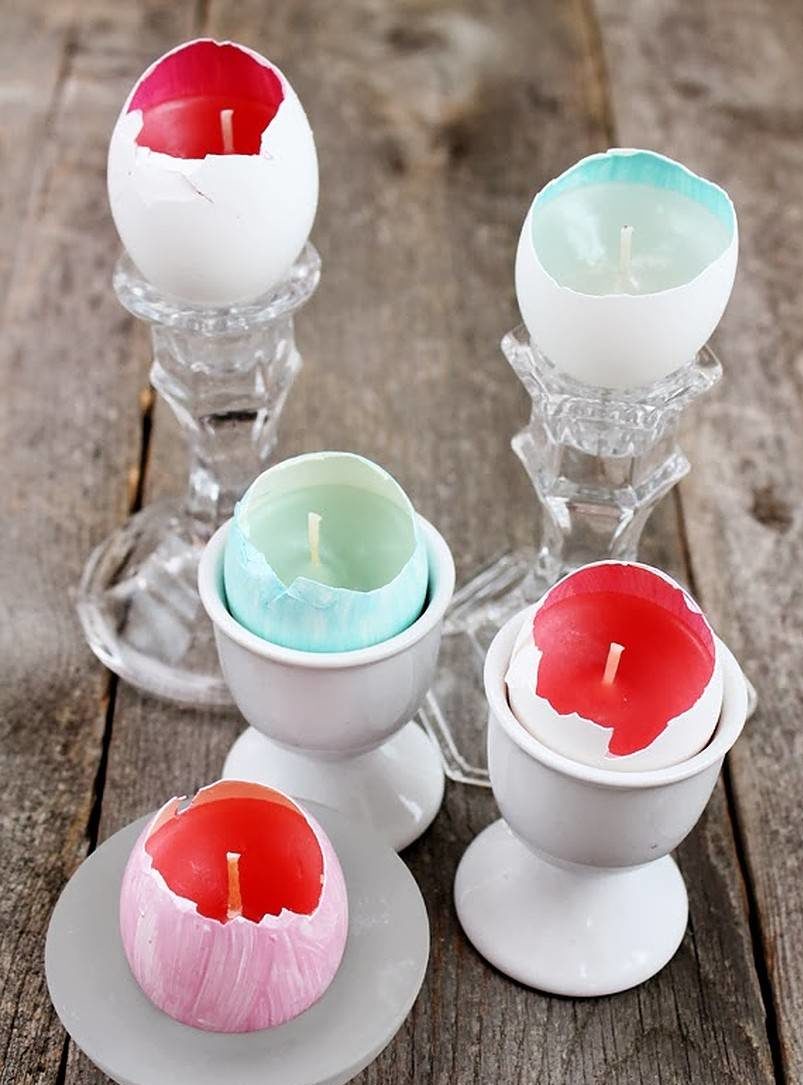 This DIY Easter decor will surely bring light and warmth into your home, literally. It will also contribute a kind of playful spirit to the room. This inexpensive decor is easy to make using used eggshells – we bet you have plenty of it around. You can paint it as you would with your usual Easter eggs. Fill it up with melted candles and plant in a candlewick. Scented candles are great if you want to give them a distinct character. Set up your Easter egg candle on an egg holder and go ahead with your romantic dinner.
A Lovely Egg-full Wreath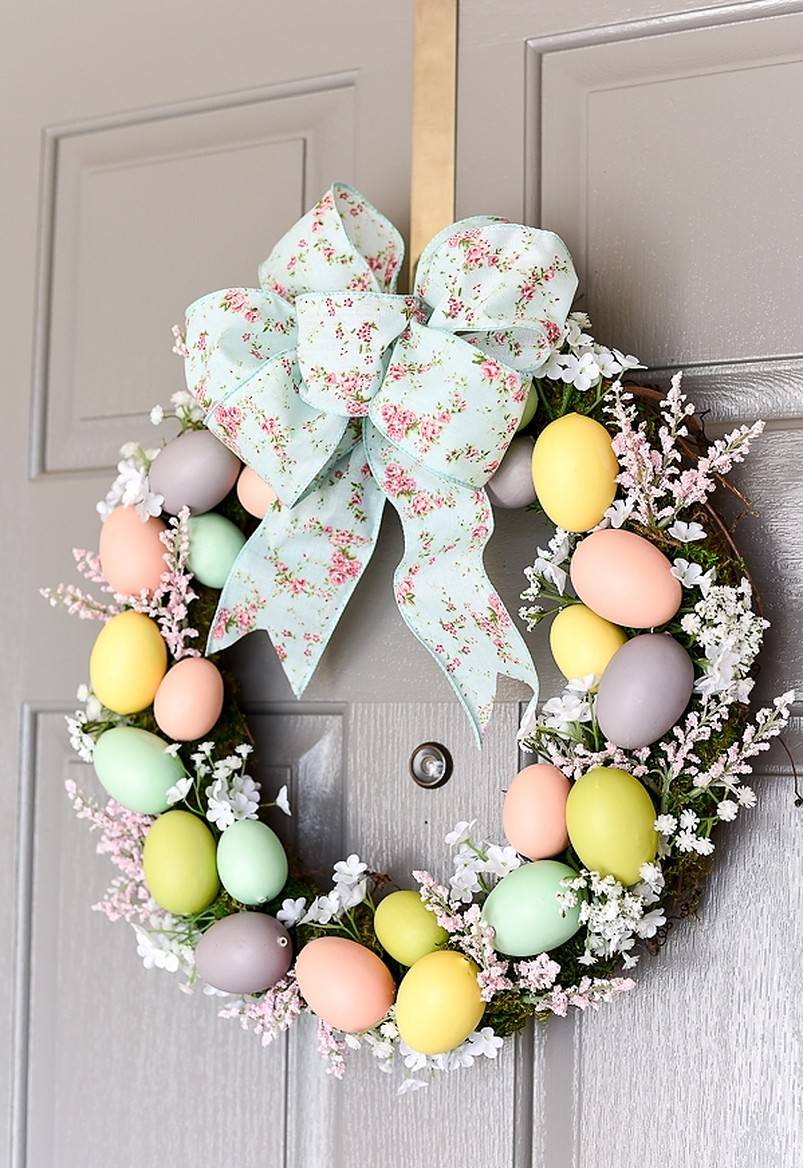 Wreaths are an all-around representation that makes every holiday and occasions feel extra special. How you tweak it into an impressive decor is up to you. You can get the Easter vibe right into your front door with a wreath that also defines the spirit. Love the simplicity of this spring and Easter-inspired wreath full of eggs hanging on a charming bow. The pastel flower decors and a teeny bit of green moss complete the modest look of this DIY Easter decor.
Takeaway
Even simple Easter decorations can go a long way in adding a festive statement to your home. The artful inspirations are endless. If you look around, you can surely find unique pieces to work on. So, get the craft project rolling and pull out the camera. Who knows, one day, your DIY Easter decor will also find its way into pages like Decoist.