The best porch decor ideas can fulfill the home's need for a welcoming and homely vibe right by the entryway. The porch is the extension of your living room, so it pays to make the most comfortable venue out of it. It is also the part of the home where your guests can make a first impression and overview of the entire house.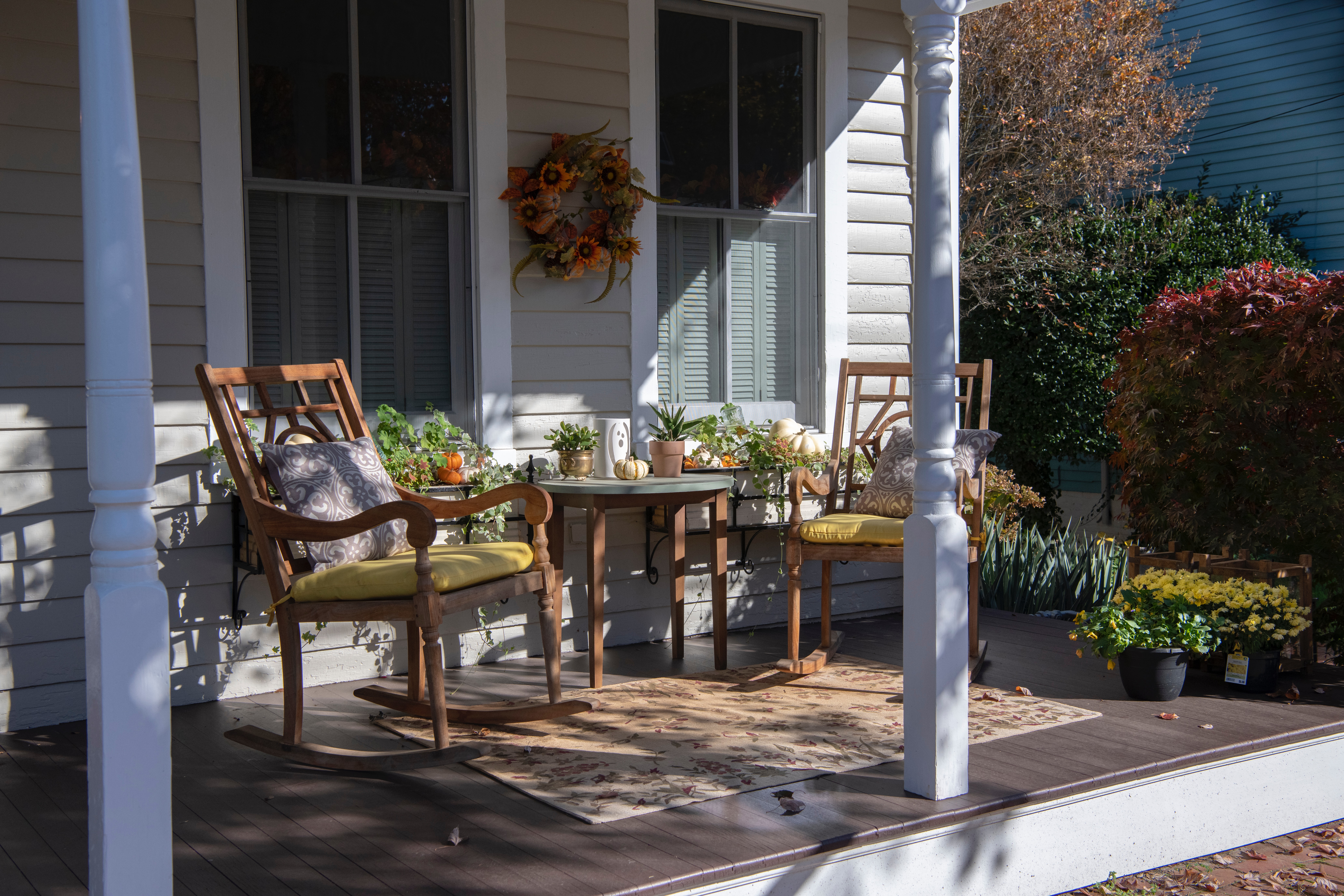 So how do you set the trend and make it convey your personality aside from being just a sitting corner? Here are some porch decor ideas to inspire you for your front porch decoration or redecoration.
15 Porch Décor Ideas
Get the Farmhouse Inspiration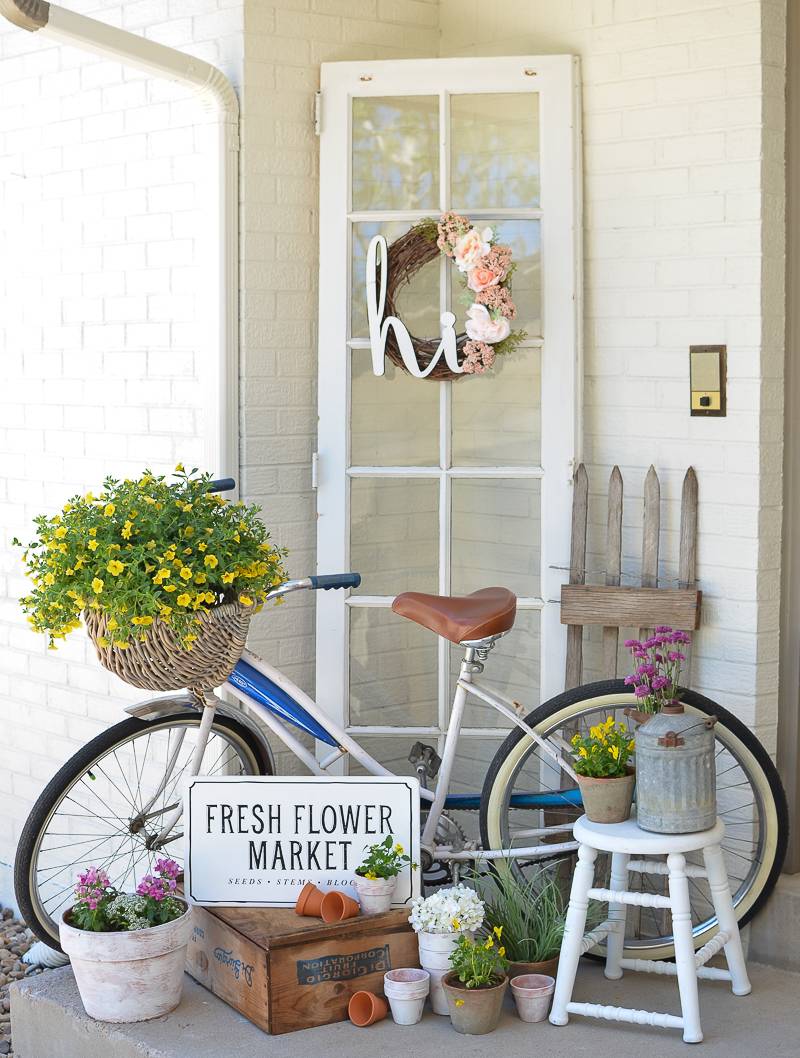 Rustic pieces are some of the best porch decor ideas to help you achieve the classic farmhouse feel. Country verandas are often filled with wooden details, galvanized metal, vintage items, and plenty of pretty blooms. This set of fabulous vintage stuff embraces this front porch with old-fashion flair. The budding flowers breathe life into the corner to complete this stunning front porch.
Hanging Chairs for a Romantic Foyer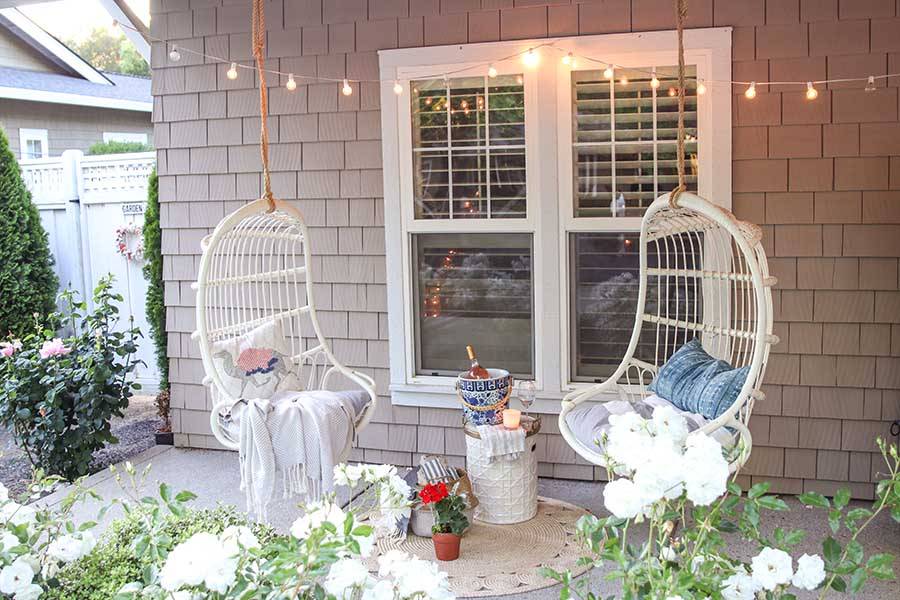 Everyone will love the chic addition of cozy and alternative seating options for outdoor living. It is also, by far, imperative functional furniture that you should not miss. You can arrange a storage bench or modular chairs for welcoming your guests. But if you want something fanciful, you can use hanging chairs with cozy throw pillows. You will marvel at these romantic porch decor ideas complete with string light bulbs, a rustic mat, and a unique side table.
Decorate with Plants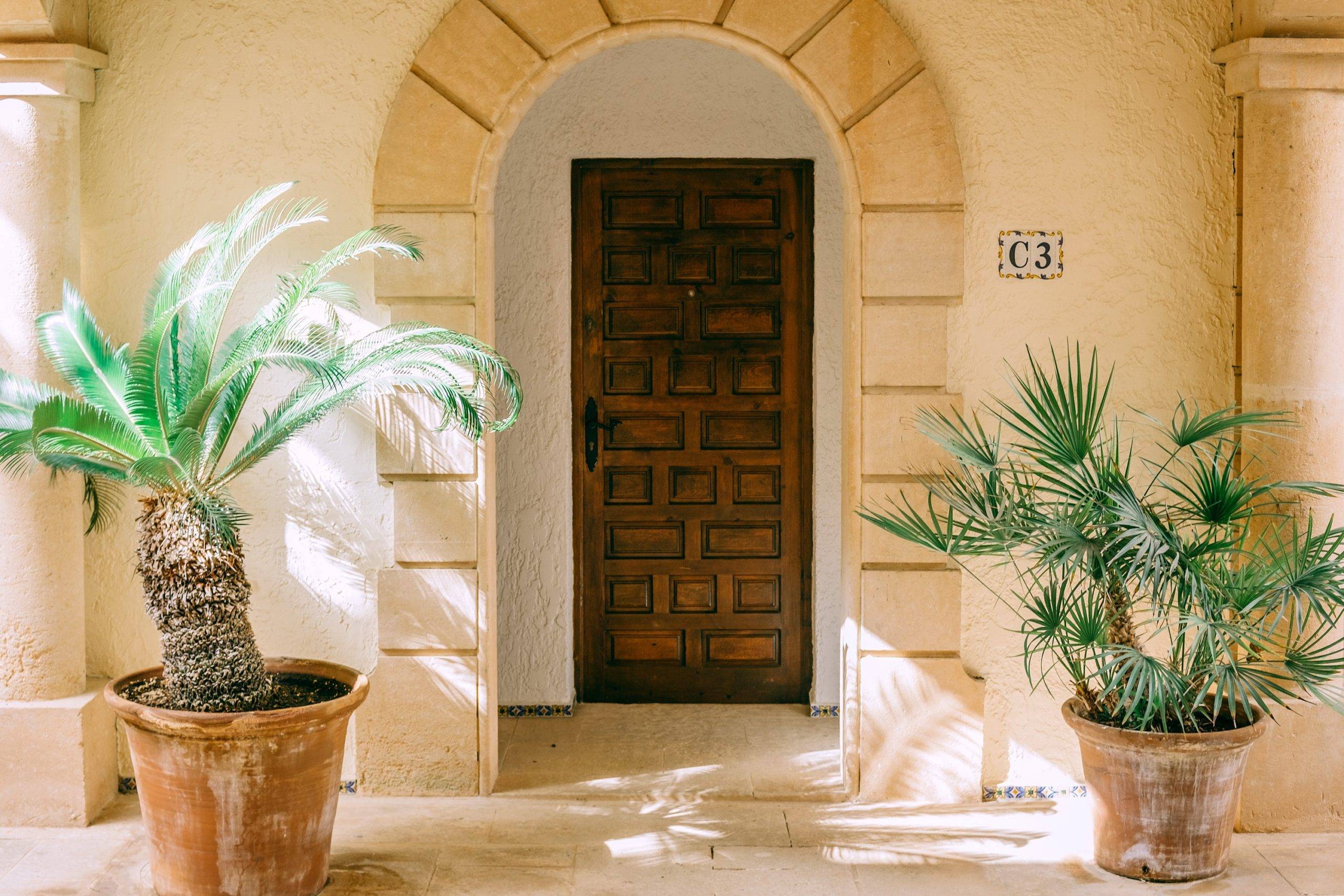 Any home's entrance is never complete without the grandiose display of plants. From flowering blooms, dainty succulents, or a miniature fairy garden, the concept never grows old. Sometimes, you can also match your home with houseplants that further accentuates its theme. See this Midwestern home foregrounded by an ornamental palm and fan palms as stereotypical porch decor ideas.
Arrange a Cozy Living Area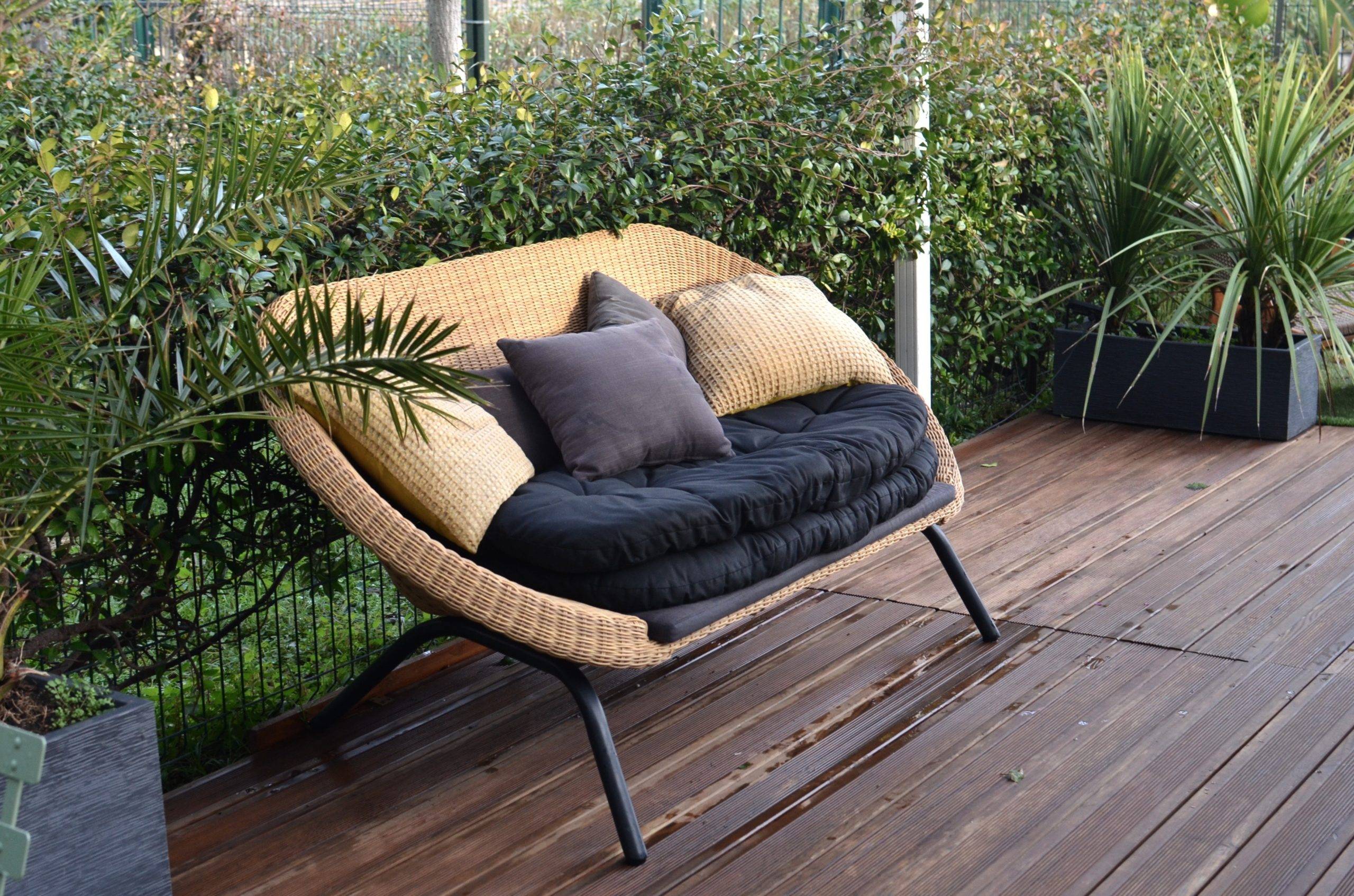 A front porch is a place where you are likely to receive your guests. It is also the spot where you can spend those lazy weekend afternoons basking in the sunset. So, make sure that the place is comfortable with cozy seating furniture or two. Chairs, as well as benches, will make the best accent pieces to let your space be more inviting. You can also stuff it with plush cushions and turn your porch into a relaxing lounging area.
Dine and Have Fun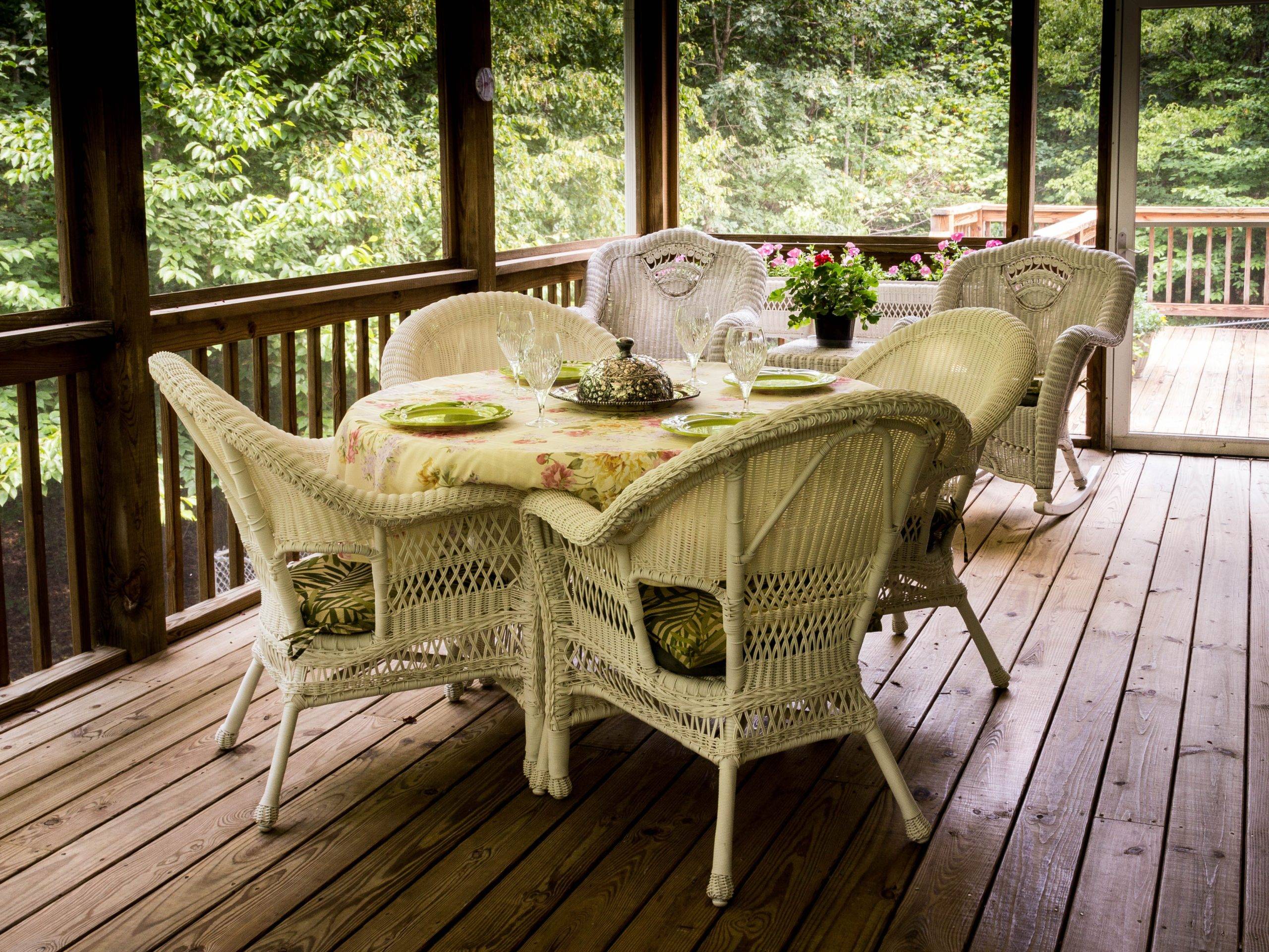 Large porches are also the best place to gather for celebrations. Unlike patios, they are attached to the house and have the advantage of a roof. So when space allows, you can further turn it into a dining room extension. You will surely not miss every Fourth of July and Christmas dinner with dining furniture as porch decor ideas.
Make it Ornamental and Colorful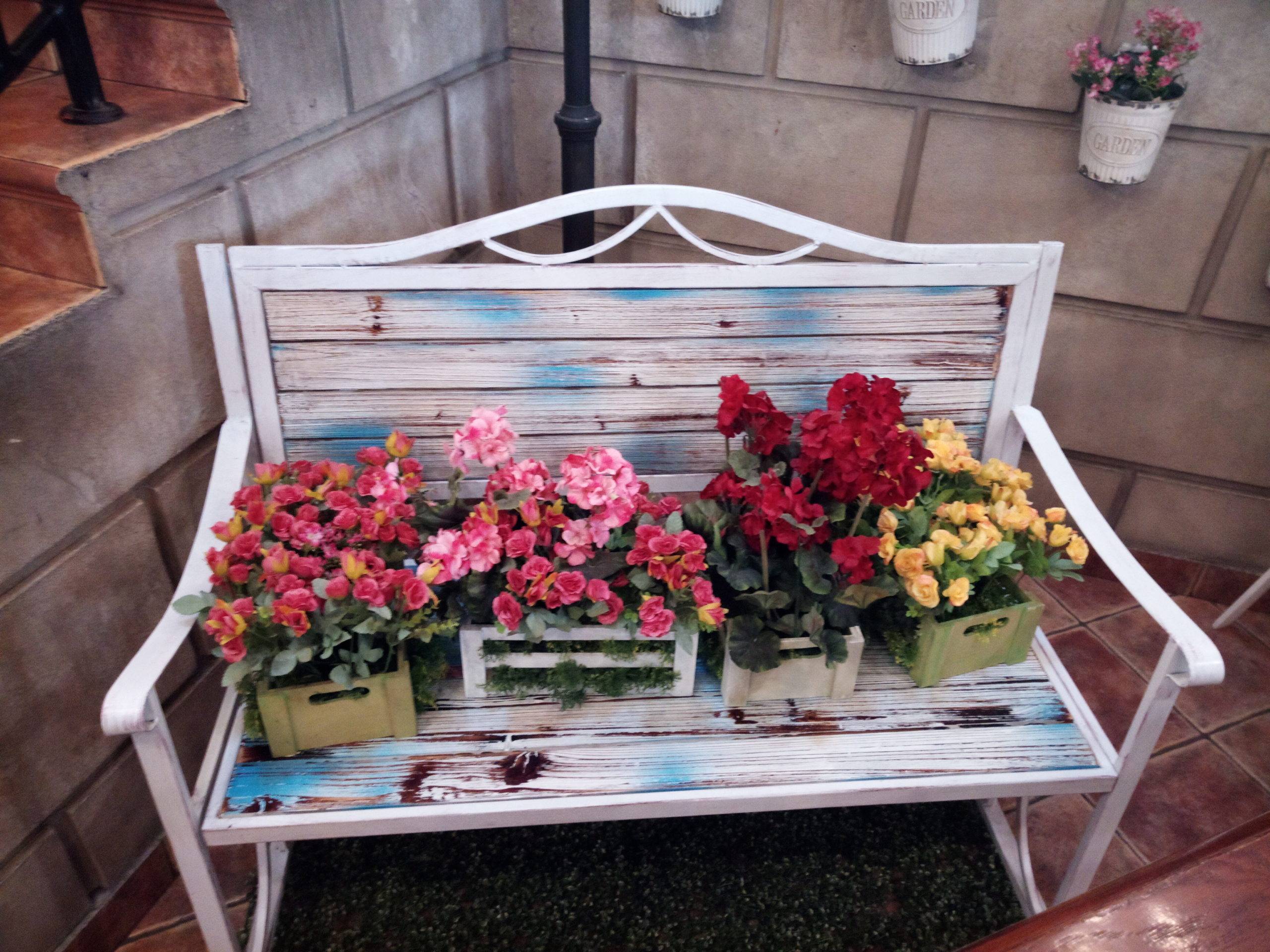 How will you display your blooming flowers? Pick up the planter and line it up in your foyer as lively porch decor ideas! You can also shove your potting bench in the corner and turn the corner into a dedicated planting spot. Or, you can set your plants atop a vintage wooden bench to inspire your mornings every time you step out of your front door.
Hang a Planter Next to the Column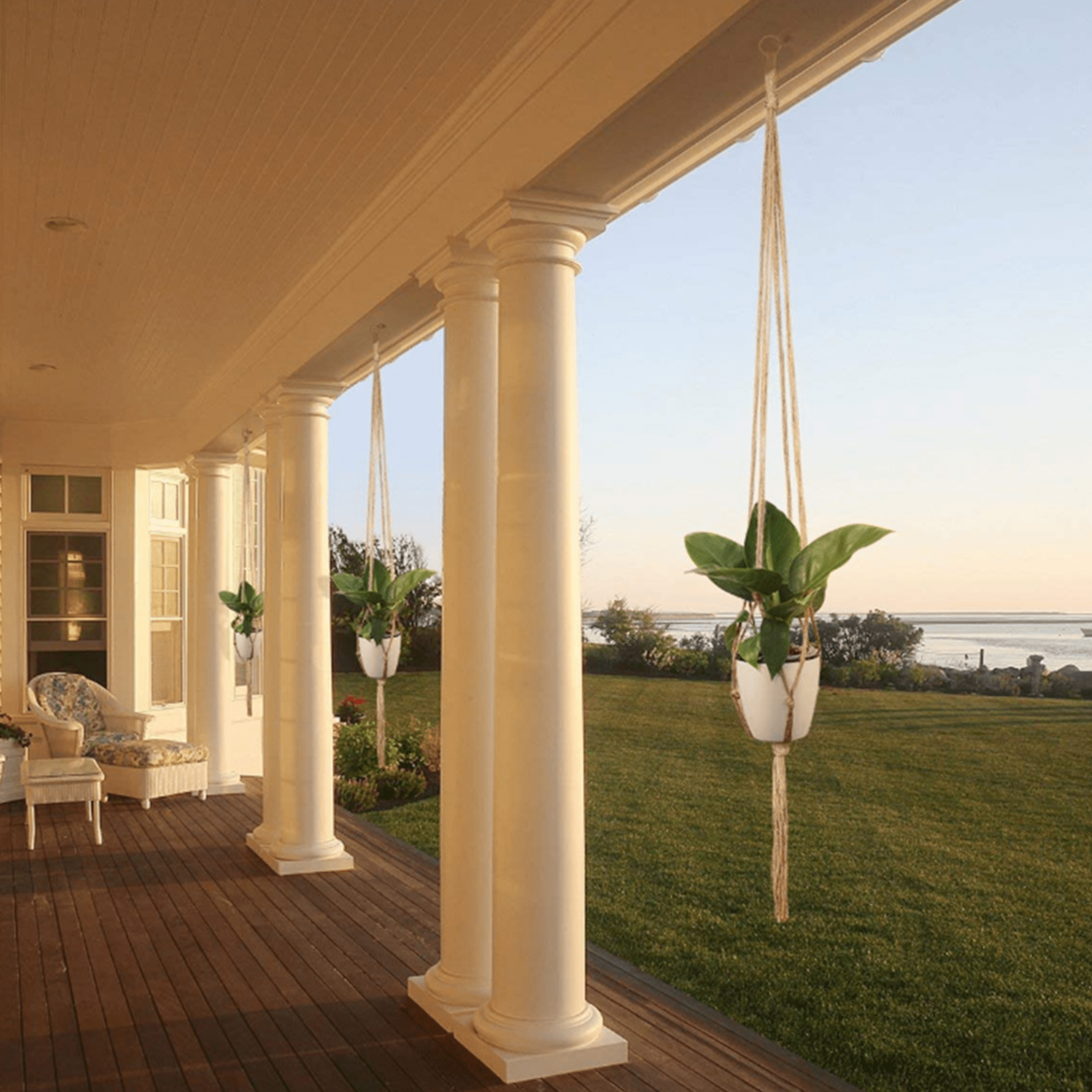 Do not let your porch go drab and empty. Set your planters high up on a string for the added elegance. Hanging planters are the best porch decor ideas for those who do not have the necessity of an expansive space. But even if you do, you can still embrace the idea and keep things off your floor. This beachfront villa takes the cue of a clutter-free porch by installing hanging planters instead. It is simple, it is classic, and an absolutely fascinating idea to turn around the ambiance of a dull entrance.
A Display of Quirky DIY Decors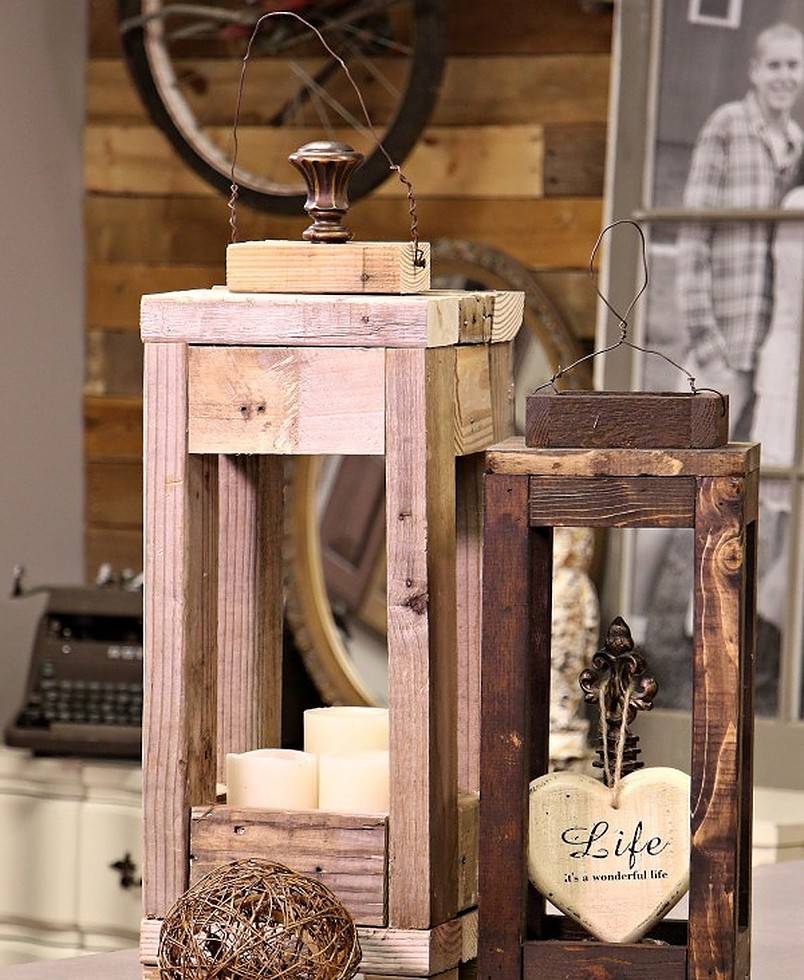 If you are looking for inexpensive and low-maintenance porch decor ideas, DIY decors are your best bet. You can turn anything you can lay your hands on and let your creativity decide the rest. Repurpose your old stuff, or pick some up from the flea market. Here's a fabulous scrap wooden lantern project to spark your ingenuity. This whimsical item adds a chain of timeless and rustic beauty that's perfect for porches of all sizes.
Railing Planters Brings Year-Round Appeal
Make your porch extra chic with railing planters that are an exquisite addition to balcony railings. Like hanging planters, they are also functional decors that take the mess off the floor. You can plant small and bright flowers like marigold and zinnias. Then, watch them come alive as they bloom. Additionally, railing plants are popular and make an elegant display with their cascading beauty.
Hang Some More Plants in the Wall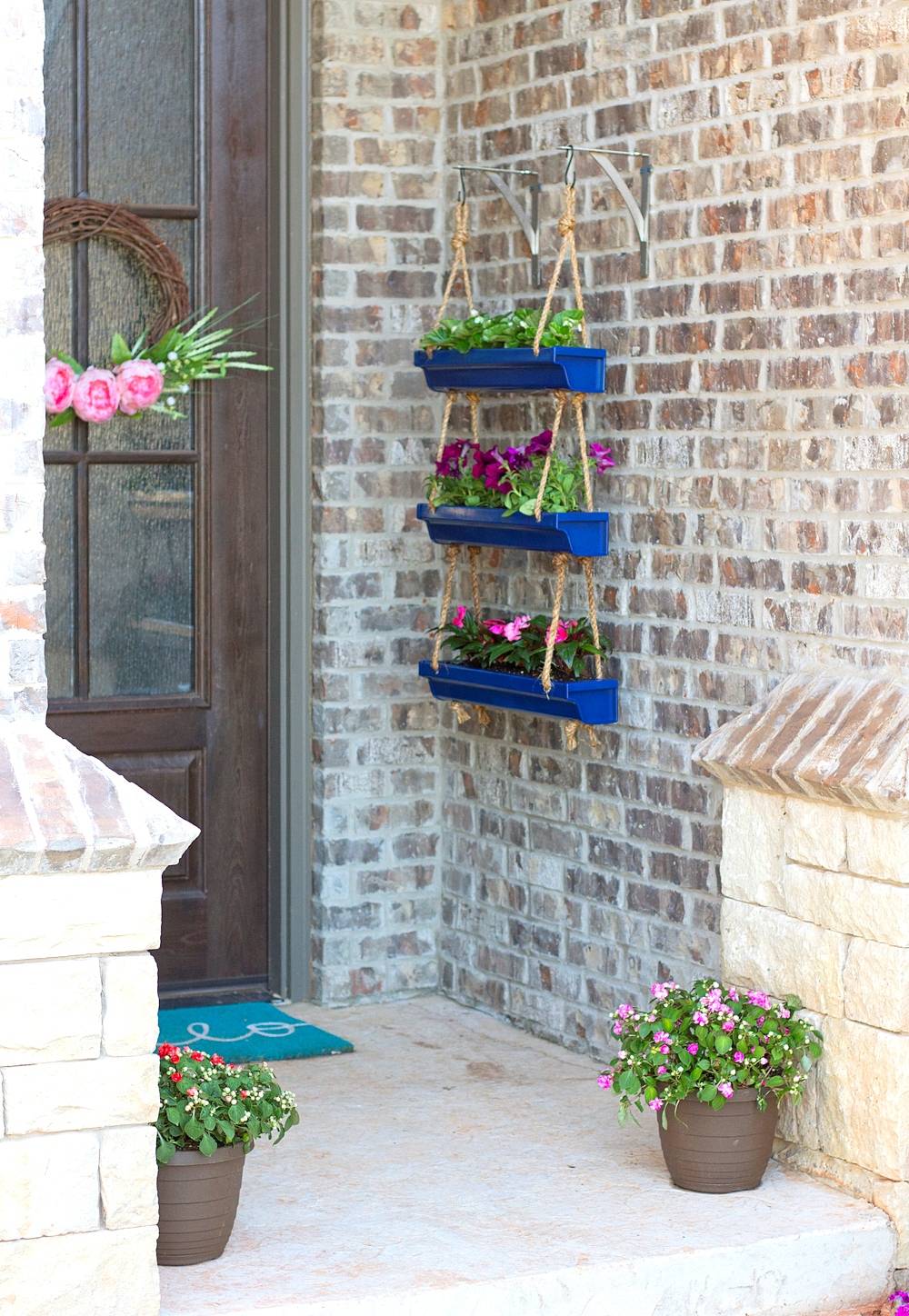 This hanging rain gutter planter accentuates the drab wall with a fresh floral take. It is also one of the inexpensive porch decor ideas that are easy to install with just a little carpentry skill. You can choose your own color by spray-painting the planter and choose your string material to match. The bold blue hue, as well as the rope motif, of this porch decor further brings in a funky feel to this rustic cottage.
A Porch Swing Is In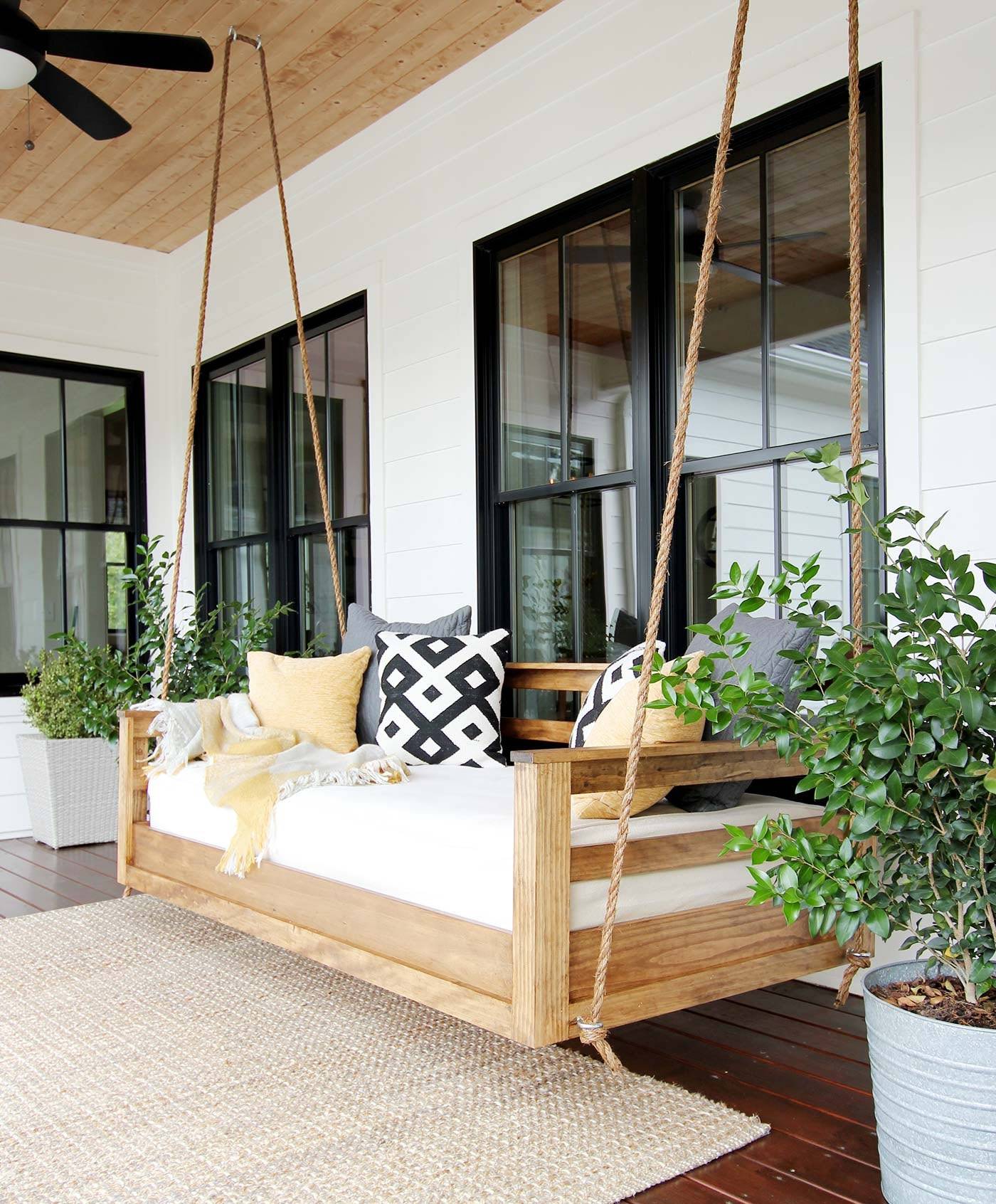 Can't choose between a hanging chair or a cozy lounging one? Enhance your patio with an eye-catching swinging day bed. This thoughtful concept is unique and functional that will make your foyer livable and comfortable. Materials like rope, wood, and plush cushions go well together for a classic and rustic appeal. Don't forget to add stunning planters on the side, by the way.
Don't Leave the Floor Empty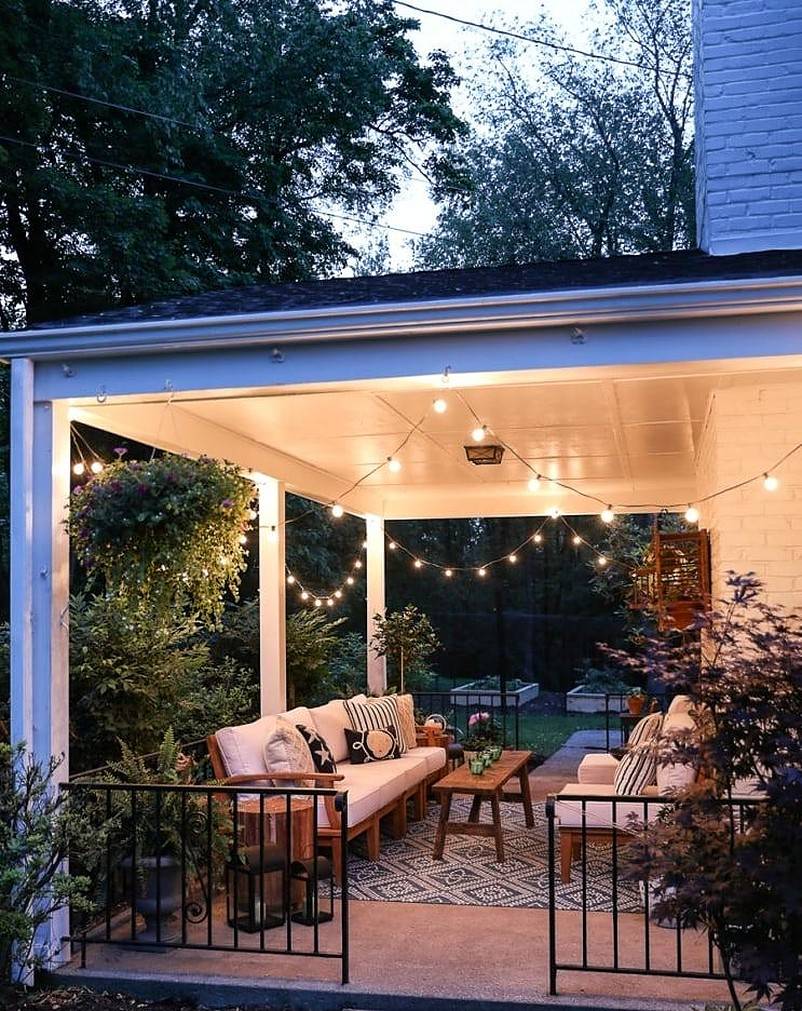 It is neither indoor nor outdoor. The porch is the transitional space that connects both spaces of your home. And often, they are prone to the mess of the changing weather. But you should not overlook how your porch's floor can create an impact on your home's appeal. Make the space more welcoming by adding a rug or mat with designs that suit the place and your taste.
Lights and Lamps and Lanterns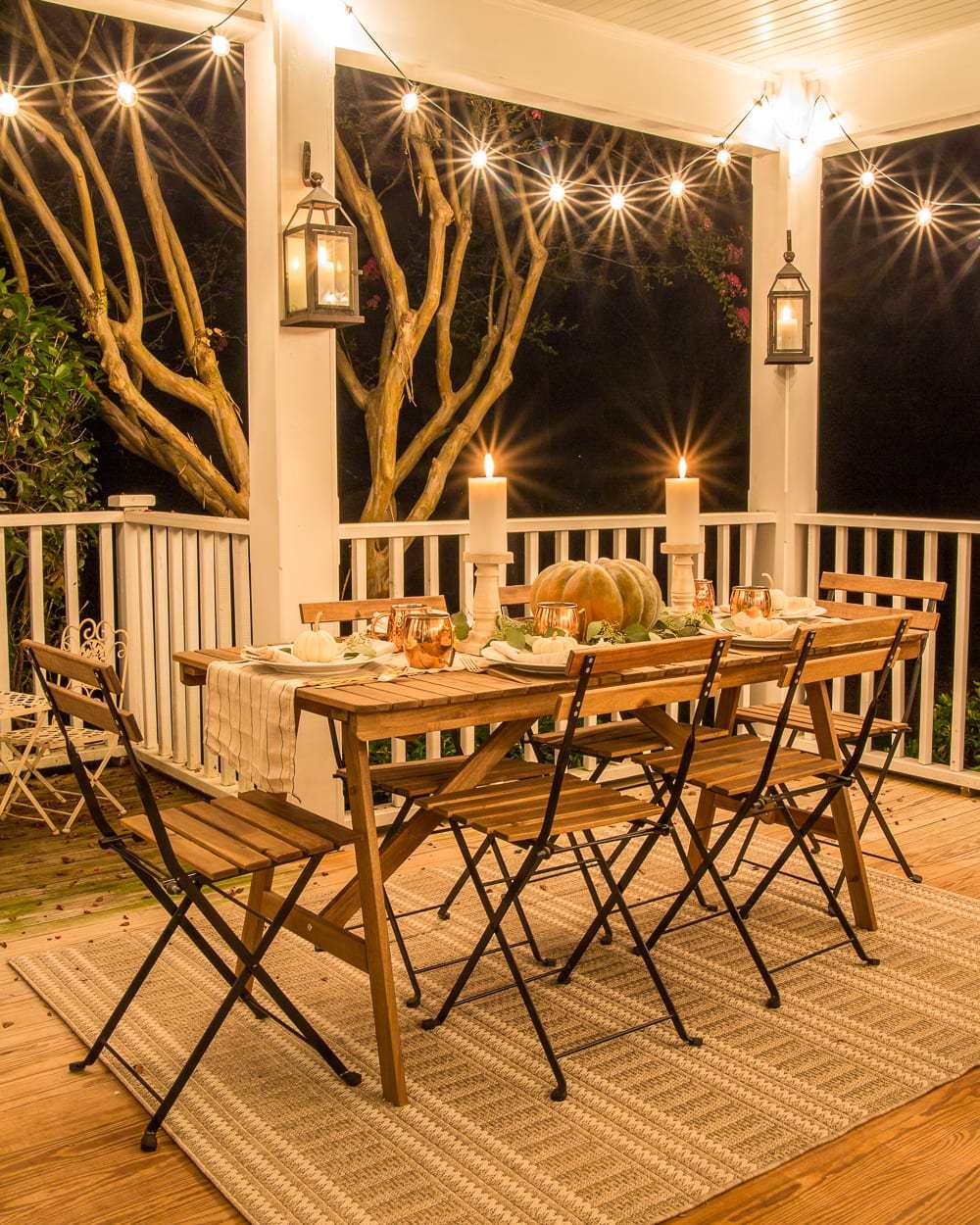 Small details can bring revolutionary impact in porch decor ideas. If you want your porch to literally shine out, then get the best deal out of decorative lights. It will make your foyer look sweet, cozy, romantic, and a little intriguing. Lights are satisfying visuals that bring out the place's beauty at nighttime and the best backdrop during the day.
Give the Spotlight to the Wall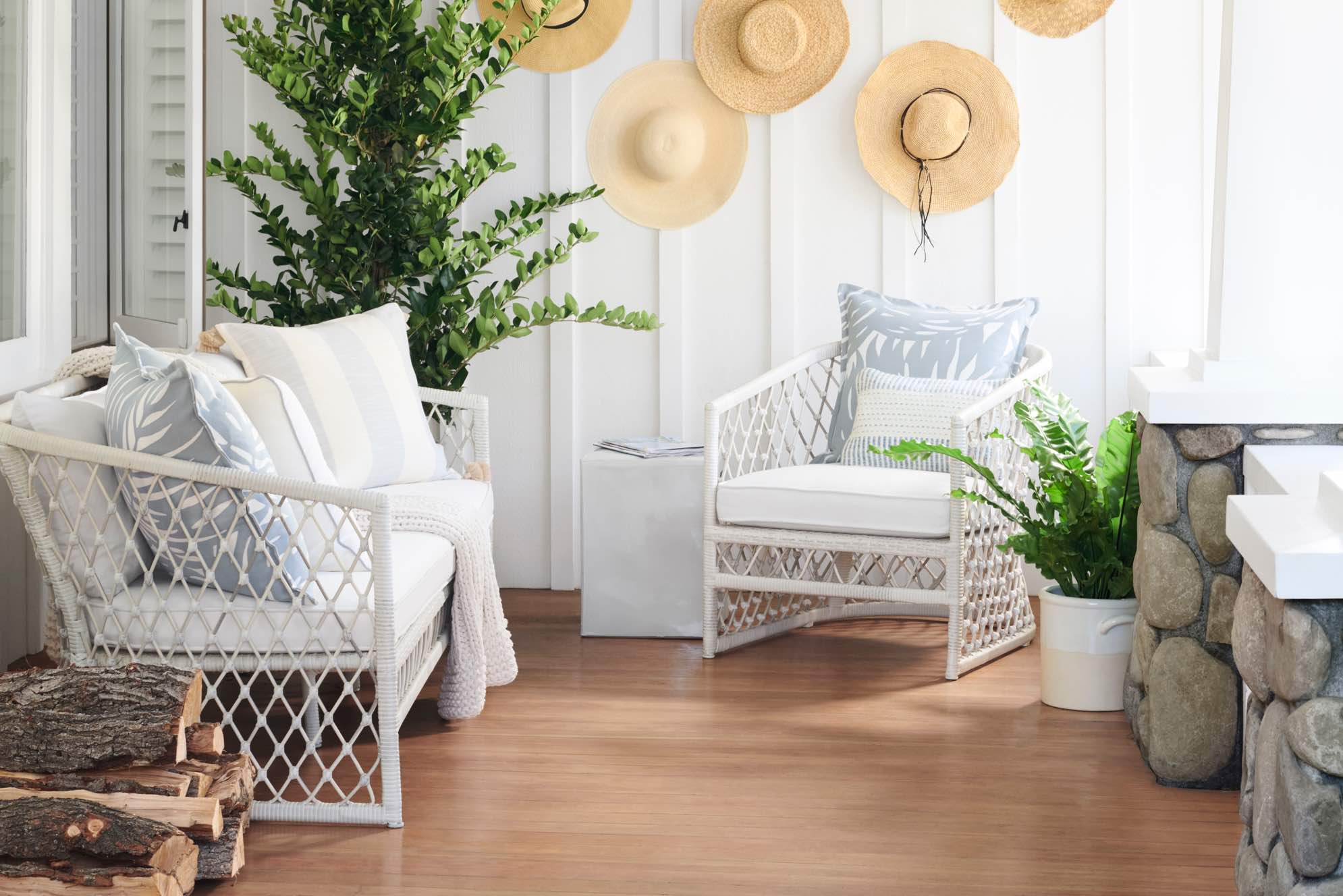 It is hard not to fall in love with this immaculate porch highlighting the crisp cleanliness and colors of the earth. From the potted plants, driftwood chair and sofa, and unique timber decor, this place exudes an effortless homey vibe. What makes it more intriguing are the fancy hats as unique hanging wall decors.
Make a Minimalist Statement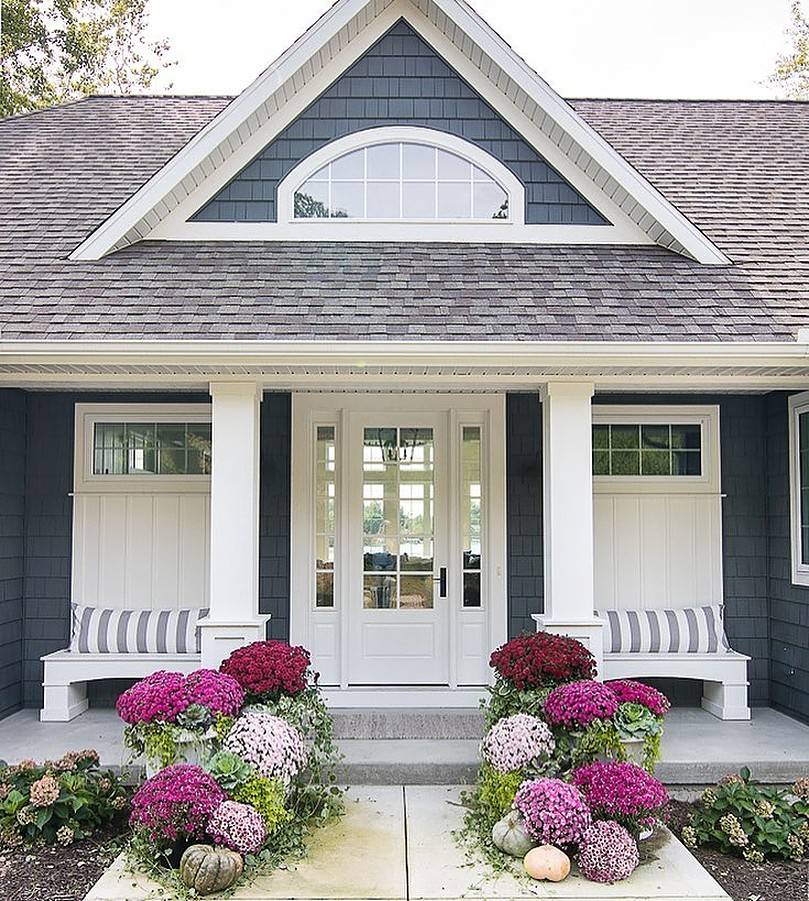 Porch benches and chairs are always a win in porch decor ideas. You don't have to go overboard with details to make a chic statement. Introducing comfort in the receiving area sometimes is a good enough concept. Notice the comfy long throw pillows that accentuate the symmetry and balance of this classical cottage. The colorful flowers by the patio further add a dash of color to break the monotony in the front yard.
Takeaway
Porch decor ideas add an extra touch of comfort and luxury to the home. The open atmosphere invites countless ideas for making it warm and hospitable. Aside from plants, seating arrangements also maximize its functionality. You don't necessarily need a ton of space to go all out with decoration. It only takes a whiff of creativity, and maybe a little investment in furniture too. With practical placement, porch decor ideas can make the place stand out by the front yard.