Over the toilet storage ideas are functional fixtures that also add stunning detail into your bathroom. For the most part, the bathroom is the smallest area of the home. However, it is the one that needs to be the tidiest. Although there is an absolute lack of floor space, you can always make up for storage using the vertical space. The space above the toilet is often overlooked, but it is essentially the best choice for more storage ideas.
Make the most out of your bathroom's available space with smart over the toilet storage ideas. Space-saving shelves are smart concepts that will fit all your bathroom essentials in one place.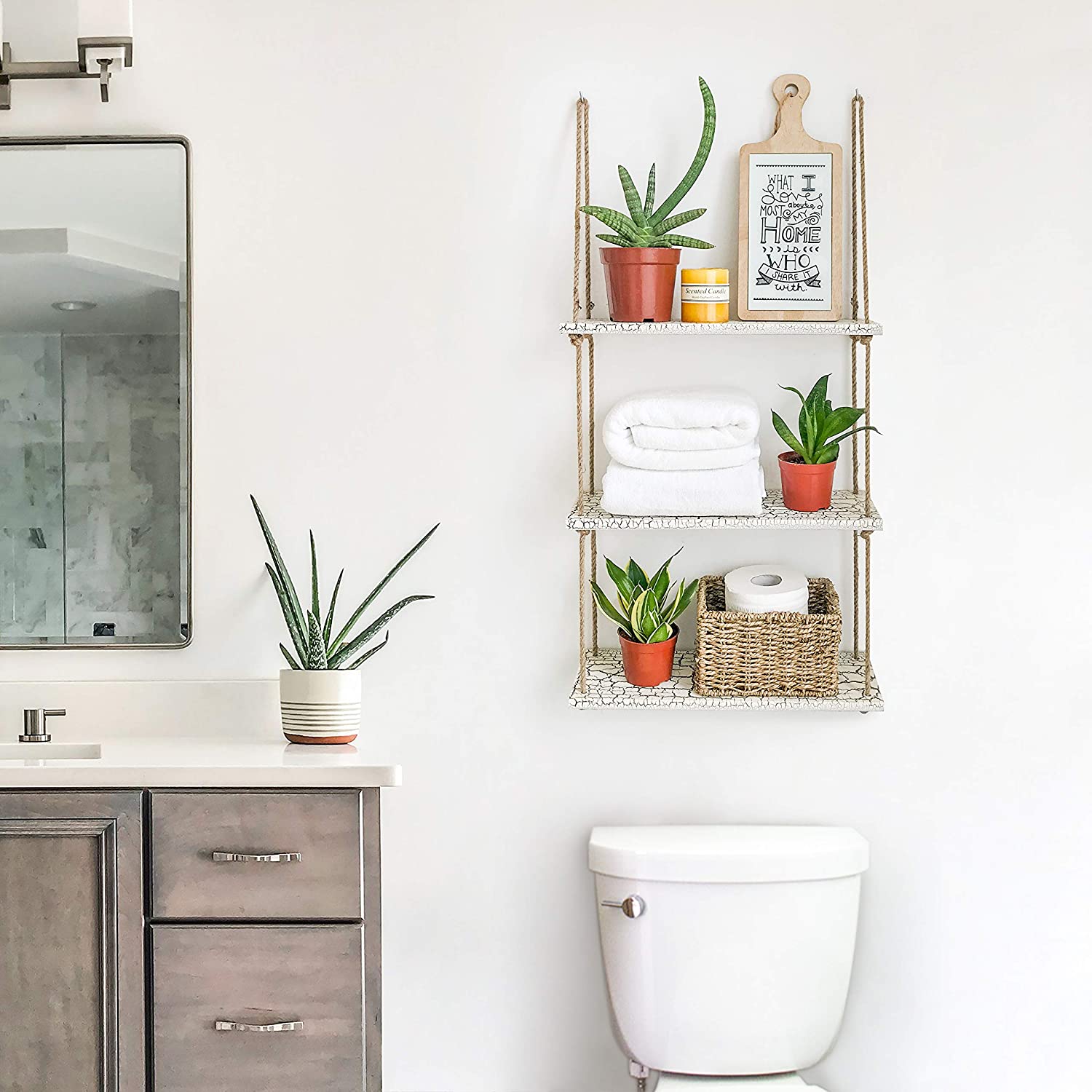 We rounded up some of the fabulous tricks for organizing bathrooms while adding more storage space.
Draw Attention to Walls with Geometric Shelves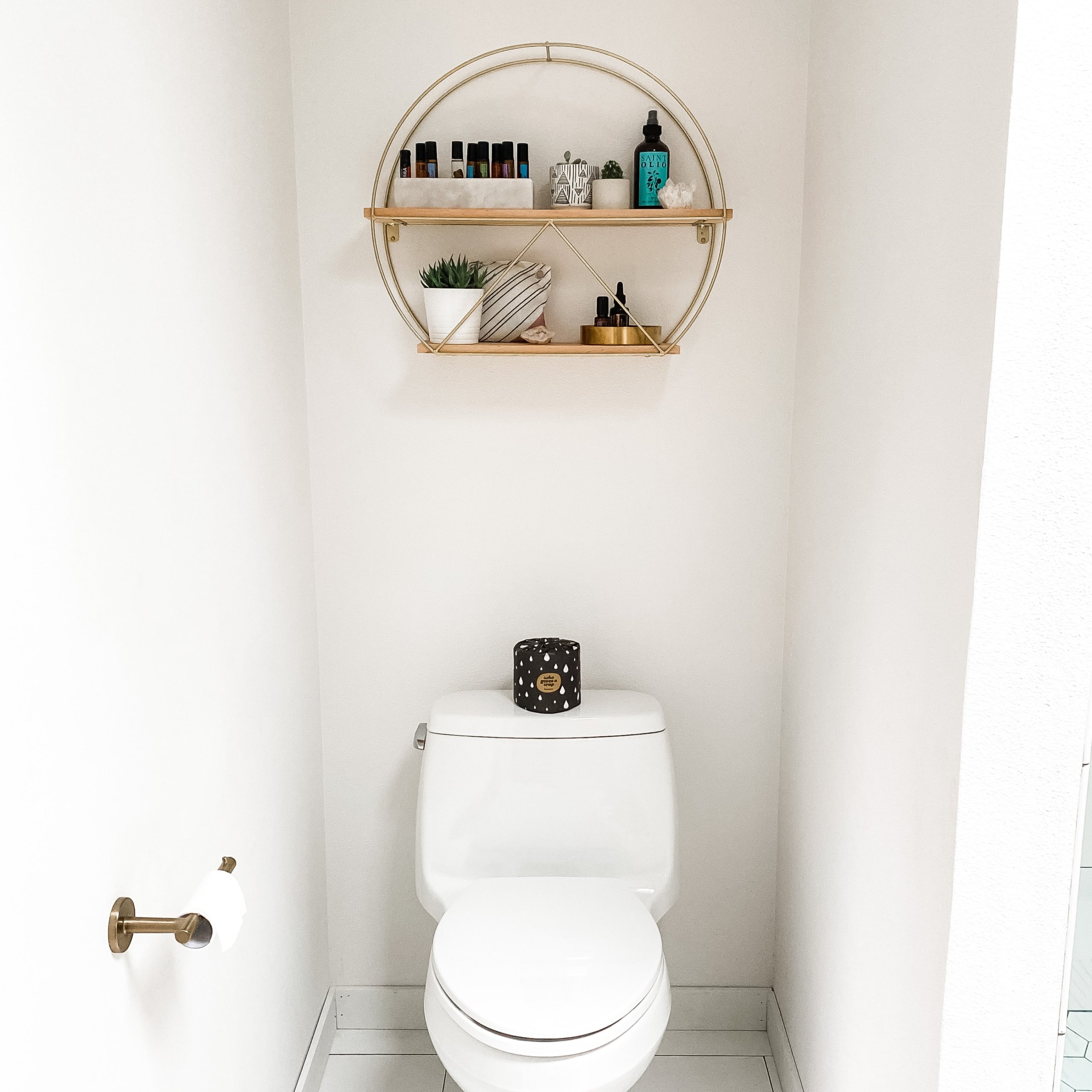 Who says the bathroom needs to be clinically white, blank, and drab? Stunning pieces like this three-fourth circle shelf will add a personal touch to your rest area. It is chic, minimalist, and just visually stunning. The Pantone brass color of this shelf will make you love this comfy storage space even more. The design is simple yet catchy to make the room less empty and dull.
Shove a Neat Multi-Storage Surround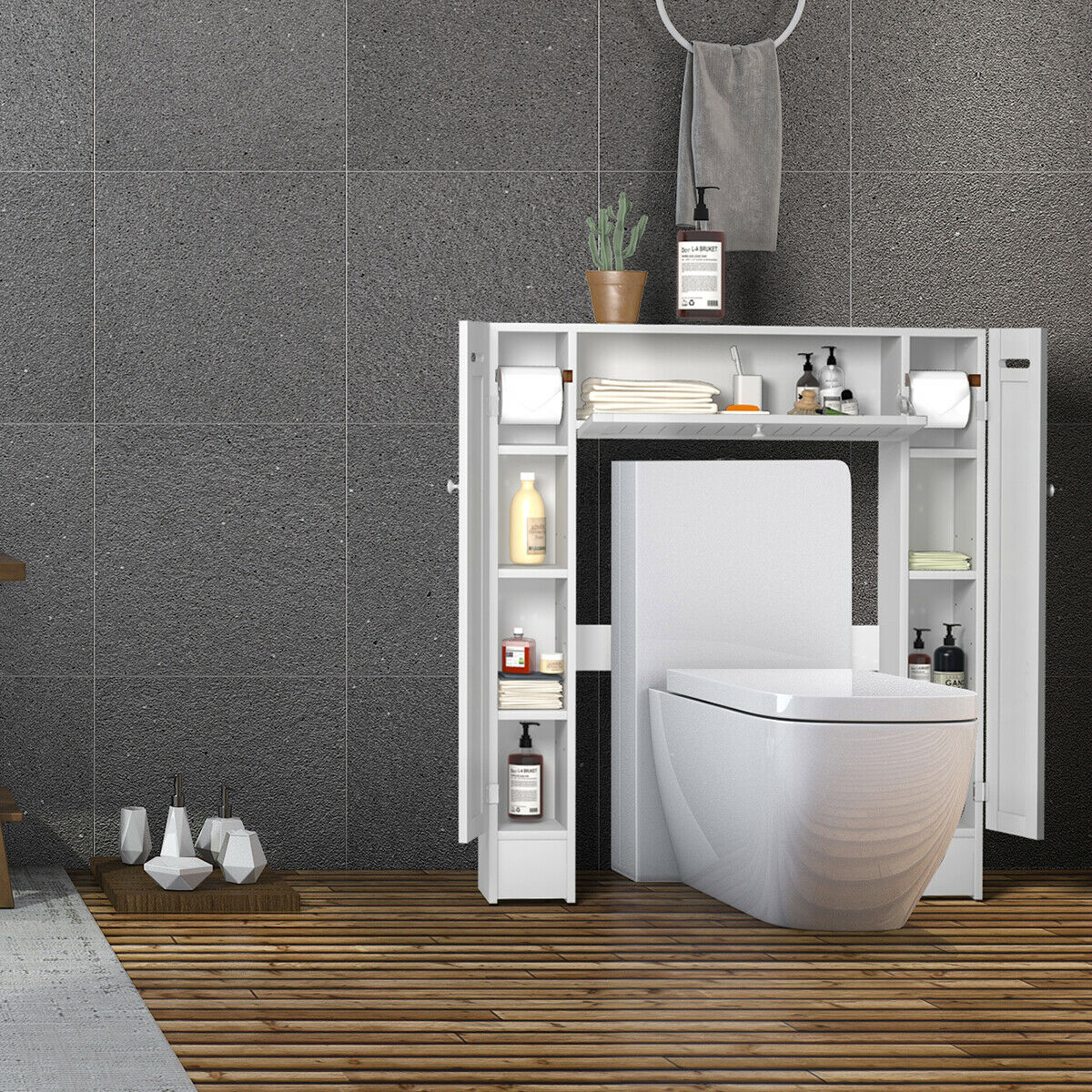 If you need a room for your various trinkets, keep them in a place you can easily reach every time. Toilet cabinets are excellent fixtures to serve this purpose. With ample storage space, you can fit all your bathroom essentials without it being messy. The different compartments will also help you sort out your stuff to keep things more organized.
Add a Rustic Charm with DIY Ladder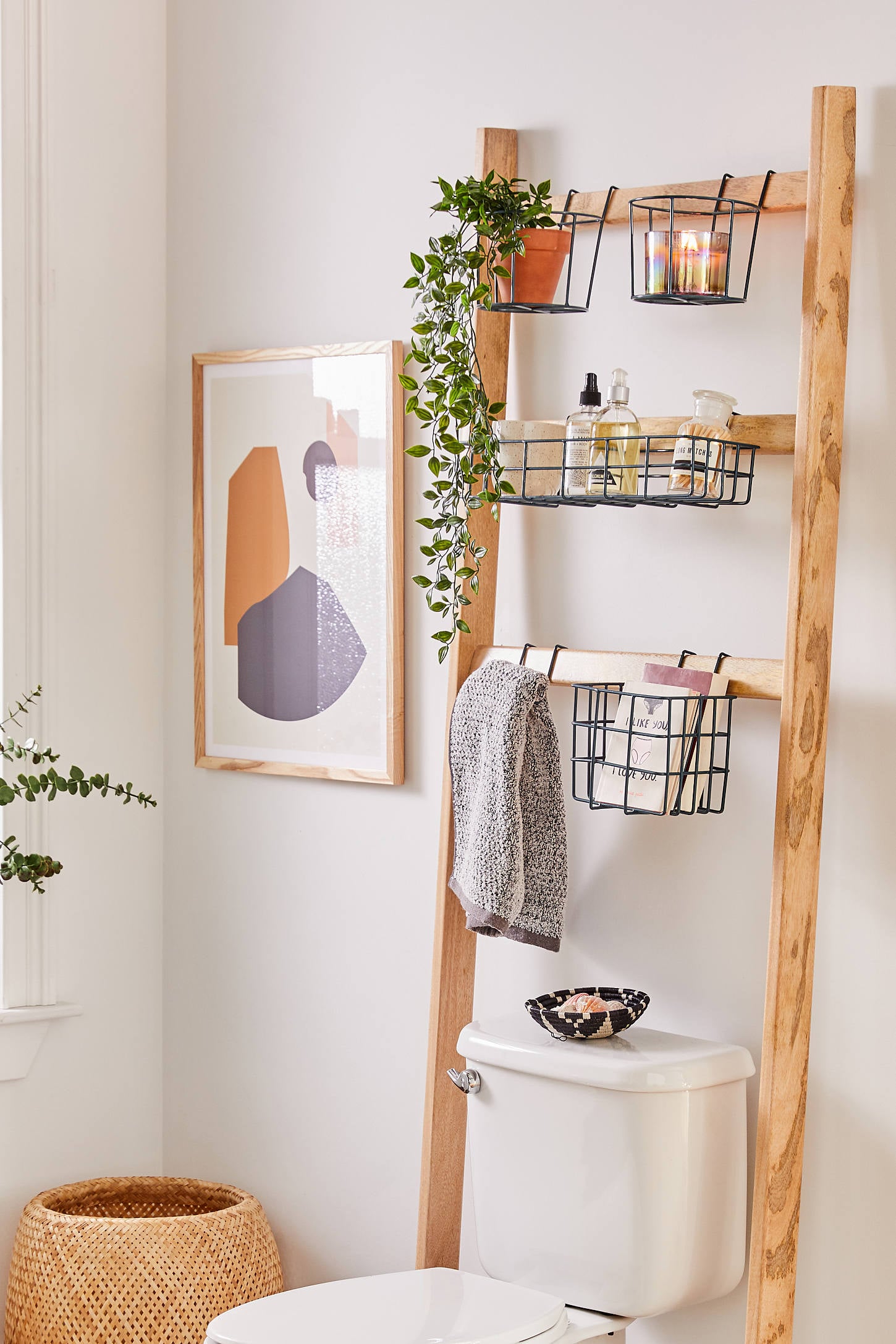 Go easy with over the toilet storage ideas you can put up in a whiz. It will take no more than a few lumbers and a bang of nails to set up a DIY ladder. Hang wire mesh baskets in it for stowing things. Add in a hanging plant for a whip of the fresh outdoors and channel your inner planter. It is one of the best and inexpensive over the toilet storage ideas to try for small bathrooms.
Another Perfect Ladder Storage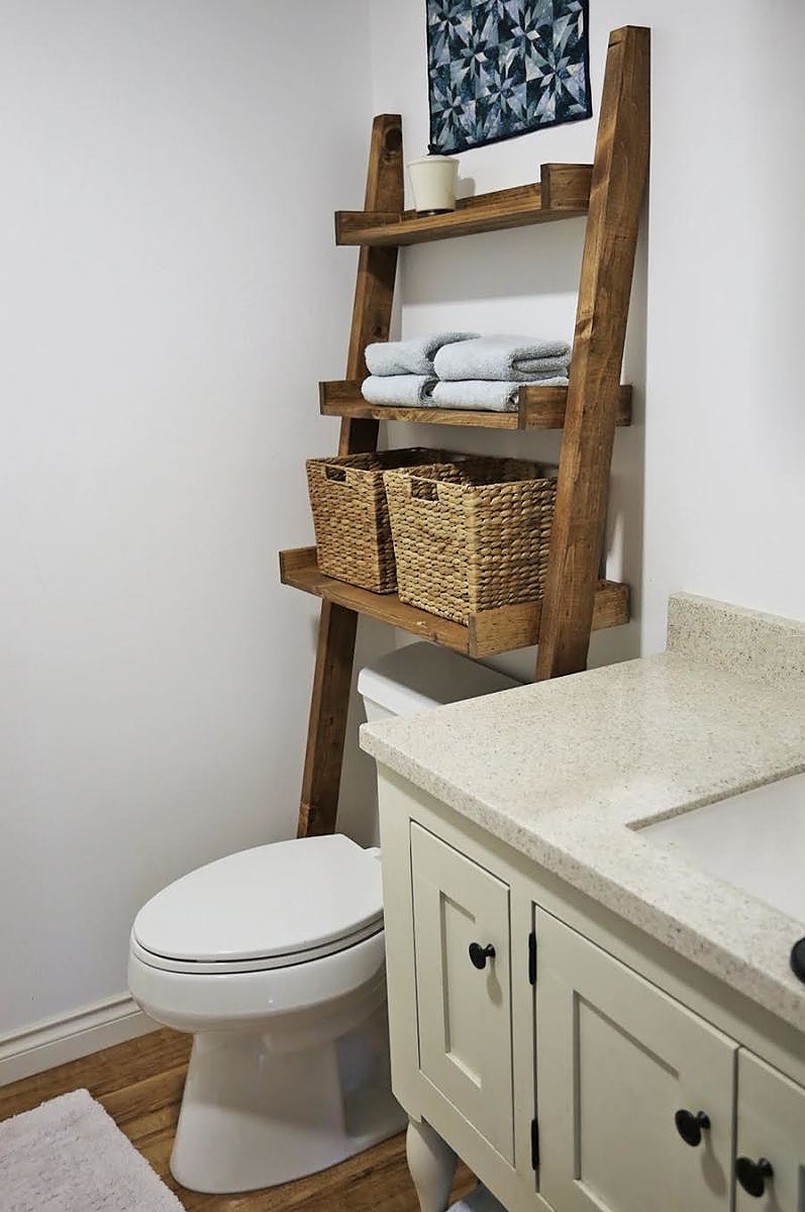 Ladders with shelves are also one of the coolest over the toilet storage ideas to consider. There is no need to hang a basket in it. You can simply stash your toiletries and other items on the pedestal for better organization. Wooden storages assert both a rustic and modern charm to add more depth to your tiny bathroom space.
Give Bathroom a Homely Fashion with Baskets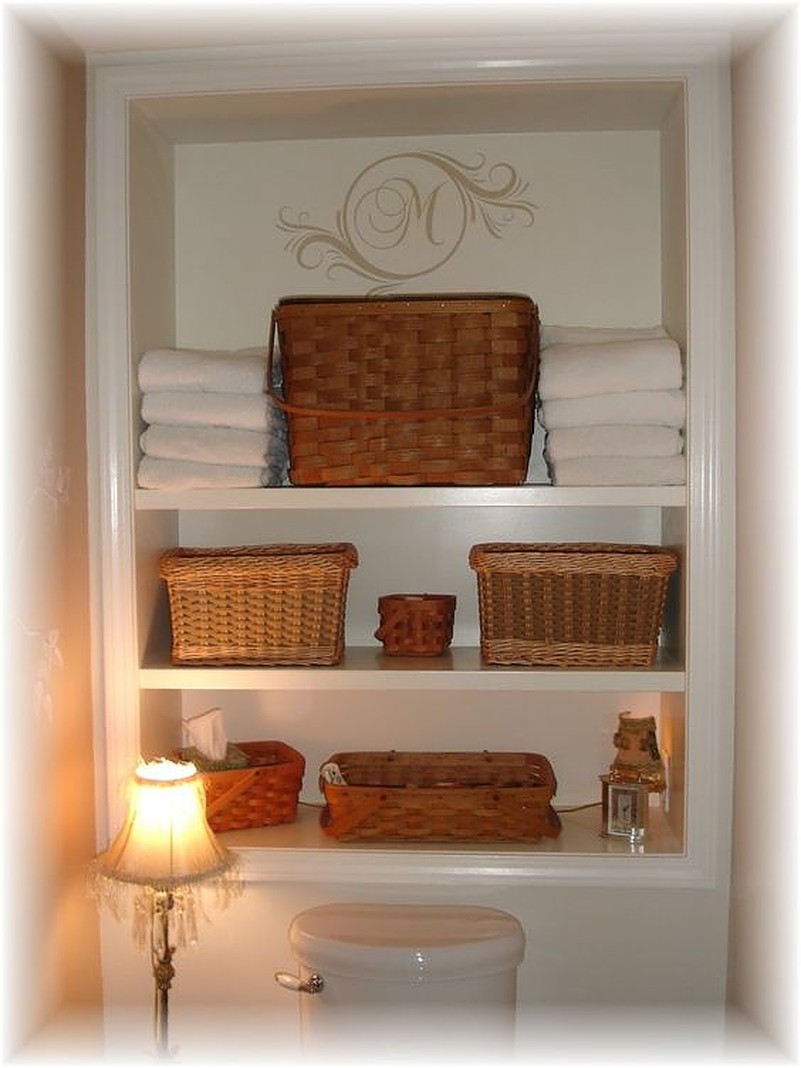 Baskets are a neat addition to the bathroom for holding all kinds of stuff. So, install a cabinet shelf and display baskets to give your bathroom a good kind of homely vibe. You can now say goodbye to the hair-dryer and curling iron messing your sink and countertop. These inexpensive over the toilet storage ideas will separate your belongings for easy access during those chaotic morning rush.
Built-in Shelves are Fine, Fine Fixtures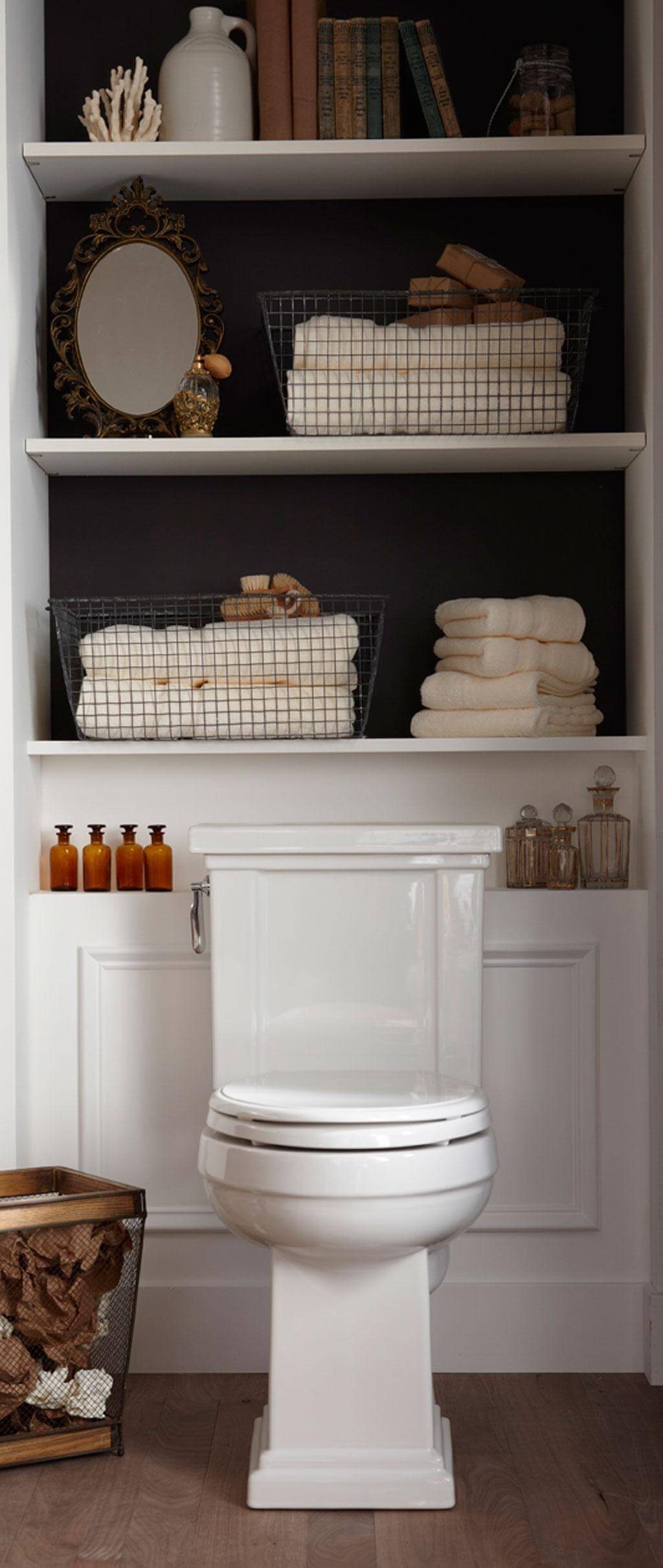 If you have so much that a tiny bathroom storage cannot hold, you can always go big with bigger storage. Take this sleek and huge shelf as another smart over the toilet storage ideas. However, you need to be wise in choosing the shelf material, especially for a place where humidity and moisture are at their highest. MDF boards or solid woods that are properly sealed and painted are an excellent choice.
Bring in the Industrial Vibe with Rustic Pieces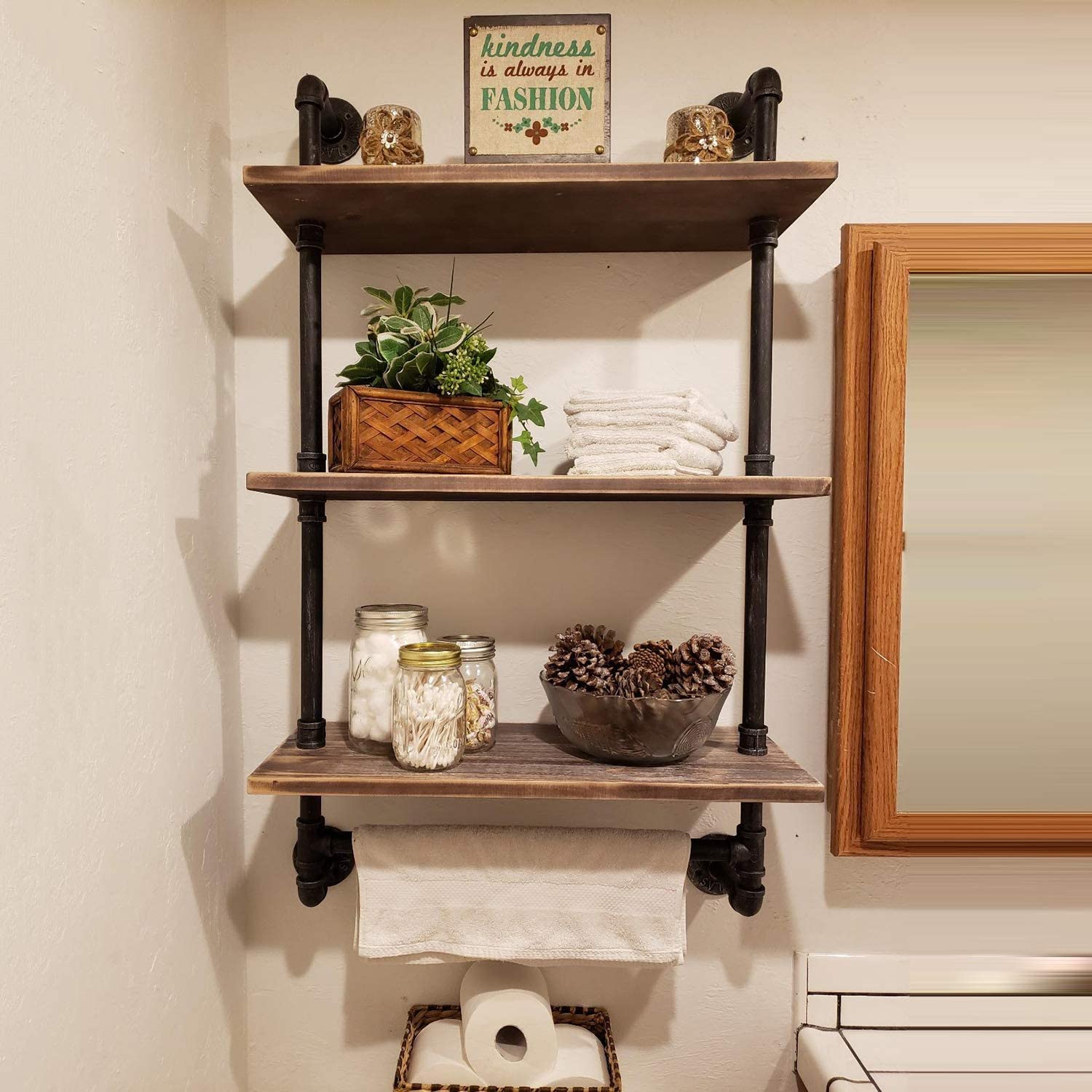 Industrial piping and reclaimed woods go well together as stylish over the toilet storage ideas. The unique design of this storage is a spectacular addition to any bathroom. The pipes can cater towels for hanging so you can literally have your stuff in one place. The rustic shelves can also accommodate all your other necessities in one convenient spot.
Use Wicker Baskets Ingeniously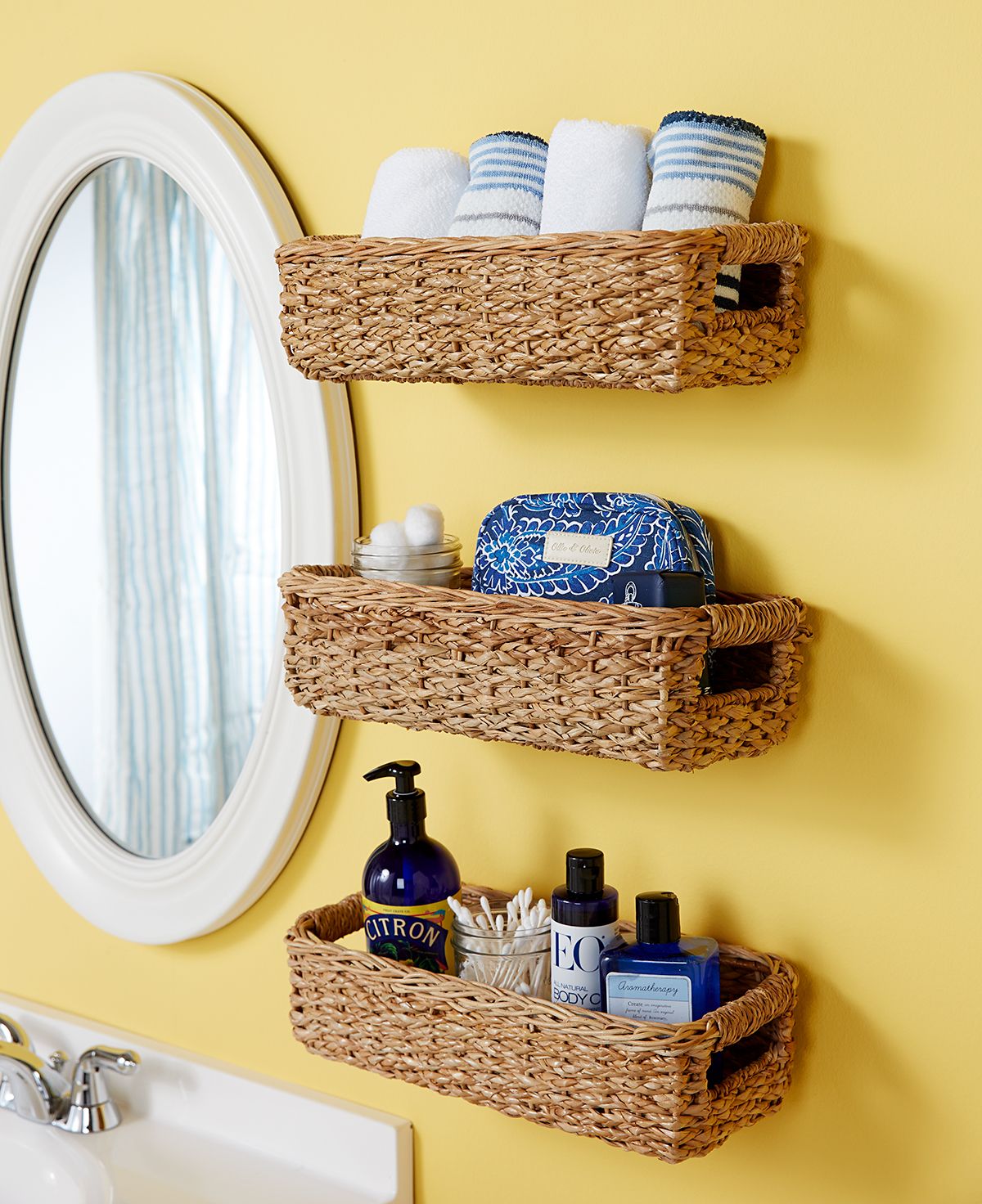 If you don't want to bother yourself with installing shelves, why not fit the storage box directly into the wall? These wicker baskets are not one of your standard over the toilet storage ideas. The unique craftsmanship and ingenious concept will lend your bathroom a well-thought personal touch. You can mount these baskets by hammering a nail on the basket weave and into the wall.
Get More Storage Space with DIY Crafts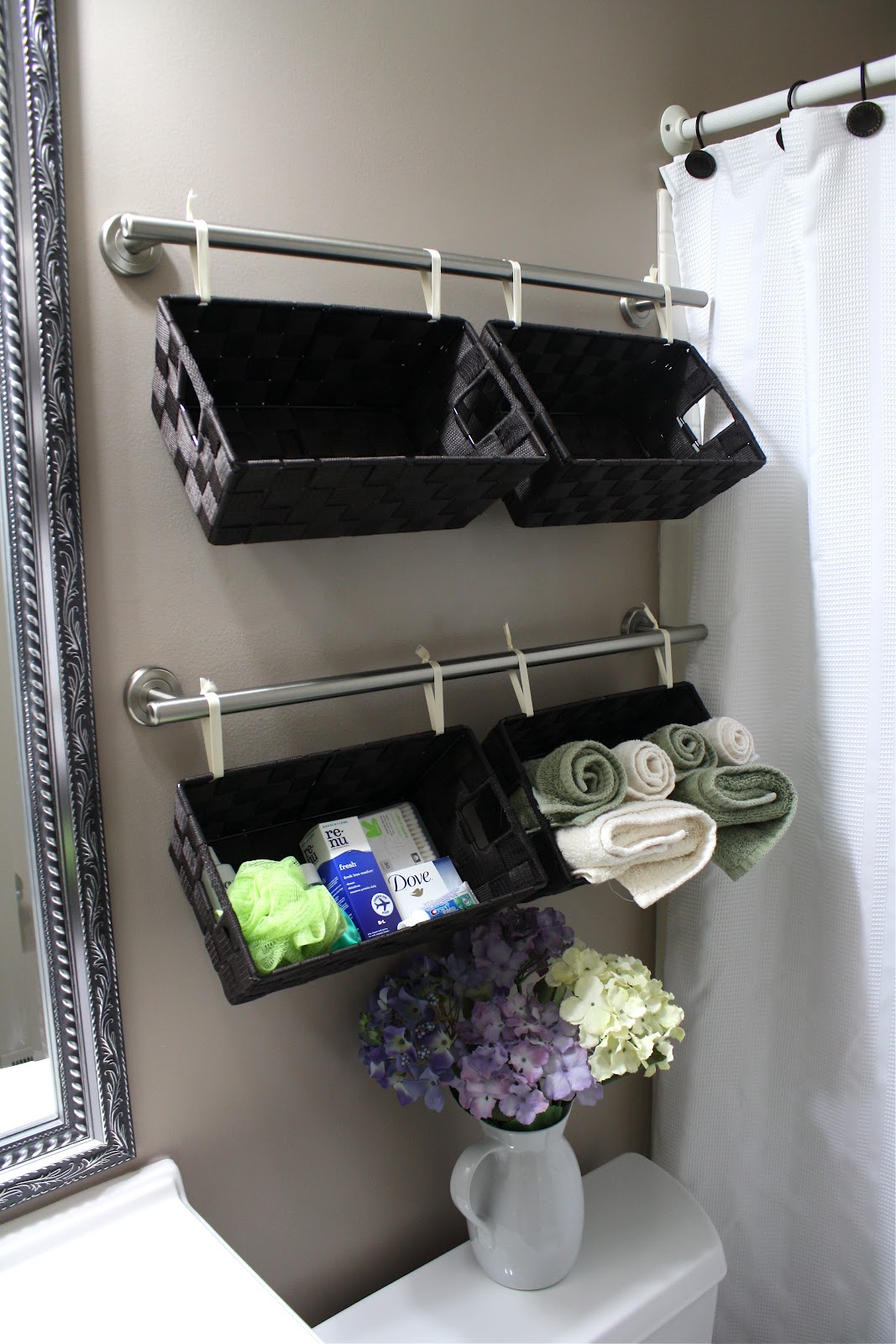 DIY over the toilet storage ideas comes in an endless list of smart designs. It provides storage and enhances your bathroom space. It will also allow you to impart your style and unique personality. Take a look at this bathroom storage from repurposed towel racks and baskets. It is versatile, and decoratively speaking, chic and classy in every way.
Go Sassy with Funky Floating Cube Shelf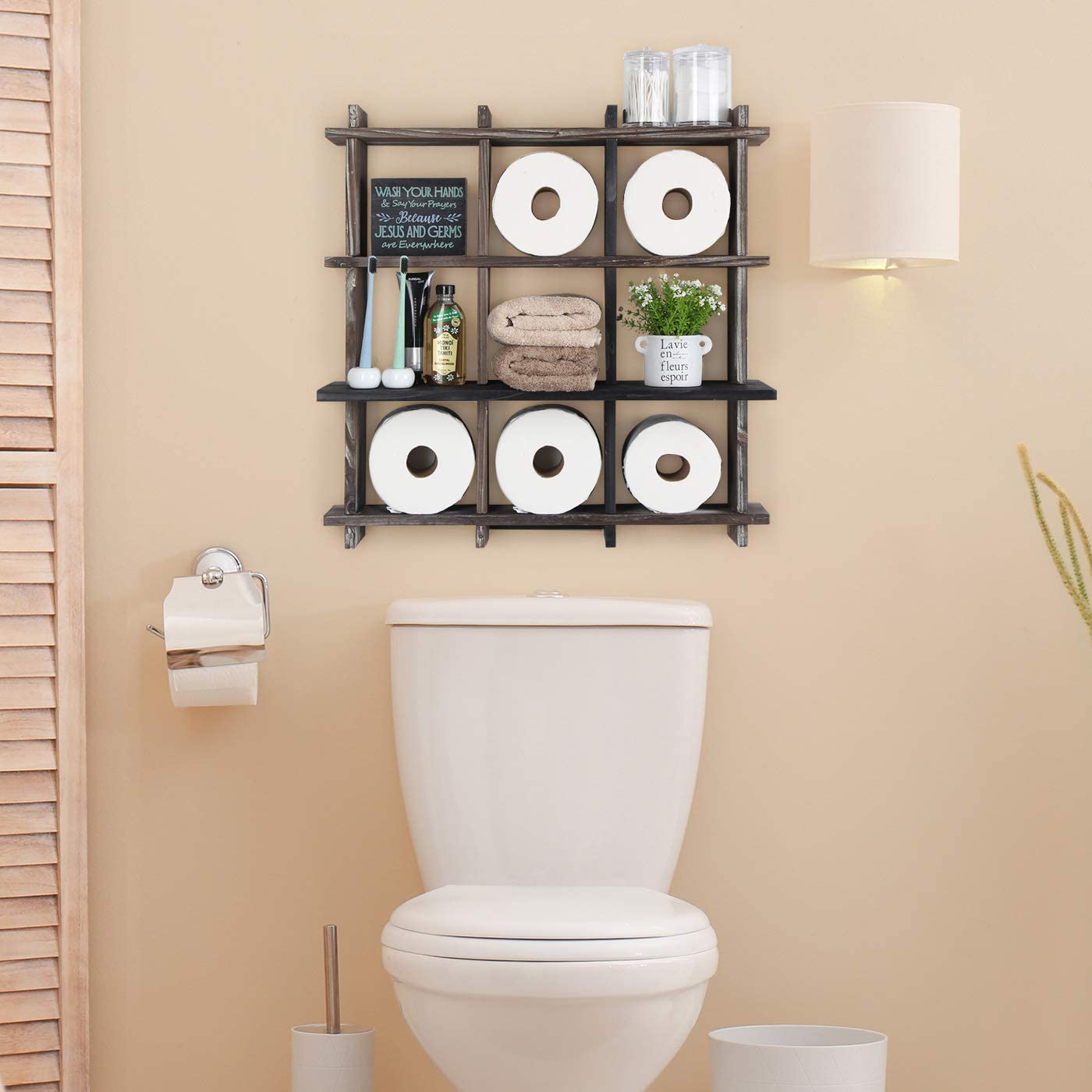 Enhance your small space with little rural pieces that double as a storage and decorative display. Cubbies like this floating shelf offer more storage space with their nine available compartments. The wooden look and texture will let you embrace your home's contemporary or rustic theme throughout your bathroom.
Take Comfort in Antique Pieces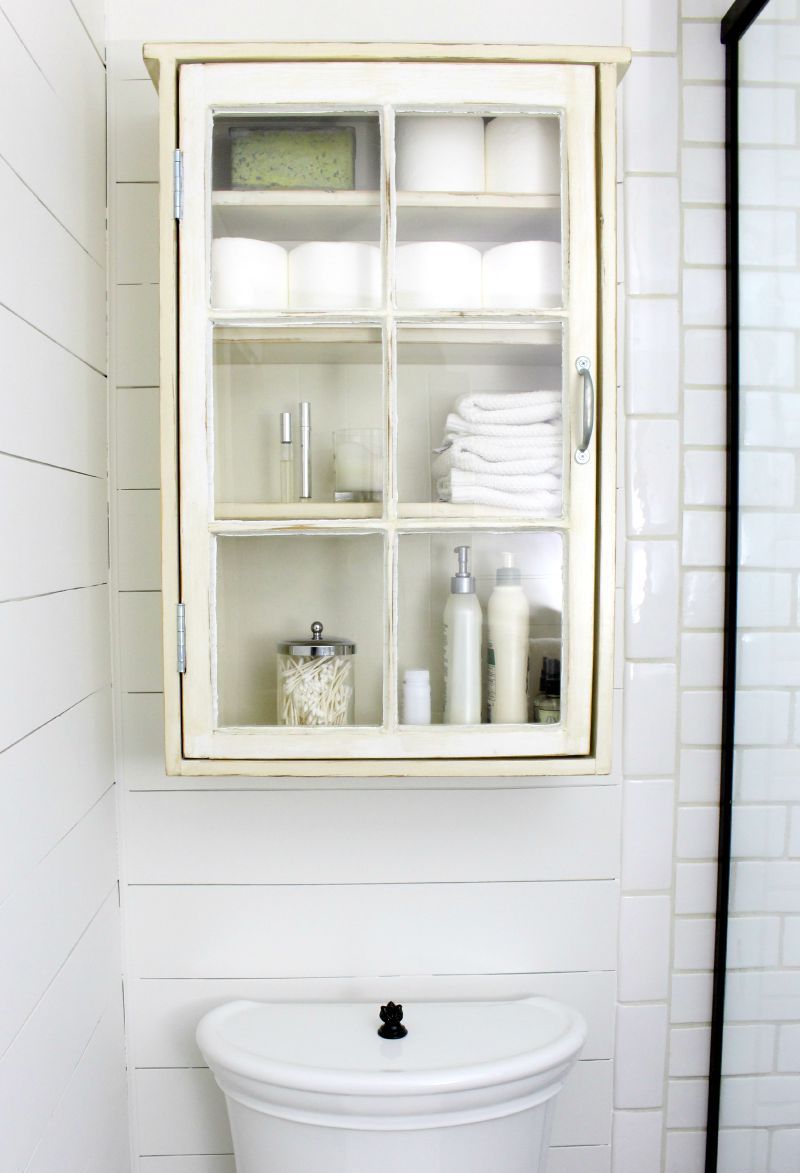 Give your bathroom a vintage interpretation with antique fixtures. You can repurpose anything you have on hand and turn it into marvelous over the toilet storage ideas. This old window in white paint is one stylish storage to give your bathroom a rustic boost. You can also mix and match items from the flea market and see how you can benefit from those pieces.
Slide an Over-the-Counter Storage Rack and Go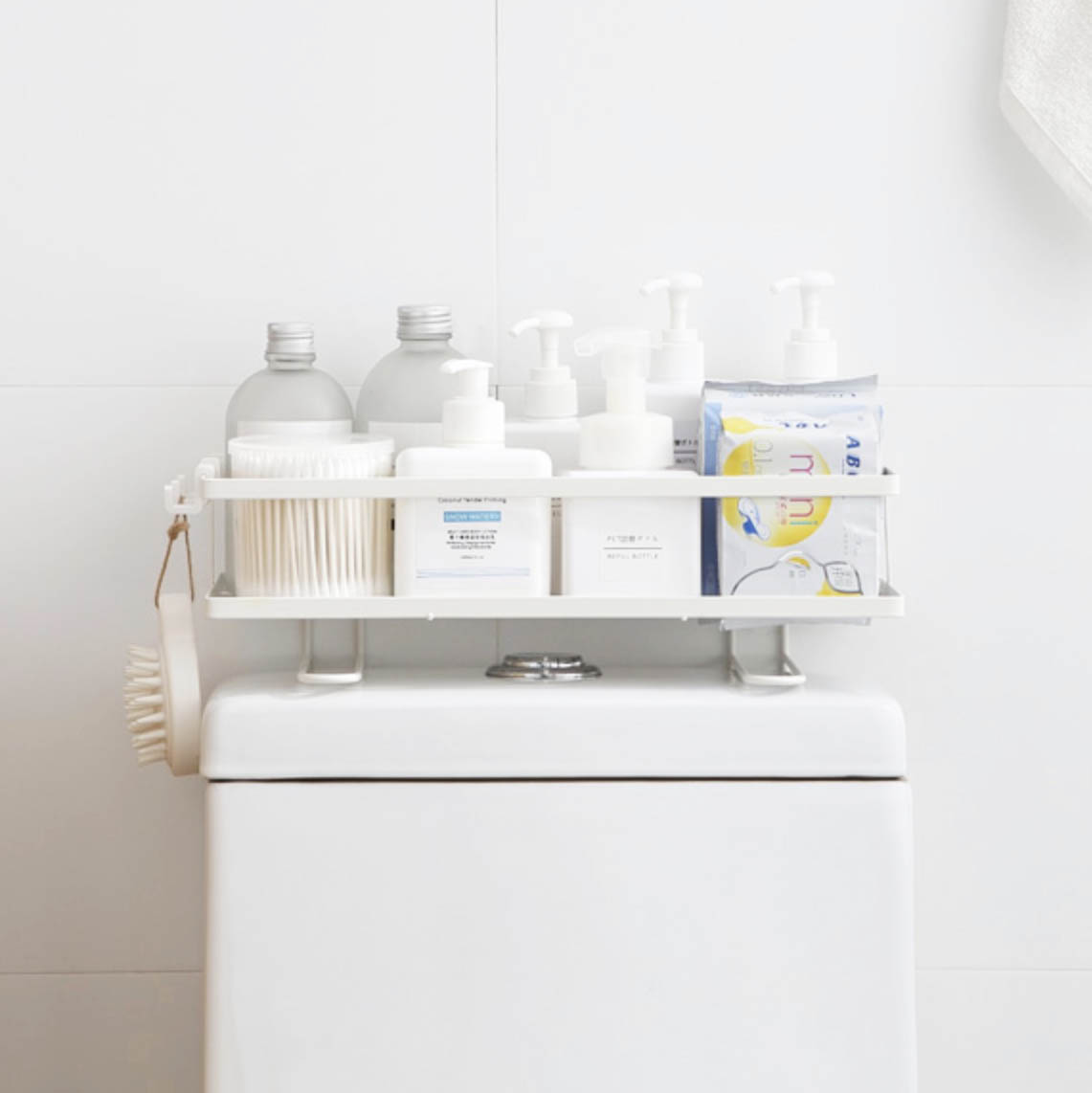 If you don't fancy drilling holes or shoving bulky units into your bathroom, why not make use of bathroom caddies? Space-saver units like this one will make it easy to organize your toiletries in one place. Don't worry if you have a top-flush toilet, the rack's elevated base will not have any trouble dealing with that. Storage organizers like this are ideal for small apartment toilet settings.
Avoid the Clutter with Etagere Shelf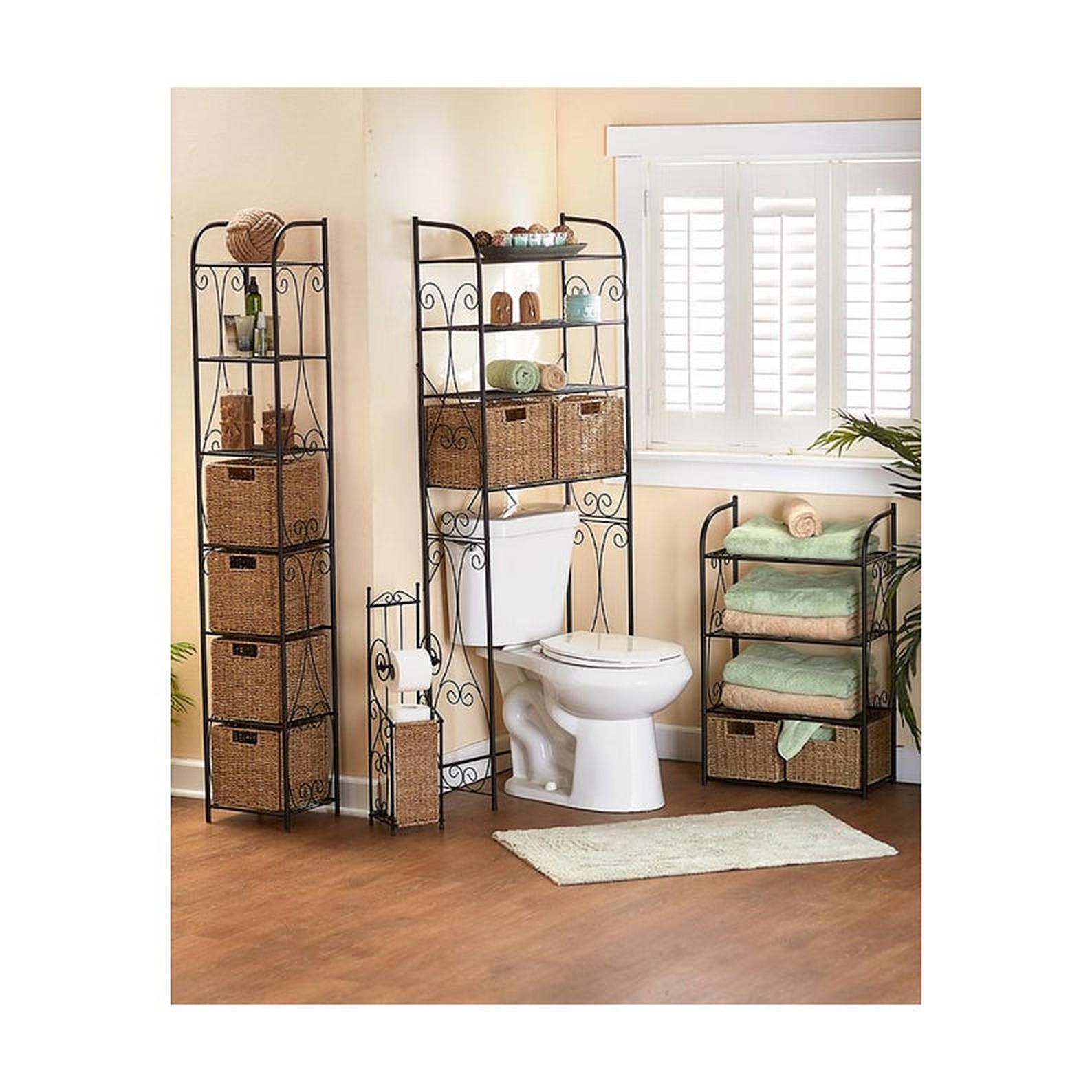 Etagere shelves are small updates that can make your bathroom feel less cluttered. These vintage bookcases are not only limited to your living room. You can also put this inside your bathroom for large-scale storage purposes. Its open shelf will make it easier for you to take what you need without fumbling through your various toiletries. These shelves are good enough for small bathrooms but are also gorgeous for larger ones.
Do-Over with Adjustable Shelves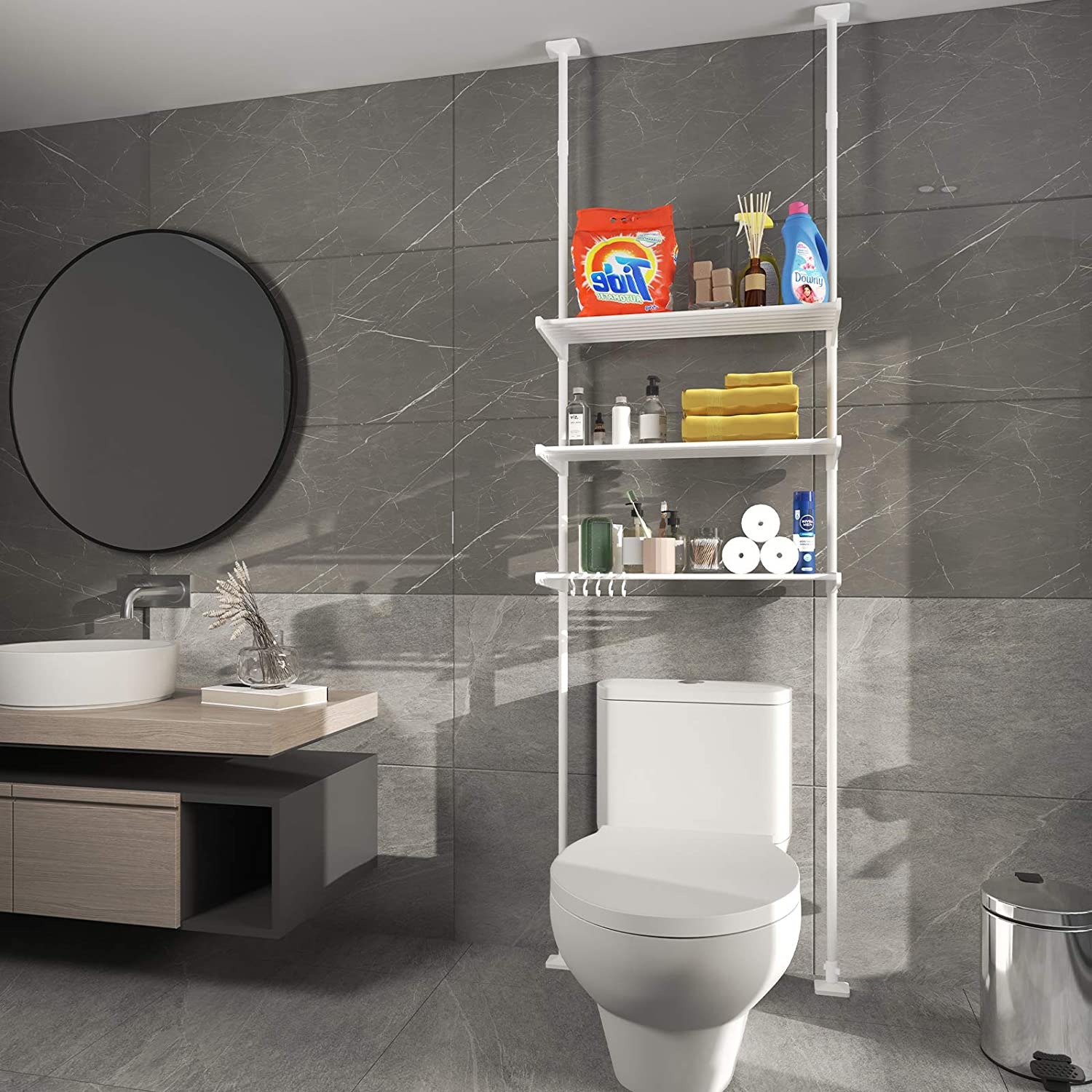 Installing fixtures needs meticulous measurement to fit everything properly. But if you are your own handyman without the expertise, things have the tendency to blow up. Thanks to the ingenious telescopic pipes and shelves that will allow installation without any tools needed. You can adjust the length of the pipes to attach to your bathroom floor and ceiling. You can also change the shelves' height to accommodate all your bathroom essentials.
Tidy Up Behind the Cabinet Doors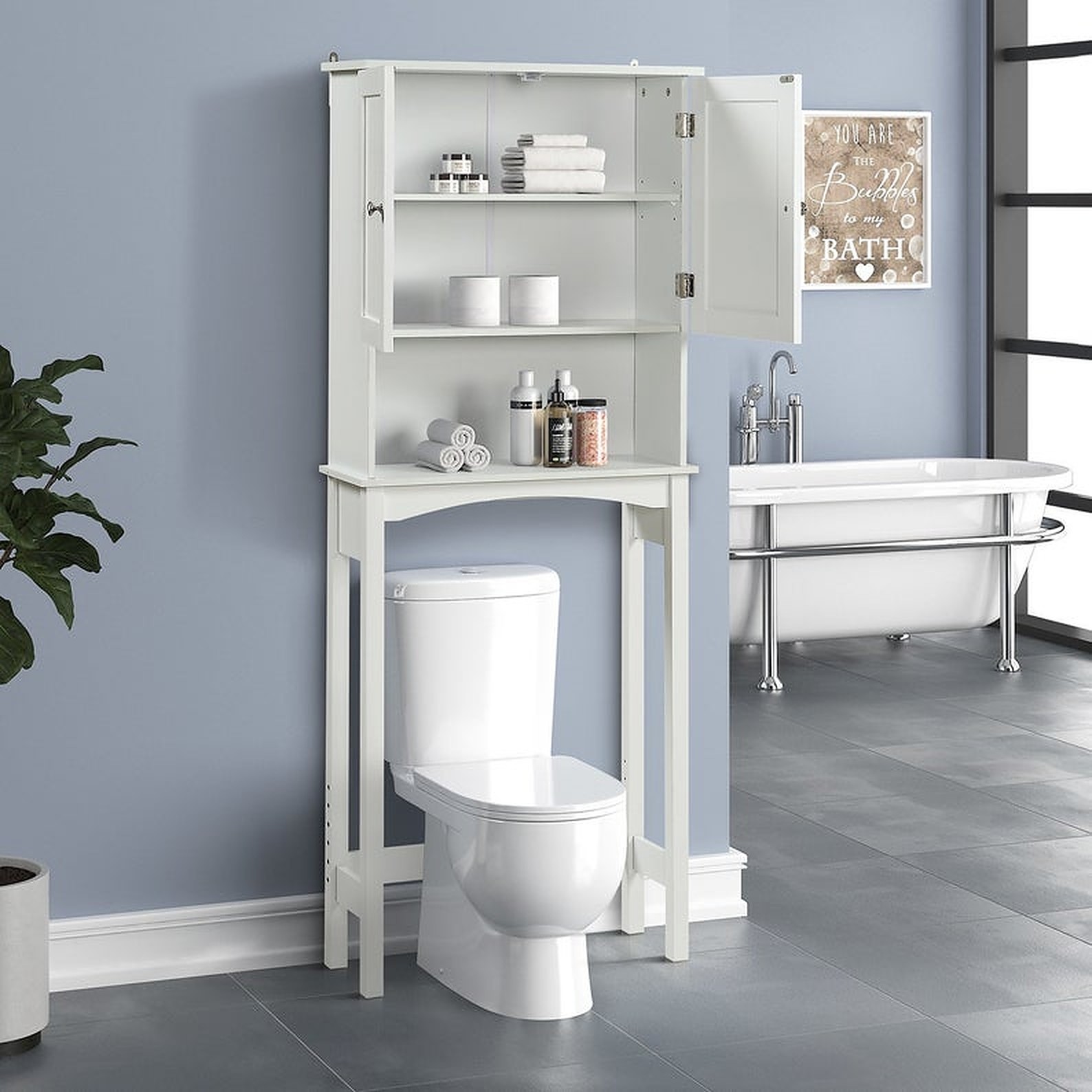 If you want to keep your things from plain sight, cabinet over the toilet storage ideas are cool options. But there is no need to bore some holes into the walls to install one. This freestanding multi-use bathroom storage can be shoved right over your toilet and into the wall for perfection. The unobtrusive design with its chic doors offers a little bit of privacy for your belongings.
Takeaway
The bathroom is one of the rooms in the house that always seem to run out of storage space. Unfortunately, most people are not very open to the idea of installing built-in cabinets due to rental limitations or the renovation cost itself. With over the toilet storage ideas, you can still keep clutter at bay. They are also awesome pieces to give you the freedom to add a personal touch to this tiny place in your home.