Are you looking for the best lawn edging ideas to transform your garden into a unique outdoor oasis? No matter how big or small your lawn is, you know how a small detail can spruce up its beauty. So, here are some of our stylish, easy-to-make, and economical lawn edging ideas that you can get inspiration. With spring just around the corner, you can now keep yourself busy and try these landscaping ideas to brighten up your nook. You can give your curb a fresh appeal to satisfy your eyes and breathe in a fresh, new start.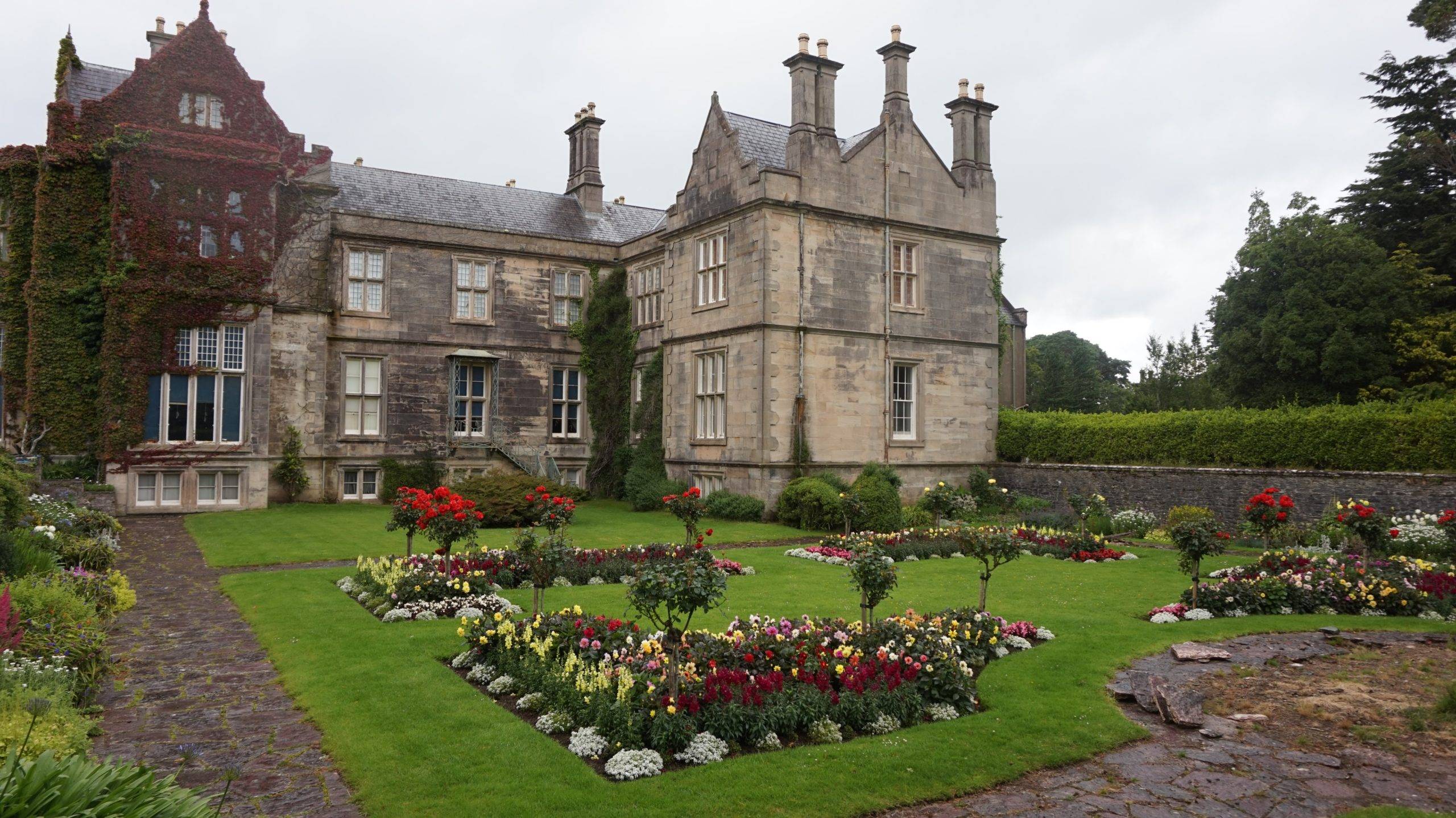 Lawn edging ideas come in a multitude of concepts with a variety of materials you can use. With the best borders to match the lawn, you can upgrade your plot as well as create a visual line of interest. They are also excellent in creating barriers to organize your plants better.
Plastic Lawn Edging
The most common type of lawn edging is plastic pound in lawn edging. This type of edging is buried in the ground with about 1/2″ – 1″ sticking just above the grass. There are, however decorative variations that would be above ground.
While this is not the most creative and interesting, it creates a seamless, elegant lawn.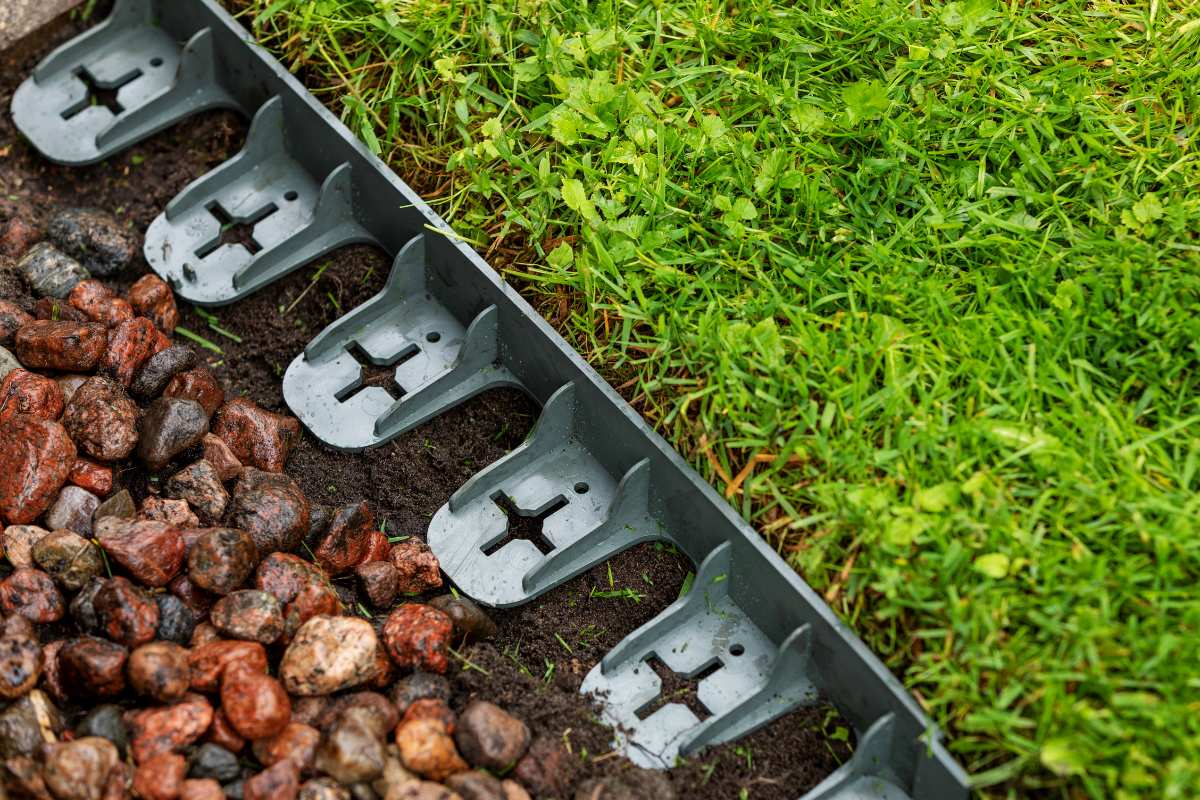 You can easily install pound-in plastic lawn edging with a rubber mallet.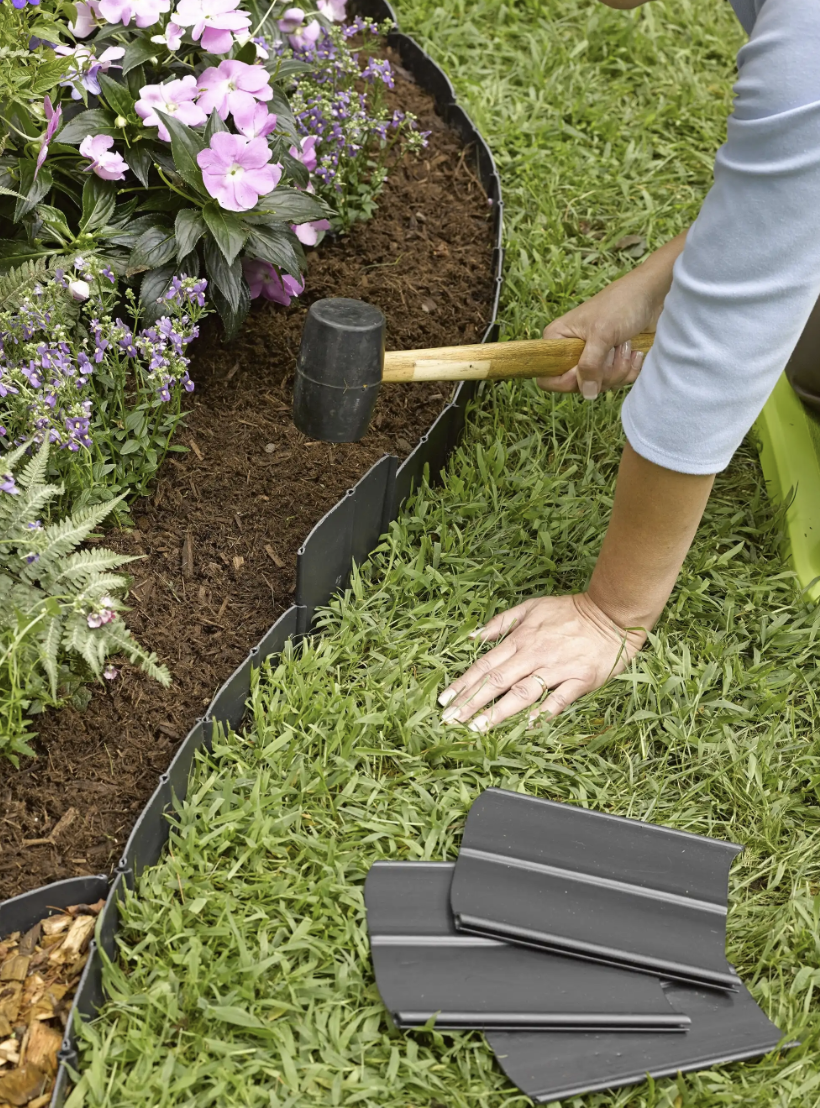 Plastic edging is also available on a roll. This type is great to work around trees to separate mulch from the grass.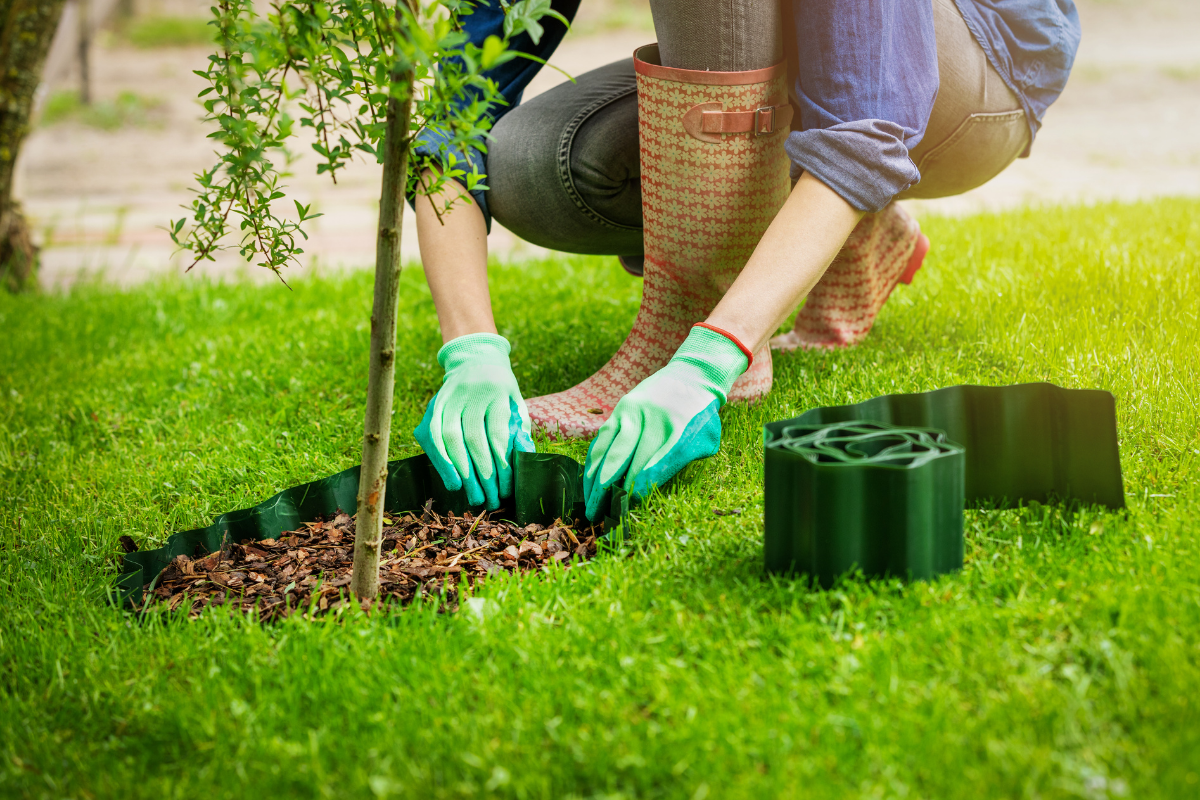 Concrete
Concrete is also a popular material to use for lawn edging. This one requires a little more machinery and finicky labor but you are left with a beautiful flawless finish around your garden beds and lawn.
When using concrete incorporating a curbing machine will ensure an immaculate finish.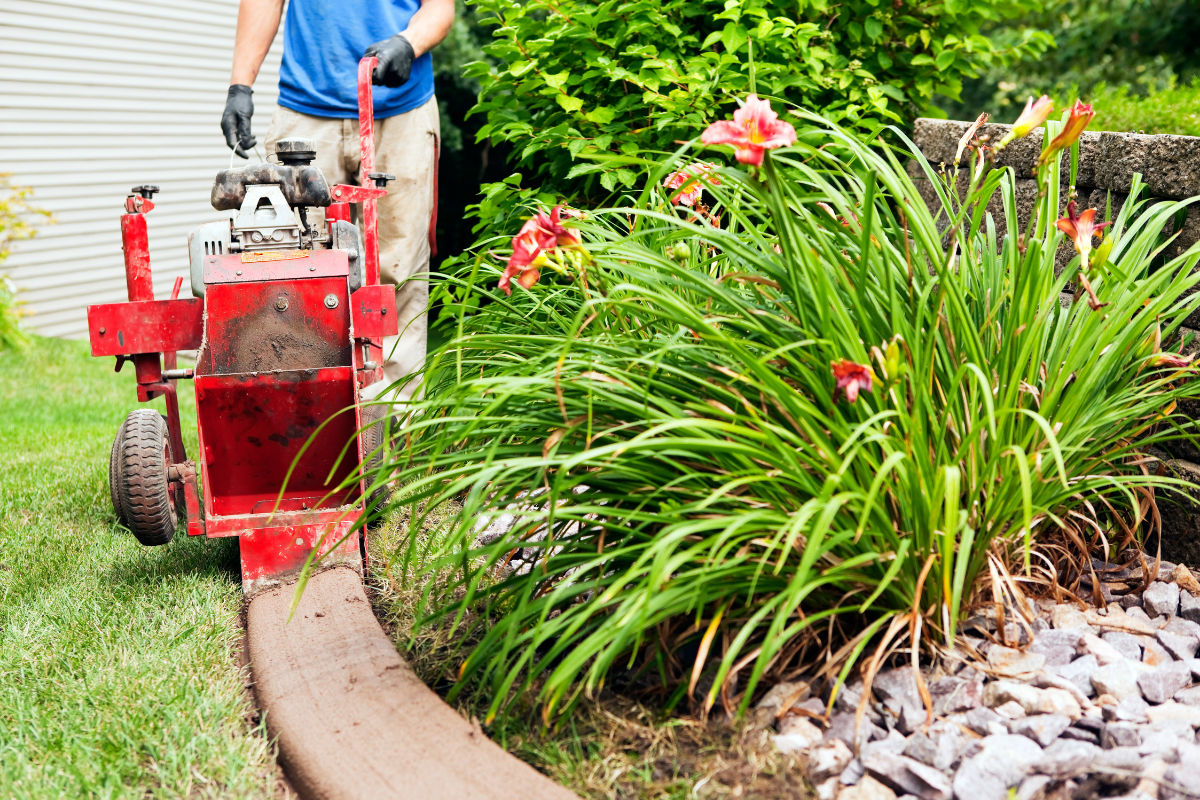 Repurposed Wine Bottles are Sparkly Lawn Edging Ideas
What are you going to do with all those bottles you purposely do not want to send to landfills? You can turn them into condiments containers, repurpose them into vases, or plant them in your garden. These lawn edging ideas get better in an open space where the sunlight can strike them. They are also dazzling ensembles that will add luster to your flower beds.
Seamless Metal Paver Edging
If you want a subtle and humble border for your plants, then go with unassuming metal landscape edging. These practical lawn edging ideas are durable and seamless pieces to keep your garden organized. They further keep the minimalistic look and blend well into the backyard so that the eyes can focus on something else. Take this modern landscaping using metal edging, which gives visual interest to the nearby raised flower bed, as an example.
Rolled Plastic Edging
Even though this rolled edging is plastic, you're left with a hardwood-looking finish. This rolled plastic with a hardwood look will not rot and provides you with the wood look without worry.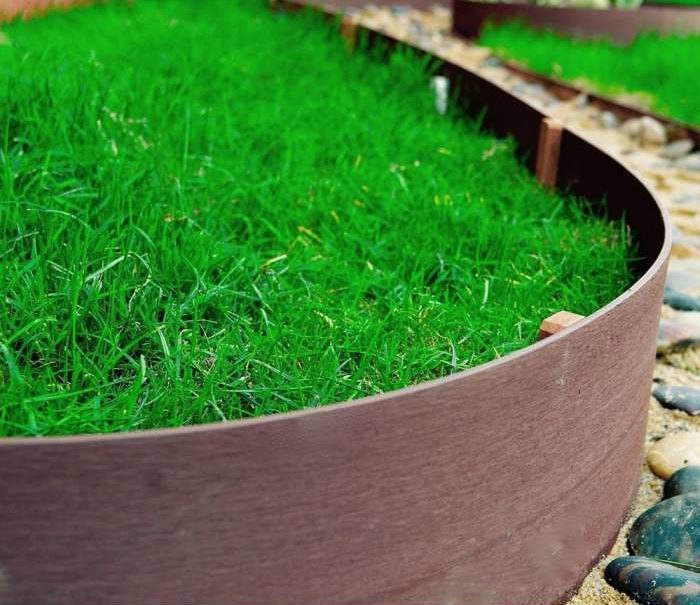 Date Back the Lawn with Classical Bordure
The Trade-Winds' Bordurettes are amazing lawn edging ideas that bring back a classical old-world feel to your property. These ornamental cast-iron edgings are common in parks and public gardens. We don't see any reason why you can't bring it home to your lawn as well. They are easy to install. Moreover, they are also maintenance-free garden borders that are best for people who like untroublesome permanent fixtures.
Give the Spotlight to Unique Pieces
Keep your garden funky and unique with ornaments you would not normally find in ordinary ones. This beach-inspired garden takes the seaside to line up the lawn for an extraordinary appeal. It further conveys an Art-deco inspiration with the geometric swirls of this exceptional shell edging. It is a playful take even if you live far away from the beach.
Brick Pavers to Keep Feet Off the Patch
Brick pavers are such frugal and practical lawn edging ideas for all types of lawns. They do not only afford the proper organization of patches, but they also provide a walkway. Hence, people will be mindful not to pack up the soil within the seedbed. It is simple to install, yet it will not fail to exude elegance and steal the spotlight on a lawn.
Stone Borders have Understated Glam
Even small upgrades can make a great impact, and stones are the go-to pieces to consider. Look at how these river rocks transform this drab garden into a sweet and private little corner. Line up some natural stone borders or make it quirkier with a few strokes of paint. And best of all, you can even have these items for free!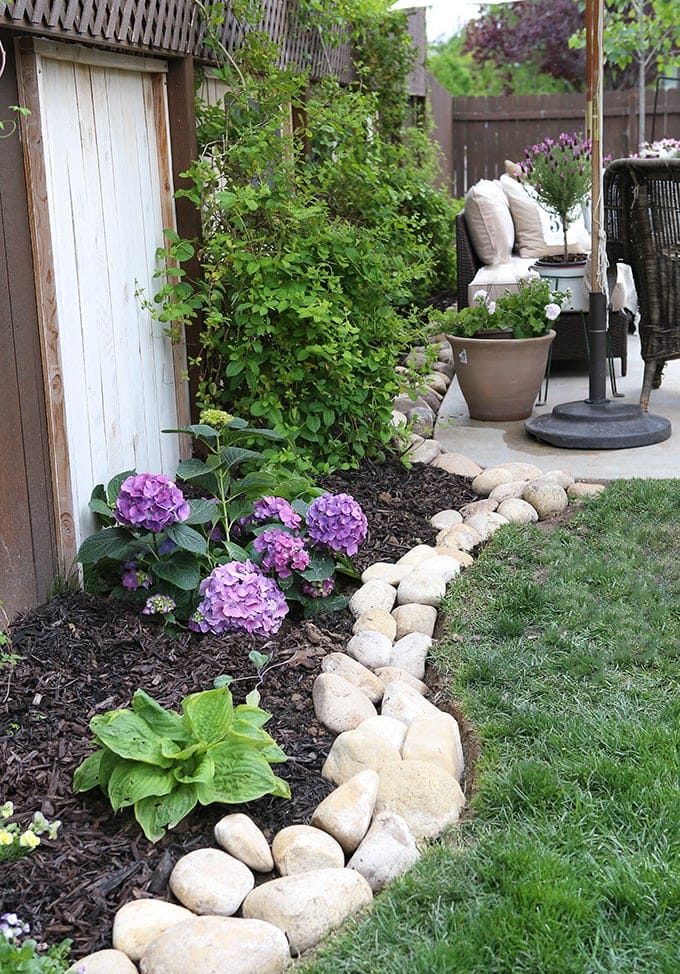 Raise up stones to create a stunning hill at your garden's edge.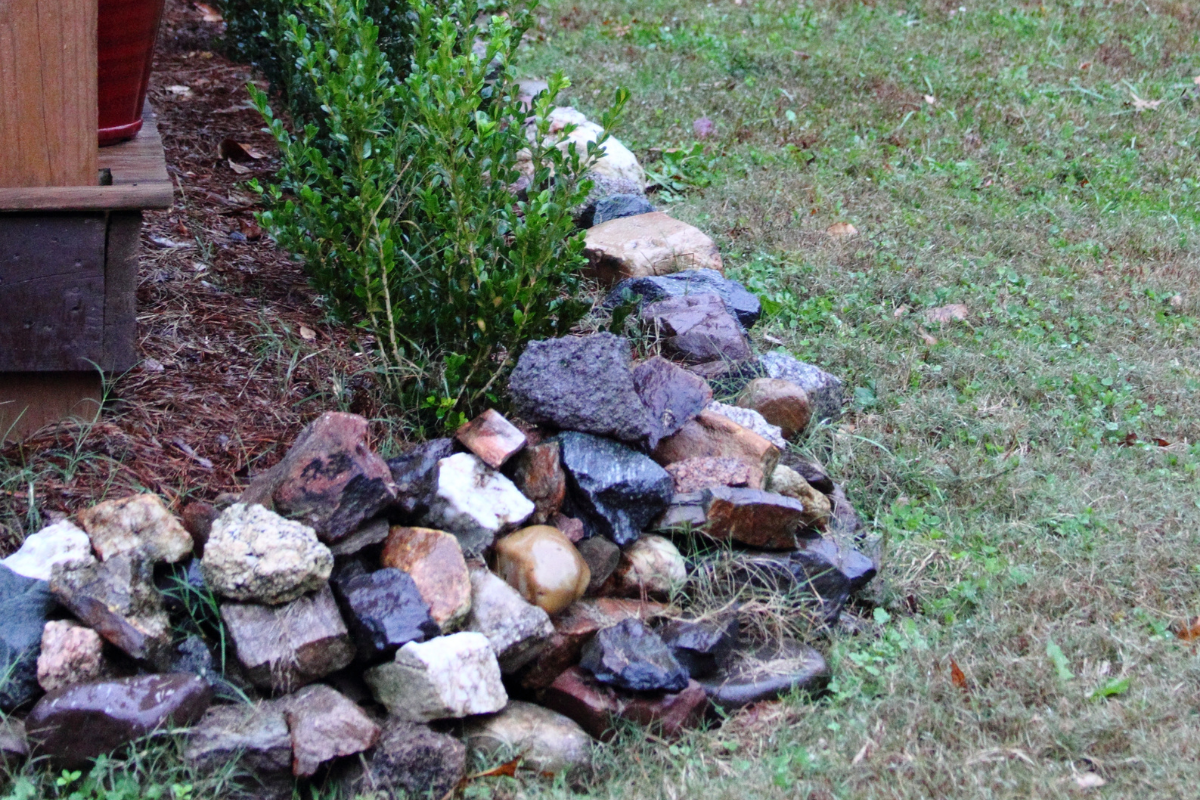 Or a simple arrangement of stones around a tree garden bed is sometimes all you need.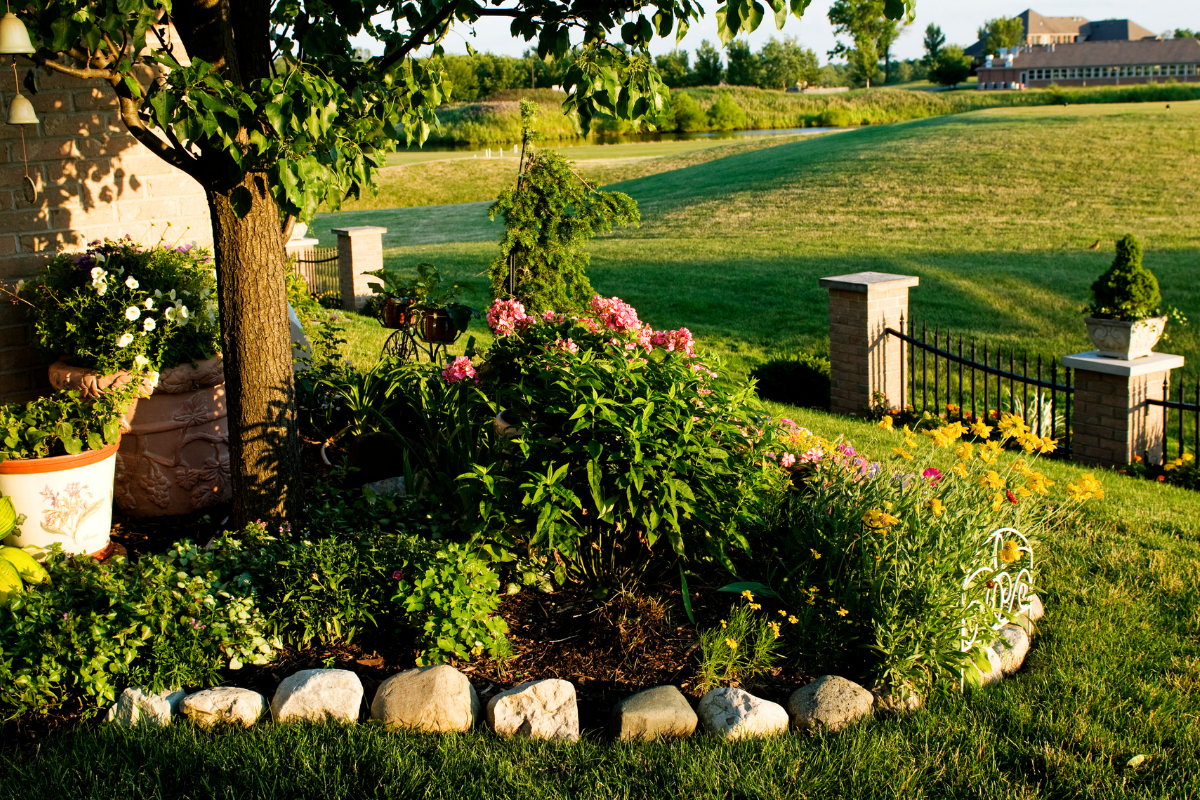 Define the Space with Store-Bought Stones
Well, if you can't find some gorgeous rock pieces for your lawn edging ideas, then check out hardware stores. This simple yet lovely front garden, for example, gets an upgrade from Lowe's edging stones. The best thing about the store-bought stones is that you have a variety of choices to pick from. They further come in uniform sizes. Commercial it may seem, but they can still give you that natural look to set out the space between your driveway and your lawn.
Cement Edging Can Fill Your Lawn with Stylish Personality
Cement pavers are elegant lawn edging ideas that complete the look of a well-manicured modern lawn. They also keep the garden organized and tidy. Lay it next to a patch of turfs, and they both exude a romantic and soft feel into the place. Laying cement edging can be tricky and hard work if you want to achieve a smooth finish. But hey, if you cannot afford a landscape architect, some video tutorials may do you a great favor.
Timber Edging for Aligning the Edges
Instead of laying lawn edging piece by piece – which can be tedious – why not consider timber edging? These easy-to-install and natural-looking flower bed frames are durable as as they are attractive. Additionally, it works great in keeping washed-away soil from your garden beds. Timber lawn edging ideas are ideal for straight gardens. Although, with some effort, you still can fit this on curves and corners.
Add Context to the Garden with Wooden Edging
Wooden edgings are great if you love rustic appeal and like to employ them in a curved garden. So, instead of laying long wood slabs, you can dig and stake out freestanding cut woods. They will provide a tidy look while making a decorative statement in the yard.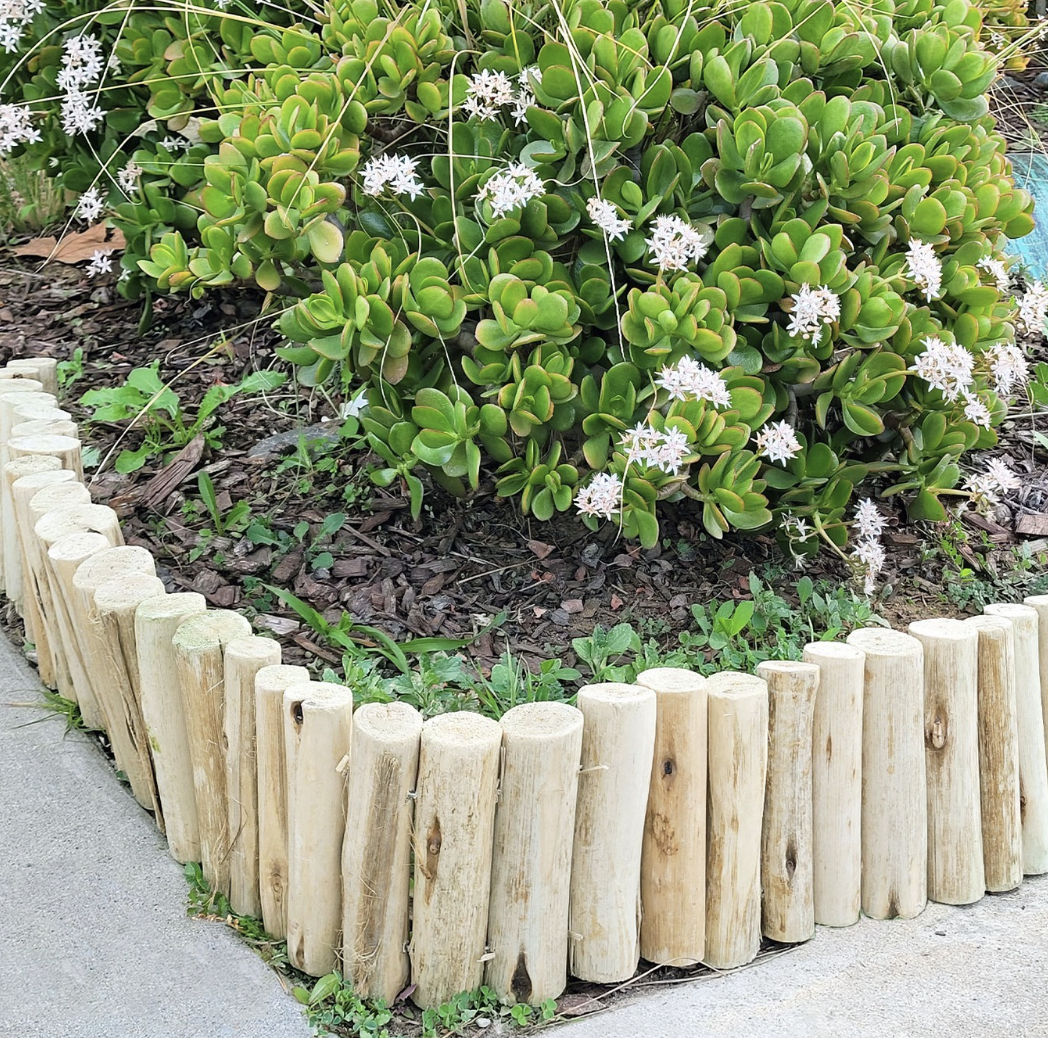 Natural Willow Edgings are Intricately Beautiful
Wicker and willow lawn edging ideas are reminiscences of a classy English garden. These handcrafted edgings often come in different handwoven designs. Although they are high-maintenance, these products are also environmentally sustainable. So if you want to add a touch of green sophistication, polish your garden with this natural beauty.
Terracotta Pots to Take the Spot
Most gardeners swear by the neat and perfect effect terracotta pots can create in their yards. The patina, or that red-clay look, adds a rustic and natural appeal to the garden space. Using graduated sizes of pots as well as clever placement, you can also upgrade your lawn into a fun and interesting place.
Mix Different Materials
Throw in rocks, metal, concrete edging, and paver, and get the most out of your lawn edging ideas. This well-arranged garden achieves a classy design with its various material combo. With your own ingenuity, you can further mix and match materials and create more fun and interesting lawn edging ideas.
More Repurposed Stuff
And speaking of some interesting ideas, the garden is the best place to showcase your creativity – or dispose of used stuff. There are countless ways and thousands of items you can turn into fascinating lawn edging ideas. Look no further than your home for throwables and ancient stuff and bring them outside to line your patch. The quirky and clever ideas will never run out-and, so will be the discussions. Take this set of old china as an example of wonderfully repurposed lawn edging.
Install a Concrete Curbing
Concrete landscape curbing is durable and one of the low-maintenance lawn edging ideas. They are a standard highlight for adding an exciting curb appeal to your yard. However, it may require professional help to install one. But if you are willing for some elbow grease, spare a little time, and employ some skill, you can do this too. Custom curbing is a perfect frame to upgrade the value of your property.
Cedar Planks
Cedar planks can be easily used as lawn edging. Simply cut them down to the size you like and use a rubber mallet to pound them in. You could also stain them if you don't like the color.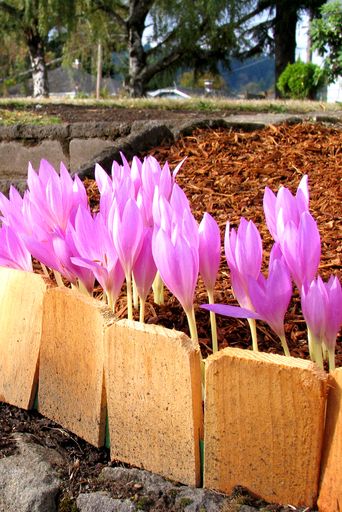 Shrubs
You can use small garden shrubs as a decorative type of edging around gardens and walkways. Shrub will have to be maintained to keep their straight edge look, though. This is something to keep in mind because if you are after low maintaince, this idea may not be for you.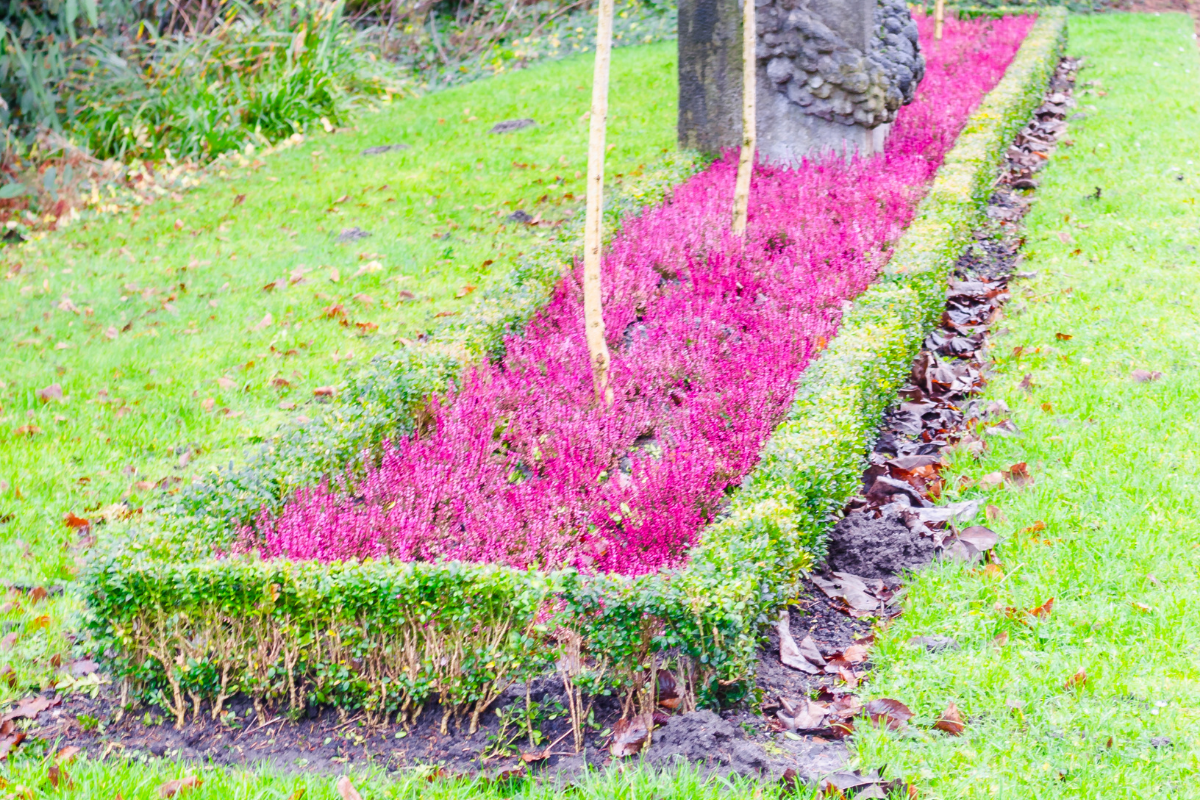 Decorative Stone
Lawn edging is available in several beautiful decorative stone looks. This cast stone will help you maintain the edge of your garden all while giving your landscape a classy and elegant look.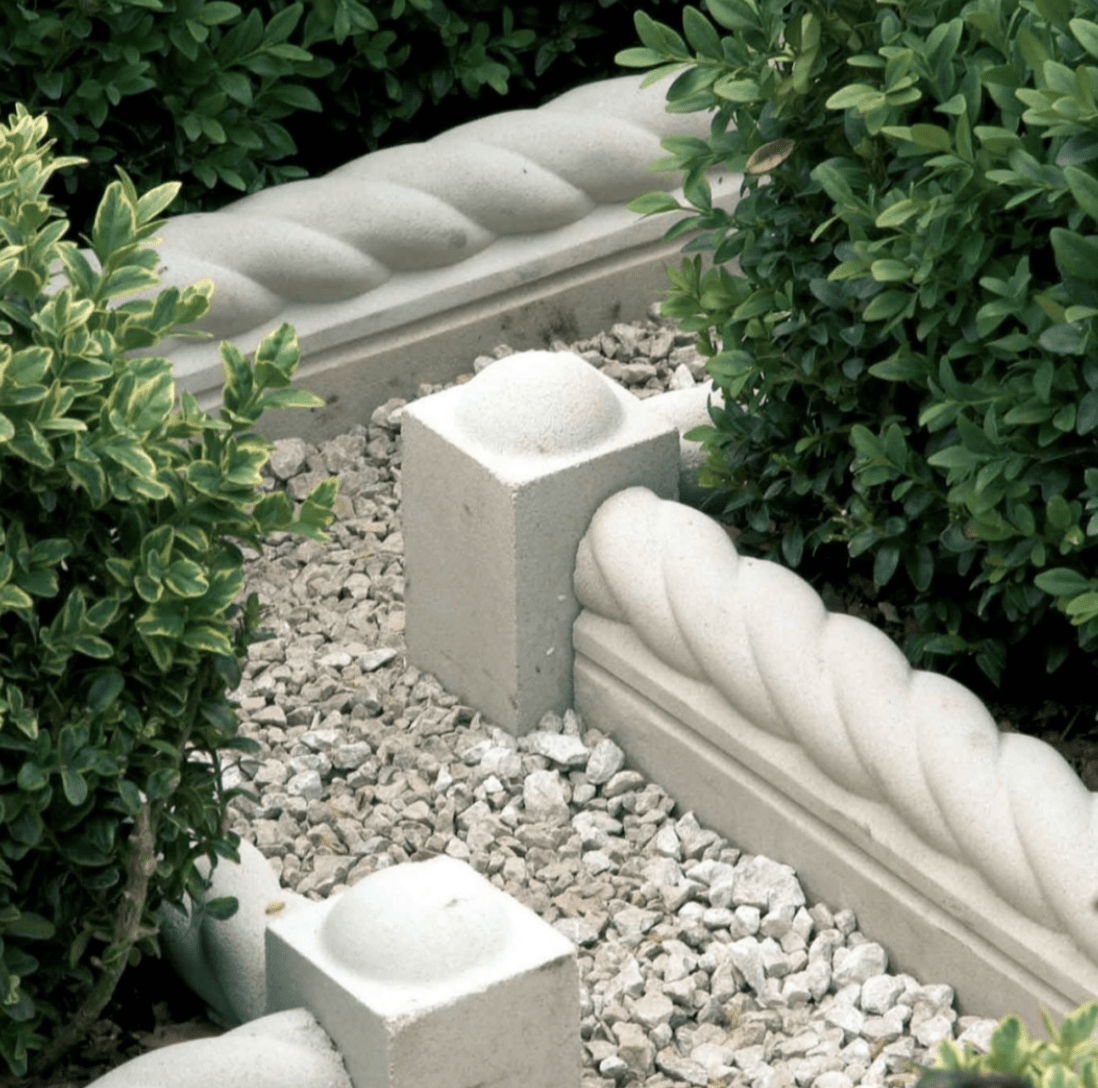 Slanted Bricks
Be creative with your placement of your edging. Instead of the traditional way of placing bricks around a garden, this homeowner opted for a more imaginative placement.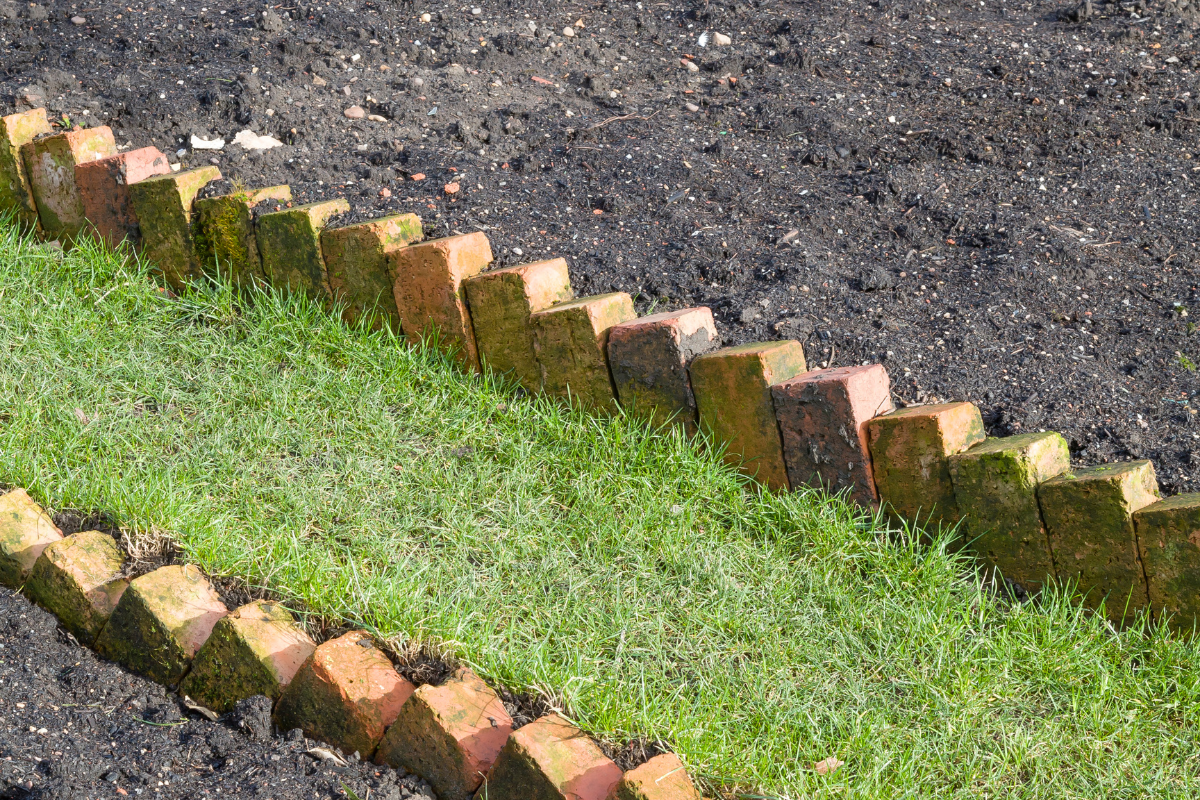 Steel Edging
For a contemporary garden design, steel edging is becoming increasingly popular. Even though it's steel, it's not hard to work with and can leave your garden with a flawless edge and design.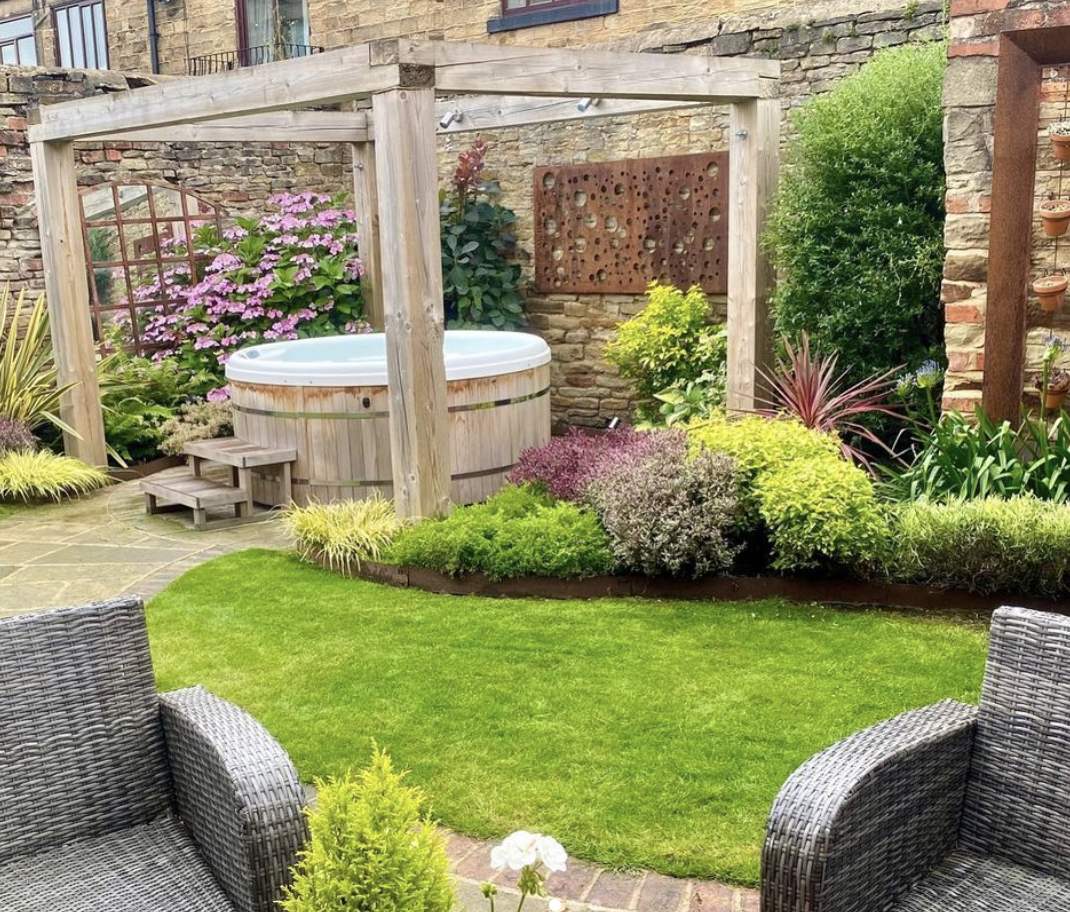 Lit Up Edging
For a stunning lit edging idea at night using some rope lighting to light up the garden's edge. This looks so slick and classy!
Rock Wall
Rather than just placing rocks to edge your lawn or garden, you can take some wire mesh and build them up to make a wall to separate your garden from your lawn. This is a creative and attractive way to use rocks instead of just placing them at the lawn's edge.
Railroad Ties
Old railway ties have been used in landscape designs for years. They are used to build up garden beds and to separate lawns from gardens. Sometimes an old classic choice is best. Place the railroad ties in a geometric formation to put a modern spin on this timeless landscape design.
Scrap Wood
If you have old scrap wood laying around you can cut it up and use it to edge your garden. Pallet wood is also great for this ideas — especially because a lot of times you can find it for free. You can even paint the wood if you want a little color in your landscape.
Tree Trunks
For a natural look to your yard, you can use tree trunks to line your garden's edge. Line a pathway or even just your lawn.
Takeaway
With lawn edging ideas, you can recreate your front yard with unique and inspiring garden pieces to enhance its appeal. The materials that you can use vary widely. Depending on your taste and theme, you can always find something that will work for you. You can choose to hit the store for custom pieces or look everywhere and let your imagination rule it out. You may also employ labor or do the stuff yourself. In the end, we hope your toil will satisfy your eyes as much as the onlookers and passersby.
Frequently Asked Questions
FAQ
What is the best material to edge a lawn?
A simple and most commonly used material to separate your lawn from your garden is 4-in.deep strips of steel, aluminum, or plastic. Now, this is not to say that you cannot get creative with your lawn edging. Other materials such as brick, stones or concrete can be used as well. Metal lawn edging curves easily into smooth, elegant curves and prevents the spread of grass roots. Some homeowners opt for painted aluminum and steel as these materials offer a sleeker, more sophisticated edging look. This style almost disappears against the grass and garden bed. All work nicely on a relatively even landscape. A paver border may be more suited if you have an uneven terrain.
What is the cheapest landscape edging?
If you are after a cost-effective material for landscape edging your best bet is plastic. In some areas, you can even get plastic garden edging at the dollar store.
What is the easiest landscape edging?
No-dig edging is the easiest type of lawn edging to install. Essentially, all you have to do is pound stakes into the ground while working with stone or brick edging requires the use of mud and mortar and occasionally even cutting the stone with an angle grinder to make the joints fit together.
How do you keep grass from growing over edging?
To prevent grass from growing over your edging you can add an additional material barrier between your lawn and edging by cutting a thin trench in front of the edging. Keeping a soil-free space between the lawn and the flower beds stops grass roots from spreading through the soil and beneath the edging.