Wall designs can show off your personality and there's no better place to do that than the kitchen. Every homeowner wants to see to it that the living room and bedroom complement their distinctive styles. But we don't see any reason why you can't give the same to your kitchen wall. After installing your cabinets and counters, after clearing all the clutters, it is now time to envision your overall kitchen. There are multiple ways of personalizing your love affair with this cozy (and busy) place in your home. But whatever style you wish, you will not miss the possibilities in this list.
Most kitchens feature permanent fixtures, and there's nothing we can do about that to revamp our space. But you can always foresee future renovations without bringing the entire wall down. Trust alternatives that will bring life into your wall with the capability of redressing it when you want it.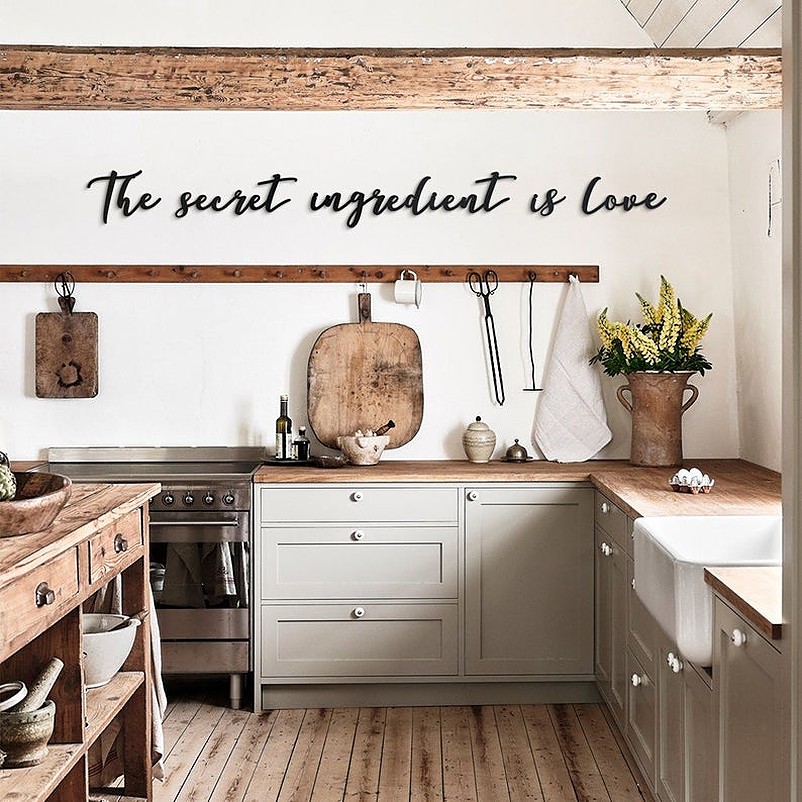 Here are some of the best kitchen wall décors to consider for every style.
Balance your Modern Kitchen with Wooden Wall Decors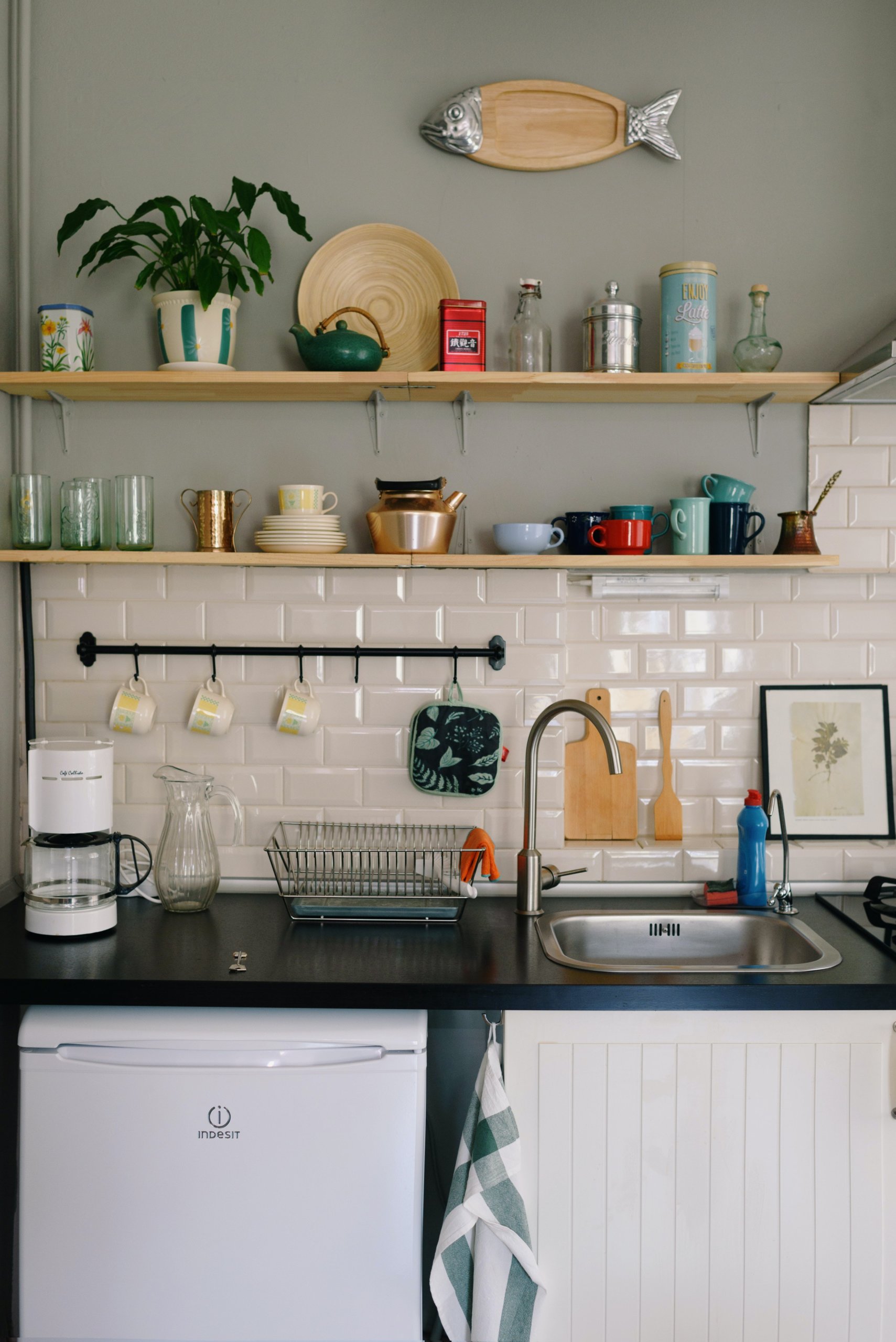 The modern kitchen gives out a sleek and minimalist feel. It often has flat and reflective surfaces and geometric details on the side. But natural materials do not only define a traditional kitchen. It also keeps the balance and adds depth to modern designs. Throw in some bold color frosted glass and appliances and achieve the classic modern kitchen with wooden wall decors like this one.
Jazz up your Scandinavian Dining Room with Plants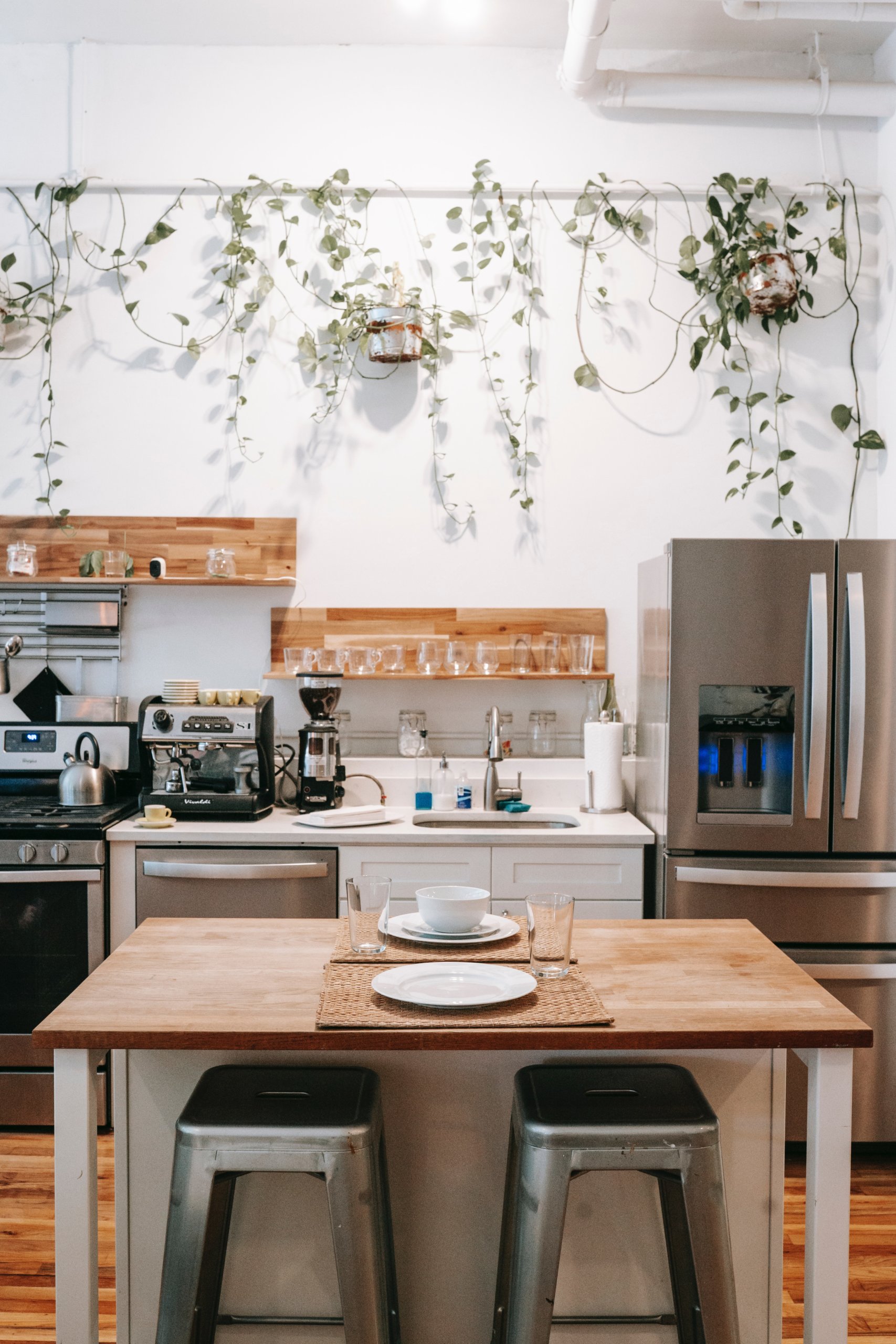 Plants enliven the neutral hues of a Scandinavian kitchen wall. It conveys a cozy feel that breaks the monochrome of toned kitchens. If you want to fill your wall with hanging greens, then climbing plants are the best option. You can display it on planters hanging by a painted dowel and let it cascade all over the wall. But if you cannot drill holes, potted plants in nails or tacks are still an interesting idea to consider.
Keep Modular Kitchen Simple with Tiles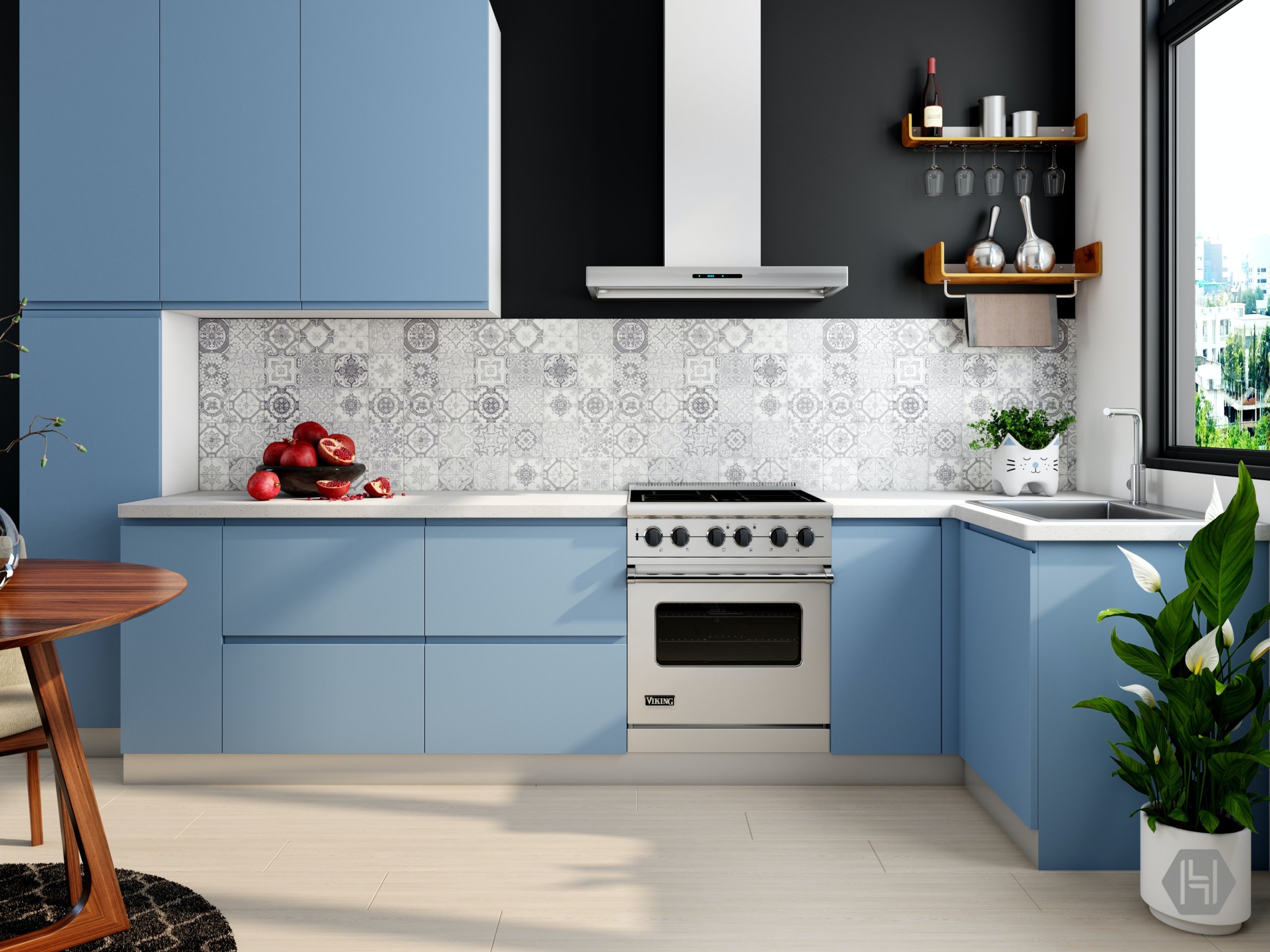 Sleek ceramic tiles give this modular kitchen a cool finish. Wall tiles are stylish and the design varies widely to suit every user's taste. The cool cabinet colors of this kitchen make the room look wide and airy. If you are tired of your existing layout, you can always reassemble a modular kitchen without much fuss. So, it is best to choose kitchen wall tiles that are also versatile for various future alterations.
Get Creative with Murals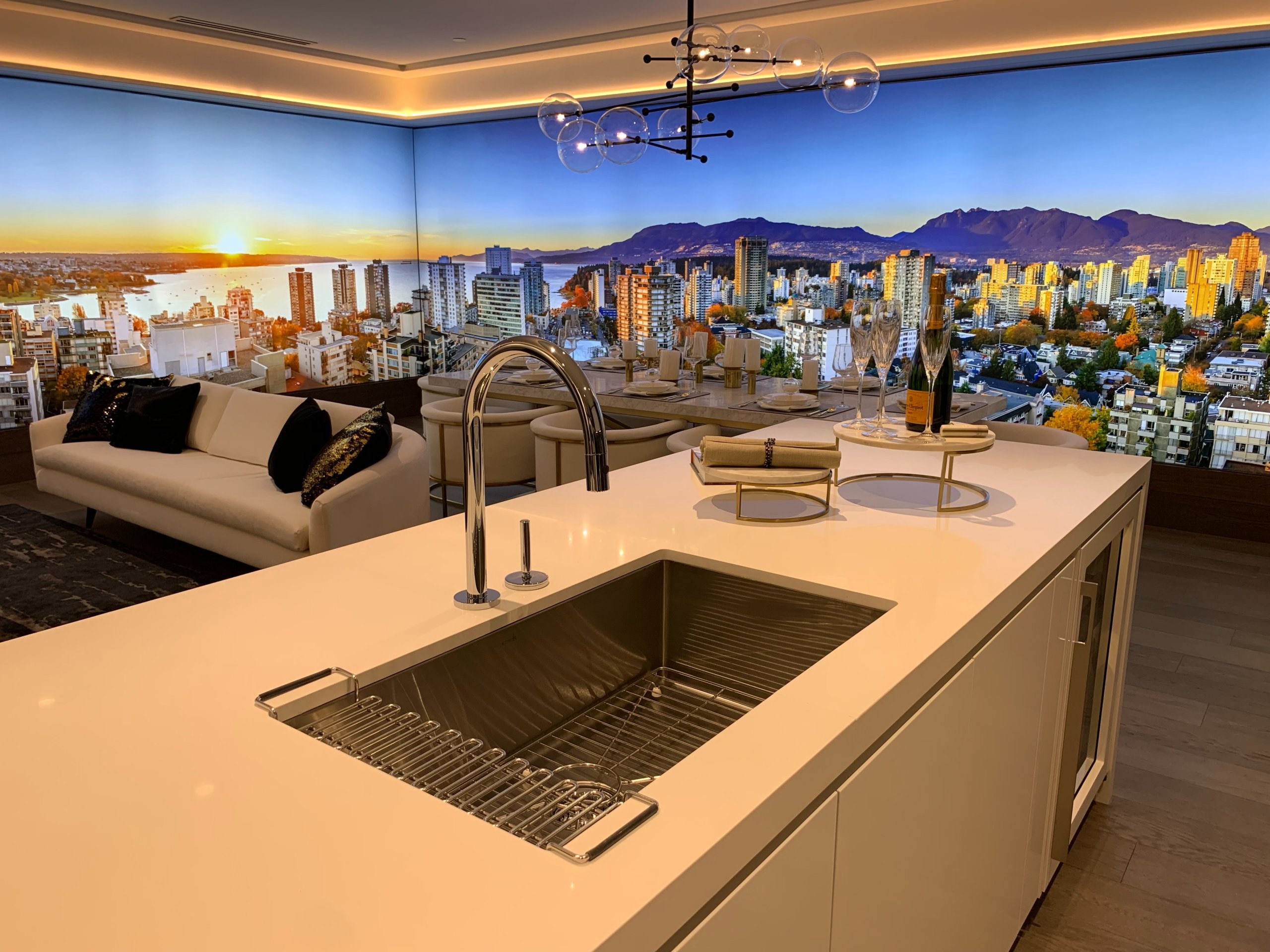 Bring the outdoor into your drab kitchen with realistic murals. Choose a theme with exemplary designs of your choice. Adhesive wallpapers are an excellent way of bringing such imagery indoors. It is also an effortless way of art presentation where you can have a huge selection of designs. But if you have the flair for mural painting, you can go ahead and brush it with the theme that you desire. Make your blank kitchen wall your canvas. Impress your guests with your own eye-popping and conversation-inducing designs!
Bask in the Luxury of Metals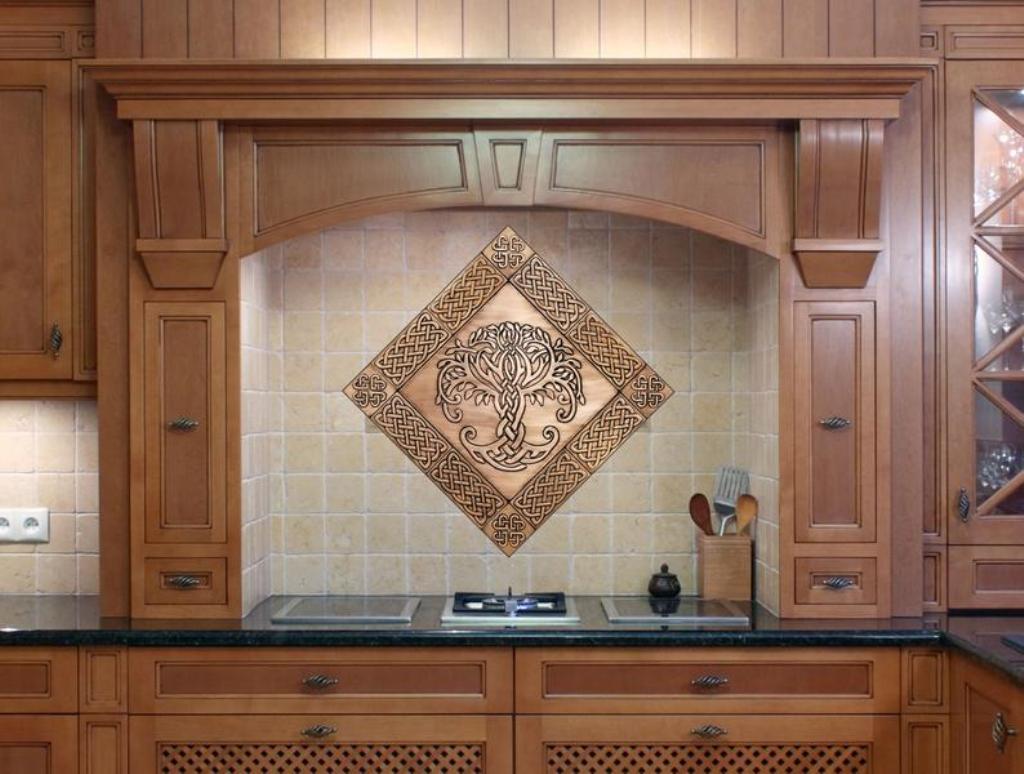 Luxurious backsplash tiles put momentum into kitchen wall designs. Copper, stainless steel, or brass are a magnificent way of adding sophistication and visual impact to your room. Metallic stone wall tiles have that autumnal flair that will add texture and emotion regardless of the kitchen size. Consider these unique Celtic Tree of Life handmade tiles. These make a unique, original, and exceptionally stunning piece of kitchen wall art display.
The Bohemian Appeal of Wicker Materials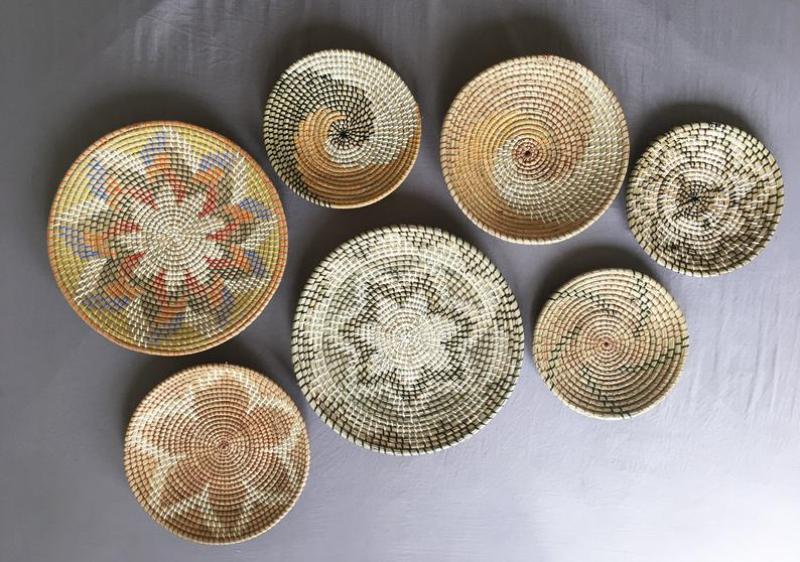 Nothing says boho more than wicker baskets as decorative wall ensembles. These seagrass-weaving wall basket decors will work wonderfully for most kitchen wall motif. Woven baskets are also a new trend in wall decorating guaranteed to impart warmth and texture into a room. These artisanal pieces will also add vintage touch even to a modern kitchen wall.
Maintain Minimalism with Little Kitchen Sign Details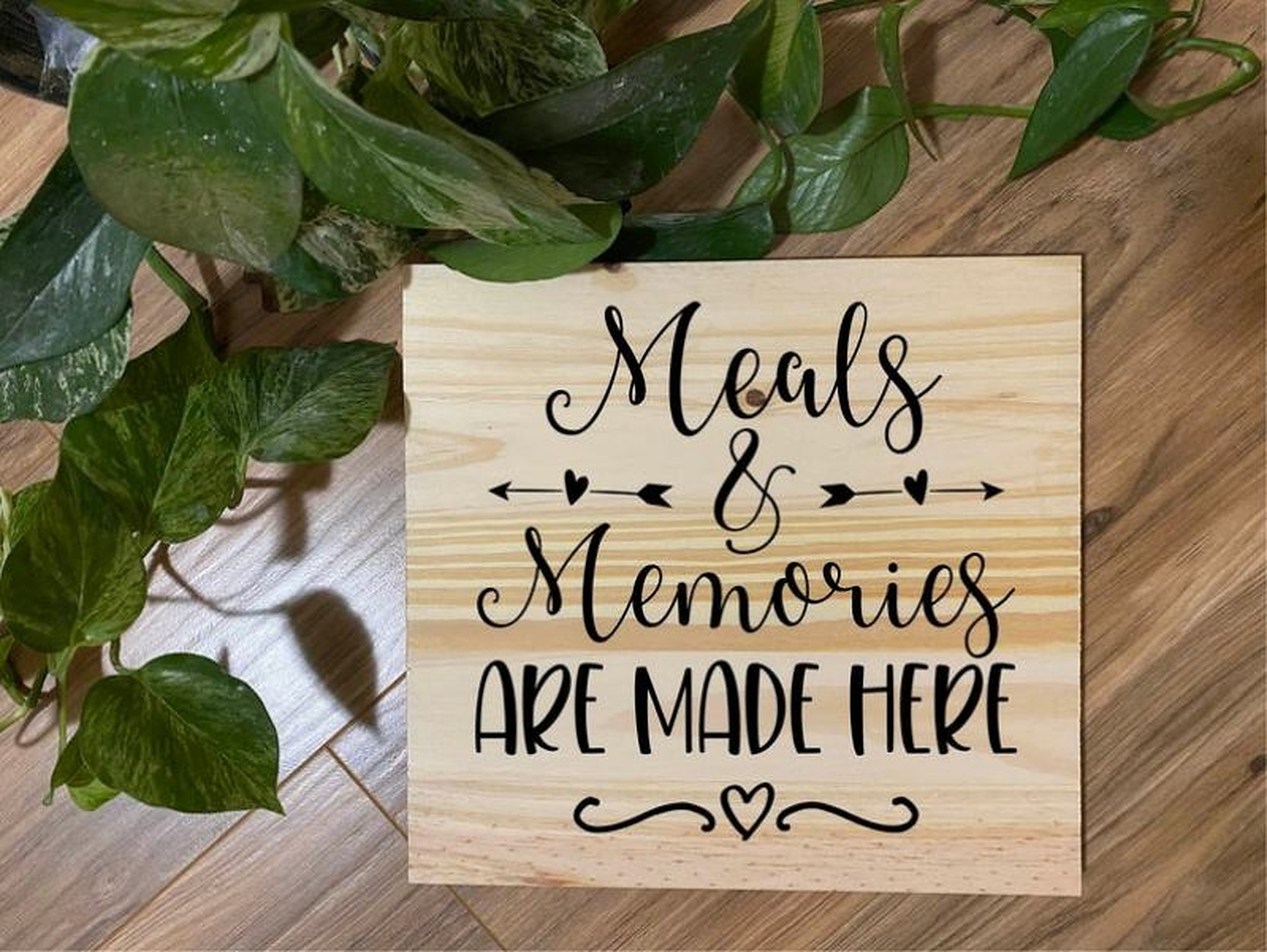 Fabrics and frills are less common in today's modern kitchens. However, inspirational words kitchen wall designs are getting more mainstream. If you don't want to bother with decorating your entire wall, add some rustic elegance with cute signs. Hang it to make everyone remember how fun there is to cooking while creating a focal point on your kitchen wall. It also makes fine collectibles and timeless pieces to grace your kitchen wall for as long as you please.
Bring the Chic Restaurant Feel with Canvas Art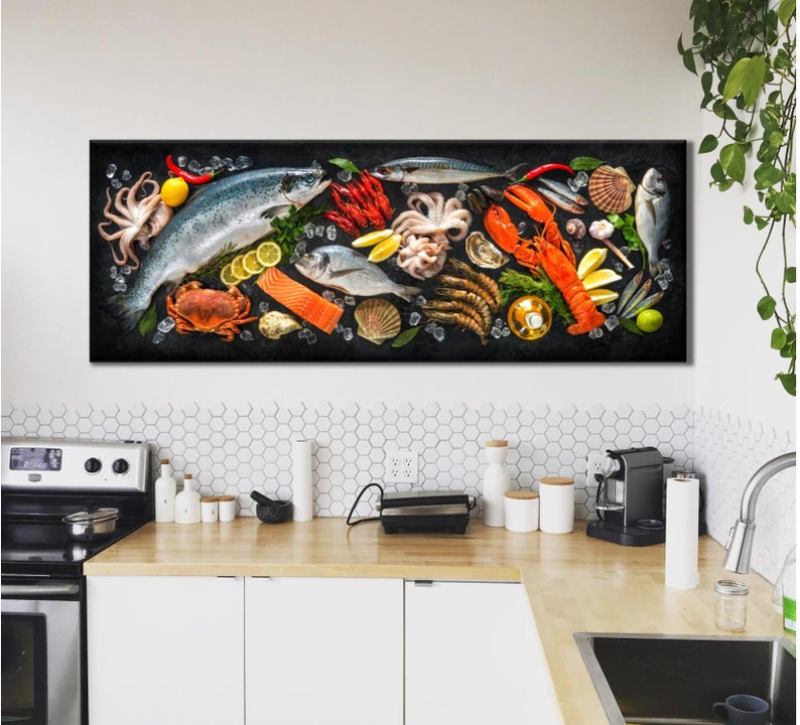 Canvas food art on the kitchen wall? Why not? These visual schemes are eye-catching details that will spice up your kitchen wall with appetizing art. The bright colors and appealing display of this canvas painting convey bountifulness and freshness. A large one piece of art should be enough for a kitchen and lend an instant character to your wall.
Functional Kitchen Wall Clock Decor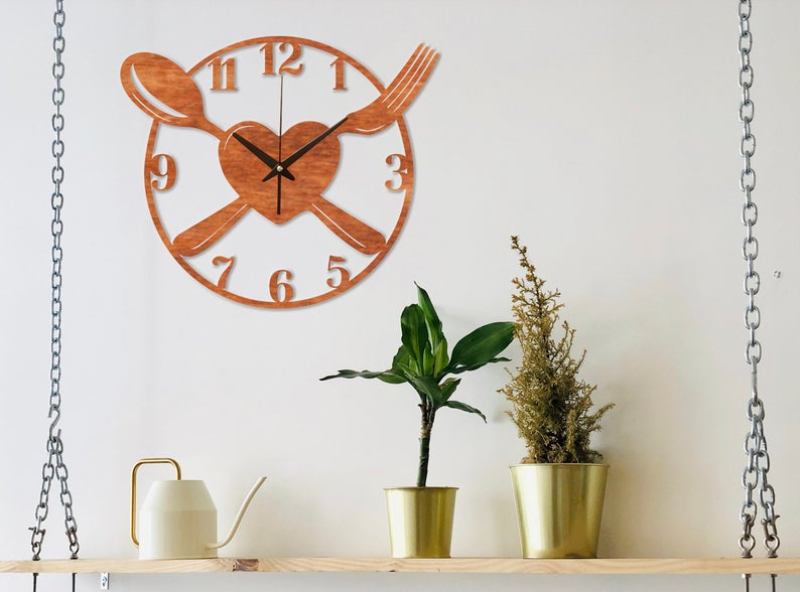 Quirky kitchen wall clocks are also a global trend in kitchen decorating. These functional gears bear an impression to make even an understated kitchen stand out. This spoon-and-fork wooden wall clock, for example, is a simple accessory to lend that cozy and homey feeling. If you want practical use of your kitchen, then you will never go wrong with these decorative and functional pieces.
The Practicality of Shelves in Contemporary Kitchen Wall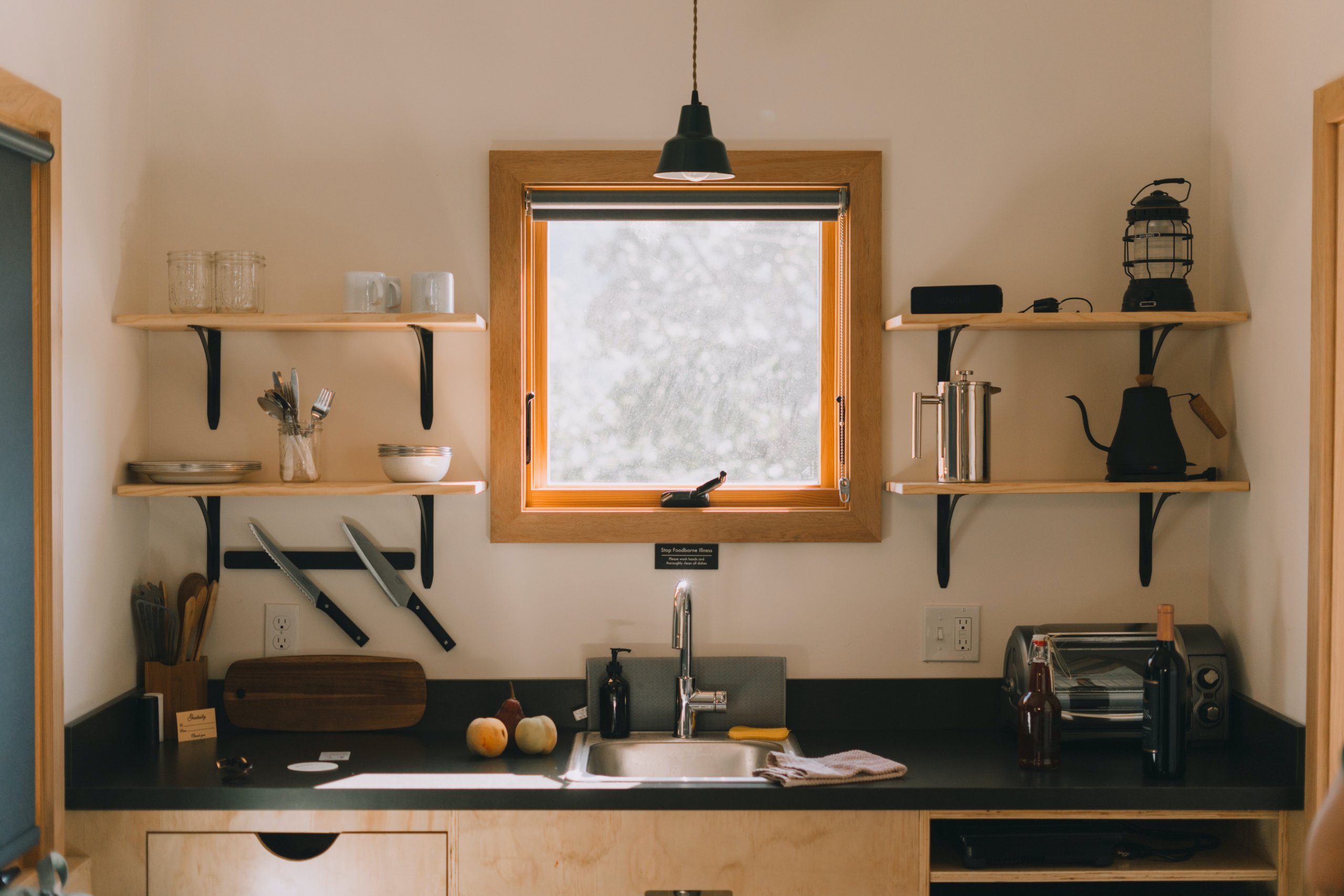 Open shelving is a creative and ideal way of maximizing small kitchen walls. It is a common characteristic in most contemporary kitchens. The lack of cabinetry is a perfect place to display that gorgeous kitchenware. The neutral pallet of this kitchen creates a dual-tone and subtle look without being too overbearing.
Chalk Up with Weekly Menu Chalkboard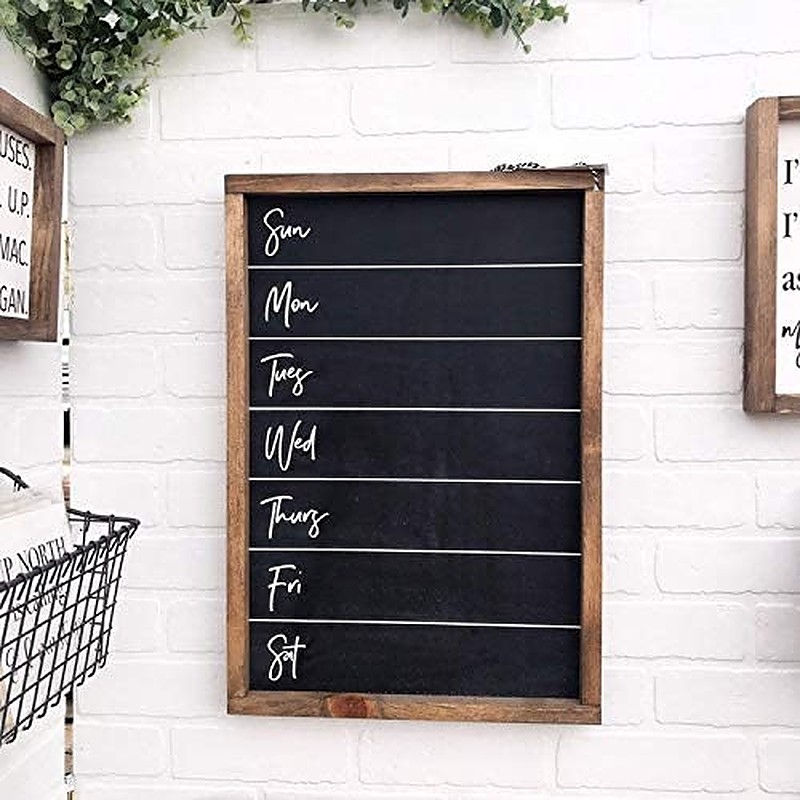 You would often see chalkboards as menu boards in stylish coffee shops. But, you can also impart some of that stylistic affair in your very own kitchen space. Chalkboards are also functional pieces for scribbling your grocery essentials or the week's menu. These wall kitchen wall arts are more personalized but are chic and trendy nonetheless.
Charm the Kitchen Wall with Abstract Wall Art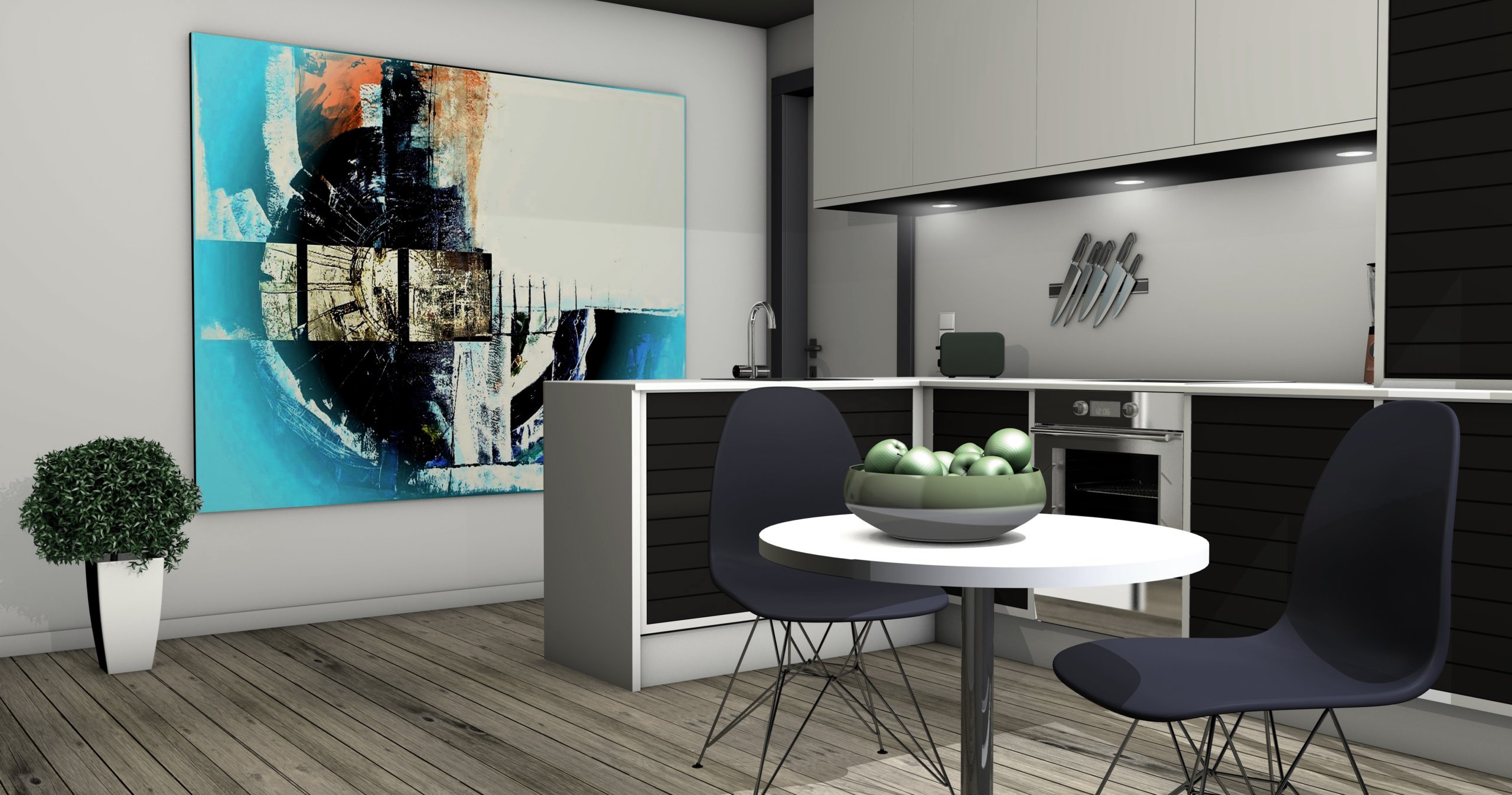 Another elegant way of spicing up a kitchen wall is by displaying large canvas abstract art. If you have that wide expanse of walls, then you have ample space to showcase an interesting visual display. This 3D painting makes the corner of this minimalist kitchen stand out while maintaining the room's simplicity.
Make it Special with Statement Cut-Outs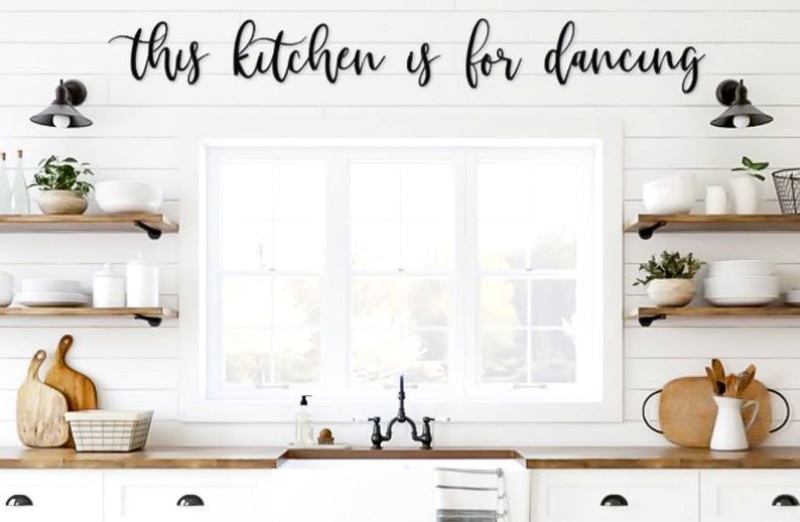 Create inspiration with statement cutouts to fuel your day with positivity. This wooden word cutout in black adds an interesting finish and texture to the white kitchen wall. The contrasting color emphasizes elegance while creating a stark contrast in this neutral-colored kitchen.
Break Monotony in Rustic Kitchen Wall with Metal Display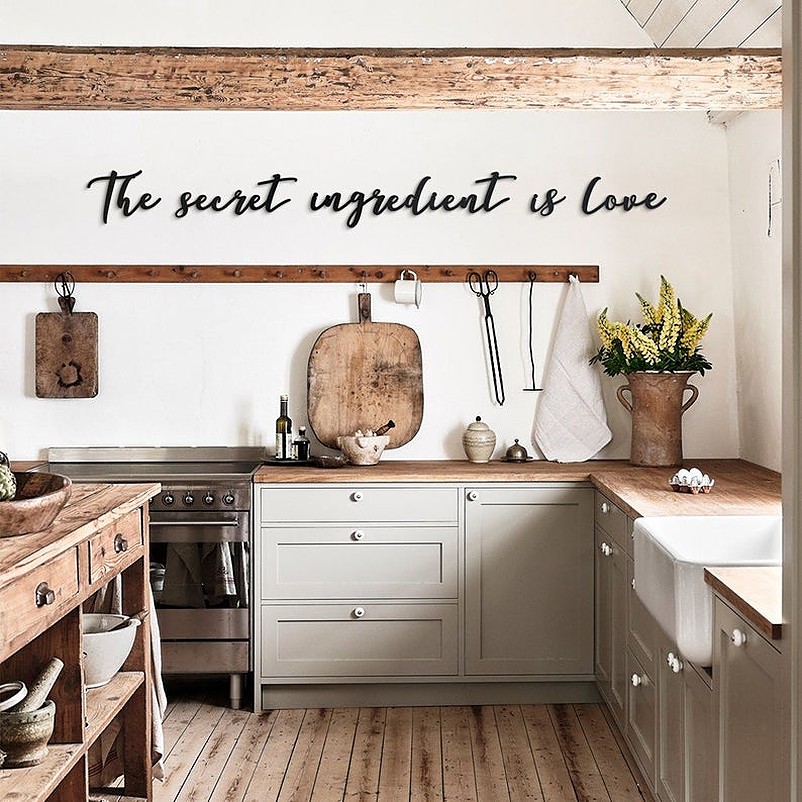 If wooden cutouts are not your thing, then go glamorous with metal ones. The polished and shiny finish imparts an elegant and chic finish to your kitchen wall. The cozy metal wall art of this kitchen creates a unifying look in this farmhouse-inspired kitchen. See how even drab kitchen areas become a cozy nook in your home with metal word cutouts?
Tape Funky Vinyl Kitchen Wall Décor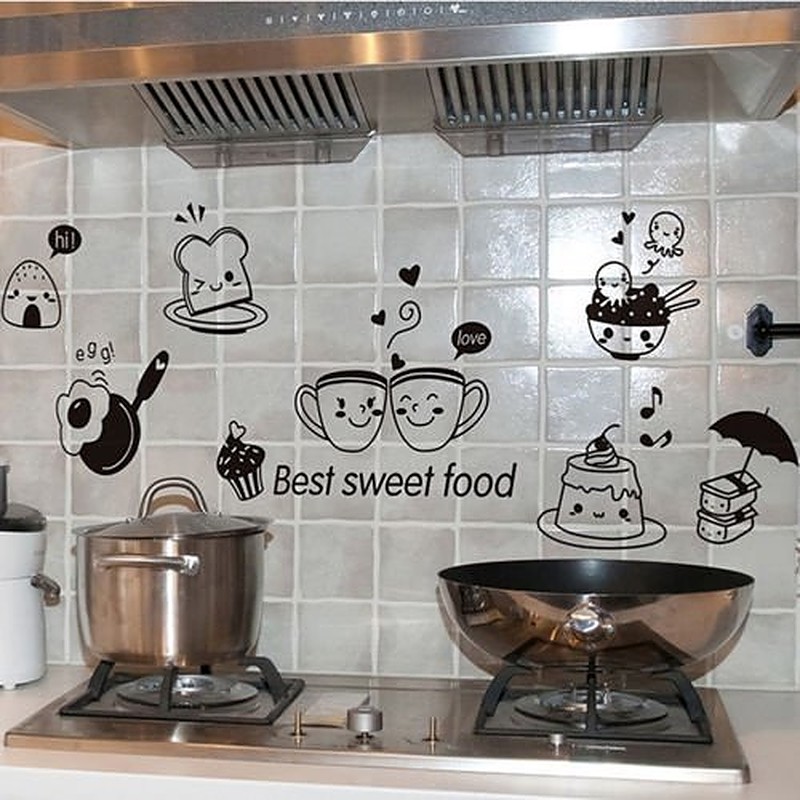 Vinyl wall decals are another creative way of designing kitchen walls without overhauling them with renovation. There are limitless designs you can choose to suit your style for that certain space in your kitchen wall. Whatever styles, designs, and themes, colors, and graphic images that you want, you will always have a choice with it. Wall stickers are versatile for any type of wall finish like these quirky decals on glossy wall tiles. Wall decals add a unique character to any home and create a focal point of inspiration.
Takeaway
Finding the perfect backdrop that will complement your dreary kitchen wall does not need to be so overwhelming. You can display offbeat arts, natural elements, or your kitchenware collection, and they still make an excellent wall statement. Turn your kitchen wall into a pleasurable and entertaining corner with some tweaking – or maybe a major overhaul. Go bold with colors, make subtle touch with neutral ones, create sleek lines – the choice is yours.