It is easy to fall in love with a color scheme compromised of the world's favorite color, and the trendiest neutral that has been topping charts for several years now. Blue has always headed the list of the most popular colors for decorating an interior.
Be it an intelligent nursery, the kids' room, bedroom, living room, or kitchen – blue works with a variety of styles and themes. Combining it with the trendy panache of gray only takes its cool factor a notch higher! Smart, chic, and soothing, gray and blue are the perfect color combination for the elegant modern bedroom.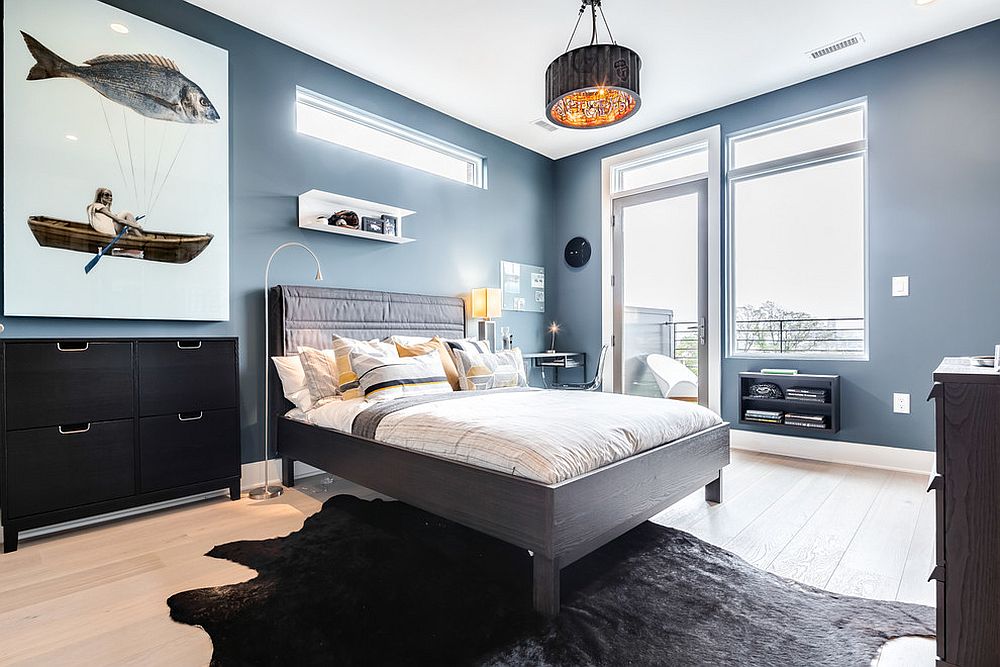 According to psychological tests, the color that most of us adore is blue, and we can't deny that the best color to combine with blue is gray! A bedroom in the mixture of these colors looks so relaxing and inviting that you'll want to spend all your time there. Such a combination is especially calm with vintage furniture, but some modern pieces would also be an excellent choice. Let's take a look at some design inspiration!
One of the many reasons for the popularity of these colors is the versatile range of hues and shades they offer. Gray can act as a soothing neutral and dominant accent hue in a room, while blue can play the role of a protagonist and supporting cast with equal ease. This offers an endless array of possibilities to work with. Bright, refined, and always in trend, here are 15 gorgeous gray and blue bedrooms to swoon over.
Inspired by the Sea!
It is white and blue that traditionally ushers in the magic of the sun, sand, and surf into your bedroom. But go down a different route this summer and replace the white in that equation with far more exciting shades of gray. Apart from giving your nautical or coastal style bedroom a fresh, new look, replacing white with gray gives you greater decorating freedom and a chance to try out more unique shades of blue.
In fact, you can fill the backdrop with light gray and even a hint of white, with pops of teal, turquoise, or periwinkle for a more significant visual impact. From bedding and drapes to a complete bedroom furniture set in blue, a gray background lets you easily switch between hues.
RELATED: Trendy and Timeless: 20 Kids' Rooms in Yellow and Blue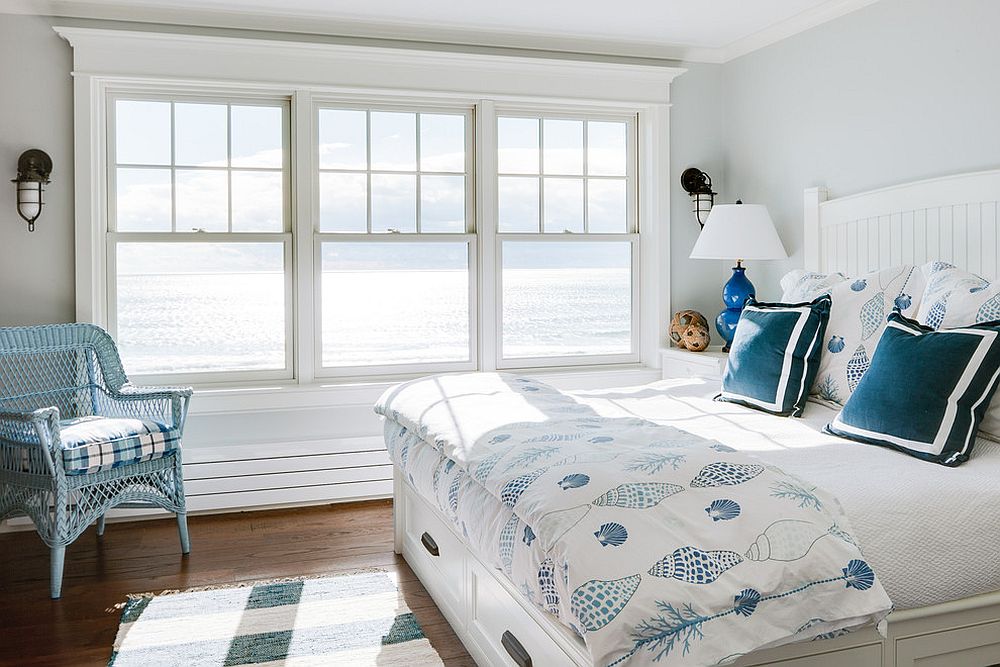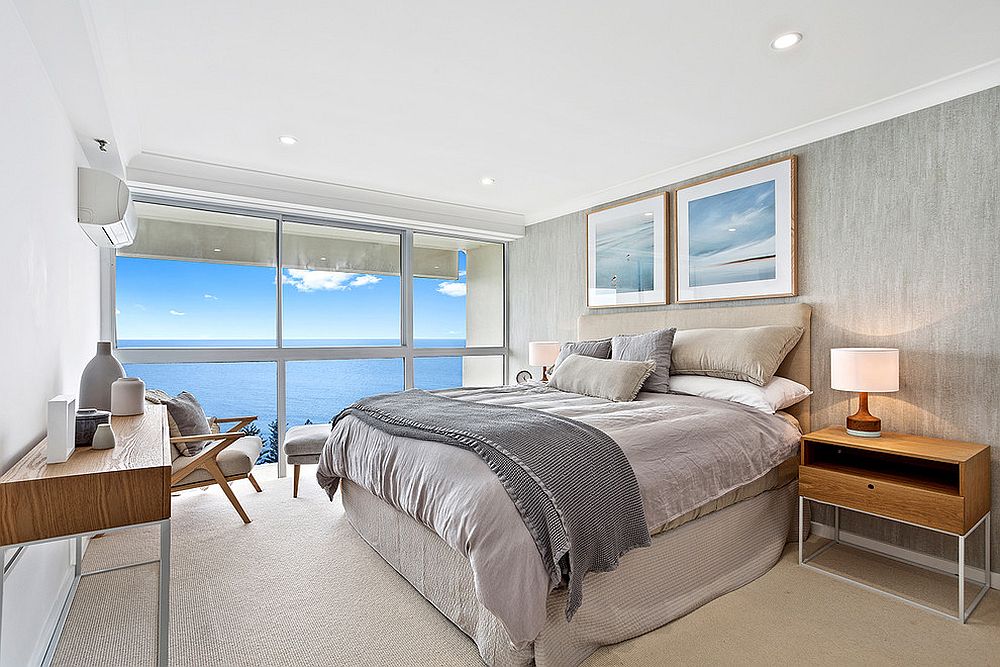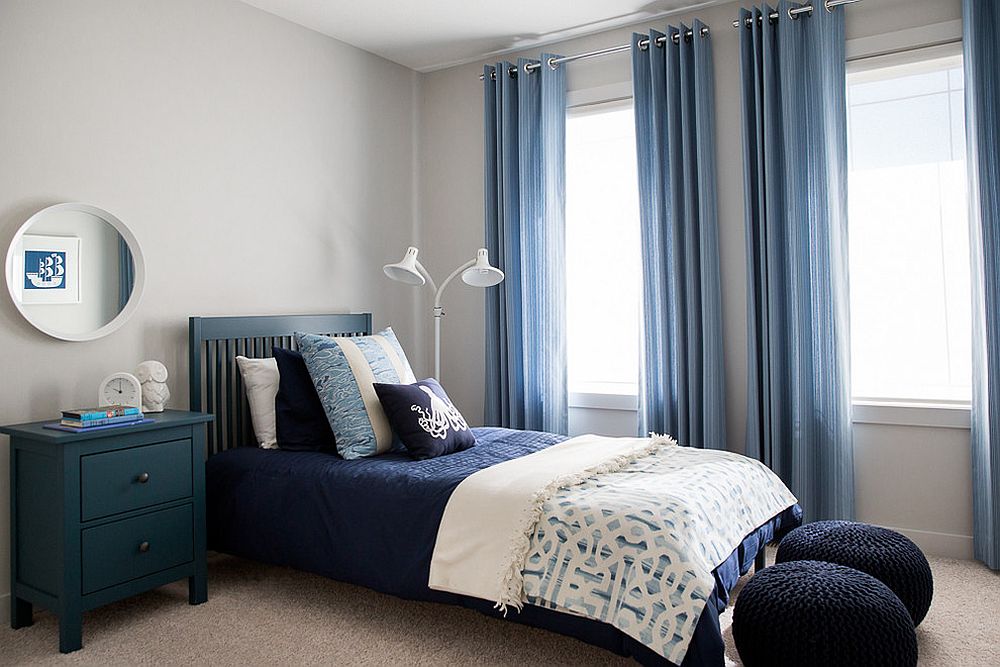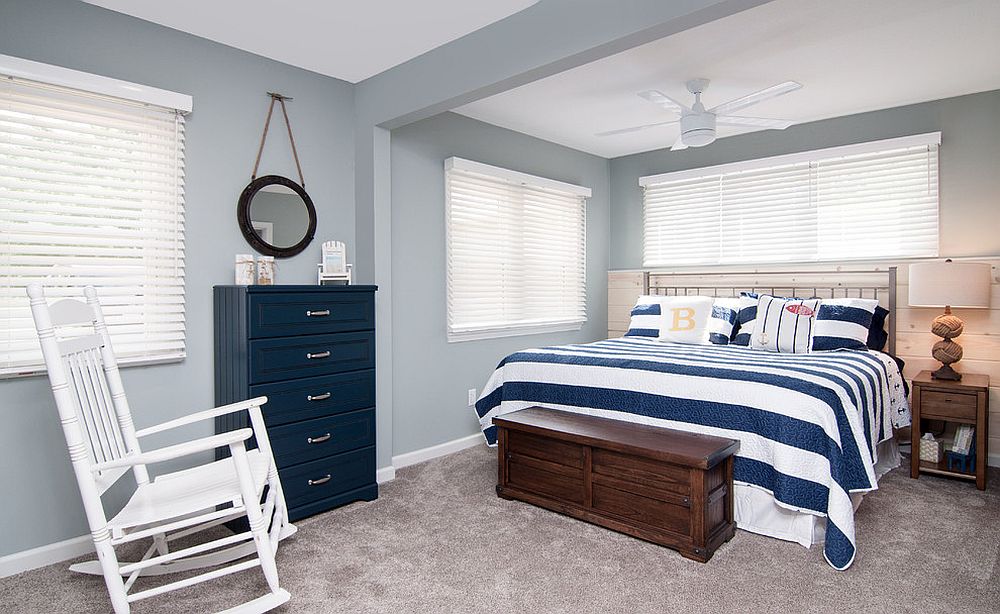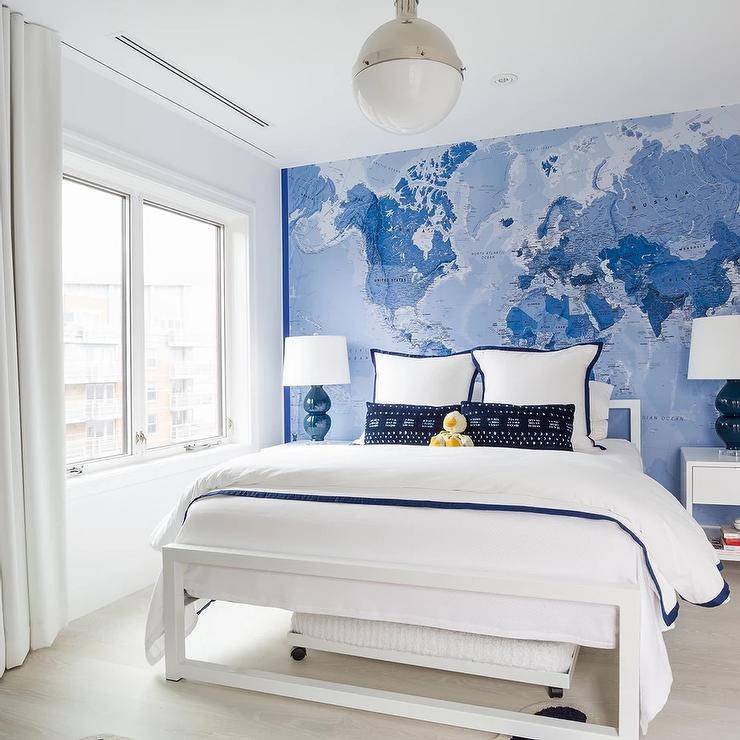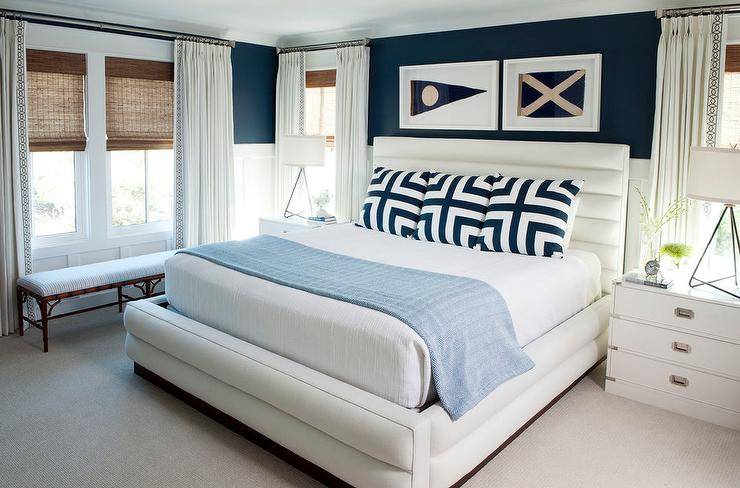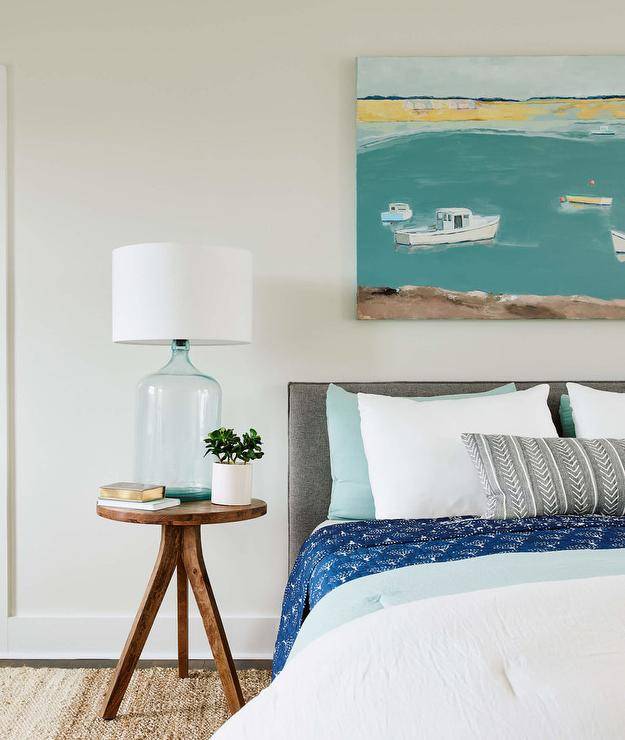 Contemporary Chic
Not sure about which shade of blue or gray you want to use in your contemporary bedroom? How about bluish-gray! Bringing together the two hot hits, this is a color that has been making giant waves in the decorating world for a while now. It can be used to create a relaxed and inviting backdrop that also feels inherently urbane.
Couple it with décor and accessories in darker tones of gray or brighter hues of blue, and you have a stylish, incredibly adaptable bedroom. This color scheme works exceptionally well in modern Scandinavian bedrooms, thanks to its cheerful appeal.
RELATED: Trendy and Chic: Gray and Pink Nurseries That Delight!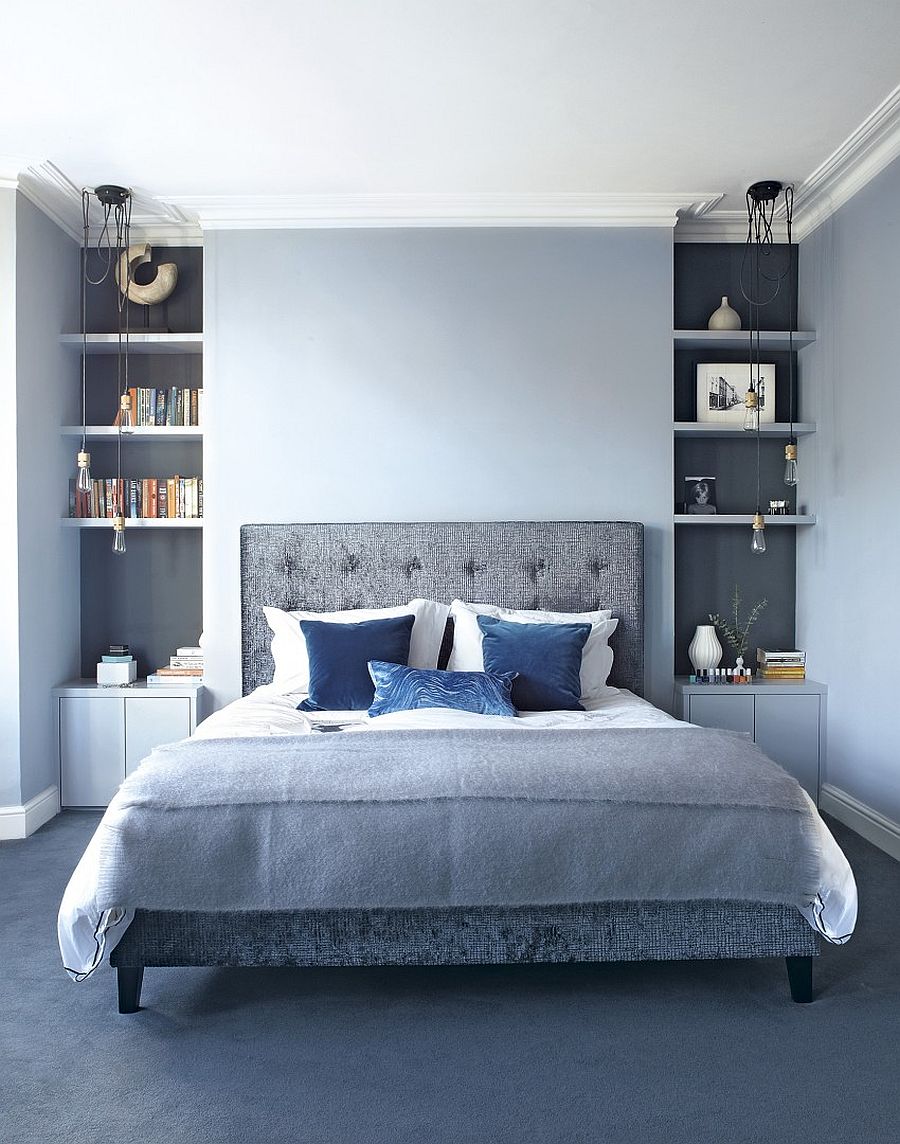 If you want some peace, add white or silver to the color scheme using furniture, cushions, vases, and other accessories. If you want some drama and exquisiteness, add black. Blue may be light or rich, but the proper way to work with blue and gray is to ensure you match the right shades. Look at some inspiring photos below and enjoy the works of designers.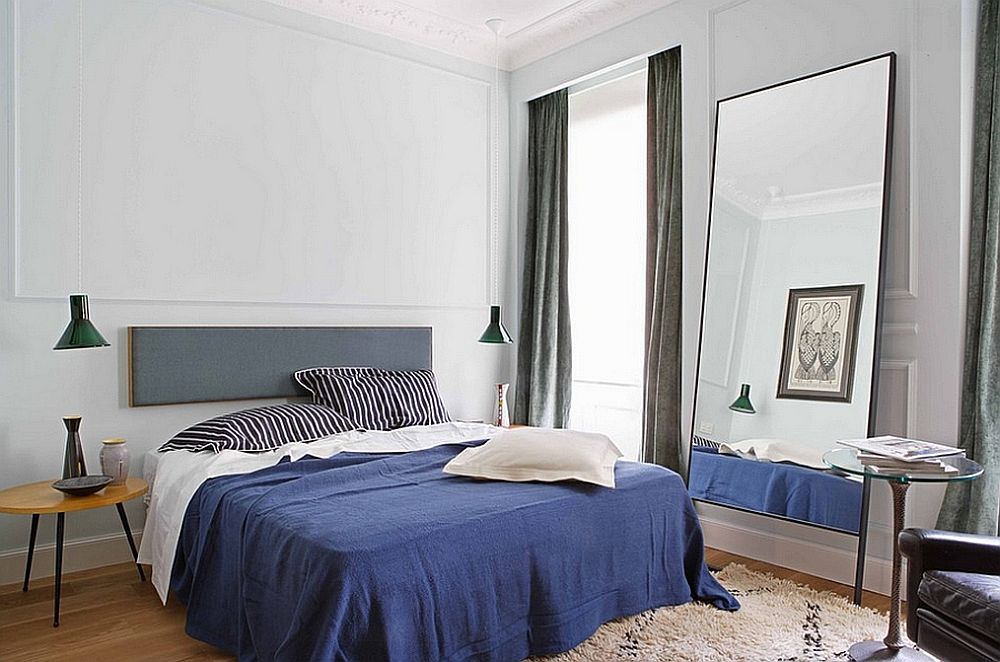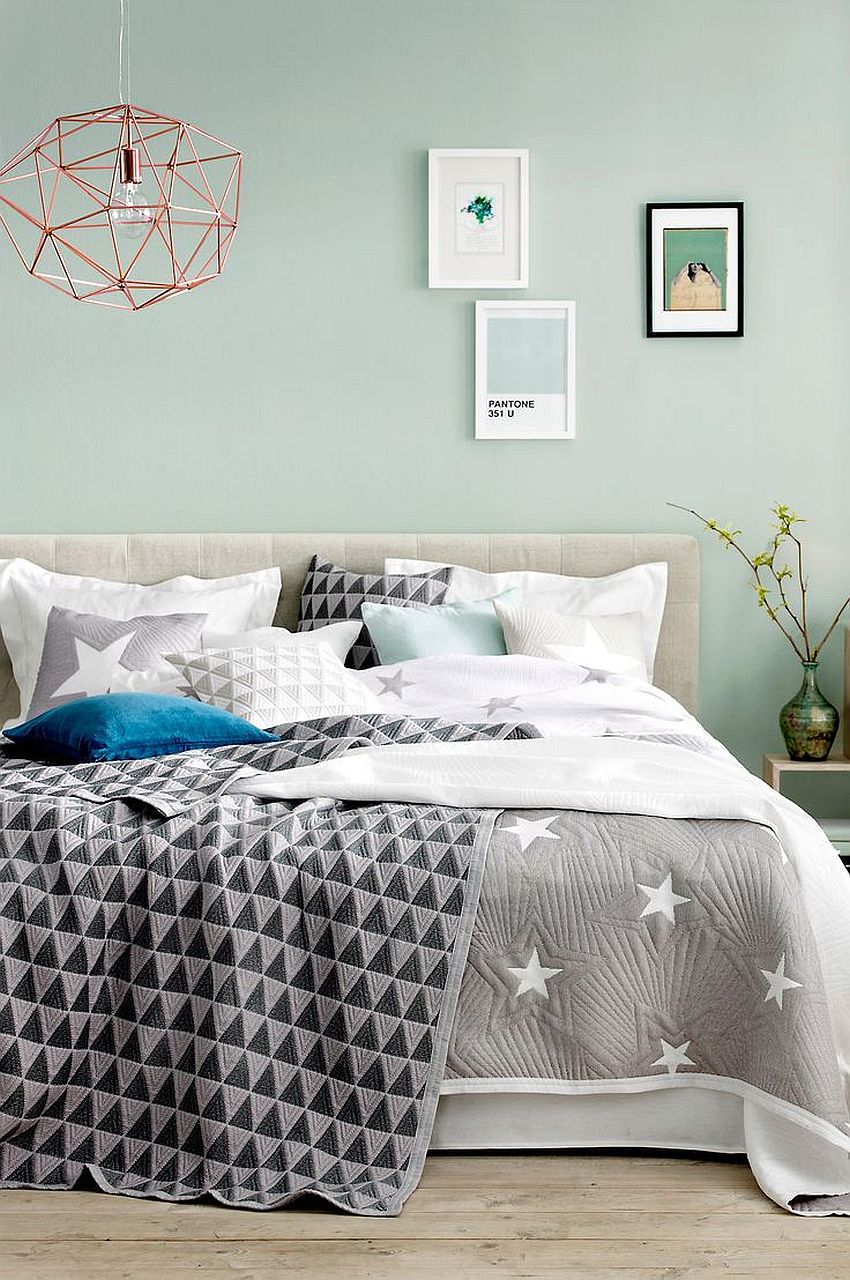 Gray and navy have become one of the most widespread and fierce color combos, which are widely used throughout various homes with all kinds of decor styles. Gray is rather a soothing color, and navy adds depth to it while bringing calmness, too.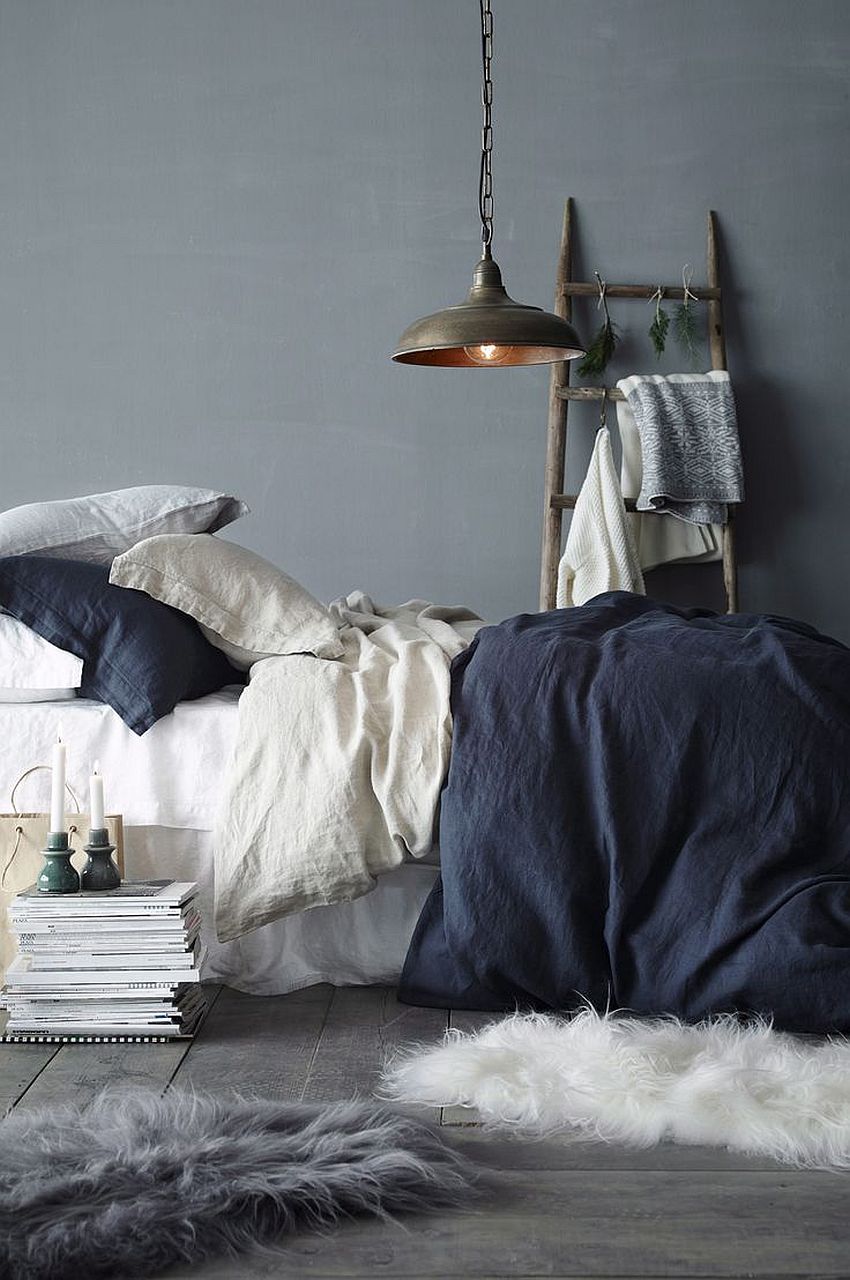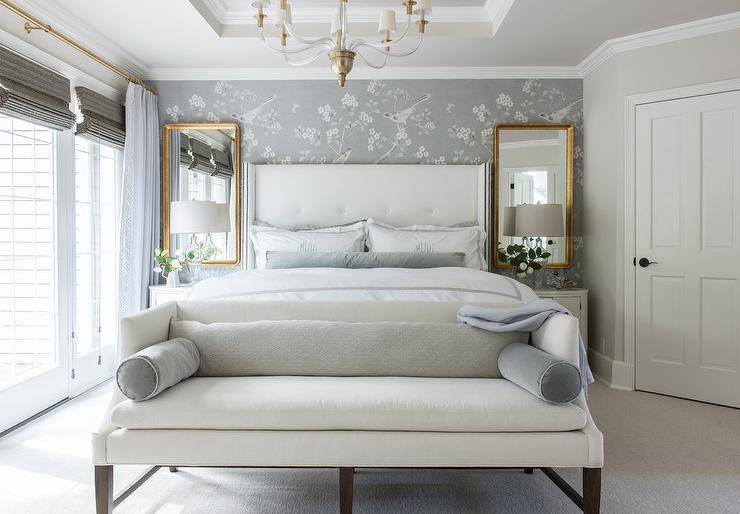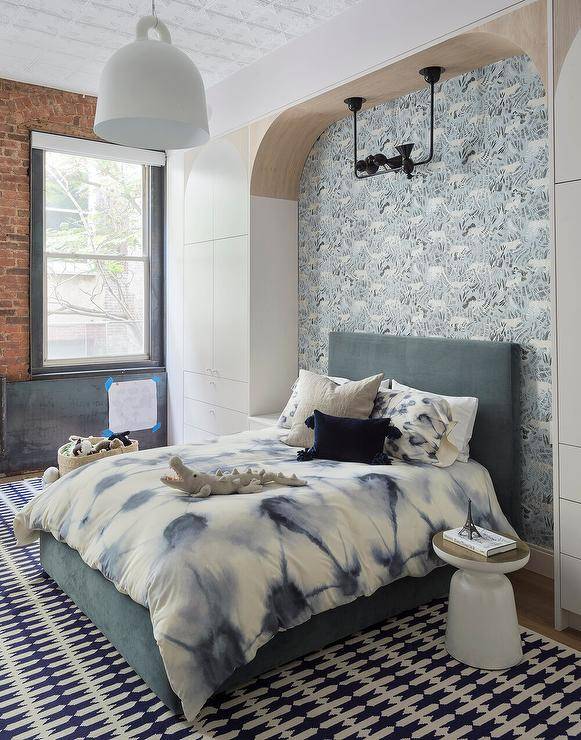 Experiment with Color and Style
Do not be afraid to combine a third color with gray and blue in the bedroom. This need not necessarily be white, as both blue and gray can create a neutral and inviting setting that allows other bold hues to shine through.
A touch of red or orange looks excellent in the coastal or nautical bedroom, while a pop of fuchsia or pink can bring sparkle to the girls' bedroom. Yellow is an excellent choice in bedrooms with light shades of gray and blue as it ushers in sun-kissed charm, while brown can give the space a more masculine finish.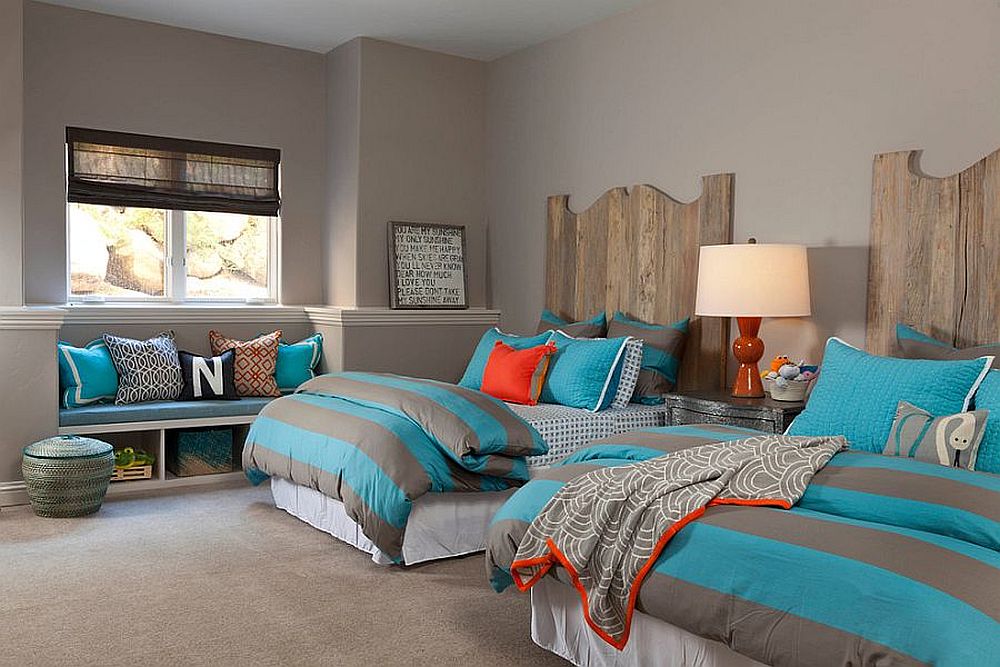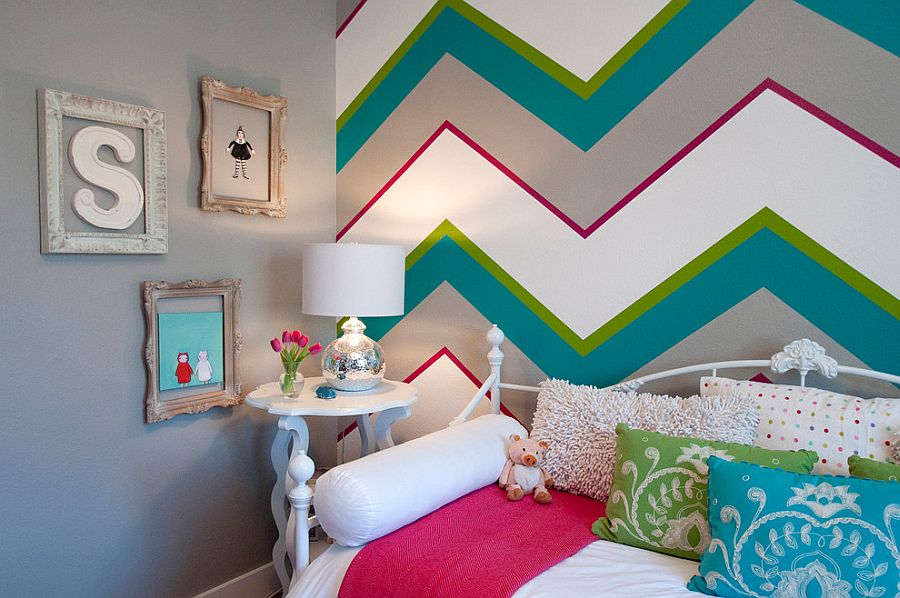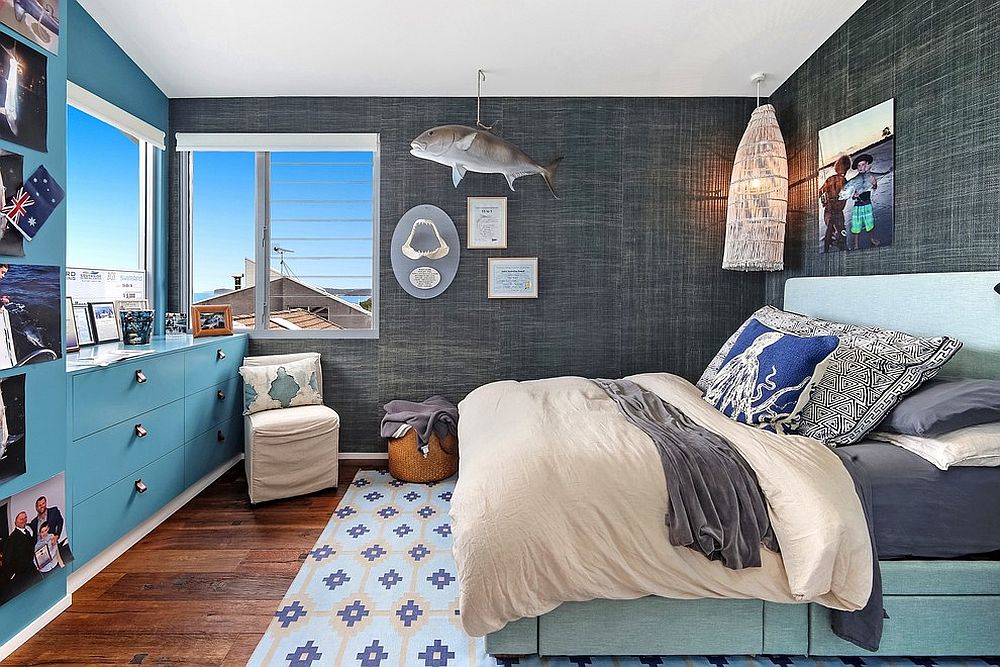 One safe bet about manly bedrooms is that designers often use gray and blue colors to generate a certain masculine aura.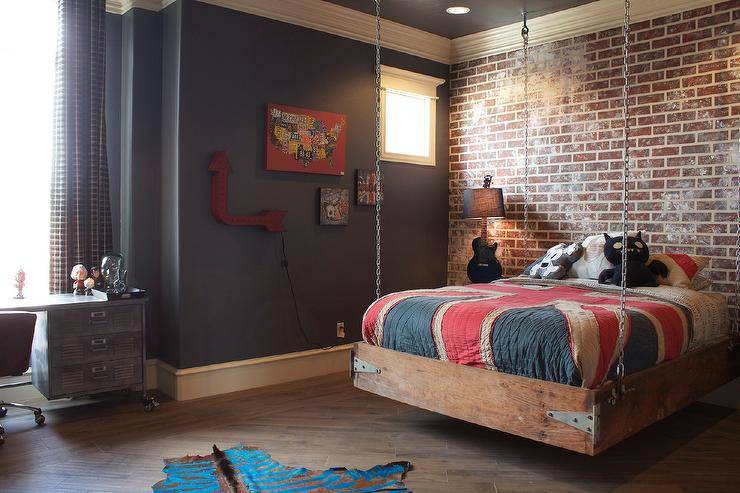 Different Shades of Gray and Blue
Darker shades of gray can also be used in small bedrooms to create a dashing and more masculine space. Once you go down this route, ensure that the rest of the room remains as uncluttered and neutral as possible with sparingly used blue accents.
In the bedroom, everything from the pillows and bed sheets to drapes and vases can be used to add color, and with changing trends, you can even move away from blue and adopt a completely different color scheme.
RELATED: Fun Neutrals: 25 Cool Kids' Bedrooms That Charm with Gorgeous Gray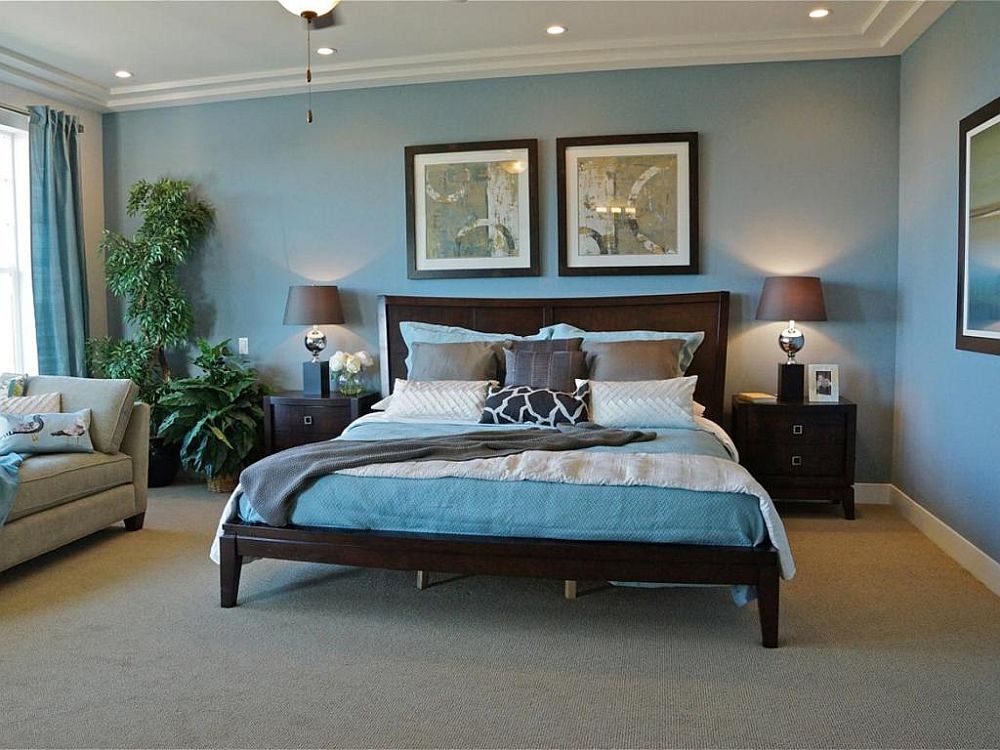 We also love the lighter shades of gray mixed with navy. If you like moody spaces, you may try graphite gray and navy. Usually, designers prefer to make gray the primary color and add navy with accents: a statement wall, pillows, an upholstered bed, and nightstands. Here you will see that navy is the focal point, and the gray is just ever so slightly in the bedding. This mixup away from the standard way navy is used is a perfect fit for this space.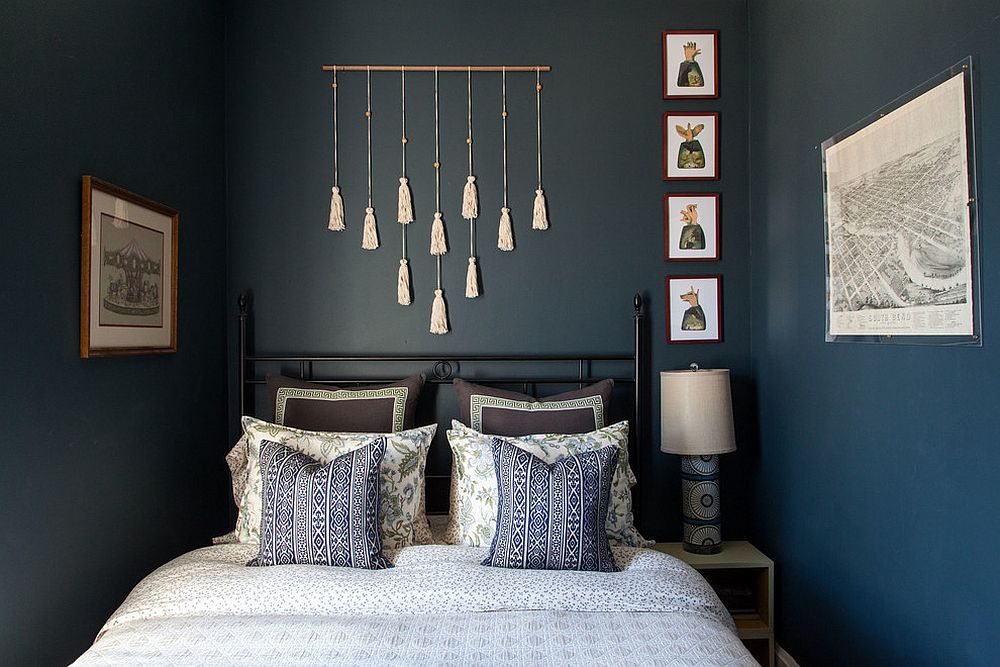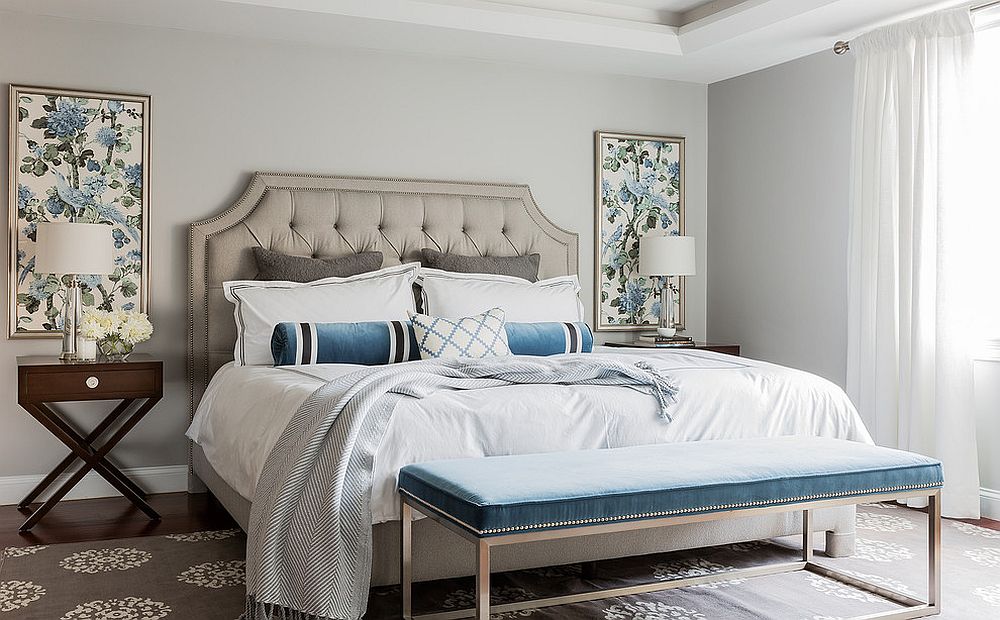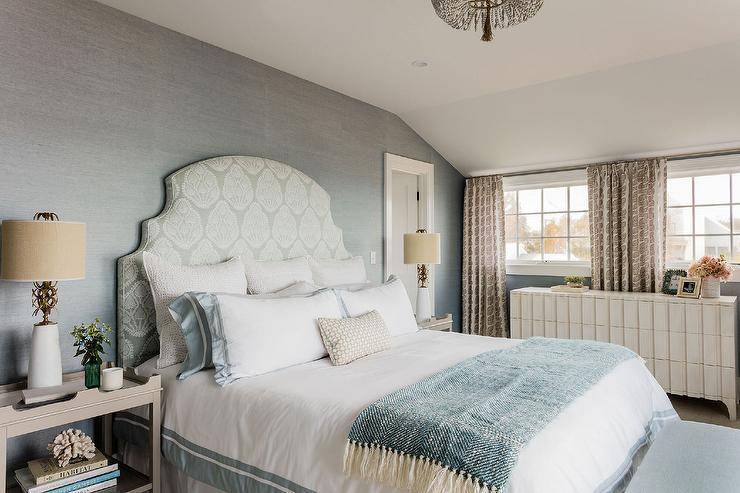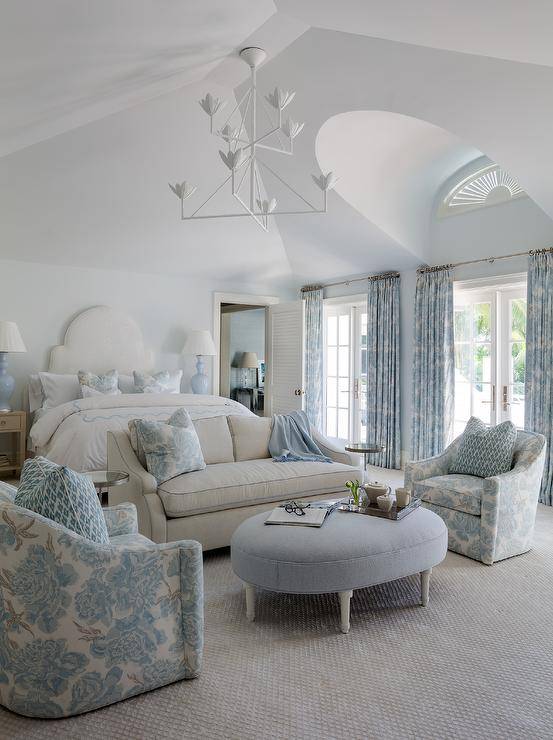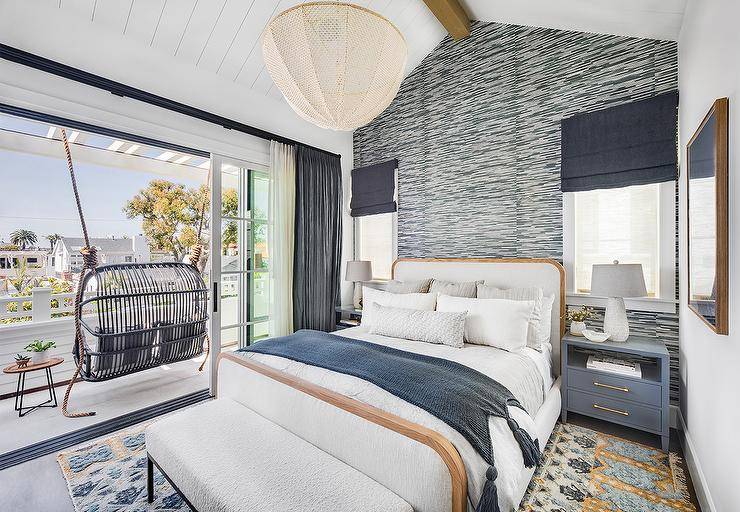 Another favored dark blue shade is midnight blue, which is more often combined with dove gray and other light shades of gray. This classic color scheme will bring an ultimate refined and elegant feel to the space. Though some of you may say it's too contrasting and looks formal, it's a very bold and dramatic idea.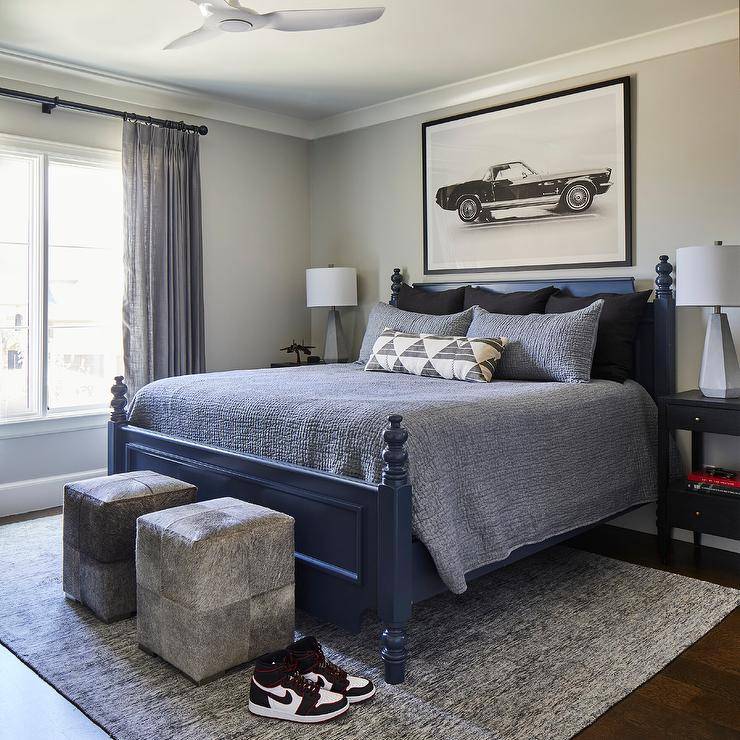 Lighter shades of blue are perfect if you love color! Turquoise, sky blue, electric blue, and much more will make your space more pleasant and cheery. You may see the light and bold shades of blue around – from ocean-inspired bedrooms to contemporary ones; blues are great for any style.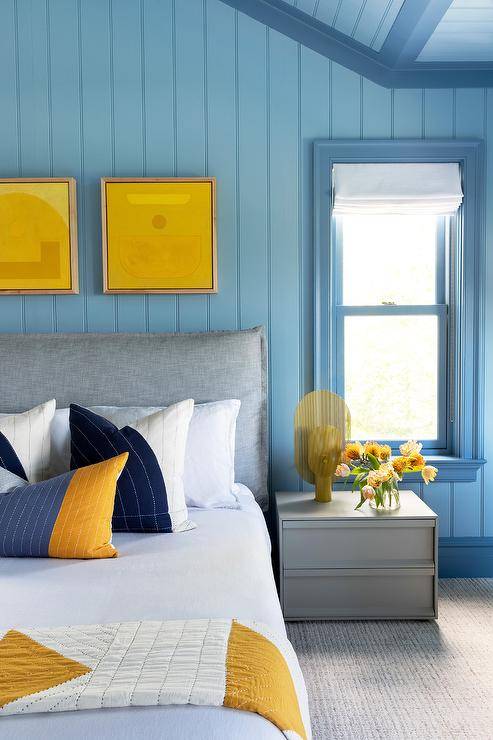 You can combine blues with darker or lighter shades of gray – daring shades of blue will always make a statement, but you'll often see light gray bedrooms with bright blue accents. If you aren't sure about this or that shade, try bedding in such a color first, so you will understand if it fits or not.
You may add other accessories to the bedroom: pillows, lamps, artwork, and much more. You may also make your blue color the primary one in the room and calm it down with hints of gray bedding, furniture, pillows, accessories, and other items.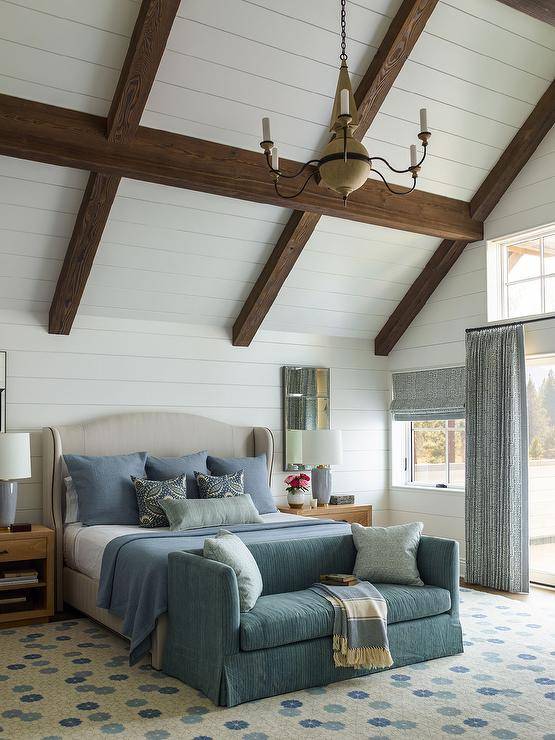 Try a bold pattern wallpaper with blue and gray to pick up and carry the color scheme through your bedroom.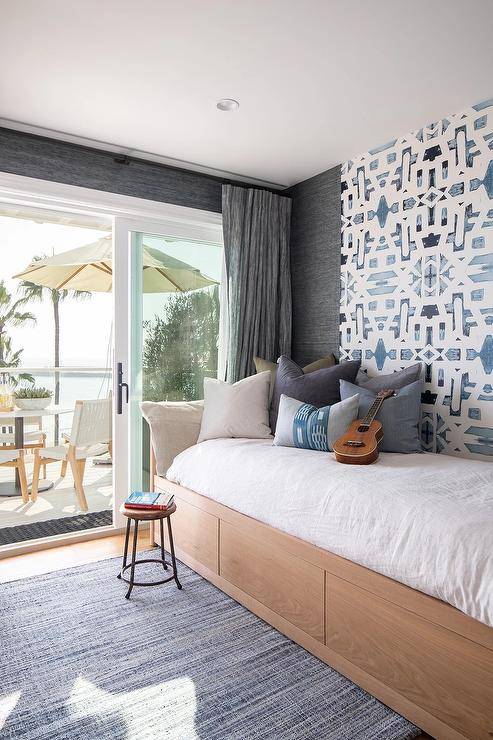 A gray brushed wallpaper is perfect for a modern, trendy gray and blue bedroom.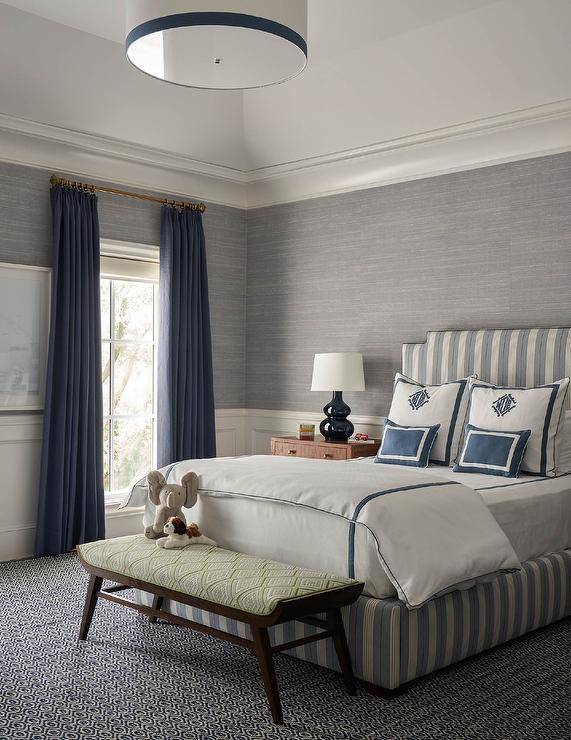 Although they seem like deep, mature shades, grays and blues will work so beautifully in children's rooms. Once combined with shades of pink, or some striking chevron patterns, the look will be playful, childish, and pleasant.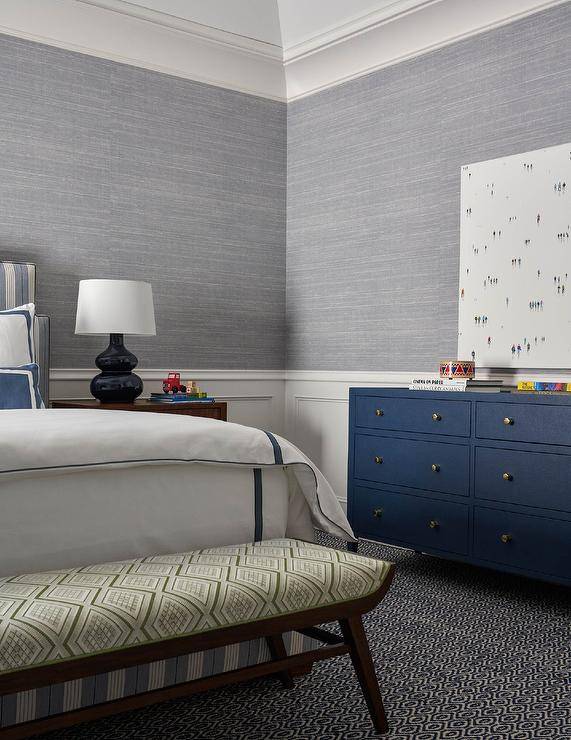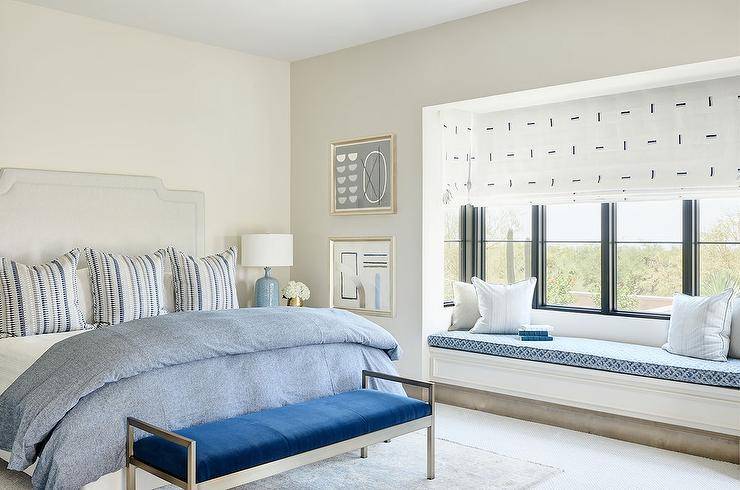 If you're looking to create a focal point, the best tip is to focus on the bed. As this is generally the center of any sleeping area, the bed must convey the color scheme.
That being said, look for bedding with shades of gray and blue that match your color scheme and complement the other items in the room.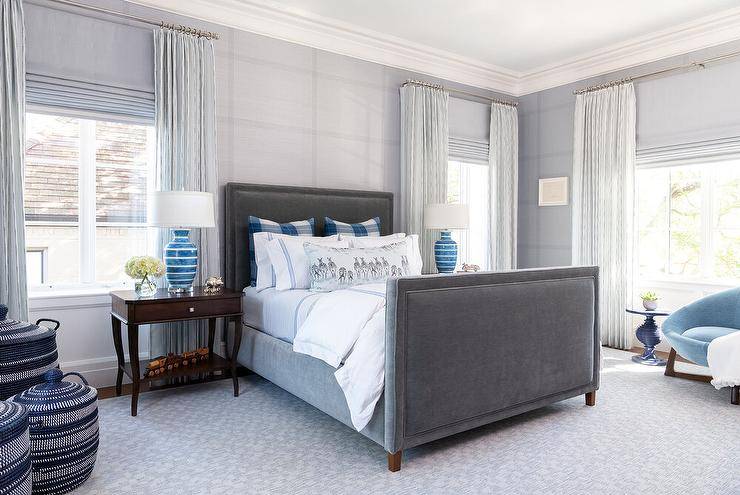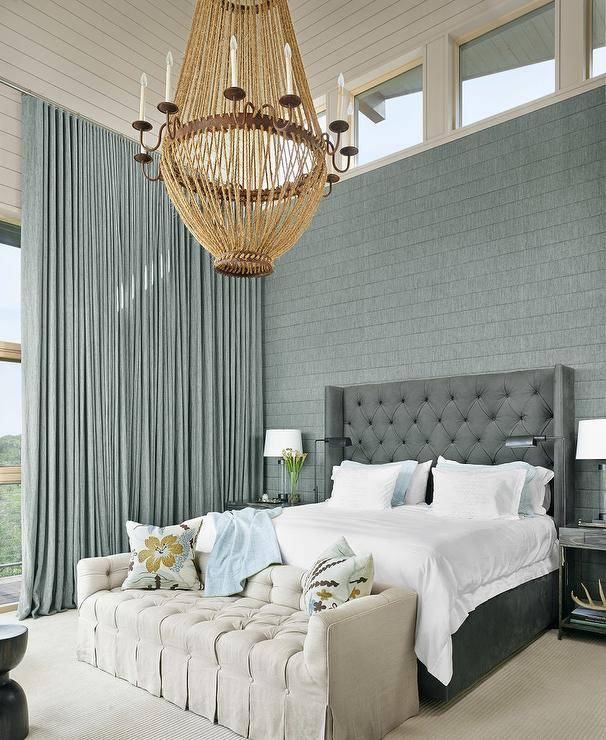 Play with the different shades of gray and blue to create a chic bedroom. You don't need too many, as these colors will work beautifully together. Have fun with your accents and lighting, too! We totally love this ombre beaded chandelier! Such a fun touch for this space.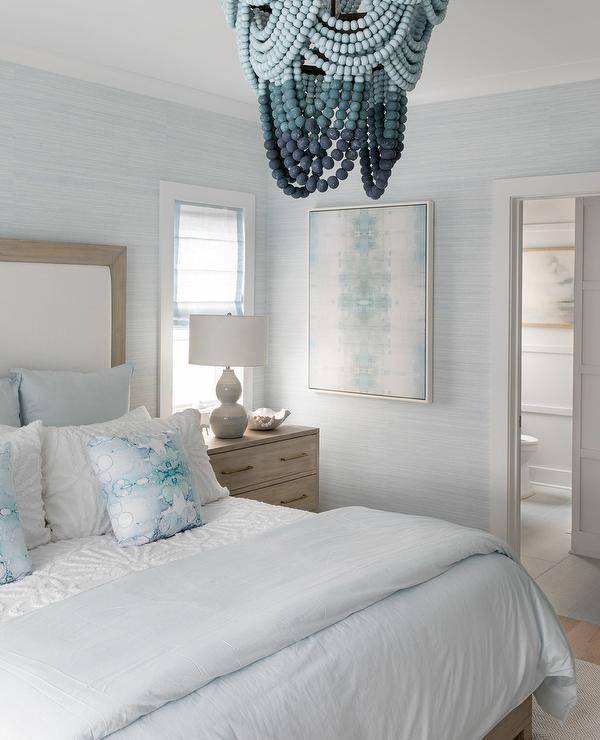 A healthy balance of both blue and gray throughout a bedroom creates a calm and tranquil space. The room below is completely symmetrical and everything is balanced throughout, creating a cohesive space that looks relaxing and inviting.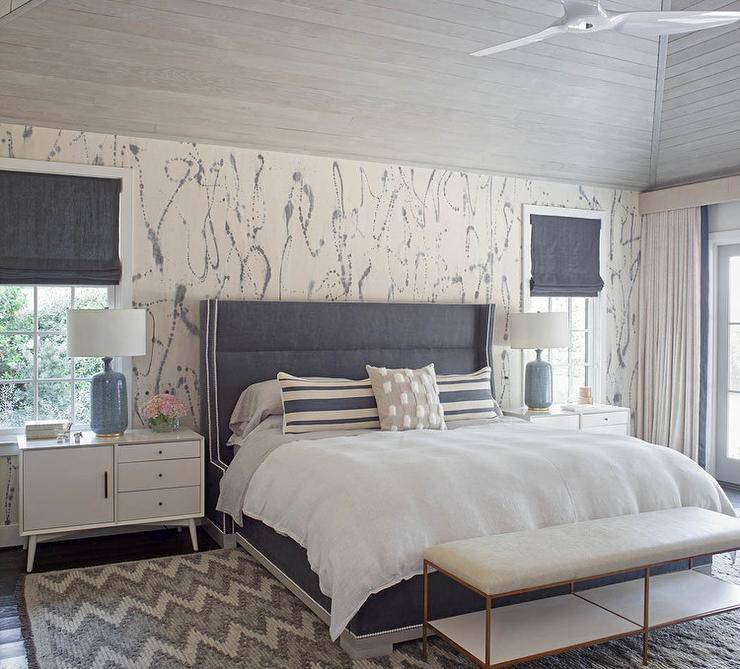 Mix together different shades of blue for a power punch, then create a soft offset by keeping your walls a light gray shade.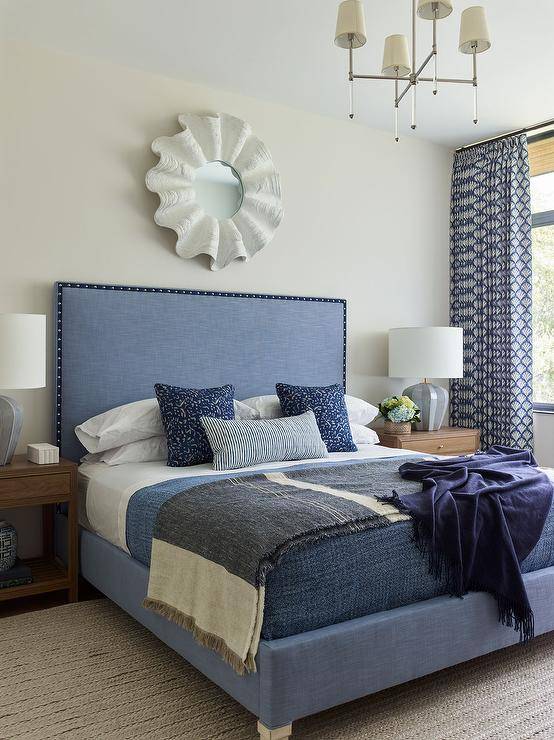 While gray is a relaxing color, the blue or navy shades offer depth to your bedroom. Moreover, this color combo will bring that calmness you need, especially in the sleeping area.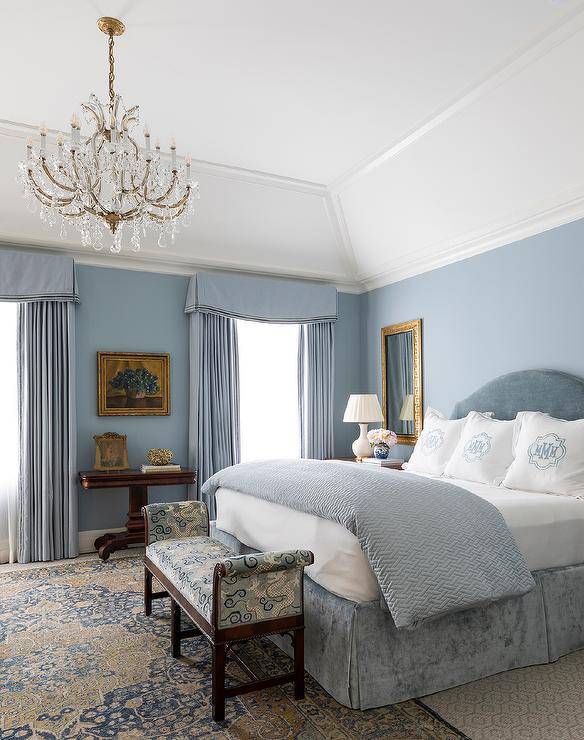 If you want to incorporate blue and gray in your bedroom, you don't need to grab the paint and do a complete overhaul. If your bedroom is neutral, you can add in some gray and blue to your bedding and throw pillows — or even a new rug!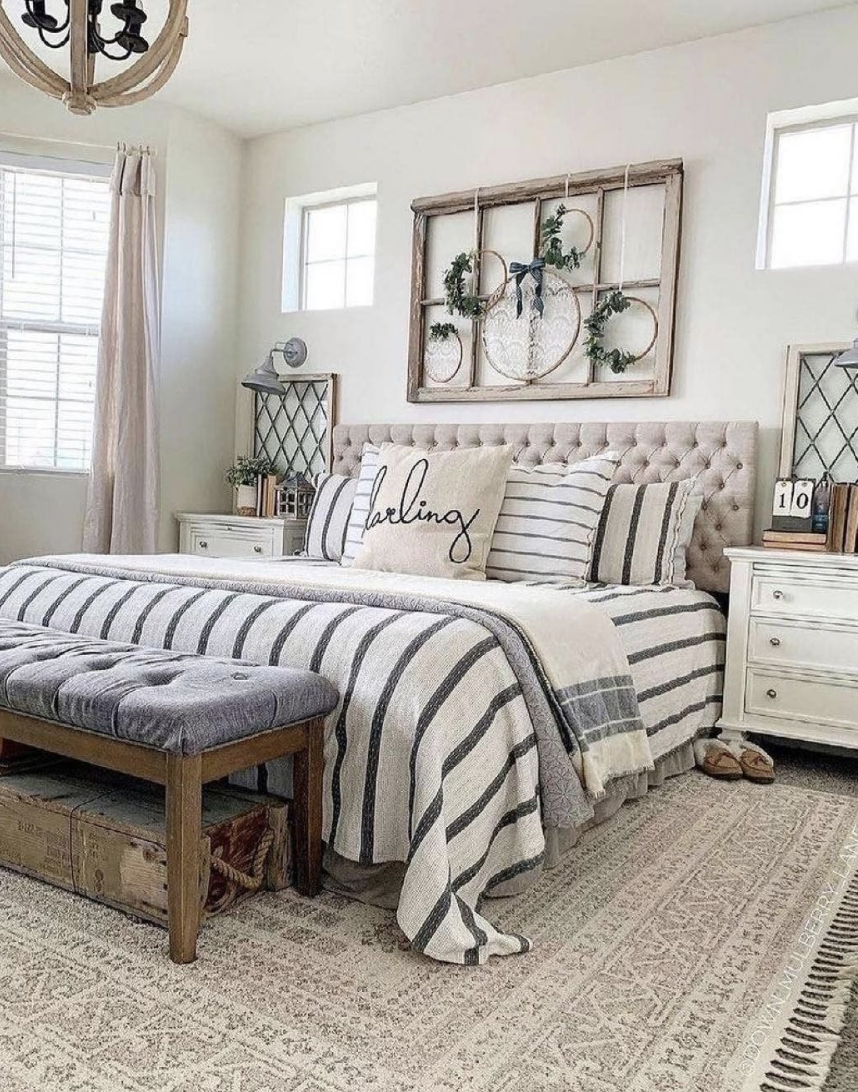 Don't be frightened to play around with style and color. As an effect, consider an additional color to complement the two shades. There's nothing like adding in a fresh yellow or burnt mustard to complement blue and gray.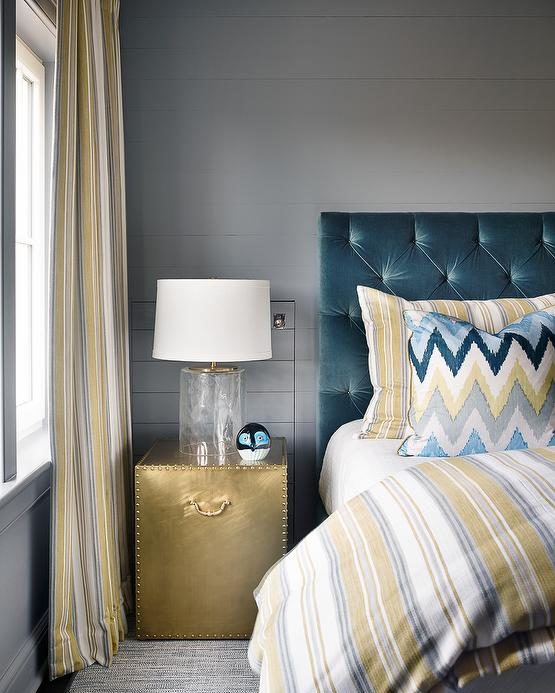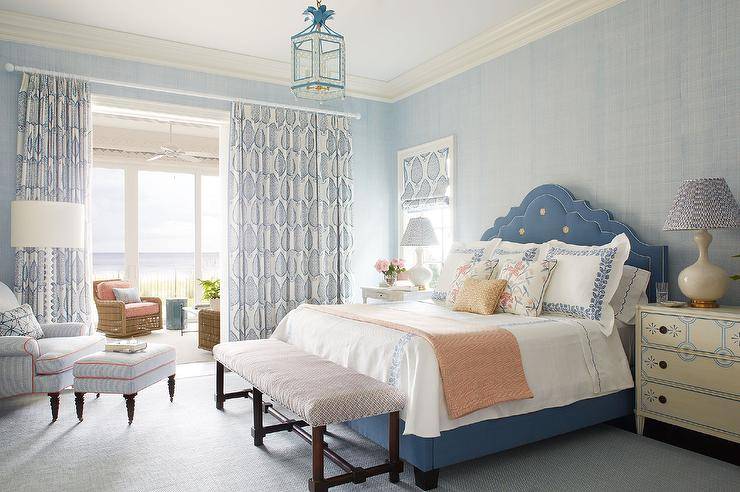 Smart, stylish, and genuinely soothing, the blue and gray combination of colors works wonderfully for modern bedrooms.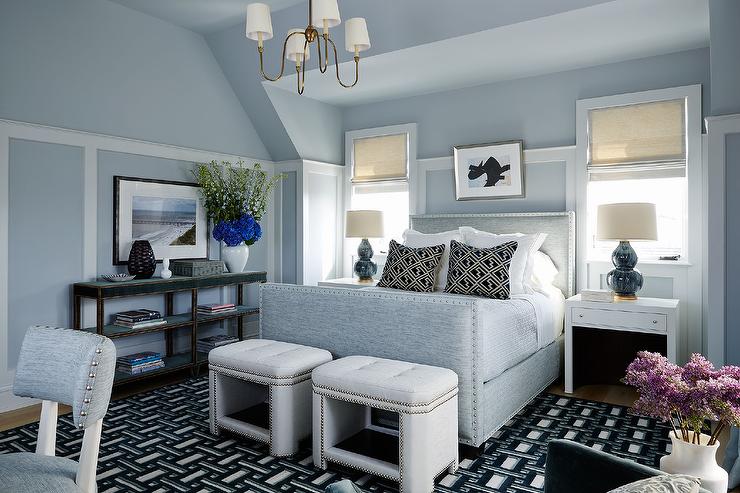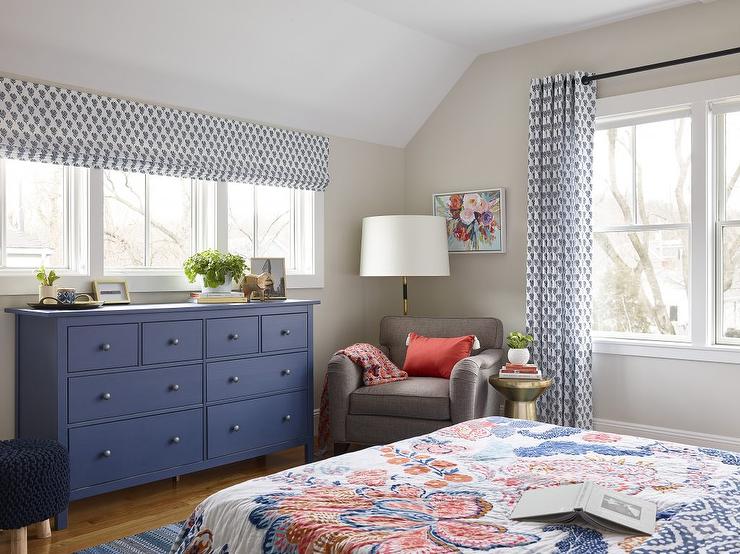 Consider decorating your bedroom in simple blue and gray shades. Try this subtle approach and ease the whole color scheme. There are many options in this direction, but yours can stand out.
To achieve that subtle gray and blue bedroom, you should focus on lighter navy and gray colors. Play with the shades. The shades should not be that quirky but subtle enough to make you appreciate your sleeping area.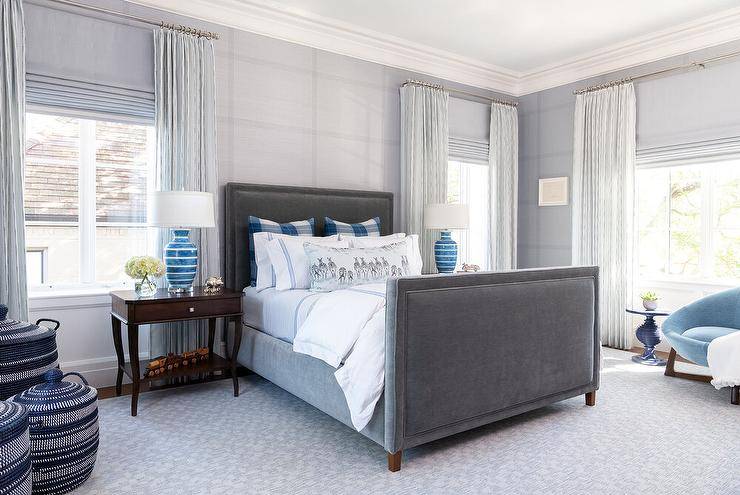 Tips for Adding in Other Colors With Gray and Blue
Once you have your blue and gray mastered, don't be afraid to play with more colors. Adding in a third supplementary color can make a world of difference in the bedroom and even allow you to play up your creativity and give a unique look to the space. Here are some other colors that complement well with blue and gray:
Yellows – such as mustards, bright yellows, or burnt boho yellows.
Pink – blush pinks look great with a light gray and a navy.
Orange – you wouldn't naturally think of orange, but if you're doing a bedroom for a boy, adding a touch of orange will make the room pop, especially with dark gray and navy.
Brown – brown tones look great with gray and blue; carry these through in your furniture.
Turquoise – with the right shade of blue, adding in a turquoise gives that extra bit of depth and dimension.
Frequently Asked Questions
FAQ
Are there any colors that don't match with gray?
As a general rule, matching colors is all about picking the correct shade. If you play around with hues, you could get almost any color to match with gray as it is considered neutral. However, in most cases, green or red don't look or work well with gray.
What color contrasts with blue and gray?
If you are after a strong and striking contrast with your blue and gray bedroom, try working in some black or yellow. Don't go overboard with these colors, but rather use them in smaller accents and decor.
What colour should never be seen with blue?
Blue is quite a complementary color and can be used with tons of different hues and colors. But as a general rule of thumb, blue and green should never be seen without another color in between. So if you want to add another color to your blue and gray bedroom and go green, just ensure that the two colors are separated.
Will a gray and blue bedroom make my space feel calm?
In color psychology, gray represents neutrality and balance, and blue calls to mind feelings of calmness or serenity. Blue is often described as peaceful, tranquil, secure, and orderly. Blue is often seen as a sign of stability and reliability. So the combination of these two colors together are excellent for the bedroom space.
If you need more ideas for color combinations, take a look at these articles: