We know that photos can be an amazing source of design inspiration, so this article may contain affiliate links that will direct you to a particular decor item. Clicking on a link may result in a portion of proceeds being paid to www.decoist.com
Fold-down desks are perfect for compact spaces. Not only do they maximize square footage by neatly folding away when the room is needed for other tasks, but they also allow even a cozy corner to be turned into an effective home office. Today we feature 42 workspaces where fold-away desks take center stage. From custom-built wonders to DIY solutions you can try at home, keep reading for a collection of eye-catching, practical, and interesting fold-down desks!
Fold-Down Desks With Style
Let's begin by exploring some popular fold-down desk options. One beloved model is the secretary's desk. Classic and convenient, this fold-away desk has evolved over time to include clean-lined, contemporary forms, and practical storage. Below we see the Intimo Birch Secretary Desk from CB2:
This sleek writing desk serves a dual purpose as a console table. When not in use, the desk folds up, closing off the storage area, which means you can hide away your laptop, books, or other work-related items.
When it's closed, this desk looks like a stylish contemporary console table and will make an ideal focal point in your living room. Style the top with some art and fresh greenery in an uncomplicated vase to complete the console table look.
This Fold-Down Desk from West Elm is part of the brand's Mid-Century Office Shelving. Once again, a wall-mounted fold-out desk saves space while providing a handy area for storing items such as office supplies:
If you're looking for a small fold-down desk that will significantly impact you, choose one made of natural wood. The natural colors and grains of the wood will stand out beautifully against lighter-colored walls making the desk into a feature in your room.
Some people have their fold-away desks custom-built, as shown in the modern bedroom below. [photo from Churreria Photographers]
And others purchase fold-down desks with a custom feel, like this handy Yu Yusing Wall Mount Computer Desk available via Amazon:
A similar desk style can also be purchased and even personalized with an inspirational saying or even your own name. This style of desk is perfect for small bedrooms, tiny dorms for the college student, or even in a large hallway.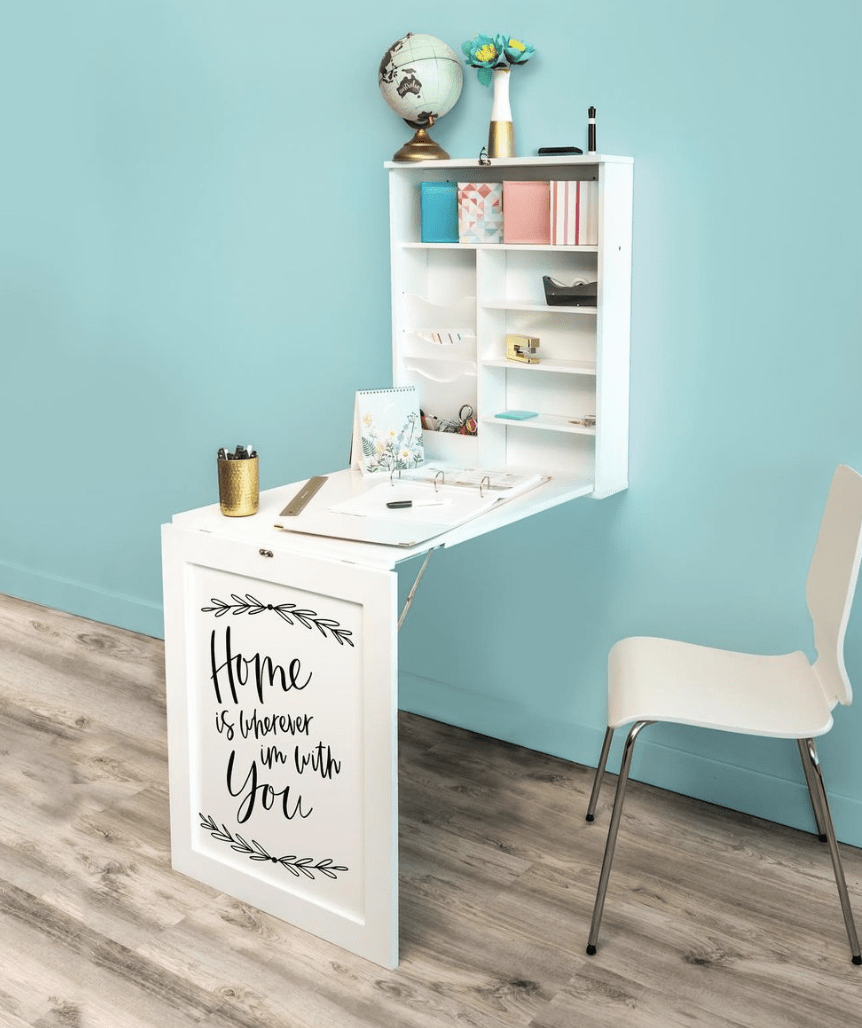 These style of fold-down desks provides a large surface area to work on, as well as built-in storage for books, folders, and other accessories you might need to have at hand while working. When you're finished for the day, the desk can merely be folded up against the wall, storing everything neatly and giving you more space in your room.
This creative soul actually took their fold-down desk and mounted it on top of a trundle bed, where the top has been converted to more floor space. Genius!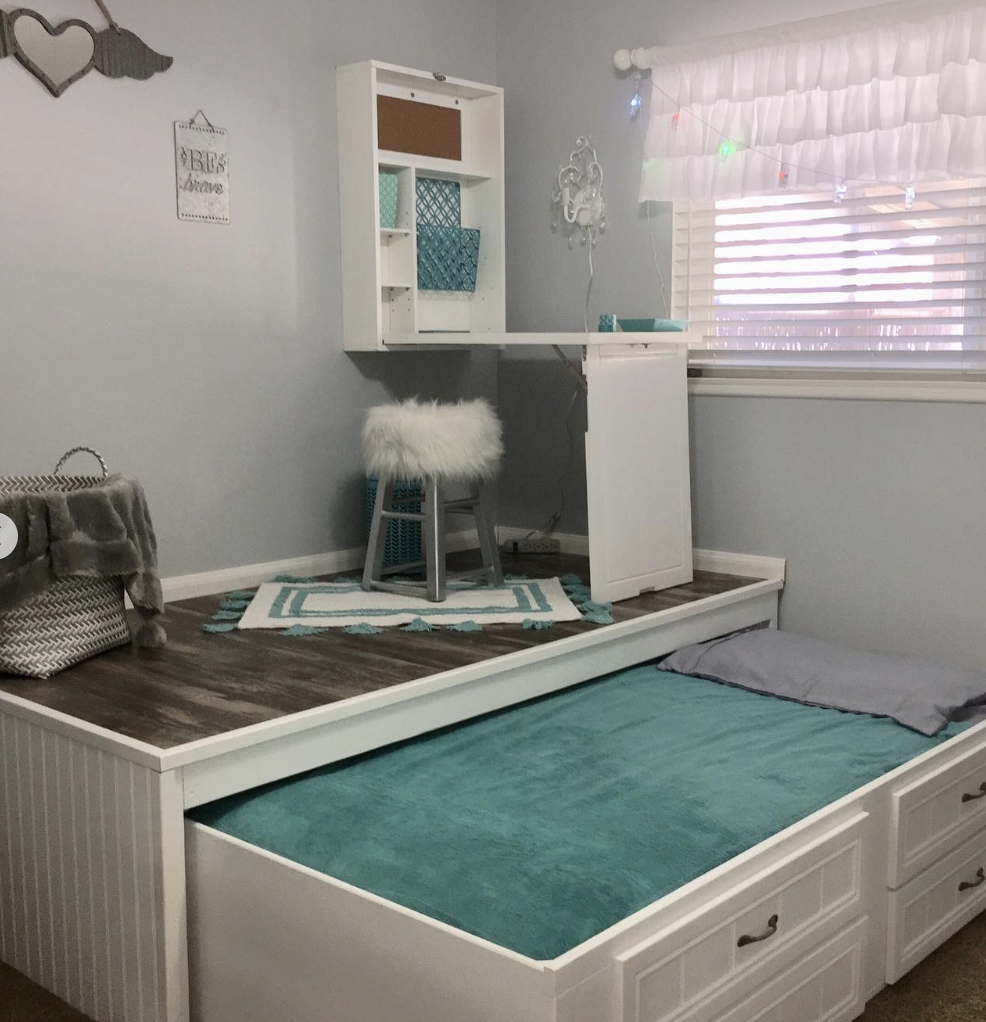 This wall-mounted desk from Etsy shop Good Mood Wood is made to order and crafted from solid oak. Plus, the image below shows how easy it is to turn any wall into a home office with the help of a fold-down desk. Why not go for a wall with a view?!
There are also many DIY versions of the fold-down desk at the ready, like this desk from Bubble Wrapp'd. Would you build your own fold-away desk? Not only can these desks be used for office tasks, but they're also perfect for craft centers, as shown below. [via Pinterest]
Let's not forget about creative space-saving solutions that combine the fold-down desk with other features, such as a bed. In the next image, we see the Poppiboard Ponte Wall Bed Desk. Learn more at Lawrance Contemporary Furniture:
Combined cupboards will provide storage for your work accessories whilst allowing you to close them at the end of the day when you just want to forget about work.
Bookshelf & Fold-Down Desk Combos
Many fold-down desks are part of larger shelving systems that maximize wall space in the office. The small home office below makes the most of its space by incorporating a fold-down desk into a built-in bookshelf. [from ZMK Group, Inc.]
Here's another home office area that maximizes space by utilizing a built-in desk. And once again, the fold-away desk is part of the more giant bookshelf. [from Kirkwood McLean Architects]
Does anyone else notice how white is a popular color for fold-down desks? Perhaps it creates a light and airy feel, especially when a large bookshelf is involved! [photo from Rosangela Photography]
Would you include a fold-down desk as part of a living room or family room? This next example makes a compelling argument for working at a desk into a living area. [photo from Jeff King & Company]
Fold-Down Desks For the Kids!
Next up: fold-down desks for kids! Sometimes all it takes is a simple work surface. This custom-built fold-down desk is the perfect size for a child, and it serves as an art station. Thanks to its convenient location, the parents can keep an eye on their daughter while they cook! [from BKBS via Houzz]
Got two kids? Try two desks! When they're the fold-down variety, you don't have to sacrifice space. Especially when they're part of a large bookshelf that provides handy storage. Bonus points if the bookshelf is a vivid color! [photo by Andy Stagg for Paul Archer Design]
This Kids' Fold-Down Desk built from reclaimed wood can be purchased at Etsy shop Kentucky Kentucky Reclaimed. Plus, it comes with a bench, making it the perfect compact work station:
The Land of Nod offers a Three Tiers Wall Desk that mounts right to the wall. It doesn't appear to actually fold up, but it still serves as a compact desk option with the look of a fold-down desk. A perfect choice for a child's room:
Clever Configurations
Let's end with some fold-down desk options that are as practical as they are amazingly clever! How handy is this fold-down desk solution for a tiny house?! When not in use, the desk becomes part of the wall. When in use, it resides over the couch, transforming into an instant work station with the help of a chain. Learn more at The Tiny Project:
Fold-down desks are perfect for any small-space situation, whether your house is tiny or the home office itself is lacking adequate room. Here's another model that relies on a chain for added stability. [photo by Stéphane Déroussent for Geraldine Laferte]
This wall-mounted desk resides in a contemporary office where clean-lined style is a priority. Plus, it neatly folds into its indented wall spot when not in use. [photo from Paul Clemence Photography for General Assembly]
This fold-down desk is part of an unfolding apartment by Michael K. Chen Architecture that includes many built-in features. Check out the details at Houzz:
Trendy Cabinets
If you want something really elegant, and when the fold-down desk is tucked away, no one would even know it's a desk, then opt for something that looks like a cabinet. Chic and trendy cabinets and hutches are available with a fold-down desk inside and are specifically made to be standard living room furniture when not in use as a desk.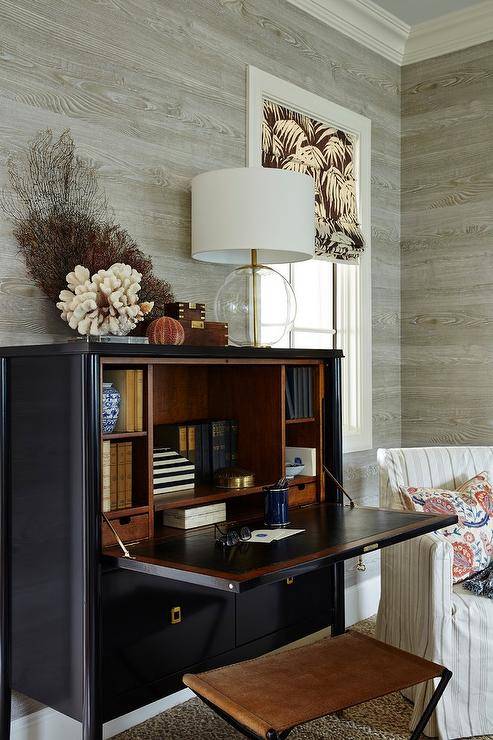 For this fold-down cabinet desk, this designer opted to pair it with a ghost chair to keep the room light and not weighed down with a lot of heavy, bulky furniture.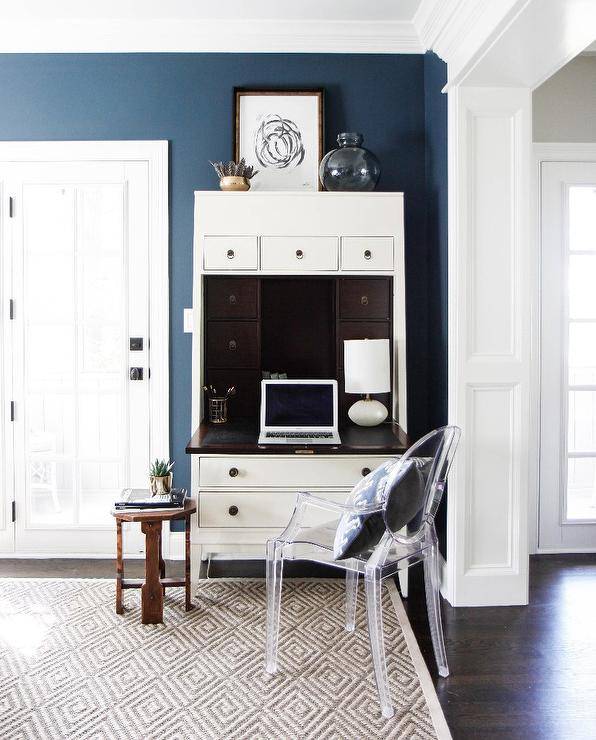 Fold-down cabinet desks are also a great piece for a small bedroom where you will want somewhere to work but don't want to take up bedroom space with a clunky or heavy desk.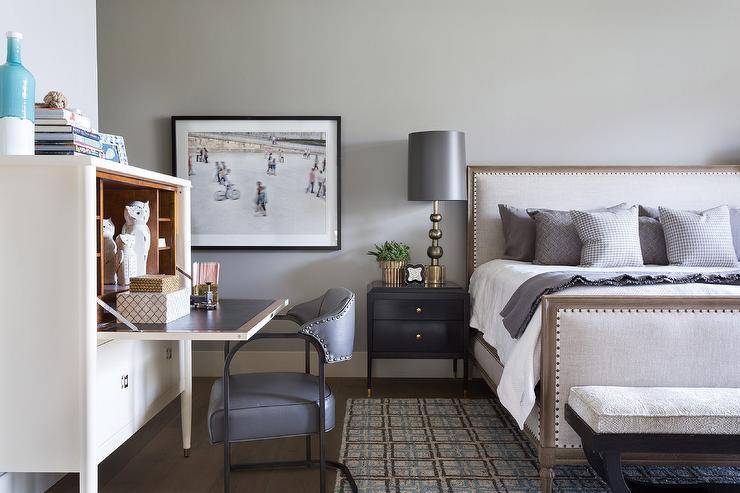 The French Chic look is ever so popular for fold-down desk cabinets, and we think that they look so charming in a pale blue color paired with a stunning lamp and matching French provincial style chair.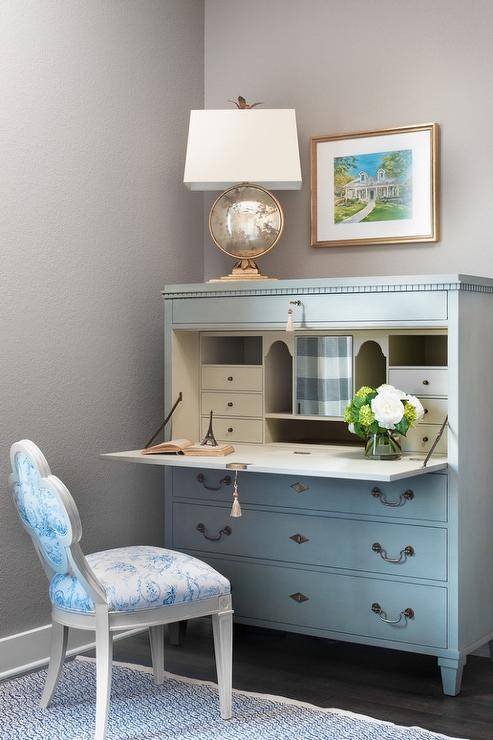 For the upper part of the cabinet, glass is always a trendy option that allows you to display some decor items in your cabinet, all while giving yourself somewhere to work, too.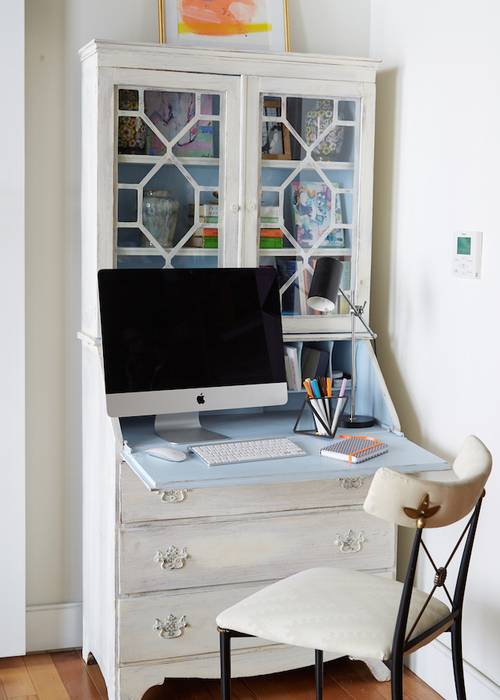 Everything in this room was designed with femininity and elegance in mind, from the stunning magnolia wall decals to the monochromatic vases arranged on top of the cabinet and then right down to the lovely chair. Thanks to the concealed drawers on the inside, this desk looks clean and gorgeous, whether opened or closed.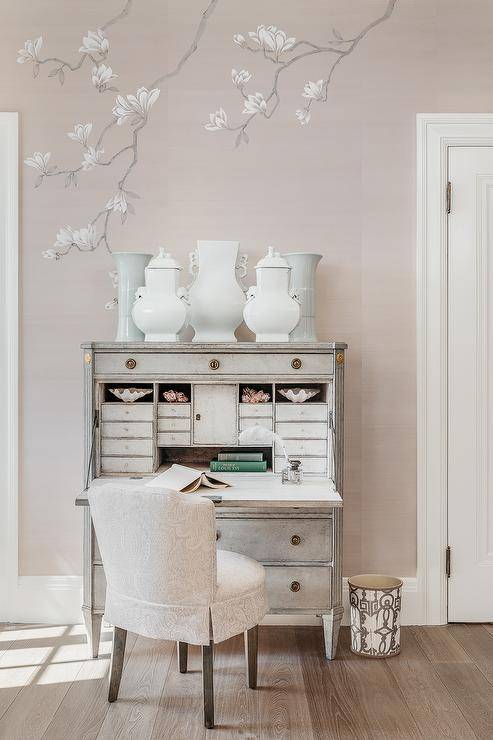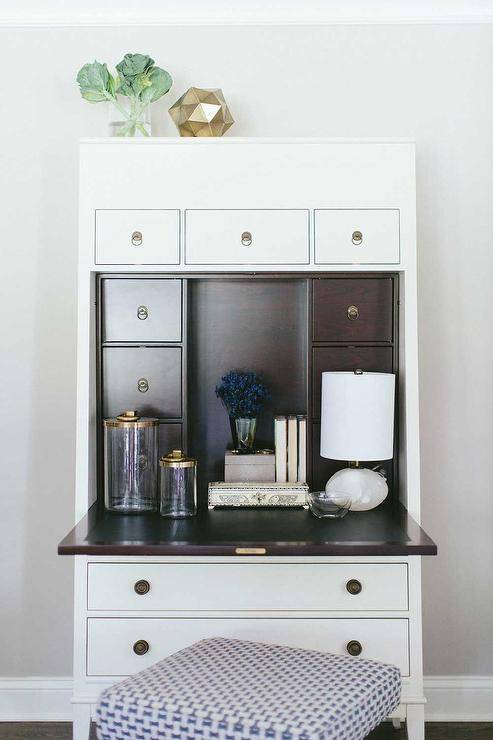 The natural white color of the wood is ideal for bringing an element of nature into your home. Try placing a couple of potted succulents on the top for a stylish look, even when the desk is folded away.
White and Bright
Clean, white, and crisp cabinetry adds a modern appeal to any room, and they are a great place to tuck away a hidden desk.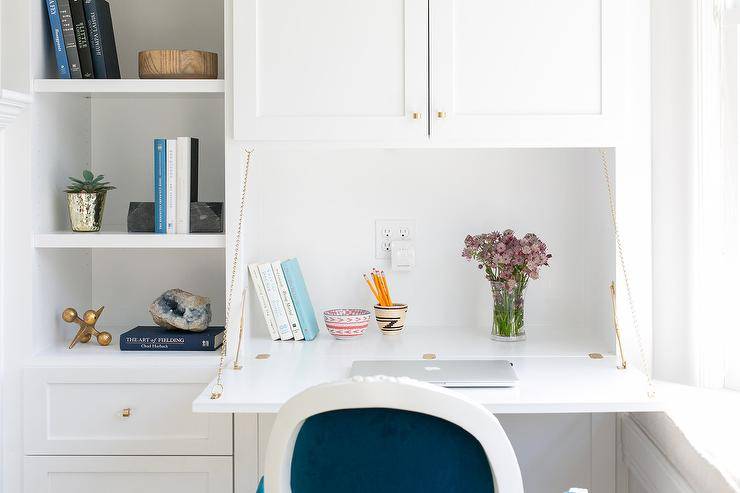 This fold-down desk, when pulled down, nestles closely to a sun-filled window bench allowing the sun to shine in and illuminate the workspace when needed. A bright blue French Louis chair matches the blue books placed ever so nicely on the shelf.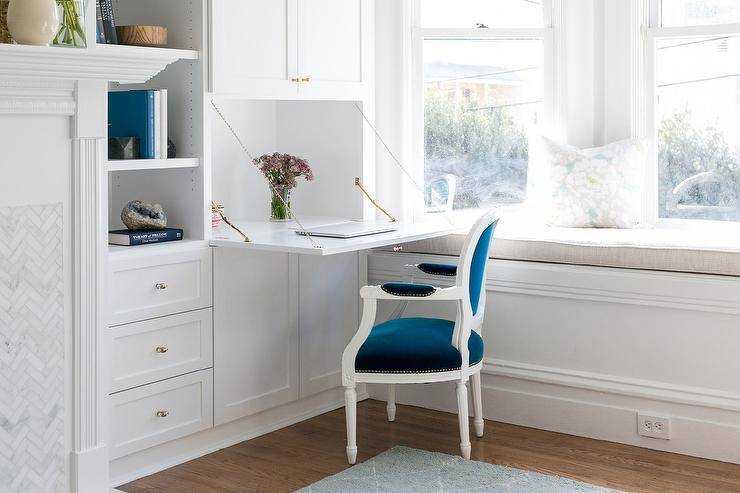 When designing your area for your fold-down desk, don't be afraid to add a little rustic vintage with the modern and new. We think this rustic chair looks great amongst the modern cabinetry.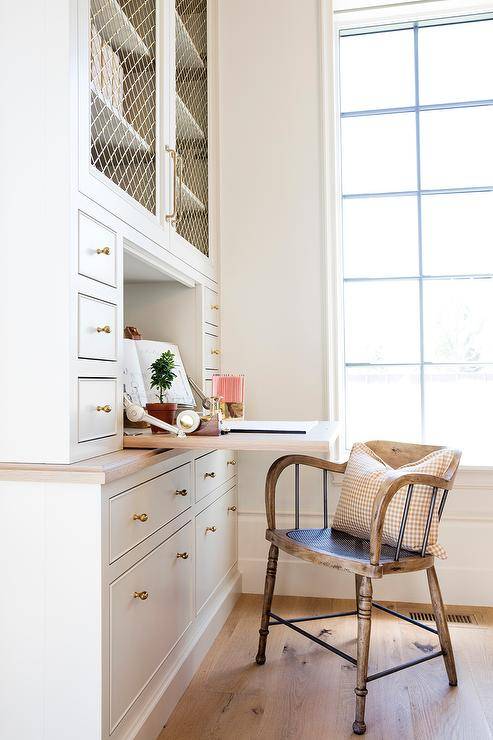 Multiple Use
You don't always have to use your fold-down desk to work — think happy hour! Fold-down desks are also pull-down bars and vice versa. If a product is advertised as a pull-down bar, chances are you could probably use it as a desk, too! You will, however, want to check the height as sometimes pull-down bars at counter height or bar height making them awkward to sit at.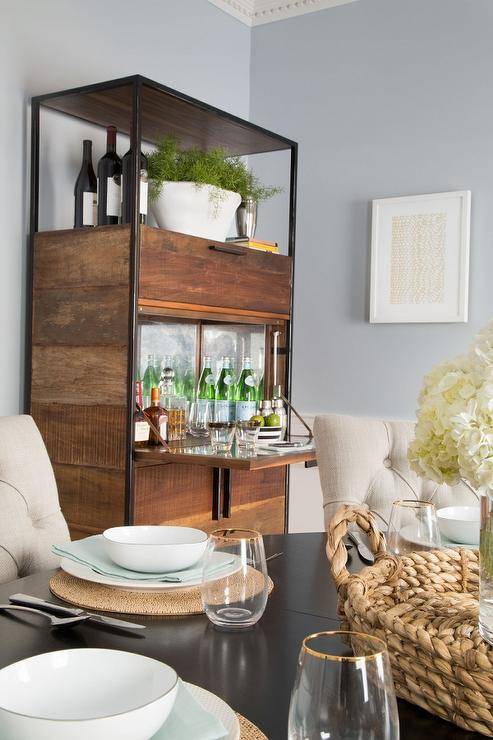 Dark Walnut for a Contrast
Getting back to white cabinetry for a second, how great does the contrast from this dark walnut fold-down desk look next to the clean white cabinetry in these bookcases? It is a stunning focal point for this small office, and we love how it complements the leather chair.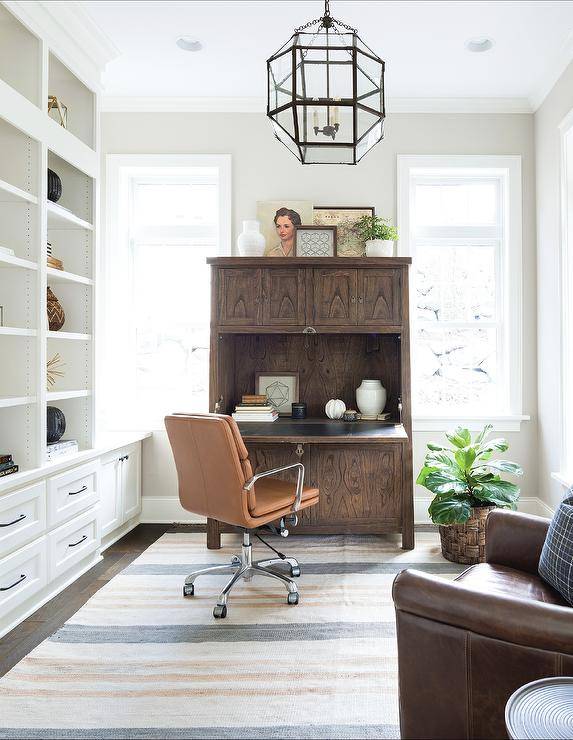 Sleek and Modern
Go for the sleek and modern look with a high gloss wall mounted fold down desk. The stark blue glossy color here brings a cheery bold vibe to this space, and paired with the bright yellow wallpaper, this is a show-stopping look!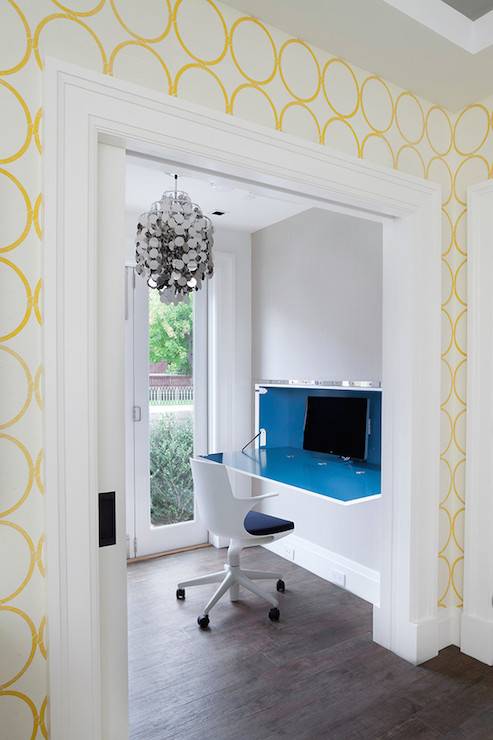 Mid Century Modern
Since fold-down desks became extremely popular in the mid-century, mid-century furniture lovers will have their pick — well, if they are lucky enough to find these pieces at antique markets and second-hand sellers.
A beautiful well cared for mid-century piece can be a little costly, but they look stunning in a home paired with a modern look or even worked in with bohemian decor.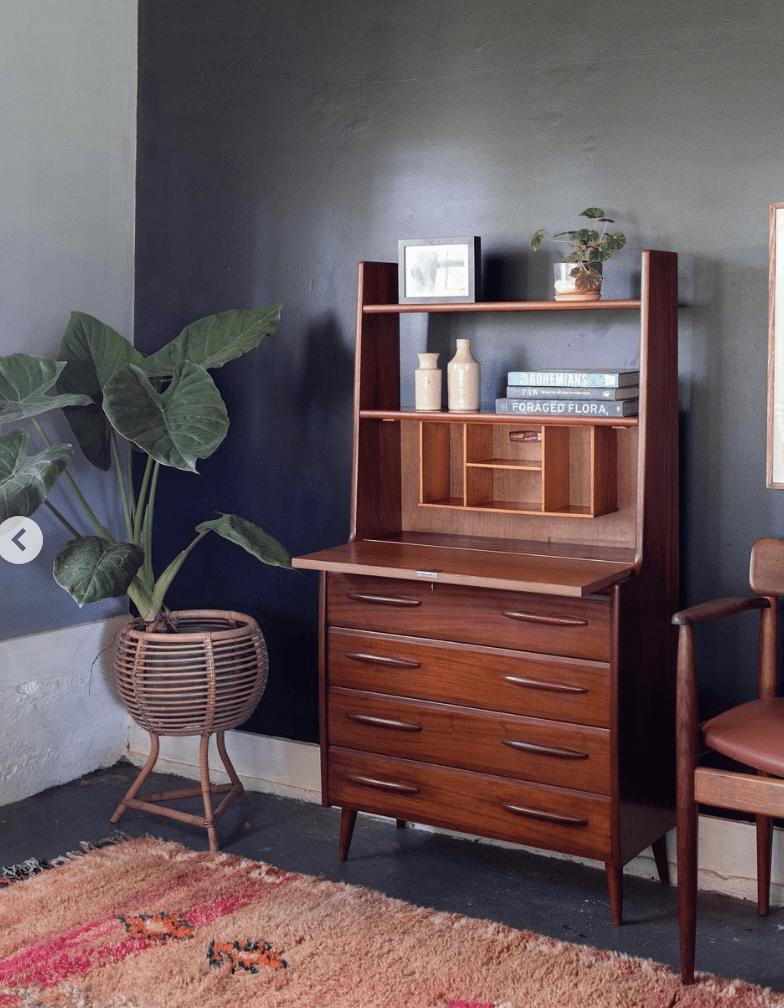 This open concept style fold-down desk allows for plenty of decor on display, books, and art, and provides ample working space when being used as a desk.
This particular unit has almost the same vibe as the previous one, but it's a little more closed in, allowing for more storage but still, ample space to decorate and have fun with your style.
There's a place to rest an open book, which makes it work as a standing desk, too!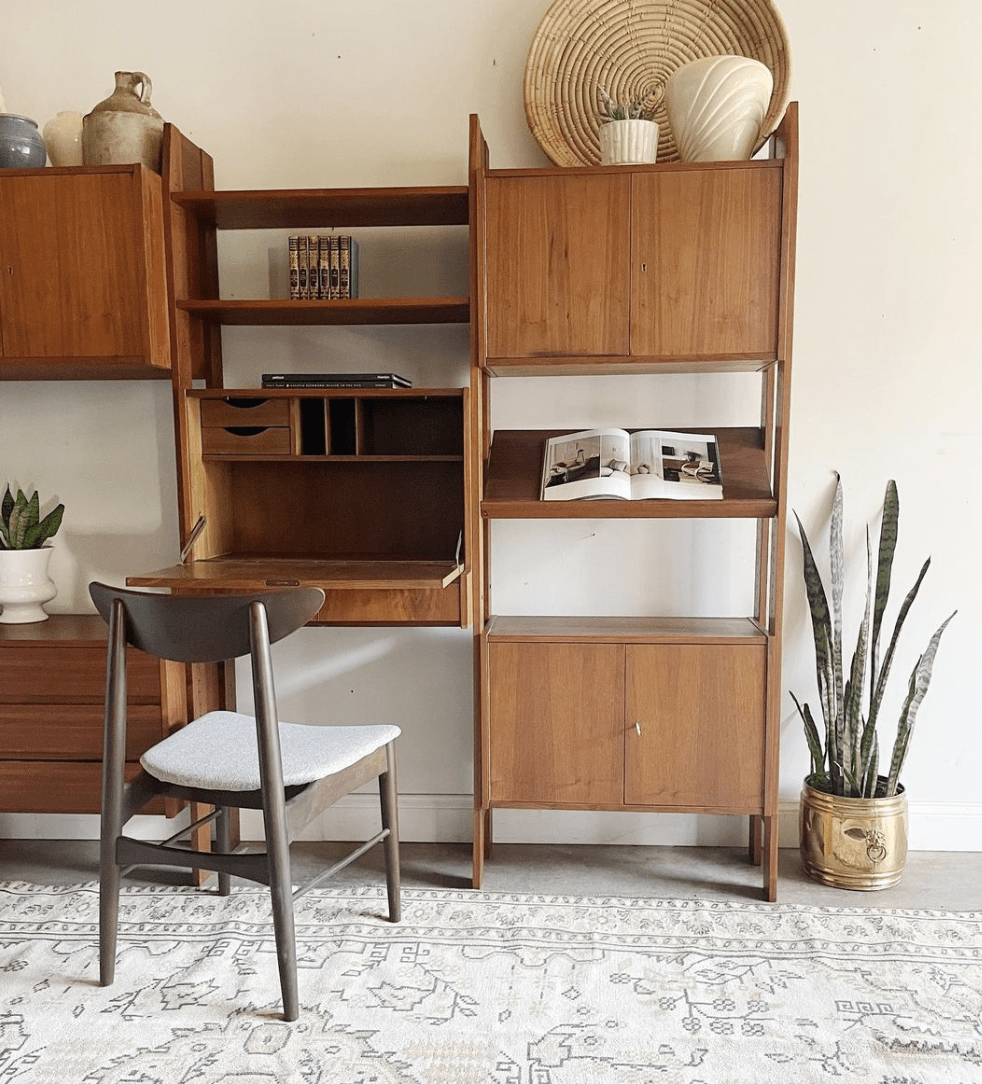 The smooth lines of this design are in keeping with mid century style, so it will look as stylish when it is in desk mode as it will when it is folded up. Style a mid-century modern desk like this with some simple ornaments on the top to catch the eye.
Small and Discreet
If it's something small that you're after, then there are many options. You can get a small wall mounted fold down desks that will take up next to zero space in your room, just a little bit of wall real estate.
This style of desk is practical, fun, and contemporary, making it a great choice for a dorm room, teen room, or even a small home office.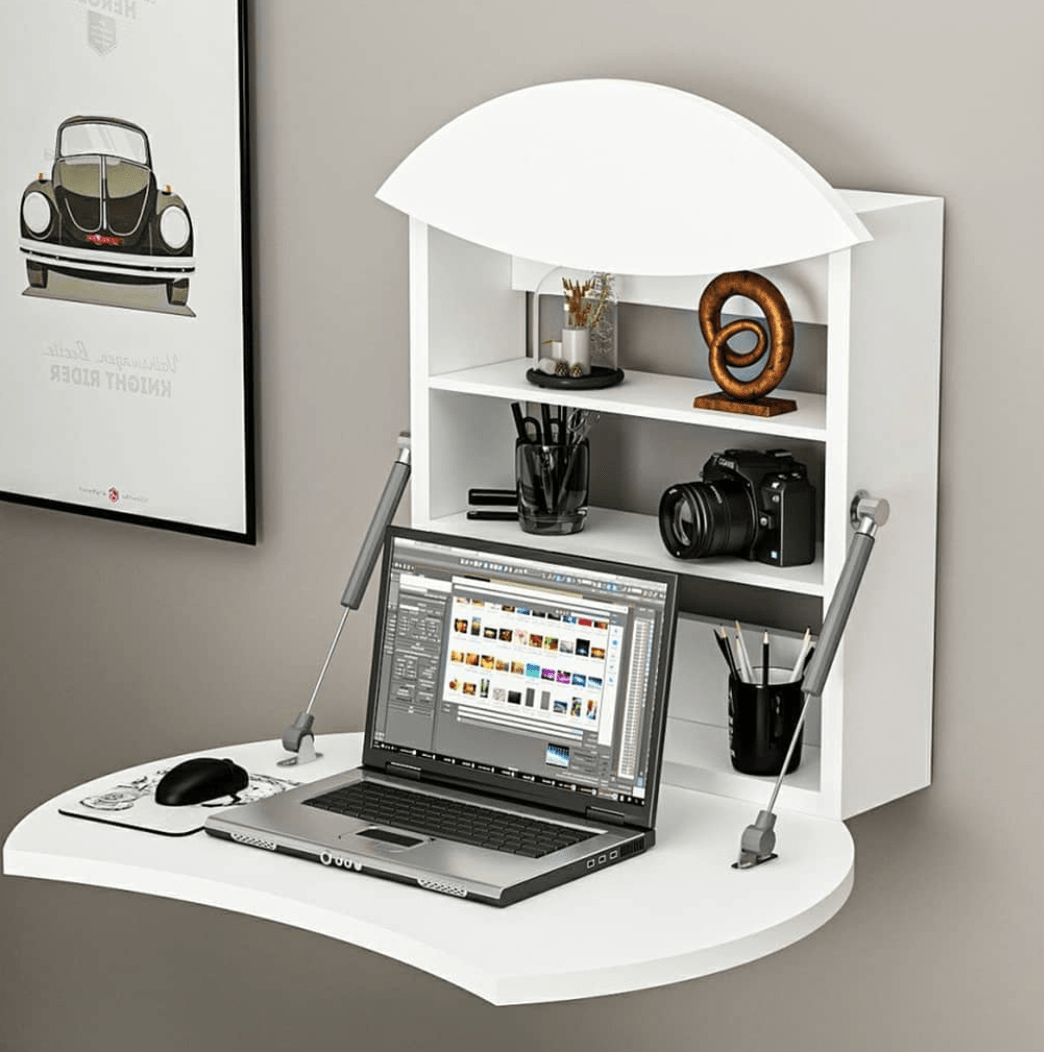 A little larger model and with more room for decor, this wall mounted fold down desk has a contrasting wood panel that provides the room with a little depth and color.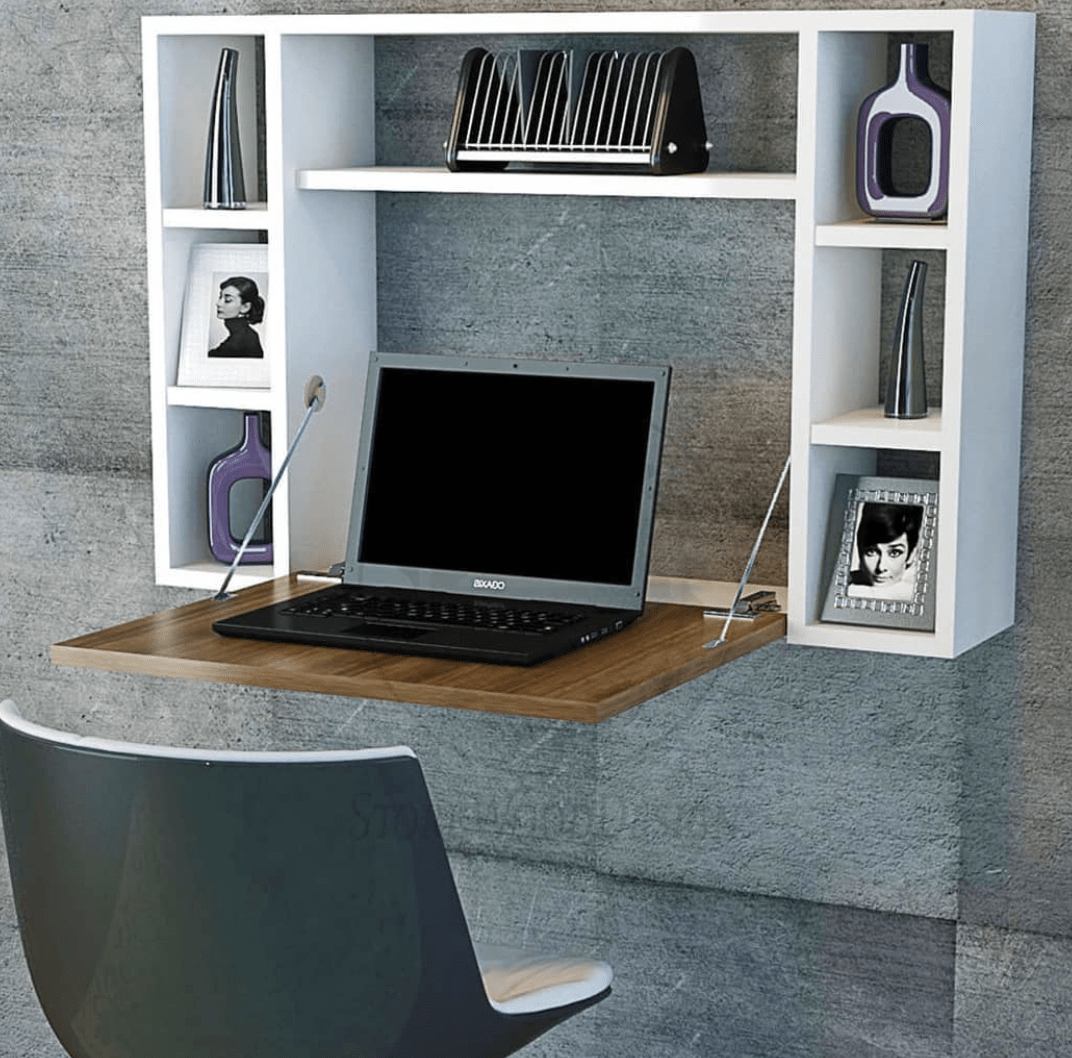 Farmhouse Style
Farmhouse isn't going anywhere anytime soon so let's not forget this style when we are planning out a fold-down desk! The imitation corbel detailing for this small modern farmhouse fold-down desk really gives this tiny desk full life. It takes up hardly any space yet adds a great little piece to the room without going overboard.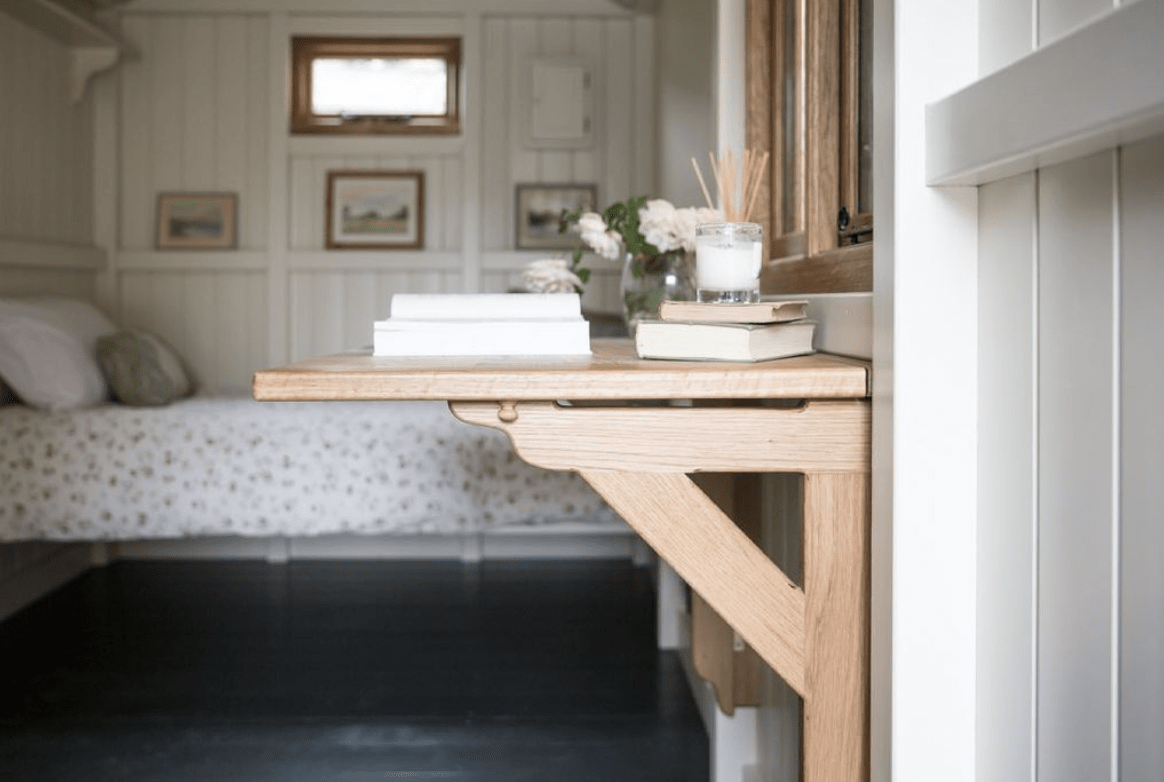 You can do something rustic yourself when you makeover an old fold-down desk with a bit of paint and creativity.
This DIYer has no problem leaving her fold-down desk open all the time — it's so lovely!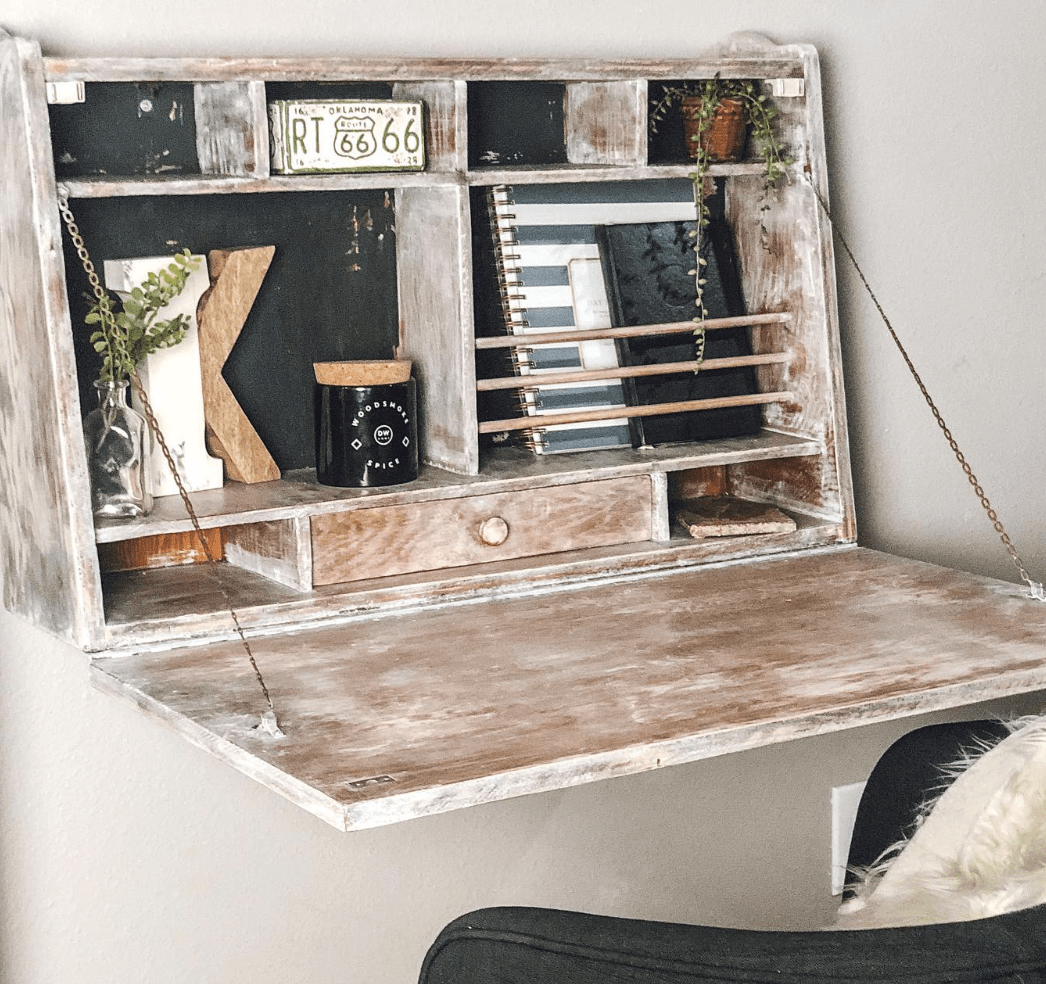 More people are working from home now than ever before, and although you might not be working from an office, it's still important to give yourself a dedicated desk area when you can fully get into 'work mode.' It's essential to have a space where you can go to get in the frame of mind of working, so if you are short on office space, we hope that one of these ideas has inspired you to create an area of your own to work with a fold-down desk.
We'll leave you with a DIY option: this Fold-Away Wall Desk from Crafted Fairly! Check out the details in the tutorial post:
Will you be adding a fold-down desk to your interior?
Frequently Asked Questions
FAQ
Is a fold-down desk and a Murphy desk the same thing?
A fold-down desk and a Murphy desk are essentially the same things. The name Murphy desk is because of William Lawrence Murphy, who was the inventor of the fold-away bed, and because the idea of a fold-down or fold-away desk is essentially the same idea, it is often referred to as a Murphy desk.
Are fold-down desks less money than a full desk?
Floating desks can be comparatively less expensive than regular work or computer desks. They come in various styles ranging in all sorts of prices, but of course, if you are after a true antique fold-down desk, they may be a lot more money than a typical desk.
When mounting a fold-down desk, should you make sure it's in a stud?
Since you most definitely will be putting substantial weight on the desk when it's in a fold-down position, you will most certainly want to make sure it's anchored into a stud or secured with the proper weight maintenance brackets.
Which style of the fold-down desk will save the most amount of space?
If you really want to save space, the best style of the fold-down desk would be one that is mounted on the wall and has no legs. This is great because when it's not in use, you can fold it away, and it's on the wall, not taking up any floor space.
Here are some other articles you may like: