Farmhouses interior design is trending everywhere but it's not always easy to adapt it for your space. Farmhouse decor equates to romantic retreats and beautiful hideaways. Log cabins and rustic plantation homes are still a fad that never loses its exceptional appeal. For most of us, the countryside aesthetic is the most comforting environment to retire at the end of a busy day. Its style is often simple, laidback, practical, and soothing.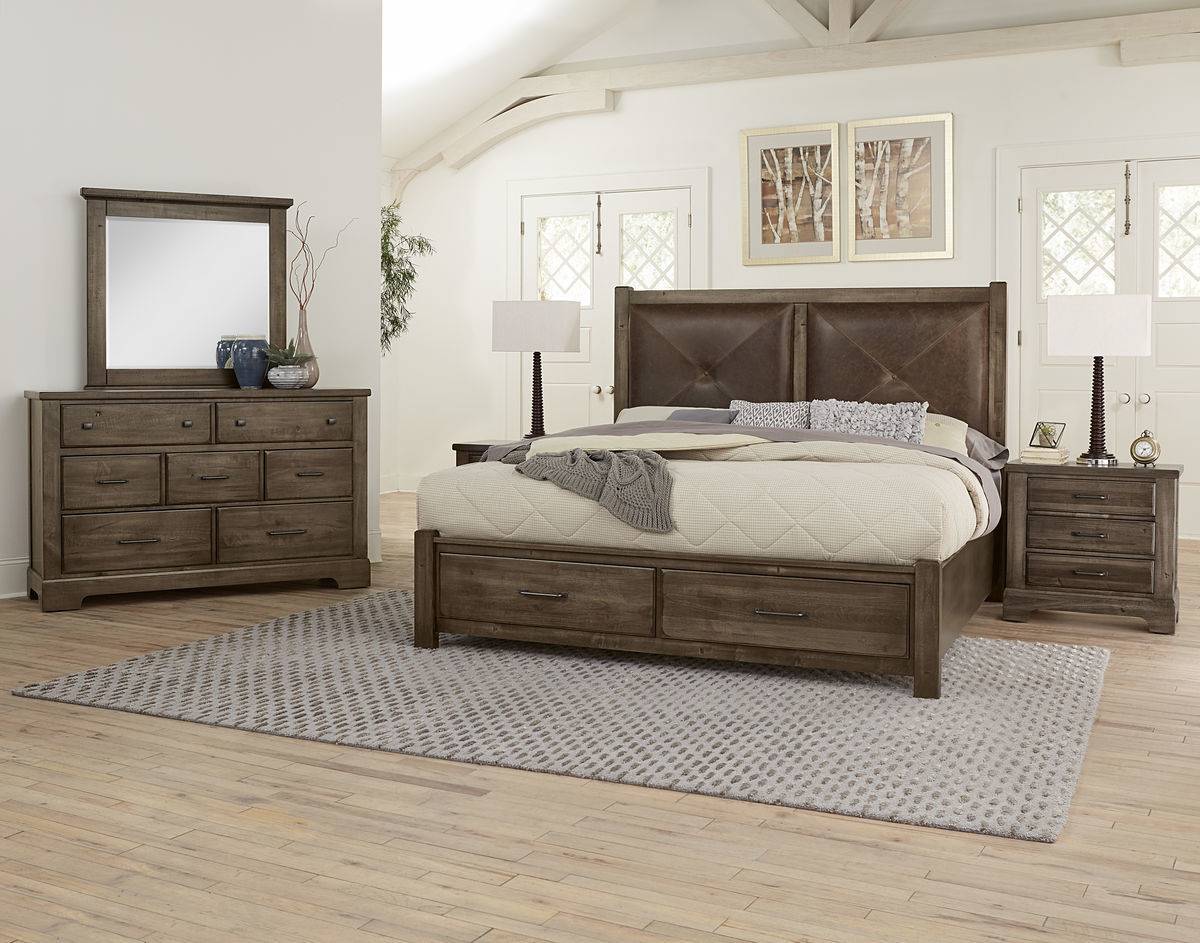 Wanting to bask yourself in that cozy warmth and comfort? Here are some of the unique farmhouse bedroom ideas for you to decorate your home with.
15 Farmhouse Bedroom Ideas to Try
Indulge in Neutral and Earthly Tones on the Wall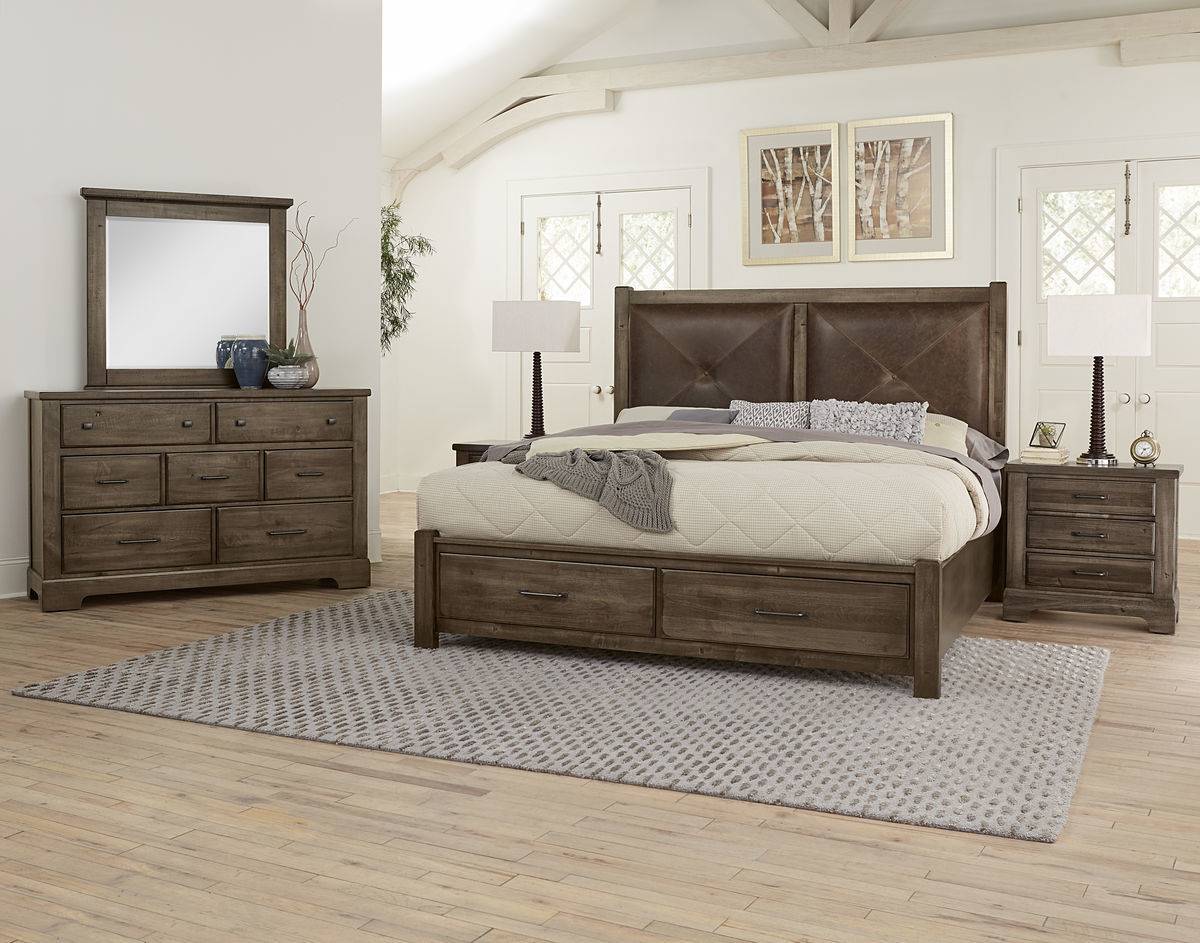 Aside from natural materials, neutral color schemes are a distinctive property of a farmhouse. So, the first step you should take in starting your farmhouse bedroom ideas is choosing the right paint. There is no need to go white as you can also dress your wall in beige, cream, or gray. Add in some earth-colored furniture and enjoy the luxe sophistication of your farmhouse bedroom.
Define the Room with Classic Furniture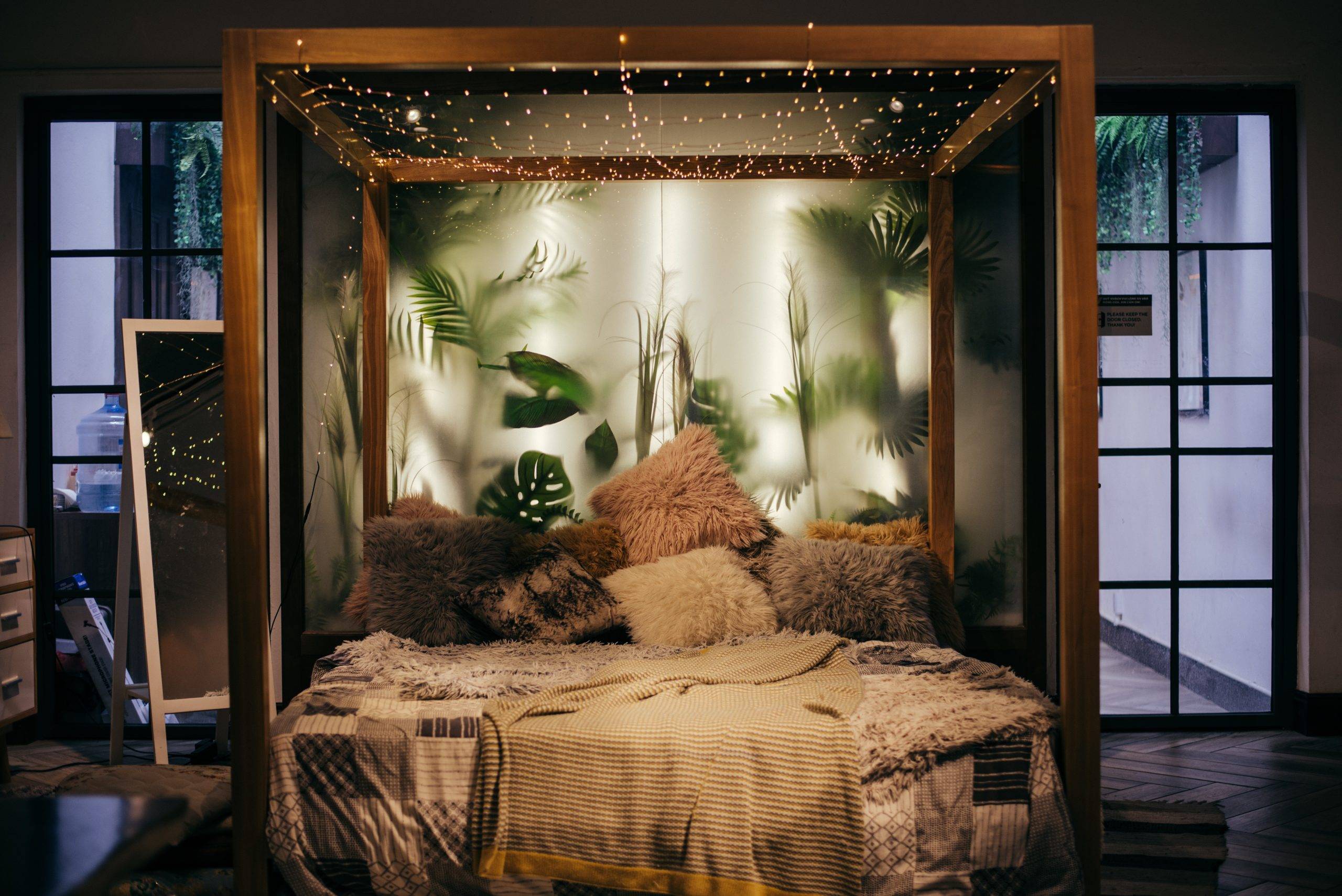 Adding a farmhouse vibe to your room simply means choosing the right furniture and fixture for it. The bed, of course, is the spotlight of the show for the bedroom. So choose the most fitting one. This fabulous room conveys a heartwarming sense with its classy bed and wooden bed frame. The string lights, unique wall décor, and full-length mirror complement it with a countryside vibe. And oh, don't forget that the textured beddings are also one of the cool farmhouse bedroom ideas to invest in!
Mix and Match Your Materials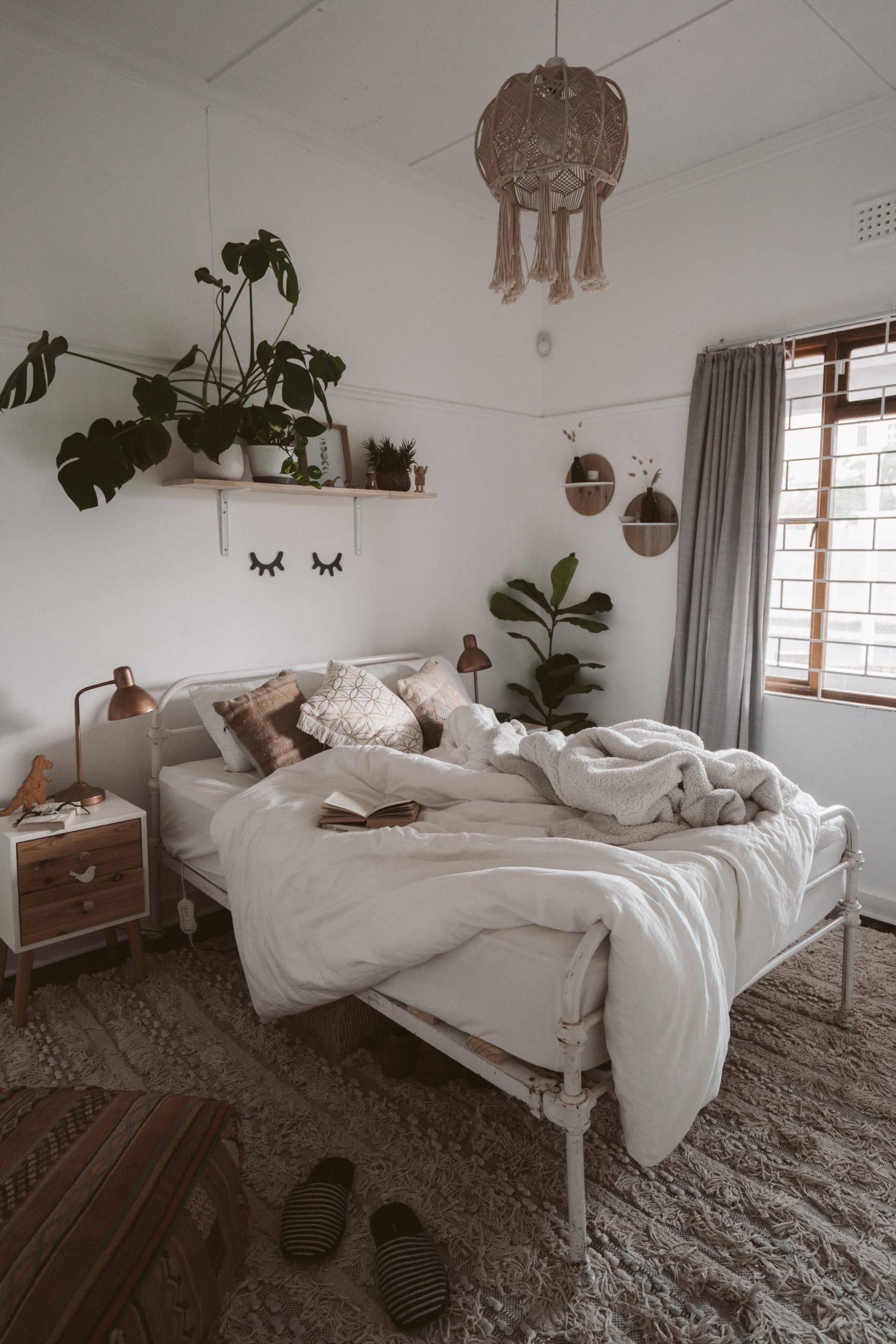 The metal bed, vintage side table, and unique pendant light define the farmhouse feel of this bedroom. But it is the potted plants that steal the show for this one. You can also mix and match your farmhouse bedroom ideas to come up with a personalized resting area. Incorporating plants into the design will not only add an aesthetic appeal, but also attributes functional decor for freshening up your room.
Blend Colors with Harmony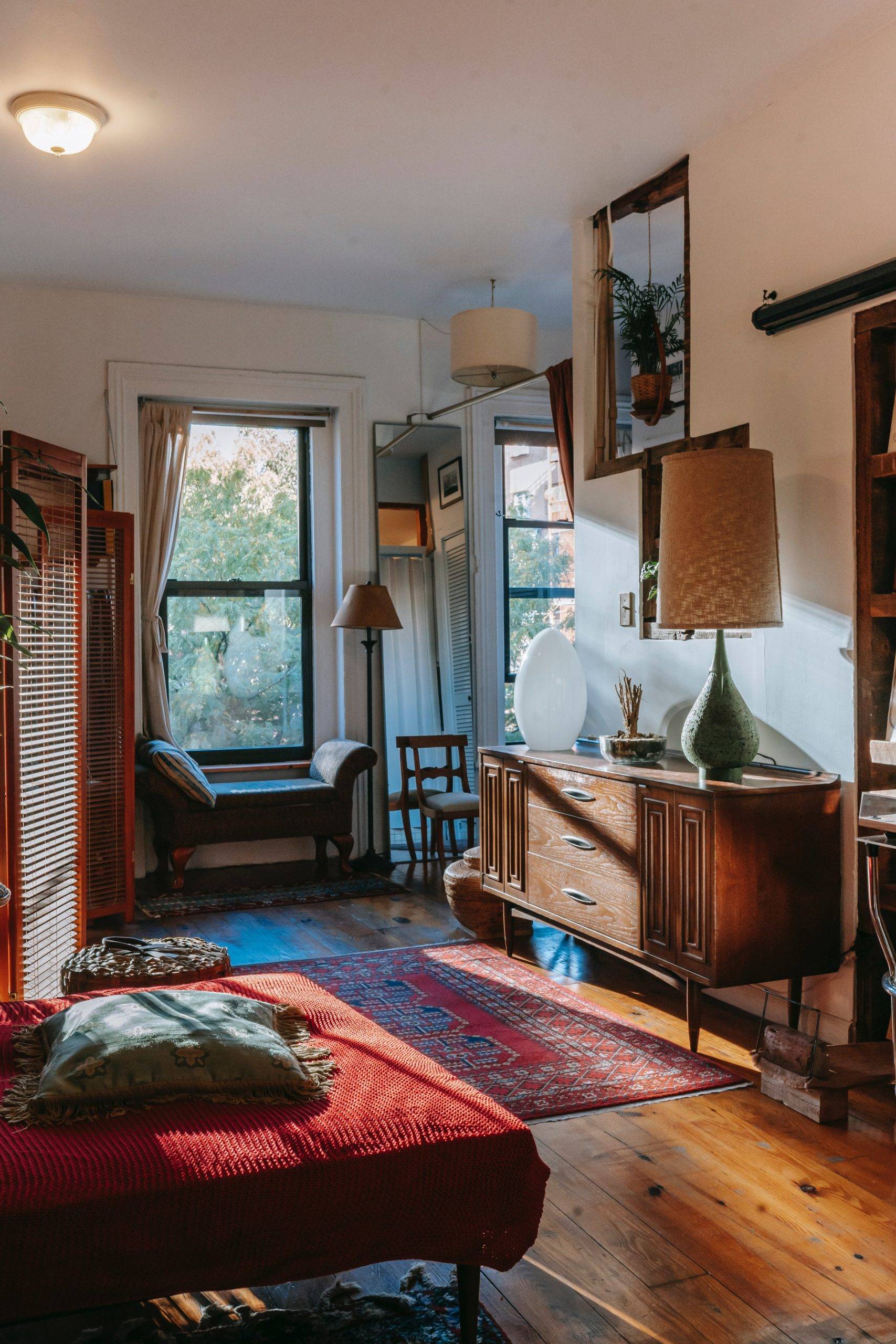 Creating a focal point of interest will take the boredom out of the farmhouse concept. You can add simple but elegant furniture and spice it up with litters of colors. Get inspired with this room that combines the best farmhouse bedroom ideas. It mixes modern and vintage furnishing while dressing the room in a satisfying muted color blend.
Embrace Traditional Decors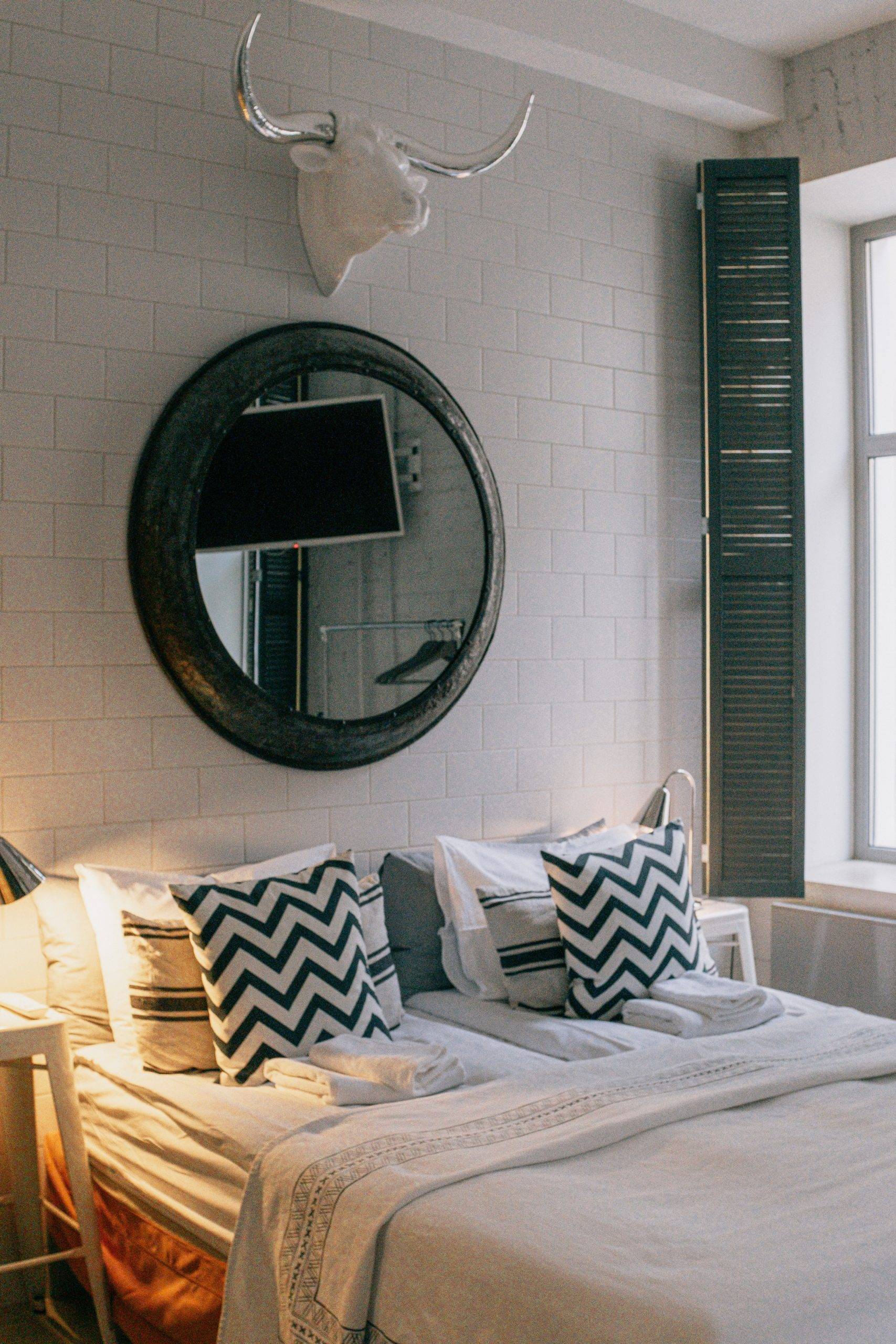 In this unique bedroom, quirky wall decors bring together a traditional feel. The bull head wall décor is an interesting and eye-catching element to begin with. Add that to the ornate round mirror that creates a jest of countryside character. This Scandinavian-inspired bedroom exudes that signature modern-rustic feel that people of all ages would surely love.
Don't Leave the Floor Bare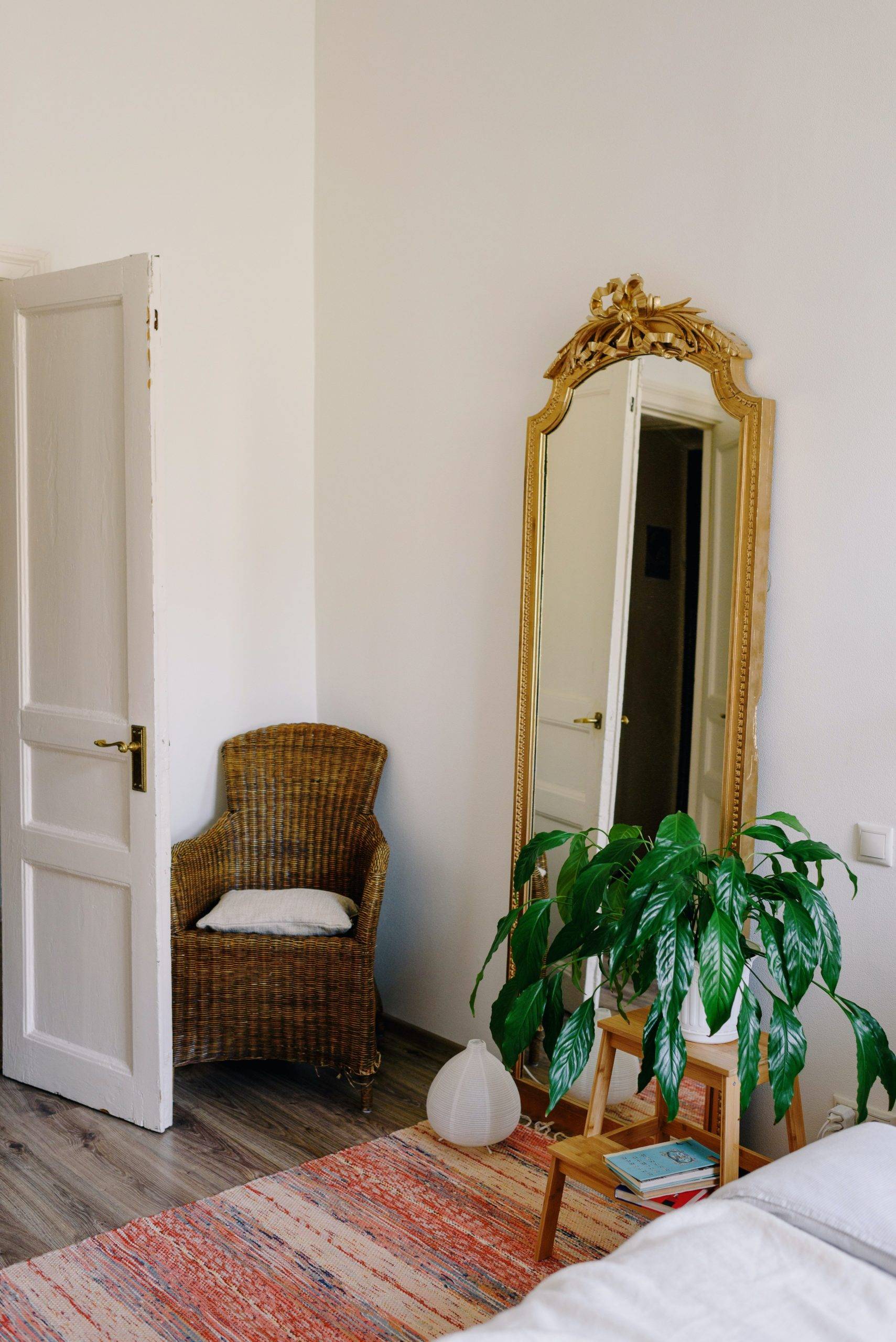 The right floor cover will make sure that nothing in your room feels out of place. Instead of going bare, you may opt to cover it with gorgeous carpeting. This woven floormat, for example, keep things interesting within this room without throwing the cozy and grounded vibe off. When incorporating carpets in your farmhouse bedroom ideas, stay away from brightly colored ones. Keep it low-key and still in line with the colors of the earth for that cheerful rustic bedroom feel.
Bring Dimension to the Wall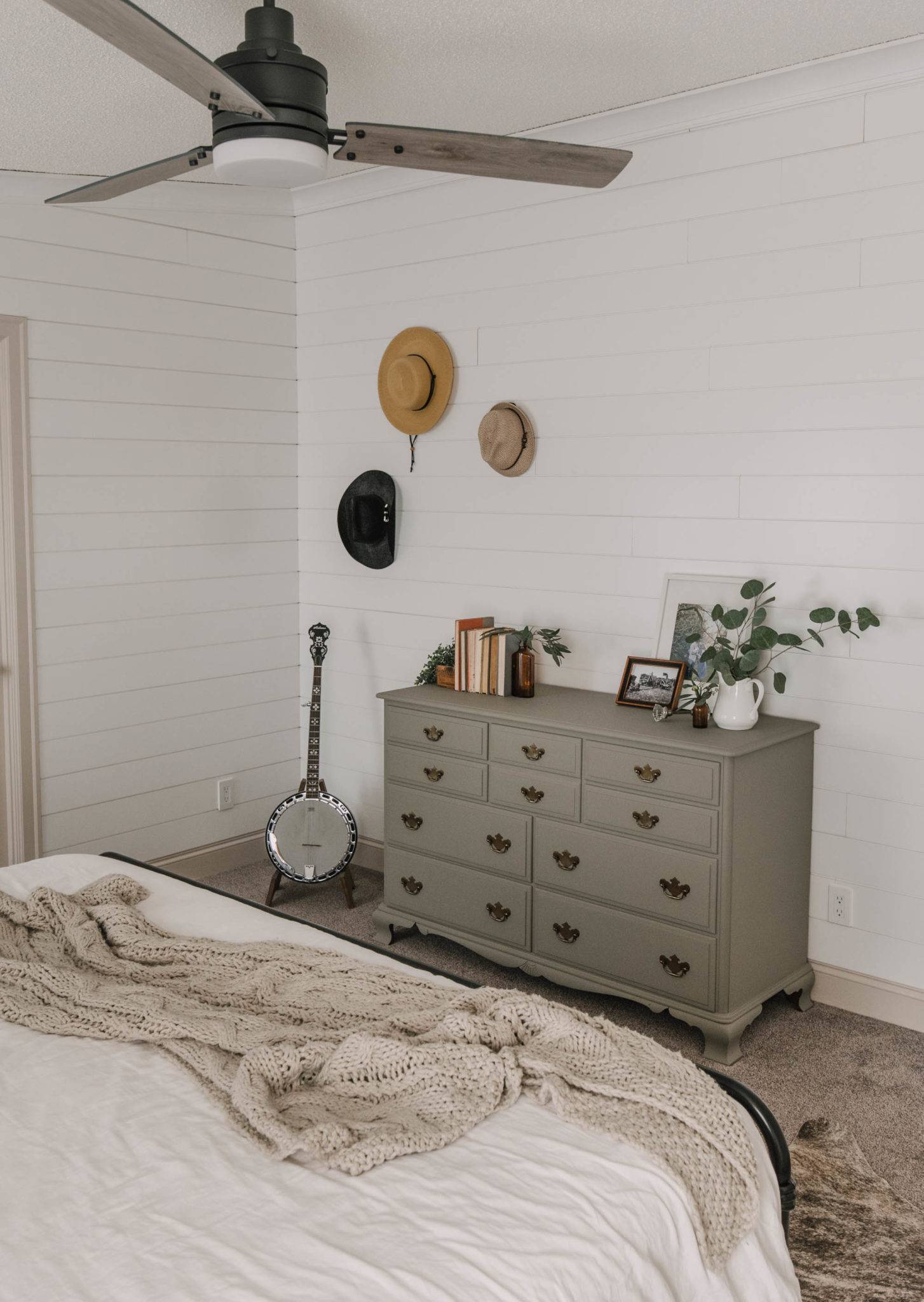 Another distinctive personality of a farmhouse is the fine details and textures that are typically found on its wall. Wainscoting, slabs, and batten doors are often expected of farmhouse bedroom ideas and designs. This rustic shiplap or planked woods is the perfect foundation of a farmhouse bedroom. Add in some rustic furnishing and wall decors for an effortlessly elegant and relaxing room.
Incorporate Rustic Elements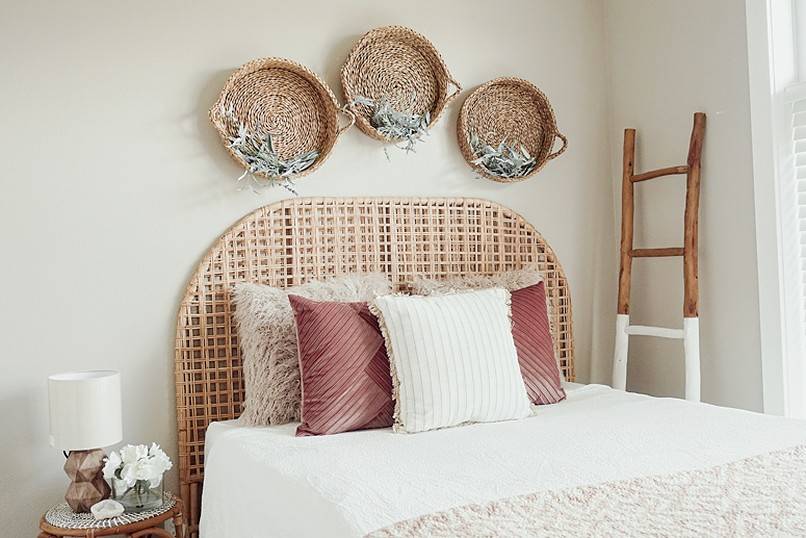 Instead of the usual wooden materials, you can also go big with extraordinary farmhouse bedroom ideas. The handcrafted headboard is the best part of this airy farmhouse bedroom so far. There is also a certain homey vibe in the complementing decorative tray wall decors. You may even try DIY farmhouse decors if you please. The light colors such as the espresso and pink combination of this room wrap it in an entirely dreamy sense.
The Luxe Western Motif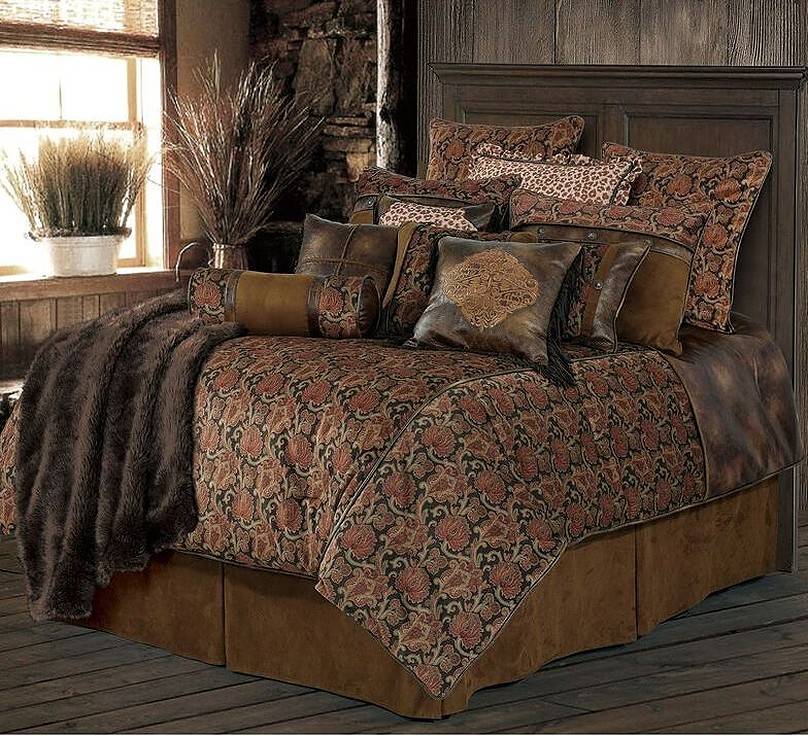 Velvet upholstery, elaborate prints, and animal-inspired design materials make up this high-class western style master's bedroom. The historical ambiance offers luxurious warmth and a rich ornate feel. Don't forget to notice the distressed wood and stone wall inlays that complete this elaborate farmhouse bedroom!
Crafty Storage Pieces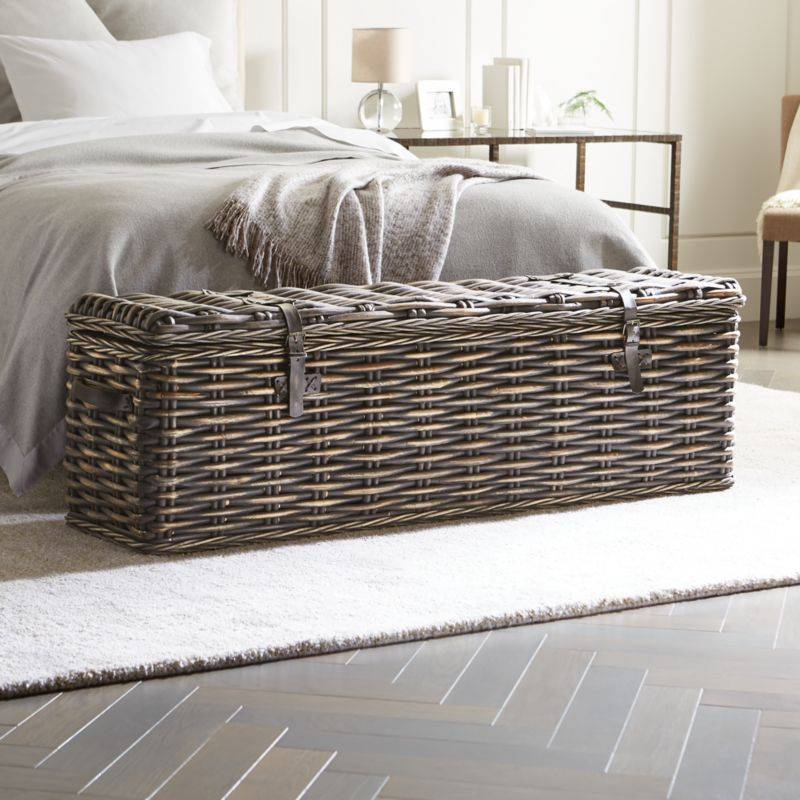 Extra storages like this rattan trunk are practical farmhouse bedroom ideas to consider. It meets the bedroom's need for additional space, style-wise. This one is an unexpected statement that adds personality to this modern farmhouse bedroom and makes it extra special.
Stick to the Theme with Rustic Furniture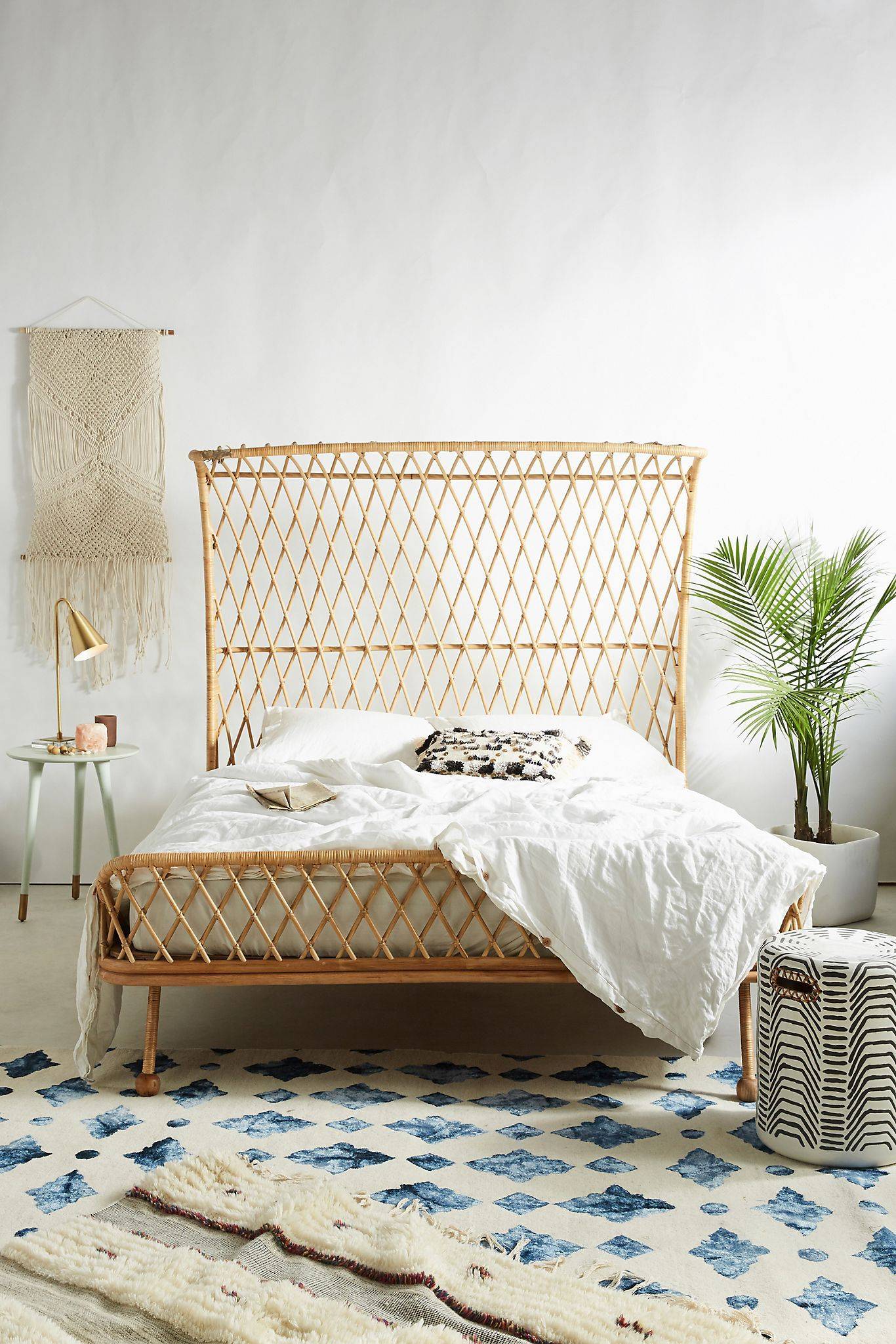 Here is another design scheme to reflect the countryside home: rattan bed. Some good pieces of traditional or even distressed furniture are the best farmhouse bedroom ideas. This particular one has a natural texture that is not too overwhelming. It makes the room appear calmer and airier, but still rustic and captivating.
Keep it Fresh and Simple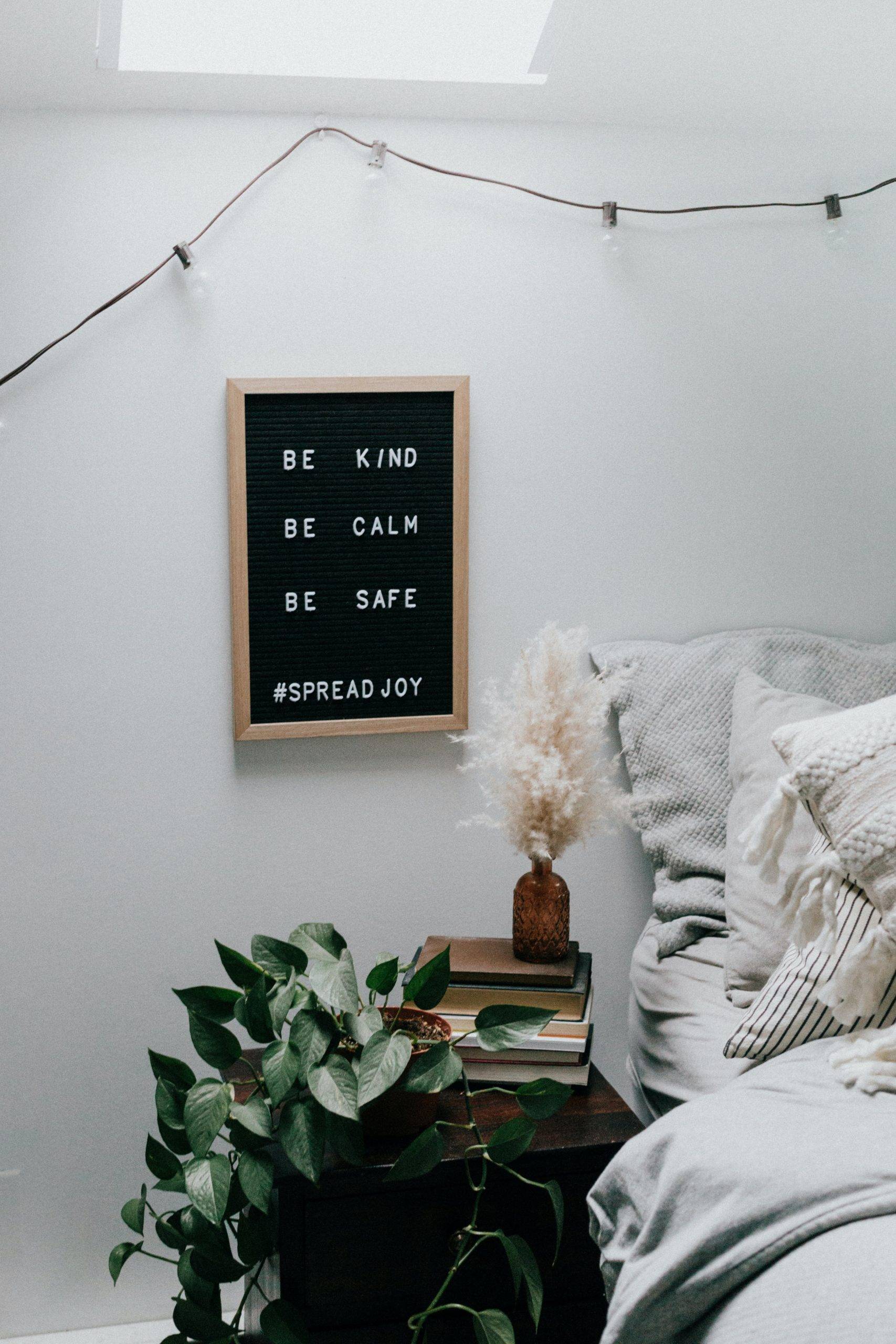 Bedside plants are farmhouse bedroom ideas that are guaranteed to make your bedroom feel fresher and relaxing. Plants add tranquility to the room while offsetting the light-colored scheme of the room. When choosing a plant for your room though, make sure that it is healthy and free of insects. Bringing nature in does not mean bringing nasty buggers inside as well.
Give Space to Vintage Pieces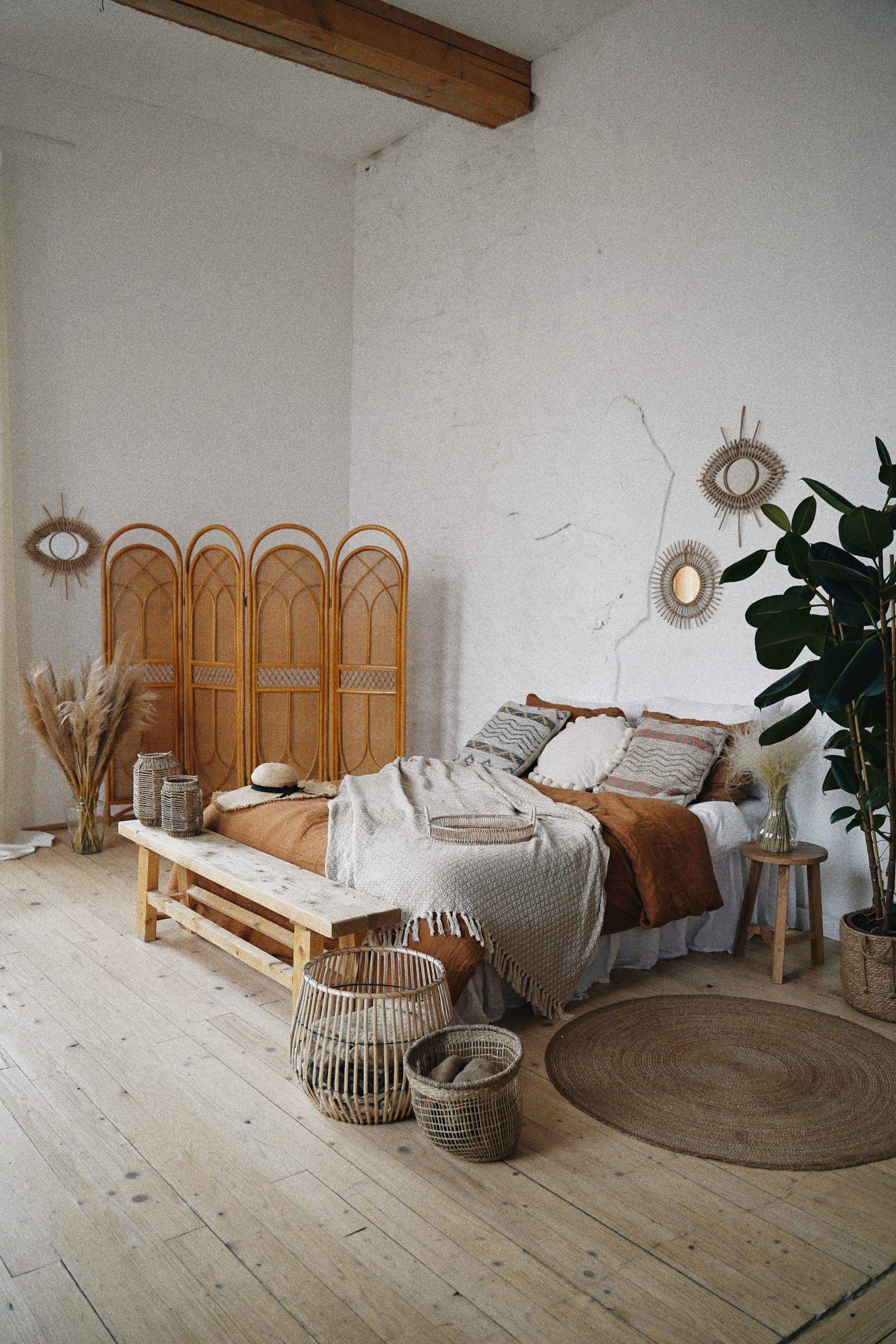 The wall or the bed is not the only thing that makes up the best farmhouse bedroom ideas. Every little detail also matters when it comes to giving it that old-age homey feel. Bring together materials that speak for themselves without being too overbearing. Wooden furniture, wicker basket, and rustic wall decors make this room more dramatic. It balances the space that the almost blank and drab wall creates with simple and sentimental pieces.
Bring in More Wooden Elements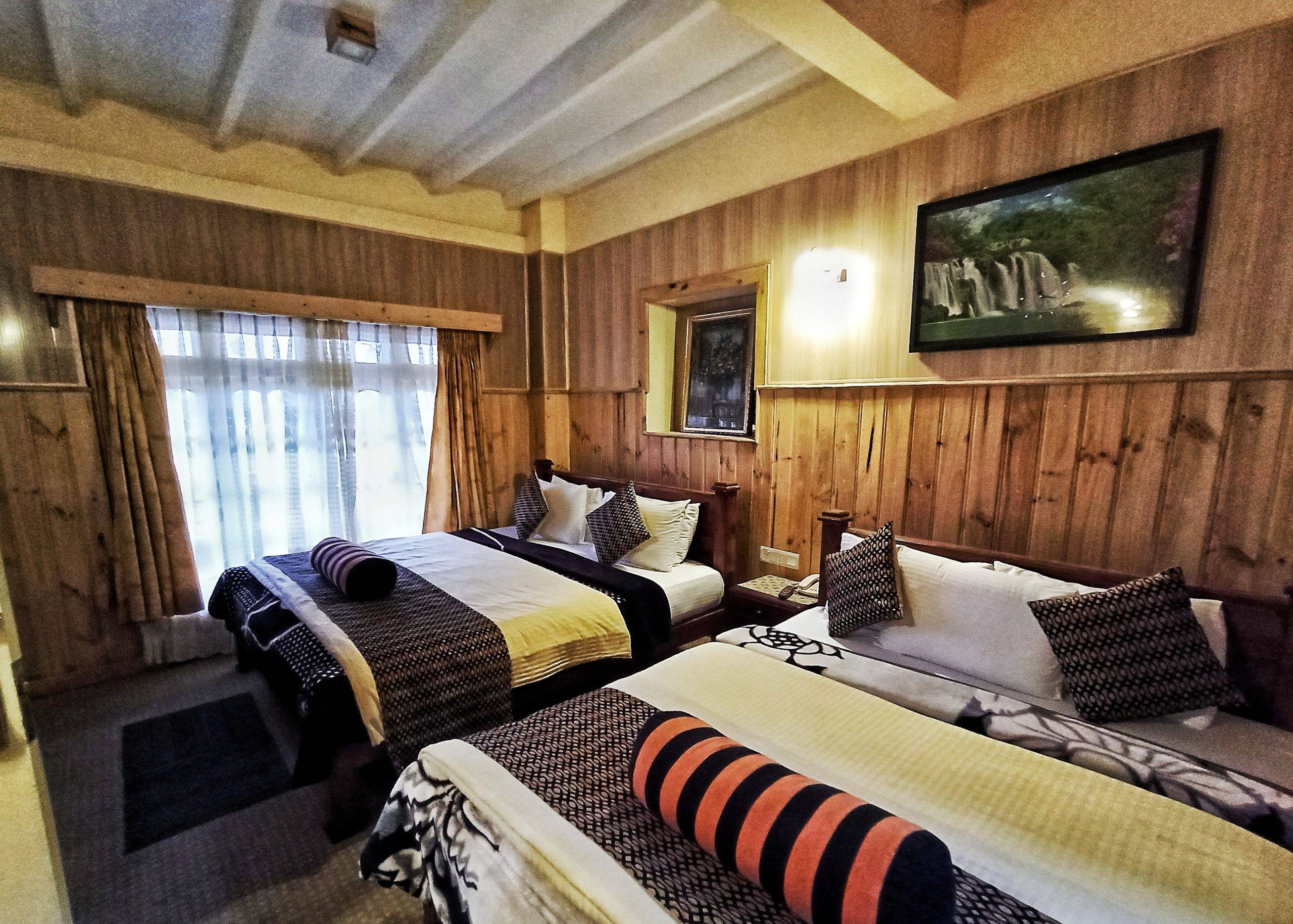 Woods, in no doubt, conveys the rustic and farmhouse feel in any home much better. So if you can, make sure that you incorporate more wooden elements into your bedroom concept. This stunning and spacious bedroom takes the farmhouse design seriously. From the rustic walls and countryside-inspired beddings, it exudes that classic elegance of a formal farmhouse. It even has a wooden valance to complete the look.
Install Farmhouse Lightings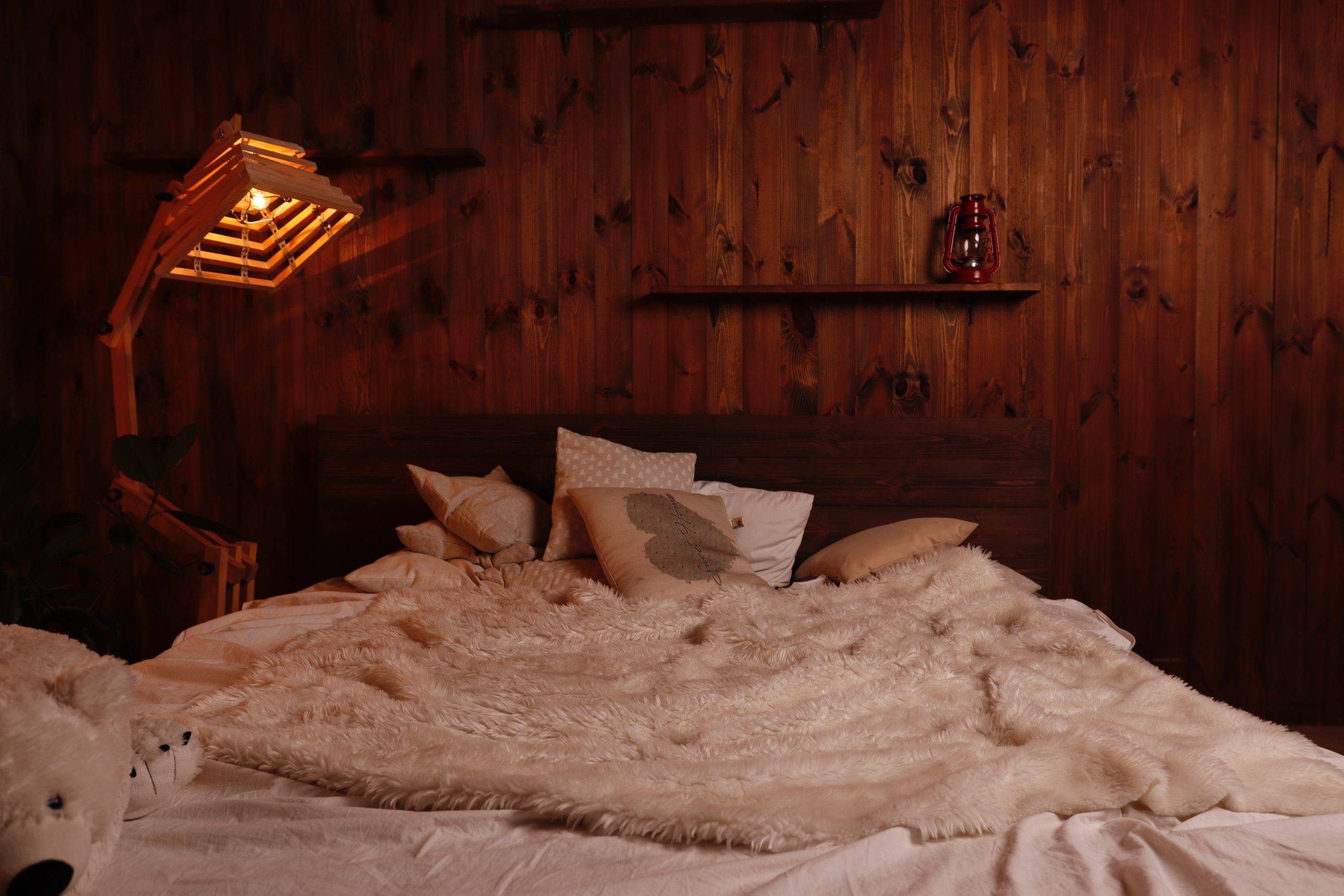 One of the best farmhouse ideas to consider is investing in the right lighting. Light fixtures do not only make a decorative statement in a room. It also has a strong impact in changing and imparting an overall feel to any space. Brilliant incandescent light often characterizes farmhouse lighting. But this rustic floor lamp takes it to the next level with its quirky design. Little upgrades like this can do so much in conveying a farmhouse feel to any bedroom.
Takeaway
The best farmhouse bedroom ideas will transform your room into a cozy and warm place for relaxation. To make the place outdated yet sleek and stylish, pay attention to your color scheme. Maintain the neutral hues and introduce natural elements into the room. Simple details and decors will also give it a touch of personality and elegance. With its low-key and grounded vibe, the farmhouse bedroom ideas will make you love your most coveted space even more.