The farmhouse kitchen has been one of the most favored interior design trends for almost a decade. When designing the ideal country-style kitchen, most homeowners focus on apron front sinks, rustic and simple cabinetry, textured wooden shelves, lots of greenery, neutral colors and worn antiques.
The proper backsplash can pull your kitchen together and add style and character to a functional space. Whether you prefer a modern and contemporary look or want true rustic farmhouse style, there are many kitchen backsplashes to choose from to complete your ideal farmhouse space.
Choosing the Right Backsplash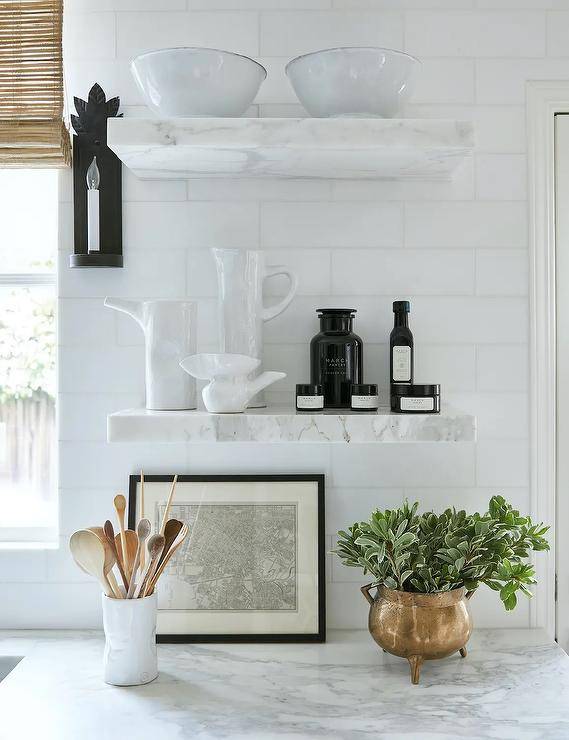 A farmhouse kitchen backsplash can vary from subway tile that extends all over to brick behind your cooktop to marble that makes a visual statement. When used properly, your backsplash can upgrade your kitchen and take it from just pretty to stunning.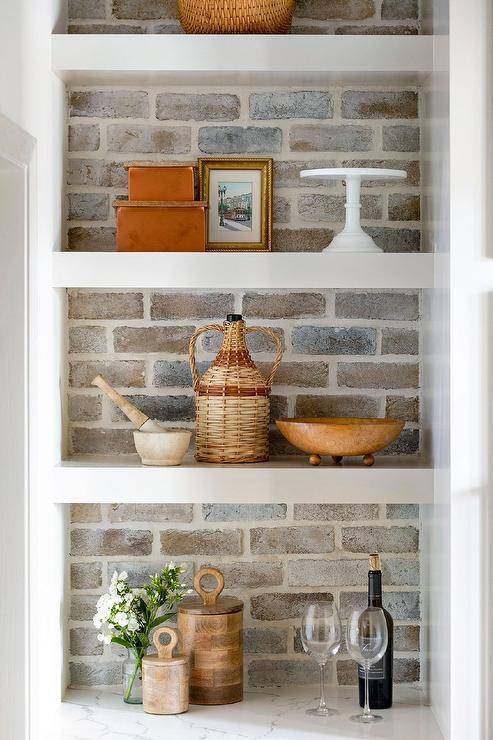 When it comes to looking for the perfect farmhouse backsplash you want a textile that is warm and inviting that will fit your kitchen and make it a welcoming space for you and your family. While selecting the correct material and design to pull off a farmhouse style can be tough, installing a new kitchen backsplash can give the room a totally new look.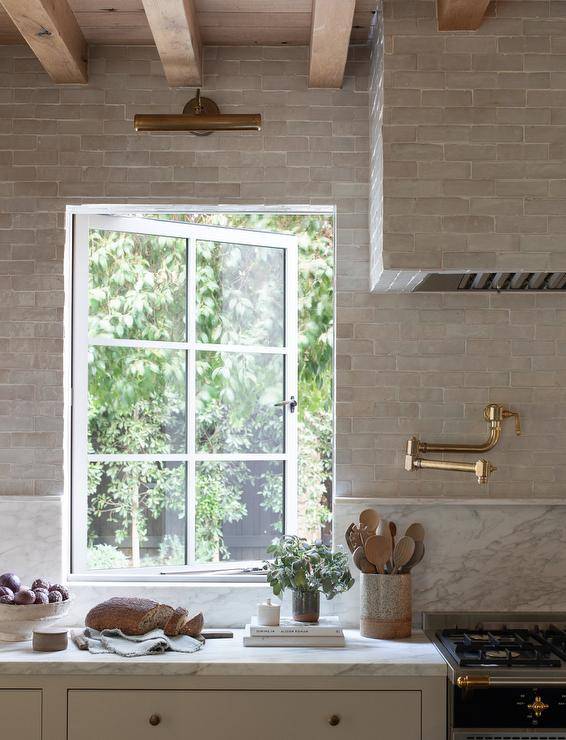 There are limitless kitchen backsplash choices to consider for your home. Most people pick tile because it is normally affordable and uncomplicated to work with. The most popular choice for a farmhouse kitchen is white subway tile, but there are tons of patterned and other solid color tiles to choose from.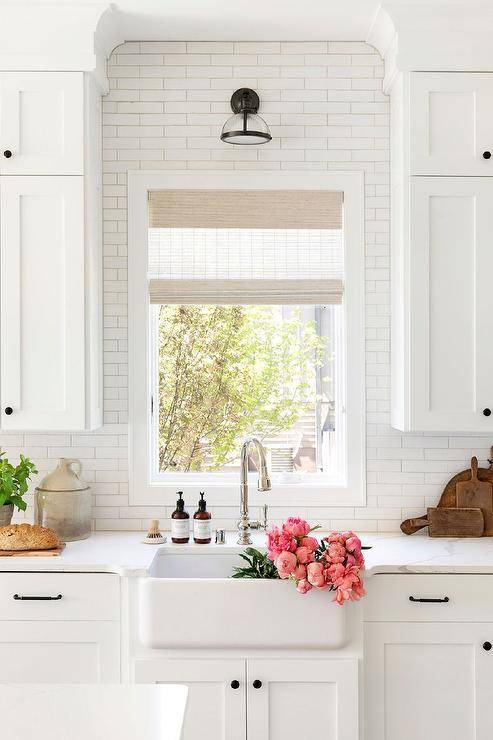 A subway tile backsplash is a traditional style that will always look good in large and small kitchens. It's clean and modern and creates a light, bright, airy space you can feel comfortable in. You can use a different color of grout to make the tiles pop, and you can install the pieces vertically, horizontally, or diagonally for a unique finish.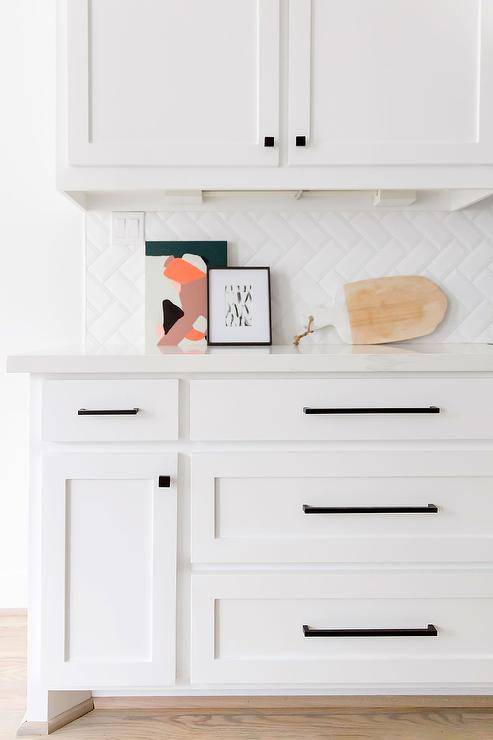 To preserve the rustic aesthetic with textured wood, some prefer to use shiplap as a backsplash. Ideal for all-white kitchens with open shelving and wood countertops for contrast, this type of wooden board offers a timeless look.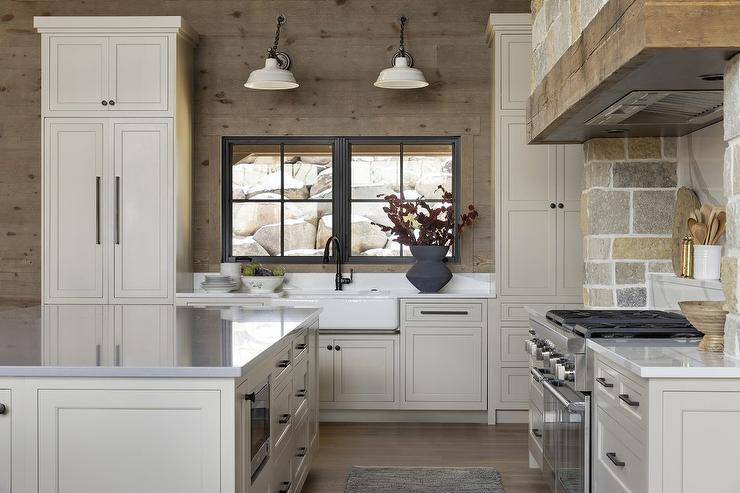 You may also want to include brick or stone for a vintage, cozy farmhouse cottage look. You can combine earthy colors with real bricks or go with a simple color scheme from a peel-and-stick product. Many examples of mosaic tile, stone, glass, and marble backsplashes will also be available in a peel-and-stick product.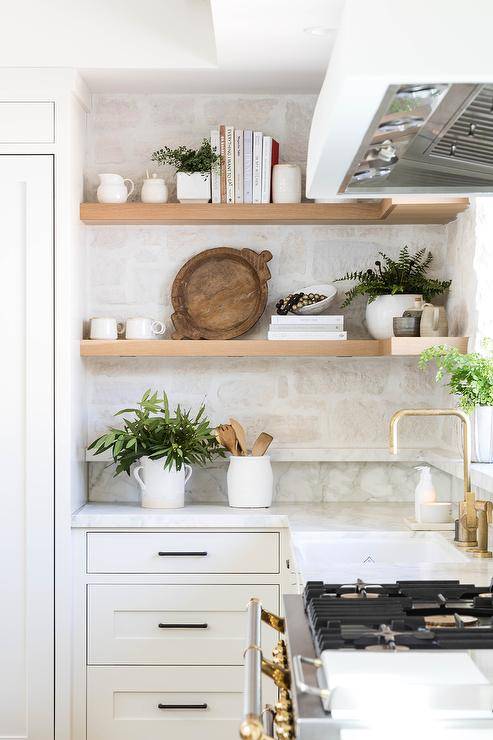 Farmhouse kitchen colors range and will depend on your cabinetry, countertop, and rustic decor. Your backsplash color options can range from white, blue, grey, black, teal, taupe, and off-white. A white backsplash is usually used to create a chic and stylish modern farmhouse kitchen, while natural and earthy colors deliver a more rustic finish.
Traditional farmhouses are designs that keep on making a comeback because of their timeless appeal. Its rustic beauty is mostly defined by wood, stones, and mudbrick tinted with the colors of the earth. These combinations are what evoke its ruggedly beautiful aesthetics.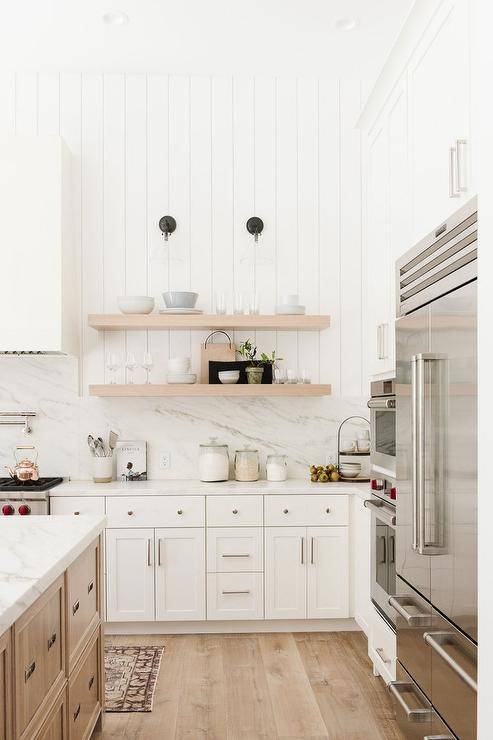 Beadboards, for example, are the humble beginnings of farmhouse backsplash until it evolves into more modern designs.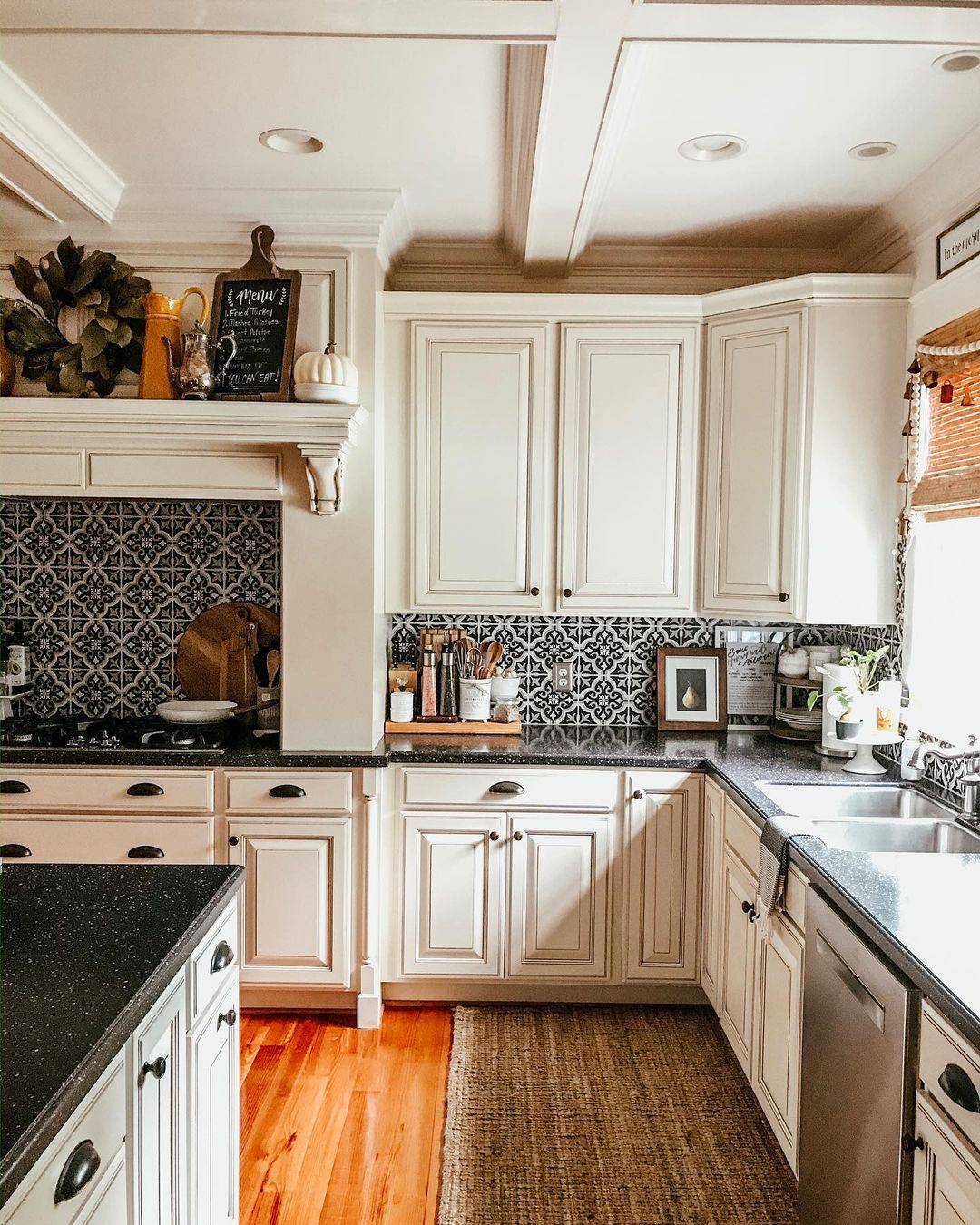 This farm-inspired kitchen combines straight lines, high-end finishes, and a monochromatic color scheme for a beautiful design. While the patterned tile backsplash orders attention, it is entirely balanced by simple shaker cabinets and decorative corbels.
To inspire your remodel, we've gathered the best farmhouse kitchen backsplash ideas to give you examples that work in all types of spaces. You'll adore these farmhouse backsplashes if you're exploring ways to complete a beautiful country kitchen by featuring a rustic backsplash.
A Mixture of Decor Elements
Combining decor elements from different periods helps a room feel completely original. Beautiful marble subway tiles start the farmhouse look in this kitchen but then lead to other contemporary building materials with mid-century modern silhouettes.
The result is simultaneously familiar and creative, resulting in a stylish kitchen aesthetic. Well-chosen focal points like open shelving and rustic decor elements such as wood antique pieces capture the farmhouse vibe.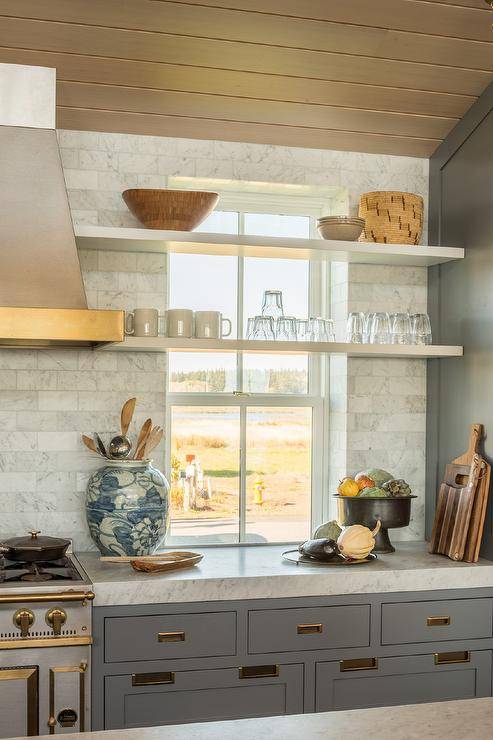 Bold Pattern Backsplashes
A bold backsplash pattern makes a greater impact when it doesn't have to compete for attention. The following examples of pattern tile work so well in a farmhouse kitchen when paired with rustic wood elements, simple and classic farmhouse cabinetry, and trendy farmhouse-style lighting.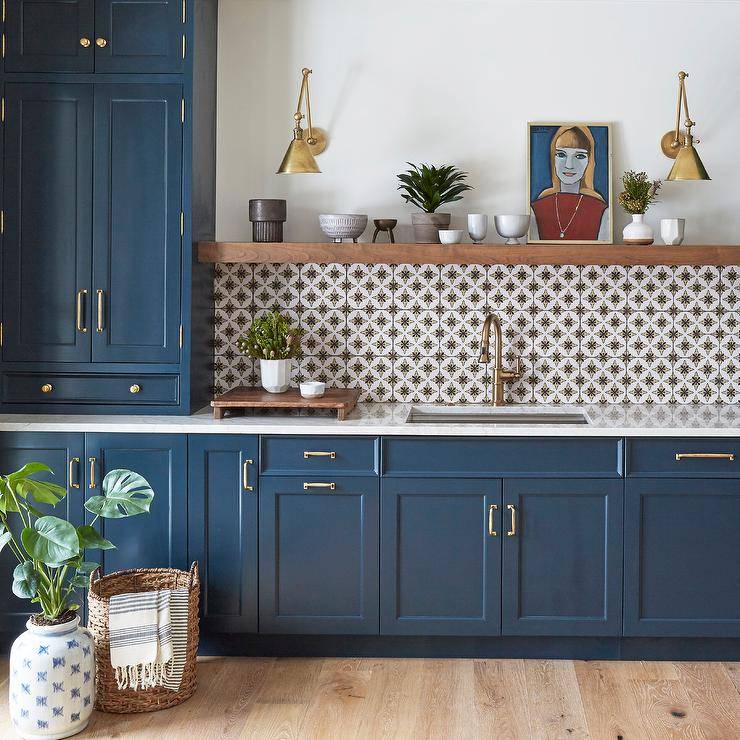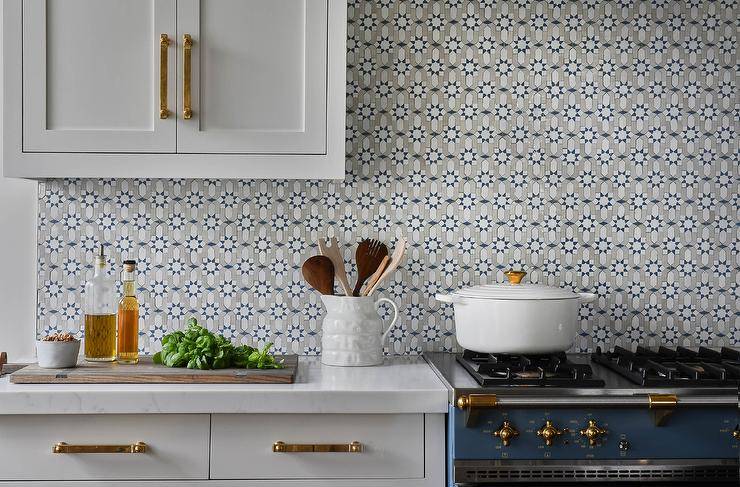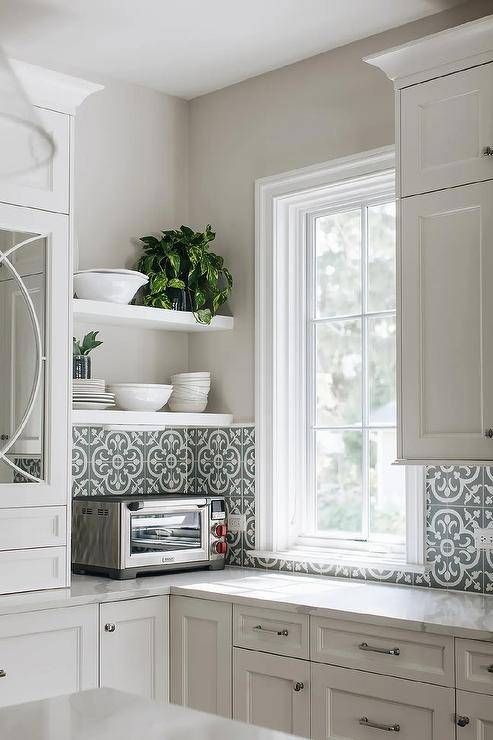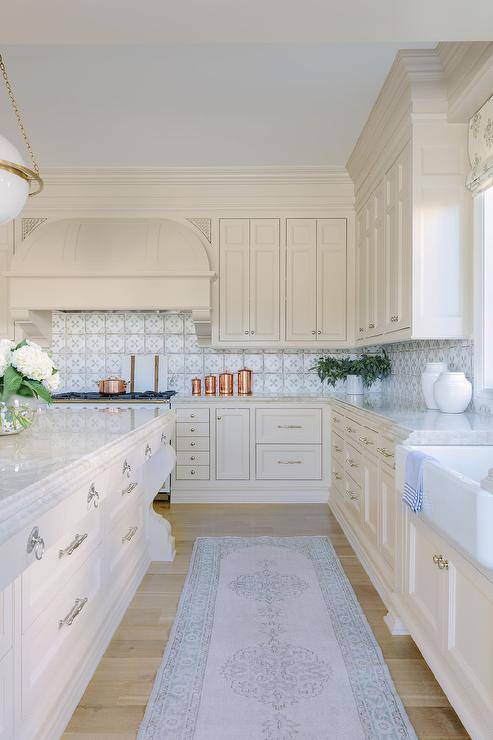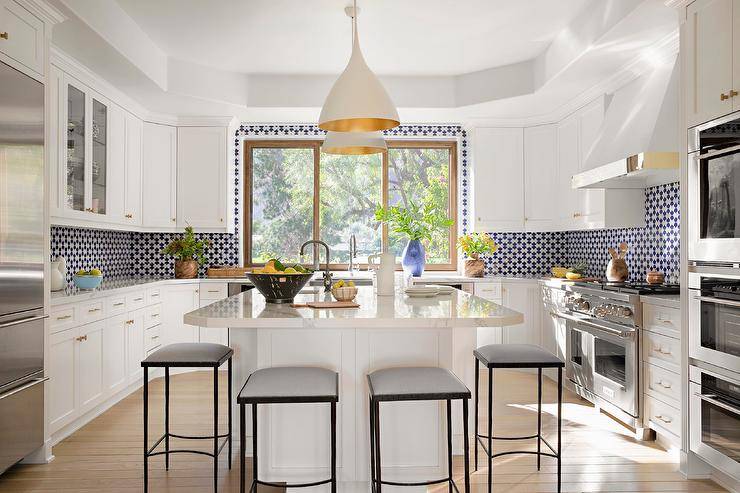 Minimalist Farmhouse Style
Farm-inspired kitchens don't have to be kitschy or bright to look unique and welcoming. Traditional features like an apron sink, shaker cabinets, and large windows embody the look of an understated style. Farmhouse style can be simple, modern and minimalistic and if this is the look you are after, a simple, clean tile will be your best bet.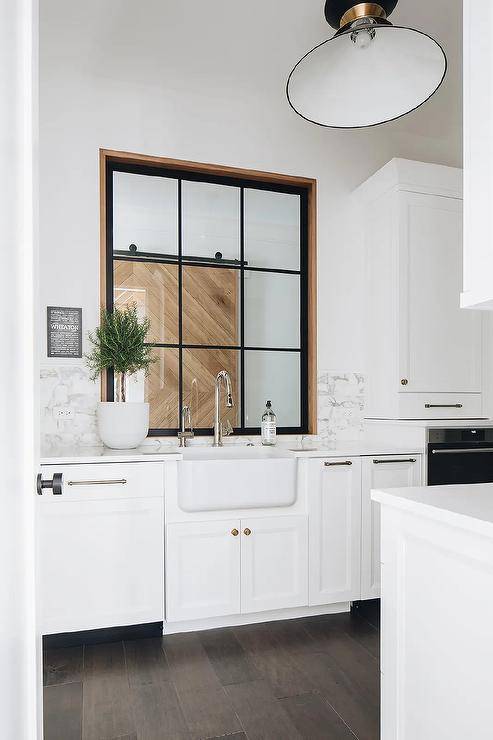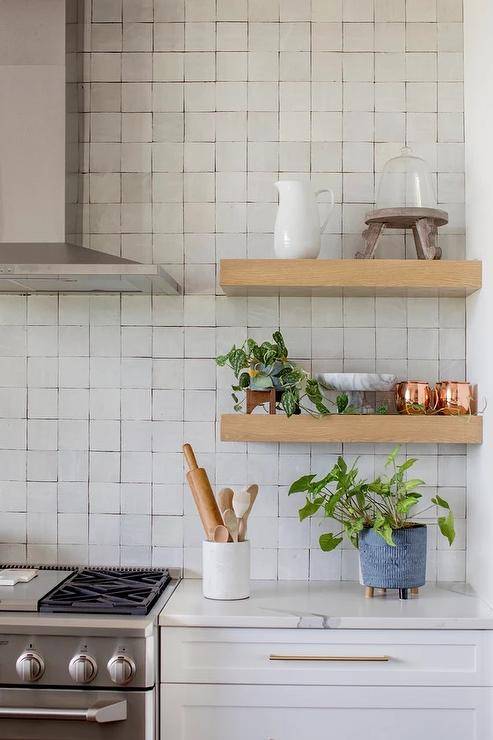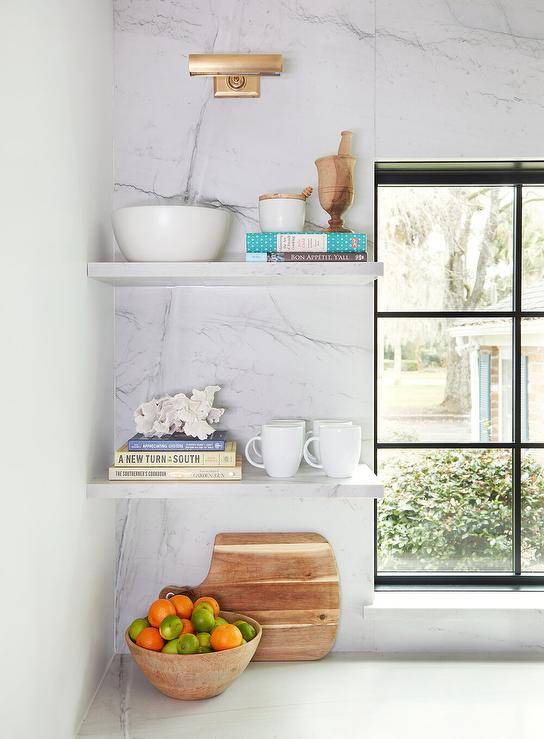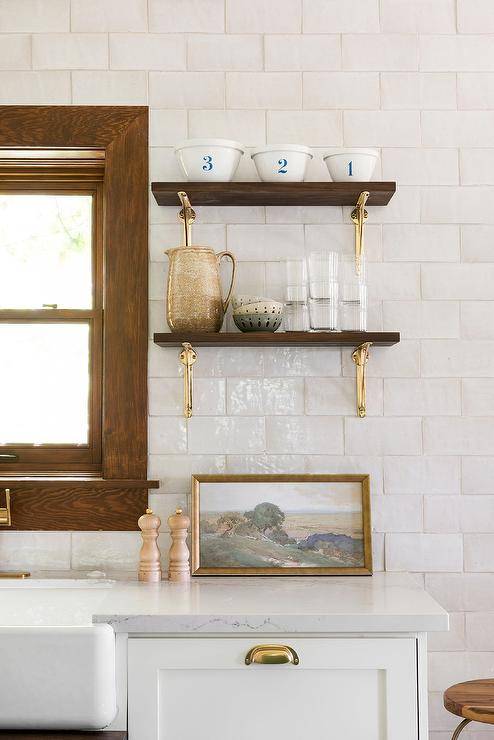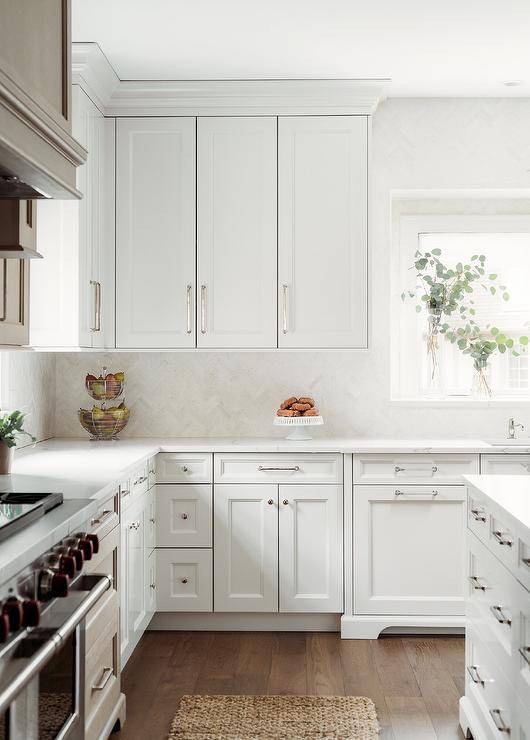 Dark Farmhouse
A whole new world of dark farmhouses has been trending this year, and it's perfect for those that like a dark hue to their space. That's right, farmhouse isn't always bright and airy, and these dark farmhouse kitchens exude a taste of deep, rich elegance. For farmhouse kitchen backsplashes in a dark kitchen, choices like vertical shiplap, a high gloss black subway tile, or a black marble look simply stunning.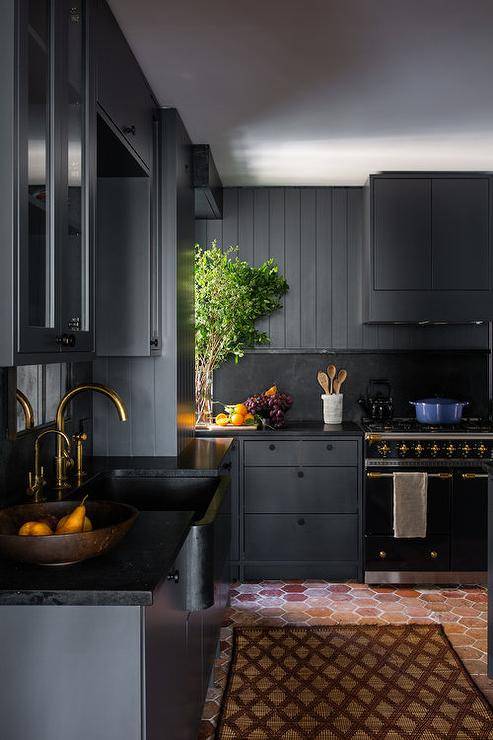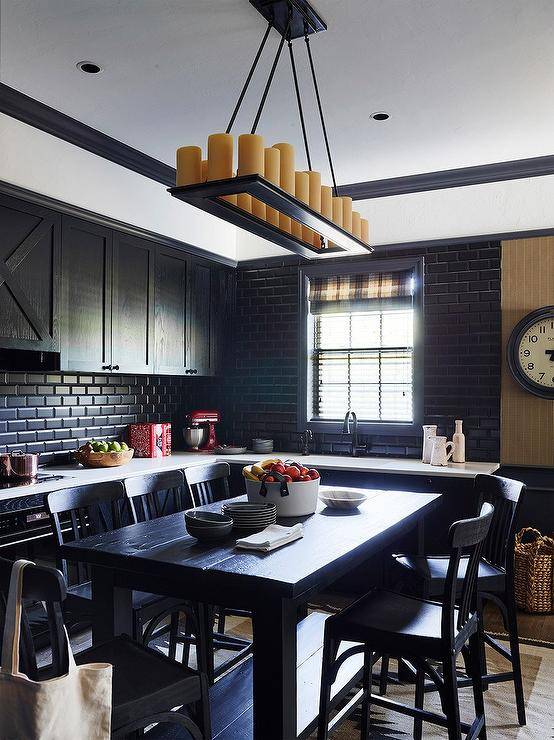 Wooden shiplap paneling is a staple in farmhouse decor, but it typically runs horizontally. Installing it vertically and painting it dark indigo puts a dramatic, modern spin on a standard style. The warm honey stain on the countertops and the framed vintage botanical prints provides the perfect amount of contrast.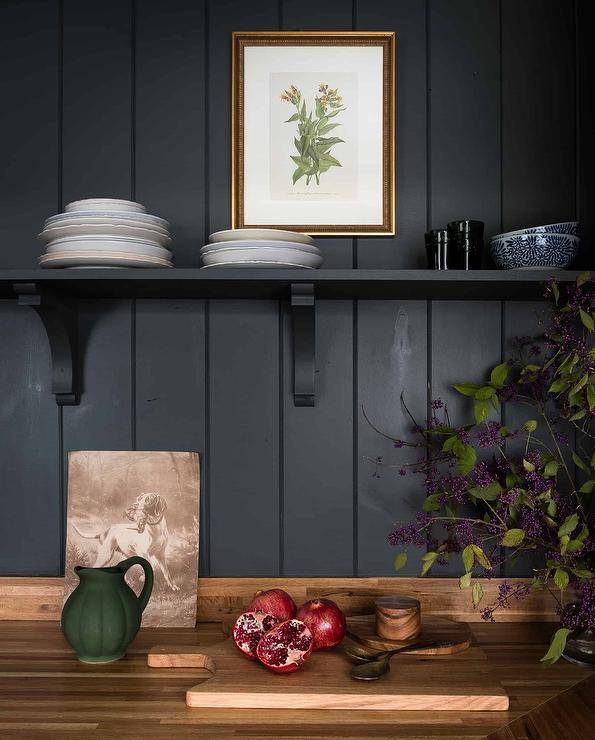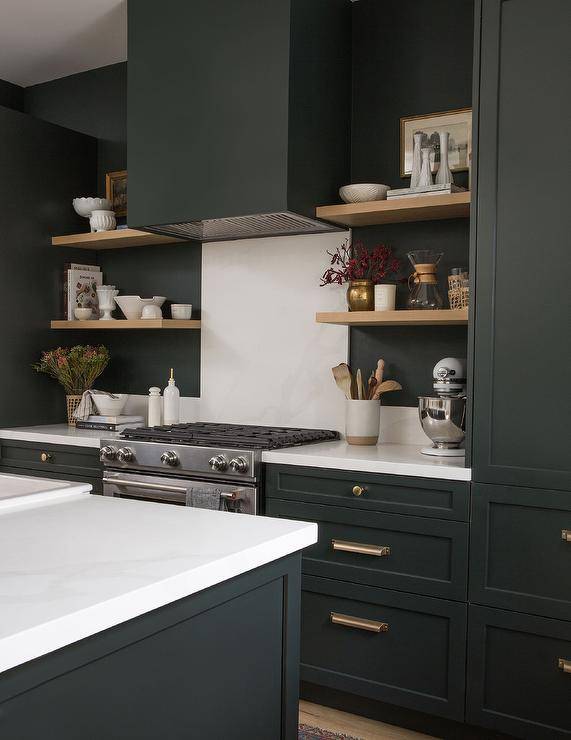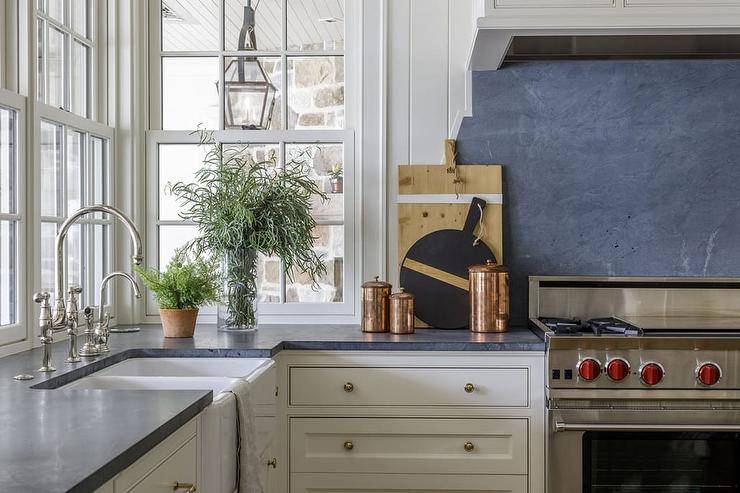 Perfect Styling
Even a small kitchen can pack a big punch with the correct styling. This wide farmhouse sink could easily look out of proportion in such a little space, but every component works together to fool the eye. A large window and no upper cabinetry help the room feel more balanced, while a subtle grey grid backsplash creates a stunning focal point to draw the eye away.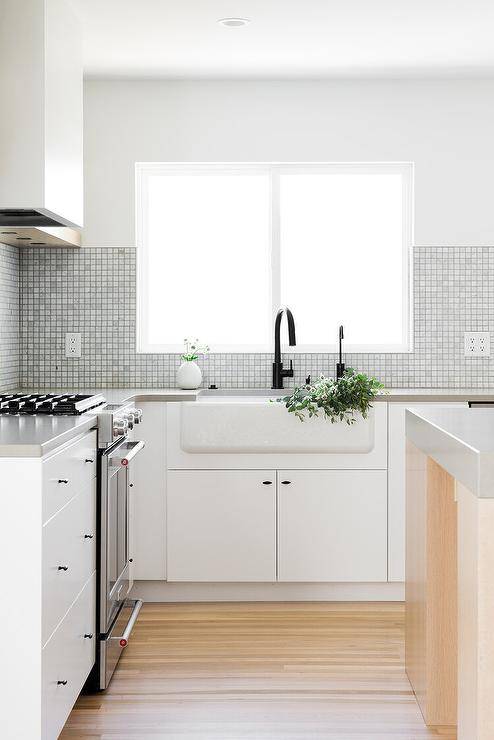 Two-Tone Style
A contrasting two-tone white and black kitchen is perfect for a modern farmhouse kitchen. Keeping the balance between the two colors — one does not outshine the other, making for a perfectly proportional space.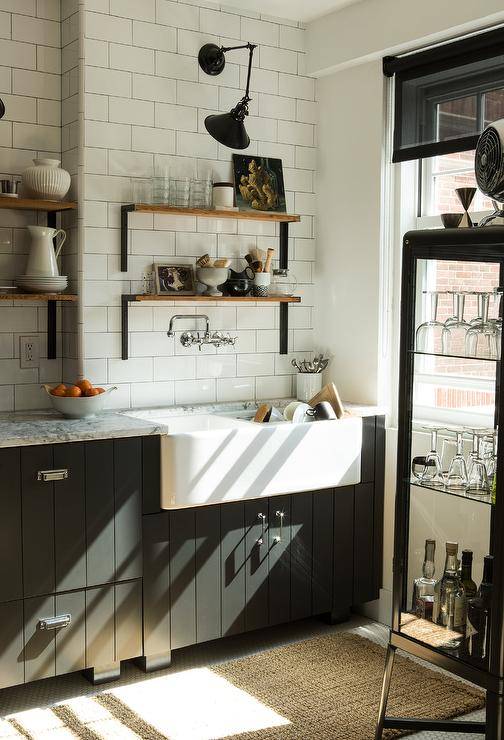 Mixing Textiles
Combining different textiles together, such as brick and marble, create a space that is unique and full of personality. Also, adding in a warm texture from wood with this beautiful herringbone laid floor, this space is absolutely perfect!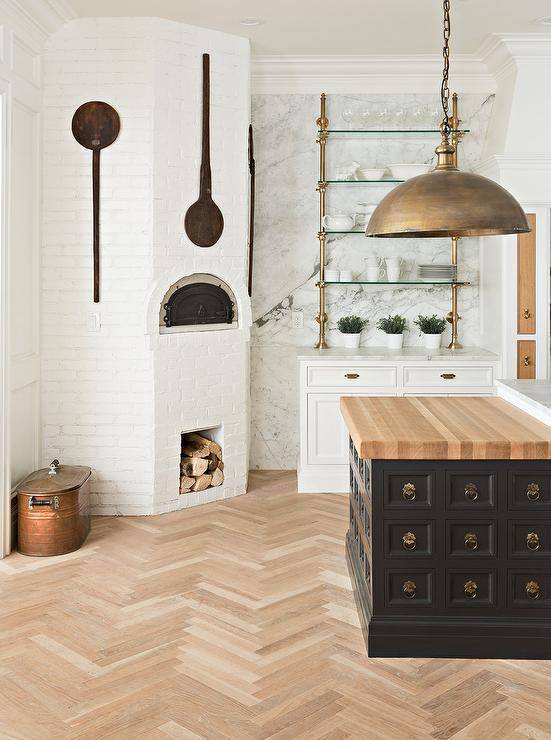 Brick Vinyl Tiles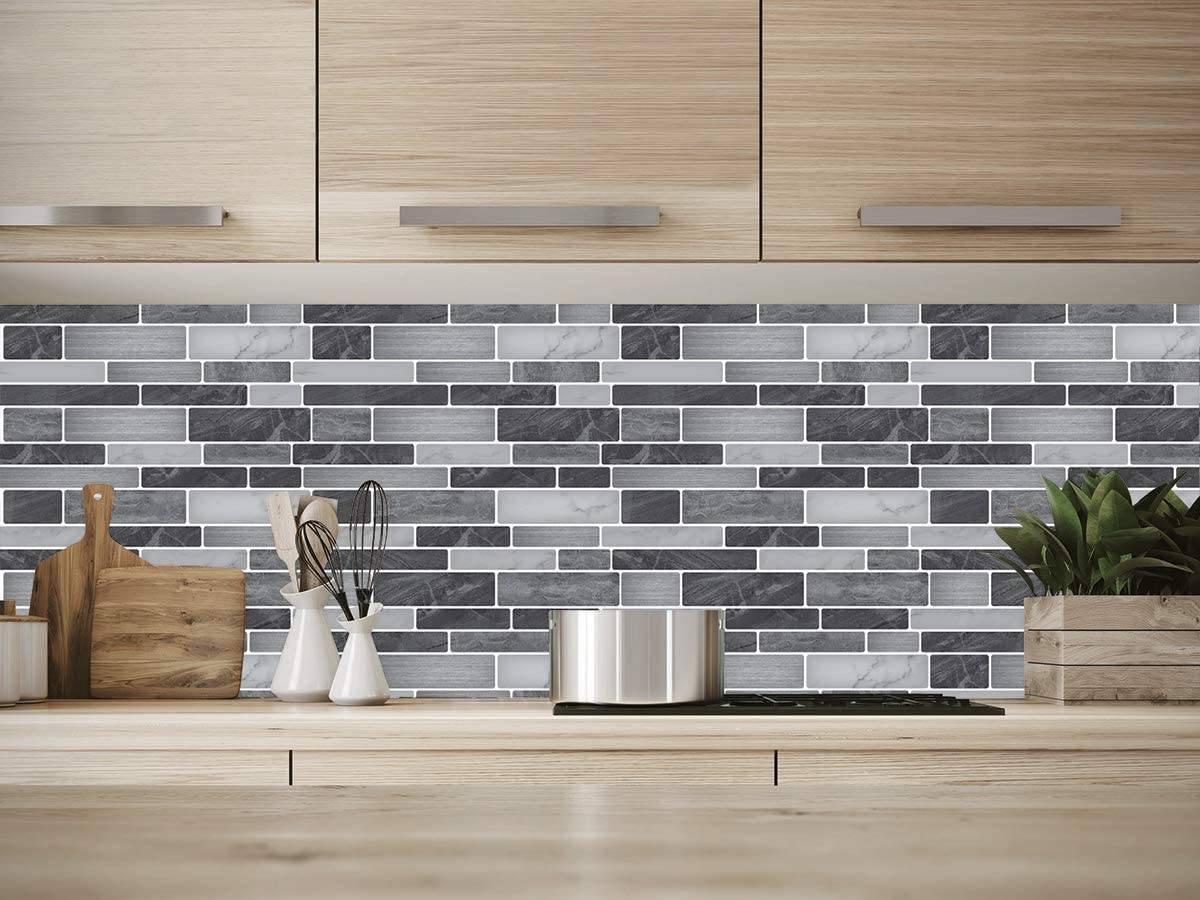 One of the cheapest ways of upgrading your kitchen is employing a vinyl farmhouse backsplash. Self-adhesive tiles come in many different designs, but we love the bricklayer pattern of this country kitchen. It matches the oakwood cabinetry and countertop well without being too overwhelming.
Polish it with Rustic Elements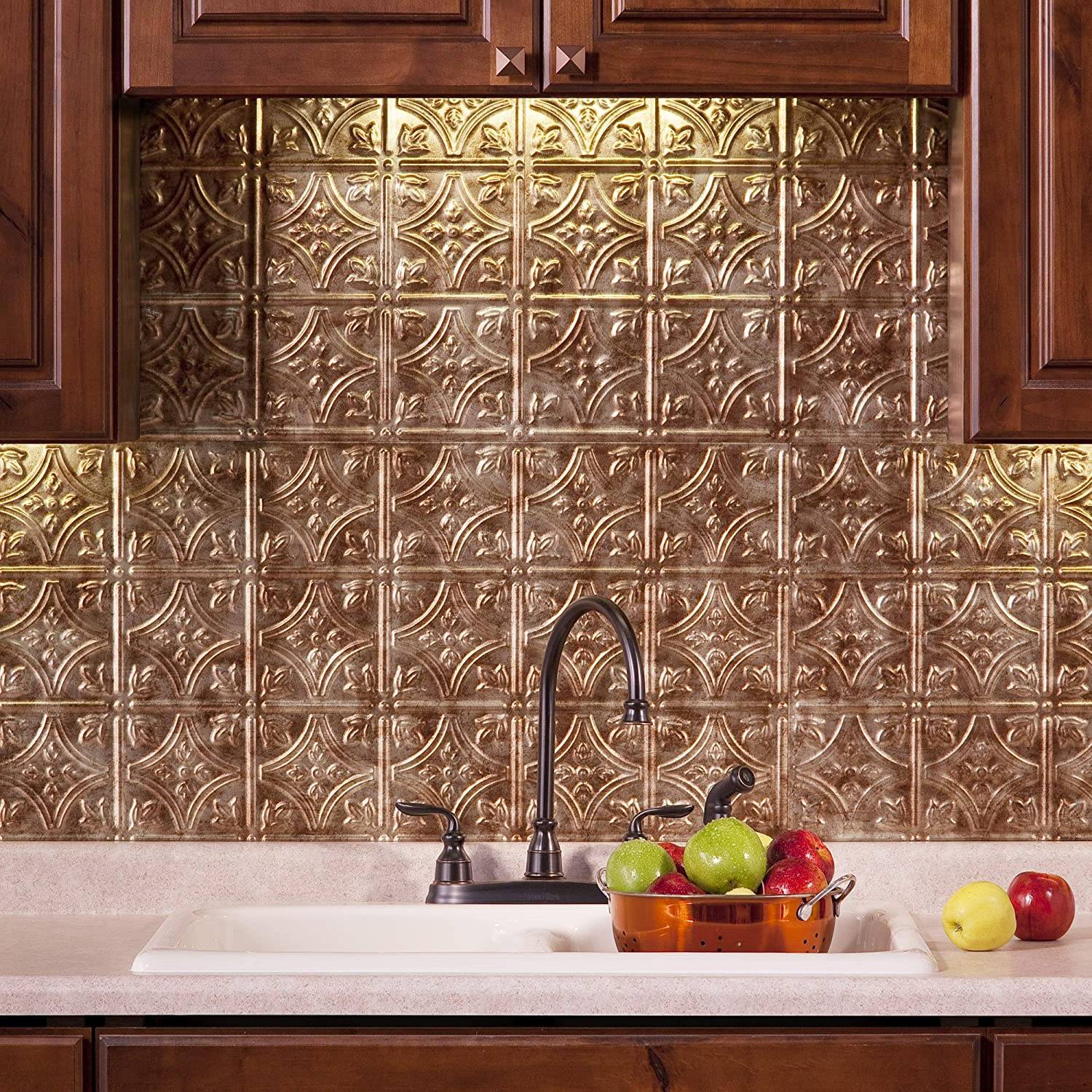 Accent your kitchen sink with eye-catching colors like this bronze farmhouse backsplash. This modish design will warm up your space with sophisticated fashion. It does not only create a visual point of interest. But, it also brightens up the room with its reflective property. Pair it up with the correct lighting, then embrace the posh modern twist of this farmhouse kitchen.
Wrap it up in Reclaimed Wood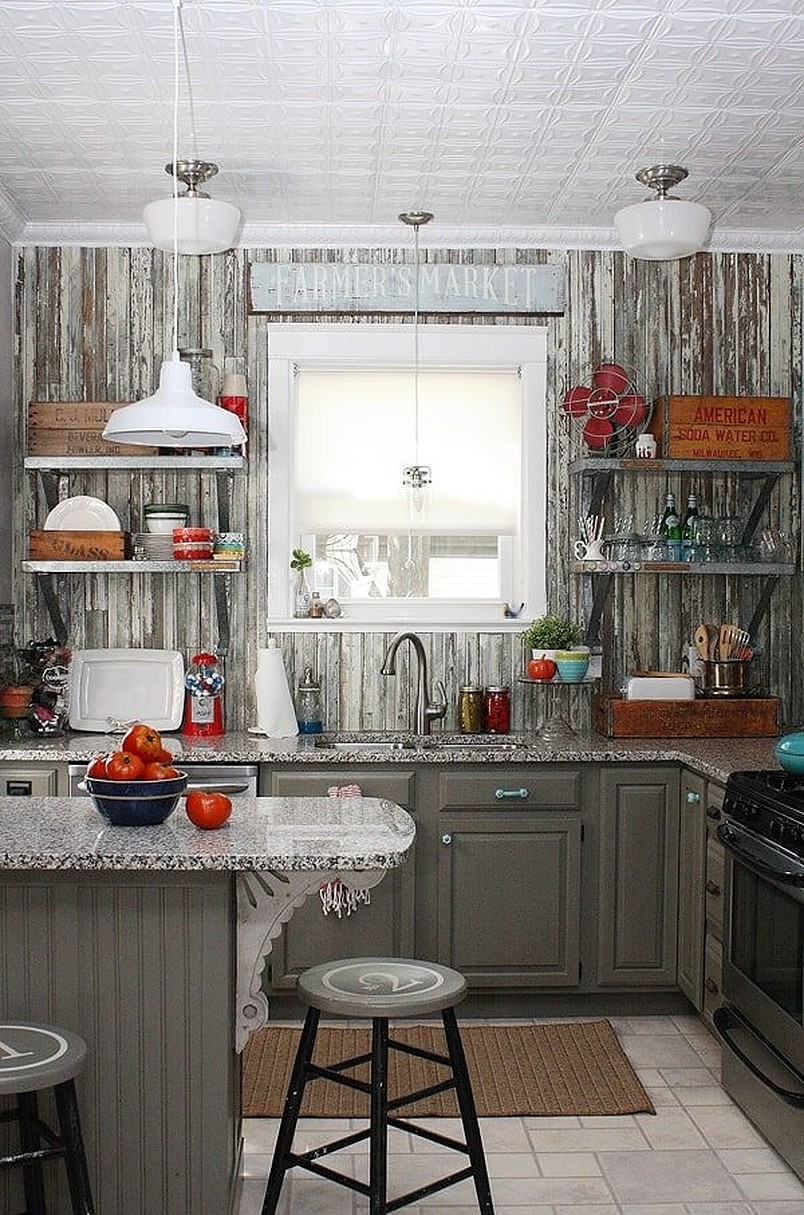 You may also match your kitchen with reclaimed wood designs that bring together harmony in the room. Reclaimed woods are popular in most kitchens today because of their ability to give the room its distinct personality. For your farmhouse backsplash, choose patterns that are easy on the eyes and a bit flowy. Remember that in a farmhouse design, less is more when it comes to the intricateness of wall patterns.
Keep it Cool with Immaculately White Beadboard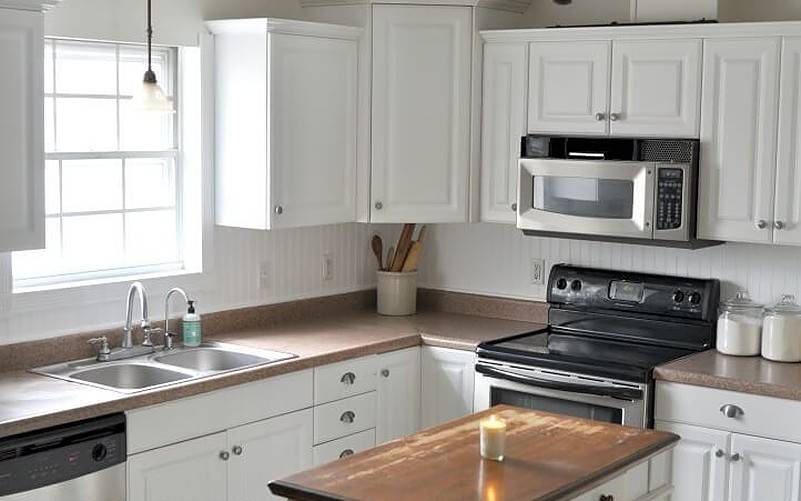 Here is a classic example of a farmhouse backsplash from beadboards. These inexpensive, easy-to-install, and easy-to-replace materials will spruce up your home with a distinct country fashion. You may leave the beadboard with its natural color or coordinate it with your existing theme like this fresh country kitchen design.
The Texture of a Classic Farmhouse Backsplash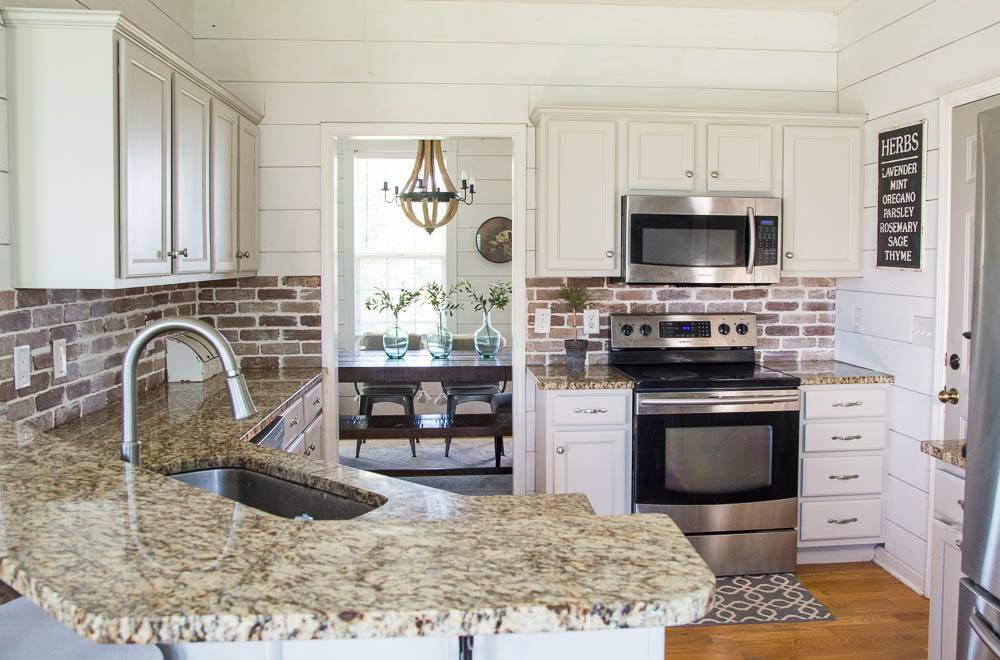 A brick backsplash is a glam addition to a drab kitchen. In fact, brick is one of the hottest trends in redecorating the home farmhouse style. If you want to bring the feel of the countryside right by your countertop, consider installing faux brick elements. It will create a sleek finish with its thoughtful and theme-adherence layout.
A rough, unfinished brick backsplash is a staple in a more European-style farm kitchen. Laying weathered brick in a modern chevron pattern is a subtle way to update the materials.
More with Patterns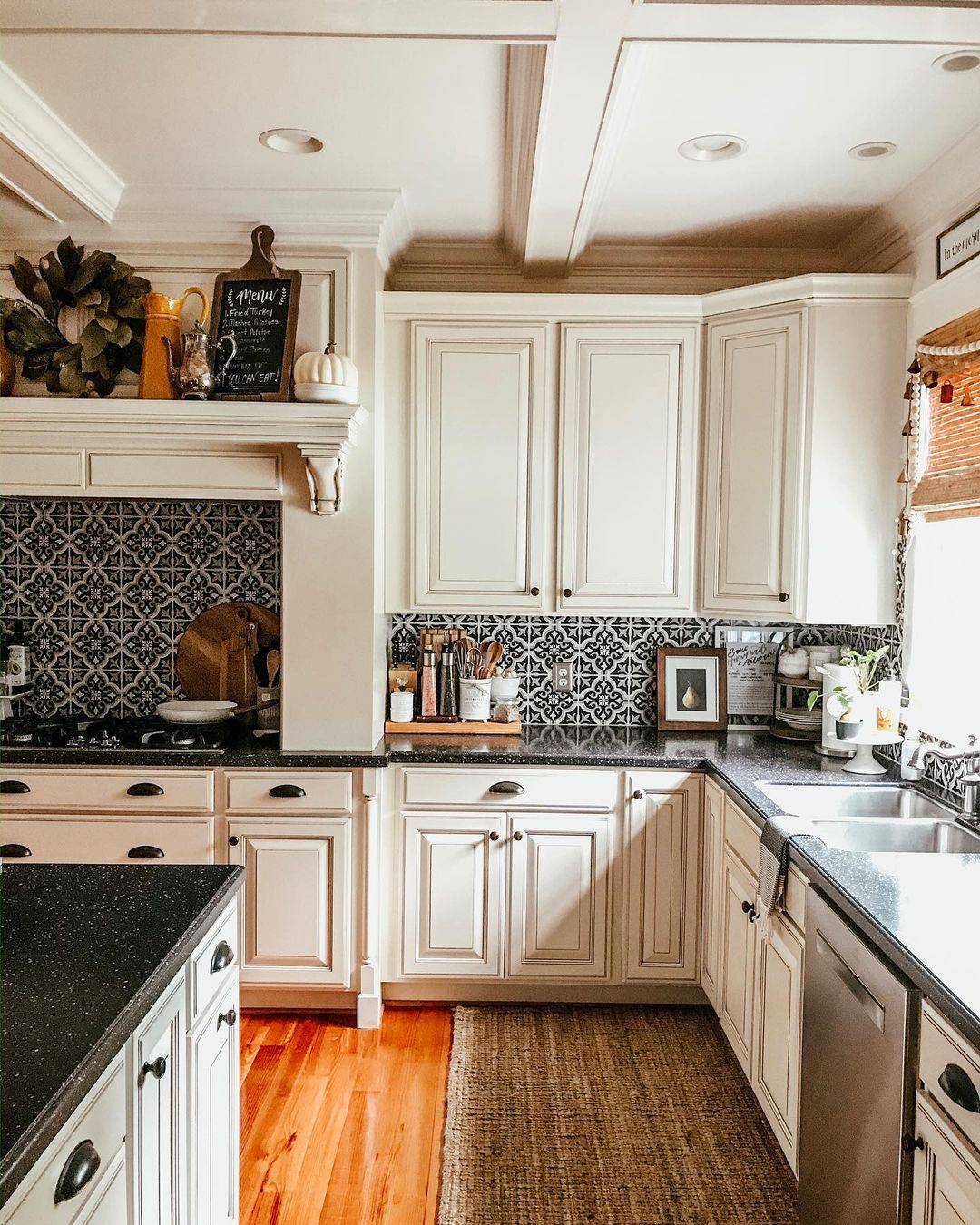 Satisfy your passion for patterns with visuals that will highlight your kitchen counter. Take a look at how this quadrille pattern wall tile makes an interesting statement in this simple cottage kitchen. It exudes a slightly antique appearance without dulling out the entire space.
Chic Natural Stone Mosaic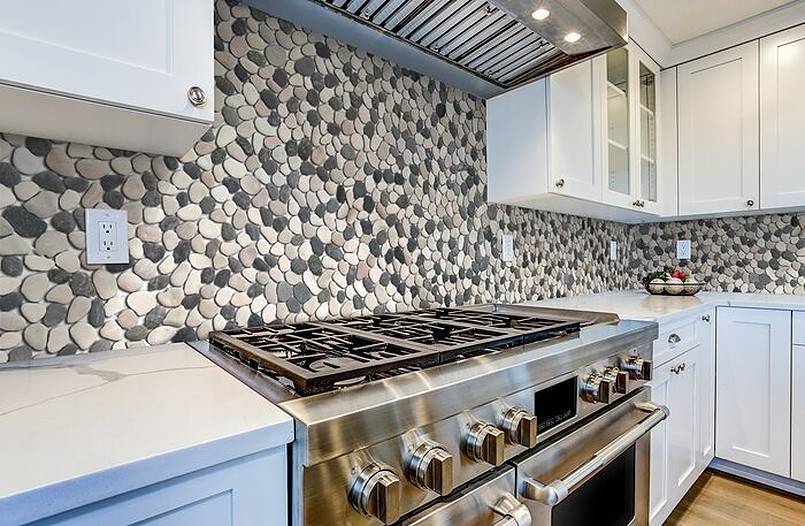 The kitschy mosaic tile is also a popular farmhouse backsplash idea to try. But if you want to take the mosaic project into a whole new dimension, go hippie with natural stones. There are online stores where you can score a mosaic sheet for easy laying of stones. So, here is a farmhouse backsplash that will make your farmhouse dream come into reality.
Porcelain Wood Look, Because Why Not?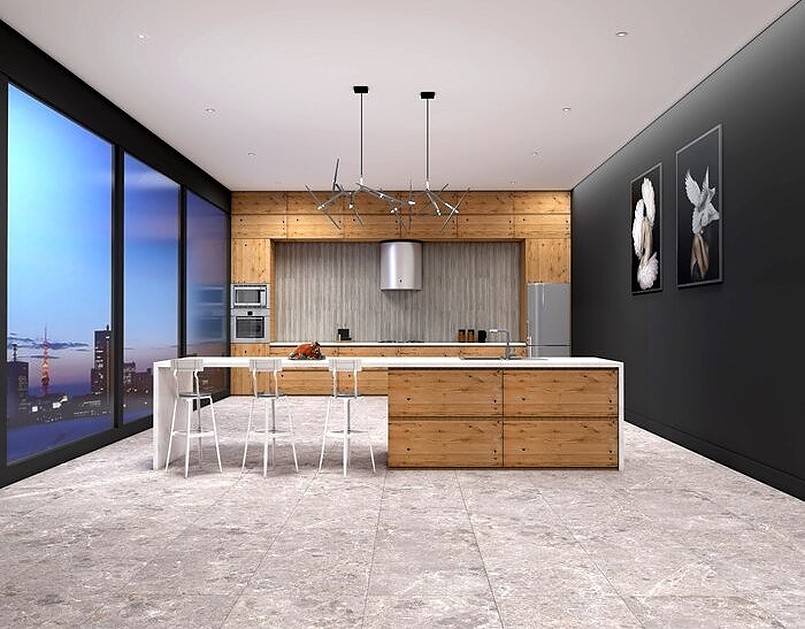 Are you thinking about getting a farmhouse kitchen but with a luxurious twist? There are endless ways of making it possible by using wall molding, floor tile, or kitchen equipment. But the easiest thing you can do without doing a full-on renovation is installing a farmhouse backsplash. They also come in a slew of designs but if you want some rustic splendor, have this porcelain wood backsplash. Its honed finish will transform your drab kitchen into a next-level luxurious farmhouse.
Cover it with Glass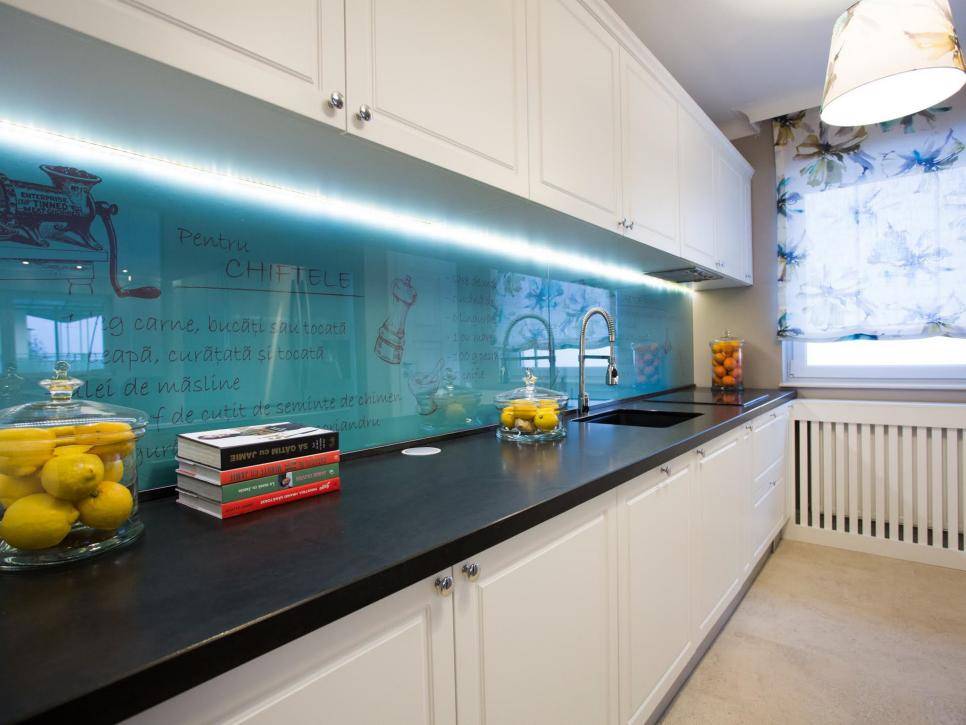 The ultra-clear glass will look good not only on your display shelf but also on the kitchen wall. Take this unique kitchen that conveys a new sense of modern-rustic feel. Instead of using the usual backsplash, it incorporates the trendy glass one, which in itself boasts many benefits. For once, it is a foolproof easy-to-clean, making it a sanitary backsplash. It is also more durable than other materials when installed properly. And best of all, it is versatile to match your wall either as a farmhouse backsplash or whatever else theme you like.
Seashells All Over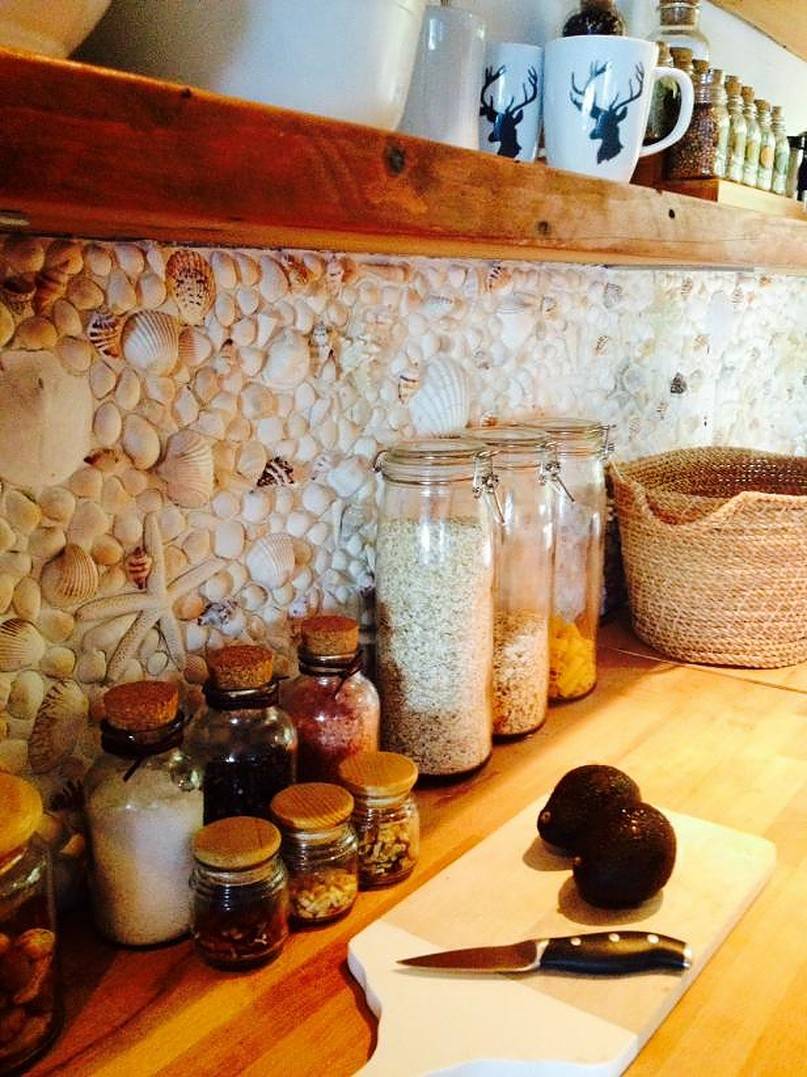 The kitchen does not need to be always boring and understated! Go subtle with organic materials and take this seashell inspiration as a quirky farmhouse backsplash. This spark of creativity will transform your kitchen wall into an amazing piece of art. You can also give it a whimsical personality with unusual materials and glue it together to convey an entertaining detail.
Pegboards are Functional Farmhouse Backsplash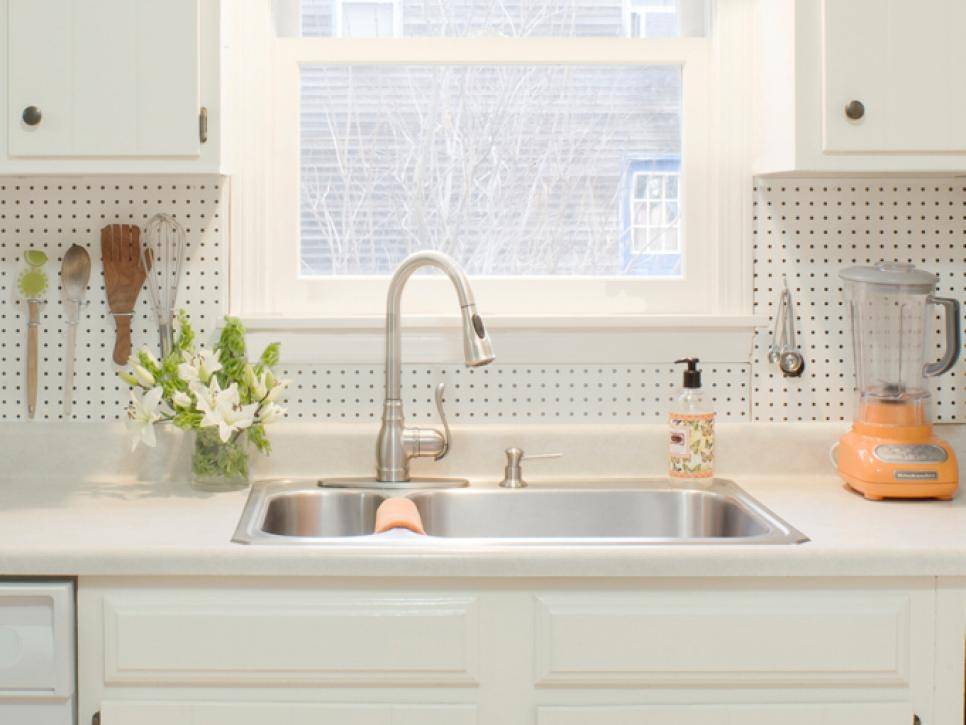 You would surely love the conventional functionality of this pegboard backsplash that reflects the beauty of a true farmhouse setting. Its pattern complements the neatness and cleanliness of the design. And, as a bonus, these holes are extra perks for inserting hooks and voila – instant wall display area. This clever farmhouse backsplash is not only as good as extra display and storage. It is also an inexpensive and easy-to-install farmhouse backsplash to consider.
Map it Up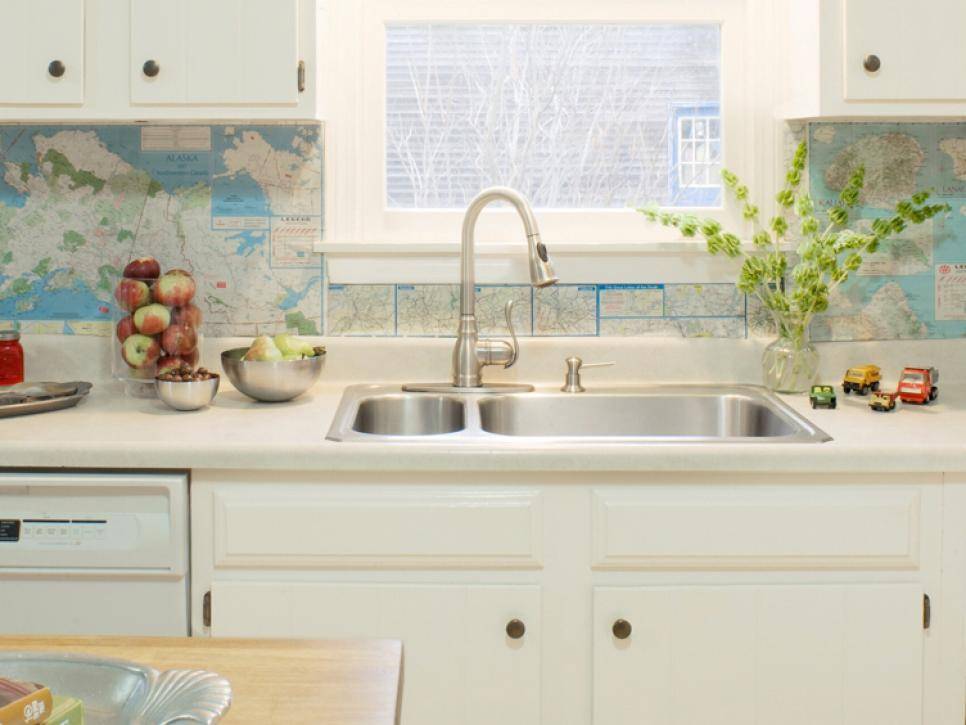 The concept for farmhouse backsplash keeps on pouring in. If you want to make it a little bit fancier and unique, choose unusual pieces you will not otherwise find in other homes. Satisfy the cartophile in you (go ahead and look that up) by plastering this map backsplash by your kitchen sink. Who knows what runs into your mind while cooking. You might find yourself jet setting to some island on your next vacation!
Cover the Exposed Part in Style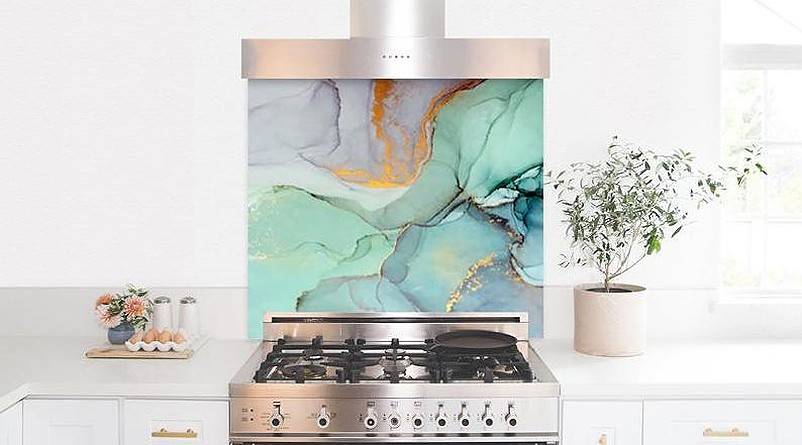 You need a kitchen backsplash, trust us, you do. But if you do not want to ruin your wall with decals, you can opt to cover up only the stain-prone area. It doesn't have to be boring, either. You can still make a statement out of it and turn it into visually interesting artwork. This farmhouse backsplash turns the awkward spot of this kitchen into an intriguing little one.
Give it a Visual Texture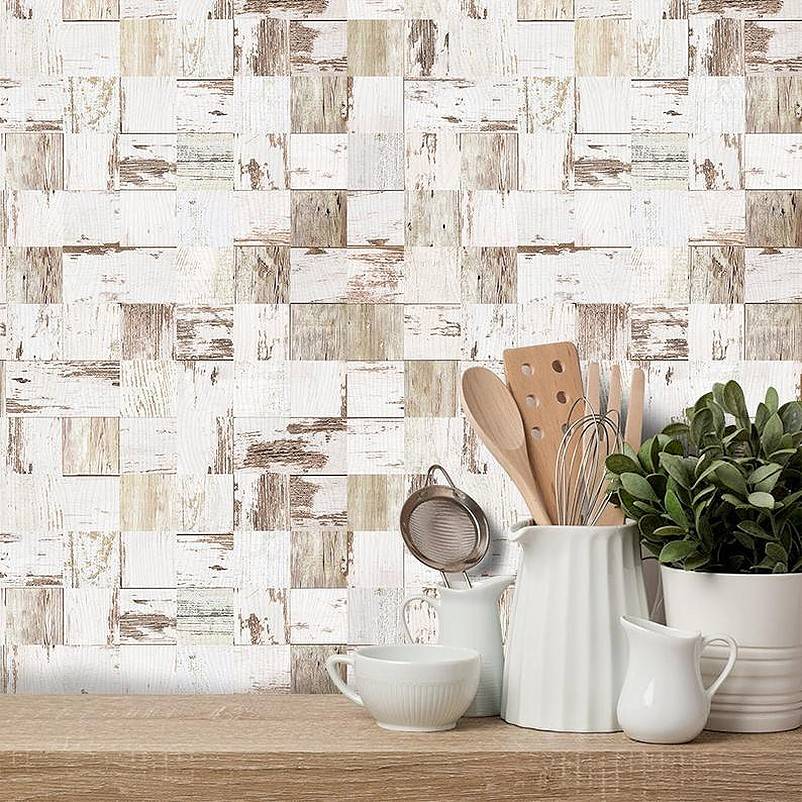 Distressed and old-age furniture is often the centerpiece of a country-themed home. It is mostly their visual texture that exudes this rustic and vintage appeal. You can also impart the same sense of feeling into the room with a textured backsplash. This light-brown wood mosaic will surely complete your flair with the vintage affair while keeping things subtle. It has that distressed texture that mimics the rustic wooden farmhouse wall and will complement most cabinetry and countertops.
Keep it Blended with its Environment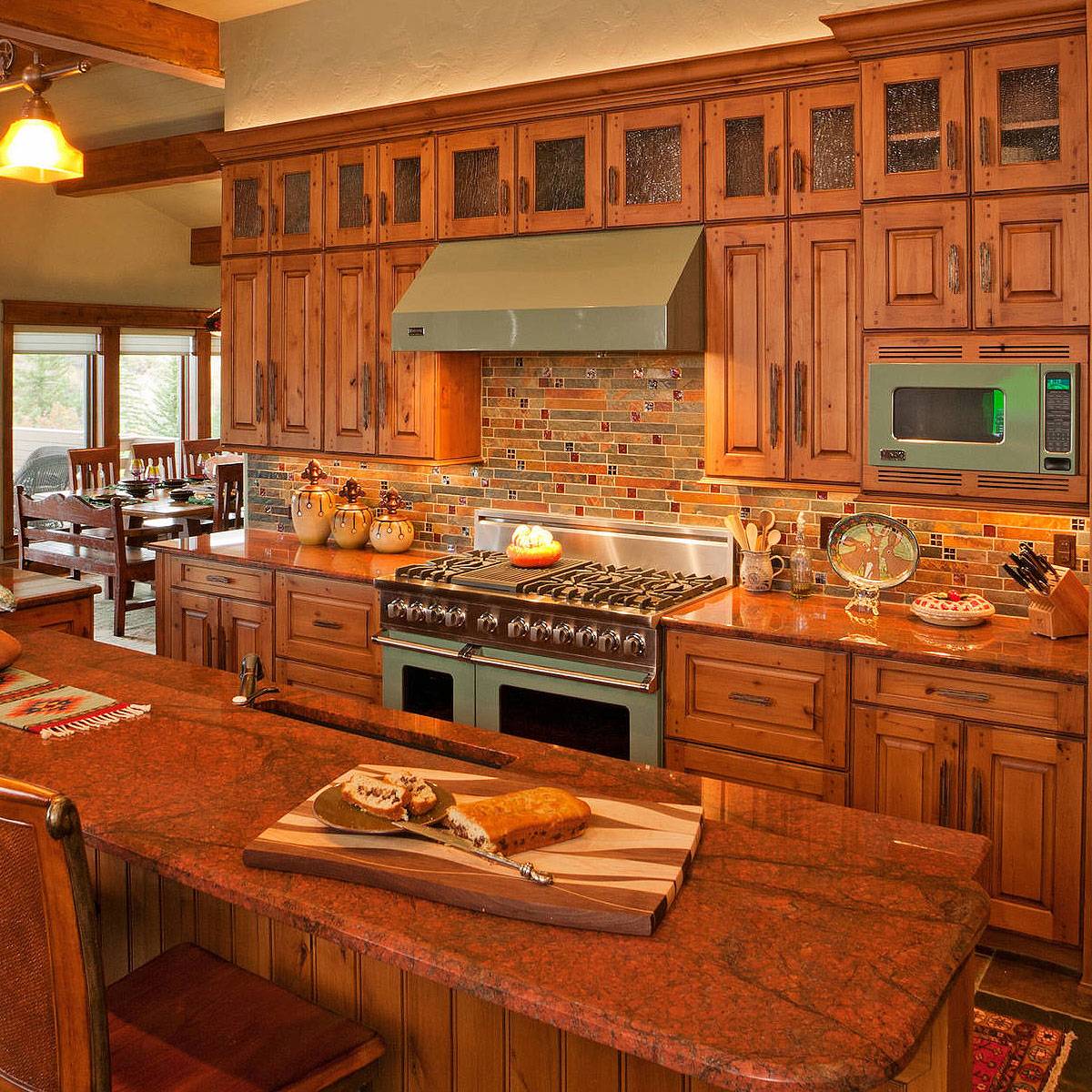 The muted and earth tones of the farmhouse make it easier to sort out a complementing design. If your kitchen is filled with wooden colors, then you may also choose a farmhouse backsplash that goes along with its color scheme. Take a look at this gold slate and burgundy glass backsplash. It blends well with its surroundings, yet it still draws attention to itself with its unique and luxe details.
Takeaway
The farmhouse backsplash is an important and practical structure that you need in the kitchen. But its main purpose is not only in keeping your walls tidy and clean. The kitchen backsplash should also complement the kitchen wall and countertops. The best ones even serve as a focal point of interest to make the room more entertaining and elegant. So, magnify the essence of your farmhouse kitchen without committing to painting with the best farmhouse backsplash ideas.
Frequently Asked Questions
FAQ
What makes a kitchen farmhouse style?
The classic farmhouse kitchen tends to focus on natural materials, unpretentious design, and cooking spaces that can accommodate large meals. Cabinets, chairs, and large rustic tables are often constructed from quality hardwood. Farmhouse kitchens are homey and are filled with comforting warmth from their vintage-look apron-front sinks to their reclaimed wood, painted cabinets, open shelving, shiplap, and design touches drawn from the past.
What is the most popular backsplash tile for a kitchen?
Ceramic tile is the most popular option for a kitchen backsplash. Ceramic tiles are incredibly versatile—they come in many shapes, sizes, and colors and can be installed in numerous patterns.
What are timeless backsplashes?
There are many timeless options for a kitchen backsplash, such as hexagon tiles, picket tiles, penny tiles, and square format tiles. You can also opt for a natural stone like marble or slate for a more traditional and timeless look.
Should backsplash be lighter or darker than countertop?
The design should be used to balance out the light and dark shades of the other elements, so if you have light cabinets and countertops, you may want to choose a dark backsplash to bring more depth to the kitchen. A light backsplash will help the kitchen feel fresh if you have very dark cabinets or countertops.
What is the easiest backsplash to clean?
Porcelain, ceramic, metal, and glass tile top the easy-care list because they resist staining, are naturally nonporous, and don't require any special cleansers to do the job.
If you need more inspiration for a farmhouse kitchen, here are some related articles you may find helpful: