The farmhouse entryway envisions the timeless elegance and homey sense of the rural setting. Farmhouses are not just all about rustic structures and pastel colors. It also needs aesthetics that demand stylish sophistication and a cozy vibe. So aside from your country-inspired interior, you need to consider your farmhouse entryway decors too. They often bask in the outline of the neatness and simplicity of the cottage feel.
By keeping the decors simple, minimal, and useful, you can enhance the beauty of your doorway. Here is a list of farmhouse entryway designs that befit the chic cottage imagination with some fun inclusions.
Farmhouse Entryway Designs to Follow
Showcasing a Wire Storage Bench
Welcome your guests with the farmhouse flair of wire storage benches. Open storages in natural colors like this two-toned bench perfectly define the rural setting of this home. In addition, decorative sconce light flanking the wall gives this cozy entryway a farmhouse-meet-modern vibe. You will love its complementing colors of all-natural hues. The rustic chandelier is also a welcome idea that makes this place more friendly and warm.
Mount a Functional Wooden Coat Rack
Coat and hat rack is a functional farmhouse entryway décor you should not miss. It adds a character to the wall while keeping the doorway organized. Unlike the usual metal coat rack, wooden racks are more reliable. They will not rust or loosen up over time. Paints may deteriorate, but that is still too many hanging years before you look forward to repainting.
Everything Nice and Interesting
Here's a stunning farmhouse entryway dream to pin to your board. Gallery and trinkets on the wall, topiaries on the side, and comfy cushion on the bench pool together a perfect combo. Add in the benefit of a rug that enhances the welcoming feel of this laidback cottage. It is also bathing in neutral and subdued colors making it more comfortable and stunning.
The Taste of Vintage Aesthetics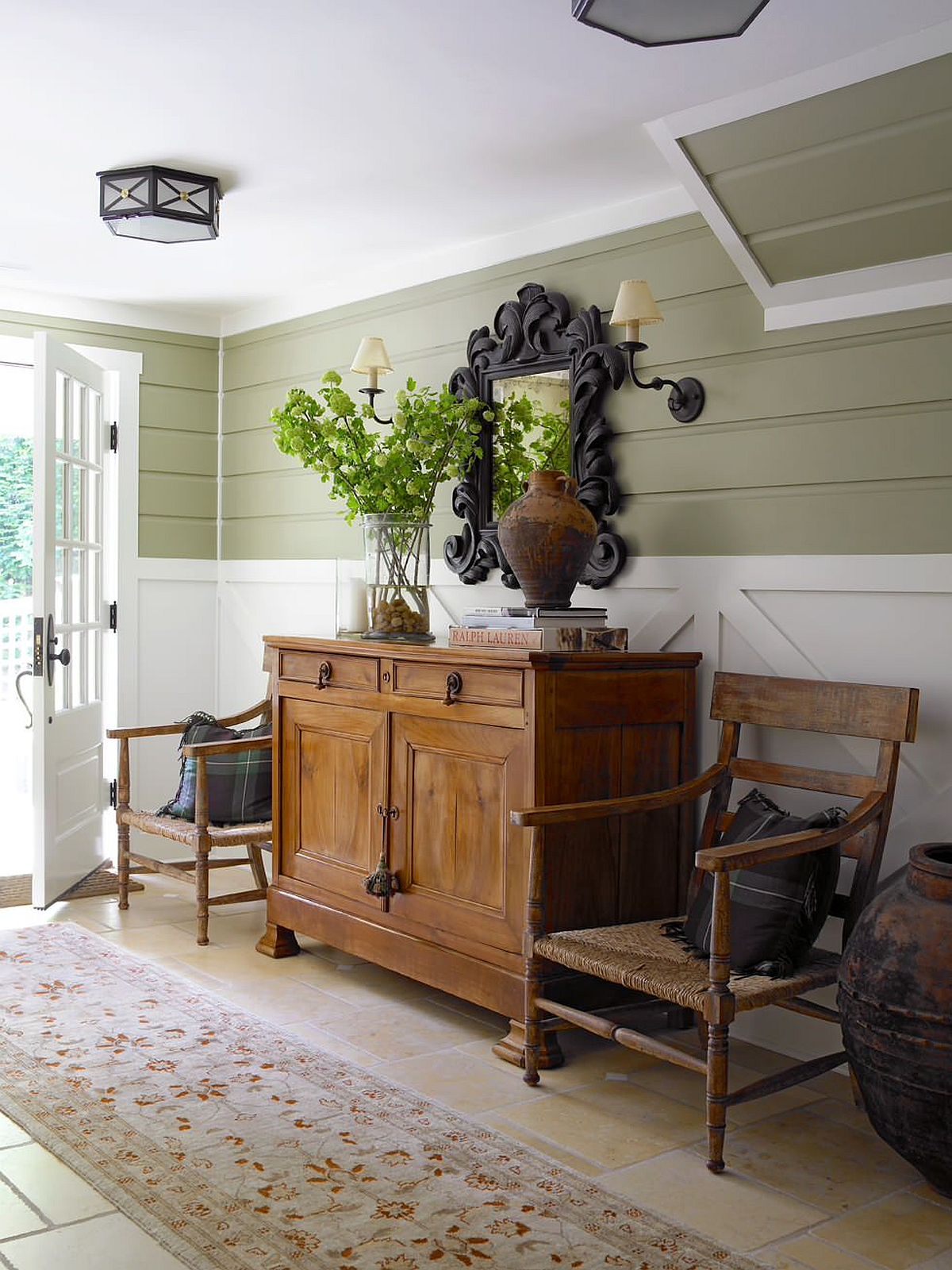 This farmhouse is all about classy arrangements and stylish decorations. It is hard not to notice the unique decorative displays that add texture to the wall. It is also draped in shades of green that mend the room into cohesiveness. The organic pattern rug gives it a classic twist that breaks the monotony without being too overwhelming.
Go Boho in the Farmhouse Entryway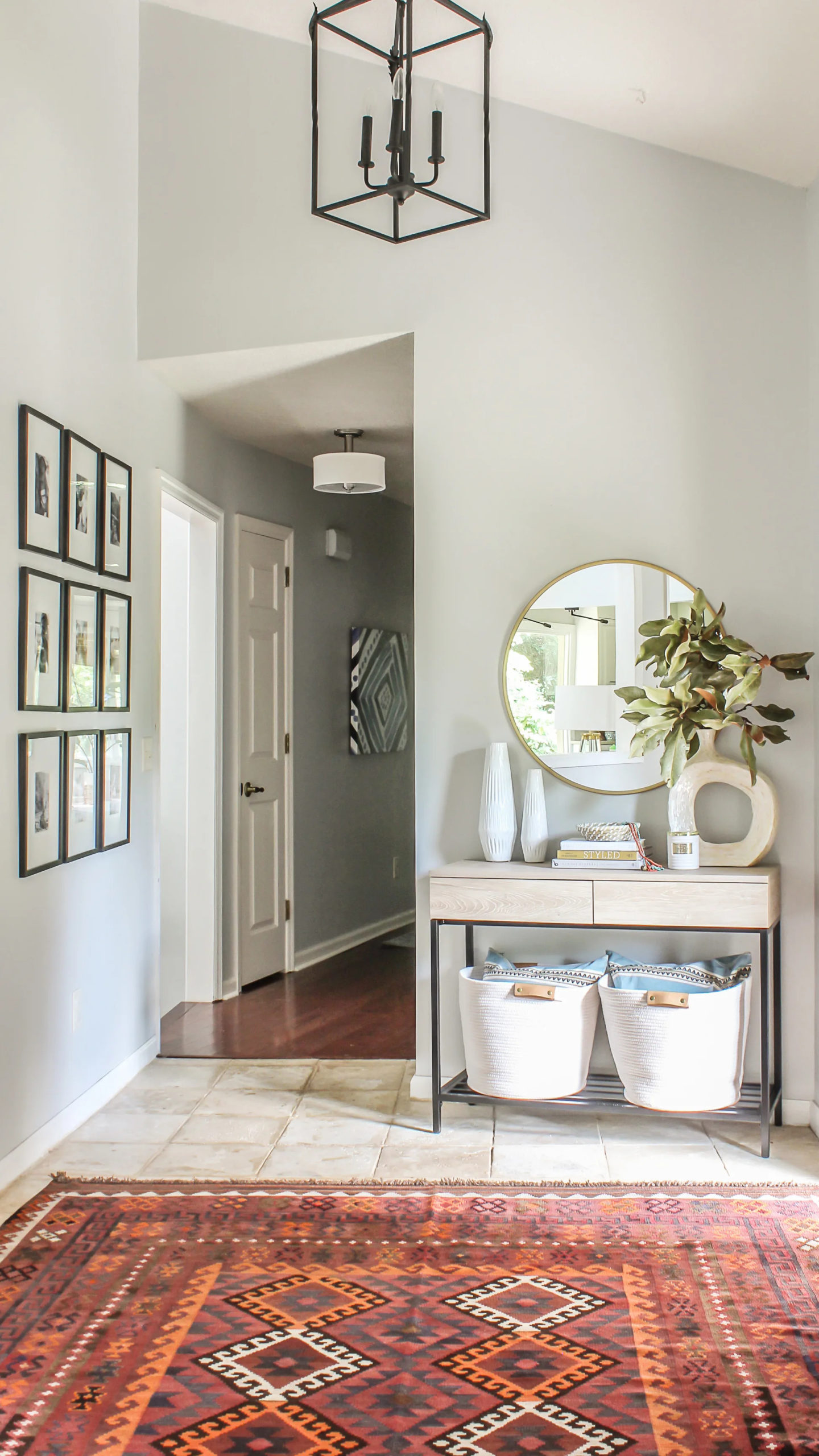 Farmhouses do not need to be always dull and muted in color. You can also make it more fun and colorful by employing bohemian decors. The intricate pattern and color of the floor cover add some funky fun to this neat farmhouse. Its unique aesthetic provides an inspirational statement to ward off the boredom of the muted colors. But it does not overthrow the laid-back atmosphere of a homey farmhouse completely.
Expand its Usability with Storages
Do not let your entryway go blank and drab and boring. If you must employ furnishing, choose functional ones to make it purposeful. This farmhouse entryway gets the idea and focuses on the basics. So from the antique dresser, coat rack, and bench, it utilizes the functionality of the space. And we should mention the hanging metal vase on the open cabinet door that is just too unique to ignore.
Defining It with Vintage Furniture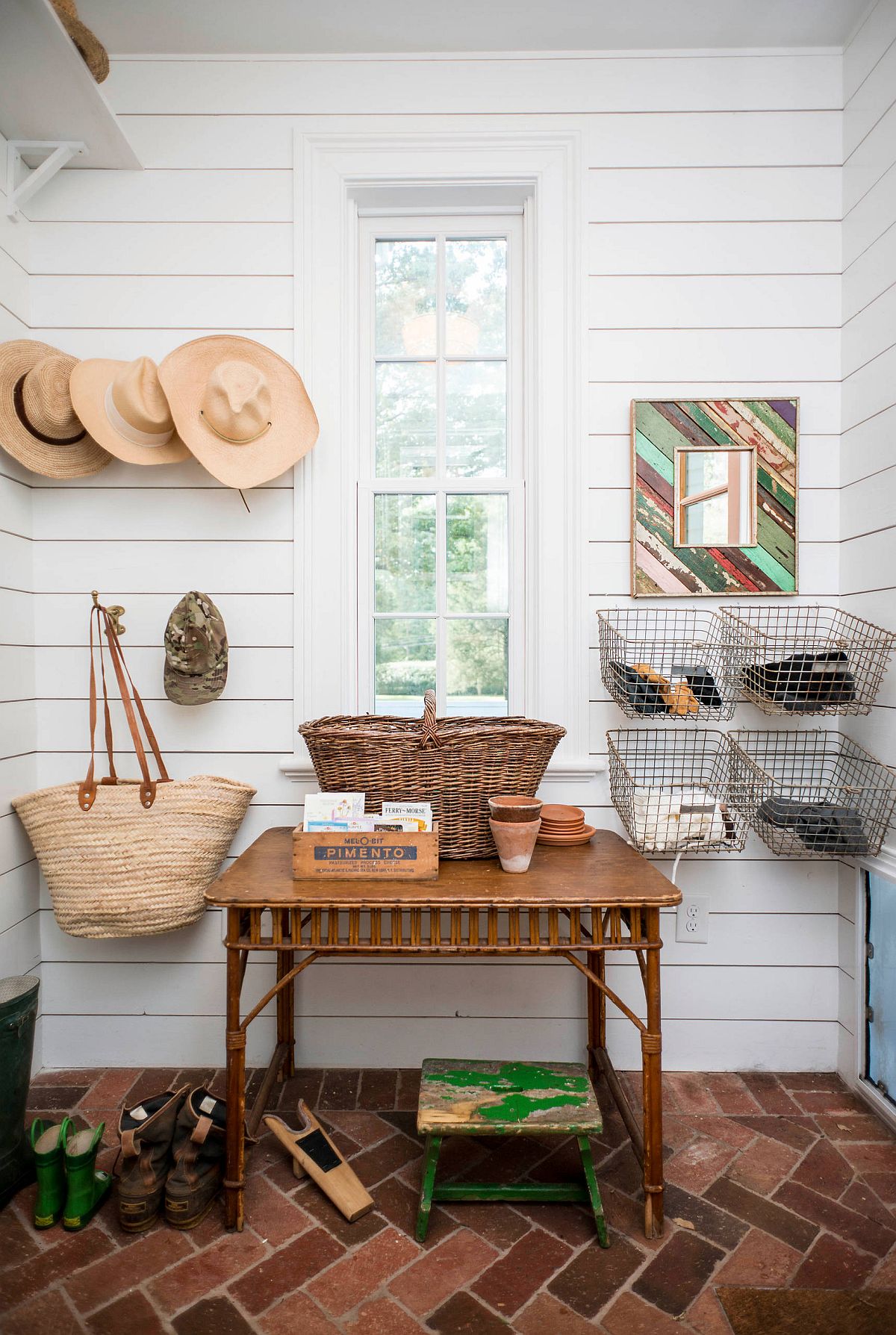 Distressed pieces of furniture are such a gem in farmhouse entryway decorations. There are a lot of good vintage finds in the flea market or garage sales. But some paintwork can also do the trick with your existing furniture. If you want to convey a feeling of a generation of hand-me-downs, add furniture with patina to your farmhouse entryway. This collection of all things old and vintage seems to exude a historic relevance to this farmhouse.
Simple yet Chic Modern Farmhouse
This gorgeous farmhouse entryway makes a cozy and inviting space for welcoming guests. It maintains a simplistic beauty through its clean and simple lines. The exceptional floor mat serves as a focal point of interest that balances the overhead lamp. A simple seating and plant decoration also complete the cool and relaxing influence of this modern farmhouse.
Inviting Vintage Texture
This farmhouse entryway perfectly defines the essence of a rustic home. The pastoral arrangement of the place conveys a classic and traditional feel. The large wooden cupboard also stands in its stately manor of vintage elegance. The antique cookware and other pieces of decors add a finishing touch to its laidback and welcoming rural feel.
Beauty in Contrast
You will love the modernist flair of this stunning Pennsylvania farmhouse. The contrasting black and white color scheme is one feature to notice, the decors another. Its ornate decorations make the room appear more charming and convivial. The smart design of its door also offers a functional and innovative appeal. It sure is an eye-catching drop-off space in the home.
Blend of Homely Feel
Dedicate a corner by your door for a good spot to laze during the day. You can customize the place with comfy furniture or an entryway storage bench. This foyer is celebrating the color and texture of wood and wicker with a cozy grace. The batten bench and wall panel set are also modest furniture that adds chic functionality to this space.
Pick Up Geometry
The geometric detailing of this farmhouse entryway gives a basic twist to the rustic design. It has unobtrusive ornamentation that still looks sleek and classic. A triple coat tree is an additional embellishment that adds a sculptural vintage accent to this doorway.
Make it a Conducive Place for Meet and Greet
The entryway also serves as a fine receiving area for guests instead of just a drop-off point for shoes and coats. So adding some plush seating is a good idea to make it more welcoming. The furnishing and storage of this farmhouse entryway is a well-thought-of idea. The long bench provides a space for casually receiving visitors. Its ample storage space is also a noteworthy detail to add.
Carpet for the Feet, Gallery for the Eyes
A nice and welcoming atmosphere by the door is possible with simple but well-thought pieces. When decorating a farmhouse entryway, stick to pieces that define its rustic inspiration. You can also keep things exciting by showcasing artworks or galleries on the wall. It adds a personal touch and an extra perk of a homely feel.
Hanging Up Some Vintage Accessories
Go every inch farmhouse with rustic decorations in your hallway. This sassy home brings a new spin with fun decors like woven trinkets on the wall. It adds a special and inviting touch that also exudes a sunshiny and approachable feeling. The native grass basket chandelier is a playful design you would not help but gush about. And oh, those stairway details are also a fancy way of giving it more dimension.
Takeaway
The farmhouse entryway needs an accommodating character and a homely aura. There are no other better tricks than throwing some functional pieces of furniture, hanger, or storages into it. Some nature-inspired materials and artworks will also make an attention-grabbing ensemble. Farmhouses are often laced with neutral colors and bashful ornamental pieces. If you want to keep things cool and fresh, houseplants are also the best decorative options to consider.