The ottoman is a truly versatile piece of home décor. It can be used in different rooms and in many different ways with ease. It is also a décor item that can be moved around with ease. This makes it a modular addition of sorts and one that is a must-have. But for our readers who also happen to be crafting enthusiasts, making an ottoman is definitely much easier than buying one from the store. The advantages are manifold. You can create exactly what you need and do so on a budget. Cutting costs and improving aesthetics, this is a collection of the best budget-friendly ottomans out there. You do not want to miss out on these fab DIY creations!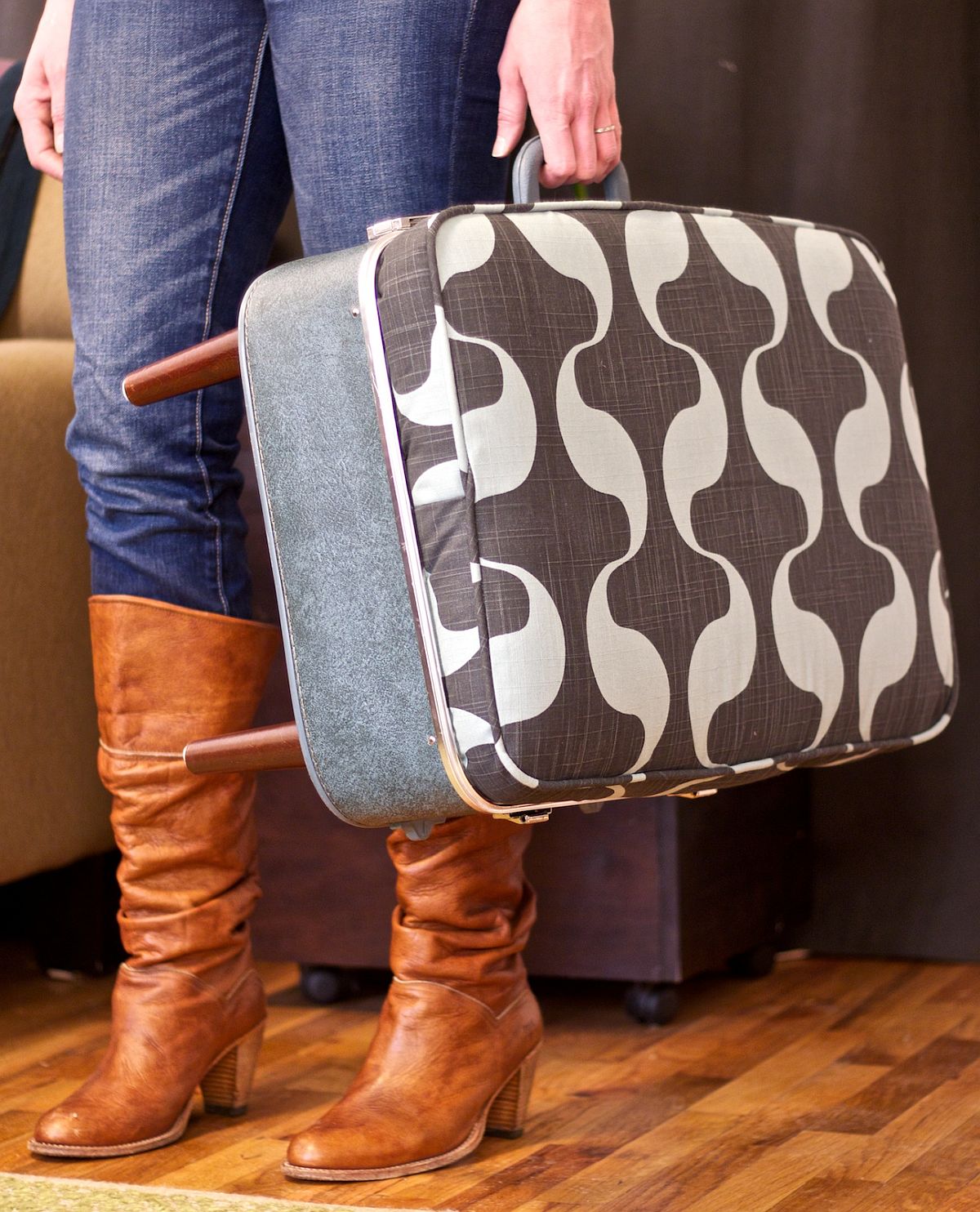 DIY Ottomans with Storage
Who says DIY ottomans have to be boring and all about functionality alone! The vintage suitcase ottoman idea comes with ample storage space and also a handle that lets you carry it around with ease. This one is stylish, charming and is bound to be a great conversation starter in the living room for years to come.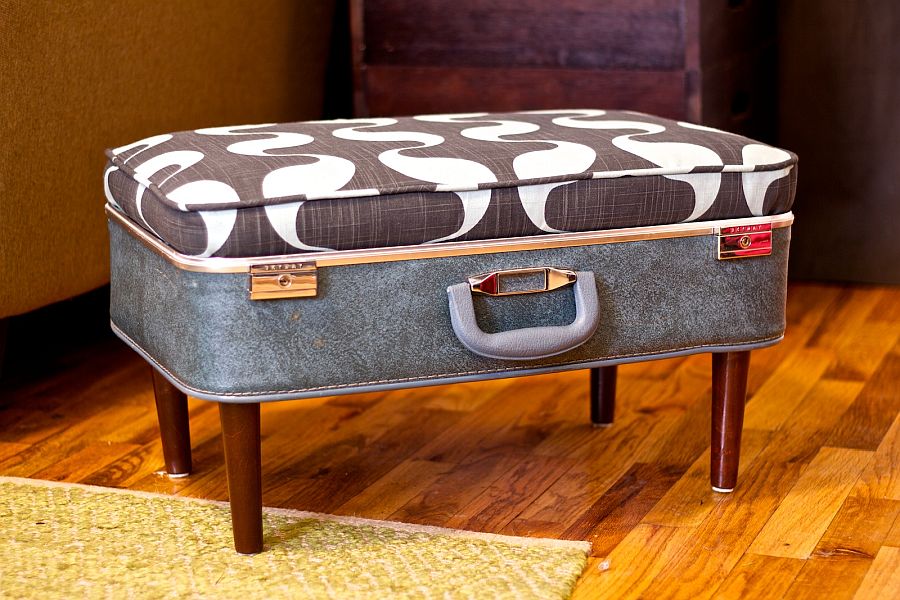 The upholstered ottoman with storage is one that can be done in many different ways and this one delivers all that along with a hint of pattern. The upholstered seat looks super comfortable and the spacious base allows you to store those many books and magazines with ease. Of course, it can also be used as a smart and unique coffee table when needed. Adding even more class to this idea is the upholstered ottoman in leather that feels sophisticated and can be made on a budget as well.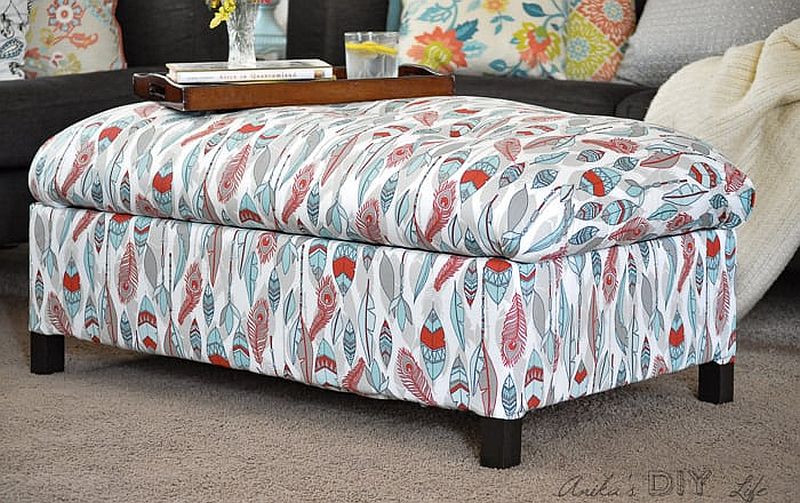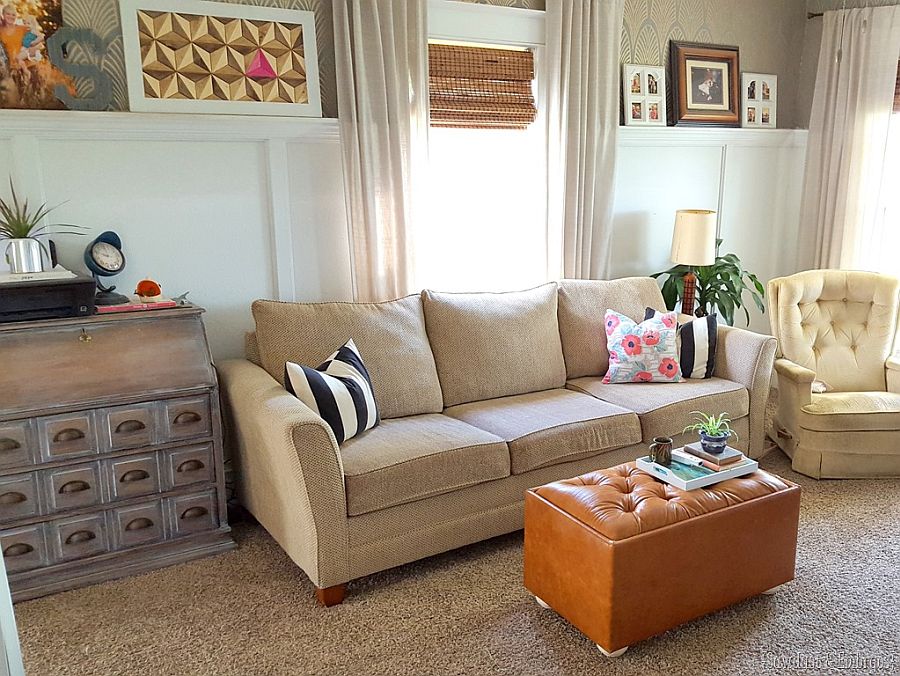 There are plenty of ottomans that can offer storage and double as a coffee table with ease. But there are not many DIY designs out there that give you open shelves to place those many books and magazines that might otherwise be placed as a messy pile on the table itself. Putting the ottoman on wheels adds another layer of convenience to the entire design.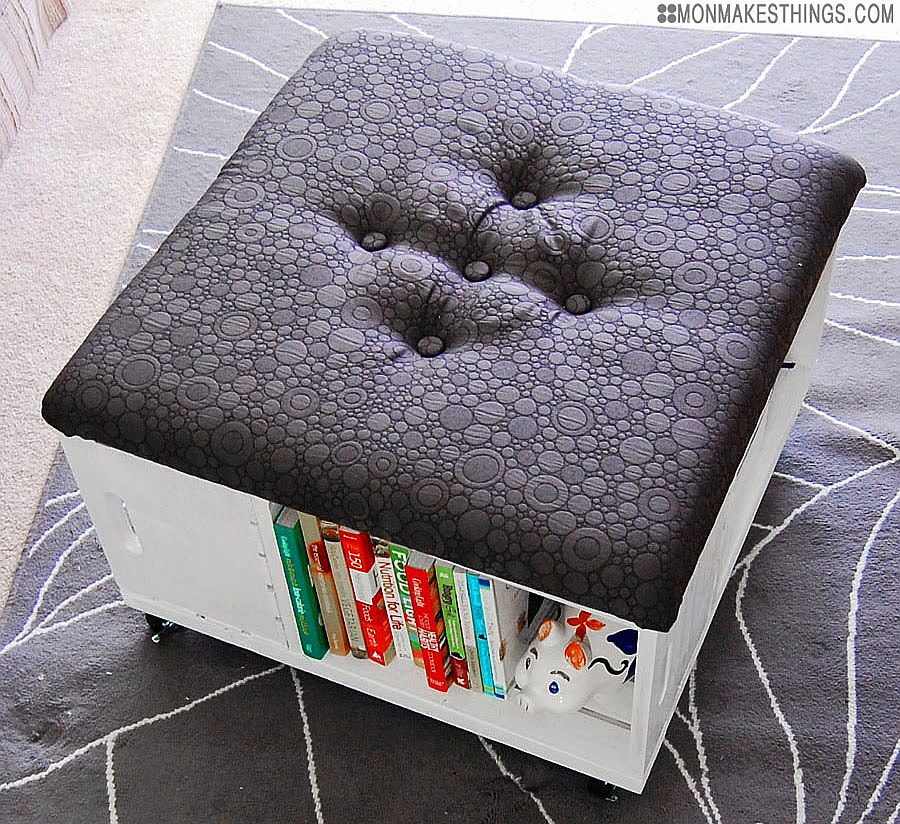 A wood crate with a comfy cushion on top is an easy recipe for an ottoman on the cheap. This is another one of those designs that takes little time to make and the wooden crate base also adds textural charm to the living space with ease. Modern and striking, this ottoman works with a wide variety of styles.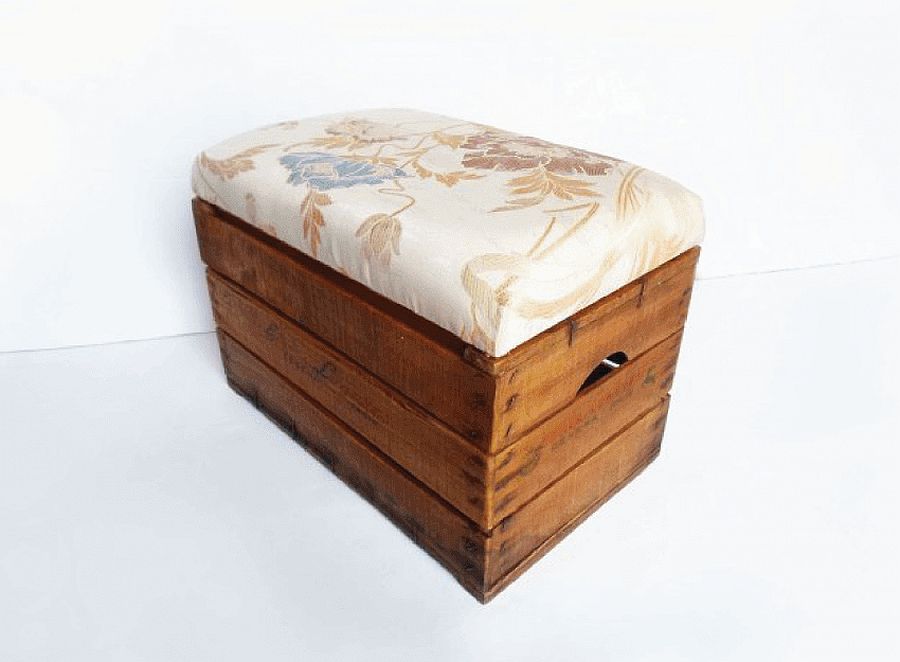 Few DIY ottomans offer as much storage space as one that is crafted from a storage chest itself. The storage chest with a tufted top can be crafted with little effort and you can just open up the ottoman whenever needed to tuck away excess items. This is a great idea for the kids' playroom as it can be used as both a toy chest and a comfy seat. You can give this idea an even better look and a chic upscale appeal with a cushion in pink. It goes without saying that this one takes place in the girls' room.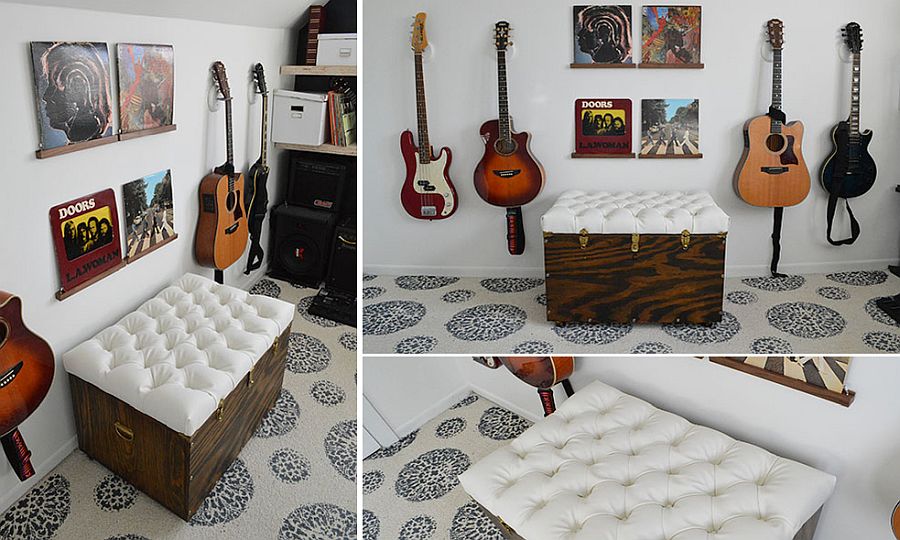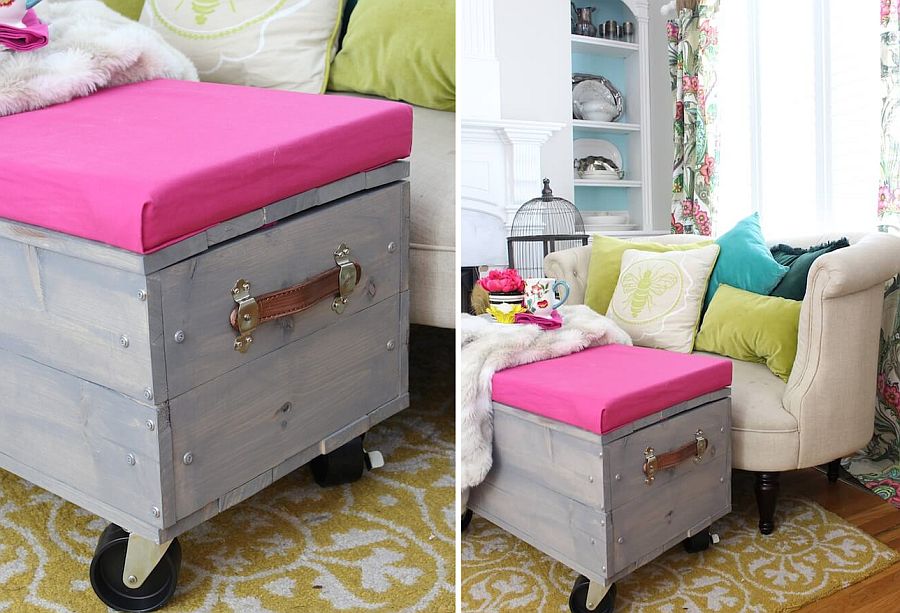 Color, pattern and a whole lot of visual panache – these ottomans seem to be built more for storage than for sitting. But they still come in mighty handy and you have too simple and bright seats that can be placed anywhere – from the living room to the patio and the backyard deck.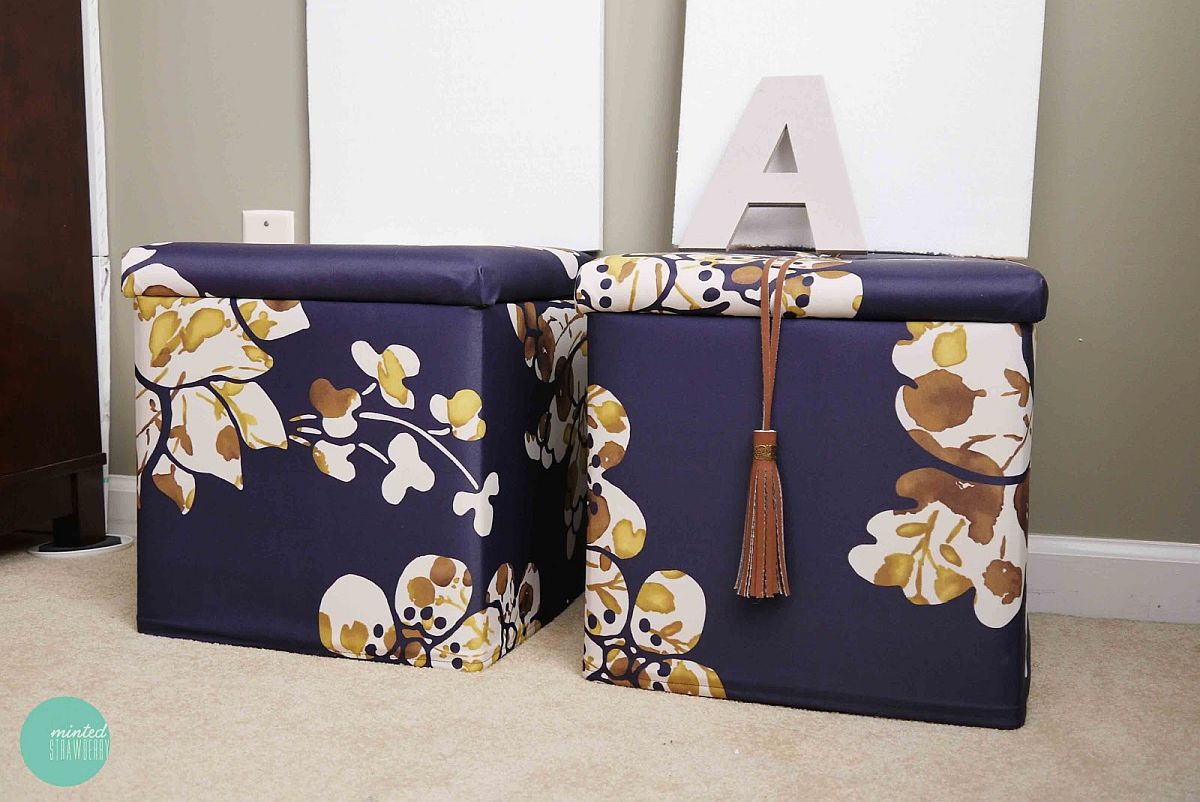 Upcycling Saves Costs and the Planet!
We love ottomans that not only save us a pretty penny, but also help in saving the planet by recycling and reusing the material. A good start would be the simple and easy DIY sisal rope ottoman that is made using an old milk crate. This one might not be the biggest of ottomans around, but it is definitely one that will not burn a hold in your pocket. And if you love one of these, then crafting another couple or four over the weekend is all too easy!

Rustic, vintage and adding metallic charm with weathered finish to the living room the wash tub ottoman is one that is unlike anything else. This is also an ottoman that comes on wheels and you will surprised at how much kids are going to love this one. Another brilliant DIY ottoman that is bound to be a talking point at your next family gathering!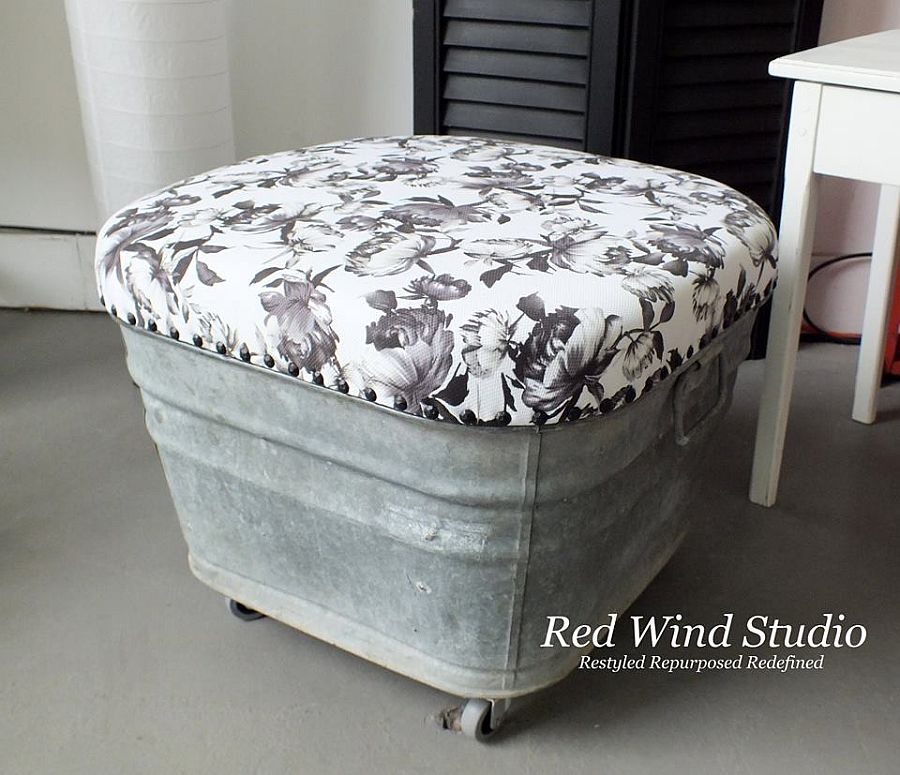 Want to call it a footstool? Maybe you would prefer to use it as a small ottoman in the kids' room. No matter what you call it, the colorful and tiny ottoman made from an old bucket is one everyone can try out. This one demands very little in terms of effort and you can even use the old door mats to create this one.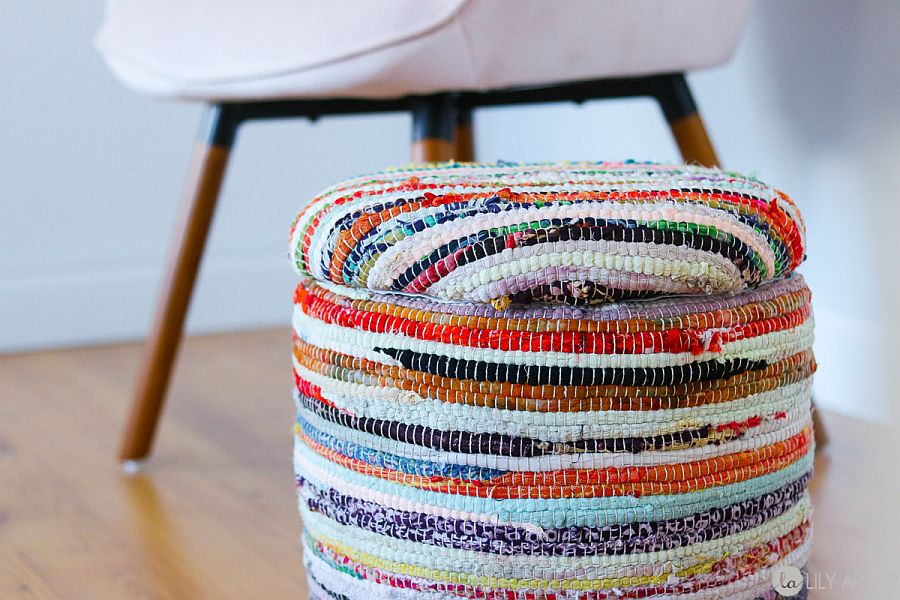 A small pouf like this one can be used be used in many different ways and this one will cost you no more than just $3. Cheap and sturdy, this pouf feels organic and its soft texture makes a stylish statement in the living room. If you want an ottoman that is much more sturdy and smart, then the West Elm –inspired ottoman on a budget that you see below is another wonderful alternative. A perfect combination of two dashing ottomans!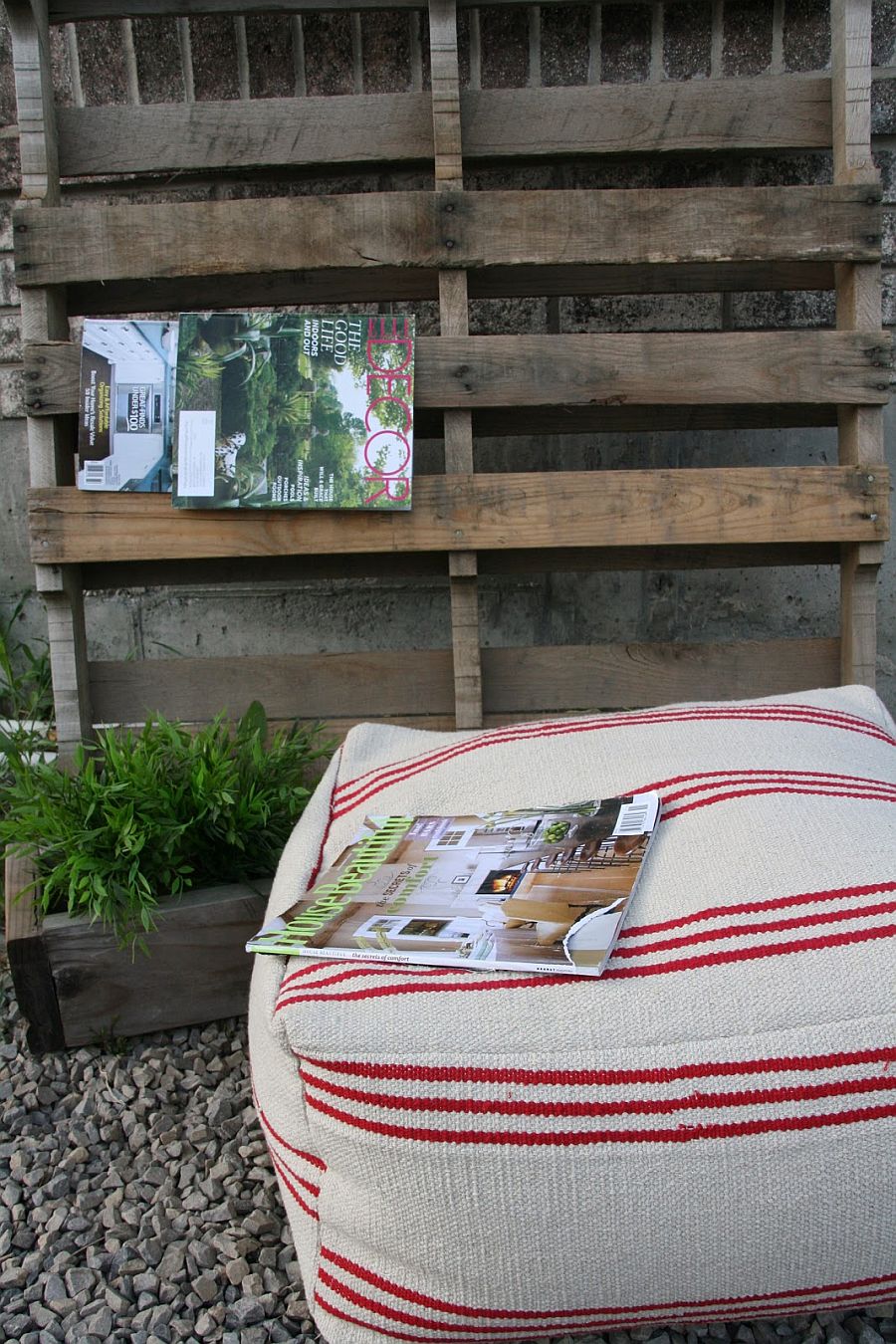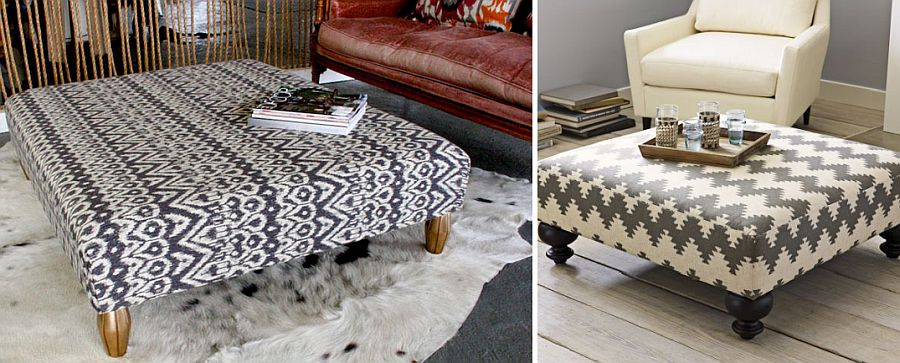 A simple metallic milk crate as the base and a cushion on the top is one of the simplest DIY ottomans that you will ever find. It might seem far too simple, but this is a great outdoor side table idea and it is bound to last the test of time while facing different weather conditions. Maybe you can even take it to the beach on a warm summer day!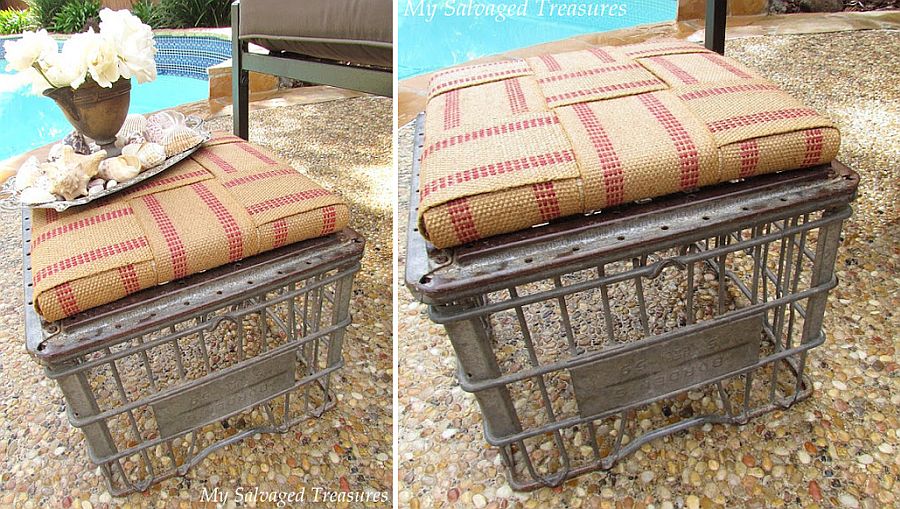 When it comes to upcycled DIY ottomans, the crate on wheels idea is our absolute favorite. There are many different ways you can pull this off, but when it comes to execution, the inspiration below is undoubtedly one of the very best you will ever see. With a denim cushioned top, this one just has a sense of 'unshackled youth' about it. Trendy with a bit of rebel in it!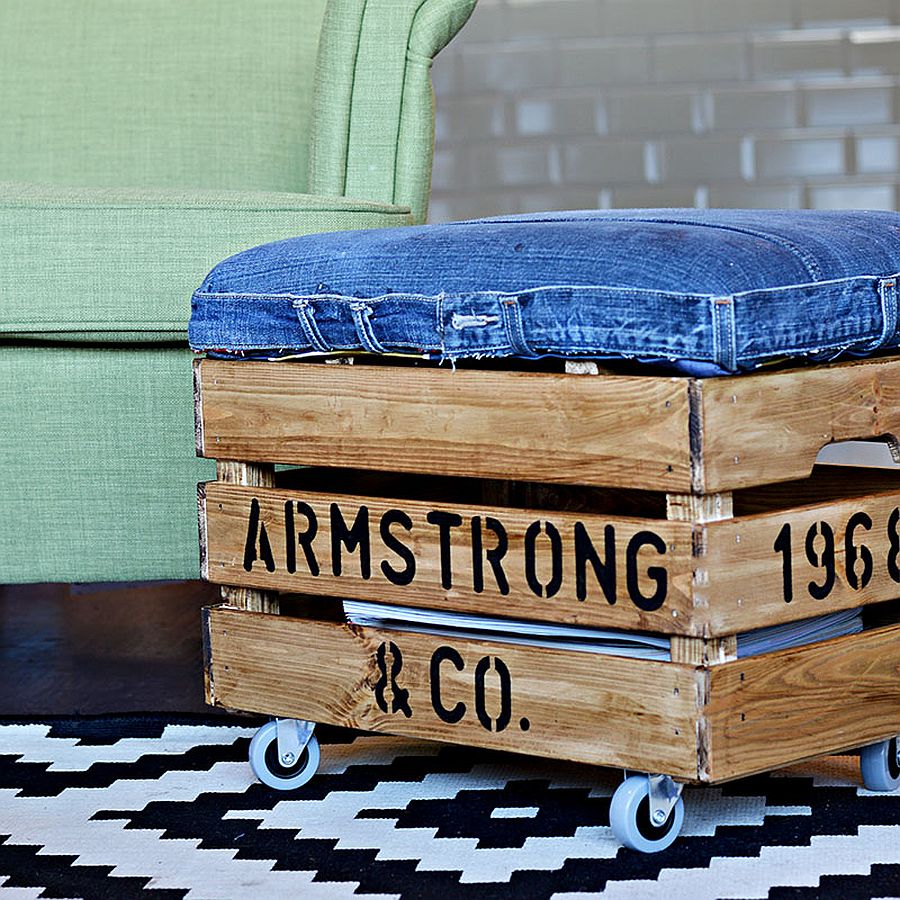 Turning an old drawer into an ottoman is an idea that we can firmly get behind and this one even has a handle to remind you of its past. Once again, this is a smart DIY that offers additional storage area while the French-industrial style DIY ottoman on wheels easily stands out from the crowd. Hard to miss an ottoman idea like this one.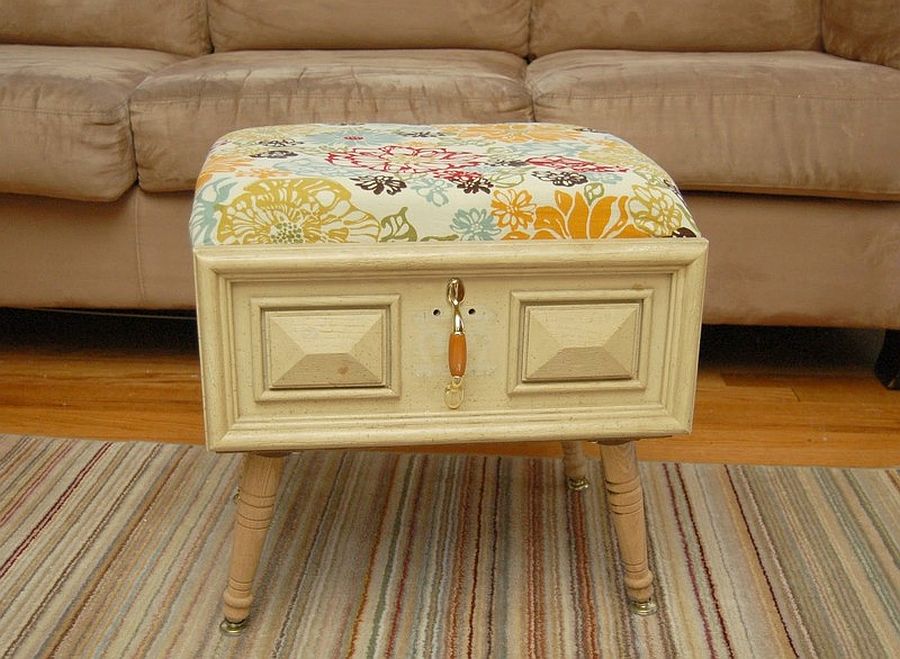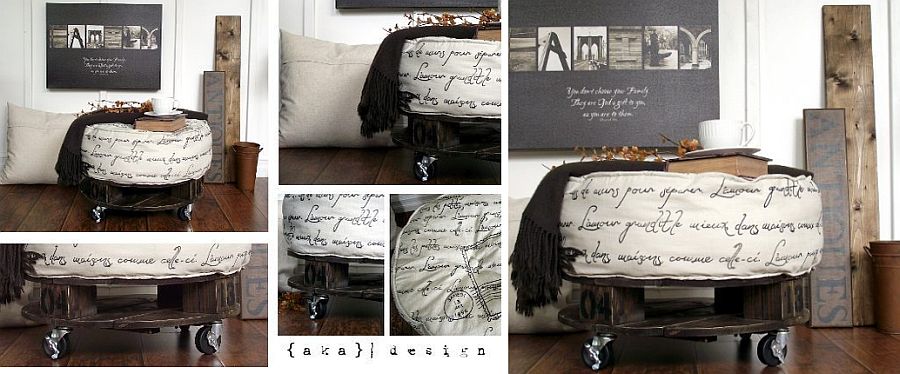 DIY Ottomans to Add Pattern, Color and More
Looking for an ottoman that adds pattern and color to the living room? Then this is the section for you where you will find multiple delights that enliven the modern living space in neutral hues. The black and white DIY ottoman with geo pattern is one that leads the pack with ease while the large, bright purple tufted ottoman is one that can act as an additional seat pretty much anywhere. Both the ottomans bring something different and are still charming in their own special way.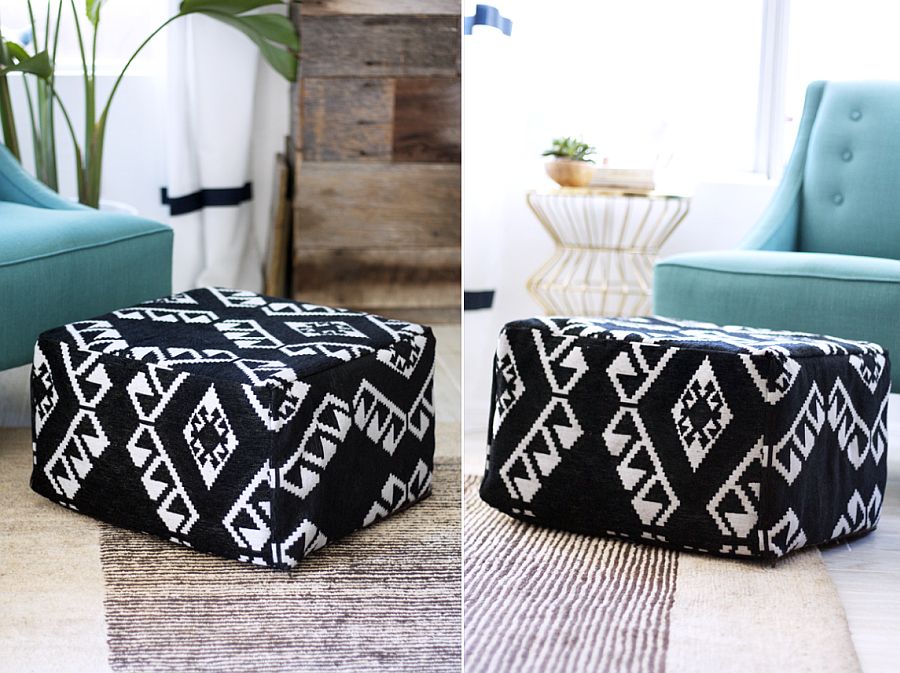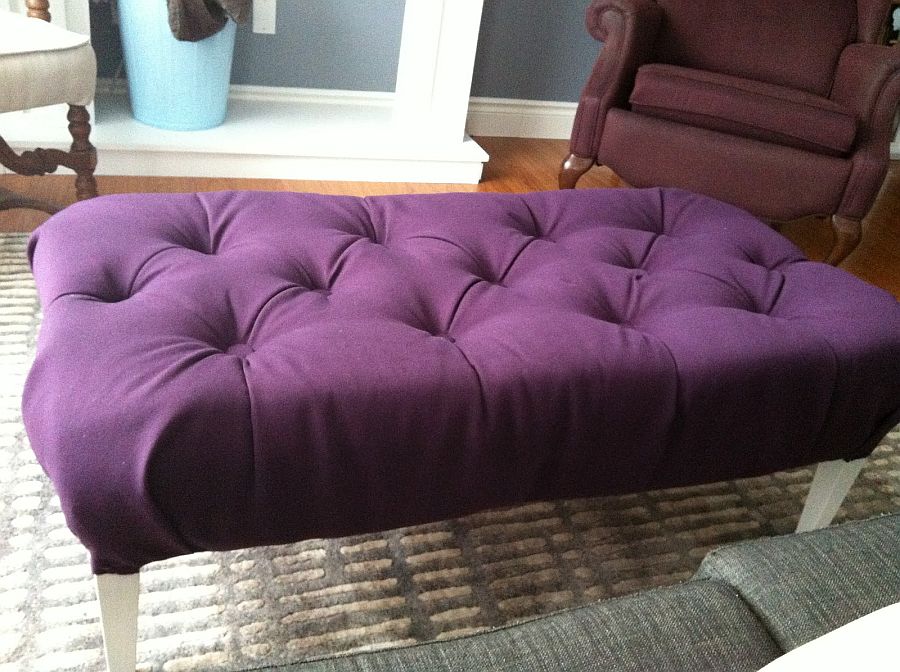 This one is an ottoman that combines the idea of recycling with textural beauty of rope and a hint of shabby chic elegance. The ottoman made from tire still seems classy all the way and is another great addition in beach style, coastal and nautical themed rooms. It looks as good indoors as it does out on the deck; making it a versatile little décor choice.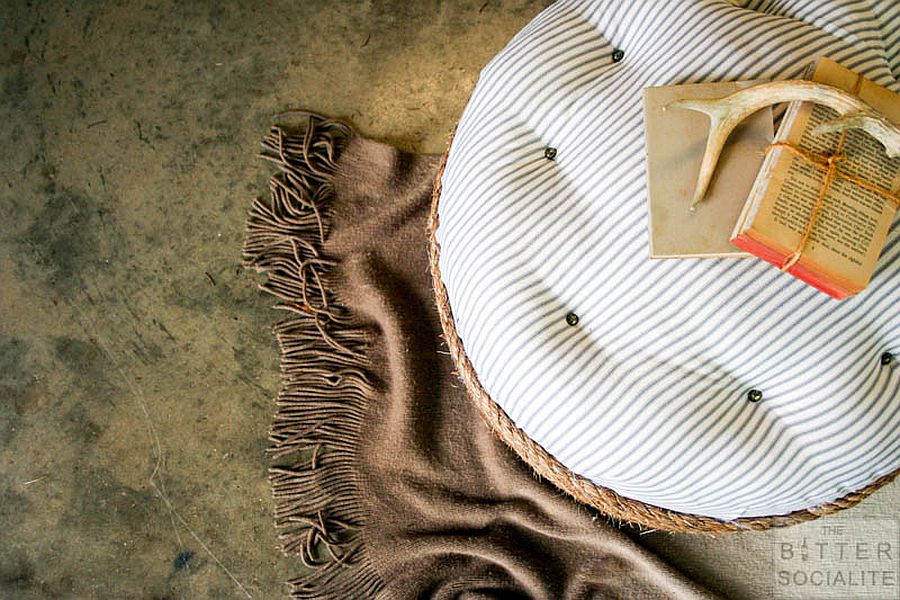 A jute sack and a smart ottoman base is all you need for the DIY jute sack ottoman design while the coffee table ottoman is simple, more modest and is perfect for the traditional living room. Before you choose a DIY ottoman project, make sure that it fits in with the theme of the living space or family room it is bound to adorn.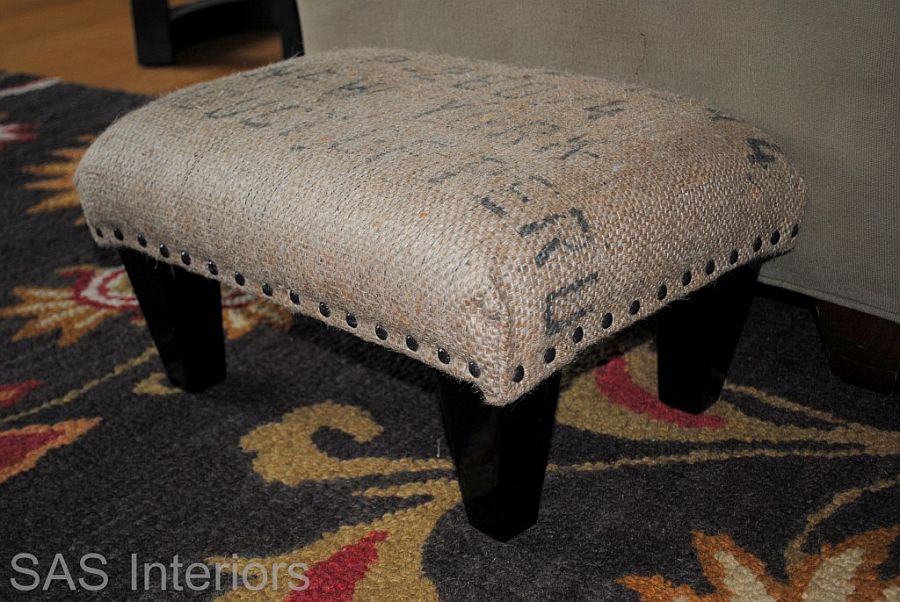 There are many living rooms where the ottoman can also serve as the coffee table on a daily basis and when you have guests, it provides an additional seating option. The two budget-friendly DIY ottomans below offer just that. The former acts as a lovely coffee table with its upholstered finish, while the latter was originally an old wood coffee table that has been transformed to serve a whole new purpose.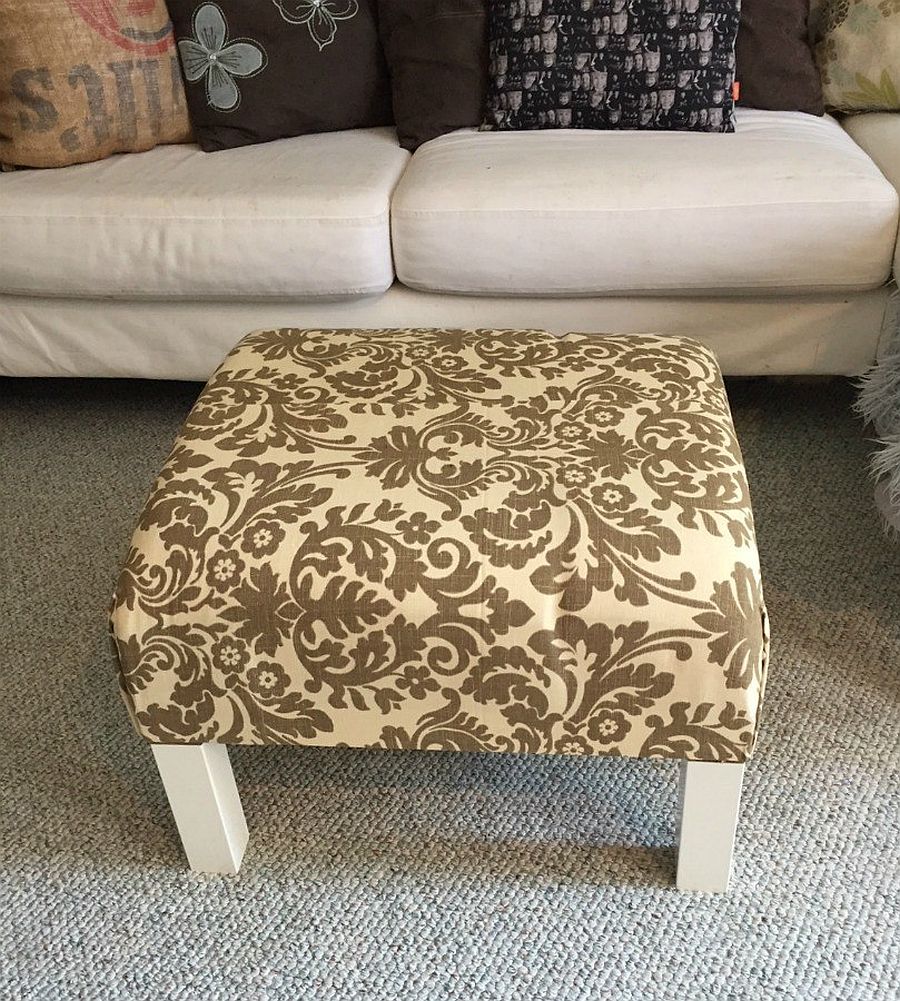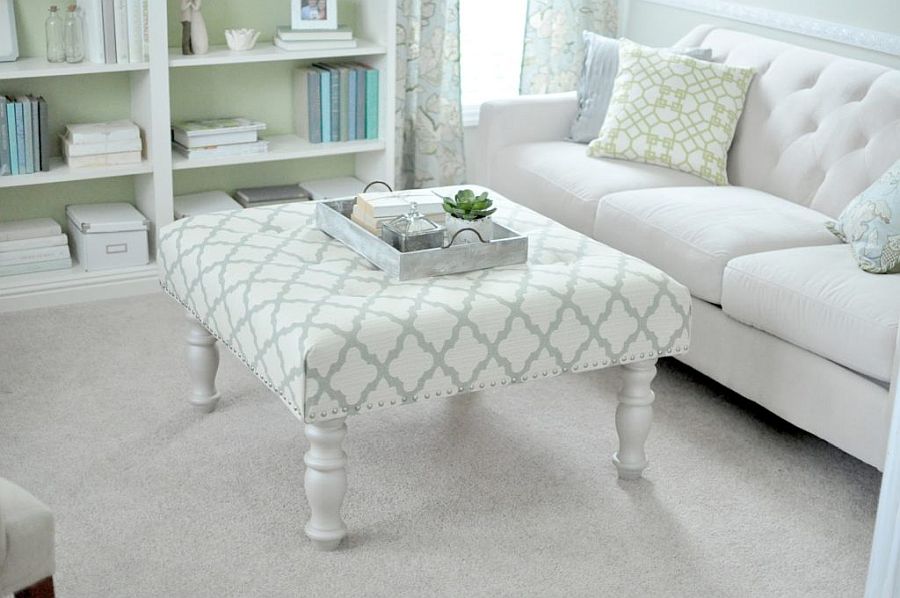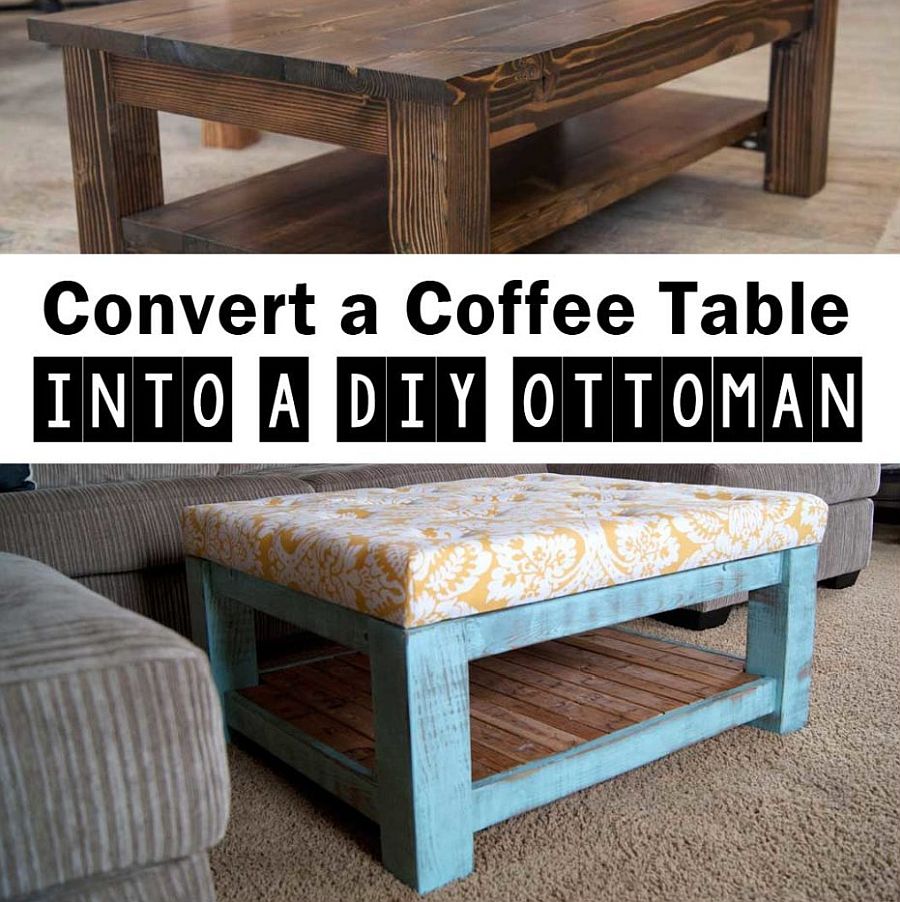 Continuing with the more rustic theme to DIY ottomans, the idea below uses a burlap sack to create a stylish ottoman that is a bit different from the usual. The burlap coffee bag ottoman is one for the relaxed shabby chic or eclectic living space or the cozy, informal reading nook on the deck.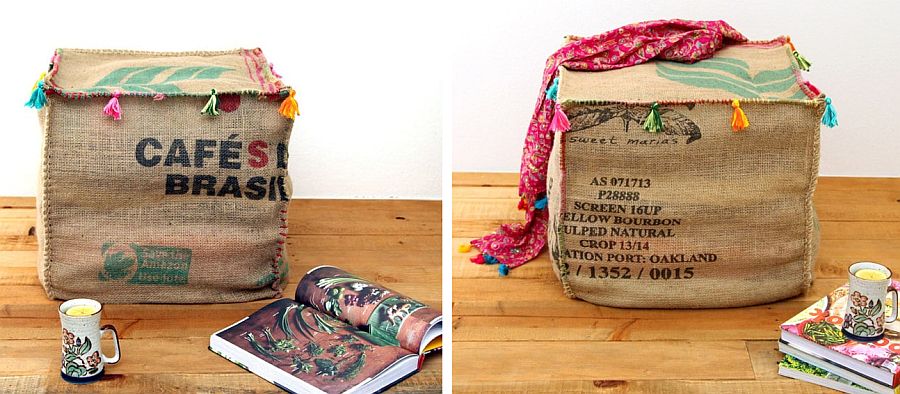 You would have noted by now that pretty much anything and everything can be used to create an awesome DIY ottoman. Now you have one made from electric spool and this one is both compact and comfy. If you are searching for an ottoman that is a lot more flashy, then the faux leather DIY ottoman is a must try. Take your pick and get started over the weekend!