Whether your basement is a place of refuge or a play area for the kids, it's a reality that basements tend to fall into neglect. They're a breeding ground for mess and clutter. Luckily, many designers and homeowners out there will not stand for chaos and clutter. So, they released their organizational skills in the basement area.
Thanks to the power of the internet, we can take all these ideas and inspiration for how to make your basement the most organized and functional it can be without sacrificing style and design and comply them into one easy list. Read on if you need tips and help in the basement!
How to Organize Basement Clutter
Before we get into specific ideas and examples, here are some general tips on decluttering and organizing your basement right off the hop.
Evaluate Your Belongings
A basement can be a treasure trove of junk you've long overlooked. As you scour your basement, put items into three categories: keep, donate, and throw away. If you don't find yourself using an item often, consider donating it; if it's in bad condition, it might be time for the dumpster.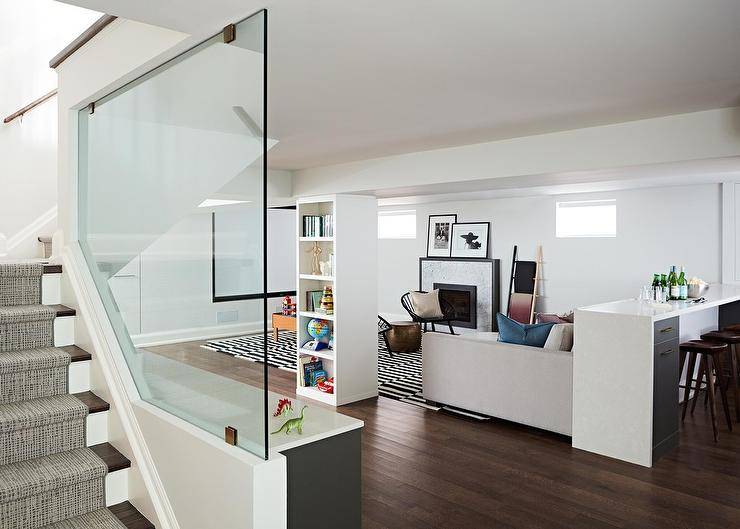 If you have a hard time letting go of your things, go with Marie-Kondo's mantra and thank each item for its service and let it go. Alternatively, you might just find that tool or the board game you've been searching for forever during the decluttering process.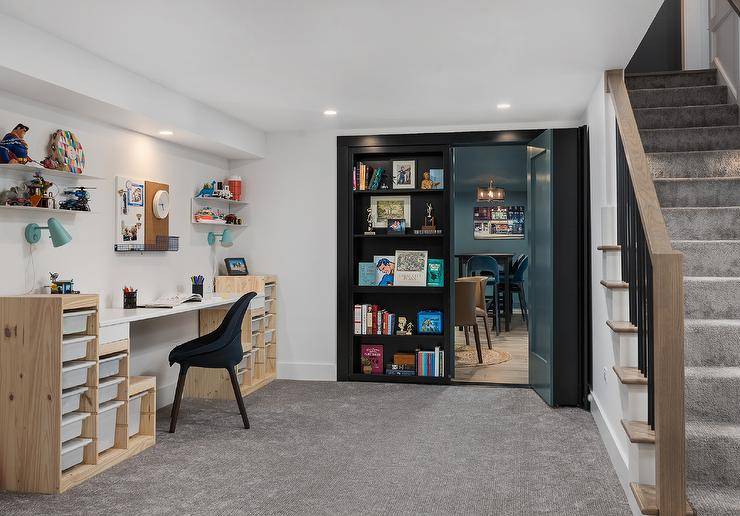 Think About Shelving
Putting up shelving systems in your basement just doesn't maximize your vertical storage space—it can also protect your gear from flooding and other types of damage. Measure your space to determine what size shelving it can house, but don't forget to consider how much weight allowance you need for all your belongings.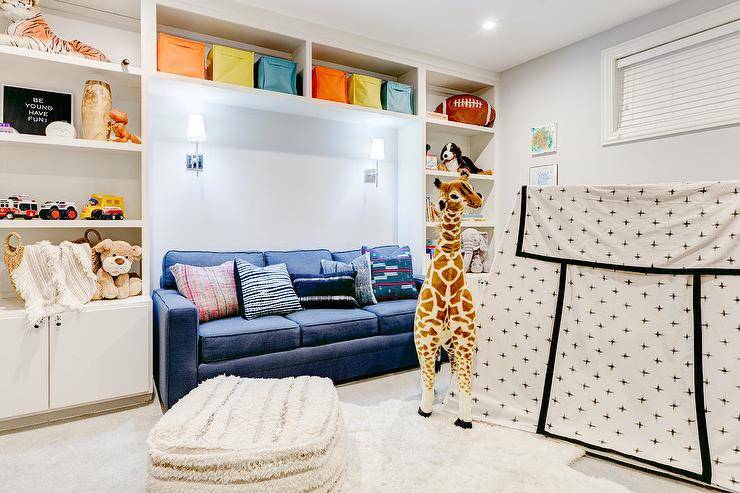 There's nothing worse than buying and constructing a shelving system that ends up being too large for a space. If your basement isn't climate controlled, skip the wood shelving and go for metal or sturdy plastic shelving designs. Wood can break down over time, but metal and plastic can withstand heat, humidity, and water damage if you live in an area that tends to flood.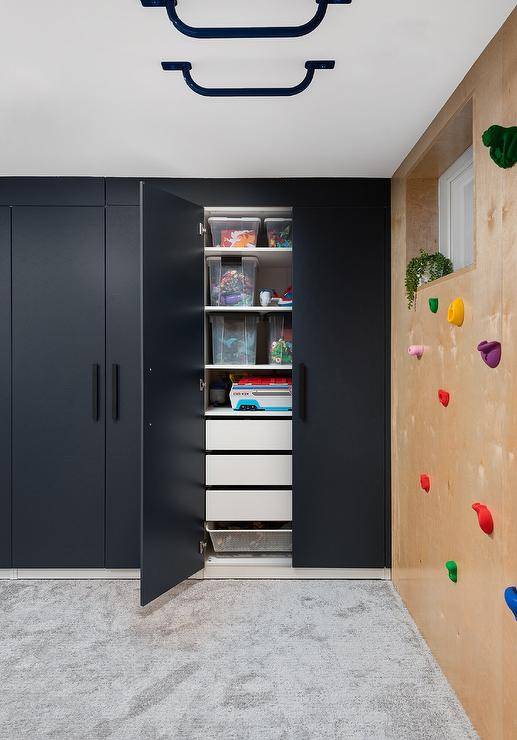 If you have gear that needs to be hung up, like winter coats or other out-of-season clothing, consider adding a simple clothing rack to your storage solution. It'll save shelf space, maximize vertical space, and keep your clothes neat and wrinkle-free.
Categorization
Assess all of the items that need to be stored and assign them to distinct categories. Choose a location on your shelves, clothing rack, or hooks and pegs to place each category. Knowing where all your holiday decorations are, for example, will make it much easier to find them when the time comes. Consider adding labels on each shelf, so you can quickly evaluate what's stored there.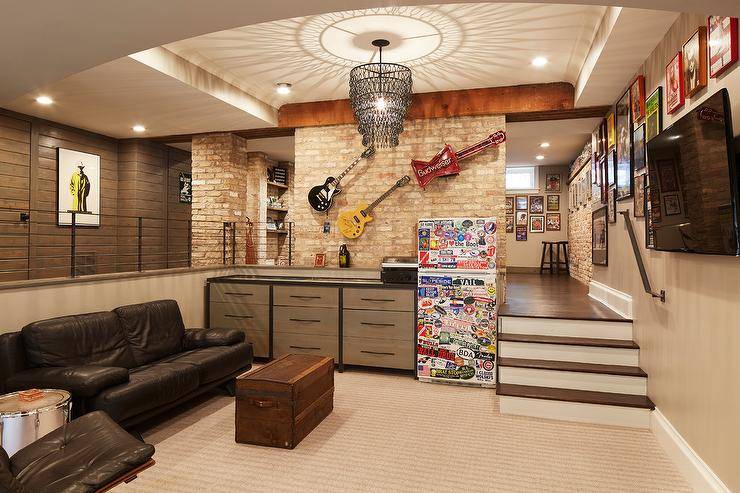 If you have more undersized items that need to be stored, and they're not super easy to identify fast, place them in large, zippered plastic bags and clearly label them with a label maker or painter's tape and a marker. This will come in handy for extra cords, cables, screws, bolts, nuts, or other small items.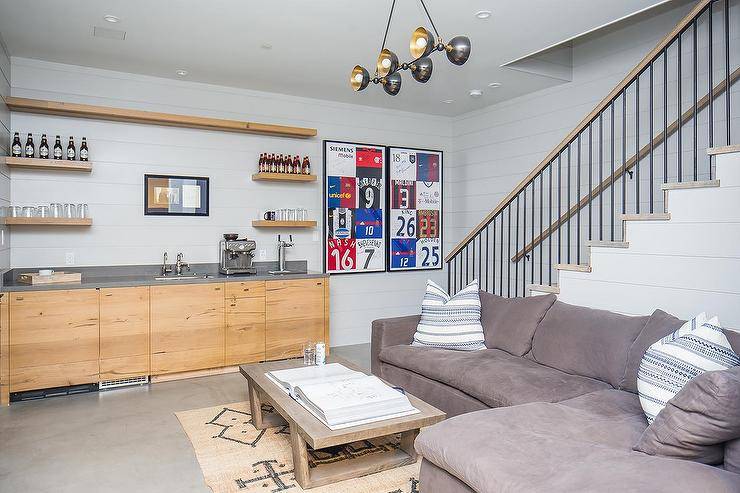 Use Plastic Storage Containers
Even if your basement is safe from floods and has climate control, cardboard boxes bend, warp, and break down over time. Go for clear, plastic storage containers instead. They'll save your gear from heat, humidity, moisture, and pests, make it easier to find and determine exactly what you're looking for, and they will last much longer than a cardboard box. Be sure to put a label on the outside of each storage container so you know their contents.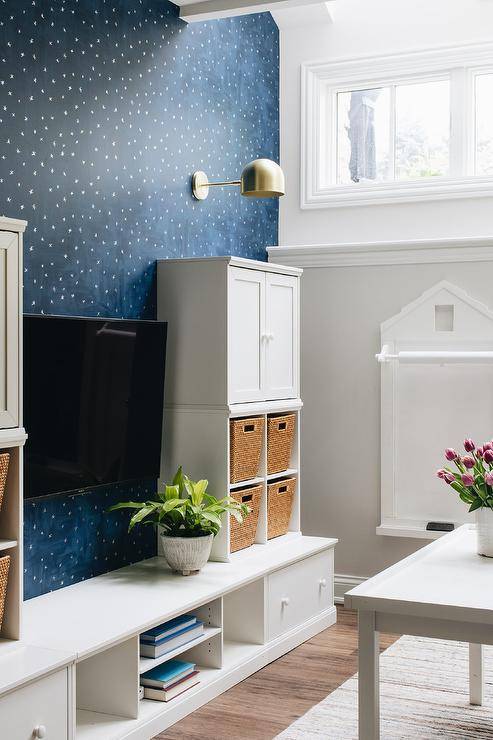 If you need to hang out-of-season clothing in your basement, look for sturdy, hanging clothing organizers with shelves. You can use zippered garment bags for clothing items that are delicate and that you want to keep safe.
Designate a Pantry Space
If your kitchen pantry is bursting at the seams, consider storing shelf-stable food items, cleaning products, and paper products in your basement.
Food items can attract pests, particularly if your basement isn't finished or climate-controlled, so be sure to put any edible products in air-tight plastic containers. Labeling the outside of each container will make it easier to identify without the original packaging. Other items, like coffee, unopened condiments, and sealed spices, can also be stored in the basement.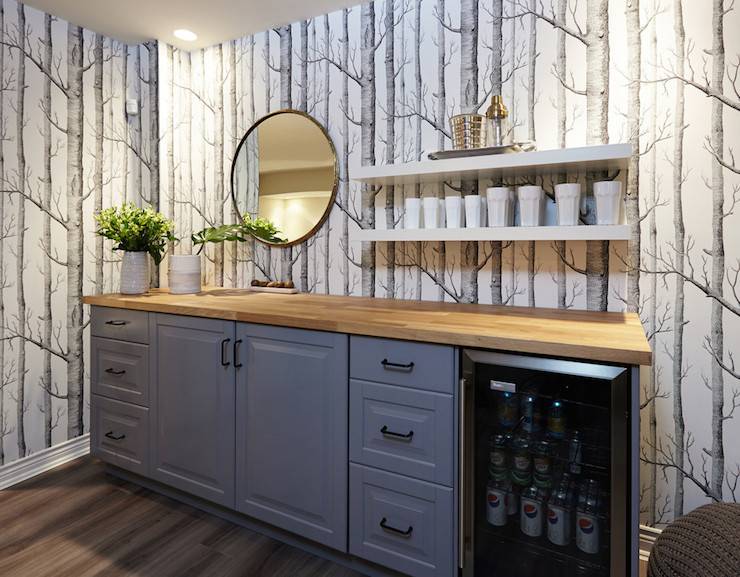 Cleaning and paper products should be categorized and given a location within your storage system. That way, you'll never have to search for a roll of paper towels or a new bottle of cleaner again.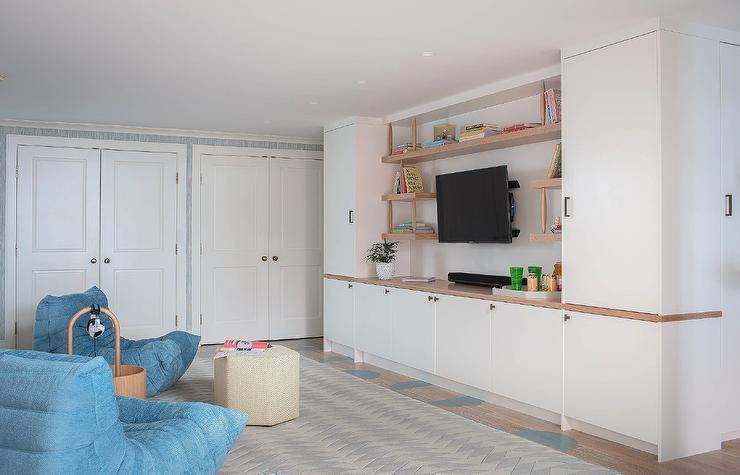 If you take the proper actions, you can convert your basement from a cluttered catch-all to a neatly organized space that meets all of your family's organizational needs. After you're done with the basement, you might just feel inspired to tackle the dreaded junk drawer in the kitchen. — but we'll save that for another day!
Related: Kitchen Storage Ideas: Organize Drawers; Pullout Pantries
Before we get into some ideas, we would like to share one very important safety tip regarding shelving.
Safety Tip: Sturdy shelving is a must for bin and box storage. Build heavy framed shelving with 2-by-4 studs and paintable plywood. Measure the items you plan to store to ensure you have appropriate clearance and depth. Never place large or heavy storage items above 5 feet high; you risk injury when trying to get them down.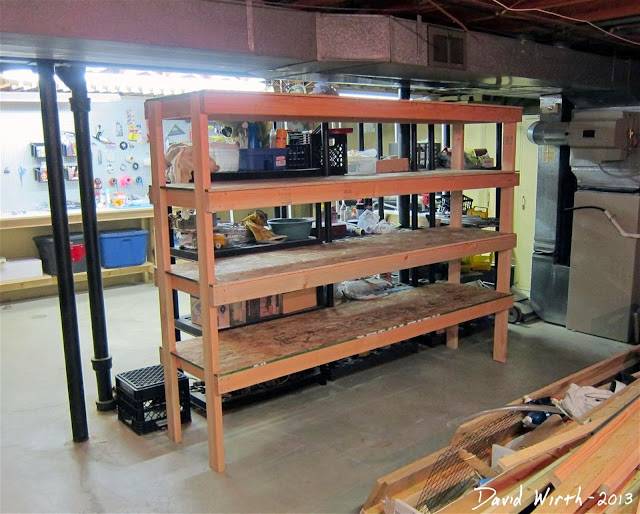 Stunning Shelves
Convert a section of your basement into a lovely storage area that looks like a store by putting all your linens, pillows, and cushions on display. The key is to paint your walls and shelves the same stark white.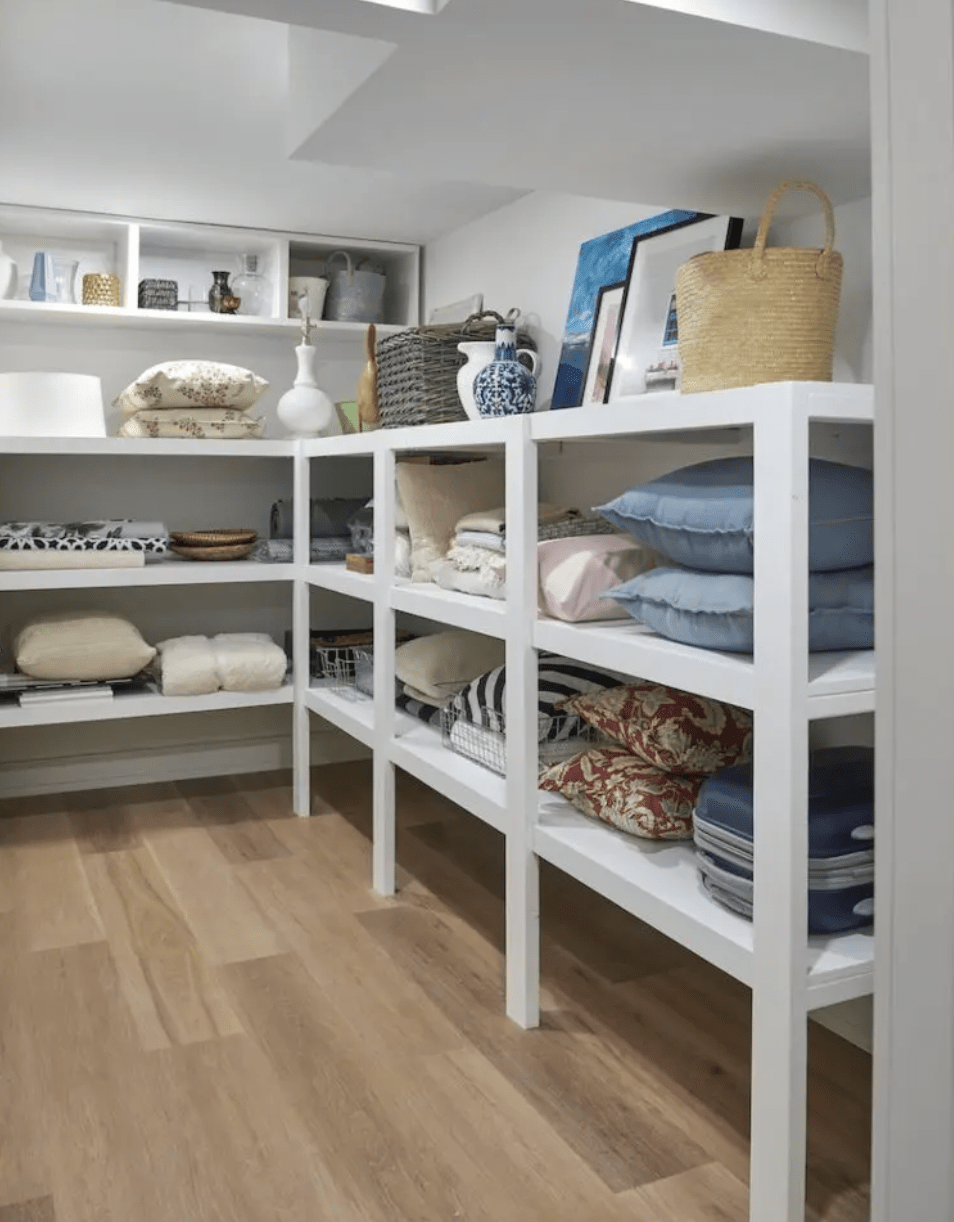 This helps the shelves to look like a part of the room rather than a recent expansion. It also delivers a stark distinction to your colorful items, making them look that much more lively and beautiful.
Cupboard Storage
Whatever your chosen pastime or hobby is, we all need a space where we feel attentive enough to dive into our chosen activities. That's where this basement-turned-study comes in, and you can totally use this look as inspiration to create your own.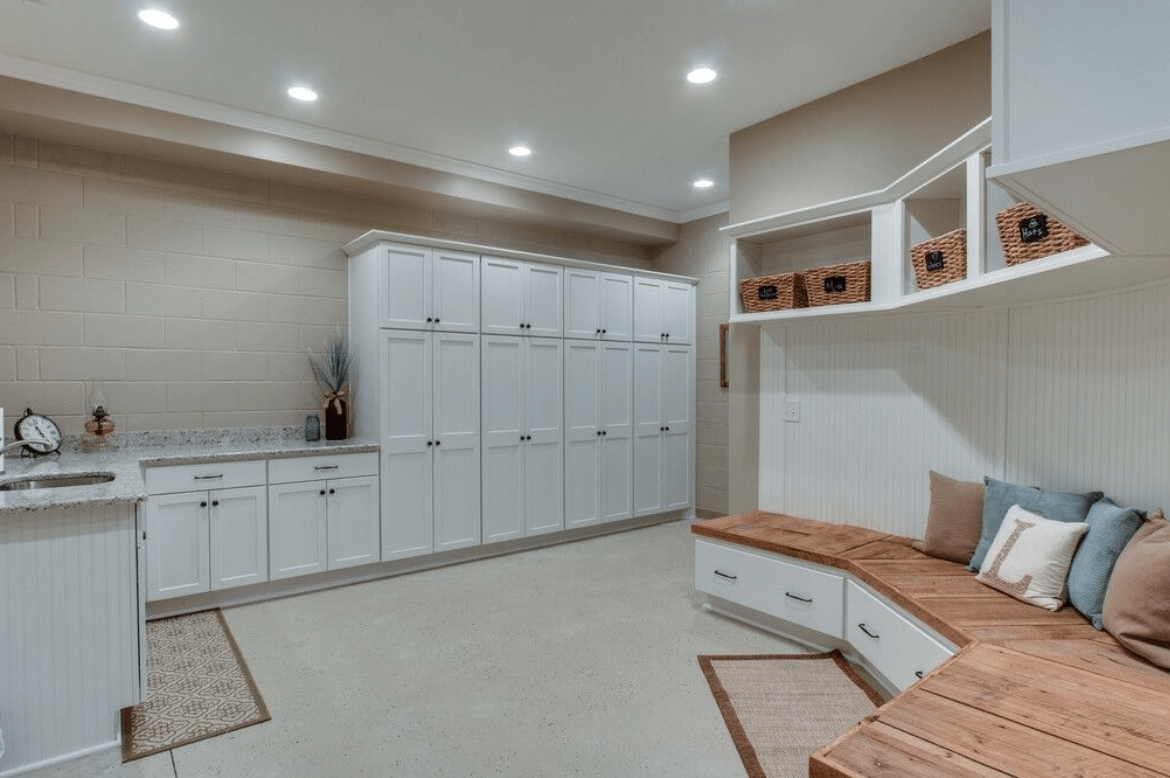 The great thing is you can decide how much you want to finance for this transformation. We love the ample storage, such as these shelves and these storage benches.
Cube Storage
If you're totally swamped with treasures and possessions and are unsure where to start, a cube storage shelf like this is the answer. These are perfect units for any basement.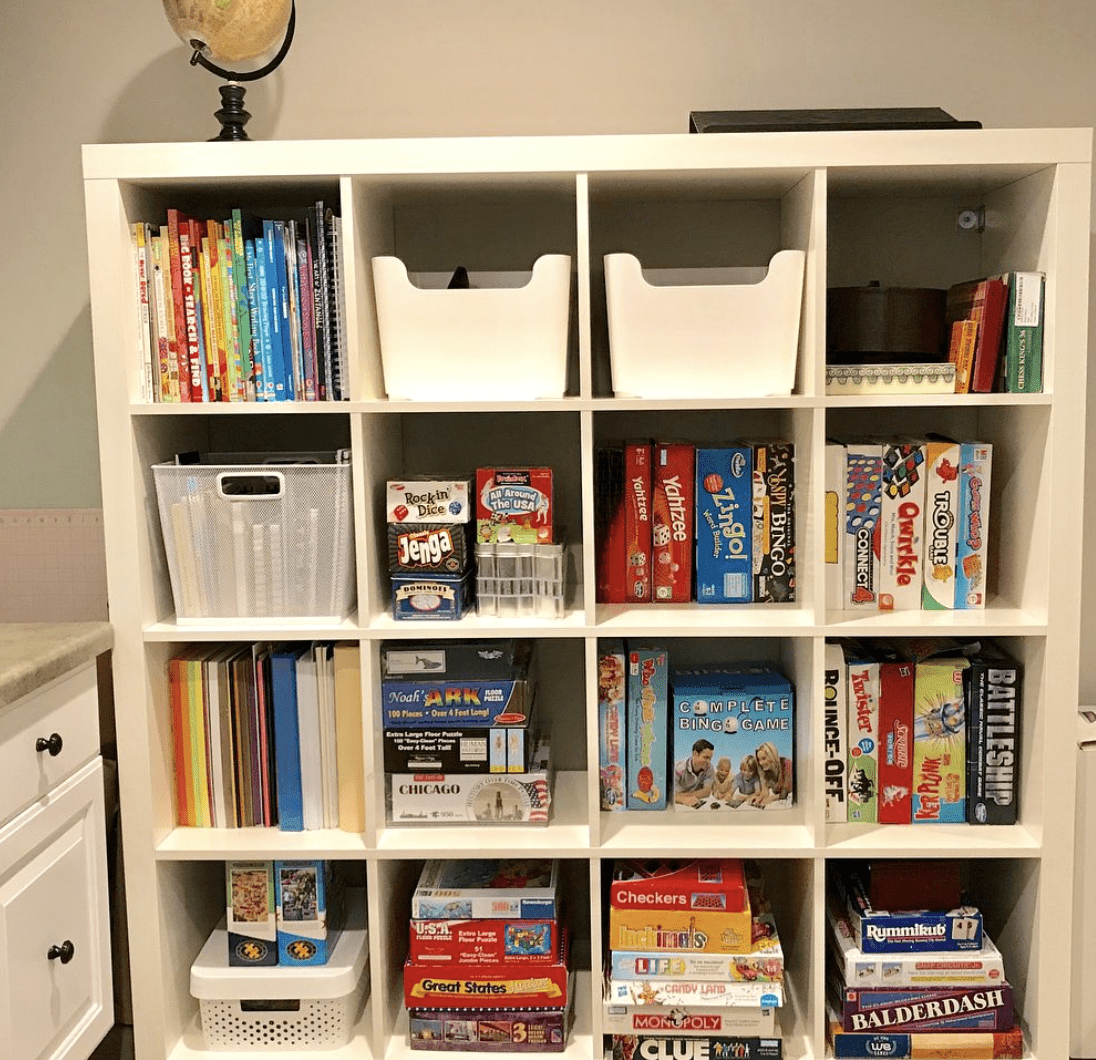 Not only do these units offer a lot of storage, but they're also super easy to decorate and customize. Invest in some plastic storage bins, paint the whole thing a new color, or drape a curtain over it. You can do so much with these.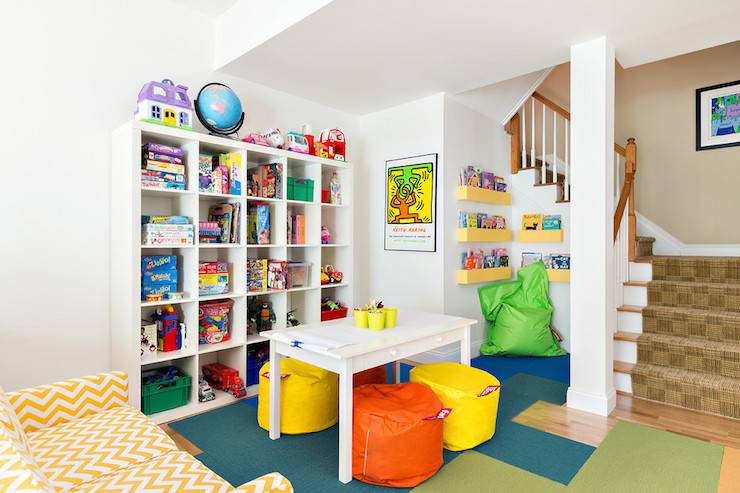 They're probably one of the most popular storage solutions and offer great flexibility. Cubbies are easy to build and can be self-standing to rearrange as storage needs change. Color-coded, tight-lidded plastic bins (red for Christmas, orange for Halloween) help keep holiday decorations easy to find and organized.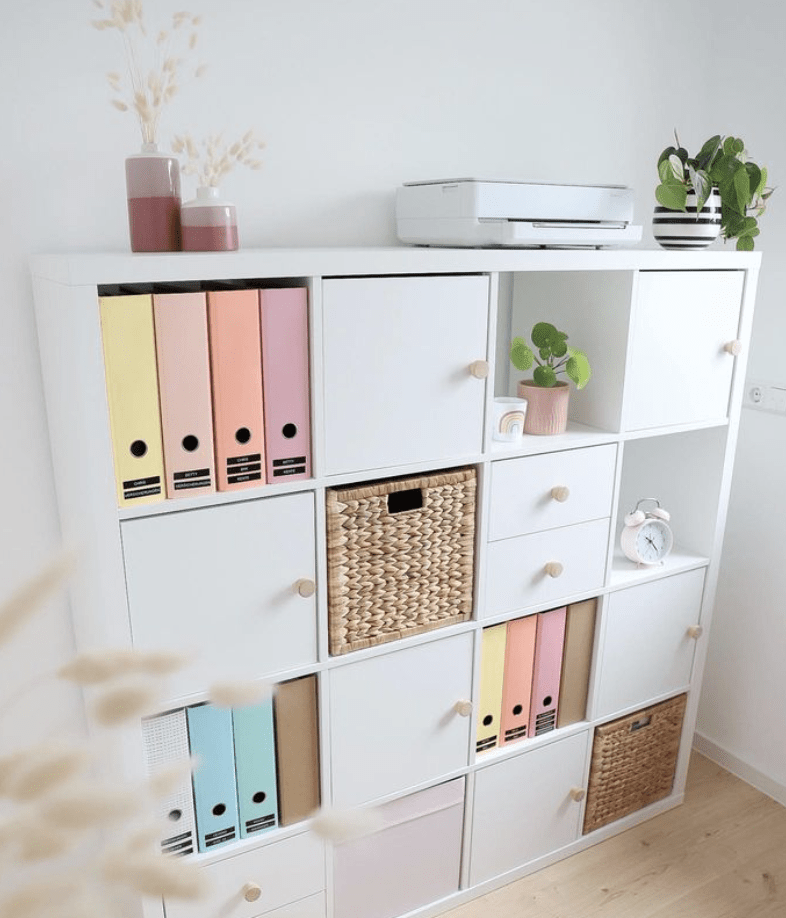 If you are using plastic tubs for storing clothes, make sure that the bin is not airtight, as clothing needs some ventilation. If you do store in cardboard boxes, don't stack them—always leave space for air circulation.
Built Ins
You can quickly turn your basement into another living room with enough love and inspiration. All you need is the right storage solutions to free up enough space for that cozy second couch and TV.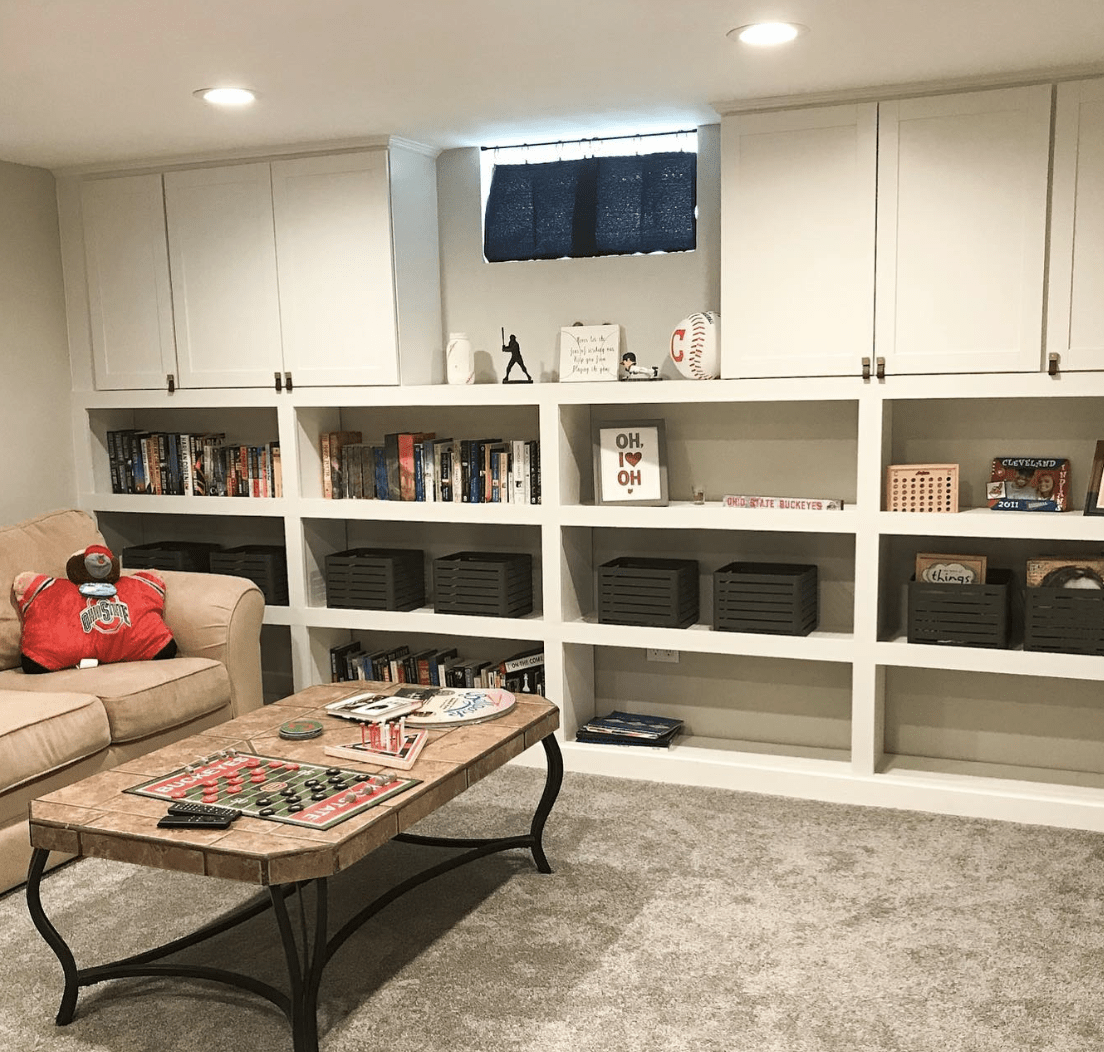 These built-in shelving units are a wonderful way to quickly add a lot of storage. Conceal unattractive items behind closed doors and display the ones you're proud of on open shelves for all to see.
Open Pantry
Who said basement storage had to look dull or boring? Using the right mix of textures, colors, and shapes, you can create a diverse storage wall that's lovely to look at. The key is to choose a palette.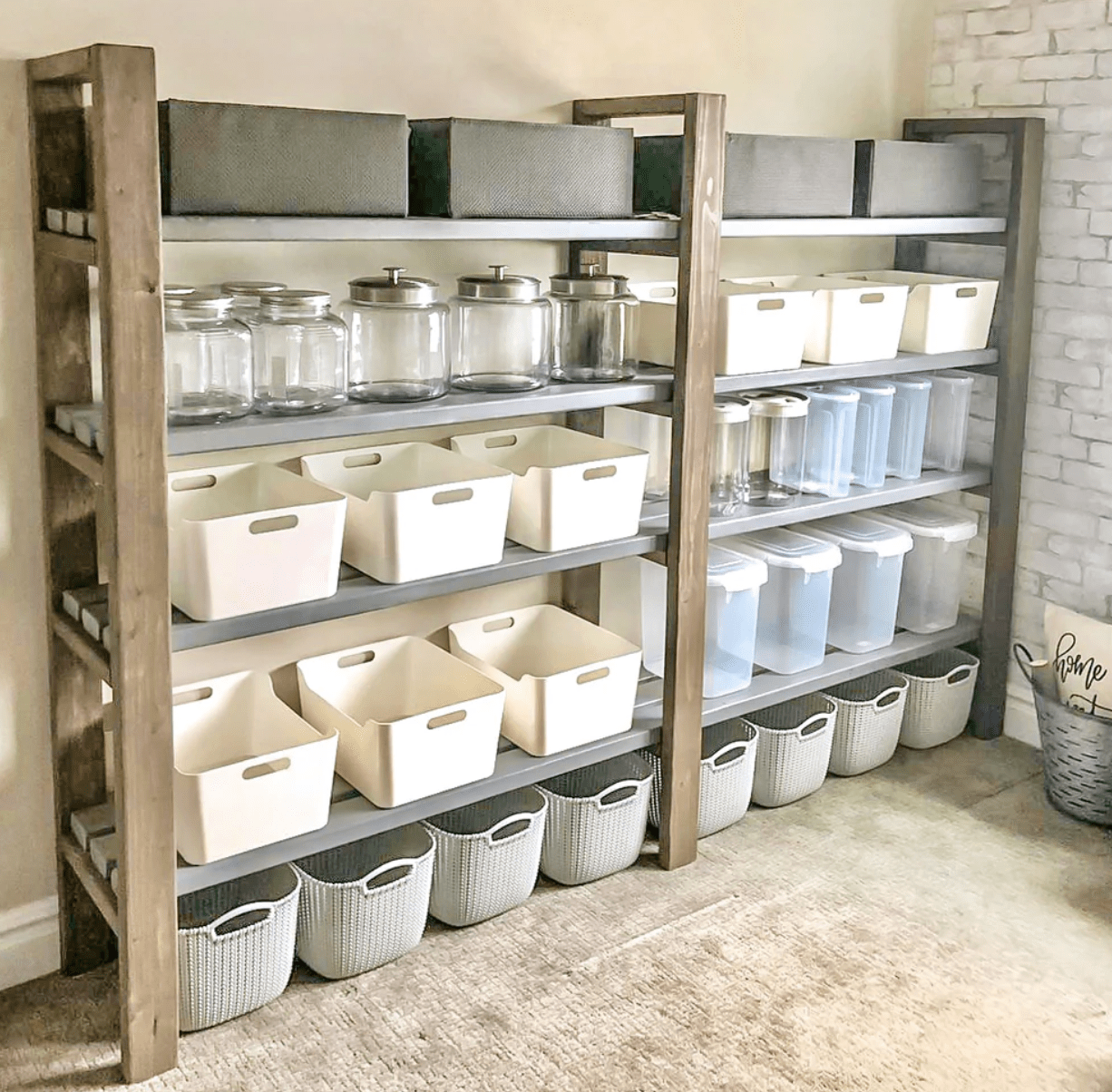 For example, this crafter chose a grey and white color scheme to match their farmhouse décor style. Both colors play beautifully off their wooden shelving units to create trendy storage.
Under the Stairs
Rather than using temporary storage solutions to transform the area beneath your stairs, why not opt for something permanent?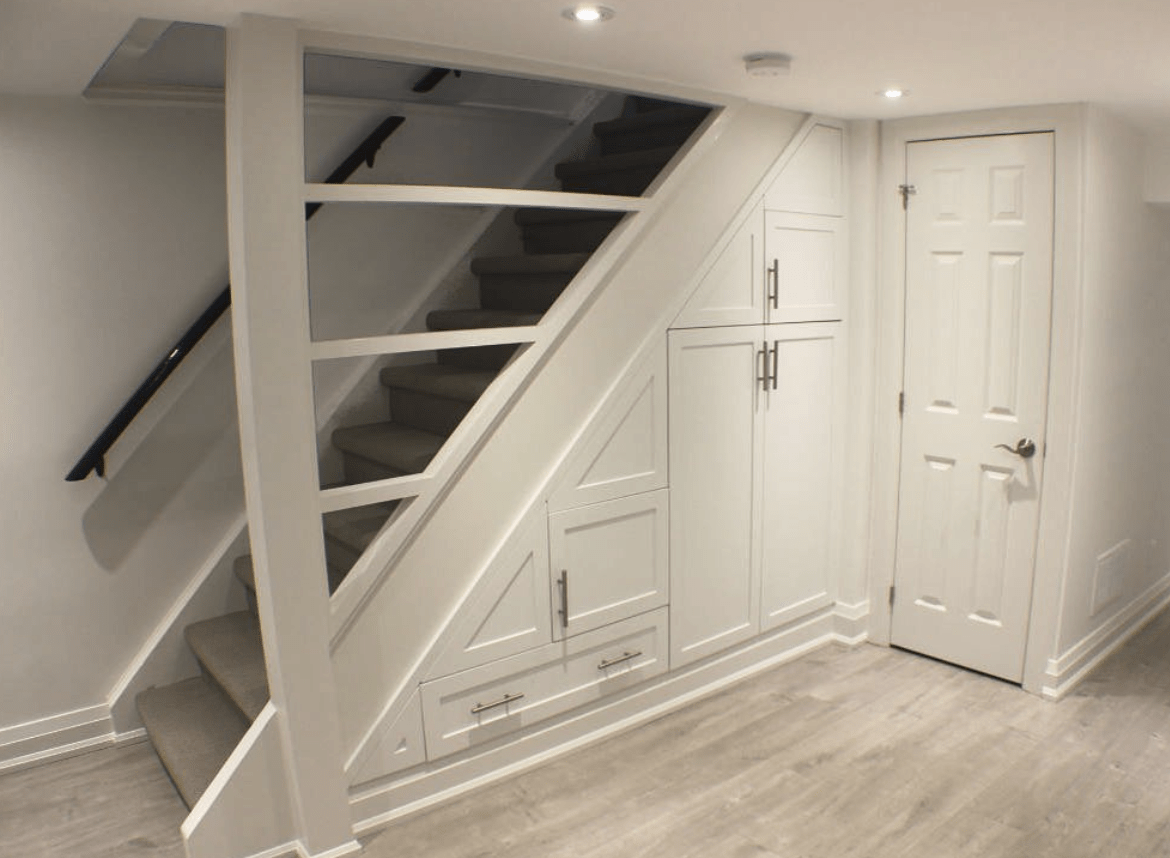 Renovating an area like this will cost more than plastic storage bins, but it will also provide a long-lasting storage answer that looks and feels great. Consider what's best for you before investing.
Organized Pantry
Do you always find yourself re-buying a product you could have sworn you'd run out of, only to find five more in the basement? That's a symptom of a lack of clarity, which can be frustrating.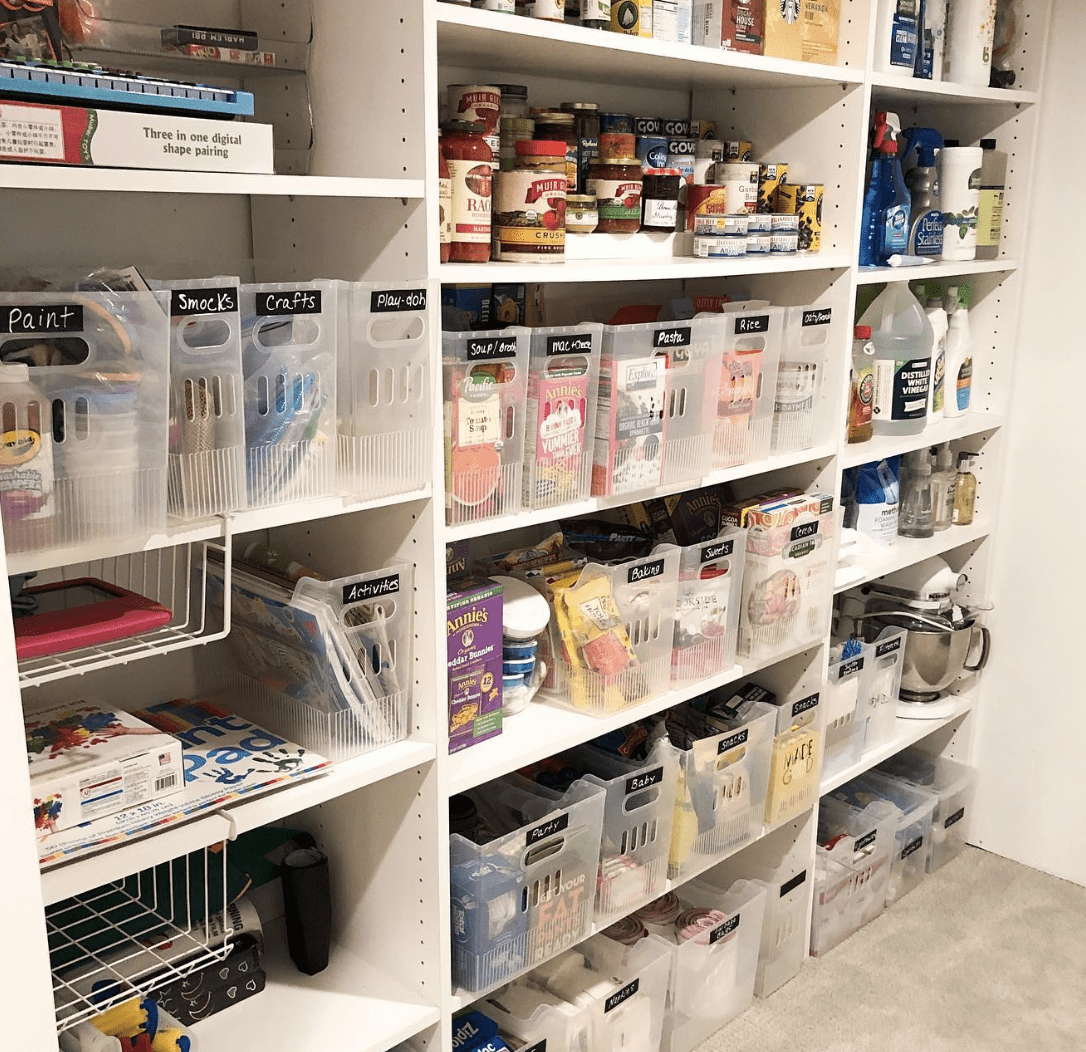 That's where a sound labeling system comes in. If you commit yourself to using clear storage bins like these to keep an eye on quantity and use labels, you'll always know how much of something you have.
Divide Up The Basement
Sometimes, the pain with a basement is the lack of division. If the entire space feels like one big closet, throwing things onto the floor or in a corner starts to feel natural. But there's an easy fix.
Using some folding screen doors like this, you can section off a piece of your basement to act as the storage area. Install shelves, go full Marie Kondo, the whole nine yards, but keep the rest of the room clutter-free.
Lighten It Up
Basements are typically thought of as dark, damp places due to their position beneath the ground. Therefore, homeowners don't want to keep them organized. But there's a way to change that.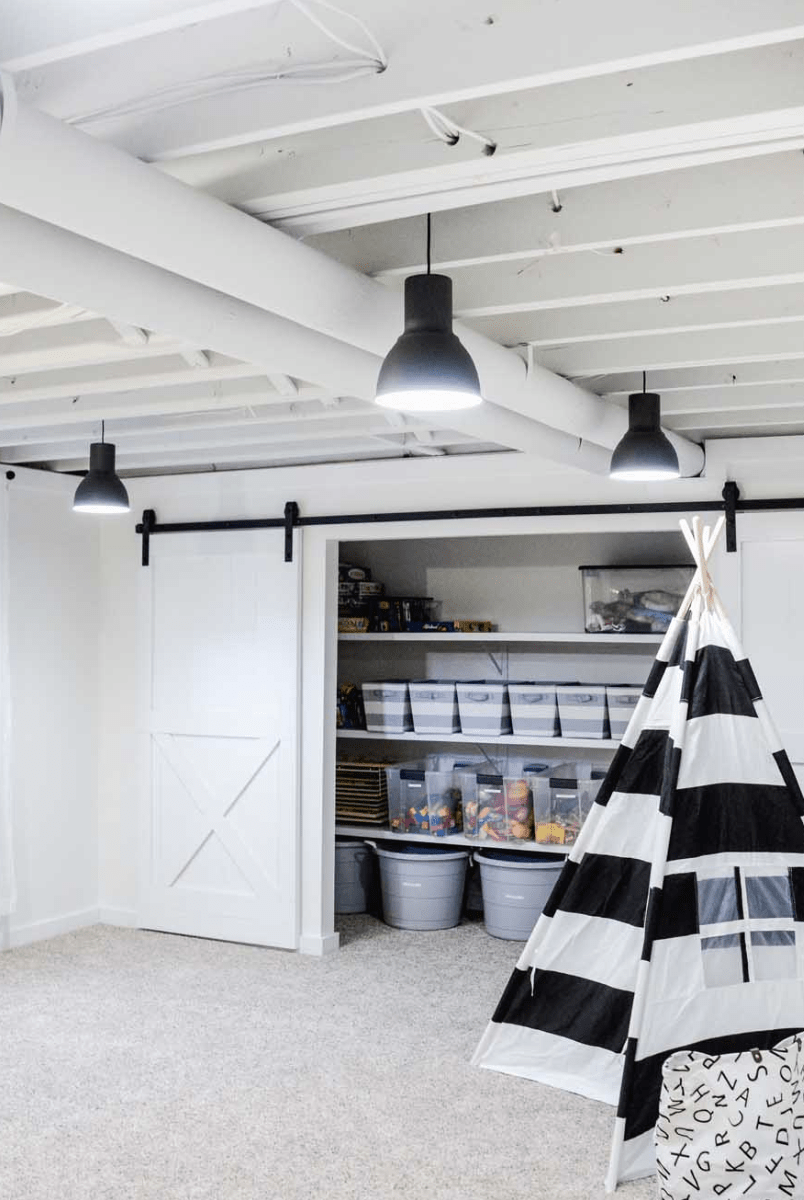 Set aside a weekend to revamp your basement. Begin by organizing your various belongings into a hideaway closet, out of sight, out of mind. Then, paint the walls and ceiling a lovely white or cream.
This color illuminates the room, making it feel more like a room in your home and less like a dark space where you can throw all the things you don't want to think about.
Wall Shelving
Vertical wall space is a great resource, but it's also one many people don't know how to use. With a Rubbermaid wall shelving system, you can design and coordinate your organizational space to suit whatever feels right to you.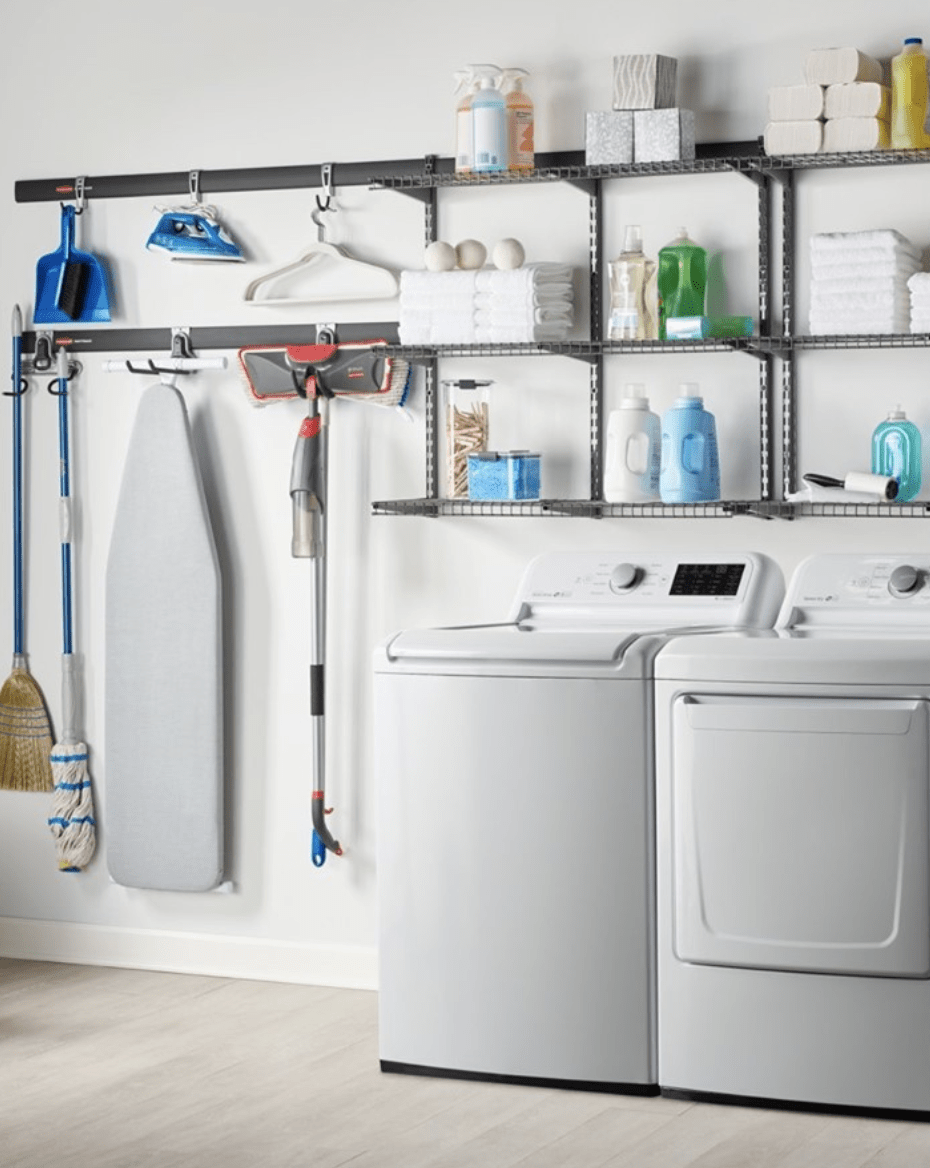 This adjustable hook and rail system helps you to create a wall storage spot perfect for all your cleaning supplies. From the ironing board to the mop, never lean anything in a random corner again.
Wall systems with labeled baskets that slide in and out are great for a finished basement that doubles as a media or playroom. Beyond shelving units, other options may prove more practical for your needs. You can use wire racks, magnetic systems for tools, and a pegboard for sewing essentials.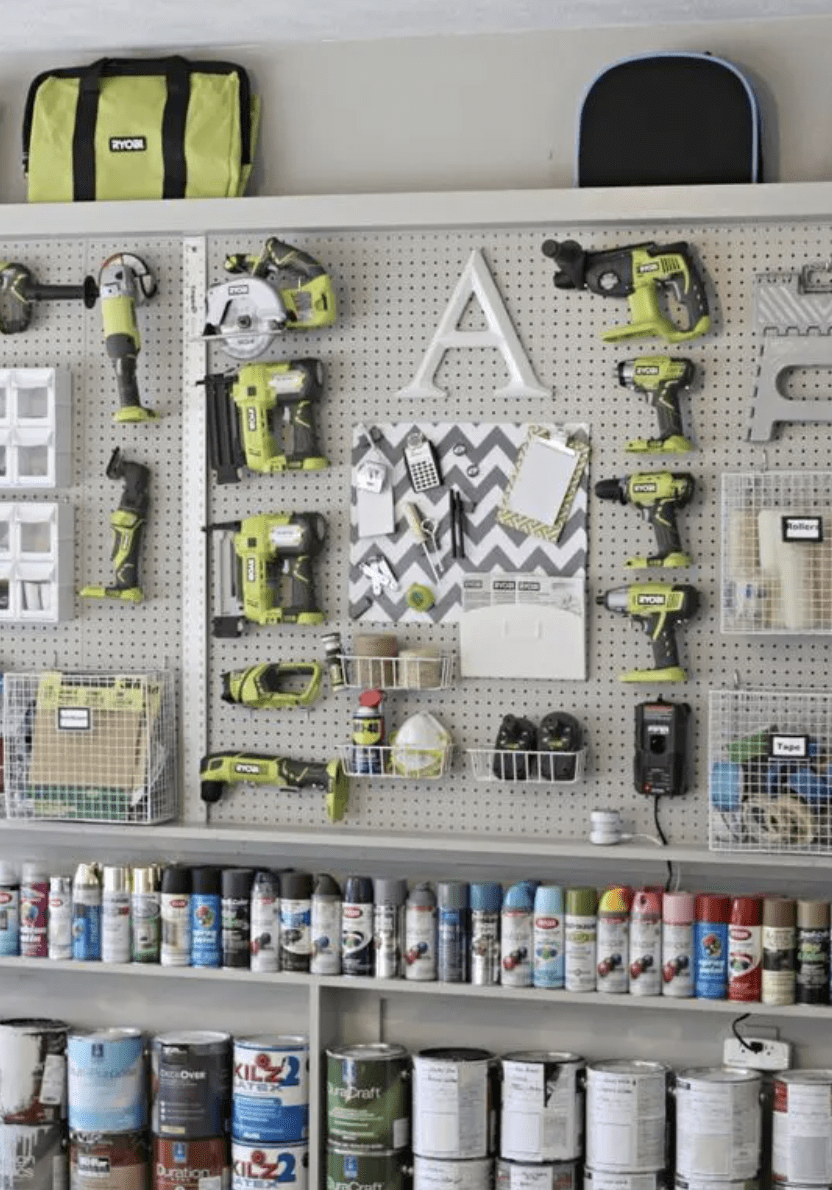 Shelving Units
The basement is perhaps the room in the house that falls into a mess the fastest. Why? Because it's so easy to dump what we don't want to think about into the basement closet and run away.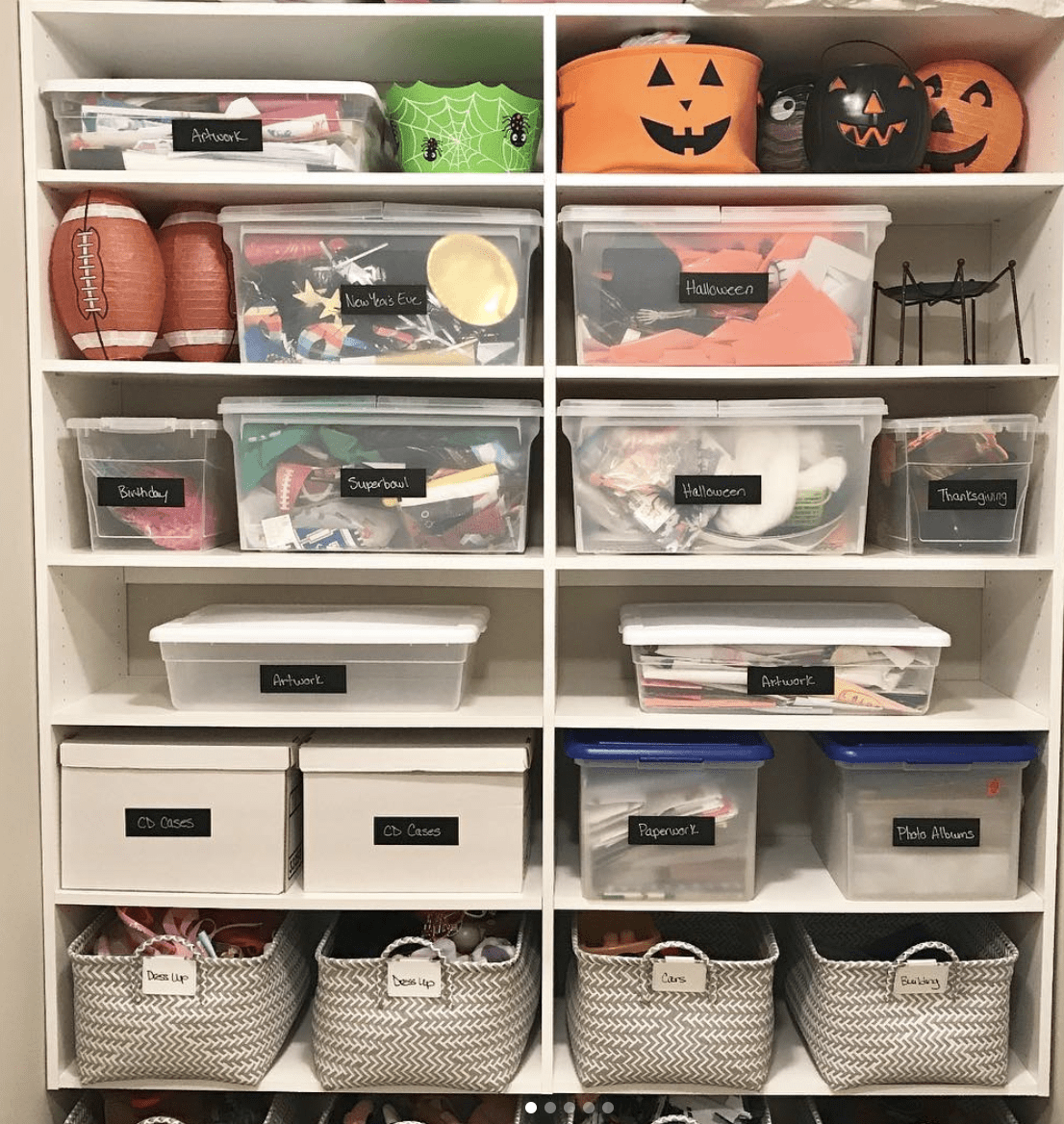 Not anymore! This idea concentrates on creating distinct spaces for the different areas of your life in your basement. So, when the time comes to store something, that thing has its place to go—no more piles.
Labels, Labels, and More Labels
If your kids' toys are beginning to clutter the basement floor a little too aggressively, it's time to bust out the label maker. Work with your little one to create an organizational system.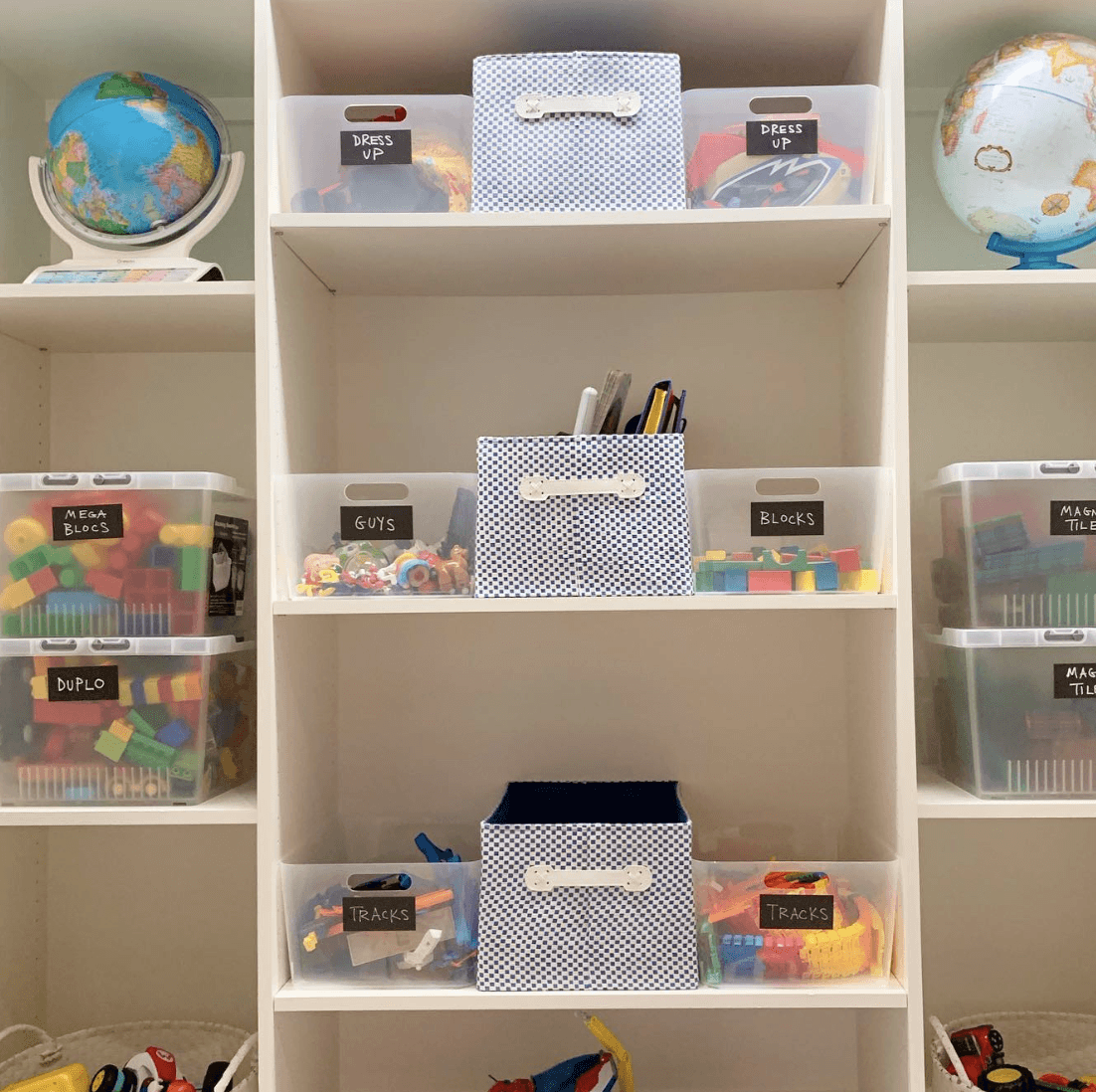 While that might sound a little strange, it's great for their development! They gain a sense of responsibility for keeping the space clean and feel fulfillment for a job done well.
Organized Craft Room
Whether you're the crafter or someone else in your family is, having a brilliantly-lit workspace in the basement is one of the most beneficial things a home can have. The key is well-chosen task lighting.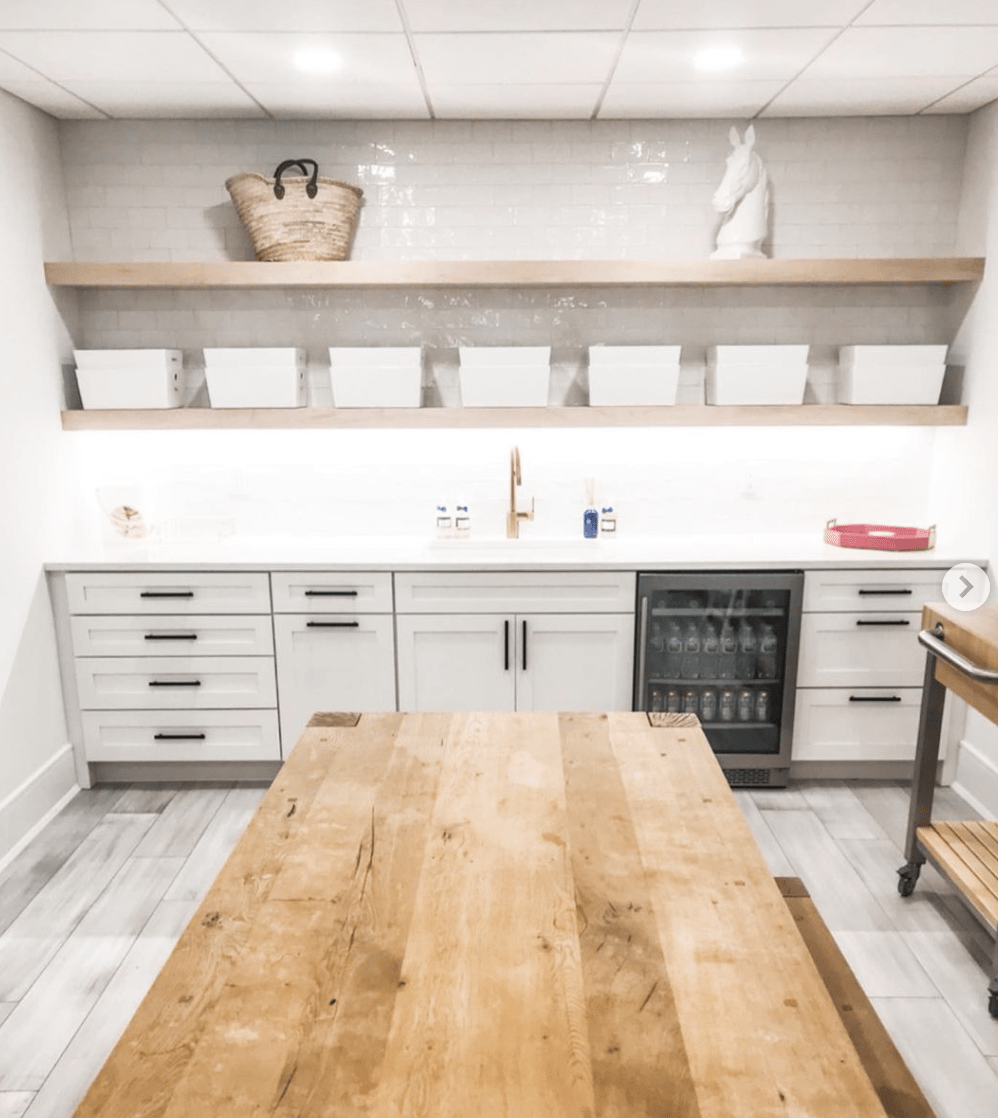 Choose white-light LED task lighting beneath some floating shelves which you can use to store materials. Finish that off with an installed countertop and mini fridge for the greatest craft site.
Organized Overflow
If you have a large garage or pantry ready to burst, odds are you're running out of storage in both places. Consider moving some of those overflowing items to your basement where they can have room, allowing you to be more organized.
Wall-anchored cubic shelves like these are the perfect weapons for the task. Strong, durable, and open to the basement, you'll be able to clearly see what you have while separating the two rooms' items.
Creative Storage for Toys
For many parents, the basement provides the perfect space for their kids to play. It's big, open, and can stand to get a little messier than most other living spaces. That said, it still needs cleaning up.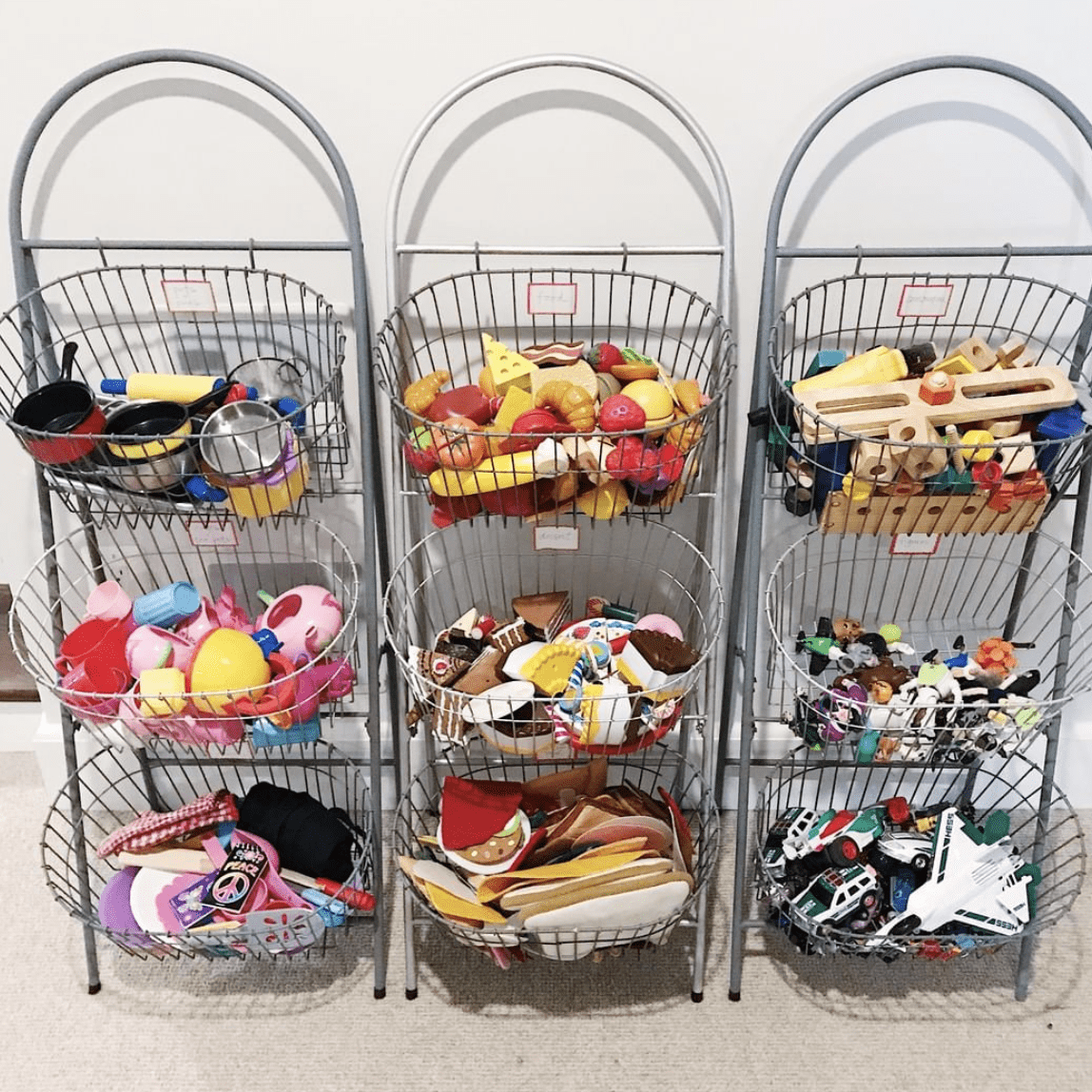 Enter this clever hack. Using wire basket shelves to store your child's toys is a remarkably clever move, particularly if you choose shelves with wheels on the bottom for easy repositioning.
Heavy Pallet Shelves
This next bit of inspiration is for the stockpilers who need heavy-duty shelving to support bulk supplies. You can create your shelf using palettes or ask a hardware store to sell you an old one.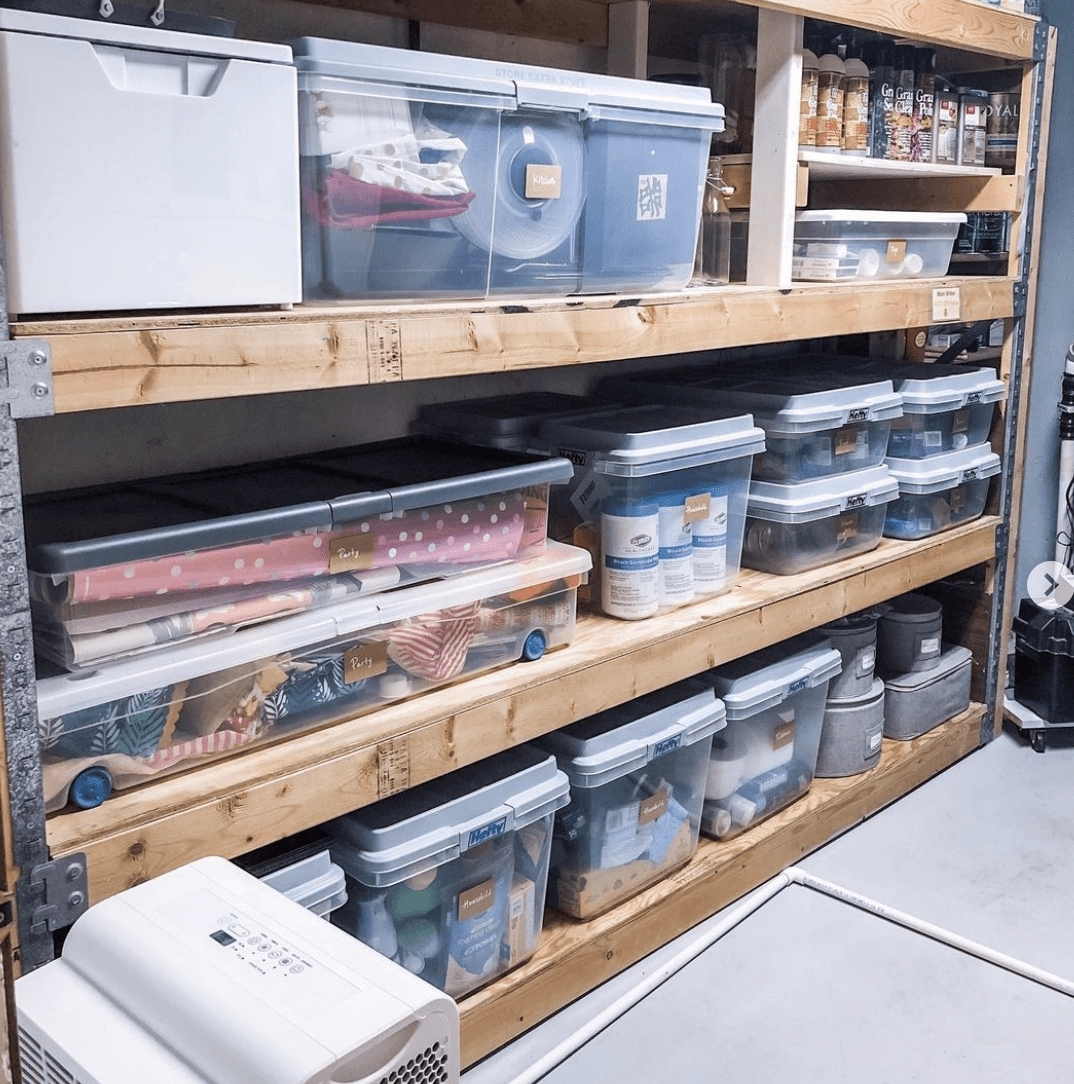 Fill this shelf with plastic bins in various sizes. The idea is to make this shelving unit extremely adaptable because it's not exactly portable. So, try out bins like this to hold all your belongings.
Work Out Ready Station
Basements can be excellent workout areas, but not if they're cluttered with weights, skipping ropes, and further equipment. To complete your workout area, you only need a little organization.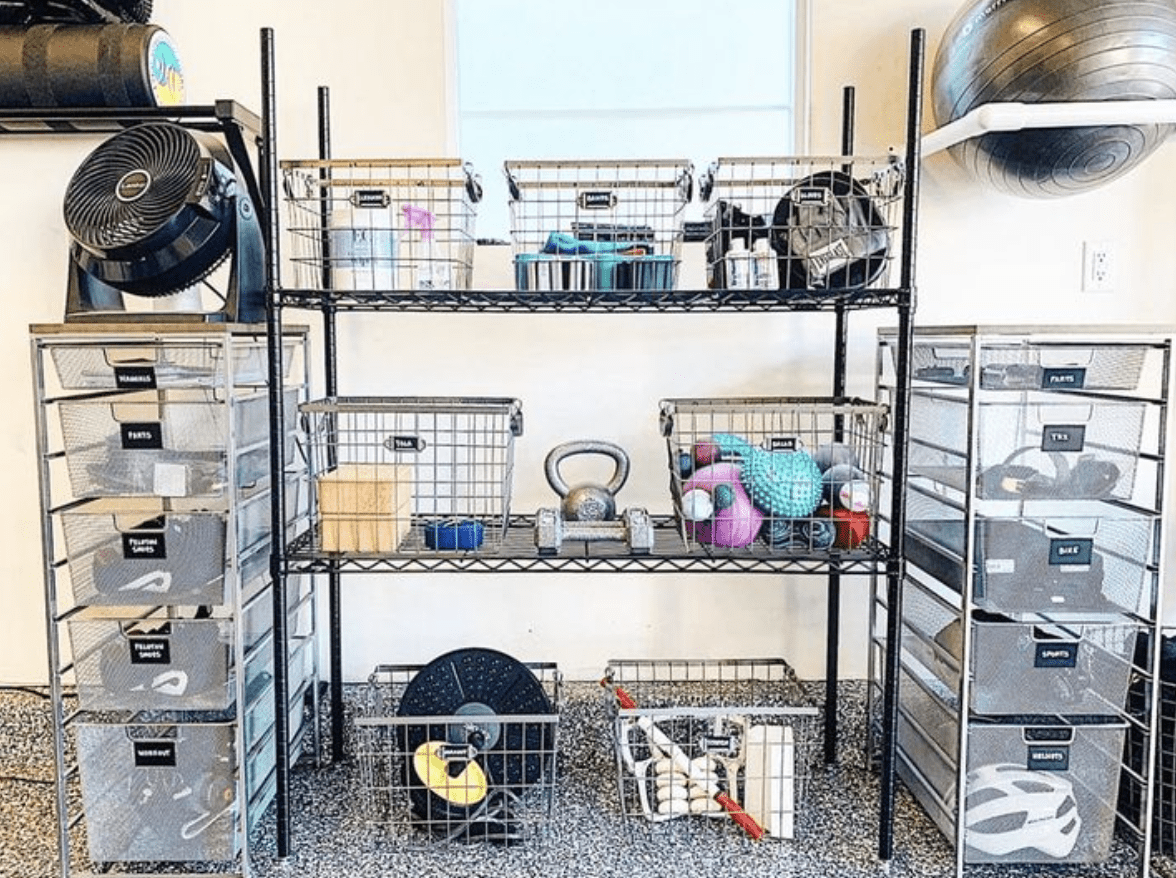 Use two wire drawer sets to frame the metal shelving unit. Store all the equipment you rarely use in the drawers, while the weights can go on the heavy-duty shelf for support. Easy peasy! A workout area is ready to go.
Consider Adding A Wet Bar
Maybe you are already fortunate to have a wet bar in your basement, but if not, this is something you may consider adding. Not only does a basement wet bar add value to your home, but it also gives you more space and cabinetry to organize.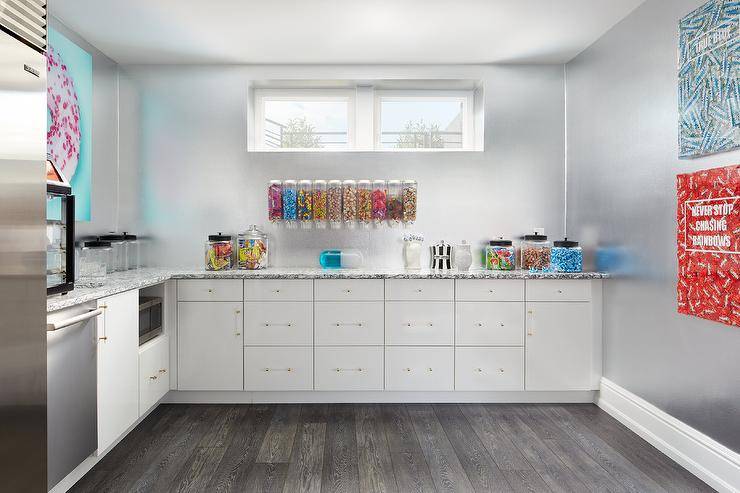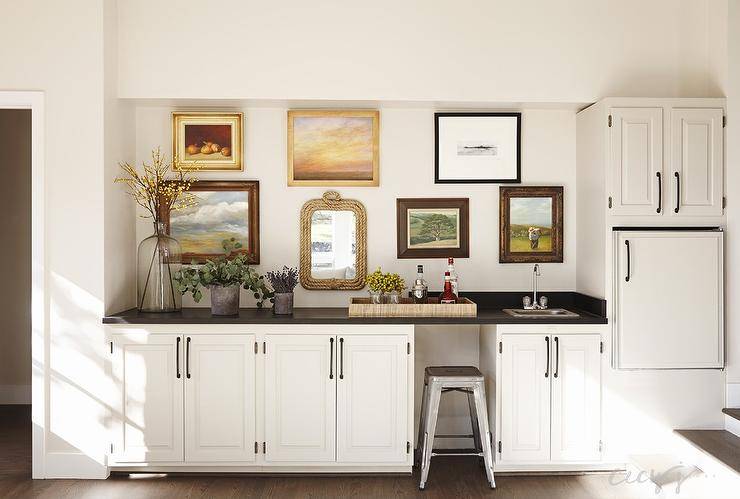 Related: 43 Wet Bar Ideas To Inspire You
Frequently Asked Questions
FAQ
What should not be stored in a basement?
Items such as delicate fabrics and important papers should not be stored in a basement, especially if your basement is not climate controlled or if you live in an area prone to flooding.
Is it better to store clothes in the attic or basement?
Storing items in your attic is far preferable to storing them in the basement or garage, where they may get wet from flooding and are exposed to the elements. Use the attic to store anything that is impervious to heat. Heat can damage items such as photographs and wood.
Why do basements get dusty?
Basements are great places for dust to collect because they usually have limited air movement and places for the dust to escape. There are several problems with dust in addition to simply looking bad. Dust can pollute your home's air quality and lead to a lot of health issues, such as respiratory problems.
How do I remove debris from my basement?
You can use a shop vac to collect the dirt and debris if you have a basement with a concrete floor. Vacuums pick up more than your typical dustpan and broom will catch. For carpeted basements, vacuum the floors after you dust to remove debris and allergens from your floors.
How should you store items in an unfinished basement?
If your basement is unfinished, you should never place items directly on the floor. You will want to install metal or plastic shelving and make sure all items are stored in plastic containers and on the shelving.
How do you store clothes in the basement long term?
Never store clothes in cardboard for long periods of time—cardboard can damage delicate fabrics, and it's a big draw for any pests that might be around. Instead, find a set of clear plastic bins to use instead. You can see inside, and they offer more protection for your clothes.
If you're interested in organizing other areas in the home, check out these related articles: