A home bar is a must-have for those that love to entertain, and a wet bar is a wonderful way to take the traditional home bar and kick it up a notch. They are an excellent complement to a freshly remodeled basement, perfect accompaniment in a family room or even directly off the kitchen.
The finest wet bars will supply everything you need to mix up a cocktail, pour a glass of water, and sometimes even space to prepare a light snack. Whether you are pursuing ideas to style your existing home bar or you want ideas for adding a new one, we've gathered up some of our favorite looks and ideas.
Just Exactly What is a Wet Bar?
If you're new to the whole home bar game and you're wondering why call it a wet bar? What's the difference? Well, a substantial difference sets apart a wet bar from just a plain home bar, and that one element is water. A wet bar is a home bar that is equipped with a sink and running water.
A wet bar makes it easy to prepare drinks and can be very helpful if you entertain away from your normal kitchen area. For instance, if you like to have drinks during a party in a finished basement, you won't have to run upstairs to rinse out a pitcher, glasses, etc. You can also have a wet bar on a deck or patio if you like to entertain outside.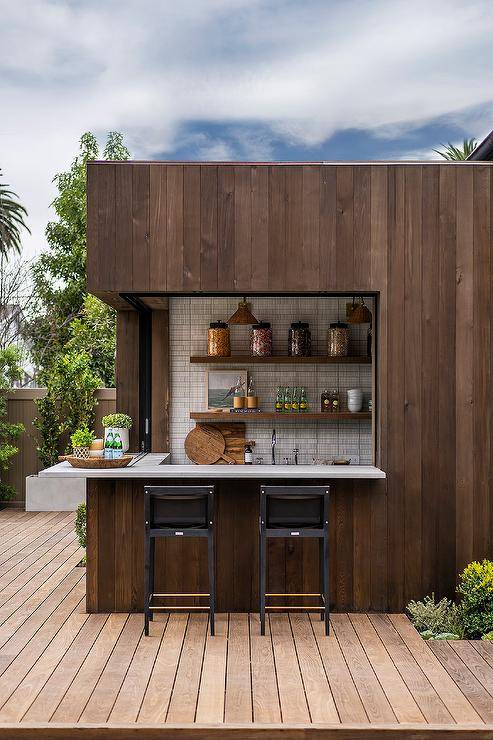 Classy and Stylish
This wet bar is beautifully equipped for cocktails, thanks to a wine cooler, sink, lots of cupboards for glassware, and even a dishwasher. The upper cabinets with glass doors can be used to display stemware or your favorite alcohol, while a mirrored backsplash adds glamour and helps bounce light around the room.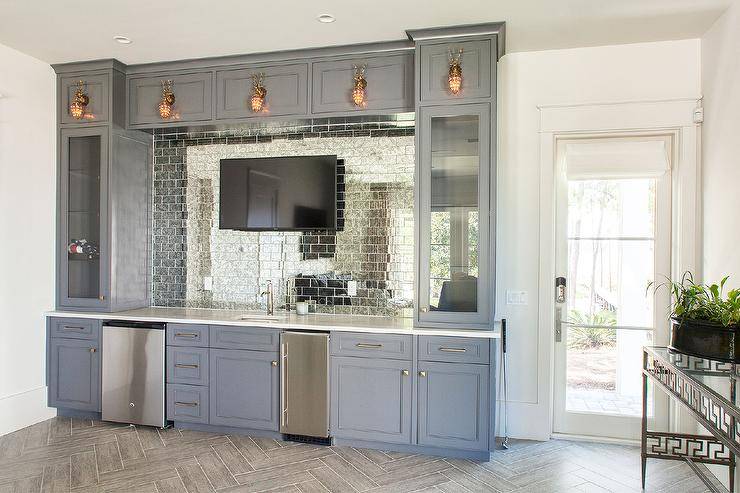 Pull Up a Seat
This wet bar is channeling a look that you would actually see in a high-class bar. This wet bar has everything from the open bar design that allows for seating to the stunning glossy tile backsplash. The open shelving allows your best bar essentials to be displayed.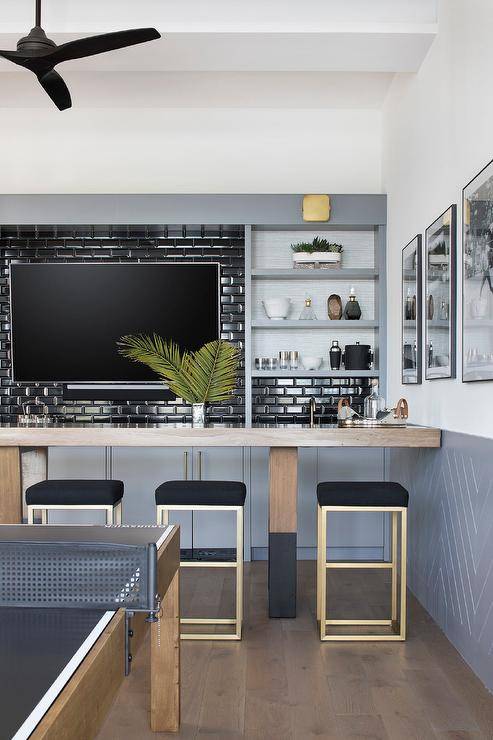 Creative and Unique Lighting
A well-lit wet bar is just as important as any other element in the space, so get creative with something unique and different when it comes to lighting. A wet bar is a great area in the home to play around with different styles and textures — items that you normally wouldn't consider for more common areas of the home.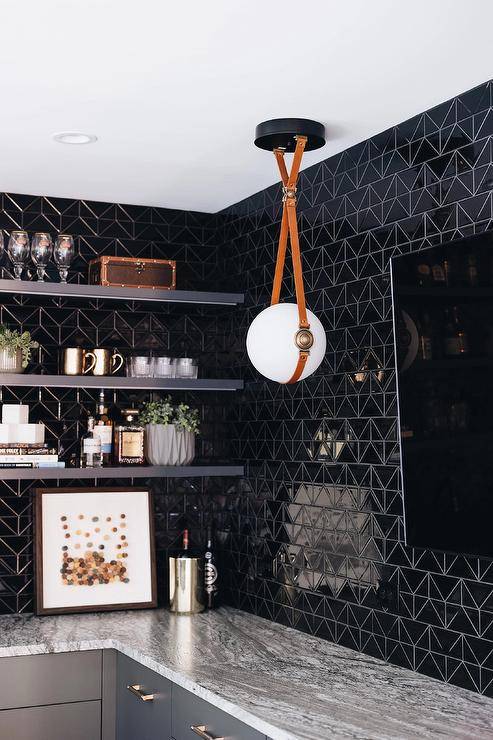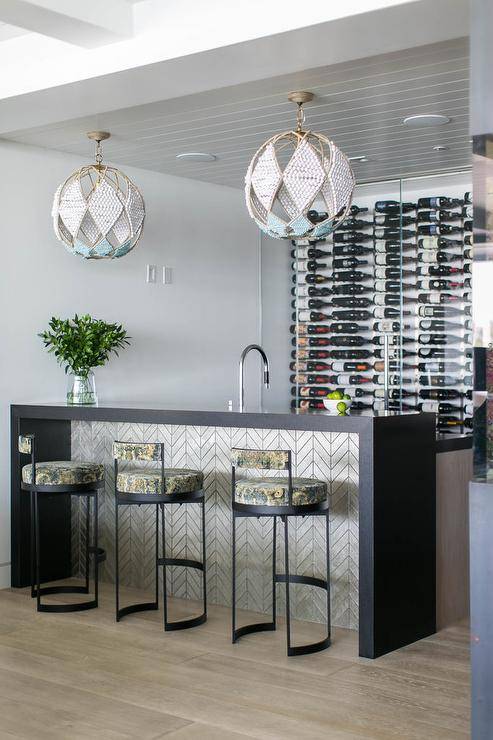 Close and Concealed
Close enough for easy access but still comfortably remote from the work zone, this wet bar features rich white cabinetry and a practical wine rack, all tucked in neatly behind foldable doors. Open shelves provide room to hang wine glasses, set up colorful drinkware, and unique decor.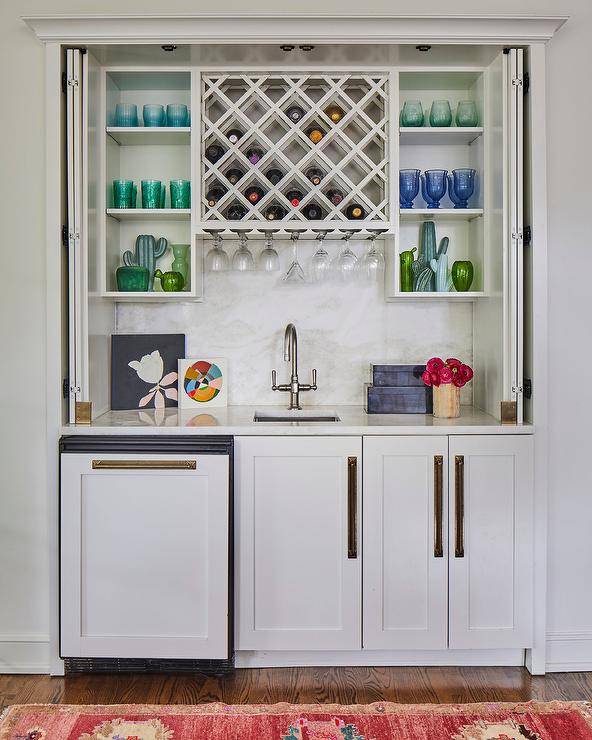 Luxury at its Finest
Like a fine wine, this wet bar will just get better as time goes on. A stunning thick marble countertop provides contrast against the navy backdrop of the wet bar. A large wine fridge gives space to store all your favorite wines and this wet bar will certainly make entertaining a dream.
Add a Touch of Green
We can't get enough of this stunning wet bar. This awesome little space delivers everything you need to whip up a cocktail or even put the finishing touches on dinner. It's right next to the kitchen so it's close enough but also gives you a separate space for making drinks so that you can keep the focus in the kitchen on cooking.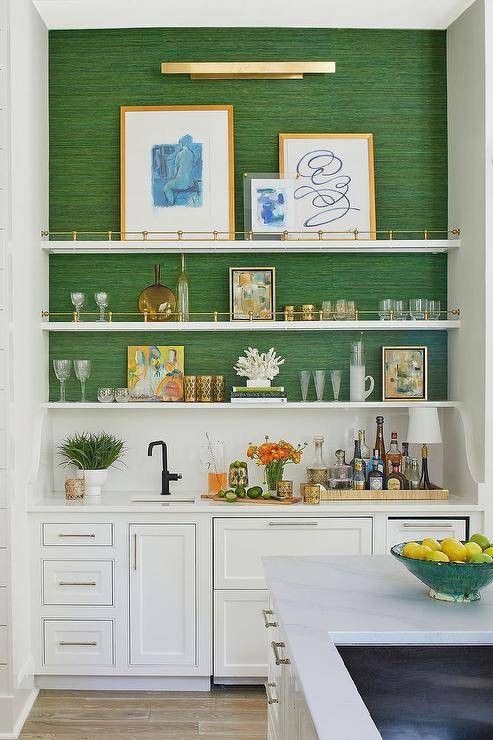 Earthy and Natural
Wood tones look exquisite in a wet bar area. They add that real lodge man cave feels and can complete a wet bar with an earthy tone. Changing up the directing of the wood for the backsplash adds depth and dimension. Open shelving is so hot right now, and when it comes to a wet bar, it's a smart choice to keep the space light and care-free.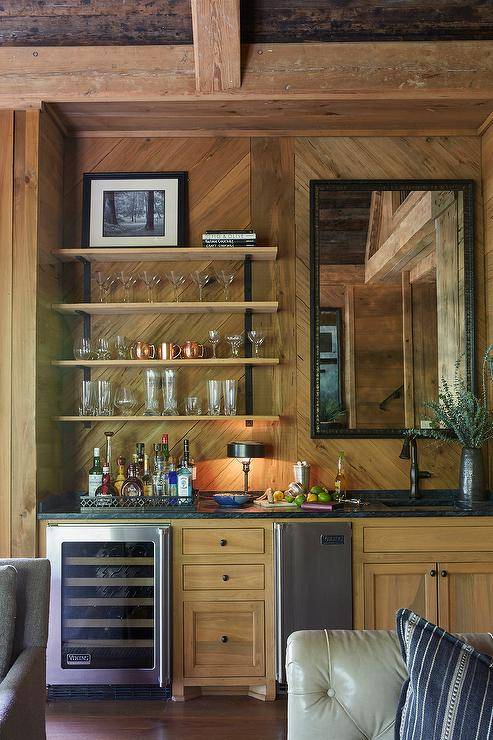 Open and Airy
Lots of light exudes into this wet bar thanks to the floor-to-ceiling windows. A mirrored surround bounces light around, keeping the vibe open and airy. You would almost feel as if you were outside.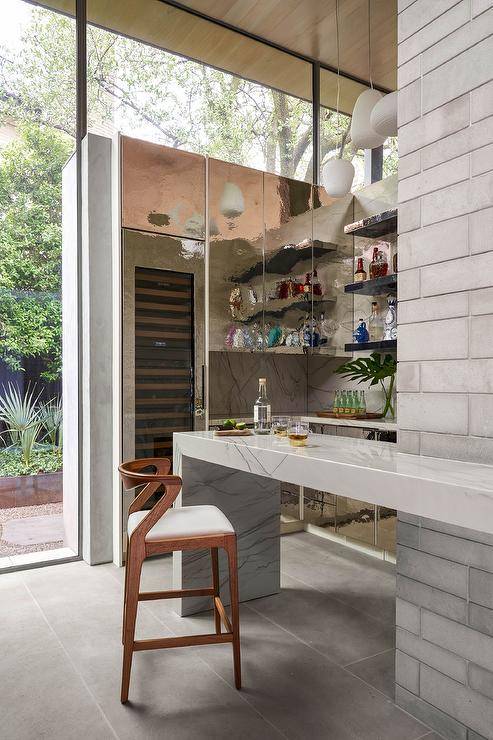 Add in a Television
Keeping with true bar fashion, and if you have the room for it, why not throw in a television? You will quickly find that yo wet bar will become your favorite spot in your home to entertain and catch a game with your friends. You'll save money on going out and will be able to enjoy being at home.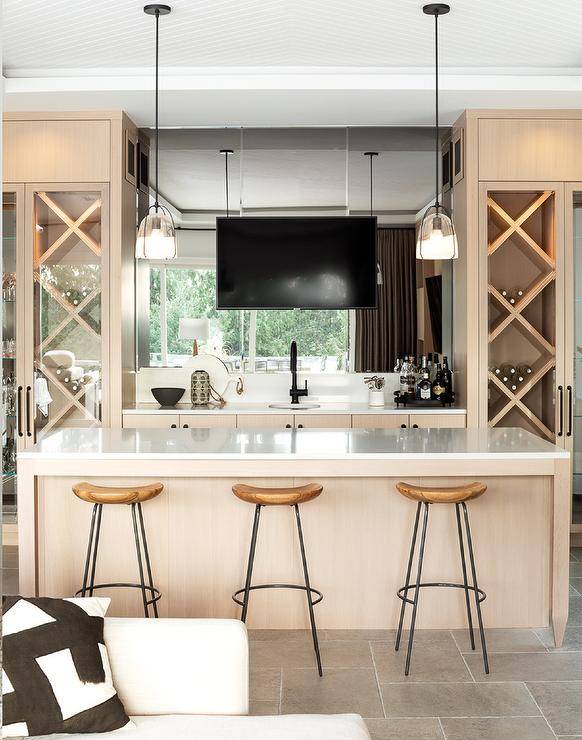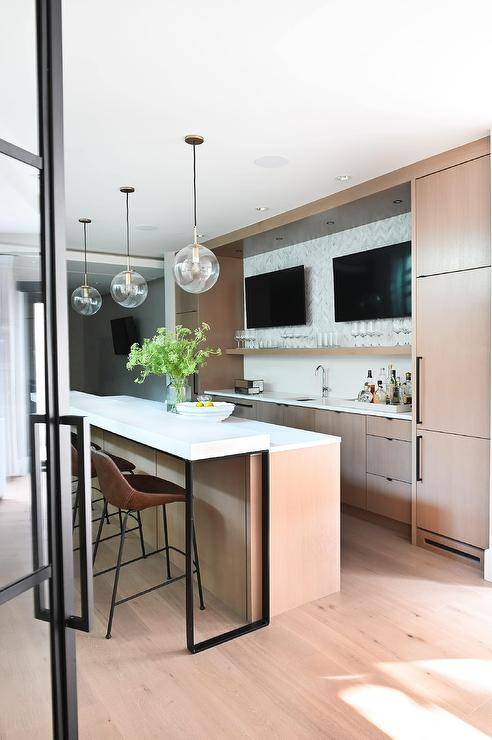 Shake it Up From the Traditional Wet Bar
Wet bars aren't just all about alcohol. They can also be places to prepare light snacks, meals, and other beverages. So if you're not after the typical bar look, design something that speaks to you and is more about incorporating your personal style and taste.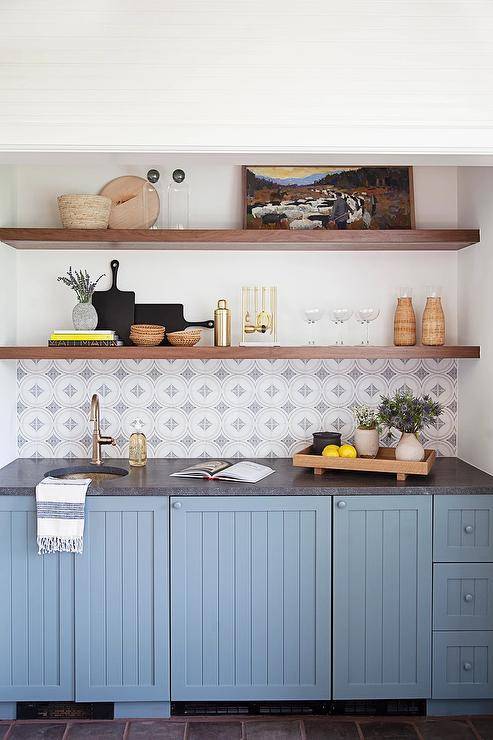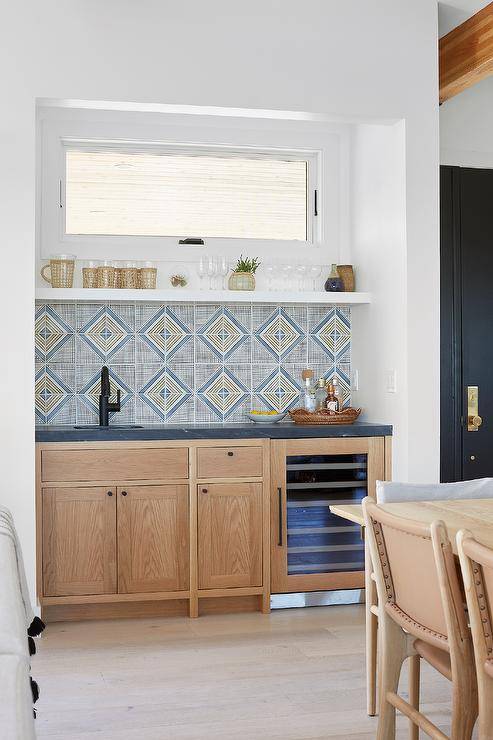 If You Have the Room Use It
This basement wet bar totally understood the saying, "go big or go home." Building a great basement bar can instantly upgrade any remodeled basement. This wet bar is much larger than a standard wet bar, which is perfect for an extensive basement. It features a large island, bar stools, and television so you can hang out around the wet bar and enjoy a game.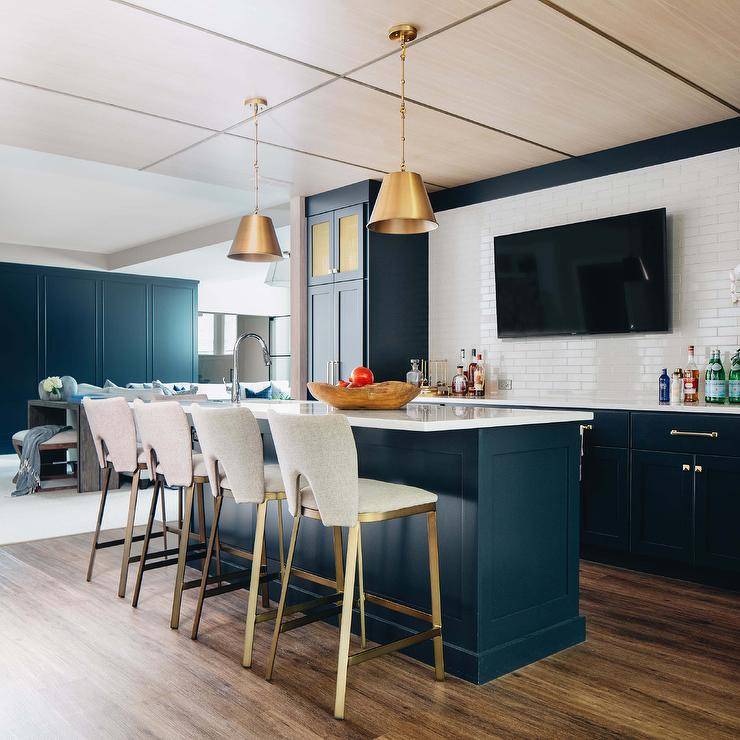 Small Spaces
On the flip side, if you're working with more of a confined space, put care and diligence into a well-laid-out space rather than extreme over-the-top items. Keep things simple and easy, and practical but add in some style and taste.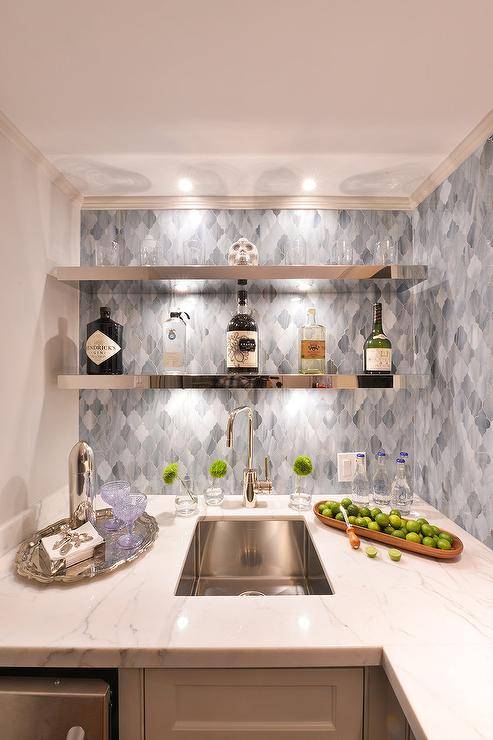 If space is in short supply, switching the layout to a U-shape may give you a better wet bar design and allow for more cabinetry.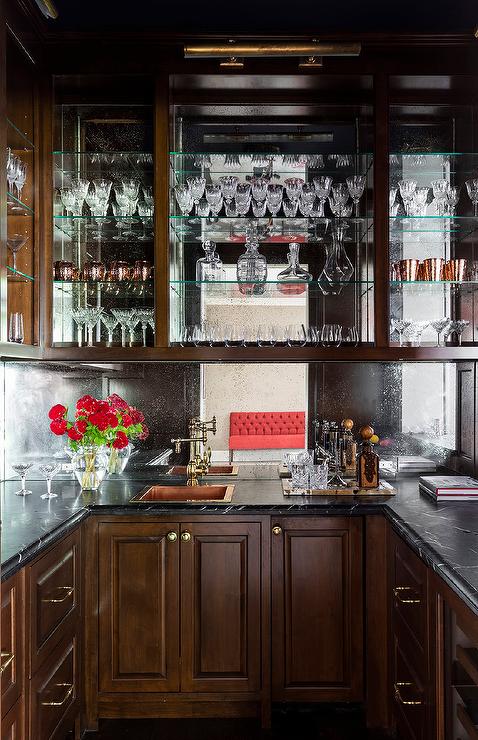 Related: 15+ Photos That Will Inspire You To Convert That Small Space Into A Bar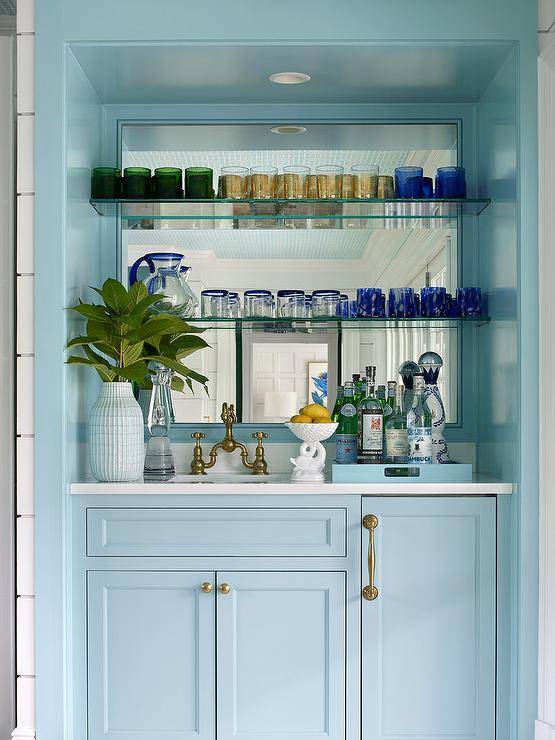 Work Around Beautiful Architecture
We are swooning over this small wet bar built around an oval window. This space would be otherwise awkward to work with but this designer took the opportunity to work the window into the wet bar, and it almost acts as art.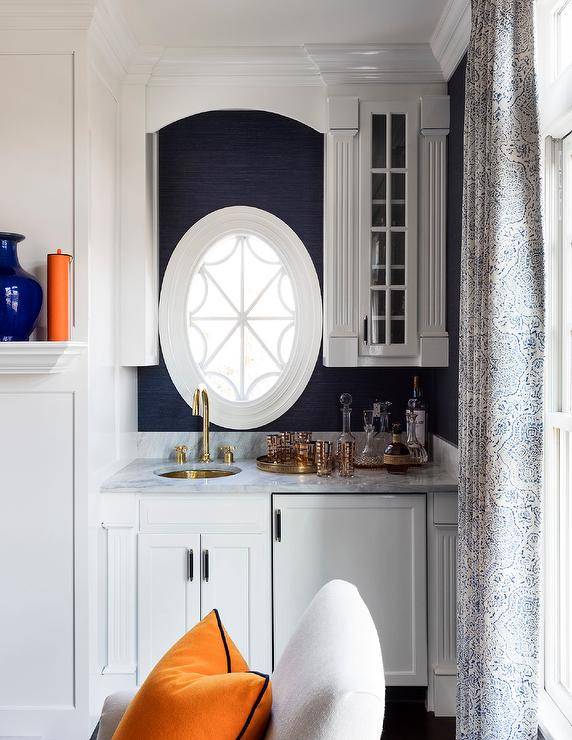 Hotel Vibes
This stunning wet bar gives off major high-end hotel vibes. The bold dark grey paint gives it a lot of depth and is a perfect contrast to the gold stunning chandelier hanging in the middle. We love the mesh wire cabinet doors that bring a total cocktail bar feel into your own home.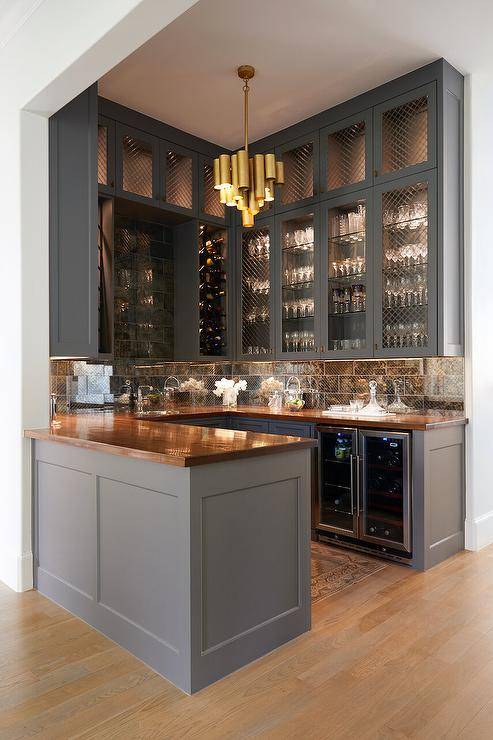 Another classic hotel vibe look, this wet bar has it all. Having something like this in your home will have your guests feeling like they are in the VIP lounge at any high class establishment.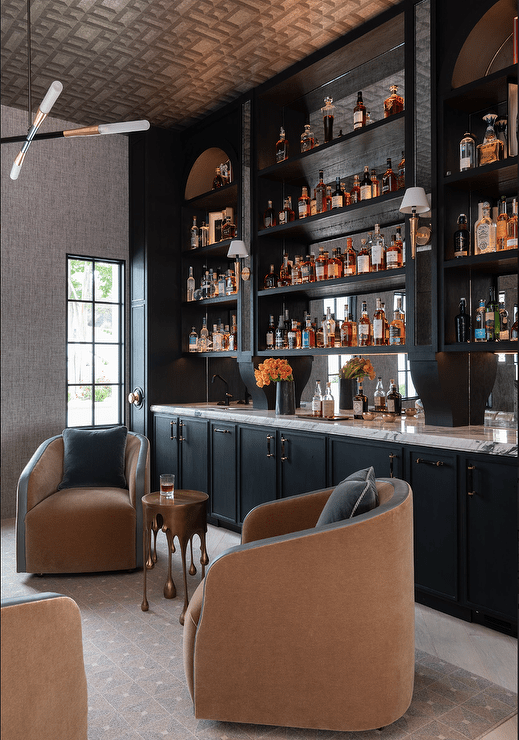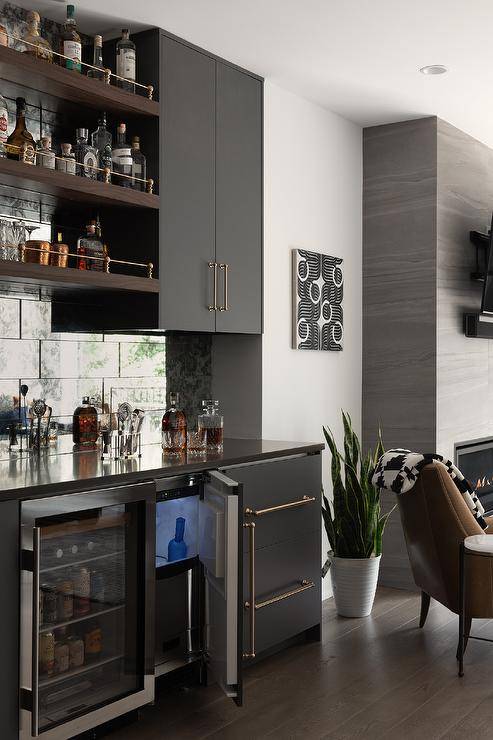 A Touch of Boho
Raffia cupboard doors lend a boho style to this stylish wet bar area, and topped off with a waterfall marble counter; this space is one of function but also beauty and style.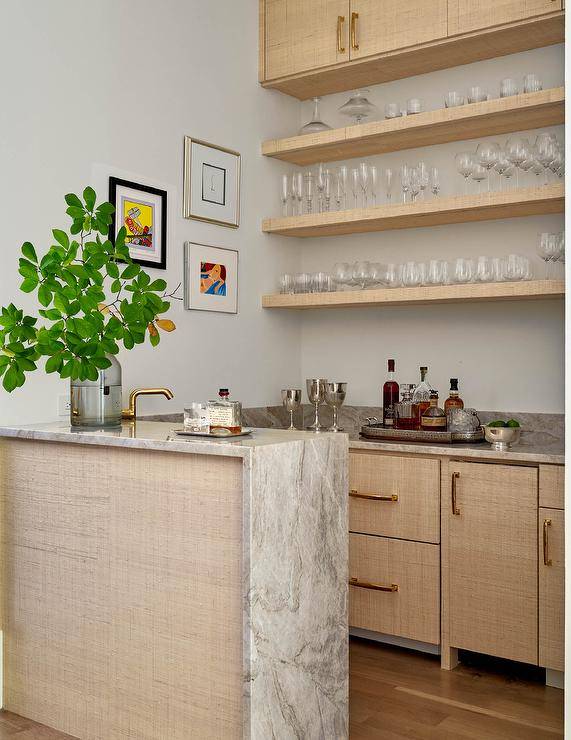 Experiment with Bold Tile
If experimenting with bold, graphic backsplash in your kitchen is too scary for you, consider dressing a wet bar with a unique tile instead. We love this unique wet bar that features a bold geometric tile that becomes an instant piece of art and conversation piece. The stunning hanging light lends to the boldness of this space and adds an eye-catching piece.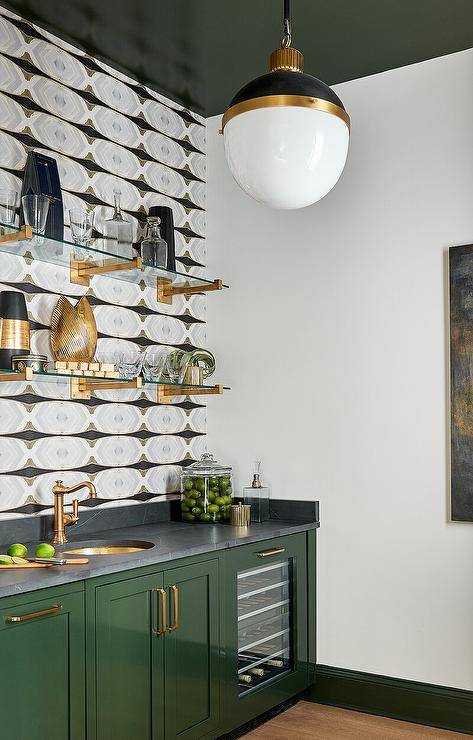 Don't Forget the Coffee
Wet bars aren't just for alcohol! Don't forget to set up shop in your wet bar with your favorite coffee maker. If your wet bar is close to the kitchen, it's ideal to use this spot for coffee and tea as well. This will free up space in the kitchen and keep the coffee maker off the kitchen counter.
And can we just say that this little spunky wet bar is totally fun and adorable!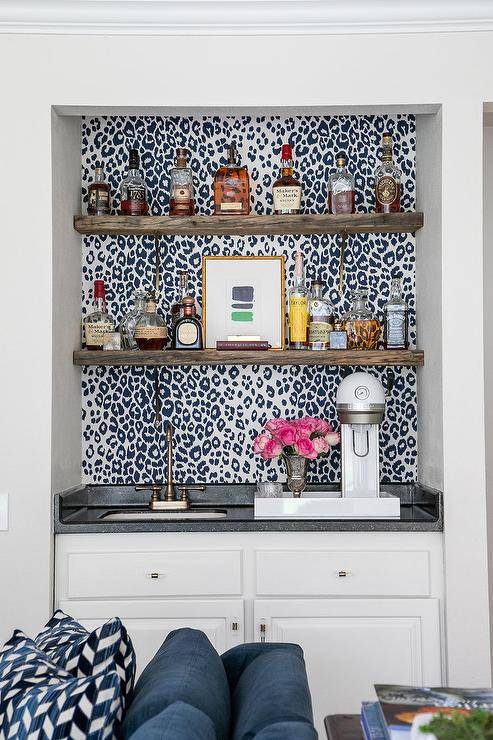 A Touch of Luxury with Marble
Marble feels sophisticated and high-end, which is why it's a fantastic option for a wet bar. We love this neutral and minimalistic wet bar that gives off a modern and simple look and would work beautifully in a formal dining room or just off the living space. If marble isn't in the budget, you could always accomplish this look for less with a marble peel-and-stick backsplash or some marble-patterned contact paper.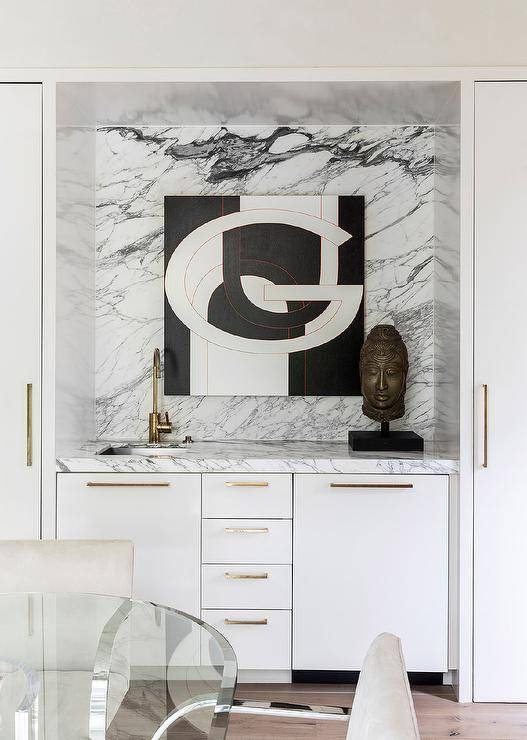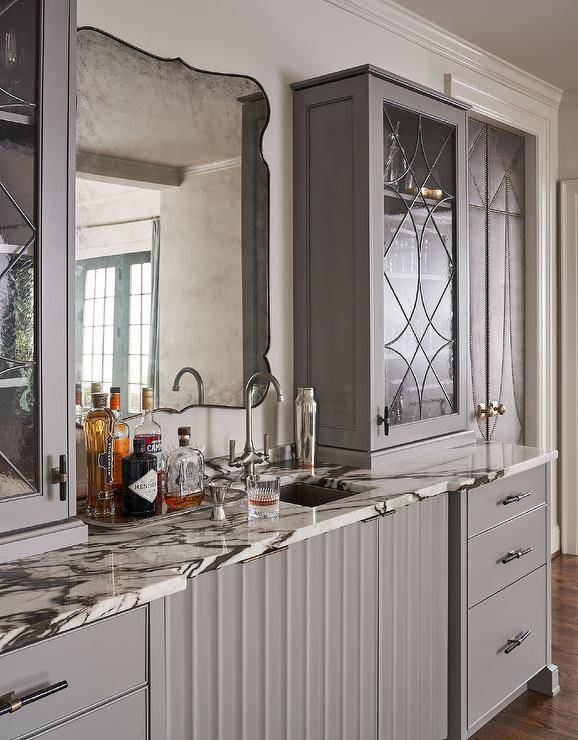 Contrast and Color
High gloss emerald green cabinetry contrasting with the patterned ceiling make this wet bar magazine worthy and a place that anyone would want to come up and have a drink. The stunning gold accents around the floating shelves and countertop add a touch of luxury and style that we can't deny making this whole space feel rich and elegant.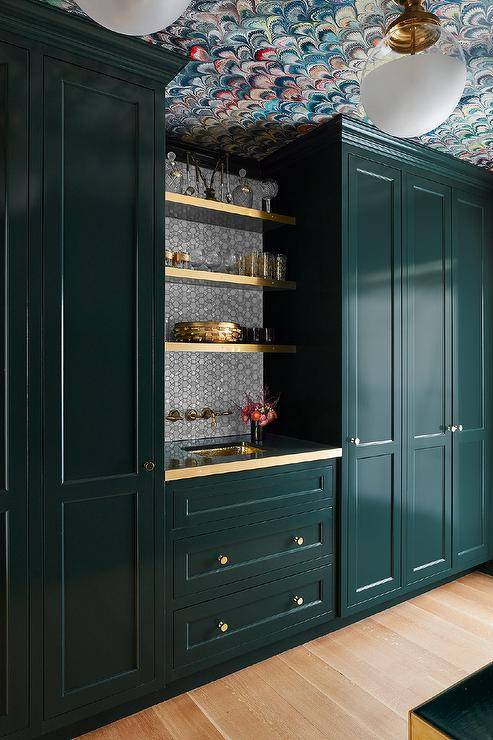 Work in a Wet Bar Under the Stairs
This lovely little modern wet bar is nested cozily under an open set of stairs. It swaps standard upper cabinets for exposed shelving and features two lovely modern lights to allow for an open concept feel which keeps the space not bulky and heavy under the stairs.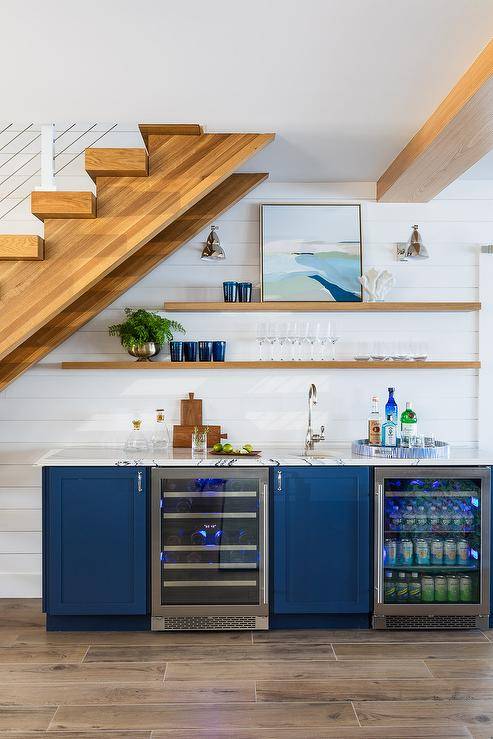 Photo Credit: Blakely Interior Design
Go Classic and Traditional
This wet bar is ideal for a classic traditional home. This tidy space offers a wine fridge as well as cabinetry to store all of your must-haves for happy hour. It takes things up with a bit of glam by incorporating a stylish, elegant backsplash.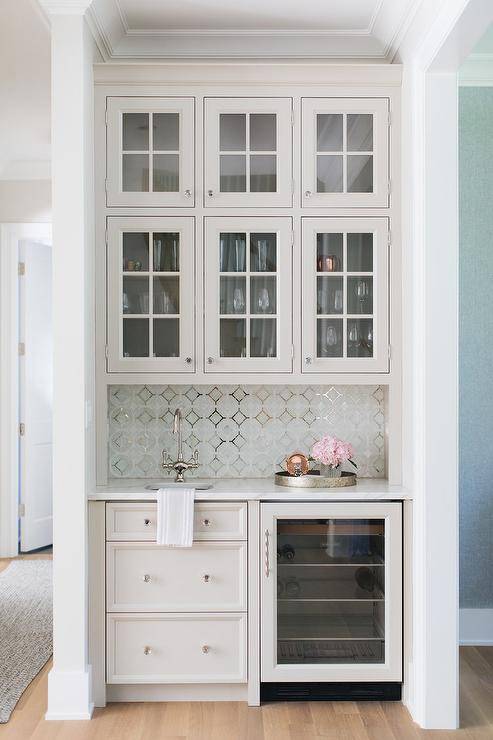 Geometric Lines with a Touch of Dark and Moody
We love black and gold paired together, and this wet bar comes together with the best of it. From the stunning geometric wall paper to the mesh wire cabinetry, this space takes luxury and design to a different level.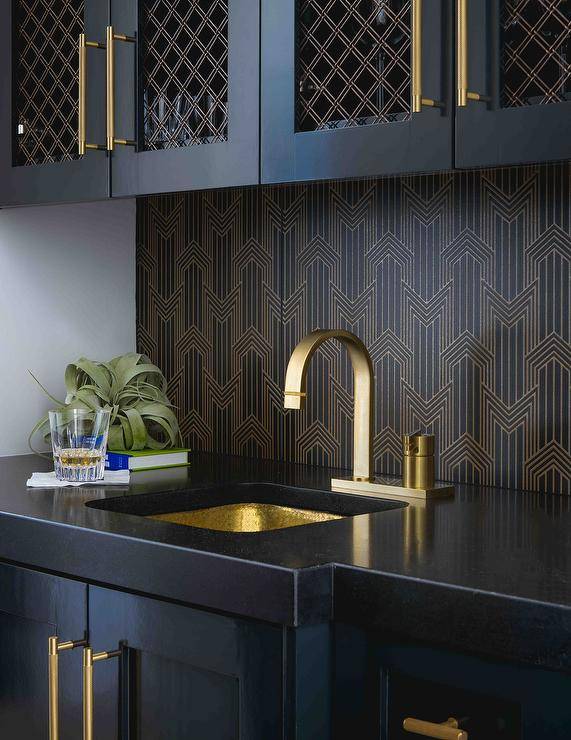 Go for Grey
Grey cabinetry seems to be increasingly popular when it comes to wet bar designs. Its simple and stunning nature makes grey a classic choice for most cabinetry, and wet bars are not excluded from this design rule.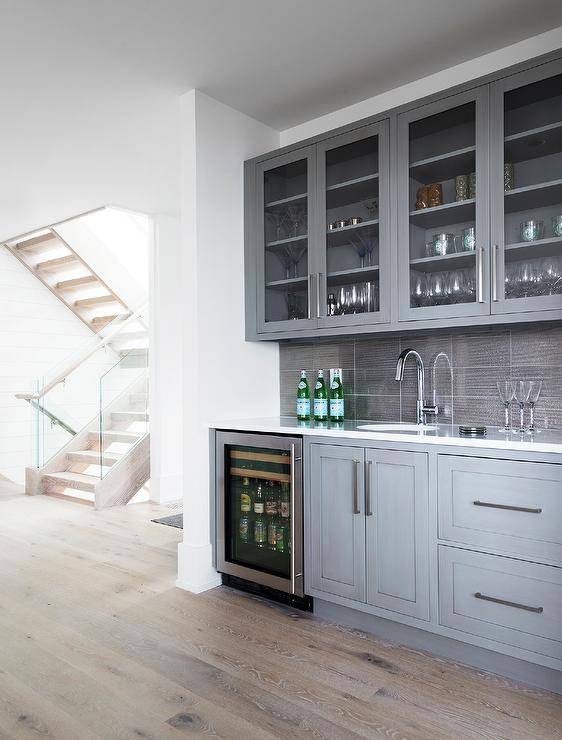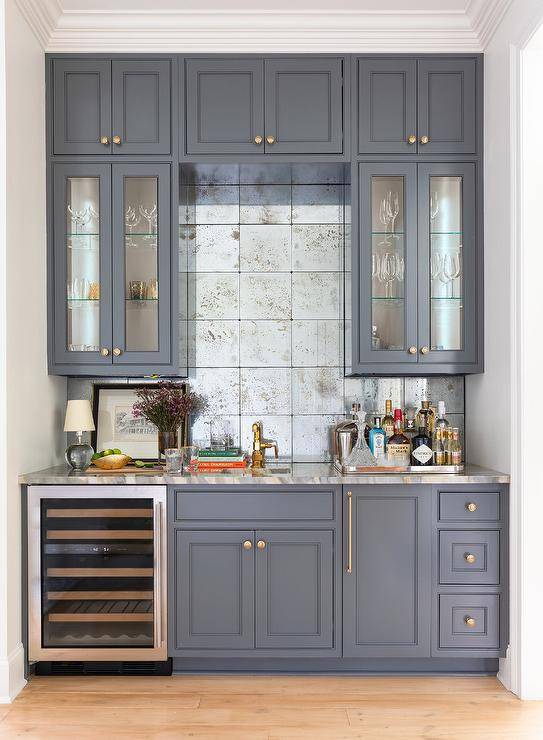 Adding Visual Interest
If you want to give your wet bar a touch of visual interest, but you don't want to overpower an open concept space, consider a tiled backsplash like this one The bold pattern tile gives just enough texture while blending into the cabinetry for a seamless, modern look.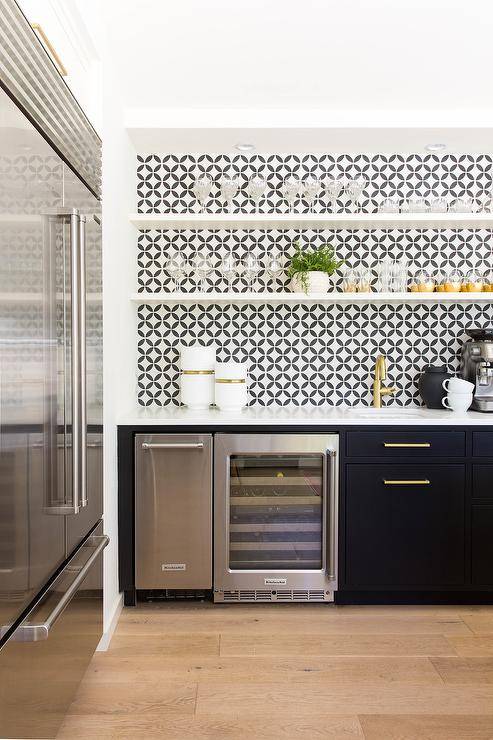 Go Bold with Wallpaper
Looking for a way to incorporate bold wallpaper into your home? This contemporary and luxurious wet bar features stunning gold wallpaper and cabinetry that pairs wonderfully with it. The wire mesh cabinetry is the perfect touch, along with floating glass shelves to really let the wallpaper steal the show.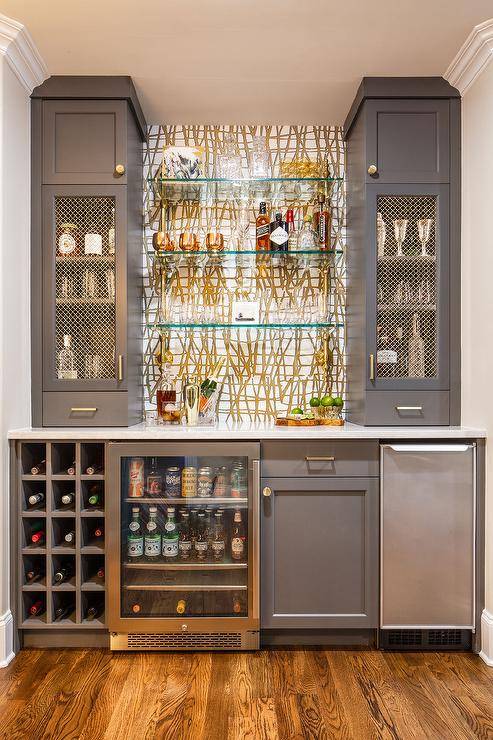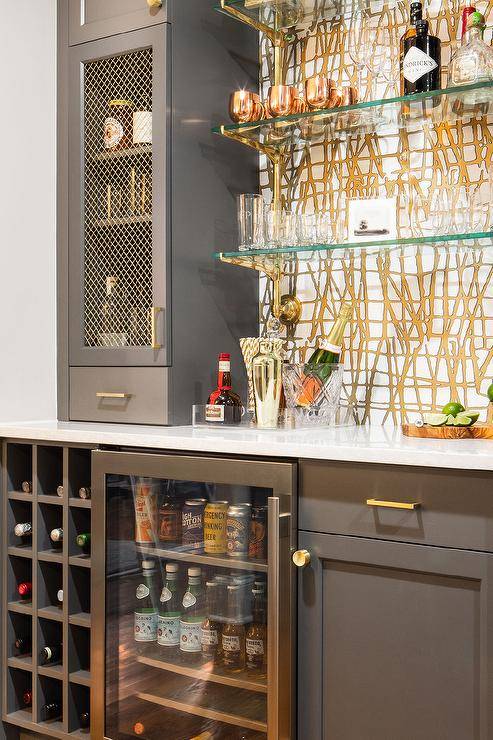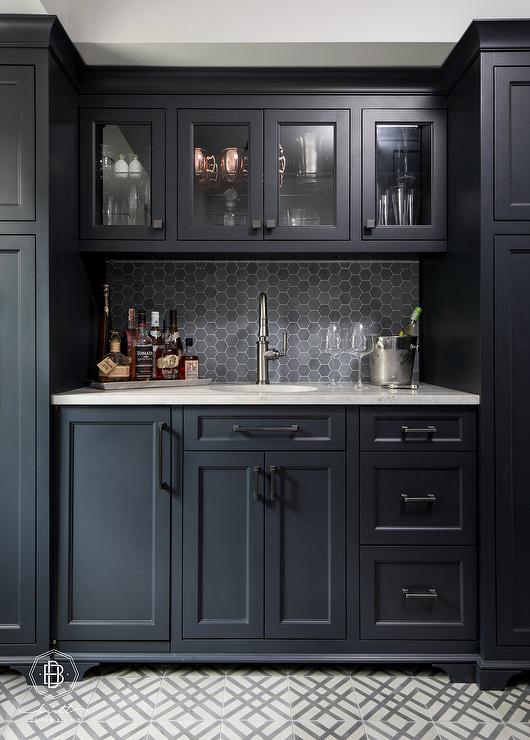 Hidden and Discreet
White-lacquered wood doors provide an exquisite disguise for a living room's small but fully stocked wet bar. When the paneled doors are opened, it's time to party. A small circular sink keeps the square footage to a minimum, and a mirrored backsplash and glass shelving give an open and larger feel making this space seem less closed in.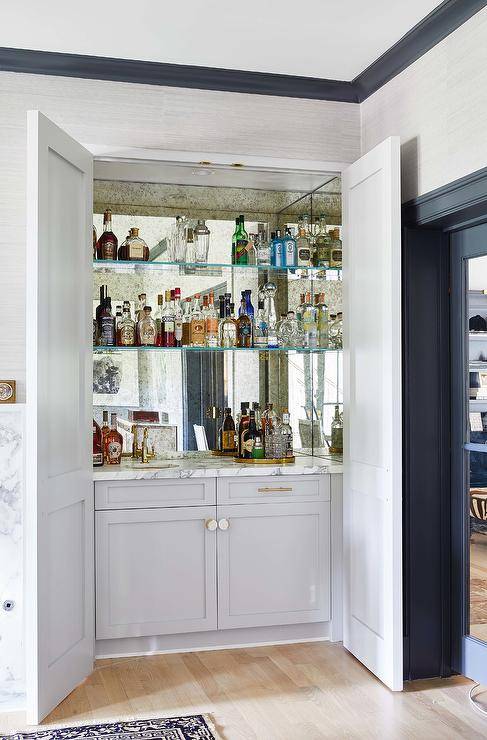 Right in the Living Space
If entertaining is something you do often, designing a wet bar to be right in your living space may be the best option. Close to all the action and ready to host right in the spot where all the entertaining takes place.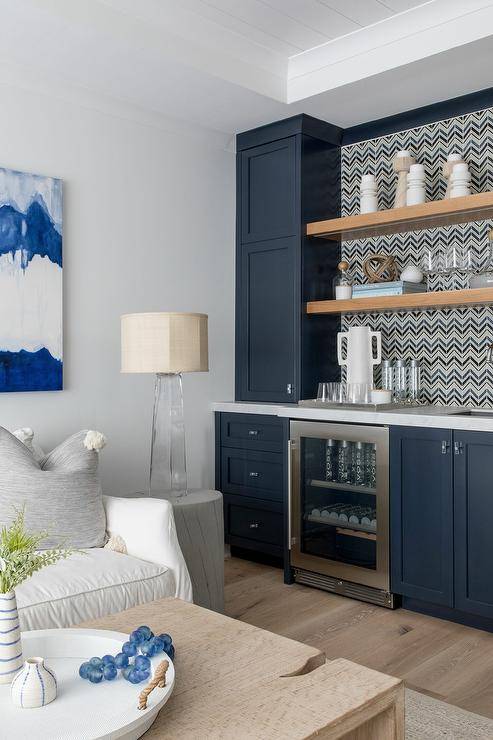 An L-Shaped Nook
Experiment with different layouts when it comes to your wet bar because not all layouts will work in all spaces. This L-shaped nook is the perfect addition to this home. We love the open black wrought iron upper cabinetry suspended from the ceiling. It gives this space a touch of industrial while not going overboard.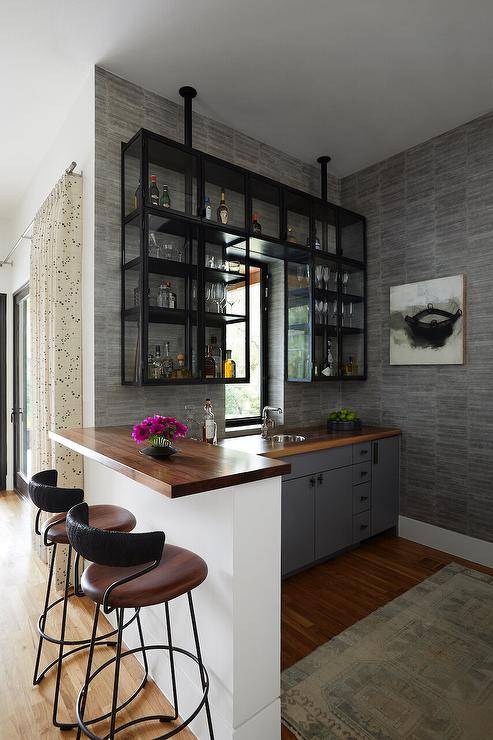 Go Close to the Dining Room
If you're big on entertaining, the best place to install a wet bar is in a dining room. This wet bar is right by the dining room table and allows for easy access to water and beverages so you can serve your guests without leaving the table. We love the black and moody look of this space.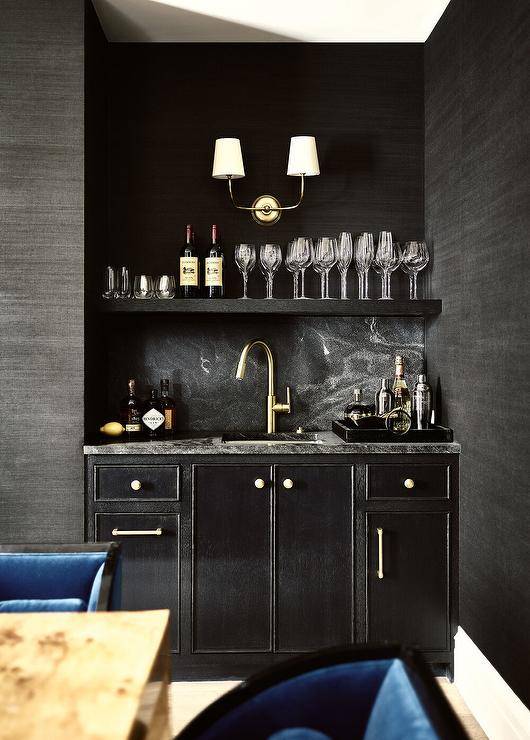 Clean and Simple
Clean, neat, and simple, just a short hop from the kitchen and the living space, this wet bar is a minimalist's dream. Everything you need in one space without going too extreme or extravagant.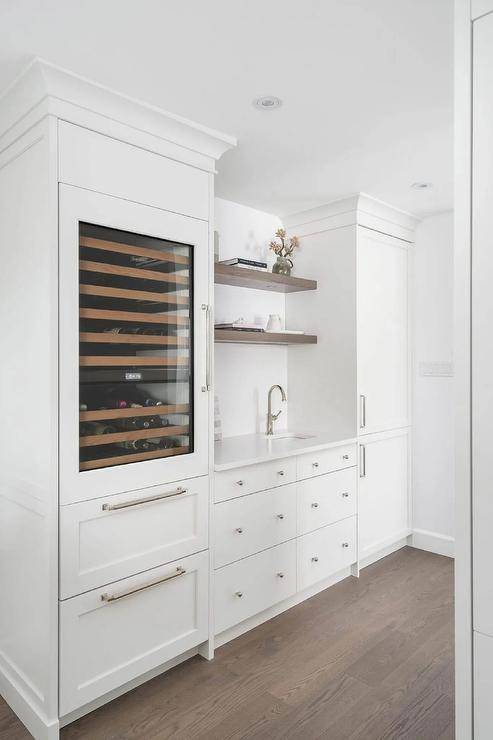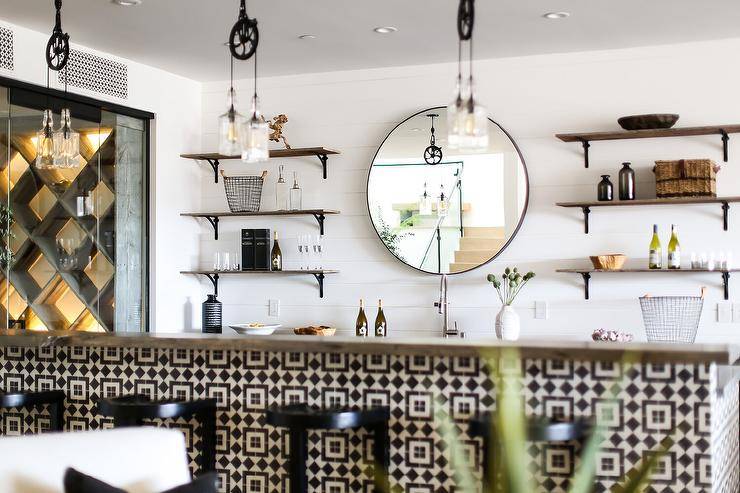 Frequently Asked Questions
FAQ
What is the purpose of a wet bar?
A wet bar is an area within your home, typically with a large counter or bar, where you can prepare drinks and store your various types of liquors, drinks, and mixers. A wet bar is what it sounds like. Essentially, a wet bar has a sink with running water. A dry bar only has a place where you can prepare drinks and no sink.
Is it a good idea to install a wet bar?
A wet bar can be very useful if you entertain away from your standard kitchen area. If you do a lot of entertaining and like to be with your guests, you will find that a wet bar will be the best design idea for your home. It saves you from having to run back and forth to the kitchen to make drinks allowing you to stay with your guests.
Can you have a wet bar outside?
You can most certainly install a wet bar outside, especially if you do a lot of outdoor entertaining or have a pool. This will save you from constantly running inside and allow you to be outside where the party is. Outdoor wet bars are also becoming increasingly popular.
What is the difference between a wet bar and a kitchenette?
Both wet bars and kitchenettes simplify storing, preparing, and serving food or drinks of all types while entertaining guests. The main difference is that a wet bar is typically used solely for drink preparation, while a kitchenette allows for the preparation of both drinks and food.
What appliances go in a wet bar?
While there is no rule as to what appliances you should have in a wet bar, small appliances such as blenders, coffee makers, microwaves, and even a dishwasher are practical additions to the space. We would say a wine fridge is one appliance that you should absolutely have in your wet bar.
Where should a wet bar go?
You should put it where you do the majority of your entertaining. You can build your wet bar outside if you have parties outside by a pool or patio. You can place it in the home by your kitchen, great room, recreational room, or even a finished basement.
If you liked this article, you might also enjoy these ones as well: