Freeing your kitchen countertops from clutter goes by a simple solution: have a dedicated space for everything. Unfortunately, organizing is one heck of a chore if you lack the workable space, to begin with. Cooking enthusiast or not, it's common for us to stack the kitchen with standard appliances and stuff. But don't worry if you are running low on the kitchen area. The best kitchen counter organization ideas will allow you to maximize the limited space and offer you more room for something else.
Keep Storage Boxes Handy with Adjustable Wrap Stand Organizer
Cling wraps, parchment papers, and tin foils always end up tossed at the back of the pantry. They are often stacked atop each other, and we never know we ran out of it until we needed one. But using a stand-alone caddy will let you display these food storage boxes in plain sight without the clutter. It helps to choose a Wrap Caddy that can hold a few more boxes to keep all the boxes in one place.
Easily Spot Containers with Tiered Cabinet Organizer
Have your spice jars and cans in one place with space-saving pantry organizers. This three-tiered expandable organizer will keep your countertop neat and tidy. The ingenious layer displays all your essentials, so it is easy to spot them when needed. No more digging around shelves looking for that spice jar if you can find them at a glance!
Save Space with Pan and Pot Lid Organizer
One problem with storing your non-stick pans is the fact that they scratch easily when stacked. If you are vain about it, you can opt to hang them on walls as functional kitchen accessories. But if you want to save on space, you can stack them vertically without touching each other. Freestanding pan and pot lid organizers are the best kitchen counter organization ideas for these needs. You may also install them horizontally, whichever your space allows.
Have Everything in One Place with Display Shelves
Display shelves are great kitchen counter organization ideas to consider. Jars, cans, spice containers, and condiment bottles are difficult to keep together because of their varied sizes. But if you can put them in a place altogether, cooking will be a whiz. Place them in conspicuous racks to access them easily when you are elbows deep in your cooking. You will save more on your counter space while keeping everything handy and in plain sight.
Maximize Your Space with Stackable Shelves
The least we can do about the vertical space in our kitchen countertop is stack things in a pyramid. It works out fine until you need something from the bottom and needs to pull everything out from the top. Stackable shelves will let you strategically group dishes to access them easily without all the hassle of sifting into them. Keep your plates at the bottom and bowls on top so you can produce them when you need them. You can also place the shelves side by side and make use of more vertical space on your kitchen counter.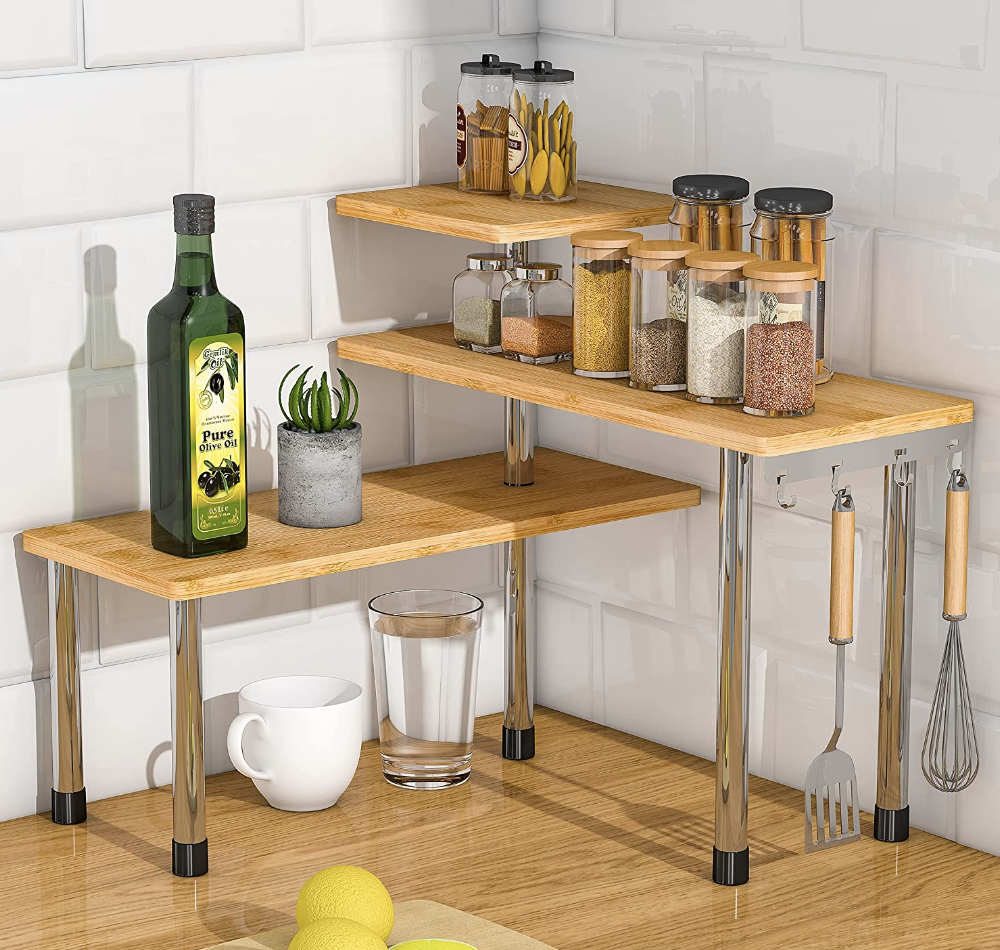 Organize Cans to Have Them in a Second
Need help in stacking cans of varying sizes? Place them in an easy-to-access place! There is no need to dig into your cupboard for cans of peas amidst the tins of sauces and soups. Stackable can rack organizers are excellent kitchen counter organization ideas for having them in a snap. Racks with adjustable height and dividers will align jars and cans for an efficient storage system.
Upgrade your Kitchen Counter with a Gadget Organizer
If you are one of those people who can cook only when following a cooking demo, then this one is for you. For your digital recipes and online instructions, you need someplace safe to stow your smartphone or tablet. You can invest in a tabletop gadget mount that can hold a few more trinkets on the side, like your measuring cups. It is perfect for recipe reading while keeping your countertop mess-free and your tablet crumb-free.
Store Dry Ingredients in Clear Canisters
Clear food canisters make a sleek addition to countertops while serving their storage purpose. These transparent containers provide visible access to your pantry supplies without even letting you lift a hand. You can also check the contents to see if you need to include them in your following grocery list. Adding customized pantry labels adds a unified look and eliminates visual clutter regardless of your varying container sizes.
Designate Bins for Fresh Produce
If we can shove everything in the refrigerator to declutter (it keeps things behind the door), we would. However, not all fresh produce is ideal for the fridge; they often end up piled atop our kitchen counter. To keep your fruits and vegetables longer, separating them is a brilliant idea. It will prevent rotten ones from infecting the good ones and prolong their shelf life. Set aside a basket with compartments, mount them in your wall, and stash your crops there. It will keep your kitchen tidy while conveying a farmhouse feel in the room.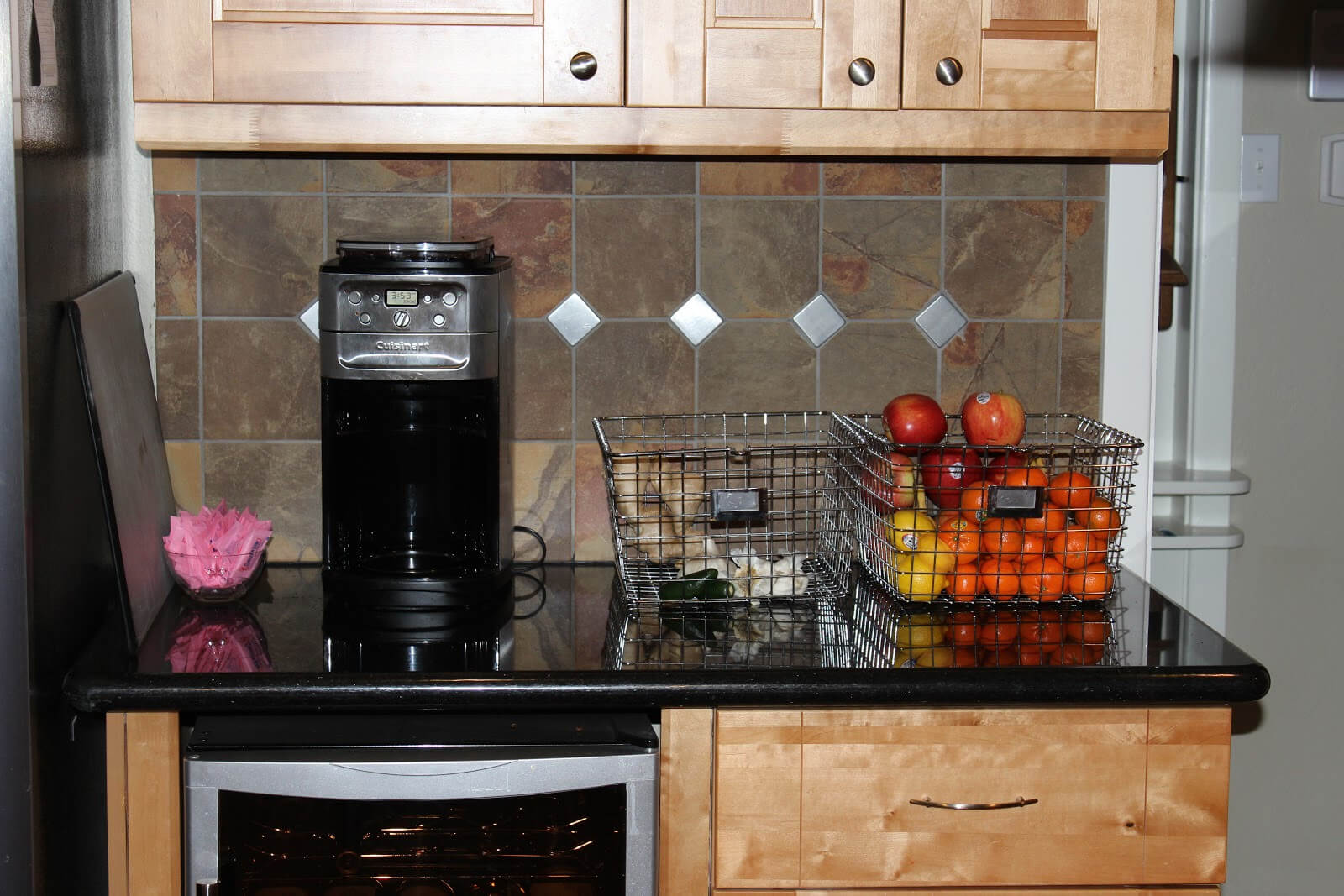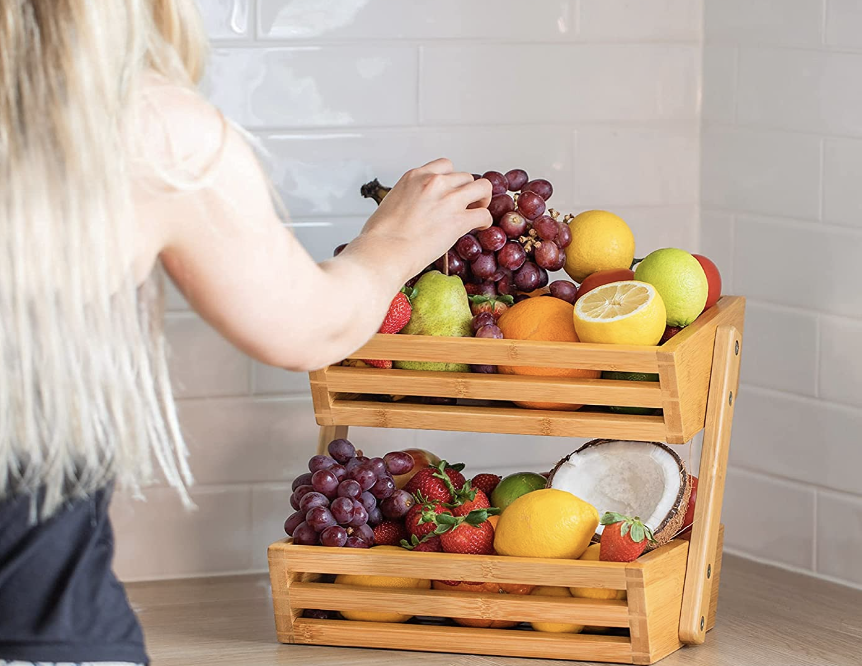 Store Coffee Pods in Charming Coffeemaker Stand Boxes
Coffee fans know how tedious it is to keep those little coffee pods and capsules. Sure, you can stash them in your drawer. But if you are a hoarder, you know how they can take up much space. So why not designate a special box that will hold your pods underneath and a coffee maker on top of it? Tuck it in the cozy corner of your countertop and let it enjoy the attention of your visitors. A wooden coffee stand with a drawer is a rustic piece that can add a whimsical touch to your busy kitchen.
Make a Designated Tea Spot with Large Apothecary Jars
Just as you have an organized spot for coffee, designate a small area of space for tea, sugar, and anything else you need to enjoy that first cup in the morning. Keeping all these supplies together and organized will help keep your counters clutter-free.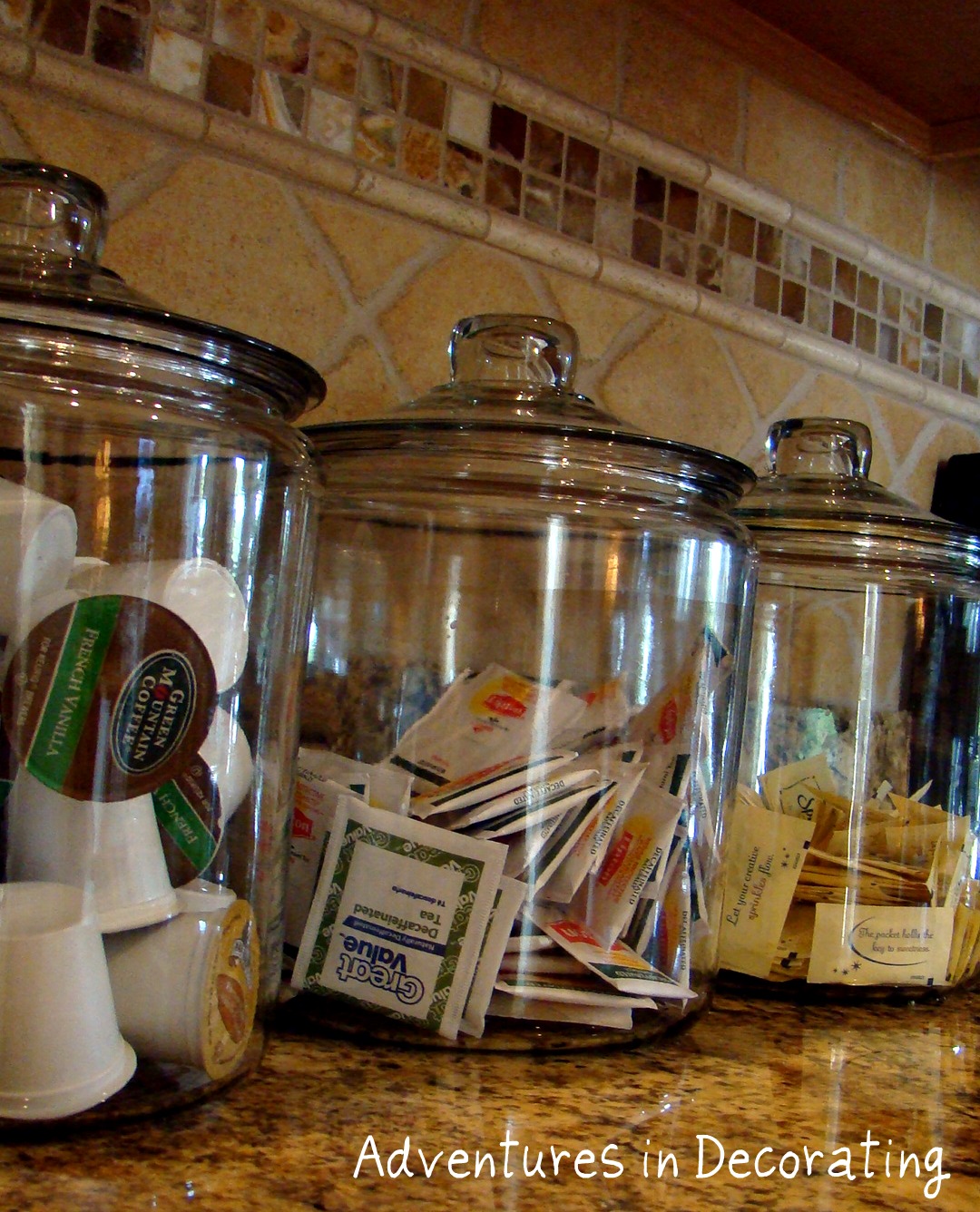 Keep a Dedicated Wine Glass Drying Rack
Crystal stemware is a bit difficult to dry and store because of its delicate nature. And, did you know that storing your glassware upside down without ventilation is a bad idea? Mildew and molds can settle in if you place your glasses upside down, flat to the surface. Investing in a stemware drying rack is one of the best kitchen counter organizing ideas. It will allow you to dry glasses sanitary and stow them when not in use. Or, you can also shove this on your cabinet as a perfect stemware organizer.
Stay in Style with Wooden Utensil Organizers
There's no need to go all wires and stainless steel in your kitchen. If you want a rustic vibe, then make use of chic wooden organizers. These pieces will give a breath of earthy tone into your place. A wooden holder with compartments is the best choice to properly organize your assortment of cutlery. Just be sure to dry your utensils properly before storing them, though. Like rust is to metal, molds are also an issue with wooden organizers.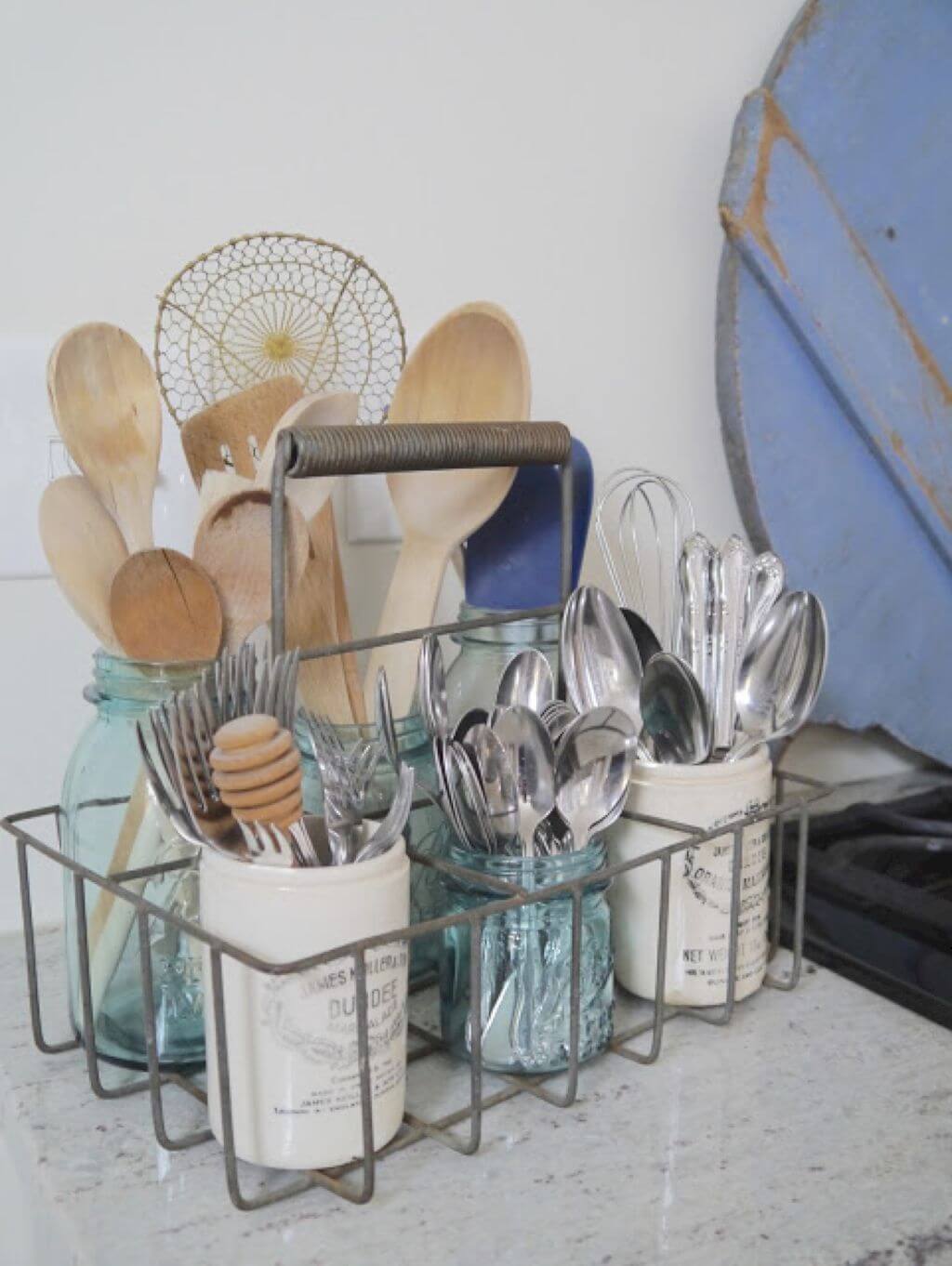 If wood is not your style, you can go for one that's more vintage and rustic.
Hang Spices Decoratively
Keep your little jars of spices off the countertop and double them as lovely decorations. Undercabinet hooks, transparent glass jars, and some pantry labels are excellent ways of displaying them. Look for glass jars with metal clips to keep moisture from your condiments and prolong their shelf life.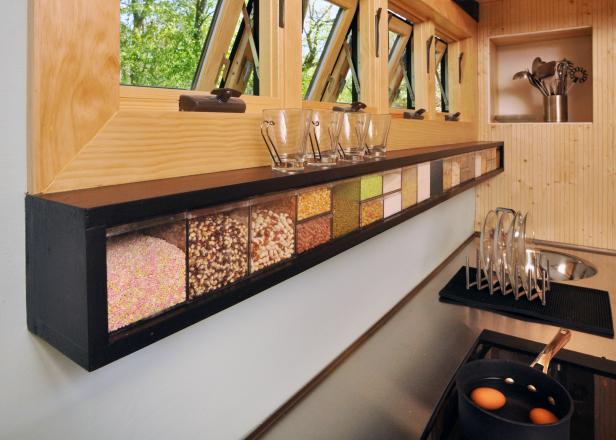 There are so many options available for wall-hanging spice storage that you will indeed find one that suits your style and taste.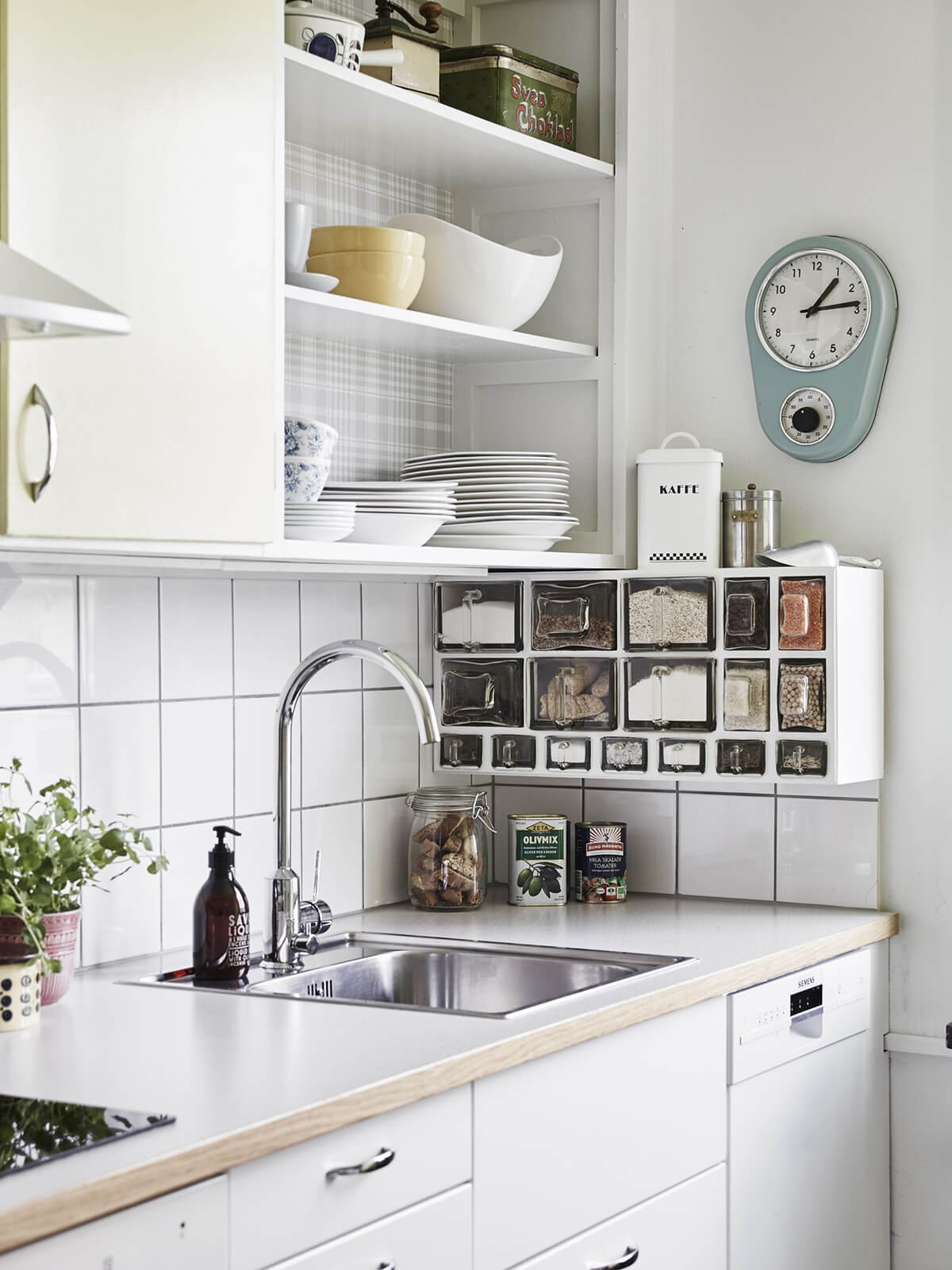 Make it Low-Profile with Pull-Out Sliding Shelf
Pull-out countertop shelves are good enough to belong to our kitchen counter organization ideas. The sliding basket makes it easier for you to access the contents without disarranging the top rack. The best thing about these baskets is it is stackable. So, you can work around the number of shelf tier levels you need that will fit in your counter space.
Mount a Rod Under Cabinetry
You can hang items in wire baskets and buckets by mounting a rod under your kitchen cupboards. This will free up counter space and allow you to keep things you use daily close at hand.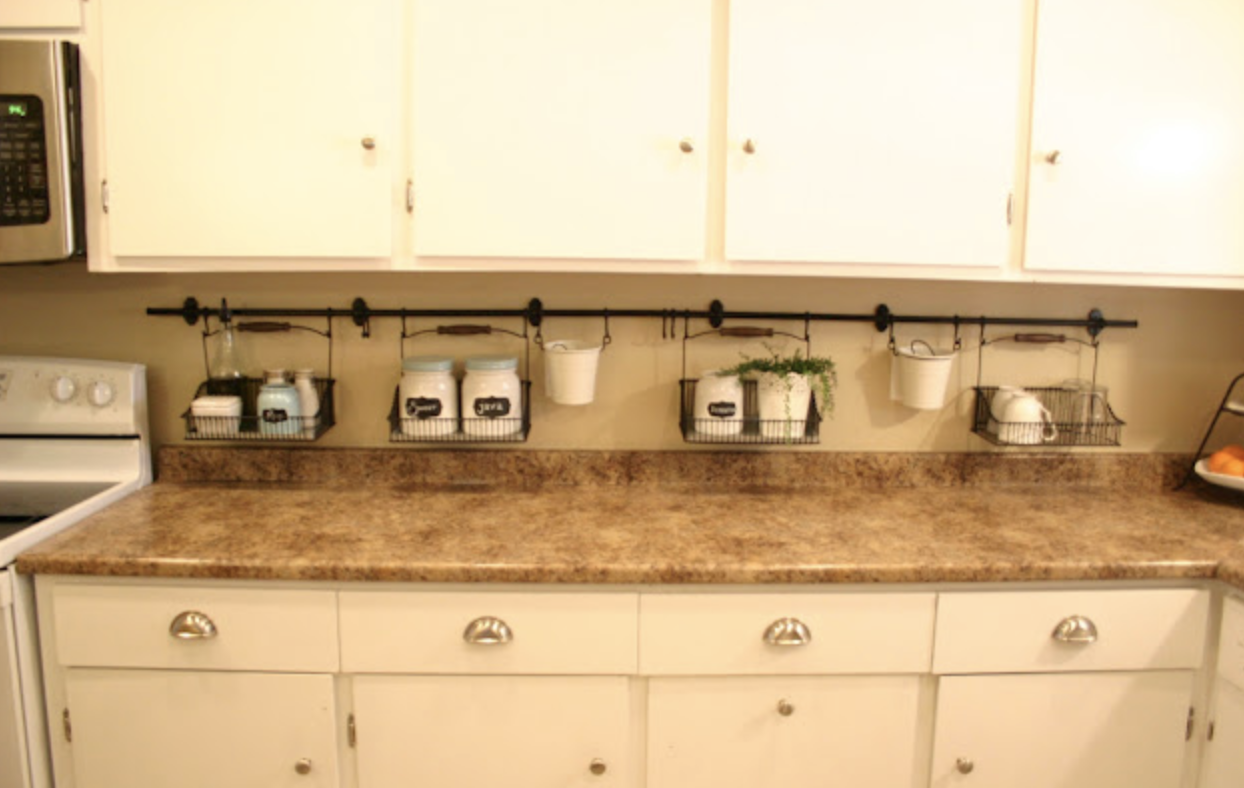 Get creative with your baskets, too! This clever DIYer upcycled an old bicycle basket and hung it from a rod. Vintage, pretty, and functional!
This is a great place to store dish towels close by the sink for easy access.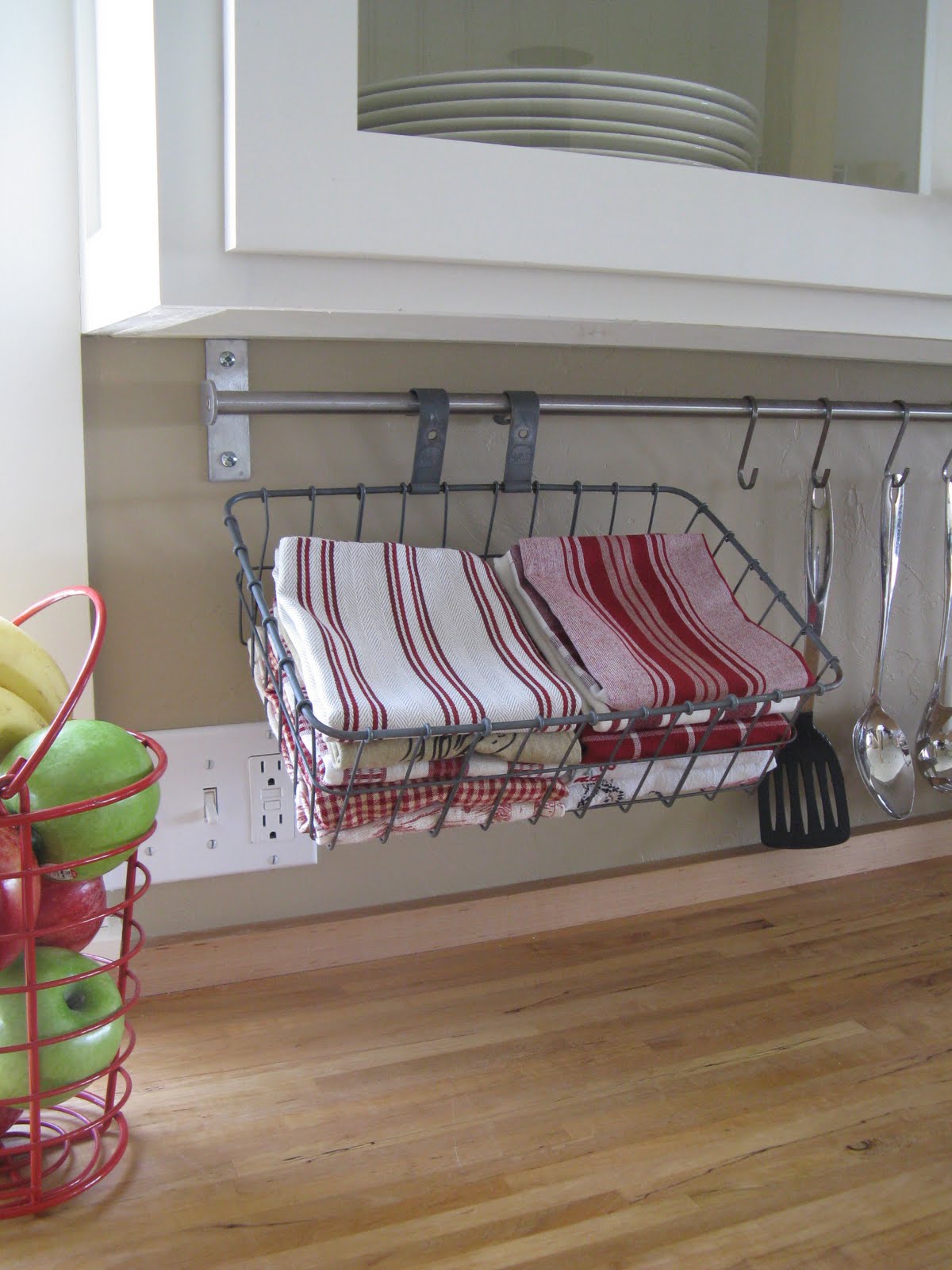 Add a Shelf Over the Sink
Add a shelf over your sink in the middle of your kitchen window. Here you can store smaller items that would usually take up valuable counter space around the sink.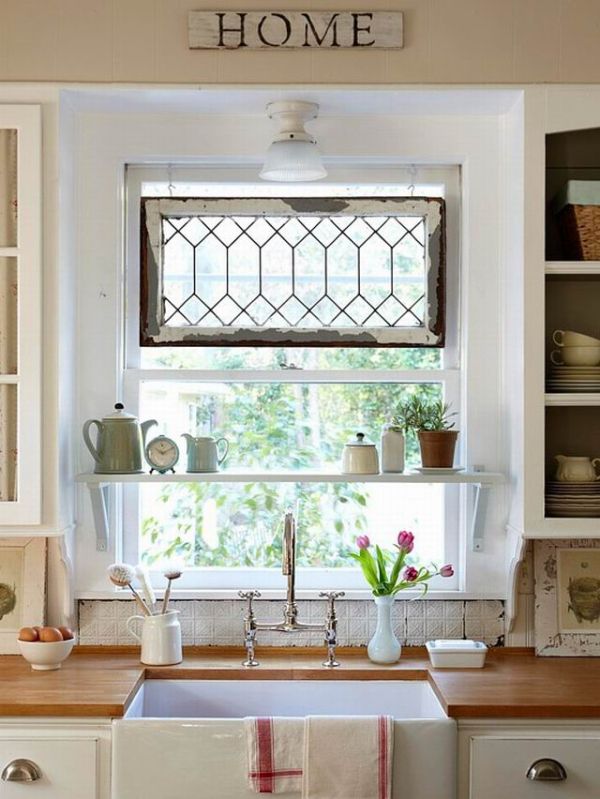 Use a Soap Caddy
Soaps. lotions, scrub brushes, and sponges can overcrowd the counter by the sink. Use a cake plate or an elevated tray to store all these items. This will raise them up, and they take up less counter space this way.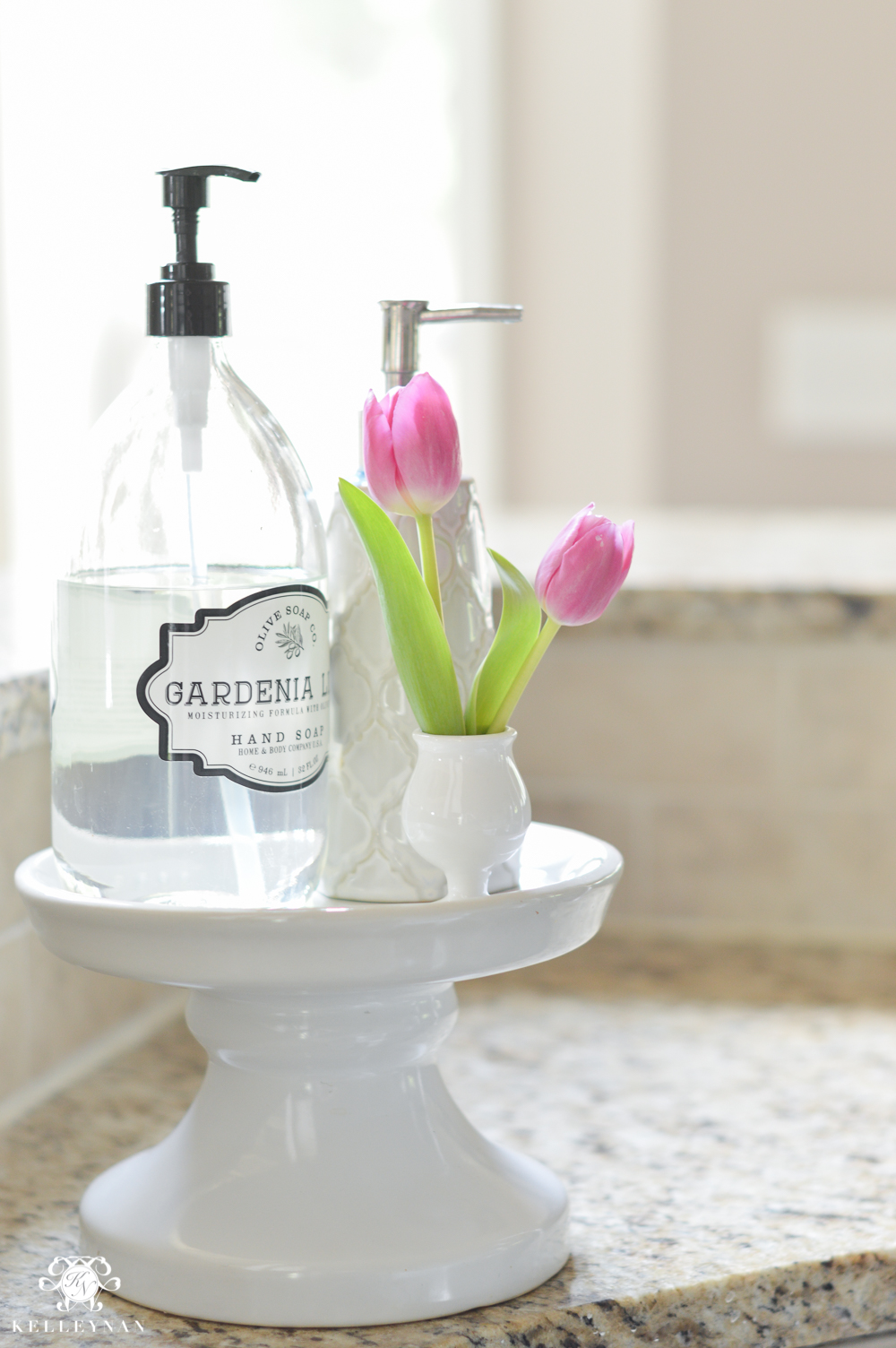 Alternatively, a decorative vintage box works well, too!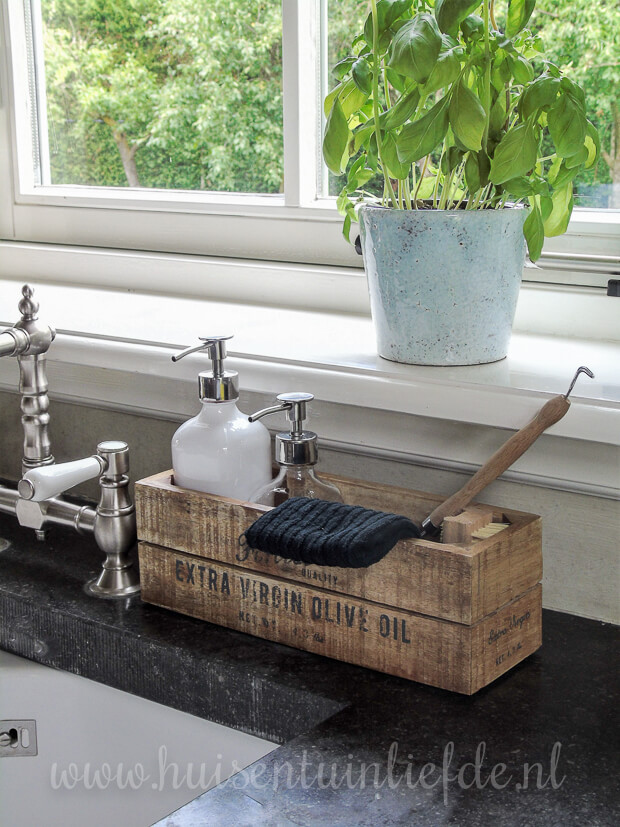 Vintage Spoon Holders
If you have to keep your utensils on the counter, store them in decorative white pitchers of different sizes. This is fabulous for a country farmhouse kitchen. Not only will your spoons be close at hand, but they are also decorative.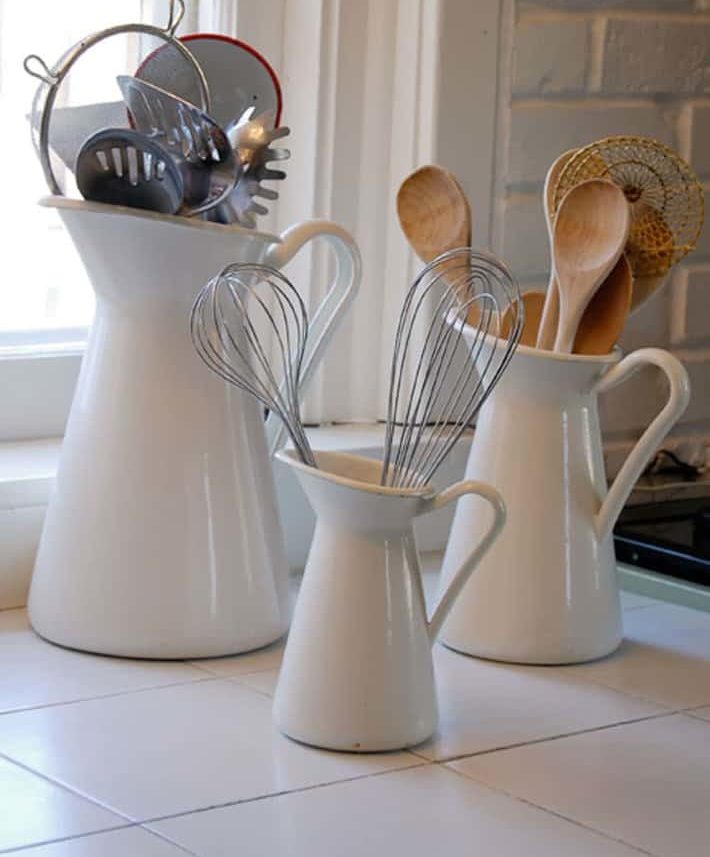 Lazy Susan Utensil Holder
If counter space is in short supply and you really don't want them hanging out on the counter, you can make a DIY Lazy Susan utensil holder. This creative and ingenious DIY repurposes a Lazy Susan piece by mounting it under your cupboards, keeping your utensils off your countertops.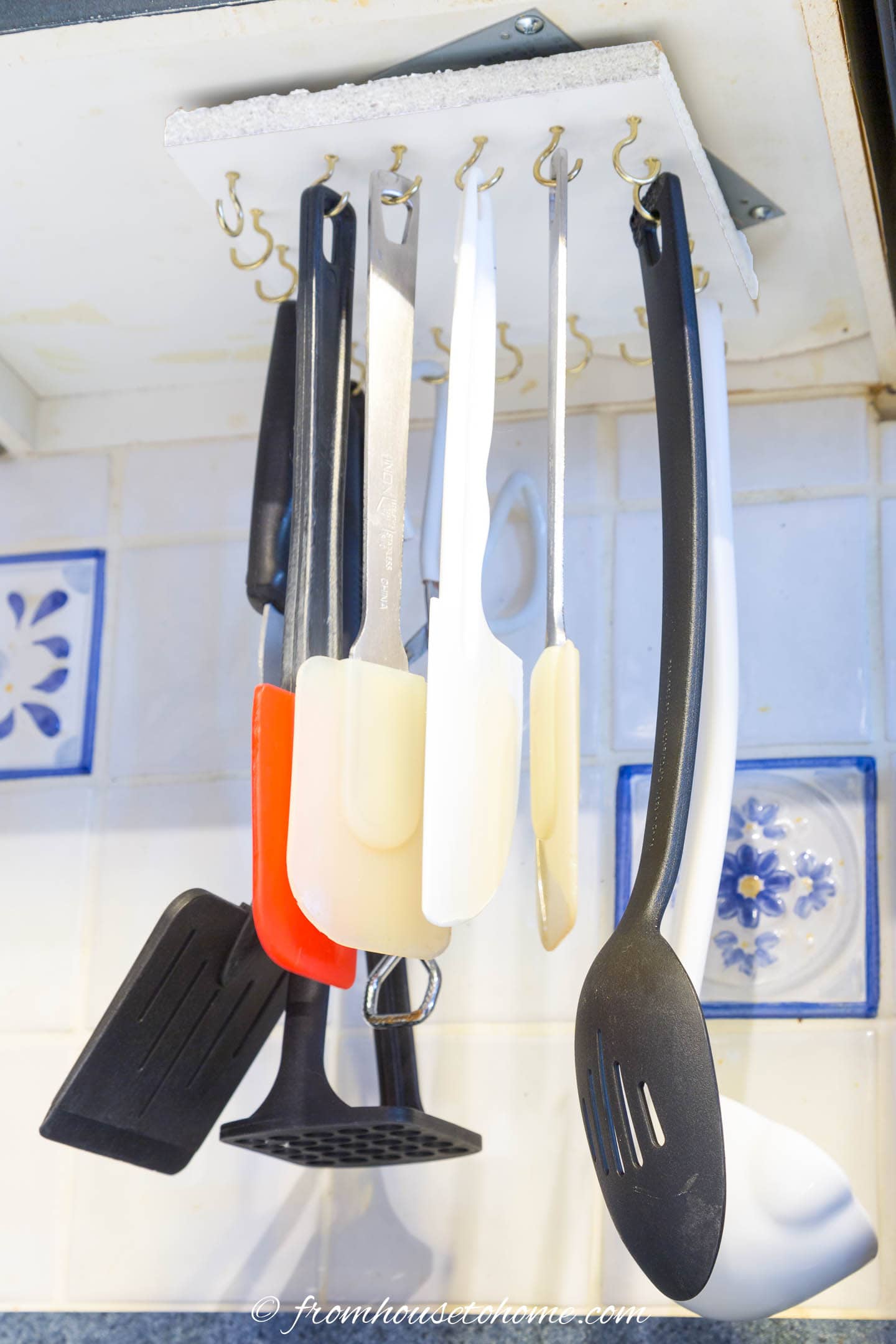 Two Tiered Wire Baskets
If you place baskets on your kitchen countertops, make them a two-tiered basket that will allow you to use vertical height on your counter.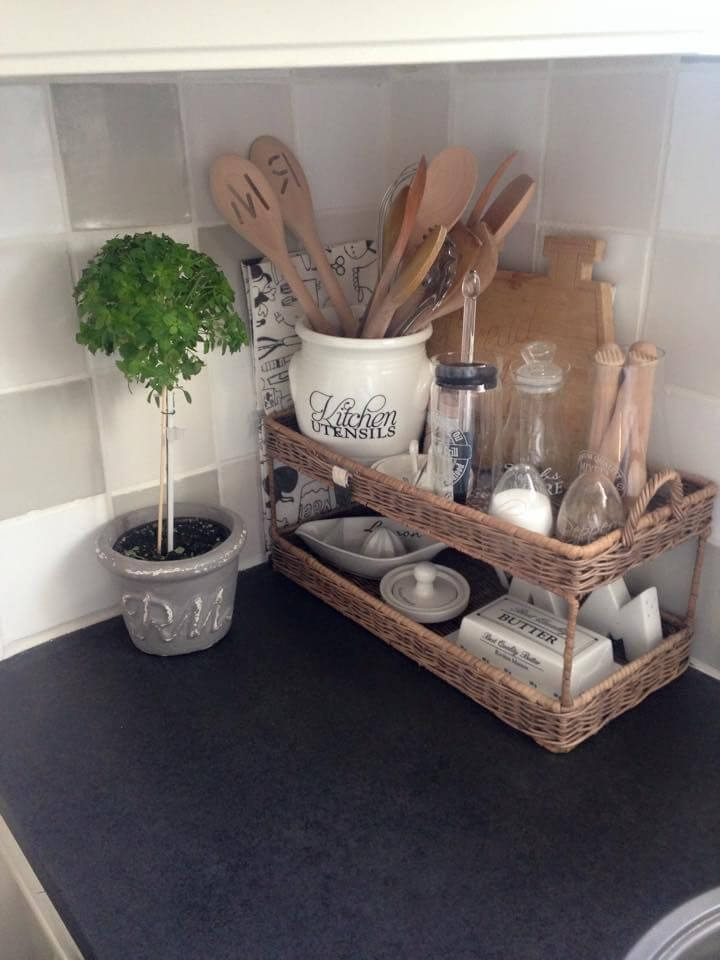 Three Tiered Solutions
Just like a two-tiered basket, you can also use three-tiered items. Three-tiered baskets and trays are great for kitchen countertops allowing you to store needed items and pieces of decor.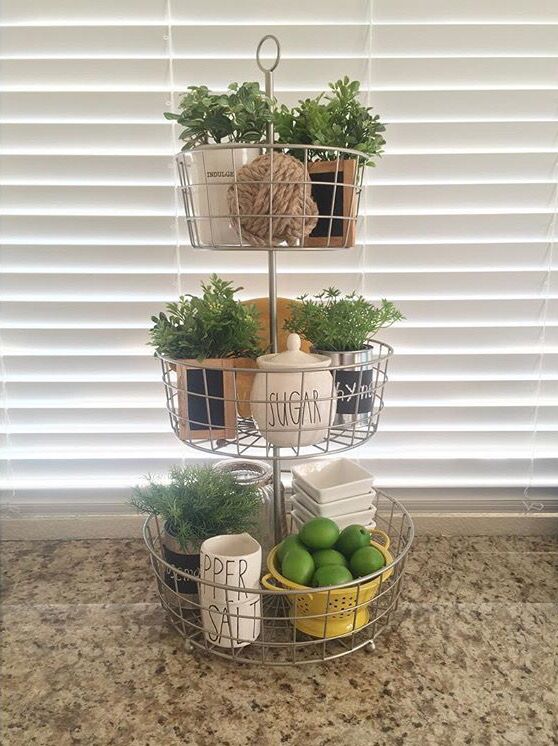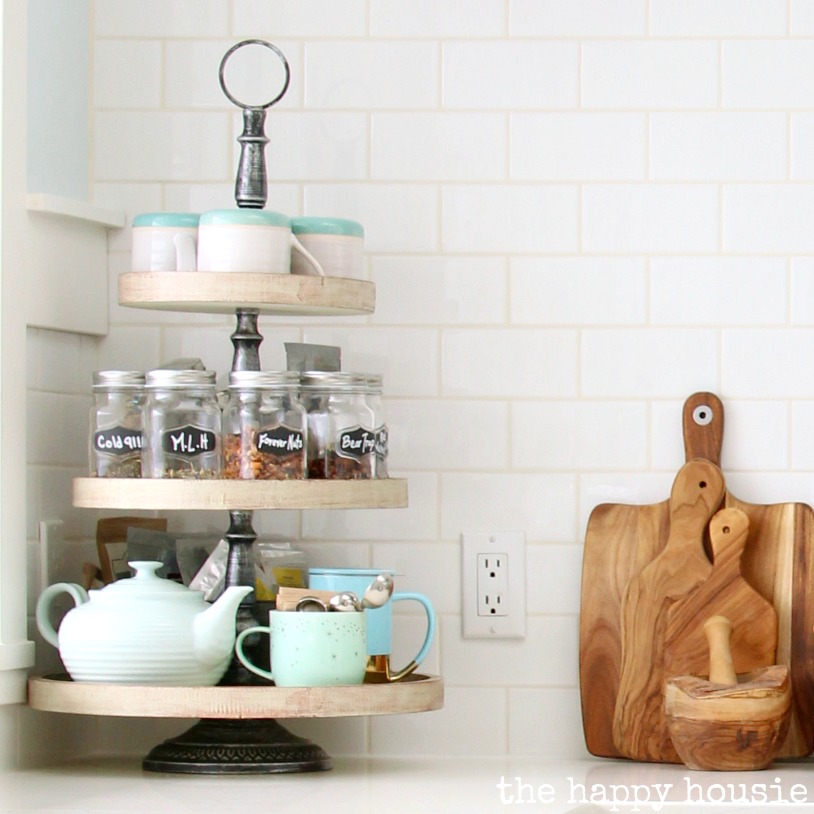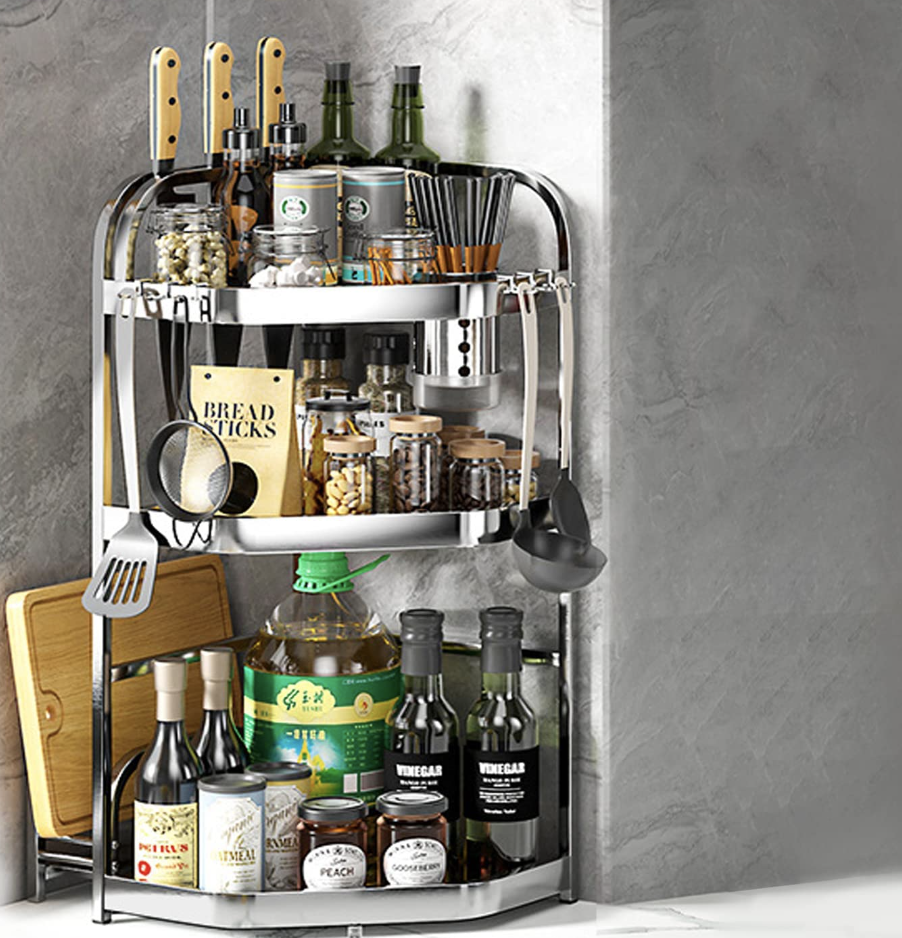 Elevated Shelf Over Toaster Oven
If you have to have a toaster oven or microwave on your counter, you can buy a shelf that sits around it that allows for ever more creative countertop storage.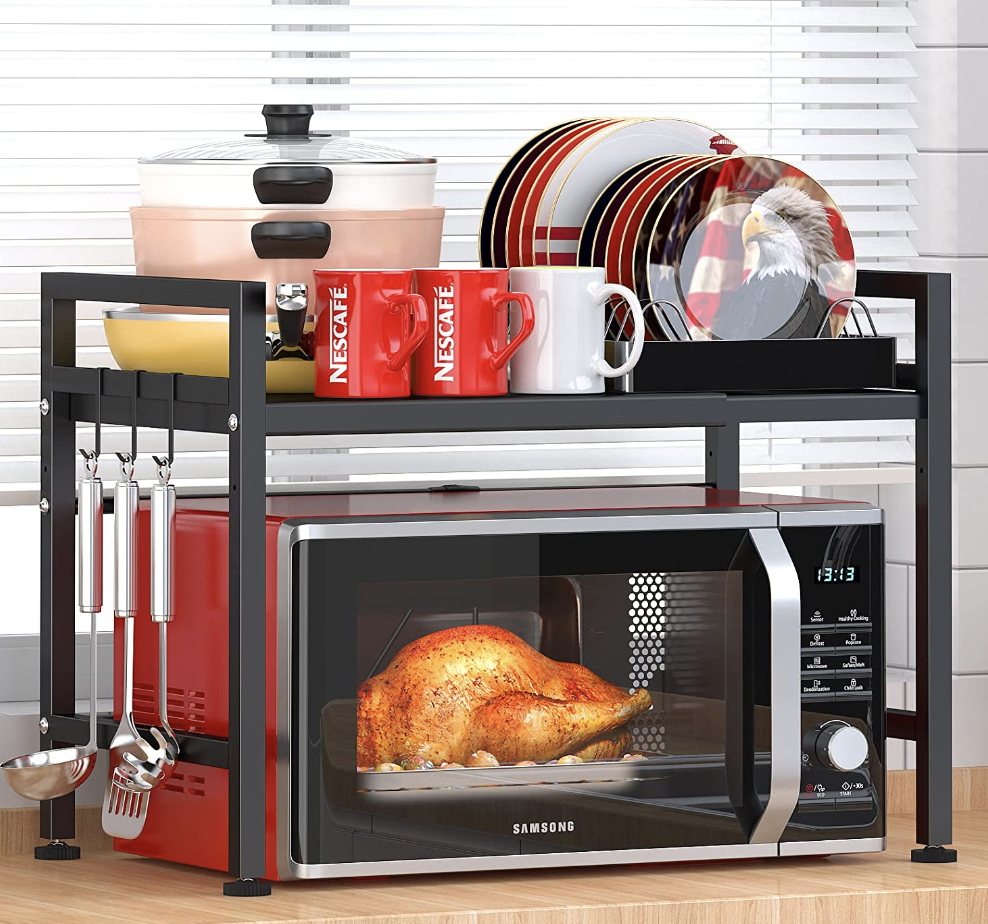 Gather and Group Items Together
Rather than having a bunch of items spread out across your kitchen countertops, group them together in a Lazy Susan or decorative wooden tray. They will take up less room this way and make things easier to put away when you're finished with them.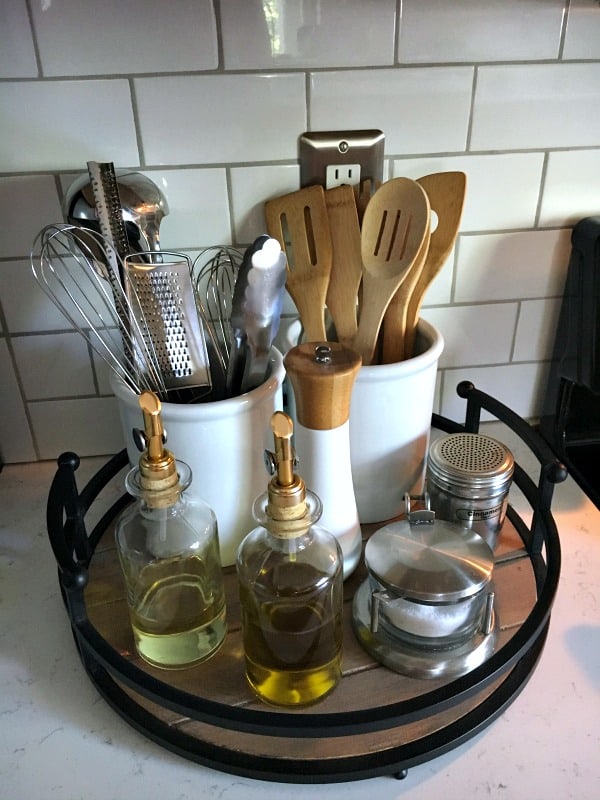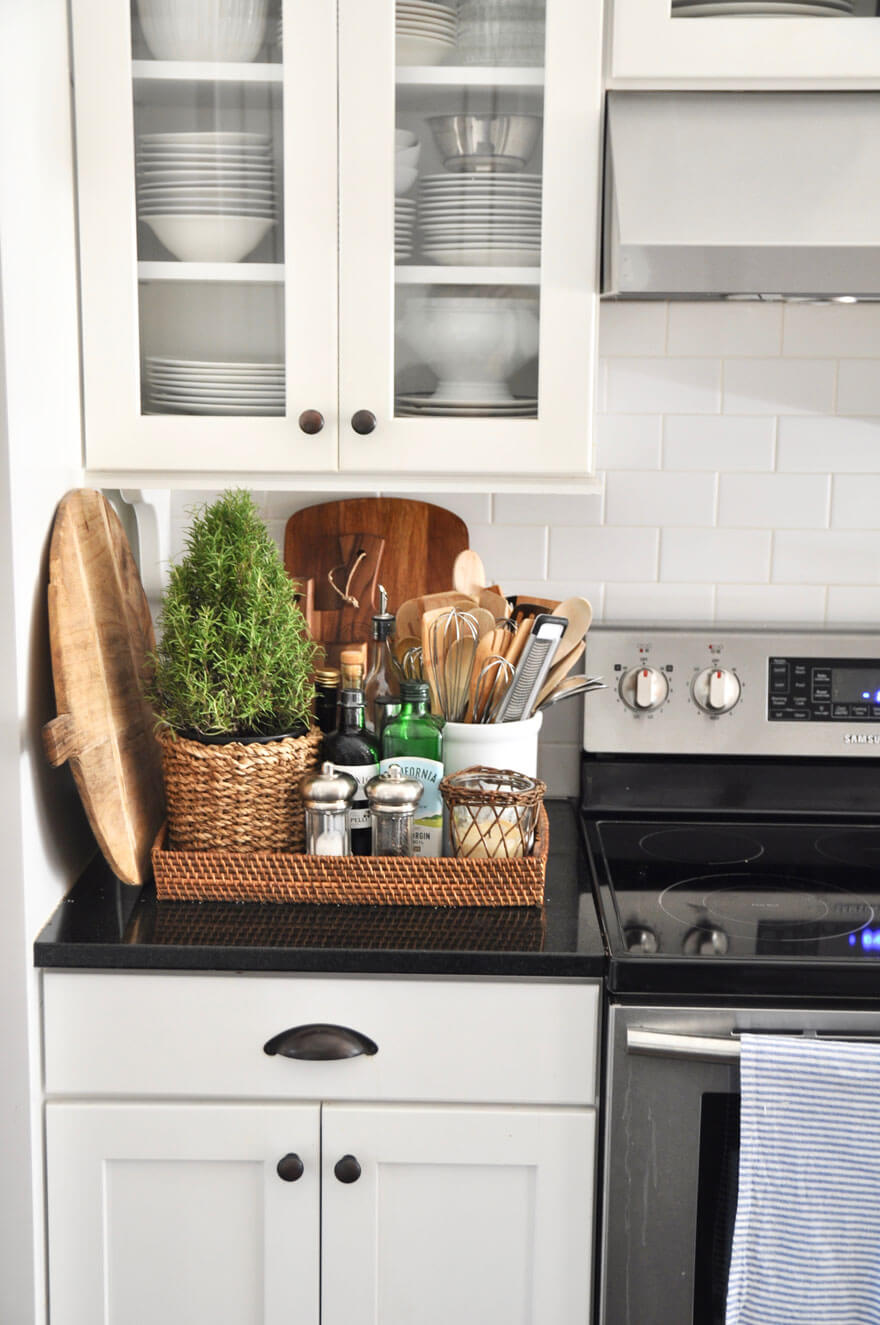 Keep Items Together in a Wire Basket
When cooking, there are just certain items you need close at hand, so it's not practical to have them stored away but to avoid them taking up too much space on your kitchen countertops, keep them together in a handy wire basket close to the stove.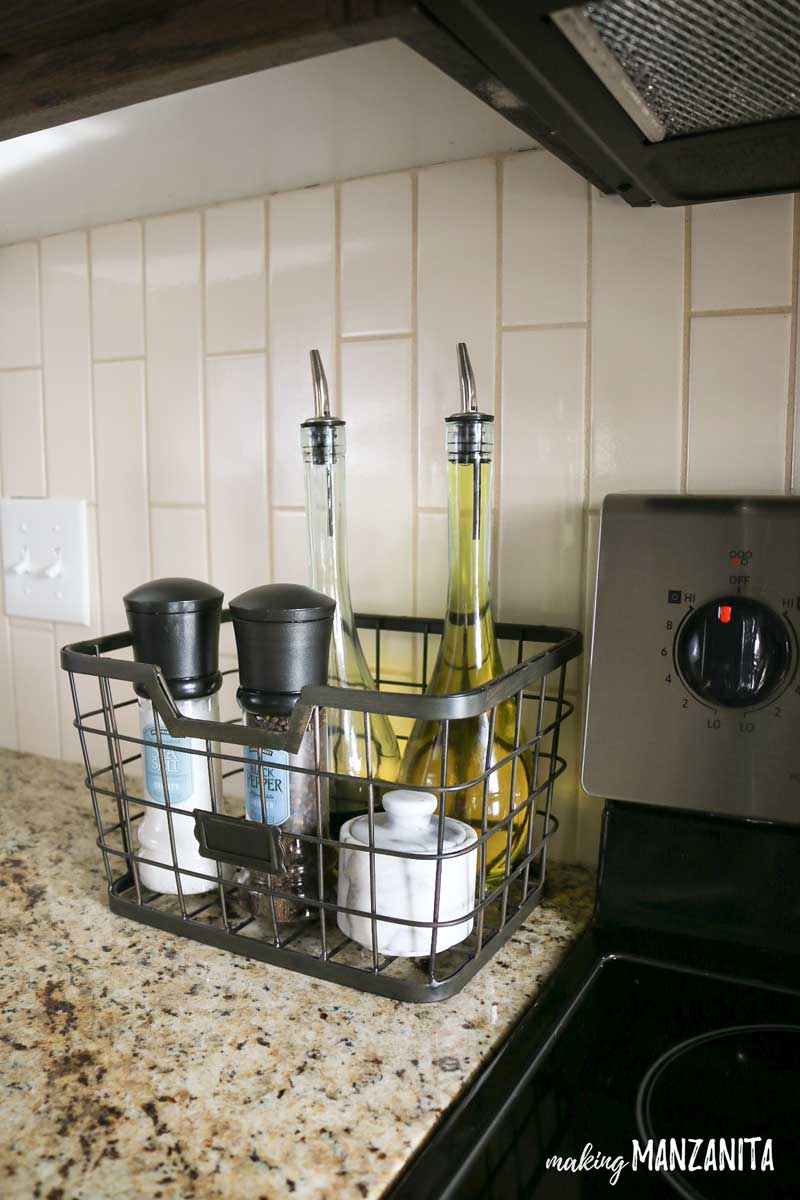 Creative Cookbook Storage
Keep cookbooks close to the oven in a cute vintage washbin. You can also store utensils and cooking supplies there as well.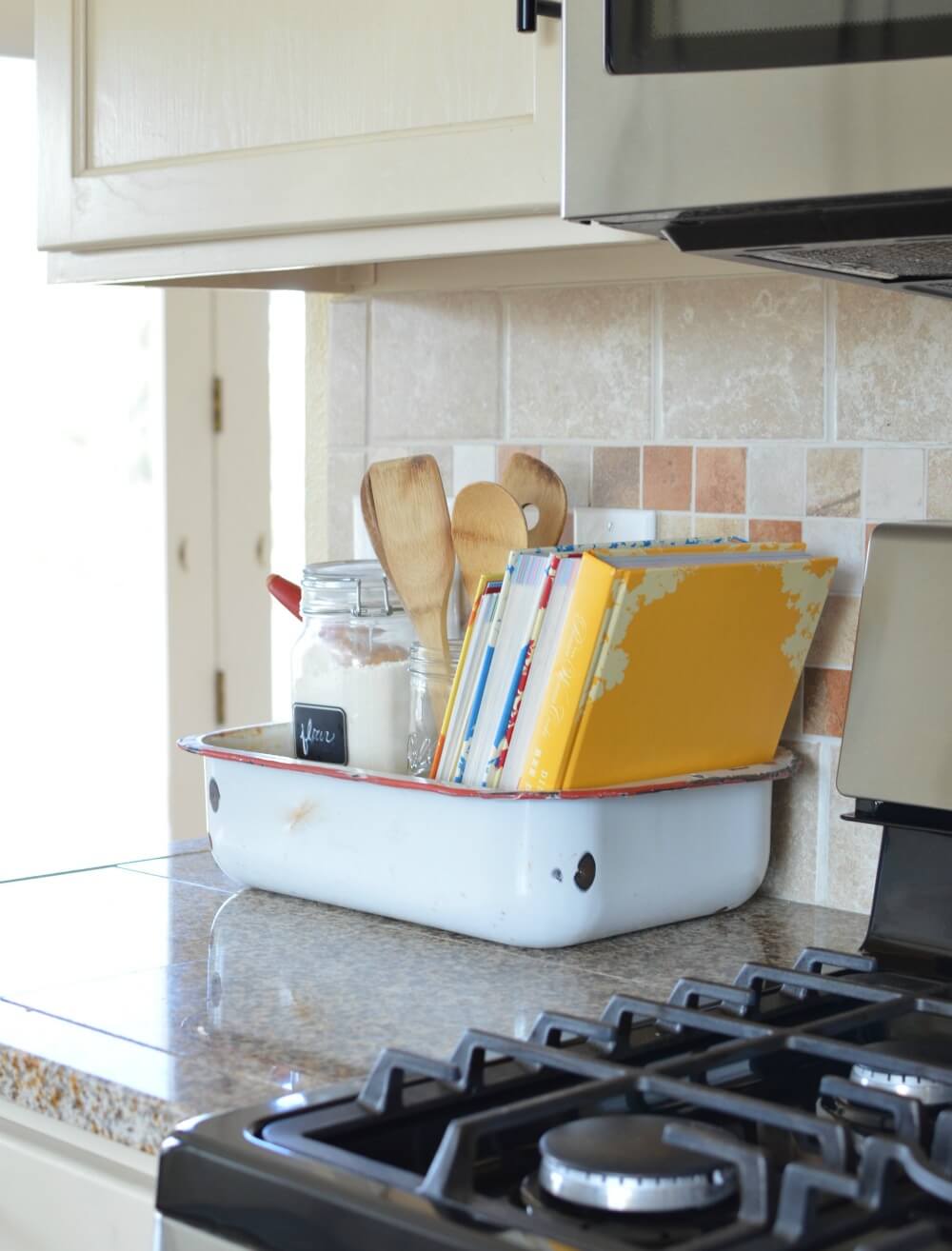 Give Your Mail a Home
Rather than just coming in and tossing your mail on the counter, give it a designated home. This will prevent your counters from cluttering up. We love the idea of using a cute vintage box.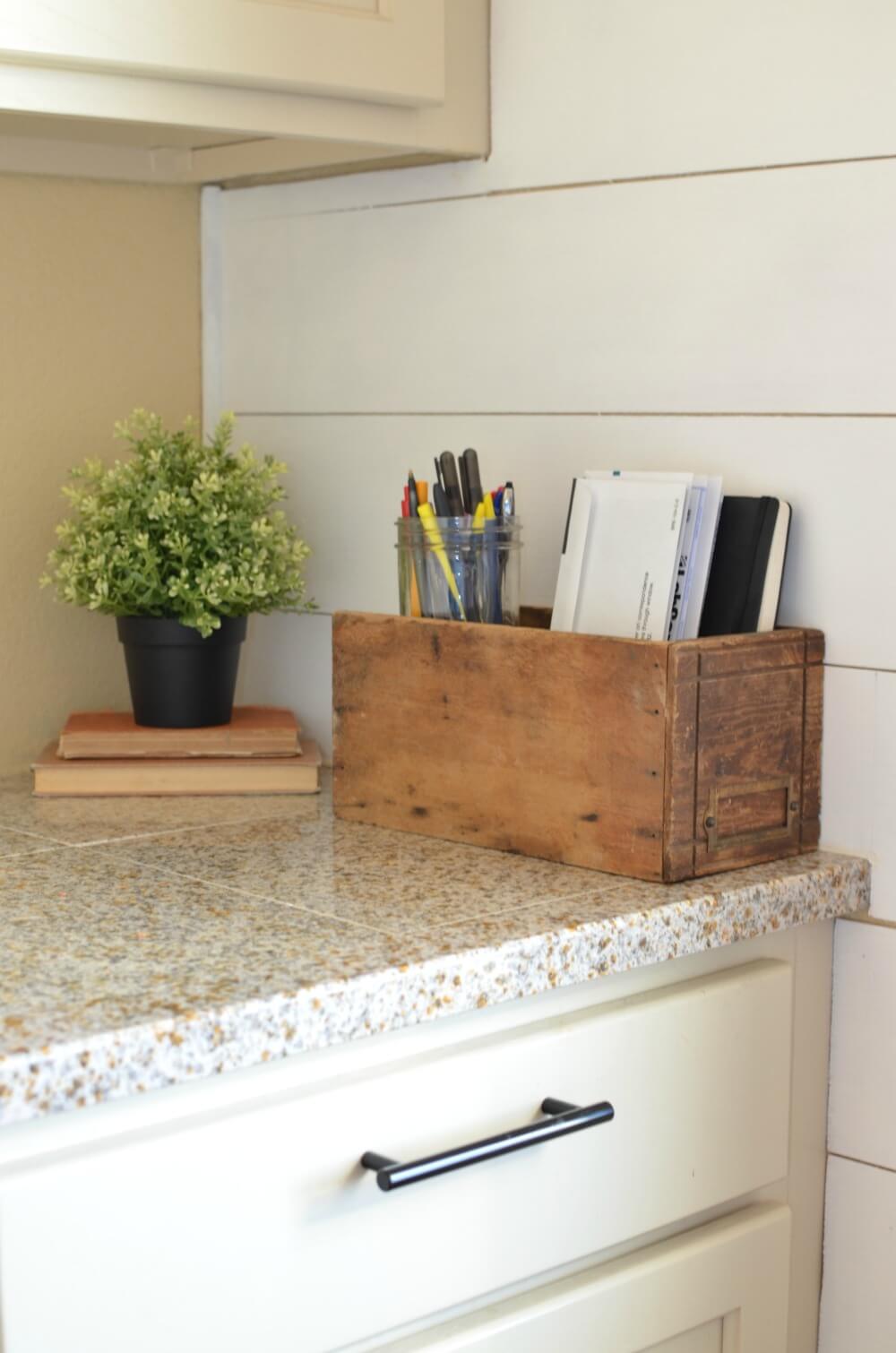 Handy Spice Station
This creative DIY rack from Her Tool Belt does it all — hangs utensils, holds your mugs, and provides a home for your spices. It's nice and slim, too!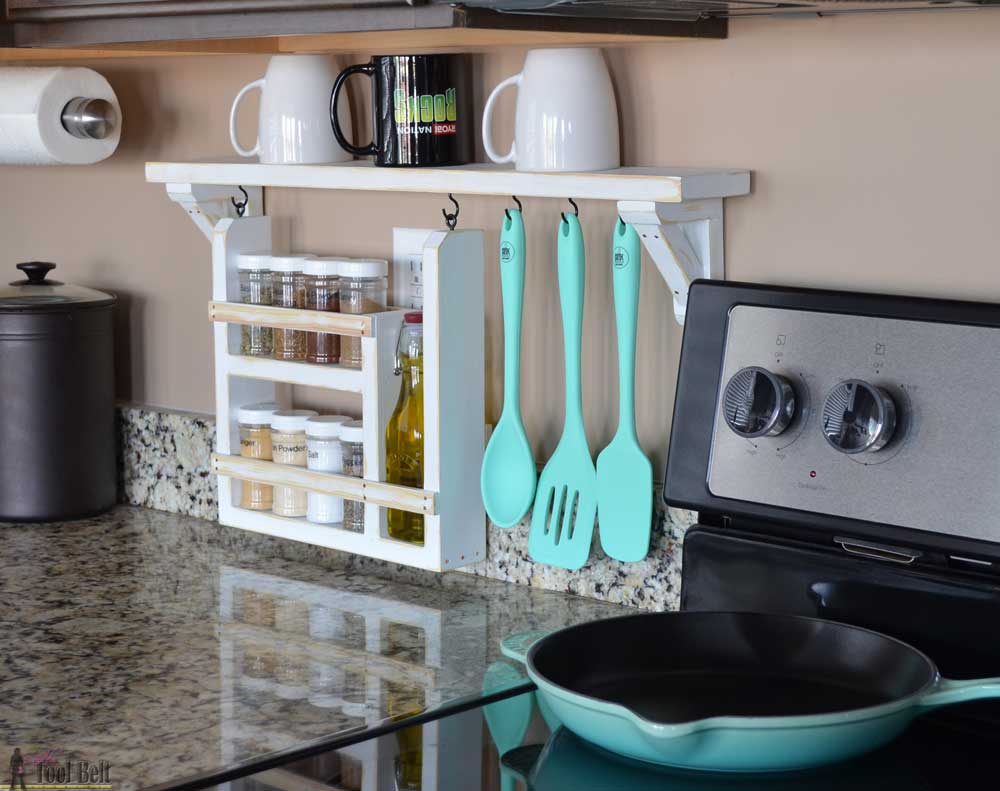 Quick Tips for Keeping Counters Clutter Free
Don't store appliances on the counters.
Only keep the absolute necessities on the counters.
Put dirty dishes in the dishwasher immediately.
Keep decorations to a minimum.
Keep a central location for papers and mail.
Create a designated spot for regularly used items.
Quick Tips for Styling Your Countertops
Use accessories in odd numbers.
Group and layer your items for contrast and interest.
Vary your heights and finishes to draw the eye up and around a vignette.
Use color, texture, and pattern in your accessories.
Don't clutter your counters.
Frequently Asked Questions
FAQ
What items should be kept on the kitchen counter?
The best items to keep on the kitchen counter are those you use daily or almost daily. Try not to clutter your countertops with items that you rarely use. Items such as coffee makers, cutting boards, and cooking utensils are all items that are handy to have close by and out in the open.
Should I leave small appliances out on my counter?
While it may seem handy not to have to lug out small appliances when you need them, they also take up a lot of counter space. So unless you have a massively large kitchen, it's best to store items like toasters, blenders, and mixers away until you need them. However, this will not be the case if you use these items daily.
Should I decorate my kitchen countertops?
While decorating kitchen countertops is fun and can leave your kitchen looking fresh and beautiful, in the realms of practicality, kitchen countertop decor should be kept to a minimum. Try a nice tray in the middle of an island with a fresh bouquet of flowers, a candle, and a few utensils. If your counters are overdecorated, cooking in the kitchen can be very difficult.
How do I free up counter space?
To free up additional counter space, hang as much as you can on the walls around your kitchen, and keeping drawers and cupboards organized will help with storage solutions. Think of the items you use daily, reserve counter space for them, and tuck everything else away in your cabinets or pantry.
If you have an exceptionally small kitchen, forego any kitchen counter decor as this will take up space. Instead, opt for hanging decor or above the cupboard decor.
Takeaway
There's no doubt that the kitchen is the busiest part of the home for most of us. Spacious or cramped, it is also by far the most equipped. Given that this is where most of our grocery purchases end up, ample storage space is necessary. So, it helps to keep your place tidy with these best kitchen counter organization ideas.
If you need more help when it comes to the kitchen, check out these related articles: