If you're lucky enough to have a home office, you likely relish the chance to get some good work done from home! And what's more fun than designing your own work space?! At the same time, many home offices are challenged for space, making strategic organization a necessity. How do you tackle a room filled with paperwork and the business of day-to-day life, especially when many home offices serve another function, such as a guest room?
Today we explore home office organization tips with the help of some gorgeous images that prove you don't have to sacrifice style to keep things tidy. From techniques that help you maximize your wall space to specific storage options that get the job done, we've got a slew of ideas that will bring a level of neatness to your home work space. Check out the ideas below, then share your organizational thoughts by leaving a comment at the end of the post.
Strategic Storage for the Home Office
When it comes to maintaining a beautiful home office, there's no denying that storage is key. Wouldn't you love an office like the one below, free from paperwork and any sign of clutter? Concealed storage in cabinets and drawers may be the answer. However, make sure you stay realistic. If you use your home office for heavy duty business, a highly decorative space may not be in the cards. It's OK if a filing cabinet or a few stacks of paper make an appearance. At the same time, keep reading for some ways to use storage to your visual advantage… [photography by Shae Rocco, from Jennifer Gustafson Interior Design]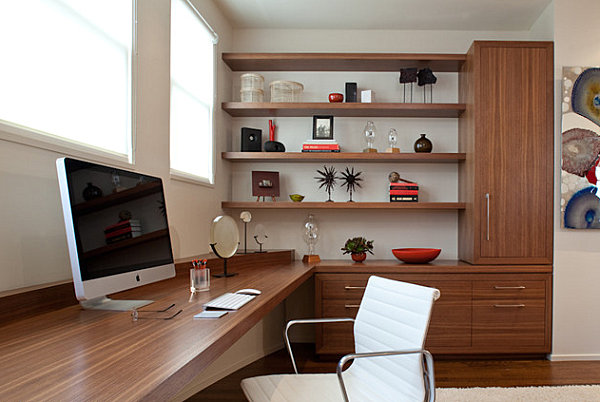 If you're one of those lucky renters or homeowners with built-in storage, make the most of it! Nothing beats an above-desk bookshelf or cabinets that can hold office supplies. In the home office below, we see a room with plenty of shelf and cabinet storage space.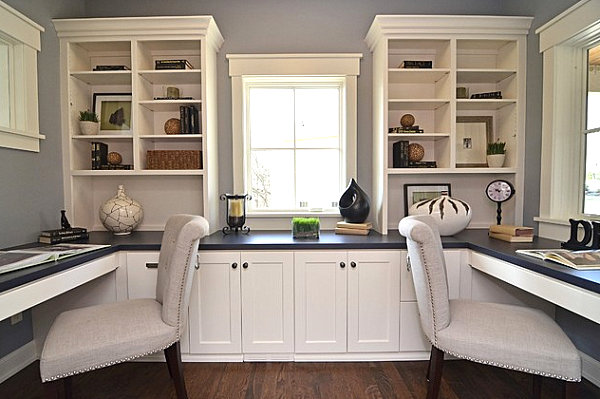 However, if you don't have a room filled with built-in storage options, don't hesitate to add some under-desk file cabinetry, as shown in the home office below. You can even throw in a colorful touch, such as the radiant yellow piece below. [from ASAP House]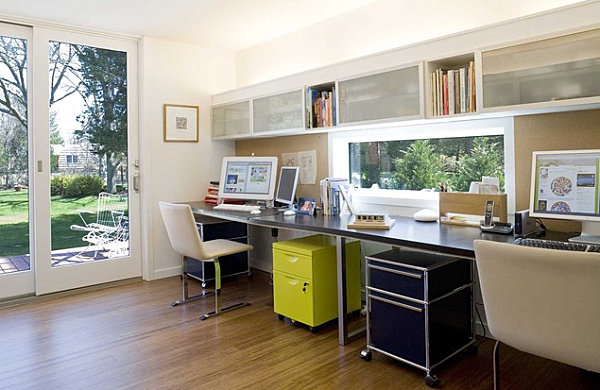 Concealed storage is ideal, especially if it's behind cabinet doors or frosted glass panes. However, if you have open shelving, don't fret. A range of baskets and classy boxes are available for purchase! There's no need to let piles of paper rule your space. Tuck clutter inside of an opaque container, as shown in the next featured space (with its woven baskets and white boxes). [from Angela Ruple Interior Design]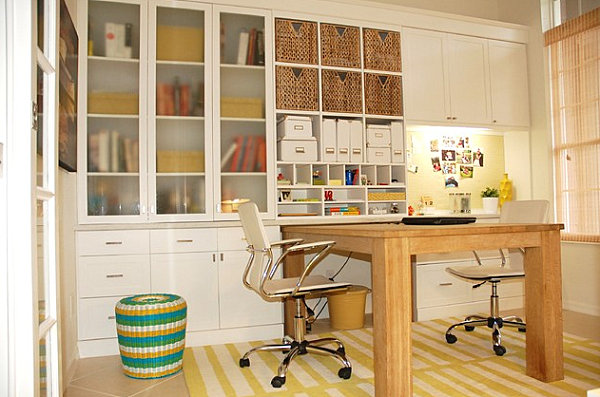 Below we see another assortment of pretty boxes that reinforce the color palette of the room. To keep the look clean and contemporary, stick with boxes of the same color. This strategy unifies your space, giving it an extra tidy appearance. [from 3 tok design group]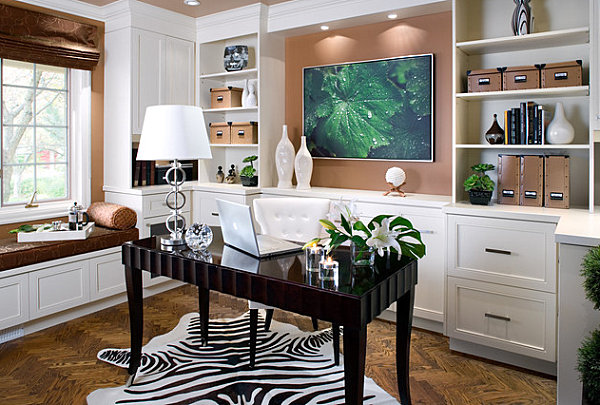 Another option for those without built-in storage is to purchase furniture with built-in storage capabilities. Like the desk below, which has a lower shelf that's perfect for holding paper trays, printers, and more… [from Love, Thomas]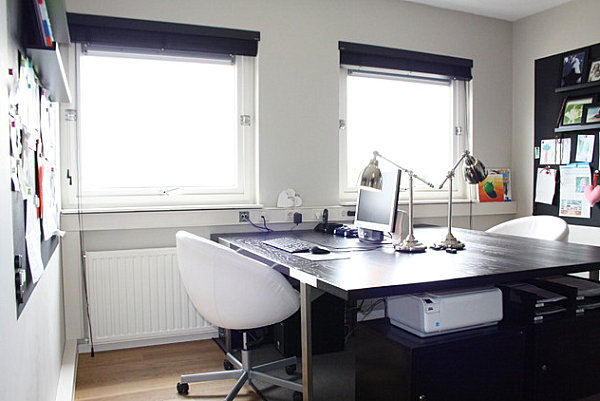 Maximize Desk and Wall Space
Let's face it–the whole purpose of maximizing storage is to make the most of your desk space. One way to do this? By using wall space to your advantage! But before we get into the details, check out the home office below, which features a wraparound desk that makes this room ideal for the whole family! Note the shelving above the desk space at the left. [from Oak Hill Architects]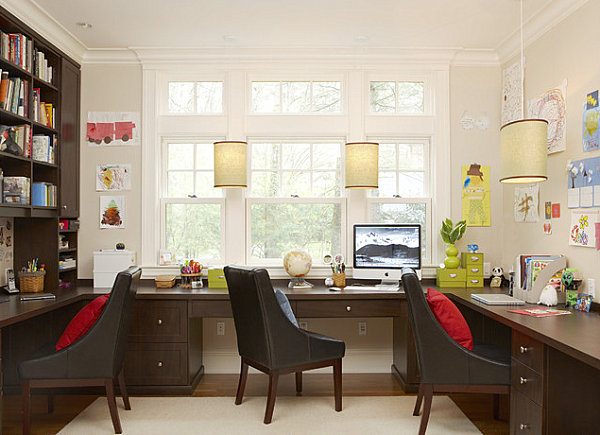 Another way to maximize desk space? Only display the essentials. For example, below we see computers, lamps, phones, a printer and other necessities on the desks below. It may be tempting to put out a slew of decorative smalls, but if you're truly using the space to work, you may want to think twice before decking it out in designer items. [from Tracy Murdock Design & Management]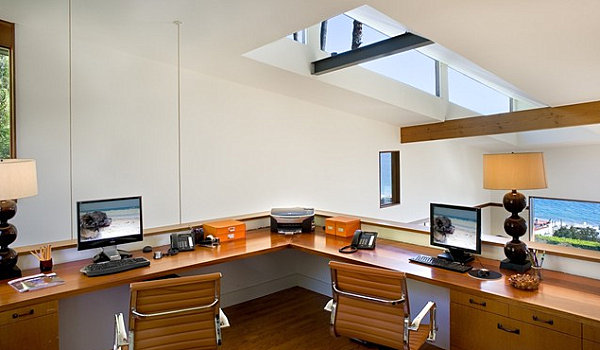 If your space has a long desk, you may have more leeway when it comes to displaying decor. For example, check out the desk below, which spans the length of the home office's window-filled wall. The result: There's plenty of space for bold accents like a vase of tropical flowers! [from Cathy Schwabe Architecture]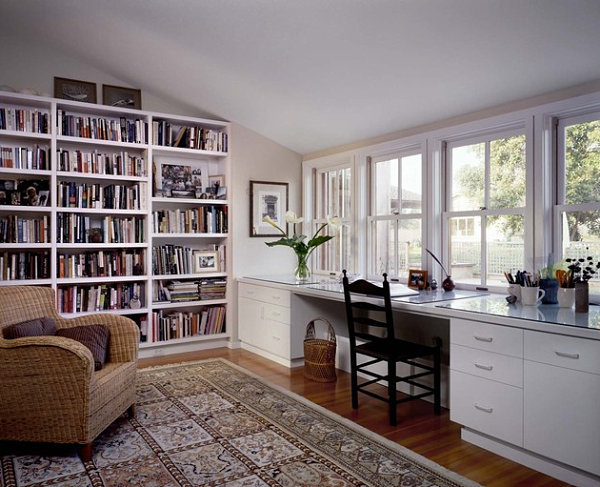 Let's hear it for wall space! You too can have plenty of room to display artwork, schedules and other important paperwork. All you need is a tall bulletin board, and you're set! Remember, keep that paper off the desk… [from Closets Redefined]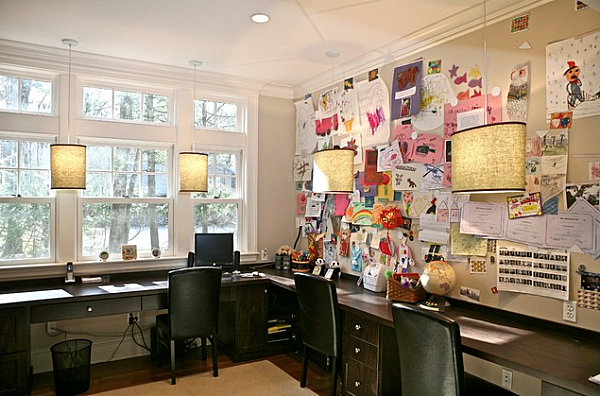 Another option for utilizing wall space involves hanging organizational items above the desk, as shown in the next featured home office. Pen holders, files, a calendar, hooks and shelving can all be consolidated with the help of strategic storage. [from Bright Bold & Beautiful]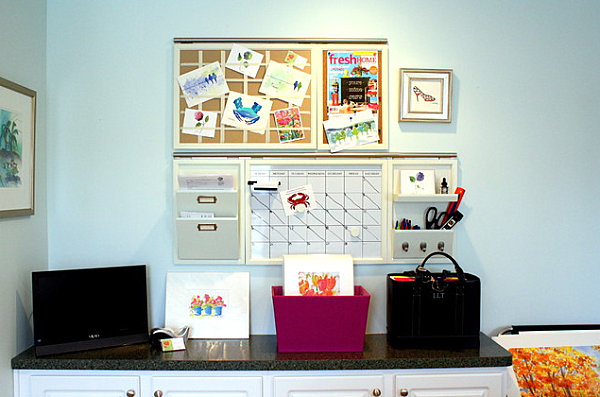 We see a similar wall organizational unit in the elegant home office below. When the color of the storage piece matches the color of the furniture, a perfect blend of the practical and the decorative is achieved. The result: modern sophistication. [from LiLu Interiors]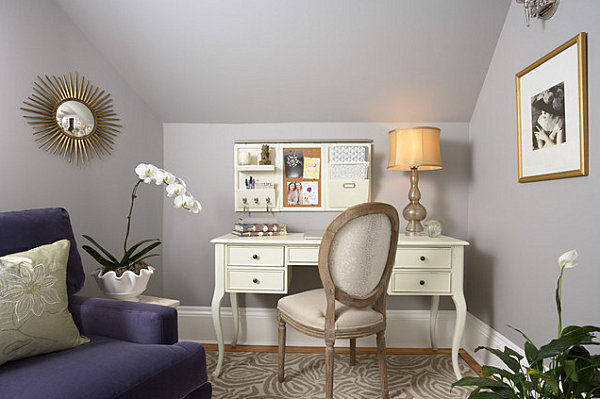 And of course, we once again see the undeniable value of built-in shelves. Nothing maximizes wall space like a slew of hanging shelving for the storage of books, files and other crucial items. [from Cornerstone Architects]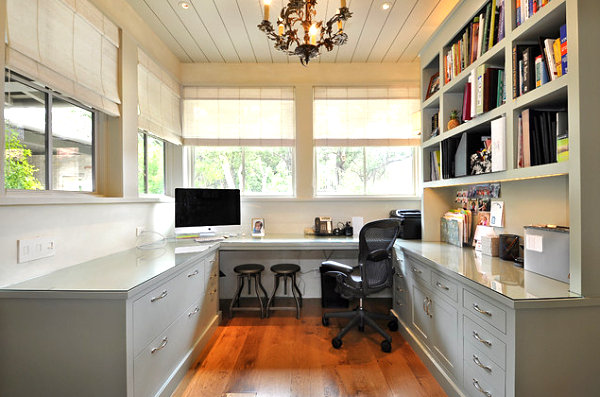 Home Office Organizational Details
We end by taking a closer look at some organizational details that can make your life easier (and more attractive)! While the space below is clearly not a home office, it illustrates the keys to successful home office organization: wall shelving, under-desk storage, an abundance of work surface space, and wall display space. Functional, stylish and ideal, don't you think?! [from Lonny]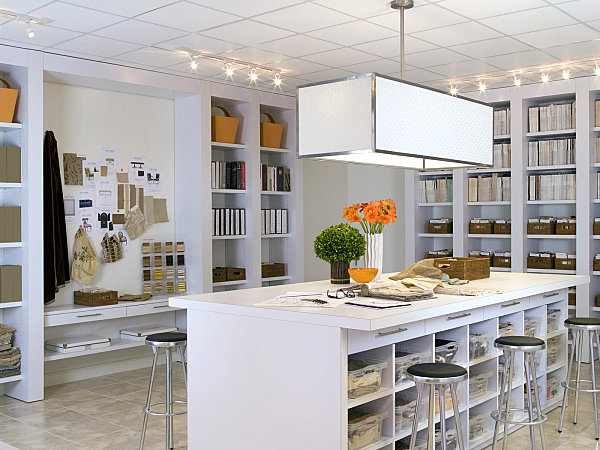 Don't forget the importance of strategies such as grouping paperwork, magazines and other booklets that you may need access to in your home office. For example, the clear containers below keep magazines tidy, upright and neat. [from Lonny]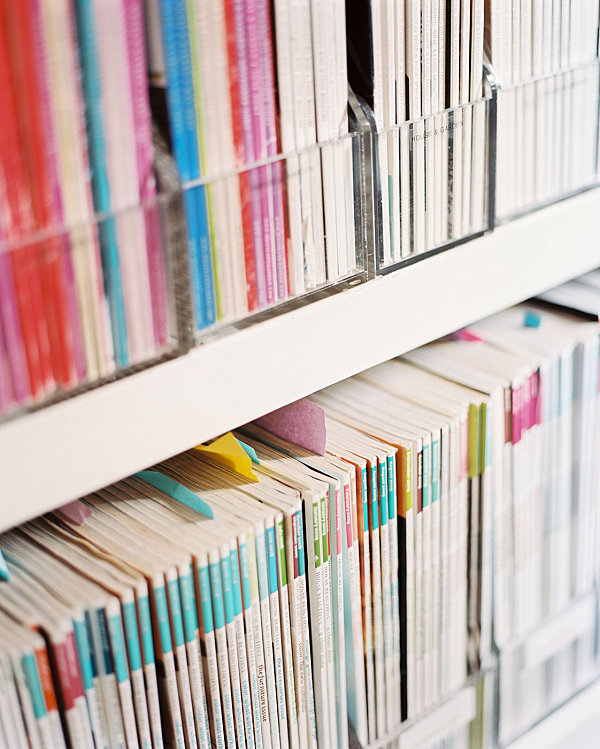 Remember that making an effort to keep a neat work space may open the door for decorative possibilities. For example, in the next featured room, magazines, folders and papers are organized and tidy, creating space for decorative statements such as the owl. Note how the opaque nature of the file containers cuts down on visual clutter. [from Lonny]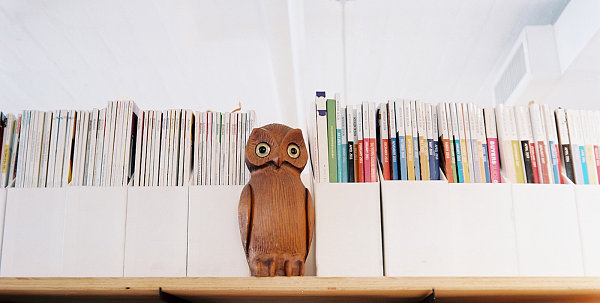 Remember that you can always bring storage pieces into your space, such as the handy trolley in the next image. With compartments and layers of shelving, there's plenty of room for small office supplies, as well as larger items such as folders and storage boxes. [from Red Cover via Lonny]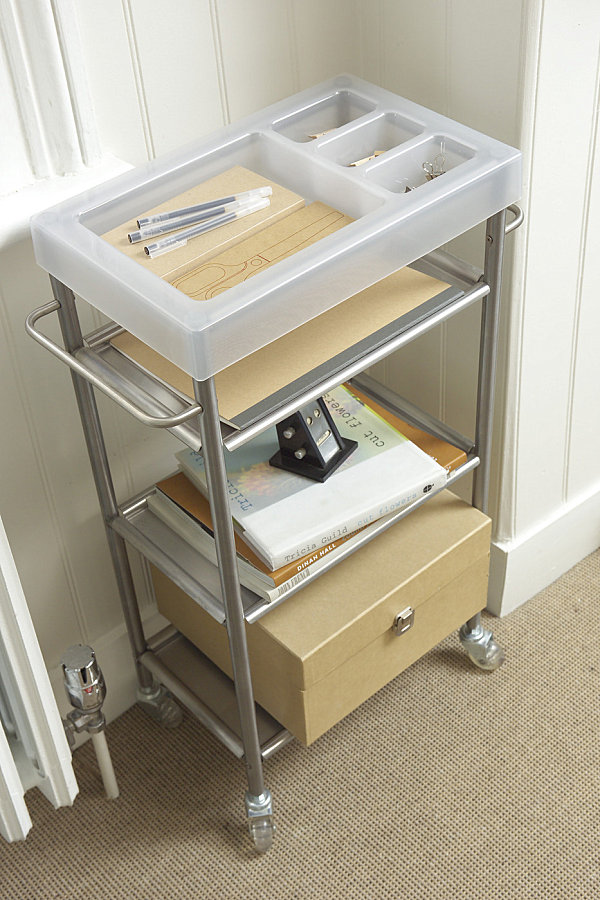 Finally, the space below reminds us that many home offices are shared spaces with dual purposes. Which makes organization all the more important. The eco-friendly space below (note the recycled glass countertops) is part home office, part gym. Thank goodness for the white cabinets, which provide plenty of storage space. [from Elements by Durcon]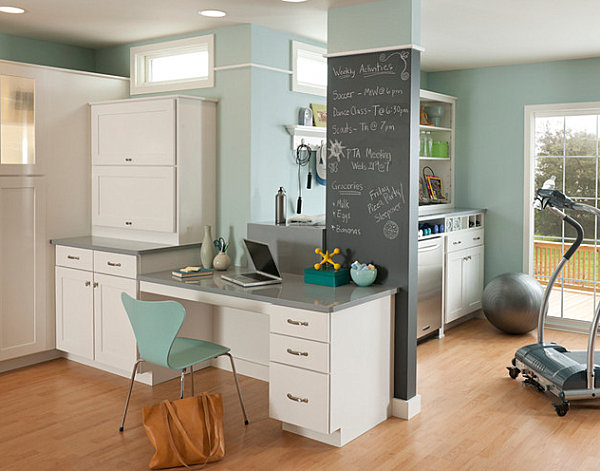 Now that you've seen some home office organization ideas, are there any that have caught your attention? Do you have any organizational tips that you'd like to share? Leave a comment below–we'd love to hear from you!….