They say that the best inventions are those that are born out of sheer necessity, and the truth is not all that different, even in the world of interior design. Each era and time period across centuries has produced distinct styles that have been rehashed and revamped over time by innovative designers to create refreshing and captivating interiors. One such style that is currently topping the trend charts and transforming contemporary homes across the world is industrial. The distinct elements of the industrial style bring along with them simplicity, practicality and efficiency. And few epitomize this like industrial-style pendant lights.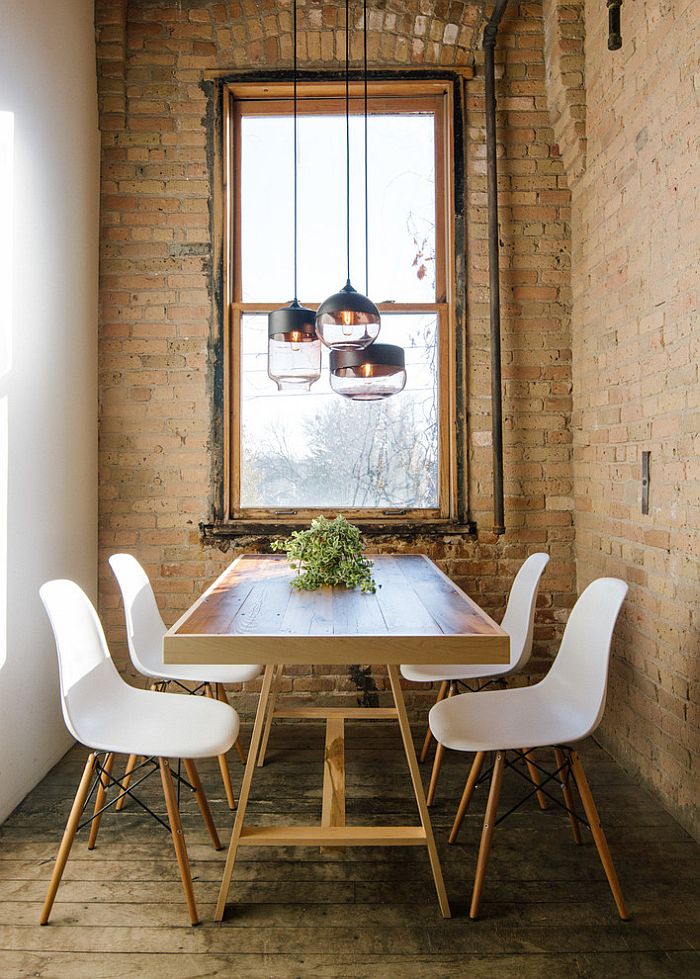 Overhead lights, which started as a necessity during the height of the Industrial Revolution in factories all over the globe, soon found the status of intriguing design elements that brought textural and visual contrast to modern interiors. Arguably the most iconic element of industrial style, these pendant lights work in a variety of interiors and blend in seamlessly with more modern themes. The 50 dazzling inspirations that we have lined up today showcase the diversity and beauty of industrial-style lighting.
1. Exposed-Filament Bulb Look
We start off with pendants that seem to effortlessly combine the inherent minimalism of industrial style with a cool, vintage appeal – exposed filament bulbs. These stripped-down lighting fixtures are fast becoming a staple in restaurants, coffee houses and eateries that wish to combine their rich past with a relaxing modern ambience. These ultra-simple lighting fixtures also work well in contemporary, minimal and of course industrial homes, as they seem both unassuming and captivating at the same time! Combine the simple bulb with a metallic holder in a color of your choice, and you have a delightful pendant that transcends styles and themes!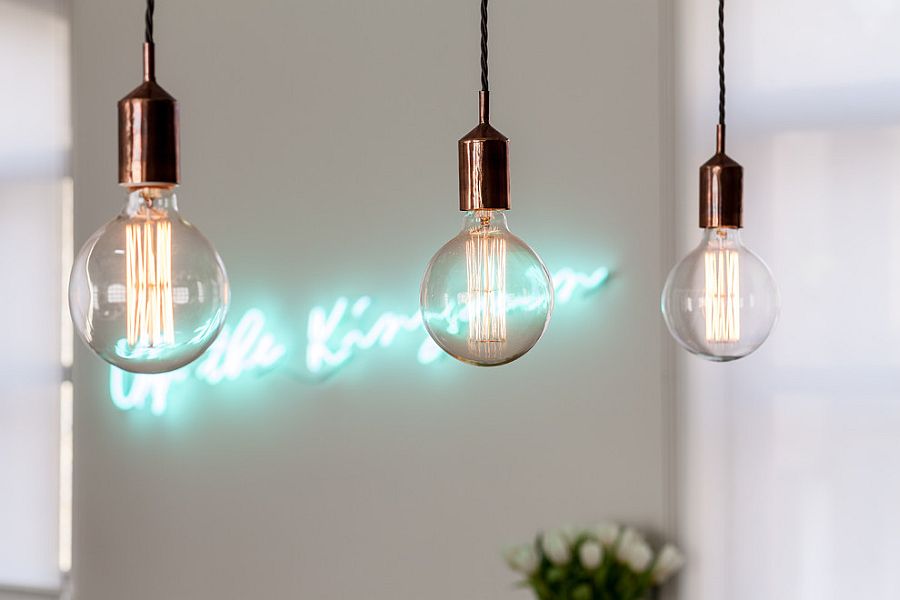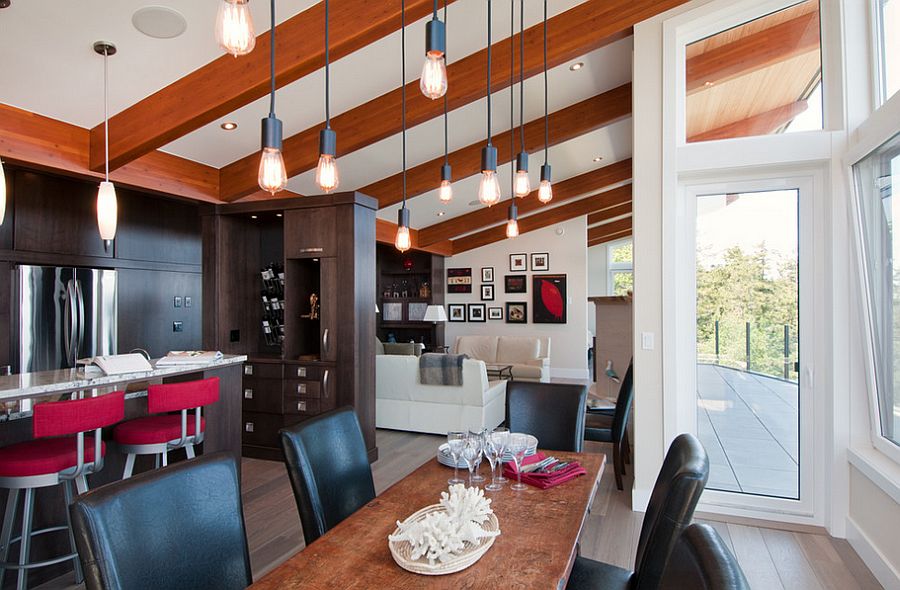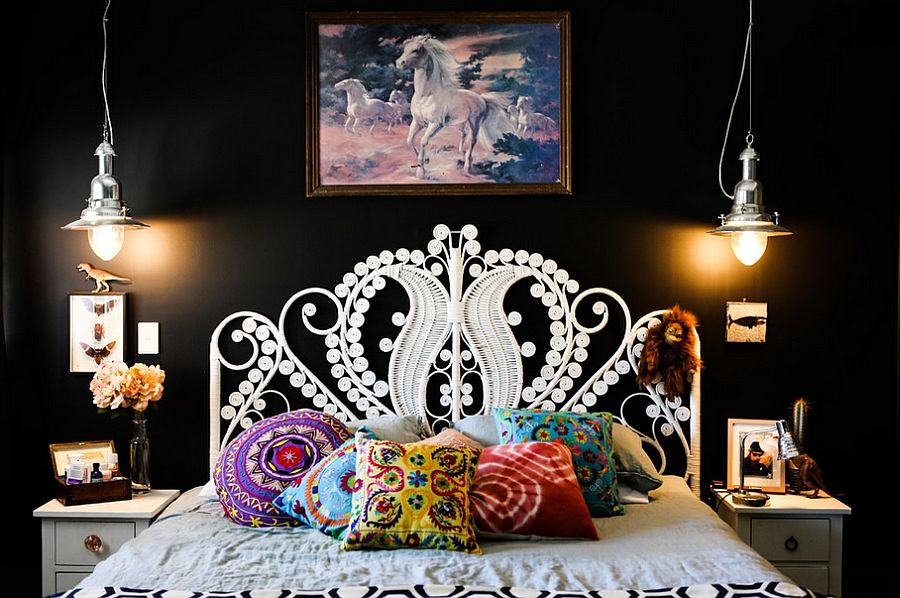 One of the biggest complaints with these uber-elegant industrial lights is that they bring back outdated bulbs that are not planet-friendly and turn up your power bills. A safe compromise is to replace the filament bulb with modern LED variants that offer the same visual effect at 80 percent more energy-efficiency. These simple industrial lights also are smart space-savers that work brilliantly in small bedrooms, bathrooms and dining spaces.
2. Rustic & Salvaged Style
Utility is the mantra that distinguishes industrial style from others and defines its finer details. Instead of splurging on a set of new industrial-style pendants that you adore, why not turn some of the stuff catching dust in your attic into unique pendants? Everything from old radiators, pulleys and wire baskets to reclaimed theater lights and vintage factory pendants can be turned into stylish pendants for your kitchen and living room. These custom lighting fixtures end up being mesmerizing focal points and instant conversation starters, and you can even add a few flea market finds to give the interior a more vintage industrial style.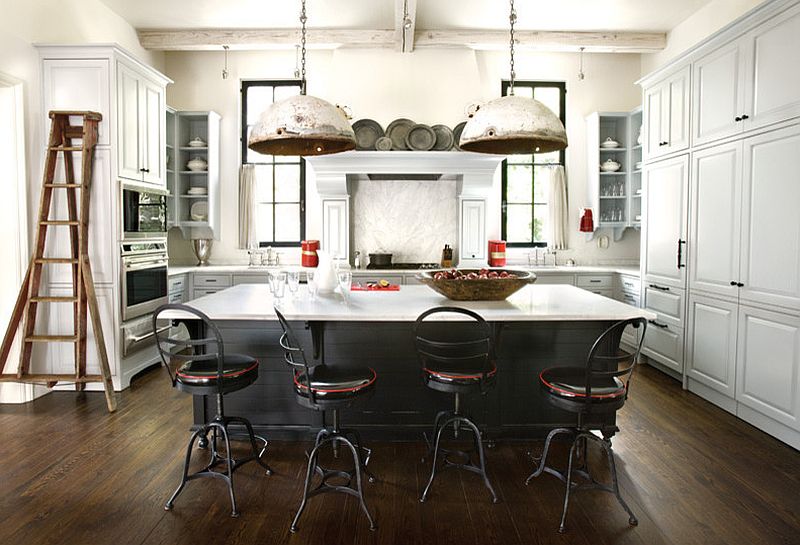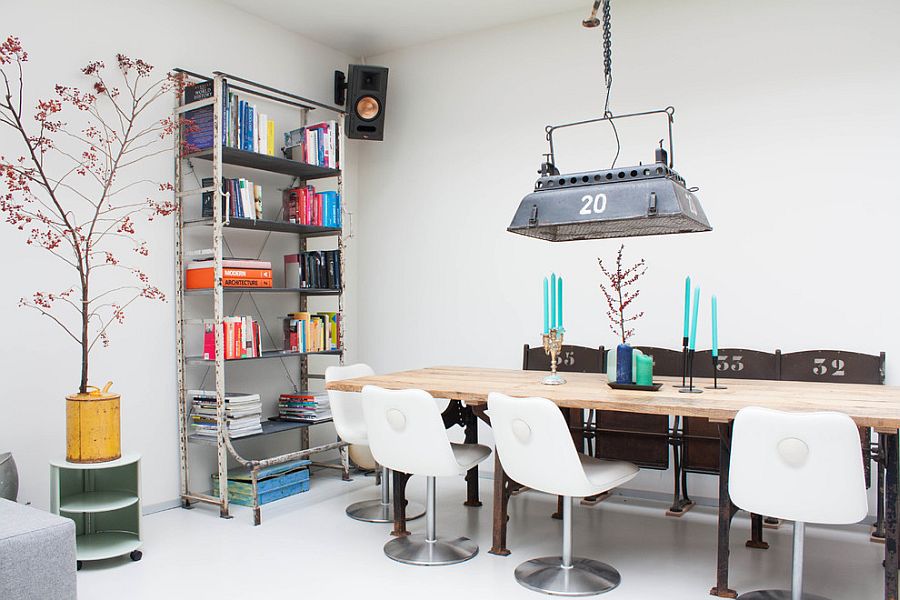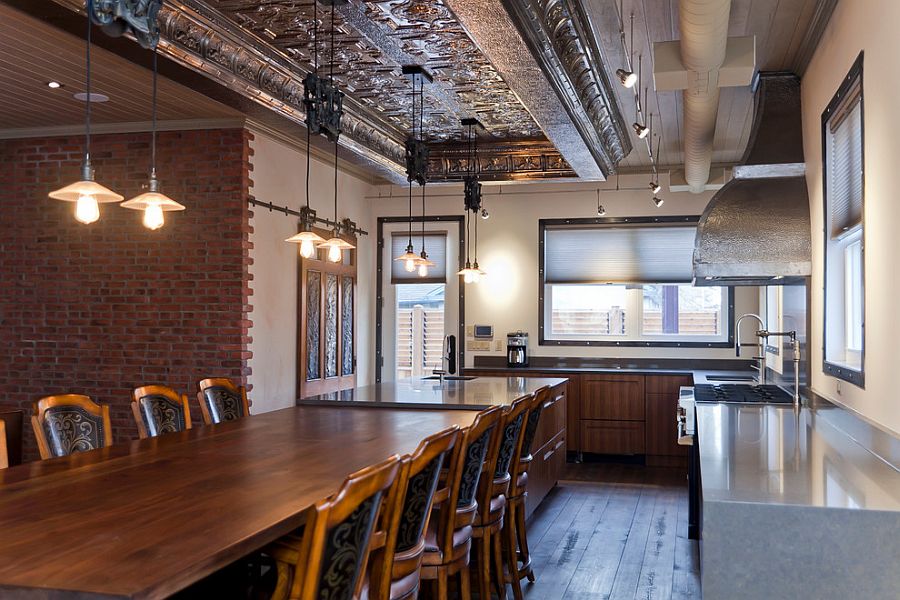 Turning salvaged items into fabulous pendants is a lot easier than you think. If you are searching for some inspiration when it comes to crafting your own industrial-style pendants at home, check out these 50 awesome DIY pendant light ideas. Many of them are super-easy to make and have a distinct industrial flair that is simply irresistible!
3. Industrial Kitchen Lighting
Every time you think of industrial lighting fixtures, the first thing that comes to mind is the kitchen. With an endless array of pendant light choices available for the kitchen island, the task of narrowing the selection down to one can indeed be daunting. Industrial-style pendants vary from the small, minimal designs with a simple metal holder to gigantic dome pendants that seem to dwarf everything around them. Picking the right pendant for your kitchen goes beyond just aesthetics, and it is best to combine them with proper recessed lights to get a balance between task and ambient illumination.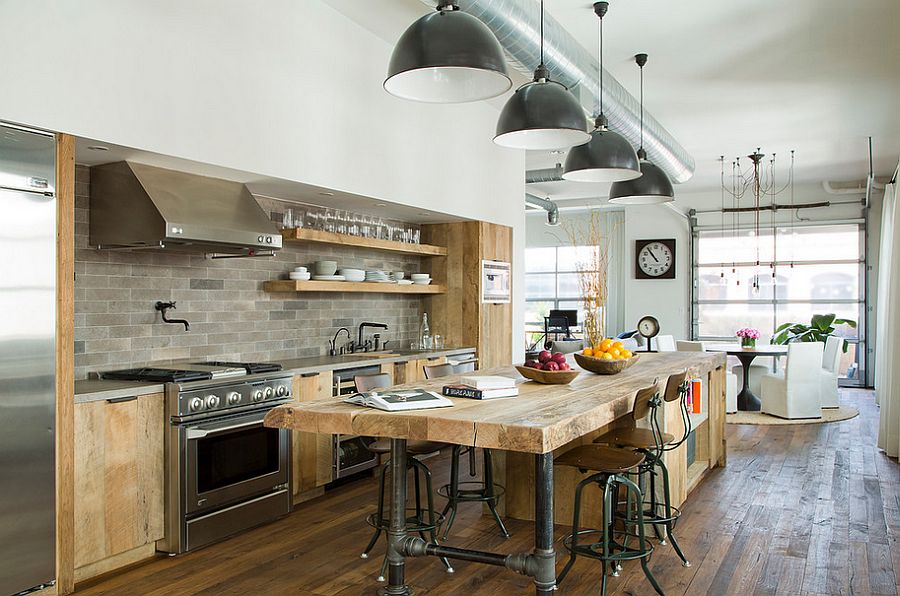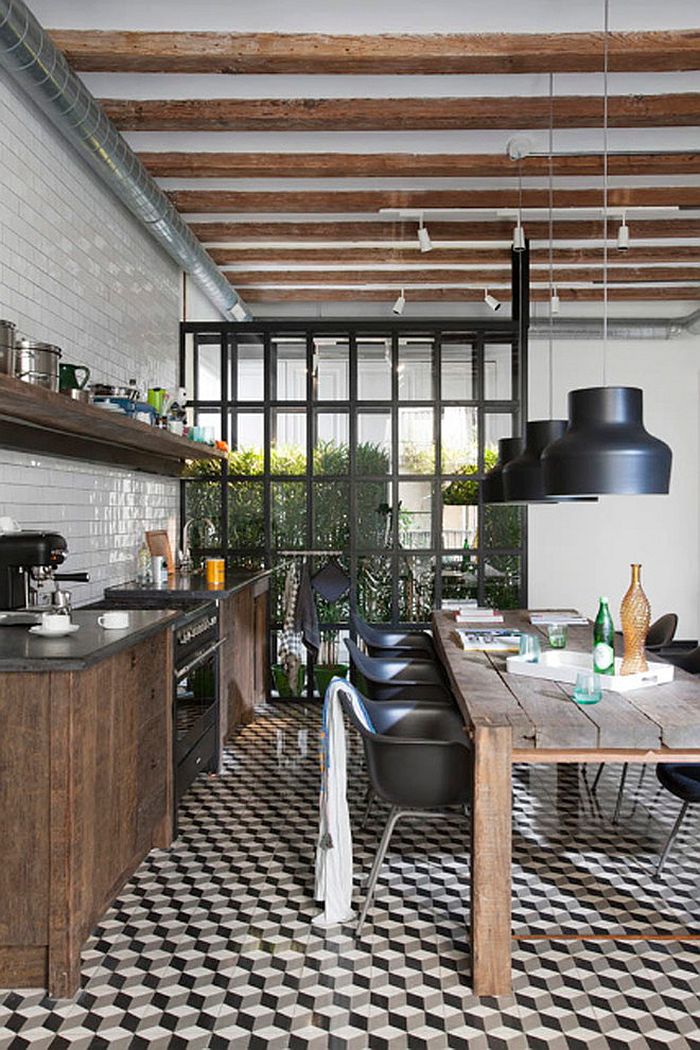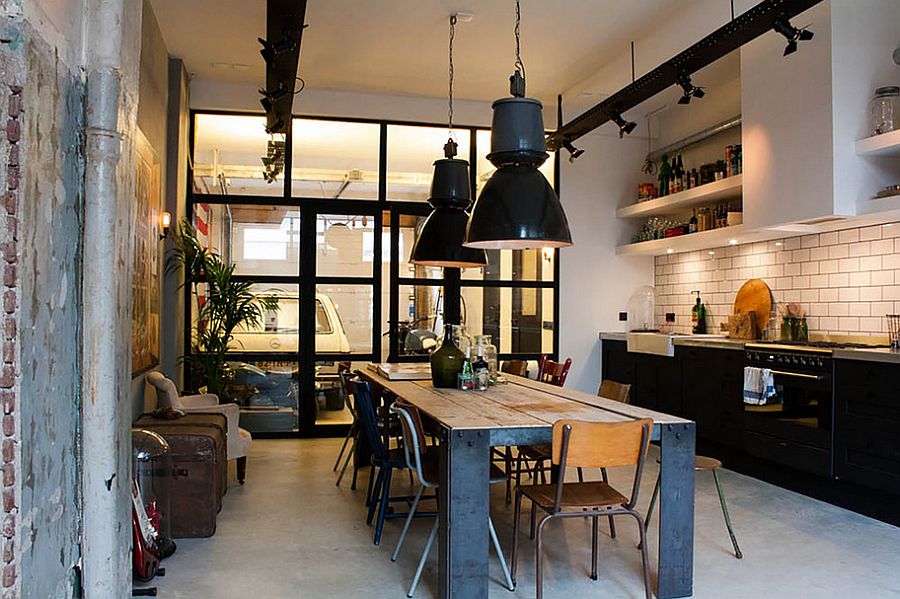 Industrial-style lighting is perfect for modern kitchens that offer a placid backdrop for these metallic giants to shine through. A couple of giant industrial lights above the kitchen island can make a big visual statement without compromising on lighting quality. Even when switched off, they shine through…
4. Dine Under Industrial Flair!
It was Nate Berkus who said "I hate sets. I've always hated sets. I think that if you have a dining room set, break it up!" Hate might be a touch too strong a word, but often dining room sets do indeed breed monotony and boredom. Industrial-style lighting is a good way to move away from the conventional and give your contemporary dining room that X-factor which has always been missing. Chic industrial pendants that combine contemporary finishes with industrial materials are a great compromise, as they act as a bridge between the two contrasting styles.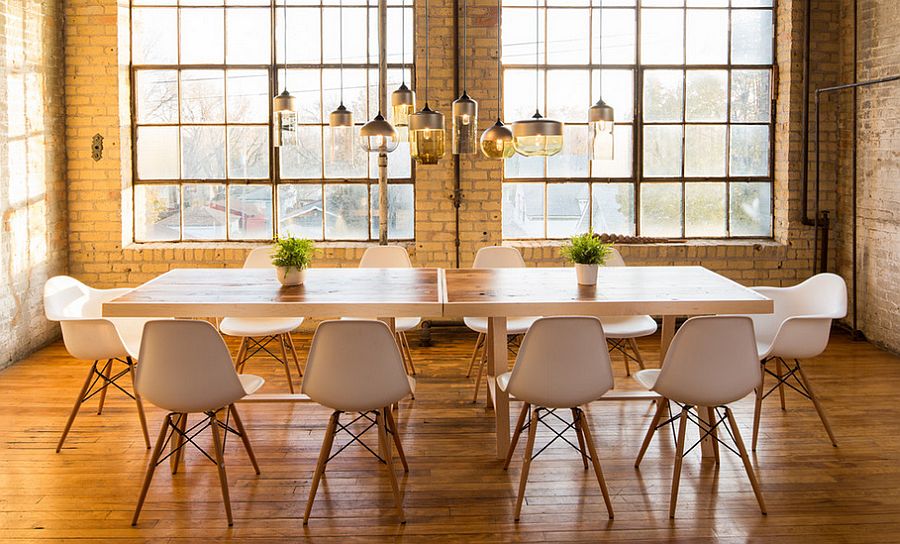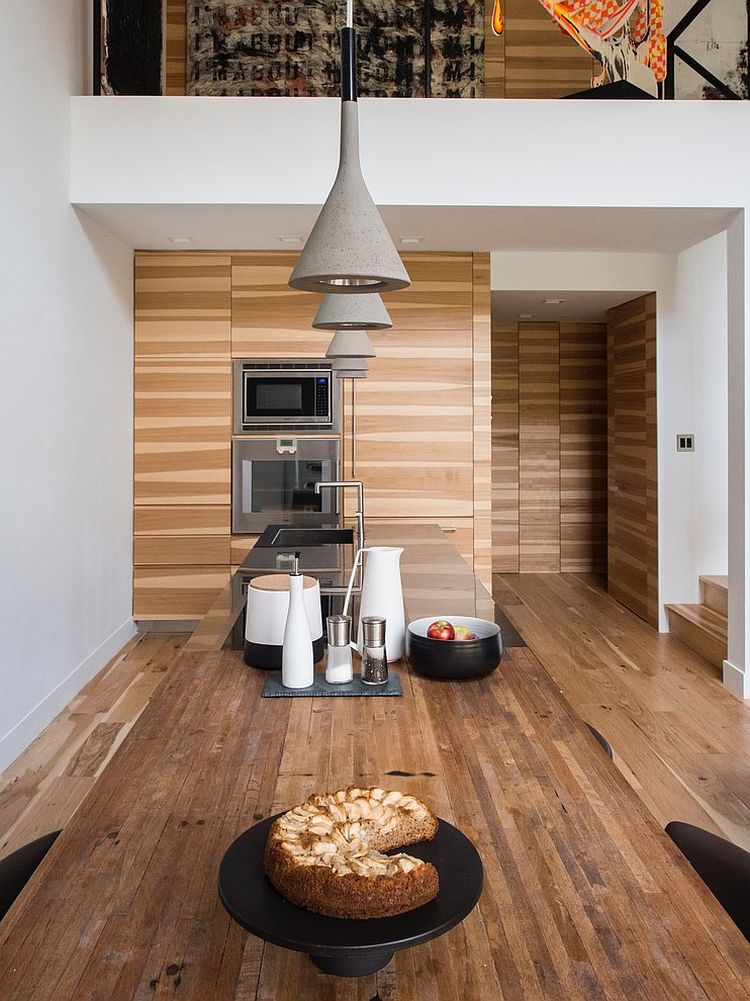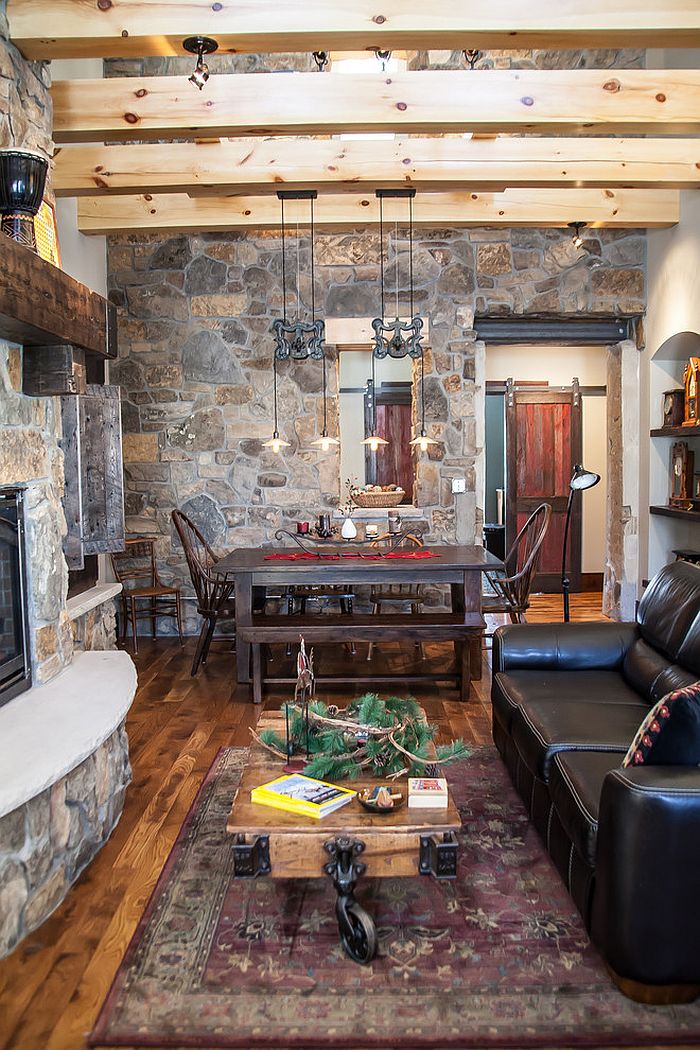 5. Modern Industrial Style
The beauty of industrial-style pendants is that they can easily blend in with any style that you already have going in your home. Whether it is a loft-style living room, a smart game room that brings the entire family together, a productive home office or even a chic nursery with an array of brilliant colors; every single room can use a dashing pendant with industrial panache. While some add color, others tend to bring in geometric intrigue, and then there are those that usher in a sheen of metallic glitter. It is indeed all about different strokes for different folks!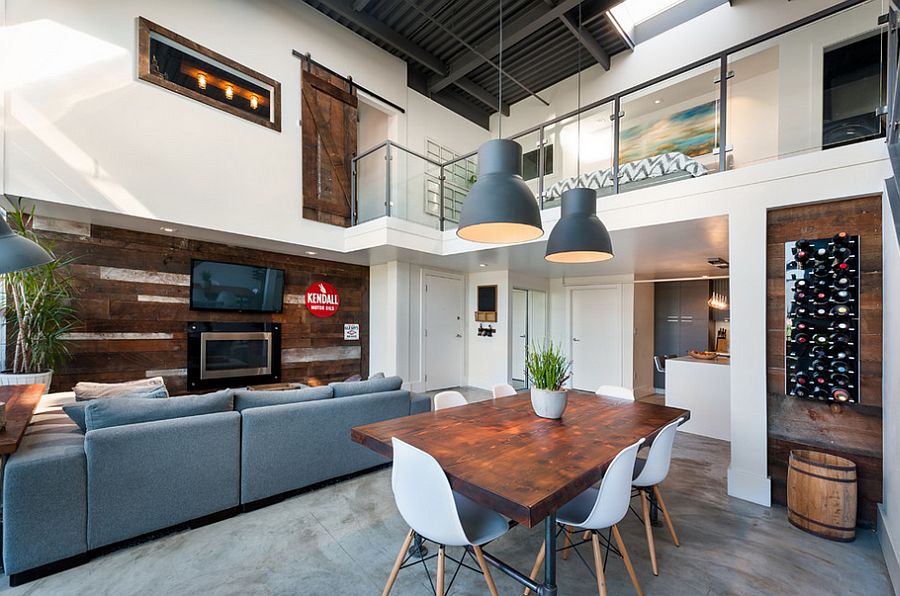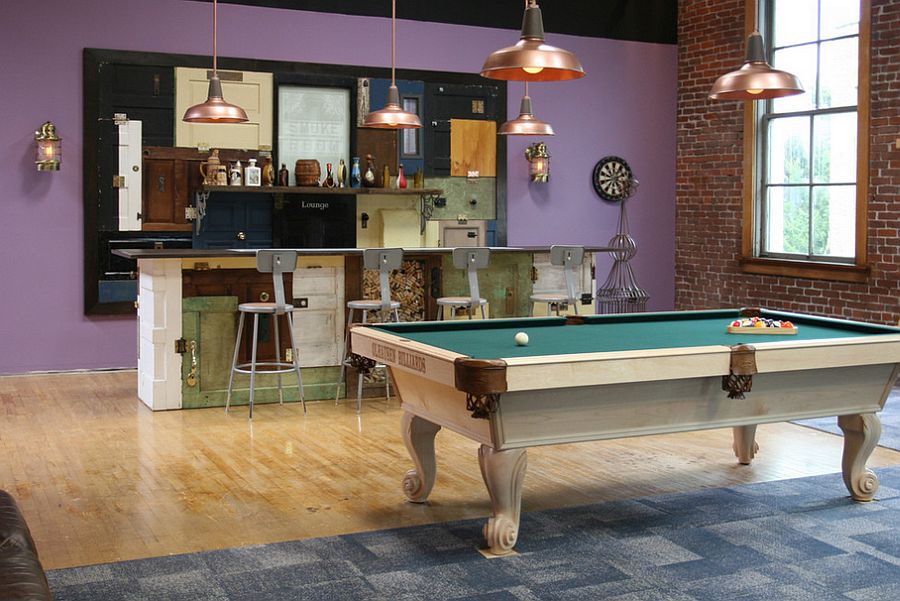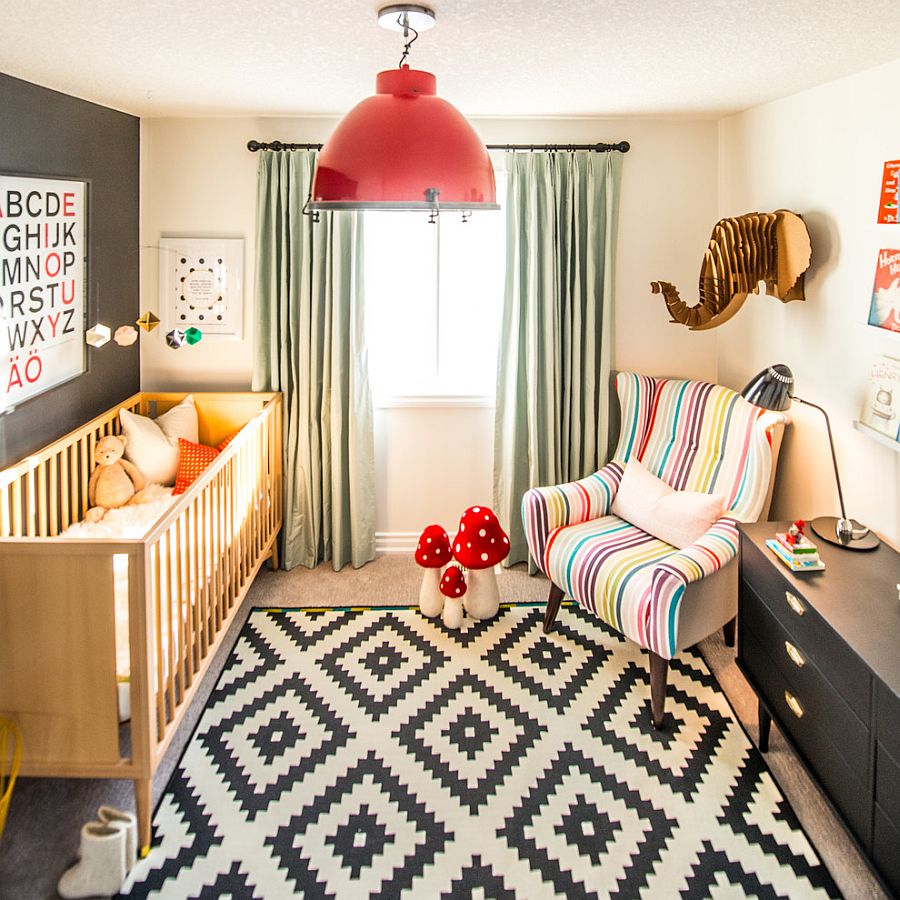 Are you thinking about adding some industrial-style lighting to your kitchen or bedroom this season? What are your favorite picks? Share your favorites with us…