We know that photos can be an amazing source of design inspiration, so this article may contain affiliate links that will direct you to a particular decor item. Clicking on a link may result in a portion of proceeds being paid to www.decoist.com.
If there is one style that celebrates humility, practicality and affordability, then it is surely the industrial style. What started out as an efficient work environment several decades ago soon morphed into a distinct style that made its way slowly from functional loft-style homes to expansive villas and contemporary penthouses. Cutting across generations, it is a trend that never seems to die down! And there are few places in the house which revel in the beauty and unassuming ease of the industrial style as much as the kitchen.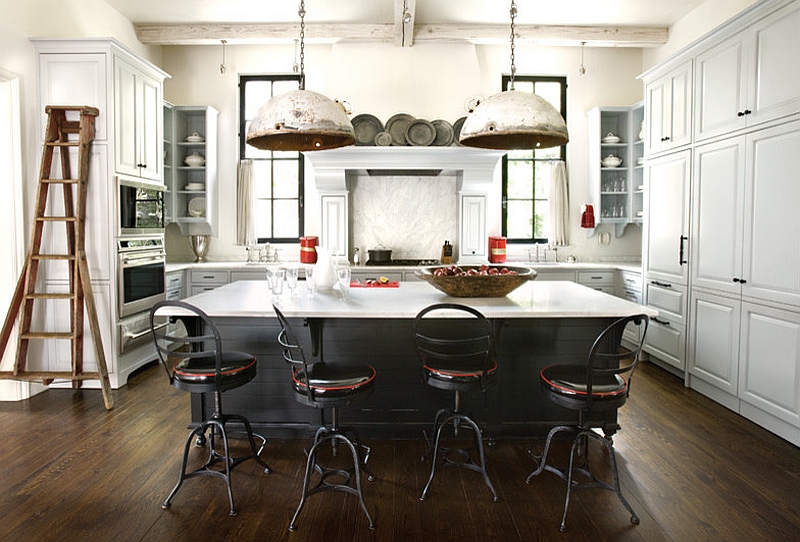 If you have not already given it a shot, 2015 is a great time to shift over to an industrial-style kitchen. And we have an amazing collection of 100 industrial style kitchens to inspire you along the way. While some blend contemporary aesthetics with industrial elements, others stick to the classic, loft-inspired design. Delve in and explore!
1. Flooring and Walls
This is a style that is all about raw textural beauty at its diverse best. In simpler terms, think brick, tiles and even concrete walls while planning for the industrial kitchen. Subway tile is the go-to trend for industrial and modern style but it can get pretty pricey. For an easy alternative, you can get peel-and-stick subway tile or faux brick wallpaper that will completely transform your kitchen without any serious renovation. This subway tile set from Macy's comes in four, 10×10 inch panels or you can even get a 33-foot roll of brick wallpaper from Macy's.
Brick walls obviously are a favorite among homeowners and currently lead the pack, but do not forget the value of exposed steel surfaces and the right flooring, which elevate the kitchen to a whole new level.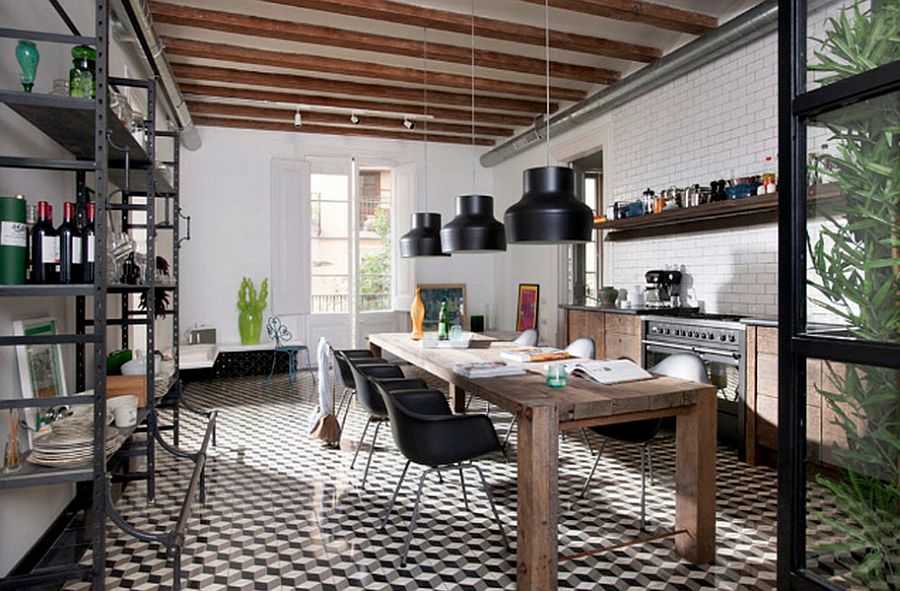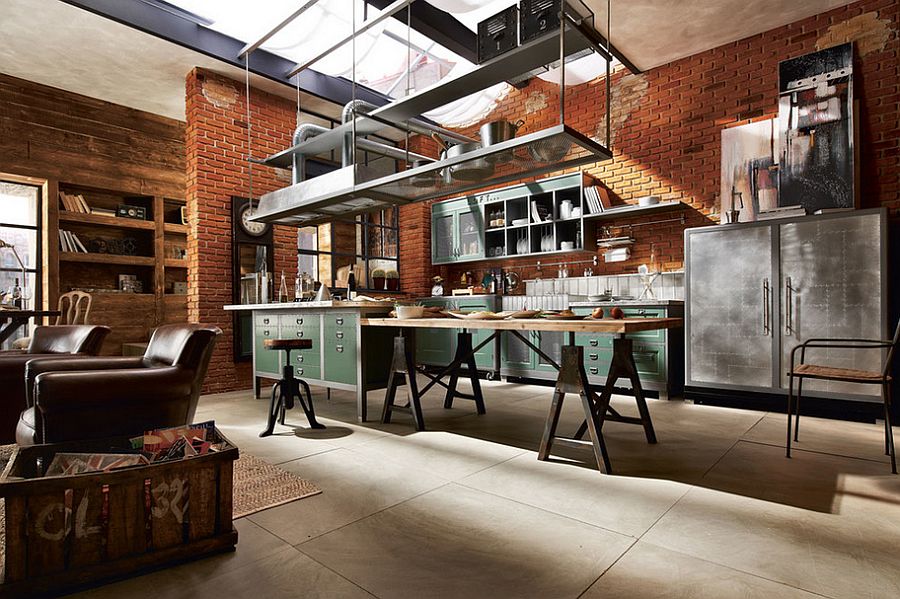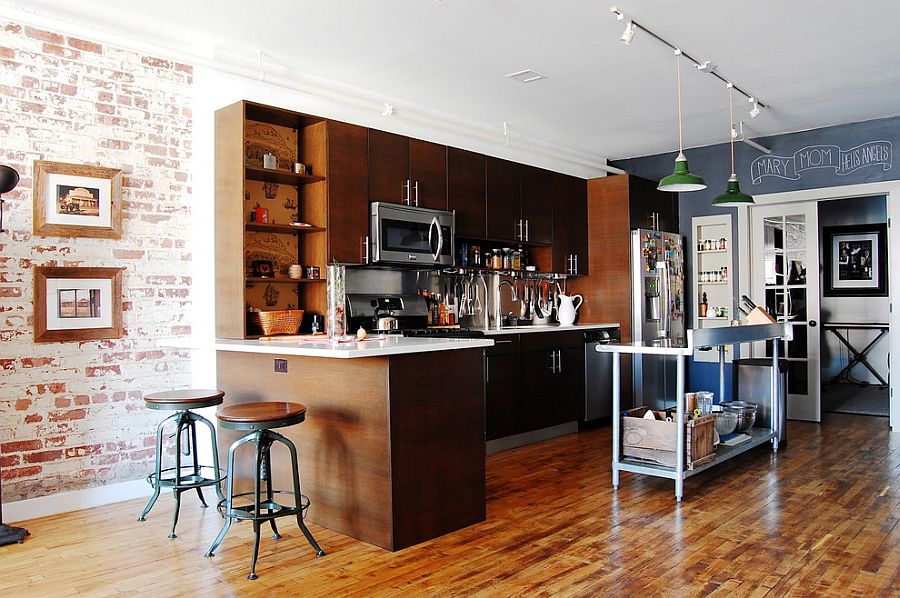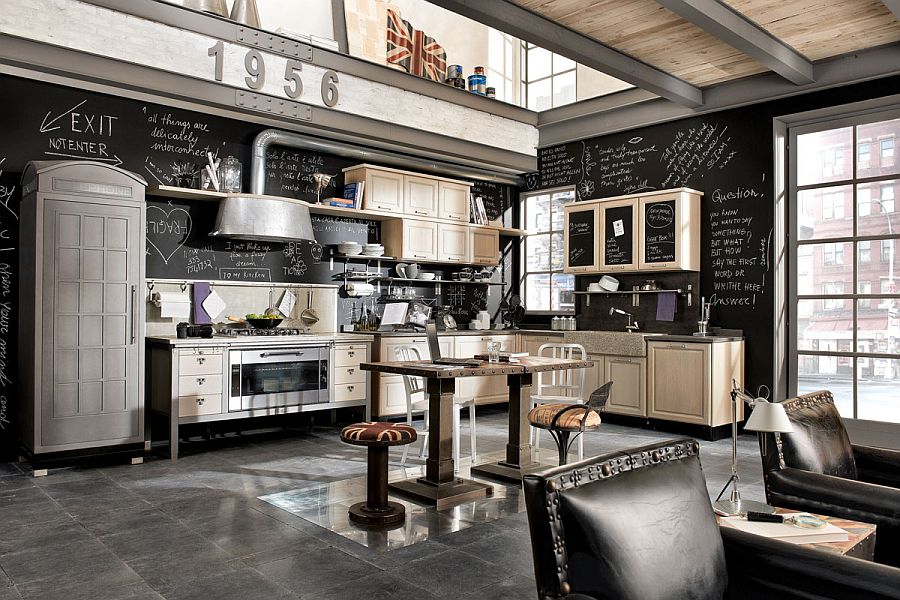 From wooden floors with chevron and herringbone patterns to dark, painted flooring that gives the industrial kitchen a truly 'vintage' look, the options are endless. Throw in a beautiful subway tiled backsplash and some open shelves, and you have a captivating kitchen.
2. Decor and Kitchen Islands
Ever looked at a truly exceptional industrial-style kitchen and wondered how the homeowner put together such a unique yet mesmerizing space? It goes without saying that picking the right decor and accessories that fit in with the style goes a long way in getting the job done. But beyond the obvious, it is all about giving your kitchen a distinct personality that reflects your own taste, instead of going down the generic path.
The easiest way to add industrial flair to your kitchen is swapping out your normal LED lightbulbs with an Edison-style bulb. Edison bulbs feature a vintage filament that can elevate any normal light fixture. You can get a 6-pack of Edison bulbs on Amazon that are not only stylish but dimmable and multi-functional.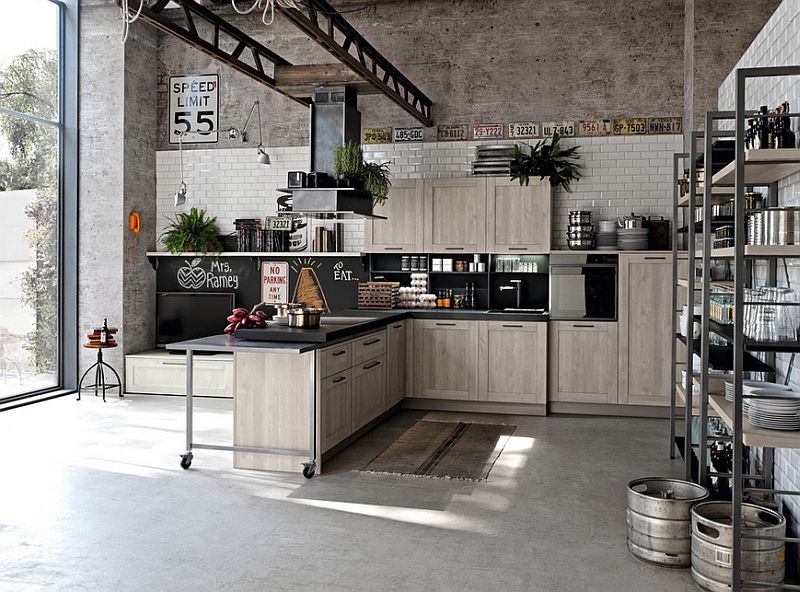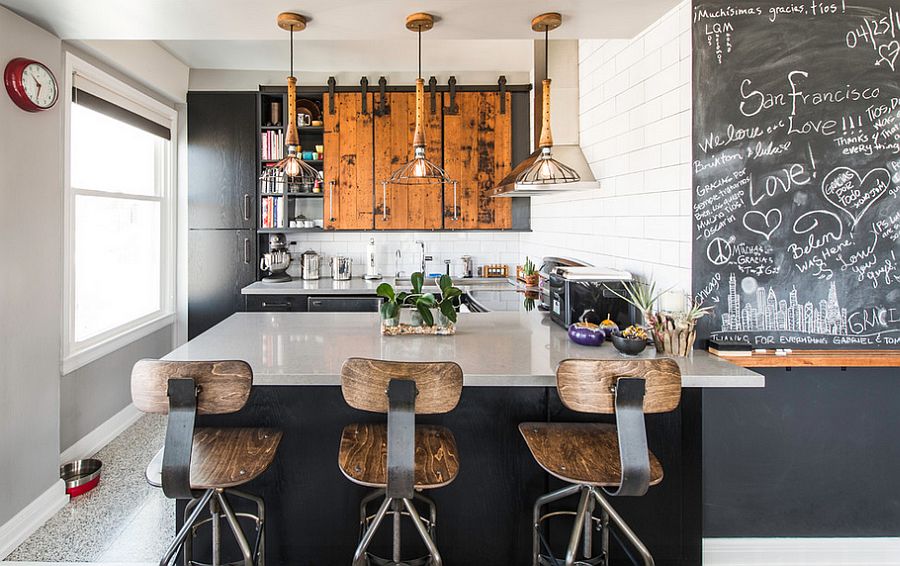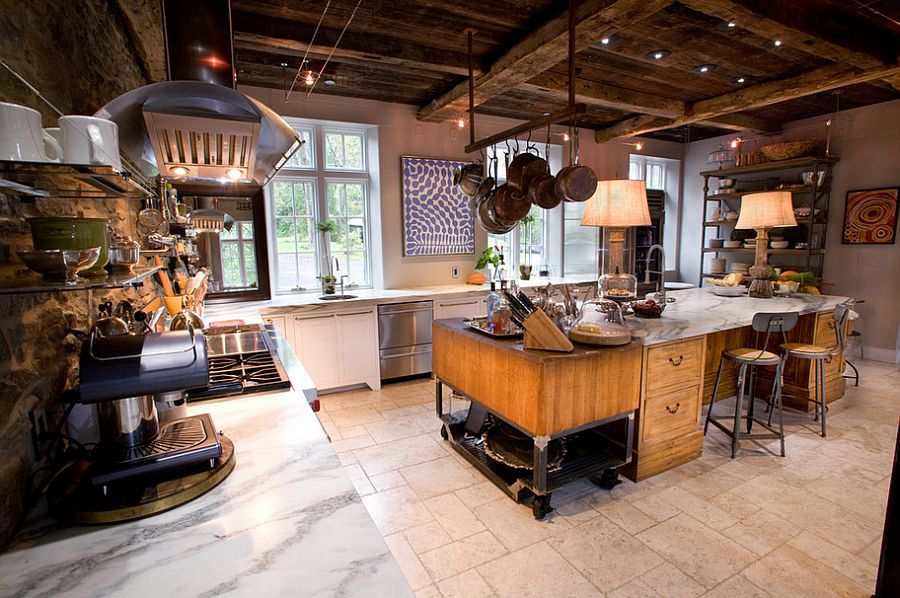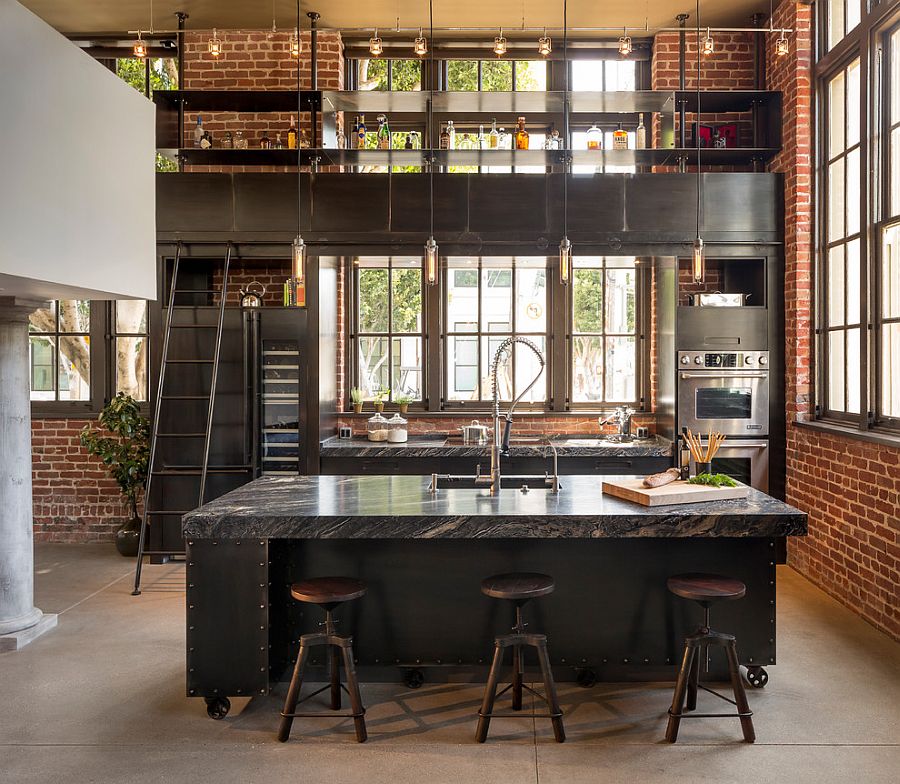 Bring in salvaged items, DIY pendants and chairs, a smart kitchen island, custom shelves and cabinets crafted from old scrap that is collecting dust in the yard or some wonderful flea market finds to usher in this aura of exclusivity.
3. Modern Designs
For some, embracing the industrial look is all about finding a balance between modern refinement and edgy overtones that the style delivers. This curated fusion between both the styles works absolutely beautifully, and you can tone up or down the level of raw, industrial beauty that you want in the kitchen by just adding or removing a few decor pieces over time. A chic industrial kitchen has a certain sense of inviting softness, is more open to glossy, posh cabinets and worktops, and relies heavily on lighting, the ceiling and the walls around it to deliver an industrial flavor.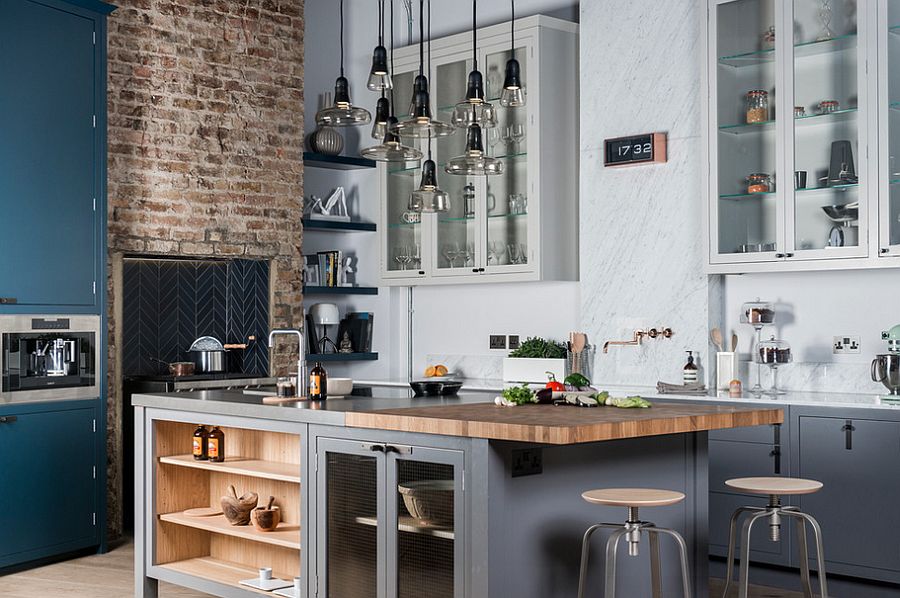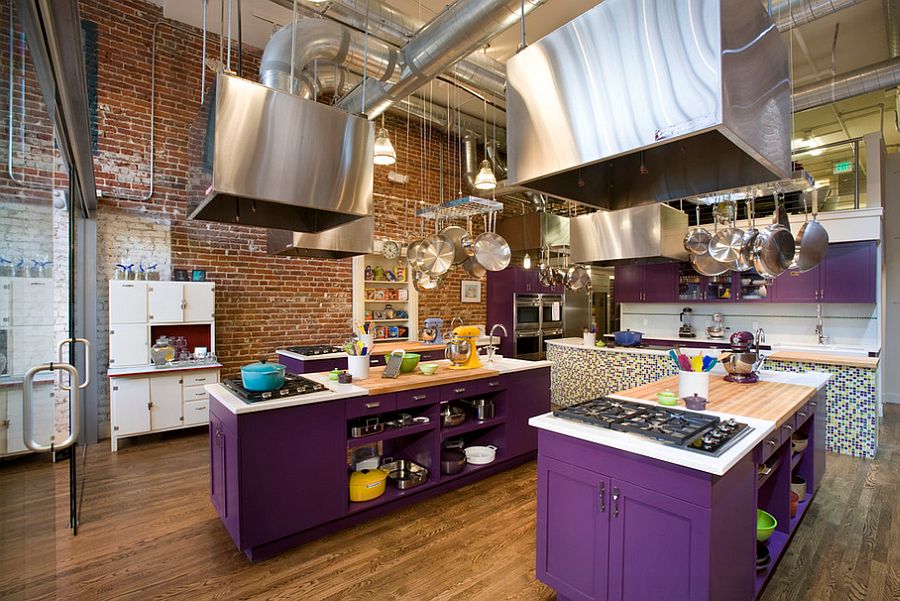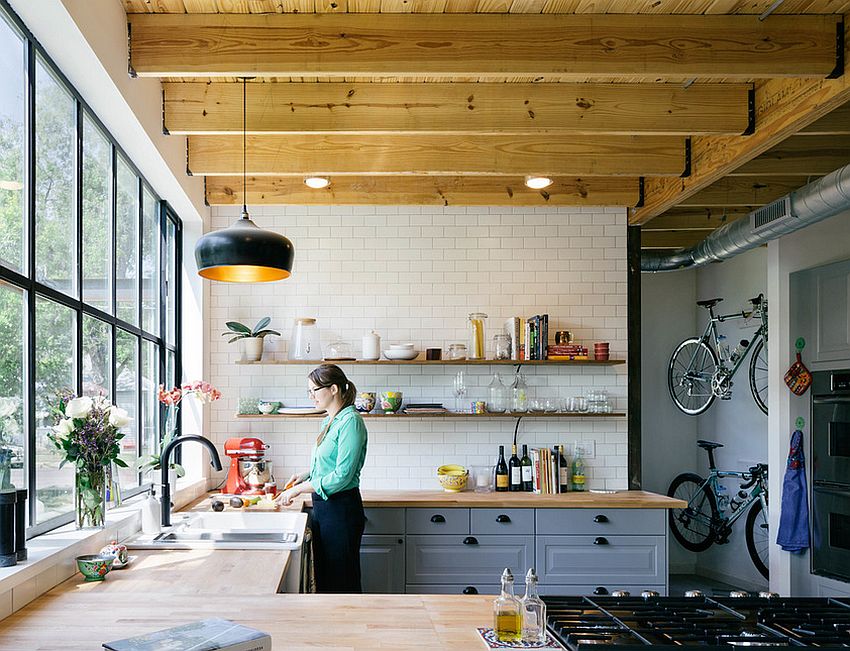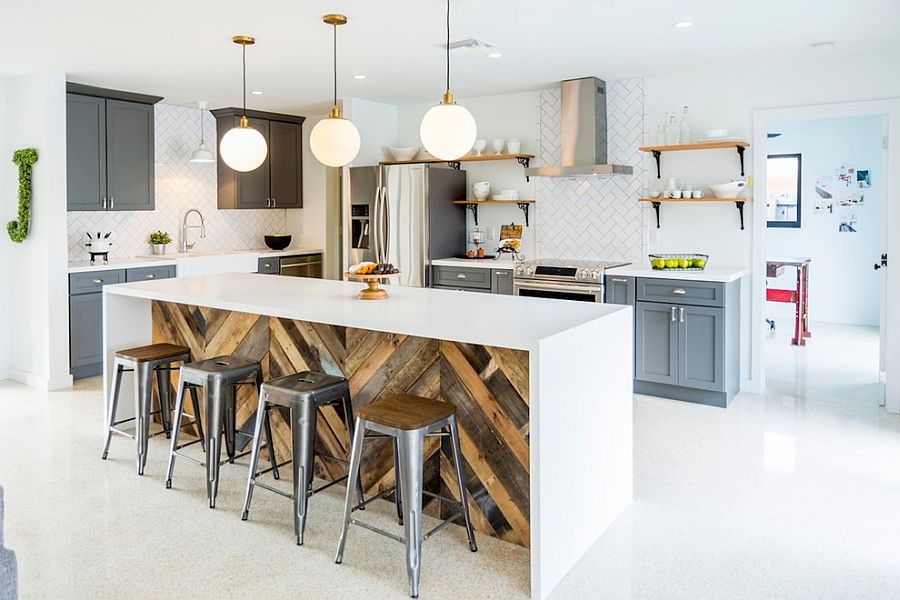 Gray is a great color choice for the chic industrial kitchen as it combines the steely grit of the industrial style with contemporary sophistication. Those with design commitment issues can start out by adding industrial-styled lighting to their existing kitchen with Edison bulbs, and then altering select pieces over a period of time (such as the bar stools or the cabinets) to find that perfect blend between the modern and the industrial.
Starting out by simply adding a set of metal industrial bar stools such as these from Costaway can immediately elevate the space. The 24-inch stools come in both gunmetal and black to fit your needs and even have an optional chair back.
4. Small Kitchens
Since large loft-inspired kitchens with their giant industrial-style, framed glass windows, double height ceilings and sweeping spaces so often take center stage, there is a perception that the style fails in smaller kitchens. This is completely untrue, as efficiency, frugality and ergonomics are the defining factors of the industrial style, making it ideal for smaller kitchens. Pot racks that allow you to hang all your dishes and kitchenware with ease, shelves that tuck away the unnecessary, and countertops that can take plenty of wear and tear come together to deliver a useful small kitchen that is well and truly industrial in its appeal.
If you're at a loss on how to bring industrial style into your small kitchen, a bistro set would be the perfect middle-ground. The small metal and wood table with a matching pair of bar stools will add different textures and industrial elements to any kitchen.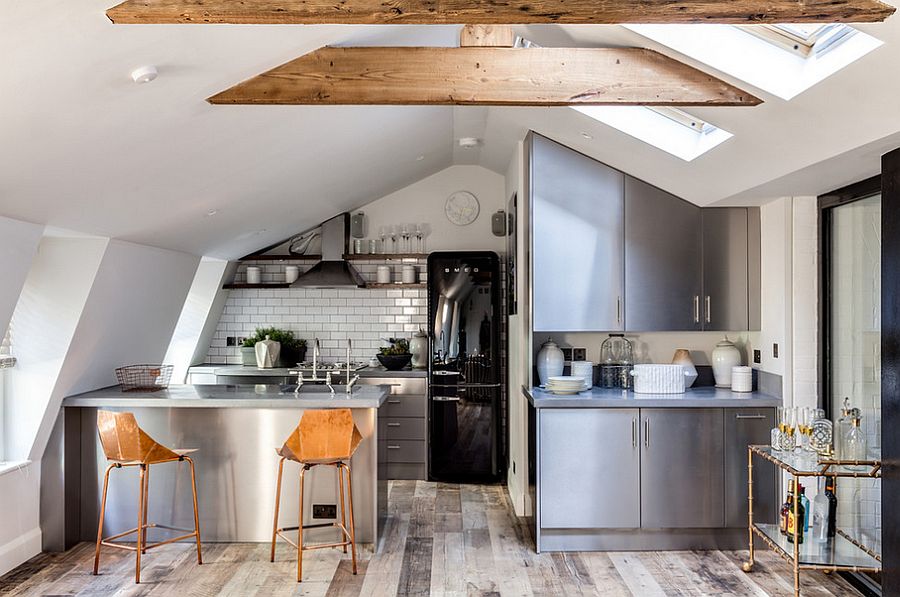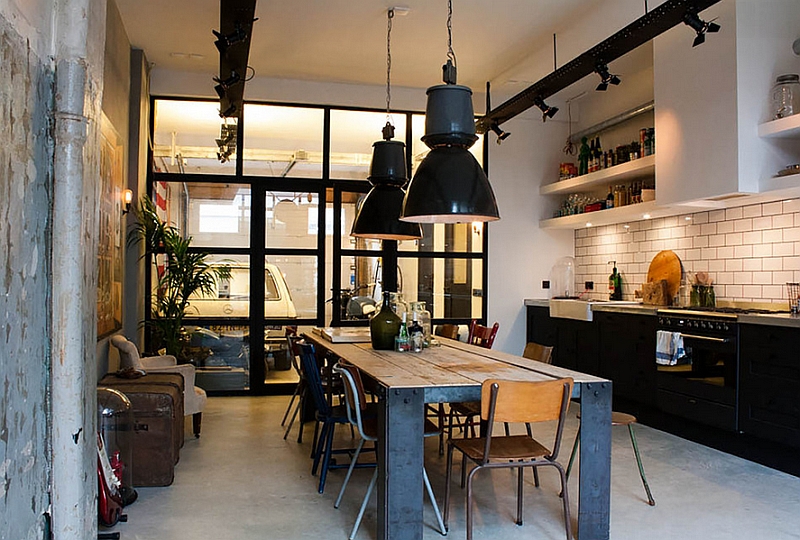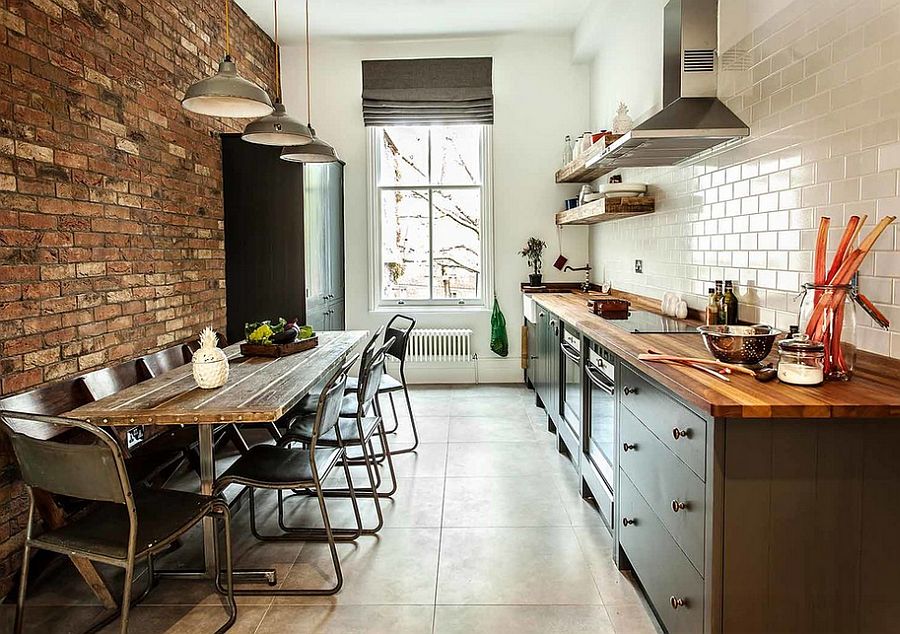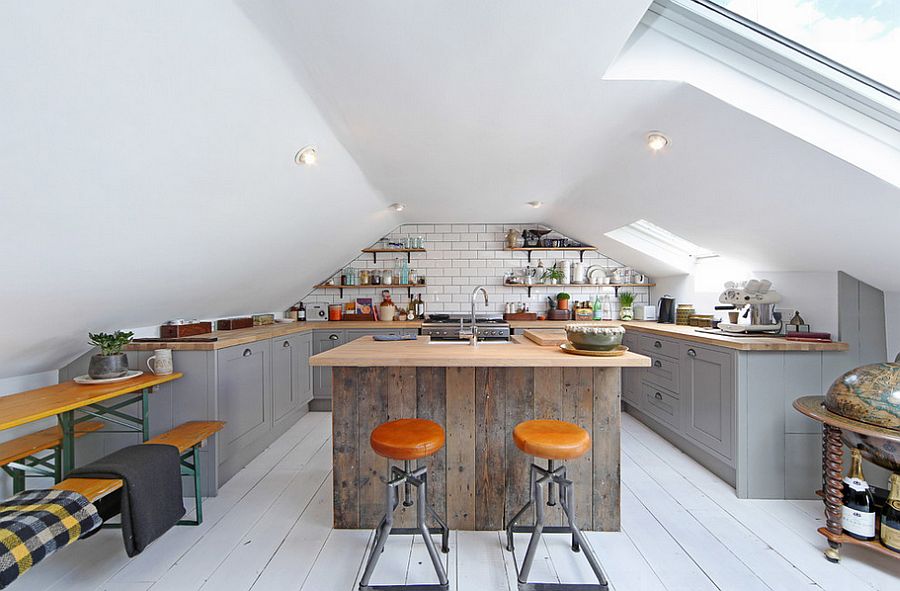 Since open plan living areas are quickly becoming the norm, a small industrial kitchen in the corner not only adds a sense of intrigue, but allows you to demarcate spaces easily without worrying about area rugs and false ceilings! Add a few pops of color, some natural greenery, and let in plenty of natural light to give it a more airy, cheerful vibe.
5. Shelving and Storage
Open shelving and lots of it. This is another great way of bringing industrial beauty to your kitchen while expanding the available shelf space. But do not forget about the innate sense of rawness that these shelves need to exude, and if you have a kitchen that is already modern, floating shelves in raw wood or stainless steel offer the necessary contrast.
Industrial-style kitchen shelving allows you to make complete use of the vertical space on offer, along with the use of vintage pot racks and standalone cabinets that maximize available room in even the tiniest kitchen.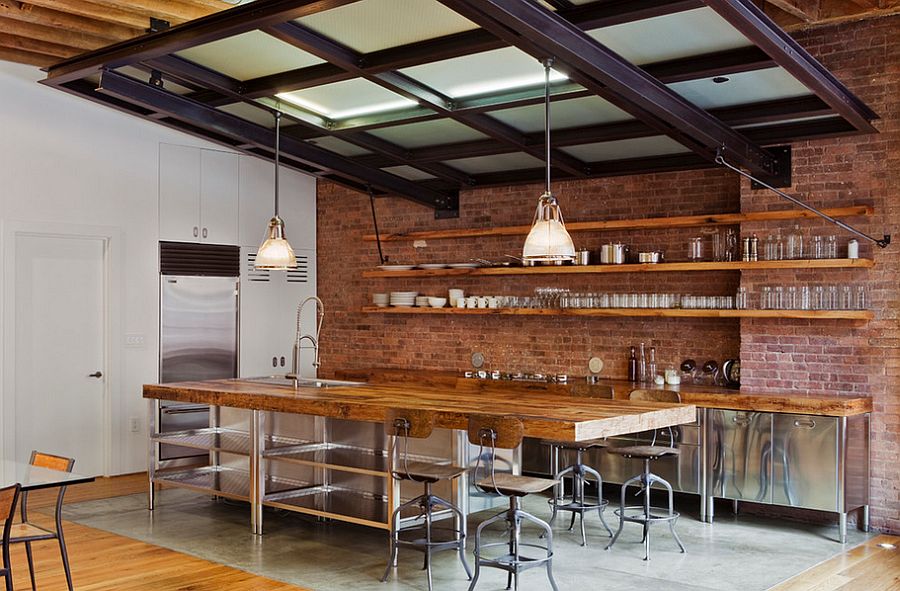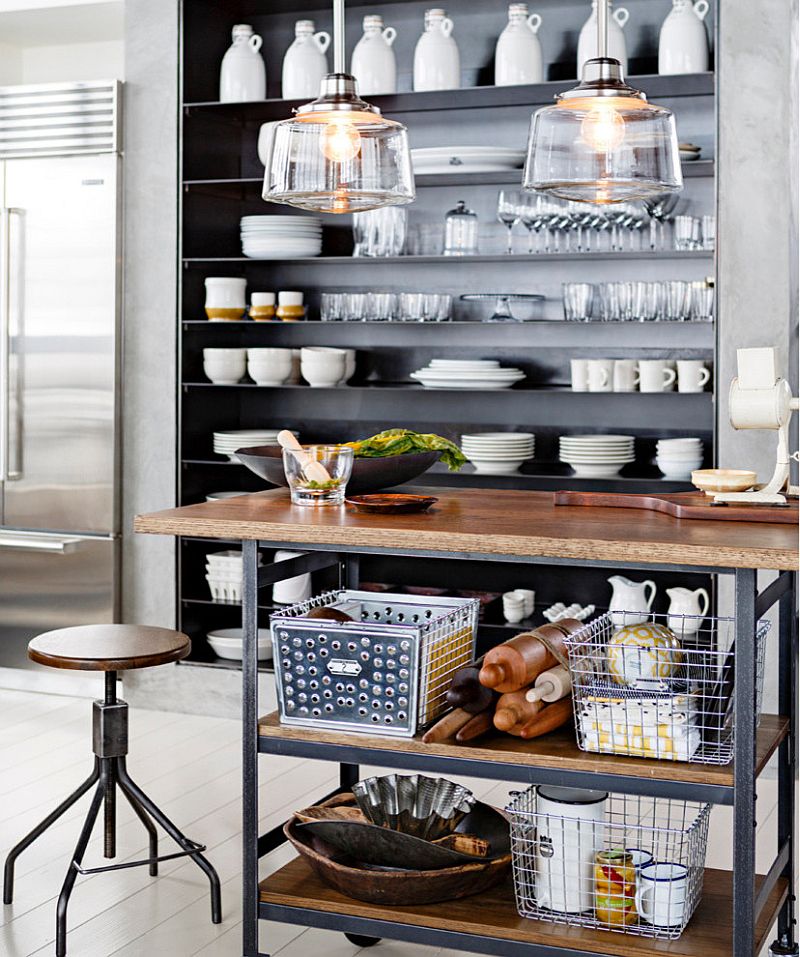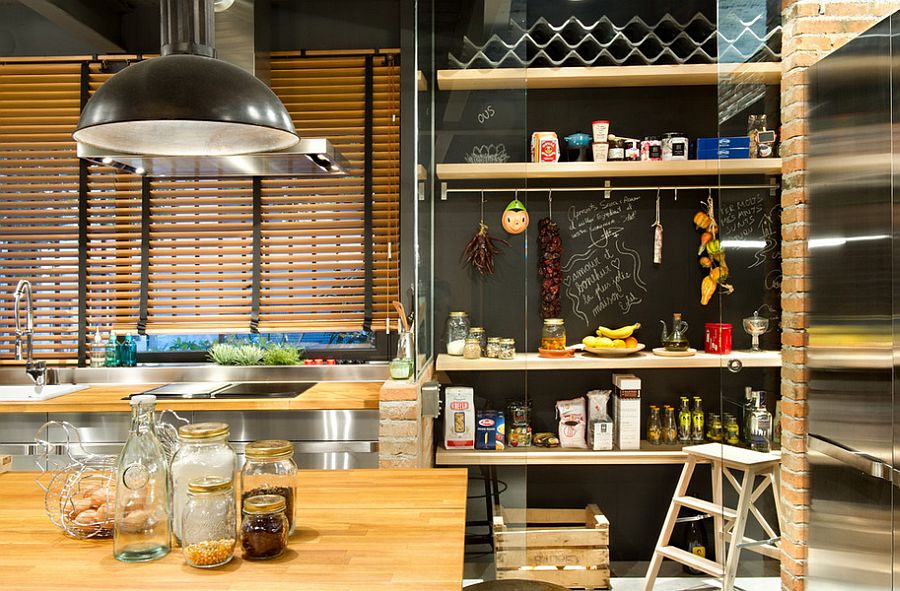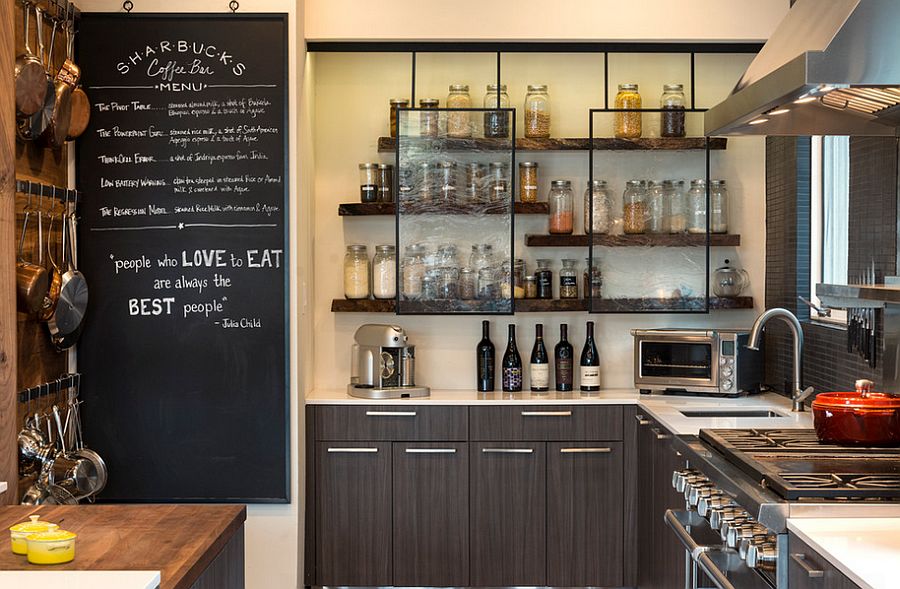 So, are you ready to get in on the industrial kitchen revolution?