When we talk of the most popular interior design trends currently doing the rounds, it is inevitable that industrial style makes its way into the conversation. What started out in factories as a way of design that was defined by efficiency, frugality and necessity several decades ago has now turned into a hip way of giving your home an entirely new look. It is the unassuming charm of the industrial style that makes it so endearing to many of us. Yet we often only seem to stumble upon kitchens and bedrooms that embrace this stripped-down style. But today we take a look at 10 gorgeous industrial bathrooms, with each one having an aura of its own!
Creative and Trendy
This beautiful bathroom is part of a home in the Brooklyn neighborhood of New York. Instead of just embracing the traditional traits of industrial design, this ingenious bathroom uses several subtle decorations and accessories to usher in a global appeal. Designed by Alina Preciado, the black and white claw-foot tub along with the commode gives it an elegant touch even as natural greenery lends freshness.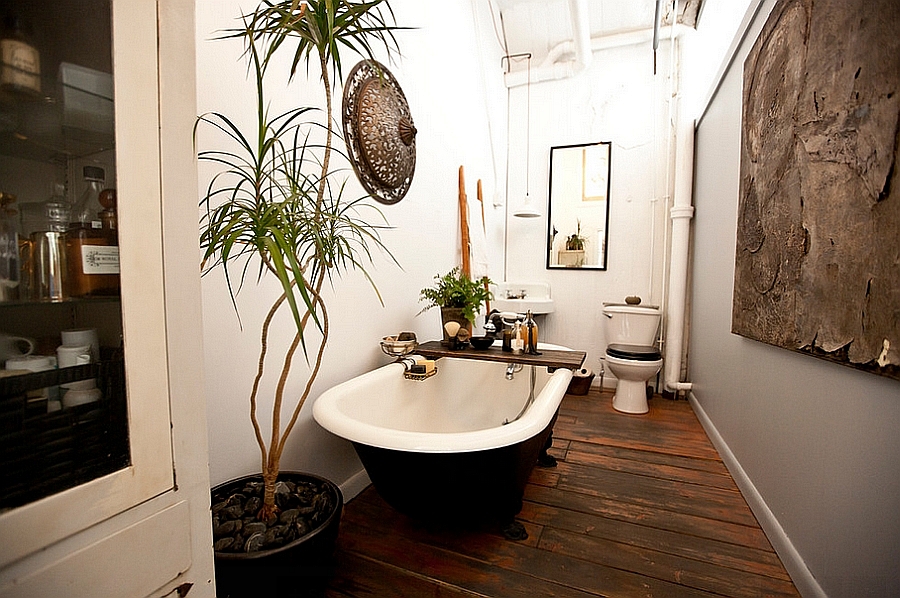 Converting an old church into a beautiful modern home can be a hard task indeed, and it becomes even trickier when you have limited space to work with. This bathroom was originally the shed of a church in Australia that was transformed to complete a small, stylish vacation home for architect Michael Sandberg. Concrete floors and corrugated metal give this industrial bathroom its inimitable look!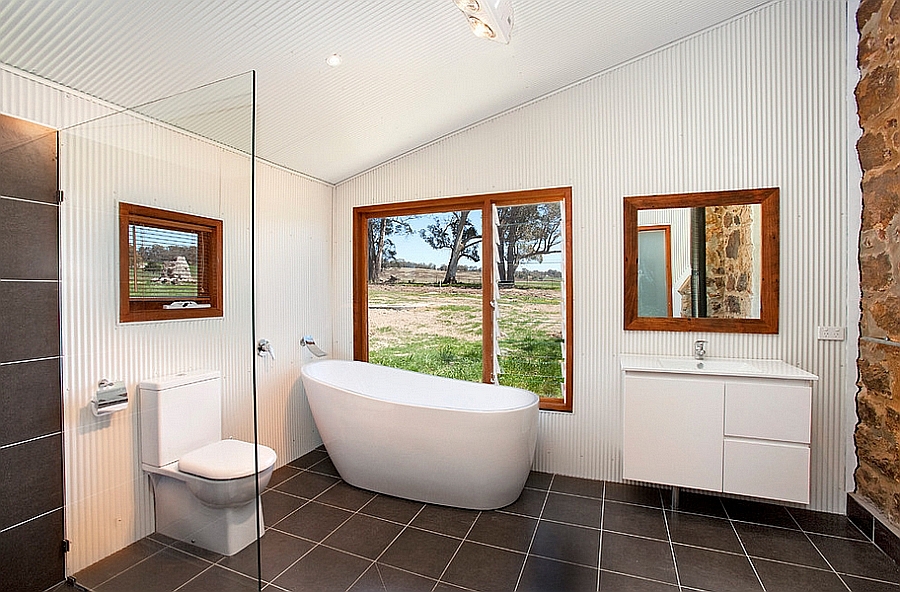 It is the custom glass shower area partition with its metallic frame that really stands out in this bathroom. The use of tiles that mimic concrete in terms of aesthetics, along with a floating vanity in bright yellow make this a one-of-a-kind space indeed. A touch of wood and industrial-style lighting turns the small bathroom into a serene, personal haven.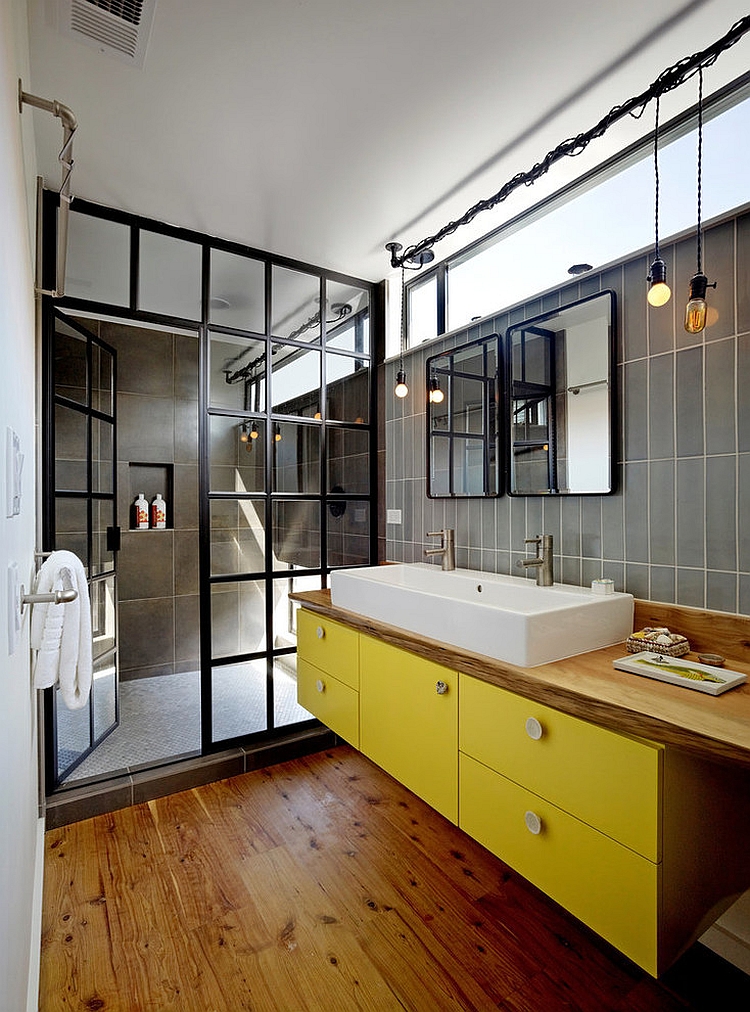 Here is another bathroom that makes creative use of its contours to ensure that it appears a lot larger than it really is. The use of white for the walls accentuates this effect, while the wooden additions and penny tiles around the bathtub give it an interesting vibe. Combining subtle industrial touches with a 'salvaged rustic look', this bathroom offers a fascinating new take on industrial-style spaces.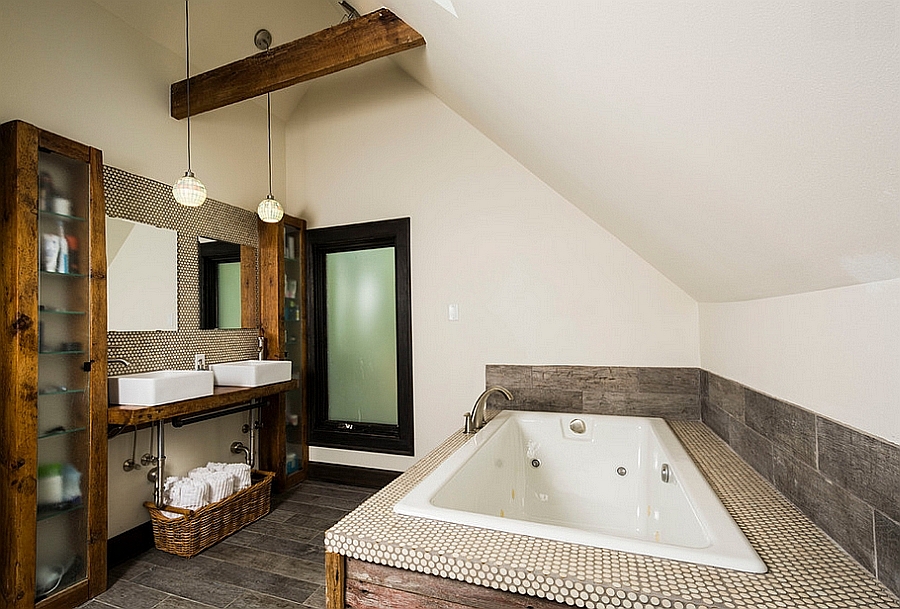 Classic Industrial Elements
Who said that industrial-style bathrooms could not usher in spa-inspired comfort? This small but smart bathroom uses concrete in a creative fashion to shape a shower area that exudes complete comfort! The grout used for the tiles on the floor was picked to match the shade of the concrete to accentuate the visual appeal, while an exposed brick wall acts as a backdrop for the beautiful vanity.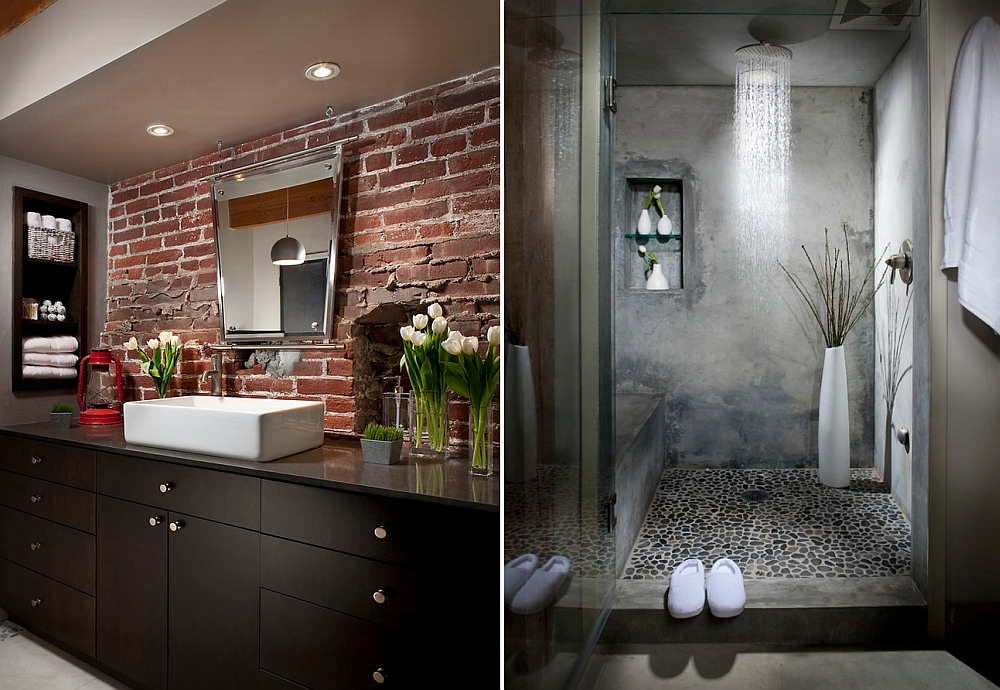 Part of a revitalized and renovated heritage apartment located on Archer Street in London, this exquisite bathroom pays a glorious tribute to its rich past while embracing contemporary elements. Its industrial style is all too obvious, yet Michaelis Boyd Associates managed to incorporate stylish glass walls and drapes without disturbing its existing appearance or radically altering its vibe.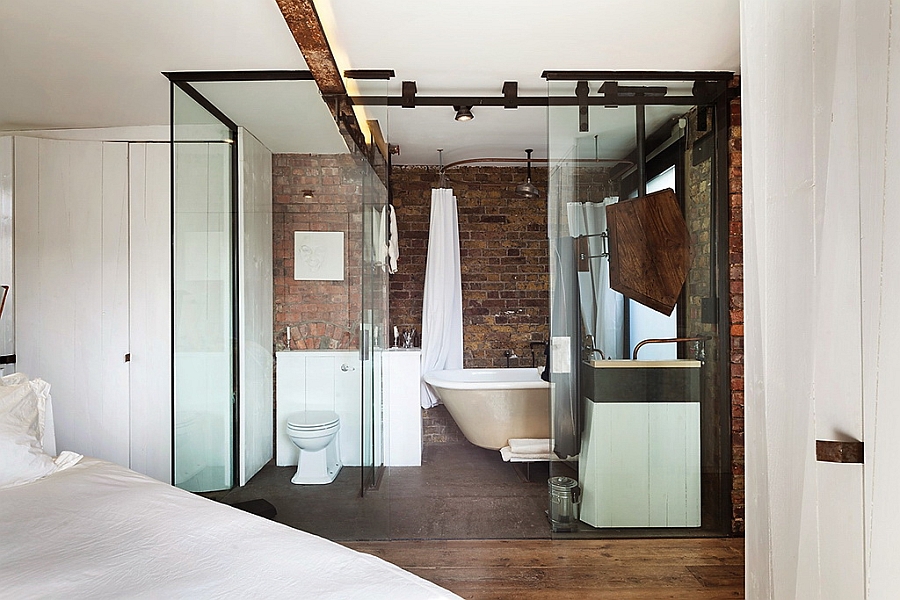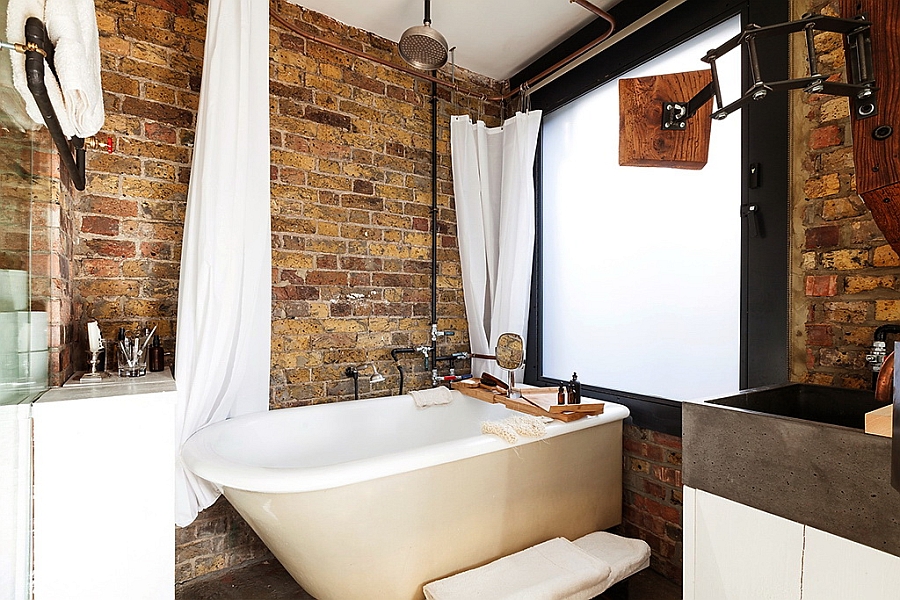 Effortlessly combining two different surfaces with apparent ease, the glass shower enclosure in this bathroom immediately draws your attention. Exposed metal pipes, a standalone bathtub with metallic finish on the outside and the distinctive design of the sinks help complete the space. Another bathroom that cleverly works around space and design constraints!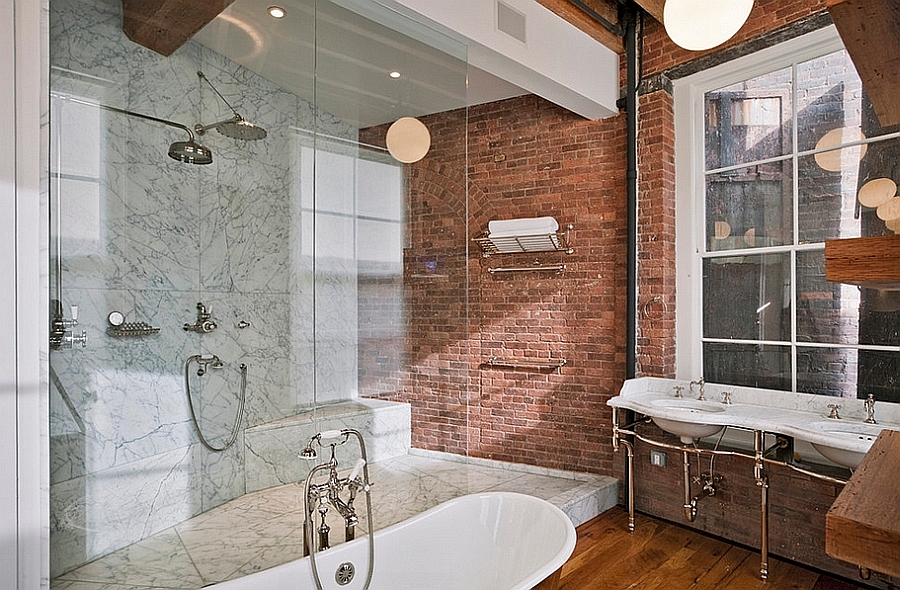 A Modern Twist
Standalone bathtubs have made a grand comeback in 2014, and while claw-foot bathtubs work in an industrial setting, this contemporary white bathtub barely fits the billing. But it is the fusion of minimal, contemporary style with an industrial backdrop that works ever so beautifully here. A concrete wall is all you need to evoke images of an industrial theme, while the views outside the window add to the dramatic visual.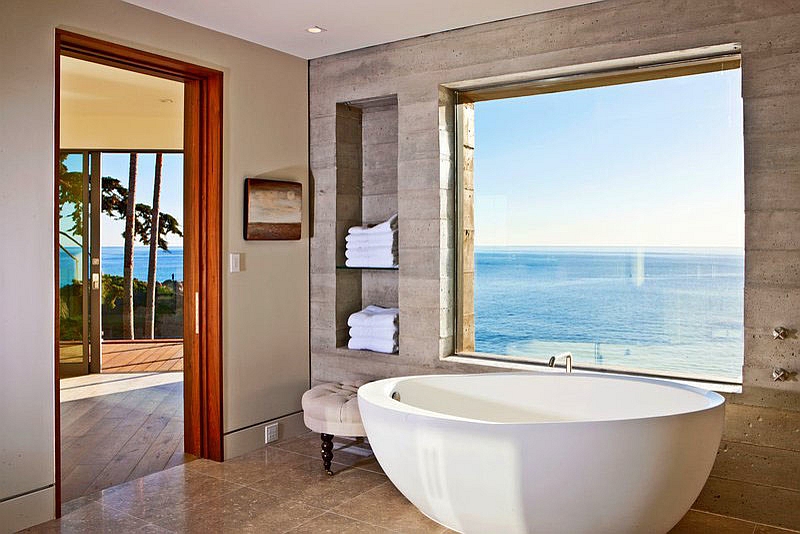 With an elevated platform and bathtub in sophisticated black and an attractive brick backdrop, here is a bathroom that combines the modern with the industrial in an exquisite fashion. The silhouette of the window and rough wooden surfaces accentuate the industrial side of design here, while the posh, spa-style atmosphere is left untouched. A perfect balancing act!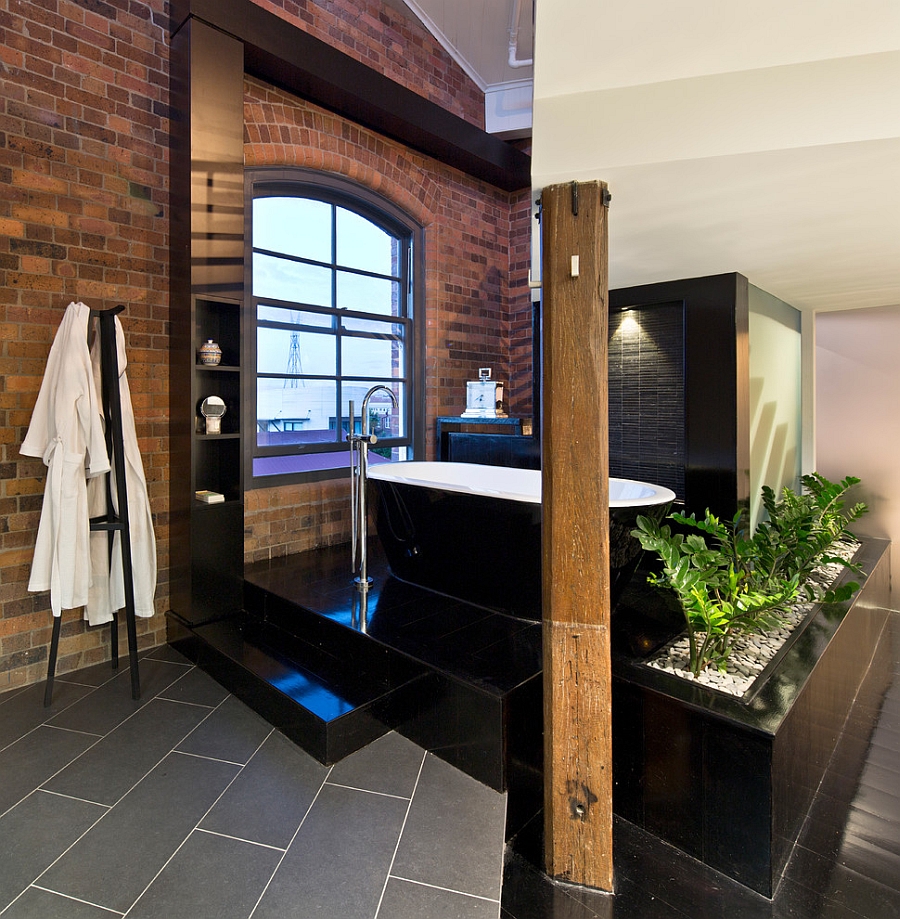 The timeless trend of using black and white works eloquently in this industrial bathroom that achieves beauty with simplicity. By painting the exposed pipes, faucets and metallic surfaces black, the contrast that is created is both elegant and palpable. Instead of using concrete or brick, it is tiles that are effectively used to achieve a balance between traditional and industrial styles.