Located in the heart of the Soho neighborhood in the West End of London, this beautiful apartment is all about bringing two contrasting worlds together in an aesthetic fashion. The entire space was refurbished by its existing owner, along with Michaelis Boyd Associates, to create a gorgeous home that showcases its heritage in a proud fashion. While the exposed brick walls of the house remind us of its past, sustainable and eco-friendly modern features and decor were added to create an energy-efficient green home.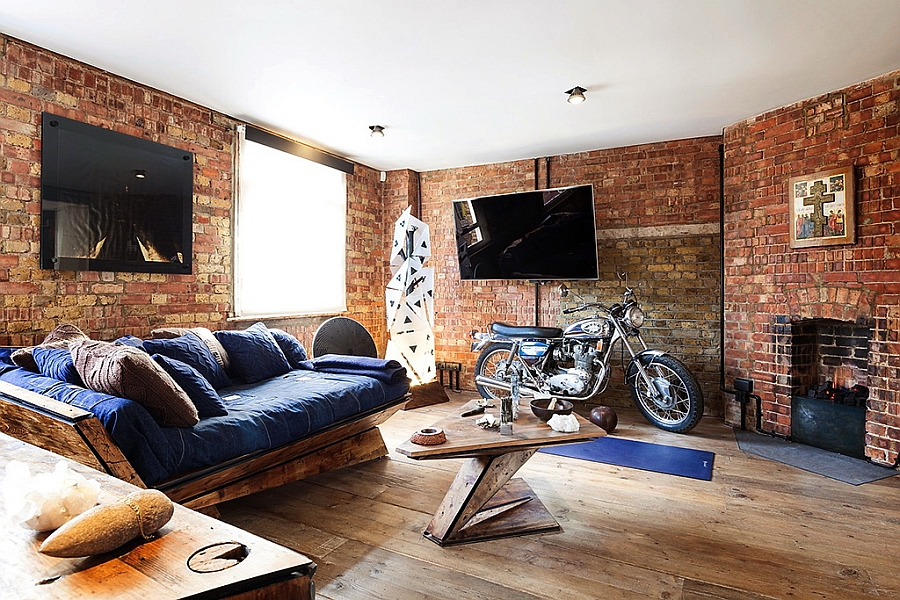 Spread across 114 square meters and located on Archer Street, the apartment blends rustic, industrial and contemporary elements in a trendy manner. A large reception room welcomes you with its cozy ambiance and twin fireplaces, along with wooden furnishings that make the space even more inviting. A lovely kitchen with modern appliances creates a transition between the living area and the relaxed bedroom that comes with an en-suite bathroom. Beautiful wood floors are used throughout the one-bedroom apartment, and the smart use of glass and glossy, lacquered surfaces offers interesting visual contrast.
The entire apartment has an open and airy appeal, and one can easily see a seamless amalgamation of different design styles as we move from one room to the next. Lovely framed windows offer gorgeous city views, while the snazzy decor and the motorbike in the living room usher in a hint of playfulness.