Contemporary bathrooms are quickly transforming into amazing and opulent retreats that allow you to rest and rejuvenate right at home. Gone are the days of the dull, dreary bathroom and a long-awaited trip to the nearest spa to replenish after a hard week or two. Homeowners are quickly embracing the hot new trend of the spa-like bath, and with innovative designers doing their part, it is now easier than ever before. Smart solutions and space-saving concepts have ensured that the spa-like luxury is no longer for the rich and elite alone. Even small bathrooms can be turned into a serene oasis that allows you to escape the constant rush of urban life.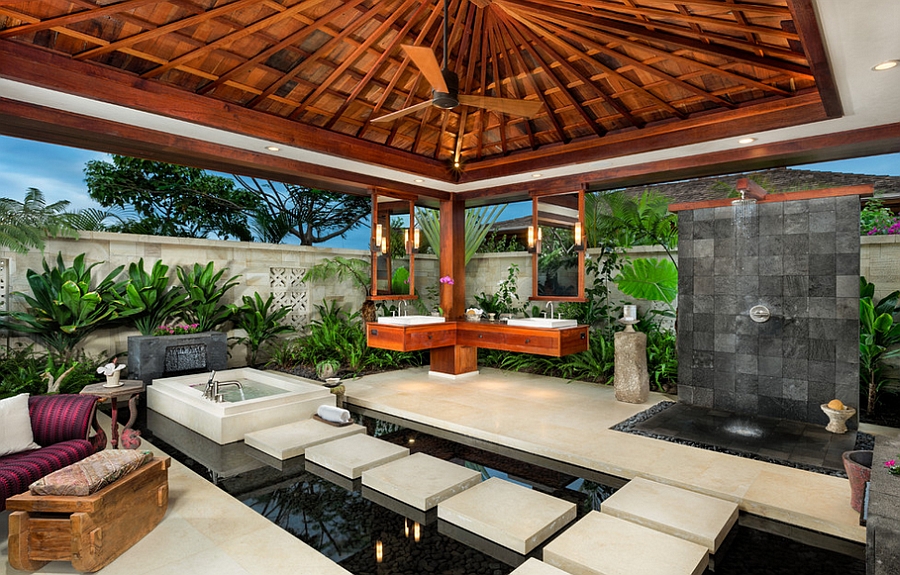 by Ethan Tweedie Photography
As we head into the second half of summer in 2014, here are the six hottest bathroom trends that are contributing to the growth of spa-like bathrooms. While some were tipped by us early in the year as the trends to watch out for, others follow the natural design and aesthetics of a commercial spa. Here is how you can turn your bathroom into an abode of ecstasy!
1. A Touch of Natural Bliss
Wood is the perfect element to revitalize the appeal of your bathroom and give it a touch of warmth and elegance. One of the essential features of a spa setting is the natural and organic appeal of the space. Current bathroom trends indicate that homeowners are opting for wooden slats and natural stone surfaces to bring in this nature-centric look. Obviously a potted plant here and a touch of tropical greenery there help further elevate this look. Natural stones and pebbles are also becoming a favorite among homeowners when it comes to highlighting the area around the bathtub in a spa-inspired style.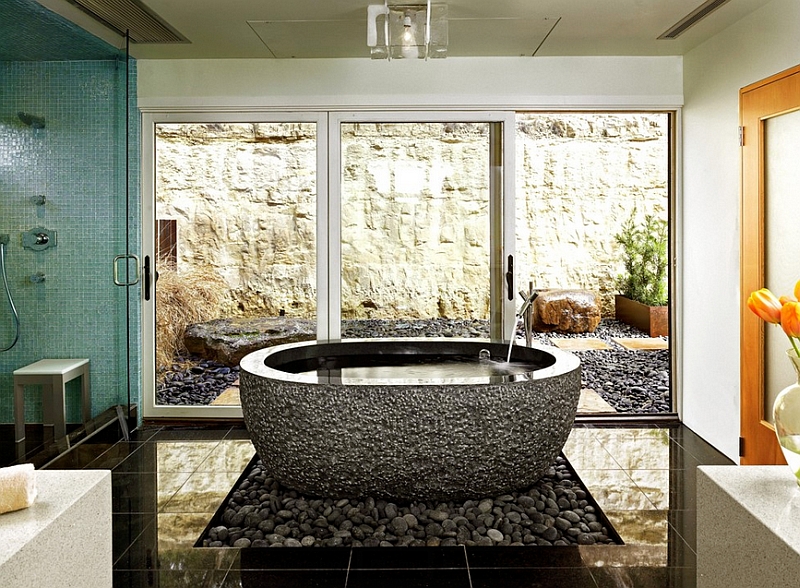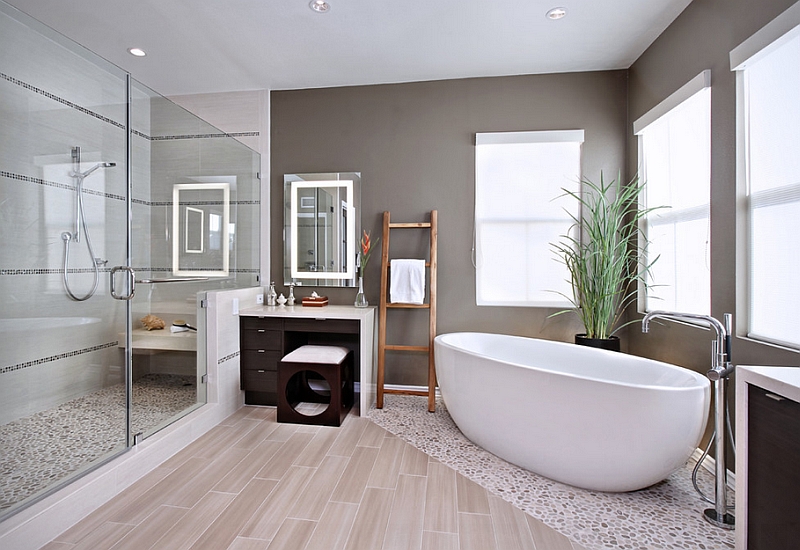 by International Custom Designs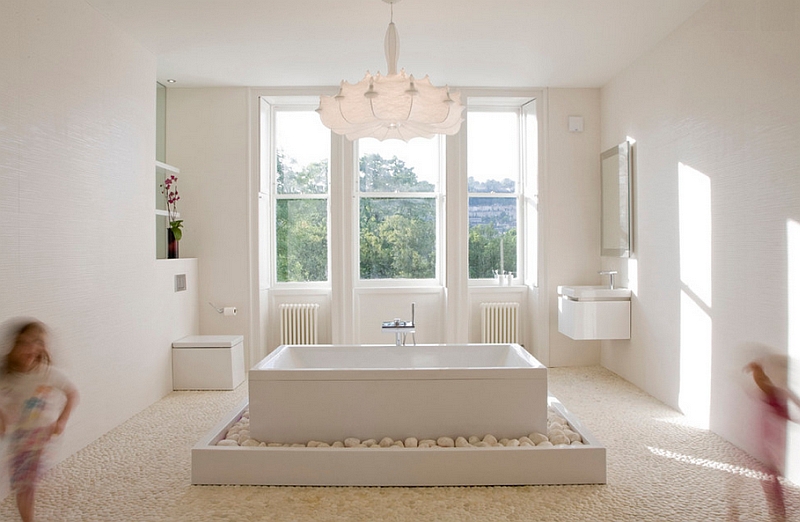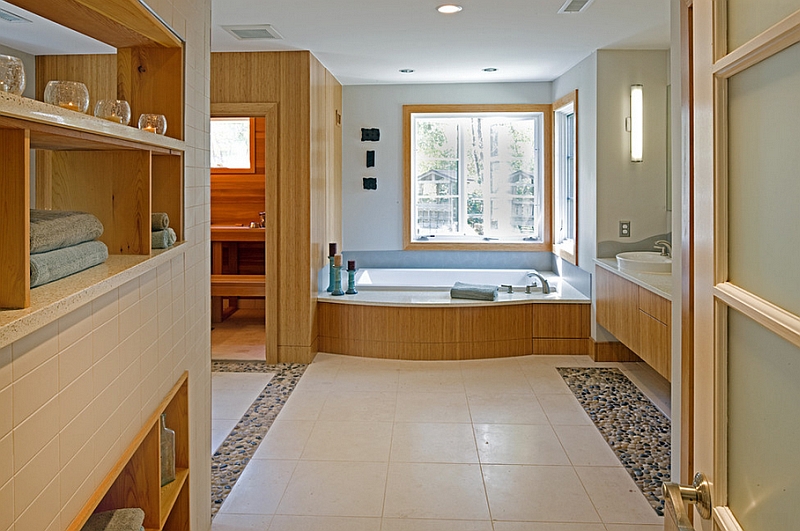 by Brennan + Company Architects
2. Freestanding and Sunken Tubs
If there is one unmistakable and irresistible bathroom trend in 2014 that is taking the world by storm, it is the freestanding bathtub. Almost every home that we have stumbled across in the recent past has a bath with one of these. Obviously the standalone tub in white is the preferred choice by many for the amazing picture that it paints, but black and gray also work equally well when used right. You can even go a step further and give your bathroom a sunken tub with hot jets and whirlpool features to truly sink into the lap of luxury!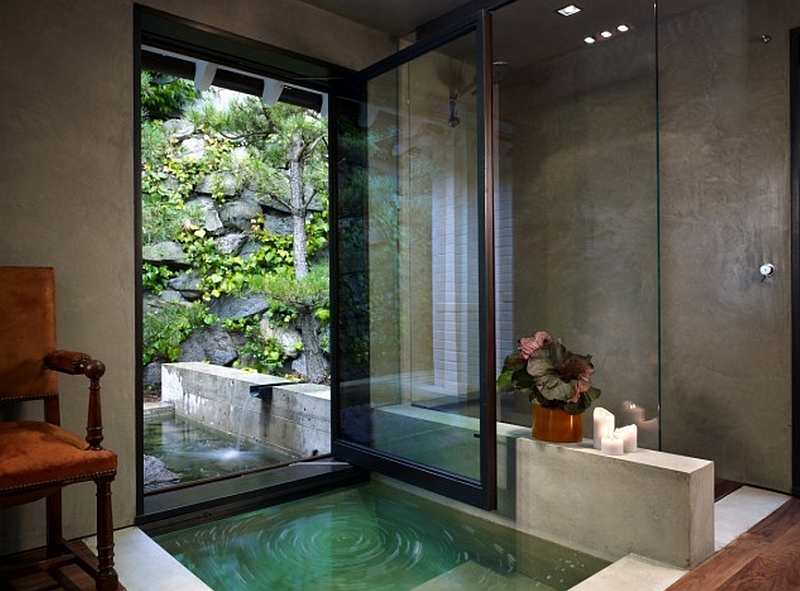 by Garret Cord Werner Architects & Interior Designers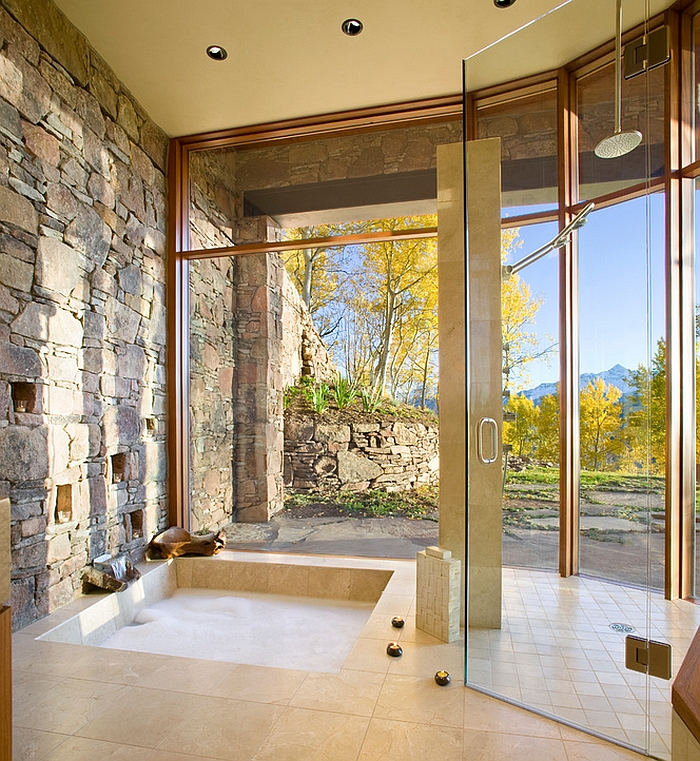 by RKD Architects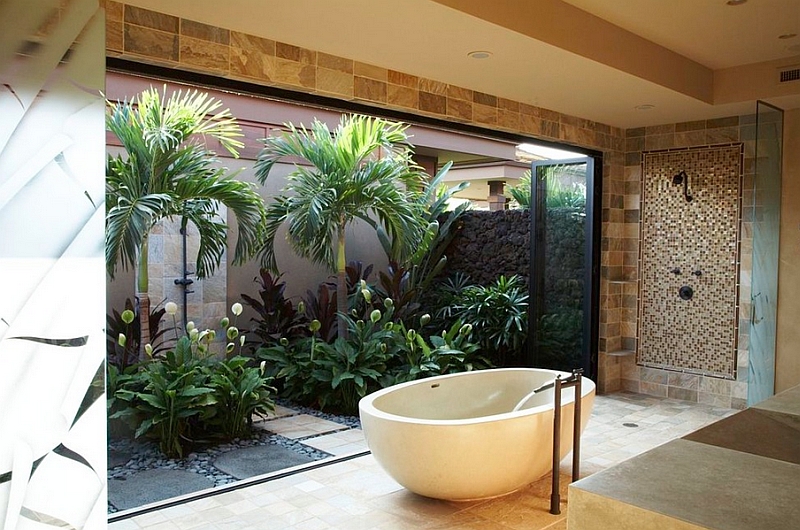 by Willman Interiors / Gina Willman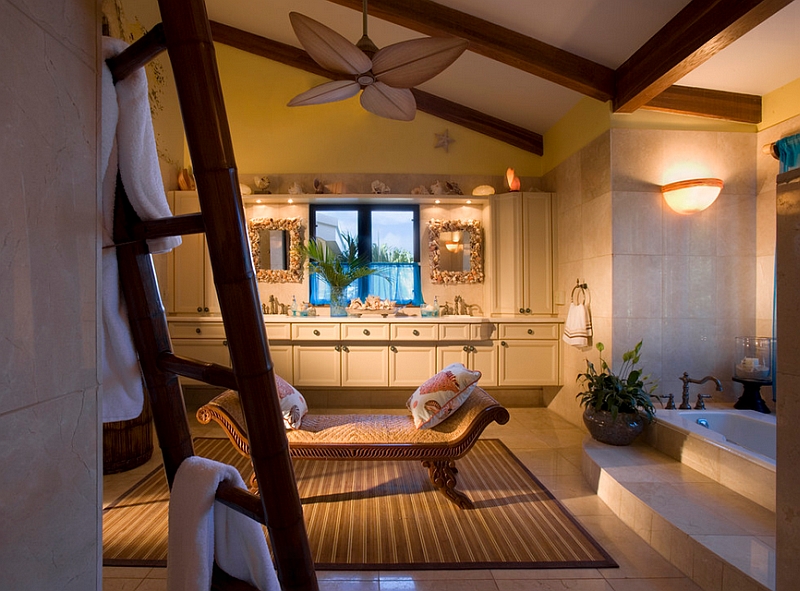 by Dan Forer, Photographer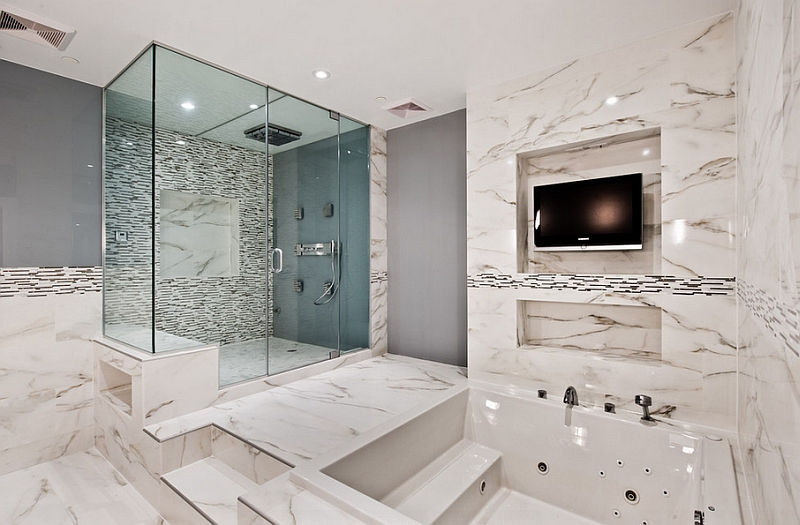 by TopNotch Kitchen and Bath Remodeling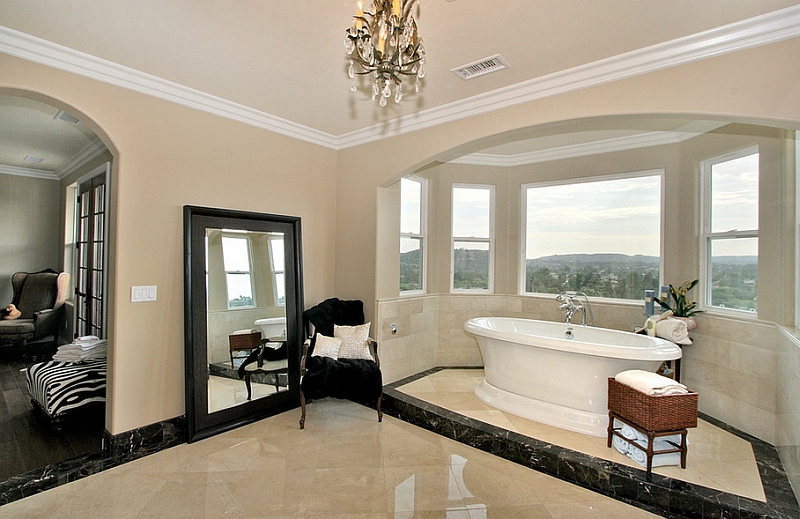 3. The View Outside!
If there is one golden rule of contemporary architecture, it is that the outside matters as much as the interior. From the bedroom to the patio, everyone wants a room with a view, and the bathroom is no exception. While this is indeed a trend on the up, it might not be a viable option for many who do not have the privacy to open up the bathroom or maybe do not have access to that drop-dead gorgeous view. If that is the case, take the opposite approach and create a cozy, intimate and tranquil hub that inspires Zen-like serenity. Add a few candles and dim down the lights, and you have a private haven right at home.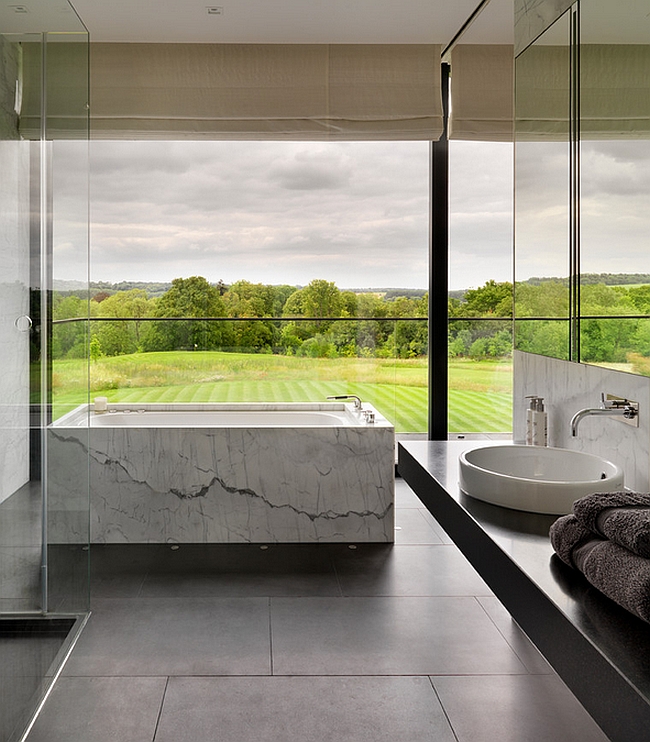 by Gregory Phillips Architects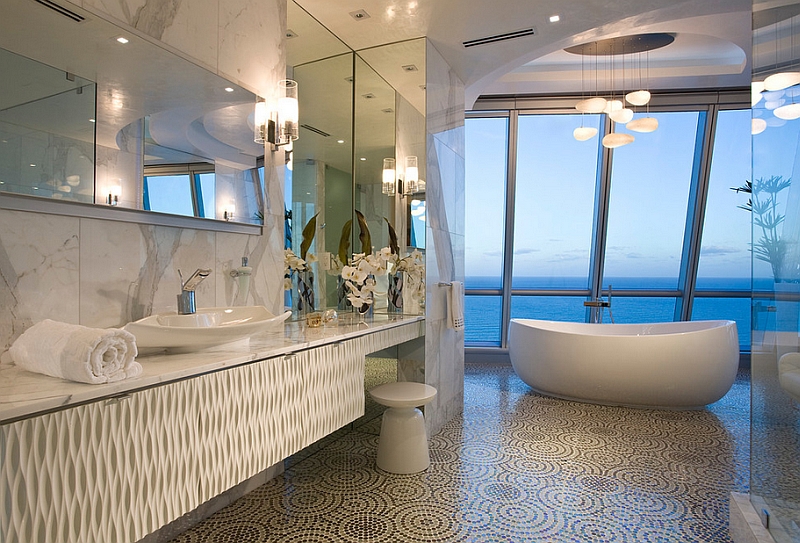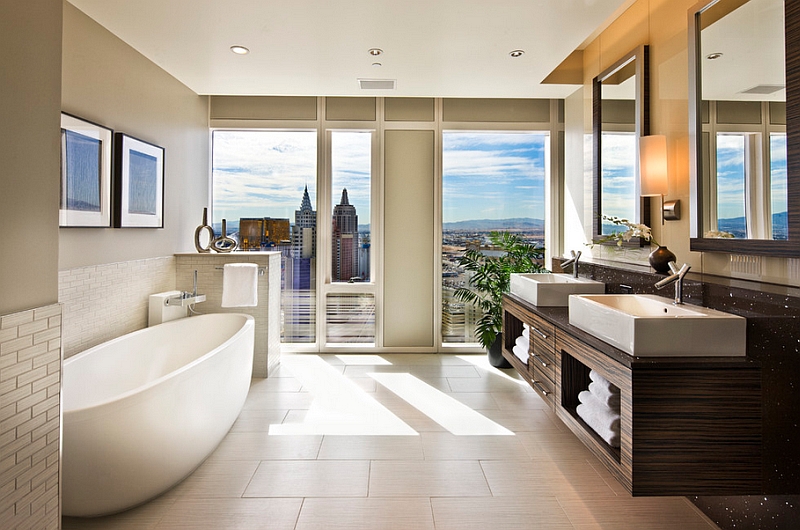 by Knudson Interiors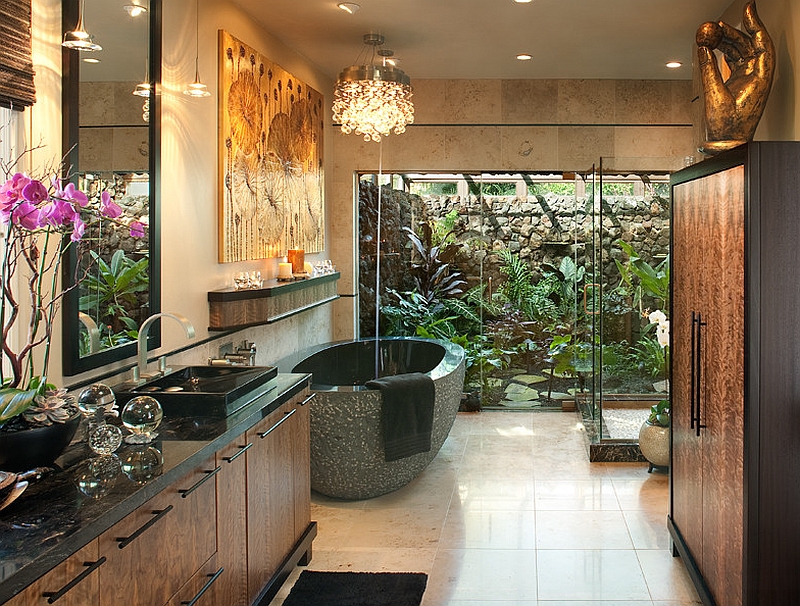 by James Patrick Walters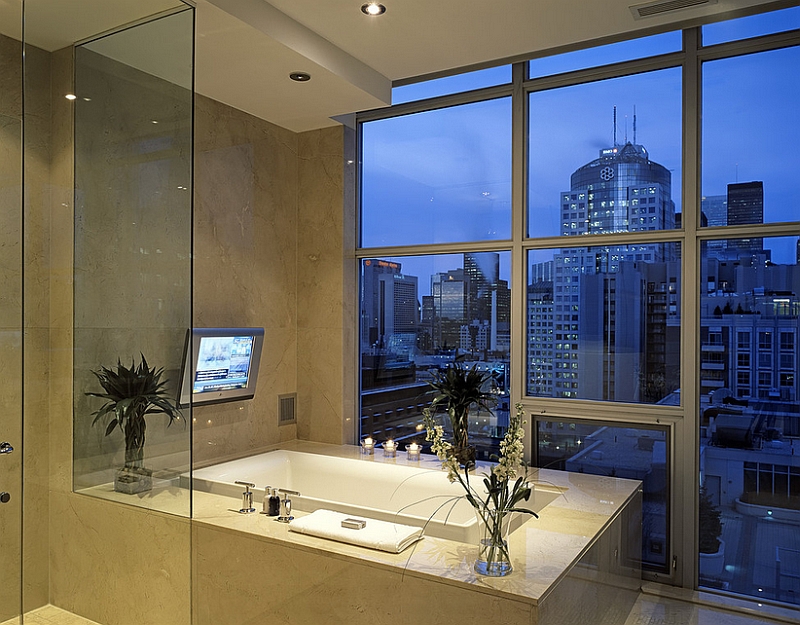 by Peter A. Sellar – Architectural Photographer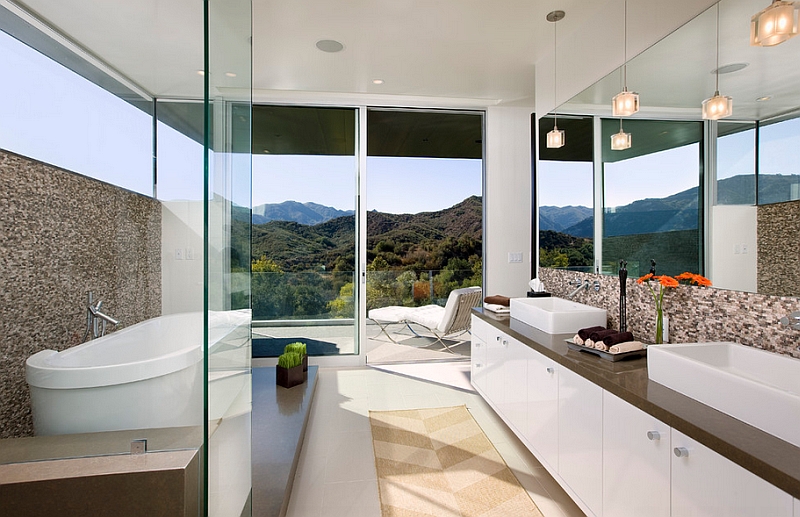 by Abramson Teiger Architects
4. Floating Vanities and Minimal Design
White is a color that one instantly identifies with the opulence of a spa, and it is a good choice for the lavish home bath as well. But more importantly, it allows you to keep the theme of the bathroom fairly minimal and posh. This also lets your accent additions, wooden surfaces and freestanding bathtub shine through and keeps the focus firmly away from the walls. Couple this all-white look with some sleek floating vanities, and you have the ideal home spa-styled bathroom.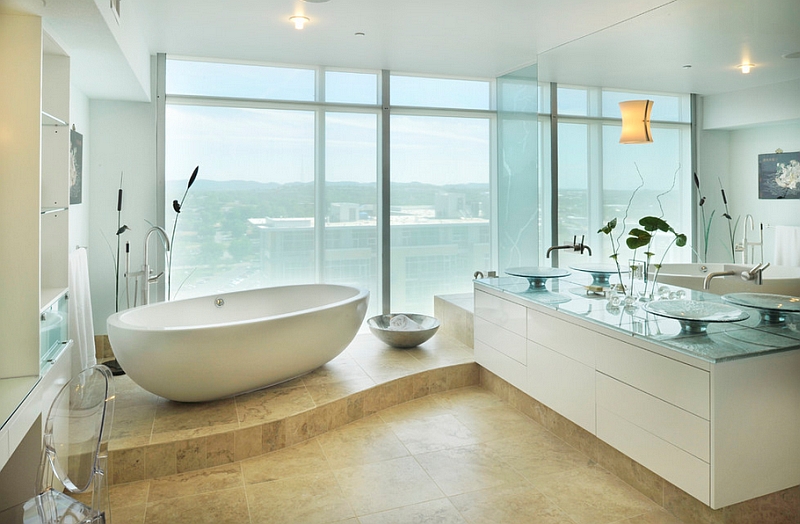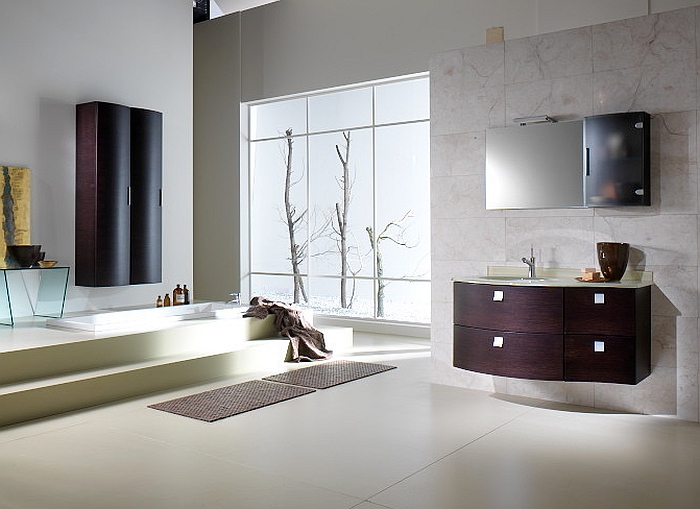 by European Cabinets & Design Studios
While all this sounds too familiar, the fashionable new twist in the tale in 2014 is the addition of bright gold and bold turquoise accents to this white backdrop. The former fall in line with the growing popularity of metallic accents while refreshing turquoise accents give the home bathroom a less sterile and more vibrant look. Pops of color also give your home bathroom a sense of individuality and distinguish it from the generic spa-centric style.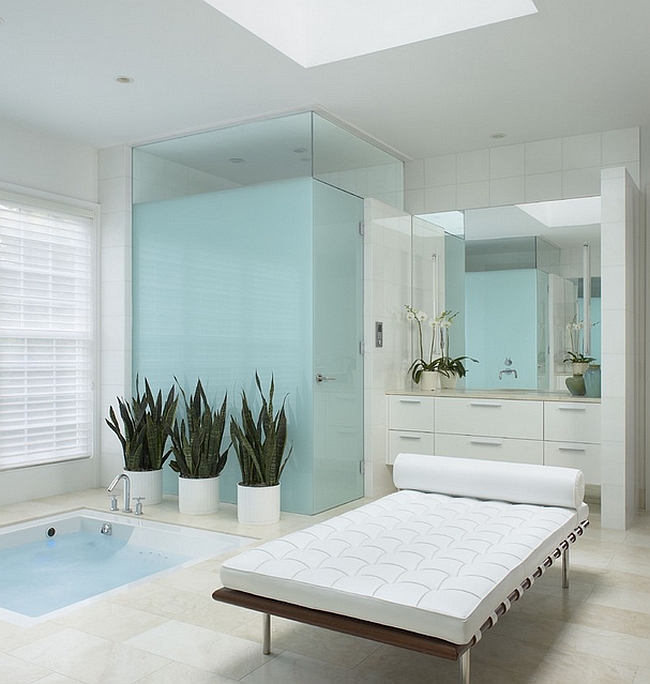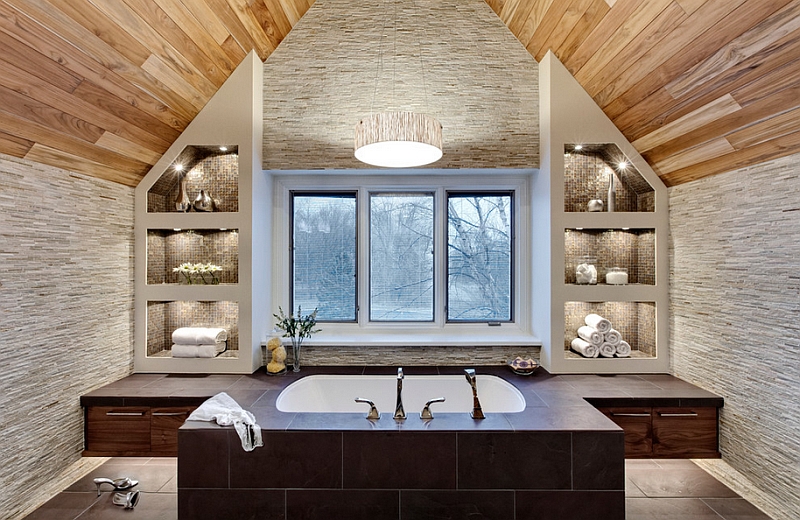 by Drury Design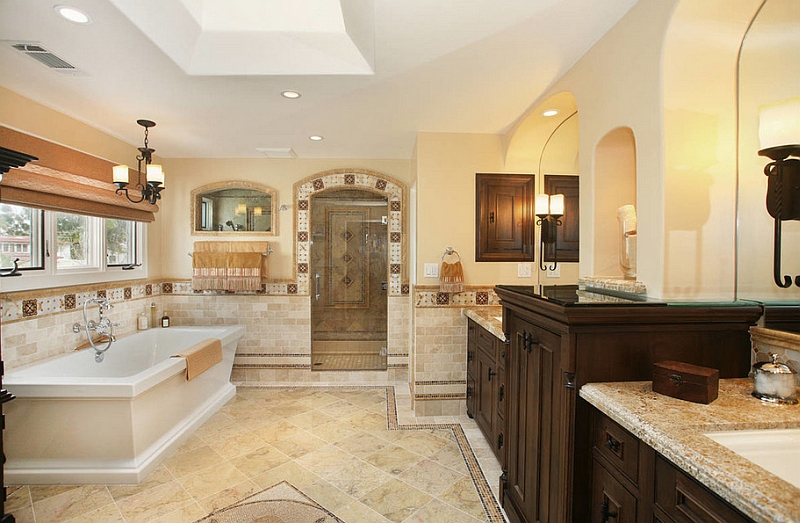 by Jackson Design & Remodeling
5. A Fiery Focal Point!
We have already seen fireplaces play a prominent role in settings that range from the living room and bedroom to the outdoor lounge and the poolside pergola. But it seems like these sizzling hot additions are making their way into bathrooms as well. A two-sided fireplace that serves the master bedroom and the adjoining bath is indeed a smart and hip addition. A gorgeous fireplace also becomes an instant focal point in the bath and gives the entire space a far more elegant, sophisticated appeal.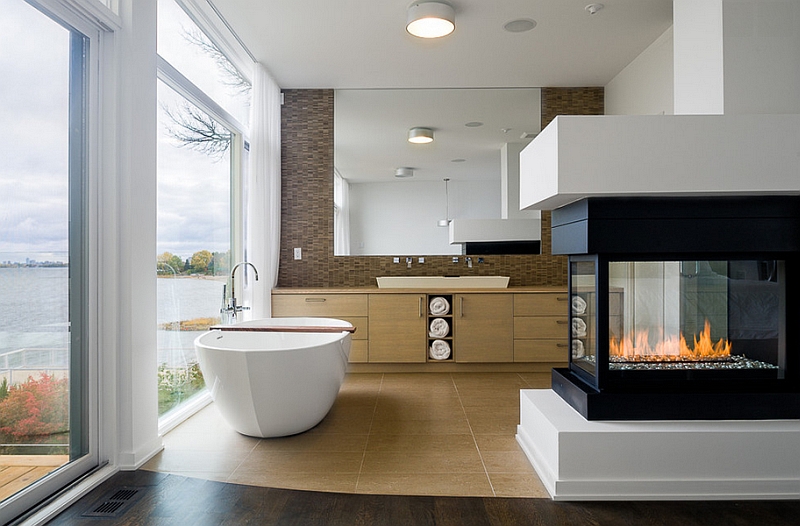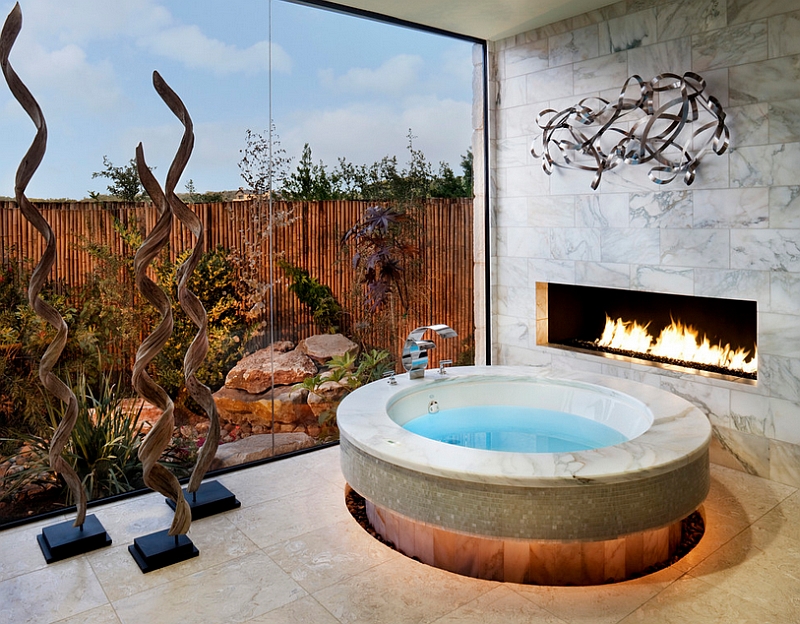 Obviously other bathroom additions like water-saving toilets, showerheads that offer a range of features and bold, colorful tiles help put the sheen on your home. Which of these features would you want to add to your bath?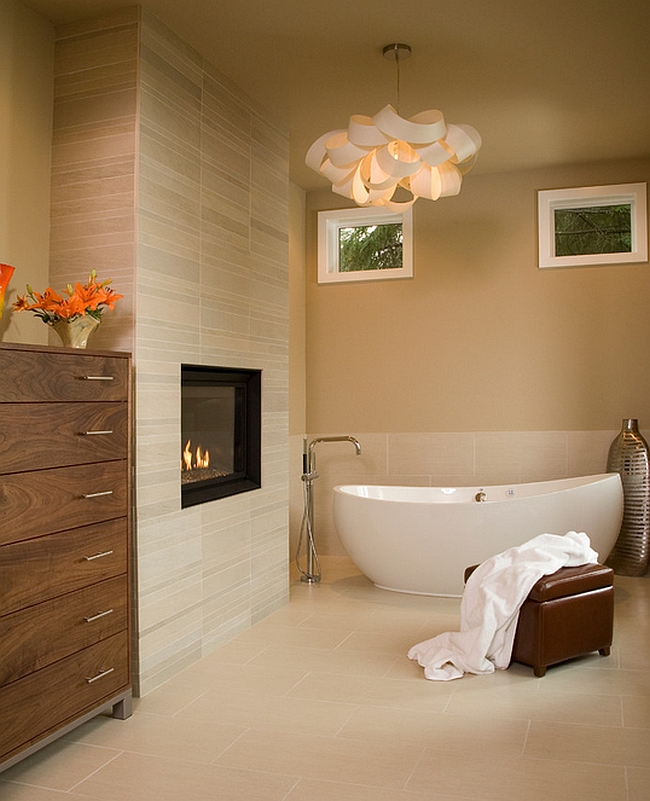 by Hill Custom Homes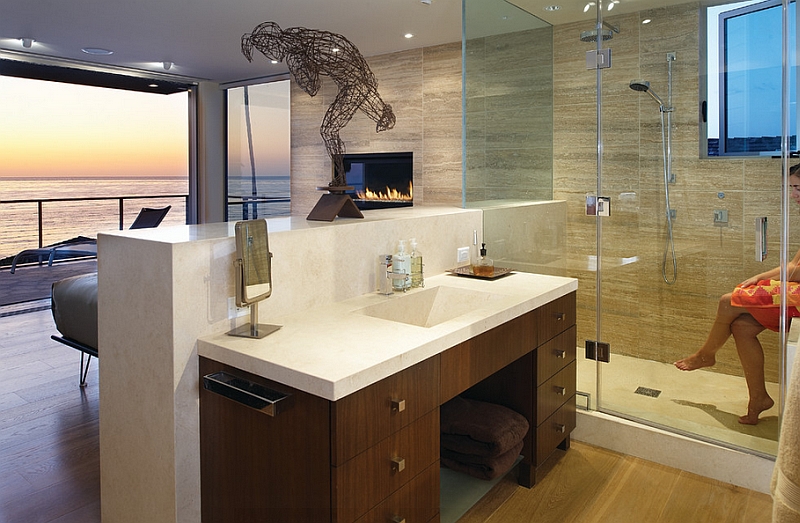 by Wardell Builders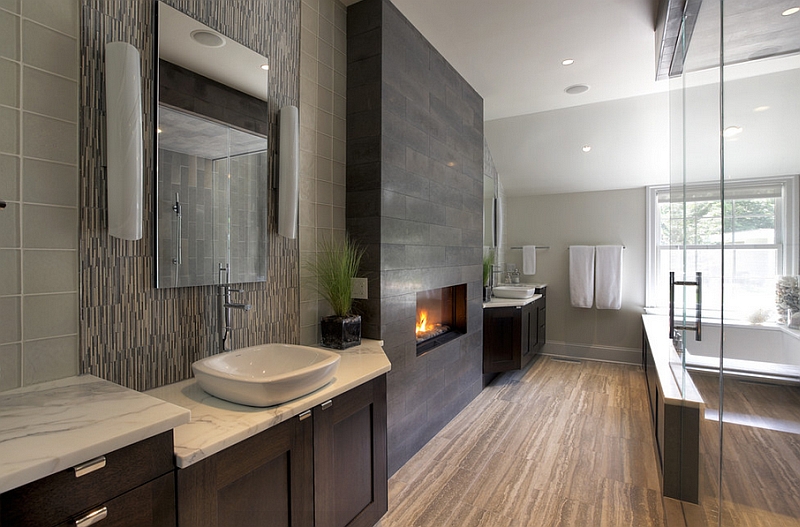 by Blansfield Builders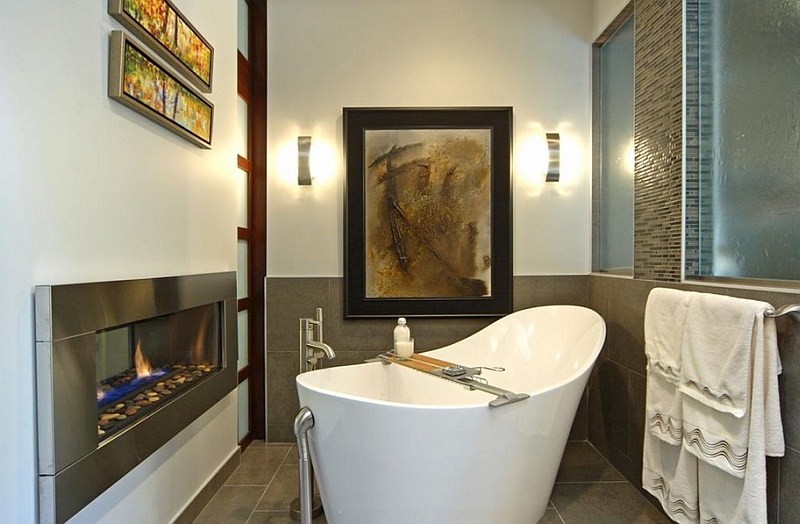 by A Collaborative Design Group